In these blog income reports, we report our blogging income and expenses as well as insights to any recent changes we've made on our blogs in the past month.
This is what we will cover in this blog income report (feel free to click and skip to what you'd like to see):
Why We Publish Income Reports
It's a little weird publishing our income reports for all of our friends, family, and loved ones to see, but that's the tradeoff that we accept for the transparency that it provides to our audience.
We never publish to brag – only to show our followers and readers just what is possible with a small blog, some hard work, and a lot of determination!
Alex and I first got into the blogging world with a health and wellness blog. Only after earning six figures with that first blog in its first year did we start Create and Go.
It's from these successes and failures of this blog that we teach at Create and Go.
We are teaching blogging strategies that work in a completely different niche, and we hope this will make it a little more relatable and applicable to your specific niche and blog.
There are a lot of 'experts' out there that are making money online by teaching others how to make money online. Basically, blogging about blogging.
While many of these folks are VERY successful (and good at what they do), it makes their strategies a little less relatable and harder to apply sometimes if you are in a completely different niche.
Yes, we blog about blogging too, but the difference is that we took our first health and wellness blog to $20,000/month and beyond BEFORE we started Create and Go.
We hope that the honesty and transparency that we provide through our successes and failures with our health and wellness blog help you on your blogging journey as well!
Start a Successful Blog Today
If you are interested in starting a successful blog for yourself, we made an awesomesauce tutorial on how to start a profitable blog, starting at just $2.75 per month (this low price is only through our referral link).
April 2021 Blogging Revenues
Before we dive into the specifics, we want to show you some proof of the income that we earned over the past month.
Proof of Income
Here are a couple of screenshots from Teachable and Quickbooks that show some of our sales:
Our income is deposited into our accounts at various points after sales are made, so the above screenshots do not reflect exact sales numbers for the month. They are a representation of a large portion of the income we have made over the month.
Total Revenues from our health and wellness blog and Create and Go: $103,997.89
The number above does not include blogging expenses. Some of the expenses that we incur on a monthly basis include the following:
Income Recap Since We Started
The chart below contains the revenues from both blogs since we started blogging.
Helpful Timeline of Events: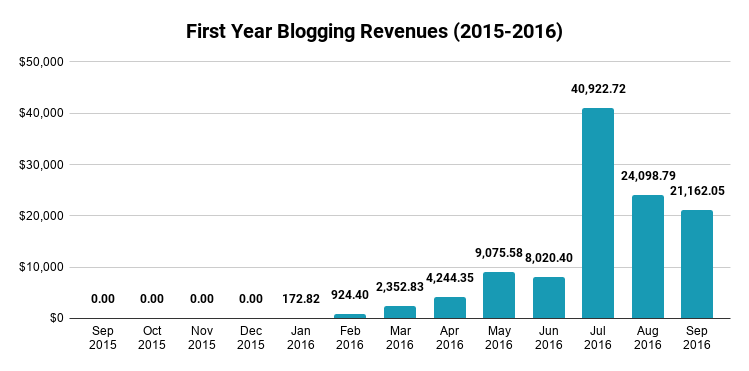 Changes in March Since Our Last Income Update
In this section, we'll tell you what we've been up to over the last month!
Our Latest and Greatest Content
On the Podcast…
On the Blog…
On the YouTube Channel…
What We've Been Working On
Here's an overview of some of the things we've been up to over the past month…
[NEW] SEO COURSE!
It's almost hereeeeeee!!!
Alex and Noah, a member of our team, have been hard at work for the past few months to bring you a brand new course, and it's almost finished!
We're hoping to have it finished and launched to you in about a month!
This course is going to be all about building your blog SEO strategy.
This is an area that we didn't originally focus on when we were first trying to grow our blogs. We focused more of our energy on Pinterest because it was a better use of our time for faster growth.
And also because SEO can be really difficult.
And time consuming.
And expensive.
We did hire some help for SEO from time to time. We tried hiring an agency. We hired SEO writers. And we hired SEO experts.
And we didn't really see any improvements in SEO from any of those efforts.
So finally, we decided to learn it ourselves.
This brand new course is the culmination of a couple years' worth of efforts and strategies.
Everything we've learned about how to increase your Google SEO traffic by focusing on the most effective strategies — and forgetting all the rest.
Stay tuned for more about this new course heading your way next month!
Check Out the Podcast, If You Haven't Already!
Our Launch Your Blog Biz Podcast is officially LIVE!!!
We launched the podcast a few weeks ago and we've gotten some amazing feedback so far! Thank you so much to all of you for sharing your love and support with us!
We couldn't be more excited about where this podcast is going. We know that this is going to be an amazing platform to share more of our favorite stories, tips, strategies, and experiences.
But the real stuff. We're telling it like we never have before.
Not just the strategies and the stories. The the deeper stuff. The personal opinions. And we're bringing you brand new and updated content every two weeks.
If you haven't already, please do us a favor and say thank you by leaving us a review!
Thanks, y'all! We can't wait to see where this podcast goes!
New to blogging? Get yourself FIRED UP with these awesome resources.
Best Articles If You Haven't Started a Blog Yet
Best Articles for the Peeps Who HAVE Started a Blog
How We Make Money Blogging
Affiliate Marketing Income:
Last month, we made $52,754.31 through affiliate marketing on our blogs. Affiliate marketing just means selling other people's products and courses, and it was how we earned our first $1,000/month blogging.
It's one of the best ways to start making with your blog.
Our Launch Your Blog Biz course will teach you everything you need to know from starting and launching your blog to making $500 – $1000 per month with your new blog through affiliate marketing, free blog traffic, and other strategies.
Digital Products and Services Sold:
Last month, we made $45,890.54 selling digital products and services (eBooks and online courses). This is always going to be where the bulk of our income is made because selling your own products has a much higher earning potential.
If you would like to know how we did this, make sure to check out our most advanced blog monetization course, Six-Figure Blogger.
Note that this is an ADVANCED course. It does not cover the basics of traffic or writing content. It delves much deeper to cover copywriting, sales funnels, email marketing, and more.
If you have any questions about our blog income reports or about blogging in general, please feel free to leave them in the comment section below!