In these blog income reports, we report our blogging income and expenses as well as insights to any recent changes we've made on our blogs in the past month.
This is what we will cover in this blog income report (feel free to click and skip to what you'd like to see):
Why We Publish Income Reports
It's a little weird publishing our income reports for all of our friends, family, and loved ones to see, but that's the tradeoff that we accept for the transparency that it provides to our audience.
We never publish to brag – only to show our followers and readers just what is possible with a small blog, some hard work, and a lot of determination!
Alex and I first got into the blogging world with a health and wellness blog. Only after earning six figures with that first blog in its first year did we start Create and Go.
It's from these successes and failures of this blog that we teach at Create and Go.
We are teaching blogging strategies that work in a completely different niche, and we hope this will make it a little more relatable and applicable to your specific niche and blog.
There are a lot of 'experts' out there that are making money online by teaching others how to make money online. Basically, blogging about blogging.
While many of these folks are VERY successful (and good at what they do), it makes their strategies a little less relatable and harder to apply sometimes if you are in a completely different niche.
Yes, we blog about blogging too, but the difference is that we took our first health and wellness blog to $20,000/month and beyond BEFORE we started Create and Go.
We hope that the honesty and transparency that we provide through our successes and failures with our health and wellness blog help you on your blogging journey as well!
Start a Successful Blog Today
If you are interested in starting a successful blog for yourself, we made an awesomesauce tutorial on how to start a profitable blog, starting at just $2.75 per month (this low price is only through our referral link).
July 2021 Blogging Revenues
Before we dive into the specifics, we want to show you some proof of the income that we earned over the past month.
Proof of Income
Here are a couple of screenshots from Teachable and Quickbooks that show some of our sales:
Our income is deposited into our accounts at various points after sales are made, so the above screenshots do not reflect exact sales numbers for the month. They are a representation of a large portion of the income we have made over the month.
Total Revenues from our health and wellness blog and Create and Go: $86,477.74
The number above does not include blogging expenses. Some of the expenses that we incur on a monthly basis include the following:
Income Recap Since We Started
The chart below contains the revenues from both blogs since we started blogging.
Helpful Timeline of Events:
During the months of July – August of 2015, we were working on our first blog that ultimately failed
We started our health and wellness blog in September of 2015 and didn't make any money with it until January of 2016.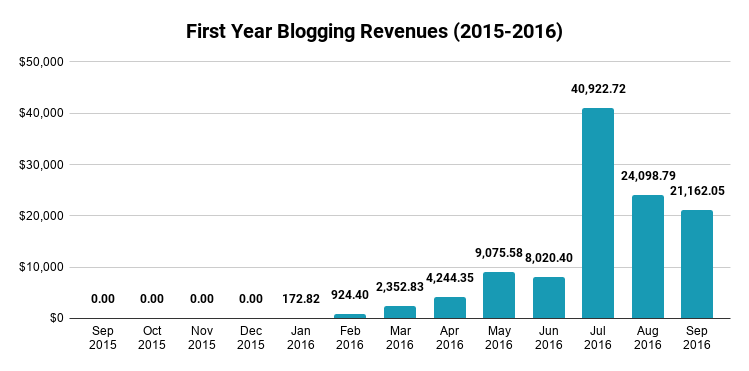 Why are your revenues declining?
Have we lost our touch? Is our business in decline?
No, it's just in fluctuation right now. You can read more about why that happens in the next section.
But specific to our business right now… There are a few reasons why our business appears to be declining right now:
1. It's all relative.
A year ago, we had our highest month ever — reaching $200,000 in May and June of 2020. That was because of the pandemic.
We saw revenues shoot up significantly higher than they had ever been because the world was in chaos. People were losing and changing jobs and looking for alternative ways to make money — especially online because ya know, covid.
And what goes up, must come down. We saw a temporary spike last summer because of the pandemic, but it's been leveling off ever since.
Now, we're seeing the post-pandemic impacts.
Ever since vaccinations rolled widespread in the U.S. in March, restrictions started easing, and the warm weather blew in…
People naturally got off their computers and went outside. And good for them! They should!
I mean, I read that the foot traffic in the national parks in the U.S. were up 20% from PRE-pandemic times… It's crazy.
Revenues will rebound again when things start to normalize again. In the meantime, I'm going to spend some time outdoors too!
2. We haven't run many internal sales or promotions this year.
We've been working on launching our SEO course for the last couple of months but ultimately had to delay it for various personal reasons.
Because we thought we were launching "soon," we didn't run any other sales on our courses in anticipation of our grand opening sale.
We always earn higher on the months that we run sales on our courses. P.S. The new SEO course has finally been launched!
More on that after the next section.
Fluctuations in Revenue are Normal
As we mentioned last month, your earnings will ebb and flow. You might have a few months of your highest revenues yet only to fall back below half of that at some point down the road.
It just happens.
Your revenue and earnings can be impacted by SO many things, including:
Your traffic sources and algorithm changes (one of the biggest factors)
Internal promotions and sales
Promotions and sales for affiliates
New projects and team management
And so many more.
Sometimes it's our fault because we dropped the ball while we were too busy with other things.
Sometimes it's just an algorithm change with traffic and we need to adjust our strategy or consider a new form of traffic (like a podcast!).
We aren't worried. We're constantly learning.
And passing along that knowledge to you.
Don't get lost in creating new content and forget about updating your tried and true content, especially when it's paid content!
Changes in July Since Our Last Income Update
In this section, we'll tell you what we've been up to over the last month!
Our Latest and Greatest Content
On the Podcast…
On the Blog…
On the YouTube Channel…
What We've Been Working On
Here's an overview of some of the things we've been up to over the past month…
New SEO Course is HERE!!!
This is the first course that we've created in over two years, and we're pretty PUMPED about it!
And this course is also different from our other courses…
We actually have a co-author on this course — Noah Riggs.
Noah is the resident SEO expert on our team. He and Alex have been deep in the trenches of SEO for the last two years.
And let me tell you…
It was a deep and dark trench and some days, I don't think they ever thought they'd get out.
But, they did.
And they put their heads together to create this super comprehensive course on EVERYTHING that they learned about SEO.
What you need to know… what you can let go… and how to get to the top.
Check out SEO Blueprint for Bloggers.
Our students are already raving about it!
New to blogging? Get yourself FIRED UP with these awesome resources.
Best Articles If You Haven't Started a Blog Yet
Best Articles for the Peeps Who HAVE Started a Blog
How We Make Money Blogging
Affiliate Marketing Income:
Last month, we made $36,378.25 through affiliate marketing on our blogs. Affiliate marketing just means selling other people's products and courses, and it was how we earned our first $1,000/month blogging.
It's one of the best ways to start making with your blog.
Our Launch Your Blog Biz course will teach you everything you need to know from starting and launching your blog to making $500 – $1000 per month with your new blog through affiliate marketing, free blog traffic, and other strategies.
Digital Products and Services Sold:
Last month, we made $46,657.14 selling digital products and services (eBooks and online courses). This is always going to be where the bulk of our income is made because selling your own products has a much higher earning potential.
If you would like to know how we did this, make sure to check out our most advanced blog monetization course, Six-Figure Blogger.
Note that this is an ADVANCED course. It does not cover the basics of traffic or writing content. It delves much deeper to cover copywriting, sales funnels, email marketing, and more.
If you have any questions about our blog income reports or about blogging in general, please feel free to leave them in the comment section below!