We partner with bada$$ companies that offer products that help our readers achieve their goals! If you purchase through our partner links, we get paid for the referral at no additional cost to you! Read our disclosure for more info.
You're probably here because you're wondering if blogging can make you any real money. How much do bloggers make, anyway?
It's no surprise that you have this question because it's something that a lot of people don't know the answer to.
"You're a blogger? You do that full-time? And make enough money to not have a real job?"
Real job. That's cute.
I get it. The term "blogger" makes people think of hobby bloggers and people that write on the internet for fun — something that they do in their spare time. They don't think of it as a job or that you can make real money blogging.
To strangers, blogging sounds like a hobby. To friends and family, it sounds like unemployment.
Most people don't understand that being a professional blogger has some seriously insane perks:
Setting your own schedule and working whenever you want
Working from wherever you want (we've traveled the world while still working!)
Control over your income (a chance to scale your income to six or seven figures)
It will challenge you and enable you to learn tons of new skills, including how to run and manage your own business.
It will make you a better writer, which has been proven to make you a better thinker.
And most importantly… It's FUN! It allows you to wake up and work on building something that you love — something that is your own.
I've run my own private personal training practice, been a bouncer at one of the hottest bars in Dallas, TX, and worked at a company that restores Black Hawk helicopters. None of these can hold a candle to my career as a professional blogger.
First, I want to address a few common questions that are probably floating around in your brain.
How much do bloggers make?
Well, it varies.
Some make $0 per month.
Some make $1,000 or more per month.
Some make $10,000 or more per month.
Some have managed to make over $100,000 per month.
Here at Create and Go, we've been able to reach the $100,000 per month level, which is pretty insane. I've started and run several different websites now and I can tell you that earning six figures is possible in many different niches. I've owned a health blog that was earning $20,000/month pretty consistently.
Blogging income varies by seasons, projects, and many other factors that impact all kinds of online businesses.
You can also check out Create and Go's yearly income report that we publish to give our audience some insight into the income that is possible with this kind of online business.
Here are some other examples of successful blogs in other niches that all have earned between $10,000 and $100,000/month:
How much do bloggers make on average?
Well, folks, that's kind of like asking: "What do businesses make on average?"
Most make nothing.
Some make a little.
Fewer make a lot.
I know, that's pretty vague, right. But blogging is a business, so it's a pretty general question. It really depends on a few factors that boil down to how much you're putting into your blog.
Just like with any business, a blog's success depends on how hard you work and what exactly you're putting into it (i.e. taking the right steps for growth).
In the blogging world, these factors are super important and the key to growth and success:
How well you communicate with your audience — Building an email list is at the foundation of most winning bloggers, but it's not just about turning readers into subscribers. It's about turning those subscribers into loyal FANS.
The level of trust you build with your audience — This trust from your fans is what ultimately leads people to spend money on your products.
Execution — Perhaps the most important part is your ability to continue moving forward and taking action when it is necessary.
And the insanely cool part about blogging is you can make great money in almost any niche. Hell, the guy from Learning Herbs teaches you how to use and consume the weeds in your yard and makes over 20k per month.
Here is another question that we hear a lot:
How Much Do Bloggers Make Per Post?
Not all posts directly bring in revenue. They can have various purposes, including:
Signing up for an email list
Purely instructional
Building more trust with your audience
There IS such a thing as getting paid for a specific blog post though, and it's called a sponsored post.
Sponsored posts are posts in which someone pays you to write a specific piece of content and put it on your blog. Common examples are product reviews or recommendations.
How much you get paid per post depends largely on the size of your audience and the level of engagement the audience has with your content.
So, you can have 100,000 visitors to your blog but if you don't get people commenting on your content or interacting with it much, you probably won't get paid as much. That being said, bloggers can make from $100 to $25,000 per sponsored post. $25,000 is the highest amount of any blogger I have personally known.
For those of you who are Instagram influencers, you can make from $50 to $50,000 per post. Kim Kardashian has even made over $400,000 for a single Instagram post. I know. It hurts my soul to even type that out.
This leads me to another question…
Are some blogging niches more profitable than others?
Absolutely. Generally, blog niches about making an income make more than others because the average market price for the products is higher. This is because people are usually more likely to spend more money when they think they'll make it back.
This includes:
Making money
Spending money
Saving money
Investing money
Now, this doesn't mean all of you should go out and start a finance or money blog. This is where a lot of people make a big mistake.
You should never start a business on a topic that you have no knowledge about or experience in.
I can't tell you how many "personal finance" blogs I have seen where people running the blog have no idea what they are talking about. There are thousands of blogs that don't produce any real money because the owner isn't a professional, has no real passion for the niche, or isn't knowledgeable enough on the topic.
There are a lot of people blogging about blogging and teaching others how to make money before they've ever made any money themselves.
Pro Tip: People can tell when you're talking out of your ass.
Your readers, who believe it or not are real people, are going to see right through you. It will show in your writing and your audience won't be as engaged with your content. It's much smarter to just start in something you really care about and make it successful along the way. You will also enjoy it SO much more!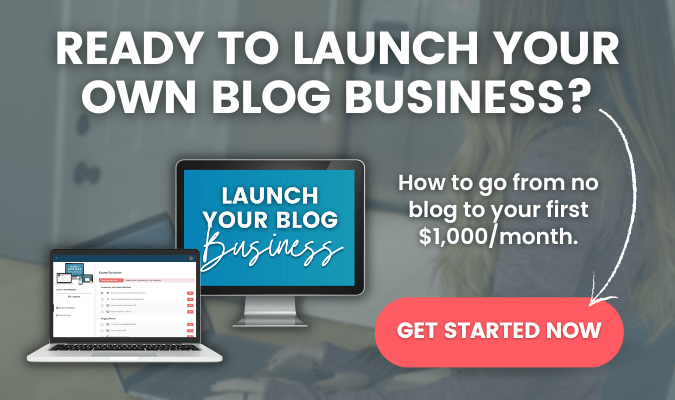 How risky is this? Do I have any chances of success?
Hey, I was a personal trainer before I did this. If I can do it, so can you. I've seen people succeed in some crazy markets with no prior experience running a blog.
But a lot of blogs do fail, of course. Here are some of the main reasons why:
Expecting a ton of results without upfront investment. Blogging is not a get-rich-quick scheme that requires no investment of time or money. If you want your blog to be a business, treat it like one.
Talking without experience. This is also called: "Talking out of your ass." Don't create content on topics that you don't have any knowledge or experience with.
Not taking action. A lot of people take some action but then sit around and wait for results. Successful blogs are built on trial and error. Failure can be a good thing if you learn fast and change course quickly.
BUT you're in the right place if you want to learn how to take the right steps to build a successful blog! It comes down to just a few things, these being some of the important, in my opinion:
Great content. If you write REALLY great content that provides a lot of value to your audience, you can't go wrong.
Focused strategy. As a blogger, you have to wear a lot of hats and learn a lot of new skills in a lot of different areas. It's important to stay focused on the right tasks at the right time to grow your blog AND be as successful as you can be with it.
You Can Easily Start Today
Just to wrap up this lesson on how much bloggers make… I'd like to leave you with a few parting words.
I think the focus on content consumption in our society has turned us into a bunch of over-thinkers who take little to no action. We think we know it all without ever actually trying anything.
This is my challenge to you: Think less, and act more.
For some of you, this mean's starting right now.
Read Now: How to Start a Blog (Step-by-Step Beginner's Guide)
If you enjoyed this article on the topic of how much do bloggers make, please leave us a comment below or feel free to ask us any questions!