We partner with bada$$ companies that offer products that help our readers achieve their goals! If you purchase through our partner links, we get paid for the referral at no additional cost to you! Read our disclosure for more info.
"No way, NO FREAKIN WAY."
Staring at our laptops from Alex's mom's house in Colorado, we were dumbfounded, confused, and VERY excited!
After struggling for months trying to grow on Google and Facebook, our little health and wellness blog had just gotten its first 100 visitors in a single day.
And all of this was coming in, completely free and organic, from Pinterest?
No paid ads, no running around begging for backlinks to get Google traffic…
What was equally shocking to me at the time was that the results didn't stop…
100 visitors turned into 200 visitors,
200 into 500,
and 500 into 1,000.
Eventually leading up to over 500,000 visitors in a single month.
And we STILL averaged over 7,000 views/day to our health and wellness blog from Pinterest alone:

Not only that, but our sales also rose dramatically with this traffic, leading us to make over $100,000 in our first year with our health and wellness blog.
Pinterest is hands down the best-kept secret in online marketing.
Yes… Even still to this day even with every blogger known to man selling some Pinterest "Mastery" Course.
Perhaps the best part about it is that because it's such a different platform from the rest, most marketers don't understand it and don't want to waste their time on it. They give up too quickly.
Pinterest, like everything in life, is all about what you put into it.
We have seen dozens of bloggers and internet marketers show up to Pinterest, create a profile and some boards, pin a few things, and wonder, "Alright, where dat traffic at?"
I didn't say it was EASY.
But it clearly can be done.
Just look at the results from a couple of our students…
Amy, from The Wherever Writer, had a HUGE jump in traffic after she implemented our Pinterest strategies.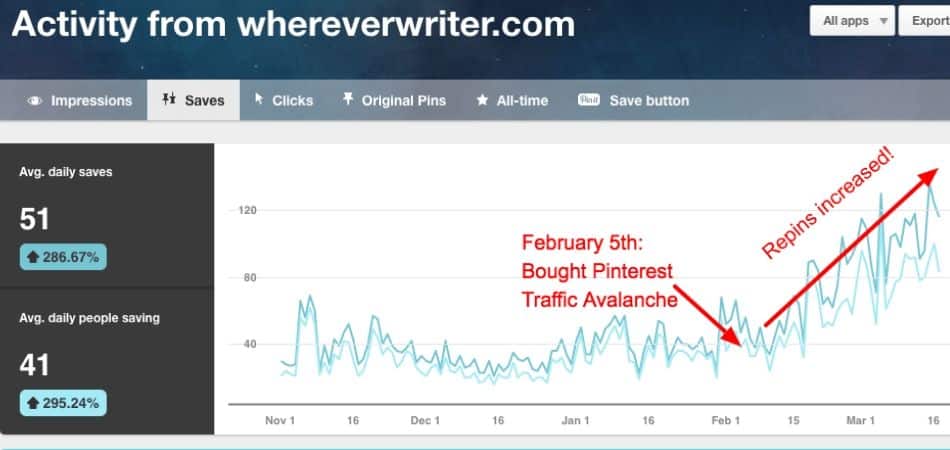 John had a pin go viral using our strategies and got 89,000 page views in a WEEK!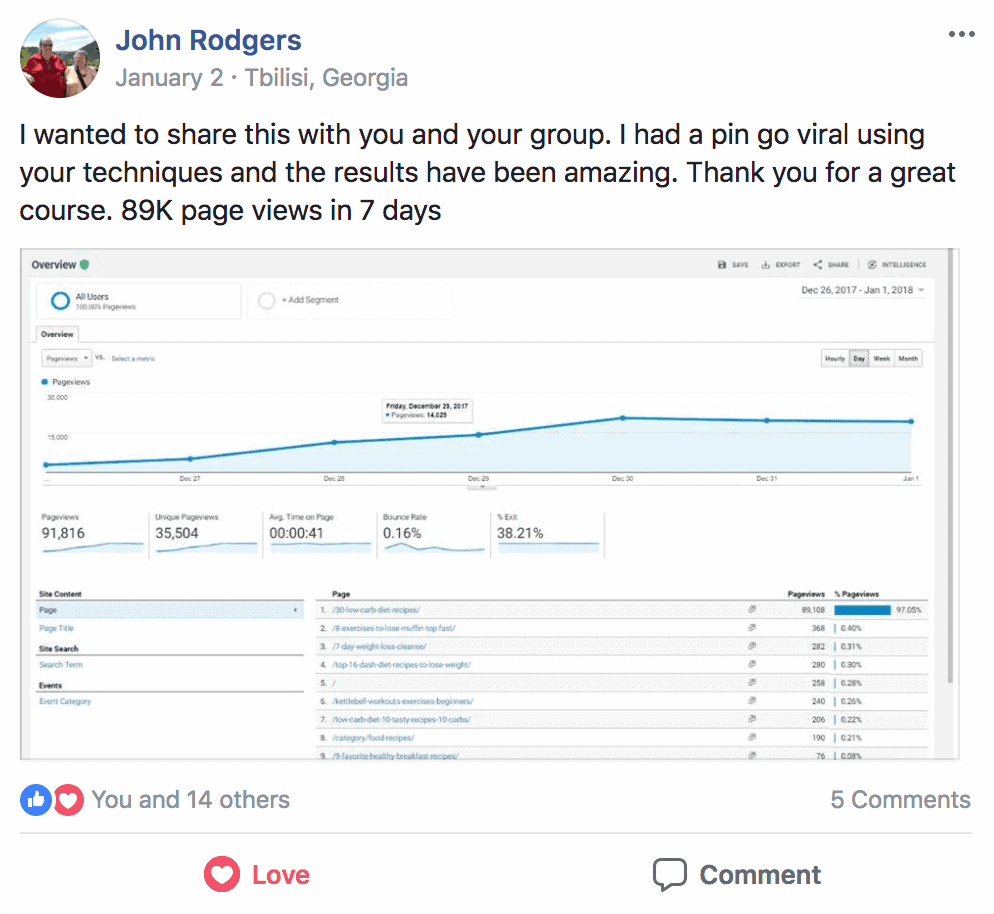 The truth is that if you show Pinterest love, Pinterest will love you back.
And we're going to show you just how to do that.
Take the time to read this post entirely and get a truly in-depth understanding of what's going on and why Pinterest exists, and it will serve you well.
This ultimate guide to Pinterest for bloggers will cover just about everything from WHY it's so important to creating your account getting started to optimizing your profile and website for success.
Let's do this.
Most of the strategies discussed in this article and the examples presented come from our first health and wellness blog.
It was this first Pinterest account that we poured our hearts and souls into learning EVERYTHING there was to know about Pinterest and maximizing our traffic to our blog.
We've reached up to 500,000+ monthly views with Pinterest and taken our account to over 240,000 followers.
We were able to achieve this within our first two years of starting on Pinterest and only because we dedicated all of our time to mastering everything there was to know about the platform.
And we're ready to share our knowledge and experiences with you in this guide!
Pinterest for Bloggers (The Basics)
This first section will just be an overview of how Pinterest works since it's quite a bit different than most other platforms out there.
What is Pinterest?
Pinterest is a "visual discovery engine" for finding ideas and inspiration on various topics: home, design, fashion, etc.
A more comprehensive user definition:
Pinterest is a place where users can curate, consume, and share content that they find relevant and important.
Remember those old cork boards where people would pin favorite things (tickets, photos, important documents, etc.)?
This was the original idea behind Pinterest.
You can essentially create "boards" where you can pin ideas, products, and content that you like and want to save for later.
What are Pinterest boards?
Pinterest boards are where you save the ideas that you like or want to share with others.
You can create a board for whatever topics you like (hair, fashion, recipes, etc.).
BUT if you're using your Pinterest account for business, it's best to stick to boards related to your business.
For example…
Our health and wellness account has boards in the following categories: yoga, healthy eating, diet, weight loss, etc.

These boards are where you will be posting all of your blog content, so they should be related to the topics and subtopics of your content.
There are also group boards where you can collaborate with other people to share pins from around the web centered around a specific topic.
But we'll discuss that in more detail later.
The "ideas" or content that you save on your boards are called pins.
What are Pinterest pins?
Just like pinning ideas to your corkboard, you pin the content that you like to your own virtual Pinterest boards.
Here are some of our pins in our Yoga board: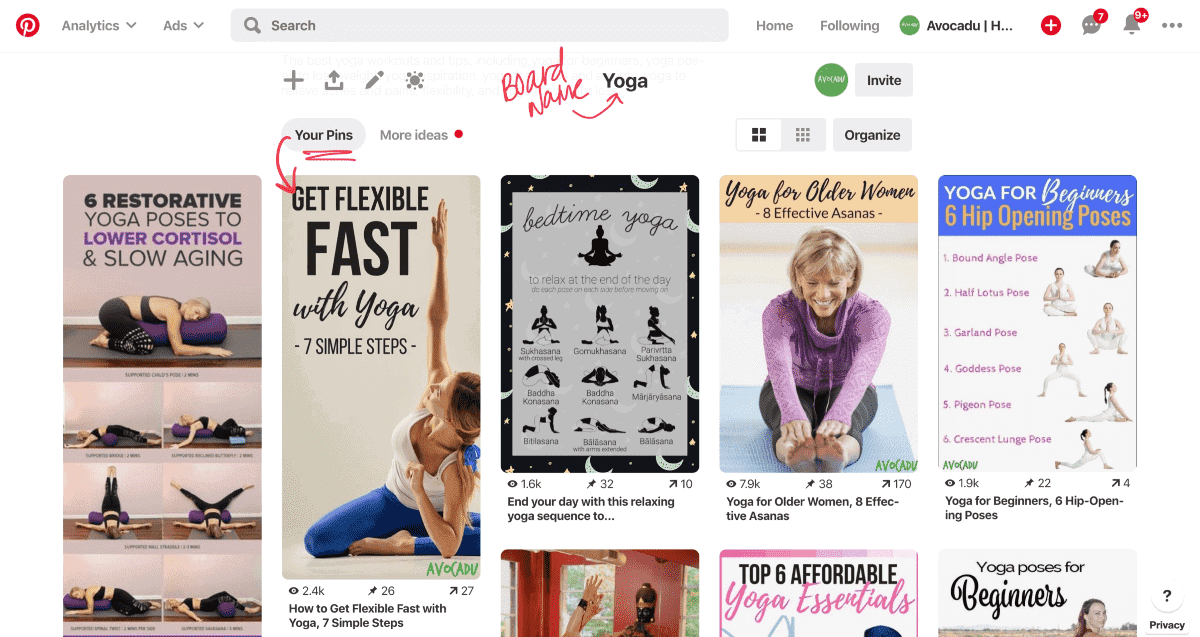 Every pin on Pinterest is linked to a website.
You can link articles, recipes, products, and anything else with a valid URL.
If you're running an account for your blog or business, most of your content will link back to your own blog, like this pin that links to our yoga article: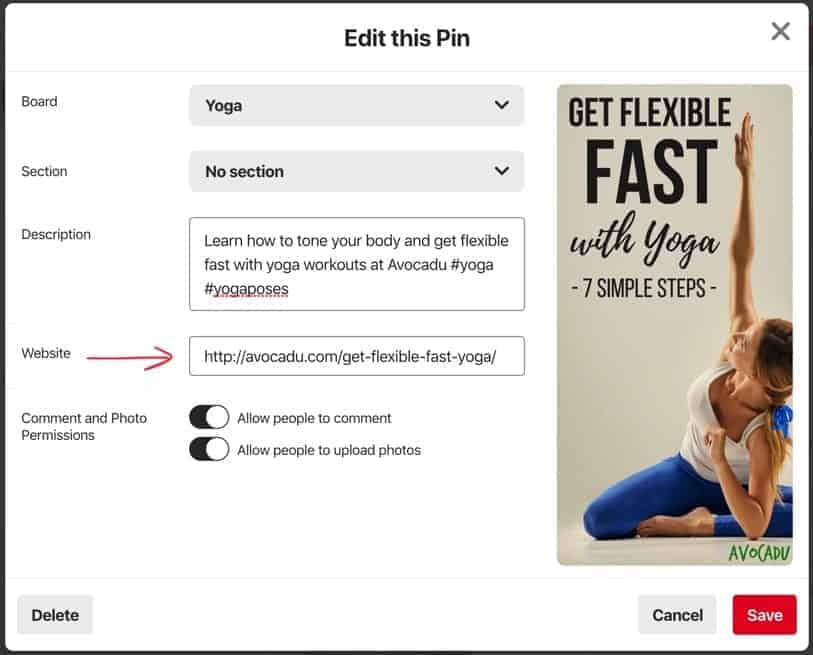 When you click a pin, you're automatically directed to the website that it's linked to.
When you save a pin to one of your boards, your followers can see the pin and save it to their own boards if they so choose.
There are all kinds of pins on Pinterest, including infographics, photos, quotes, and even buyable pins where you can buy or sell things directly on Pinterest.
You can discover new pins by other people (and others can discover your pins) in your home feed, which is just a feed of constantly updated new content: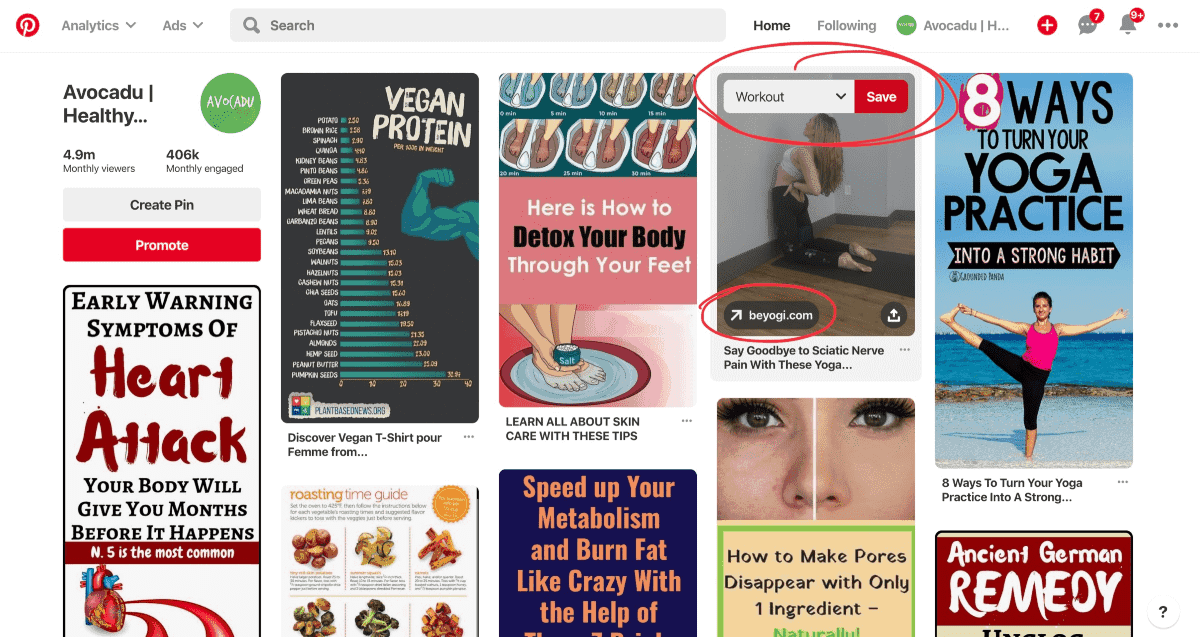 When you find a pin you like in your home feed, you can click the save button to save it to one of your boards OR you can click it to view the website it's linked to.
What kind of content and ideas can be found on Pinterest?
Pretty much any topic you can think of will have some presence on Pinterest.
Health and fitness content does not even make up 1% of what people search Pinterest for, yet we have over 80k followers and have over 300,000+ monthly fans visit our blog.
Popular topics include:
Animals and Pets
Architecture
Art
Cars and Motorcycles
Celebrities
DIY and Crafts
Design
Education
Film, music, and books
Food and drink
Gardening
Geek
Hair and Beauty
Health and Fitness
History
Holidays and events
You'll also notice that Survival is not on there, yet I personally know of a survival blog that makes well into the million-dollar-per-month mark using primarily Pinterest traffic.
These topics are not limited to what you see, and almost any niche can find success here.
There is also video content on Pinterest, but they historically have not performed too well.
Unless Pinterest does a MAJOR change to its algorithm and/or they suddenly become more popular on Pinterest, we don't recommend spending a whole lot of your time on video content on Pinterest.
Why Pinterest is Amazing for Bloggers
We love Pinterest traffic for bloggers for a variety of reasons, including:
Our traffic is FREE (although Pinterest ads are still a great option if you're interested).
Huge potential for viral traffic (we had one single pin drive over 80k views in one DAY).
The user demographic is higher-income earning individuals (compared to the average user of other platforms).
It's a search engine, so you can get steady and consistent traffic over time.
It can be 100% automated with a scheduler.
Let's dive into why this is with some demographics and other great features that Pinterest has that make it different from other social and search platforms.
Pinterest Demographics
Some Interesting Facts and Demographics on the Users of Pinterest
Founded in March 2010 and is valued at over $11 billion
250 Million Active Monthly Users
Millennials are using Pinterest just as much as Instagram
Half of Pinterest users make over $50k/year and 40% of Pinterest users make more than $100k/year
50% of users are from the US
80% of all Pinterest users access the platform on a mobile device
Source: Omnicoreagency
Pinterest Is Not A "Social" Media
The reason I say it's not a social media is because of how people use the platform…
Compared to Facebook, Instagram, and others, no one is actually socializing on Pinterest.
There is the ability to comment on pins, but it's very rare that people do and you can actually get your account penalized if you leave too many comments.
There is the ability to discover new content in the home feed without searching, but users primarily use it to search and discover new content.
Once they find that content, they generally save it to their own private account.
Sure, this content is sometimes visible to friends, but the platform isn't about collaboration and sharing content. It's actually closer to Google and YouTube than it is to Facebook and Instagram.
Pinterest is truly a search engine at its core.
Pinterest Is A Search Engine
This is KEY to what makes Pinterest SO much different and truly superior to other search and social platforms — at least when you're just getting started.
Pinterest has infinitely more powerful for organic reach than other, more competitive platforms like Facebook or Instagram.
Facebook and Instagram are great for connecting with others and sharing content, but they are rarely used to search and discover new content.
They're a bit more passive in a 'you've got to come to me' sort of way.
Most Pinterest users are on Pinterest actively seeking out new content, ideas, and products via the search engine and their feed.
Think about it as sort of a fun, shareable, and visually beautiful Google. It's also FAR less competitive than Google and much easier to get your content found.
Pinterest Is Ideal For Getting Visitors To READ Your Content
Let's switch gears and talk about YouTube for a minute.
When you create a YouTube video about a topic from your blog, it's actually very difficult to get people OFF of YouTube and onto your blog.
Even when you use YouTube's End Screen Annotations to include a link to your website, YouTube still makes you also include a link to another video.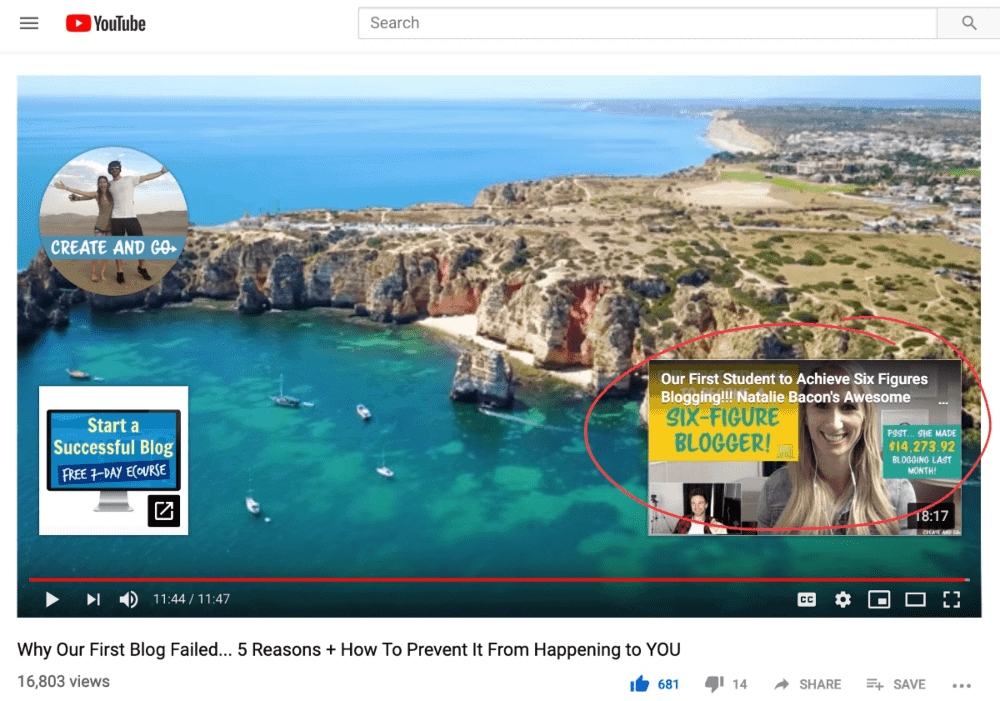 Because they do NOT want people leaving their platform.
Instagram is the same way. It's great for looking at pretty photos and actually fairly good for eCommerce as well, but blog posts?
Terrible.
I'm looking at beautiful photos of mountains and food and fit people.
I don't want to read your article.
Pinterest, like Google, was designed in such a way that the whole point is to use it to find content and then immediately view that content.
This makes it a GREAT source of traffic for getting readers to read your blog content.
Why It's Better Than The Almighty Facebook
Every marketer loves Facebook, and it can be REALLY great if you're using paid ads to drive traffic (assuming you have a positive return on those ads).
For most bloggers without an ad budget, Facebook is not an ideal platform to drive organic traffic from — especially in the beginning.
Here are a few of the reasons why:
Reach is incredibly low. 10% or fewer of the people following you will actually see your organic posts (and this will continue to drop).
It's cluttered. Your posts will be competing with cat videos and funny memes. Good luck getting me to click on your post when I'm deciding between a pug video and a Buzzfeed article.
Building it organically is incredibly SLOW. It's hard to get followers naturally unless you're driving traffic from other sources anyway.
Ads are the only way to get fast growth. Unless you're able to get a bunch of eyeballs on your Facebook page from some source of great outreach or mention by another huge website, you'll need to use ads to grow.
Ads are expensive and competitive. It takes some skills to come up with ads that people click on but even more skills to come up with ads that are profitable.
The demographic is all over the place. Everyone from your old babysitter to your baby brother to your great grandmother is on Facebook.
Listen, there are plenty of people who make Facebook work. We just don't think it's the best platform for most bloggers to start out with.
It's GREAT for community groups (link to ours) and those looking to scale their business with ads but not so great for beginner bloggers looking to drive a lot of organic traffic to their blogs.
Unless you have cash money to shell out on ads.
But there are WAY better sources for free, organic traffic. Like Pinterest…
For all of you preferred video learners out there, here is a quick video on how to drive traffic to your blog with Pinterest from our YouTube Channel below.
Pinterest Traffic for Bloggers: Step-By-Step Guide to Getting Massive Traffic
This next section is going to walk you through the steps of signing up for a new account for business.
If you already have a personal account on Pinterest with some followers and you want to use that for business, you can click here to convert your personal Pinterest account to a business account.
Otherwise, follow the steps below to create a new Pinterest account for your blog or business!
1. Create A Pinterest Account
First, head over to the Pinterest homepage. and click the link to "Continue as a business."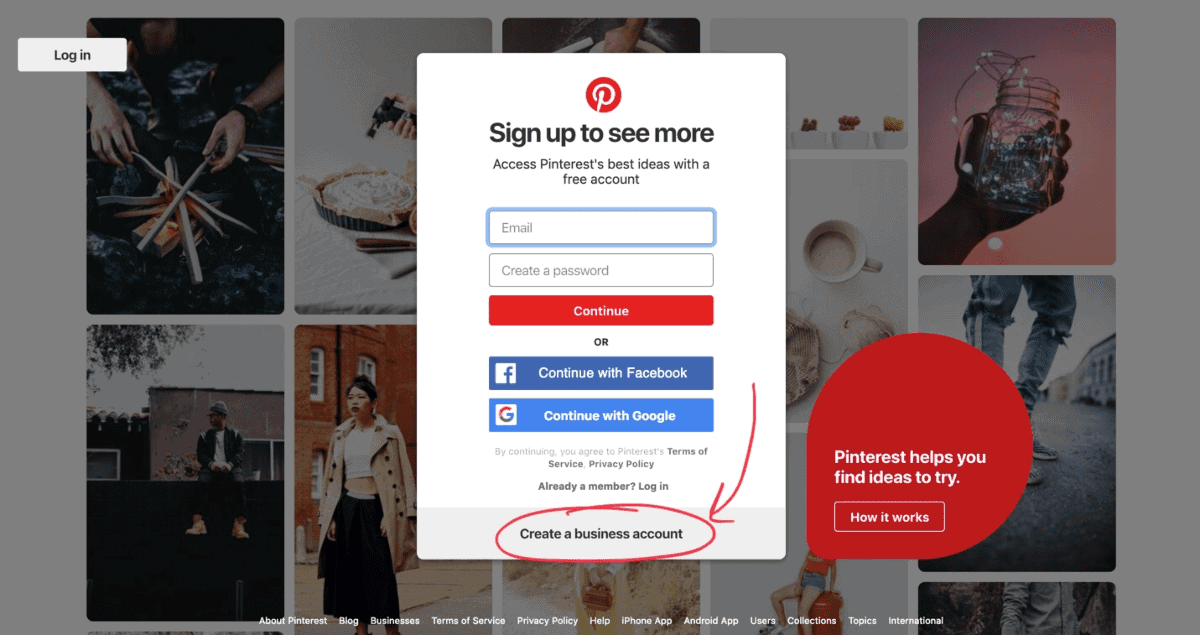 Next, enter your business information. Most of you will want to leave the Professional option selected unless one of the other options better describes your business. When you're finished, click the button to Create Account.
Pinterest will then prompt you to follow at least one topic that is related to your business. Follow 1-3 topics or as many as you feel are relevant to the content on your blog or website.
Following these topics will help Pinterest populate your "home feed," which is like the "news feed" on Facebook. It's where you can see all of the content from the people that you follow.
2. Complete Your Pinterest Profile
You can find and edit your profile at any time by clicking the Settings link under the "…" button at the top right corner of your Pinterest home screen.
The first area in your profile settings is the Business Account Basics, which is what you already filled out when you signed up.
Next is the Profile area. Here, you want to add your business name and a brief description of your business.
Pro Tip: Include at least 1-2 keywords in your name and your description to help with SEO (more on that later!).
Next, set a username and profile picture.
The current Pinterest profile photo size is 165 x 165 pixels, but Pinterest will automatically resize your photo for you. Just try to keep it in a square ratio for best results (i.e. 500 x 500 pixels would also work).
We recommend using a photo of yourself or creating a photo with a free tool like Canva, which is where we created ours.
3. Claim Your Website
Next, scroll down to the Claim section to claim your website.
It's important to claim your website so that Pinterest knows that you own the content that is shared from your blog or website domain.
Note: These instructions are for WordPress users only.
The easiest way to claim your website is using the free Yoast plugin, and you'll need it in the next step when you're applying for rich pins as well!
Plus, it's a REALLY great plugin for helping you optimize your content for Google search!
After downloading and installing the Yoast plugin on your website, return to Pinterest and type in your domain name and click Claim.
Next, select the option to Add HTML tag and copy the characters within the quotations ONLY (highlighted black below):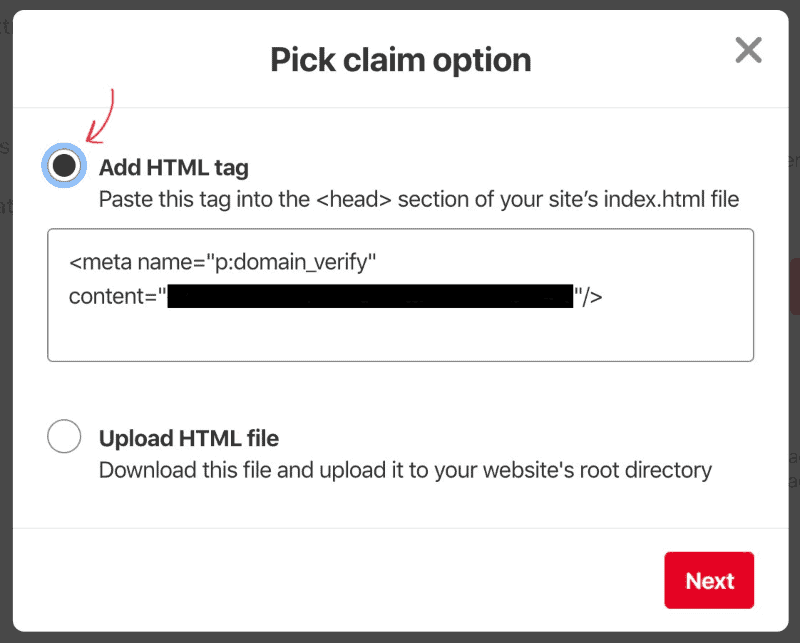 After you've copied the code, go to your WordPress dashboard and click on the Social link under the Yoast SEO settings.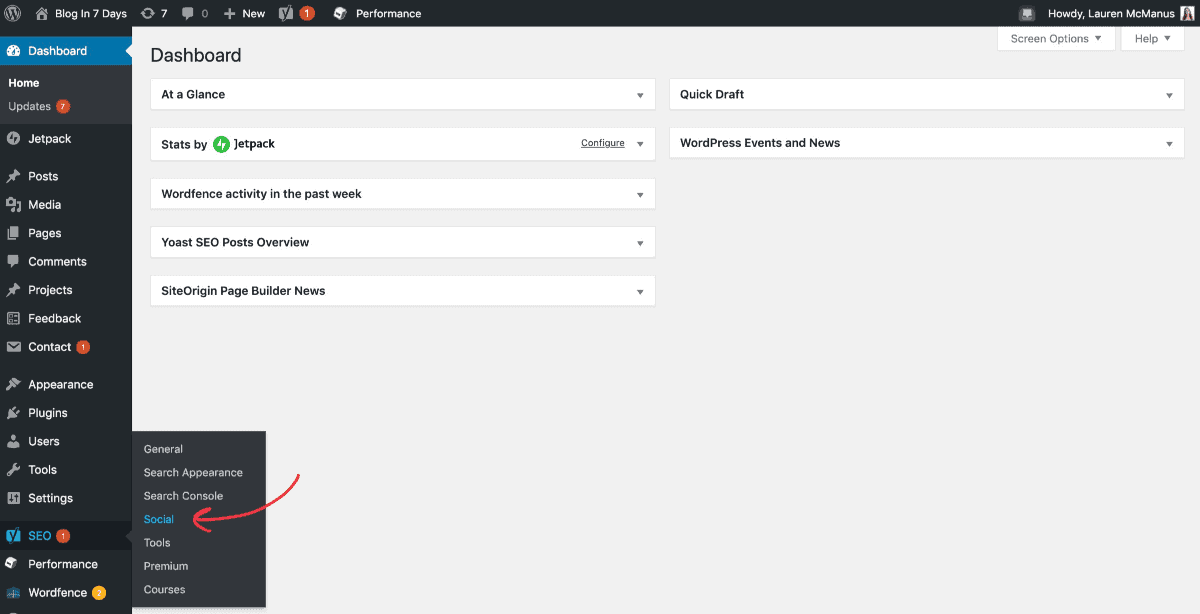 Next, navigate to the Facebook tab and make sure that Open Graph meta data is enabled: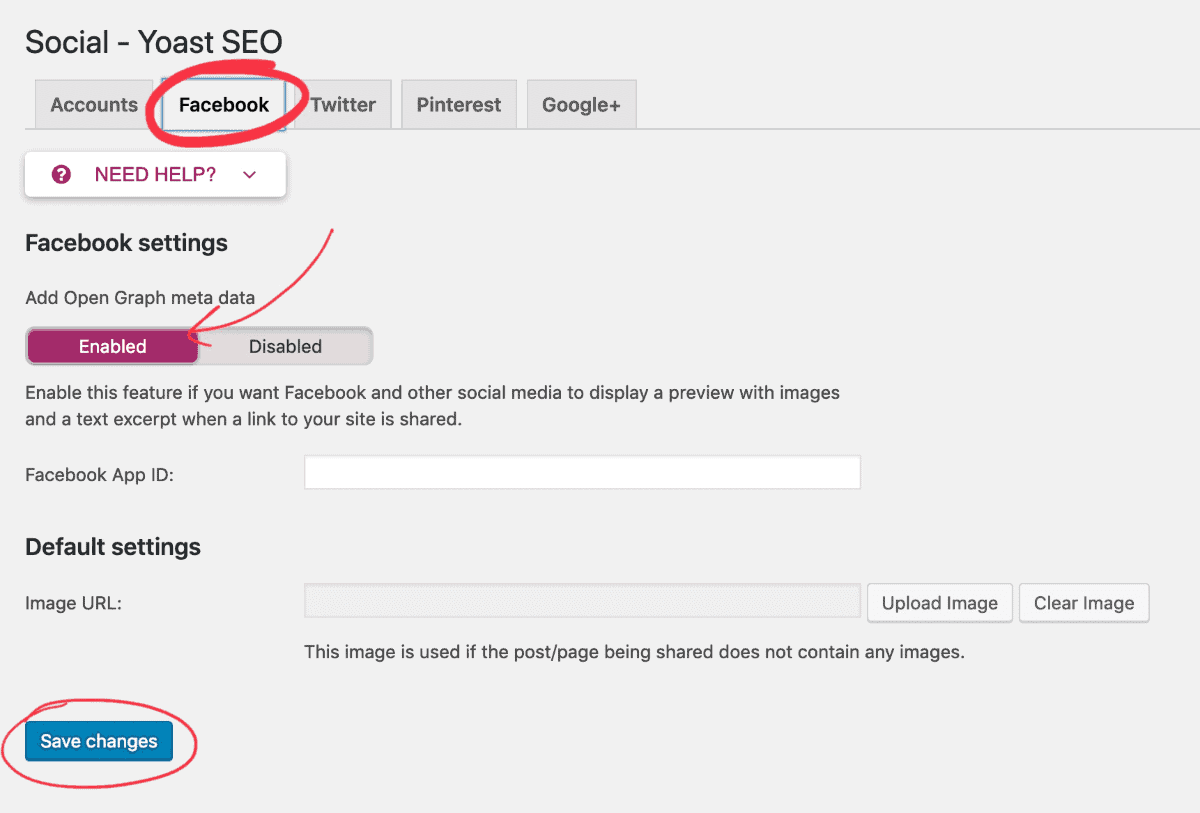 Then, navigate to the Pinterest tab and enter the confirmation code you copied from Pinterest into the Pinterest confirmation field and save your changes: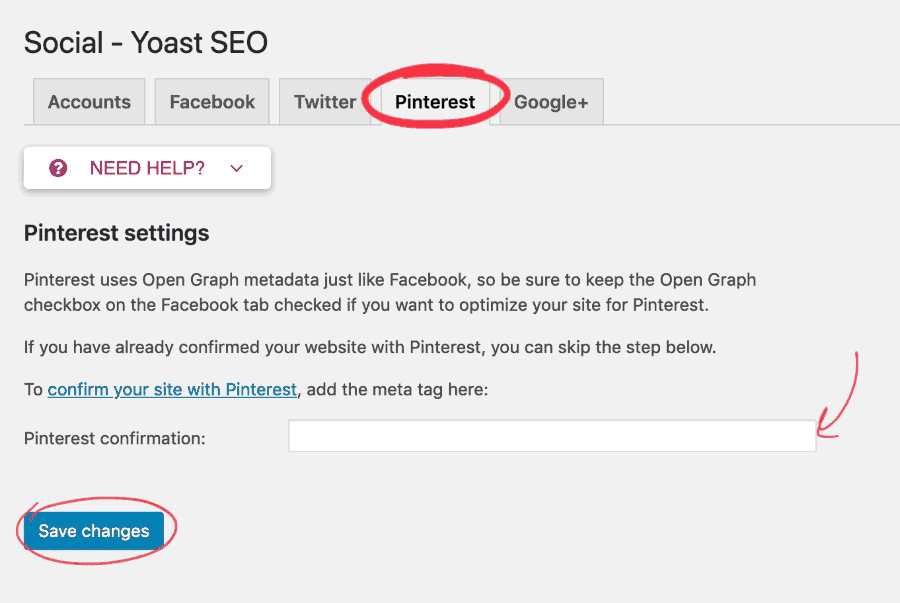 After you've saved your changes, return to Pinterest and click the Next button to finish the setup.
Pinterest will attempt to verify your website within 24 hours. When it has been successfully claimed, you will see a green checkmark next to your domain.
Keep Yoast open, because you'll need it for the next step!
4. Apply For Pinterest Rich Pins.
Pinterest rich pins pull information from your content on display the information on your pins.
This can help boost your pin reach and engagement depending on what type of content you have and what type of rich pins you're using.
These are the different kinds of rich pins that exist and the type of content that is displayed for each type:
Articles: Headlines, authors, and descriptions of the blog article
Recipes: Ingredients, serving sizes, etc.
Product: Pricing, availability, and where to buy
App: Ability to download IOS apps within Pinterest
In this section, we're going to show you how to set up Article rich pins (for most bloggers and website owners).
To understand this a little better, here is an example of two pins: The first pin has rich pins enabled and the second does NOT.
You can see that the pin with rich pins enabled also has a link to the account owner as well as a follow button!
Okay so back to setting up rich pins…
How to Enable Rich Pins
The process can get a little complicated because you have to equip your website with meta tags to do this. Unless you are a coder, and we are assuming that you are not, you will need to pay something to do this or use a plugin.
If you ARE interested in reading the nitty gritty, it can be found on Pinterest's website here.
Some WordPress themes allow you to add the tags in your settings, but most do not. Thankfully, this can also be done with the Yoast SEO plugin. You'll want to be in the same "Social" section as described above.
First, make sure you have enabled Open Graph metadata as instructed in the previous step or this won't work.
To set up rich pins, simply go to the Rich Pins Validator and copy and paste a link to any of your posts into the field provided.
It's important that your URL links back to a WordPress POST or PAGE — if you link your homepage, this will not work!
Click the Validate button, make sure HTML Tags is selected, and then click the Apply Now button.

You should then get a notification that Pinterest will review your submission and email you with any questions.
Pinterest will email you when your rich pin application has been approved or tell you that it has not been approved.
Before moving on to the next section, make sure to look over the rest of your profile settings to see that you have notifications and other settings set up the way that you want them.
5. Create Your First Few Pinterest Boards
As we explained before, Pinterest boards are what house the content that you save on Pinterest. Think of them as a way of categorizing and organizing content (pins) that you save on your profile.
Create at least 5 boards to start with on Pinterest.
You can edit your board at any time by clicking on the board and clicking the gray pencil icon at the top of the board.
When choosing names for your boards, TRY to avoid getting funny or cutesy with it!
In order for your boards and the pins within them to be found by others on Pinterest, you must use searchable keywords.
For example… Naming a board "Weight Loss" is far better than naming it "Drop Dat Weight!"
While that board title might get you a few chuckles… No one is searching for that term, so you're only going to hurt your overall reach on Pinterest.
We will discuss this and SEO in more detail later on in this article but for now, know that you should include relevant and popular keywords in your board names and descriptions.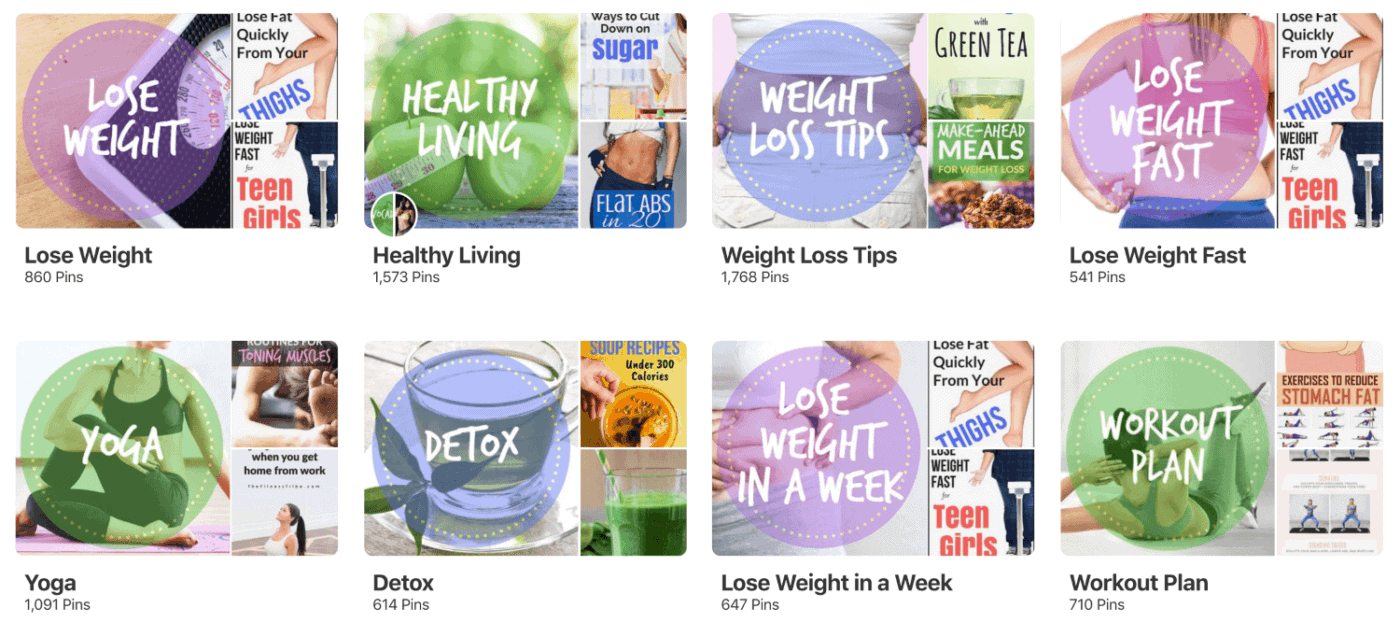 After you save at least 2 pins saved on your board, you can set a board cover. Your board cover can be any of the images that are pinned on that particular board.
Bonus Tip: You can also create custom covers for your boards using Canva. The size of Pinterest board covers changes often and they sometimes look different on desktop than they do on mobile. We use the size of 500 x 500 px.
To set an image as a board cover, simply upload the image to your Pinterest board and edit the board settings to choose a cover.
6. Follow a Few People or Brands in Your Niche
You should follow at least 5-10 people in your niche for a couple of reasons:
It will populate your home feed with relevant pins to share with your audience.
It will help you keep an eye on your competitors and the content that they are sharing.
Use the Pinterest search feature to search for popular keywords in your niche and then select the "People" filter: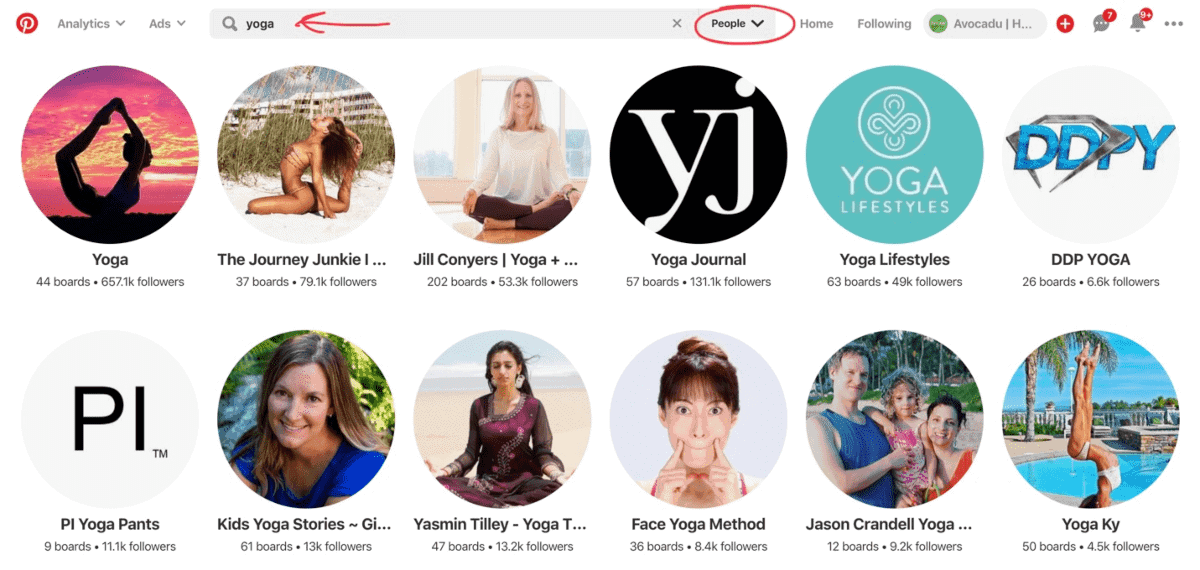 Start by clicking on people's profiles and checking out their content.
When you look at someone's profile, make sure to look over ALL of the boards on their account. Some people mix their business accounts with personal boards and pins.
If you follow their entire account, you will automatically follow ALL of their boards.
Alternatively, you can also choose to follow only specific boards on their account.
When looking over people's profiles, only follow specific boards that relate to your niche or industry.
7. Add Some Pins to Your Boards
Now that you've created your first few boards, it's time to add some pins to your account.
Your Pinterest account will end up being a mixture of your pins from your website as well as other people's.
You can find pins to save to your account through your home feed or using the search feature.
When you use Pinterest search, try typing in keywords from your board names or other similar topics related to your blog content.
If I was searching for content for my Yoga Poses board, I would search for some of the following terms: yoga poses, yoga workouts, yoga poses for flexibility, etc.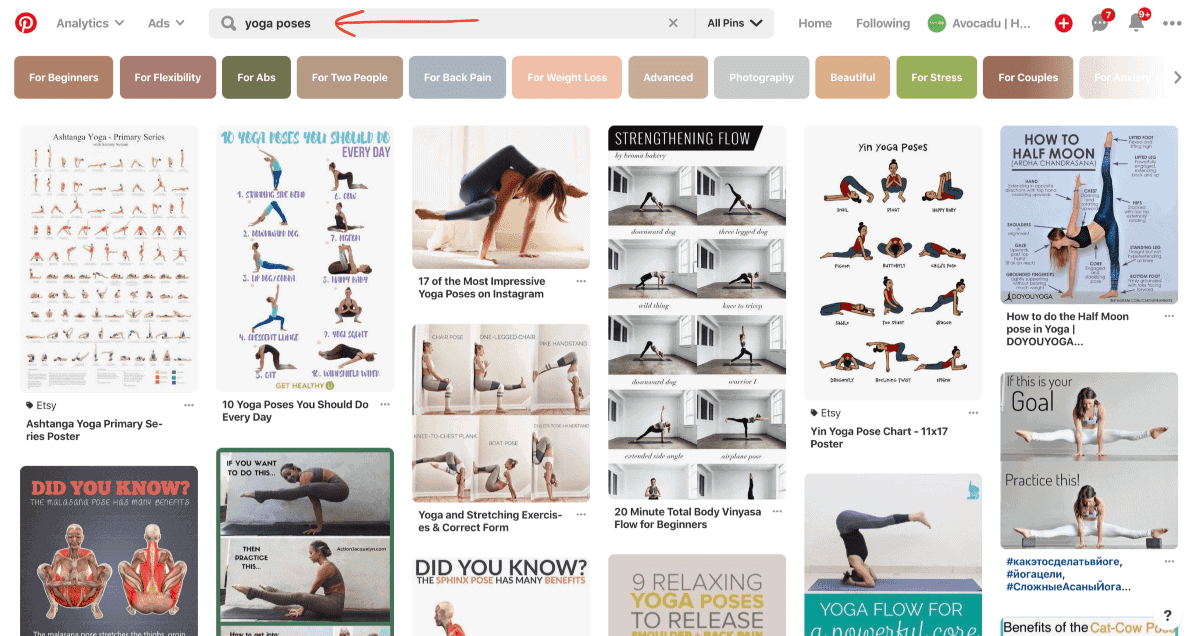 The Pinterest traffic algorithm will then serve up "results" based on popularity, keywords, and other factors — in a similar way that Google or other search engines show search results.
Tips for saving pins to your boards:
Look for pins that are visually stimulating: large, beautiful images with readable text.
Only save content that you believe your audience would be interested in and save on their own accounts.
Click on the pin and check the URL where it leads before saving to make sure it's not spam or blocked.
Pinterest doesn't like when you share spam or blocked websites, and they will penalize your engagement for it (even if it's on accident).
When you find a pin that you want to save, click on the pin, click the save button, and select which board you want to save the pin to.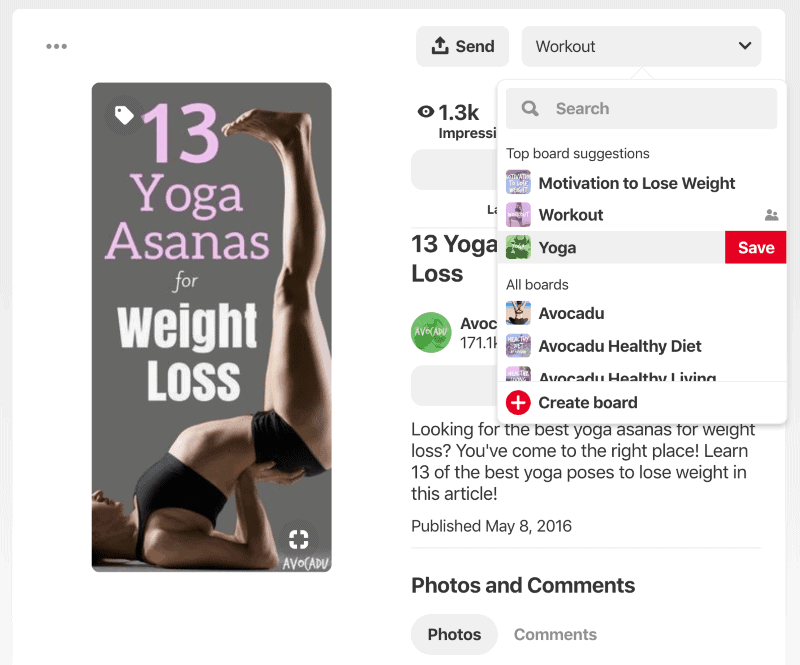 You should be saving mostly your own content to your boards, but it's okay to share content from others when it's really relevant to your audience.
8. Create Your First Pinterest Pin
Similar to Instagram, your images matter on Pinterest.
A LOT.
It's all you have to advertise your content and get clicks over to your website.
Having pins that are clicked often and saved a lot will also show Pinterest that you share great content and they will, in turn, continue to show that content to more people.
This is one of the quickest ways to get better engagement with your content on a new platform.
And the best software for creating pins is definitely Canva.
I think this is the 3rd time I've mentioned it in this article now, so you can see how useful it is!
Canva is a free web-based photo creation software that allows you to create beautiful and professional photos, and it's super intuitive and easy to use!
I use it to create:
Pinterest pins
Product images for courses and eBooks
Featured images for our blogs
Other images for our sales pages and emails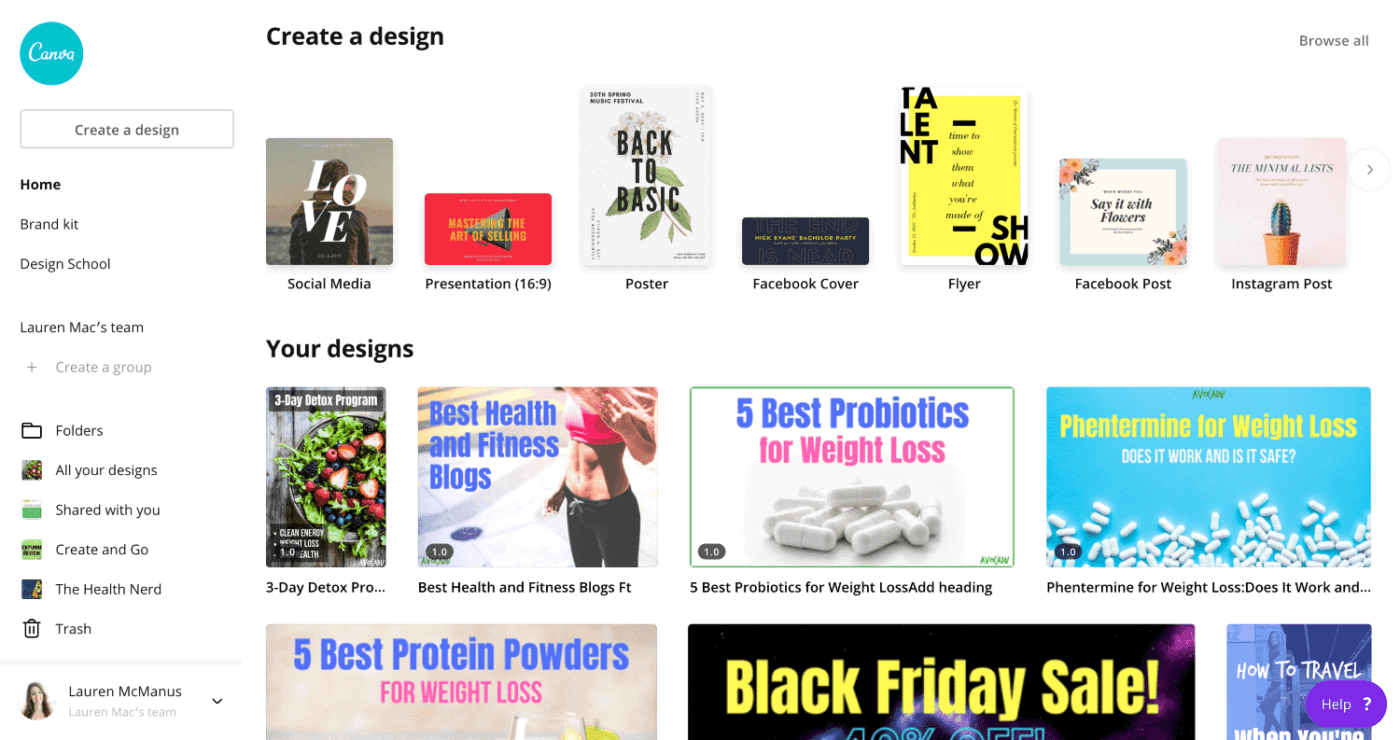 According to Pinterest's creative best practices, your Pinterest pins should be in a 2:3 aspect ratio; i.e.600px by 900px or 1000px by 1500px.
Canva offers some stock photos for free, but you can also download free stock photos from sites like Pixabay or Pexels and upload them to Canva.
Related: Free Stock Image Sites
You can also add text and other graphics and design to your pins: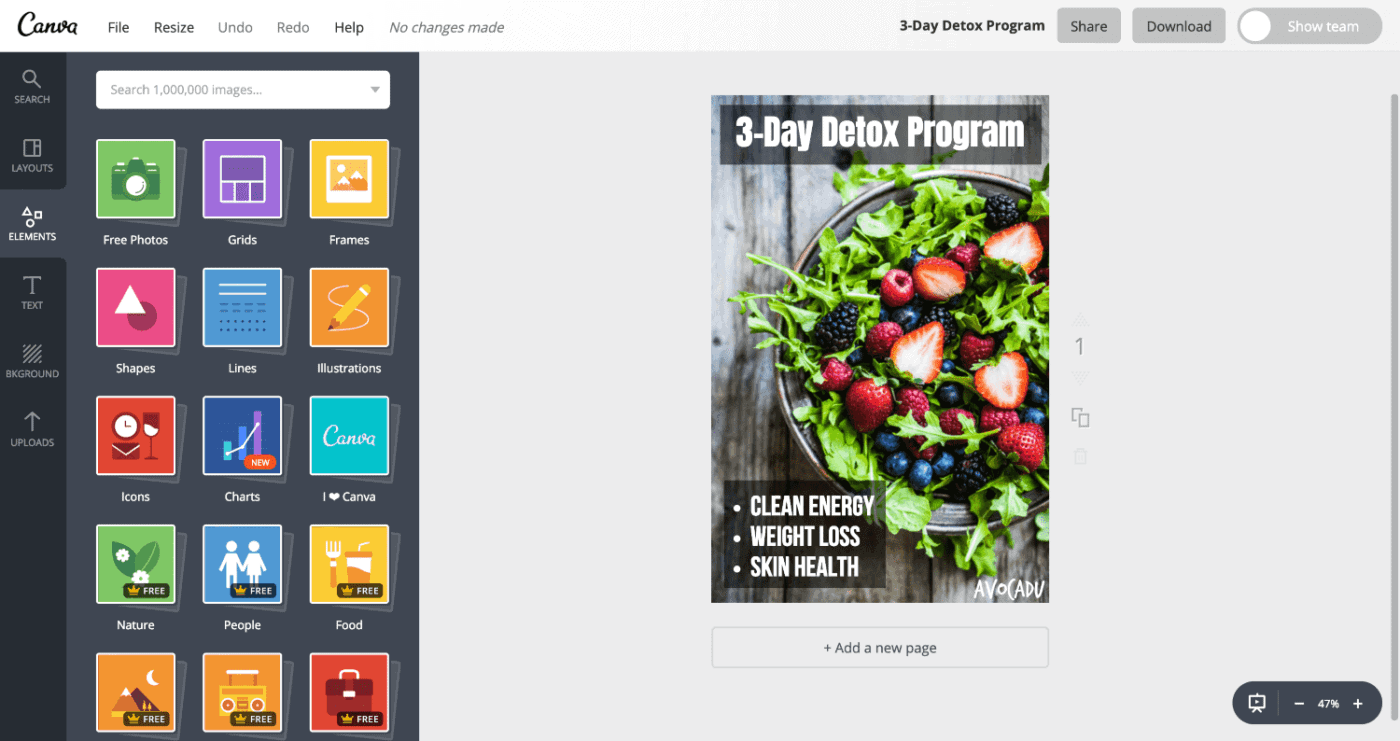 You should create at least 2-3 Pinterest images for every blog post that you have.
This ensures that you have plenty of content to share and helps you test out which designs perform better on Pinterest.
Other tips for creating high-performing images on Pinterest:
Add your logo to the top or bottom of your pins
Consider using the same font text across your entire account for branding consistency
Avoid using images of people's faces
Make sure to use the service below to check your analytics and see which pins are performing the best!
Promoting Your Content on Pinterest
Now that you have gotten your profile set up and some of your Pinterest content created, it's time to get some more eyeballs on that Pinterest!
This section contains our best tools and strategies for increasing your blog traffic on Pinterest!
1. Sign Up For Tailwind
If you want fast success on Pinterest, there is no way around this next step. It's absolutely vital for success on Pinterest and you won't find a Pinterest "expert" out there that doesn't recommend it.
The best tool that you can use to promote and share your content on Pinterest is Tailwind.
Tailwind is a software that connects to your Pinterest account and provides the following services:
Schedule pins
Analytics on pin engagement and performance
Tracks new followers
Specific board performance
Collaboration tools for increased engagement
They are also on the list of third-party approved partners with Pinterest.
Using companies that are not specifically on this list and approved by Pinterest has caused business users to have their accounts shut down in the past.
So it's REALLY important to only use third-party approved partners.
Next, we'll go through the various features of Tailwind and show you how they can help you promote your content on Pinterest.
Scheduling Your Content on Pinterest
Scheduling your content will both save you tons of time and ensure that you get more engagement on your pins.
As you create more boards and share content every day, it will get tough to keep track of what content you shared on what day and on what board.
It also allows you to share content at any time of the day (while you're sleeping, on vacation, etc.) without having to be on your computer.
Using a scheduler just automates this process while also keeping your content organized.
There are a few different options out there in terms of schedulers, but Tailwind is our recommended scheduler because it also provides analytics and other collaboration tools that you will need.
When you add pins to your Tailwind schedule, you can set the boards you want to pin the content to as well as any future date that you'd like to pin it: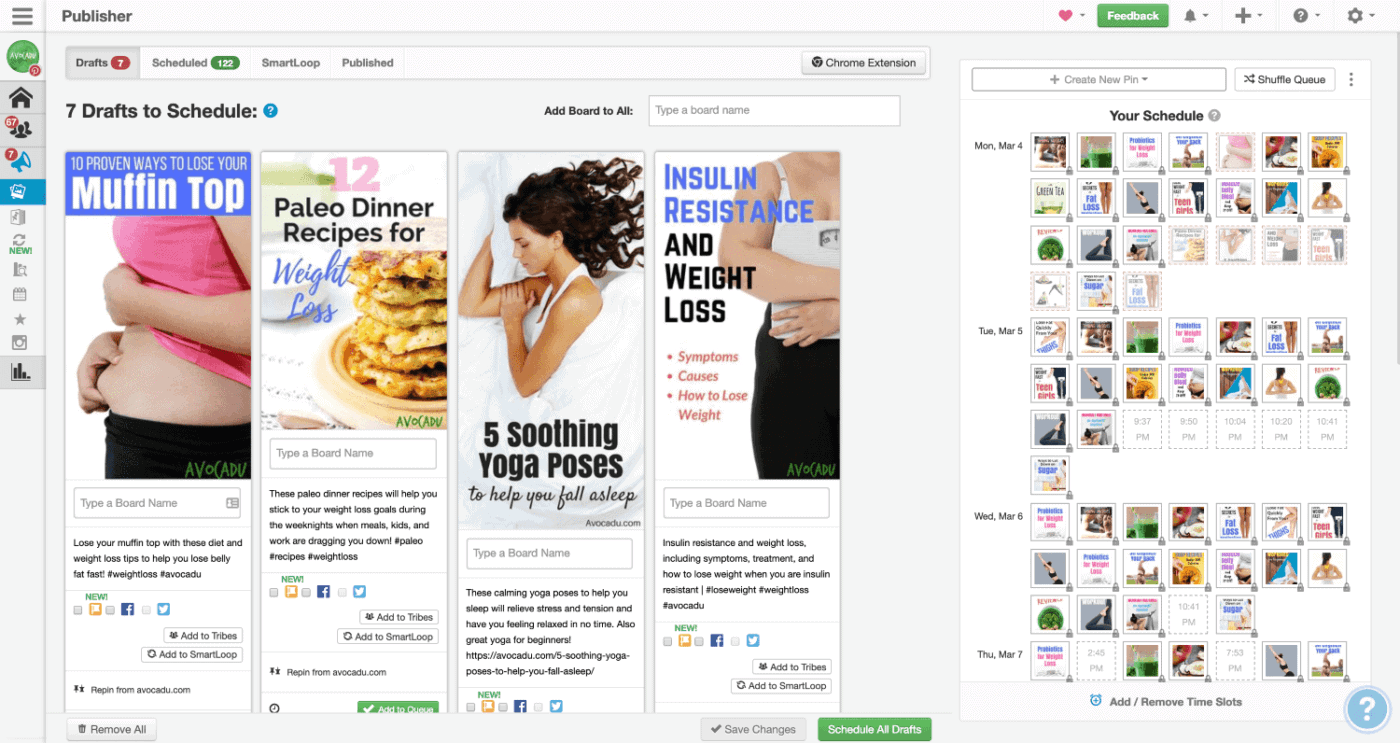 You can also change board descriptions within Tailwind and change the link where the pins direct to if need be.
You can also set up intervals on your schedule so you can space out your pins as much as you'd like.
In addition to scheduling your pins, Tailwind also tracks the performance of those pins:
Analytics on Pinterest Pins
The tools that Tailwind offers allow you to track the performance of your profile and your content over time: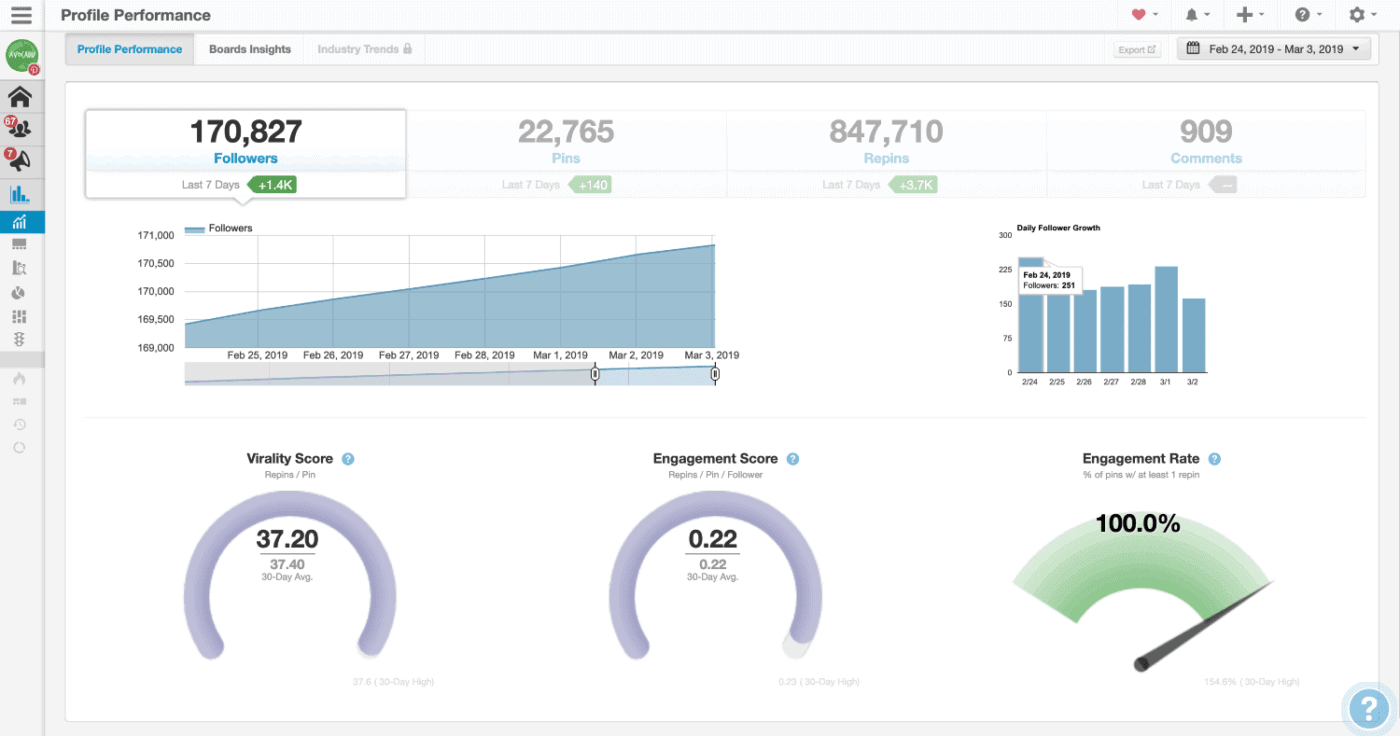 It will show you the average engagement levels of your content and track your follower growth.
You can also use the Pin Inspector to view the pins you have previously saved and sort them by date, repins, etc.:
Seeing which pins are getting more likes and saves can help you create better content in the future.
Pinterest has analytics on the platform, but the data provided is notoriously ambiguous and shouldn't be relied on very heavily.
Google Analytics is far more reliable for traffic stats and Tailwind analytics dive a lot deeper than Pinterest analytics.
Tailwind Tribes
By far my favorite feature of Tailwind is a collaboration tool called Tribes.
With Tailwind Tribes, you can join tribes of other pinners in your niche and share content with them:
This can be one of the best tools for growth for new accounts because it allows you to get your content seen by more people even if you don't have many followers yet.
Like I said before, Tailwind is 100% necessary for quick and continued growth on Pinterest.
Without it, you're pinning in the dark without a clue of what's working and what's not.
AND… They also offer a free trial. You sign up for a free 14-day trial of Tailwind here.
Tailwind is the full package: scheduling + analytics + collaboration tools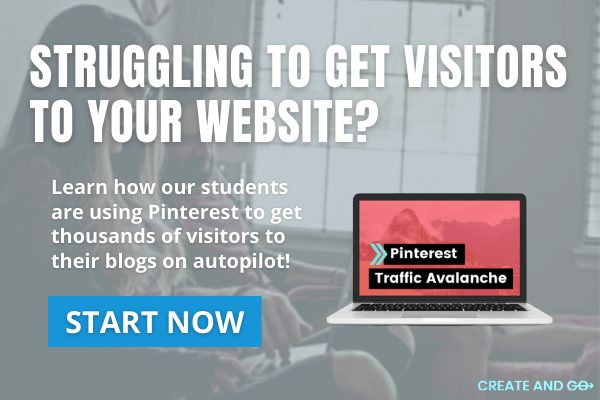 2. Join Group Boards
One of the hardest parts about driving traffic to a new blog is getting started on a social media platform with 0 followers and 0 traction.
It takes followers to get followers, right?
Not necessarily.
With tools like Tailwind Tribes and group boards, you don't need to have followers to drive traffic.
A group board is essentially a board from someone else's account that the board owner has allowed you access to share your own content on.
When you save content to a group board, your content is exposed to the followers on that other person's board (even if they aren't following you).
Group boards can be a great tool for growth for new accounts on Pinterest because they essentially let you "share" followers from other accounts.
It's INVALUABLE at the beginning when you have under 1,000 followers and are struggling with getting your pins seen.
In order to join a group board, you must first send a request and get approved by the person whose account the board belongs to.
There are two popular tools that allow you to search for group boards from Pinterest:
You can search by keywords and sort the group boards based on followers, number of pins, repins, etc.:


Make sure that the board has MORE followers than your account does, or you are just wasting your time (unless the board has very good engagement – you will need a Tailwind account to see board scores and engagement).
When you find a board that you like, first follow it, and then you will need to contact the owner:
If they have an email address in the description of their board, that is your best option.
You can also look to see if their profile is connected to a website and look for contact info on their website.
The final option is to comment on a pin with a request to join, but this rarely works anymore as most people just don't see their comments in their notifications.
Other tips on group boards:
Make sure that you have already created some boards and pinned some content on your profile before requesting to join any group boards. Board owners (the good ones anyway) will usually look at your profile to judge whether your content is good enough to be on their boards.
It's also important to check the performance of group boards using Tailwind to make sure that the board has good engagement.

Some group boards contain spam or other poorly performing content and this can actually hurt your own engagement.
How to Optimize Your Website with Pinterest SEO
As we stated before, Pinterest is a search engine at heart.
Because of that, SEO works similarly on Pinterest as it does with Google.
What is SEO?
SEO stands for search engine optimization, and it means optimizing your content to rank better in search algorithms.
You've probably heard of SEO as it relates to Google. Including popular keywords in your articles and your headlines can improve your chances of getting found in search for those particular keywords.
There are many other factors that go into search algorithms, especially an algorithm as complex as Google.
But Pinterest's algorithm isn't nearly as advanced as Google's, so it's much easier to rank for popular topics on Pinterest.
You see, there are two different things you have to focus on when it comes to driving traffic with Pinterest.
Pin design (to get clicks and engagement — we covered this above already)
SEO and keywords (to get your content displayed in search results)
Having both of these is what will help you win the game at the end.
The Pinterest algorithm recognizes both of these factors when they rank content on the platform and display pins in search results and in the home feed.
Finding Your Keywords
The first step in optimizing for SEO is to find your keywords.
The best place to do this is to use the Pinterest search feature to see what people are actually searching for on the platform.
When you type a keyword into the search bar, Pinterest will suggest other related keywords that people search for:

After entering a keyword, you can also see other popular keywords related to your main keyword in the colored boxes below the search bar.

You can click any of these keywords and it will start a new search with both keywords (i.e. yoga + for beginners).
These keywords are what you want to use to optimize your Pinterest profile, including pins, pin descriptions, board titles, board descriptions, and article titles.
Optimizing Your Profile
We discussed this briefly earlier in the article when we were setting up a new Pinterest account. But it's important to include a couple of your main keywords in your name and your description on your profile: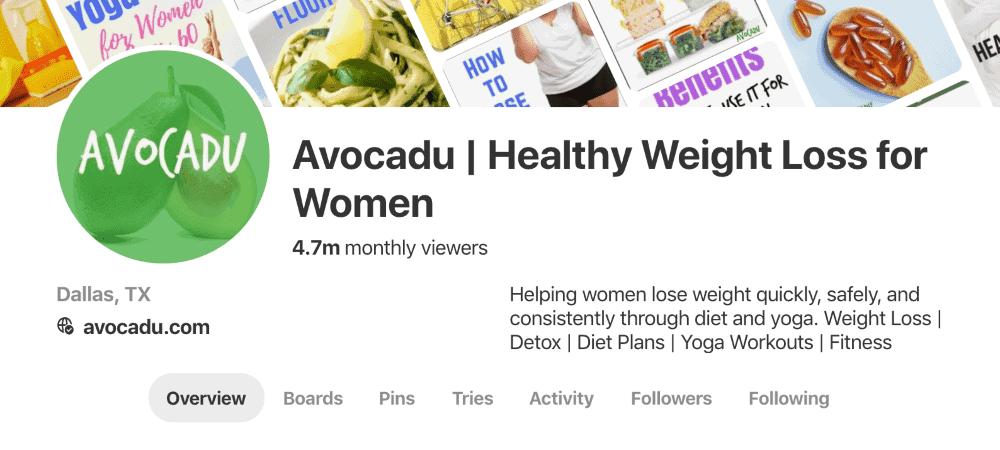 When you search for topics on Pinterest, you can also find and sort results by People and by Boards. Including keywords in these areas can help your profile get found in search:

For your boards, you should include one main keyword in the board title and a few relevant keywords in the board description: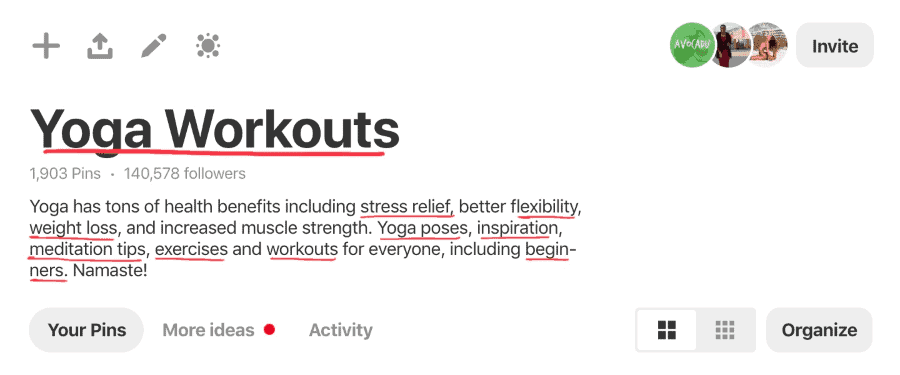 Make sure that your description makes sense and try to avoid keyword stuffing: adding too many keywords that don't make much sense just to get your content ranked.
It's better to have fewer, more important and relevant keywords than it is to have a ton of keywords that are less related to your topic.
Optimizing Pins and Descriptions
When it comes to your pins, you should include keywords in the following areas:
Pin image itself (Pinterest can read text on images)
In your Pin descriptions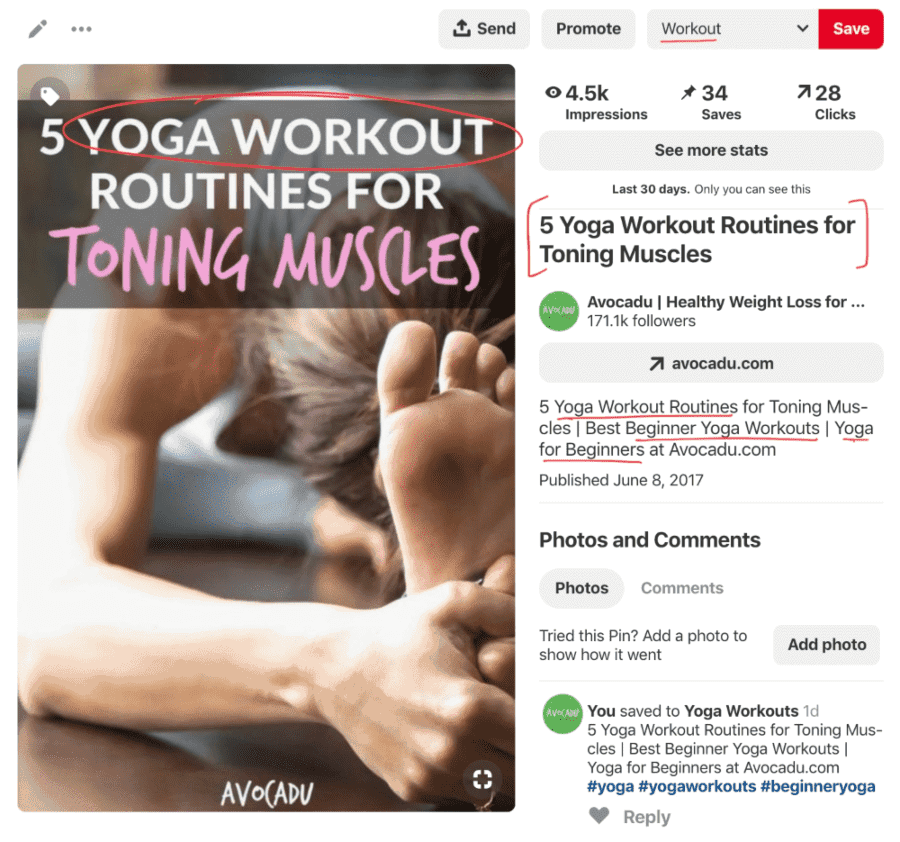 It's important to include your main keyword in a text overlay on the pin image itself. You can do this in Canva when you're creating your pins.
You should also include keywords in your pin descriptions and in a couple of hashtags after your description.
It's also best to save these pins to relevant boards that share some or all of the keywords. This helps to tell Pinterest what your content is about and that you're saving it in the right place.
You can see in the photo above that my article title is also displayed…
Optimizing Your Articles
Pinterest scans pin titles and descriptions to rank them in searches, so it will increase your visibility even more if your post titles and pin descriptions match popular keywords.

Note that you must have rich pins enabled in order for your post titles to display in your pins.
Make sure to include keywords in your article titles and in the meta descriptions for each post (you can use Yoast SEO to do this).
Other Pinterest Marketing Tools
The following are some other popular tools that can help boost your reach on Pinterest.
Social Sharing Icons
You can use plugins to add social sharing icons to your articles and also get a Pinterest hover icon to display over certain images to make it easier for people to share your pins on Pinterest: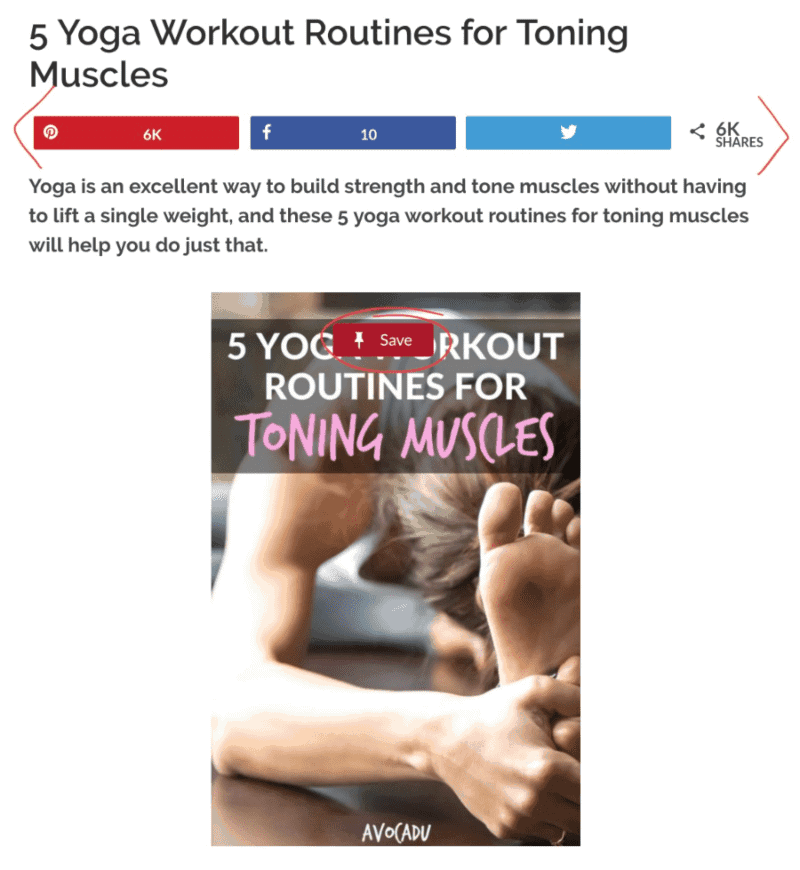 If you don't want to include a Pinterest pin in your article, you can also have one "hidden" in your Social Warfare settings so that when people click your Pinterest sharing icon, that particular image and description that you set will be shared: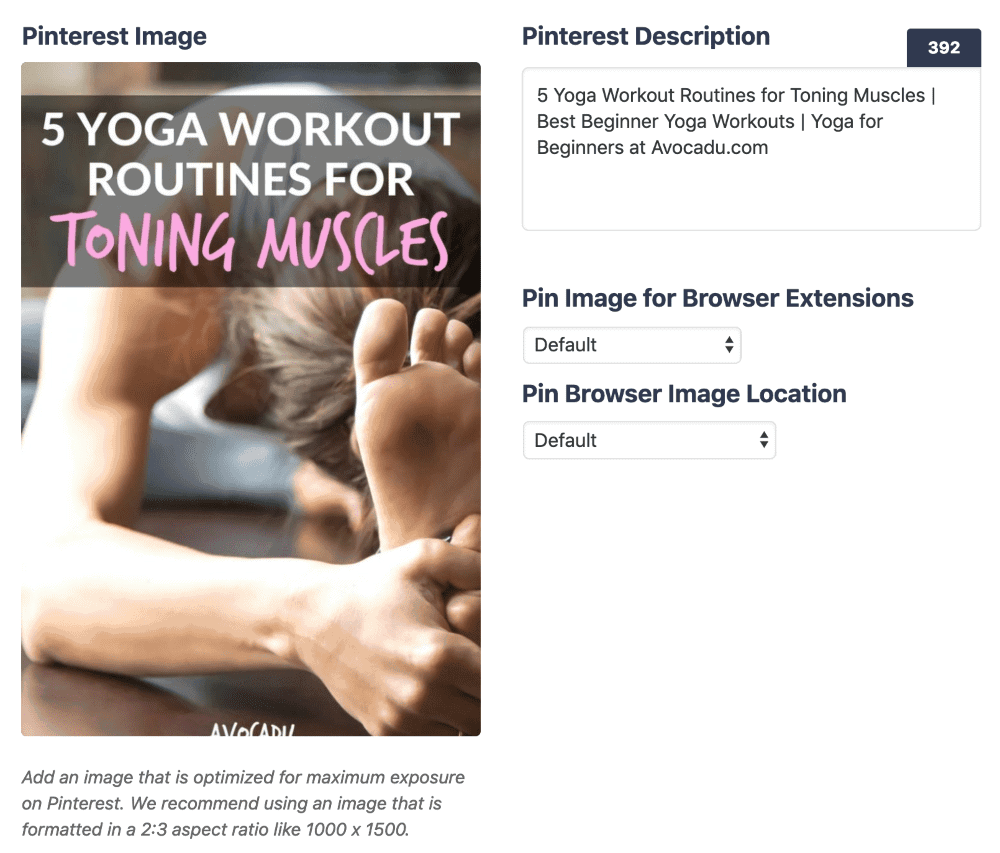 This helps maximize your exposure on Pinterest because your pin and description are what is shared. Not some random image from your article (which people do share, by the way).
Here are a few popular plugins for this:
MiloTree – Follow Buttons
With MiloTree, you can create custom pop-ups on your blog or website that have follow buttons for your social media account(s).
Here is what it looks like using the demo on their website: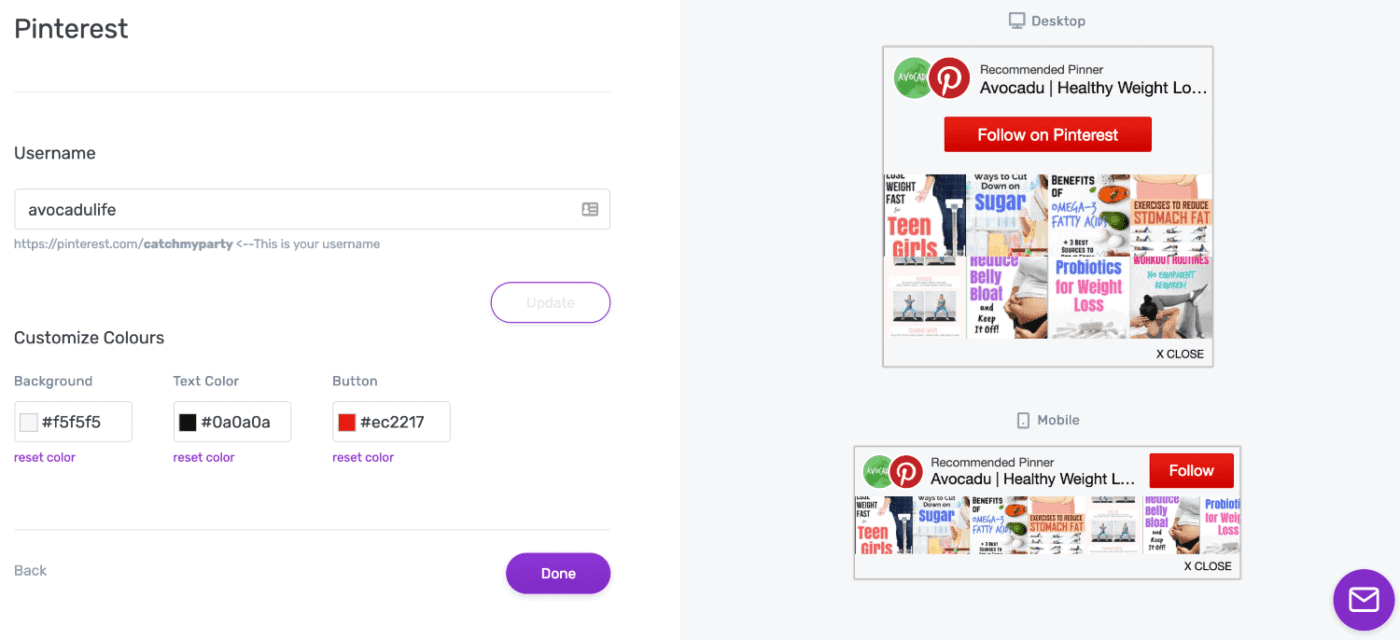 I personally didn't see much of increase in my followers after using this software a couple of years ago (I tracked follower growth using Tailwind).
But the software is still quite popular, so I would encourage you to run your own tests and see if it increases your followers.
You should not place much emphasis on Pinterest followers anyway because Pinterest is primarily a search engine. Content matters far more than followers.
That being said, we know a lot of you will care about the followers anyway.
Totally understandable.
We do have an entire article on how to get more followers on Pinterest that you can read next.
And if you enjoyed this article or have any questions for us, please feel free to leave us a comment below! We'd love to hear from you!