How Natalie Became Our First-Ever Six-Figure Blogger!
Rating:
Name: Natalie Bacon
Niche: Personal Development, Money Mindset, Online Business
Location: Chicago, Illinois
Level: $45,000+/Month
In 2014, Natalie began blogging after feeling unfulfilled by being a lawyer.
She graduated from law school with a massive $206,000 of student loan debt and created her first blog to help professional women get out of debt and learn more about money.
She has since become a Certified Life Coach and rebranded to NatalieBacon.com. She now helps high achieving women in her virtual life coaching program, where she helps them rewire their brain, rewrite their past, and achieve big impossible goals.
In between starting her blog and life coaching, Natalie became a Certified Financial Planner (CFP) and quit her career as an attorney — taking a 50% pay cut while she still had all that debt!
When Natalie found us, she was stuck between the $2,000-$3,000/month mark with her blog. She was making most of that income through affiliate marketing.
Natalie was hesitant about how to make money at the next level but knew that she had to try something different.
She was skeptical that our Six-Figure Blogger Course was the right course for her but wanted to try something new and different, so she gave it a shot.
It made sense to her that creating her own products was the next step to scaling her income, even though she wasn't quite sure how she'd do it.
Even though it took her 6 months to create her first eBook, she implemented EVERYTHING in the course and got much better at product creation, marketing, and selling to her audience. The first product was the hardest for her, but she continued to implement the tools from the course and created multiple products immediately after that.
"I bumped my income up to $4,000-5,000 pretty quickly and that was mostly just through changing all of my email sequences. There is an email sequence module in Six-Figure Blogger that just like changed my life.

I built an incredibly strong connection with my email list that I didn't have before Six-Figure Blogger. I'm providing so much more value to my clients now. I finally get it.

Not only was the email marketing section invaluable to me, but the specific tutorials, outlines, course creation lessons, all showed me how to create products for the first time.

Six-Figure Blogger took me from I-don't-know-what-I'm-doing-but-I-want-to-make-money to I-finally-understand-how-to-make-money-online-by-selling-digital-products."
With the help of Six-Figure Blogger, Natalie has created 3 eBooks and 3 online courses!
She has also been able to quit her full-time job as a CFP to be a blogger full-time, and she now makes an average of over $45,000/month!
We're so proud of Natalie, and her story is extra special to us not just because she was our first EVER six-figure blogger, but also because we've met Natalie personally several times and have become close friends!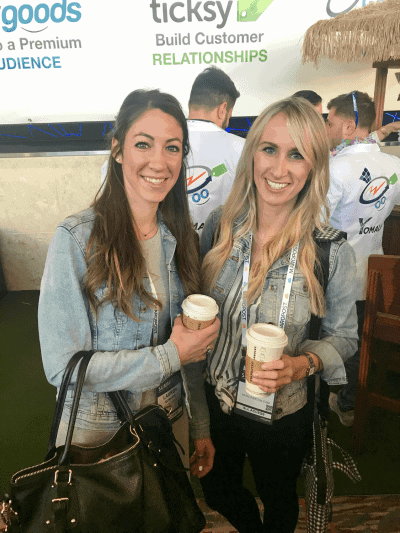 This is a photo of Lauren, co-founder of Create and Go, and Natalie at the Traffic and Conversion Summit by Digital Marketer.
Natalie is also the host of the Design Your Dream Life Podcast, paid off all her student loan debt and is setting her sights at breaking 7-figures in revenue!
We're so proud of her, and we know she'll get there VERY soon!
Ready to start YOUR blog!? Check out our free step-by-step guide to learn how you can get started today!