We partner with bada$$ companies that offer products that help our readers achieve their goals! If you purchase through our partner links, we get paid for the referral at no additional cost to you! Read our disclosure for more info.
You know the old saying, "You can't judge a book by its cover"?
It's crap.
We ALL judge books by their covers.
And what specifically about the cover are we judging?
It's the headline and the image on the cover.
The same is true for your blog.
Think of every post you publish as the cover of a new "book."
You know you have to craft a killer headline (which is #3 on our list of the biggest mistakes new bloggers tend to make) in order to capture people's interest.
But you also have to pair that headline with an image that matches the ideas in the headline, that makes internet users (who have the attention span of a goldfish) pause for a moment..
And ultimately, click on your post to read more.
Of course, the use of images doesn't end there…
Adding various pictures throughout your blog post helps keep readers interested and moving down the page.
This brings us to the topic of this article:
We'll cover each site in detail, telling you what they offer, where they came from, and how to start using them to get free photos for your next post.
So let's dive in and check 'em out!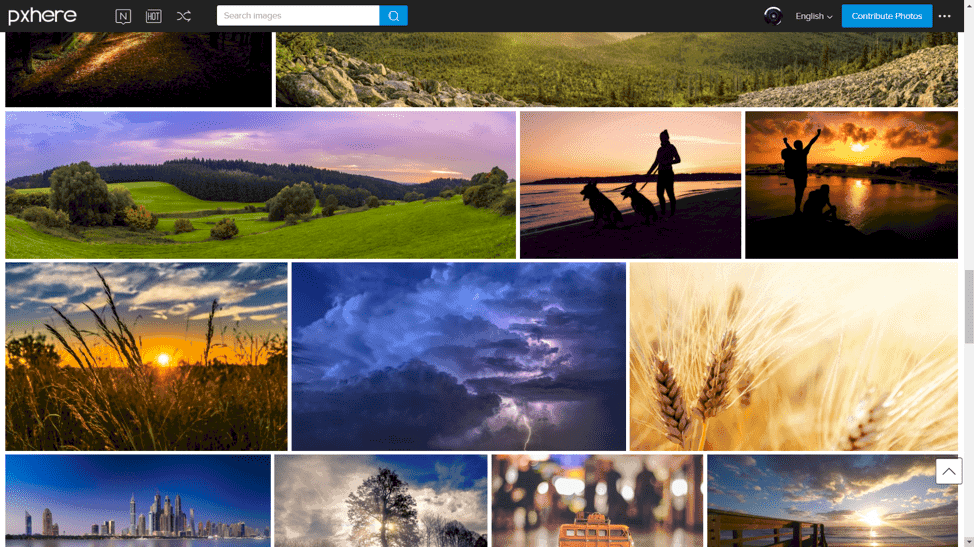 PXhere is a free stock photo site with tens of thousands of photos ranging from gorgeous natural landscapes to stunning close-up shots of men, women, children, and pretty much anything else you're looking for.
You can search for images using their tags or the search bar. You can also click on one of 3 pre-searches they have set up for you: new photos, popular photos, and random.
Plus, PXhere organizes photos into various collections.
PXhere's selection is enormous.
All of PXhere's photos are covered under the Creative Commons Zero license (CC0).
Traditionally, copyright licenses require you go through a fairly intensive and technical legal process to get the rights to use a photo.
Under "Creative Commons," licenses you can download, publish, alter, edit, and pretty much do what you want with the photo absolutely free.
So feel free to go wild with all the images you get from PXHere!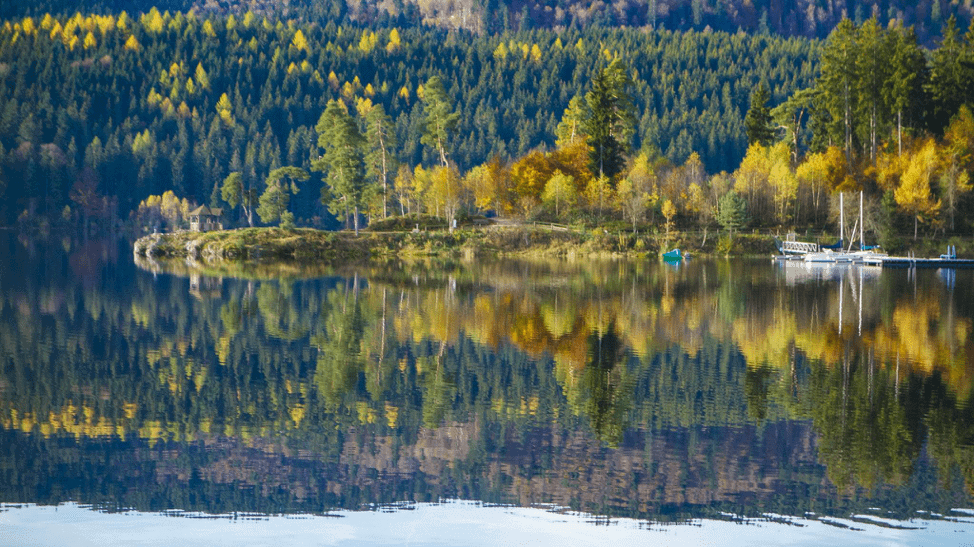 Flickr is one of the best-known free stock photo sites for blogs on the internet.
And for good reason…
They host tens of billions of photos on their site.
And like PXhere, they organize photos into collections they call groups. There are 2 million groups.
For example, the "Nature and Animals" group has almost 600,000 photos in it for you to choose from.
But there's a catch…
Flickr hosts free AND paid photos.
So if you're an amateur ornithologist (a bird expert for those not in the know), and you type "birds" into the search bar, Flickr will return pictures covered under the Creative Commons license, along with copyright pictures and a host of other types of licenses.
So if you just want FREE pics, make sure to modify your search by selecting "all creative commons" from the dropdown bar that appears after you start your search.
Finally, if you're a photographer in the making (and especially if you blog about photography) and you want to gain a wider audience for your pictures, you can host your photos on the platform and grow a following.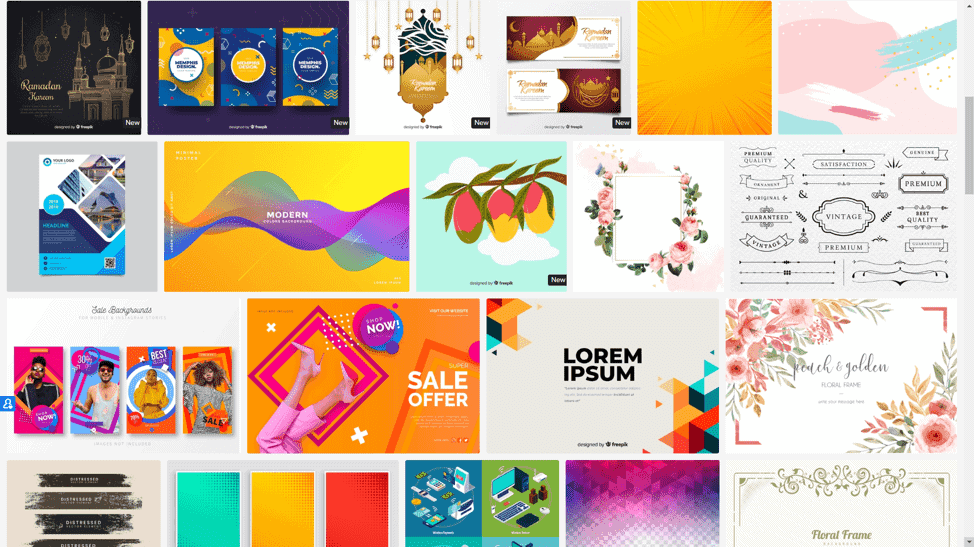 Freepik bills itself as the "leading search engine of free vector designs."
Vector designs? What the heck are those?
Fair question. And we don't want to get too techy here, but we want to at least explain what vector images are and why they're important.
The technical definition of vector graphics from Wikipedia:
"Computer graphics images that are defined in terms of 2D points, which are connected by lines and curves to form polygons and other shapes. Vector graphics are commonly found today in the SVG, EPS and PDF graphic file formats and are intrinsically different from the more common raster graphics file formats of JPEG, PNG, APNG, GIF, and MPEG4."
Further clarification:
Vector graphics use points and paths to form images, while pixel graphics use individual bits to form images.
Why does this matter?
Vector graphics can scale up or down to nearly any size and still look crisp. Pixel graphics tend to look blurrier and blurrier the larger you scale them.
That's why vector graphics are most commonly used for logos.
Of course, they also give you access to a ton of regular free photos, adobe photoshop documents, and icons.
Needless to say, Freepik gives you plenty to choose from.
4. Pixabay (Our Favorite)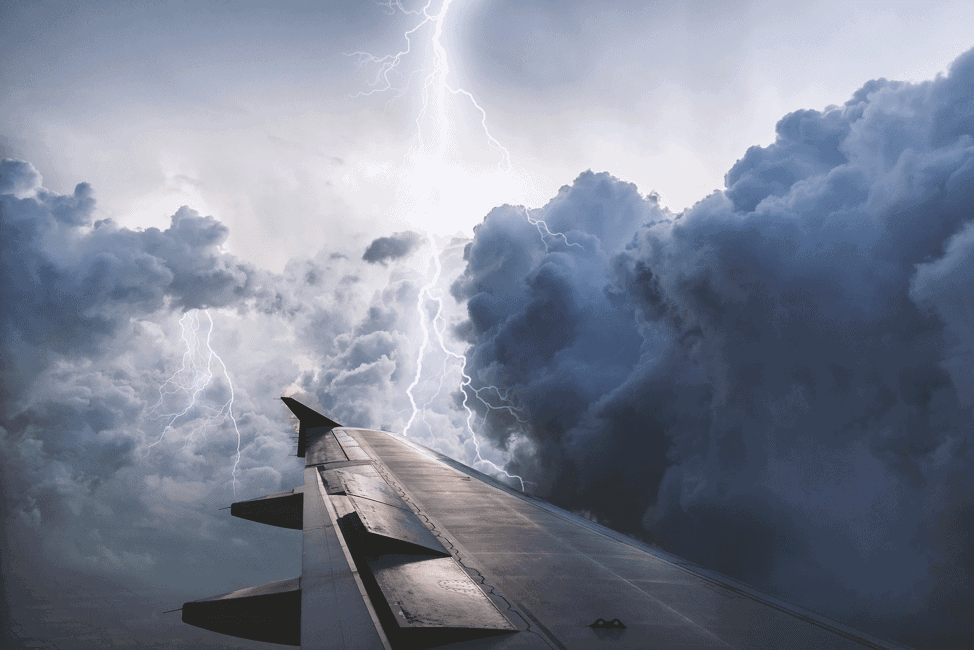 Pixabay is our personal favorite and go-to because they have the largest selection of free stock photos that we have found on the internet.
They have well over 1 million high-quality photos, illustrations, vectors, and videos.
And if that wasn't awesome enough…
They created their own license which allows you to use the pictures without attributing anyone, without permission, and you can even use it for the stuff you want to sell (commercial use).
It's pretty much the least restrictive policy out there for free images to use in your blog.
With that said, there are a few things that aren't allowed:
You can't download

Pixabay photos

and then upload them to some other stock photo site like Freepik.
If someone in a photo is identifiable, you can't make them appear in a bad light or in some way that is offensive.
You can't make it seem like the creator of the image, or the person or brand in the image is endorsing your product in any way (unless they actually do, of course).
And you can't sell a copy of the image in its original state. Meaning, if you want to sell an image you download from Pixabay, you have to amend it or alter it in some – adding value to it.
But after that, you're free to do whatever you want!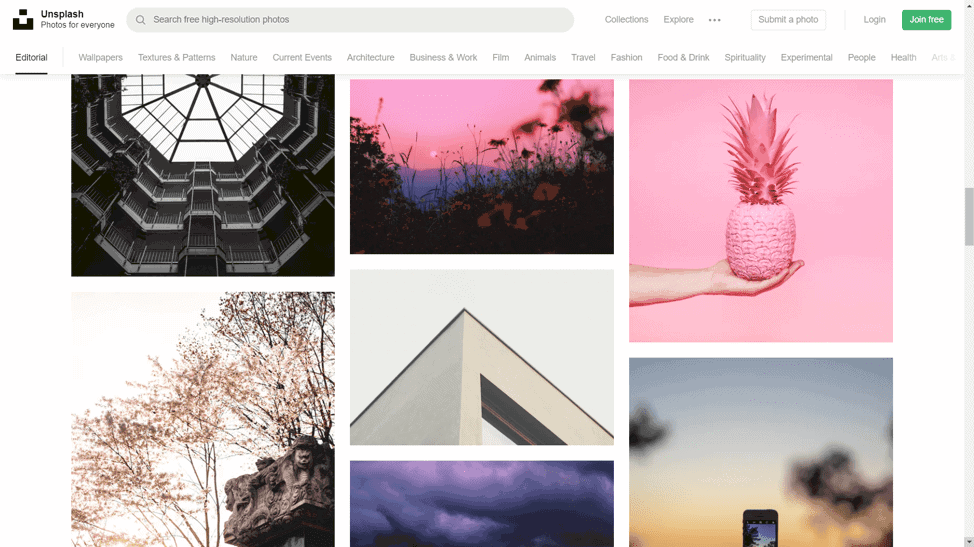 Unsplash is also a great choice, but they only have 850,000+ photos to the 1 million+ that Pixabay has.
That being said, this is what I usually check out if Pixabay doesn't have what I'm looking for.
It's important to have more than one go-to when it comes to free stock photos because they are generally limited compared to paid stock plans.
Plus, the license for Unsplash is similar to Pixabay – they just made their own. It states:
"Unsplash grants you an irrevocable, nonexclusive, worldwide copyright license to download, copy, modify, distribute, perform, and use photos from Unsplash for free, including for commercial purposes, without permission from or attributing the photographer or Unsplash."
The only thing you can't do is download Unsplash images and use them to make a competing free image site for bloggers.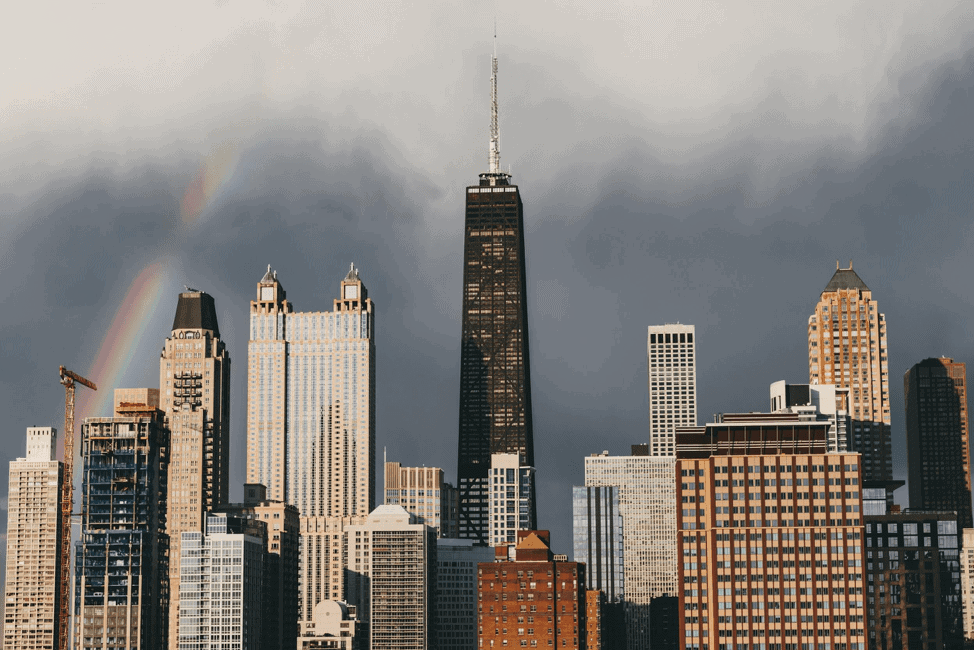 Pexels is the third-runner up to the above two previously mentioned as it has "hundreds of thousands" of free photos. So I guess it's fairly comparable to Unsplash but still trails behind Pixabay.
Their mission is to empower designers, writers, and all sorts of creators to have free access to beautiful photos to tell your story, showcase your website, and make exciting stuff.
As creators ourselves, we can appreciate that.
Pexels also hand-picks every single photo from those uploaded by users. Or they're sourced from other free image websites.
But this means their photos aren't completely original…
I've often found that many of the more popular images on free stock photo sites are listed on multiple sites. That's why I think it's best to check a bigger site like Pixabay FIRST and only come here after you've struck out there.
Pexel also offers a large collection of free videos.
And if you're a budding photographer (or operate a young photography blog) you can submit your own photos to win special prizes. We don't know what those prizes are, but I bet they're photo related and awesome!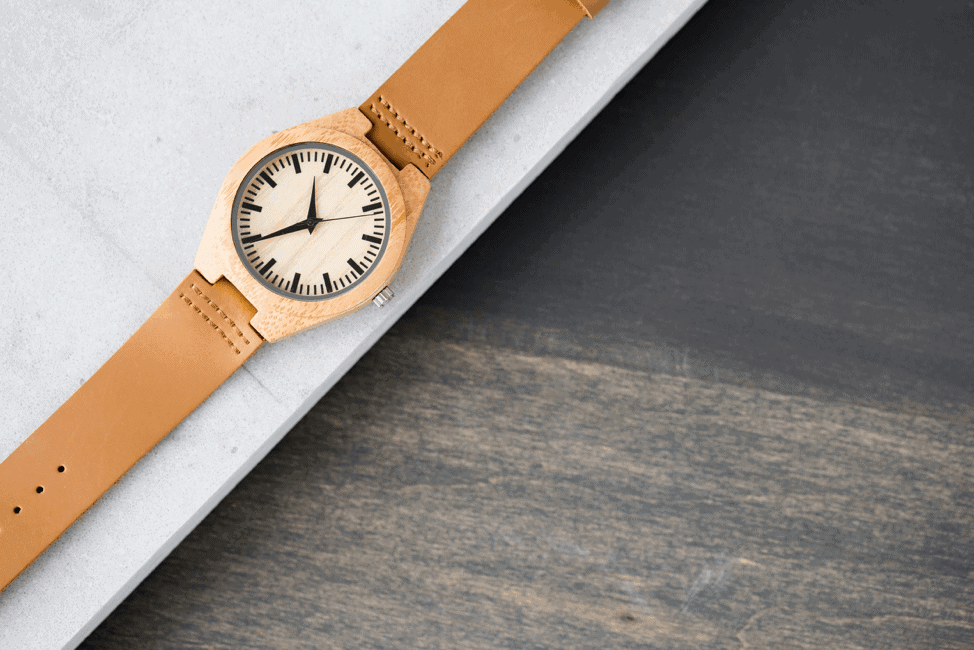 If you're an e-commerce blogger (or just like to buy your mom cool gifts for Mother's Day) you probably know about Shopify.
What you probably didn't know is that Shopify also has a great free stock photo platform with a lot of interesting features.
Every photo has a high-res and a low-res option for downloading, letting you choose the quality and size of every photo.
All images are royalty-free, but they're covered under different licenses that may slightly change how you may use them.
A super cool page you should check out if you want to start an e-commerce business but don't know what to do is Burst's Business Ideas.
It's a collection of photos and case studies to empower you to start an online business, with tons of great hot, trending niches to choose from.
With that said, you can use any pictures you download from Burst on other online store platforms if you've already got an e-commerce store elsewhere.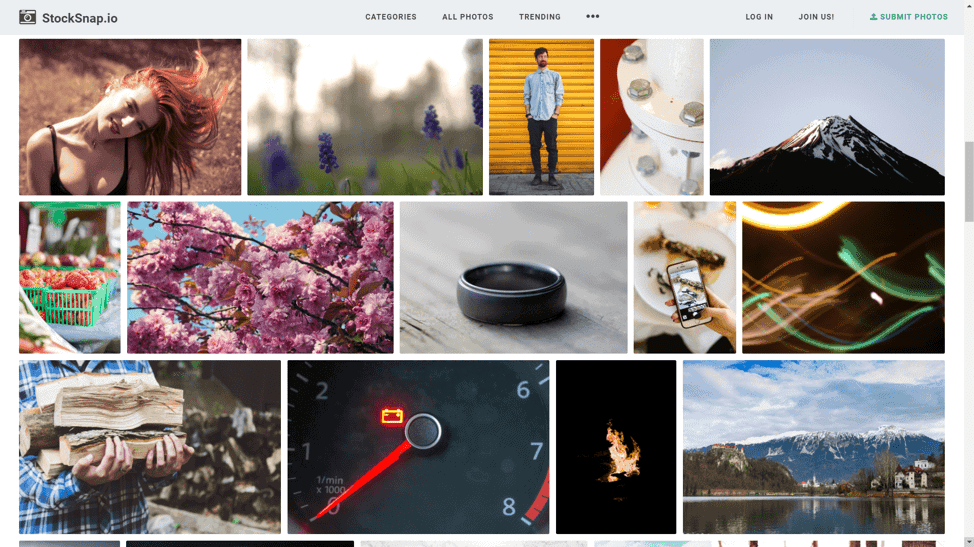 StockSnap is a process similar to Pexels:
The curators at StockSnap wade through pools of submissions and pluck out the highest-quality images from each batch.
Then they organize all these images into categories arranged by tags so you can browse images that hit just the right mood or feeling your content is supposed to convey.
And every photo you click on is linked to the original artist's profile so if you if like one, you can check all the others they've produced.
Finally, they make it crystal clear that you can do whatever you want with the photos under a CC0 license that covers every image on the site.
They don't specify on the site how many images they offer, but I do suspect that it's slightly less than Pixabay, Unsplash, and Pexels.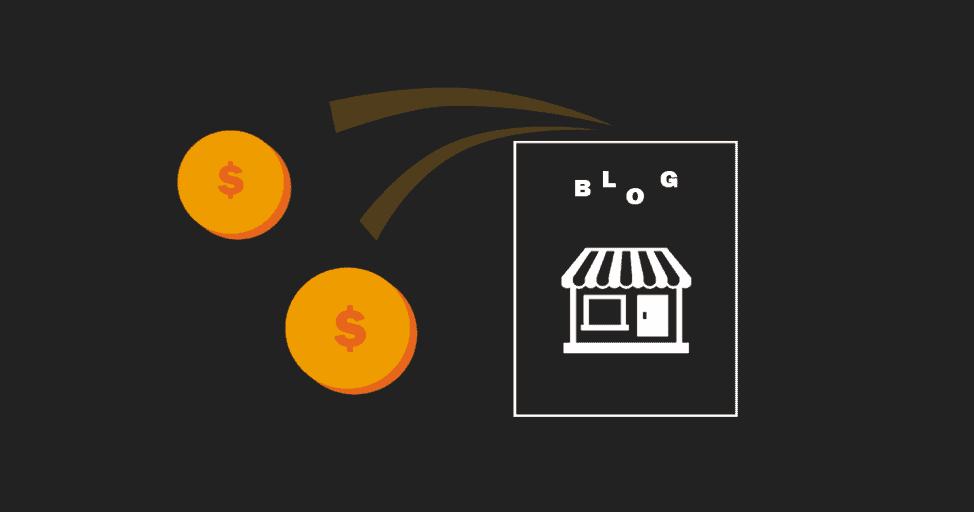 So, yeah…
We admit that Joe the Goat Farmer is an unconventional name for a free stock images site…
This one is technically NOT a free images site. It's more of an internet marketing site.
This is why it's last on our list. If you don't need any digital marketing images or don't have any use for cool icons on your site, it might not be worth checking out.
But you do… It has quite a few free images that you can use in your blogs and on social media.
And if you'd rather go to his Flickr page rather than his website, you can check it out here. (We go into the awesomeness that is Flickr in the next section.)
Joe also offers plenty of additional freebies beyond stock images, like:
While his selection is small, it offers plenty of fun, quirky, and relevant photos if you're in a hurry to grab one.
How Will People Judge Your Next Post?
IMAGES ARE EVERYTHING.
Remember that it's not just about the photos that are within your blog post. It's even more so about the high-quality images and designs you use in your social media graphics to attract visitors to your post.
With all the awesome free photos to choose from, your next post can and should be exploding with high-quality images.
And if you are a blogger using Pinterest to drive traffic to your blog (or even if you're not yet), you should check out our post on How Bloggers Can Get Pinterest Traffic to see how to use these images to get more eyeballs on your beautiful posts!
Enjoyed this article? Did we miss a site that you use or have heard of? Please leave us a comment below! We'd love to hear from you!