We partner with bada$$ companies that offer products that help our readers achieve their goals! If you purchase through our partner links, we get paid for the referral at no additional cost to you! Read our disclosure for more info.
Blogging is a great and diversifiable way to earn an income online. But it's important to diversify your revenue streams and one of the best ways to do that is through joining affiliate marketing programs.
Affiliate marketing is a really simple way to generate income from as little as including a few special links in your blog content. But it's also important to choose the right affiliate marketing programs to partner with because some of them have the potential for a lot more earnings than others.
In this post, we're going to take a brief look at what, exactly, affiliate marketing programs are, and how they work.
We'll start with our top picks for the best affiliate marketing programs for bloggers to join.
What are the best top affiliate programs?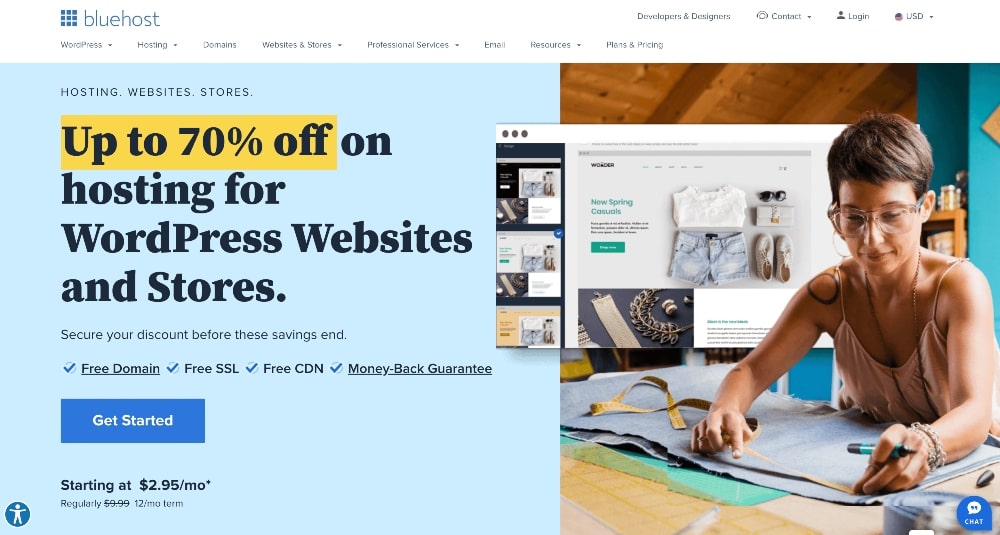 Bluehost is a wildly popular web hosting service and features one of the best affiliate programs for bloggers who want to make money online. It's also what we recommend when starting a blog.
The Bluehost affiliate program has high conversion rates thanks to affordable hosting plans, which start at $2.95 per month, and high commissions, with one-time payouts that start at $65.
Sign-up is easy, and you can begin earning credit for referrals within 45 days.
Best niches for this affiliate program: The Bluehost affiliate program is one of the best affiliate programs for bloggers writing about web design, development, and other related topics.
ConvertKit came onto the digital marketing scene in January 2013, offering a suite of email marketing solutions to users with plans that start at $0 per month and can cost more than $2,000 per month depending on your number of email subscribers.
With a 30% commission payout for up to two years to affiliates for every paying customer or webinar subscriber, the income potential makes ConvertKit one of the top affiliate programs for bloggers.
Best niches for this affiliate program: ConvertKit offers one of the top affiliate programs for bloggers whose target audience is interested in online marketing.
Related: Read our post, Mailchimp vs. ConvertKit for Bloggers
LeadPages is an online solution that allows users to create customized websites and landing pages that help small businesses connect audiences, generate leads, and boost sales.
Although the Leadpages affiliate program is open only to existing users, each referral brings a lifetime 30% commission.
With membership plans ranging from $25 to $200 monthly, the income potential is pretty good. The company also occasionally runs special affiliate programs offering bonuses of up to $5,000 for meeting specific target sales goals.
Best niches for this affiliate program: If you are a blogger who tackles topics associated with online marketing and lead generation, then LeadPages may prove to be one of your top-paying affiliate programs.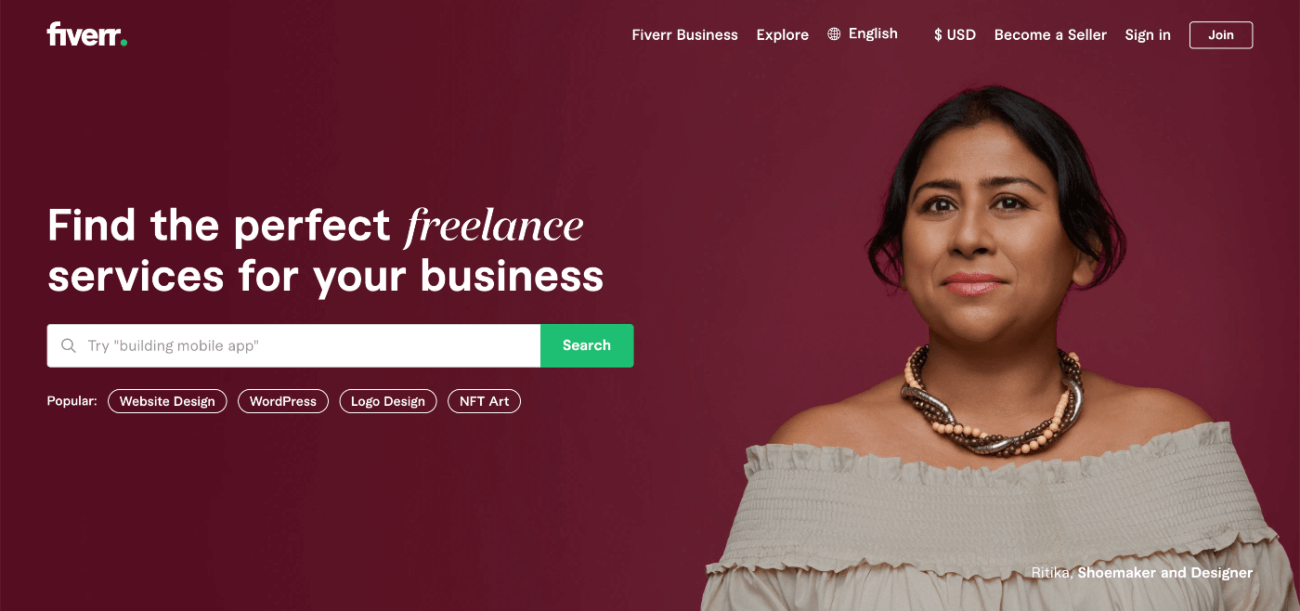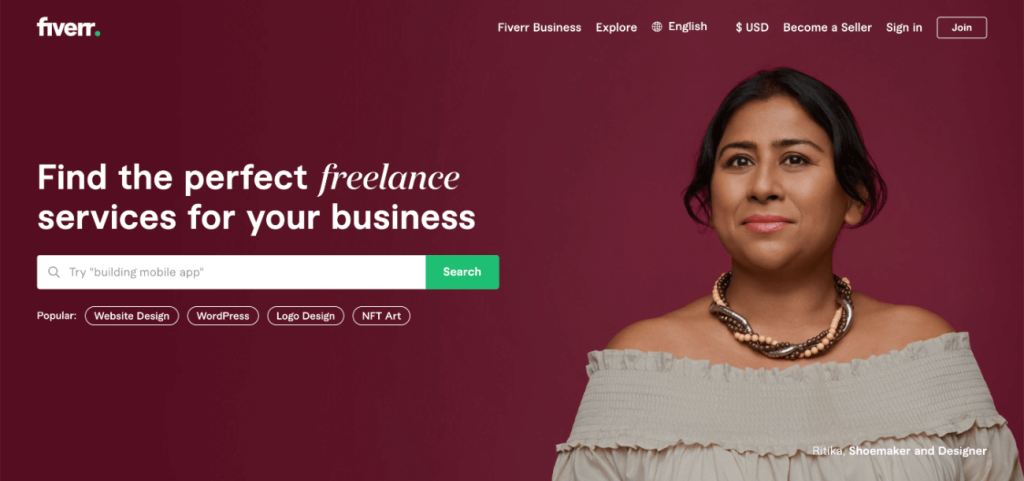 Fiverr is the world's largest online freelance service marketplace, connecting freelancers to businesses looking to hire individuals for jobs like logo design and content creation, programming and business services, and everything in between.
As far as affiliate marketing programs go, Fiverr makes it easy for bloggers to make good money promoting its services.
Affiliates can earn as much as $150 for every first-time buyer or $1,000 per sale using the company's revenue share hybrid affiliate marketing model.
Affiliates can even promote individual gigs directly from their blog posts using the Fiverr Gig Ads system.
Best niches for this affiliate program: With several freelance-related products available through the Fiverr affiliate program, it can prove successful for bloggers across a range of genres, including bloggers who write about remote work opportunities, entrepreneurship, freelancing gigs, and more.
Shopify, the most trusted eCommerce website tool, with more than 400,000 merchants worldwide, is also one of the best affiliate programs for bloggers.
Shopify offers a whopping 200% commission to affiliates on all paid stores.
This is excellent considering the company's outstanding reputation and name recognition translate into stable conversion rates.
As an affiliate, you'll also have access to many helpful features to boost conversions, such as promotional ideas and affiliate FAQs.
Best niches for this affiliate program: Bloggers who write about eCommerce topics and guide audiences in setting up online stores can benefit from Shopify's affiliate marketing program.
Teachable is an exciting platform that allows users to create, market, and sell online courses. It's where we host our blogging courses.
This reputable e-learning platform boasts more than 18 million students and 186,000 active online course programs. It also has one of the top affiliate programs for bloggers.
With plans ranging from $29 to $499 per month, the company's 30% repeating commission on monthly subscriptions can add up for affiliates.
Best niches for this affiliate program: Because Teachable offers such a wide range of online courses, on topics ranging from social media marketing to cooking, its affiliate program works well with a variety of blog subjects.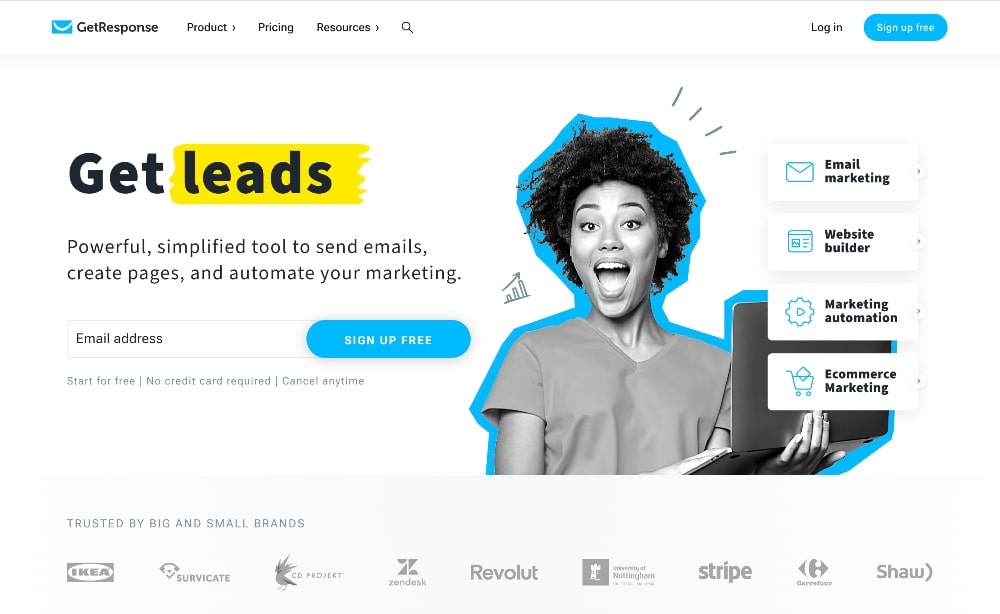 GetResponse is an all-in-one digital marketing solution that offers an array of excellent email marketing tools, landing pages, webinar hosting services, forms creation, CRM tools, and marketing automation solutions.
GetResponse also provides one of the top-paying affiliate programs with a $100 payout for every sale or a 33% commission on all recurring subscriptions.
The recurring subscription model can bring in good money for affiliates over time, considering GetResponse plans range from $15 to $1,200 a month.
Best niches for this affiliate program: GetResponse is one of the leading affiliate marketing programs for bloggers whose content focuses on digital marketing and customer relations.
Shareasale is one of the top affiliate programs for bloggers new to working with affiliate marketing programs. They represent a vast network of nearly 4,000 merchants and over a million affiliates.
With almost two decades in the industry, Shareasale has a reputation for promoting some of the biggest names in fashion, food & drink, home & garden, B2B services, and more.
Affiliates also have access to great features to help boost their affiliate revenue, like marketing tools, merchant recommendations, training webinars, and marketing classes.
With easy access to affiliate links and reporting tools and a platform known for its accuracy, efficiency, and speed, Shareasale is the perfect starting point for bloggers looking to get started with affiliate marketing programs.
You can also get a referral fee for bringing other bloggers into the Shareasale affiliate program too.
Best niches for this affiliate program: With its wide range of product offerings, the Shareasale affiliate program can fit into practically any blogging niche (recipe bloggers, garden bloggers, etc., etc.)
Why are these eight our top picks for affiliate marketing programs?
We chose these eight options are the top affiliate programs because they are the ones that we personally use or have used and can attest to our ability to earn a great, consistent income.
The products are great, and we stand by the companies behind them. Even if we're using different products and services these days as we've grown and changed, we can confidently recommend each one of them to our audiences.
And that is the real key to making money whether you're going after top-paying affiliate programs or just want to make a little extra cash.
You should always aim to promote the highest-quality products for the best price – and what you would use yourself.
Affiliate Marketing Programs That Work for Nearly Any Niche
It's always a best practice to consider your niche before you sign up for any referral programs. Yes, even top-paying affiliate programs! The reason is that some programs just don't make sense for some niches.
Obvioiusly it would be a hard sell to promote a makeup store like Sephora on a strictly sports-related blog – unless you're promoting makeup that is meant to withstand some sports action!
There are plenty of examples we could share of bloggers that sign up for affiliate marketing programs just to get a high payout but they really don't fit with the content of their blog.
If you don't think the program makes sense for your niche, just don't sign up for it. There are plenty of programs out there that probably do make sense.
That being said, next, we'll share some affiliate programs that work for nearly any niche, and why!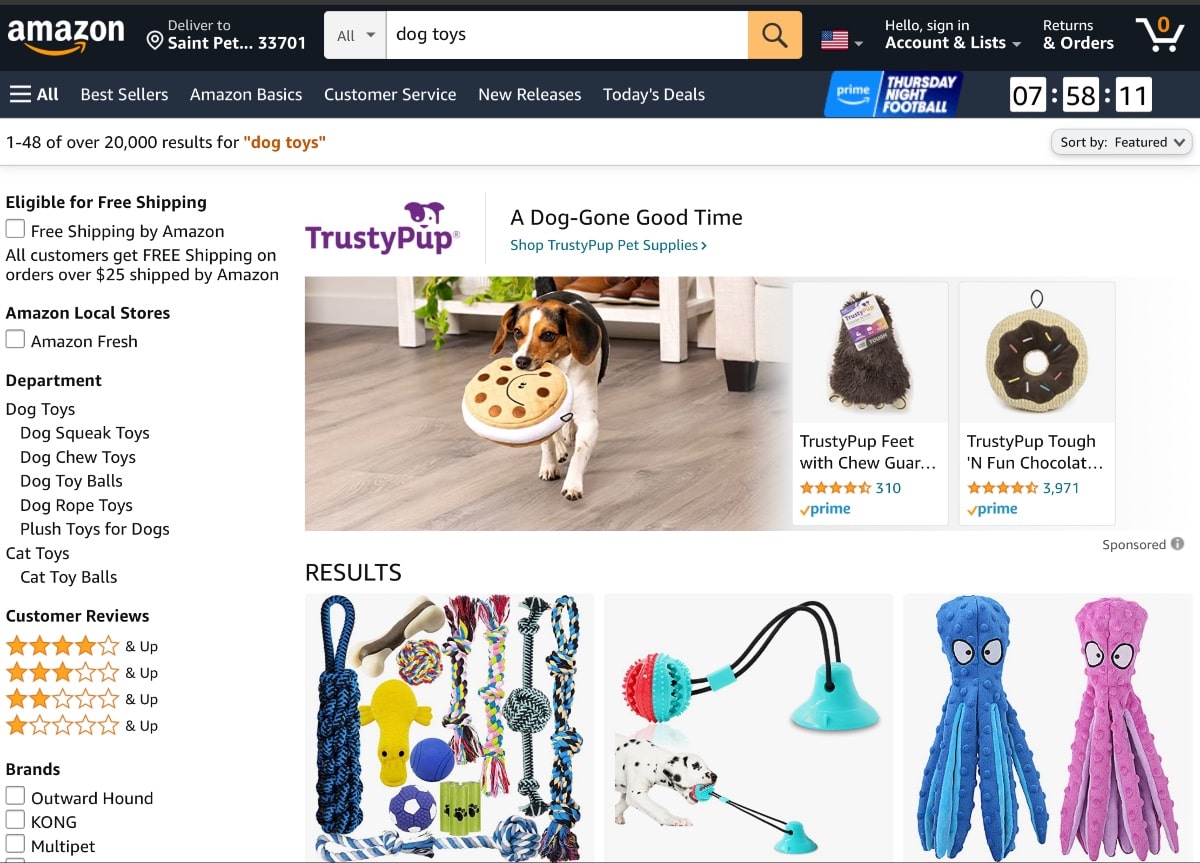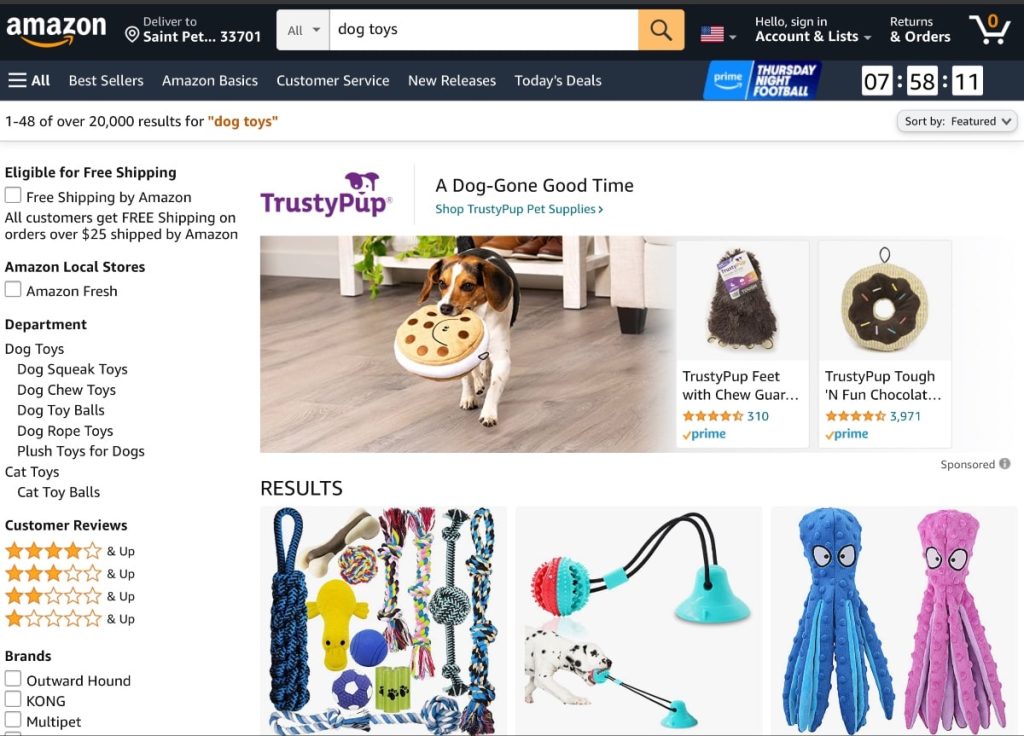 Amazon is, hands down, one of the most popular and recognizable online shopping platforms.
Amazon Associates (what they call their affiliate marketing partners) benefit from that fact because since everyone knows what Amazon is, they are not afraid to make purchases from the eCommerce giant.
With commissions ranging from 1% to 10% on purchases, Amazon Associates has long been considered the entry-level affiliate marketing program.
Most niches join it because even when you're a new blogger applying for their program, you're more likely to get accepted than not. The caveat is that you have to make 3 sales within your first 90 days or you will be removed from the program and you'll have to reapply.
Of course, there are some exceptions to this. For example, if you are a gambling blogger, blog about topics that are not safe for work, or illegal activities, there is a higher likelihood that you will be denied. But most legit bloggers are accepted.
Some products that earn the highest return for associates include luxury beauty items and clothing. With its high conversion rates, especially around the holidays, it's easy to make money as an Amazon Associate.
If you have a retail-themed blog or regularly offer gift guides to readers, you have an even higher chance of finding success with Amazon's affiliate marketing program.
Rakuten, formerly called LinkShare, is another great affiliate network that's been around for quite some time. Founded in 1996, Rakuten has been in business for much longer than most other affiliate networks but remains relatively small compared to others.
Rakuten offers nearly 1,000 merchants that affiliates can partner with, including big names like Ray-Ban, Pac Sun, and New Balance, to name a few.
In addition, Rakuten offers an intuitive, easy-to-use interface, advanced tools, and easy setup.
As another large affiliate network, with so many online merchants, it's hard to find a niche where Rakuten won't work well.
Awin is a popular and rapidly-growing global affiliate marketing network with more than 240,000 diverse advertisers from a wide range of markets, including travel, technology, fashion, retail, and finance, to name a few.
Awin offers an average commission rate of 5%, although it varies between advertisers.
In addition, the platform is easy-to-use and one of the best affiliate programs.
There is truly no limit to the niche audiences that will respond well to the advertisements that the Awin global affiliate network offers. So, it's no surprise that TechRadar, RetailMeNot, and ShopStyle are all publishers who benefit from the Awin affiliate network.
Perhaps one of the most well-known affiliate merchants within the Awin affiliate network is Etsy.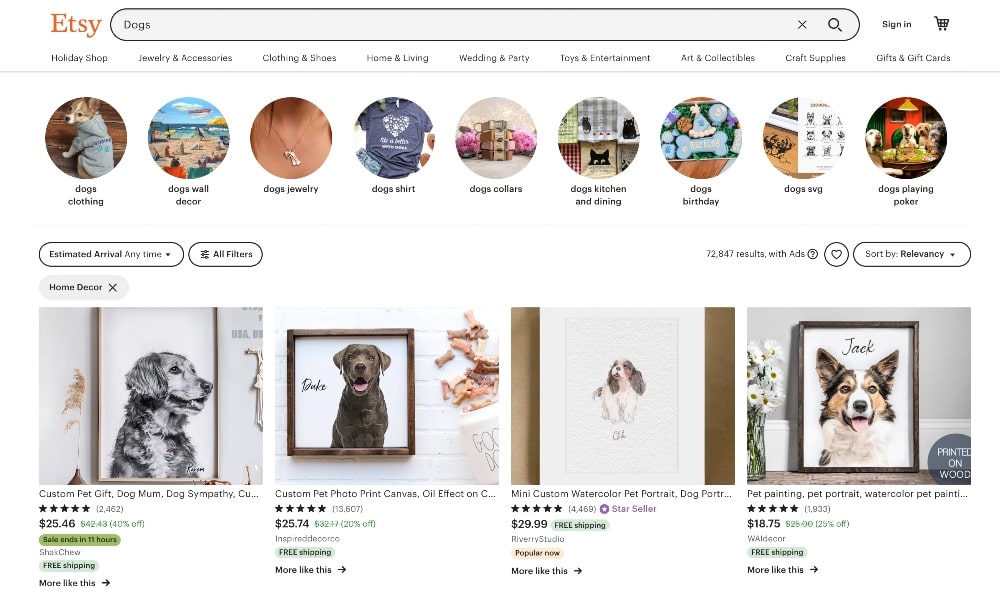 Etsy is one of the most popular online marketplaces for artisans, crafters, makers, and thrifters, with roughly 7.5 million active sellers and many millions of products available from more than 230 countries.
Etsy also has one of the best affiliate programs for bloggers, with an average commission rate of between 4% and 8% on qualified sales.
With so many different items for sale on Etsy, it's hard to find a blog niche that can't benefit from being an Etsy affiliate. Lifestyle, crafting, fashion, and home decor blogs are some of the most successful niches for Etsy affiliates.
Even finance and food blogs can find printables on the platform!
CJ by Conversant, formerly Commission Junction, is a 20-year industry-leading affiliate network that processes $15 billion in annual sales, with $1.8 billion paid out annually to affiliates, making it one of the top affiliate programs for bloggers.
When you sign up to be an affiliate marketer with CJ, you have the opportunity to partner with some of the biggest online merchants, including Office Depot, Lowes, Priceline, Overstock, and more.
However, since the company already partners with big publishers like Buzzfeed, CNN, Digg, and Time, affiliate access to some of these huge brands can be difficult.
Regardless, CJ is free and easy to set up, features incredible real-time reporting, and offers reliable monthly payouts. Hence, it is one of the affiliate marketing programs that every seasoned affiliate should consider.
Because it is such a large affiliate network, with many online merchants to promote, bloggers from nearly any niche will find success with CJ by Conversant.
eBay's online marketplace remains one of the most popular online shopping destinations, with over a billion listings worldwide across a vast array of product categories.
Thanks to its diverse product selection, high conversion rates, and brand recognition, eBay has one of the best affiliate marketing programs in its class.
Based on the product category, affiliates in the eBay Partner Network earn between 1% and 4% of the revenue that the company earns from the purchase.
The eBay Partner Network is yet another one of those affiliate programs that can be tailored to fit just about any niche.
Bloggers who focus on the collectibles market, music, movies, creative arts, and more all find great success with the eBay Partner Network affiliate program.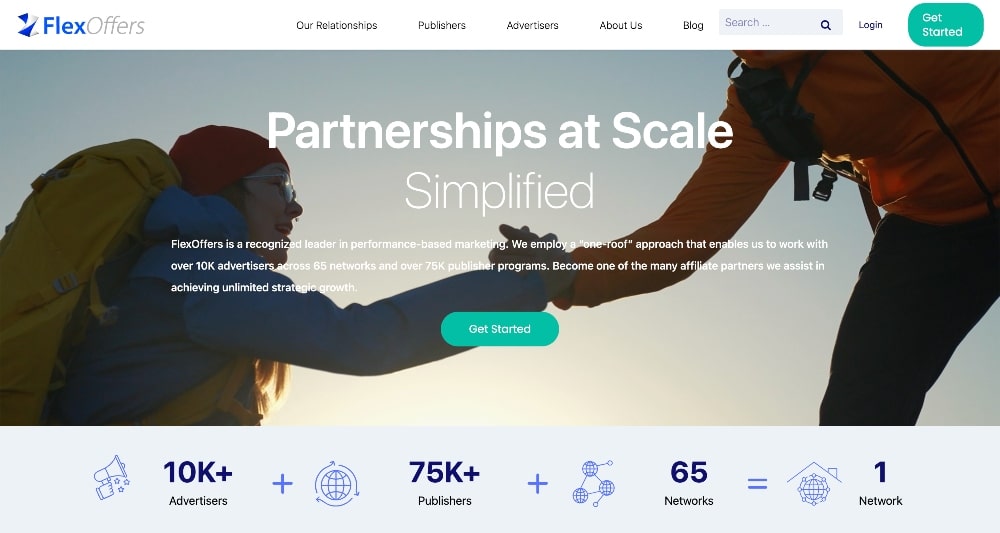 FlexOffers is a one-stop-shop affiliate marketing solution for publishers, boasting a database of more than 12,000 advertiser partnerships that continues to grow.
From its extensive range of advertisers and streamlined linking/tracking processes to its hands-on customer service, Flex Offers is one of the best affiliate marketing programs available, especially for those new to the games.
Although commission rates vary among advertisers, when affiliates refer publishers, they can see their own profits skyrocket as they collect shares of their referred publishers' commissions.
Because their advertising base is so varied, FlexOffers affiliate bloggers serve a diverse range of niche audiences.
That said, if you are a blogger who focuses on helping others with affiliate marketing strategies and online money-making opportunities, you could really benefit from the FlexOffers affiliate publisher referral program.
Related: Lost for a niche? Read, 10 Popular and Profitable Blog Niche Ideas.
Although Target may not offer the same wide selections that eBay and Amazon offer, it is still a highly recognizable brand with various products and one of the best affiliate programs for bloggers.
The Target affiliate program offers members a volume-based commission structure, which means that commissions increase as the number of items a referral purchases increases.
One downside is that products in the health and beauty category are capped at 1%, regardless of the volume sold.
Because Target offers so many different products, possibilities are endless for bloggers who sign up to be Target affiliate partners.
Fashion, electronics, and home decor niches do quite well, but beauty bloggers may want to seek out a higher-paying affiliate in that category because of Target's commission caps.
Simply put, virtually any niche can find something to promote with Target.
Best Affiliate Marketing Programs for Money and Finance Blogs
When it comes to finance and money, blogging can be a great way to share your insights and connect with like-minded individuals.
In the niches of saving money, investing, or financial planning, there are loads of affiliate marketing programs available that you can share with your readers.
Below are just a few of them.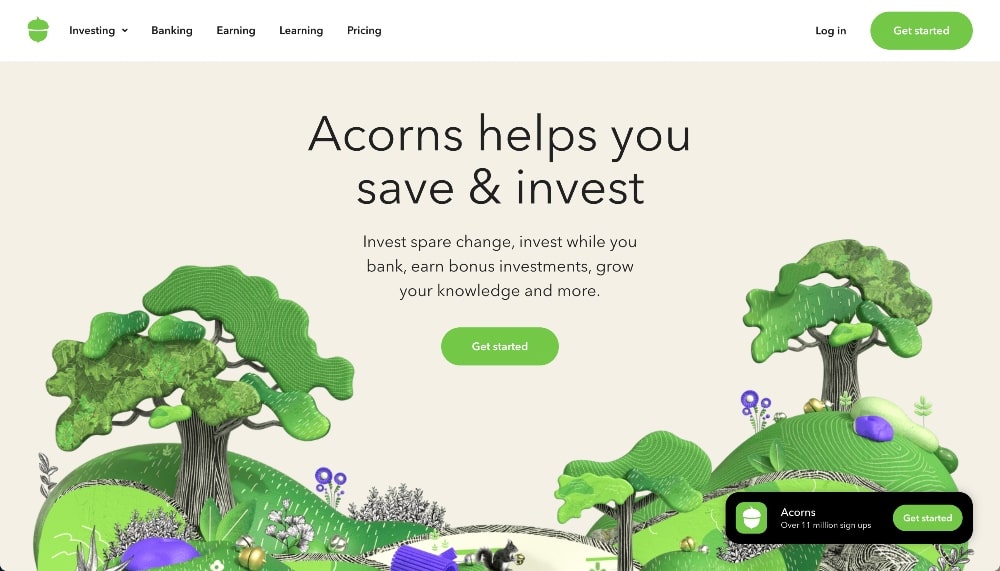 Acorns is a micro-investing application that creates automated investments through debit or credit card purchase round-ups. This unique service targets users aged 25 to 35 and new to investing.
It is one of the best affiliate programs for bloggers serving this demographic, particularly with finance-related content.
As an Acorns affiliate, you will receive $10 for every customer you refer.
Quickbooks is a leading accounting software that targets small business users and offers one of the top affiliate programs for bloggers.
The Quickbooks affiliate program is free, easy to use, offers an up to 10% commission rate, and affiliates can even earn commission on their own purchases.
FreshBooks accounting and invoicing software is an easy-to-use and powerful cloud-based solution with robust features that make invoicing and general accounting for small businesses simple and stress-free.
The FreshBooks affiliate program offers a $5 payout per free trial sign-up from referrals and a $55 payout for every paid subscription.
More specifically, FreshBooks is one of the top affiliate marketing programs for bloggers targeting audiences interested in small business, financial management, and B2B topics.
Best Affiliate Marketing Programs for Business, eCommerce, and Work From Home Blogs
This is a larger niche broken down into dozens of microniches. There are more affiliate programs available for business content than we can even count.
Though we're sharing many of the best affiliate programs related to business content below, we have no doubt you could find many more that are just perfect for your website.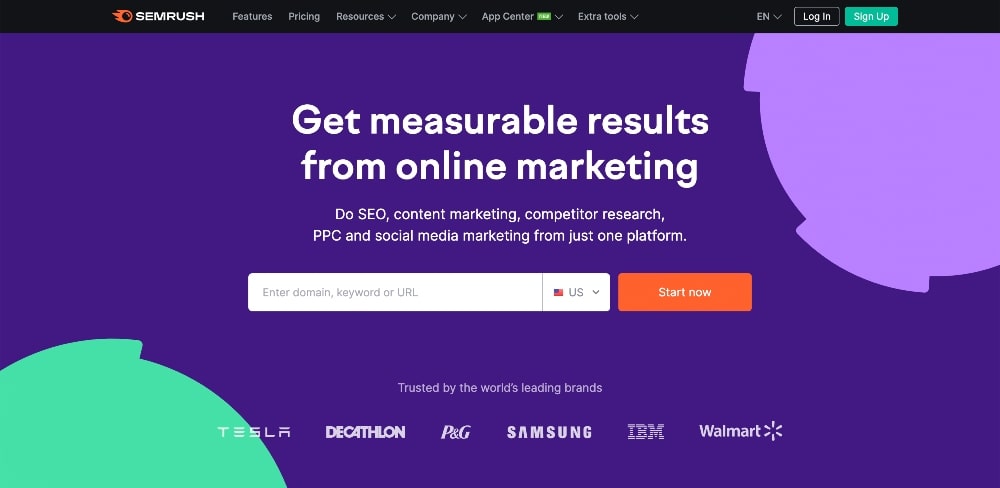 Semrush is an all-in-one marketing platform that offers a wide range of services, including SERP trackers, site health monitoring, analytics, backlink checkers, ad analysis, and other competitive analytics tools for digital marketers. Semrush also offers one of the top-paying affiliate programs out there.
Affiliates receive a $200 per subscription payout with a generous ten-year cookie model.
This means that if a referral cancels their subscription but signs up again within a ten-year window, the affiliate will receive a commission based on the second subscription.
The sign-up process for affiliates is quick and easy, and all applicants are pre-approved, so you can start making money immediately with Semrush.
Bloggers that produce content related to search engine optimization, digital marketing, and website development have all found the greatest level of success as SEMRush affiliates.
AWeber is one of the oldest and most respected email marketing solutions available.
AWeber offers email automation, email newsletter, and email drip campaign services, to name a few.
AWeber's in-house affiliate program is generous and represents one of the best affiliate marketing programs for bloggers, with a lifetime 30% commission rate.
With plans ranging from $20 to $150 monthly, affiliates can rack up significant payouts over time.
AWeber is one of the top affiliate programs for bloggers whose target audience is digital marketers and small businesses interested in online marketing services.
BigCommerce is a well-established eCommerce website builder that has been powering thousands of online shops in over 150 countries since 2009. They also run one of the best affiliate programs in the eCommerce market.
BigCommerce offers 200% of the referral's first monthly payment, which translates to $500 per referral and a $1500 payout for each referred enterprise customer.
From nutrition, health, and fashion to manufacturing and automotive, BigCommerce serves a wide array of niche industries.
That said, however, the best niches for this affiliate marketing program are bloggers who specialize in eCommerce and online retail marketing topics.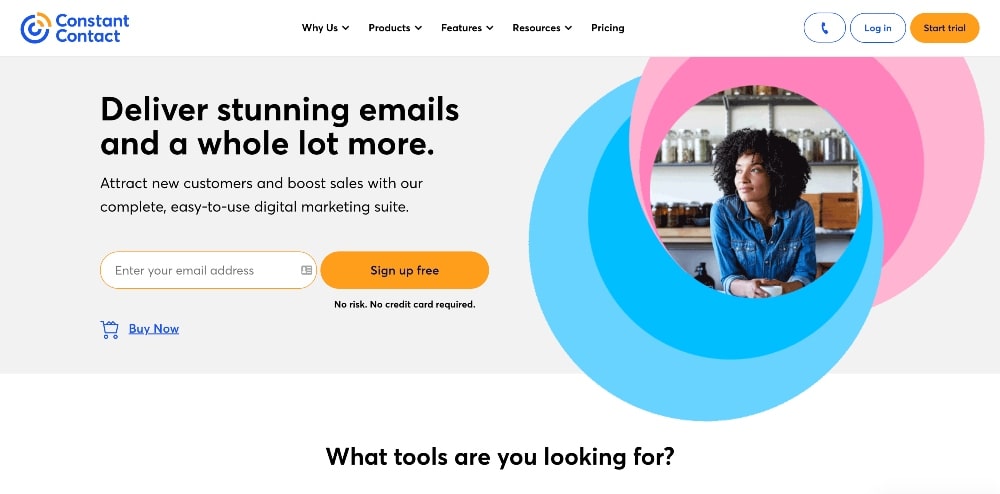 Constant Contact offers one of the most powerful email marketing platforms out there. Their client list includes major brands like Shopify, WordPress, and Facebook.
In addition to helping businesses and organizations create successful email marketing campaigns, Constant Contact provides ad management tools, automation services, and other valuable digital marketing solutions. They also offer one of the best affiliate marketing programs for bloggers.
Constant Contact offers $5 commissions for every referral signing up for a free trial and $105 commissions for every referral that signs up for a paid plan.
If you are a blogger who creates content targeting those interested in digital marketing and customer relations, you are much more likely to find success with Constant Contact's affiliate marketing program.
Unbounce is an impressive landing page creation tool that helps users to create high-conversion pages for agencies, eCommerce stores, and SaaS companies.
Unbounce's affiliate program offers a 20% recurring commission on every referral, making it one of the top-paying affiliate programs in its class.
Affiliates can access valuable materials and training options to make the most of the program.
Bloggers producing content in the eCommerce, SaaS, and marketing realms are the most likely to benefit from promoting Unbounce's landing page creation software.
FlexJobs is one of the most popular job-hunting websites, serving as a valuable resource for anyone seeking flexible, remote jobs.
This online job site, founded in 2007, is the number one source for hand-screened remote job listings.
The FlexJobs affiliate marketing program offers a commission rate of up to $15 per paid subscription referral.
FlexJobs is one of the top-paying affiliate programs for bloggers who write about work-from-home and remote work opportunities. Bloggers who also write about subjects like writing, graphic design, or other niche talents, may also benefit from promoting FlexJobs.
Note: it's all about how you produce your content. The spin you give it can make all the difference!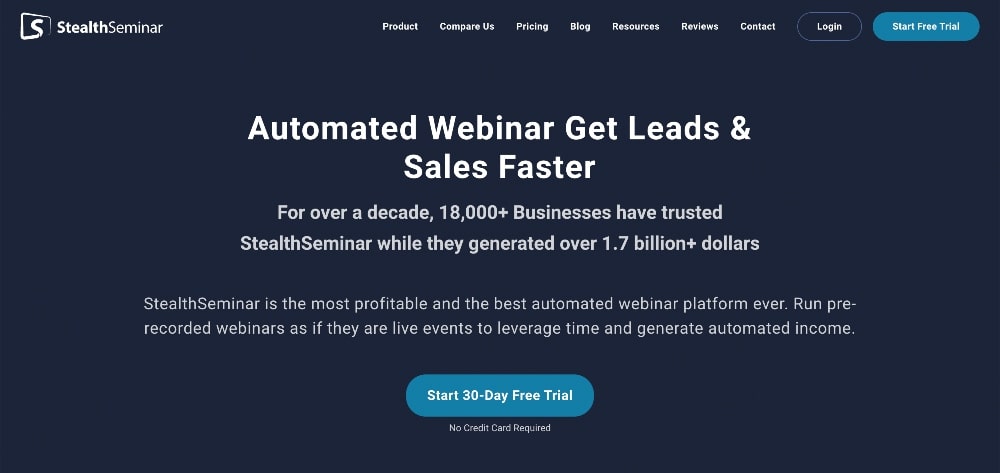 StealthSeminar is a software solution that allows business owners, sales representatives, and marketers in any industry to run pre-recorded webinars as if they were being presented live.
By autopiloting their webinar efforts, users can better leverage their time, avoid technical difficulties, and reduce the stress associated with live webinar presentations.
StealthSeminar's affiliate program is perfect for bloggers in the digital marketing niche and, frankly, for anyone whose audience consists of business owners and entrepreneurs who can benefit from this unique webinar software.
Since its launch in 2005, HubSpot has become a massive force in providing software solutions to the marketing, sales, and customer service industries.
Having helped small businesses worldwide, HubSpot has become a leading online marketing and sales tool provider. Also, Hubspot offers one of the top-paying affiliate programs in its class.
Bloggers whose target audience is in marketing, sales, and customer relations can benefit from HubSpot's affiliate marketing program.
EasyWebinar is a super easy-to-use webinar suite that allows users to create live webinars with HD quality, no-latency streaming, and screen sharing for up to 4 people, as well as one of the most robust automated webinar funnel-building tools on the planet.
EasyWebinar's live and automated webinar software tools help digital marketers create high-converting webinar content.
EasyWebinar's affiliate marketing program offers a 30% recurring commission structure, making it one of the top-paying affiliate programs in this category.
Bloggers who specialize in digital marketing and sales topics do well when they become partners in the EasyWebinar affiliate program.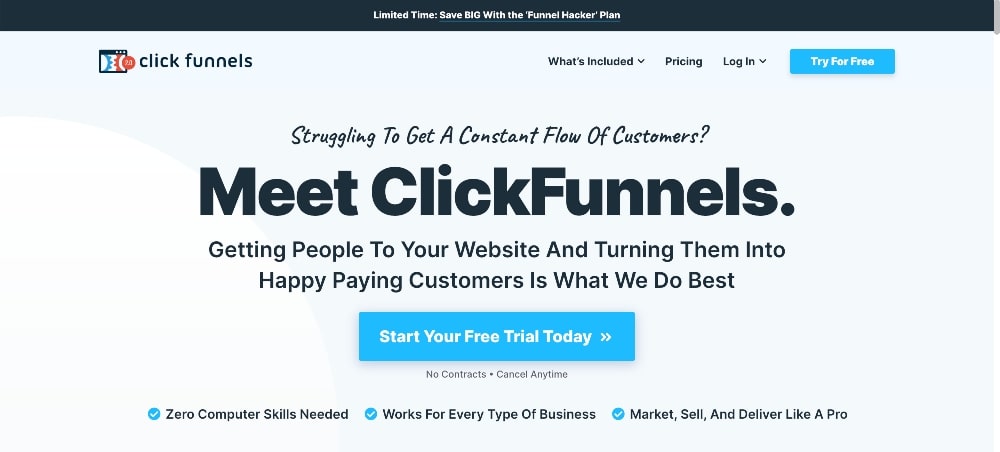 ClickFunnels is a leading website landing page builder that gives users all the tools necessary to market, sell, and deliver online products and services without hiring a dedicated marketing team. They also have one of the top affiliate programs for bloggers.
With the ClickFunnels affiliate program, affiliates can earn 40% payouts on all sales.
ClickFunnels features an intuitive dashboard to manage your affiliate program and many great tools to launch your own sales funnels and maximize your return.
The ClickFunnels affiliate program will benefit bloggers who write about eCommerce development, digital marketing, sales, and other related topics. However, coaches and business consultants often find success promoting ClickFunnels as well.
And, affiliates are given extensive training to learn the best practices for promoting the software.
Typeform is one of the most popular web-based platforms for creating surveys and applications to share and collect information.
With Typeform, users can create everything from customer satisfaction surveys and contact forms to event lead capture forms and so much more.
Typeform also offers one of the best affiliate programs for bloggers, with a 20% recurring commission rate on active subscriptions from referrals, which can add up quickly.
For example, if you were to refer just 50 customers who sign up for a monthly basic Typeform package, you would receive approximately $240 a month in revenue.
Because Typeform is such a great platform for customer relations management, employee relations, marketing, and a whole host of other uses, the Typeform affiliate program can benefit bloggers from a wide range of backgrounds.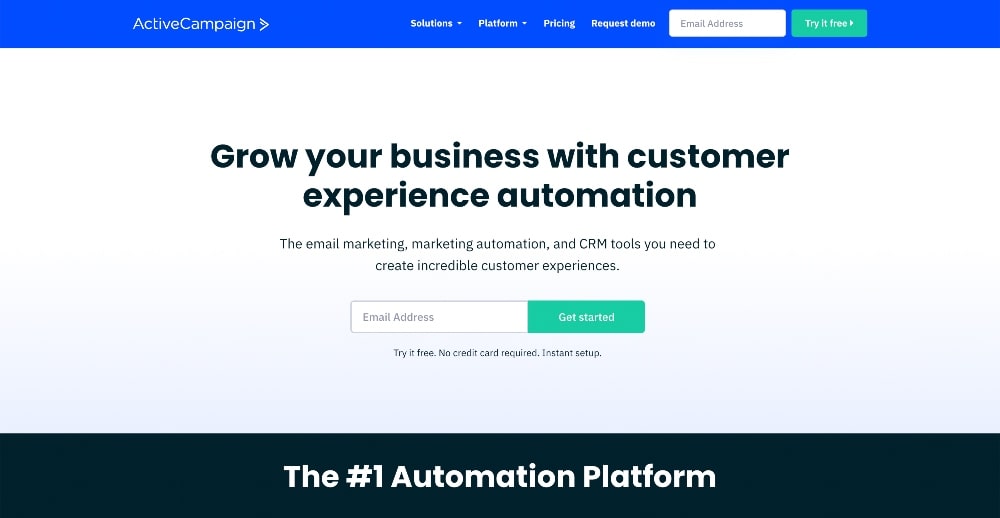 ActiveCampaign is a favorite email marketing tool among digital marketers.
It also offers one of the best recurring payment affiliate marketing programs with commission tiers that vary based on your sales with up to 30% payout rates.
With superb affiliate resources, management tools, and more than 6,000 affiliate partners, ActiveCampaign makes it easy for affiliates to earn money quickly and easily.
Digital marketing and affiliate marketing bloggers will both benefit from ActiveCampaign's generous affiliate marketing program.
Calendly is a scheduling automation platform quickly becoming one of the most popular scheduling tools out there.
Calendly eliminates needless back-and-forth emails and headaches associated with setting up meetings, allowing users to focus their efforts on more important things.
When you join the Calendly affiliate program, you can earn recurring commissions of up to 25%.
Bloggers whose target audiences include entrepreneurs, business managers, or anyone else that can benefit from scheduling automation software will surely benefit from Calendly's affiliate program.
That said, bloggers who use Calendly for scheduling appointments have also benefited from promoting the platform.
For example, if you're a podcaster that uses it for scheduling interviews, it might make sense to add a link to your resources page for people interested in starting a podcast of their own.
There in lies, another insider secret – Even if your niche isn't 100% in tune with a product, there might be an appropriate avenue to be an affiliate for it if you use it to run your business or blog.
Audiences are often curious about how you do what you do, and resource pages are a wonderful space to share the links to all of the products and services you use to run your business/blog.
Related: Read our resource page featuring the 18 Best Blogging Tools to Work Smarter.
Best Affiliate Marketing Programs for Education and Homeschooling Blogs
If you blog about getting your learning or teaching on, this is the section for you!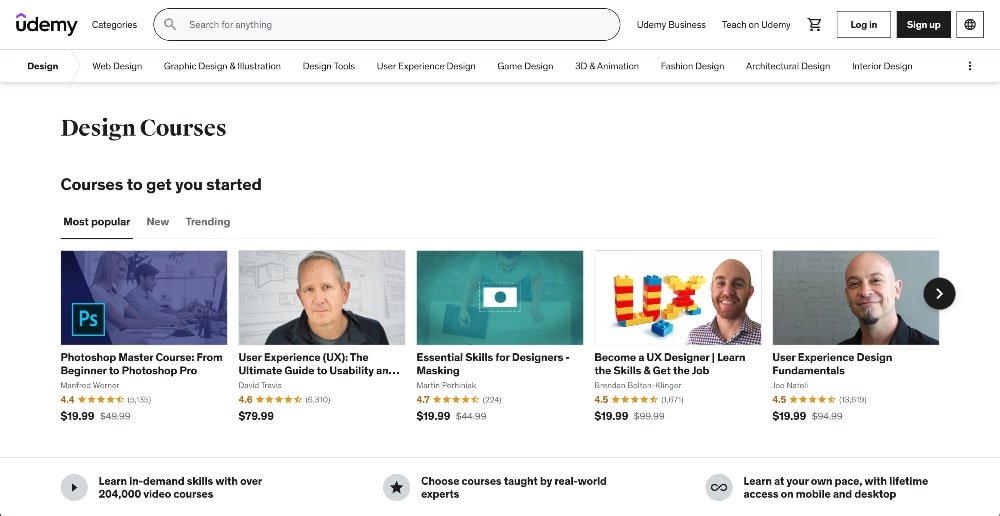 Udemy is one of the most popular online learning platforms, with more than 30 million users and 50,000 instructors worldwide, teaching an array of courses in 60 different languages.
Its popularity and excellent 15% commission rate make it one of the best affiliate programs out there.
Udemy is a top choice among online learning and education bloggers.
Kajabi is an all-in-one platform that helps knowledge entrepreneurs easily build, market, and sell online courses, manage membership sites and coaching programs, and much more.
Although the Kajabi Partner Program only offers affiliate opportunities to Kajabi users, affiliates receive a 30% lifetime commission on new members who remain active after their trial period.
They also offer other exciting, performance-based bonuses and rewards.
Because Kajabi's affiliate program is only open to existing users, bloggers who use Kajabi themselves are obviously going to benefit. In fact, if you teach your courses on Kajabi, you should look into their affiliate program in case your students ever ask how to create a course themselves!
Coursera is an online learning platform that offers over 1,000 courses and specialized learning for a wide range of subjects, including applied data sciences, digital marketing, personal development, and more.
With courses priced from $29 to $99 and affiliate commissions between 10% and 45%, the Coursera affiliate program is one of the best affiliate programs in the online learning niche.
Coursera affiliates also have access to professional banners and an affiliate newsletter offering curated content recommendations for maximum performance.
While Coursera is best for education blogs, it's worth noting the platform offers online courses on a wide range of specialized topics. Therefore, chances are that whatever your particular niche might be, Coursera offers online courses that your audience will be interested in.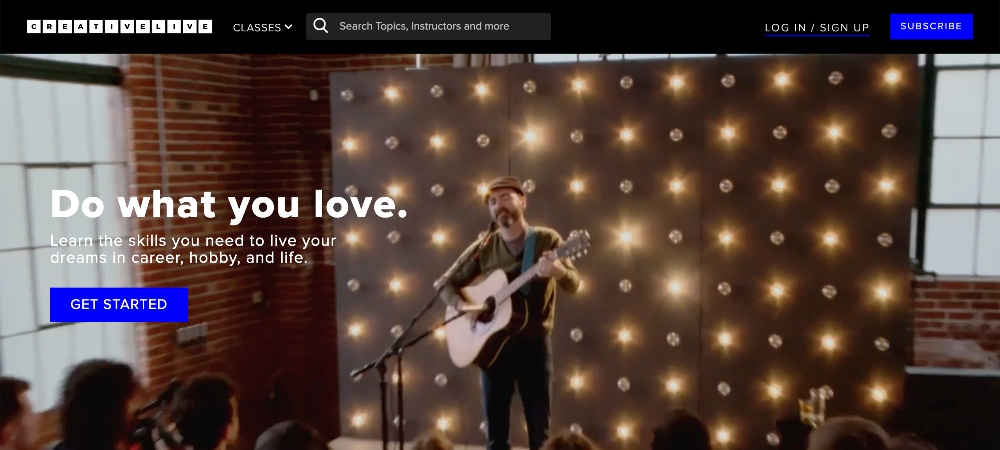 CreativeLive is an online educational platform featuring live broadcasts of expert-led courses on various subjects, including art, design, music, photography, videography, crafting, finance, and more, to students worldwide.
The CreativeLive affiliate program offers generation commission rates making it one of the best affiliate marketing programs for bloggers.
CreativeLive affiliates earn a 20% commission on new customer purchases, 10% on returning customer purchases, and $1 lead payouts per new sign-up.
Similar to Coursera, CreativeLive offers so many different workshops and courses on a wide array of subjects. With that in mind, whatever your blog's niche audience may be, you are sure to find ways to promote CreativeLive and earn money from its affiliate program.
Best Affiliate Marketing Programs for Fashion and Beauty Blogs
Every fashion and beauty blogger probably gets started with Amazon Associates, but unfortunately, the commissions for beauty products are pretty low.
That's where these programs come in – with slightly higher pay…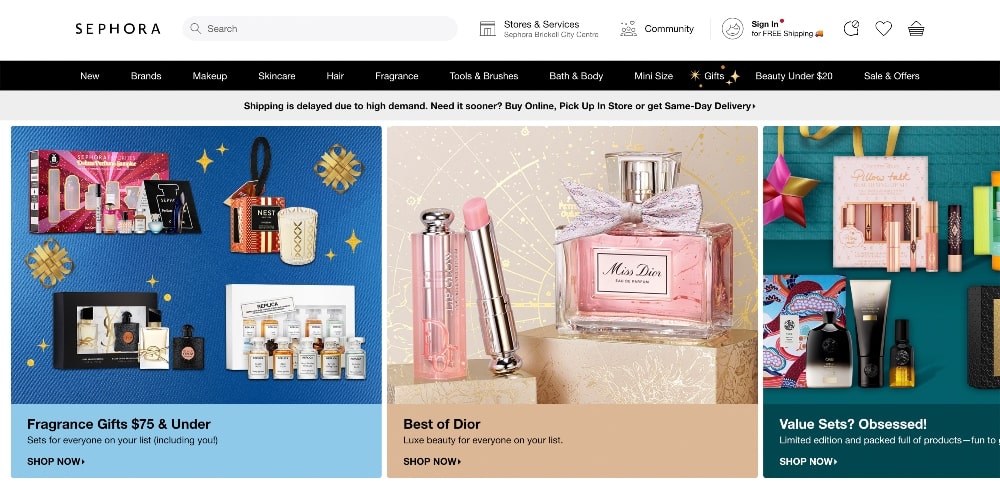 Sephora, one of the most trusted personal care and beauty product retailers worldwide, also offers one of the top-paying affiliate programs among online retailers.
The Sephora affiliate program boasts a 5% commission rate on every sale, which is significantly higher than affiliate programs from other similar retailers.
Best of all, as a Sephora affiliate, you will have access to a wide range of creative assets that you can use to help boost conversions.
The best niches for this affiliate program include: Beauty, fashion, lifestyle, and skincare bloggers, as well as anyone whose blog targets young millennials who might be interested in related products, is sure to do well with Sephora's affiliate marketing program.
Can you really share Sephora and not think of Ulta in the same breath? Ulta is one of the most famous retailers of affordable, diverse, high-quality skincare and makeup products catering to large demographics.
Ulta's affiliate program offers commissions in the 1% to 5% range, which is low compared to other online retailers.
But its position as the #2 online beauty and cosmetics retailer gives it an advantage over other top affiliate programs in similar markets.
As an affiliate, you'll have access to excellent text links and dynamic banners that you can use to promote their top-selling products. Plus, the company's ongoing promotions, including free shipping options and free product offerings, help you drive more sales and boost your commission payouts.
Beauty, lifestyle, and fashion bloggers often do well with Ulta's affiliate program, especially if their target audience matches Ulta's demographic which is women aged 16 to 25.
Pro Tip: If you're in the fashion and beauty space, find out if the products you are promoting have their own affiliate programs.
If they do, you might find the commissions are higher because you'll be sending consumers directly to their websites and they won't have to pay a retailer like Ulta or Sephora!
Related: 10 Best Lifestyle Blogs to Follow
Best Affiliate Marketing Programs for Home Decor Blogs
Wayfair is a popular eCommerce website that sells furniture and home goods. An affiliate account is easy to set up and even easier to use.
Wayfair's affiliate program pays affiliate partners a commission of 5% to 7% on all products sold.
The best niches for this affiliate program are lifestyle, and home decor bloggers. In fact, any bloggers who provide audiences with regular buying guides may also be able to benefit from joining the Wayfair affiliate program.
Other programs for home decor blogs include ones we've already mentioned such as Etsy, Amazon Associates, and Target.
Best Affiliate Marketing Programs for Technology Blogs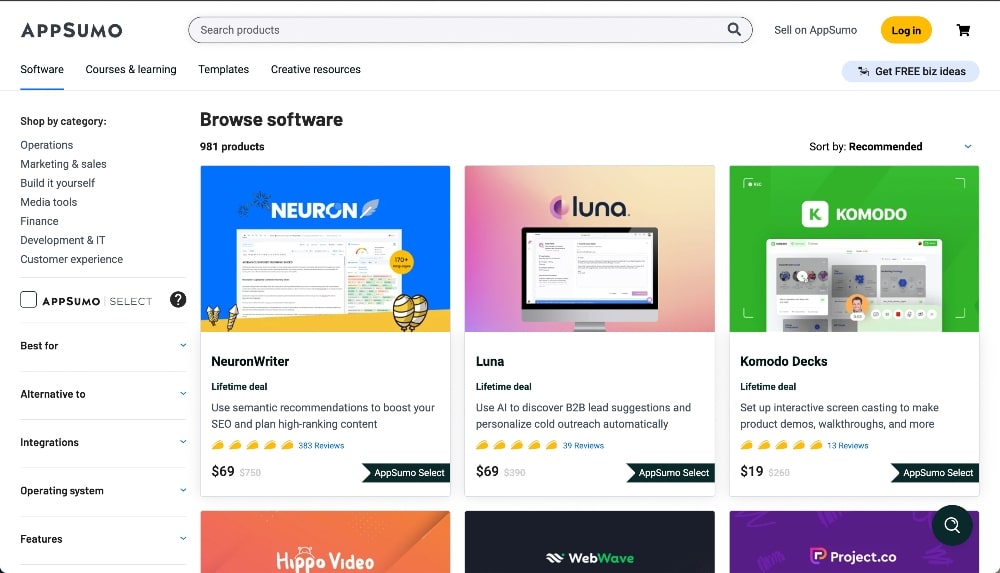 AppSumo is a collaborative community and marketplace that allows creators and developers to launch and sell applications, digital downloads, and courses targeting online entrepreneurs.
AppSumo affiliates can earn up to 100% commission per referral, capped at $50, and a generous 5% on all affiliate purchases made by returning AppSumo customers.
Bloggers that target software developers, entrepreneurs, and anyone else who can benefit from the wide range of apps offered through the AppSumo website.
NordVPN is a service that keeps your online activities private and secure by hiding your IP address and routing traffic to a VPN server using an encrypted connection.
This service is excellent for anyone using a public WiFi network to access the Internet.
The NordVPN affiliate program offers commissions based on the referral's chosen subscription plans, with a 100% commission rate on a one-month subscription purchase and a 40% commission rate on six-month, one-year, and two-year subscriptions.
NordVPN offers one of the best affiliate marketing programs for a wide range of niche bloggers because let's face it, everyone has an interest in protecting their privacy online.
However, bloggers whose audiences include entrepreneurs and small business owners will particularly benefit.
By the way, NordVPN is the most popular of the VPN affiliate marketing programs. But, it is not the only one! If you have a VPN you prefer, see if they have an affiliate program!
Best Affiliate Marketing Programs for Food and Nutrition Blogs
There are so many affiliate marketing programs in the food and nutrition space. While we're only mentioning one of the top-paying affiliate programs in this section, there are literally dozens out there.
For example, every meal delivery kit you can think of – looking at you, Green Chef and Hello Fresh – has a referral program. The kicker is many of them pay you in food not money, so be sure to read the terms and conditions!
ButcherBox is a leading meat delivery subscription service that delivers 100% grass-fed beef, humanely raised pork, free-range organic chicken, and wild-caught seafood directly to the customer's door.
ButcherBox offers a wide range of subscription plans with some of the finest meat products available.
The ButcherBox affiliate program provides many opportunities to make money through exclusive and bonus campaigns for affiliate partners.
Related: 10 Best Food Blogs
Best Affiliate Marketing Programs for Podcasting Blogs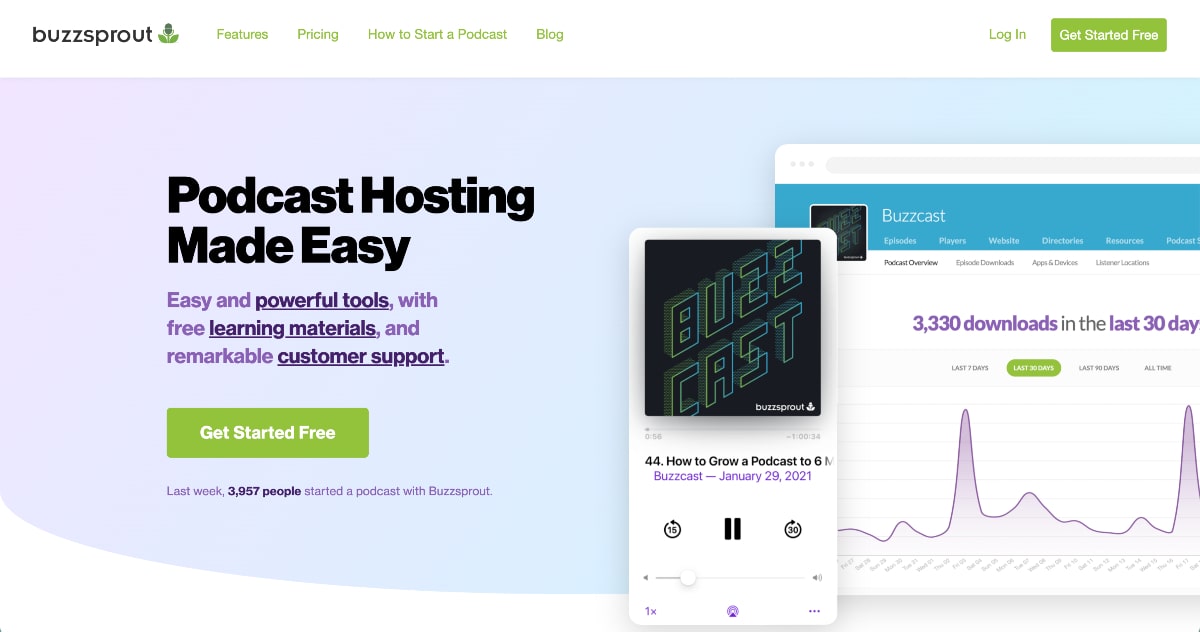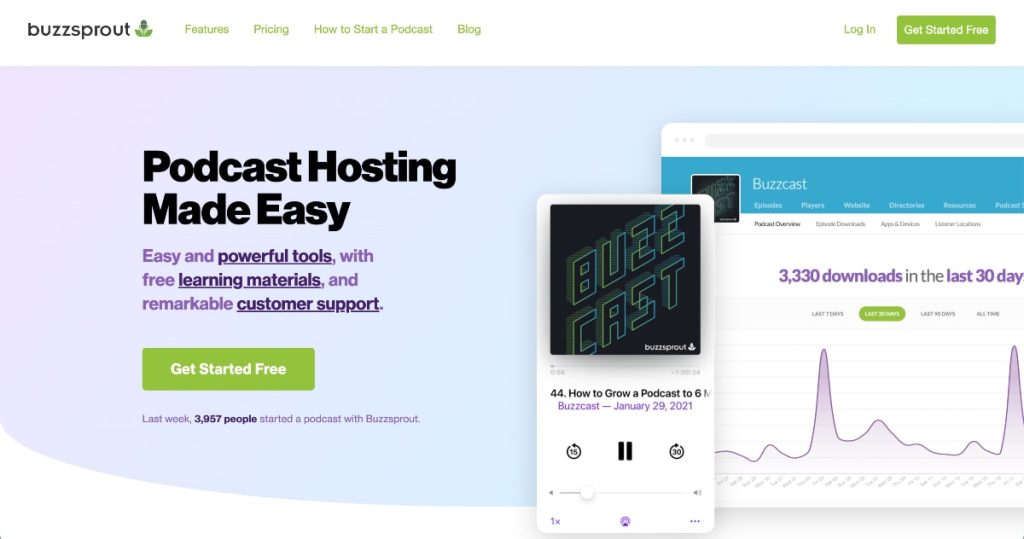 Podcasters know that Buzzsprout is one of the best podcast hosting services on the market, with a reputation for helping podcasters easily create, promote, and track their podcasts.
Buzzsprout users can earn $25 for every paid referral or a 20% recurring lifetime commission on paid plans which range from $12 to $24 per month.
Though podcasting blogs and podcast hosts are the most common affiliates for Buzzsprout, the company's affiliate program can work well across a wide field of genres. Marketing bloggers, influencers, and bloggers who also podcast can all earn good money promoting the Buzzsprout brand.
The reason this affiliate program gets a nod on our list is that it was created by content creators, for content creators.
Every year the team behind Blogging Concentrated curates a carefully selected list of programs, courses, eBooks, etc… and sells them for less than $50.
This list of products normally goes for well over $5,000, but for one week only, you can get it dirt cheap.
What's amazing about the affiliate program is you can get paid not just for promoting the kit, but also for referring other bloggers to be sellers.
And, even though the kit is only available once a year for a low fee, they have a year-long sale that is even lower leading up to its release. So you can technically make commissions all year long!
Related: Best Podcast Hosting Sites: Everything You Need
Best Affiliate Marketing Programs for Travel Blogs
TripAdvisor is one of the most popular travel websites, known for its excellent local reviews, hotel booking services, vacation package options, and more.
TripAdvisor also offers one of the top-paying affiliate programs in the travel market with an incredible 50% referral commission rate.
Travel, regional, and lifestyle bloggers find that TripAdvisor offers one of the best affiliate marketing programs in this niche. However, there are others including:
Booking.com
Expedia
Hilton
Hotels.com
Hotwire
Marriott
Priceline
Travelocity
Related: 8 Great Travel Blogs from Around the World to Inspire You
Best Affiliate Marketing Programs for Blogs About Web Design and Blogging
Considering we run websites and YouTube channels about blogging and web design, it felt fitting to round out this list with affiliate marketing programs related to these niches.
However, we'll take a quick moment to remind you that even if you don't blog about blogging, these affiliate programs might make sense for you.
For example, if you run a business blog, odds are you have a post or two about how to start a money-making website!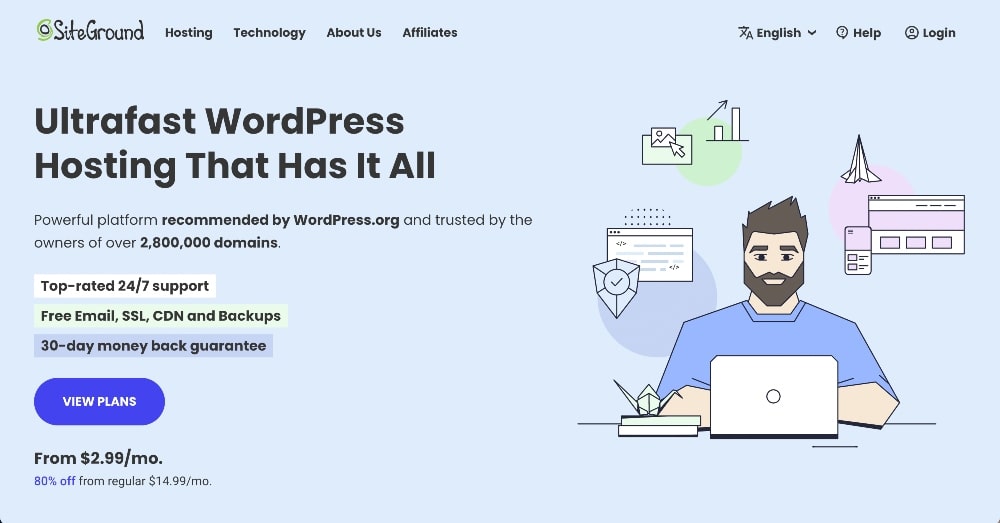 SiteGround is a reputable website hosting provider and is WordPress recommended, which has made it a natural choice for many WordPress users worldwide.
Bloggers already using SiteGround to host their website should consider joining the SiteGround affiliate program, which offers commission rates that increase over time.
SiteGround pays $50 commissions per referral for the affiliate's first five sales. That payout rises to $100 per referral for those who make 11 to 20 sales in a month.
Bloggers who write about web design and development, particularly WordPress development, can benefit from the SiteGround affiliate program.
Related: Blog Hosting Review: Which Blog Hosting Site is Right for You?
Dreamhost consistently ranks as one of the world's best web hosting platforms. So, it's no surprise that Dreamhost also offers one of the top-paying affiliate programs among hosting providers.
Although commission rates vary based on the plan your referral purchases and the volume of traffic you send to the site, Dreamhost affiliates can earn as much as $200 per sign-up.
Flywheel is a dedicated WordPress hosting solution known for delivering lightning-fast speeds, solid performance, and all of the support necessary to keep a WordPress website running smoothly.
Flywheel offers one of the top-paying affiliate programs among WordPress hosting services, with commission rates of 300% and up to $500 per referral.
As a Flywheel affiliate, you will also have access to fantastic creative assets and a team of experts to help you create custom images to drive next-level affiliate commissions.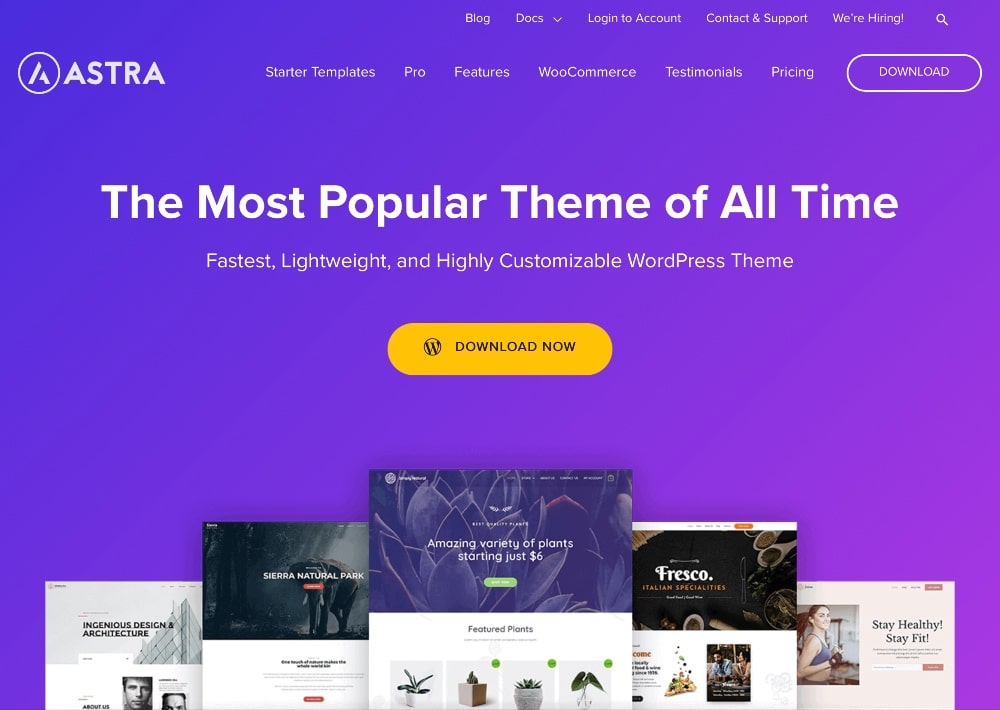 Astra is an easy-to-use WordPress theme with upwards of 1.6 million installations and more than It is 180 professional starter templates. Although Astra offers a free version with many great templates and practical tools, the premium version offers much more.
When it comes to selling those premium versions, affiliates receive a 30% commission on every sale.
Also, the affiliate platform features an intuitive dashboard, pre-made brand assets, and in-depth analytics to help make the most of your affiliate marketing efforts.
Elegant Themes is a super popular WordPress theme library with over 800,000 customers worldwide, nearly 90 easy-to-use themes, and several helpful WordPress plugins.
It also features one of the top-paying affiliate programs with a 50% recurring payout to affiliates on qualified referrals.
The flexible refund policy on Elegant Themes makes this one an easier sell, despite the higher price tag.
NameCheap offers domain name registration services, hosting, and other website management services at incredibly low prices.
The company also provides one of the best affiliate marketing programs for bloggers.
As a NameCheap affiliate, you'll enjoy commissions between 20% and 50% of the purchase price, depending on the product.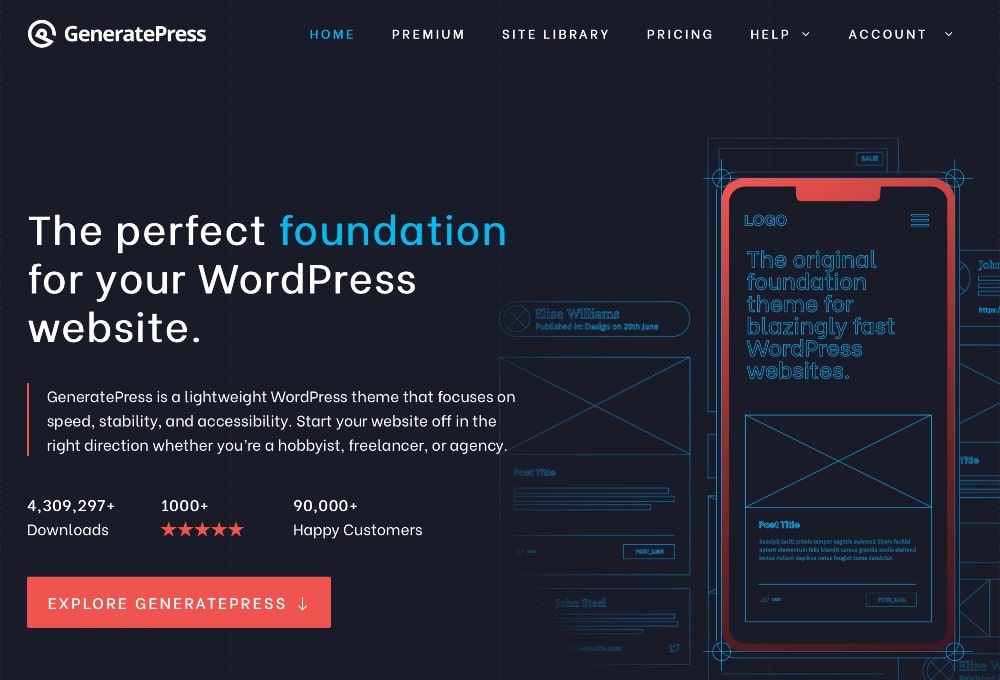 GeneratePress is a lightweight WordPress theme that provides speed, stability, and accessibility to website developers of all backgrounds.
GeneratePress offers free and premium versions of its software, which can be easily downloaded and installed into the WordPress dashboard.
The premium version unlocks valuable features and modules that make GeneratePress a true stand-out WordPress theme. GeneratePress affiliates can earn up to 30% commission on all sales.
Hostinger is a popular web hosting service that offers affordable small business and WordPress hosting plans. From shared hosting and domains to VPS and cloud plans, Hostinger is a one-stop shop for online success.
The Hostinger partner program features base payouts of around $60 per referral, with the opportunity to make as much as $150.
WP Engine is another great WordPress host provider with one of the fastest, most reliable WordPress hosting models, serving more than 1.5 million websites worldwide.
The WP Engine affiliate program is robust and one of the top affiliate programs for bloggers in the WordPress niche.
As a WP Engine affiliate, you earn $200 per sign-up or 100% of your referral's first monthly payment, which is higher, and you will also have access to exclusive discounts which can pass on to your subscribers.
In addition to earning commission on customer referrals, WP Engine affiliates make $50 every time they refer an affiliate.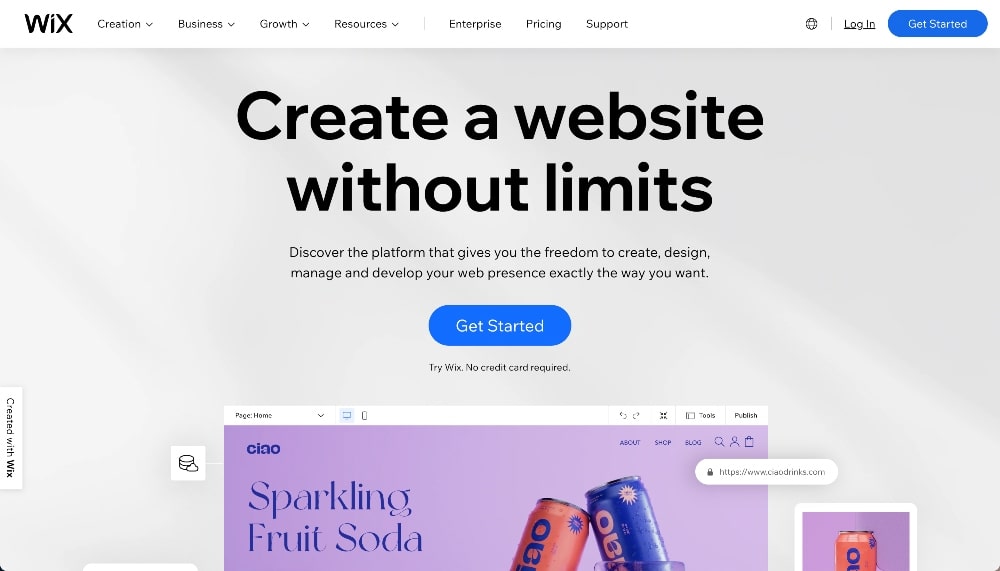 Wix has established itself as one of the cheapest and easiest high-quality drag-and-drop website development solutions.
With more than 160 million users in 190 countries, Wix is one of the top website-building platforms on the market.
The Wix affiliate program is equally easy to sign up for and use and boasts competitive commission rates.
Elementor is a free WordPress drag-and-drop page builder with a paid version that features a host of handy options like a pop-up builder, theme builder, WooCommerce builder, advanced widgets, and more.
Elementor also boasts one of the top affiliate programs in the WordPress page builder market, with a 50% commission rate on every referred sale.
FAQs About Affiliate Marketing Programs
As promised, we'll wrap this post up by breaking down some of the most frequently asked questions about affiliate marketing programs.
What Are Affiliate Programs?
An affiliate program is where an online merchant or website pays you a commission for sending people to their site who end up making a purchase.
The commission is often a percentage of the order total and can create considerable income for high-traffic blogs.
How Do I Join Affiliate Programs?
Most affiliate programs will have a simple sign-up or registration process.
The complexity of each and the information they require to join will vary drastically from one merchant to another, and while one may allow you to join easily, others may have more stringent entry requirements.
What Are the Requirements to Join Affiliate Programs?
This is going to depend heavily on the programs you apply to.
Large programs like the Amazon Associates affiliate program just take a few clicks to activate. Other programs may require substantial social media followings or even subscription fees.
What Should You Look for in the Best High-Paying Affiliate Programs?
Commission rate
The commission rate is the amount you receive from the customer's purchase. In most cases, this will be a percentage.
On the low end, you'll see rates around 5%. On the high end, you could see commissions of 30%.
Average order value
Merchants with higher average order values will naturally generate higher commissions if based on percentages.
Earnings per click
This is your basic metric of how much you earn per click, whether the customer makes a purchase or not. This may not be a feature in all affiliate programs.
Cookie duration
This is an important one that few people consider.
Long-duration cookies mean that you could potentially earn commissions long after the reader has left your blog and started shopping. Sometimes even days later.
What is a Recurring Commission Affiliate Program?
Unlike a one-time payout commission, you get paid multiple times.
This results from ongoing customer payments that each generate a commission for you. Examples of this type of framework are ConvertKit and ClickFunnels.
Why You Should Join Multiple Affiliate Programs
Simply put, the more programs you join the more versatile your earning abilities will be.
Additionally, no single affiliate program will have all of the products you'll eventually link to, so you'll need a variety regardless.
Tips for Success
Track the programs you have joined in a spreadsheet or project management system.
This is one of the most crucial tips because nothing is worth more than information and insight into your performance.
Being able to track the traffic and conversion metrics for multiple programs will help you determine if one or more just aren't serving you well enough.
1. Don't join every program.
Your link real estate isn't infinite, and no matter how you look at it, some affiliate marketing programs are much better than others. Don't waste a link on your blog promoting an affiliate that won't give you the commission another will.
2. Keep records of everything for tax season.
Make sure you keep solid records from the beginning so that you aren't scrambling when April rolls around. If you incorporate as an LLC or similar entity, be sure you keep separate personal and company books to reduce the likelihood of an audit.
3. Don't spam your links.
Nothing's worse than constant affiliate link spam. It turns people off, pushing potential clicks away, and it makes the account posting the links seem less authentic and human.
Can You Earn More Commission if You Sell More?
There are many cases where top-performing affiliates can grow their commission rates.
Sometimes this is an automatic advancement in a tiered system, and in other situations, the affiliate may need to manually reach out and renegotiate their commission rates.
Another possibility is that you may be able to leverage your popularity or affiliate rank to negotiate sponsored posts in addition to your affiliate income.
For example, Jessica Stansberry is an affiliate of Clickup, and she has some of her YouTube videos sponsored by the company.
How Much Does Your Niche Matter When Looking for an Affiliate Program?
In most cases, your niche will be the ultimate factor in determining the affiliate programs you qualify to join, because generally speaking, you want them to be closely related.
Not only does this help you build authority in your copy, but it makes your blog sound much less like it's trying to scrape every click it can.
That said, there are some reasons that you may want to join affiliate marketing programs outside of your niche. When this is implemented, however, it needs to be done properly or it can annoy your readers right out of reading.
One way is finding something that is truly useful or pertinent to the content you're creating at that time, even if it's non-niche.
Another strategy for keeping semi-unrelated affiliate links on your page is to keep them in a clearly delineated "resources" or "other useful links" area of your page.
You can also make it a point to share the links on your social media feeds, whether personal or blog-related.
If you really find yourself grappling with awesome affiliate programs that just aren't compatible with your niche, start a new blog. You may even find an easy segway to cross-promotion.
Conclusion and Next Steps
Joining affiliate marketing programs is an easy way to earn more money as a blogger, and when properly executed, can create significant new revenue streams.
The reality is though, we've barely scratched the surface of the available programs online for the various blog niches out there.
To find more of the top affiliate programs in your niche, you could start with a simple Google search such as "Affiliate marketing programs in X niche."
Another idea would be to go and look at blogs in your niche and see what programs they are linking to. Then, start researching and determine which ones would be a good fit for you.
There are hundreds of thousands of affiliate programs out there. And, there are hundreds of thousands of dollars in commissions just waiting to be earned.
You deserve your slice of that sweet pie.
Start researching the best affiliate programs for your blog. After that, start applying and promoting.
Need more resources? Here are a few posts of ours you might want to check out: