We partner with bada$$ companies that offer products that help our readers achieve their goals! If you purchase through our partner links, we get paid for the referral at no additional cost to you! Read our disclosure for more info.
As a blogger, writer, or freelancer, it's not always easy to make enough money to pay the bills. Fortunately, online transcription jobs present flexible work opportunities to help maintain you while you're building your business.
What is a Transcriptionist?
Transcriptionists take voice recordings and transcribe (type) them up into a document in word processing software such as Microsoft Word, Google Docs, or even Notepad.
This is a legitimate job that most companies hire out remotely because with cloud storage systems audio can be loaded and transcribed from anywhere with an internet connection.
Some online transcription jobs involve legal topics, interviews, or any other range of topics. While some projects will require a little bit more experience and training, most of these jobs require no experience at all.
Businesses looking for transcribers generally have two main requirements: 1) A good understanding of the English language and 2) a decent typing speed.
If you meet these two main requirements, online transcription jobs aren't as hard to find as you might think.
While many voice transcription jobs are in the legal and medical fields, there is a growing demand for other fields. For example, podcasters, YouTubers, and course creators all over the internet also need the services of a good transcriber.
How Much Do Transcriptionists Get Paid?
While browsing, please note that the pay rate is usually calculated this way:
Per minute or per hour of audio/video file – For example, $0.30 per minute of audio.
Note: You are NOT paid by how long you have worked on these transcription jobs.
In other words – if it takes you an hour to complete a transcription, but the audio was 10 minutes let's say, and you're being paid $1 per minute, you will receive $10 for the transcription. That makes your pay rate $10/hr if it takes you a full 60 minutes to complete a 10-minute audio transcription job.
While accuracy is important, your speed is what determines how much money you could earn on any given day completing online transcription jobs from home.
While most people working transcribing jobs from home do so part-time, a full-time entry-level remote transcriber generally makes between $27,000 to $38,000 every year. For most people, pay generally breaks down to around $16 per hour.
What are the Best Online Transcription Jobs?
There are a lot of sites out there that are ready to take on beginners and put no pressure on you to get work done.
Below are some of the most popular options for entry-level online transcription jobs.
1. Rev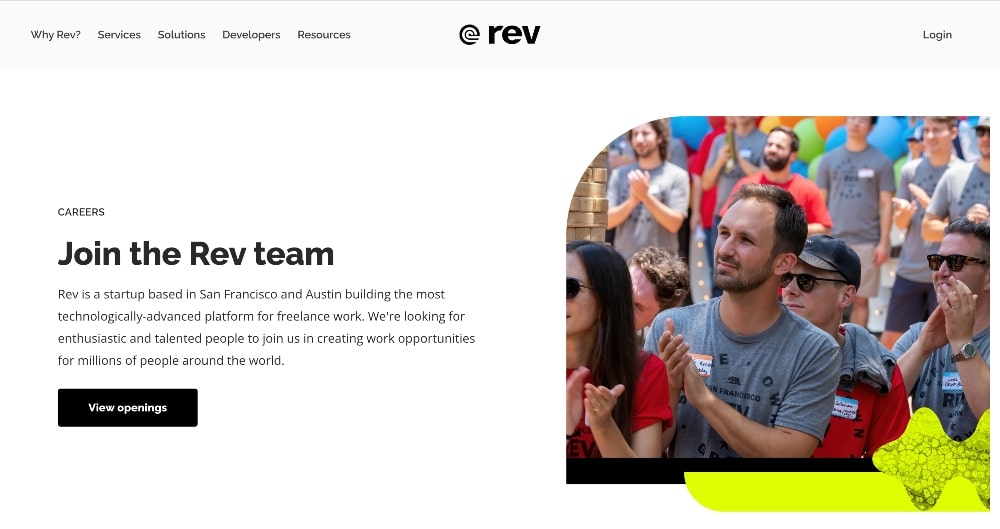 Pay Rate: $0.30 to $1.10 per audio/video minute
Payment Details: PayPal, Weekly
Requirements: Exam
Additional Notes: You could receive higher rates if you are willing to do video captioning work
Rev is a well-known transcription site with over 170,000 clients. There is plenty of work to be had, and the scheduling is flexible. Job requirements are minimal.
The site offers video as well as audio transcription, and also provides video captioning work for $0.54 to $1.10 per video minute.
This rate triples for foreign language transcriptions at $1.50 to $3.00 per video minute.
Though it might seem obvious, you will need to be fluent in the foreign language you are transcribing!
2. TranscribeMe!

Pay Rate: $15 to $22 per audio hour
Payment Details: PayPal, Weekly
Requirements: Google Chrome, English Exam
TranscribeMe! Is a great way to get started transcribing from home, offering some training before you get going.
The work itself is broken up into small clips between two to four minutes in length, and the work covers a variety of industries.
Transcribing the clips requires no time commitment past the clip that you are working on, meaning that you can pick it up and put it up when you aren't busy and put it down when you have other obligations or deadlines to meet.
They also offer higher rates for Medical and Specialty Styles for motivated Transcribers.
3. Scribie
Pay Rate: $5 to $20 per audio hour, $5 bonus for every 3 hours worked
Payment Details: PayPal, on-demand (daily)
Requirements: Exam
Additional Notes: Waitlist for hire
Scribie offers clients human and AI-generated transcription.
Its human transcription service is billed as being 99% accurate, so this is worth considering if accuracy is your thing.
Files come in blocks of about ten minutes or so, and you browse for the jobs you want to do.
Depending on the results of the work that you are given, you may be promoted and be given higher pay.
4. Way With Words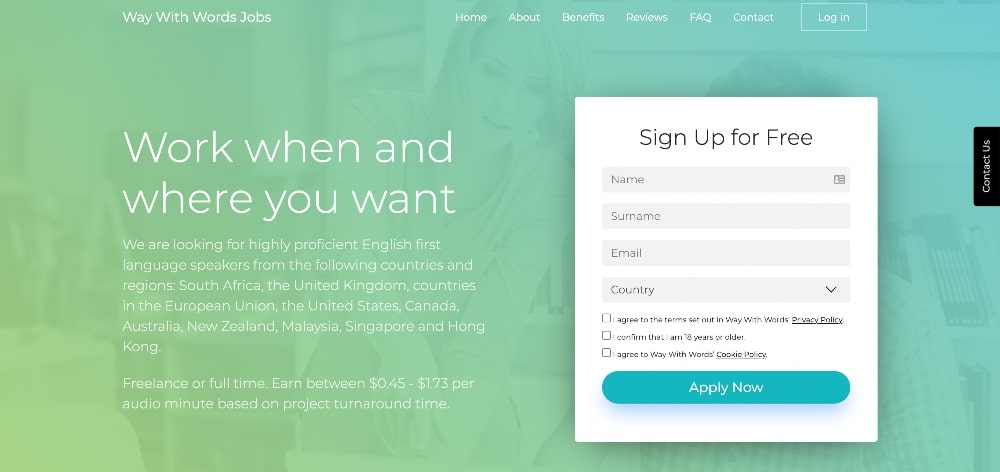 Pay Rate: $0.45 to $1.73 per audio minute
Payment Details: PayPal, monthly
Requirements: Exam, Microsoft word
Additional Notes: International hire
Way With Words offers its independent contractors the freedom to select their jobs, requiring no minimum hours a month. While their site suggests that they are not an 'automatic' hire, if you are inexperienced, they will train you!
5. CastingWords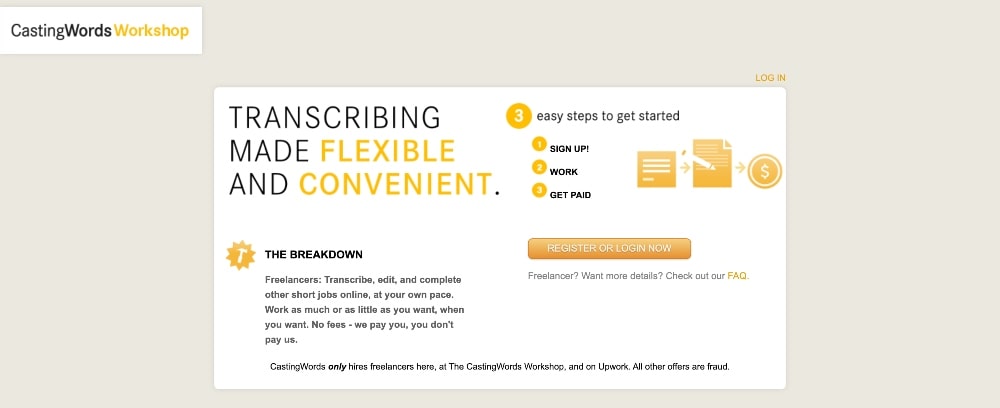 Pay Rate: $0.085 to $1.00 per audio minute
Payment Details: PayPal, Weekly on Friday
Requirements: Exam, Amazon MT
Additional Notes: French and Spanish transcription jobs are available
CastingWords lets its freelancers work as much or as little as they want. Their pay scale is based on the grade of work that you do, your current level, and the type of job.
When you sign up, you may be assigned to take a transcription test, but once you are in, you can start working!
6. 3PlayMedia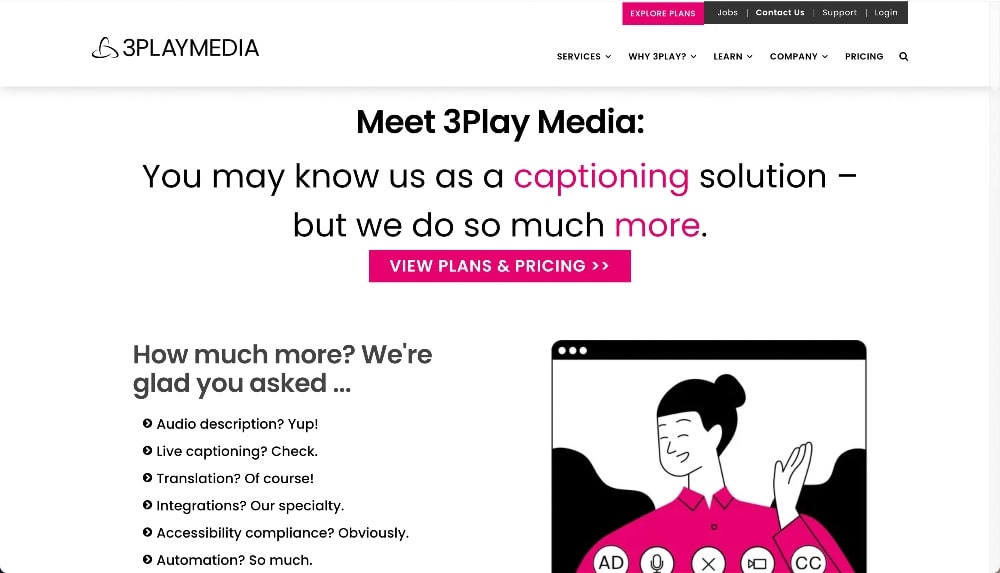 Pay Rate: $10 to $30 per hour on average (pay varies per job)
Payment Details: Direct Deposit/Check, Weekly
Requirements: Exam, Background Check (US Only)
3PlayMedia offers roles as a freelancer in English or Spanish, allowing you to choose the jobs that you want.
There is no experience required, and its requirements are minimal.
7. Daily Transcription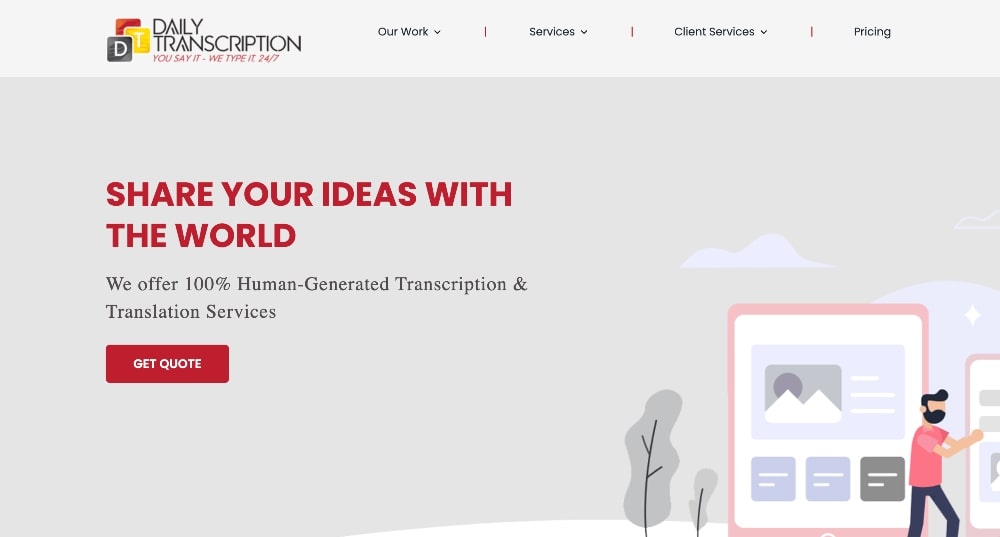 Pay Rate: $0.75 to $0.85 per audio minute
Payment Details: Check, Weekly
Requirements: 50 wpm typing, Exam
Additional Notes: US or Canadian residents only
Daily Transcription claims to offer high rates for its transcriptionists and also advises that they provide training, feedback, and coaching for beginners.
While they are only looking for US and Canadian residents, they will consider candidates outside these areas who are proficient in a second language.
Daily transcription also offers subtitle and captioning work. If you are a beginner, Daily Transcription is worth checking out.
8. GoTranscript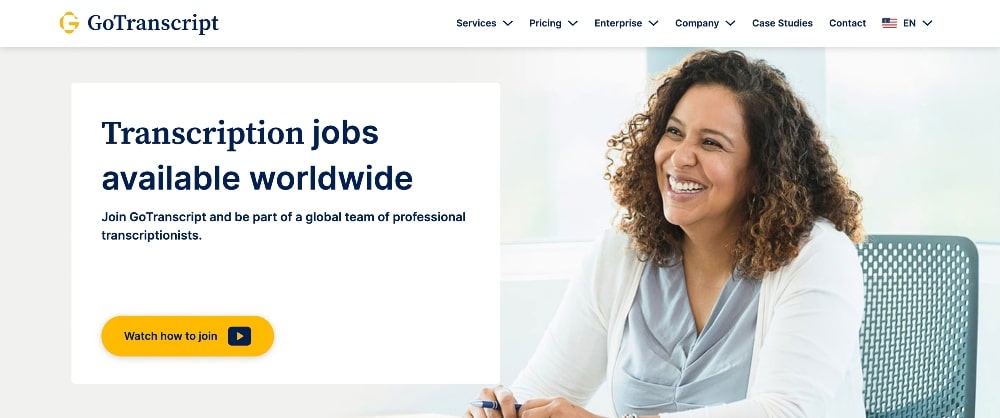 Pay Rate: $0.60 per audio minute
Payment Details: PayPal, Weekly
Requirements: Exam
Additional Notes: Worldwide hires
GoTranscript claims a wide variety of subject matter and the flexibility to make your schedule, with no minimum hours. GoTranscript makes no demands on software or hardware (you can even use your phone to do work!), though they recommend a professional setup for ease of transcription.
They also need transcriptionists who can work in multiple languages.
Become a Professional [Career] Transcriptionist
If you are ready to transition into a transcription career instead of doing online transcription jobs as a contractor, there are several sites that are more selective with higher rates of pay that you may want to consider.
9. GMR Transcription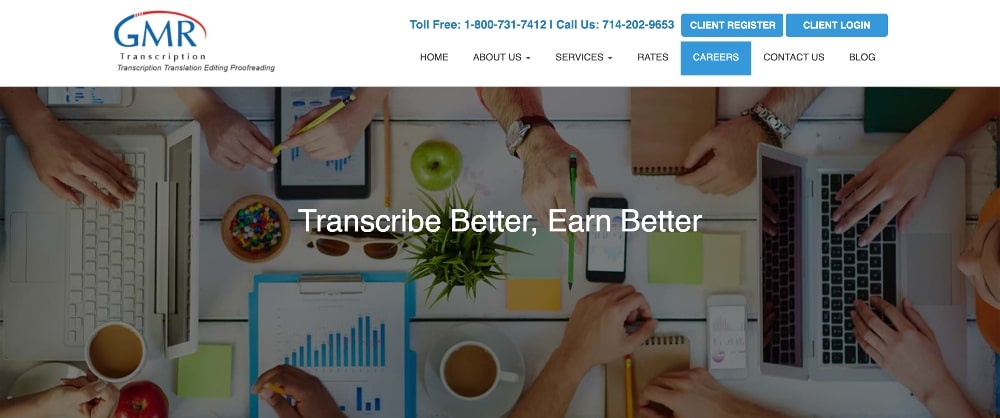 Pay Rate: Uncertain, but some websites indicate you can make as much as $3k per month
Payment Details: PayPal
Requirements: Exam, Microsoft Office, Over-the-ear headphones, foot pedal
Additional Notes: US Residents only
GMR Transcription is another company that requires no experience, though you will be required to pass their transcription test.
GMR Transcription also offers roles for certified translators. Their hiring periods vary, though they are always looking for Spanish transcriptionists.
GMR's requirements for work are four hours a month minimum, and they are always willing to give you as much as you'll take.
That said, it is not a casual job as they have a strict grading policy. Their website states: "We find that most people passing our tests have years of experience or have been certified in general transcription."
10. SpeakWrite

Pay Rate: $0.005 to $0.006 per word
Payment Details: Check or Direct Deposit, every two weeks
Requirements: 60 WPM, Assessment, Foot Pedal, Microsoft Word
Additional Notes: California residents are not accepted to work for SpeakWrite. All other applicants must reside in the U.S. or Canada
SpeakWrite covers a wide variety of industries: Business, Law Enforcement, and Insurance Adjusters, among others. Applicants should have at least one year's experience transcribing or word processing in an office environment. A typing test is required, and all applicants must pass with at least 60 words per minute (wpm).
Average monthly earnings are at $450, though top earners claim $3,400 per month, and SpeakWrite offers bonuses and other incentives.
SpeakWrite is looking for candidates that are available at least four hours a week.
They will give you access to a schedule three weeks in advance so that you can choose when you want to work, though you will have the option to work more hours than what you select initially.
When you sign in, the system will automatically assign you jobs. There are also opportunities for Transcriptionists in Spanish.
11. Transcript Divas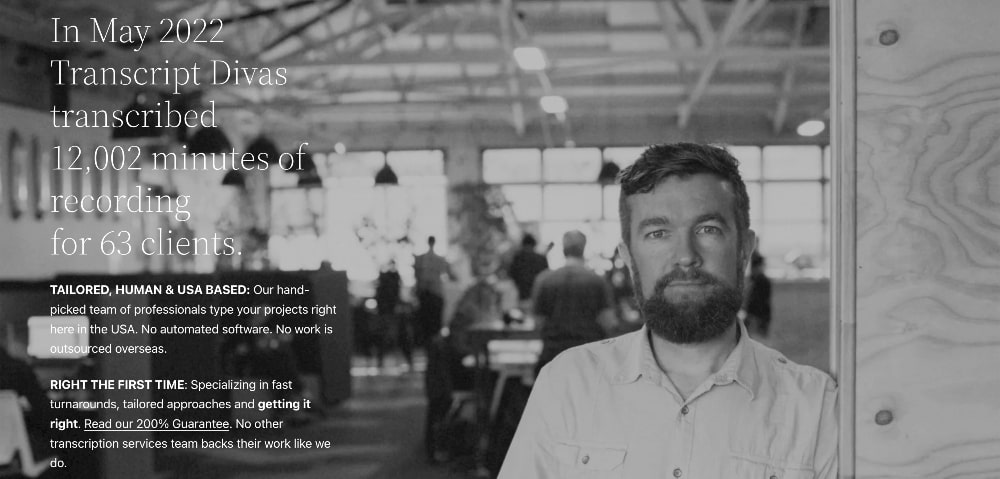 Pay Rate: $0.71 to $3.03 per minute of audio
Payment Details: Direct Deposit, Monthly
Requirements: Unclear, Experience expected
Additional Notes: United States residents, though more than half of the states are excluded
Transcript Divas is looking for long-term business relations, not short-change transcriptionists. Applications are reviewed monthly, so don't expect to start right away.
The questions on their application form imply that they are looking for transcriptionists with experience, and they want references.
If you think that you're ready to take on a bigger workload, and have a good-sized portfolio going for you, this may be the company for you.
12. Transcription Outsourcing LLC


Pay Rate: $0.80 to $1.10 per minute of audio ($0.07 to $0.10 per line for medical)
Payment Details: PayPal, twice a month
Requirements: Application Process, Exam, Interview
Additional Notes: US Residents only (excluding California, New Jersey, and Massachusetts)
While Transcription Outsourcing will accept someone inexperienced, they make it clear that they are offering applicants a career, not a job.
They also do not respond to every application, which means that if you want a career in Transcription Outsourcing, you need to make sure that your qualifications shine.
Their work covers law enforcement, medical, financial, legal, and general transcription jobs. While it may be difficult to get their attention, they do offer helpful advice to the budding transcriptionist that is worth taking a look at.
Other Transcription Services to Try
There are other transcription sites you can try as well if you are looking for even more transcribing jobs from home.
Some require more experience than others, with various levels of specialization.
13. eScribers

Pay Rate: Undetermined, pay per page
Payment Details: Direct deposit, Weekly
Requirements: 70 wpm, Microsoft Word
Additional Notes: Be eligible to work in the US, bonuses for a high volume of work
If you are looking to break into Legal Transcription, eScribers is an award-winning company that specializes in it.
They will accept those without legal or transcription experience, though certifications and experience are helpful qualifications.
Between a high wpm demand and the need for rapid acquisition of legal terminology into your vocabulary (if you do not already have it), eScribers may be challenging for beginners to approach, but well worth the investment if you want to get a foot in the legal field.
14. Tigerfish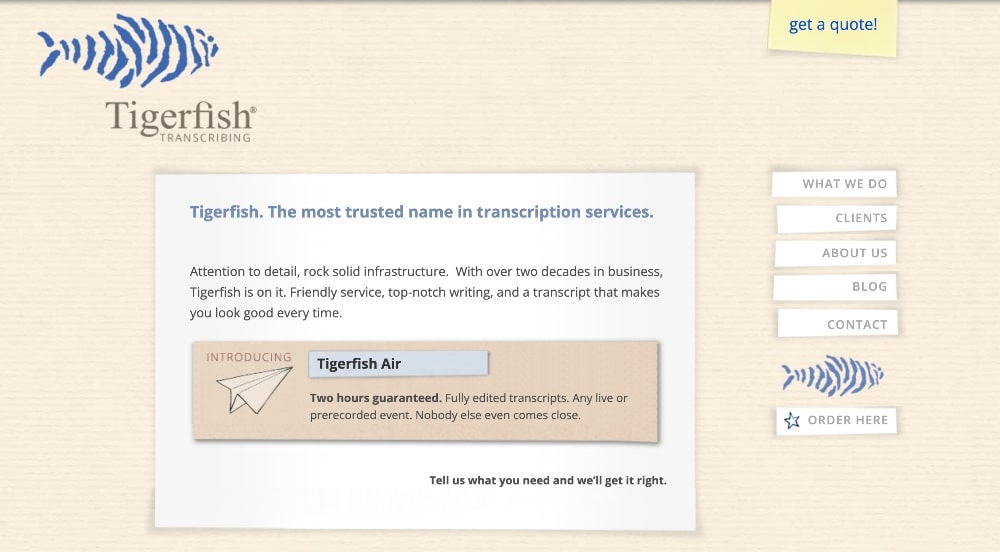 Pay Rate: $0.03 to $0.04 per line
Payment Details: PayPal, weekly
Requirements: Exam, Express Scribe Software (during the evaluation period)
Additional Notes: Not always hiring
If you can get hired (Tigerfish is not always actively recruiting, though you are welcome to send in your application), you will be signing on for a solid company with an impressive client list.
Tigerfish isn't for casual work, so if you are looking to make transcription work a full-time job, keep an eye on Tigerfish for their next open recruiting period.
If you apply, Tigerfish will require you to submit a sample of your transcription and will provide you with a file for you to test on.
The only downside is that pay from Tigerfish is reportedly not that high (between $5 to $10 an hour for average transcribers), but you do not need any experience to work there.
15. Crowdsurf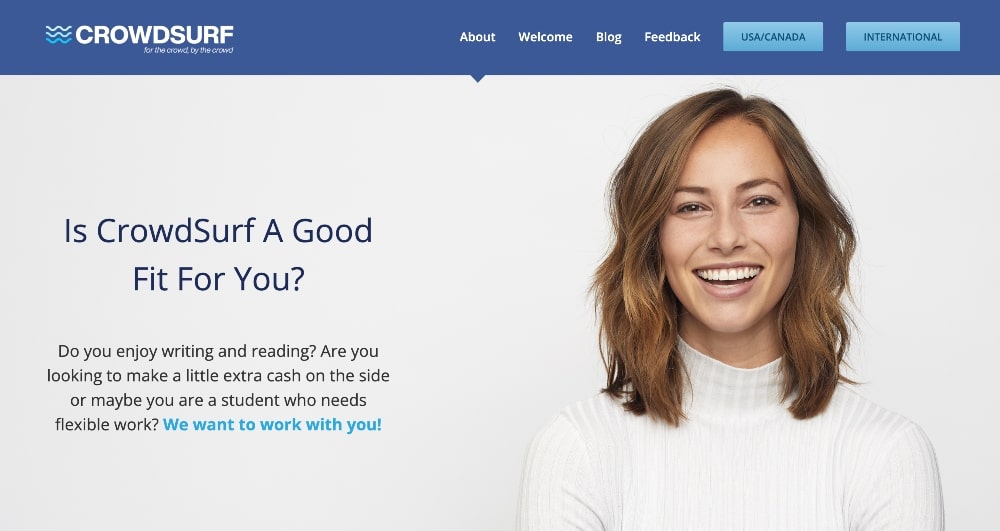 Pay Rate: Dependent on quality score
Payment Details: Direct Deposit to Work Market, By job
Requirements: Assessment
Crowdsurf breaks its transcription jobs into HITs (Human Intelligence Tasks), a 30-45 second video.
There is no experience or minimum typing speed required, though you are assigned a quality control score upon which your pay and bonuses depend.
A low score will result in a loss of ability to work. The average pay for a HIT is $0.10, and Glassdoor indicates that the average hourly earning is $21.
16. Ubiquis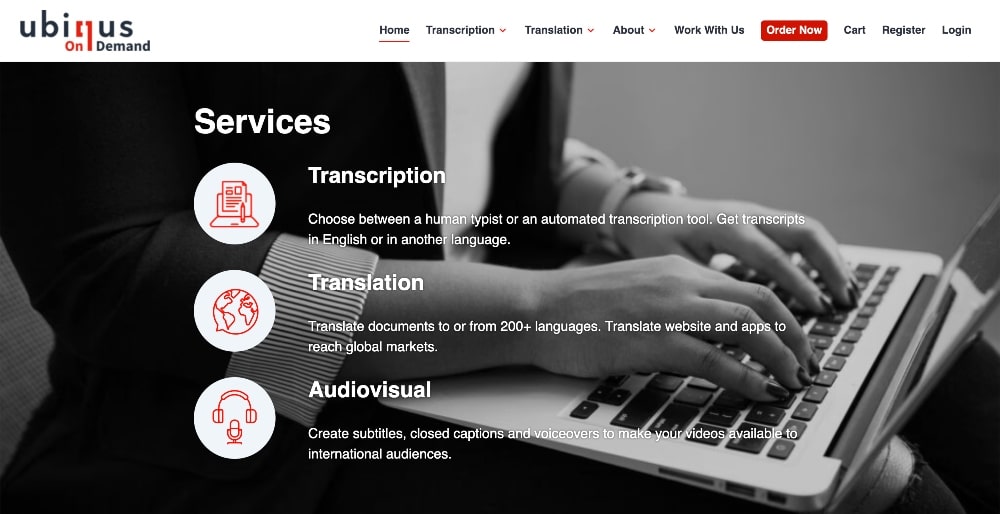 Pay Rate: Uncertain
Payment Details: Every Two Weeks
Requirements: None specified, experience presumed
Additional Notes: Background Checks
Ubiquis is looking for experienced transcriptionists, both in English and in foreign languages.
The company states they only want to employ qualified and experienced transcriptionists, and that they pay a living wage for this reason.
17. Dictate Express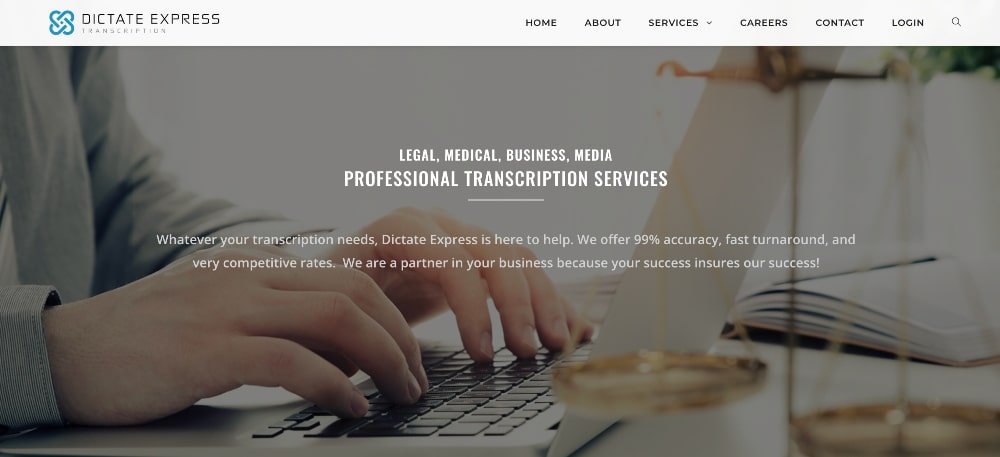 Pay Rate: Uncertain
Payment Details: Direct Deposit, biweekly
Requirements: Exam, foot pedal
Dictate Express does not have a lot of information about the work regarding their transcriptionists.
Their exams are open book, so it is very possible to pass it 100%, but one thing they emphasize is attention to detail and the ability to follow instructions.
18. Quicktate / iDictate
Pay Rate: $0.0025 to $0.005 per word
Payment Details: Paypal
Requirements: Must be able to pass a criminal background check and supply three references
Additional Notes: $20 fee for your background check is charged to you
Quicktate transcribes a range of phone calls, voicemails, memos, legal files, and medical files.
The files range in length from two minutes to several hours. Signing up for Quicktate allows you to work for iDictate, which involves the same files as Quicktate, excluding voicemails.
19. Babbletype
Pay Rate: $0.40 to $0.80 per audio minute
Payment Details: PayPal, Weekly
Requirements: Interview, Exam, Express Scribe, Hot Keys
Additional Notes: No CA residents
Babbletype is selective about who they hire. Their hiring process is involved, so don't expect to get right to work, even if your credentials are impressive.
20. Pioneer Transcription Services
Pay Rate: Uncertain
Payment Details: Uncertain
Requirements: Foot Pedal, Application process, Exam,
Additional Notes: No California Residents
Pioneer Transcription Services keeps its site updated with current hiring needs, and they prefer to hire those who are ready to work.
They are looking for Spanish to English transcriptionists, and general and legal transcriptionists. Their site suggests that you should probably have some experience before coming their way.
Do People Really Still Hire Out for Transcription Jobs?
You may ask yourself why, in the age of speech-to-text recognition and artificial intelligence, would someone require a transcriptionist.
Can't an AI just handle it?
It's a very valid question because many transcriptionist sites like Rev and Descript do offer automated transcription services for their clients.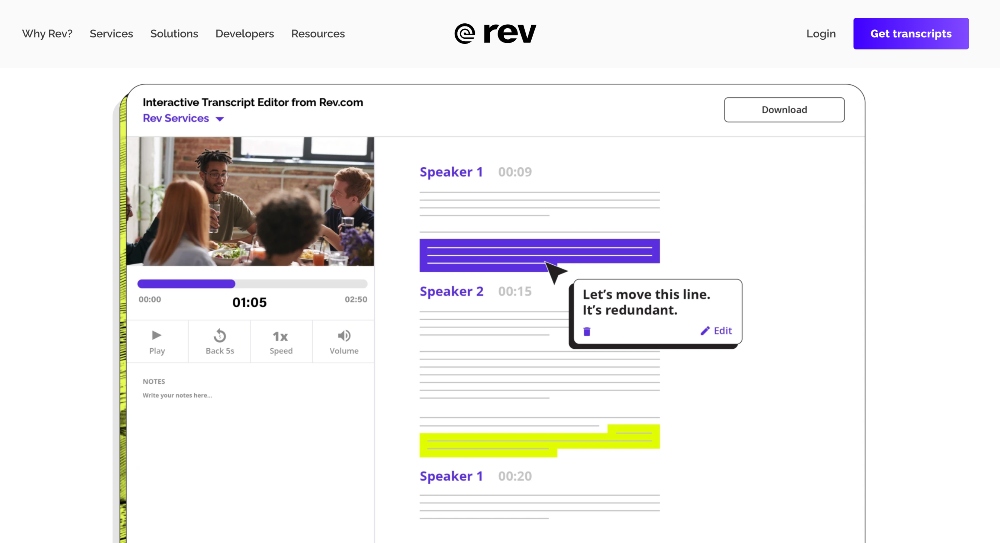 An artificial intelligence-driven software solution can process much of human communication to text. But it isn't perfect, and it is not as good as a real human for grammar and accuracy.
At least not yet, thank goodness for anyone looking for one of these online transcription jobs.
Additionally, AI still struggles to understand accents and regional dialects.
Of course, nothing is stopping you from using AI and other software solutions to make your transcription job that much easier for yourself.
There are several fairly accurate AI software solutions out there such as Otter.ai and Descript that can do the bulk of the transcription work for you. Then, you can simply review and ensure accuracy.
In fact, using AI solutions like this can help you speed up the process of doing your transcription jobs from home.
However, it's important to note that some websites that offer transcription jobs might require you do all work within their system. This means you won't be able to download the files to input them into AI software.
The reason? Some of the data you will be transcribing is sensitive and they can't risk client files getting out.
But, when you can use tools to help you, work smarter not harder!
There is also professional transcription software that can ease the carpal tunnel pain often associated with starting and stopping audio recordings, especially if you invest in a foot pedal.
If you don't want to shell out the money for that software immediately, Express Scribe comes with a free version!
Regardless of what you use to help you do your transcription jobs, most of the tools available offer a fairly good return for such a low investment to start. So where do you start?
What to Look for in Online Transcription Jobs
We've given you a lot of places to consider when searching for transcription jobs from home.
In this section, we'll break down what you should be looking for when you are considering transcription companies to work for.
1. The company should have a professional website and a portfolio.
An online transcription service that has been around for a while will likely have an online portfolio of work they've done in the past.
A professional website will have a lot more information about the company, like its staff and the types of services they offer as well.
What you're looking for on the website includes, but shouldn't be limited to:
Pay structure
When you can expect to receive your payment
How you will be paid (i.e. via Paypal, Stripe, Gusto, or some other platform)
Troubleshooting information (i.e. What to do when you have a problem with audio, a client, or a deadline)
Their workflow process – you need to know what is expected of you every step of the way.
2. The company should have an existing online reputation.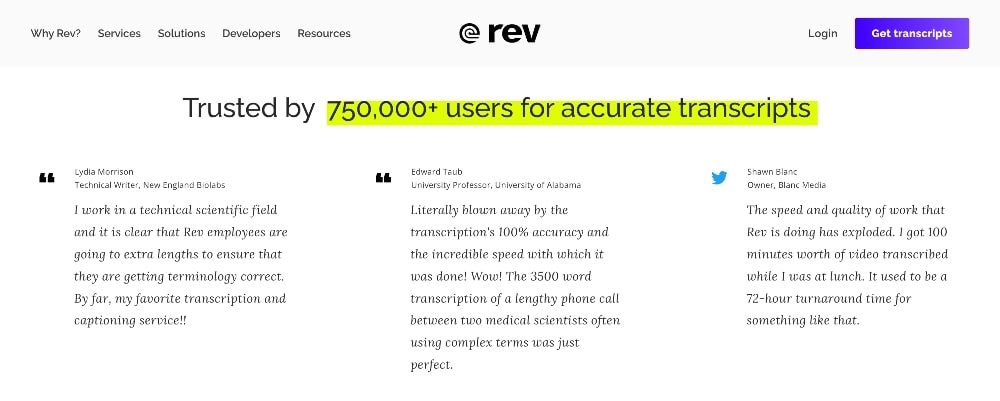 One of the best ways to find out more about a company online is to check its online reputation.
You can do this by searching for them on Google and other search engines. Then, you're going to want to read reviews, both good and bad, from their past customers.
You can also look on Facebook and other social media platforms to see what people are saying about them.
You should also check out the Better Business Bureau website to see if they have any open complaints against them. If they do – it's a red flag!
3. They should NOT charge you a sign-up fee.
It's one thing for a company to take a percentage of the fees clients are paying, but any company that asks you to pay to be on their platform should be avoided.
No company should ever charge you to work for them. Full stop!
4. If it sounds too good to be true, it probably is.
We hate to put it like this, but there are companies out there that just want to scam you.
They are preying on people that are looking for work and setting up fake websites that look legit in hopes of getting your info.
Signs it's a scam include:
Large hiring bonuses that require banking info before you even go through the onboarding process
Promises of large checks that are outside "standard" or "average" rates transcription jobs normally pay
Emails from @gmail, @yahoo, @hotmail, etc… Real company correspondence will always come from something like realname@theirwebsite.com
Don't be afraid to walk away from a deal that seems too good to be true. There are plenty of legit companies out there!
What To Do If You're Ready to Start Taking Transcription Jobs
Try it out before signing up to do it for a company. Go to a random YouTube video and try transcribing it.
You can choose a long one, a short one, whatever. Just choose one, and then open up a Microsoft Word or Google Doc and start trying to transcribe it.
See how it feels to actually listen to a piece of audio and then type out what the people on camera are saying.
If you are uncomfortable, that is normal. But, if you hate the experience, you should do a few more and determine whether or not you really want to look for online transcription jobs.
It does take time, and in the beginning, you might suck at it. That's okay. If you want to keep doing it, just keep practicing.
Tools/Software to Get
There are some things you might want to invest in if you're serious about taking transcribing jobs from home.
A computer: Though it's highly unlikely you don't have one if you're reading this, we had to say it.
Bonus points if you snag a sweet laptop so you can do these transcription jobs by the pool in Bali. Just sayin'
A quality set of closed-back headphones: Okay, they don't have to be completely noise canceling, although that is best, but you do want a really good set of headphones to hear everything the speakers in your audio/video are saying
A solid internet connection: Or at least plenty of data if doing this job from the road
Microsoft Word or LibreOffice: Libre Office is open-source software that pretty much does everything Microsoft Office products do.
Alternatively, you could use Google Docs. And, honestly, this might be best if you're planning on doing this gig on the go. That way you can access your files from anywhere.
Of course, Microsoft 365 can be accessed online, but paying monthly subscription fees for it kind of eats into your profit margins…
Tips for Succeeding with Transcription Jobs
If you have come this far, we're betting you're serious about doing transcription jobs from home. With that in mind, here are some tips for success:
Sign up with more than one company in the beginning: If you want to make a full-time income, this might be a good idea to ensure you always have work coming in.
Practice as much as you can before signing up: Because many of these companies make you take a test before they will hire you, you want to give yourself the best chances of success.
There are free websites that offer typing skill assessments and practice exercises that can help you get your words per minute (WPM) up. Here are just three of them:
Don't ever guess about the words: If the audio is inaudible, say so. You can actually cause more harm than good if you type what you think you heard
Take your time, and don't try to multitask: Nothing can make you mess up faster than trying to speed through your work or working on multiple things at a time.
While it makes complete sense that you want to earn as much per hour as possible, going too fast has too much potential to backfire.
Always proofread before you turn in your work: Giving something a second look can help you prevent turning in subpar work. You don't want to get a reputation for lots of errors because it can get you blacklisted.
Start a website of your own: If doing transcription jobs makes you happy, and you want to do more of it, consider starting your own website.
Doing this will give you the ability to work with clients directly. You can sometimes charge more, and you can create your own contracts to set up things like retainer fees for more consistent income.
The best part? When you're running the show, you can offer additional deliverables that can help you earn even more money. For example, offering blog posts related to the transcripts you're providing.
In fact, you could eventually scale the business and have freelancers working under you and end up with your own transcription agency that shows up on a list just like this one someday.
Remote Transcription: A Viable Source of Income from Part-time to Fully Engaged
Whether you are in between jobs and need a little extra cash or looking for a full-time job, online transcription is easy to get into and provides quick returns for your work.
The more experience you acquire, the more opportunities present themselves.
Transcription jobs from home can provide you with the freedom to make some side cash without an extended application process, or it can turn into a career.
So, if you are proud of your command of the English language, are a quick typer, and have some time to develop a new skill, consider signing up for one of these sites and start working today!