We partner with bada$$ companies that offer products that help our readers achieve their goals! If you purchase through our partner links, we get paid for the referral at no additional cost to you! Read our disclosure for more info.
Hey there, editors and future editors! If you're eager to start making money from the comfort of your own home with online editing jobs, you're in the right place.
If you've got some editing skills and you're itching to put them to work, we will show you how you can offer your editing services as a freelancer and how to find available online editing jobs posted by companies.
You can find a variety of jobs as a copy editor or any other type of editor out there whether you're looking to make some extra cash on the side with freelance work or looking for a full-time job.
We're going to share 20 great options that are sure to help get your creative juices flowing.
From copy editing to proofreading manuscripts and beyond, these online editing jobs are perfect for improving skill sets while earning a living – all from the convenience of your own home.
What Do Editors Do?
Editors generally review, correct, and revise written work for its accuracy, clarity, punctuation, sentence structure, spelling, language, and style.
But it also goes beyond identifying and fixing grammatical mistakes or incorrect formatting.
Editors also check for consistency in tones and styles and often have working knowledge of SEO (search engine optimization) and marketing strategy, depending on the work.
As an editor, you also need to understand the writer and the brand that the work is representing to make sure that message comes across as intended.
Copy editing and proofreading jobs are always in demand and they span just about every industry you can think of, including indexing, book design and layout, technical writing, web design and development, content management systems (CMS) integration and maintenance, SEO optimization, social media community management, and more.
Editing is also very flexible, with a lot of remote positions available.
Types of Editing Services
There are a number of different types of online editing jobs that could be perfect for you, depending on your experience level, skill set, desires, and the company you want to work for.
The most common types of online editing jobs are:
Book Editor – eBooks, novels, short stories, and other types of books written by authors or ghostwriters
Copy Editor – Typically marketing and sales copy for emails, ads, sales pages, etc. written by copywriters, although "copy editor" can also be a catch-all term for all types of copy
Magazine Editor – Managing the overall content of a magazine, including editing submissions from other writers and preparing the magazine for print
Web Content Editor or Blog Post Editor – Typically refers to website content or blog pages and often requires some knowledge of how to create SEO-friendly content
Script Editor – Review scripts written by screenwriters or even videographers such as YouTubers, etc.
Technical Editor – Focuses on reviewing specialized texts such as manuals or instructions
Social Media Editor – Edit social media posts to ensure that they are engaging, shareable, and that they reach the target audience
Academic Editor – Typically involves editing manuscripts, papers, journal articles, and other written scientific or academic works
Managing Editor – Responsible for overseeing the editing work of a team
Editorial Assistant – Responsible for supporting editing roles with administrative tasks such as scheduling meetings, managing deadlines, and coordinating with other departments
Proofreader – Reviewing work as it relates specifically to grammar, spelling, punctuation, readability, clarity, etc.
20 Online Editing Jobs for Freelancers and Remote Workers
To get hired as a content editor from a large company, you may have to have a bachelor's degree, although many freelance jobs only require experience and not higher education.
For example, to work with writers in online publications, a background in journalism or communications may be required or helpful.
1. FlexJobs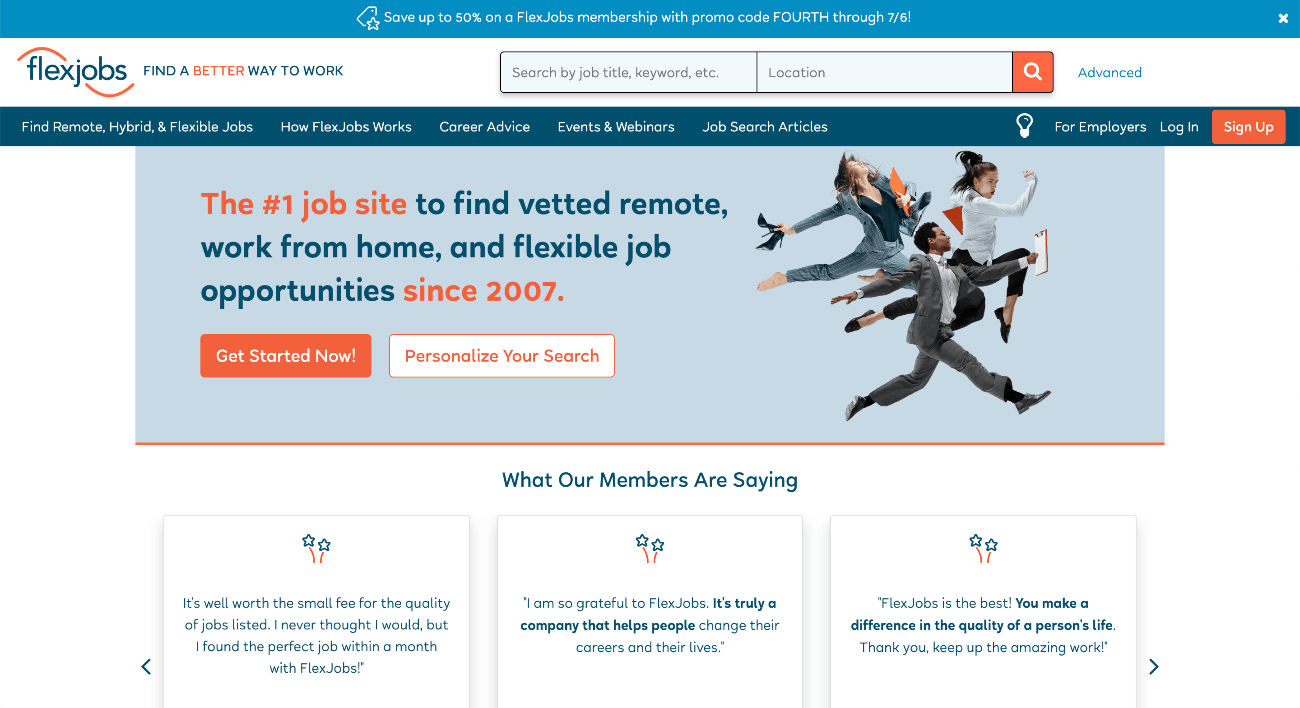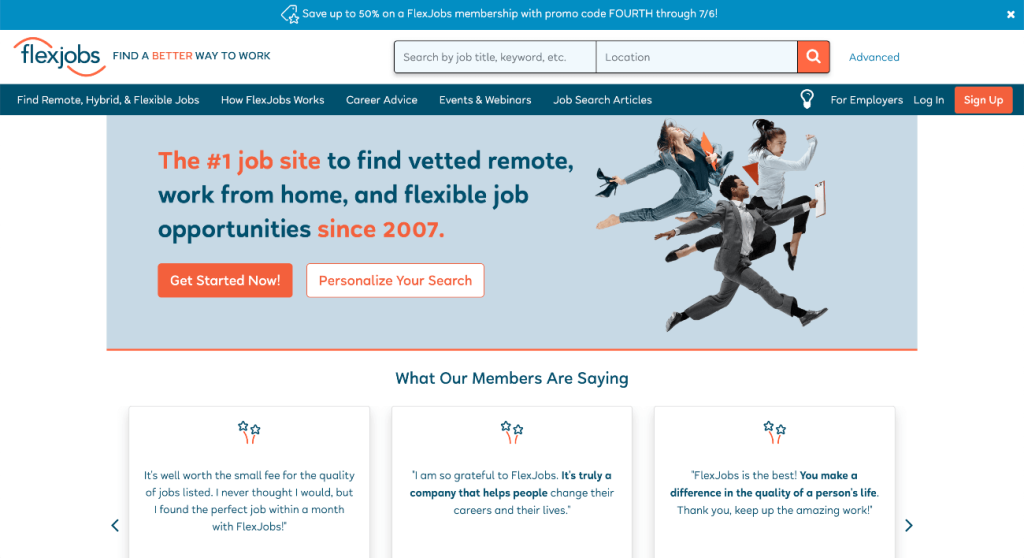 FlexJobs is a job site dedicated to helping freelancers and remote workers find legitimate, high-paying work online. If you're looking for online editing jobs or anything else in the writing field, this is the perfect place to start!
You can filter through their huge selection of editing jobs by location, experience level, type of project, and more.
2. Scribendi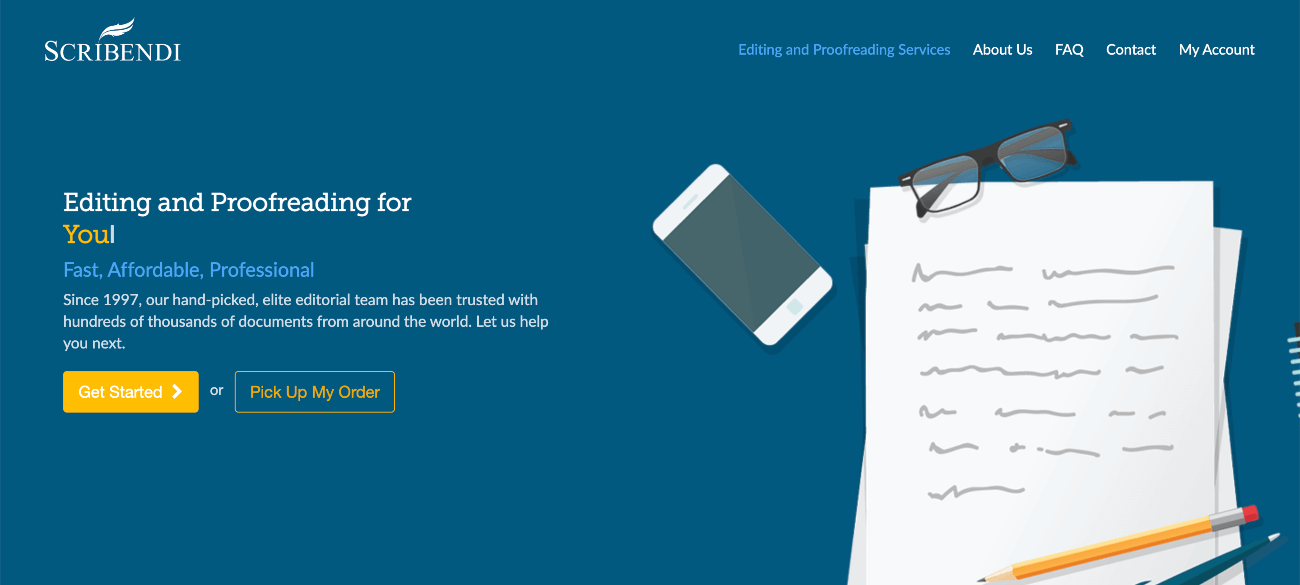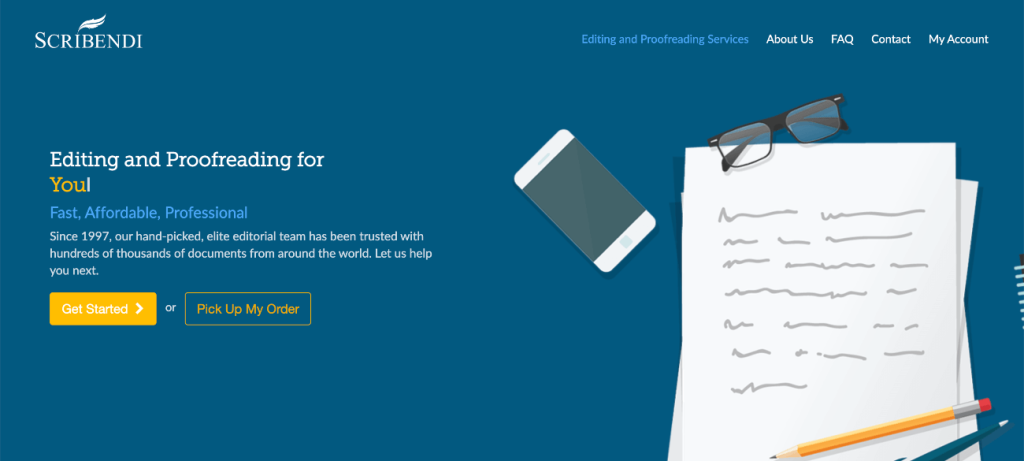 Scribendi is a great platform for finding online editor jobs. With its team of professional editors, it offers remote editing jobs in many fields.
Whether you're an experienced writer or just starting out, Scribendi's job board can help you find the perfect job for your skillset
From copy editing to content creation and website design, there are plenty of opportunities available on the platform for those with editing skills.
3. Cambridge Proofreading and Editing LLC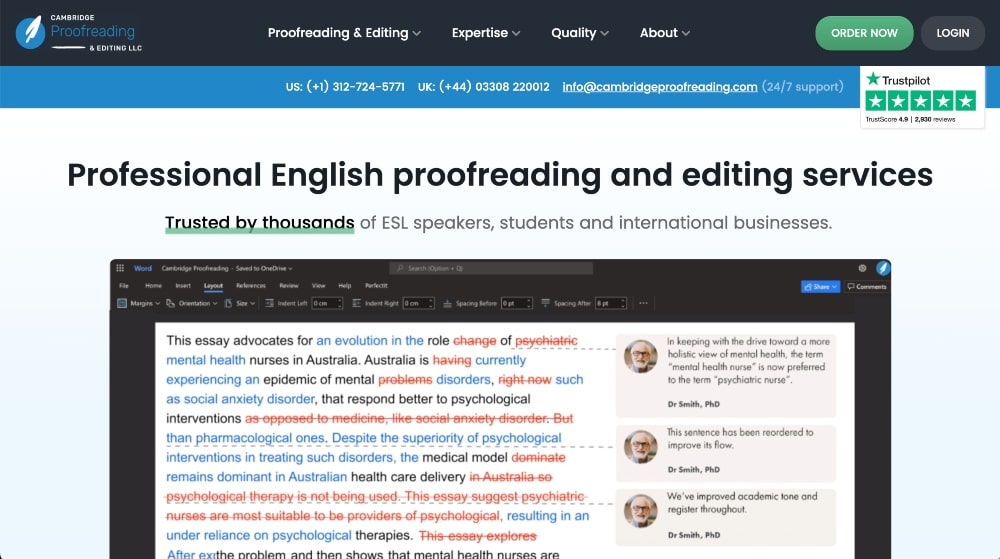 Cambridge Proofreading and Editing LLC is the perfect platform to find a variety of different types of online editing jobs.
They offer freelance editing and proofreading services to businesses, academics, students, and authors all around the world. They have a wide range of editor jobs available, from copy editing corporate documents to proofreading academic papers.
It also offers a host of other benefits such as competitive pay rates, flexible working hours, an international client base, and access to exclusive education courses.
4. The Muse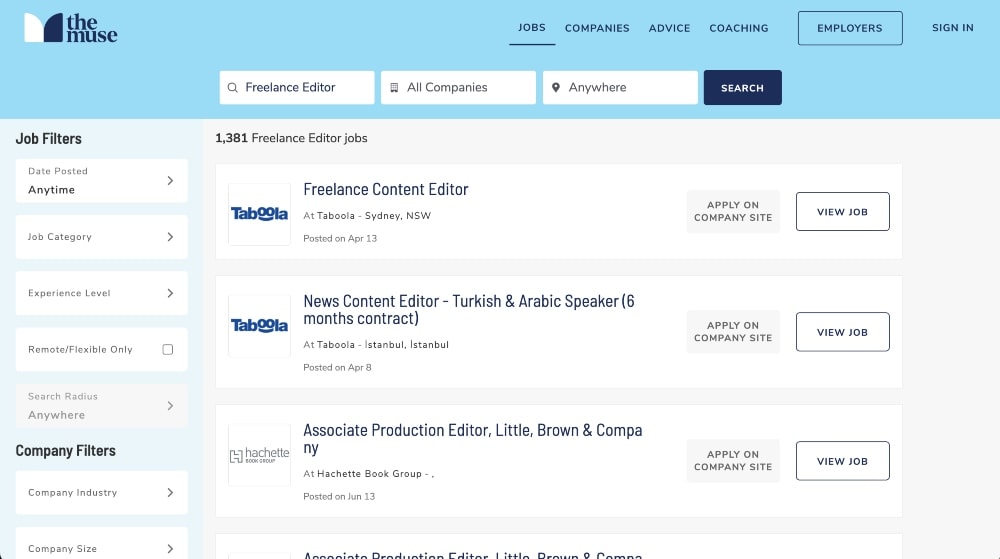 The Muse is another job board site that offers online editing jobs in many different fields.
Plus, this platform also provides access to resources that can help you gain additional skills and network with other professionals in the industry.
5. Reedsy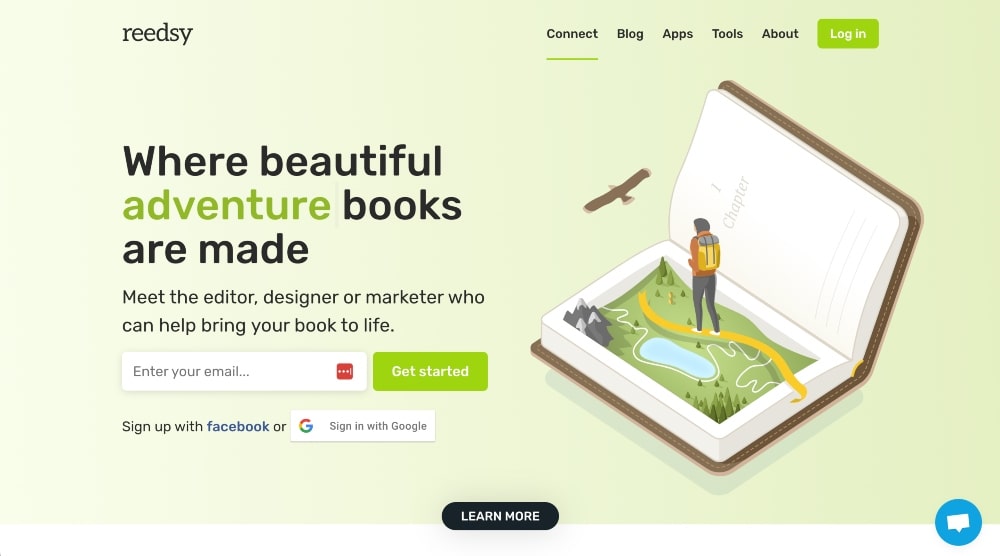 Reedsy a marketplace connects authors with the best publishing professionals around, including freelance editors and agents.
They offer proofreading, content editing, copy editing, content writing, and more. They also guarantee that all jobs are completed within the timeframe specified in the contract.
You can create your own profile on Reedsy to get discovered by potential clients and browse through available remote editing jobs.
6. Fiverr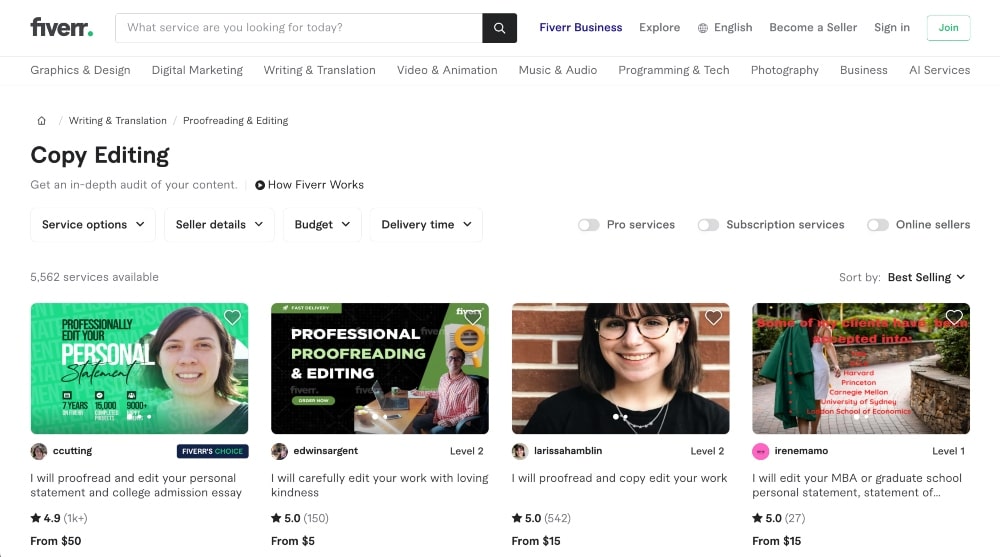 If you're just getting started with editing or want to try out different types of projects without committing to a full-time job, Fiverr might be the perfect platform for you.
You can test out your skills on short-term projects and get paid quickly within just a few days or even hours!
To get started on Fiver, just create an account and profile for the gig you're offering so that business owners can find you. Make sure to include a lot of detail in your gig about what specific type of editing you offer (content editing, copy editing, proofreading, etc.).
7. Upwork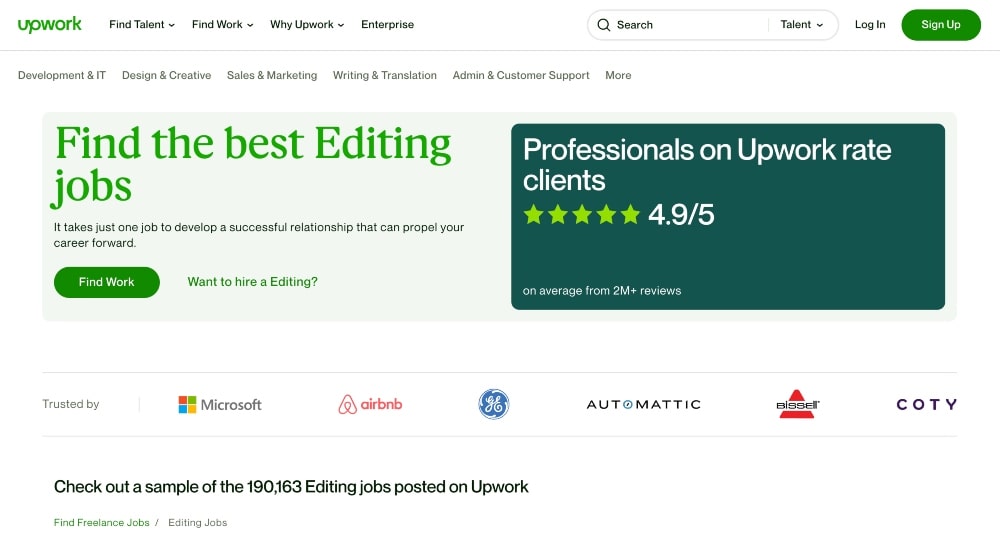 Upwork is a freelance marketplace for creatives with writing and editing skills as well as a variety of other industries. With Upwork, you can create a profile showcasing your skillset as an editor so potential employers can find you easily.
You can also search through their job board to find existing online editing jobs and other remote work available.
Keep in mind that many employers will require a certain level of experience before they'll hire you, so it's important to build your skills and portfolio if you're looking to get hired as a freelance editor.
8. Jobs For Editors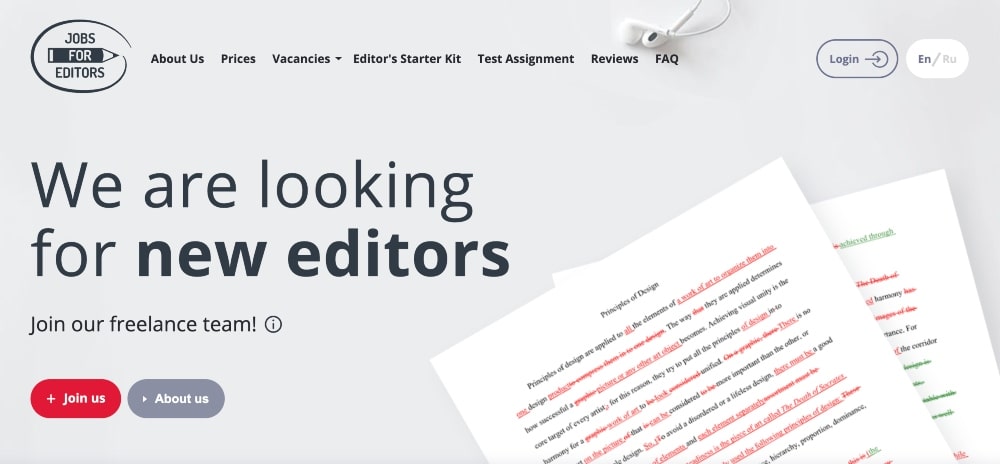 Jobs For Editors is a great resource for editors who are looking to find new jobs. They offer an extensive database of remote editing jobs from all around the world.
You can also create a profile on their website so that employers and other freelancers can quickly find you when they're in need of your editing skills.
9. Freelancer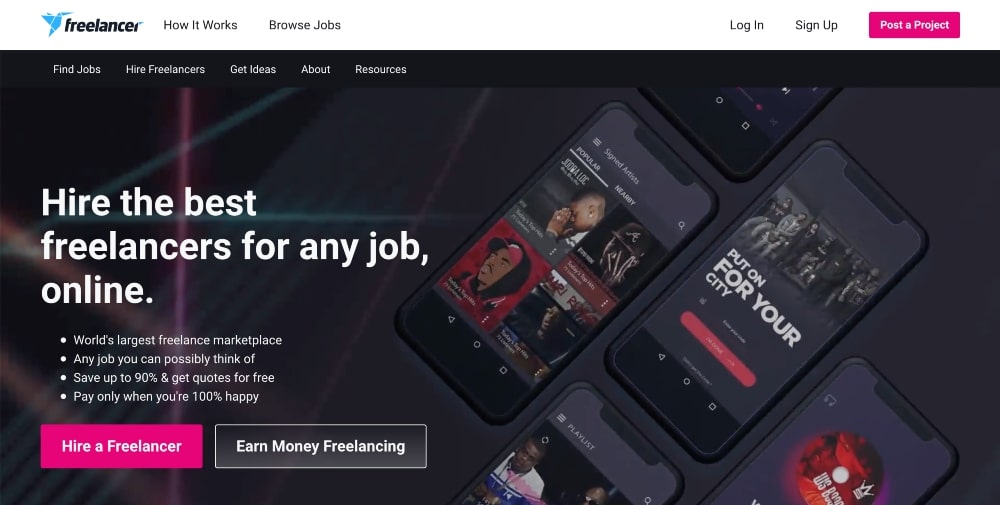 Freelancer is another great resource for finding freelance editor jobs or any other type of writing job or remote work.
With this platform, you can easily search through their vast selection of jobs by keyword, location, and other criteria to find the perfect fit for you.
It's a great platform for both freelance writers and those with editing skills seeking a new job.
10. Scribbr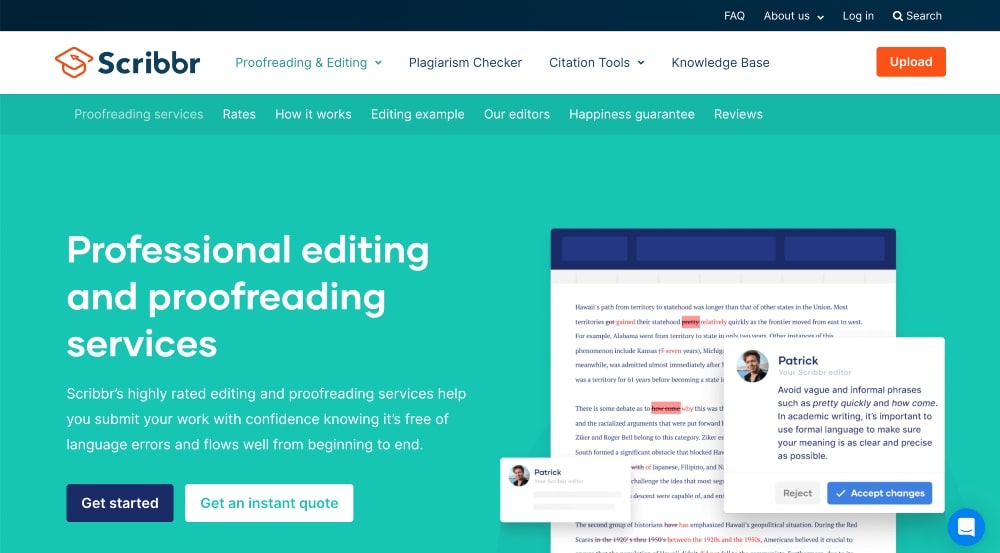 If you're a whiz at grammar and spelling, then you might consider applying for online editor jobs with Scribbr. This is a great opportunity to flex your editing muscles while helping others perfect their academic writing.
On top of that, they offer flexible hours and competitive rates—not to mention the satisfaction of knowing that you've helped someone put their best foot forward.
You can take on online editing jobs from the comfort of your own home, and they even provide a free training course so you can brush up on your skills. The remote work is flexible and there are plenty of online editor jobs available at any given time.
11. Wordvice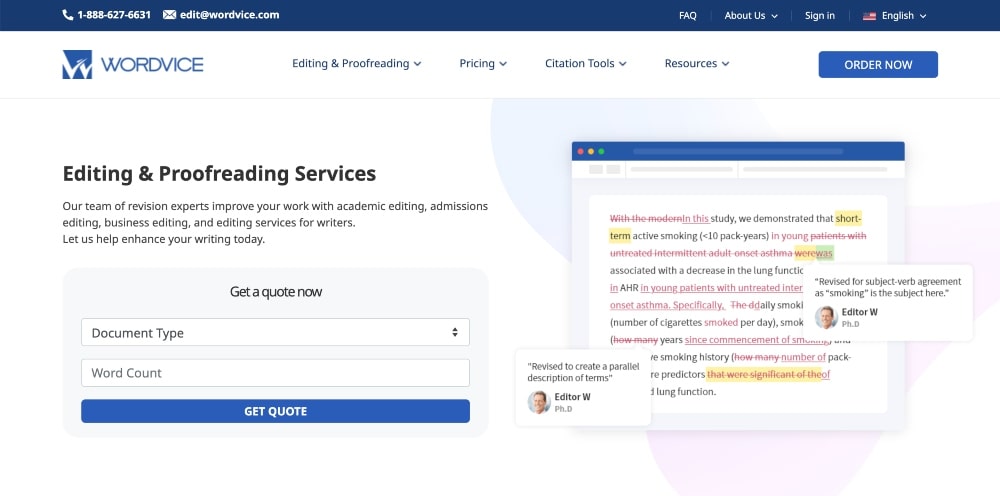 Wordvice is a great platform for finding online editor jobs. They offer freelance and full-time editing positions, all of which involve working with clients in various fields such as academia, business, literature, law, and more.
With Wordvice, you can choose from a wide selection of projects ranging from proofreading essays to copy editing manuscripts or writing content for a website.
12. Writer Access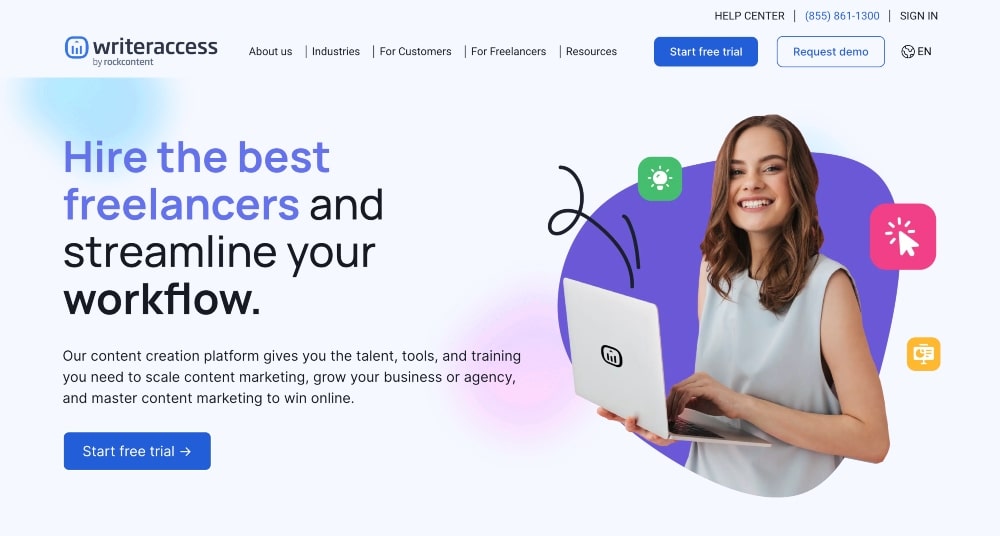 Writer Access offers freelance editing, proofreading, and writing for businesses, students, authors, and more.
With Writer Access, you can browse through hundreds of online editing jobs quickly and easily and use advanced filtering to help you find the exact job that fits your skill set.
Plus, their pay rates are competitive and you get access to exclusive training courses. All in all, it's a great resource for anyone looking to start a career as an online editor.
13. LinkedIn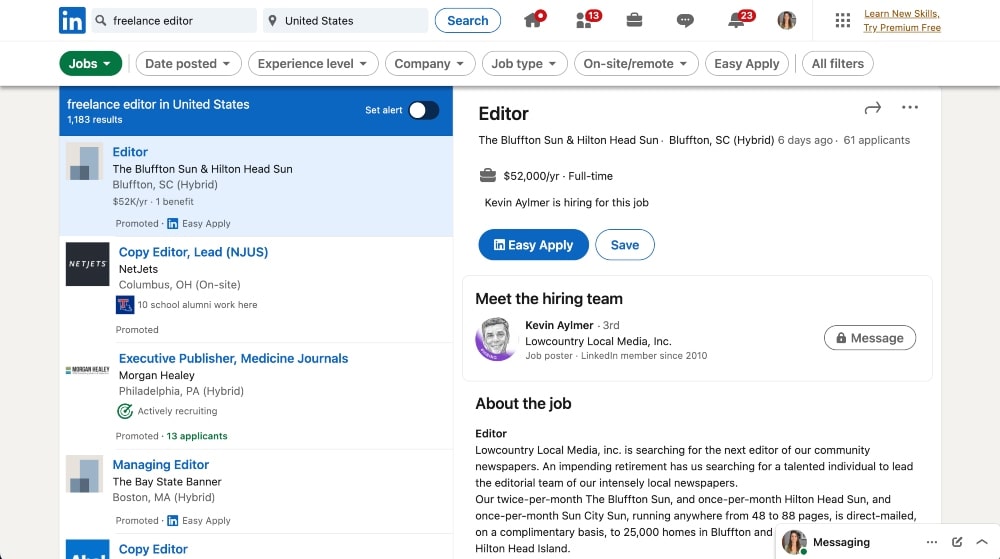 With its massive professional network, LinkedIn makes it easier than ever to connect with recruiters and employers.
With LinkedIn, you can also join groups related to editing and publishing and attend virtual events.
Take some time to create and evaluate your LinkedIn profile before you start connecting with other professionals.
LinkedIn also offers access to exclusive education courses that can help you hone your editing skills, as well as powerful networking tools so you can find a job in no time.
14. Simply Hired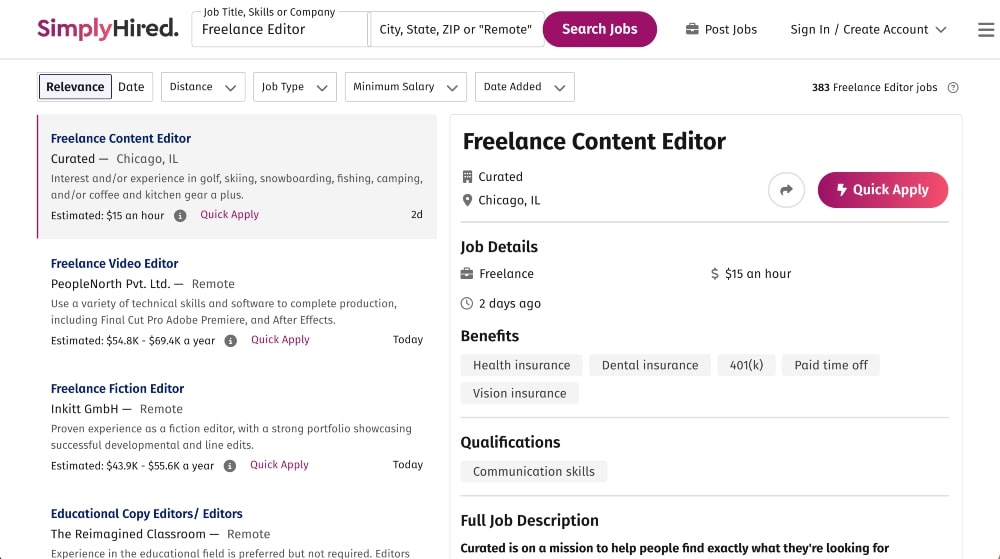 Simply Hired is another job board site that lists a variety of freelance copy editors and other online editing jobs.
They post jobs from many industries, so it's a great website to browse for open positions that fit your qualifications.
15. Guru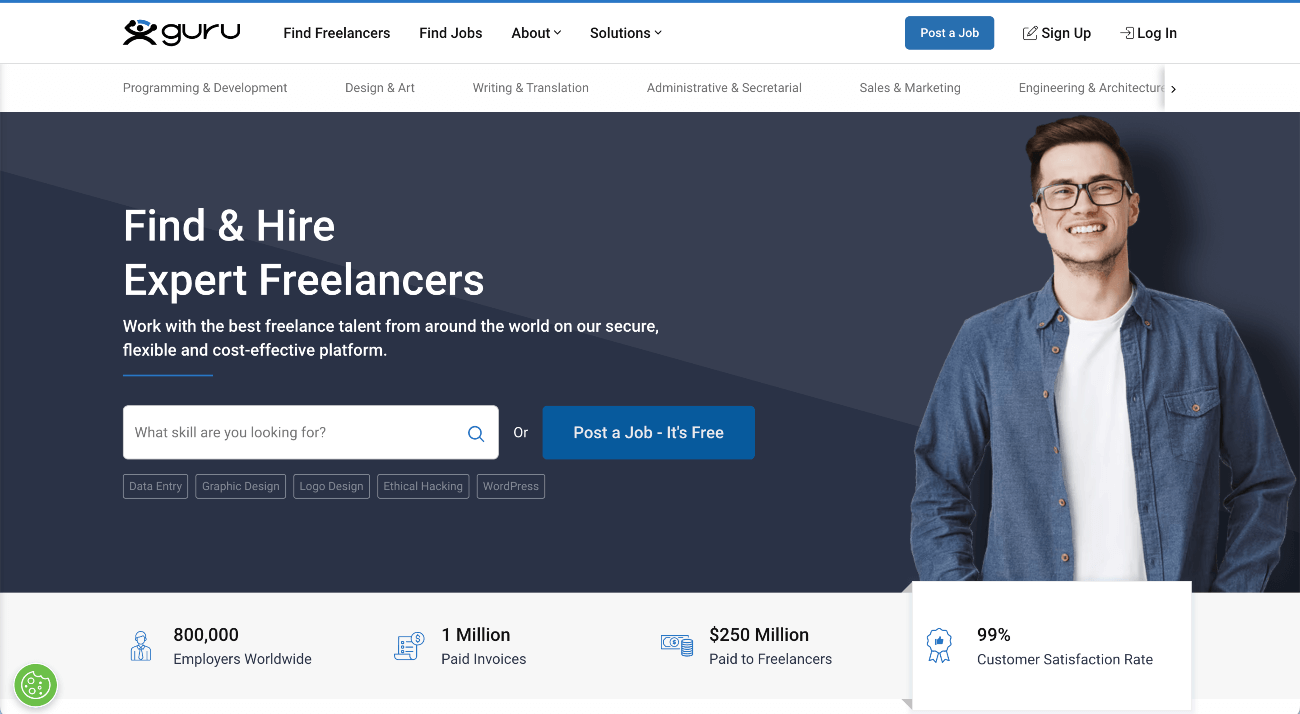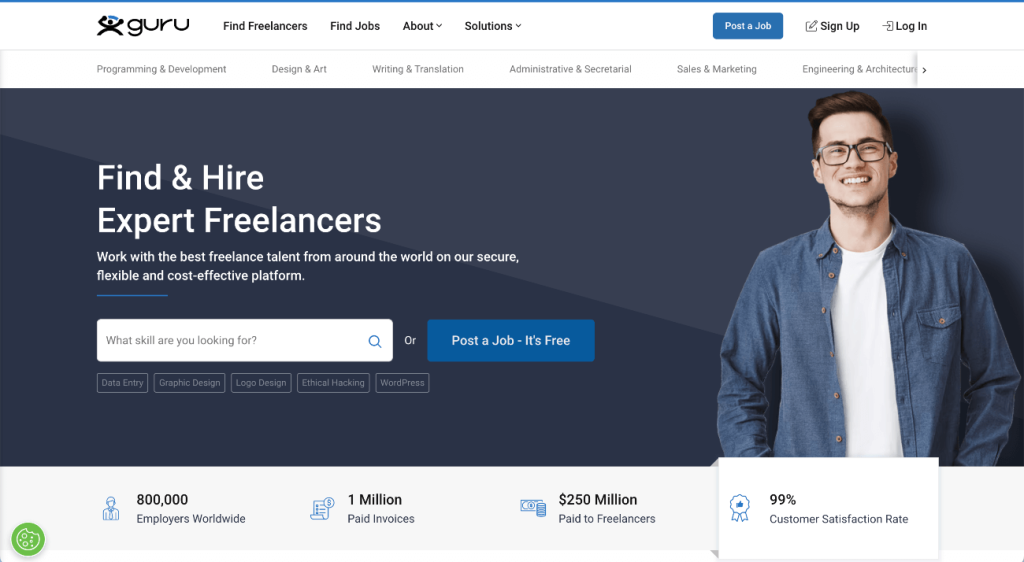 If you're an experienced copy editor, Guru is the perfect place for you to find online editing jobs. You can use their search filters to narrow down your options and find just the type of project you are looking for.
It also offers a great selection of tools to make sure that your work will be up to par.
16. Polished Paper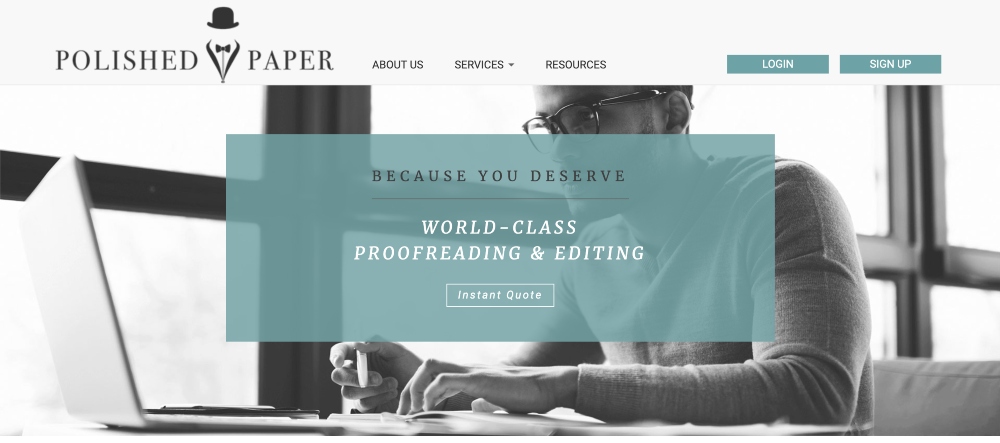 Polished Paper offers editing and proofreading services to companies, and therefore hires those with this area of expertise.
They offer flexible hours, competitive pay rates, and the chance to work with some of the world's biggest brands.
Plus, they provide helpful software tools that make it easier to check for minor errors in content and formatting.
17. Indeed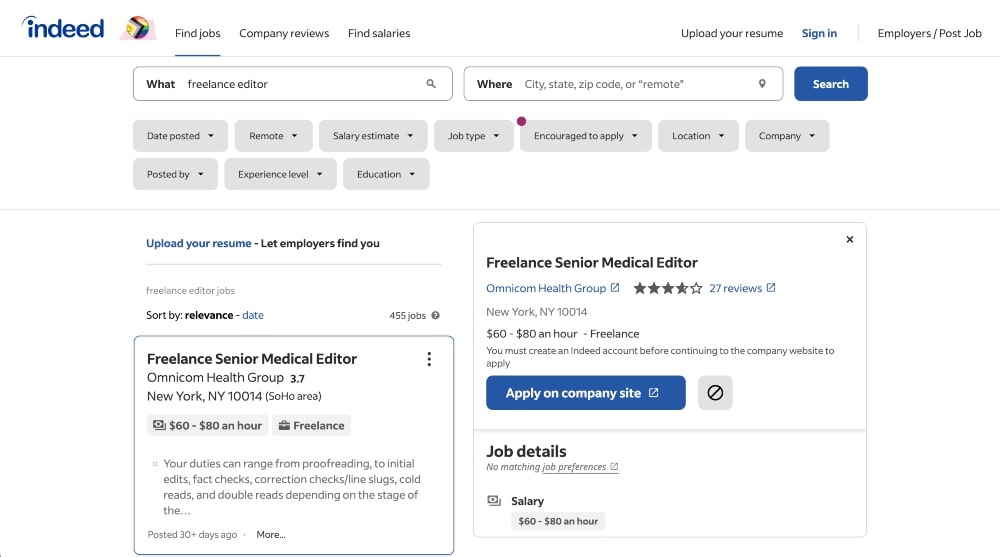 Indeed is one of the largest job sites on the web, and they're constantly updating their listings with new editing jobs. You can filter through their listings by experience level, job type, and location to find something that fits your needs!
18. Kibin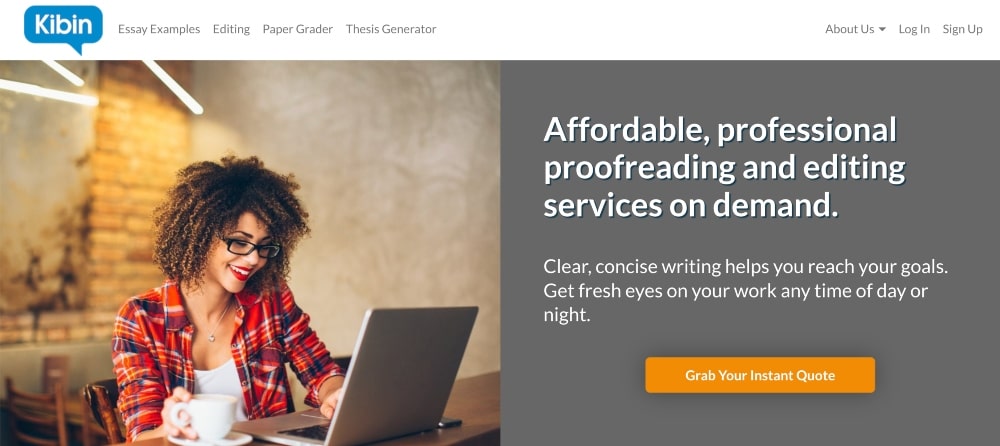 Kibin provides a variety of services related to editing and proofreading. You can browse through their open positions to find the perfect project for you.
Plus, they offer helpful tools such as real-time feedback and automated checksums to ensure accuracy in your work.
19. Edit911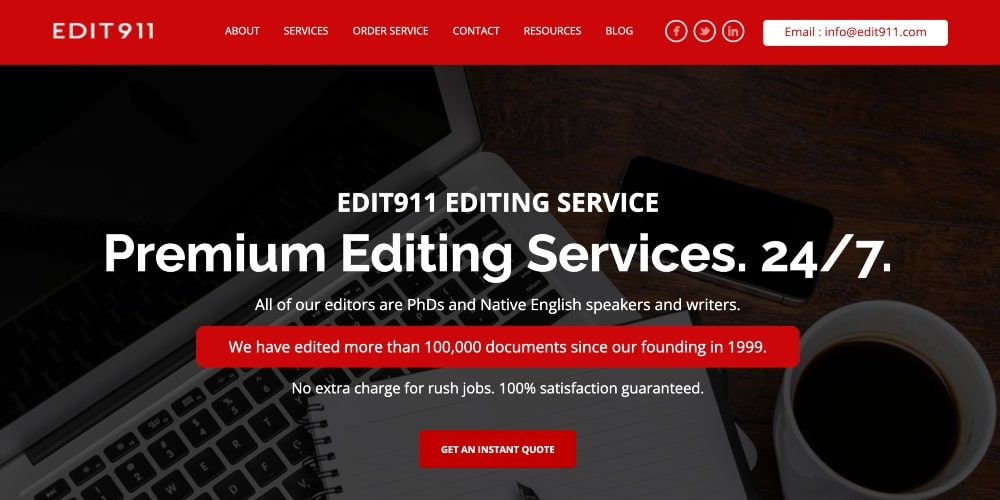 Edit911 is an online editing service that specializes in dissertation and thesis editing. They offer academic editor jobs for students and professionals looking to make some extra money on the side by reviewing dissertations or theses.
20. Media Bistro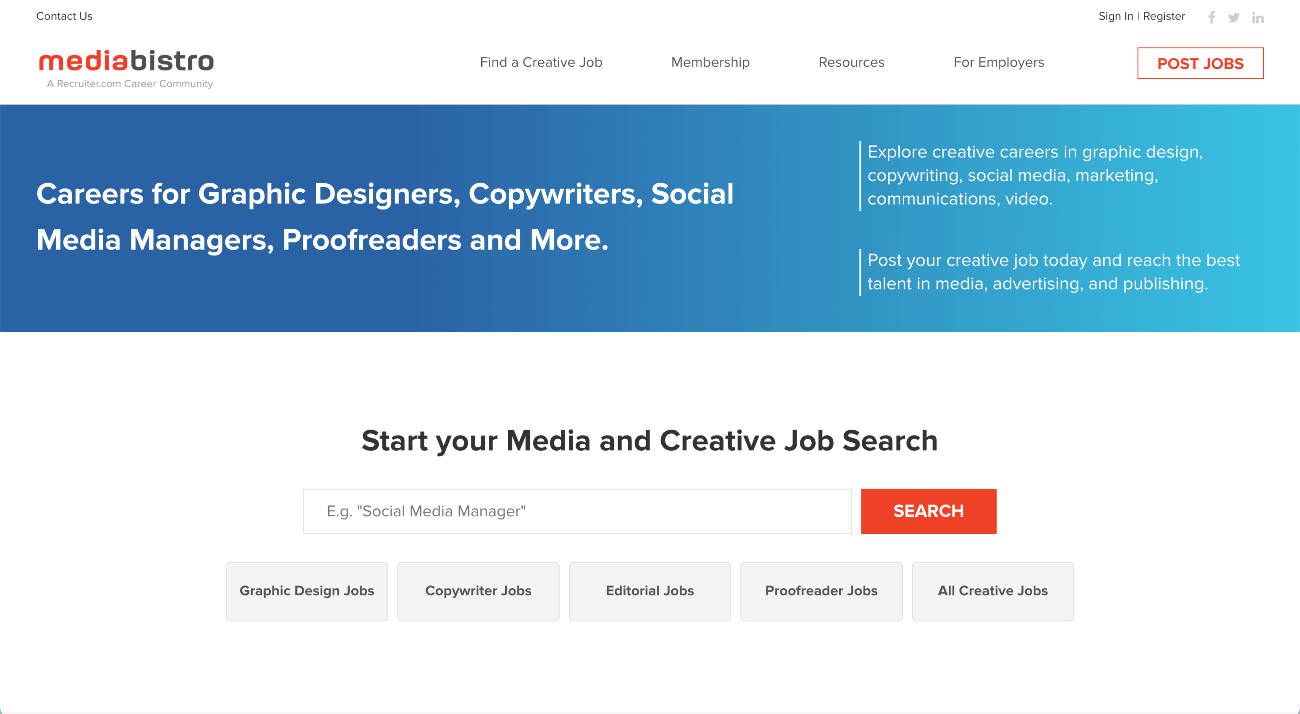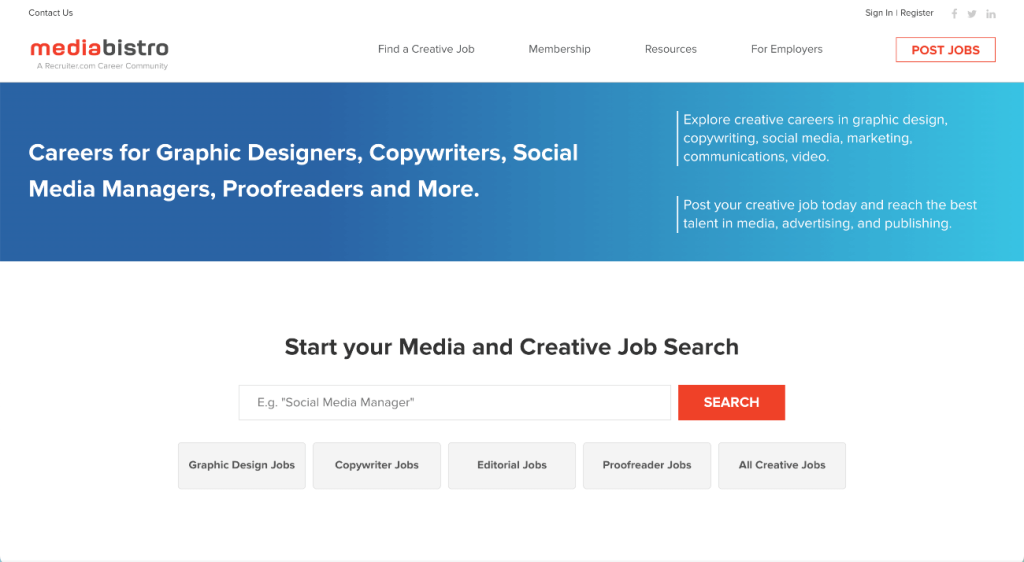 Media Bistro is another great job board for freelance editors looking to find jobs online. They have a huge variety of editing and proofreading jobs from all around the world, so you're sure to find something that suits your skillset and experience level.
Plus, they offer exclusive discounts and access to educational resources that can help you stay up-to-date with the latest trends in editing.
FAQs About Editing Jobs
What jobs can you do with editing?

The beauty of editing is that there is a range of freelance and online editing jobs available, depending on your skill set and interests. You could be proofreading documents, copy editing books, creating captivating content for websites, or even producing scripts for TV shows – the possibilities are endless! So if you're looking to break into the freelancing world or just need some extra cash, editing jobs are a great way to get started.
What is the highest-paying editing job?

If you're looking for freelance editing jobs or to work for an editing company, there are plenty of opportunities out there that pay quite well. Online editing jobs can be highly lucrative, and the best-paying positions involve reviewing manuscripts or copy editing for big-name publishers and other corporate clients. Depending on your experience level and the type of work you do, you could earn anywhere from $50 to $100 an hour.
How do I become an editor?

Becoming an editor is a great way to flex your creative muscles and make money at the same time! To get started, you'll need to develop your editing skills and experience, as well as figure out where you want to work. You can start by taking classes or workshops in areas such as grammar, punctuation, and proofreading. You can also look for freelance editing jobs online or search for part-time or full-time editing jobs in your area. Once you have some experience, you can update your resume appropriately and work your way up to earning more.
Key Takeaways for Editing Jobs
If you're interested in starting a career in editing or just want to make some extra money on the side, there are plenty of opportunities out there.
If you have the ability to edit content like articles, academic papers, or other types of content, you can easily find a company to work for or even start your own business as an editor.
From copy editing books to proofreading documents, there are many different types of editing jobs available. It may just take a little research to find the right remote position or career path for you.
With the help of job boards, networking sites, and online platforms you can easily find the right position for your experience level and interests.