We partner with bada$$ companies that offer products that help our readers achieve their goals! If you purchase through our partner links, we get paid for the referral at no additional cost to you! Read our disclosure for more info.
Transcription software is a useful tool for anyone who needs to quickly and accurately transcribe audio or video recordings into written text.
In today's digital age, where the demand for more accurate, comprehensive transcriptions is continuously growing, transcription services can help professionals in a variety of fields streamline their workflows.
Whether you are a journalist, teacher, podcaster, entertainer, lawyer, medical professional, or none of the above, transcription software can be a huge net positive when it comes to how you handle, process, and produce content.
No matter the industry, transcription software can help make life a whole lot easier by taking out the tedious task of manually transcribing audio recordings.
With easy-to-use features and plenty of customization options, you can easily find the right transcription tool that best suits your needs.
If you are a transcriptionist yourself, make sure to check out our article on transcription jobs as well.
What is the Best Transcription Software?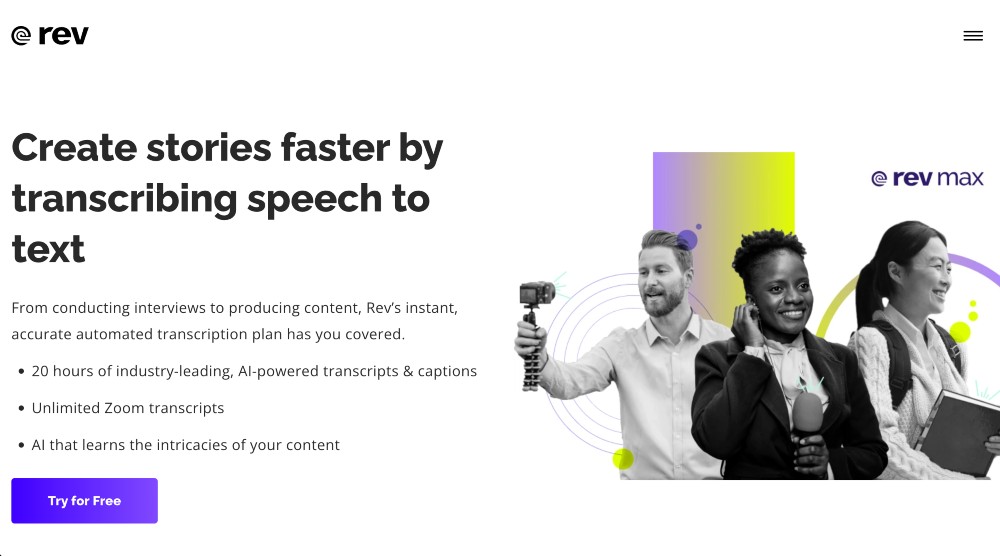 Rev is an online transcription software that you can use to create subtitles, captions, searchable transcripts, and other versions of content.
With Rev, you can use their AI algorithms to process different types of audio files, such as voice recordings, webinars, seminars, interviews, podcasts, lectures, and more. After uploading a file to Rev, you can get an accurate transcription in less than three minutes.
Rev's accuracy is up to 90%, but they also offer human-editing services that can help ensure that your finished transcript is free from errors with a boosted accuracy rate of 99%.
It's also a great tool for teams because it comes with features that allow for multiple collaborators, customizable workflow processes, notes and comments, and more.
Key Features:
Fast and Easy: Easy to use and results in under 3 minutes or 12 hours for human review
AI + Human Review: Optional human review of transcripts to ensure high-quality output
Integrations: Easy synchronization with Dropbox, Google Drive, and OneDrive accounts as well as integrations with Slack and Zoom
Storage: Files are securely stored in the cloud for later reference or editing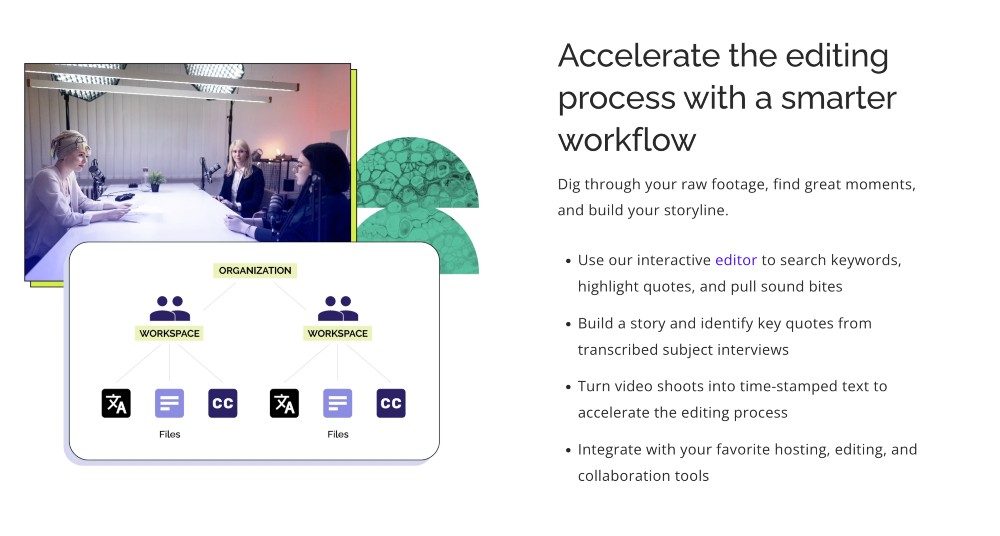 Our Opinion:
Rev is one of the most widely used transcription services online and it's a no-brainer if you need something affordable, quick, flexible, and easy.
It's also going to be ideal for you if you're looking for a one-off project or even just a handful of projects because you don't have to sign up for a monthly plan to use this service.
One major limitation of Rev is that at this time, it only supports one language: English.
If you need a transcription tool for other languages, try Descript or some of the other options instead.
Pricing:
Rev's Pricing Plans are quite simple.
Automated AI Transcriptions: $.025/minute; results in 3 minutes
Human Transcription: $1.50/minute; results within 12 hours if audio is under 30 minutes and of good quality
Timestamps and verbatim can be added for $.30/minute
Descript is one of the best transcription software tools for anyone that needs more than just transcription. The company refers to its software as an "all-in-one video editing tool."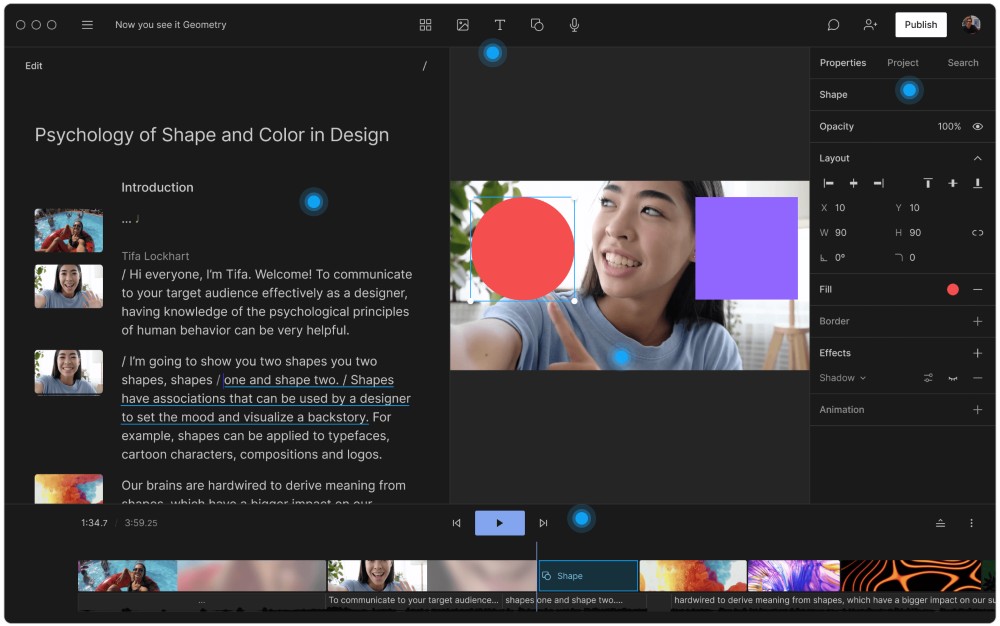 With Descript, you can transcribe audio and video, record narration, add music, and even add visuals such as images and text.
You can also edit existing recordings to quickly produce high-quality content.
Descript also has many collaboration features that will help you streamline the process of working together to create content with your team.
It has an intuitive user interface that makes it easy for anyone to use this tool even without any prior audio or video editing skills.
Key Features:
AI Transcription: Automatically transcribe audio and video content and make edits as needed
Caption and Subtitles: Easily generate captions and add subtitles to uploaded videos
Filler Word Removal: Remove "ums" and "ahs" and more
Multiple Languages: Supports 23 languages for transcriptions, captions, and subtitles
Integrations: Support for Dropbox, Google Drive, YouTube, Vimeo, and more.
Customer Support: Comprehensive customer support with live chat and email.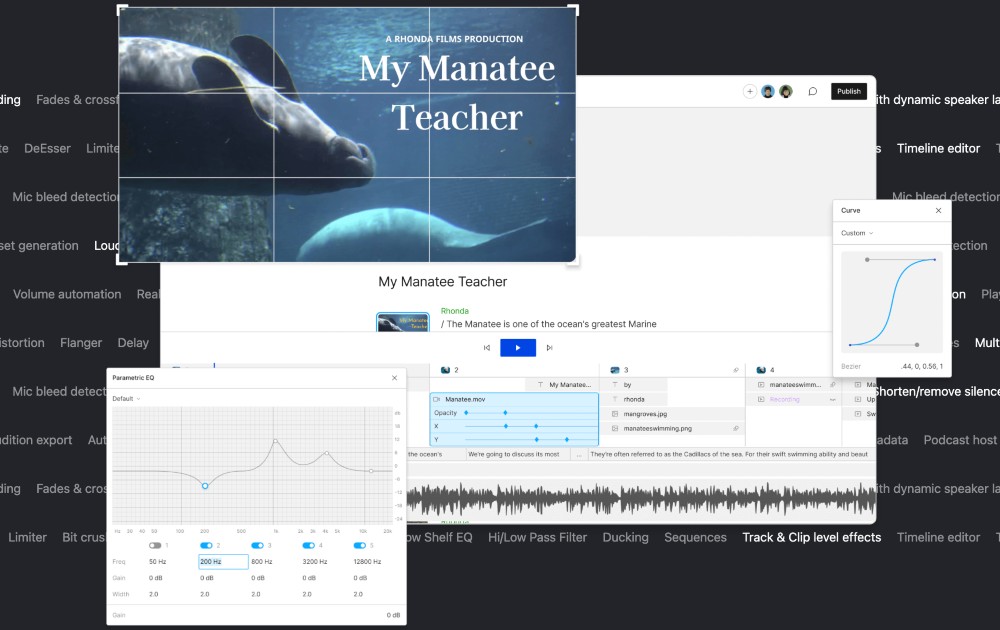 Our Opinion:
Descript is a great transcription software that provides the bonus of some video and audio editing features. We have personally used it for creating captions for ads and it was super easy to use.
It's also very affordable considering all plans give you access to the editing features and they have a free plan you can start with.
Pricing:
Free: Up to 1/hour of free transcription services per month for free
Creator: Starting at $12/month for up to 10hr/month of transcription
Pro: Starting at $24/month for up to 30hr/month of transcription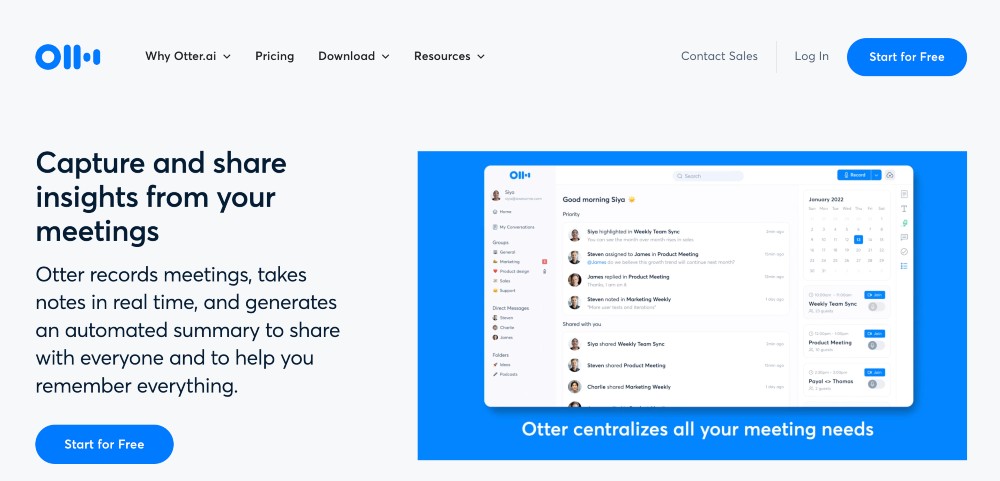 Otter.ai is a transcription tool that is used by a lot of companies and small businesses to automatically transcribe conversations and meetings in real time.
Its cloud-based platform saves time and money by automating the transcription of audio files, videos, and even text messages. It allows for searchable transcripts, key phrases/topics identification, and speaker identification.
Otter also features an "otter" bot that can take notes during a conversation or meeting, offering live captioning for both remote and in-person events.
But Otter.ai isn't just for businesses. You can also use Otter to transcribe podcast episodes, YouTube videos, and other video and audio files. Teachers also use it to transcribe lectures and make notes for students.
Key Features:
AI Transcription: Automatically transcribe audio and video files into text
Easy User Interface: Easily search, edit, and share transcripts; Identify speakers and highlight keywords and important topics in conversations
Integrations: Slack, Zoom, Microsoft Teams, calendars, and more
Annotations: Add images, text notes, links, and more to your recordings or transcriptions
Accessible From Any Device: mobile, tablet, or desktop
Collaboration: Invite team members and collaborate on files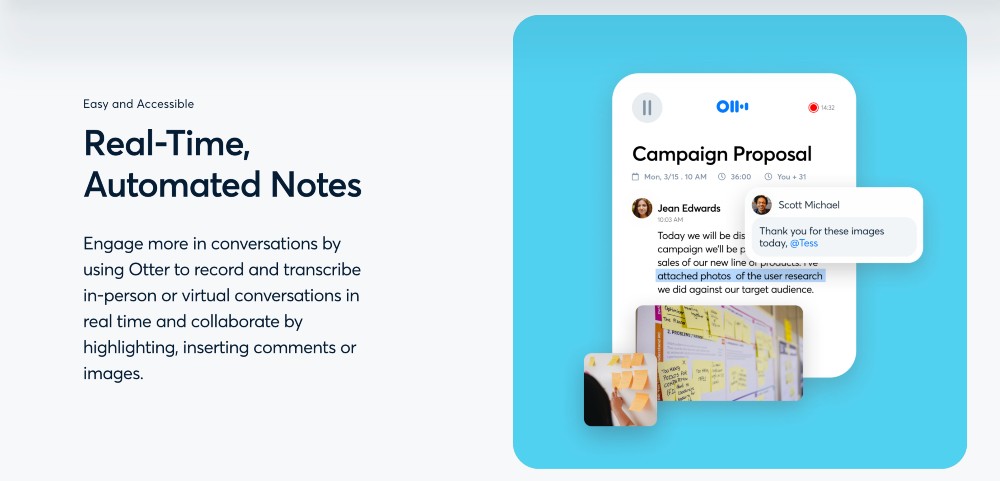 Our Opinion:
Otter.ai is ideal for businesses or individuals looking to primarily focus on transcribing minutes for meetings. You can use Otter for many other audio and video files. We have used it for podcast recordings in the past.
It's also great for anyone on a budget that just needs straight transcription of audio or video files. The free plan offers up to 5 hours of transcription minutes, which is a lot!
Pricing:
Basic (Free): The free plan offers 300 transcription minutes per month with a limit to 30-minute meetings or files
Pro: Starting at $8.33/month for 1200 transcription minutes and a limit of 90-minute meetings or files
Business: Starting at $20/month for 6,000 transcription minutes and a limit of 4-hour meetings or files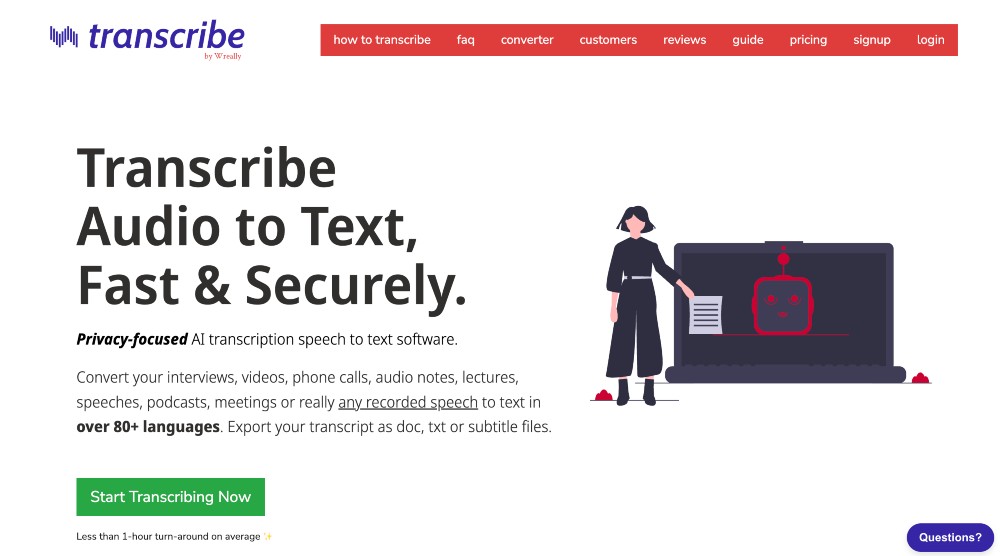 Transcribe by Wreally is another great transcription services tool that supports easy transcriptions
Transcribe offers Self-Transcription in addition to Automatic Transcription. Self-Transcription is more of a "semi-automatic" transcription style from an earlier DIY model that allows you to "voice type" to create your own transcriptions (manual transcription).
It's more time-consuming but more affordable. If that's not your style, you can opt for the now-standard Automatic Transcription.
Transcribe supports over 58 languages and even various dialects for many languages making it ideal for businesses or individuals dealing with multiple languages.
It also has an auto-correction feature that can detect small mistakes in the transcriptions and automatically correct them without the user having to go through every single word manually.
You can use the search feature to quickly find specific parts of an audio recording and also batch-processing files.
Key Features:
Easy-to-Use Interface: Edit transcripts in a simple, intuitive, web-based editor
Integrations: Slack and Zoom
Custom Vocabularies: Add custom words and vocabulary to ensure precise transcriptions
Storage: Securely store all audio and transcript data on the cloud for easy access
Annotations and TimeStamps: Easily search, edit, and annotate transcripts; Automatic time stamps
Multiple Languages: Supports over 58 languages and even a wide variety of dialects
Our Opinion:
Transcribe is a good budget option if you still want some flexibility. The annual plan is one of the lowest at just $20/year and the add-on for automatic transcription is also really affordable with the 100-minute credit.
It's also going to be a great option if you need support for a large number of languages.
Pricing:
Transcribe costs $20/year. If you want to use Automatic Transcription, you'll need to also pay per minute for transcriptions.
Self-Transcription: $20/year
Automatic Transcription: $20/year + $.010/minute (purchased in $6 increments but also comes with a free 100 minutes)
They also offer a free trial that is a little hard to find in the footer of their website.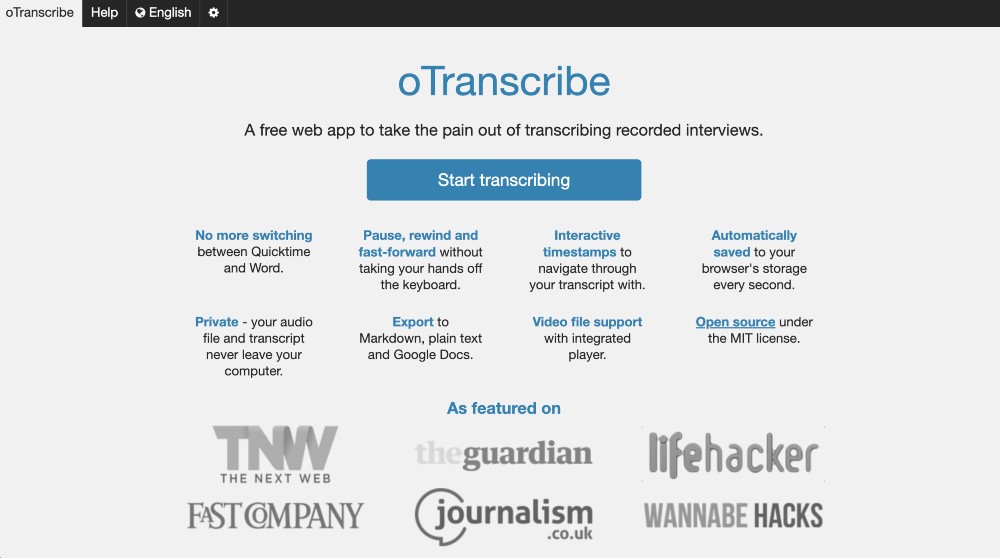 oTranscribe is a free transcription software tool that includes powerful editing tools, making it easy to make corrections and add text to the transcript without having to start over.
It has an intuitive drag-and-drop feature that allows you to easily rearrange your transcriptions so that they are legible and organized for future use or sharing. It also comes with spellchecker, auto-correct, timestamps, speaker tags, formatting tools, and more.
One of the key advantages of oTranscribe is its ability to handle large audio files. It converts long audio recordings into short sections which makes them easier to transcribe.
Additionally, each section can be paused and resumed at any time during the process without losing your place in the transcript file. This eliminates the need to rewind or replay parts of the recording multiple times.
Key Features:
Editing Tools: Customizable features for manual editing and correction
Interactive Editor: With split screen playback/transcription view
Multiple Languages: Supports over 40 languages and accents
Integrations: Easy integration with Dropbox, Google Drive, and more.
Timestamps: Easily navigate to specific points in an audio or video file
Our Opinion:
If you need a free option and you don't need all of the fancy bells and whistles of collaboration tools and cloud storage and management, oTranscribe is your tool.
oTranscribe provides a lot in the way of transcription and editing so if you just need the basics, this one should do perfectly. All you have to do is upload — no sign-up required.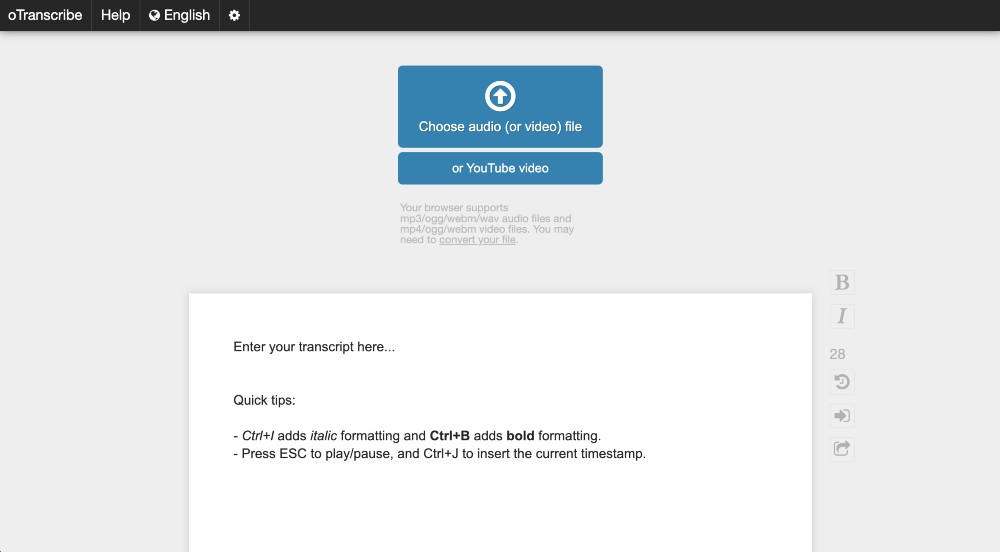 Pricing:
oTranscribe is completely free to use!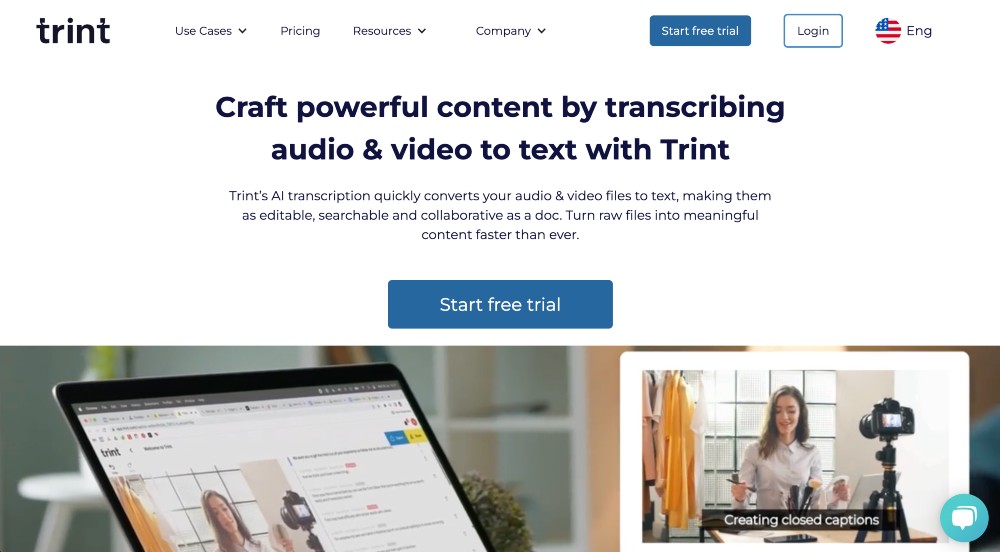 Trint is a transcription program that will transcribe your audio or video files with over 95% accuracy.
The software is capable of recognizing multiple speakers and distinguishing between different audio sources, making it easier for users to identify who said what when transcribing conversations.
It also features customizable shortcuts which enable users to quickly access specific editing tools, making repetitive tasks quicker as well as minimizing errors.
Trint also offers several advanced settings that allow you to customize your experience, including the ability to adjust the speed at which words are spoken, modify the accuracy of speech recognition, change the display language, add custom vocabularies, and more.
Trint has an API integration feature and an extensive library of plugins that allow for further customization depending on your needs.
Another cool feature of Trint is that when you are finished with your transcription, you can also translate it into 54 other languages.
Key Features:
Intuitive Editing Interface: For quick text edits, corrections, and polishing
Search: Extract specific sections of transcripts quickly with keyword search
Collaboration: Real-time collaboration between multiple editors on the same project
Access: Accessible through web browsers or mobile devices
API Integration: Integrate easily into other software tools
Language Support and Translation: Transcribe 30+ languages and translate transcription into 50+ other languages

Our Opinion:
Trint is best suited for individuals or companies with high-production needs. The Starter plan is significantly more expensive than many other options on this list, but many other plans don't offer unlimited packages.
If you need to process a high number of files for transcription, the Advanced plan for Trint is going to be a good option for you.
Trint is also worth considering if you need easy translation services because you can translate your transcription into 30+ languages.
Pricing:
Starter: The Starter plan starts at $48 per user per month and allows you to transcribe up to 7 files.
Advanced: Up to $60 per user per month for unlimited files and transcription
You can also start with a 7-day free trial.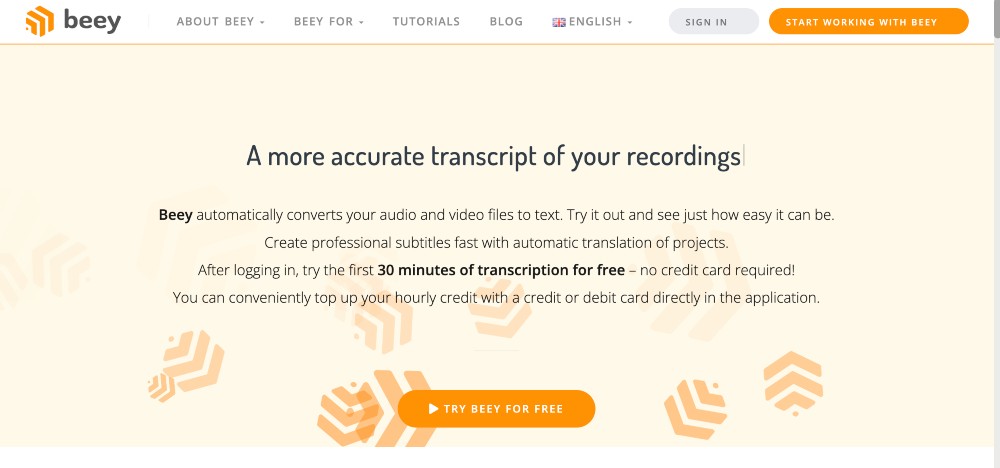 Beey is a transcription program that can identify certain types of speech such as unvoiced pauses, fillers, and false starts in order to provide more accurate results.
It also supports noise reduction technology which eliminates background noises from recordings before converting them into written text.
Beey can be configured to recognize different accents and dialects from around the world and also offers advanced tools for editing and formatting written text after it has been converted from an audio recording.
The program includes options for adding comments or notes within the transcript itself in order to provide clarification for readers.
Key Features:
Noise Cancellation: High-quality recordings with noise-cancellation technology
Multiple Formats: Multiple output formats (MP3, WAV, etc) for flexibility
Multiple Language Support: Supports 20 languages
Editing Tools: Automatic punctuation detection for efficient editing
Collaboration: Project sharing within teams
Easy-to-Use Interface: Intuitive user interface and easy navigation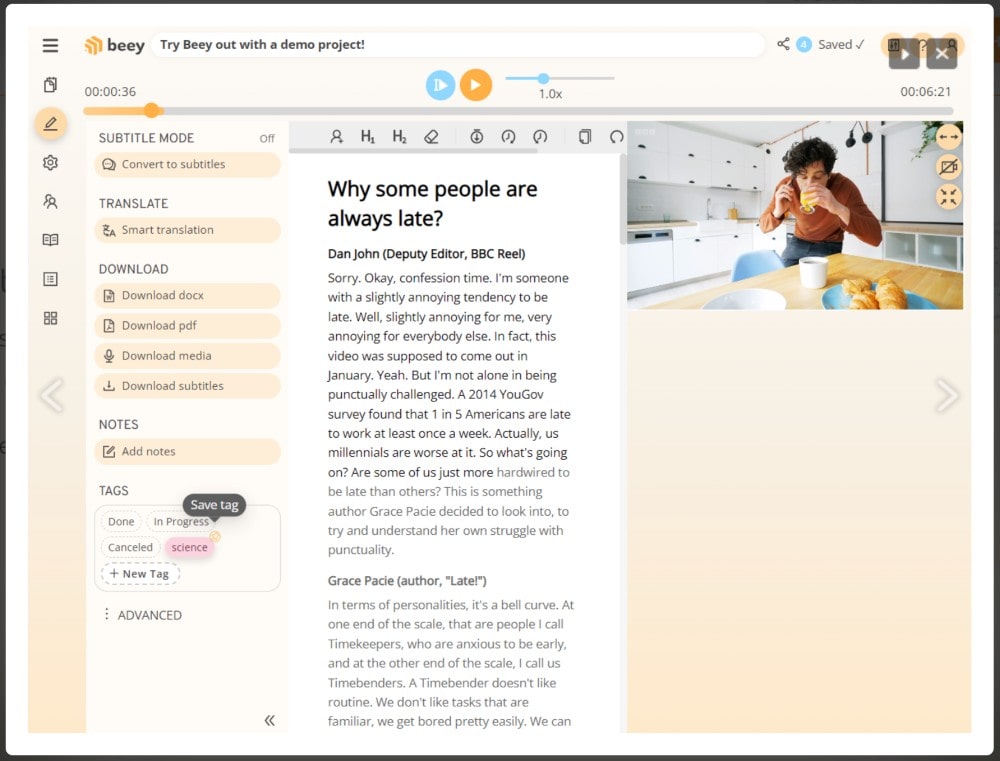 Our Opinion:
Beey is an affordable solution that is best suited for businesses and governments. It has more features than the average individual user would use for basic projects like podcasting or video captions.
They have specific documentation on their website for use cases for media channels, local governments, courts, and more.
Pricing:
Beey is based in Europe, so prices are quoted in euros. The Standard Plan for Beey is 0.125 € per minute (bought in €7.5 increments). You can use the app to pay for more credits. Enterprise options are also available.
Your first 30 minutes of transcription are also free with Beey.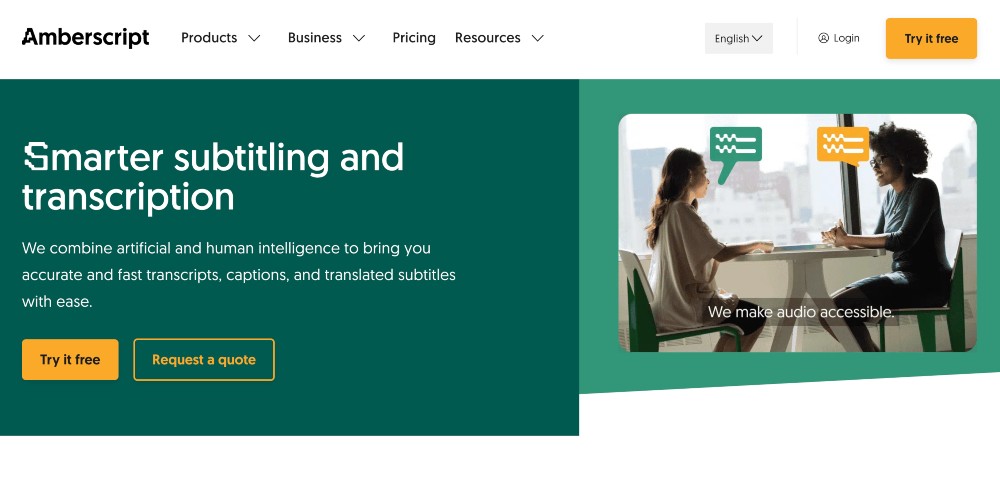 Amberscript is a powerful transcription software with customizable options that make it easier for you to customize your transcriptions according to your needs.
Like many others on this list, Amberscript supports multiple languages, annotations to transcripts, and the ability to export transcripts to various formats.
Amberscript excels in its excellent customer support services, with a 24/7 customer service team, comprehensive FAQ page, live chat, email support, and tutorials.
Amberscript supports 39 languages and has as fast as 5 minutes turnaround for automatic transcriptions.
Key Features:
Manual Transcription: High-speed transcription, with minimal human intervention
Multiple Language Support: Multi-language support for automated transcription
Annotations and Timestamps: In several languages
Integrations: Google Drive, Dropbox, and Box.
Customer Support: Live chat and email; 24/7 dedicated customer service team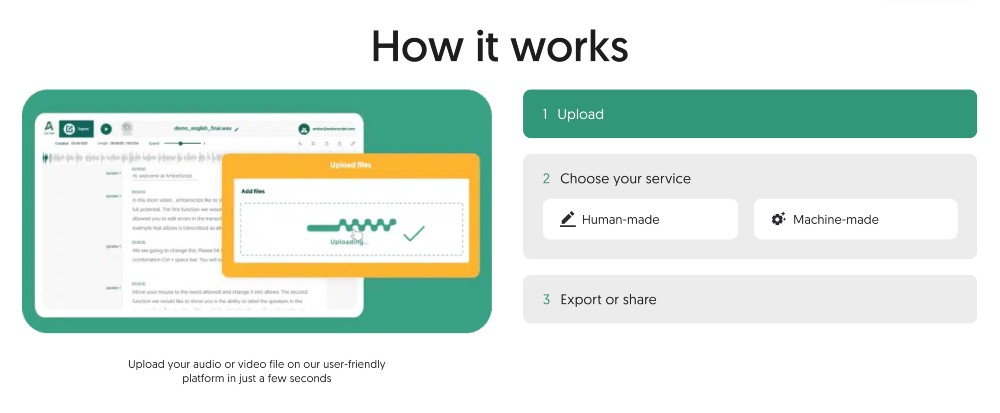 Our Opinion:
Amberscript has many of the standard features as most other options on our best transcription software list but where it really stands out is in the service offering and the flexibility that it provides.
They provide both AI and manual transcription and what I love most is the pre-paid plan. It's standard in the software industry to offer services on an ongoing, monthly basis, but sometimes you just need an affordable cost on a per-project basis.
Pricing:
Amberscript has pricing plans for both transcriptions and subtitles. Both plans are priced as follows:
Prepaid: Starting at $10 for 1 hour of transcription
Subscription: Starting at $20/month for 3 hours
Manual: Human transcription starting at $1.60/minute
Translated Subtitles: Starting at $15 per minute
They also offer a free trial if you want to test it out.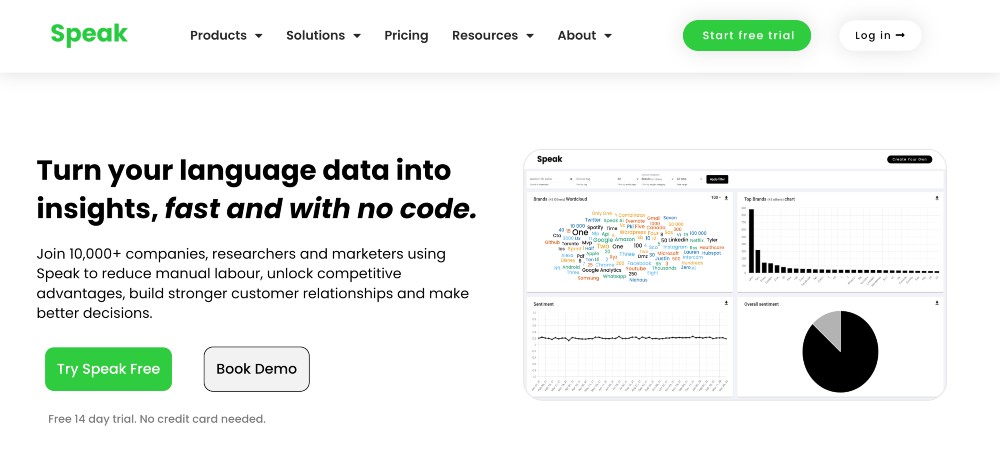 SpeakAI is a transcription service with an intuitive user interface that makes the transcribing process super easy.
Speak AI supports a wide range of file formats and also makes exporting finished transcripts into multiple file formats an easy process.
SpeakAI also provides features like automated punctuation detection, automatic capitalization of certain words, grammar and spelling detection, and even pronunciation correction for better accuracy.
SpeakAI also provides a variety of security options to ensure that your private data is always kept safe and secure when using the service. These include secure encryption for all communications between devices used for transcription as well as multi-factor authentication for improved user authentication on various levels.
Key Features:
Human and Automatic Transcription: 99% accuracy for manual transcription
Speech to Text: Upload text and convert it to speech
Multiple Languages: Supports multi-language content
Cloud Storage: Cloud-based architecture for scalability and reliability
Integrations: Zapier, Zoom, popular chatbot frameworks like DialogFlow and Alexa, and more
Intuitive Dashboard Interface: Monitor and control conversations
Advanced Analytics: Reporting tools for additional insights

Our Opinion:
Speak AI really shines in its advanced analytics and reporting. You can identify important keywords, keyword phrases and topics, and do sentiment analysis on your content. With this data, you can compare trends and find new opportunities for future content.
I also have to highlight the text-to-speech feature. While this entire article is based on the best transcription software for converting speech to text, this is the only software on this list that also offers the opposite — if you need it.
Overall, I think this tool is best for marketers who really need or could use a lot of the features and add-ons of this software. If you just need straight transcription, you're better off with one of the more affordable, simpler transcription tools.
Pricing:
Starter: Starting at $8/month plus pay-as-you-go transcription
Premium: Starting at $468/month for 120 hours of transcription and 5 team members
They also offer premium add-ons for advanced exporting, custom categories and insights, bulk editing, media sharing, and more.
Speak AI also has a 14-day free trial.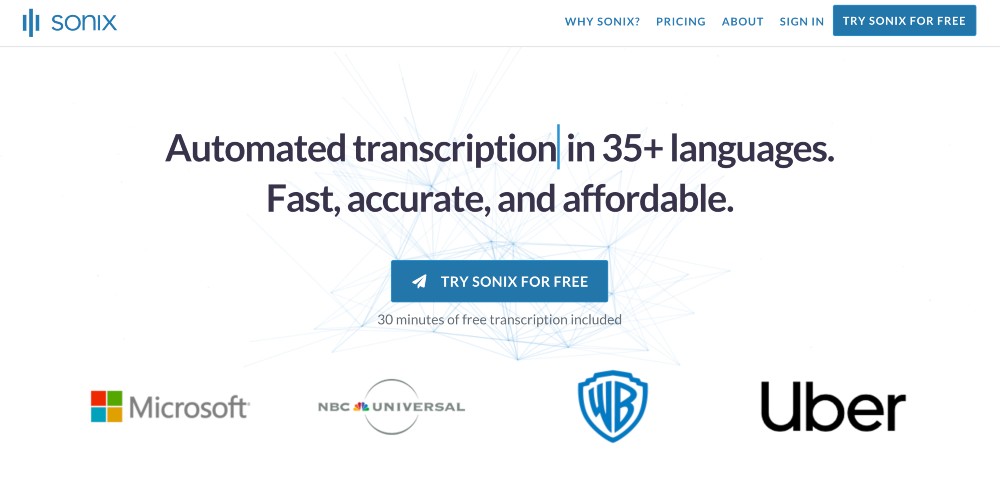 Sonix provides automated transcription services with customizations like adding time stamps and adding speaker tags for multiple speakers in the same recording.
The Sonix platform also supports many different formats, including MP3, WAV, AAC, OGG, FLAC, AVI, MOV and more.
Sonix also provides really great customer service, which is something that is a bit more uncommon among transcription services. They have a dedicated customer service team to answer any questions you may have.
For anyone needing help transcribing complex material or difficult accents and dialects, there are also professional human transcriptionists available on the Sonix platform.
For businesses looking for a reliable and cost-effective solution for transcribing audio and video content into written words, Sonix is a great option.
Key Features:
Multiple Languages: Automated transcription in over 30 languages
Cloud Storage: For transcriptions and audio files
Customizable Notation System: For easy navigation through audio clips
Integrations: Dropbox, Google Drive, Slack, Zendesk, and more
Comprehensive Analytics: Analytics dashboard for tracking usage
Team Collaboration: Only on the premium plan
Our Opinion:
Sonix is a great option for businesses with teams because it's one of the more affordable options but also has a lot of features and multi-language support.
Their Enterprise solution is a good option for businesses with a high volume of transcripts because they offer very specific and useful features for teams such as admin controls, event and team tracking, custom invoices, and more.
Pricing:
Standard: Pay as you go for $10/hour
Premium: $5/hour plus $22 per user per month
Enterprise: Contact for pricing.
Their pricing page contains a long list of features that are included in each plan.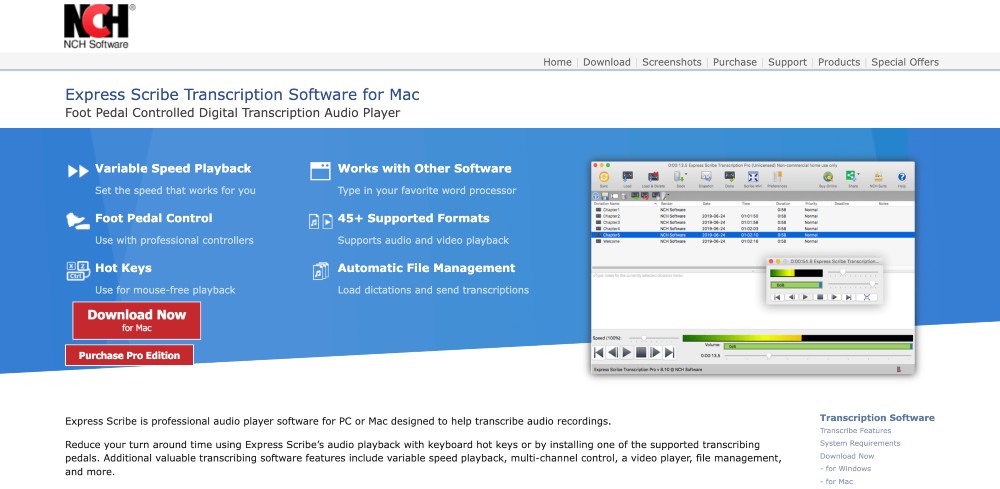 Express Scribe is an easy-to-use transcription program that features a variety of playback controls, allowing the user to adjust the speed of playback, set bookmarks for easily revisiting important sections, and jump to specific points in the recording.
It also enables users to create transcriptions in multiple formats, including plain text documents and PCX images.
Express Scribe can also be used with foot pedal devices, enabling the user to control playback hands-free.
Beyond its traditional transcription applications, Express Scribe also has unique features such as voice recognition technology that allows users to transcribe speech without manual inputting of text.
Key Features:
File Formats: Supports over 40 different audio and video file formats
One-Time License: Access with a one-time license rather than a monthly fee
Advanced Tools: Manipulate the speed of playback, adjust pitch, and more
Navigation: Navigate through large files using bookmarking, hotkeys, and loop points
Timestamps: Automatically inserts time stamps into your transcriptions
Integrations: Integrates with speech recognition software to support faster transcription workflows
Our Opinion:
Express Scribe is the only transcription program on this list that supports foot pedal devices, which help transcriptionists easily rewind, fast forward, or pause an audio file. If you are a transcriptionist using a foot pedal device, this transcription program is worth checking out.
Pricing:
Basic: $80/year
Professional: $99/year
What is Transcription Software?
Transcription software is software designed to convert audio, such as recordings of spoken words or musical notes, into written text.
Transcription services can be used for many different purposes, from creating transcriptions of interviews and lectures to transcribing old recordings of family stories or music.
Transcription software is by professionals working in a variety of professional fields, including the business and media, legal, medical, and educational fields:
Businesses and media companies transcribe videos, podcasts, interviews, and more.
Lawyers often use transcriptions of depositions and interrogations to ensure accuracy during a case.
Medical practices use transcription services to quickly document patient records while they're away from their desktops.
Students use transcriptions to help them better understand a lecture or conversation when they're unable to take comprehensive notes.
Why Use a Transcription Service?
Transcription services can save both individuals and businesses thousands of hours and dollars by utilizing automatic translation to transcribe big files in just minutes.
Many of the best transcription software also support 30+ languages and even different dialects, so the applications and potential here are huge.
Here are some of the basic benefits of using a transcription program:
Saves time (and money) on tedious tasks such as typing long passages by hand
Creates time stamps to help users sort, search, and find content easier
Makes your content more accessible to wider audiences and especially those with disabilities
Allows you to focus more on the creative aspects of your work
Ultimately, transcription software is a huge time and money saver and many affordable and flexible plans exist for both high-volume needs as well as smaller projects.