We partner with bada$$ companies that offer products that help our readers achieve their goals! If you purchase through our partner links, we get paid for the referral at no additional cost to you! Read our disclosure for more info.
Finding a great email marketing software can be a tall task. We would know because we've tried at least 5 different ones in the past few years here at Create and Go.
It's not just about paying for software that does a certain job or even does it well. You should think of your email marketing service as more of a partnership.
I mean, think about it.
The emails that you send to your audience are EVERYTHING in your business. Whether you're trying to build relationships or make sales. Email is the lifeblood.
Beyond just "sending emails," you need an email marketing service that…
Has great deliverability
Doesn't overcomplicate things with unnecessary complexity
Puts YOU (the content creator) first
Is designed with bloggers in mind
And some more, but those are the top things that come to mind!
Our Experience with Various Email Marketing Services
Here at Create and Go, we have tried MANY different email marketing services before settling on our main squeeze, ConvertKit:
I know… It's a lot. We were only with any of the above for 3-4 months at a time before hopping to another for one reason or another, including…
Poor deliverability — nothing matters if my emails aren't being read)
Clunky design — time-intensive to complete even the smallest tasks)
Poor customer service — some companies get too big and they just don't care)
Too complex — offering so many features that even the basic ones don't work right – I need to send out emails to the right people, not contact NASA directly)
And those were all of the PAID email marketing services.
There are free services like MailChimp and MailerLite that are pretty great for being free, but these will only get you so far. Here's the deal. There is no such thing as a free lunch.
Unless your best friend or your mom is buying. That's fair.
Free email marketing services sound nice in the beginning, and some are okay. But you still have to start paying when you reach a certain amount of subscribers, and it just isn't worth the headache.
Free software companies also just aren't as invested in your success.
Companies like ConvertKit put content creators first. They're constantly building out new resources, training, and improvements to help their customers succeed.
You're investing in them and they, in turn, are investing in you.
Why Email Marketing SO Important
As I said, before, email is the lifeblood of an online business.
Email marketing is the driving force behind sales in most blogging businesses these days.
At Creaet and Go, we send out thousands of emails every single day. They're mostly automated, of course. But it's still a HUGE part of our everyday business operations.
If you're wondering HOW we have grown our email list to tens of thousands of subscribers, you can read more about our strategies in our article on building an email list.
But even if your list is nowhere near that big… Even if it's just a couple hundred… Having a trustworthy and reliable email service is KEY to your growth and success.
Why We Love ConvertKit for Email Marketing
As I said earlier… We used to bounce from one email marketing service to the next faster than your roommates in college changed boyfriends.
No? Just my roommates?
Anyway, that was until we had our first taste of ConvertKit. There was no looking back after that. Create and Go has been a happy customer of theirs for years now.
We've met some of their team and we also partner with them on live webinar training with them for our audience. Because they CARE about us, as content creators, and they care about OUR success. And OUR success comes from taking care of our audience.
Like I said before, it's a partnership. Here are our absolute favorite reasons why we freakin' LOVE ConvertKit so much!
1. ConvertKit KILLS it with their simplicity.
I didn't save the best for last. This is my #1 favorite thing about ConvertKit.
Their simplistic (but totally awesome) email editor is by far my favorite feature.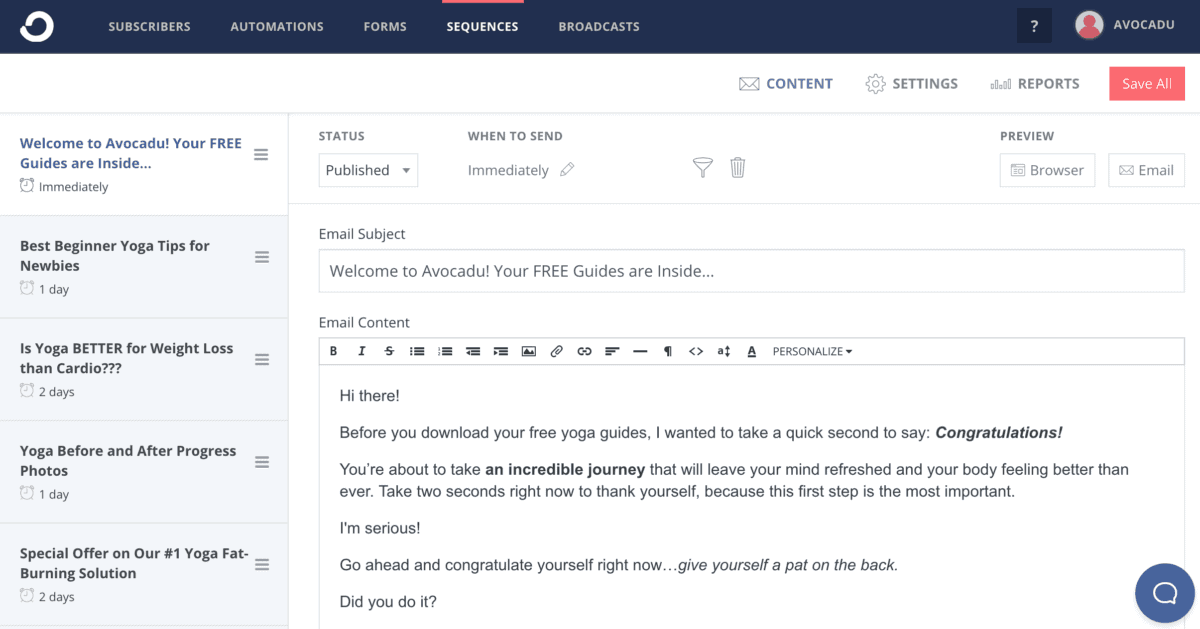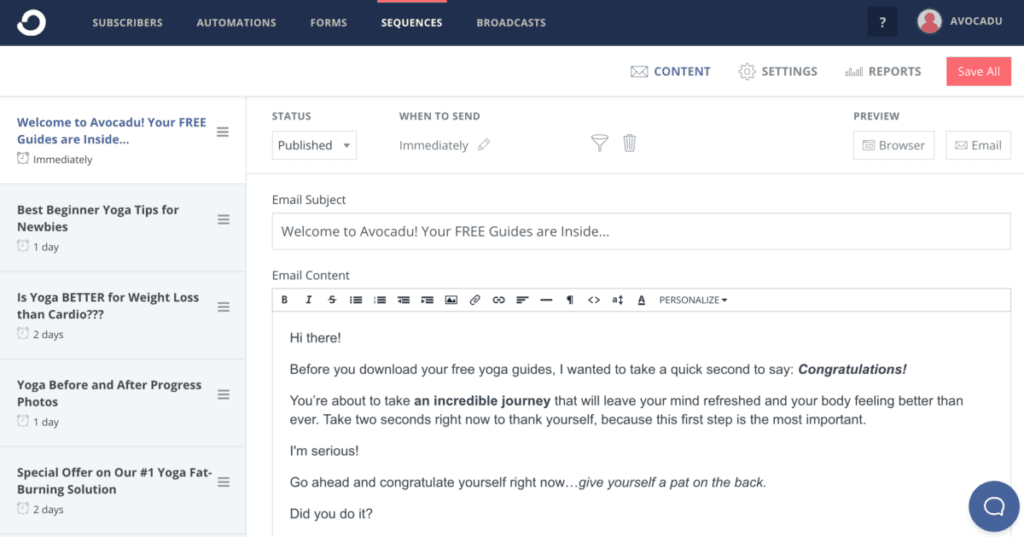 What am I looking at? Why is this so great!?
Well, with every other email marketing service I've used, it took me 3-4 clicks just to open and edit ONE, individual email. Then it would take me another couple of clicks to save it and repeat the process to open the next email.
With ConvertKit, you can open and edit ALL of your emails in a sequence at the same time. This is a massive time saver and also helps me write better emails.
Content creation is the heart of your business, and having complexity elsewhere in your business distracts you from what is most important.
I can't overstate the importance of SIMPLICITY, and ConvertKit KILLS it in this area.
From the dashboard to the editor, and all the way to the automation rules, everything is just simple and intuitive. You have all the important and necessary features without all of the fluff and complexity.
For all of you preferred video learners out there, here is a quick video on this income report from our YouTube Channel below.
2. The price is right.
We've already discussed the importance of email, so we won't get into that again. But that's just the thing… Investing in a great email marketing service WILL pay off.
Maybe it will take a few months, but it's best to start out with the BEST.
Some email marketing services charge you for features you don't need or just overcharge you for subscribers (like having the same subscriber on multiple email lists).
ConvertKit has a free plan with some limited features and the basic paid plan starts at $29/month. Most people can remain on this basic plan for quite some time as it covers you for the first 1,000 subscribers.
You can also get started with the ConvertKit free plan and upgrade when you feel that you need it.
3. ConvertKit was made specifically for bloggers and online entrepreneurs.
A lot of the other popular email marketing services like Keap (previously Infusionsoft), were built to service massive companies and corporations.
That translates into a LOT of extra features and bells and whistles that you don't need but are still paying for. No one wants that.
The founder, Nathan Barry, was a professional blogger himself before he started ConvertKit. He designed his software from his own experience and with the blogger specifically in mind.
4. They have some SOLID landing page software.
ConverKit has beefed up their landing pages, and they're SO great.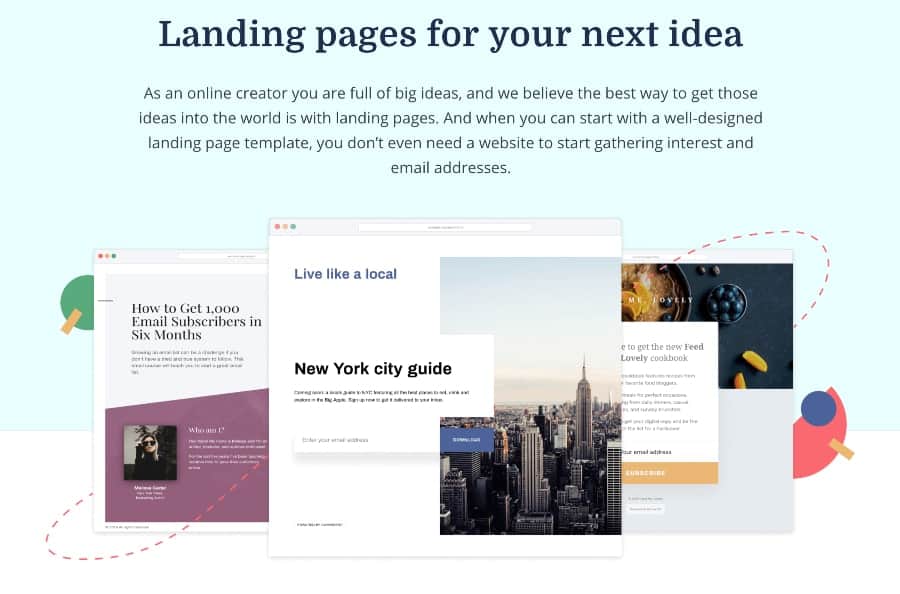 We use LeadPages for some our landing pages and it was what we used to recommend to our new blogging students, but for those on a budget that can't afford both – we stopped recommending LeadPages.
Because ConvertKit's upgraded landing pages are totally sufficient for your opt-in needs. They also have tons of articles and help documentation on how to…
Design your landing to convert more subscribers
Hook your landing pages up to your sequences
Link your landing pages to your blog
And so much more!
And on top of this, you can actually start a free ConvertKit account and get access to their landing pages to start collecting subscribers for free right away!
The free plan offers unlimited landing pages as well as the ability to send one-time broadcasts to your subscribers.
It's a great place to start, but we do encourage our readers and students to sign up for a paid ConvertKit plan as soon as possible to get access to the full features, including setting up automated email sequences.
5. Their email deliverability is through the roof!
Would you like your emails to actually arrive in people's inboxes rather than the spam folder?
Me too. Nothing else matters if your emails aren't actually being read.
ConvertKit's deliverability rates are as higher than any other service I have used. They also provide several articles on how to improve your deliverability rates as well:
Here's just one cool nugget of information from one of the articles above:
"Simple emails will always deliver better. Even when it comes to images or tables in your emails, too many will decrease your deliverability."

-CONVERTKIT
6. They have cool forms that integrate with WordPress.
Similar to the landing pages, they also have customizable forms that you can create and add to your content to convert more readers into subscribers.
Here is an example of one of ours:
You can customize these forms with images and other design elements.
We have them at the bottom of every one of our posts, but you can also add them in the beginning or in your content to increase your conversion rates!
How do I get started with ConvertKit?
Have I given you enough reasons to LOVE them yet? If not, here are a few more:
Easy-to-create auto-responders
Content upgrade deliverability
Easily accessible analytics and data
1-Click double opt-in
Customizable forms
Automation rules to help simplify your life
Easily target the right audience and make sure they get the right email
But I know that you won't REALLY get it until you give them a try. You can start with a free plan today!
If you enjoyed this ConvertKit review for bloggers or have any questions for us, please leave them in the comment section below!