We partner with bada$$ companies that offer products that help our readers achieve their goals! If you purchase through our partner links, we get paid for the referral at no additional cost to you! Read our disclosure for more info.
Having the right closed captioning software can make a huge difference in how easily and quickly you can add captions to your videos.
Whether it's for educational purposes, entertainment, or business use, having access to quality closed captioning is essential. In 2023, there are several great options available that offer different features and capabilities.
From automated solutions to professional services, there are plenty of tools out there that will help you get the job done right.
However, with so many choices on the market today it can be hard to know which one is the best closed captioning software for you.
To make things easier we have compiled a list of some of the top-rated closed captioning software available in 2023 so that you can find the perfect solution for your needs.
If you want to jump ahead, here are our top picks for the best closed captioning software:
We have broken down each option based on its features so that you know exactly what each program offers before making a purchase decision.
With this guide in hand, you should be well-equipped to find the best closed-captioning software for your project!
What is Closed Captioning Software?
Closed captioning software is a tool used to add text captions (closed captions) to audio and video media.
The captions are synchronized with audio and video files, making them easier for viewers who have difficulty hearing the original spoken words to understand what is being said.
Closed captions can also be used to provide additional information about video content, such as descriptions of sound effects or scene changes.
In addition, closed captions can help make multimedia accessible for people who are deaf or hard of hearing by providing an alternative way of consuming the same content that others may take in through listening.
What is the Best Closed Captioning Software?
Best for: Best overall option for automated captioning services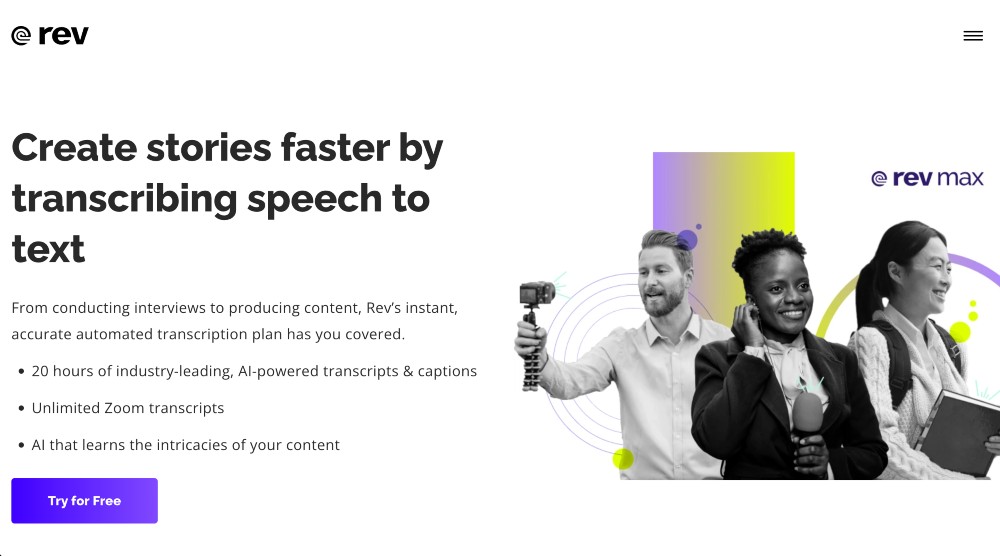 Rev is the most popular closed captioning software on the market today, and for good reason.
With Rev's automated transcription software, all you have to do is upload your audio or video file and it will create accurate transcripts in minutes.
The auto-captioning feature also allows you to add captions directly onto the media itself without having to manually type out each word.
This saves time when creating subtitles or making edits to existing files.
Their automated transcriptions are over 90% accurate and their human transcription and English closed captions are over 99% accurate.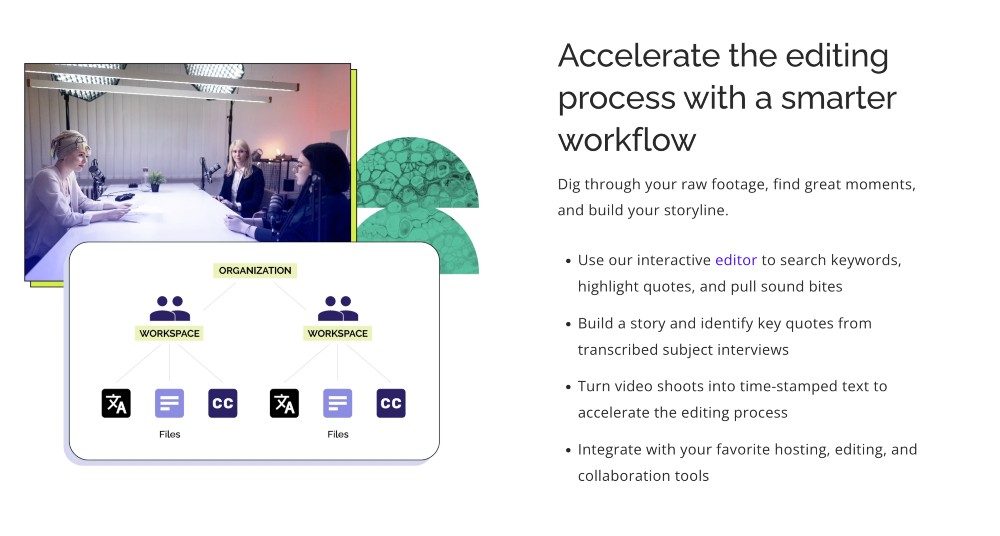 Key Features:
AI-powered automated transcription services
Automated captioning, subtitling, and translation services
Timecoded transcripts for easy navigation of long audio and video files
Speech analytics tools to generate data from audio/video recordings
Customization options such as speaker identification, timestamping, and glossary creation
Integration with popular media editing software like Adobe Premiere Pro and Final Cut Pro X
Fast turnaround times for high-quality transcriptions
Pricing:
Rev has a few pricing plans depending on what you need:
Automated transcription: $0.25/minute
Human transcription: $1.50/minute
English closed captions: $1.50/minute
Global translated subtitles: $5-$12/minute
Our Opinion:
Rev is the best overall software for transcription services and creating closed captions for your audio or video content.
The automatic captioning services are very affordable and you can always review them for accuracy yourself or have someone on your team do it.
Best for: Live captioning for meetings, conferences, webinars, etc.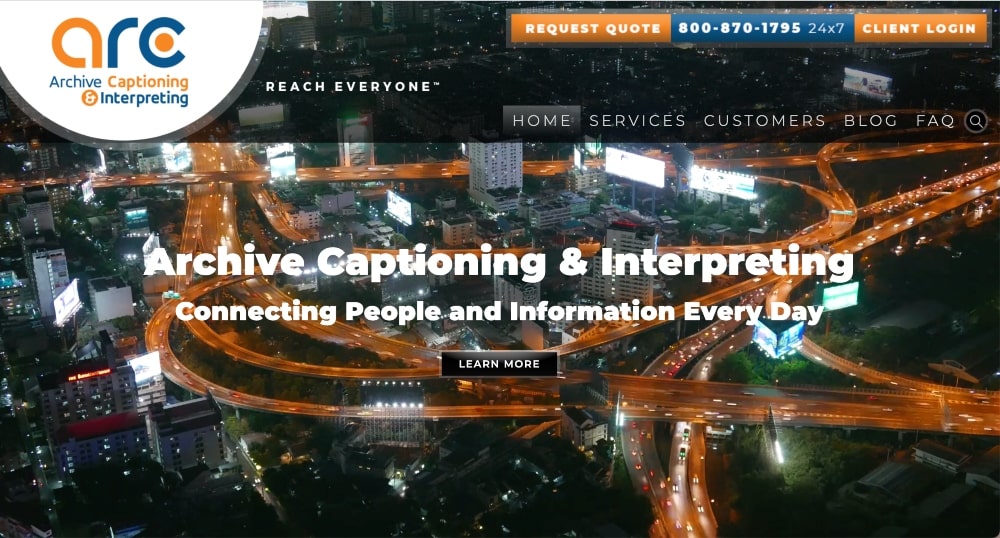 Archive Captioning is a closed captioning software that is widely regarded as one of the best in the industry, whether you're working with live streams, virtual conferences, webinars, or zoom calls.
Archive Captioning offers automated transcription services for fast, accurate results without having to manually transcribe each word.
Because Archive Captioning provides live captioning services, you won't be able to edit existing subtitles or make changes to the text after it has been transcribed.
This can be particularly limiting for those who want more flexibility in how their captions are presented and can limit the creative possibilities of multimedia projects.
But that being said, if it's live captioning you're after, this is a great option.
Key Features:
Automated captioning of live video streams
Real-time speech recognition and transcription capabilities
Supports multiple languages for global audiences
Integrates with existing streaming protocols for seamless compatibility
Captures conversations, lectures, webinars, meetings, and more accurately in real-time
Ability to transcribe audio from uploaded media files
User-friendly interface to adjust settings and make edits quickly
Sync captions with the speaker's dialogue for optimal engagement
Automatically generates transcripts after recordings are completed
Pricing:
Plans range from $1 per minute and there are discounts available when ordering large bulk orders.
Our Opinion:
Archive Captioning is best suited for individuals or businesses that need live captioning services. They integrate with many popular video and conferencing software, including Zoom, Cisco Webex, Adobe Connect, Facebook LIVE, Twitch Streaming, YouTube Live, Vimeo, and more.
Best for: Large websites and media companies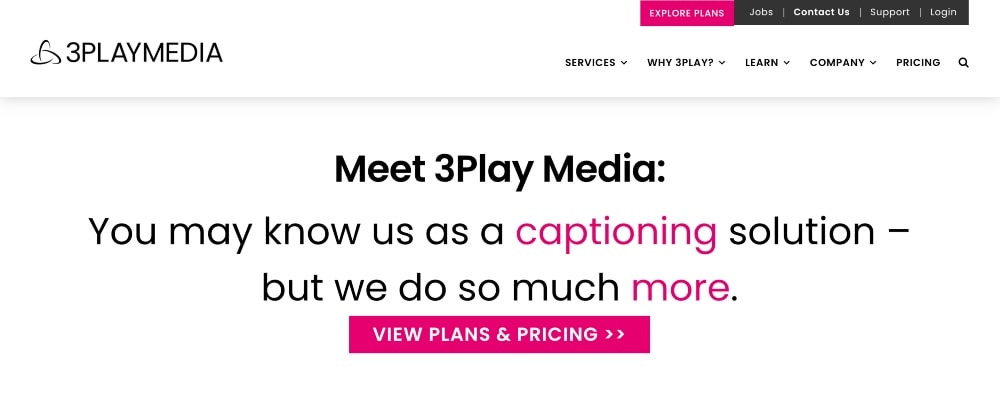 3Play Media offers automated captioning, transcription, audio descriptions, live captioning, translation and subtitling, podcast transcription, and more.
They offer support for multiple languages, including English, Spanish, French, German, and more.
Additionally, this software also offers customization options so you can make changes to existing subtitles or add new text as needed.
3Play media also has plugins that you can use for cool added features like an accessible media player with a time-synced transcript.

Key Features:
Automated media transcription and translation
High-speed video captioning services
Video search for keyword discovery, tagging, and optimization
Multimedia description services to enhance accessibility for people with disabilities
Audio/video synchronization options for closed captions and subtitles in multiple languages
Webcasting tools to capture live events in real time with automated transcripts or subtitles
Comprehensive analytics dashboard tracking platform performance metrics such as play rate, completion rate, average watch time, and more
Pricing:
Unfortunately, you have to sign up to view pricing information for 3Play Media.
Our Opinion:
3Play Media is best suited for larger websites and media companies that can benefit from the added features that the plugins provide (like media players and time-synced transcripts).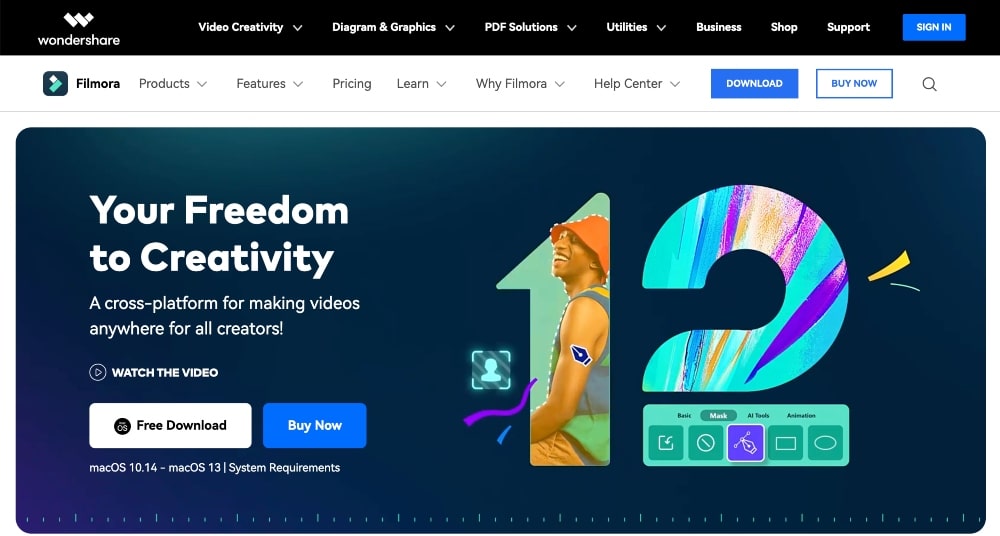 Filmora is actually primarily a video editing software, but it's also great to create closed captions.
After uploading your video files, you can preview your captions while they're being transcribed so you know exactly how they will look when displayed on the screen.
You can also edit existing subtitles or add new text very easily.
It also offers live captioning services as well as audio description features and automation tools, making it a really comprehensive solution for both editing video and captioning.
Filmora also supports 17 languages, including English, Spanish, French, and German.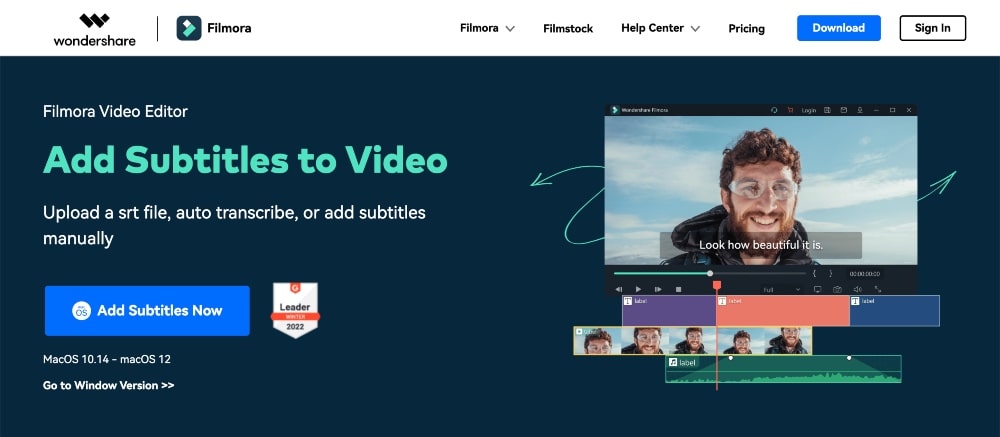 Key Features:
Advanced tools and effects to customize videos
Supports 4K UHD resolution
Overlay text, images, music, and titles and adjust audio levels
Add motion tracking and green screen effect support
Powerful color grading tools to give your videos a cinematic look
Ability to add GIFs, transitions, and filters
Fast processing speed with multi-format support
For sharing and exporting projects in multiple resolutions
Pricing:
Perpetual license: $79.99 one-time fee with no upgrades for future licenses
Annual license: $49.99/year with future license upgrades
Our Opinion:
Filmora is a powerful video editing software that will also meet all of your closed captioning needs if you work with a lot of video files.
If you need a video editor as well as software for video captions, Filmora is a great choice.
Best for: Free captioning software and flexible pricing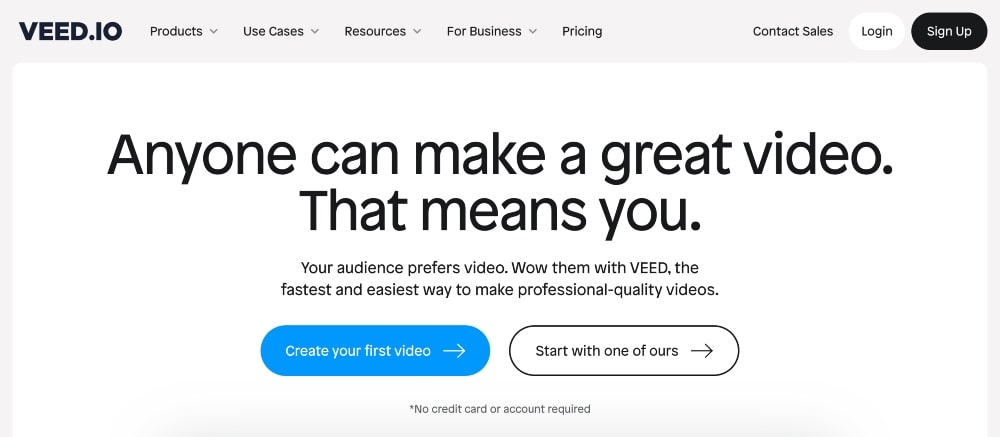 Veed.io is a comprehensive video editing and captioning software solution that makes it easy to create accurate subtitles quickly.
In terms of features, Veed.io offers automatic subtitle creation with its one-click transcription service.
It provides accurate captioning of a guaranteed 95% as well as customization options for altering existing subtitles or adding new text if needed.
The software also supports live captioning and audio description services so users can add captions in real time or have them added retrospectively after the event has ended.
Veed.io also has a screen recording feature, a live stream option, and a native video editor.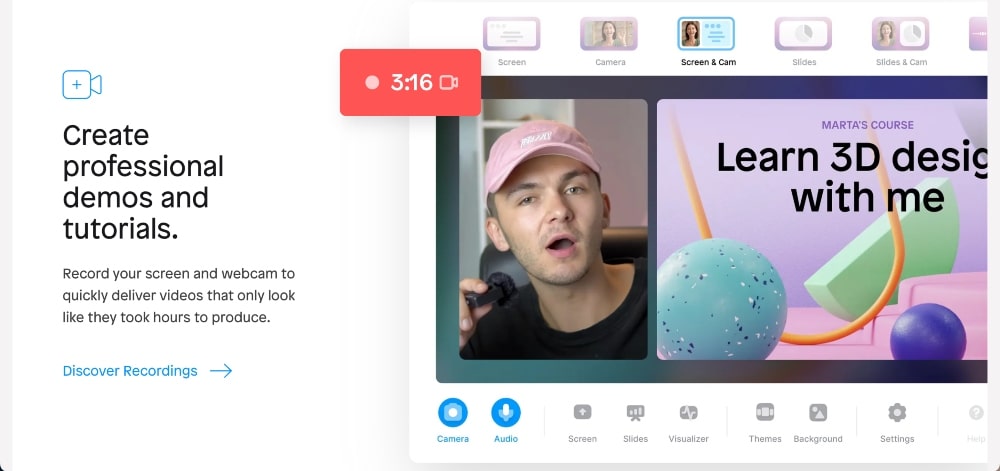 Key Features:
Automated video editing with AI and advanced tools
Easy video creation with a drag-and-drop editor
Industry-leading online collaboration tools
Inbuilt royalty-free music library to enhance video content
AI-powered voice-to-text transcription
Multi-platform uploads for YouTube, Facebook, and more
Professional subtitles and easy localization options
Integrations with popular video conferencing systems
Pricing:
Free plan: Watermarked, 30 mins of auto subtitles, 250MB upload limit, export length 10 mins
Basic: $18/month for 720 mins of auto subtitles, unlimited upload size, export length 25 mins
Pro: $30/month for 1,440 mins of auto subtitles, translations, and more
Business: $59/month for 8,000 mins of auto subtitles, translations, and more
Our Opinion:
Veed.io is ideal for anyone who needs a video editor as well as free captioning software. While the free plan is quite limited, it's perfect for anyone who has fewer projects every now and then rather than on a consistent basis.
But even if you need video captioning more frequently, there are several flexible pricing plans for Veed.io, which honestly make it a great choice for anyone.
Best for: Individuals with larger projects that don't want to pay per minute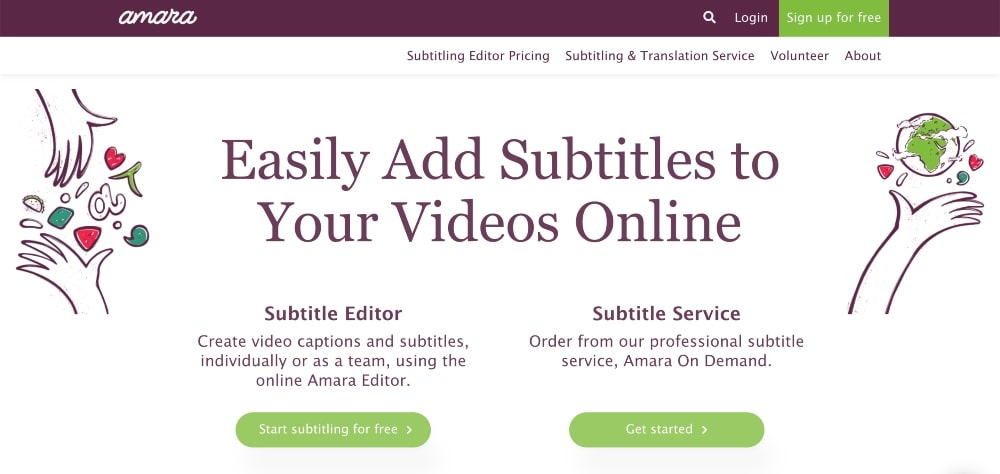 Developed by the same team behind Universal Subtitles, Amara is a closed captioning solution that allows users to add subtitles, captions, translations, and other multimedia content to videos and audio files quickly and easily.
The great thing about using Amara is that it offers a wide range of customization options, allowing you to adjust font sizes and colors and create playlists of multiple video clips at once.
It has an advanced search tool that makes editing easier as well as automated synchronization tools that help sync text with spoken words within a few seconds.
Amara also has a very flexible free plan with no limits on uploads or transcriptions, but the downside is that all video content uploaded in the free "public" plan is publicly available for others to view.
They also hire for transcription jobs!
Key Features:
Automation of content creation
Natural language processing (NLP) and AI-driven insights
Template marketplace for quick writing and editing
Content optimization with search engine algorithms in mind
Multi-language support to create content in various languages
Integration with external sources such as Conversion.ai, Google Docs, Dropbox, Slack, etc.
Ability to access large libraries of video clips and images for easy media integration into articles
A/B testing feature to measure the effectiveness of different versions of a piece of content
Pricing:
Amara's plans are based on monthly fees and don't seem to have any limits on file uploads or minutes transcribed.
Public: Free plan but all videos are publicly viewable
Plus: $24/month + private team workspace
Enterprise and Integrated: Contact for pricing.
Our Opinion:
Amara is a simple software with a lot of features. While they don't have live captioning, they do offer very customizable closed captioning services.
This software may be ideal for you if you're looking for free closed captioning software or if you have larger projects and don't want to pay per minute for transcriptions. Just keep in mind that your content is publicly viewable to others if you opt for the free plan.
Best for: Larger organizations looking for more create more accessible content, such as TV networks and media companies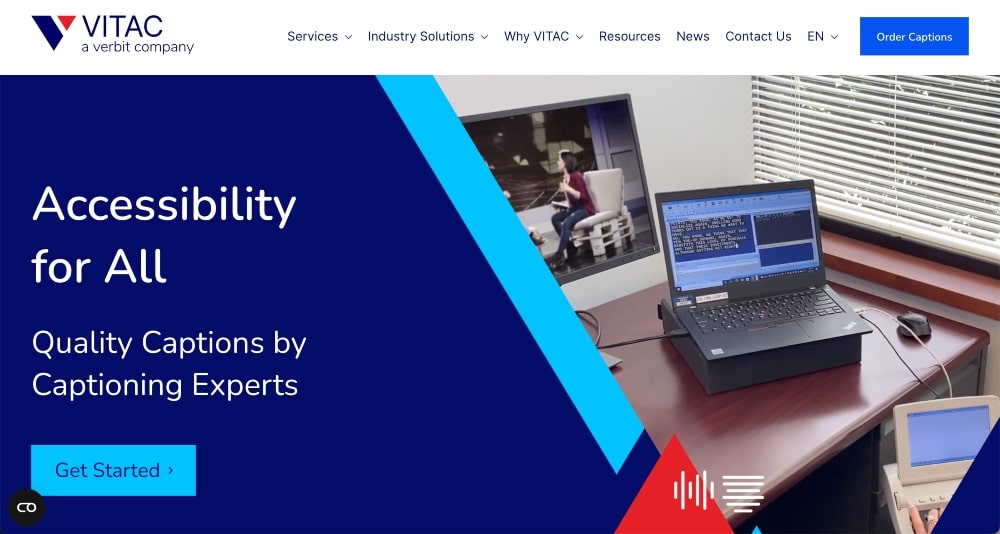 Developed by the same team behind Universal Subtitles, Vitac is the best closed captioning software on this list for accessibility.
They offer services such as subtitles, captions, translations, dubbing, audio description, and more.
Vitac offers more advanced features than some of the other options on this list because it's geared towards larger companies like TV networks and media companies.
Because accessibility is so important, Vitac takes closed captioning very seriously and employs real human beings to check and verify the accuracy of their work.
This ensures that accurate captions are generated that also meet industry-standard guidelines.
Vitac also offers a range of customizability options, including font sizes and colors, playlists, and more.
Key Features:
Automated AI-driven content creation
Real-time recommendations for optimizing campaigns
Ready-to-use copy templates tailored to your brand needs
Source, customize, and publish marketing content in just a few clicks
Analyze performance data to measure the success of campaigns
Collaborate efficiently with team members on projects
Generate leads and increase conversions with automated A/B testing
Integrate existing tools such as Google Analytics and more
Pricing:
You have to contact them to request a quote.
Our Opinion:
Vitac has a very large range of captioning, subtitles, and transcription services available.
They focus more on accessibility, which makes this an ideal option for larger organizations wanting to create the more accessible audio and video content possible.
This software is best suited for TV networks, media companies, and other organizations that need very accessible content regularly.
How to Choose the Right Closed Captioning Software
When selecting the best closed captioning software for your needs, there are a few important factors to consider.
The two main factors to consider first are your budget and project size so that you can find the most cost-effective closed captioning services for your needs.
Secondly, you should also consider the type of features you require from the software such as real-time captioning, manual editing capabilities, live captioning, support for multiple languages, etc.
Some of the options provide for more customizations, including changing fonts and colors, playlists of multiple videos, additional plugins for media players, and more.
Finally, it's also worth looking into customer service options and reviews in order to make sure that you'll be getting a reliable solution that offers helpful and professional advice if needed.
Keep in mind that many of them also support multiple languages but not all of them.
Overall, when selecting a closed captioning software solution, it's important to think about what exactly you need and how much money you're willing to spend on such a product in order to get the best results possible.
The Benefits of Using Closed Captioning Software
Closed captioning software offers a number of advantages to users, such as improved accessibility and increased reach.
By making video content accessible to those with hearing impairments, closed captioning makes your project more inclusive and adheres to the principles of digital accessibility.
Additionally, subtitles also enable higher engagement as viewers are able to watch videos even when sound is not available – including for instance in noisy public spaces like airports or coffee shops.
By making it easier to understand accents or dialects from other countries, closed captioning can help you expand your audience base internationally.
With the help of closed captioning software, you can make sure that everyone has access to your content regardless of their hearing abilities or where they're located.
Summary of the Best Closed Captioning Software
In conclusion, closed captioning software is a great tool for making video and audio content more accessible and engaging.
When choosing the right platform for your project, it's important to consider factors such as budget, features you need, and customer support response times.
Here are our top picks for the best closed captioning software:
We've given you a lot to think about!
Ultimately, taking all these factors into account will help you make an informed decision when selecting closed captioning software to ensure that you get the best value for your money and are able to meet all of your project needs.
With this in mind, take advantage of all that closed captioning software has to offer – enabling everyone to enjoy your content regardless of any physical limitations or geographical boundaries!