We partner with bada$$ companies that offer products that help our readers achieve their goals! If you purchase through our partner links, we get paid for the referral at no additional cost to you! Read our disclosure for more info.
Green screen chroma keying software is a powerful tool used to create stunning visual effects in films and television shows.
This technology allows filmmakers to replace the background of a scene with a custom-created image or video, creating an immersive environment that is difficult to achieve through traditional filming methods.
With chroma keying, film directors can easily transport their actors to a world of their own imagination.
But it's not just film directors — influencers and course creators are using green screen programs to take creative photos for social media or record online courses.
Whether it be a fantastical, magical realm, an action-packed adventure, or just a fake background because your room is messy — green screen software makes the impossible possible on screen!
Let's get into the best software for green screens.
If you want some spoilers or are in a time crunch, here is a summary of our top picks:
What is the Best Green Software?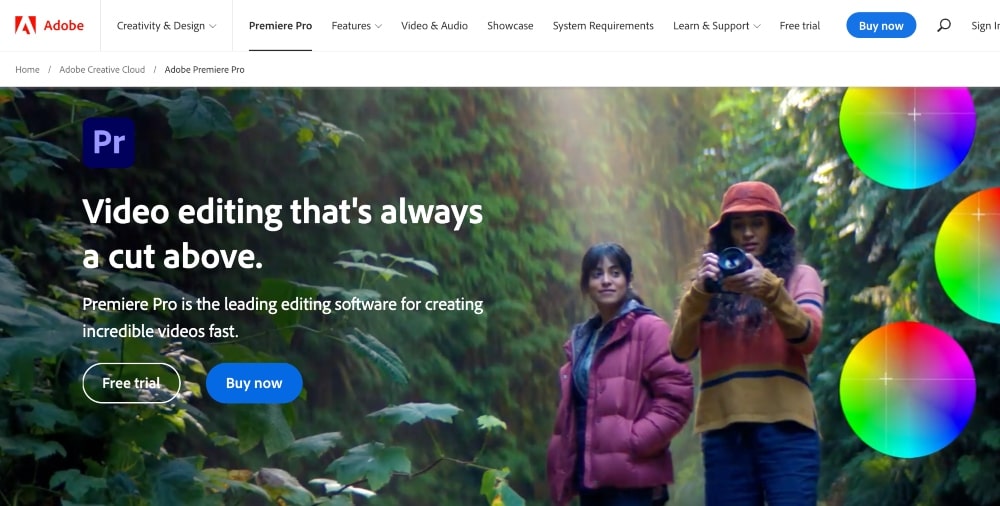 Best for: Professionals looking for an all-around video editing as well as use for a green screen program
Pricing: Starting at $20.99/month or $54.99 for all Adobe Creative Cloud Apps; You can also start with a free trial.
Adobe Premier Pro is one of the best software for green screen and video editing.
It features advanced chroma key tools which allow you to easily remove or replace the green screen background while maintaining perfect accuracy in depth and color.
The software also provides powerful visual effects, animation, transitions, and titles which can be used to make your videos stand out.
While many Adobe programs, including Premier Pro, can come with a bit of a learning curve, they do have a comprehensive library of tutorials that you can use if you are trying to learn the ropes.
Adobe Premier Pro is a great, all-around video editing program and media management system that will help you to organize your footage, images, videos, and other elements into folders for easier access.
With Adobe Premiere Pro's advanced capabilities such as its GPU Accelerated Rendering engine and ability to edit 8K videos at high frame rates, it is one of the best solutions available on the market when it comes to creating stunning visuals with green screen backgrounds.
Its sophisticated keying technology makes it easy to create realistic composite shots while its 3D tracking technology allows you to accurately track objects within scenes.
Adobe Premier Pro also integrates with other Adobe applications such as After Effects for complete control over every aspect of post-production workflow — from initial concepting all the way through delivery of final files — giving you true end-to-end power over all aspects of video production.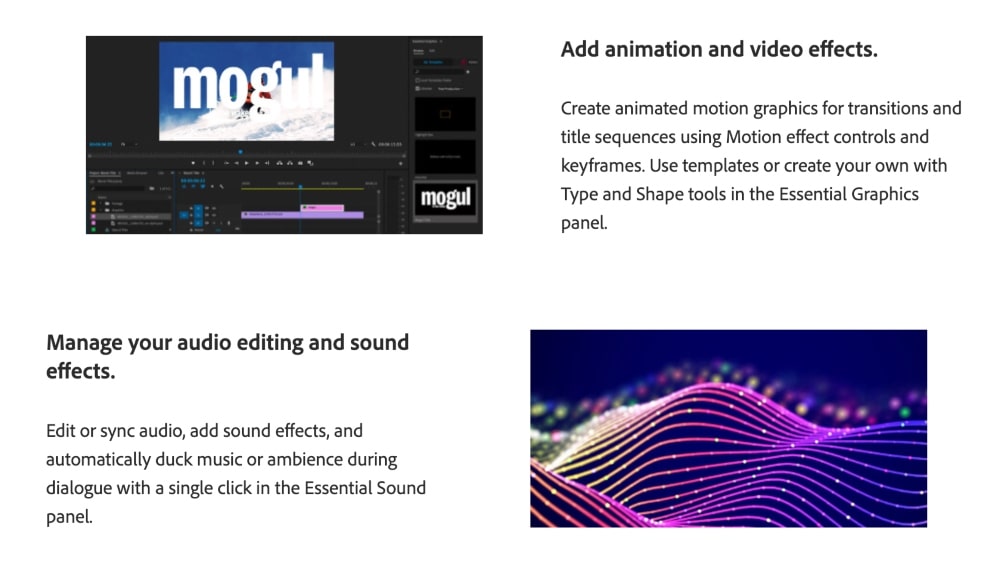 Key Features:
Multi-camera editing and advanced audio mixer
Chroma keying effects for green screen
High-quality graphics and titles
Track targeting for more precise editing control
Precise audio sample-level editing tools
360/VR support with motion stabilization and object removal features
Automated tools powered by Adobe Sensei AI technology to speed up tedious tasks
Easily share projects directly from Premiere Pro to YouTube, Facebook, Vimeo, Twitter, and other social media platforms
Why We Picked It:
If you're doing a lot of video editing, Adobe Premier Pro is the best software for video editing on the market, including for green screen work.
But this software is also better suited for professionals with some video editing experience. If you're not a serious video editor or you want something with less of a learning curve, Camtasia is a better option.
Best for: Intermediate-level users or anyone wanting a less advanced tool than Premier Pro
Pricing: $299/year; Free trial and 30-day money-back guarantee
Camtasia is a very user-friendly platform to create professional videos, including adding green screen backgrounds and a variety of other special effects and animations.
The software enables you to quickly change background colors in your videos and comes with easy color correction tools that get the best results from your green screen footage.
Camtasia also provides full chroma key support – meaning you can use bluescreen or greenscreen technology to get the best background replacement for your videos.
The software also allows users to control brightness, contrast, saturation, and hue – perfect for making sure that your green screen footage looks great regardless of lighting conditions or time of day.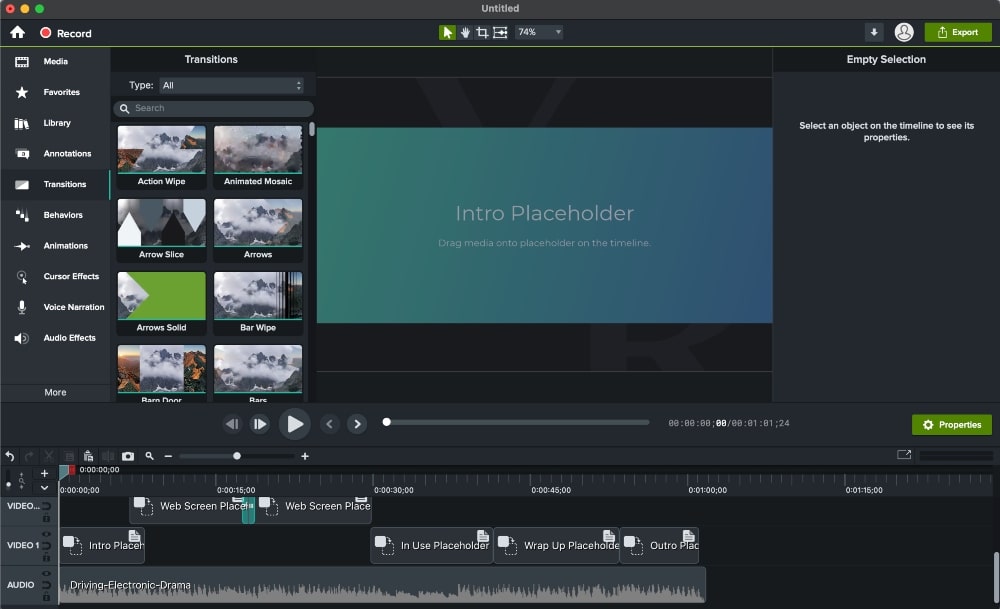 Key Features:
Green screen editor – adjust the background for perfect chroma key effects
Transitions and effects, including light flares, graphics overlays, animations, and more
Built-in library of over 500 royalty-free music tracks from premium sources to give your videos professional soundtracks
Audio editing tools such as volume normalization, noise removal, and voiceovers
Intuitive drag-and-drop user interface
Split screen feature to display multiple video streams at once
Screen capture and recording
A/B split testing to compare two versions of a single video side by side
Customizable callouts add text labels or arrows directly onto the video frame
Why We Picked It:
If Adobe Premier Pro is too advanced for you, Camtasia is going to be right up your alley. Camtasia has a lot of advanced features but is an easier tool to learn than Premier Pro.
There are also some great video tutorials on YouTube to help you learn the basics.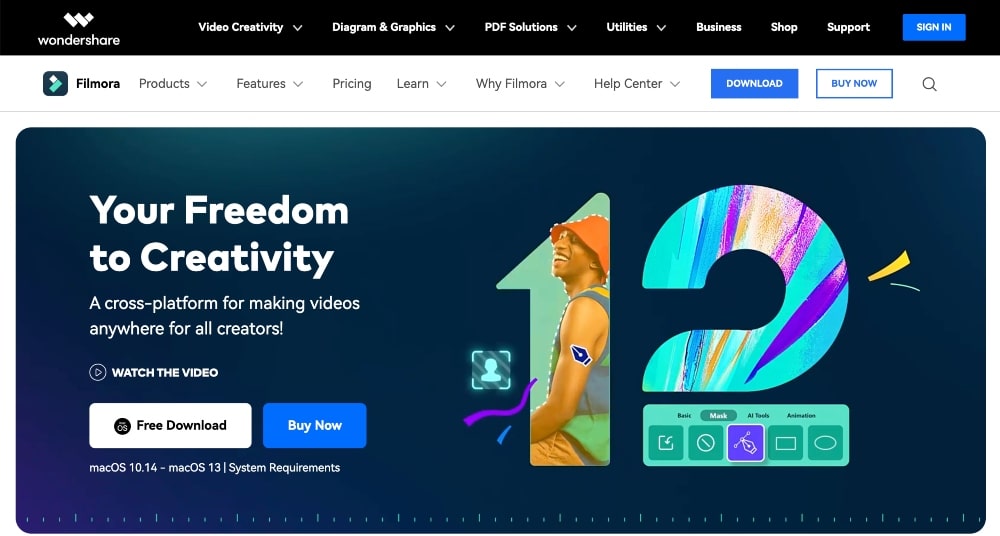 Best for: Beginners or anyone else looking to get started with green screen features and video editing
Pricing: Starting at $49.99/year
With Wondershare Filmora, you can add special effects, chroma key backgrounds, and other green screen elements to your projects quickly and easily.
With its intuitive drag-and-drop interface and comprehensive editing tools, Wondershare Filmora makes it easy for anyone to create amazing videos and projects.
This green screen program includes an expansive library of royalty-free music and sound effects, as well as professionally designed templates and customizable animations.
When it comes to green screen capabilities, Wondershare Filmora makes it incredibly easy to add amazing visual effects to your videos without any prior experience or knowledge of special effects editing.
With the software's Chroma Key tool, you can easily change the background color of your video and apply advanced color correction or adjust brightness and contrast levels for greater accuracy when working with green screen footage.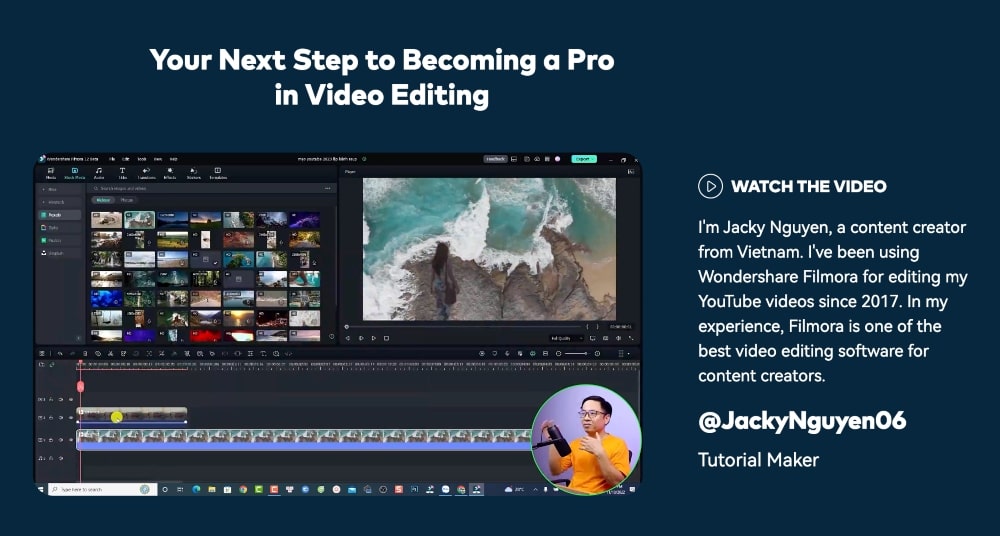 Key Features:
Easy-to-use video editing interface
Robust library of effects, transitions, and filters
Audio Recording and mixing capabilities
Green screen support for professional-quality videos
4K/HD export options with various file formats
Share directly to social platforms
Create GIFs from video clips
Customizable aspect ratios (16:9, 9:16, etc.)
Advanced text and title features
Chroma key compositing tool
Why We Picked It:
Wondershare Filmora is a great choice if you're looking for a straightforward yet powerful green screen software solution that can help you create high-quality visuals – easily.
It has a wide range of tools and features and even an extensive library of royalty-free music tracks and sounds.
It's also ideal for beginners or anyone who needs simpler software to use.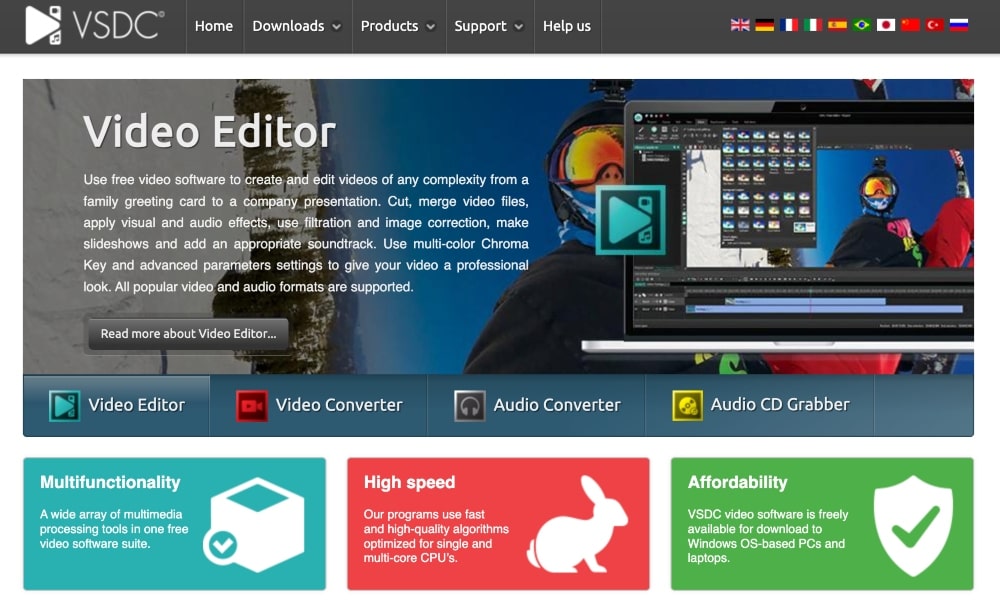 Best for: Budget-conscious users or anyone who wants free green screen software
Pricing: Free
VSDC Free Video Editor is a powerful and comprehensive free green screen software that you can use to create high-quality videos with custom backgrounds, overlays, and effects.
With features such as chroma key, advanced audio mixing, and 3D animated titles, VSDC offers a complete solution for creating professional-looking videos.
The software also includes many green screen specific features, including an automatic background removal tool that allows you to quickly remove existing backgrounds from video clips in order to add new ones.
VSDC Free Video Editor also comes with a library of customizable overlays, transitions, and filters that can be used to add special effects to your videos.
In addition, there are also several advanced editing tools such as timeline trimming for precise edits, color correction for adjusting saturation and hue values in different parts of the image, and motion tracking for following objects within a scene.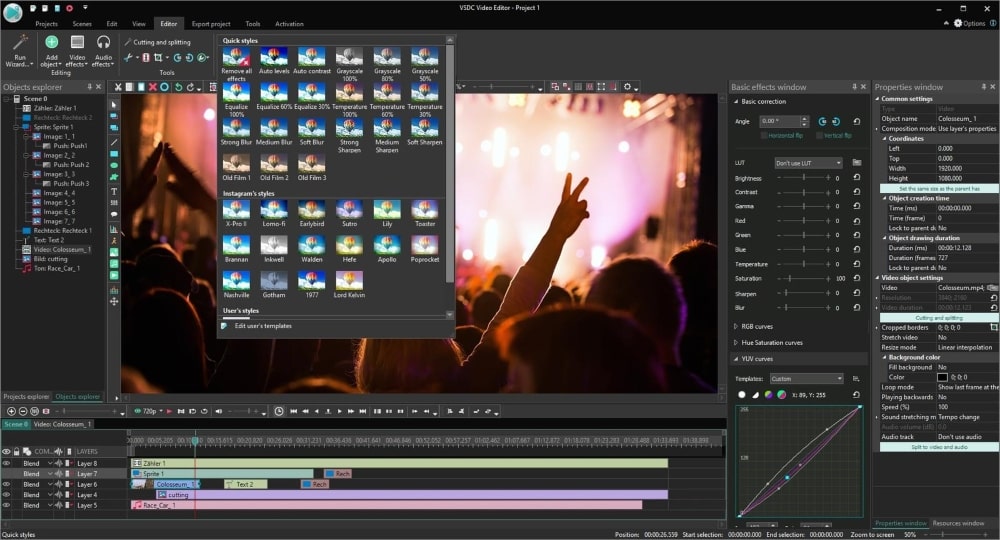 Key Features:
Non-linear video editing with timeline and storyboard interfaces
3D object transformation tool to rotate and resize objects in the scene
Special effects such as chroma key, picture in picture, white balance, etc.
Color correction tools: hue/saturation, brightness/contrast adjustment
Audio mixing capabilities for adding soundtracks and voiceovers
Variety of transitions and visual effects to enhance videos
Advanced editing options like masking or green screen technology
Built-in YouTube uploader for easy sharing on social media platforms
Why We Picked It:
Because we always need a free option! VSDC Free Video Editor has some incredible tools for content creators who just don't have it in the budget to shell out for Adobe Premiere Pro or Final Cut Pro.
VSDC is a very easy tool to use and is ideal for beginners or for anyone who just needs to work on a smaller project or two that doesn't want expensive software or monthly plan commitments.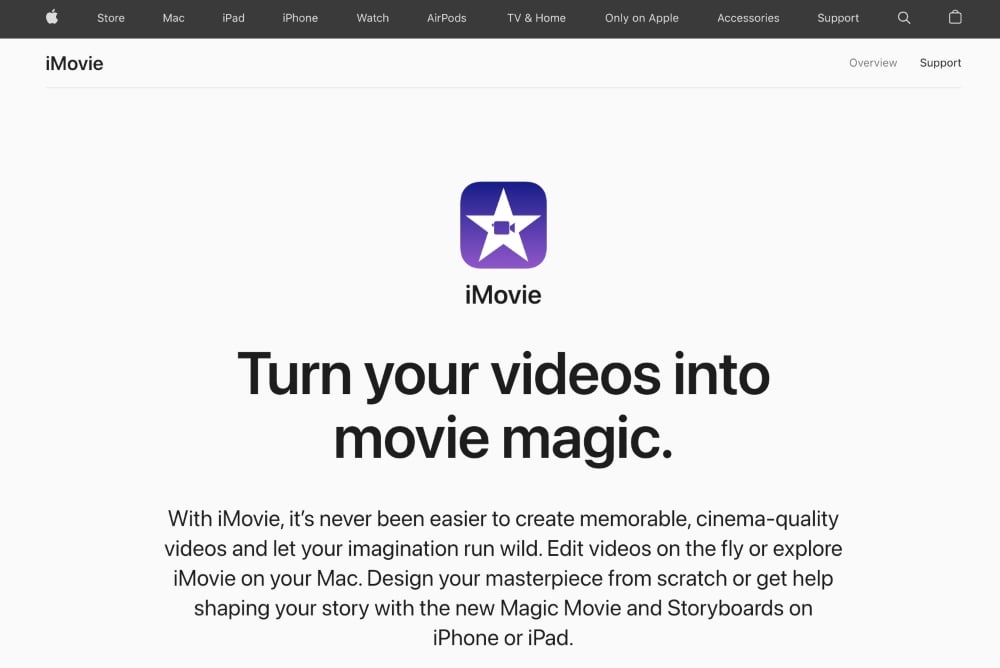 Best for: Beginners needing basic video editing or Mac users that desire a free option
Pricing: Free
If you have been living under a rock and didn't already know, iMovie is a free video editing software by Apple that comes with all Macs.
But what you may not have known is that iMovie also supports green screens. With it, you can create a wide range of special effects, including chroma keying, virtual sets, and compositing.
With a library of built-in tools and effects, it's simple to add realistic elements like smoke, fire, and rain; or even animate video transitions.
The iMovie suite also offers various other features designed for advanced video editing such as multi-cam editing (which allows you to combine footage from multiple cameras into one sequence) as well as detachable timelines (which allow non-linear editing).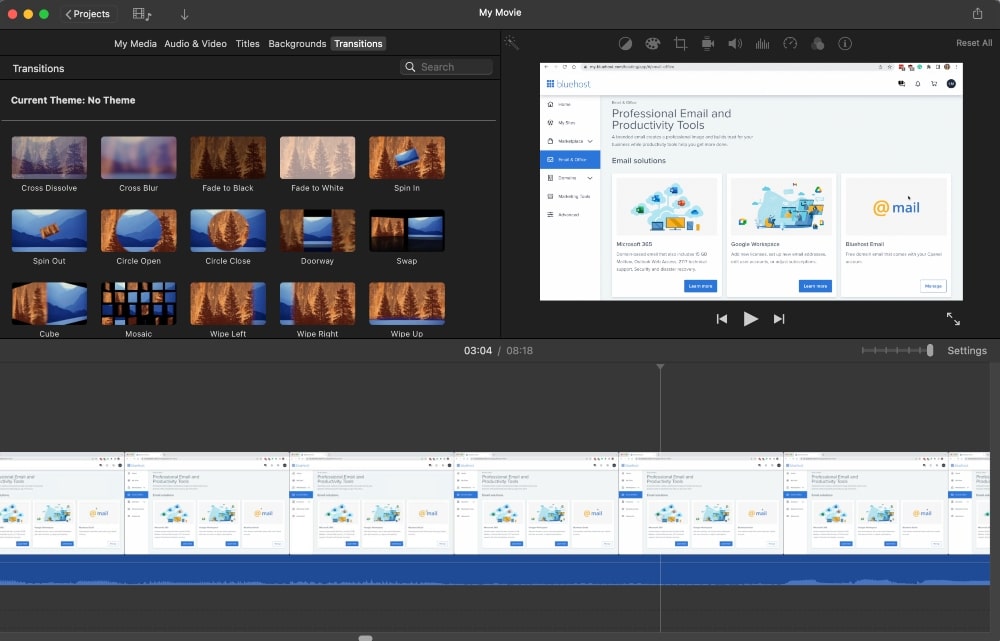 Key Features:
Easy-to-use video editing tools
Professional color grading tools
Stunning 4K resolution support
Built-in music and sound effects library
Powerful green screen effect for backgrounds and overlays
One-touch animated titles
Advanced audio controls and effects
Ability to create slow-motion videos
Ability to add voiceovers or narration
Why We Picked It:
iMovie is a great place to start if you're a beginner or a Mac user. It's how I got my feet wet with video editing (starting with very simple cuts of mistakes) until I was ready for more advanced features and eventually upgraded to Camtasia.
If you're not a serious video editor and you just need some of the basics, including a program for green screen, iMovie is a great place to start.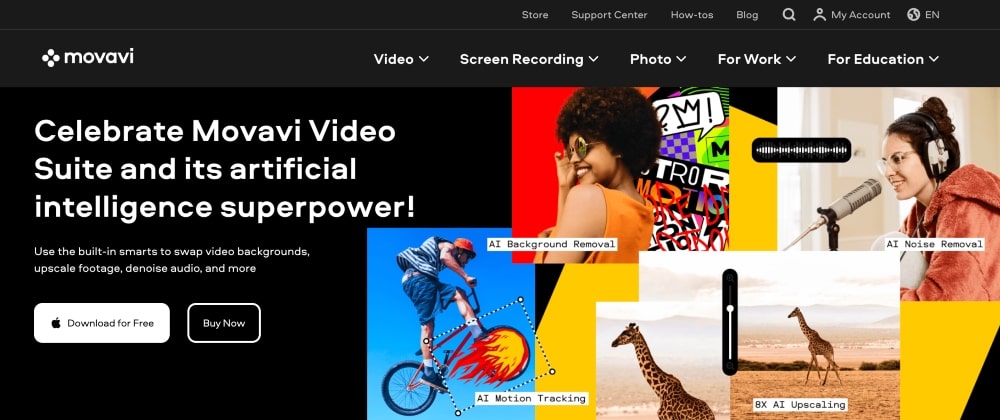 Best for: Beginners or anyone wanting a budget-friendly option
Pricing: Starting at $94.95/year
Movavi is a leading green screen software and video editor that offers a simple and intuitive way to remove the background from videos.
With Movavi, you can isolate elements such as people or objects from their backgrounds and then replace them with new visuals (solid colors, images, etc.).
It also offers chroma key tools that make it much easier to eliminate background noise or distortion caused by uneven lighting conditions.
When it comes to compositing multiple shots together, Movavi provides an array of features that make this task simpler than ever before.
The layer masking feature allows users to isolate specific elements from their original video footage and apply effects only where desired.
This makes it possible to create seamless transitions between two different scenes without having to manually edit each frame individually.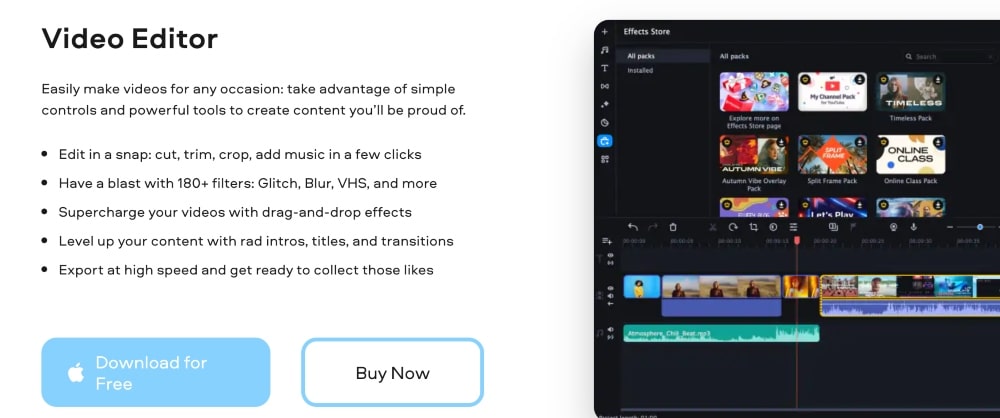 Key Features:
Easy-to-use video editing software
Quick and accurate video conversion
Comprehensive audio track editing tools
Onscreen recording for PC or Mac
HD support for all popular formats
Media management system
MultiTrack timeline mode
Unique effects and filters to enhance videos
Ability to create slideshows, movies, intros, and more
User-friendly interface with step-by-step tutorials
Why We Picked It:
Movavi is one of the best green screen software options for beginners or anyone else looking for budget-friendly software. If free software isn't enough for you, Movavi is probably your best bet as their paid plan is less than $10/month.
P.S. They also make our list of best photo management software.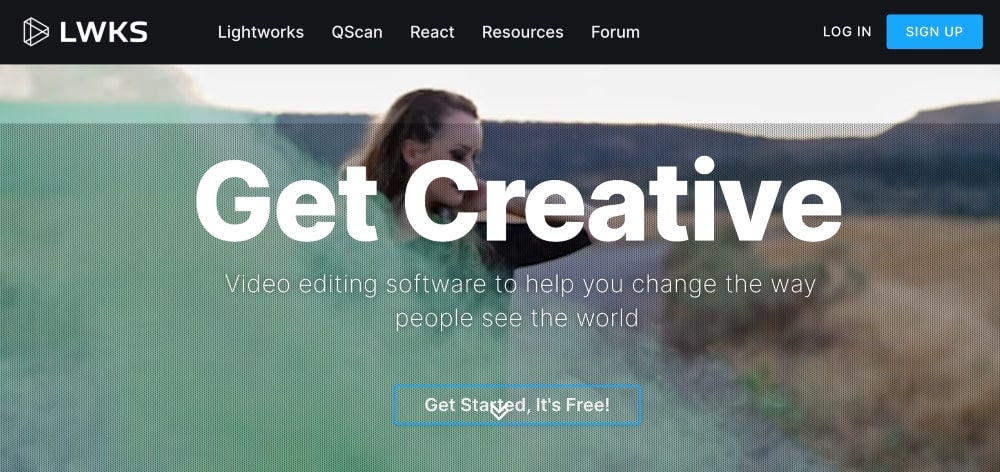 Best for: Beginner to intermediate users
Pricing: Starting at $9.99/month for the Create plan and $23.99/month for the Pro plan
With Lightworks, you can combine multiple types of media, including video, still images, and audio, into one unified piece.
It offers a wide range of advanced tools for creating special effects and has a number of features designed specifically for use with green screen footage.
These include chroma keying as well as tools for adjusting color contrast, brightness, contrast levels, saturation, tinting, etc. — plus a large library of pre-made backgrounds and elements that can be used in your project.
Lightworks also includes various audio editing capabilities so you can sync up voiceovers or soundtracks to go along with your visuals. There are plenty of tools here too – from pitch correction to sound equalization – giving you full control over every aspect of your audio mix.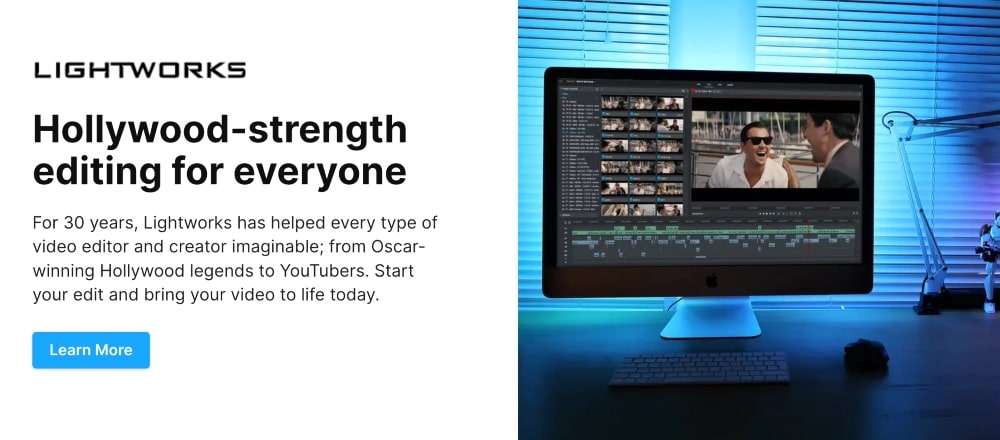 Key Features:
Professional-grade editing tools
High-quality video outputs
Wide range of video format support
Robust audio options and effects
Multiple platform support
Collaboration capabilities
Accurate color correction controls
Comprehensive media management system
Powerful motion graphics and titling tools
Why We Picked It:
While there are more beginner-friendly options on this list of best green screen software, like Camtasia, Lightworks is another great choice for the beginner-intermediate level video editor.
It also provides more flexible pricing than Camtasia and includes a lot of helpful documentation on how to use specific features.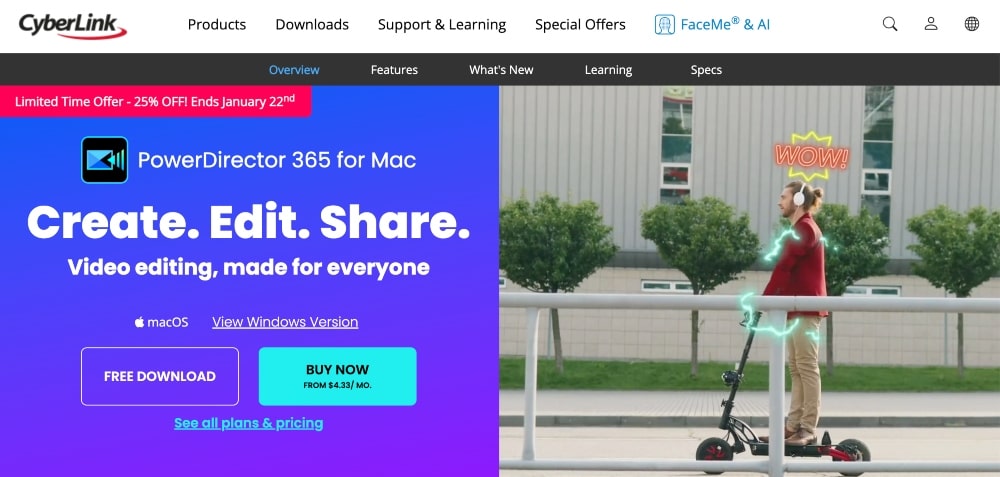 Best for: PC users
Pricing: Starting at $4.33/month + a limited free version
PowerDirector is a powerful video editing software from Cyberlink that also has a range of features that make it an ideal green screen editing tool.
Specifically, it offers an intuitive chroma key interface that makes it easy to remove unwanted elements from footage and replace them with new backgrounds.
With its advanced color settings, you can fine-tune the background's color and transparency to make the green screen effect more realistic.
PowerDirector also has powerful masking tools that allow you to precisely define the area where you want to apply the chroma key filter for better results.
It includes many built-in music tracks and sound effects as well as access to royalty-free audio libraries so you can quickly add background music and other sounds to your project.
PowerDirector also includes a wide selection of transition effects, motion titles, and visual effects that can be used to give your project a professional look.

Key Features:
MultiCam design to edit up to four videos in a single timeline
Color grading tools
AI style transfer effects and overlays
Intuitive workflow interface and controls
Advanced motion tracking technology
360° video editor and VR toolkit
120+ Ready-made templates
Why We Picked It:
PowerDirector is a great green screen software for PC users. Aside from free versions, it also has the most affordable monthly plans on this list.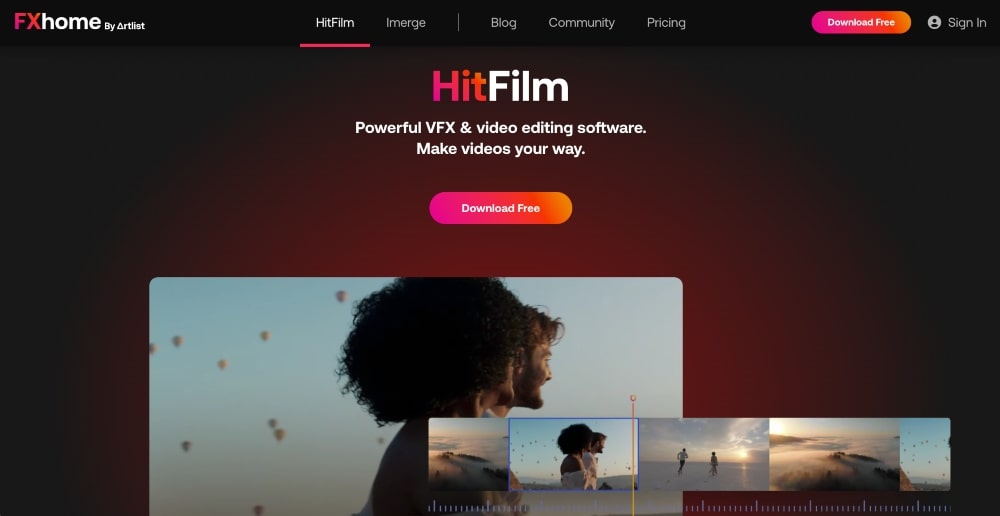 Best for: Anyone needing a lot of special effects but also on a budget or desiring a free option
Pricing: Free
HitFilm Pro offers a wide range of features that make it one of the most versatile and comprehensive green screen software on the market today.
One of its most notable features is real-time keying, which enables users to immediately see results in 3D space without having to render out the scene first.
With this feature, adjustments can be made quickly and efficiently, saving time when working on projects with tight deadlines.
The program also includes a number of preset keyers for common scenarios such as blue screen and green screen, so users don't have to start from scratch each time they want to do some keying work.
HitFilm Pro also has tools for creating organic animations using particle systems, allowing you to easily create smoke or fire effects that look realistic in a matter of minutes.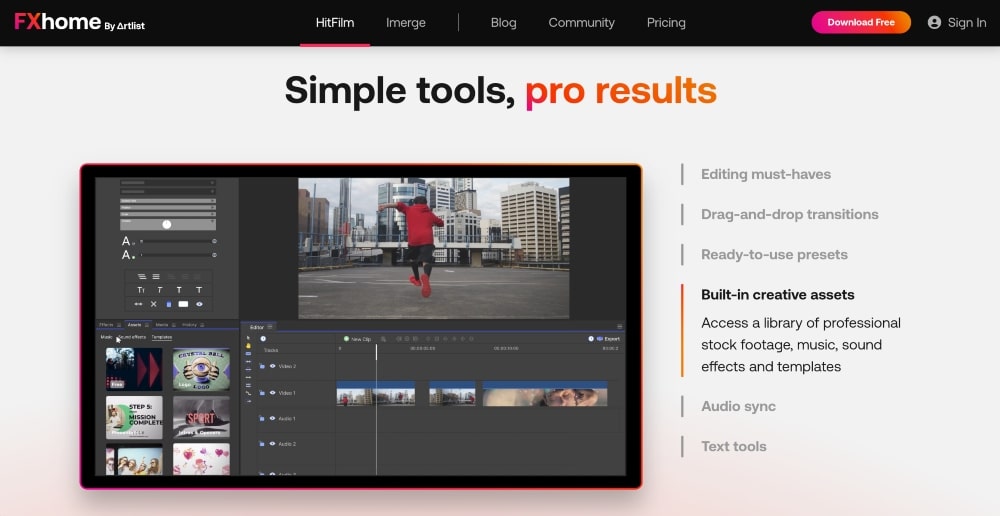 Key Features:
Non-Linear video editing and compositing
3D Compositing, visual effects, and motion graphics
3D Modeling, animation, and rendering
Color Grading and motion tracking
Extensive audio features
Professional plugins for special effects
Scene builder toolkit for unreal engine 4 integration
360/VR Editing Capabilities
4K+ UHD output quality
MultiCam editing with up to 6 cameras
GPU acceleration capabilities for faster render times and smoother playback performance
Why We Picked It:
HitFilm Pro is an awesome choice for you if you need a free plan and software with a lot of additional animations and special effects.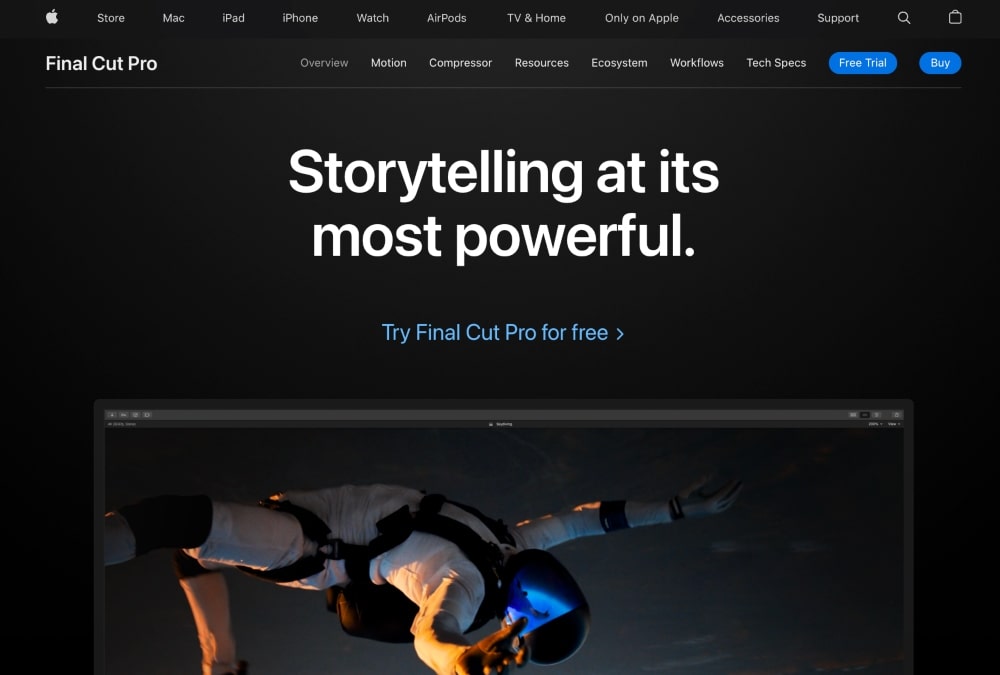 Best for: Professional video editors using Mac computers
Pricing: $299 and comes with a free trial
Final Cut Pro is a professional video editing and green screen software for macOS that offers a range of powerful tools for creating green screen videos.
Developed by Apple, it is designed to be easy to use and intuitive for both novice and experienced video editors.
In addition to chroma keying features, Final Cut Pro has a wide range of other tools to make complex green screen workflows much easier.
You can create custom matte layers that identify areas on-screen where you want the subject matter or background to be visible, which makes it possible for you to quickly remove unwanted elements.
A key feature of Final Cut Pro's green screen capabilities is its ability to integrate with other software programs like Adobe After Effects.
This integration provides users with access to sophisticated effects and animations which can then be composited over footage without having to export the entire project elsewhere first – making the process much faster and more efficient.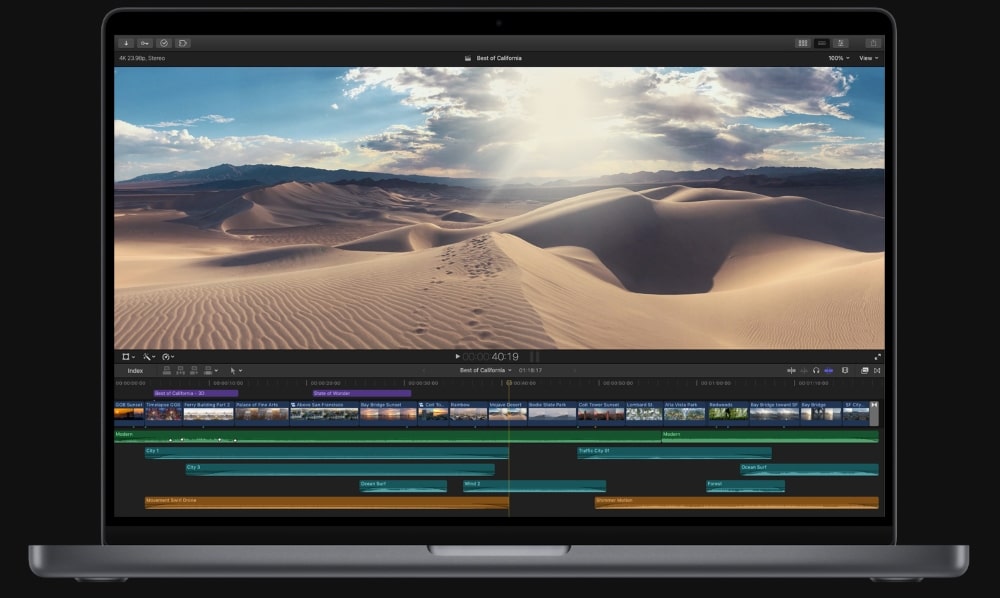 Key Features:
Professional video editing tools, including color correction and grading options
Powerful sound editing capabilities
Advanced motion graphics tools
360° video editing support
Automatic optical flow-based retiming tool
Ability to import and export popular file formats
Integration with other applications in the Apple Ecosystem (e.g., iCloud, iMovie)
Compatibility with a wide range of audio/video hardware peripherals
Why We Picked It:
Final Cut Pro is a really powerful video software that can help you make short films, music videos, documentaries, etc. involving storyboarding and background replacement sequences.
It has a lot of advanced tools and comes at a higher price tag than many other options on this list, so it's probably better suited for professionals or serious video editors.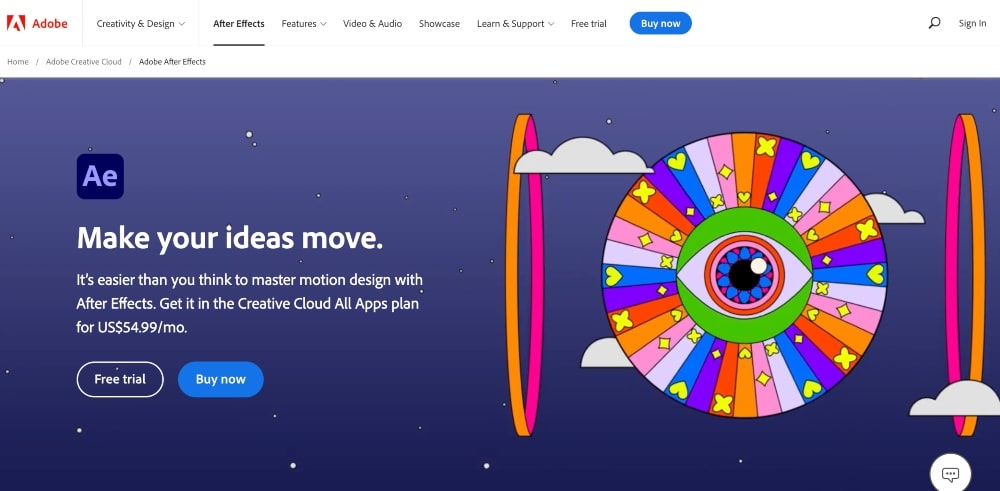 Best for: Video editors needing advanced video editing and working more with animation
Pricing: Starting at $20.99/month or $54.99 for all Adobe Creative Cloud Apps; You can also start with a free trial.
Adobe After Effects is a powerful and popular green screen software used for creating professional-looking visual effects for films, animation, and motion graphics.
It enables motion designers to easily bring their ideas to life with powerful animation tools, including keyframing, masking, 3D tracking, particle simulations, and more.
After Effects offers a wide array of features that include comprehensive timelines with keyframes and audio tracks to help users create complex animations quickly and easily.
With its integration into other Adobe products such as Photoshop & Illustrator CS6+, you can easily import vector artwork from Illustrator or masks from Photoshop directly into After Effects.
Key Features:
Professional Motion Graphics and Visual Effects
Precise 2D and 3D compositing tools
Robust animation tools for creating complex animations quickly
Support for a wide range of formats, from video to image sequences
Integrations with Adobe Photoshop, Illustrator, and Character Animator for content creation
Realistic motion blur effects
Includes visual FX such as lighting system, particles system, and 3D camera tracker
Ability to work in both linear color space or the more natural logarithmic gamma encoding
Export compositions directly to Premiere Pro CC with Adobe Dynamic Linking
Automatic Audio Sync which allows you to make changes without having to manually re-sync audio clips.
Why We Picked It:
Adobe software is one of the top leaders in professional video editing software and photo software and for good reason. Their software is some of the best while still being accessible — both in terms of the learning curve and the price.
Adobe After Effects is specifically designed for those that work more with animation, so this option is better if you fall into that category.

What is Green Screen Software?
Green screen software, also known as chroma key software, is a digital technology used to composite two or more layers of video together.
The chroma key process replaces the background of one layer with a new image or video.
This creates a realistic compositing effect that can be used to transport viewers to another location or create other special effects.
The chroma key process is based on chrominance and luminance principles in which chroma refers to color saturation and luminescence (brightness). The green screen software records images and videos using both chrominance and luminance values, then it isolates the chroma information from each frame while maintaining the luma measurements.
This allows the software to detect differences in chromaticity between adjacent pixels, allowing it to separate out the foreground from the background.
Once the software has isolated these two layers, it creates an alpha mask for each layer – an area where one portion of an image is either transparent or opaque.
The alpha mask works with the chroma information to create transparency in certain areas, such as when adding a sky backdrop behind someone standing at ground level.
When composited together, this creates a seamless transition between both layers, creating a convincing illusion for viewers watching on screen.
Chroma keying has become an invaluable tool for filmmakers, TV producers, and video editors — allowing them complete control over not just backgrounds, but also the entire setting (daytime vs. nighttime, environment, surroundings, etc.).
Summary of the Best Green Screen Software
When it comes to green screen software, choosing the right one can be a little daunting. That's why we tried to categorize each one based on skill level, types of videos you're trying to create, and budgets.
Obviously, you have a lot of options for green screen programs, and that's great. If you try one and it isn't for you, try out a different one.
Most of the options have fairly flexible pricing.
Here is a summary of our top picks from this list to help you decide:
We hope this list of the best green screen software helped you make a decision. If you have any questions, leave us a comment below!