We partner with bada$$ companies that offer products that help our readers achieve their goals! If you purchase through our partner links, we get paid for the referral at no additional cost to you! Read our disclosure for more info.
No-code platforms open the doors for entrepreneurs and other individuals and companies to be able to build businesses, applications, CRM systems, and so much more — without any coding skills.
They provide non-technical users with the ability to create user interfaces, databases, APIs, integrate third-party services, and more without having to write a single line of code.
This makes them an ideal solution for entrepreneurs looking to launch or expand their business online quickly and affordably.
From simple one-page sites designed as portfolios or landing pages to more complex interactive customer experiences featuring shopping carts and payment processing systems – it's all possible with just a few clicks of the mouse.
Look, time is money in business and no code platforms cut out all the B.S. and give you a quick way to bring your ideas to life without all that pesky learning of how to code!
In this post, we're breaking down the top no-code platforms based on popularity.
Then, we'll dive into the best ways to use them, and all the frequently asked questions that people want answers to.
If you want to skip ahead, here are our top picks for no-code development platforms:
Let's dive in!
What are the Best No-Code Platforms?
We scoured the web looking for the most popular no-code development platforms, and the top choices in order of popularity are listed below.
Best for: Entrepreneurs and small business owners building web applications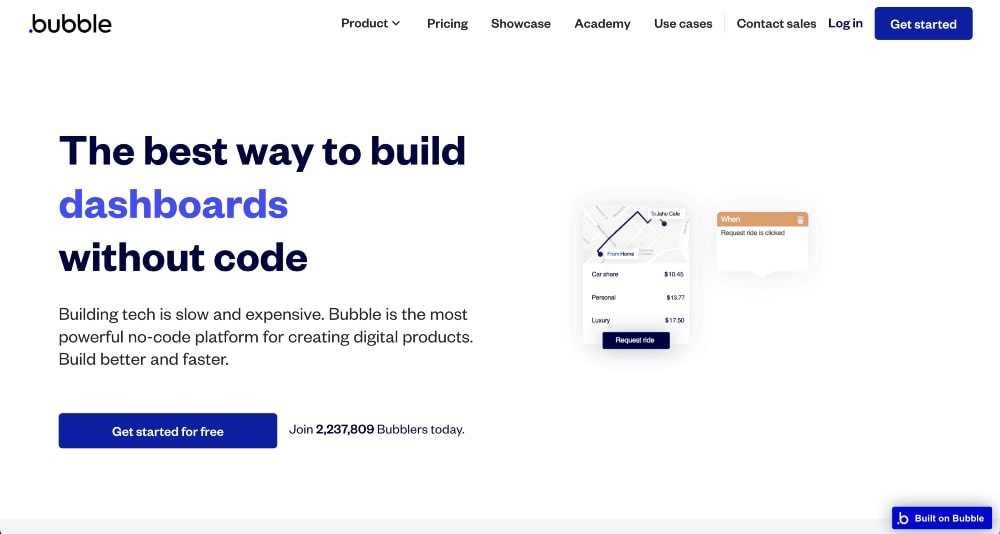 Bubble is a no-code software development platform that allows users to build apps.
Its focus is to empower non-technical users that want to build complex applications, including games and marketplaces.
The program offers a visual programming interface that lets users design and build web pages, connect data sources, and create workflows and logic using simple drag-and-drop capabilities.
Key Features:
A visual programming interface
Dynamic data management
Workflow automation
Customizable templates and UI elements
Integrated third-party services
Real-time collaboration
Built-in hosting and scalable infrastructure.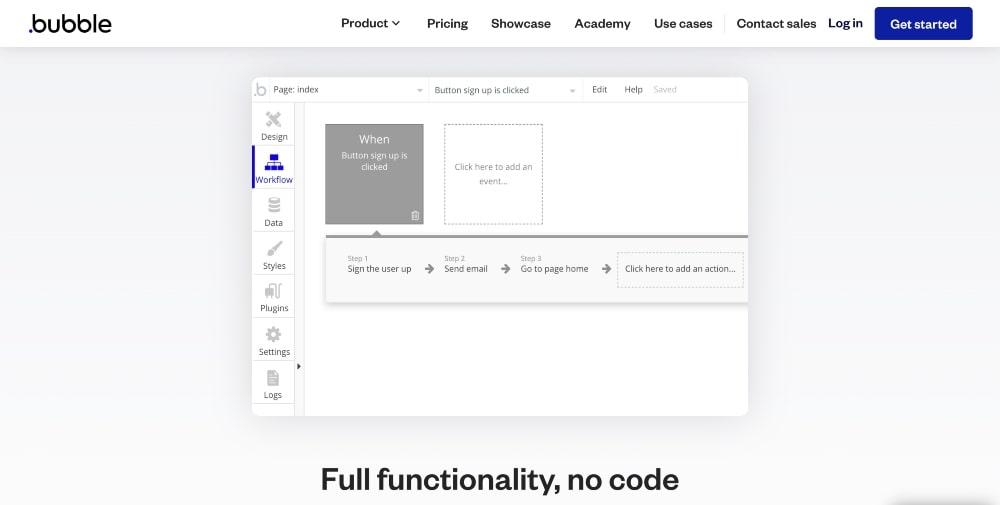 Pricing:
Bubble has five pricing tiers, including a free plan:
Starter: Free with limited features
Personal: Starts at $25/month
Professional: Starts at $115/month
Production: Starts at $475/month
Custom: Contact Support for pricing
Our Opinion:
Overall, Bubble is an efficient and accessible tool for anyone who wants to bring their web application ideas to life with ease.
It makes it easy to scale up your operation, but you will pay more for the more servers and team members you need.
Best for: Flexible and customizable database solution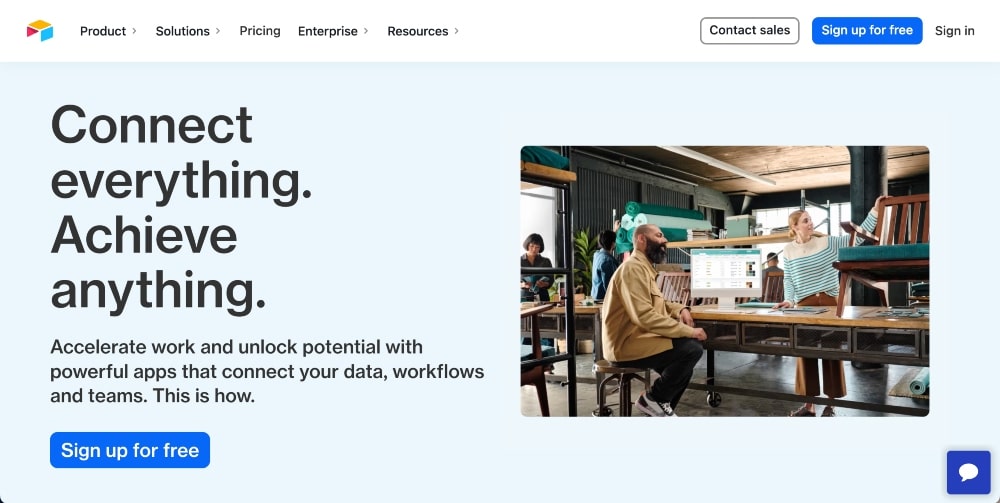 Airtable is a cloud-based platform that combines the functionality of a spreadsheet and a database, allowing users to build custom applications and workflows.
This no-code software is the best no-code platform for project managers working on small, medium, and large projects.
If you're running a business, you might enjoy the ability to create custom tables, fields, and relationships to match your specific data needs.
It's perfect for managing sponsors and affiliate partnerships.
Key Features:
User-friendly interface
Customizable fields
Advanced filtering and sorting
Collaboration tools
Automation tools for repetitive tasks (i.e. sending emails, updating records, etc…)
Integrations with other tools and services (i.e. Zapier, Slack, Google Sheets, etc…)
Flexible views for data (i.e. tables, calendars, galleries, and kanban boards)
Accessible from anywhere you can get online
Access control – control who can see what in your project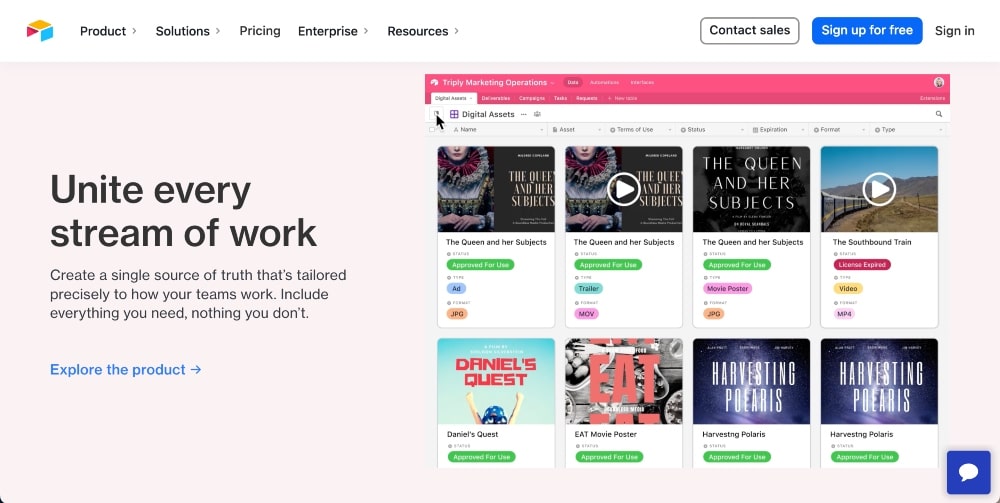 Pricing:
Pricing starts at free for individuals and small businesses. Additional plans include:
Plus (for small teams): $10 per seat, per month with annual billing
Pro (for large teams): $20 per seat, per month with annual billing
Our Opinion:
Because it was built for the non-tech user, and it's got such a user-friendly interface, to us it's a no-brainer for project management.
We love that it's flexible and scalable so if your needs increase, you can easily bring more people on board while still controlling who has access to what.
Best for: Building an app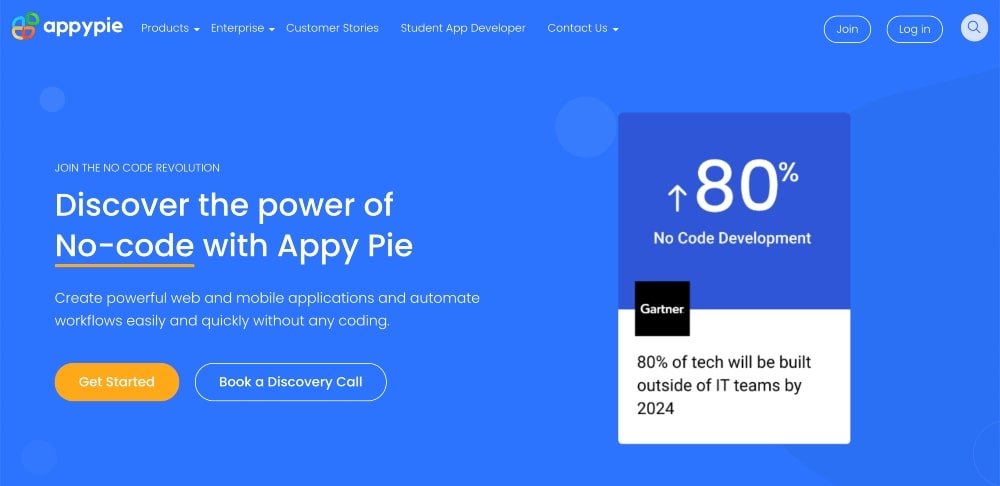 Appy Pie = App building that's as easy as pie.
At least that is the idea behind the software, and so it's not surprising that it shows up on nearly every app list for the best no-code app builder.
Wanna build an app for a mobile device? Perhaps a silly game that you can play on your phone? Or even an app that complements your blogging business?
Appy Pie is the drag-and-drop software many people use to build mobile apps.
Key Features:
Templates and themes for quick work
Customization options to avoid looking "cookie cutter"
Advanced features like push notifications, GPS, and eCommerce integrations
Easily integrates with third-party apps
Multi-platform compatibility
Stellar customer support 24/7
Pricing:
If you want to kick Appy Pie's tires, you can get started for free with a trial, but that is where the free ends because even their basic account starts at $16 per app per month – Yep!
You read that right. Every app you build will cost you a monthly fee.
There are also additional fees such as a $99 annual developer fee to be on the Apple App Store and the one-time fee of $25 that Google Play charges to be on Android devices.
Our Opinion:
While Appy Pie is considered the creme de la creme in the no-code app building space, the monthly fees can add up over time.
If you're hoping to create a free app for your audience, make sure to weigh the cost of the upkeep and fees that will stack up over time.
Best for: Businesses, organizations, and teams who need to automate their processes and create custom applications quickly and easily.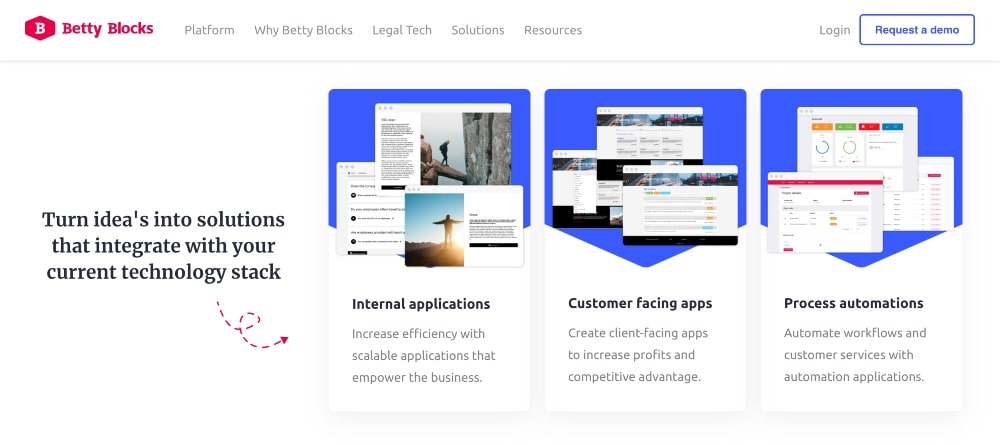 Betty Blocks allows users to build custom applications without writing any code.
It provides an intuitive drag-and-drop interface and a library of pre-built components to make app development faster and more accessible.
The platform was developed to help automate business processes, streamline workflows, and bring digital solutions to market faster.
Key Features:
Pre-built components library for fast app development
Ability to automate processes and streamline workflows
Easy integration with existing systems
Customizable UI and branding
Built-in security and privacy features
Mobile app development
Collaboration tools
Robust API for integration with other systems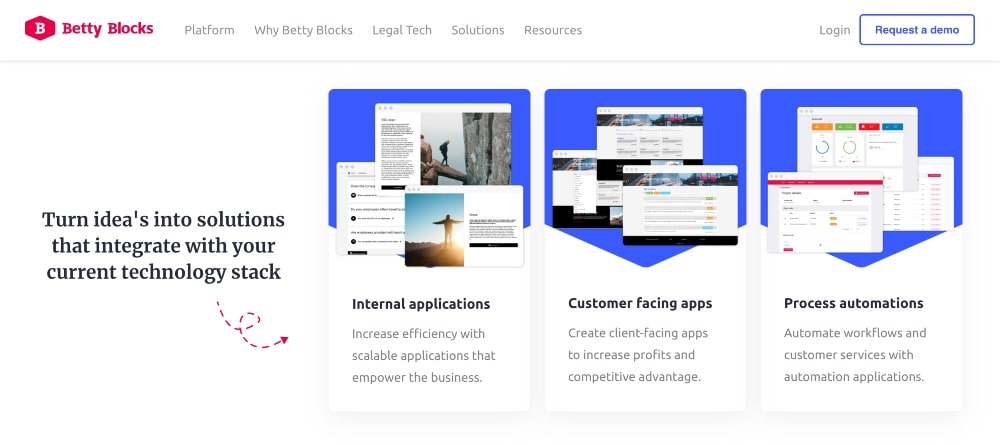 Pricing:
There is a free trial available, but there is no public pricing on the Betty Blocks website.
That said, SourceForge.net indicates it starts at $1500/month.
Our Opinion:
This software is more comprehensive and expensive than some of the others on this list.
That's why we think it's better suited for larger organizations and companies that can stomach the higher price tag.
Best for: Google suite users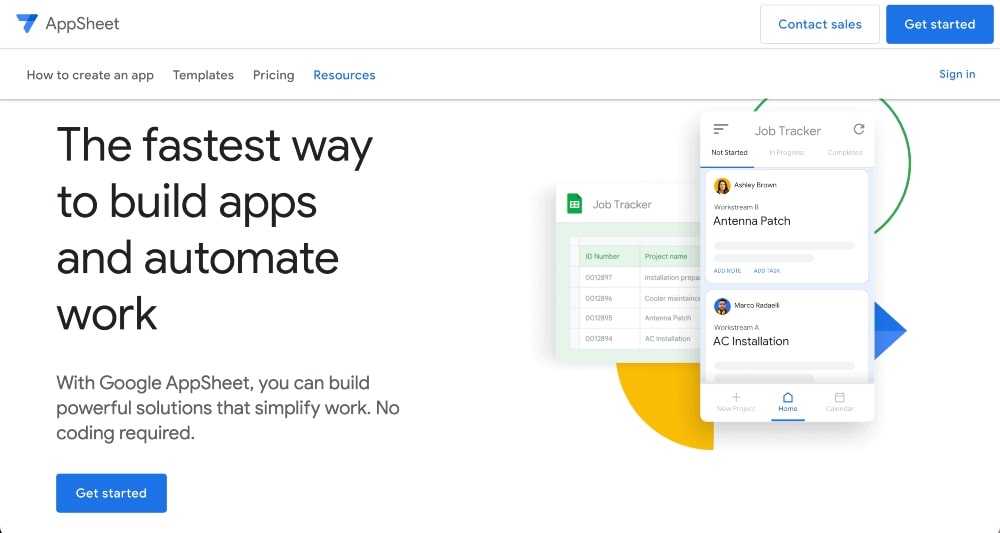 Backed and built by the Google development team, AppSheet enables users to create custom apps for their businesses.
It offers a user-friendly interface and pre-built templates to help users build apps quickly and easily.
With AppSheet, businesses can automate workflows, collect and manage data, and improve efficiency.
The platform is designed to work with a variety of data sources and integrates with other tools such as Google Sheets and SharePoint.
Key Features:
Pre-built templates for quick app creation
Ability to automate workflows and collect data
Integration with popular data sources such as Google Sheets and SharePoint
Built-in security
Mobile app development
Collaboration tools for team development and project management
Robust API for integration with other tools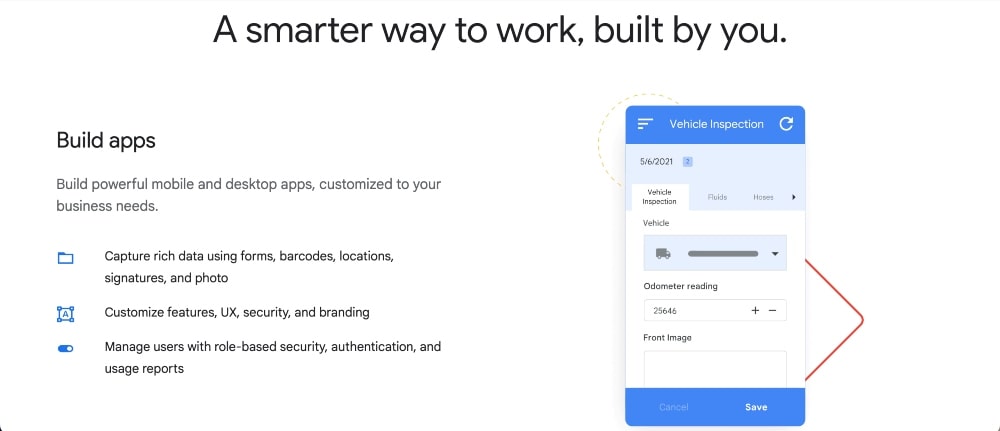 Pricing:
Price begins at $5 per user per month for the Starter plan which provides access to basic application and automation features
Advanced features are available in the Core plan at $10/user/month. For the most advanced options, however, you'll need to contact sales for a custom plan.
Our Opinion:
Google isn't going anywhere soon, and they and their fans certainly offer a plethora of tutorials for how to use pretty much all of their products. Appsheet is no exception.
For the price, if you're a Google fan already, this is perhaps the best no-code platform for building and testing apps.
Best for: Creating custom websites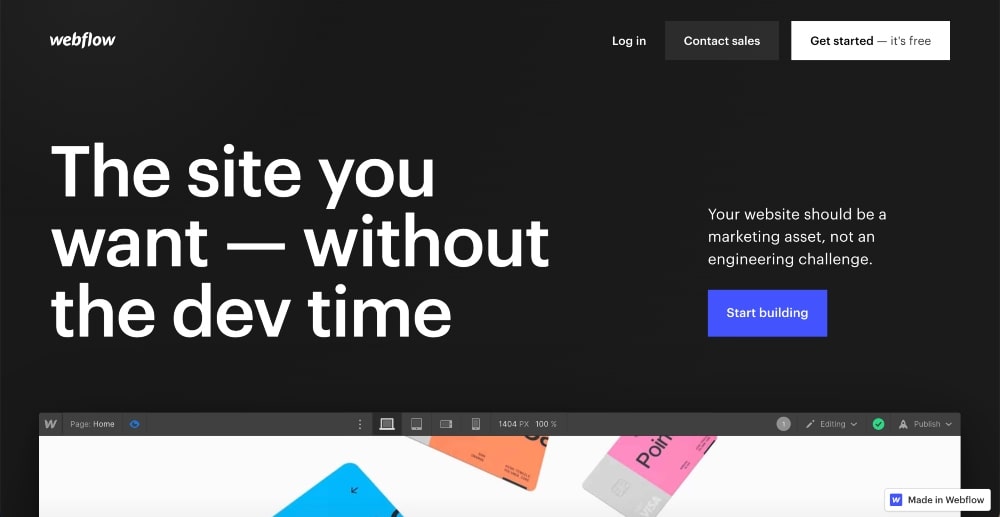 Webflow is a no-code development platform that enables users to design, build, and launch dynamic websites and web applications.
It offers a drag-and-drop interface, custom CSS, and JavaScript capabilities, and integrates with popular CMSs.
Webflow provides a visual way to build and manage websites, making it easier for businesses and individuals to bring their digital ideas to life.
Key Features:
Drag-and-drop functionality
Library of pre-built templates
Support for dynamic data and custom code
Integration with popular services such as Google Analytics, Hubspot, etc..
Robust hosting and security features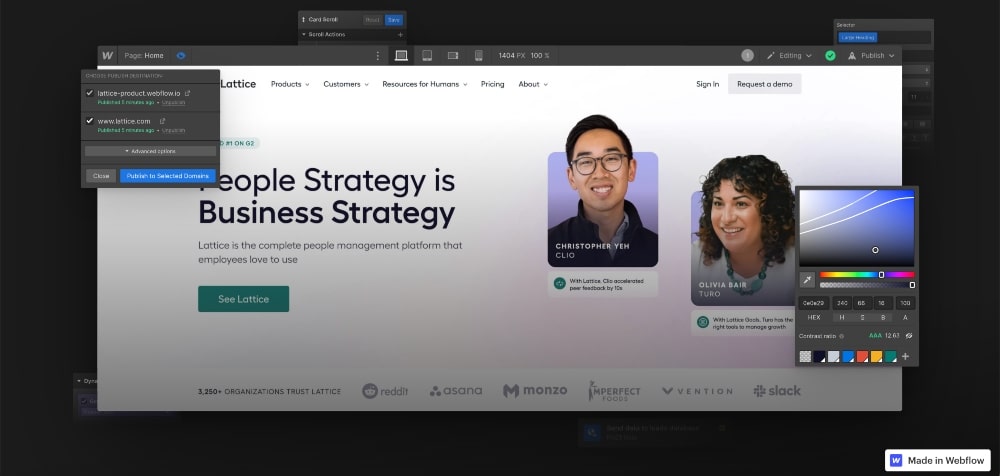 Pricing:
Webflow offers a freemium pricing model with starter accounts clocking in at $0/month.
Basic accounts are $14/month when billed annually, and even the highest publicly available subscription with all the bells and whistles starts at under $40/year.
Our Opinion:
We always recommend WordPress as the best way to build a website, but if you're going to choose a templated option instead, Webflow is not a bad choice.
Best for: Organizations and teams creating custom applications to meet their unique requirements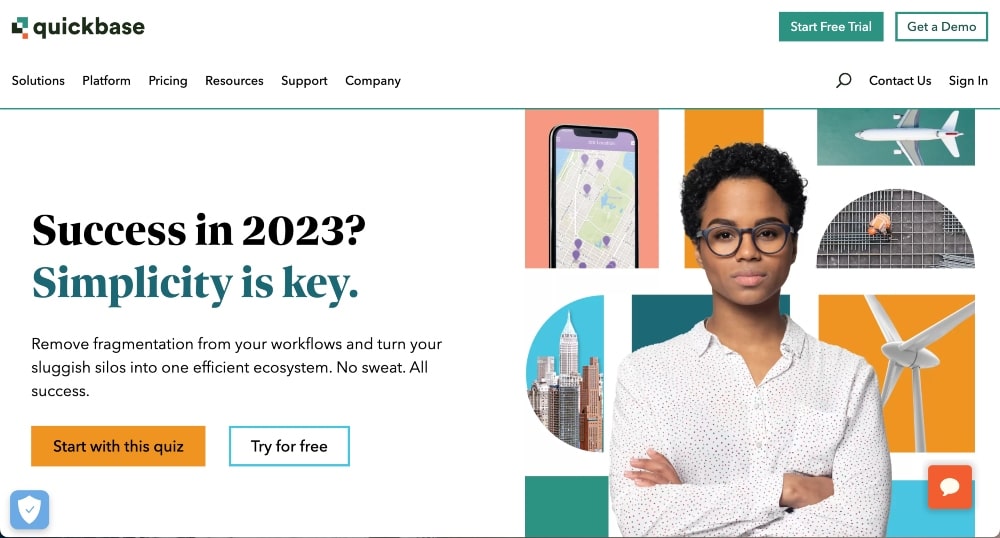 Quickbase is a cloud-based platform designed to help businesses and organizations automate processes, manage data, and streamline workflows without a team of coders and developers.
The platform provides an easy-to-use interface and a library of pre-built templates to help users create and customize applications quickly and easily.
Key Features:
Customizable platform
Real-time collaboration
Integrations with other programs
Mobile compatible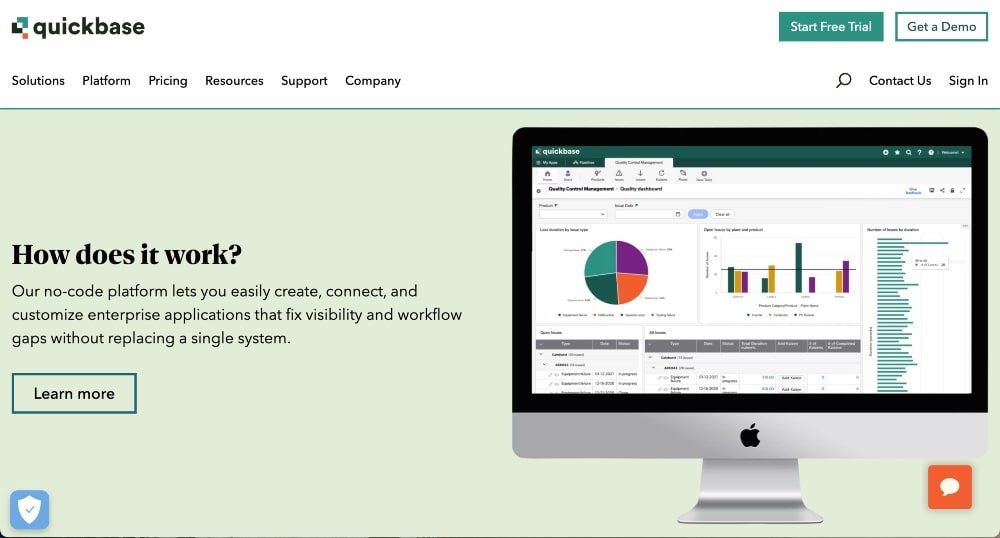 Pricing:
Team plans begin at $30 per user, per month, and require a minimum of 20 users to get started.
Business plans start at $50 per user, per month, with a minimum of 40 users.
Our Opinion:
For the price and user requirements, this is definitely not the no-code platform for small businesses and sole proprietors.
Best for: Automating repetitive tasks and streamlining workflows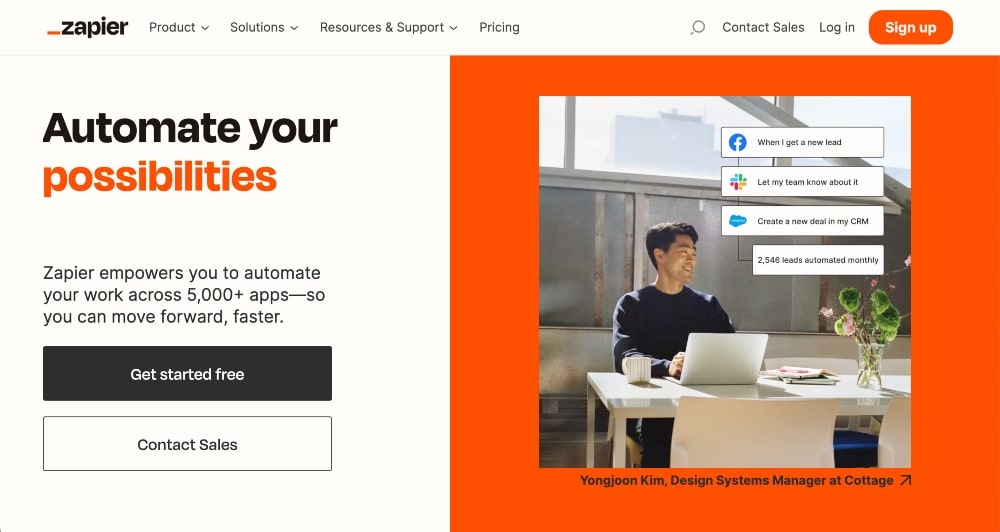 Zapier is one of the most well-known no-code platforms because of its ability to connect a wide range of popular web applications and services.
It comes with custom integrations with popular tools like Google Sheets, Slack, Mailchimp, and well…5,000 plus other apps.
Key Features:
Automate tasks with a few clicks
Schedule Zaps to run on autopilot
Use filters to automate workflows
Access data and collaborate in real-time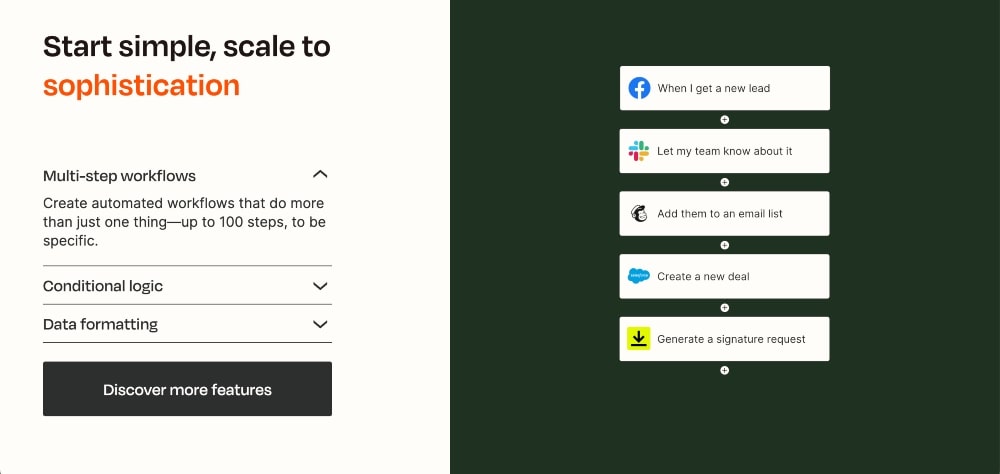 Pricing:
Its free plan allows users to do 100 tasks per month, but you're limited to what's known as single-step Zaps (one-trigger actions like add a contact to my database).
Multi-step Zaps with additional options start at $19.99 per month.
Large teams and corporations can pay up to $800 per month, but odds are unless you're running a huge organization you'll never need 100,000 tasks per month.
Our Opinion:
It's like IFTTT (if this, then that) on steroids.
For the free plan, it's a definite win, but most website and business owners shouldn't need more than the $20/month plan.
Best for: eCommerce websites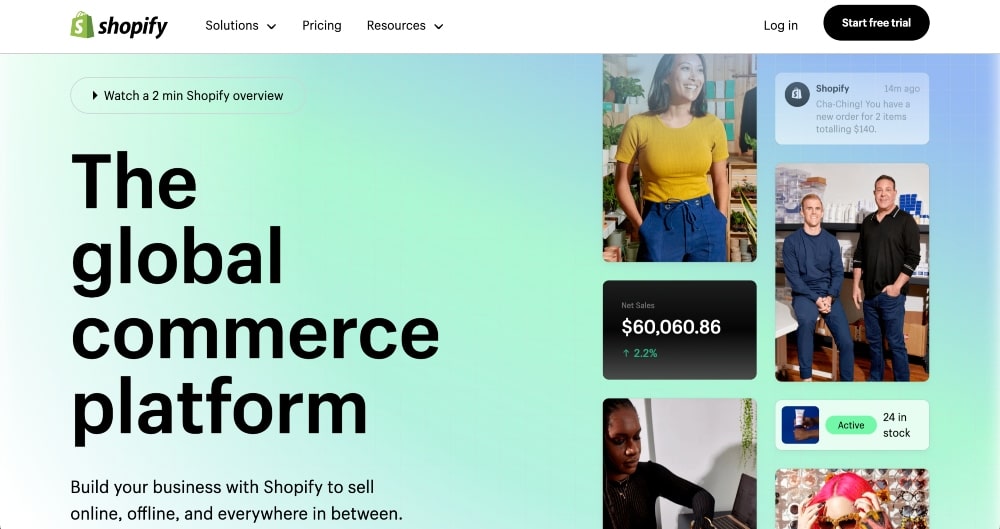 Shopify has pretty much become the go-to means of launching an eCommerce website quickly without needing to know how to code it.
It offers a range of features, including customizable storefronts, secure payment options, inventory management, and shipping integrations, making it easy for business owners to sell products and grow their shops online
Key Features:
Customizable online store templates
Secure payment options including credit cards, PayPal, etc…
Inventory management options
Shipping integrations with popular shipping carriers (i.e. UPS, FedEx, DHL…)
Marketing and SEO tools
Mobile commerce customization options
App store – access to a large marketplace of third-party apps
Customer management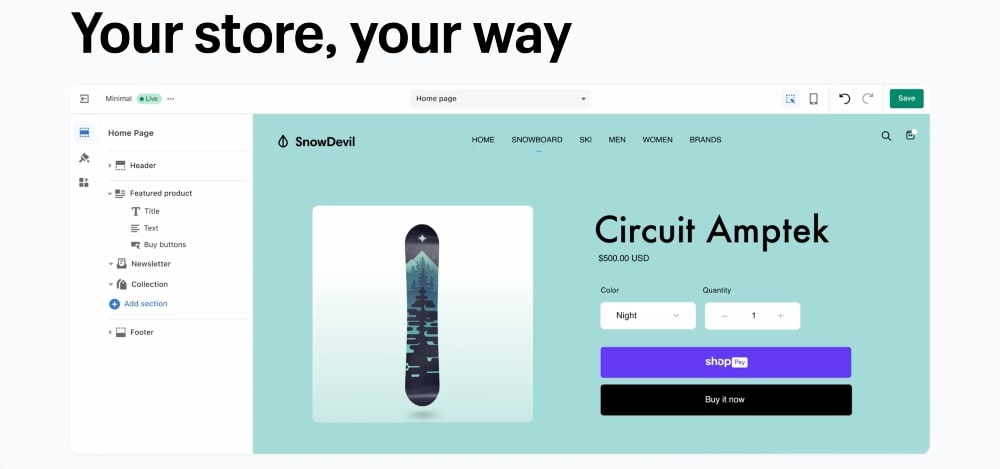 Pricing:
There is a free trial available
Pricing plans start at $29/month for basic users, $79/month for the "Shopify" plan, and $299/month for the Advanced plan with all features unlocked.
Our Opinion:
If your goal is strictly to sell digital or physical products with no muss or fuss, Shopify is a great option.
If however, you want to include a blog and all the bells and whistles of a more customizable website, we'd recommend WordPress with the WooCommerce plugin.
Best for: Project management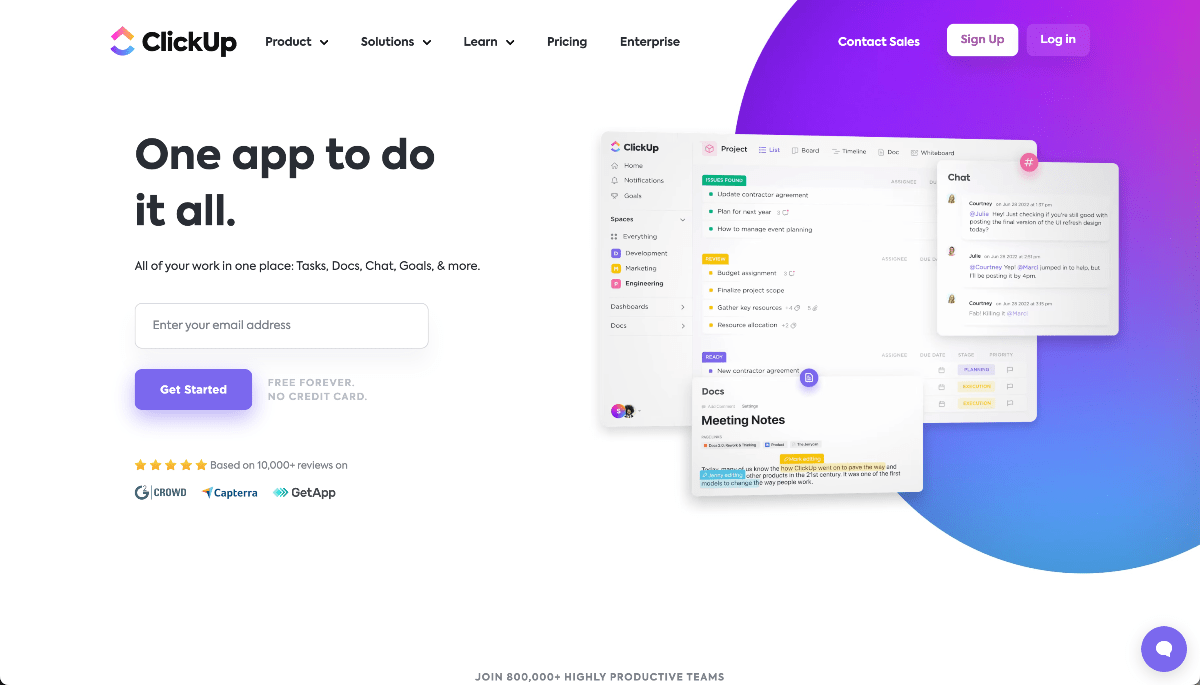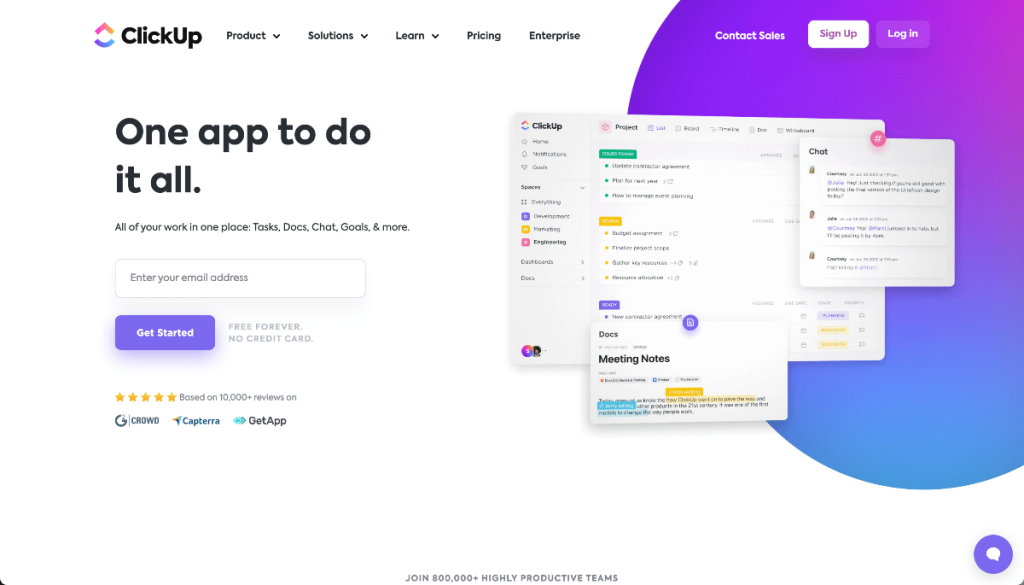 ClickUp no-code software provides project management, task management, and productivity tools for teams and individuals.
The platform offers a range of features including task management, calendars, goal tracking, time tracking, and collaboration tools to help teams organize their work and stay on top of their goals.
Key Features:
Task Management
Shared team calendars
Goal Tracking Sheets
Time Tracking Options
Collaboration Tools
Customization and Integration with tools like Google Drive, Slack, and Trello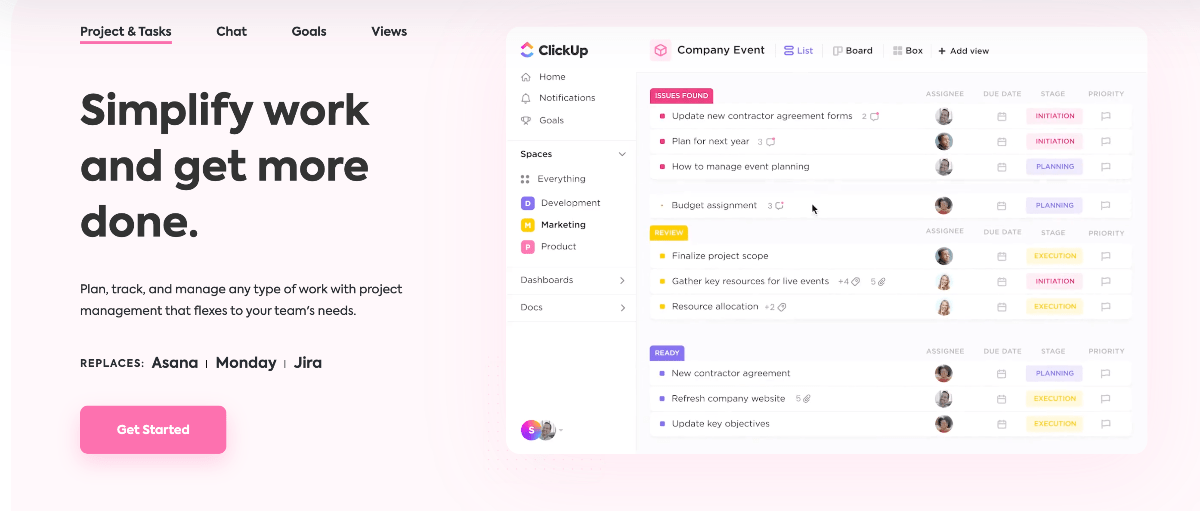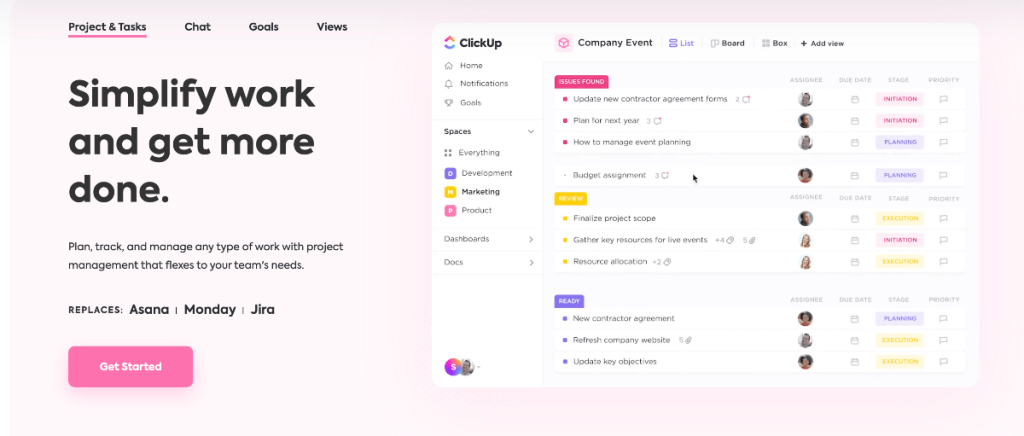 Pricing:
ClickUp also works on a freemium pricing model with the free forever being the easiest way to kick its proverbial tires.
From there, pricing starts at $5 per user, per month and goes up to $19 per user, per month with additional features unlocking at every tier.
Our Opinion:
It's a great option if your main goal is to track productivity and keep an eye on things like editorial calendars and the progress of projects.
It does have a bit of a learning curve to truly understand all of its bells and whistles though.
Best for: Email marketing solution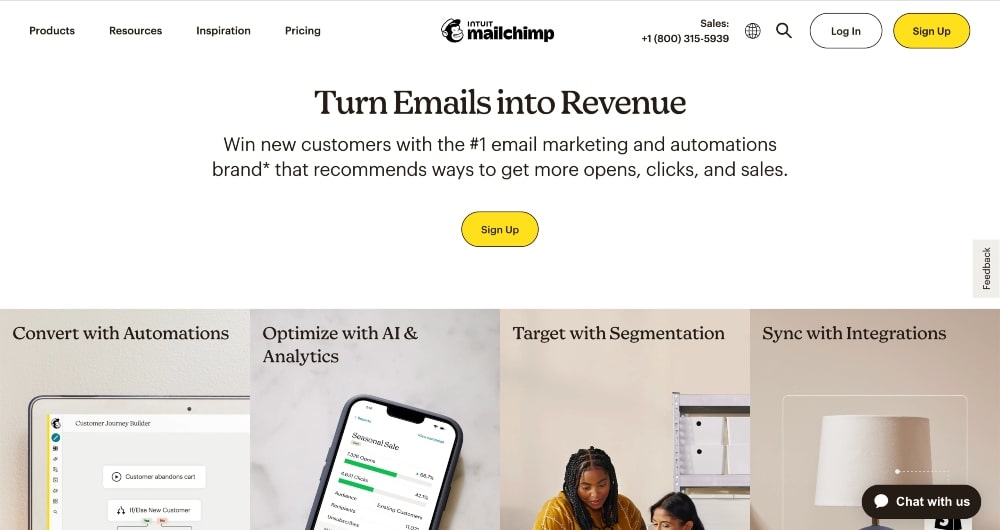 MailChimp provides email marketing, automation, and advertising solutions for businesses and individuals.
With it, you can create and send professional-looking email campaigns, automate email sequences, and create targeted advertisements on social media and other websites.
Key Features:
Email marketing – easily send emails to your subscribers
Automated email sequences
Advertising options to create custom ads for your audience
Landing page templates
Reporting and analytics
Integrations with other marketing and eCommerce tools, such as Shopify, Google Analytics, etc.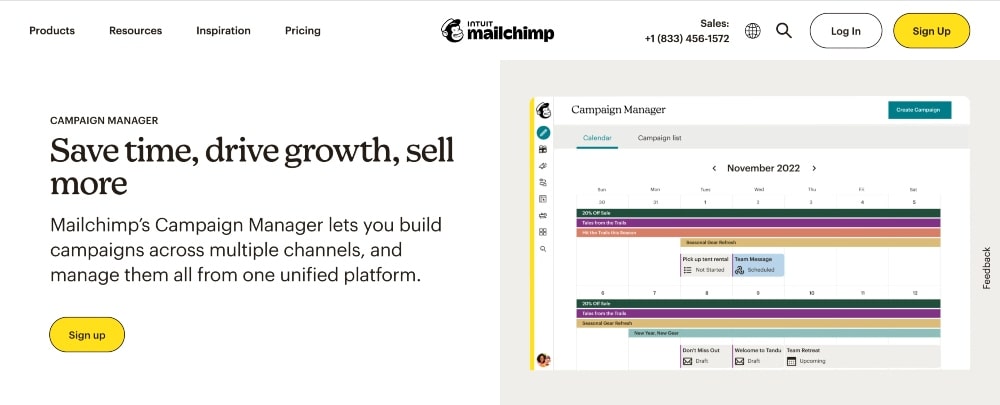 Pricing:
You can create a free account for up to 1,000 email sent per month
Starting at $13/month, the Essentials plan unlocks 5,000 email sends per month, and pricing increases from there based on your number of contacts.
Our Opinion:
If you're just getting started with an email list it's a simple and effective email solution to work with. However, for the cost, ConvertKit is going to give you a lot more options and flexibility.
Our guess is that Mailchimp made more lists for popularity because it's older and more well-known.
FAQs About No-Code Platforms
Here are a few frequently asked questions that we see about most no-code platforms.
What is No-Code Software?
No-code platforms can be used to create a variety of web applications and websites without needing any coding or programming skills.
Think of a Lego set. Most people wouldn't randomly build something with them.
They instead want a set of instructions telling them how to plug pieces together to get the thing they want.
No-code software is like that. You want to build an app, website, or digital product, and no-code platforms help you do it without knowing how to do it.
You provide the content and it helps you create stuff.
No-code platforms can be a great solution for many people and businesses, depending on their specific needs and requirements.
Some of the benefits of using no-code platforms include faster development time, lower cost, accessibility for those lacking tech skills, and flexibility to create custom solutions that meet their specific needs.
What Are the Disadvantages to Using a No-Code Platform?
There are oftentimes limitations when it comes to customization.
You also may struggle with scalability, performance, and large costs depending on how much customization you need.
Many platforms, though they don't require coding knowledge, do have a steep learning curve.
They also reinforce dependence on a single vendor which can make choosing alternative software a big hassle.
Which Businesses Benefit the Most From Using a No-Code Platform?
Small businesses
Startups
Solopreneurs, and
Non-technical wannabe app developers
Think of no-code solutions as an ace in the hole for bloggers and website owners that want to speed up their production and time to monetization.
With the help of no-code software, you can set up faster workflows, build apps, save time on many of the tasks that blogging requires, and more.
Each piece of software you use is a lot like hiring an assistant – but at a fraction of what you would pay a human to do those same things. And, they would likely use software to do it in the first place!
Bottom line – using software to automate and scale helps you grow and get paid faster.
Can No-Code Apps Make Money?
Yes, no-code apps can make money. There are several ways to monetize no-code apps, including using:
Subscription-based pricing
Freemium models (like many of the platforms on this list)
Advertising
eCommerce integrations, and more
Summary of the Best No Code Platforms
Using no-code solutions isn't for everyone and it's up to you to decide whether it's right for you and your business.
Our opinion is that you should test out different options and try anything that offers a free trial and/or free subscription.
Here is a summary of our top picks for the no-code development platforms:
As you test, you might find that some of the tools, even ones on this list just don't work for you.
Then again, you could find that we just gave you a treasure map to level up your online business!