We partner with bada$$ companies that offer products that help our readers achieve their goals! If you purchase through our partner links, we get paid for the referral at no additional cost to you! Read our disclosure for more info.
Scheduling software is a useful tool for everyone from individual creators and bloggers to businesses and organizations of all sizes to help to streamline the scheduling process when it comes to meetings, events, and all types of bookings.
It provides an easy way to create, update, and manage staff schedules from one centralized platform.
But maybe you don't need all of that. Even if you're just a team of 1, these tools can still save you a ton of time (and therefore money).
They help to eliminate mistakes associated with manual scheduling processes, minimize wasted hours due to understaffing or overstaffing, and maximize productivity.
It also allows for better communication across departments as everyone can easily access information related to shifts, employee availability, and more.
The best part is, there are tons of options for the best scheduling software, including free plans. Let's dive in!
What is the Best Scheduling Software?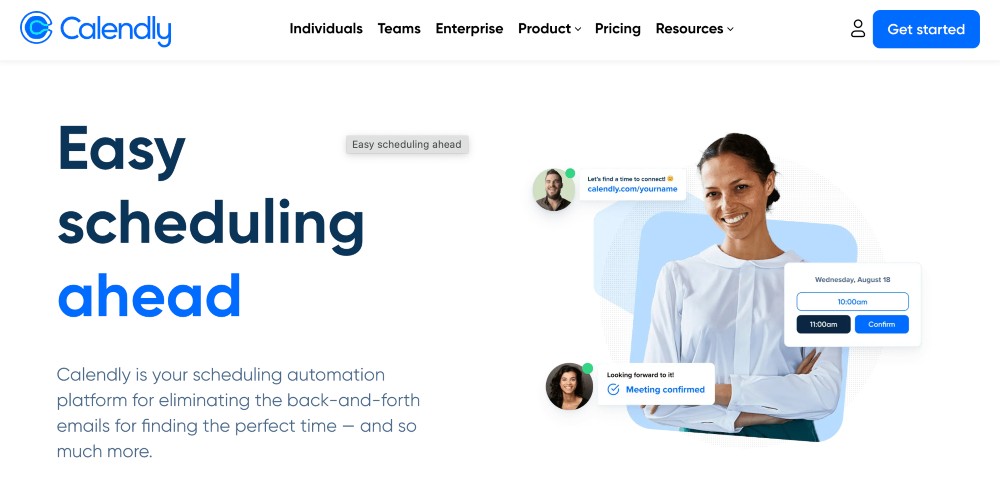 Best for: Scheduling meetings with clients
Pricing: Free – $12/month
Calendly is one of the best appointment-scheduling software tools available for businesses and individuals alike and the most well-known software on this list. It makes it easy to schedule meetings, appointments, and other events with colleagues, clients, and partners.
You can create custom rules to control the availability of your schedule and when and how often people are allowed to schedule meetings with you.
This includes setting different time slots or duration limits on specific days of the week, as well as setting buffer times between meetings to ensure there is enough time between appointments.
The real-time notifications help you stay informed when changes are made in your appointments or new bookings are created or even send reminders to event hosts and participants prior to scheduled events.
With Calendly, you can also customize your calendar pages with personalized branding elements such as logos and colors and even upload documents before your meetings.
Calendly also comes with various third-party integrations such as Outlook, Google Calendar, Slack, Salesforce, Zapier, and more.
This powerful integrative capability allows users to work seamlessly across multiple platforms without having to manually enter data multiple times into different systems.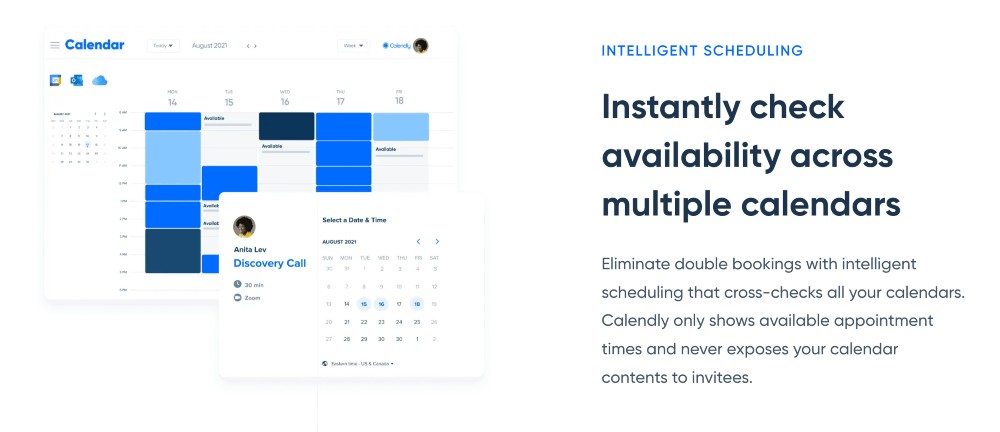 Key Features:
Automated scheduling and reminders
Customizable event types, invitees, and notifications
Integration with Google Calendar, Outlook Calendar & Office 365
QuickInvite URL to send an instantly bookable link
Customize meetings times by duration or availability of users
Ability to sync with Slack for quick access to features from any channel
Capability to customize the look and feel of your Calendly page
Ability to add custom questions for each meeting type
Option of setting up team members with their own availability
Our Opinion:
If your primary reason for getting a scheduling tool is to schedule meetings with clients, partners, or friends, Calendly is your best bet. It's a no-brainer when you can start with their free plan.
Their paid plans are also very affordable and it's a very simple-to-use software.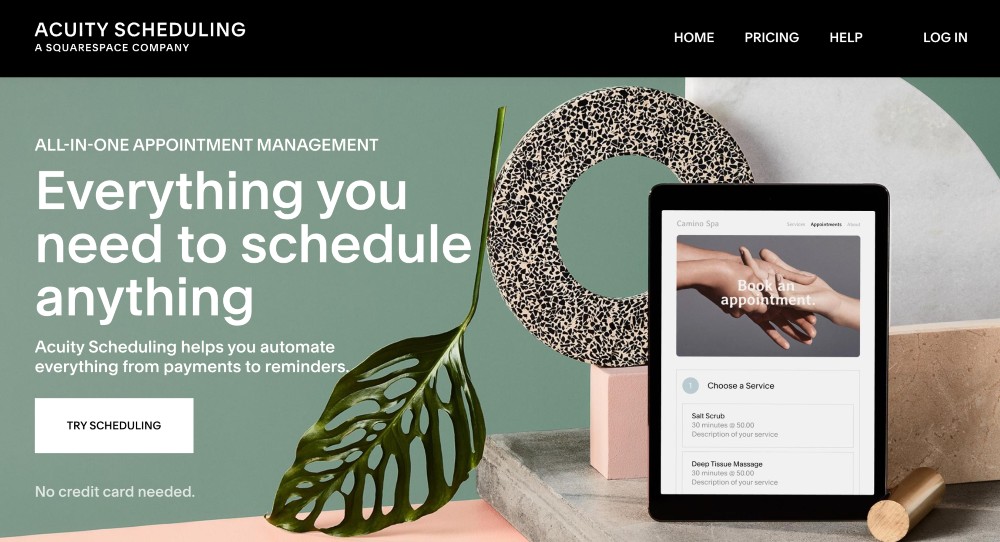 Best for: Integration with existing personal/other calendars
Pricing: Starting at $14 – $45/month
With Acuity Scheduling, customers can quickly and easily book appointments online with just a few clicks.
The software allows you to customize your scheduling page with your preferred layout and design, as well as add features such as reminders and payment processing options for customers.
It also includes features such as custom forms, automated emails and text message notifications, waiting list management, and more.
From a business owner's perspective, Acuity Scheduling simplifies the process of managing appointments by allowing you to set up availability times for services or events in minutes.
You can also customize how long appointments should last, set up break times between bookings, and even calendar sync with third-party accounts like Google or Outlook calendars.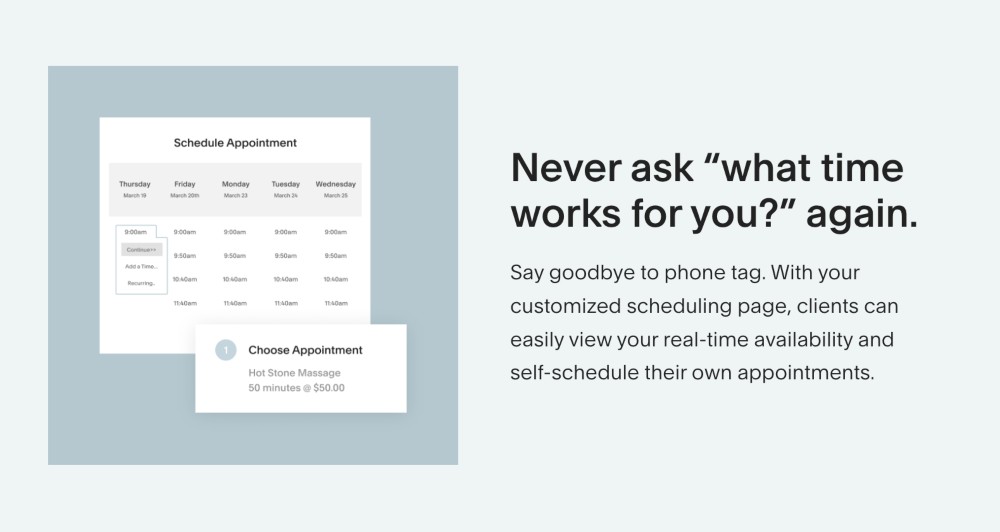 You can also accept payments online with various payment methods such as PayPal or Stripe while still keeping customer data secure.
Acuity scheduling also supports SMS messaging, so users can opt-in to receive text reminders about upcoming appointments.
Key Features:
Automated appointment reminders
Online payment processing
Easy calendar synchronization with Google, Outlook, and Apple
Customizable booking forms to collect client info
Ability to create custom packages and pricing structures
Client self-scheduling feature for existing customers
Time zone detection and best time suggestion tools
Scheduling analytics for better decisions making
Detailed reporting on customer trends and attendance records
Our Opinion:
If you're a heavy user of your own personal or other calendars on Google, Outlook, or Apple, Acuity Scheduling is a good option for you because of its integration and ability to schedule around your existing appointments.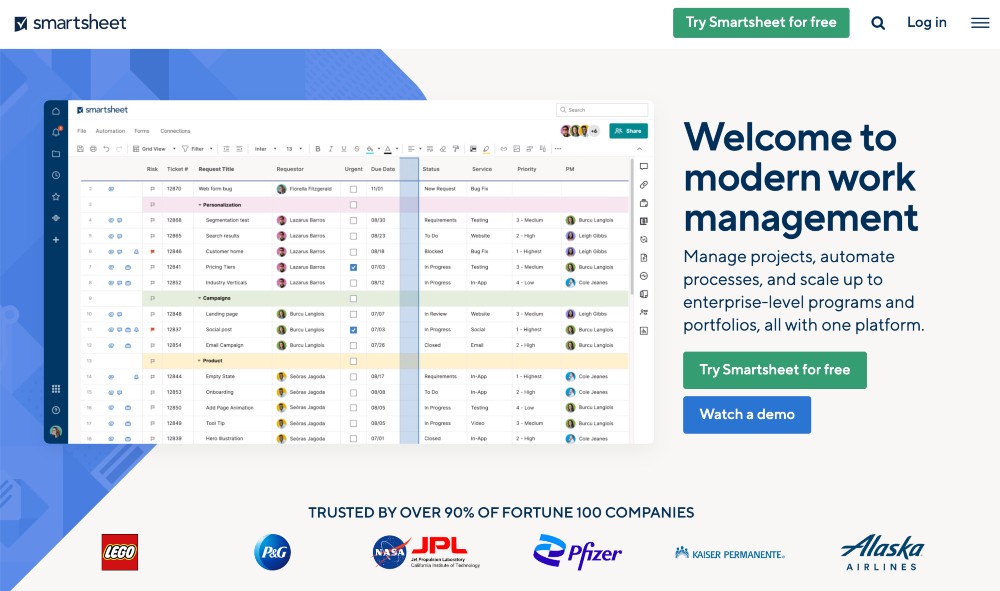 Best for: Teams who need to plan, collaborate, and track their project progress
Pricing: Starting at $7 – $25/month, including a 30-day free trial
SmartSheet is a comprehensive scheduling software that offers features for planning, collaborating, and tracking projects.
It is a versatile project management platform used by teams from a variety of industries.
SmartSheet makes it easy to visualize complex projects as well as individual tasks, allowing you to easily stay on top of your commitments.
The platform provides multiple views of data, including grids, Gantt charts, and calendars to best match your workflow.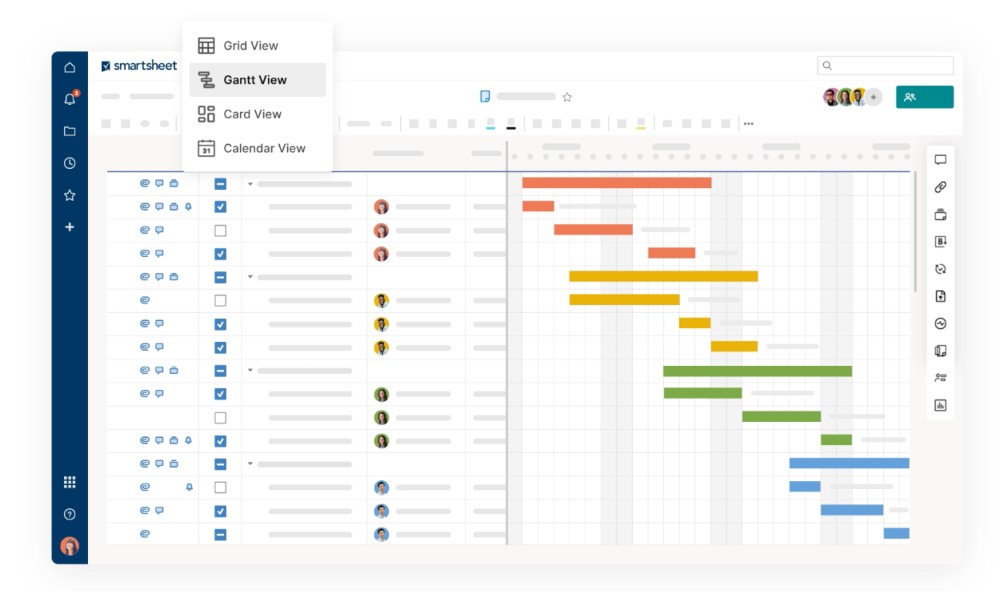 This scheduling tool is designed to accommodate small teams or large enterprises with powerful customization capabilities. Its interactive dashboard and versatile calendar allow you to quickly access projects and tasks without tedious searching.
SmartSheet also allows users to collaborate with comments, attachments, tagging, and notifications so everyone is always up to date with the latest changes.
Notifications alert team members when action items are due or tasks have been completed which ensures accountability while also streamlining communication between team members.
It also supports a wide variety of third-party apps and even has its own app to stay connected on the go.
Key Features:
Easily share information for collaboration between team members and stakeholders.
Monitor multiple projects from a single dashboard view with task progress bars.
Use pre-made templates to save time while setting up new projects or initiatives.
Edit, collaborate, and manage tasks remotely on iOS or Android devices anytime, anywhere.
Generate reports that help you track project performance over time and measure ROI on investments made into resources or technology used during a project timeline.
Our Opinion:
SmartSheet is best suited for teams who also need help with project management because this scheduling software doubles as project management software.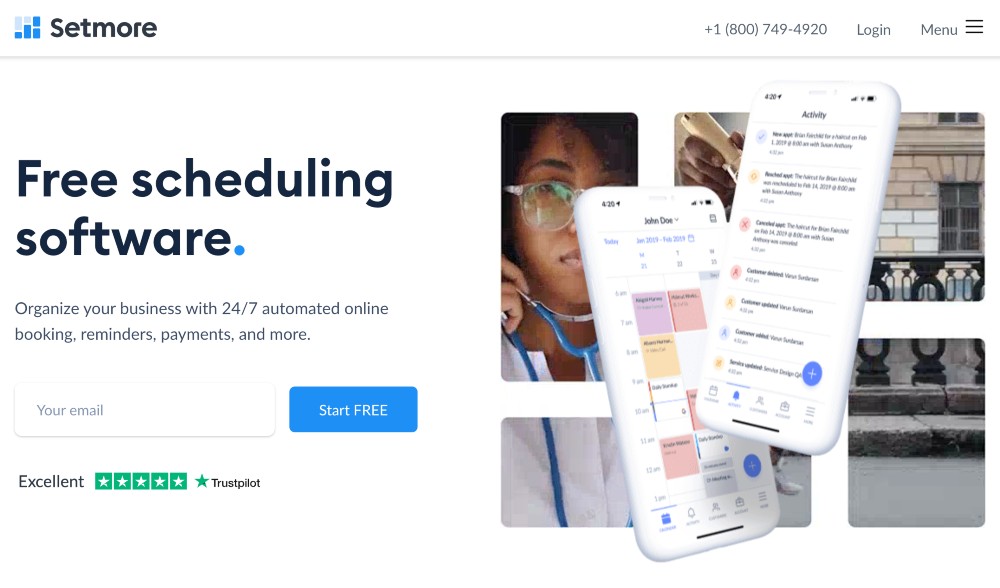 Best for: Appointment scheduling on a budget
Pricing: Free plan – $5/user/month
Setmore is a powerful online scheduling tool that offers an intuitive user interface, automated reminders, and features for easy management of client data, resources, and availability.
The app has a simple drag-and-drop interface, allowing you to adjust the dates, times, events, locations, and services quickly and easily.
You can also personalize your appointment booking process by setting event capacity limits or prerequisites for your customers to meet before booking an appointment.
Like many of the other best scheduling tools on this list, it also has automatic notifications, confirmations, and email reminders for clients.
Setmore also has analytics to give you insights into peak usage times or repeat customer preferences so that you can optimize your schedules accordingly.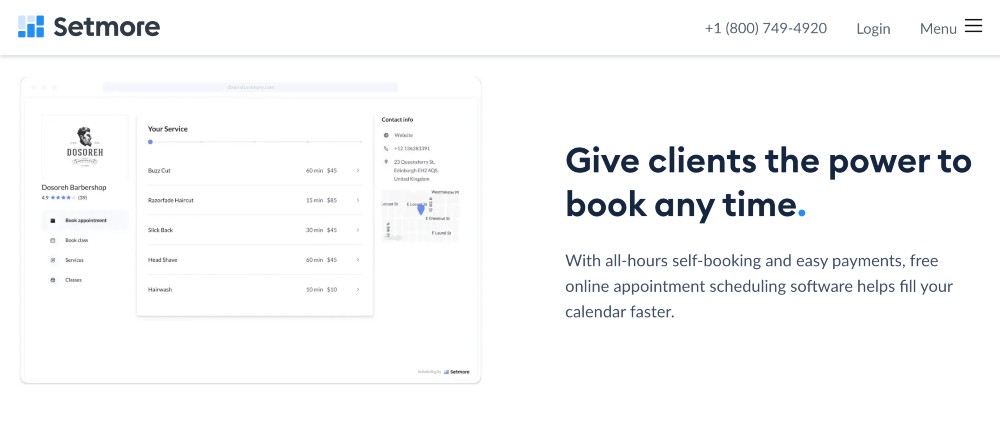 It also integrates with many third-party apps such as Google Calendar, Outlook Calendar, Zoom for video conferencing sessions, and more.
The software also includes security measures such as data encryption and two-factor authentication which help protect customers' private information during the booking process.
Key Features:
Automate customer communication via text, email, and voice notes
Integrates with other software such as Google Calendar and Outlook
Generate custom reports on staff performance and customer feedback
Set up multiple services with different rates on a single booking page
Supports group sessions or classes of any size
Customizable payment gateways for secure payments
Offers discounts through promotional codes or coupon codes
Our Opinion:
Setmore offers a very wide variety of features that are also offered in their free plan. If you are an individual or small business with a low budget, this is a great free tool (that also has affordable team plans if you need the upgrade).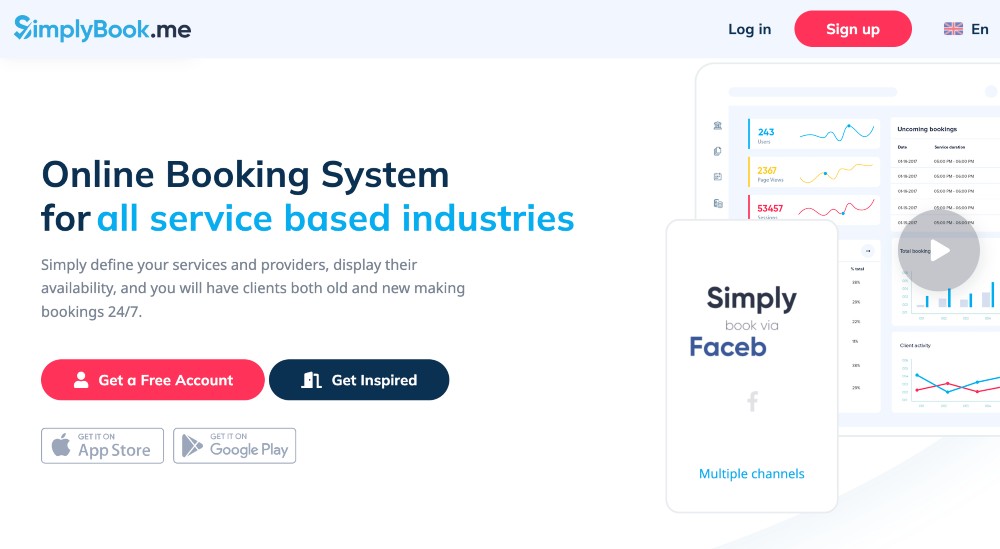 Best for: Individuals or businesses with regular clients who like customizability
Pricing: Free plan – $82.50/month, also includes a 14-day free trial
SimplyBook is one of the best free scheduling tools available that offers a simple but powerful all-in-one solution for rescheduling, notifications, automatic reminders, customer management, payment processing, and much more.
SimplyBook allows you to create a profile with your contact information, add customers to your list and customize the booking process with features such as two-way calendars integration, appointment templates, and much more.
This scheduling tool also includes useful features like invoicing capabilities, client profiles, multi-language support, custom branding options through themes and logos, and more.
Plus it can be integrated into other systems such as accounting software programs or social media sites.
SimplyBook supports multiple payment gateways including Stripe and PayPal so you can accept payments online safely and securely with your appointment scheduling software.

Key Features:
Automatically sends reminders and confirmations
Accepts payments for bookings online
Flexible pricing structures and invoicing
Customizable booking forms and client profiles
Advanced reporting and data analysis tools
Offers waitlist management feature
Multi-language support
Seamless integration with social media platforms, Google Calendar, Outlook, and more
Our Opinion:
One standout feature of this software is that it allows for customization on the client side. Your clients and customers can set up their own customer profiles and even have their own app (paid plans).
If this is a need in your business, SimplyBook is a great option. Otherwise, Setmore is a better budget option.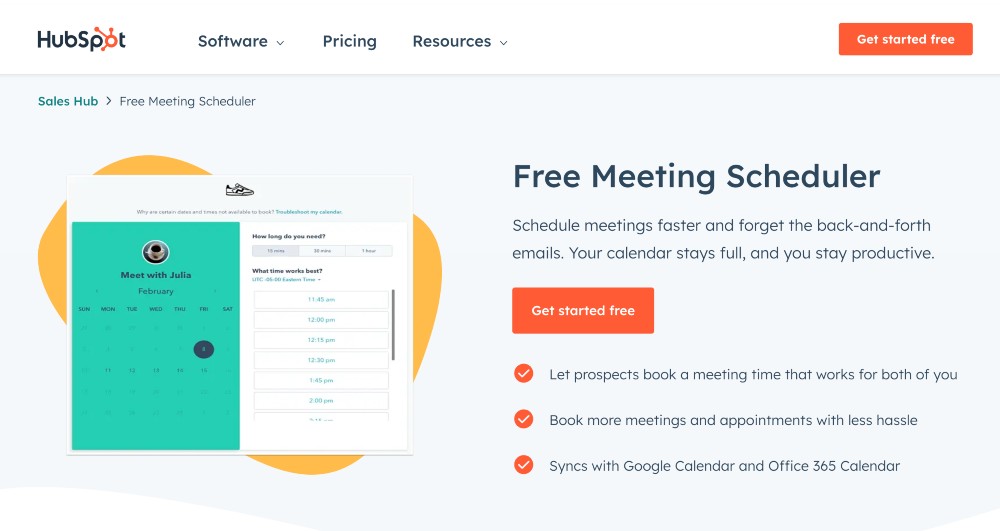 Best for: Businesses already using HubSpot or needing a CRM system
Pricing: Free plan – $45/month
With HubSpot Meetings, you can easily find a time that works best for everyone involved in the meeting.
You can also invite new guests to join in the conversation without needing to reschedule or restart the process all over again.
You can add important details about each meeting such as agenda items, notes, and other background materials before you even start the call.
HubSpot Meetings also offers a range of integrations with third-party services like Zoom, Microsoft Teams, Google Calendar, Salesforce CRM, Slack, Trello, and more.
The best part about HubSpot Meetings is that it's built on an open-source platform, which means it's highly customizable.

Key Features:
Easily reschedule and cancel meetings from anywhere
Quickly find available times for everyone in the meeting
Stay organized with automated follow-up emails
Seamlessly integrate with calendar apps like Google, Outlook, and Apple Calendar
Customize styling options to match your brand
Add personal touches to meeting invites
Get reminders before each meeting starts
Our Opinion:
Hubspot Meetings has a free plan, which automatically bumps it up in our book. Any software with a free plan provides you with some flexibility.
The Meeting Scheduler for HubSpot has a good free plan but if you need anything more than the free plan offers, the upgrade is quite expensive because it gives you access to HubSpot sales with a lot more features.
This is a great option if you're already using HubSpot or if you think you'll need a good CRM system at some point. Otherwise, you might want to use one of the other free scheduling tools on this list.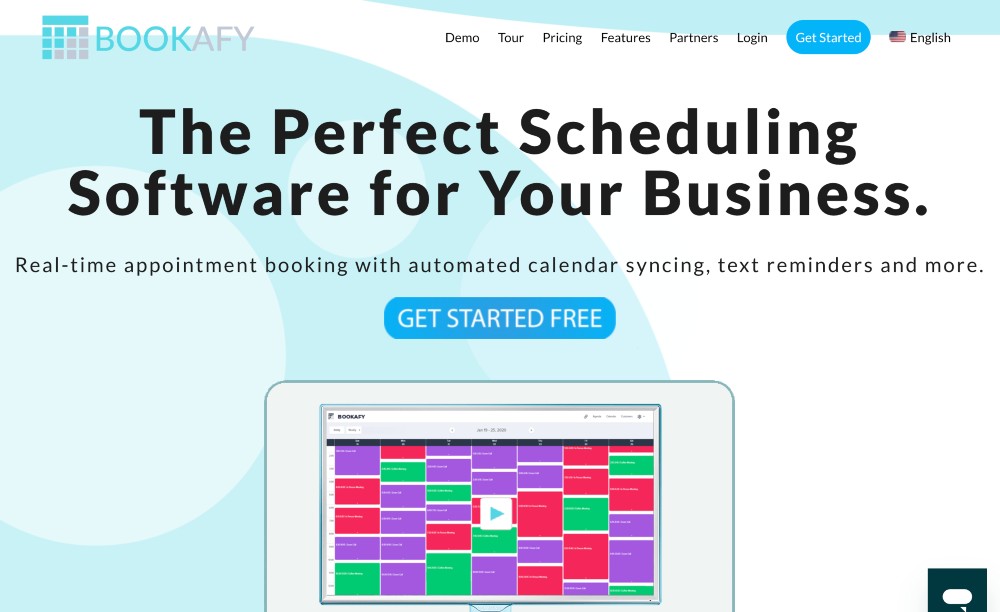 Best for: Free scheduling software
Pricing: Free plan – $13/user/month with a 7-day free trial
Bookafy is one of the best scheduling tools for businesses, professionals and organizations. It offers a variety of features to help streamline and simplify the process of appointment booking and managing.
With Bookafy, you can customize your booking page to match your brand and access a comprehensive dashboard with analytics and performance tracking.
Bookafy's calendar feature allows you to access the calendar from any device, giving you total control over your schedule no matter where you are.
You can also choose different colors for different types of events or appointments, allowing you to instantly recognize which type of appointment is coming up next or where your current focus should be on the calendar view.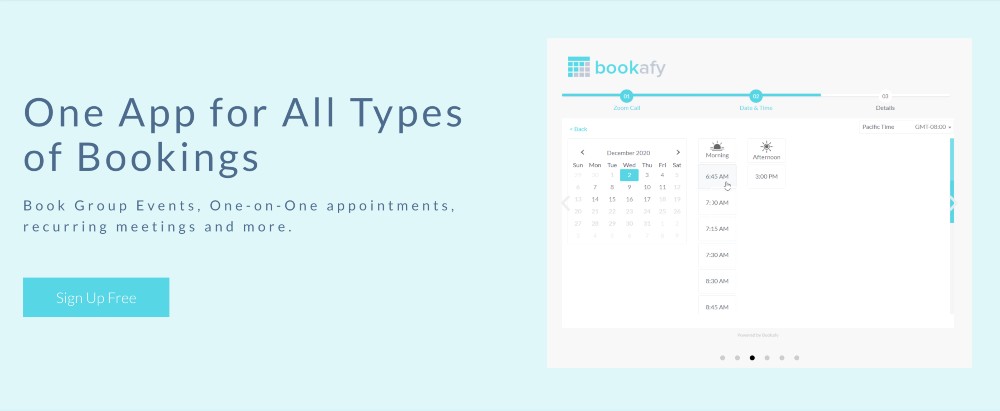 Bookafy also offers great customer support options including live chat, email support, and even phone assistance when needed.
Key Features:
Simplified scheduling with automated email and text reminders
Customizable booking options to best fit your business
Automated notifications of booked, rescheduled, and canceled appointments
Create a customer database for better tracking of past customers
Easy integration with other popular calendar tools
Built-in analytics to measure your business's growth and best scheduling times
Secure payment processing with leading payment providers
Real-time customer support to address any scheduling questions and concerns
Our Opinion:
Bookafy is a great option if you need a free scheduling tool. The free plan allows for unlimited meetings, a custom page, and even limits around how and when clients can schedule appointments.
If you need more features, the paid plans are also quite affordable.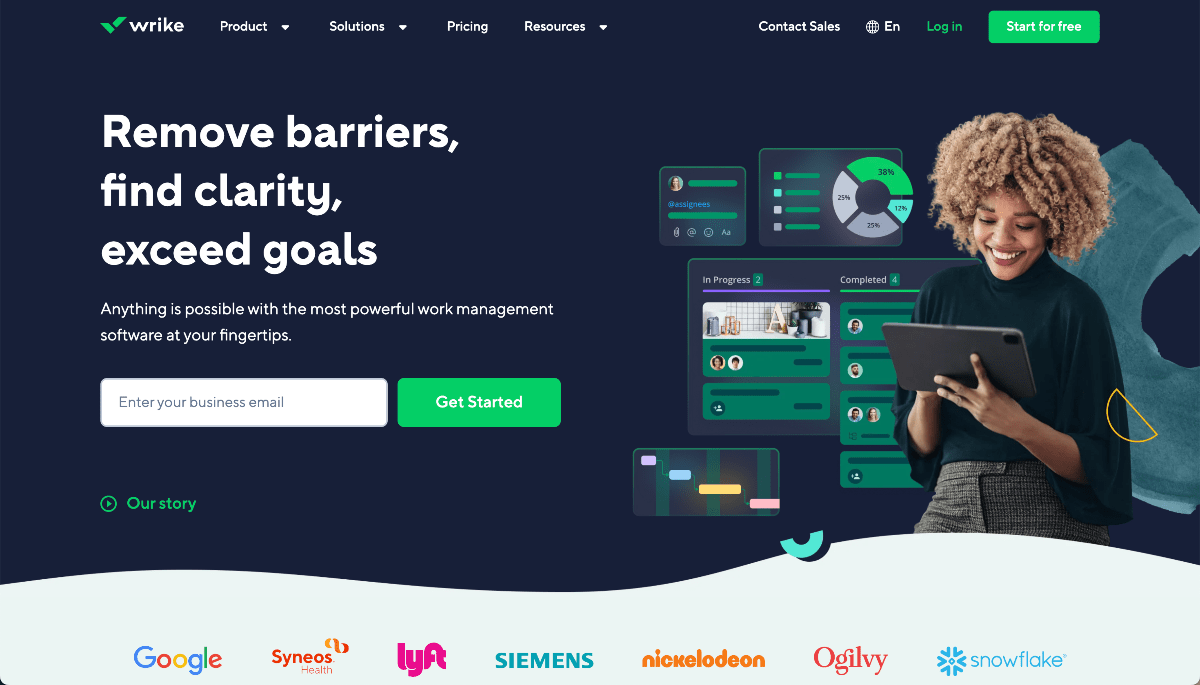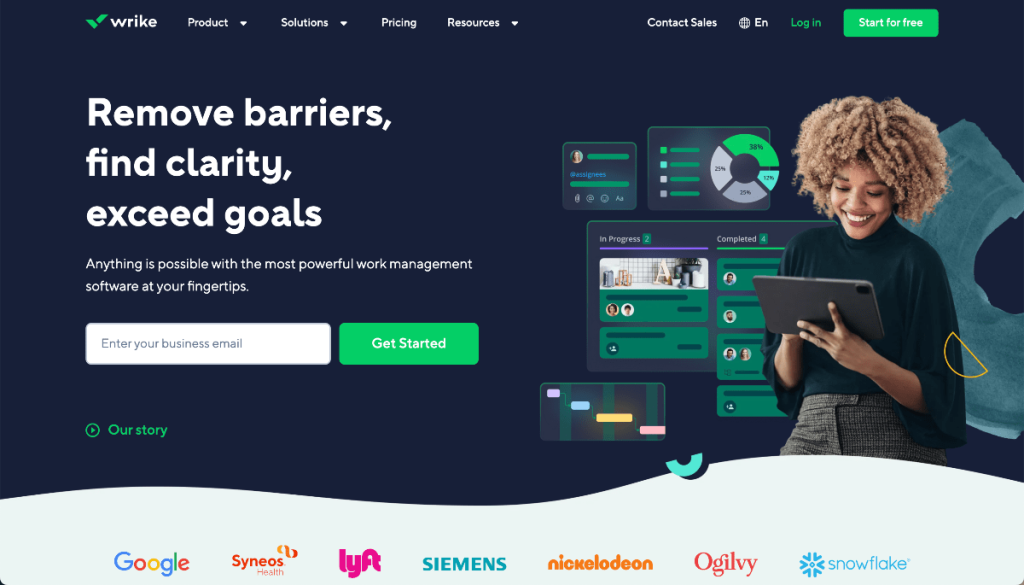 Best for: Teams with project management needs
Pricing: Free plan – $24.80/month
Wrike is one of the best scheduling tools on the market, offering users a comprehensive suite of features to help them organize their teams and manage projects.
It offers an intuitive and easy-to-use interface that can help organize your team's tasks and projects, as well as give you insight into the progress of your projects.
With its customizable project boards, Gantt charts, and calendars, you can manage your team's workflow in one place to ensure their best performance.
It also provides analytics so you can understand your team's progress on specific projects and access control so that only certain people have the ability to make changes or view sensitive information related to a project.
Wrike also offers automated monitoring tools that allow users to track project progress and key performance indicators (KPIs) in real time.
There is even a pre-built dashboard template that gives users an overview of important metrics such as task completion times, late tasks, and overall productivity levels across projects at any given time.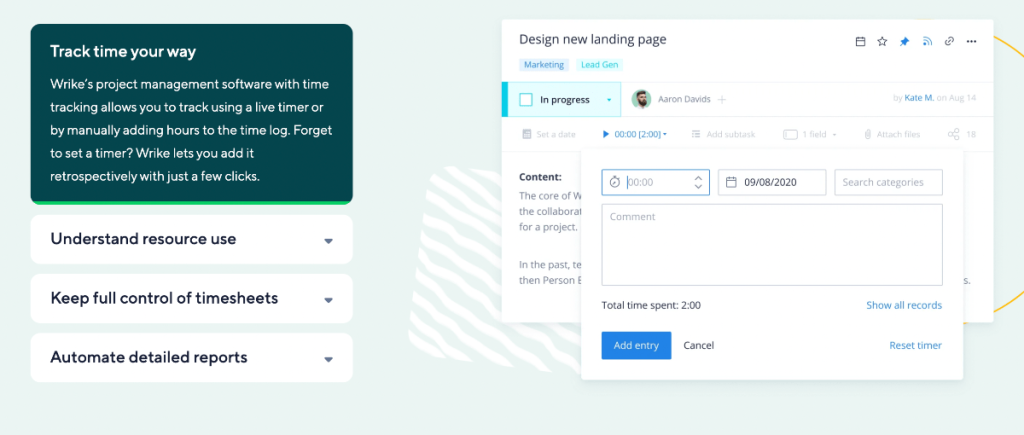 Key Features:
Intuitive project management system
Ability to create tasks, subtasks, and parent tasks
Easily share projects with your team or external collaborators
Real time updates for changes in task status and progress
Monitor the activity log of all participants
Multiple views available: Gantt chart, kanban board, calendar view, etc.
Analytics tools and reports help you gain insight into data
Our Opinion:
Wrike is ideal for small or large teams that also have project management needs. They have a great free plan that provides teams with basic project and task management as well as scheduling tools.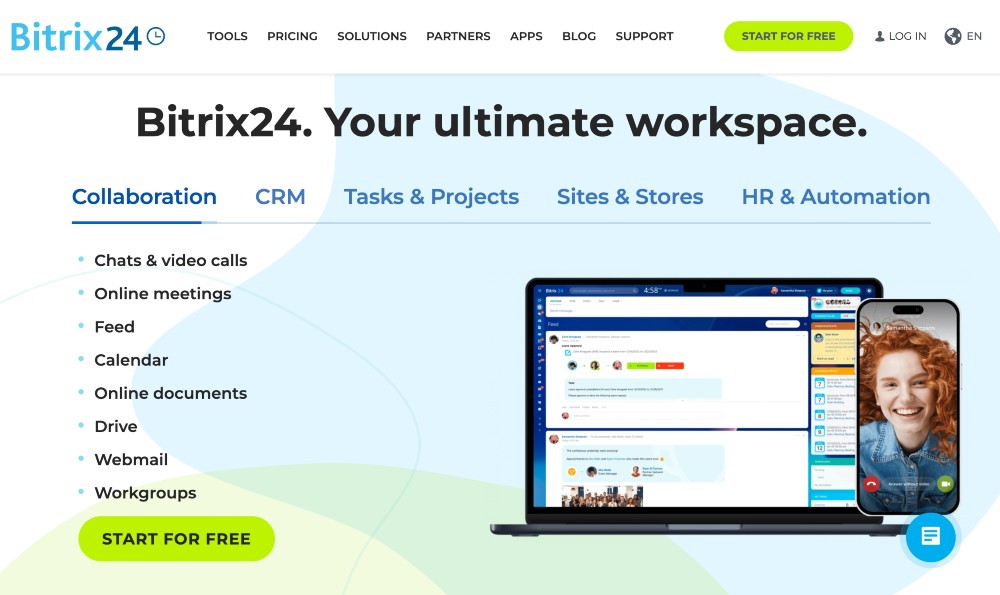 Best for: Teams looking for project management and CRM system
Pricing: Free plan – $49/month for up to 5 users
Bitrix24 is a comprehensive scheduling solution that offers a full range of features, including task automation, project management, resource planning, timesheets, and more.
The intuitive interface makes it easy to set up appointments, meetings, and events in a matter of minutes.
Bitrix24 also allows for collaboration and provides advanced analytics tools to monitor progress and analyze performance over time.

Key Features:
Automated task scheduler, management, and tracking system
Team collaboration tools
Project planning and resource management capabilities
Calendar integration with Google, Outlook, etc.
Accessible from any device and browser
Customizable templates for managing projects and tasks
Reporting and data analytics features
Resource allocation and optimization capabilities
Our Opinion:
What makes Bitrix24 one of the best scheduling software tools on this list is that there is a free plan that also offers features for scheduling, task and project management, and CRM (Customer Relationship Management).
Not many free tools out there offer that many features in a free plan. This is a great software tool for anyone that wants to try out these features without committing to complex software with a paid plan.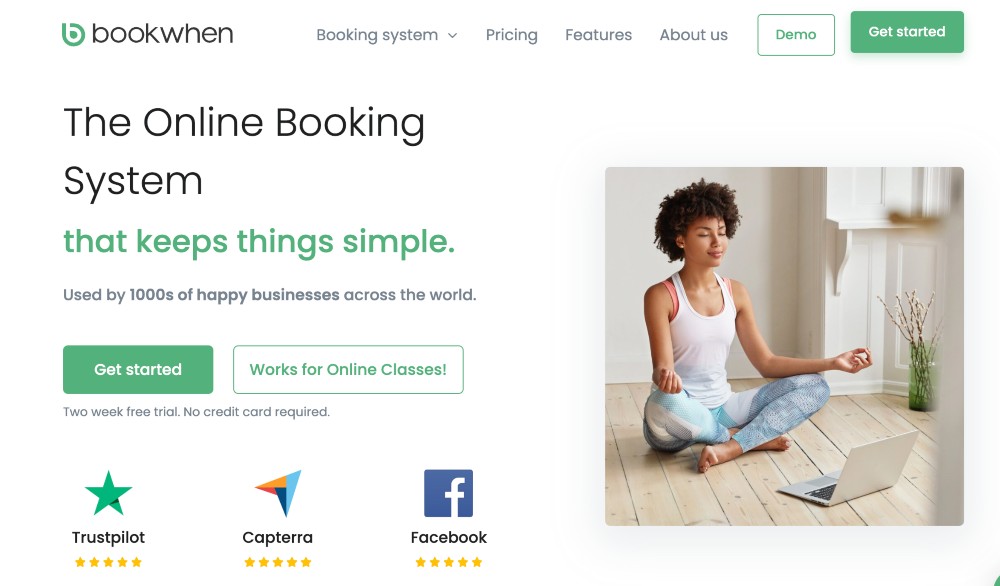 Best for: Individuals or businesses needing a variety of types of bookings
Pricing: Free plan – up to $59/month
Bookwhen is an online scheduling software that helps businesses, schools, and organizations easily manage and coordinate bookings, events, classes, and appointments.
Bookwhen is unique on this list for the different types of bookings and meetings that it offers: classes, courses, virtual classes, events, and activities.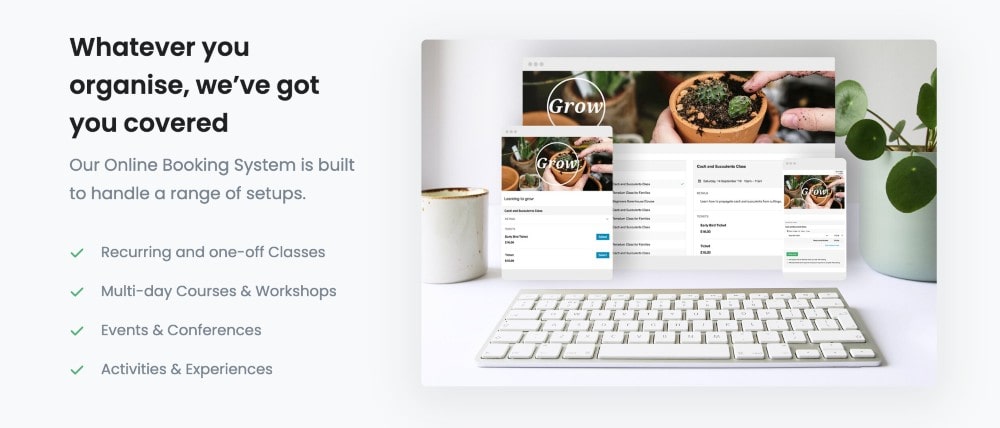 With this tool, you can create customized booking pages and manage bookings, track attendees, and analyze data.
Bookwhen offers a streamlined process for scheduling appointments or events with payment options and automated confirmation emails.
Bookwhen also integrates with many popular apps such as Mailchimp, Zapier, and other popular apps so you can easily sync your activities across multiple platforms.
Key Features:
Easy-to-use booking system with an intuitive interface
Flexible event scheduling with the option to limit capacity
Customizable ticket types, including discounted tickets and early bird offers
Ability to add additional services such as meals or merchandise
Automated communication tools for sending out reminders, surveys, and follow-up emails
Comprehensive reporting dashboard with insights into attendance rates and customer behavior
Payment processing integration with major credit cards and PayPal
Our Opinion:
Bookwhen is ideal for individuals or businesses that have several different types of bookings. Many schools, bloggers, and content creators use this scheduling tool to offer meetings for courses and classes.
They also have a free plan, which makes it great for the entrepreneur on a budget.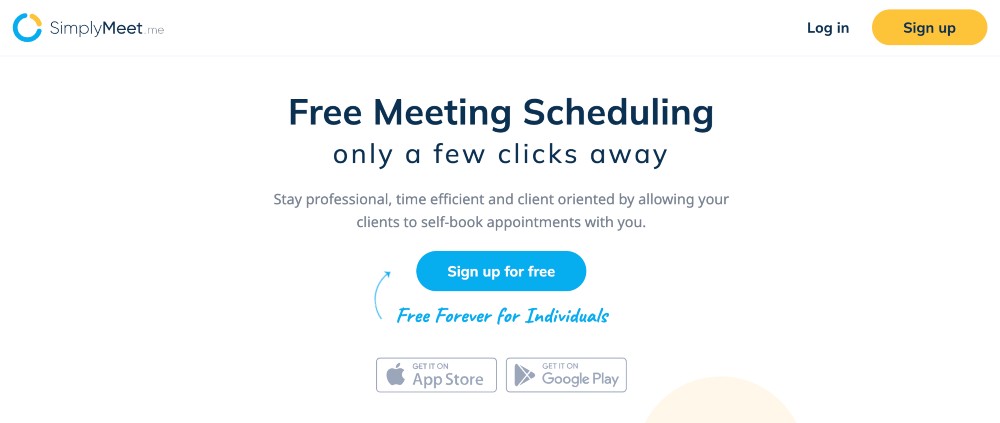 Best for: Added features useful during your meeting
Pricing: Free forever plan – $9.99/user/month
SimplyMeet is an online scheduling software platform designed to make the process of organizing events, meetings, and appointments easier and more efficient.
It offers a wide range of features that allow you to plan your events in detail, including scheduling, employee or guest management, response tracking, and online payment processing.
The interface is intuitive and user-friendly, making it a great option for anyone new to appointment scheduling and booking systems.
SimplyMeet offers automated email invitations with customizable templates as well as tracking tools to monitor RSVPs and responses.
In addition to its scheduling capabilities, SimplyMeet also offers powerful tools for managing employees and guests at events.
You can assign tasks directly from the platform, upload resource files for staff members' reference, track hours worked, and send out feedback surveys after each event.
Like many other scheduling tools on this list, it also integrates with popular third-party apps and provides secure online payment processing options for attendees.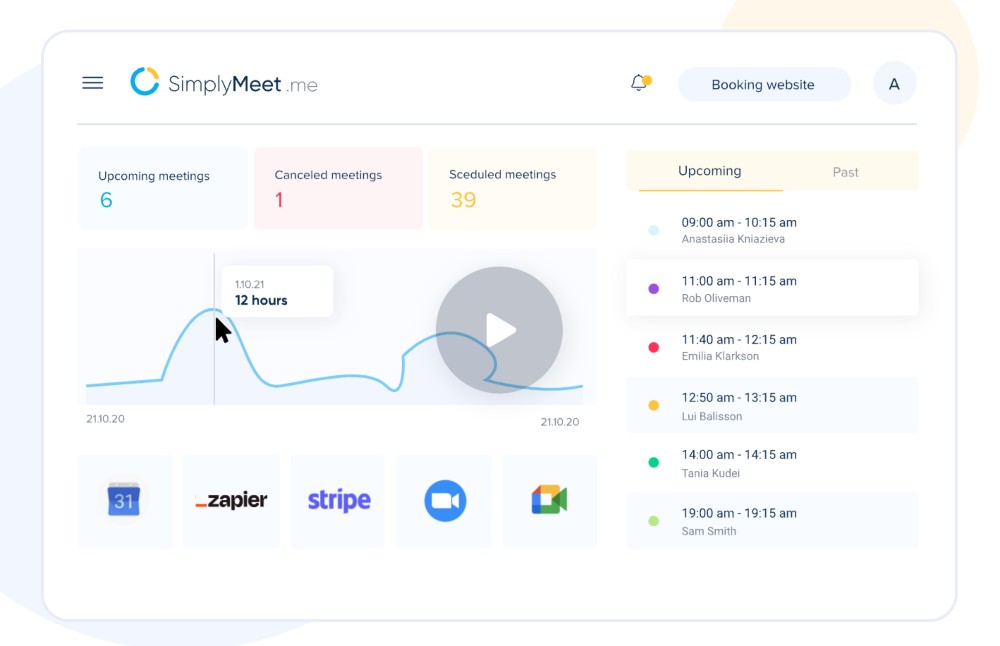 Key Features:
Easy meeting scheduling, with auto-generated links for online meetings
Video and audio conferencing capabilities
Live chat feature
Screen-sharing options
Recording of meetings
Customizable branding and URLs
Meeting analytics to track engagement
Our Opinion:
SimplyMeet is the best option for individuals and businesses that have the need to schedule appointments with a lot of meeting-related features. This software goes beyond meeting scheduling to provide a lot of extra useful features during your meeting (adding guests, recording meetings, live chat, etc.).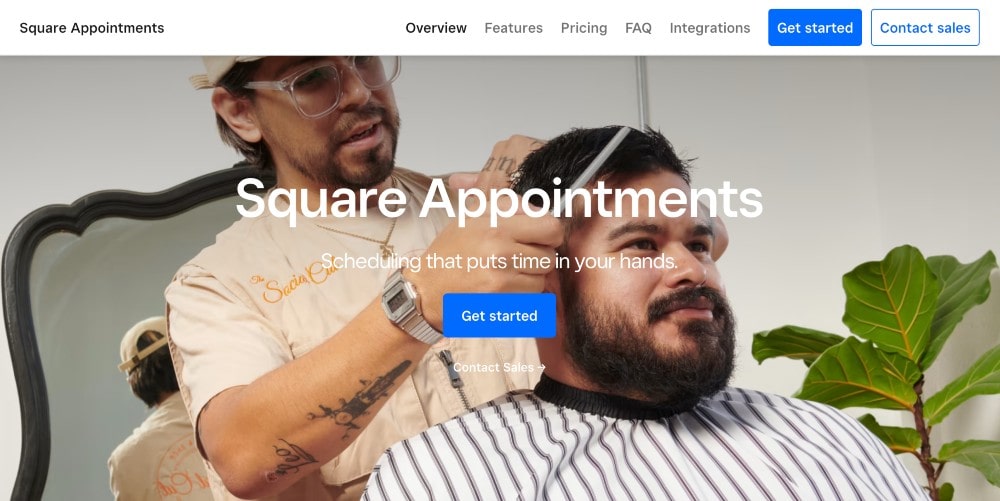 Best for: Businesses that use the Square app for other business needs
Pricing: Free plan – $69/month
Square Appointments allows customers to easily book appointments online, via text message, or through the Square app.
It has a comprehensive range of features designed to help streamline the appointment-scheduling process, including searching for available time slots, adding notes about appointment needs, automatic notifications about upcoming appointments, and making payments directly within the platform.
Businesses are able to customize the look and feel of their booking page with different themes, fonts, logos, layouts, and more.
Square Appointments also provides powerful business analytics tools to obtain insights such as average wait times per appointment type and which promotions were effective in driving more customers or revenue.
Overall, Square Appointments offers a customizable dashboard that provides real-time updates on the performance of the booking page at any given time.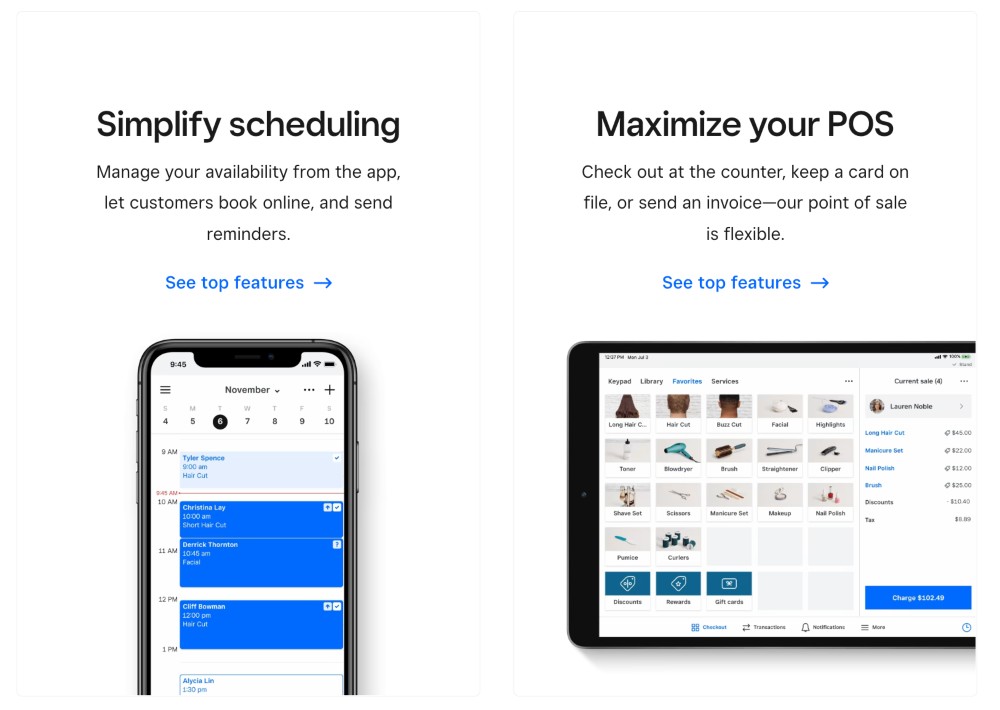 Key Features:
Automatically sync with Square Point of Sale
Send automated appointment reminders to customers
Customize services and time increments for each appointment type
Offer multiple payment types during checkout
Manage staff availability and assign roles to individual team members
Produce detailed reports on customer activity
Collaborate with other businesses through group bookings
Our Opinion:
Square Appointments integrates well with the Square app, which is what many small businesses use to process payments from their customers. If you're using Square to collect payments for bookings already (or have considered it), this is an ideal option for you because of the seamless integration and ease of use for your customer.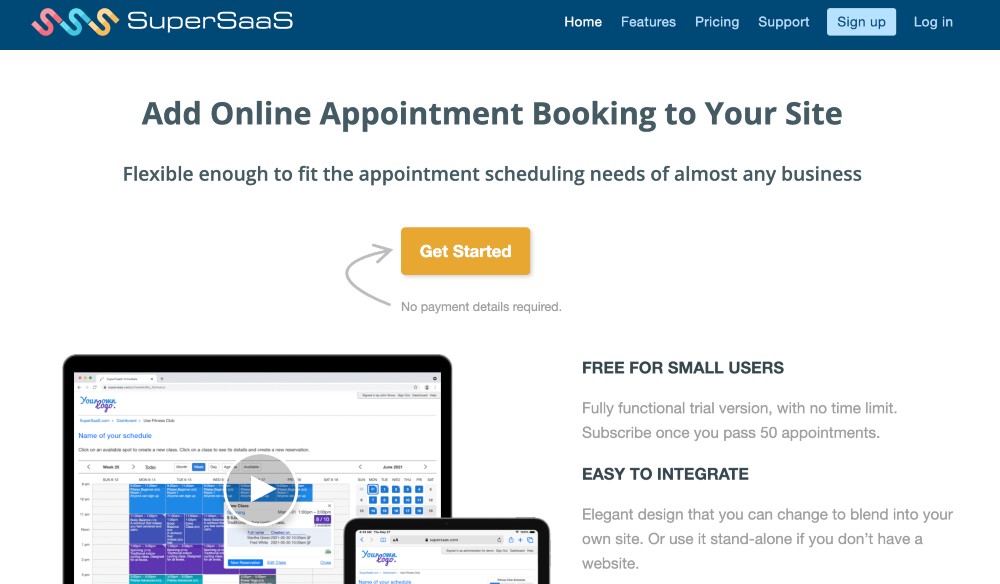 Best for: Event bookings, group bookings, etc.
Pricing: Free plan – $46/month
SuperSaas is an online scheduling software designed to make it easy for businesses and organizations to manage their bookings, appointments, and reservations.
It enables users to quickly create custom booking forms with unlimited resources, availability calendars, payment gateways, and more.
With SuperSaas, you can easily create a booking page that looks and functions like your own website.
It also offers settings such as time slots, date restrictions, required fields, payments gateways, discounts, and coupon codes making it easier for businesses to accept payments from customers.
In addition to the standard features of SuperSaas, there's a wide range of add-ons available including event management tools and reporting modules that enable better insights into customer data.
The scheduling app integrates with various third-party apps and supports multiple languages.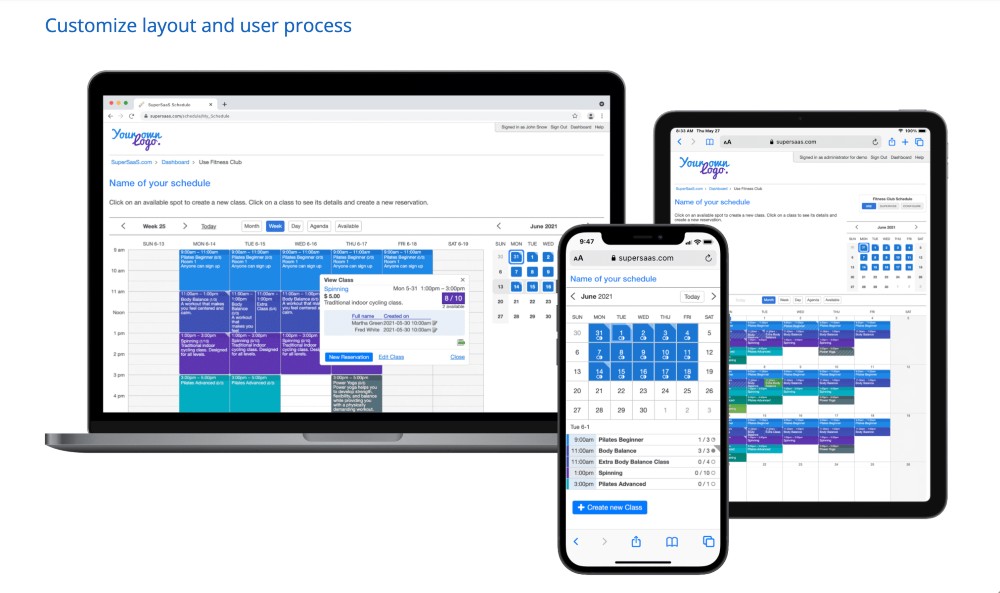 Key Features:
Ability to set customer appointments from any device
Flexible time slots and staff availability options
Automated text message reminders
Integration with popular third-party apps
Customizable forms for collecting client data
Detailed reporting and analytics
Easy customer payment processing through Stripe or PayPal
Data protection with bank-level encryption
Our Opinion:
If you are looking for a scheduling tool to mainly book different types of events, SuperSaas is a great option. It provides for bookings of group events, limited-time events, and coordination of events for multiple people.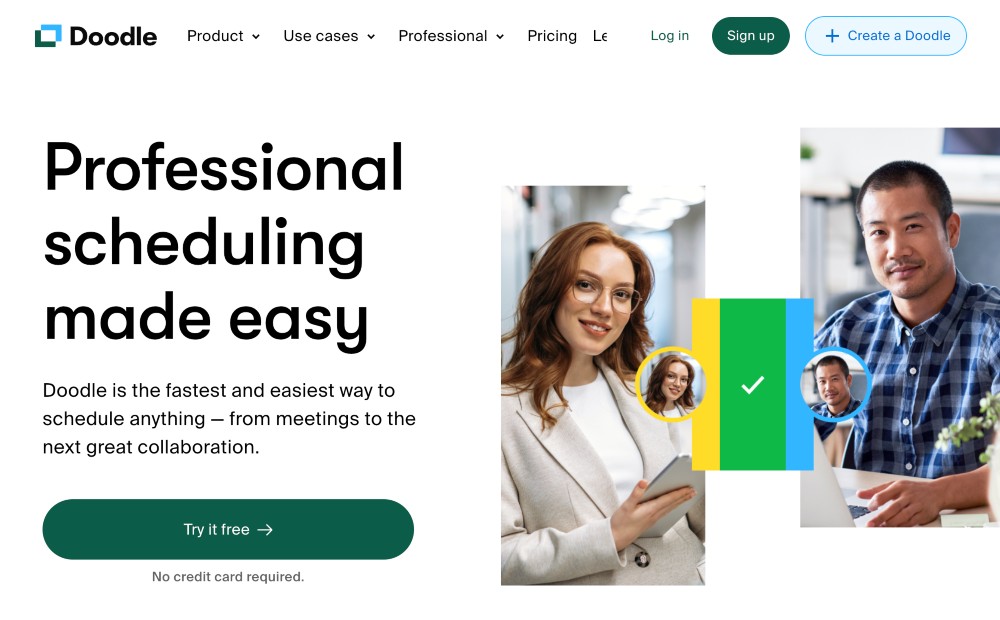 Best for: Small teams with conferencing and event needs
Pricing: Free forever plan – up to $8.95/user/month
Doodle offers a variety of features designed to make scheduling easier, including custom invitations, polls for gathering feedback on the best times to meet, calendar integration, and more.
What sets Doodle apart from other appointment-scheduling software is its intuitive user experience. From the moment you log in to the Doodle platform, you can start creating new events in just a few steps without having to learn complicated menus or settings.
Doodle allows users to vote on preferred dates or times and managers or administrators to view poll results to determine the best date and time available for everyone.
It's also great for hosting events because it comes with customizable templates for invitations, event reminders, and password protection for private events.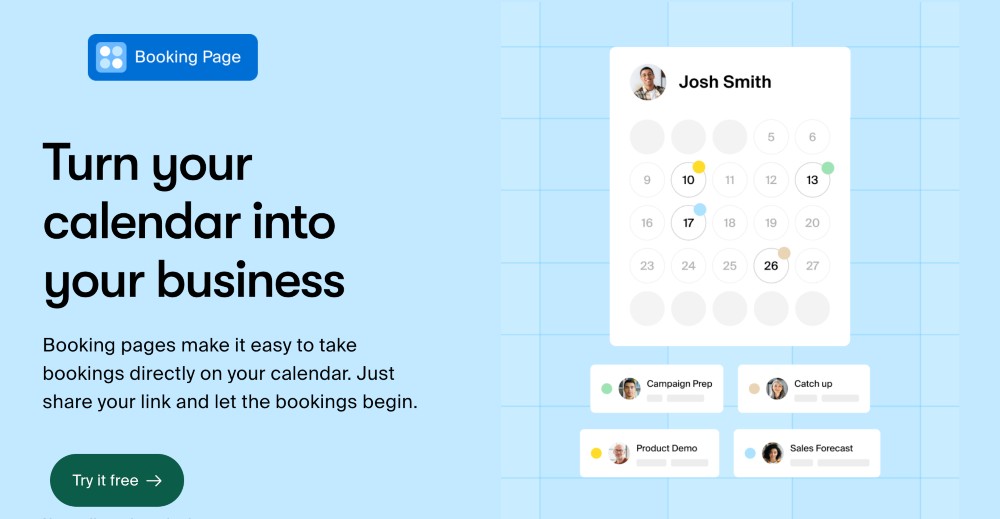 Key Features:
Intuitive interface designed to make scheduling meetings easier
Automated calendar syncing with other users
Drag and drop functionality for quickly setting up meeting times
Easily accessible reminders for upcoming events
Customizable notifications about new events, time changes, or cancellations
Ability to add additional information to events such as details, notes, and messages
Shareable URL links for easy access by others in the group
Easy contact list management
Multiplatform support
Our Opinion:
If you're running a small business or team that often holds team meetings, conferences, or events, Doodle is going to be a great scheduling tool for you. Perhaps one of its best features is the ability to create polls for meeting times, so you don't have to waste time checking in with individual team members each time a meeting is scheduled.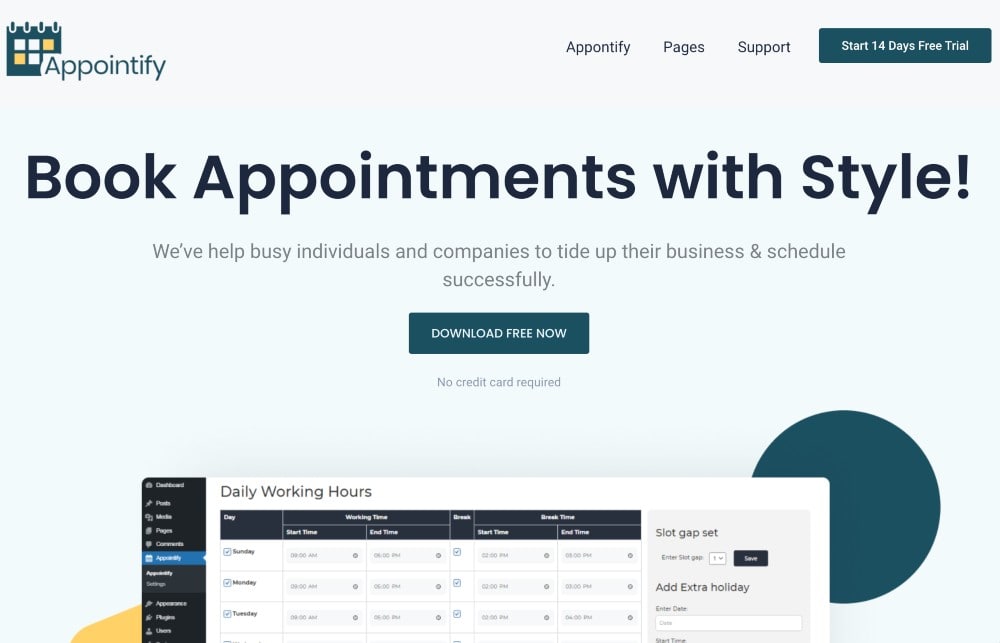 Best for: Creators, bloggers, and individuals wanting to integrate bookings with social media
Pricing: Free plan – $79.99 for enterprise
Appointify is a powerful scheduling solution that offers a wide range of customization options and integrations.
You can customize the look of your booking page by choosing from a variety of predefined themes or creating your own unique design.
With Appointify, you can sell products and services directly through your booking page, including the ability to take deposits from customers before an appointment is booked, allowing you to better manage cash flow and reduce no-shows.
The platform also integrates with social media networks, so you can easily promote your bookings on Facebook, Twitter, Instagram, LinkedIn, YouTube, and other popular channels.
Customers are also able to leave reviews directly on the booking page, making it easy for future customers to manage expectations and book with confidence.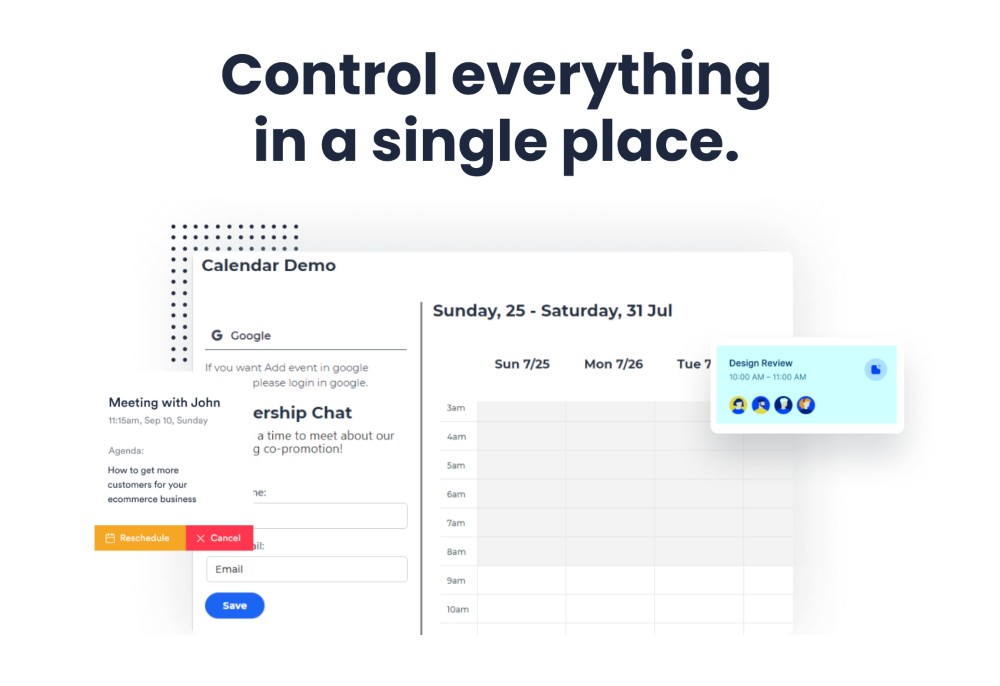 Key Features:
Automate appointment scheduling, reminders, and follow-up messages
Manage multiple calendars with customizable rules, settings, and time blocks
Set up recurring appointments for regular customers or clients
Customizable dashboards for tracking customer data and performance metrics
Integrations with Google Calendar, Calendly, MailChimp, and more
Time zone support to ensure accurate scheduling of international meetings
Accept and process payments securely from customers
24/7 automated support system for answering customer questions quickly
Our Opinion:
Appointify is great for creators, bloggers, and influencers that want to share their bookings on social media. The ability to easily leave reviews on the booking page makes it easier to get social proof and have people book quickly and confidently.
What is Scheduling Software?
Businesses use scheduling software to coordinate and manage people or resources. It can be used to arrange meetings, book appointments, automate tasks, and set reminders.
The main goal of scheduling software is to help businesses organize complex operations and manage multiple activities among teams and individuals. Essentially, it can help you streamline your workflow and improve overall efficiency.
But scheduling software goes beyond just creating and managing calendars and appointments. It can also be used to assign upcoming tasks, deadlines, and so much more.
To better understand how these tools can be used, let's explore the different types of scheduling tools.
Types of Scheduling Software
There are a variety of different types of appointment scheduling software. Some offer basic functions such as creating calendars and setting automatic appointment reminders while others provide more advanced features such as resource planning, task tracking, and conflict resolution.
Below are some of the most popular types of scheduling software on the market.
Calendar Scheduling Software
With calendar scheduling software, you can create individual or shared calendars that make it easy to view upcoming events and appointments in one place. You can also set reminders, track dates, and share calendars with other users.
Time Tracking Software
Time tracking software allows you to keep track of time spent on tasks or activities by employees or teams. Time-tracking data can be used for payroll purposes or to monitor productivity levels throughout a project or organization.
Resource Planning Software
Resource planning software helps businesses plan resource usage in an efficient manner by allowing users to schedule appropriate personnel for specific tasks at certain times.
Resource planning tools can be used for employee scheduling, project management, event coordination, facility management, equipment utilization, and much more.
Task Management Software
Task management software helps companies stay organized by allowing them to assign tasks and track progress in real-time.
With task management tools, businesses can easily identify how their resources are being allocated across projects so they can make informed decisions about resource utilization and team collaboration efforts.
Meeting Software
With this type of online appointment scheduling, you can quickly arrange meetings with customers or colleagues. Quickly find time slots that work best for everyone involved based on their availability as well as any location preferences they may have specified beforehand.
Employee Scheduling Software
Employee scheduling software makes it easier for business owners or managers to allocate shifts among employees according to their skill set, availability preferences, compensation needs, etc., while ensuring regulatory compliance when necessary.
These types of appointment scheduling software also often offer insights into staffing performance over time.
You may not need many of these more advanced features if you're just looking for a an easy scheduling tool. But some businesses need more control and oversight of their entire operations — from scheduling all the way to task completion.
Thankfully, there are a variety of tools on this list of best scheduling software, so you should be able to find one that best suits your personal (or business) needs.
Choosing the Right Scheduling Tool for Your Needs
We've given you a lot to think about. We've gone over the best appointment scheduling software and even went deep into the different types of scheduling software that exist.
Now, it's up to you to make a decision! The first thing that you should do is evaluate what kind of needs you have in your business.
If you're looking for just a straight calendar software with limited options for booking appointments, start off with something simple like Calendly, Setmore, or even Square Appointments.
If you are working with a larger team, consider a scheduling platform that also provides a wide range of task and project management features like Wrike or SmartSheet.
Look for a free version or free trial to start out with and feel free to come back to this article if you don't find what you're looking for on the first try.
Sometimes it takes a couple of goes before you can find the right fit. That's totally normal!