We partner with bada$$ companies that offer products that help our readers achieve their goals! If you purchase through our partner links, we get paid for the referral at no additional cost to you! Read our disclosure for more info.
Webinar software can be a highly effective tool for you to scale and grow your blogging business. They are an instrument that provides you with the means to connect with your audience directly, increase engagement, come up with new ideas for future posts, build retention, and much more.
In this post, we'll explore everything you need to know when considering different webinar platforms.
We're sharing the top 20 webinar software options, their prices, and pros and cons of each. Then, we also have 5 alternatives to the top picks — bringing your total options to 25.
Choosing the best webinar software can be tough, especially when you are looking for very specific features and some of these options aren't cheap.
Webinars are generally used by bloggers and business owners that are already earning an income and looking to scale what they do, so they are often priced accordingly.
For that reason, it's important to make sure that you're investing your money where you can get the maximum impact for your business. So let's try to make sure we do that today.
What to Look for in the Best Webinar Platforms
Back to choosing the best webinar software… The software you choose should help you garner new followers, provide lots of ways for your audience to interact with you during a live session, and deliver performance results.
That said, some functionalities you may want to have that you should keep in mind when researching and shopping for a webinar software platform include:
Marketing tools for lead generation (think opt-in pages that give you an email address for outreach after the event)
In-webinar engagement tools (i.e. polls and Q&A options)
Attendance and performance analytics
Social media integrations (great for sharing replays or live streaming in Facebook groups)
Audio and video recording (critical for replays which can help you sell more to people who couldn't attend live!)
In-webinar CTA buttons and/or linking options (so people can buy while they are thinking about whatever you're selling at the moment)
Chat functionality to allow your audience to submit questions and thoughts
Calendar integration so when attendees sign up for your webinar, they can instantly add the date and time to their calendar
Choosing the right webinar software is critical to any event's success. Luckily, whether you want something simple or feature-rich, there's a solution for everyone.
What are the Best Webinar Software Options?
The best webinar software options are coming up next and after that, we'll share our best tips for webinar setup, what kind of content to share in your webinar and more.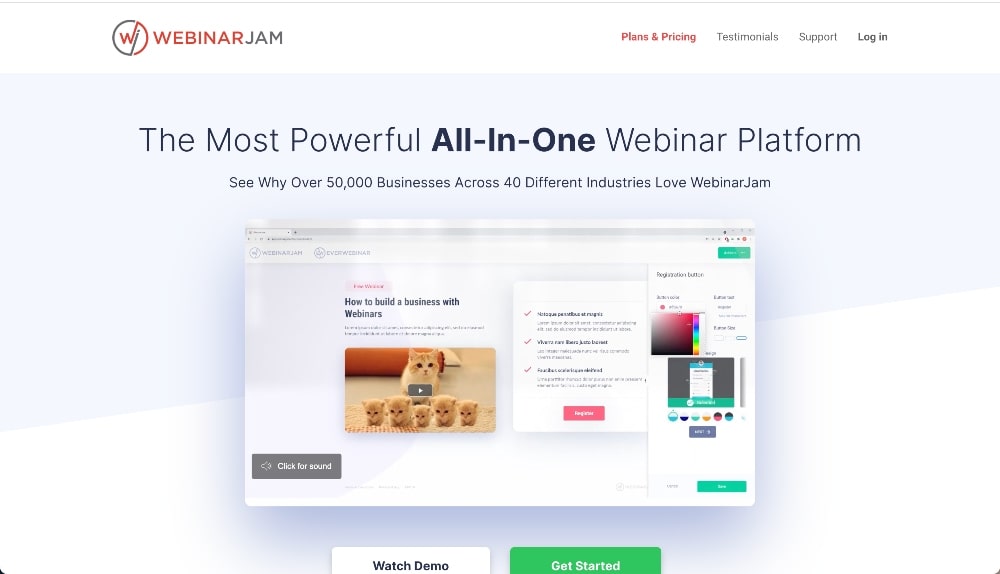 Webinar Jam calls itself "the most powerful all-in-one webinar" platform and delivers great features for "jam-packed" live events.
Features such as attendee spotlight, real-time CTA, seamless video injections, dark mode, and file handouts are great for mega marketing events.
Custom landing page templates, live webinar engagement, sales tools, file handouts, the panic button, and express configurations make this tool perfect for large sales events.
We used WebinarJam for a year and really liked the customizable email reminders that you could time out precisely with this software.

WebinarJam offers robust features that even Tony Robbins would approve of. In other words, this platform is probably best for the larger bloggers out there that can draw in equally large crowds.
Pros
Support for 2,000 attendees with the pro plan and over 5,000 with the enterprise plan
Express configuration allows setup in 60 seconds or less with smart defaults
Broadcast live on WebibarJam's private broadcast network or via Youtube Live and Facebook Live
Integrations with email marketing software such as Zapier, Mailchimp, Convertkit, etc.
Good analytics and 3rd party tracking with Improvely or Facebook pixel
Real-time sales CTA features such as images, buttons, and headlines with urgency features
Seamless timed video injections without needing screen share
Cons
A higher learning curve, but express configuration makes up for it
All plans require annual subscriptions
2-hour limit except on pro or enterprise plans
No custom fields in registration forms
Not good for meetings or group calls
WebinarJam has a feature that they call the panic button on their pro and enterprise plans. It's helpful for those awkward/awful moments you have technical glitches and reboots a new webinar room when that emergency need arises.
"The system will immediately boot up a brand new live room and automatically transfer all presenters and attendees into it. Within 10 to 15 seconds, everybody will be ready to resume the broadcast where you left it."

– WebinarJam
Pricing plans
Starter plan: $1 trial and a $39/month (billed annually) for up to 100 attendees and 1 host with a 1-hour time limit.
Basic plan: To get extra features like an attendee spotlight or support for 500 attendees (2 hosts), you'll need to upgrade to the basic plan ($79/month – also billed annually).
Professional plan: ($229/month) includes a panic button and other features
Enterprise plan: ($379/month)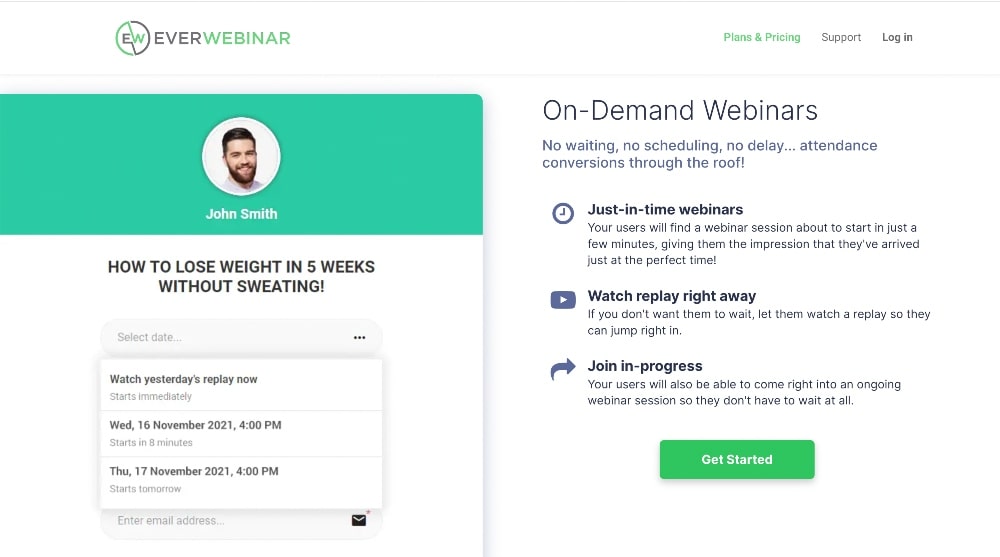 EverWebinar is actually owned by the same company as WebinarJam, and it's a great option for automating your webinars.
Live webinar automation is what most experienced and professional webinar users are using to scale their businesses.
Hosting a live webinar is a lot of work, especially if those presenting skills don't come as naturally to you.
Most experienced webinar users record a few webinars and when they get a really good recording, they turn it into an automated webinar. This is essentially just a replay of an older webinar but set to look and feel like a live webinar.
You can set these to be very passive and completely hands-off — even uploaded chats from previous webinars.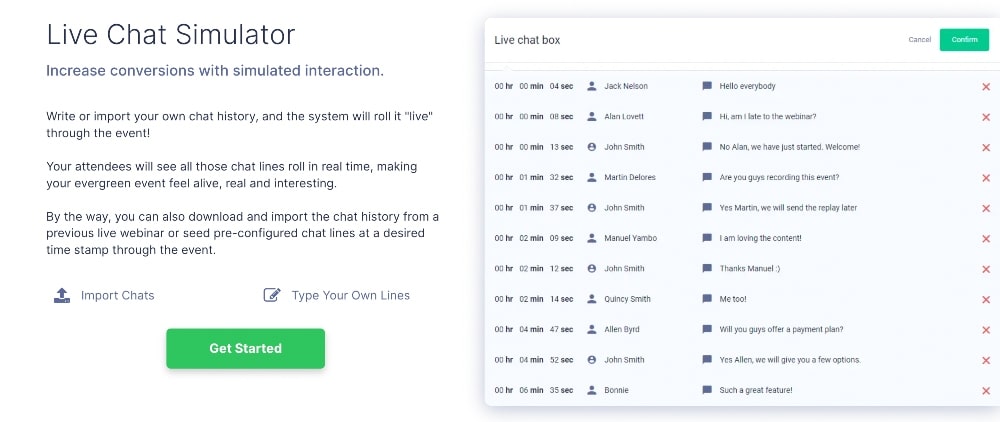 Or you can tune in to them and answer your audience's questions in real time.
EverWebinar has tons of features to make these webinars look and feel as live as possible — including live polls and surveys and expiration countdowns for your offers.
We used WebinarJam to record live webinars and then EverWebinar to run live automations of our replays for a year and had a great experience with them.
Pros
Completely web-based so no downloads are required
Automated email, SMS, and customized messaging as a follow-up post-webinar
You can authorize unlimited team members to access the back side of the webinars so you can delegate tasks to others more easily
Cons
Not many customizations for webinar room
Pricing plans
There's technically only one plan with EverWebinar. However, when you pay for the biennial plan you get three months free.
Annual plan: $499 for the year.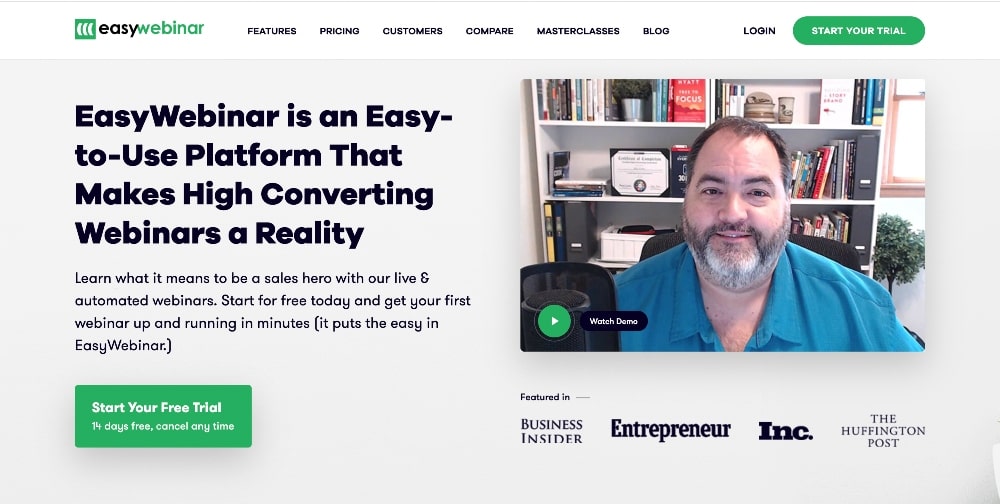 EasyWebinar is a great live and automated webinar service with robust webinar-training courses and there is live chat support to help you with any problems.
The ability to simulate up to 300 webinar attendees and receive questions even on a replayed video is great for those who want evergreen and automatic webinars.
Those who do automatic webinars or pre-recorded webinars will love the replay tools of EasyWebinar. The robust support is great for those who need hand-holding.
Custom fields, CTR tracking on real-time offers, and 3rd party tracking are great for those who crave customer data tracking.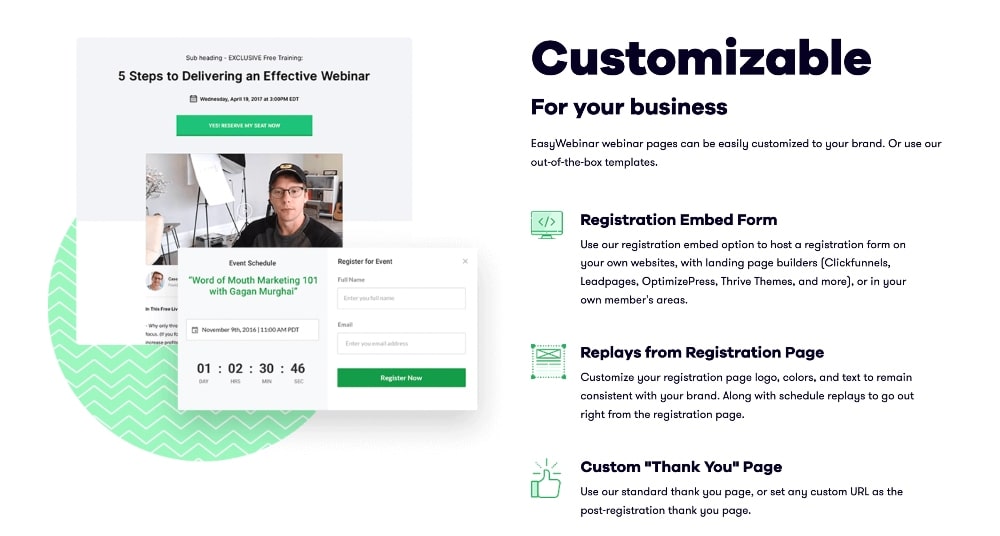 Pros
Ability to schedule timed polls and offers with fast chat support
Over 100 languages supported for the webinar interface
Allows you to preview the next slides as a presenter
Award a social share incentive for those who share your webinar
Allows integration with Facebook tracking pixels for retargeting
Viewers of replayed videos can ask questions via email
Integrated Facebook Live and Youtube Live streaming tool
Simulates up to 300 attendees during pre-recorded webinars
Real-time offers can be sent with trackable CTRs
Unlimited custom fields for the registration page with the pro plan
Offers live chat support and training
Cons
No preview feature for landing page registration
Can't emphasize video, guests, or co-hosts
Email reminder templates are a bit dated
Not able to share Youtube video links directly
Can't separate or mark questions in chat
Mobile attendees need to download an app
Pricing plans
Free trial: 14-day free trial on standard and pro plans
Standard plan: Starts at $79/month and caps attendees at 100.
Pro plan: Increases this to 500 attendees for $129/month and includes chat support and custom fields for the registration page.
Enterprise plan: Starts at $499/month. and allows for 2,000 attendees and a dedicated concierge.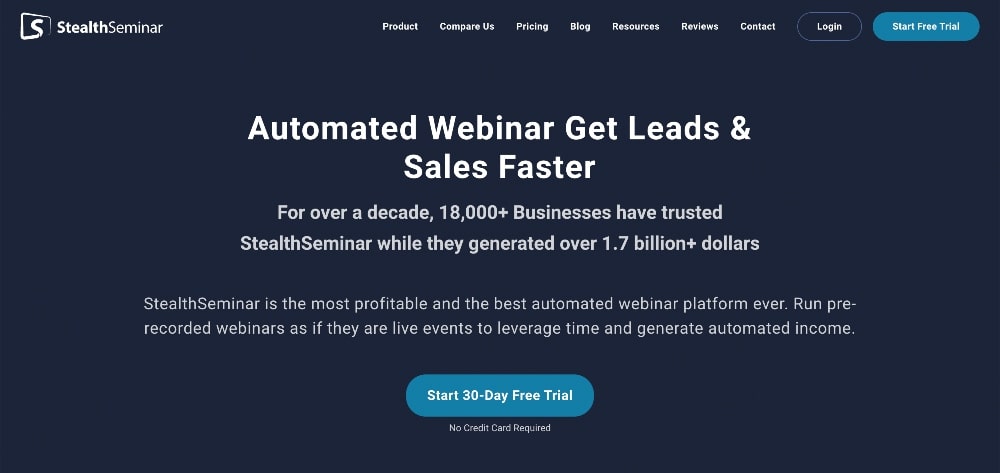 StealthSeminar is definitely one of the premium choices on this list of best webinar software.
Due to its advanced audience engagement and marketing features, this software is ideal for organizations with specific growth and conversion goals.
If you're looking for standard conferencing software or you just don't need that many conversion features and tracking analytics, you will most likely consider this option overpriced.
We used it for several months and the price tag was tough to stomach but if you're running successful webinars and you use the features that this software provides, it can pay for itself and then some.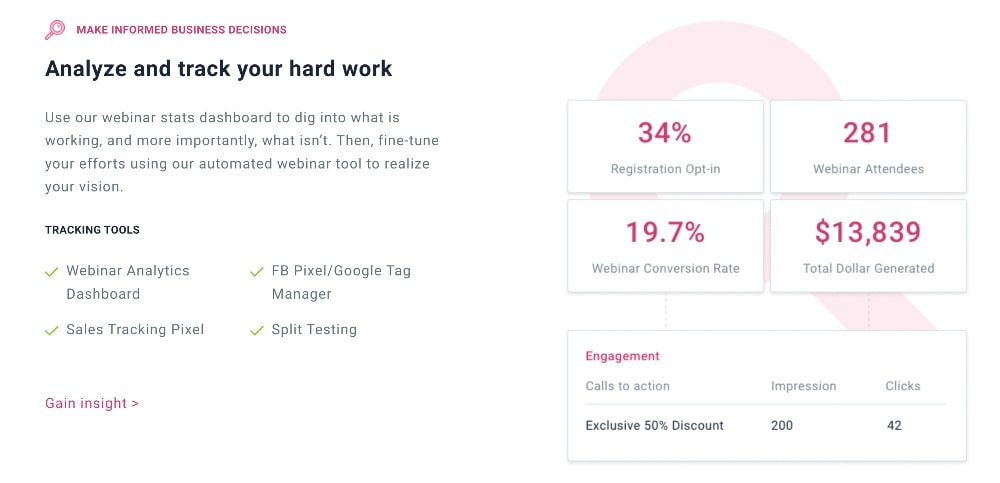 In our case, we were working with an ads team to help us take a deep dive into the analytics of our ads and our webinars, and the data that we got from StealthSeminar was 100% worth it.
StealthSeminar integrates seamlessly with many popular third-party apps including Mailchimp, Drip, and Hubspot. You can also utilize customized, branded pages with lead-generation features like registration forms and calls to action.
If you are serious about webinars and you have a flexible budget to work with, StealthSeminar is definitely one of the best webinar platforms for businesses.
Pros
Flexible live, automated, and hybrid webinars
Responsive customer service
Integrations with third-party software
Branded page templates with lead-generation features
Social proof tools for a boost in brand authority
Cons
The interface has a learning curve for new users
User experience could be improved
Pricing plans
Free trial: 14-Day
Starter plan: $69.95 per month and includes live and automated webinars for up to 100 attendees.
Professional plan: $99.95 per month with an additional hybrid webinar option, plus more custom branding features.
Growth plan: $175 per month for 300 attendees or $280 for 500 attendees; features phone support and additional monthly streaming hours for larger audiences.
There are also additional add-ons for some features, like if you want additional customizations and features on top of the existing ConvertKit integration. We had the starter plan plus another $69.95 for the add-on integration features.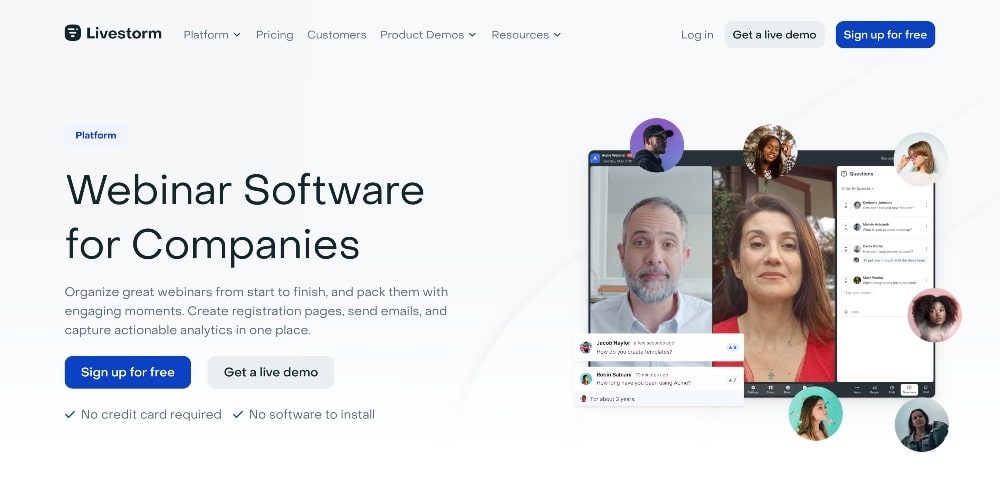 Livestorm is ideal for anyone who wants an all-in-one platform for scheduling, hosting, and delivering your webinars. It provides you with an easy way to schedule and manage events from one central location.
Livestorm doesn't require downloads or plugins. You can sign up, enter your event details and start inviting attendees!
Livestorm is going to be your best option if you're looking for a free option to get your feet wet. Free is definitely rarer in the webinar software world.
Scheduling webinars can be a real pain, particularly if you use Google Calendar or another platform that doesn't play nicely with all webinar platforms. Because of that, Livestorm has become a popular solution for event scheduling and promotion.

Their service offers an intuitive drag-and-drop schedule builder and will alert attendees when new events have been added to your calendar.
It also includes many of the most popular webinar features like online surveys, polls, text-to-speech message broadcasting, and many others that make events successful.
Pros
Top-notch video quality
User-friendly interface compared to PowerPoint
New features are always introduced
Affordable pricing
Cons
If you choose to change it, the cover image and logo need to be updated on each webinar
Pricing plans
Livestorm Starter: A freemium plan includes essential features such as unlimited meetings and on-demand webinars
Livestorm Premium: For just $99/month, you can participate in the 'Webinar Premium' plan. The plan has a four-hour limit per webinar
Enterprise: The 'Enterprise' plan offers unified billing, SLA availability, and premium training. A personalized quote is provided here based on your business needs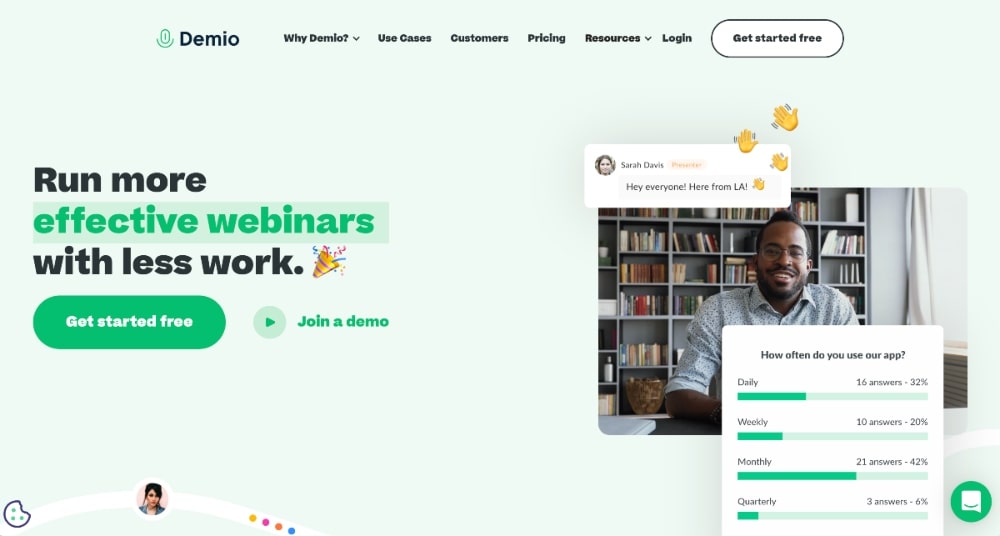 When it comes to marketing, Demio is quickly becoming one of the best webinar software choices among many content and course creators.
Demio's browser-based webinar platform is aesthetically pleasing, offers HD streaming video, and offers great customization options to keep you on brand.
With its user-friendly interface and excellent customer service, Demio is an ideal webinar platform for marketing, regardless of your business or organization size.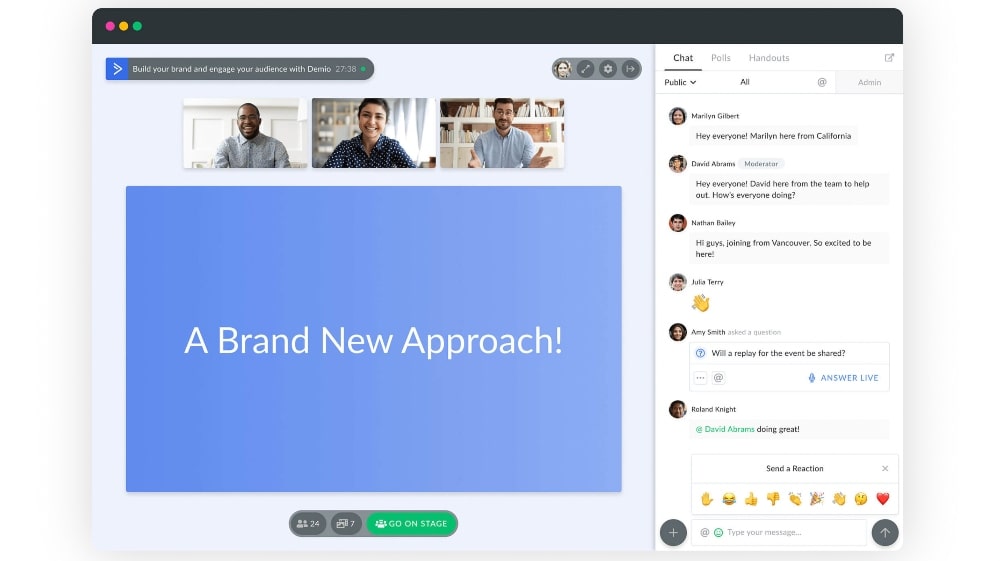 Pros
Built-in analytics provide deep insight, including real-time CTA, engagement reporting, and participant behavior
Demio uses browser-based webinar software making webinar access quick and easy
Demio's webinar platform easily integrates with many marking and automation tools through Zapier, including Google Sheets, HubSpot, MailChimp, GetResponse, ActiveCampaign, Kajabi, and more
Audience engagement features include event reminders, email automation, handouts, chats, polls, and a fantastic waiting room experience
Slide and video sharing while streaming, along with the ability for attendees to participate via microphone and webcam, offers a more robust interactive experience
Cons
Higher drop-out rates occur thanks to a less-than-desirable browser experience
There have been reported bugs when integrating Demio webinar software with other applications
Pricing plans
Free trial: 14-days
Starter Plan: $34/month (paid annually); Live streaming and event series for up to 50 participants, limited to a single host and three-hour sessions.
Growth Plan: $69 per month (paid annually) for 150 participants, with increased participant limits for a higher monthly fee.
Premium Plan: starting at $250 per month (paid annually); up to 1,000 participants, premium integrations, unlimited host accounts, ten-hour sessions, priority support with a dedicated account manager, and more.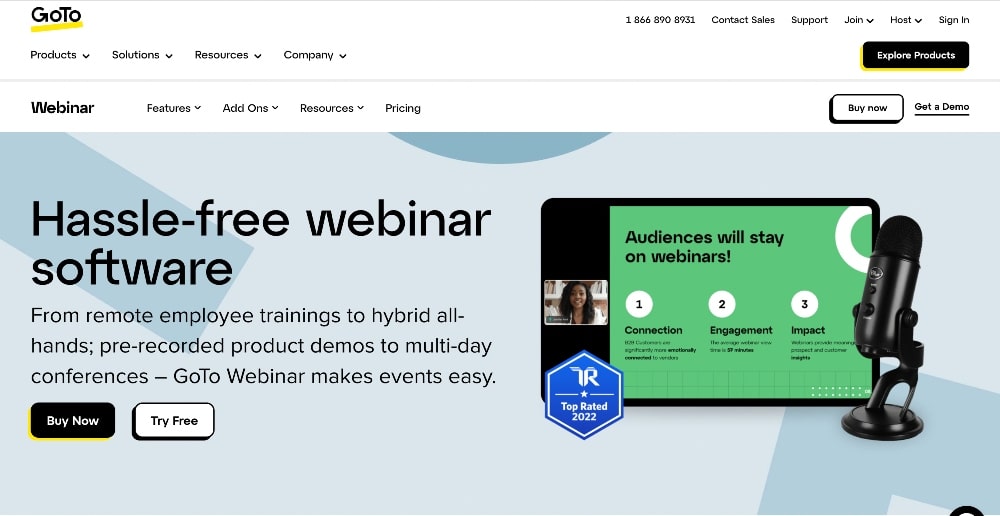 GoToWebinar is one of the OGs of webinar software and has been trusted by large businesses for years.
GoToWebinar boasts awe-inspiring features like customizable invitations, high-conversion registration pages, and automated reminders to increase traffic.
Following a recent re-branding, back-end system upgrades, and improvements to the overall user experience, GoToWebinar has been earning high praise for its reliability and ease of use.
Other great features include surveys, polls, automatic recording, software integration, and more.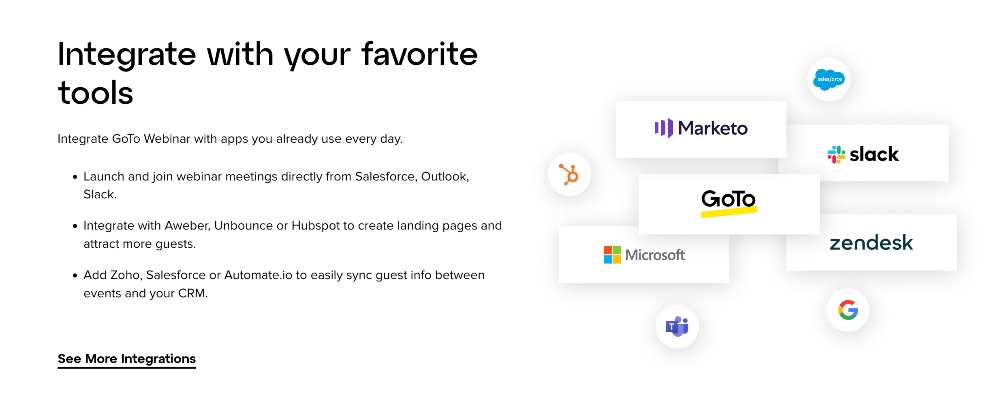 Pros
Robust, detailed analytics and source-tracking allow for greater insight
GoToWebinar seamlessly integrates with GoToMeeting, Zapier, Unbounce, Salesforce, and more
24/7 customer service and support are available
GoToWebinar uses installed webinar software for a more stable connection
Offers HD video quality and pre-recorded events, which are helpful for marketing automation
Cons
Presenters and participants must download dedicated software
Although there is 24/7 customer support, users complain that the service and support are sub-par
Pricing plans
When it comes to pricing options, GoToWebinar offers straightforward pricing plans based exclusively on the number of participants. All prices below are listed are based on annual billing.
Lite: allows up to 250 participants and costs $49 per month
Standard: allows up to 500 participants and costs $99 per month
Pro: allows up to 1000 participants and costs $199 per month
Enterprise: allows up to 3000 participants and costs $399 per month
ClickMeeting is intuitive, user-friendly, and well-integrated, making it an ideal choice for small to mid-sized businesses looking for webinar platforms to support education, sales, and marketing.
Automated online meeting options, customized invites, and insightful analytics make ClickMeeting an excellent choice for users who need webinar software and video conferencing capabilities in a single tool.
ClickMeeting is one of the best webinar platforms for training and classroom-style webinars.
Pros
Seamlessly integrates with Facebook Live, YouTube, and Slack for enhanced engagement
Supports audio/video recording of live sessions and HD video presentations for multiple presenters with cloud storage for easy access to saved material
Browser-based webinar software works on all devices and operating systems
Offers customizable waiting room features with presenter information, agendas, and file delivery options
ClickMeeting's suite of webinar software tools includes whiteboards, surveys, polls, chat options, templates, and more
Cons
Webinars with large numbers of attendees may experience system delays
The ClickMeeting webinar platform does not support recurring meetings or registration page conversion tracking
The use of HD video features requires high bandwidth
Pricing plans
Plan prices increase based on the number of attendees. Additional storage, accounts, presenters, and parallel events are available for an added fee.
Free trial: 30 days
Live plan: Starts at $25 per month (billed annually) for up to 25 attendees. It includes six hours of recording storage, 1GB of file storage, HD video, and popular software integrations.
Automated plan: Starts at $40 per month (billed annually) for up to 25 attendees. It offers the same features/integrations as the Live plan, plus automation tools and additional recording and file storage.
Custom plans that provide scalable, customizable webinar software solutions for up to 10,000 attendees.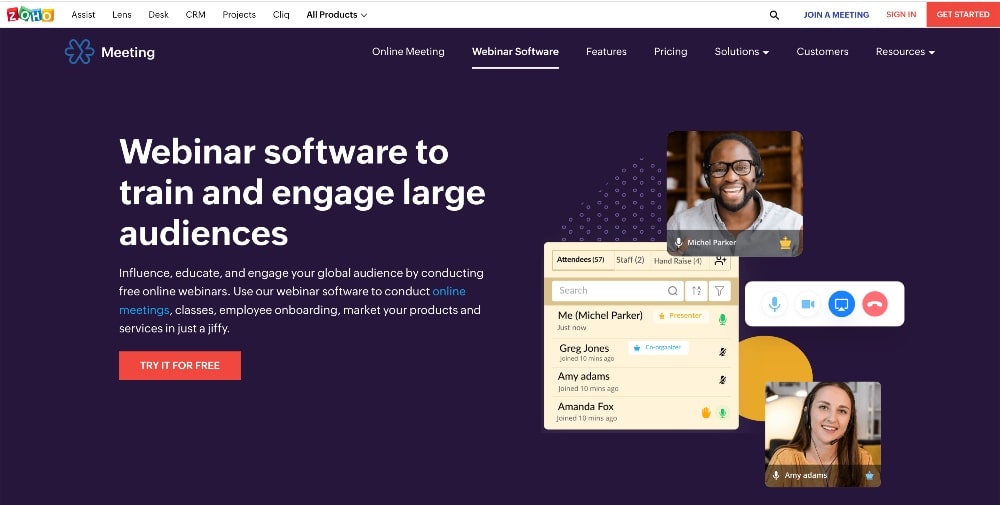 If you're new to webinars and would like something simple and no-fuss, try Zoho Meeting.
It's a cloud-based platform with limited features but offers video conferencing and screen sharing for up to 10 participants. You can create your first meeting for free as well.
Zoho is considered to be one of the best webinar platforms available.
It's easy to use and covers all your basic meeting needs. Zoho Meetings is a great choice if you're looking for simple software with no bells and whistles.
Again, it's important to note that this software is not suitable for larger group meetings. However, it's great for small, remote team meetings.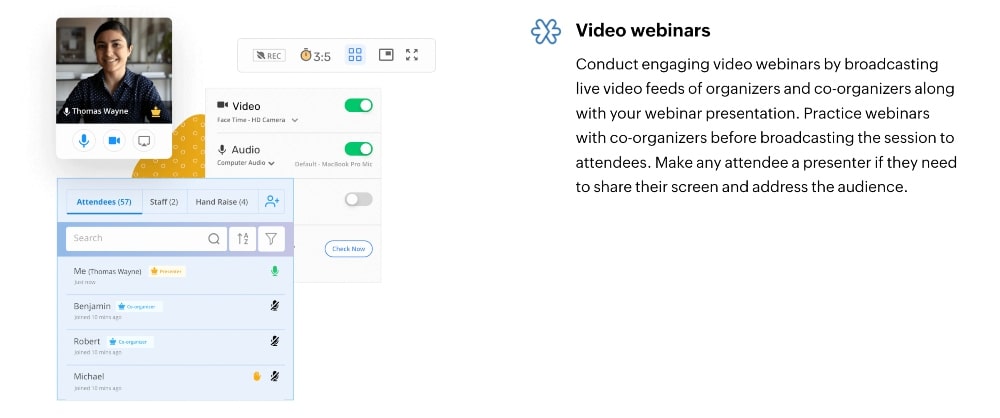 Pros
Zoho Meeting is compatible with any web browser
Easy to set up and features a user-friendly interface
Due to the intuitive interface, setting up webinars is pretty easy
Reasonable price for the premium package
Mobile app available on Android and iOS devices
You can even broadcast your meeting on YouTube
Cons
It is not suitable for meetings with large groups
Pricing plans
Zoho Meeting is definitely one of the more affordable webinar software options on this list!
Free trial: 14 days
Free plan: Up to 60-min webinars and 100 attendees with limited features
Webinar plan: $16 per month for up to 25 attendees and scales up to only $200 for 1,000!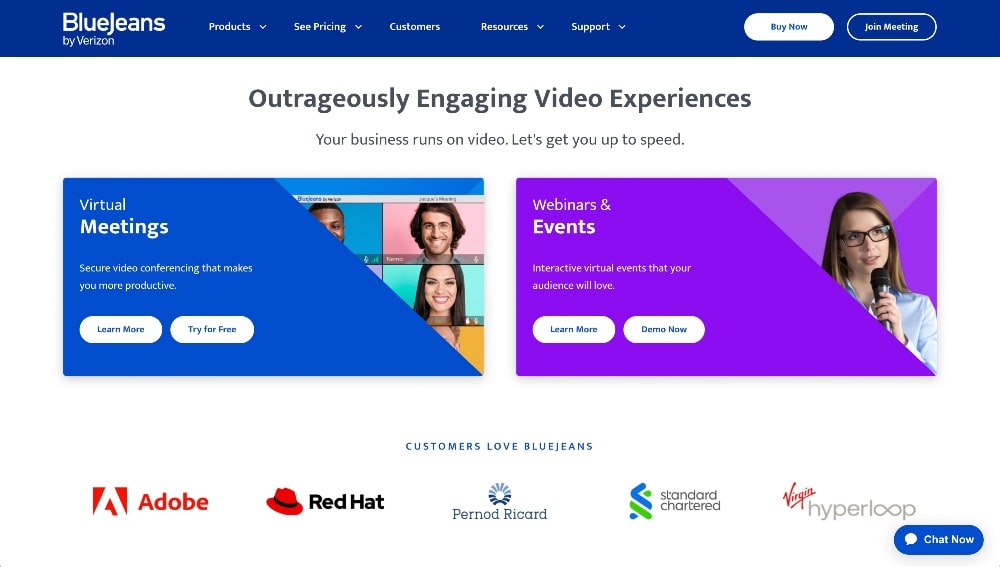 BlueJeans advertises its software as a "production-grade" quality for webinars and video events.
It's the best webinar software for large global audiences, supporting up to 150,000 participants!
Despite the maximum number of participants allowed in a single meeting, the audience engagement features of this webinar software are not lacking. Interactive forums, live chats, Q&A sessions, and polling functionalities are built in for interaction and feedback.
This software also offers detailed analytics for meeting hosts. Large enterprises can internally delegate tasks between team members with convenient event management features.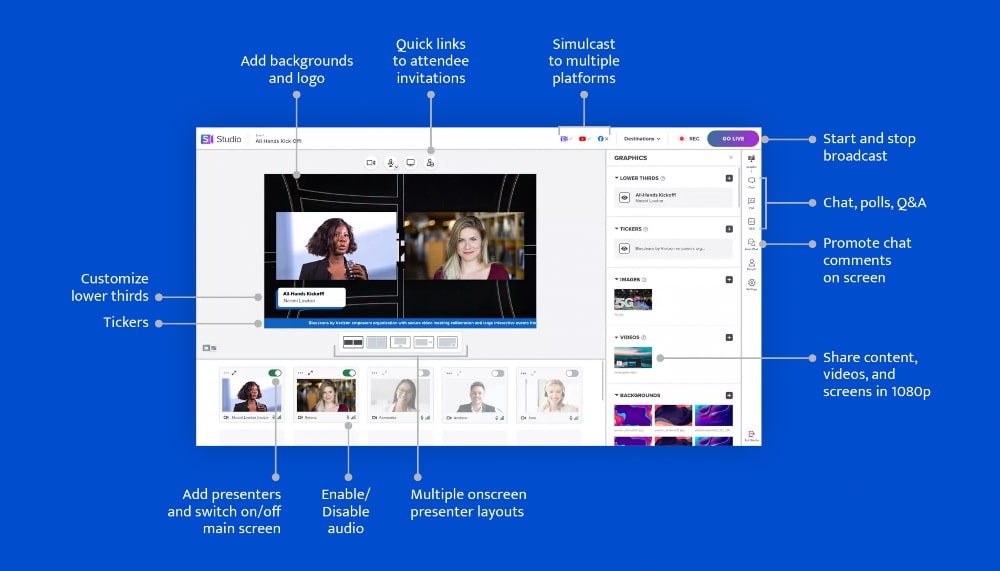 The company offers solid customer support available around the clock for assistance before, during, and after an event.
Pros
Supports worldwide audiences
Customer support is available 24/7
Desktop and mobile-friendly broadcasting
It doesn't require downloading an app
Easy integration with third-party platforms
Cons
No free/freemium plans are available
The user interface could be improved
File sharing is not available
Pricing plans
BlueJeans bills based on attendees. The following pricing is monthly but quoted at the annual billing price (more if you want to pay monthly).
100 attendees: $41.67/mo
200 attendees: $50/mo
500 attendees: $57.50/mo
Customized pricing plans are available for large-scale video events of up to 150,000 attendees, which companies can discuss with the BlueJeans sales team. All standard pricing plans are billed annually.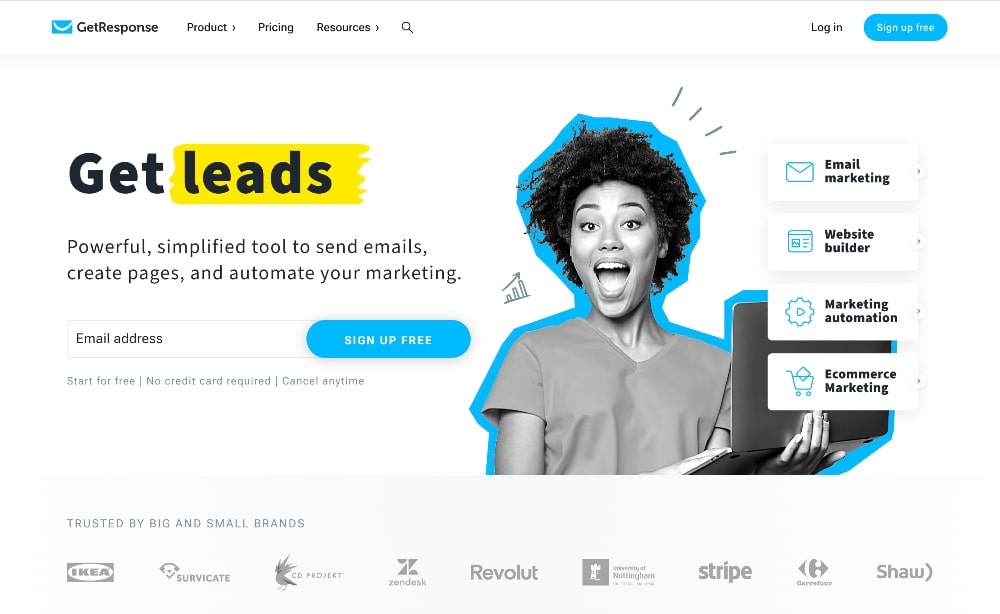 You might have heard of GetResponse when it comes to email marketing, but I bet you didn't know that they also did webinars. To be honest, I didn't either before I did the research for this article.
From website building to marketing automation, GetResponse helps entrepreneurs keep their businesses running smoothly.
They have tools that can make day-to-day life as a business owner easier, including website tracking, live and on-demand webinars, and email marketing.
One of the most important aspects of your online advertising campaigns is your landing page.
GetResponse has a landing page creator tool that allows you to build squeeze pages that are sophisticated and more likely to generate clicks.
Whether you need help with automated emails, web design, or you want to track your website traffic, GetResponse is one of the best webinar platforms that has several great tools that you can use to keep things running smoothly.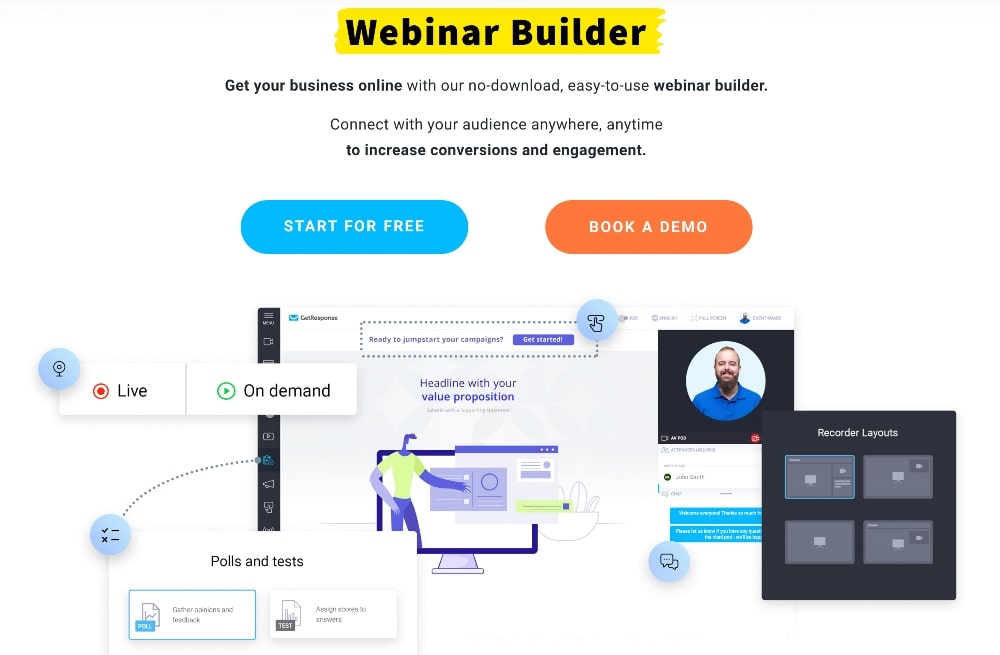 If you want to host free webinars, automate your emails and marketing, and see your website and email analytics, this would be a good option.
Pros
Autoresponders send out reminders/emails to your subscribers on the schedule you set
The free plan has a lot of valuable tools available at no charge
Marketing automation tools allow you to set up an automation flowchart that tells the system what to do when users click on certain links, etc
Easily edited templates
Webinar hosting that is fully online – no downloads required
Cons
Phone support is not provided for most users (available on the Max2 plan)
Pricing plans
GetResponse offers a free plan that has lots of great features for no cost.
Free plan: Email marketing for up to 500 contacts; no webinars
Marketing Automation Plan: the cheapest you can get it for is $41.30 per month for up to 1,000 contacts when billed every two years.
BigMarker is one of the most customizable webinar platforms, perfect for running live events, keynote presentations, town halls, and live events.
As a browser-based webinar platform, BigMarker is easily accessible, particularly for your participants and audience members.
Best of all, BigMarker offers all the tools necessary for promotion, monetization, and analytics.

Pros
Browser-based webinar platform with no software installation required
A vast integration library lets you integrate BigMarker with apps like Zapier, Hubspot, Salesforce, and more
Host as many as 10,000 attendees in a single webinar
No presenter limits allow anyone to join in on-screen discussions
Host any type of webinar, including live, automated, evergreen, and on-demand
Safe webinar platform providing industry-standard SSL and HTTPS encryption
Cons
Users with slower Internet speeds report spotty connections and stalled sessions
The plethora of features and available options make setup a challenge
BigMarker does not offer direct online support
Pricing plans
Every BigMarker plan provides integration, analytics, and reporting features; full-service registration, email, and post-session surveying; screen, file, and video sharing; handout, polling, chat, and Q&A capabilities; and much more.
Basic plan: up to 1,000 live attendees with one host license and nine webcams
Enterprise plan: 10,000 live attendees with four host licenses, 64 webcams, and additional features
Enterprise+ plan: allows up to 500,000 live attendees with six licenses and advanced enterprise features
Unfortunately, current pricing is only available upon request. However, according to the website SaaSworthy, the pricing ranges from $99 per month to $599 per month.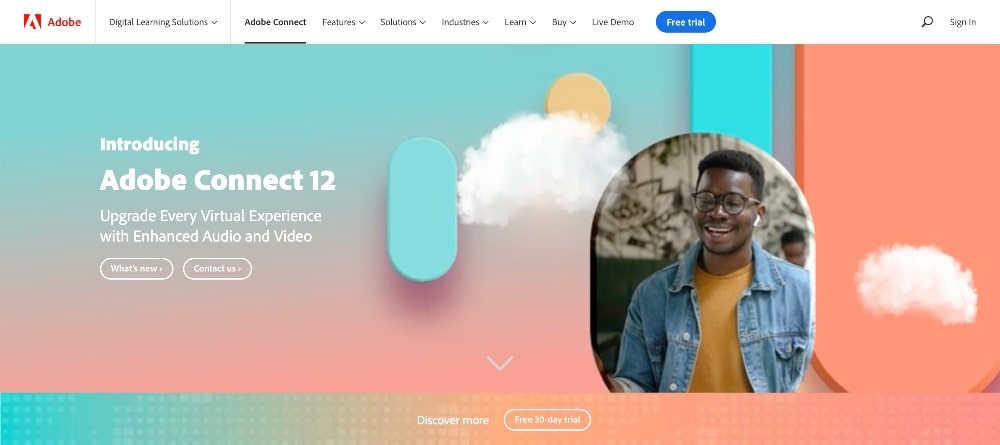 Anyone can hold an event using Adobe Connect: IT professionals, teachers, business owners, and even regular folks who want to talk with friends or family on other continents.
The numerous features of Adobe Connect make it user-friendly, including screen sharing, built-in chat capability, and recording capabilities.
In addition to webinars, you can upload and host videos, share documents, and customize your meeting room to your preferences.

Pros
Integrates with CRM tools like Salesforce and Eloqua
Intuitive interface
Suitable for everyone
Easy-to-navigate dashboard
Cons
Some compatibility issues exist with how the mobile device displays video and audio.
Very expensive
Somewhat inflexible pricing structure for the number of attendees
Pricing plans
The downside of this platform is that the pricing plans are pretty inflexible. There is a big difference between 100 and 500 attendees.
Even ours fell somewhere between this number for live webinars, so that means that you're paying the higher price tag of 500 seats if you have more than 100 attendees.
Free trial: 30-day
100-seat subscription: $130 a month
500-seat subscription: $470 a month
1,000-seat subscription: $580 a month.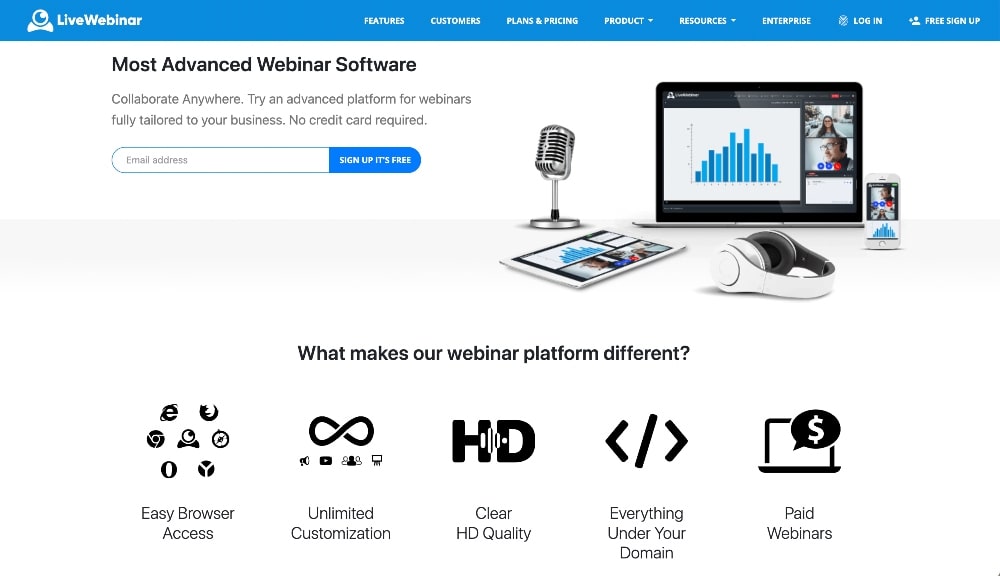 LiveWebinar bills itself as "the most advanced webinar software," and it does offer some unique features such as the presence manager, which kicks inactive users out after several pings.
Another killer feature we love is the ability to edit webinar recordings within the platform.
This is great because if you choose to re-use your webinar and make it evergreen (meaning people can sign up to watch it later), you can remove any mistakes before new people see it.
This software is great for those looking for affordable and easy-to-use webinar software with great audience engagement features in mind (e.g. continuous voting and chat attachments).
It also features the ability to share multiple tabs, and the integrated Youtube streaming features are great for those who need to demo or jump around documents.

Pros
Ability to jump around multiple presenter tabs in presentation mode
Interactive tools such as whiteboards and direct Youtube video streaming
Ping inactive guests and boot them after 3 inactive pings (presence manager)
Allow guests to attach voice messages/attachments in the chat
Polls show up on the presentation screen
Better engagement with attendees via continuous voting (e.g. can you hear me?)
Unique Q&A mode allows attendees to use audio and video
Edit webinars before sending
Cons
No dashboard analytics; only PDFs and Excel reporting
Very limited post-webinar email templates
Pricing plans
Free plan: limited to 5 attendees
Pro plan: starts at $17.99/month for up to 100 attendees and offers additional features such as virtual backgrounds, paid webinars, and 6 hours of recording time.
Business plan: $143/month and allows for up to 500 attendees and 8 hours of recording time, including HD videos.
There's also an enterprise plan with custom settings and premium support.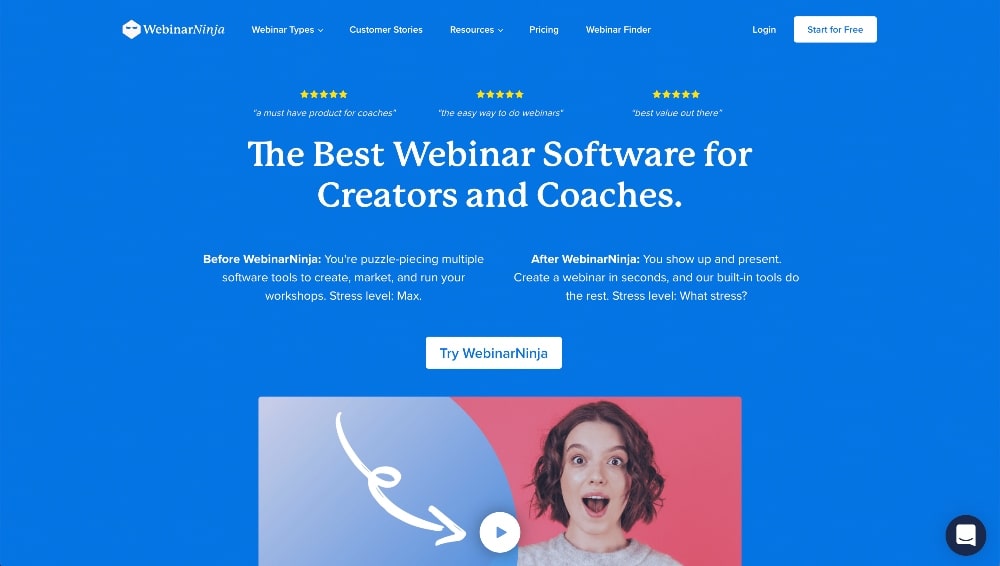 Webinar Ninja bills itself as "the best webinar software for creators and coaches" and plans to start offering paid webinar coupons meaning if you charge your attendees, they will be given a unique access code not available to the general public.
It offers robust and interactive features perfect for coaches and small to medium groups.
The hybrid webinar feature is also fantastic for those creators who want to pre-record presentations, but who also want to be online for live questions related to their presentations.
As stated on their webpage, Webinar Ninja is great for coaches and content creators, though the 100-attendee cap is quite limiting, even for the highest-paid plan.
But while that cap on live attendees is limiting, you can, however, have unlimited registrants and attendees for non-live events — making this more attractive for evergreen webinars.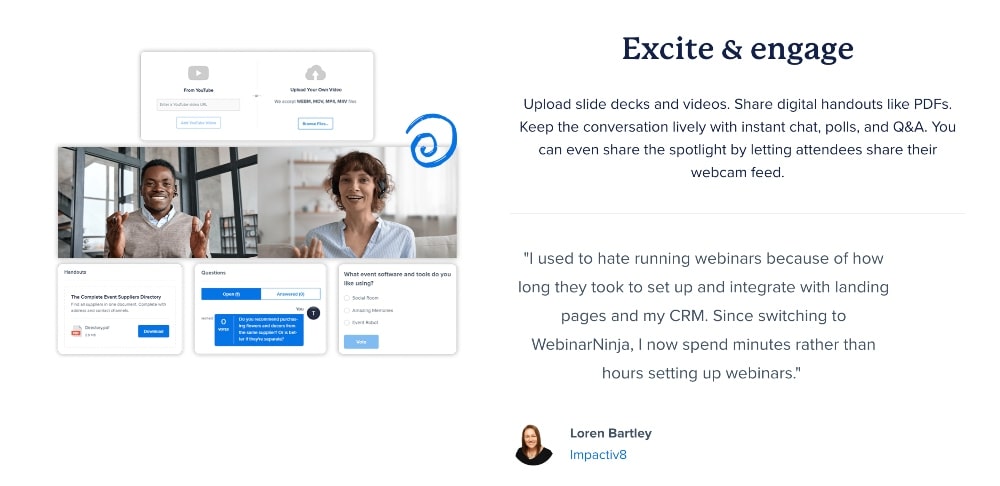 Pros
Allows for live, automated, series, and hybrid webinars
Multiple customizable signup landing page templates without requiring code
Payment integration with Stripe
Email marketing integrations such as Mailchimp and Zapier
Offers the standard questions, polls, and offers marketers want
Great layout spotlight features allow you to emphasize screen, guests, or hosts
Questions and chat are separated, which is great for not missing any questions
Timestamp feature in video Q&A
Cons
The basic plan ($29/mo.) has a 2-hour limit
Supports full HD, though some report minor pixelation issues
Polls and offers can't be timed so they will launch underneath the webinar videos
No engagement options during your replays
Attendees capped at 100 max on all plans
Pricing plans
Basic plan: starts at $29/month for up to 50 live attendees (one host); two-hour maximum.
Pro plan: $99/mo and increases your allotted time to four hours and 100 attendees, with up to four presenters, and includes a custom-branded URL.
Business plan: $199/mo; hybrid webinar feature and high-priority support; still caps the number of attendees at 100, but increases the number of presenters to 10.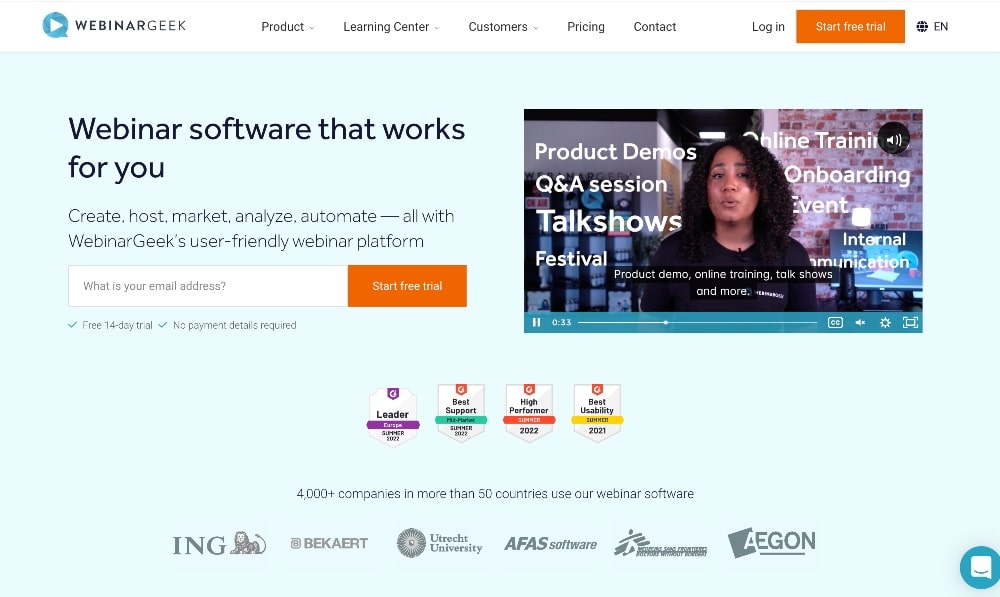 With WebinarGeek, you'll be able to get a webinar up and running in just a few minutes, allowing you to interact with your viewers and interact on a more personal level.
In addition to the ability to host live webinars, users can also create a dynamic webinar by uploading pre-recorded videos to share with their audience.
A lot of webinar platforms don't provide a lot of customizability for the pages that registrants see, but WebinarGeez lets you customize all of your pages, including the registration page.
With so many marketing tools and the ability to connect to other services, WebinarGeek will help you reach your audience in new ways and help you grow your business.
This is a solid option for anyone looking to host live webinars, post pre-recorded videos, and organize webinars with multiple presenters.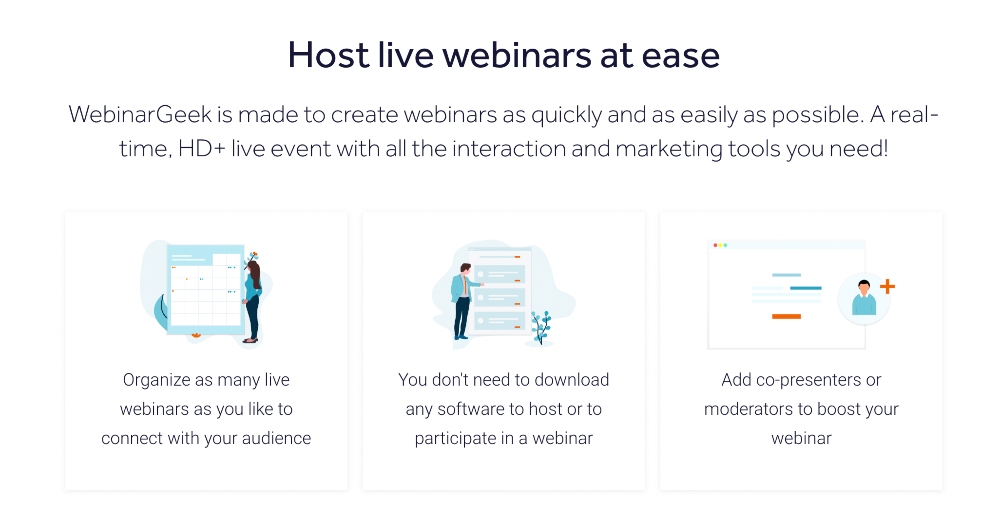 Pros
You can customize the pages your customers will see
Amazing customer support team to help with any issues
Masterclasses are available to help boost your webinar skills
Restream your webinars to all of your social media networks – more than 30 platforms are available
Fast response time when chatting with support/customer service
Cons
Can't upload videos from your computer during the presentation
Pricing plans
Free trial: 14-day
Starter plan: $19 per month and up to 25 viewers per webinar
Premium plan: $54 per month with 100 viewers per webinar
Enterprise plan: custom plan you'll need to contact the company to get pricing for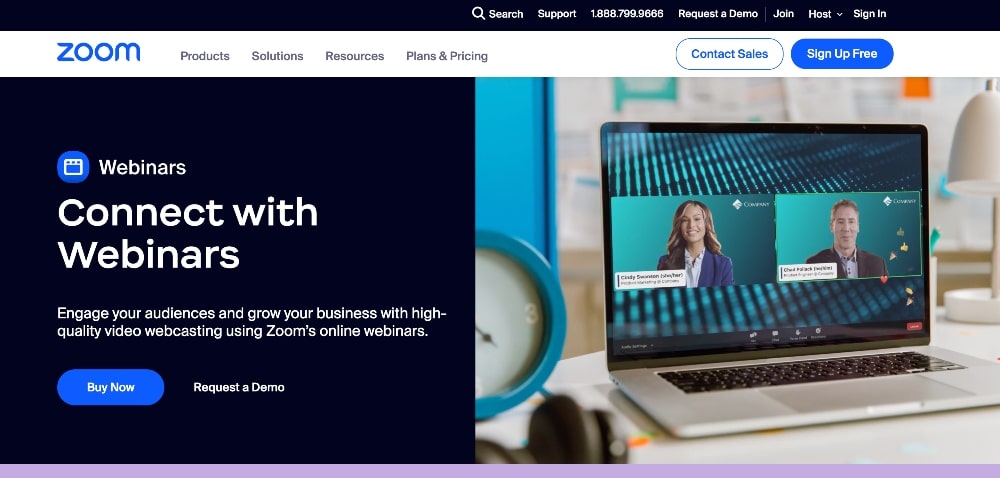 Thanks in part to the covid pandemic that rocked everyone's world in 2020, pretty much everyone and their grandma knows what Zoom is at this point.
As such, we're betting you probably already have this one installed on your computer already, or know how to use it at the very least.
But what you may not have known is that Zoom isn't just for meetings — it's also great for video webinars.
The interface is simple and easy to navigate as the webinar host as well, allowing you to create informative, engaging, and interesting webinars easily.
The ability to host a free webinar for up to 100 attendees is pretty stellar – if you can make it under that time limit.

Pros
Intuitive platform
With a user-friendly, convenient, easy-to-navigate dashboard
Video and audio in HD, as well as screen sharing
Free plan
Mobile app available
Cons
Phone calls get automatically disconnected occasionally.
Pricing plans
Free plan: 40 minutes for a webinar and up to 100 participants.
Pro plan: $14.99 monthly, and it gets you access to every feature and 1 GB of cloud recording.
Business plan: $19.99 per month, which is ideal for small and medium-sized audiences with up to 300 attendees.
Business Plus: $25 per month; more cloud storage and phone calling options.
Enterprise: suitable for large meetings of up to 1,000 attendees. Custom pricing.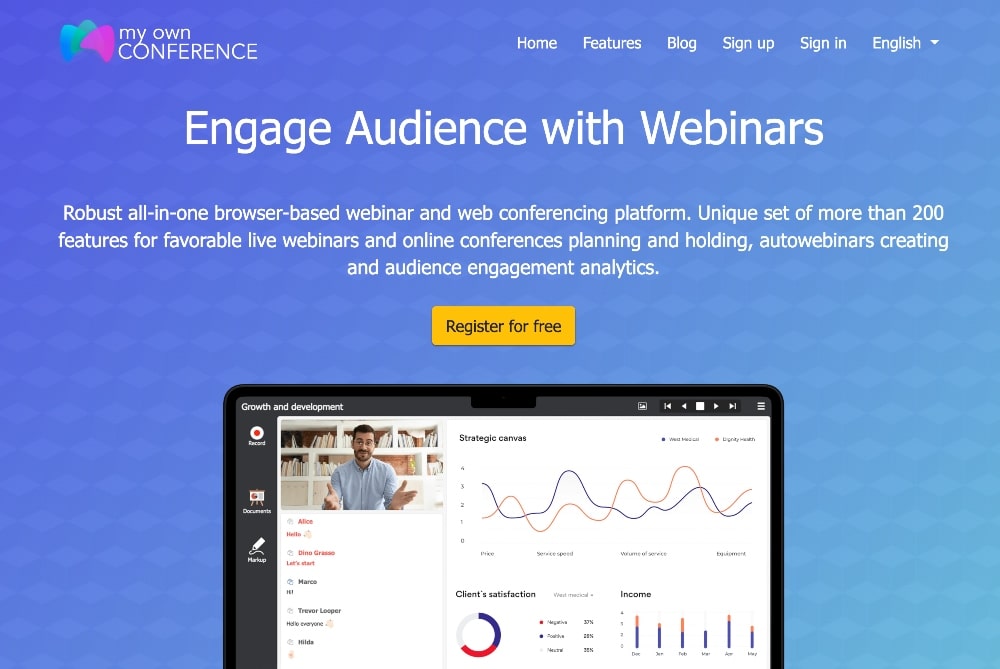 Online meetings, webinars, and conferences are a great way to get a message to your audience, and MyOwnConference is a service that makes hosting easier than ever.
This browser-based webinar platform allows users to use more than 200 features to engage their audience via online conferences, automated webinars, and live webinars.
One of the best features is audience engagement analytics, which allows you to see all of the relevant statistics, such as how long viewers watched and at what point they stopped watching.
Whether you go with a paid or free subscription, MyOwnConference allows you to bring the content you want your audience to see right to their screen.
If you're looking for a user-friendly and simple way to host a webinar, MyOwnConference makes hosting a breeze.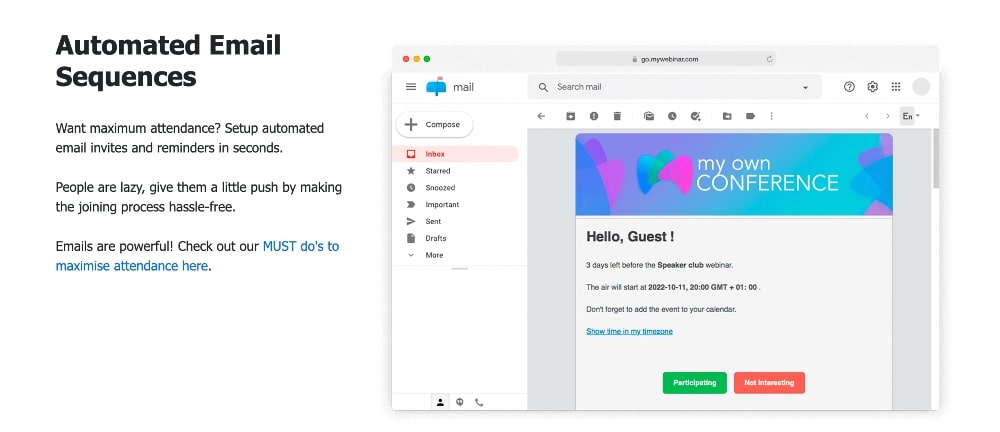 Pros
Reasonably priced
Technical support responds quickly
The audio, as well as the video quality, are fantastic
Cons
Free plan: up to 20 attendees
Paid plan: starts at $29 per month (billed annually) and allows up to 60 attendees; prices increase with the number of required attendees.
Service is demanding when it comes to internet speeds
Bugs such as webinars being recorded without sound and participants not receiving email notifications
Pricing plans
MyOwnConference has two pricing plans available.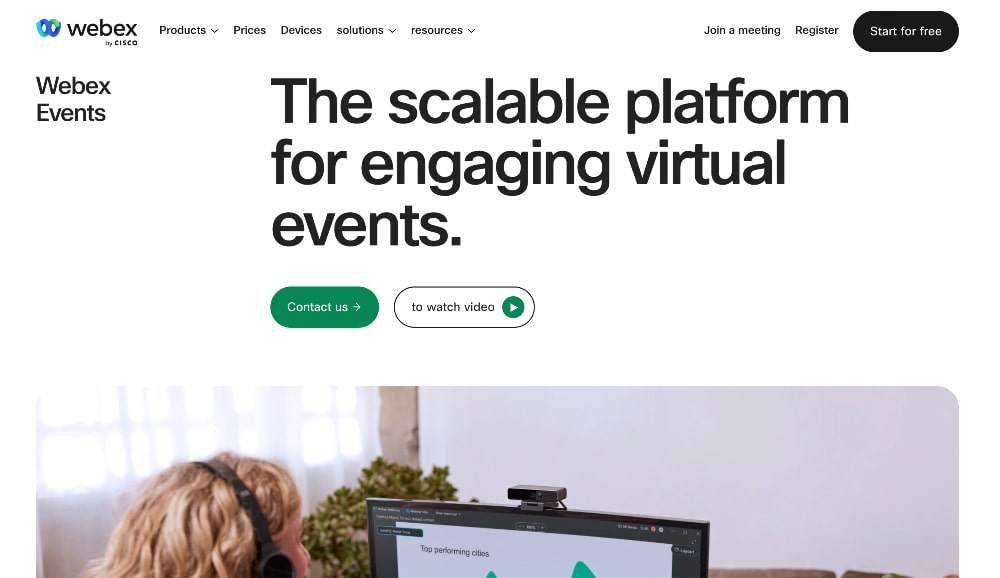 Webex offers a wide range of in-depth conferencing features for large audiences of up to 100,000 participants.
Built-in features, including polling and breakout rooms, promote audience engagement.
Overall, Webex has all the bells and whistles regarding webinar software. Businesses that can use the detailed note-taking, emailing, and live-streaming functionalities while justifying the price will get the most benefit from this option.
Based on the monthly pricing for business users, this is the best webinar software for enterprises with specific features in mind and a considerable budget.
Those who select the enterprise plan will enjoy premium security with dedicated support and unlimited cloud storage.
The interface also comes with a learning curve, making this webinar software ideal for companies already utilizing other solutions from the parent company Cisco.
Pros
Customer service (available via ticket or phone)
Mobile app (iOS and Android)
HD video and high-quality sound
Records meetings for later use
Features for engagement (Q&A, surveys)
Note-taking for hosts and participants
Cons
Best suited for companies already using Cisco solutions
The default browser for links is Internet Explorer
Web-version performs better than the mobile app version
Premium security features are only offered at the Enterprise level
Pricing plans
Basic plan: Free with limited features, allowing users to test the software before committing.
Business plan: $22.50/user/month, billed annually. It includes an increased meeting length, faster customer support, and more cloud storage.
Enterprise plan: customizable and require a minimum of 100 licenses. Companies must contact the sales team for a personalized quote.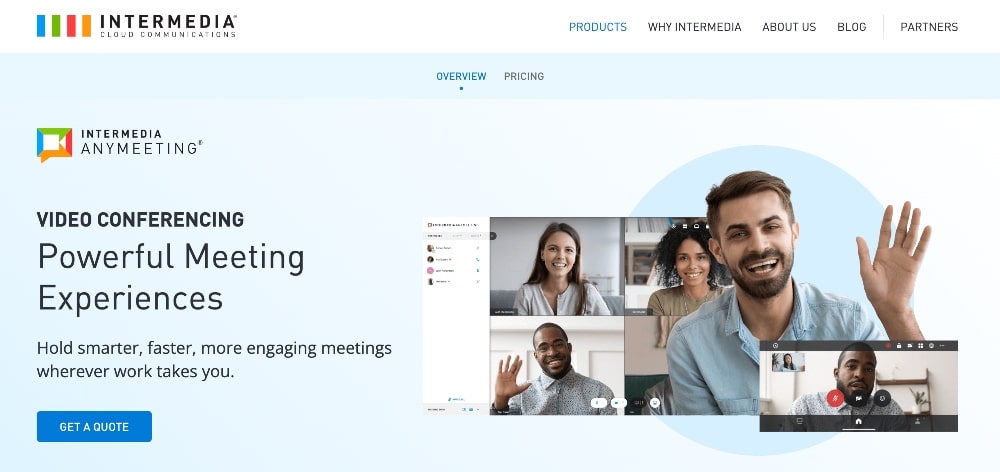 AnyMeeting's maximum webinar size of 1000 attendees with up to 6 live speakers makes it ideal for smaller organizations and content creators.
Audience engagement is prioritized in the features, which include emojis in the live chat, plus several options for polls, surveys, and more.
This webinar software does come with a steep monthly price per user compared to many alternatives. However, if advanced features for engagement and analytics are beneficial to an organization, businesses may justify the annual cost.
AnyMeeting takes a "quality over quantity" approach, with a personalized feel for more focused groups. It is one of the best webinar software options for smaller organizations.
Pros
Live chat and polls for audience engagement
Automated follow-up emails for attendees
Advanced reporting and analytics
Custom branding included for webinars
Interface is user-friendly
Cons
It does not support mobile devices
High monthly price per user
Pricing plans
Free trial: 30-day free
Lite version: up to 100 webinar attendees; billed at $48/user/month.
Pro plan: up to 250 attendees; billed at $128/user/month.
Enterprise plan: up to 1,000 attendees; billed at $298/user/month
Additional Webinar Software Options
While looking through a plethora of articles recommending the best webinar software, several more were suggested outside of the top 20 picks that showed up over and over again.
To save you a lot of "Googling" and sifting through all that we read, below are five more options for your consideration.
Google Hangouts is a webinar software alternative that allows users to stay in touch with a single individual or an entire group.
The Google Hangouts platform is available for your mobile or desktop and can be used to start making video and voice calls immediately.
Pricing starts at: $6/month
Kajabi is a powerful webinar and email marketing solution in one great platform. It is an excellent tool but tends to be expensive if you use it exclusively as a webinar software alternative.
That said, its targeted pop-up options and registration page-building capabilities are some of the best.
Pricing starts at: $119/month
Riverside is a fantastic webinar software alternative if you want to engage in real-time with a broad audience. The Riverside platform offers clear, uncompressed audio and supports video resolutions of up to 4K.
Riverside webinars can simultaneously stream on social media platforms like LinkedIn, YouTube, and others.
Pricing starts at: $0/month. However, to stream to Facebook, Twitter, and YouTube, you'll need to start at the Standard plan at $15/month.
Crowdcast combines live streaming, webinars, and social media to create an ideal webinar software alternative for the not-so-tech-savvy crowd.
You can host online conferences, webinars, concerts, courses, Q&As, and more minutes after signing up for Crowdcast.
Pricing starts at: $49/month
Livestream is a great webinar software alternative for educational institutions and large businesses. It is typically suited for companies with an existing relationship with target audiences.
Livestream automatically records all webinar events and offers unlimited cloud storage, lead generation, audience chat, live polls, and social media streaming.
Pricing starts at: $55/month
What Is Webinar Software?
From a technological standpoint, webinar software or webinar platforms allow you to facilitate, host and manage your own events through video streaming.
While hosting them, you can perform live demonstrations, run polls and Q&As, and sell products and courses.
The immediacy of a live webinar gives you feedback in real time from your audience.
Without waiting on a long drawn-out survey where you submit questions to your audience and they submit answers, you can simply ask them questions outright and determine things like:
What they care about
What do they want to see more of, and
How they are responding to you
Reader opinions become a real conversation, and the conversation, in turn, allows for the ideation and the creation of new content.
Why Do Bloggers Need Webinar Software?
Webinars certainly aren't for everyone and even if they are right for you, there is also a time and place for them in every business.
Webinars provide a great way for you to connect directly with new customers and deeply engage with existing ones — while scaling your business.
When done right – hosting a webinar is so much more than talking at people. It's a chance to build a connected community of like-minded people all working on solving their deepest pain points.
Almost every writer, blogger, chef, sculptor, mom, singer, etc… is essentially a digital creator.
And sure, you can create content on Facebook, LinkedIn, Twitter, Instagram, and TikTok to name a few to share stuff with your audience.
But when you wanna go deeper – that's where webinar platforms come in.
And there are so many options when it comes to running webinars in your business. You have live webinars and automated, evergreen webinars.
Live webinars typically have higher attendance and engagement, as the folks at Business2Community can back up with data:
received 2.3 more registrants than an on-demand webinar
had 23% more attendees
had an 80% completion rate, as opposed to 35% of an on-demand video
We found this to be true when running webinars in our business as well.
Next, in case you're not sure, let's discuss what webinar platforms and software actually are.
Tips for Hosting a Webinar as a Blogger
Get to know your audience – Your topics are interesting to you, but a webinar gives you the opportunity to get to know your audience on a deeper level and find out what they really want to learn from you
Build trust – Webinars give you a platform to be conversational and make it personal. Introduce yourself and share your background with the people already in your audience and any potential new followers.
Be specific and to the point – You want your audience to understand what you are sharing with them, and not overwhelm them.
Be human – Have a conversation with your audience and act like you are in the room with them.
Use visuals – Keep the audience engaged and focused on what you have to say with images, video, and your smiling face.
Would you want to hear someone simply read a large amount of text on a screen during a live session? Probably not.
Use polls, surveys, and chat – Another great tool for engagement and a way to receive immediate feedback.
Provide additional resources – Share useful downloadable content to help your followers prepare for or refer back to after your session.
It's also another great way for you to test different formats and see what resonates with your audience.
Pro Tip: Practice ahead of time!
Webinars aren't usually something that you want to "wing it" for. They usually require a good amount of practice and preparation beforehand.
You'd be surprised how many times you get hung up or forget something important that you wanted to say.
It can also be hard to get the timing right without practice.
You want to have a long-enough webinar to have time to get real with your audience and educate them enough, but you don't want to take up too much of their time either.
It's a delicate balance and sometimes only practice can help you get this timing right.
There are a few reasons why you should practice before hosting a webinar regardless of the webinar software you choose to use.
When webinars are live events, anything can happen. Practicing helps you prepare for the inevitable glitches and issues that can, and probably will happen.
Plus, practicing will help you feel more comfortable with the material and delivery. When you're confident in what you're saying, it'll show in your presentation and attendees will be more engaged.
Act as if it's the real thing while practicing, and record it too so it feels more real. I also recommend watching it at least once to see how it looks to your attendees.
Simple things like this will help you to better ensure your live webinar is a success.
What should your webinar be about?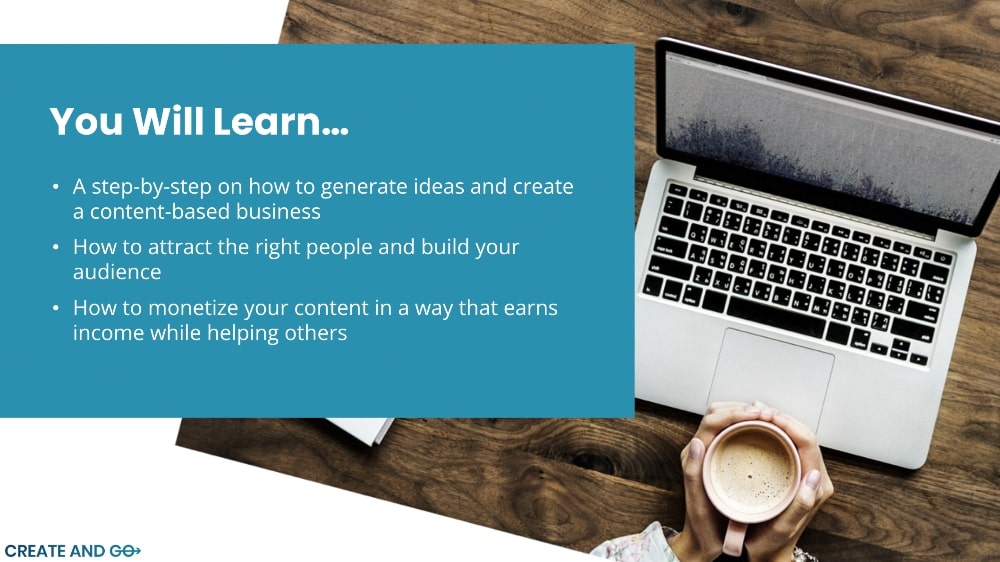 Have you thought yet about what the heck you're going to talk about in your webinar?
When you're planning your first webinar, it's important to decide what you want to achieve and who your target audience is.
From there, you can start brainstorming ideas for what to share and discuss. Here are a few things to keep in mind:
Your webinar should have one primary focus or theme.
Are you there to educate and inspire?
Or is your goal simply to get to know your community?
Are you planning to sell something?
Consider – What will be the main takeaway for attendees?
Are you solving a pain point?
Bringing awareness to something?
Maybe a little of both?
Once you know your goals and audience takeaways, you can start planning the content of your presentation with a lot more ease.
Think about what would be most useful or interesting for your target audience.
If you're not sure, try surveying them beforehand to see what topics they'd like to learn more about.
Your presentation should be well-organized and structured in a way that flows logically from one point to the next. Don't try to pack too much information into one webinar – focus on covering just a few key points – 3 is the sweet spot – that attendees can really benefit from.
For example, let's say you're a blogger who blogs about essential oils. This is a niche you know inside and out and you could talk about for days.
Your webinar could be something like – Using essential oils for cleaning.
Point one could be all the reasons that chemicals traditionally used in cleaning supplies are toxic in your home.
Point two could be all about your experience detoxing your home of those cleaning supplies and how it improved your life and/or the life of your family.
Point three could be how people can use essential oils to clean their homes and you could even include a hands-on demonstration sharing some of the recipes for your favorite household cleaners.
Then, you could end with a call to action to purchase your essential oils for healthier living eBook, a course, or whatever you are selling.
In this type of webinar, you:
Helped your audience with a pain point (making them aware that chemicals are toxic in the home)
You gave them an actionable recipe (or two or three!) to help them get rid of some of their chemicals, and
You shared with them how they can work with you further to rid their home of all the toxins.
Using a quality webinar software option from this list, you could then turn that into an evergreen webinar, and re-run it multiple times selling your eBook/eCourse and start earning an untold amount of income for months or years to come!
This is the power of hosting webinars!
Engagement is Everything in Webinars
We mentioned connection to your audience, but another key factor for anyone creating content today is engagement.
Webinars provide immediate feedback and more intimate interaction with an audience. And when you choose the best webinar software for your needs, it should give you the tools needed to measure your audience attendance and engagement.
What does webinar engagement mean?
During the webinar, engagement can come in the form of questions, polls, correspondence, etc.
After the webinar ends, this engagement can look like comments on current and future posts, tweets/retweets, and your audience linking back to one or more of your blog posts.
Audience retention is an important measure of blogging success.
Getting readers to stick around for a presentation solidifies their trust in you and commitment to you as a follower.
The content needs to be interesting, but more importantly, the audience needs to feel invested.
Always remember that when your audience is tuning in they are asking themselves, "What's in it for me?"
Wrapping Up
What's the best webinar software to help you make your events a success? With all the different options, it can be hard to narrow it down.
Choosing the right webinar software can help you create an effective and memorable event that will increase brand awareness, improve your authority, and drives new sales.
So which one should you choose? For most people, it's going to boil down to price.
We've covered a lot here today including the best features and pricing options, to help you decide which one will work best for your blogging business.
Many of these webinar platforms are pretty comparable in features, but some include a lot of bells and whistles that you also may not need.
I hope that we've given you a good starting point and from here, you can dive a little deeper into your top couple of choices and hopefully try them out and find something that works for you.
Just make sure to find a webinar software tool that provides enough ease of use for you to focus on what's really important — delivering that information to your audience.