We partner with bada$$ companies that offer products that help our readers achieve their goals! If you purchase through our partner links, we get paid for the referral at no additional cost to you! Read our disclosure for more info.
The SEO journey is a long and arduous one. Thankfully, there are tons of tools out there to help you, but sorting through them to find the absolute best seo tools is a journey in itself. How many do you need and which ones are the most worth your time?
A simple Google search for "best SEO tools" will turn up pages upon pages of articles, each with far too many choices…and very little personal experience from people who actually use the tools.
I don't know about you, but I'm really tired of the thousands of articles out there that tell me WHAT something is or does but that's where their "expertise" ends.
They don't tell me why they personally love it, what their experience has been with it, and why they think it's better than the other options out there.
And let me just say that even with our more advanced SEO knowledge and experience, searching through those pages of SEO tools and their descriptions was mind-numbing.
I did the research for this article because while we have our favorite SEO tools on this list, I wanted to make sure I included any other tools that I thought you might find useful and relevant.
So, on that note, I'm going to share with you:
Our best SEO tools – all of which we currently use or have used in the past,
why we love them,
and what you can get from them.
But first, let's go over a little general background on why you need SEO tools in the first place, what they do, and how they can help you make more money blogging. This should give you some better perspective when you're sorting through the list of tools below.
What Do SEO Tools Do and Why Do I Need Them?
SEO tools are possibly the most valuable tools for bloggers or for any web-based business that relies on driving traffic to their website.
If you've been running a website for even just a few months, you've probably used some form of SEO tools without even realizing what they were.
SEO tools are any tool, program, or software that helps you rank higher in search engine results, including:
Keyword research and recommendations
Performance analytics
Website crawling
Search engine snippet previews
Article analysis
Comparative website recommendations
And more
Essentially, SEO tools help you optimize your content, fix issues with your website, analyze your performance, can even compare your site to competitors' sites to show you what's working for other blogs, and more helpful things.
Do you have to use SEO tools?
Technically, no, you don't have to use SEO tools to blog…but you'll essentially be driving blind.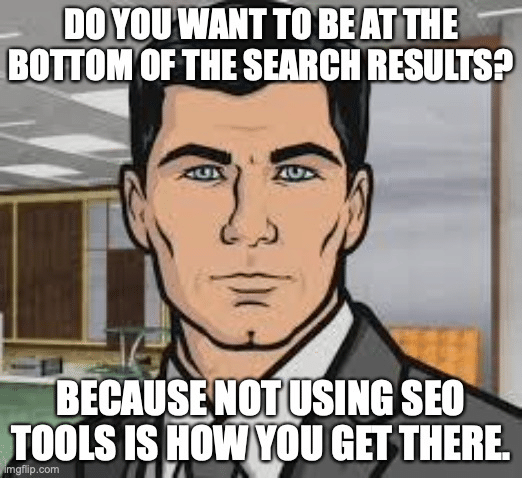 There is a BIG difference between creating the content you think your audience wants, and creating the content that your audience is actively searching for.
And speaking from experience, if you start a blog or website without taking SEO seriously from the get-go, you're just creating more work for yourself later on, AND keeping yourself from making more money sooner.
We made this mistake with our website and there are some problems you can't come back from. It doesn't mean you have to have a certified, fool-proof SEO strategy from the very beginning, but it does mean that you shouldn't ignore it completely in favor of "worrying about it later."
Free vs. Paid SEO Tools
There are a lot of free SEO tools out there, and many of them are really useful.
And I know you're probably expecting the whole "you get what you pay for" spiel here (you know me too well), but honestly, there are some really great free SEO tools out there.
We use several free SEO tools regularly, and they work great for us. But free tools won't cover ALL of your bases. Eventually, if you want to advance and at a reasonable pace, you'll need to upgrade some of your SEO tools.
You'll need some features that free platforms don't offer (or can't do well).
The SEO tools that we pay for are well worth the cost, though, because of the results that we see from them.
BUT — we know that many of you are probably on a tight budget and have to choose your paid tools wisely. Having a premium SEO tool might not be in the cards just yet for you – especially if you're already paying for email services like ConvertKit, which should definitely take priority if you can't afford both.
So if your budget doesn't currently have room for SEO tool spending, just stick to the free tools for now, and add in premium SEO tools as soon as you're able to.
What are the 6 Best SEO Tools for Bloggers?
The following tools are a mix of free and paid tools. Some paid options also include a free plan as well.
1. Rank Math
Rank Math is a great, free WordPress plugin SEO tool that gives you a score on your articles to show you how well you've optimized your content for SEO.
You just add in your keyword for the article and RankMath will provide you with recommended changes and suggestions to improve your article for SEO.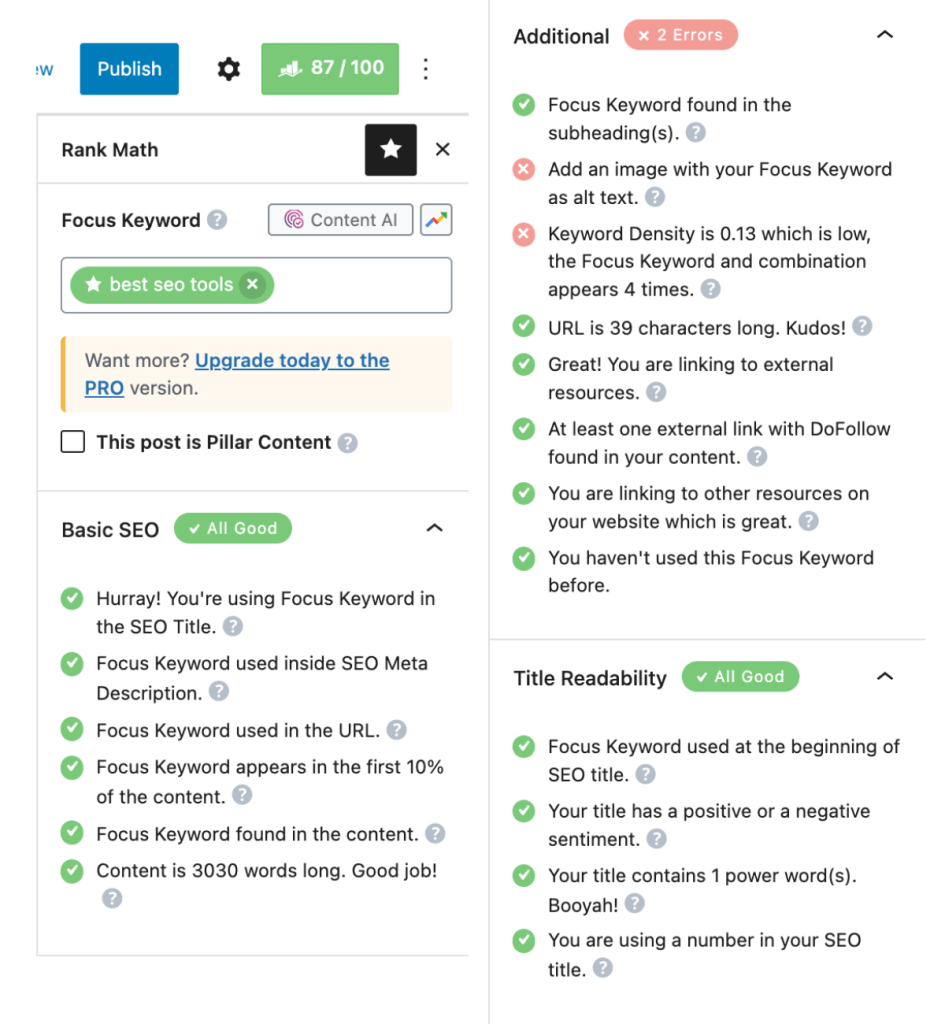 Even if you choose to ignore all other SEO tools on our list, please do yourself a favor and use RankMath at the very least. It's important to have a few basics down, even if you decide not to get into more advanced SEO strategies.
The biggest competitor to RankMath is YoastSEO, which we used for years before switching over to RankMath. I still love the YoastSEO help articles when it comes to understanding some of the SEO basics for your articles, but RankMath is a superior plugin with better features, in my honest opinion.
There is also a premium version of RankMath, but you really have all you need with the free version.
Cost: Free
Type: WordPress Plugin
Purpose: Basic score-based SEO screening and analysis for posts and pages
Important Features:

Score-based and color-coded ranking of your post's or page's SEO score
SEO checklists for:

Basic SEO (like keywords and article length)
Additional SEO (like keyword density and DoFollow links)
Title Readability (including sentiment and power words)
Content Readability (including paragraph length and images)
Download RankMath and make sure you can get your posts to score above 90% for SEO optimization.
2. SurferSEO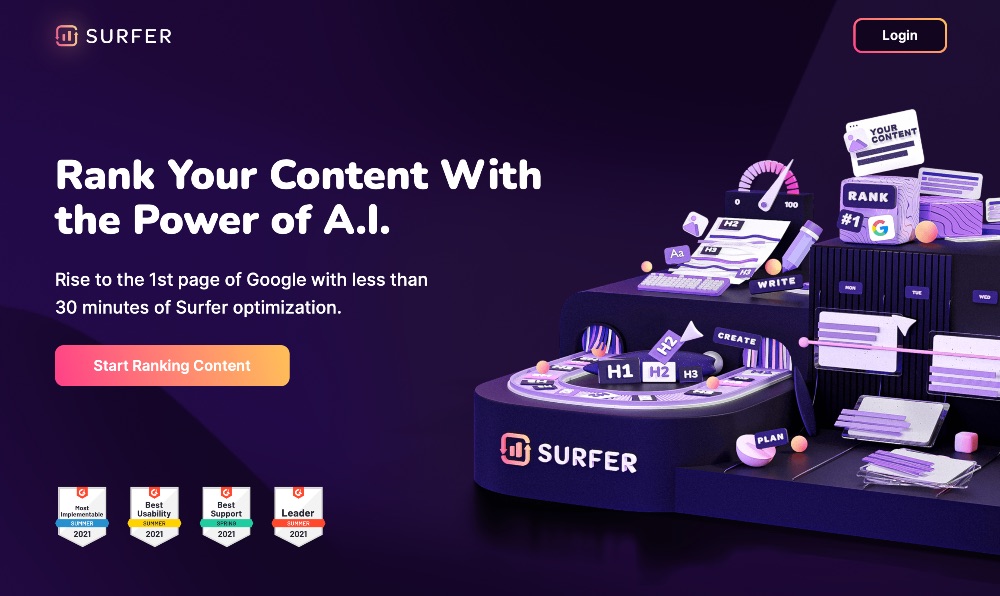 Surfer SEO is our favorite tool for optimizing blog posts (after Jasper for writing blog posts).
A good boxer doesn't just have a right hook. They usually have 1 or 2 punches they're really good with. They have a mean jab AND a nasty hook that makes them both complement each other.
This is a lot like how we look at Surfer SEO and Ahrefs.
Ahrefs gets you all the groundwork, everything you need to get going, to plan everything out, and to execute your plan. But Surfer SEO allows you to check your work.
NO ONE knows the EXACT formula or algorithm Google uses to decide if content should rank. But what Surfer SEO does is break down everything it COULD be.
It breaks down how many times an article mentions a keyword, how many backlinks they have, how long the title is, how fast the page loads, and SO much more.
It also tells you:
What keywords you should include in your blog post and how often you should include them
How many images your post should have
How many headings, paragraphs, and words your post should have
And so much more!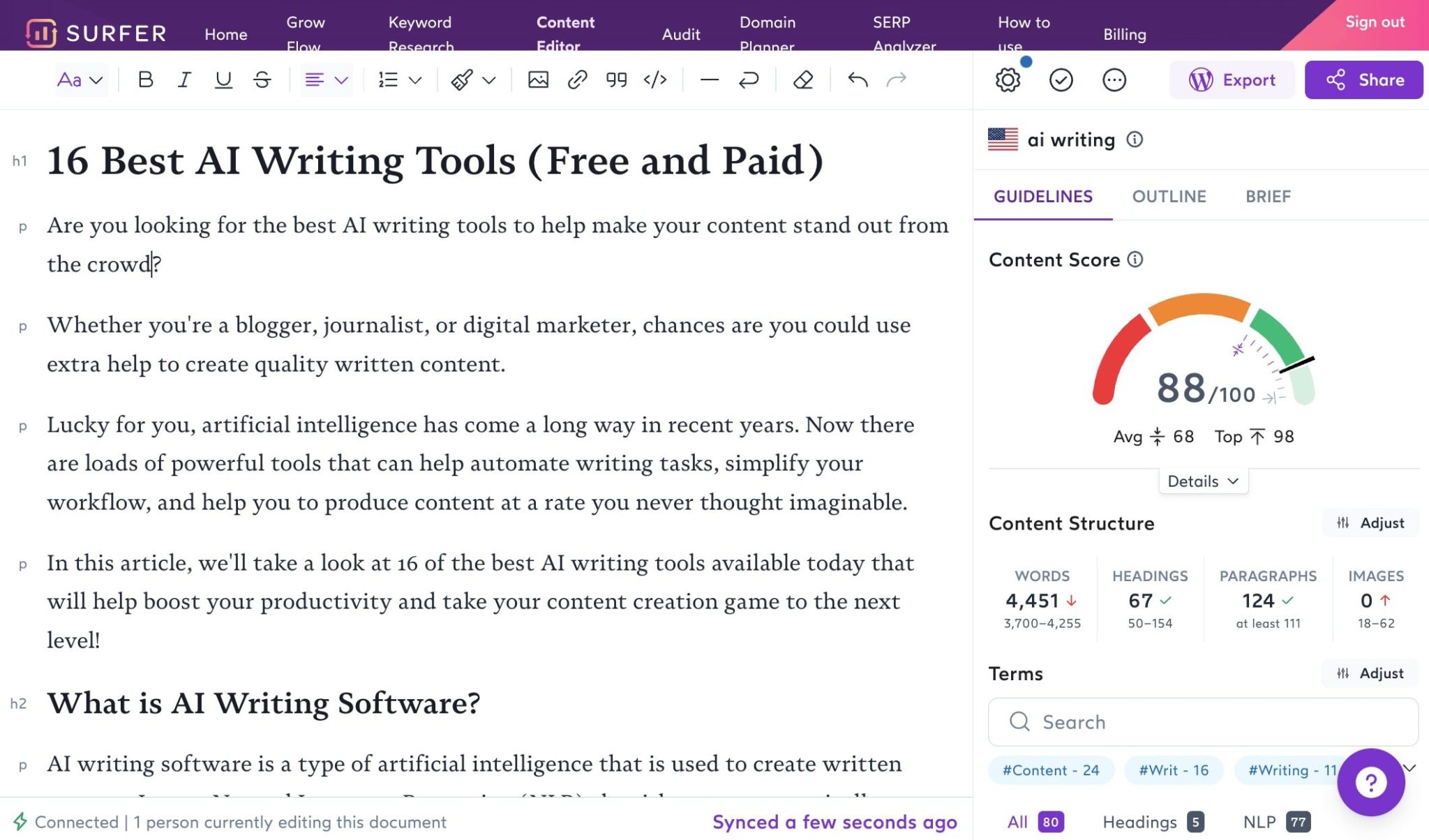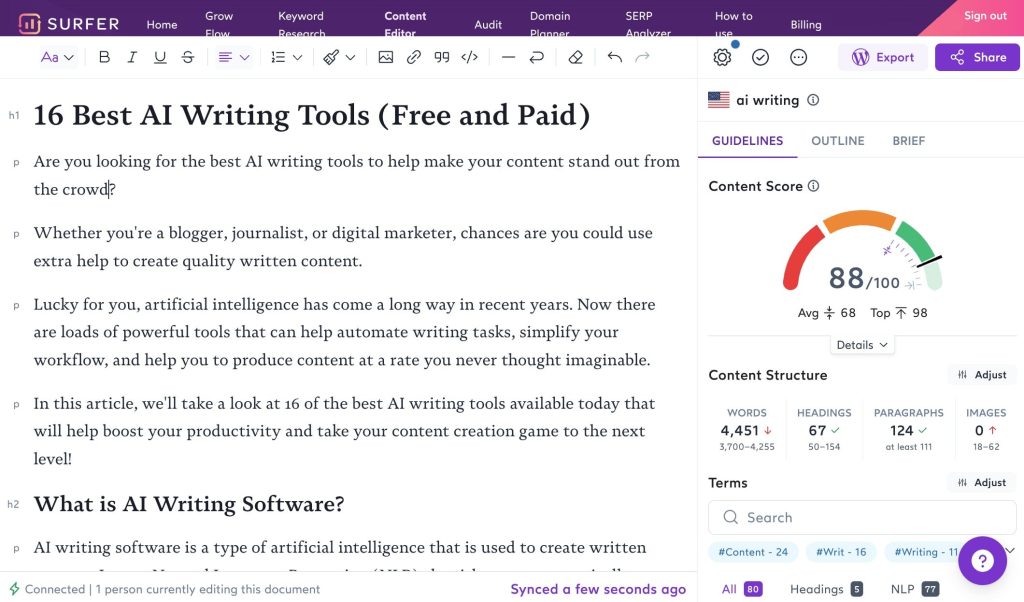 It's almost TOO powerful of a tool sometimes.
But, it allows you to identify how your content may be falling short, and helps you to adjust accordingly, to make corrections, and strongly increases the chance of your content becoming the top dog for a keyword.
Cost: Paid, starting at $49/month
Type: Online software
Purpose: Analyze & compare articles
Important Features:

Analyze your content
Compare your content with data/info from top-ranking posts
3. Ahrefs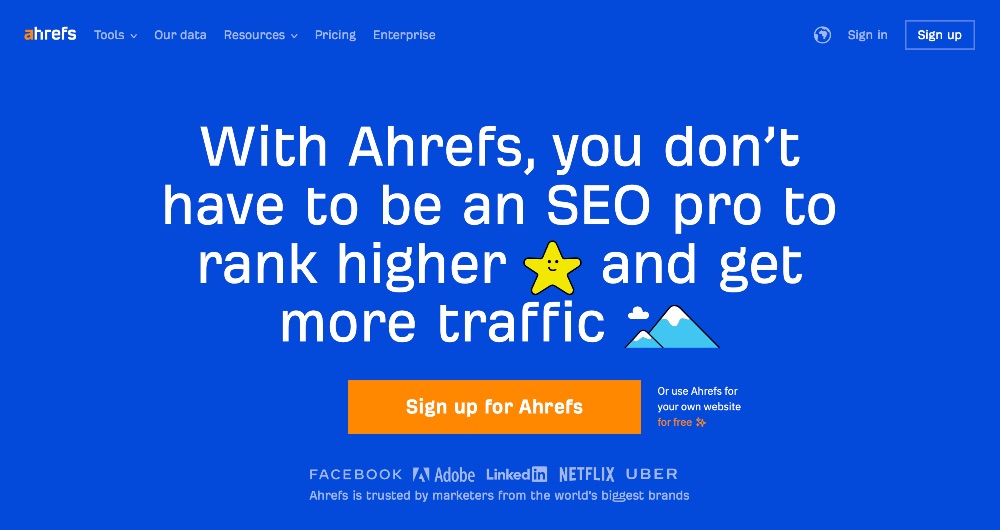 We love Ahrefs, and we use it all the time — at least a few times a week.
Now, I hate to jump from a free tool to a considerably more expensive tool so quickly, but if I'm going in order based on the best tools that we personally use — Ahrefs must come next.
It's definitely on the pricier side, but we absolutely make our money back many times over with this comprehensive SEO software.
Ahrefs is considered an all-in-one SEO tool, and it does a LOT (full features listed below) but where the bread and butter really is for us comes from the keyword research and site audit features.
We'll go into some of those features in more detail in a minute but first, know that this tool isn't one that you necessarily need right away if you are still in the early stages of building your website.
There are likely other more important investments in the beginning, but at whatever point you decide to get really serious about SEO, you will need Ahrefs.
The information that it provides is extremely valuable and it's also pretty much an industry standard, so when you look up SEO tutorials or take an online course, Ahrefs is usually the tool that's demonstrated.
Ahrefs Highlights
Site Audit Tool: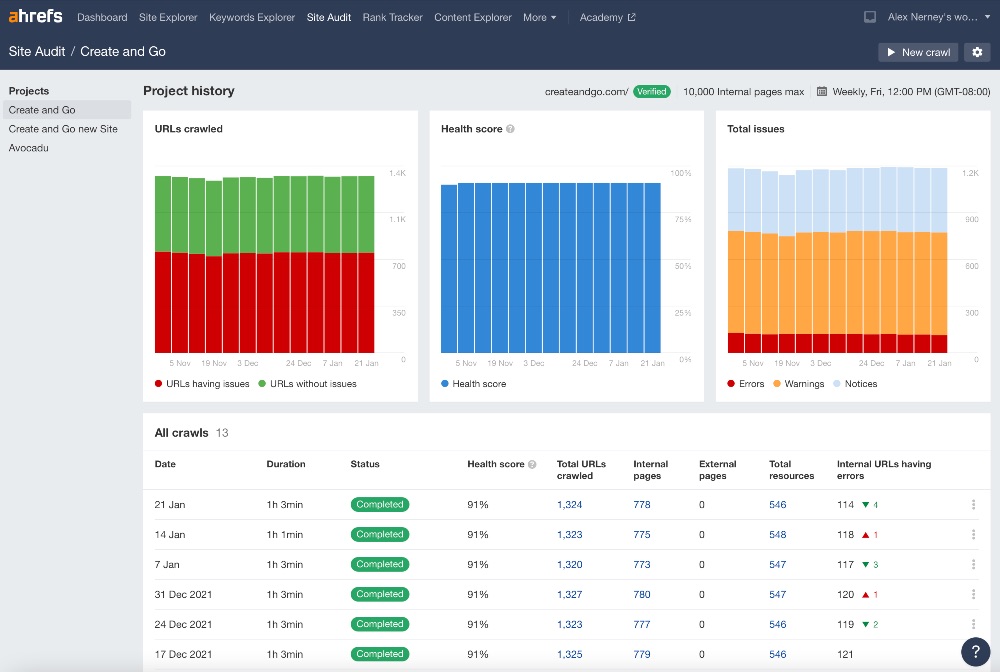 My personal favorite feature that got me hooked on ahrefs was the Site Audit Tool.
It's a built-in tool that you can use to optimize your website and keep track of rankings super easily.
It's right there on your dashboard as soon as you log in, and it's a great way to keep track of your site's SEO health and catch any potential issues before they get out of hand.
Keyword Explorer: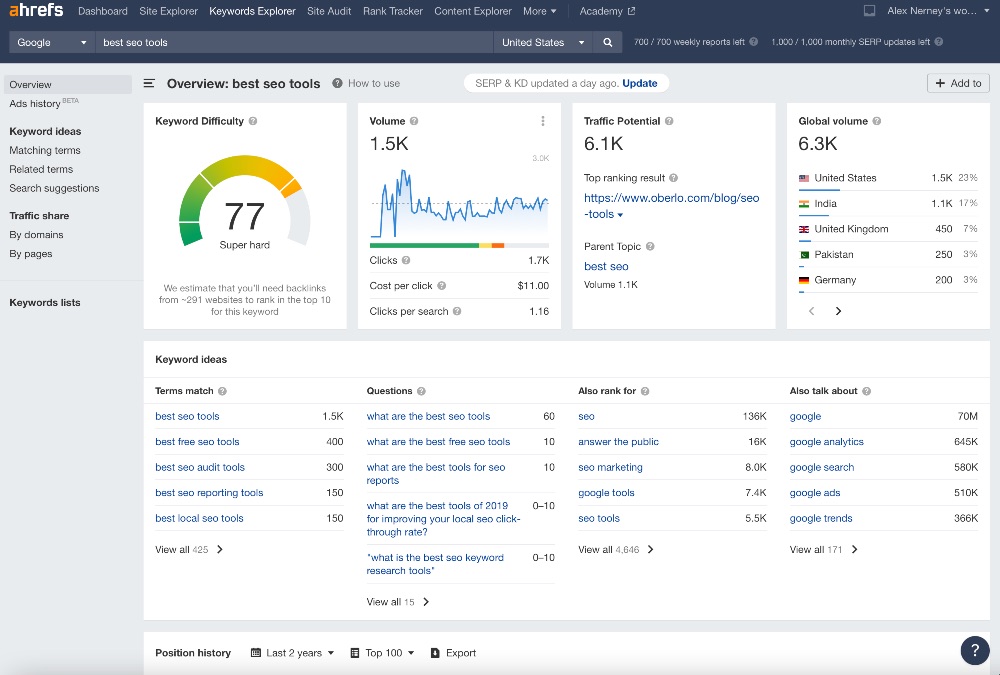 I also love Ahrefs' keyword explorer tool, because in addition to keyword popularity, Ahrefs also provides data for how competitive the keyword is, and how many backlinks you need to rank for that keyword.
It's a lot easier (and usually faster) to get results going after less competitive keywords, and knowing how many backlinks you need allows you to create a strategic SEO plan.
That might seem like a small thing, but really, it's a compilation of a ton of small features into a seamless result, which only makes us love Ahrefs more.
Cost: Paid, starting at $99/month
Type: Online software (with a new WordPress plugin)
Purpose: Comprehensive SEO tool
Important Features:

Site audit tool (analyzes your website & makes recommendations for improvement)
Competitor site analysis (analyzes competitor sites & shares what's working for them)
Keyword research (including how competitive a keyword is)
Search engine ranking
Review & compare competitor websites
Website crawling
Site audit tool
Ahrefs Alternatives
In our opinion, Ahrefs is the best SEO tool out there when it comes to your more comprehensive tools.
Of course, there is always personal preference that factors in here as well. There are other tools that can do the same or similar job as Ahrefs, but these other tools have pretty big differences when it comes to ease of use.
The user interface, data presentation, and ease of navigation all play a role in how easy the tool is to utilize. This is a big reason why we (and most other SEO experts we know) choose Ahrefs over their competitors.
Fortunately, Ahrefs does offer some free SEO tools, including several free keyword research tools, and they're continuing to add more.
But with all of that said, there are a few other similar tools that you could consider — some of which also have limited free versions (in case cost is your biggest obstacle).
SEMRush:
Last we checked, SEMRush has awesome social media tracking tools, which is an area that Ahrefs lacks in.
Moz:
Moz is priced fairly comparable to Ahrefs, and it provides similar features, like site audits, rank tracking, and backlink analysis.
A cool feature Moz offers is a Google Chrome extension called the Moz Bar (or Moz Pro Bar when you have their paid upgrade) which shows you the top SEO metrics for any website or search result instantly as you browse the web.
That kind of data is very valuable, especially when searching competitor sites in your niche.
Ubersuggest:
Ubersuggest is one of Ahrefs' biggest competitors and they've made huge strides and improvements since they first came onto the SEO scene.
It's still not quite as comprehensive and in-depth as Ahrefs, but there is a limited free version and some of the paid plans are a little more affordable. It might be a better option if you're just looking to start getting your toes wet before committing to more expensive and robust software like Ahrefs.
We also discuss Ubersuggest more in our article on keyword research tools.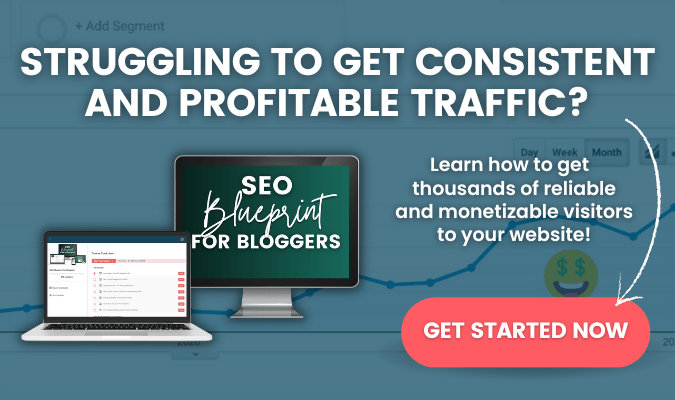 4. Google SEO Tools
Google offers some of the best SEO tools out there and the best part is — they're ALL free.
Google wants to help you to provide high-quality content because that's what keeps people on pages longer and puts more money in their pockets through paid ads.
Because of this, Google provides some really great, helpful, and free tools for content creators to help them grow their audiences.
Cost: They're all free!
Type: Online software
Purpose: Multiple SEO tools
Important Features:

Performance monitoring
Website analytics
Trend tracking
Page speed tests
Mobile performance tests
Here are the best SEO tools from Google that can be helpful at any and all stages of growing your business:
Google Search Console: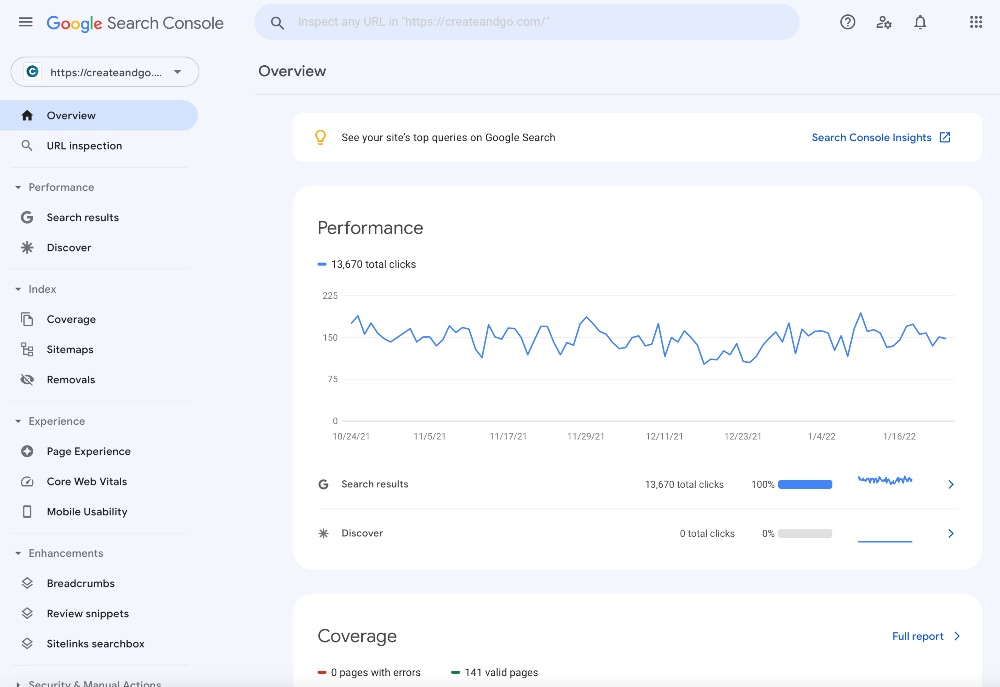 Google's Search Console tools allow you to monitor your website's performance as a whole, including SEO traffic and keyword rankings.
We use this tool to run regular reports to track growth and performance, and it's an essential tool if you're not currently using another comprehensive SEO tool like Ahrefs to track your site's performance.
Google Analytics: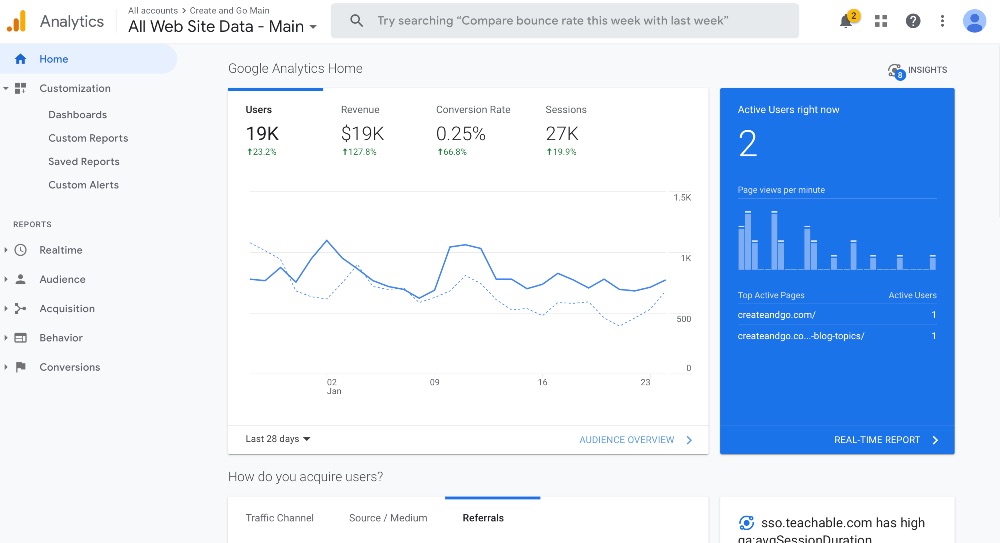 Google Analytics is very similar to Google Search Console, but it primarily focuses on analytics specific to traffic, including your top pages, your highest-ranking keywords, and any other relevant traffic statistics that you want to review.
One of the main ways we use Google Analytics is to track our social media traffic since the analytics systems native to the social media platforms aren't always completely accurate or reliable (*ahem* looking at you, Pinterest Analytics!).
Google Trends:
Google Trends allows you to keep track of the trends of certain topics on the internet and how their search volume and overall interest has increased or decreased over time.
My favorite example of how you can use this tool is to demonstrate with the example of "Greek yogurt." If you search this trend over the past 5 years in the United States, you will see a spike in January every single year due to the timing of everyone's new years aspirations to be healthier!
And I love that there is also now a huge spike in Mar-May of 2020 when so many people were stuck at home and looking to improve their health during the pandemic!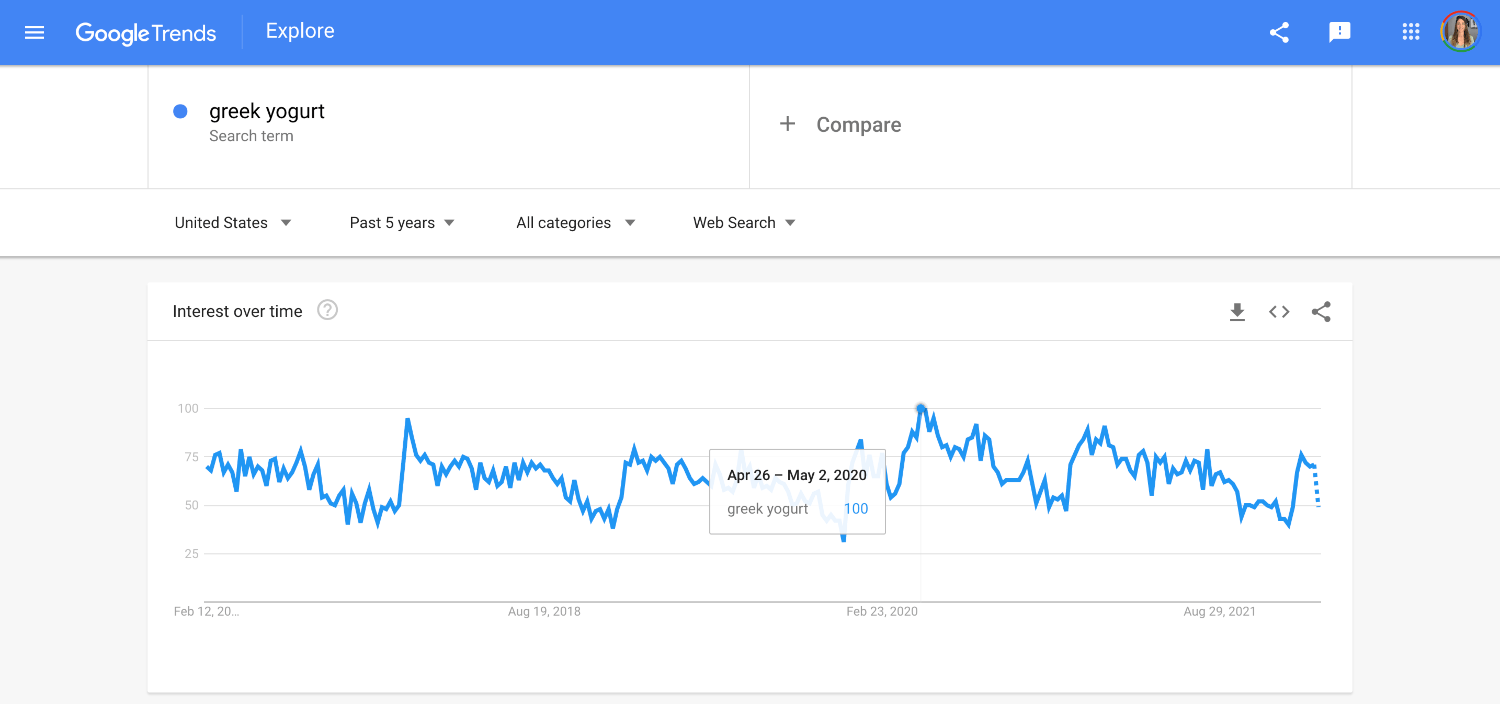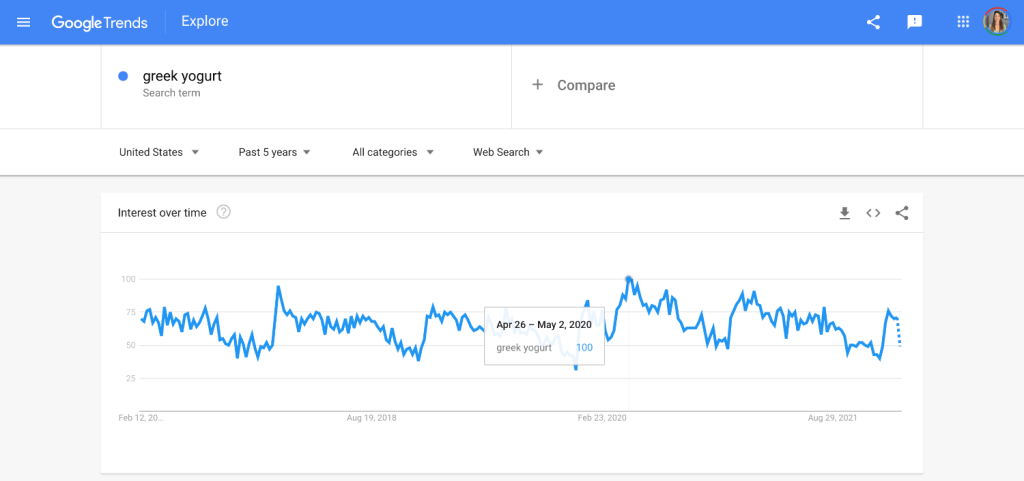 It's a good tool to use periodically to make sure the content you're producing and promoting is still relevant, and what topics you might want to turn your focus to.
It's also a great way to look at trends for seasonal content and keywords!
Google Page Speed Insights: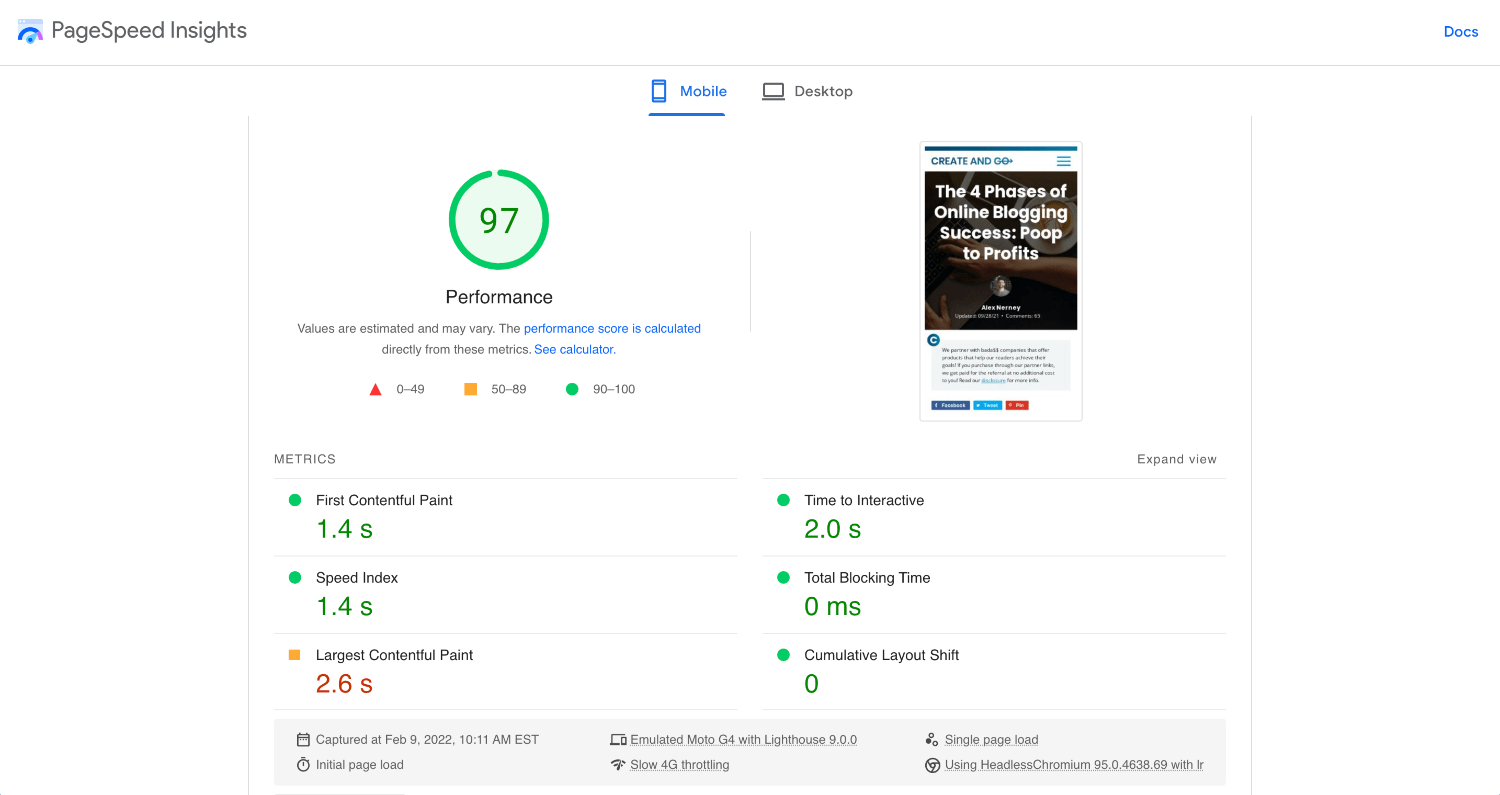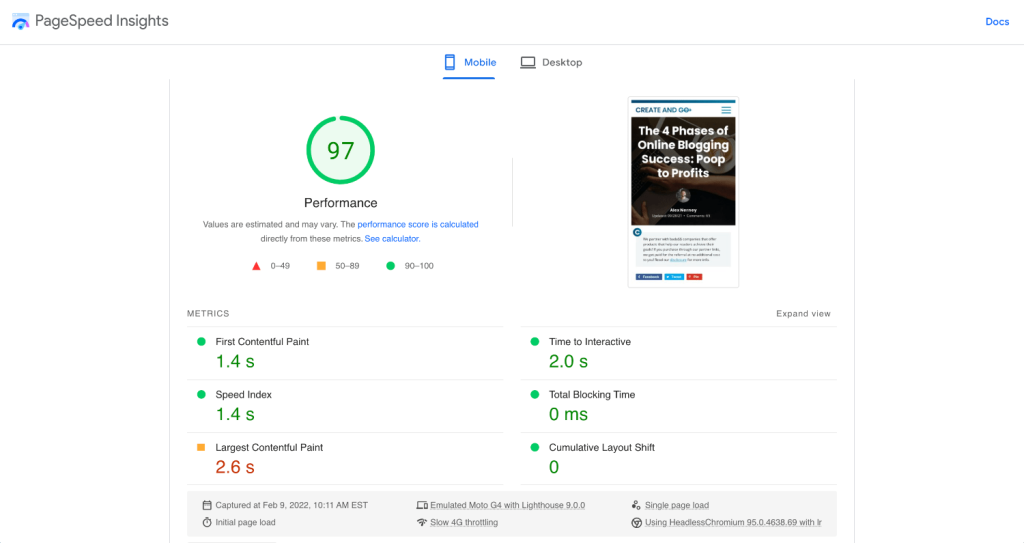 Page speed is really important for Google SEO. If your website is too slow, your bounce rate will be too high, and people won't bother. Your pages will get passed over and dropped to the bottom of Google search. RIP.
Google's page speed insights tool will help you see how your website performs for visitors in all metrics. It will show you information on your site speed and any other developmental errors on your website. It also shows you all of this information for both desktop and mobile versions of your website.
5. CanIRank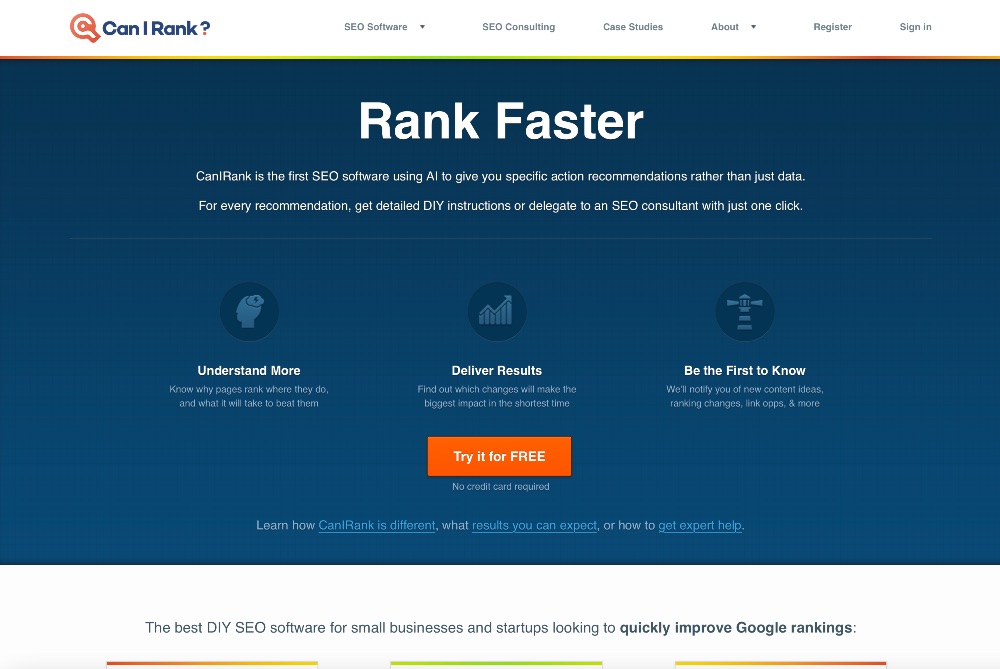 We'll keep this one short and sweet!
CanIRank is a super-detailed keyword research tool that provides detailed input on whether you specifically can rank for a given keyword. It even includes advice on how you can rank for different keywords.
It is a great option for beginners who aren't ready to pay for a premium SEO tool but still want to make sure they're going after keywords that they actually have a chance to rank for.
We actually used to use a different free keyword research tool called Keywords Everywhere, but they recently changed their program quite a bit, and we don't love what they did with the place.
CanIRank's free version is pretty limited (you only get 5 keywords), but it's free, and it provides really helpful info!
If you have another free keyword research tool you love, you don't need to switch–but you might want to at least try out CanIRank for the added information.
Cost: Limited free option, with paid upgrade starting at $49/month
Type: Online software
Purpose: Keyword research, including difficulty or ability to rank
6. Exploding Topics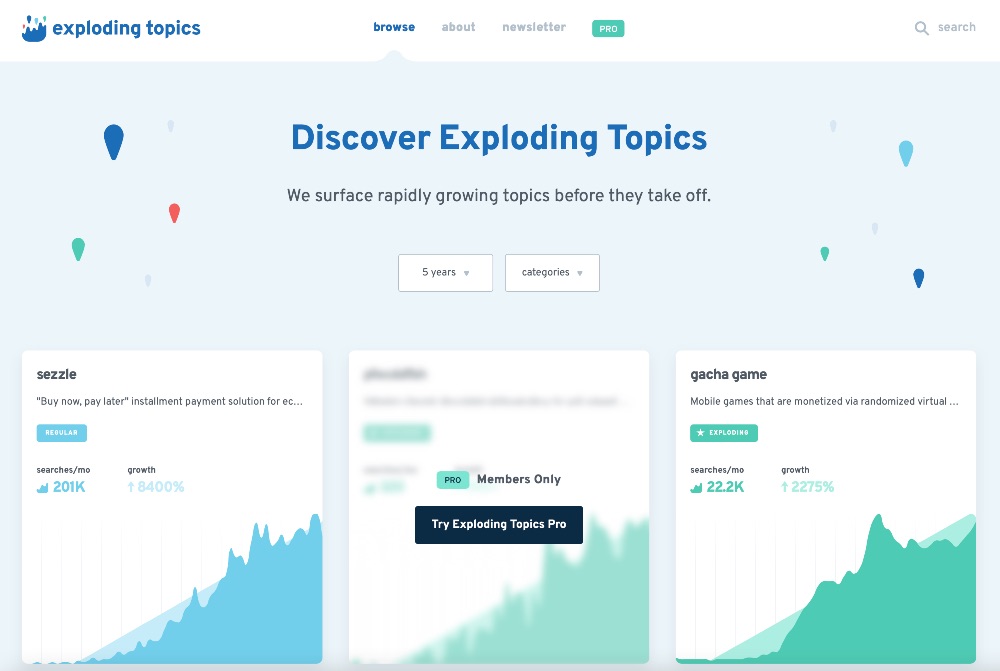 Exploding Topics is a really exciting SEO tool because it primarily focuses on emerging topics and the increased interest in them.
It's a fairly new tool, and is emerging as a favorable replacement for Google Trends.
By finding topics that are growing in interest ("explode") but haven't necessarily become oversaturated yet, you can catch an opportunity BEFORE it strikes big and ride the trend up as it becomes more popular.
This allows you to get in when competition is low BUT with the potential for major growth and popularity with time.
We actually are just starting to use this tool, since it's very new and we only recently discovered it.
But with that said, we REALLY like Exploding Topics and think that for new bloggers it has a lot of potential as an SEO tool, especially when it comes to choosing your niche or narrowing down your niche.
It's also especially important when publishing content on social media to be able to jump in on a wave before it crests, and Exploding Topics provides the foresight needed to be able to do that.
Cost: Free, with paid upgrade option
Type: Online software
Purpose: Discover trends early, before they peak
Important Features:

Search by niche
Filter by the length of time since the topic began to trend
Topics designated as

Exploding,
Regular, or
Already Peaked
Your Most Valuable SEO Tool (Knowledge)
We can point you in the direction of the best SEO tools, but if you don't know why you're using them, when to use them, or how to apply the information the tools provide, no tool is going to do you much good.
At the risk of sounding like your boring high school teacher, the most valuable SEO tool of all is knowledge.
If you really want to improve your rankings, the first step you need to take is to learn more about SEO.
Here are the best resources to do just that:
If you have any SEO-related questions or feel that we missed an important SEO tool on our list, leave us a comment below and let us know!