We partner with bada$$ companies that offer products that help our readers achieve their goals! If you purchase through our partner links, we get paid for the referral at no additional cost to you! Read our disclosure for more info.
Learning how to start a blog is the best decision we ever made. It launched us into a new life full of freedom and adventure. I can't believe I almost didn't do it.
We're no different than most of you — former personal trainer and CPA. We had absolutely no background or experience with blogging when we got started on this path, but we knew that we wanted a way to earn an income online and live our lives more on our terms.
That's all you need, really.
We were tired of chasing fleeting weekends and vacations that never lasted long enough and we were frustrated with the illusions of the American dream.
Then, one day, we made the life-changing decision to learn how to start a blog and our world was never the same again. We started a health blog and ended up making $103,457.98 in our first year.
Since then, we have earned as much as $100,000 in a single month running two successful blogs and have created lives we never could have imagined.
Our blog business has allowed us to quit our jobs, travel the world, work from anywhere, and provide more financial freedom than we ever thought possible.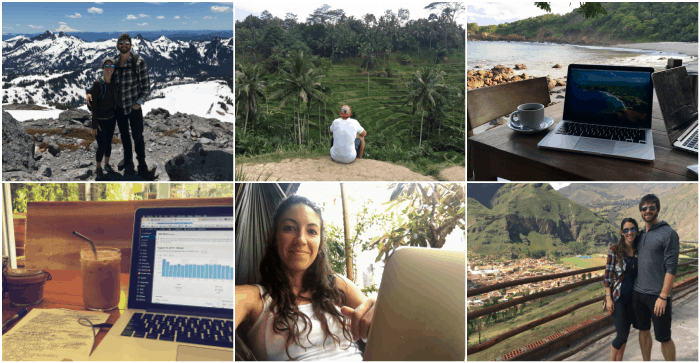 It can feel a bit overwhelming to learn how to start a blog and get started on this path. We know. We felt it too. It's easy to look at other successful people and think they have some "IT" factor that you don't have.
But anyone can do this. We've helped over 16,000 students start a blog and earn anywhere from some extra side money to over $10,000/month. Teachers, lawyers, you name it — turned full-time bloggers.
We wrote this guide to help you learn how to start a blog in just 30 minutes or less – without any website coding skills.
How to Start a Blog in 7 Steps
You can start your blog with Bluehost for as low as $2.75/month and it also comes with a FREE domain name.
For those of you who like video walkthroughs better, you can also check out our video tutorial below. Otherwise, keep reading!
When learning how to start a blog, it's important to understand the difference between these two items:
Blogging Platform – Where the content and design of your blog or website will live.
Hosting Company – This is what takes your blog online and makes it visible to everywhere. Just like buying a lot for a new home, you need to buy a space on the internet where your new blog will live.
In this tutorial, we are going to use WordPress as our blogging platform, because it's really the only option if you want to be a successful blogger. It has far more customizations and plugin options than Wix and Squarespace, which are better suited for other types of businesses (not blogging).
WordPress is free with your hosting plan.
1. Get a Hosting Plan (Includes Discount)
By the way, if you need some help with choosing a blog niche and name, we'll cover that in the next step! For now, let's go ahead and get your blog started.
In this tutorial, we're going to start a blog with Bluehost – our #1 hosting choice for beginners.
They have some of the most affordable and flexible hosting plans for beginners and are what we personally started with and still run some blogs on today.
Our Bluehost link also includes a discount to get hosting for just $2.75/month. That means you can start your blog for just $33. Click here to get your Bluehost discount.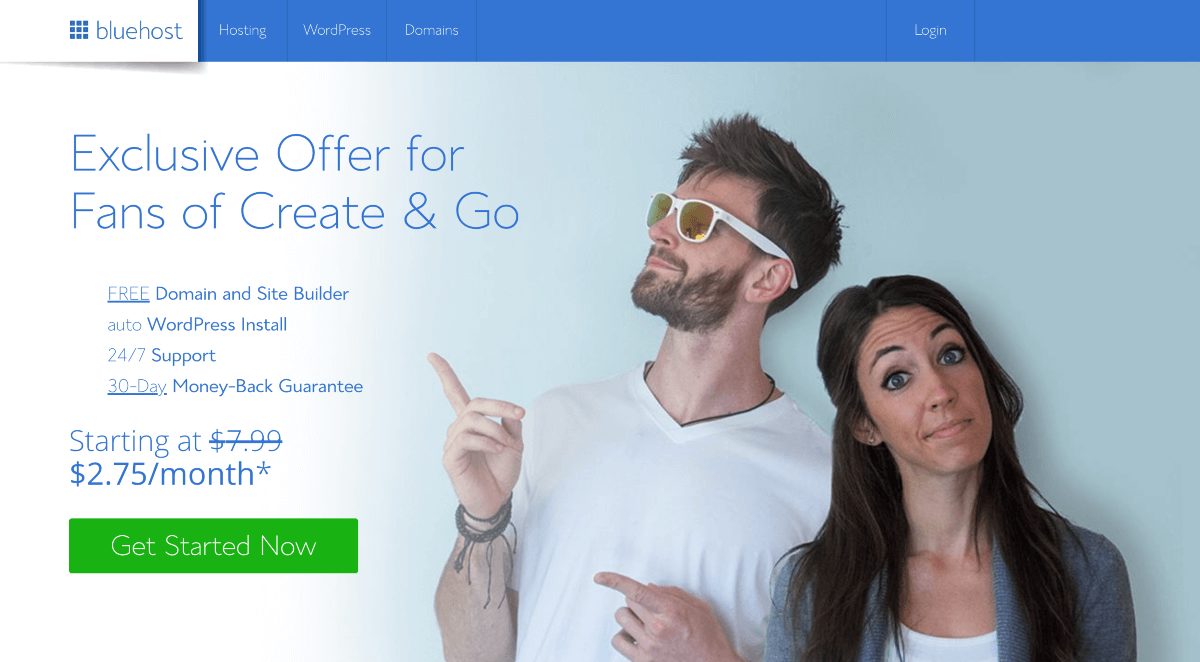 Click the button to get started on the homepage and you will then see a list of pricing options.
Next, choose which pricing plan is best for you. Don't worry, you don't need anything more than the basic plan!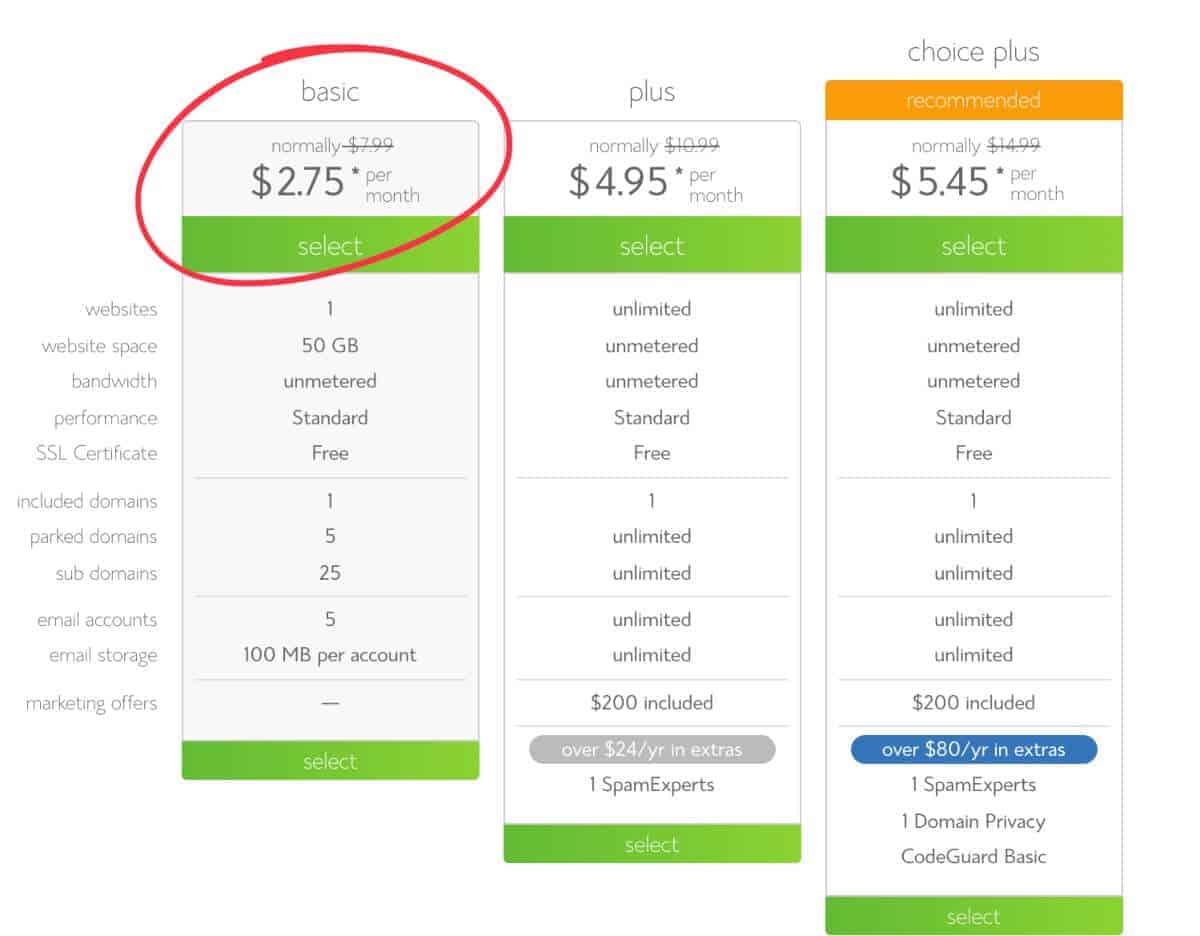 After selecting your plan, you will want to enter your new domain name. This is simply the name of your blog and what will show up in the search bar. i.e. Createandgo.com is our domain name for this website.
If you aren't sure yet, you can click the link to choose your domain later. No sweat!
We'll discuss blog names and your niche in the next step!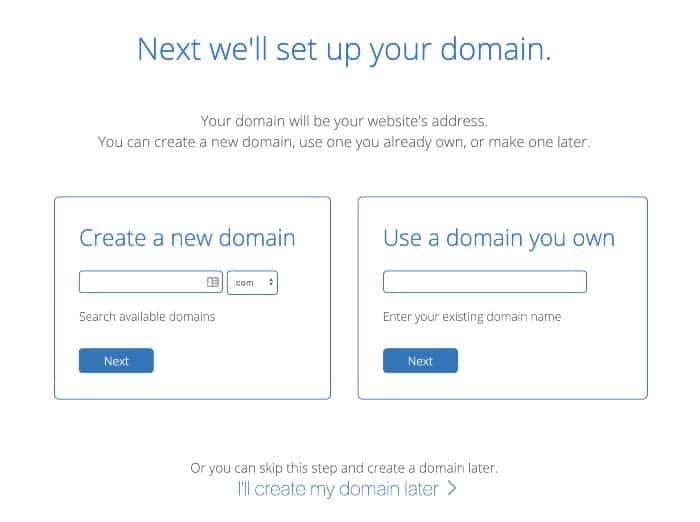 On the next page, you can fill out the information to create your account and then scroll down to the section with the package information.
First, select your account plan. You can start off with the 12-month plan, which is the cheapest!

After selecting your package information, scroll down to the section on package extras.
You don't actually need any of the package extras. The only one to consider is domain privacy protection (note: you won't see this option if you selected the option to choose your domain name later).
Domain privacy protection hides your personal information from the public domain directory, so it could save you some sales calls if you want to pay to keep these details hidden. This is up to you.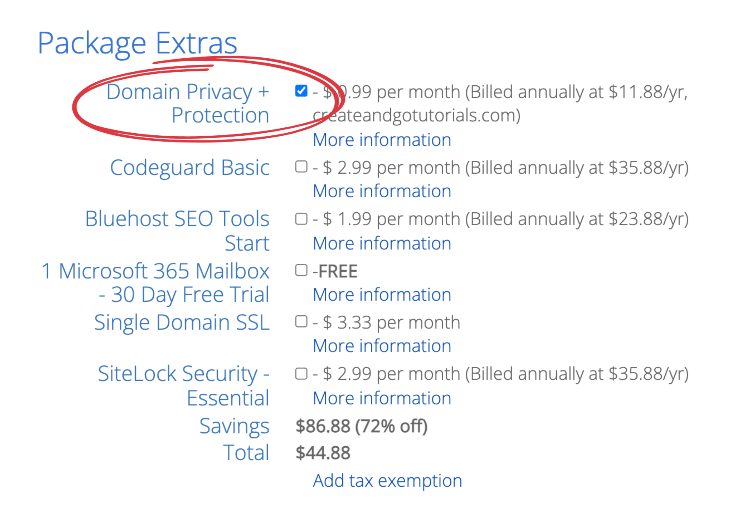 Finally, all you have to do is add in your credit card details, check the standard Privacy Policy and Terms of Service, and hit the green submit button!
CONGRATS! You've now learned how to start a blog!
The next few steps will direct you to create your password before beginning with anything else. Make sure to create a secure password!
After selecting your password, click the "Login" button. This will direct you to select a theme for your WordPress blog.
But before we get into that, let's briefly talk about your blog niche and name, in case you need some clarity on those.
2. Choose a Blog Niche and Name
The first step to learning how to start a blog is to choose a great blog niche and blog name.
This is a place where a lot of people get hung up and end up delaying the entire process. The truth is, you can make money in almost any niche. If there is interest in a specific topic, I can guarantee you that there are people out there making money in that space.
We know of people earning six figures selling courses on training goats and board games on how to find healthy herbs in your backyard. Seriously.
Earning money with your blog is more about learning who your audience is and how you can best deliver content and information to them. It's about building relationships and you can do this in any space.
When it comes to choosing your blog niche or topic, the best place to start is to think about what you have knowledge and experience in. Ask yourself these questions:
What do you have professional or personal experience in?
What are your hobbies? What do you really enjoy doing?
Have you overcome any problems? Can you share that journey?
What would your friends or family say you can't shut up about?
What do they go to you for advice for?
We've started successful blogs related to our professional degrees (online business) as well as blogs in the subject area of our passions (health and wellness).
It's also totally okay to not have this 100% nailed down right now. You can start a blog without having this completely narrowed down. Most people's blogs change a bit over time anyway.
Some great general blog topics that are known to be profitable include:
Health, Fitness, Dieting, Recipes
Parenting, Home, DIY, and Crafts
Beauty, Fashion, Lifestyle
Finance, Budgeting, Saving, Investing
Relationships, Self-Help, Recovery
Tech, Gaming
Education
Travel
The possibilities are endless, but keep it simple right now when you're just getting started!
Next, you'll want to choose your blog name. This isn't something you should spend a lot of time on because it really doesn't matter as much as you think it does. When in doubt, you can always use your personal name.
If you want it to be descriptive in nature, just make sure it's:
Easy to spell
Easy to pronounce
Easy to remember
But even that is just our best guideline. Our first health blog's name was hard to spell, hard to pronounce, and hard to remember. 0-3 but it still earned over $20,000/month.
P.S. You can also decide on your blog name later and actually start your blog without deciding on that 100% yet if you need more time.
3. Get Started with WordPress
Okay, let's get back to setting up your blog.
You will first be prompted to choose from one of several WordPress themes. The themes on this page are all free and you can select any to get started. You'll be able to change this later.
Next, follow the prompts to set up your WordPress dashboard. If prompted, choose to set this up as a "Business." If you miss this step and accidentally click Personal, don't worry. It doesn't really matter.
Next, you'll be asked to set up a Site Title and Site Description. This should be simple and descriptive of what your blog is about but if you aren't sure what you want to say just yet, just click to skip this step and you can set it up later.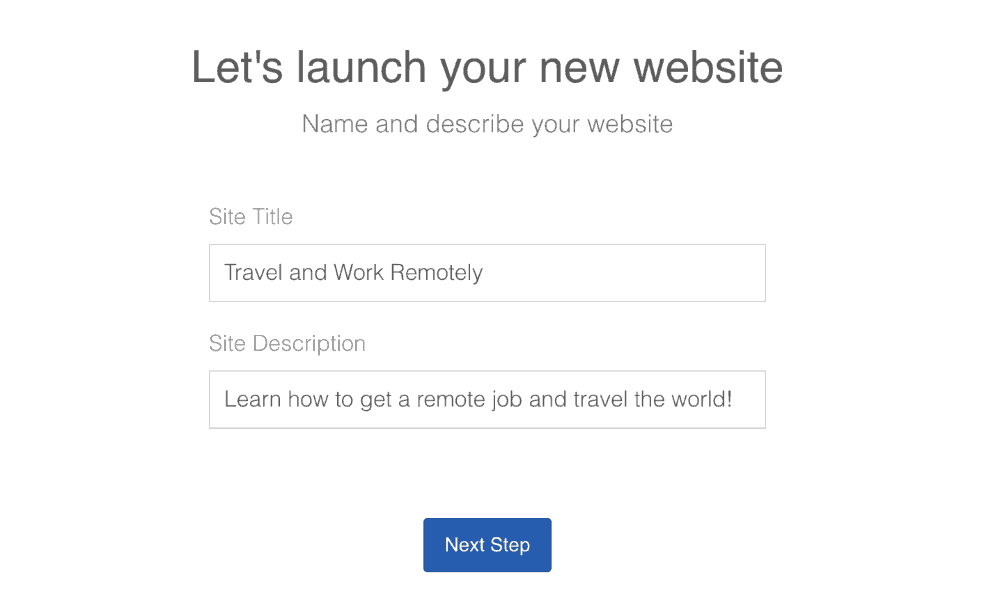 From here, you will be prompted to select whether you'd like to set your homepage up to display recent posts or to have a static homepage. You can select either, but most people end up using a static homepage, so we've selected that option in this tutorial.
You can also change this at any point in time in the future if you change your mind.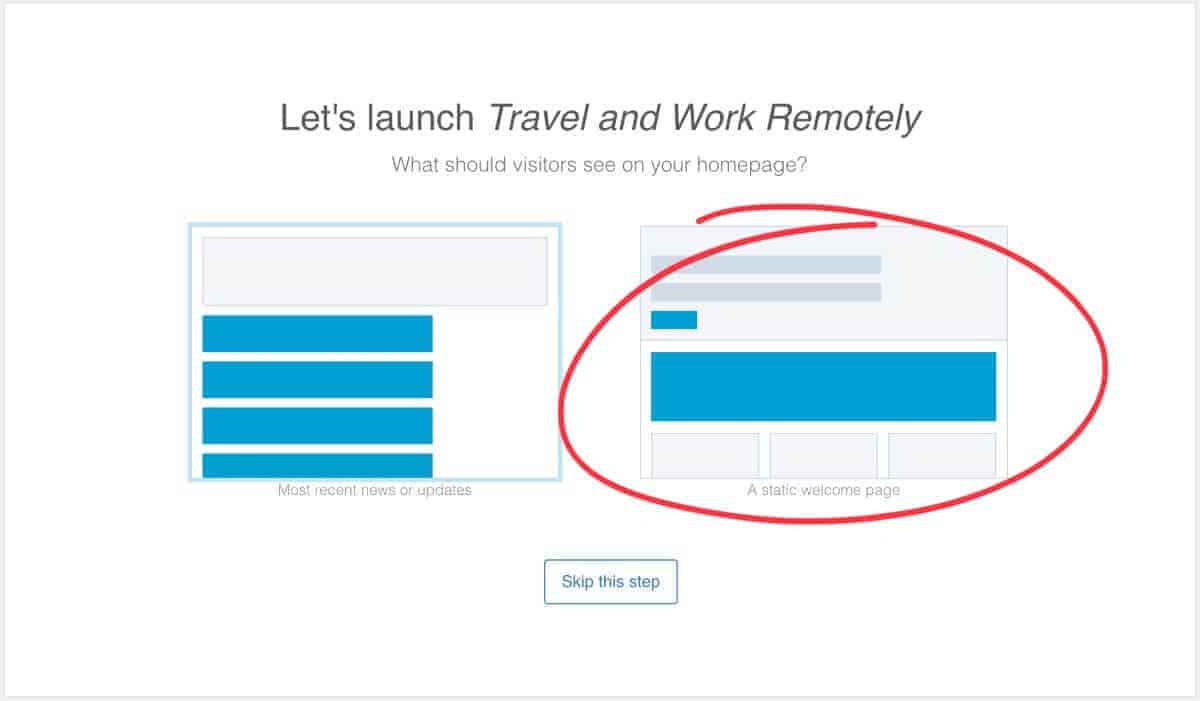 Here, you will be prompted to take a few actions:
Contact page: Select "No" to set this up later. It shouldn't be a top priority right now.
Click "Connect to WordPress.com" if prompted.
Jetpack: Skip this step for now. We have a much better option for Jetpack.
Verify your email account: Check your email for a domain activation from Bluehost and click now to verify so you can access your dashboard.
Now, before we start designing and customizing your new blog, we want to show you how to access your Bluehost account and WordPress dashboard in the future in case you need to stop and start at any time.
There are two different ways to get back into your WordPress dashboard and access your blog.
The first way is to go to Bluehost.com and log in using the email and password that you created in the setup above. From here, you can click on the Login to WordPress button.

The other way to access your blog is a little more direct but it requires you to set up a new admin account within WordPress first. You can do that through these steps.
Follow the step above to access your WordPress dashboard through your Bluehost.com account.
On the menu on the left, go to Users → Add New.
Create a new user account with a username. This will be the account that you will use to log in with in the future.
Next, go back to All Users and delete the old admin user.
Once you set up this new user, all you need to do to log in to your site is to type in yourdomainnamehere.com/wp-admin/ into your browser and you will be directed to log in to your WordPress account.
Log in using the username and password you just set up in the steps above and you can access your WordPress dashboard!
Overview of Basic WordPress Features
WordPress can be super daunting to learn at first. And while there is a bit of a learning curve, I promise you that it isn't that bad!
Once you understand the basics, you'll get the hang of it really quickly. I've highlighted the main areas you will be working with below: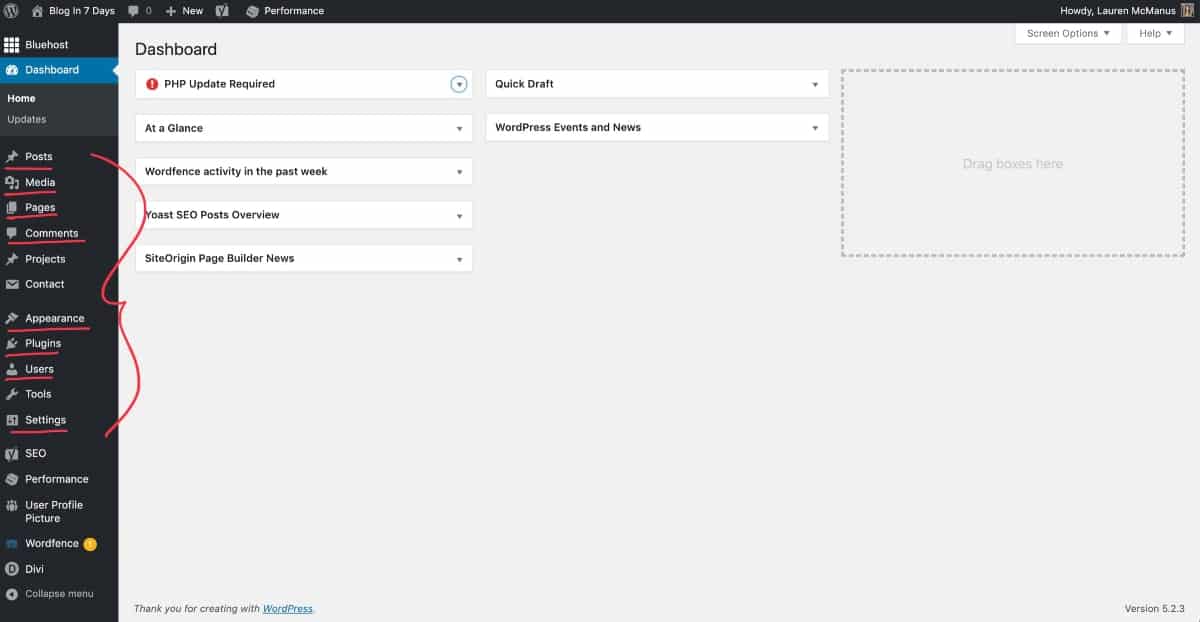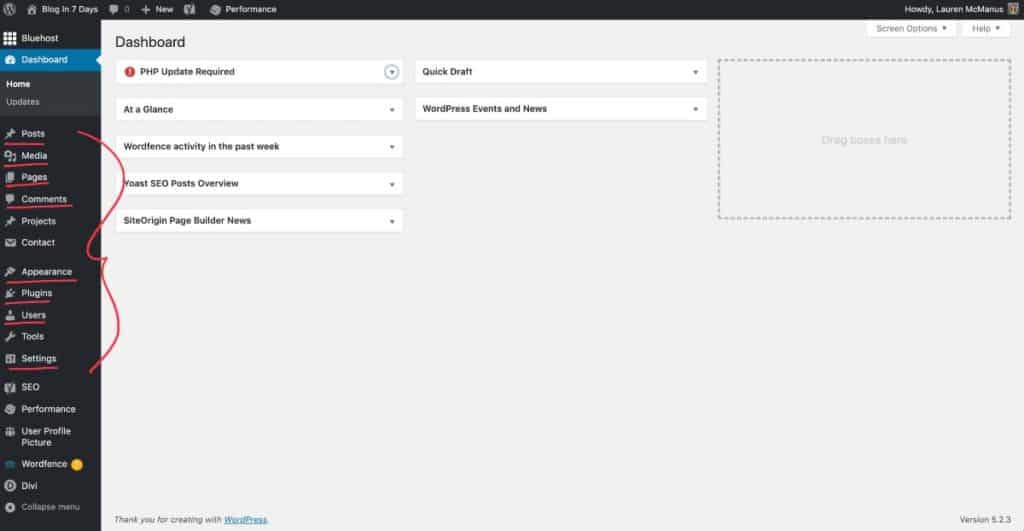 Here is a basic overview of these features:
Posts and Pages
Your posts and pages are where you will add content to your blog. Blog "posts" are where your blog articles will be. You can create different categories to organize this content better.
"Pages" are for any other, more static pages on your site that aren't updated very regularly (like your contact page, about page, and legal pages). Pages are usually linked in your menus and/or at the bottom of your website.
Media Library
The media library is where all of the images that you upload to your blog are stored.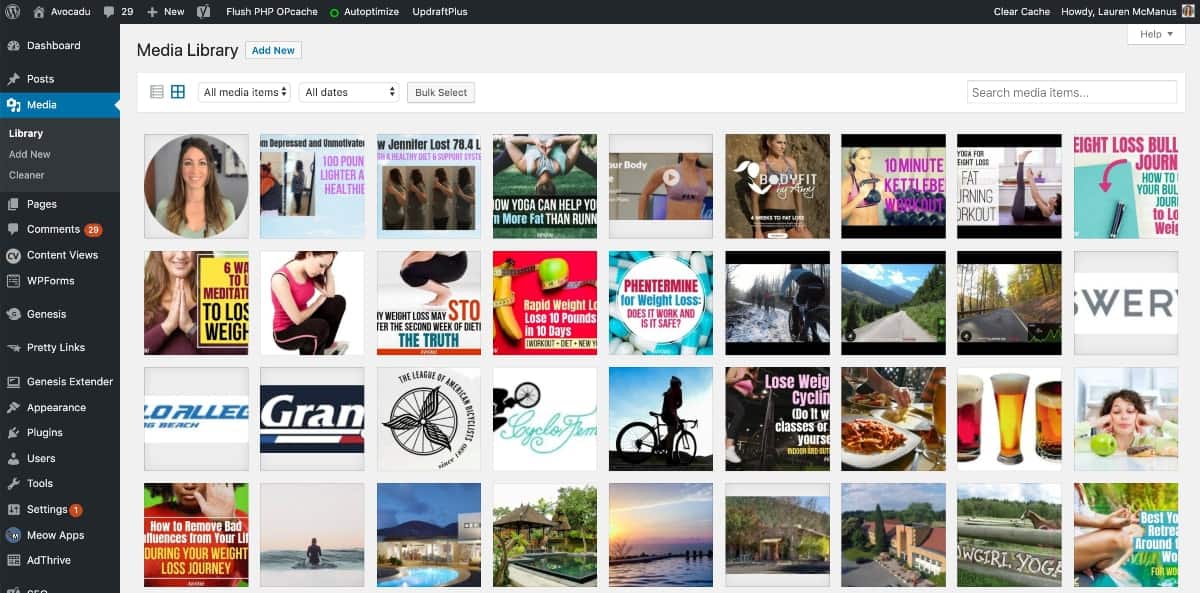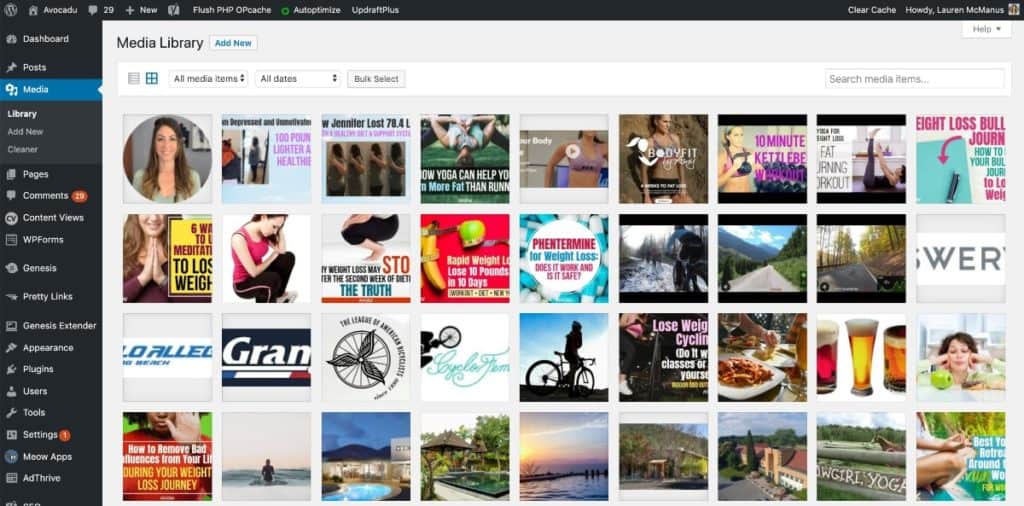 You can add images directly to the media library or you can add them directly to blog posts and they'll automatically be added to the library.
Appearance
This is where you can make customizations to your blog like changing themes (discussed in the section above on themes). You can also create and edit your menus, sidebars, and other widgets in the Appearance section.
Plugins
A plugin is add-on software that you can install on your blog to make additional customizations that are outside the capabilities of your theme. There are both free and paid plugins and they can help you:
Change the look of your author box
Help speed up your website
Add social icons and buttons to your blog
Help with blog security
And so much more!
We have an article on the best plugins for your blog that will also show you how to upload and install them to your blog!
Settings
This is where your general blog settings are, including how some things are set up and displayed on your blog (site title and headline, time zone and date, comments, and other display settings).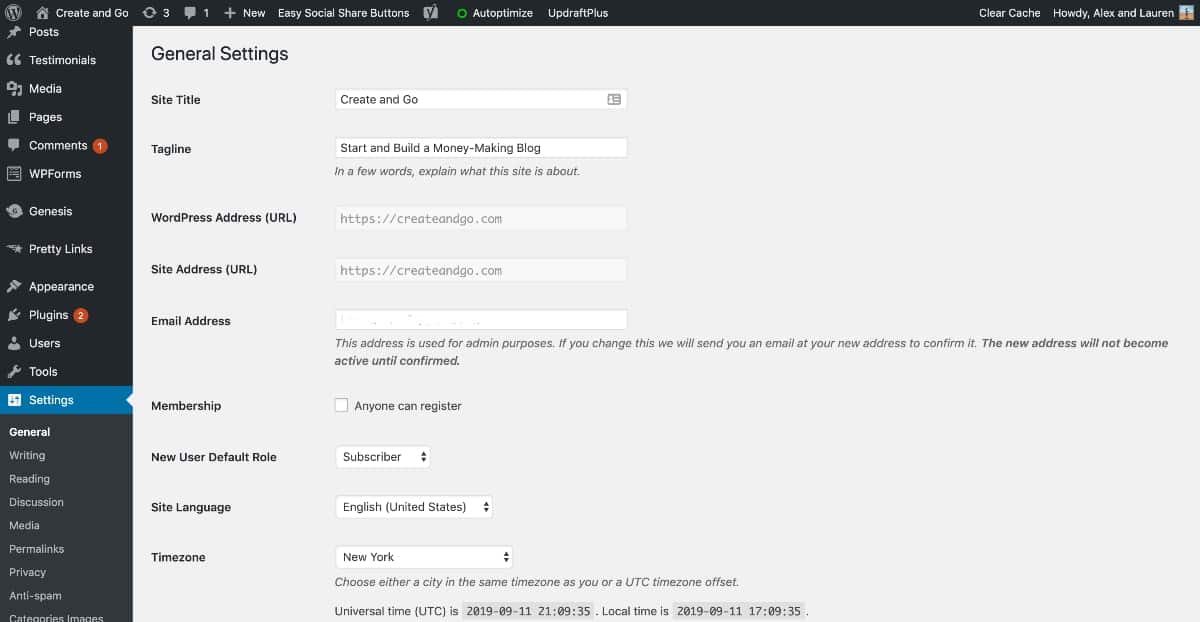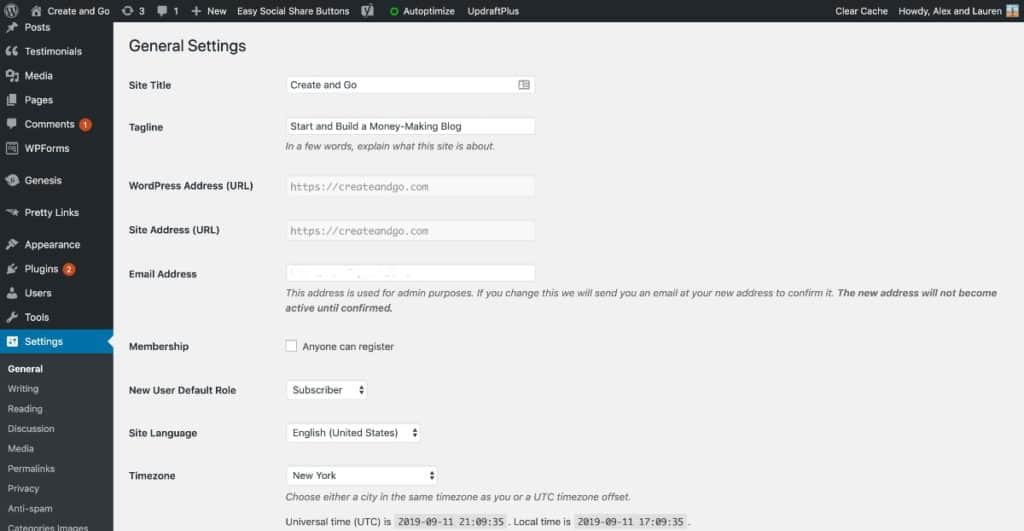 The best thing you can do is just start playing around in WordPress. Click on some of the links on the dashboards and see what options come up to familiarize yourself with the settings.
If you need some additional WordPress training, we've created a couple of basic tutorials below:
At this point, you're going to be very tempted to start down the black hole of designing your blog, but we encourage you to move on and create your first blog post first.
Having some content on your blog will help you get a better idea of how things look when you start designing it.
4. Choose a Theme and Design Your Blog
Blog design is probably the biggest area that people get hung up on when learning how to start a blog successfully and it can lead to a lot of wasted hours.
The truth is that you will end up changing your blog design many times as your blog grows, your content strategies change, and you begin monetizing your blog. As you start building an audience, you will begin to learn more about who they are and what they are interested in and that will help determine how you design your blog.
The overall design matters very little in these early stages, so it's best to stick with something simple and professional. You can also get some additional ideas for blog design in this article.
This section is just a quick read to give you examples of some common blog designs so you can get ideas of how you might want yours to look before you start designing your blog!
We're going to go over 3 main types of blog designs:
Content-Focused
Influencer-Focused
Mix of Both
What is the Focus of Your Blog?
So, no matter what type of blog you are starting, you'll have some great examples of how to design it for success!
Focus: Content
When you land on Abby Lawson's blog, you'll notice that her homepage design is very focused on her content, first and foremost.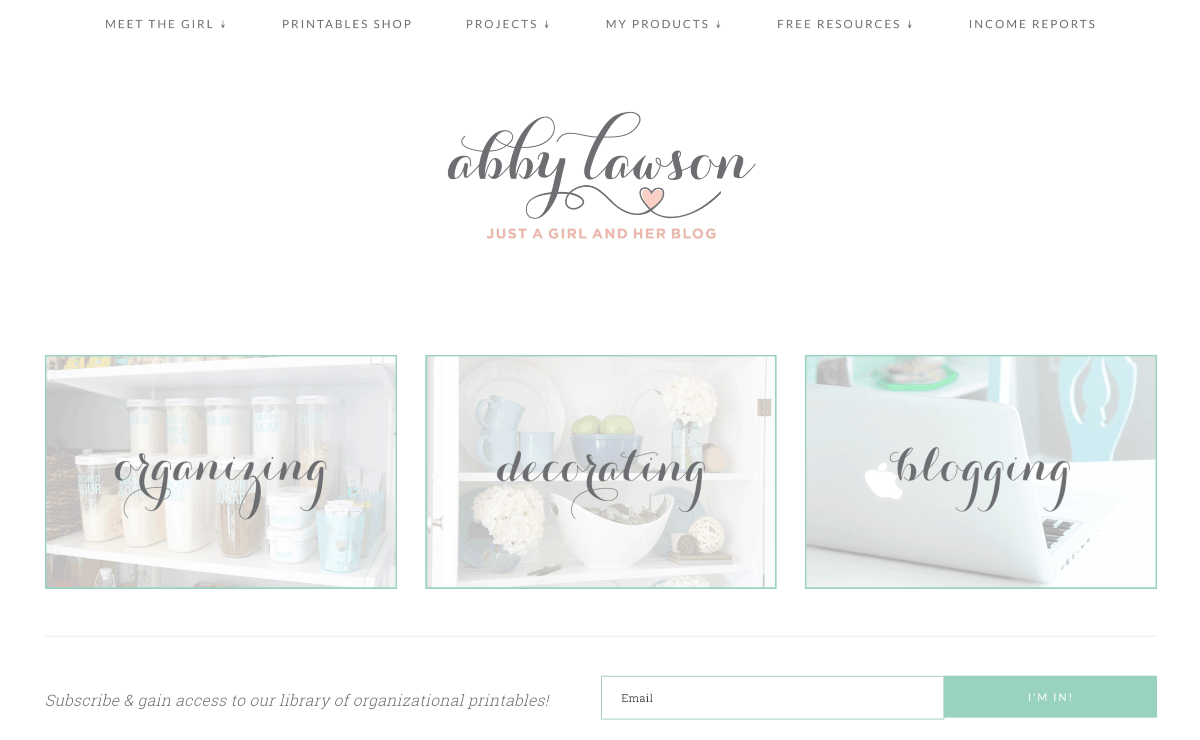 This is a great blog design for a beginner because many new bloggers aren't ready to put their faces front and center or may not have the right photo for it yet.
This is a little closer to the original design of our first blog in the first few months, but it can work for anyone because Abby has been blogging for several years now!
Focus: Influencer
Pat Flynn has a homepage that is very similar to this blog's homepage (Create and Go) and what we used for our six-figure health and wellness blog.
He does change it from time to time, so it may look different now than you see in the screenshot below, but this is a great example of what we're talking about: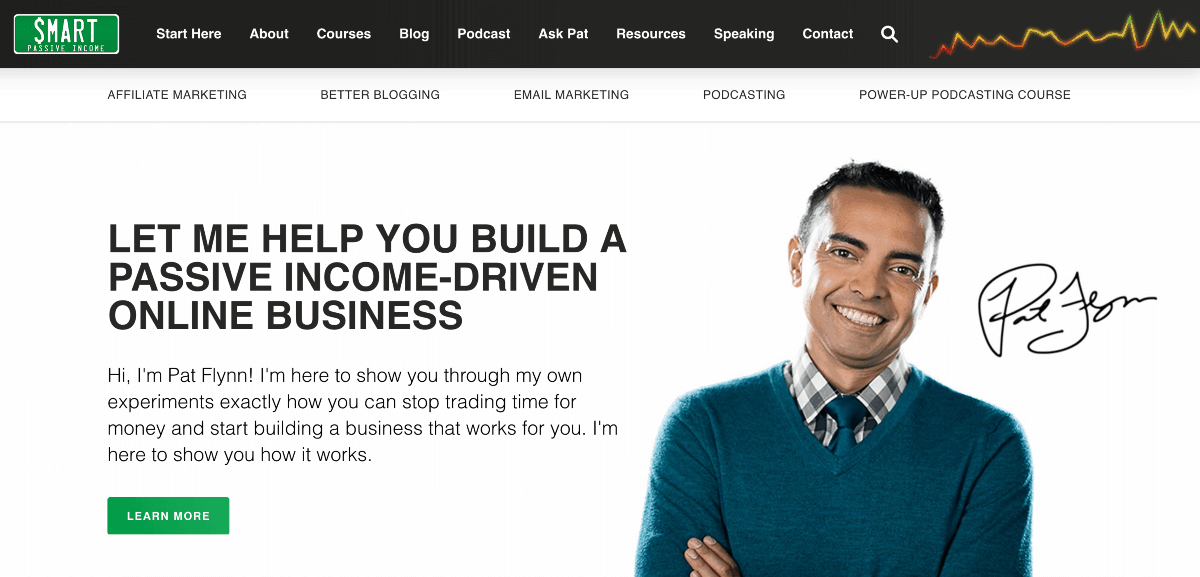 The main feature on the page is, of course, Pat himself. He is an established authority figure in his niche, and he includes a big headline next to his photo so that his readers know exactly what his website is about when they visit his homepage.
This blog design is best suited for someone who has established themselves in their blog niche or anyone who wants their face on their business and a more personal relationship with their audience.
Focus: Mix
Elsie and Emma have a great mix of the above two styles.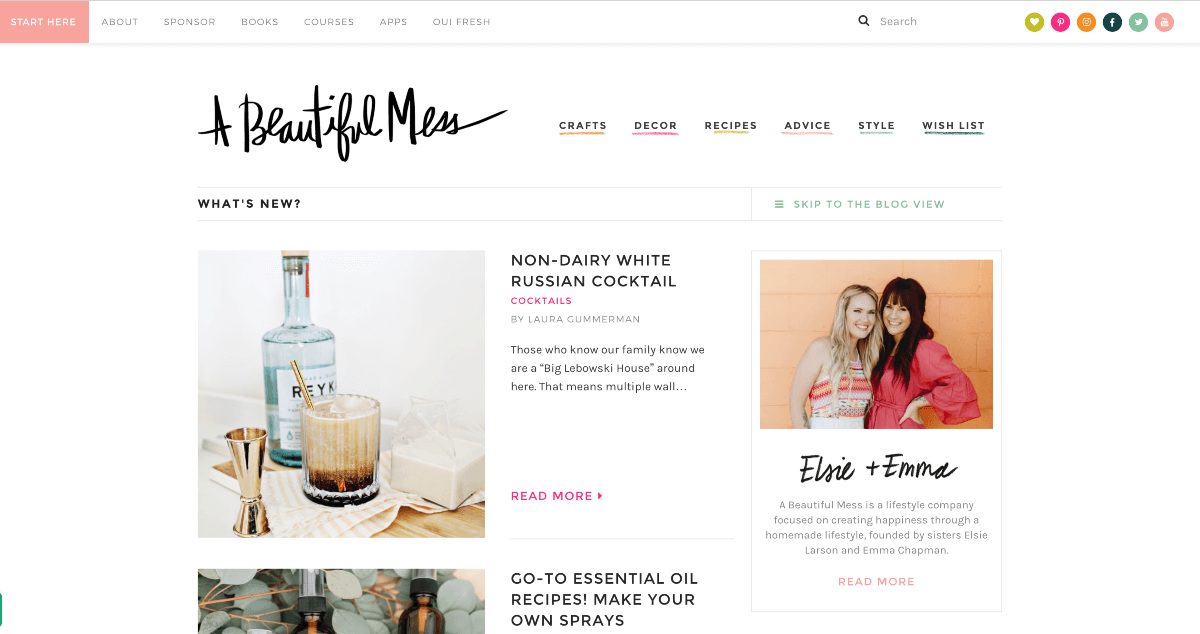 The focus of their homepage is split between their recent blog posts and a section about them. This type of blog design is also great for beginners because you will be posting a lot of content in the beginning and the addition of the section about you helps to build trust with your new readers.
It's also a great design for anyone with a lifestyle blog that plans to blog on several different topics.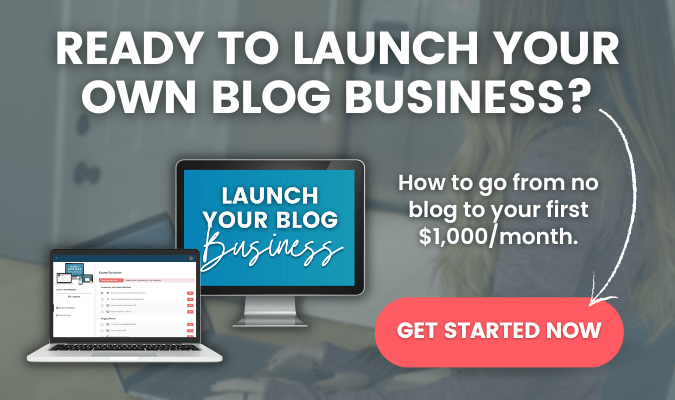 Choose a Blog Theme
A blog theme is a software with coding that allows you to customize the design of your blog. This part can feel a little daunting because there is a bit of a learning curve when you're getting used to how WordPress works and how to start customizing everything.
But don't sweat it! This is supposed to be the fun part! Just remember to keep your design as simple as possible when you get started because the sooner you get to creating content and building your audience, the sooner you can start making money!
There are both free and paid themes, with the paid themes usually having a lot more customizations.
If you're someone who wants to design your blog pretty specifically, you'll definitely want to go with a paid theme.
Free themes are a great place to start if you're on a budget but you should be aware of the limitations up front so you don't spend too much time trying to force a free theme to do something it isn't capable of doing.
If you have the extra $50 – $100 to invest, then go for a paid theme. If not, rock a free theme for a couple of months or so and then upgrade when you can.
Our best recommendations for free themes are Flash and Hestia. If you're ready to invest in a more powerful theme, Divi is our best recommendation for beginners.
It's a little on the pricey side, but you make it back with the insane amount of customization and user-friendliness of this theme. It also comes with a no-questions-asked, 30-day money-back guarantee.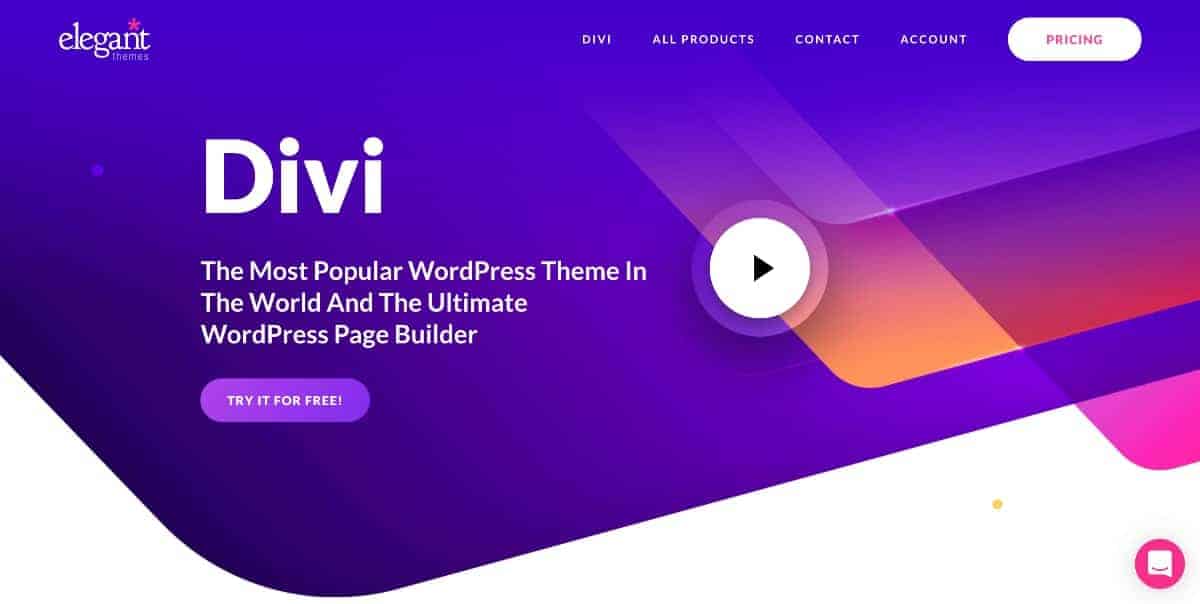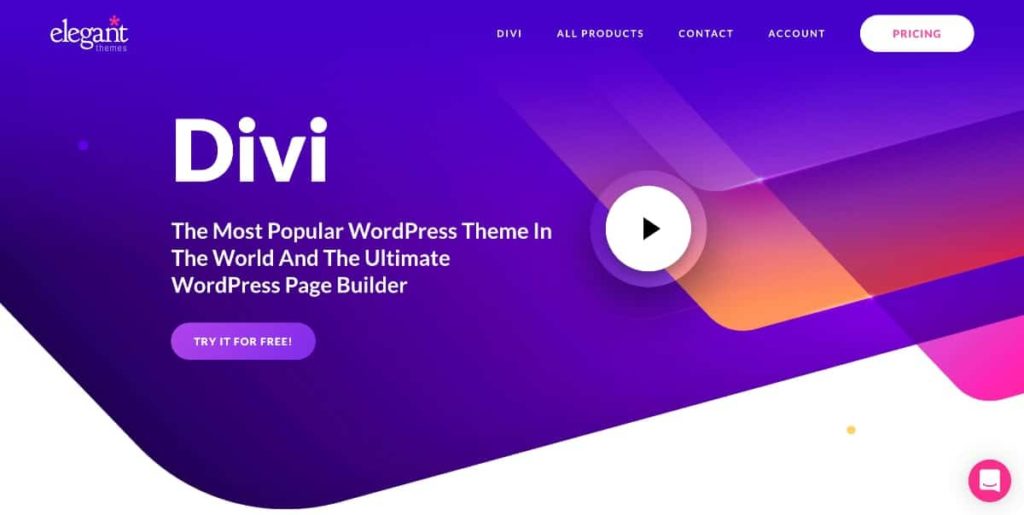 Divi theme is what most of our students are using and you also get access to over 70 other themes when you purchase Divi because it's part of the Element Themes package. They also have a lot of documentation and tutorials to help you get started.
Whichever theme you choose, just make sure that it has a good refund policy so that you can return anything that you don't like before you commit to it.
To change your theme in WordPress, just navigate to Appearance –> Themes.
You'll need to download a zipped file of the theme that you chose (whether it was free or paid) and then upload it to WordPress in your themes area.
5. Write Your First Blog Post
It's really important that you get to this step as quickly as possible because this is the start of creating your first piece of content!
This post can also be whatever you want it to be. You can take the time to create a full article on a topic that you like or you can just keep it simple and introduce yourself and explain why to your audience you are here!
First, navigate to Posts –> Add New from your left-hand WordPress dashboard menu.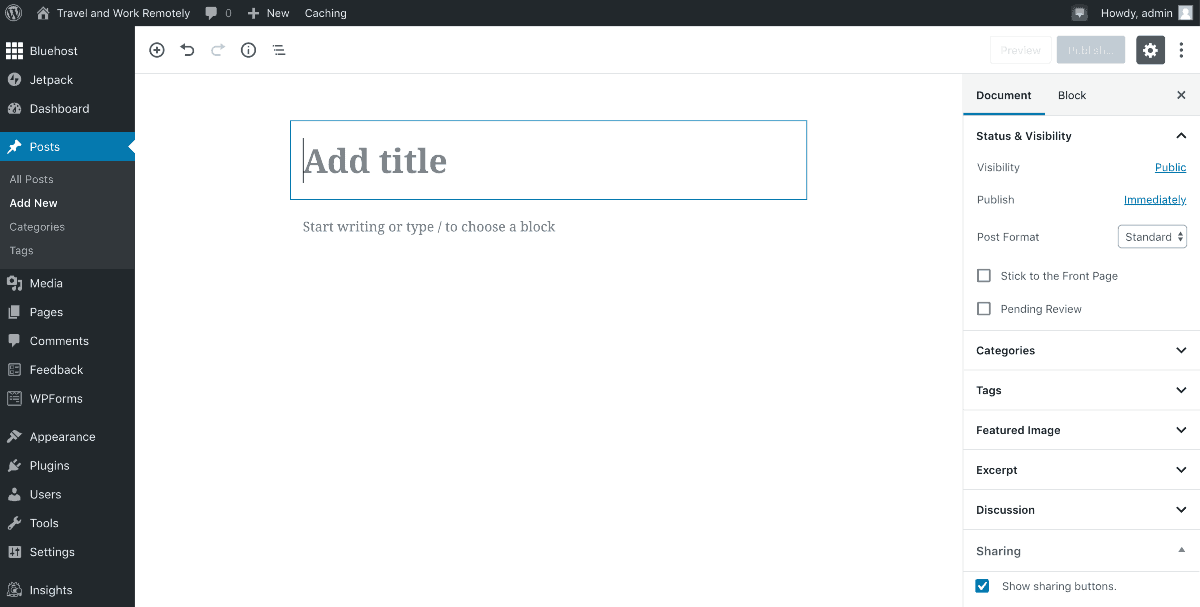 You can start out writing a "Welcome to my blog!" post or you can start writing about the content in your chosen niche. If the latter is the case, just start out with a topic or post that you think is the most important for your new audience.
You can also change your blog post title at any time, so don't worry too much about getting the headline 100% right. Just take some care with setting the URL because you can't easily change that later.
If you're writing a content piece, make sure to do some keyword research at some point and check out this post on starting with a good Google SEO strategy.
Your post will stay in draft mode until you're ready to hit that publish button. Once it's published, there will be a link at the top of the screen to view your post and it should also be visible on your website.
6. Start Earning Money with Your Blog
Congratulations on making it this far in our tutorial on how to start a blog! I know it's a long one. That in itself is an accomplishment, and you should take a second to appreciate that and give yourself some credit!
Just getting started is often the hardest part. Now, it's time to use that motivation to keep pushing forward!
Start Creating Great Content
The first step toward making money as a blogger is creating great content and working on building an audience for that content. This can be through writing blog posts or creating content for other platforms.
Where do your people hang out and where do you think you can reach them best?
For example, if your audience is younger, you might want to consider platforms like TikTok or YouTube. If your audience is a little older, you probably want to consider Google or Pinterest.
You should also consider where your skills lie and what kind of content you think you want to create first. For example, if you aren't ready to make videos yet, you don't have to. Stick with search engines like Google or Pinterest.
Here are a few resources to help you get started:
Creating content and building your audience is THE most important thing you can focus on right now after getting your blog started.
Build an SEO Strategy
I know I just mentioned choosing from a few different platforms but now I'm going to give you a hard push toward Google SEO. Social media platforms can be fickle and most successful bloggers that have been in the business for a long time have a serious Google SEO strategy.
It's the best way to create a more long-term, sustainable growth strategy for your blog. Make sure you're using some of these powerful SEO tools in your strategy.
Start Building Relationships With Your Audience
Being a successful blogger isn't really about you. It's more about your audience and meeting their needs. This is the key to scaling your income.
Focus on learning who your people are, what they are interested in, and how you can help them.
You can do this through communication on social media, email marketing, etc. Be yourself and remember that they are real people too. This is how trust is built.
Solve Problems and Provide Solutions
Once you've learned what your audience is looking for, you can work on giving it to them.
The real way to earn serious income with your blog is to provide solutions to your audience in the form of products (affiliate or your own).
If you aren't ready to think about creating your own product yet (I get it – you just started a blog), you can focus more on affiliate marketing first.
That trust you started building in the previous step will go a long way when you start selling to your audience.
Learn From Your Mistakes and Continue Taking Action
The worse thing that you can do is just sit around and procrastinate or waste time. Wasted time is the enemy of your success.
And I'm not talking about failure here. Failure can be a great thing when you learn from it. That's the main reason we found success so quickly (lots and lots of failures).
Create a focused strategy, check your data and analytics often, monitor your progress, and do more of what's working and less of what isn't. Correct course when you need to.
If you need some additional help, you can also check out our blogging courses.
The very next post you should read is on how to make money blogging — this will help you get an idea of what direction you might want to go in before you start writing more content.
Can I Start a Blog for Free?
You can technically start a blog for free, but it's not a valid option if you want to turn it into a successful business that actually has the potential to earn an income.
Free blog platforms and hosting companies come with a lot of limitations. You don't own your domain (blog) name and you can't monetize it as freely as you would with your own blog.
The thing is, you can start a blog for less than $40 for an entire year using the partner discount we offer in this tutorial, so there really isn't any reason to take the free road and start off in the hole.
We hope you enjoyed this post on how to start a blog! If you have any thoughts or questions, we'd love to hear from you in the comment section below!