We partner with bada$$ companies that offer products that help our readers achieve their goals! If you purchase through our partner links, we get paid for the referral at no additional cost to you! Read our disclosure for more info.
Are you looking for the best AI writing tools to help you create high-quality content quickly and more efficiently?
Whether you're a blogger, journalist, or digital marketer, chances are you could use extra help to create quality written content.
Lucky for you, artificial intelligence has come a long way in recent years. Now there are loads of powerful tools that can help automate writing tasks, simplify your workflow, and help you to produce content at a rate you never thought imaginable.
In this article, we'll take a look at 16 of the best AI writing tools available today that will help boost your productivity and take your content creation game to the next level!
What is AI Writing Software?
AI writing software is a type of artificial intelligence that is used to create written content. It uses Natural Language Processing (NLP) algorithms to automatically generate relevant written content from input data.
AI writing software can be used for a variety of purposes, such as creating web content, blog posts, product reviews, press releases, and other types of copy.
AI writing software works by analyzing user-supplied data, such as text, images, or audio recordings, to understand and interpret the context of the information provided.
Using this analysis, the software can determine what type of output would be most appropriate for the given input.
The AI then generates sentences based on its analysis and understanding of the context. The result is an automated process that produces high-quality written content with minimal effort from the user.
Above all, AI writing software can help streamline many business processes, including content creation and marketing automation.
What Are the Best AI Writing Tools?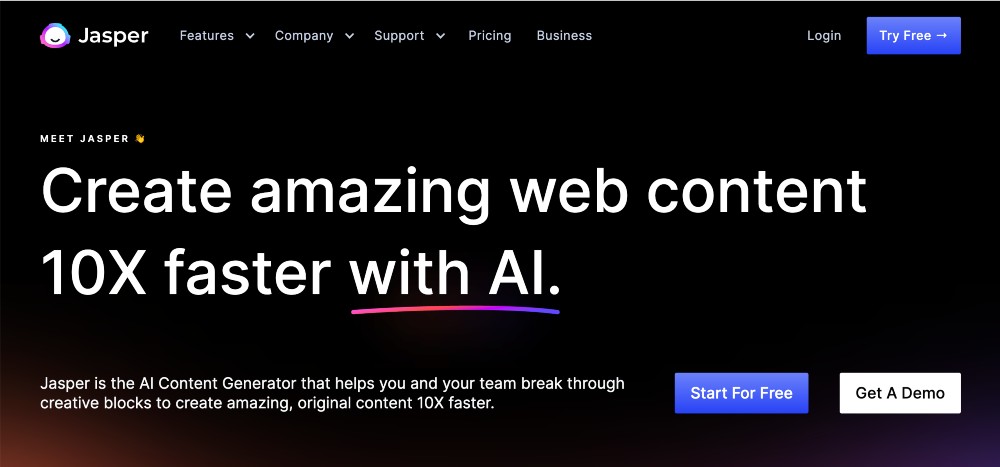 Jasper AI is, in our opinion, the best AI writing tool available on the market today. It includes a comprehensive suite of features from content creation to search engine optimization.
Jasper's sophisticated algorithms analyze text and provide real-time feedback, helping users quickly improve their writing.
This AI writing platform goes beyond basic grammar correction and spell checkers to detect errors in syntax, structure, meaning, and context.
Jasper's AI engine can recognize the difference between what is likely intended versus what was actually written and make appropriate suggestions for improvement.
It works by extracting key features from user input and then providing individualized feedback on how the user can strengthen their communication skillset.
The advanced analytics and reporting allow users to track performance metrics such as readability scores, keyword density, article structure analysis, grammar errors, and more.
Jasper also has integrations with Microsoft Word, Google Docs, WordPress, Grammarly Surfer SEO, and more to make it easy to write a finished and optimized final product.
Jasper also has tons of different templates to help you write exactly what you need: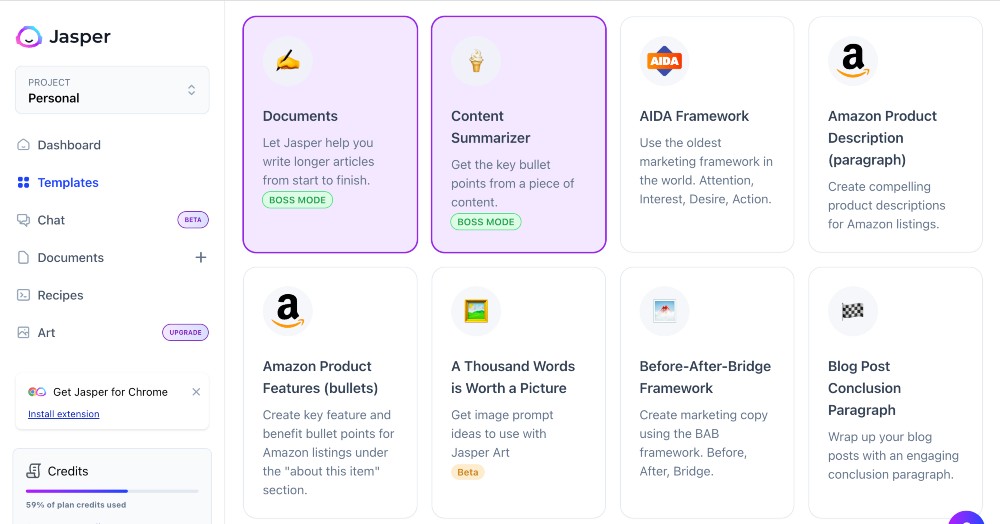 Key Features:
Real-time monitoring and analytics of performance metrics
Intuitive and easy-to-use user interface
Customizable templates that can be tailored to specific needs
Relevant, high-quality copywriting optimized for SEO best practices
Ability to generate multiple versions of a single piece of content quickly and efficiently
Integrations with Word, Google, Docs, WordPress, and other tools
Access to writing professionals with specialized knowledge in the field
Extensive knowledge base of YouTube tutorials
Our Opinion:
Jasper AI is one of the most powerful ai writing tools on the market right now. It's what we're using and the integrations and document editor make it stand far above most of the other tools on this list.
Jasper is ideal for anyone looking to up their content writing game and post articles more frequently. If you're not that serious about using AI yet or only need it here and there, this isn't the tool for you.
Pricing Information:
Jasper AI plans are priced based on the word output (volume of words) you need on a monthly basis. Plans start at $24/month for 20,000 words.
In order to get a wider range of features like compose & command and Google docs style editor (what you'll need for writing blog articles, you'll need to Boss mode plan that starts out at $49/month for 50,000 words.
Plans go all the way up to $500/month for 700,000 words and they also offer custom pricing if you need more than that.
When you write articles with Copy.ai, you'll get access to automated keyword optimization, sentiment analysis, and readability scores.
Copy.ai uses proprietary technologies, including language understanding models, text generation algorithms, and pre-trained data sets to generate content at scale.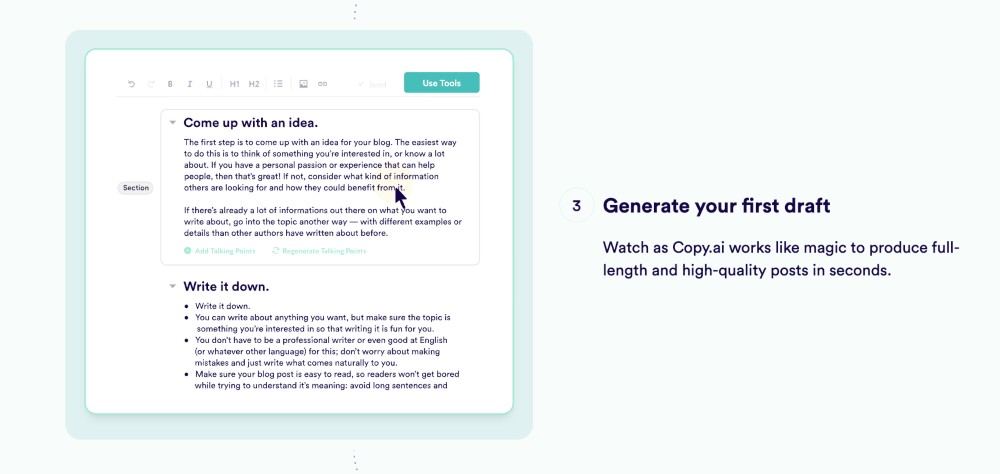 Users can easily collaborate on projects with their teammates or colleagues by sharing drafts via comments or messages within the platform itself.
Copy.ai also has an API that companies can use for integrating their own custom applications into the platform–allowing them greater scalability when creating larger volumes of content faster than ever before.
They also offer great customer support with detailed tutorials on how to get started with the platform as well as providing personalized advice when you need it.
Key Features:
Generates high-performing marketing copy
Natural language processing for contextual understanding and improved accuracy
Advanced algorithms for personalized recommendations and automated optimization
Deep learning technology that understands user intent, context, and preferences
Easily integrates with popular marketing tools such as WordPress, Shopify, Mailchimp, etc.
Access to a library of best practices from top marketers around the world
Detailed analytics on performance improvement over time
Our Opinion:
Copy.ai is going to be ideal for you if you're interested in light copywriting because they have a great free plan (that also comes with a free trial of the pro plan).
It's also going to be ideal for anyone looking to write a lot of content because the Pro plan is very affordable for an unlimited number of words.
They don't have as many integrations as some other options, but they do have tons of free generation tools for many different types of content (emails, social copy, etc.).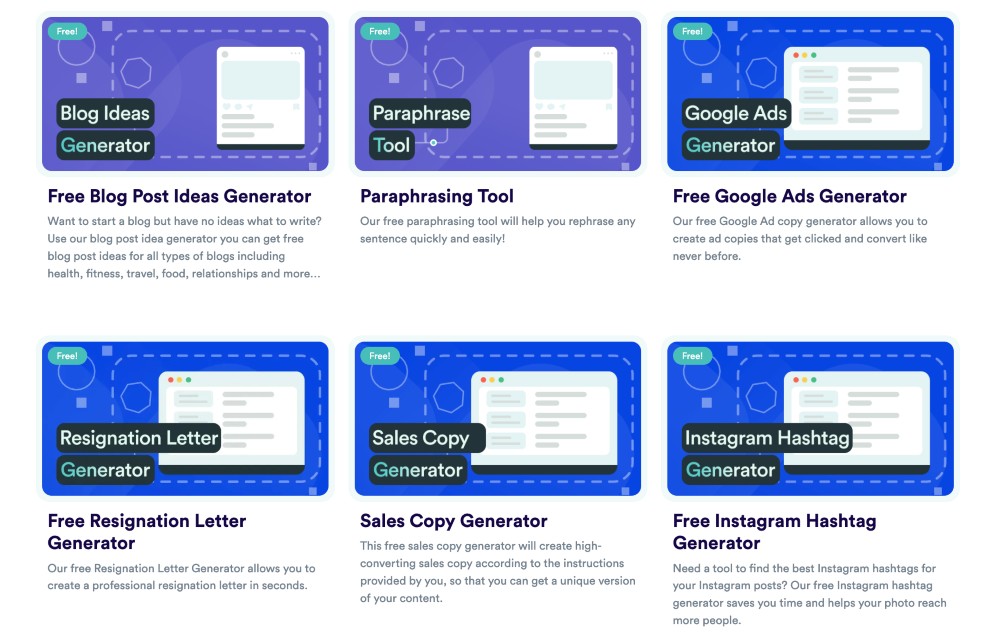 Pricing Information:
I love the simplicity of Copy.ai's pricing plans. They offer a free plan that will allow you to write up to 2,000 words per month and a paid plan for unlimited words at $49/month.
Writesonic is an AI writing tool that enables users to create high-quality content quickly and efficiently.
With its powerful algorithms, Writesonic can analyze user input and generate relevant ideas for new articles or blog posts.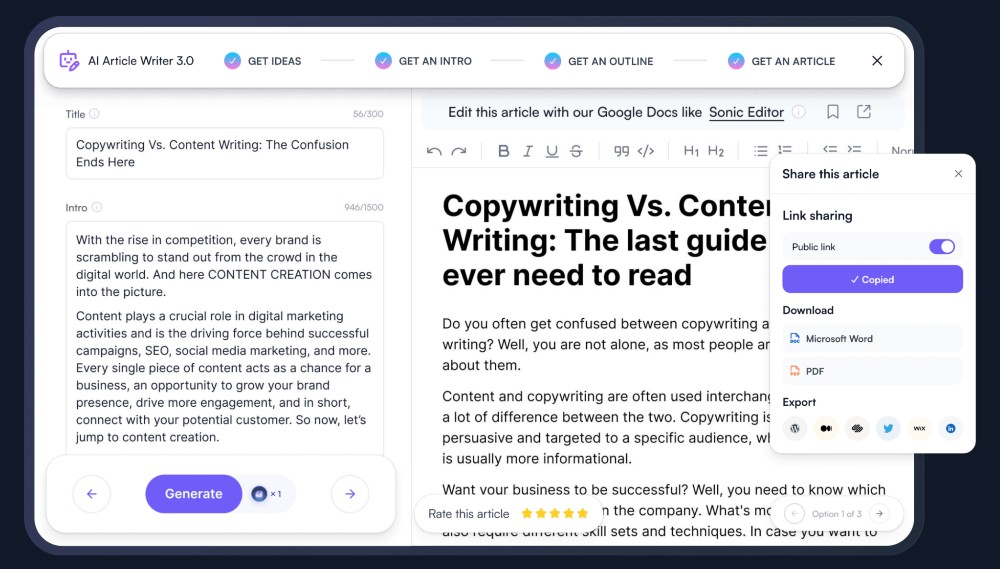 It also offers features like spell checking, grammar correction, topic suggestion, keyword research tools, and more to help make sure your content is accurate and up-to-date with best practices.
Writesonic also has a cool feature called "text expander" that allows you to instantly "expand" your content to write articles that are longer, more in-depth, and detailed.

"Turn 1,000 words into 10,000 words."
Key Features:
Automatically generate high-performing marketing copy
Smart recommendations for optimizing your content
Analyze keywords, trends, and customer interests in real time
Customizable templates to make writing easier
Easy integration with existing workflows and tools
Comprehensive analytics to measure impact of content
Our Opinion:
Writesonic is definitely one of the more powerful AI writing tools on this list, with more advanced features (like Jasper). If you need a powerful tool, but want a little more flexibility and possibly a lower price than Jasper offers, this is your tool.
Pricing Information:
Free plan that offers 6,250 words and 70+ AI templates! As far as free plans go, this one has more words than most.
Paid plans start out at just $12.67/month for 47,500 words, making this a very affordable option.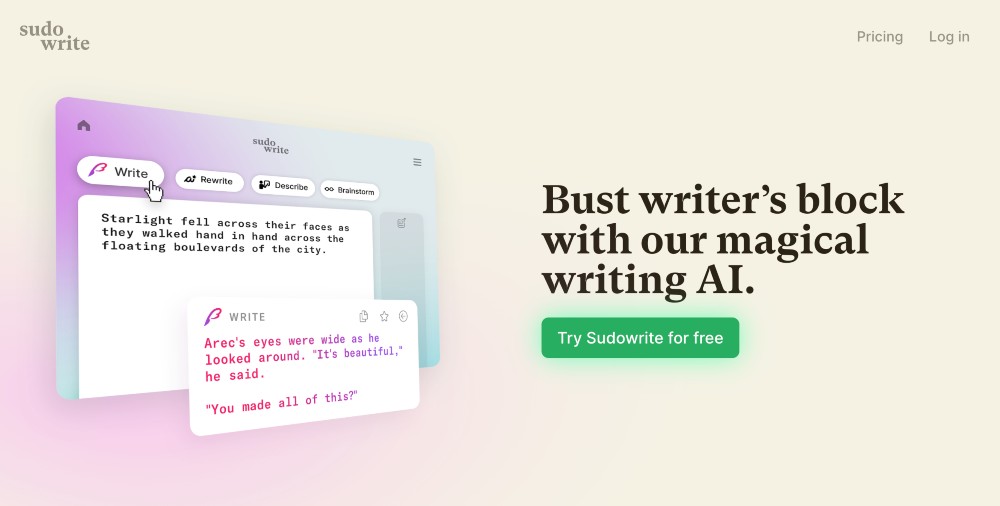 Sudowrite is an AI copywriting software that has a user-friendly interface to make writing tasks easier and faster than ever before.
With features like auto-correction, grammar checking, text analysis, and more, Sudowrite helps users increase their productivity while ensuring accuracy in content production.
Additionally, its natural language processing capabilities help ensure that each article or document produced is tailored to the individual's style and preferences.
Overall, this tool is a bit simpler with fewer features than some others on this list, but it's absolutely one of the most affordable.
If you're a student needing some extra help on essays or an experienced writer just looking for "a little extra something," this is your tool.
Key Features:
Structure your copy with advanced formatting tools
Choose from over 500+ topics to generate unique article drafts
Automations and templates to help you streamline
Organized library of content assets
Optimize your drafts for SEO
Manage multiple projects, assign tasks to team members, and collaborate on documents in real time
Track performance metrics to measure and improve the impact of your content.
Our Opinion:
Sudowrite is better suited for beginners to AI software with its lower-cost plans. If you need a more powerful ai writing tool, you're better off with Jasper or Writesonic.
Pricing Information:
Sudowrite plans are super affordable – starting out at just $10/month for 30,000 words. The professional plan is double the price but triple the words – $20/month for 90,000 words. Finally, their "Max" plan jumps way up to $100/month for 300,000 words.
They also offer a free trial on all of their plans.
GrowthBar helps users find ideas quickly and effectively, generates outlines in seconds and offers recommendations on related topics. Its AI assistant is able to identify topics of relevance in real time and offer suggestions based on best practices.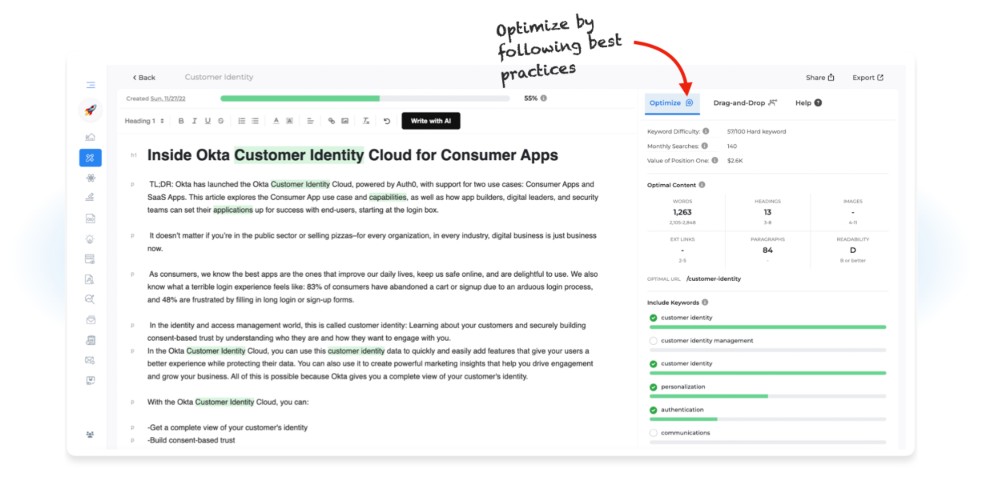 GrowthBar includes built-in grammar checks and spell-checking capabilities so every piece of content produced is error-free.
The platform also provides powerful analytics tools so users can track their performance over time as well as measure SEO progress.
GrowthBar also allows for collaboration between teams on projects enabling efficient knowledge sharing between members in order to produce content quickly and efficiently.
Key Features:
Smart algorithms trained on millions of data points
Automatic optimization to drive best performance results
Built-in library of templates and formulas
Easy integration with existing software and CMS platforms
Advanced analytics insights to monitor growth metrics
24/7 customer support
Our Opinion:
GrowthBar has the potential to save you some money because of its extensive set of built-in SEO tools. If you aren't already using an SEO tool in your business, this is a great option for SEO-optimized content on a budget.
If you're already paying for an SEO tool, some of the features in GrowthBar might be redundant.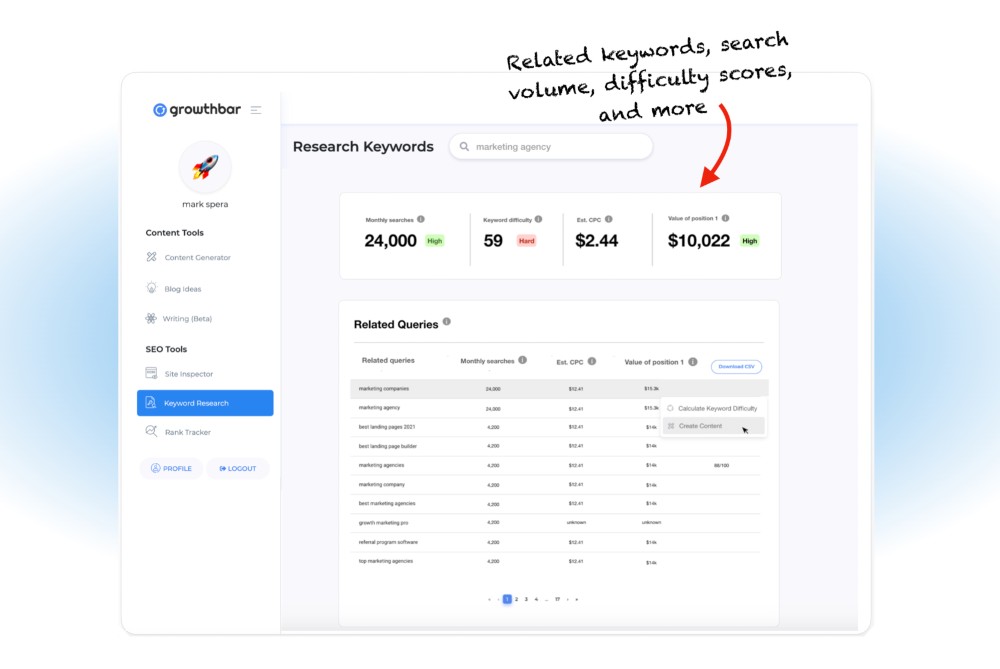 Pricing Information:
GrowthBar has 3 different pricing tiers:
Standard plan: $29/month for 25 AI content outlines and 500 AI paragraph generations
Pro plan: $79/month for 100 AI content outlines and 2,000 paragraph generations
Agency plan: $129/month for 300 content outlines and 5,000 AI paragraphs for $129/month
All plans come with varying levels of SEO tools. They also offer a 5-day free trial.
With Anyword, you can easily create blog posts, articles, web copy, product descriptions, and more with just a few clicks.
The software also provides grammar and spelling checks so you can ensure your written work is error-free before publishing or sending it off for review.
Anyword has what they call a "predictive performance score" to help you evaluate the potential for audience engagement and responsiveness for certain demographics.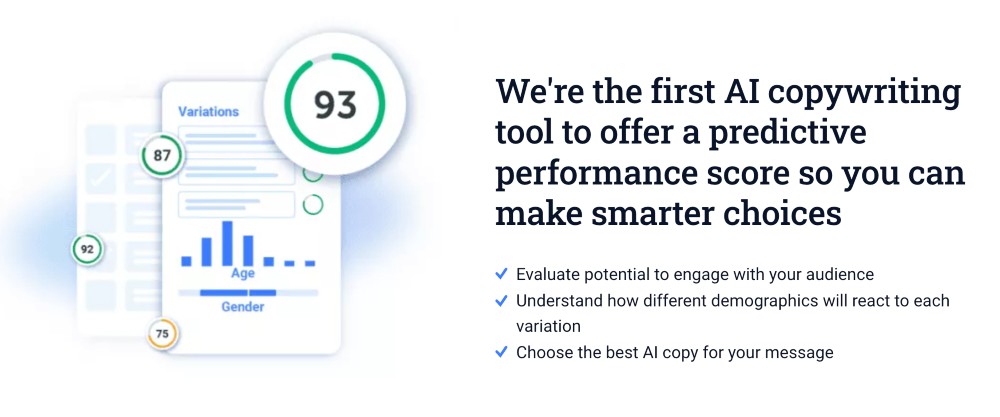 Key Features:
Automatically research and incorporate best practices into your writing
Create engaging copy that is optimized for search engine ranking
Customizable templates to get started quickly and easily
Collaborate with team members in real time for feedback on drafts
Generate reports of performance and analytics of written content
Our Opinion:
Because of the unique tools and insights they offer, Anyword is ideal for people who are interested in connecting more with their audiences.
Many people write content just to write content and to rank for SEO, but if you're looking for a way to write better (and more) content while also retaining that connection to your audience, this is the ai tool for you.

Pricing Information:
Starter plan: starting at $24/month (billed annually) for 20,000 words.
Data-driven plan: starting at $83/month for 30,000 words with advanced performance analytics and improvement suggestions.
All plans increase in price as the number of the output of words increases.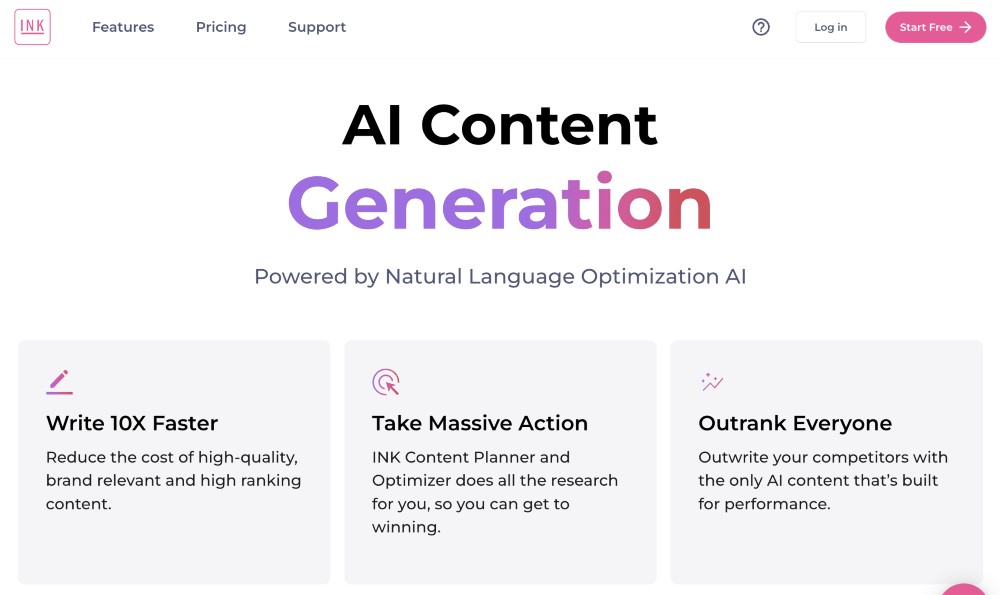 Ink is an AI content generator for creating, editing, and proofreading content.
Ink Editor's AI tools provide personalized recommendations on how to improve the style of your writing by adjusting sentence structure, word choice, and even tone.
The software can automatically identify keywords and other important elements within your text and then suggest appropriate alterations such as synonyms or alternate phrasings.
Ink also includes templates that provide ideas on structure, formatting, tone, and more so you don't have to worry about reinventing the wheel each time you start a new project.
It also comes with great customer support via online tutorials and helpful tips if you ever get stuck.
Key Features:
Spell check and grammar check
Create SEO content with suggestions on how to best optimize your content for search
Real-time feedback on readability, tone, and sentiment
Library of templates and best practices for compelling content writing
Ccollaboration with multiple users within a project workspace
Export your work into various formats
Our Opinion:
Ink for All is unique in that it offers unlimited words on all plans. If a high volume of words is important to you, this ai writer tool is a great option.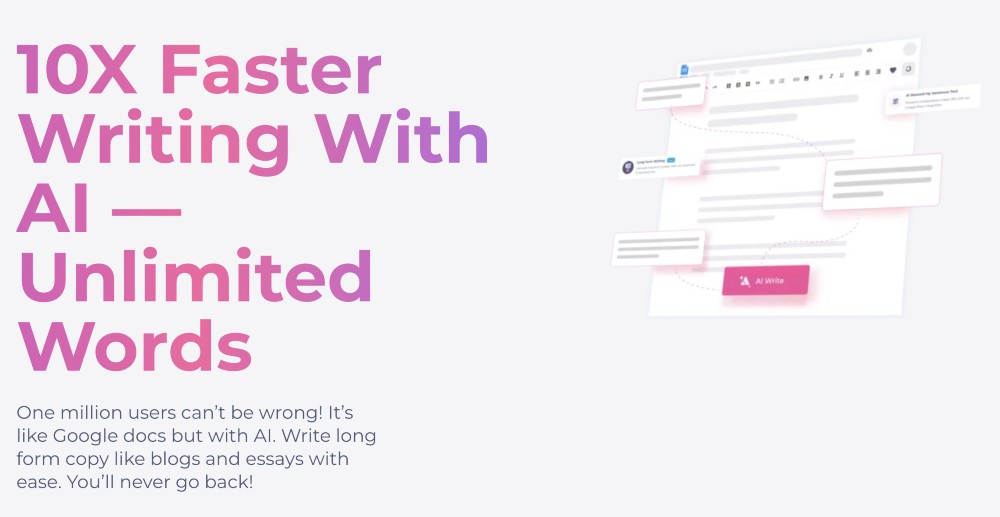 Pricing Information:
Creator plan: starts out at $44/month
Professional plan: starts out at $89/month
SEO Rocket plan: starts at $443/month.
Ryter is an AI writing assistant tool that analyzes your input and suggests relevant words, phrases, and topics for you.
This allows users to easily create more detailed and comprehensive content without having to worry about grammar or syntax.
Ryter also suggests alternative ways to phrase or rephrase your ideas, ensuring that every piece of content is as unique as possible.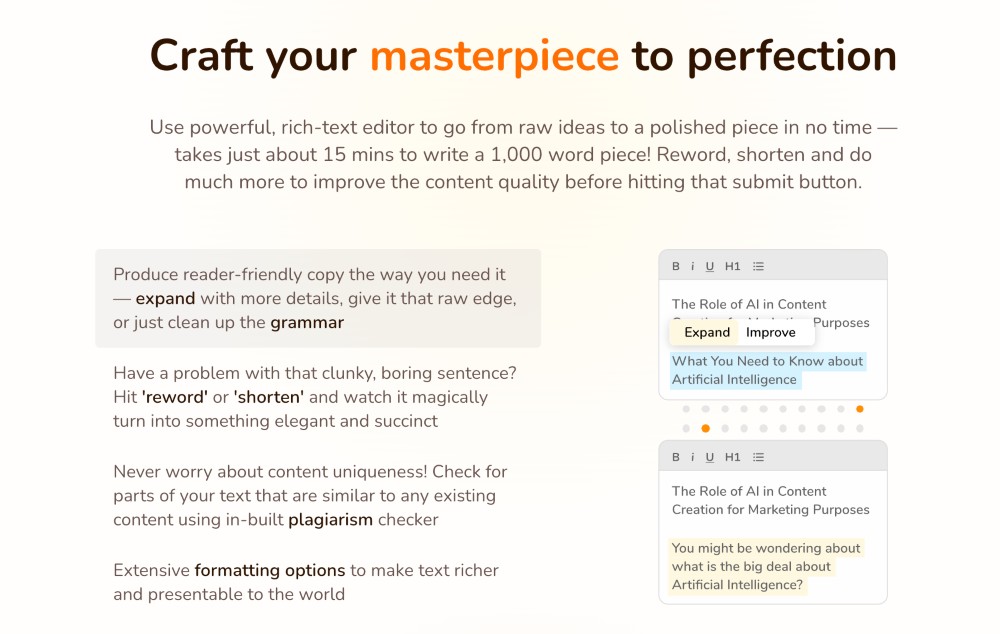 The platform has built-in SEO tools, advanced analytics, and tracking tools so that you can track how visitors interact with your content and make improvements.
For more experienced writers, Ryter provides additional features such as support for multiple languages, sentence structure corrections, word suggestions based on what's trending on social media platforms like Twitter and Instagram, and also plagiarism checks.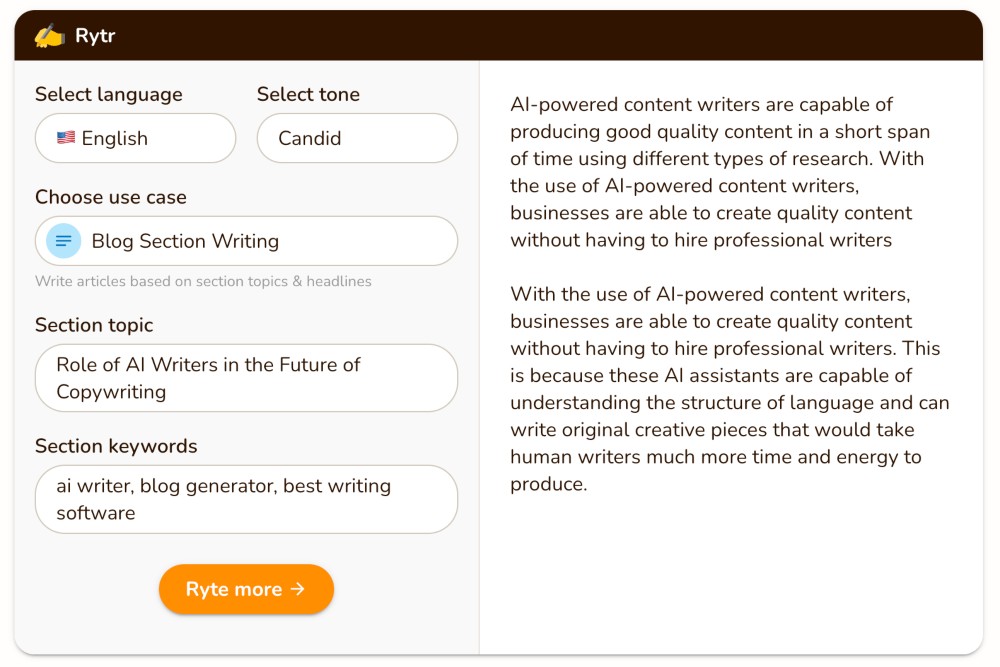 Key Features:
Suggestions for SEO and readability while you write
Tailored writing insights based on your industry and target audience
Collaboration with a shared workspace for multiple writers and editors
Generates automated summaries of text, allowing you to replace long passages with concise explanations
Integrates seamlessly into existing workflows with API access, browser plugins, and more
Our Opinion:
Ryter has the best balance of content generation features for the best price. If you're looking for a powerful ai writer tool on the cheap, this is your software.
Pricing Information:
Free plan: up to 10,000 words + 5 images
Saver plan: $9/month for 100,000 words + 20 images.
Unlimited plan: $29/month for unlimited words + 100 images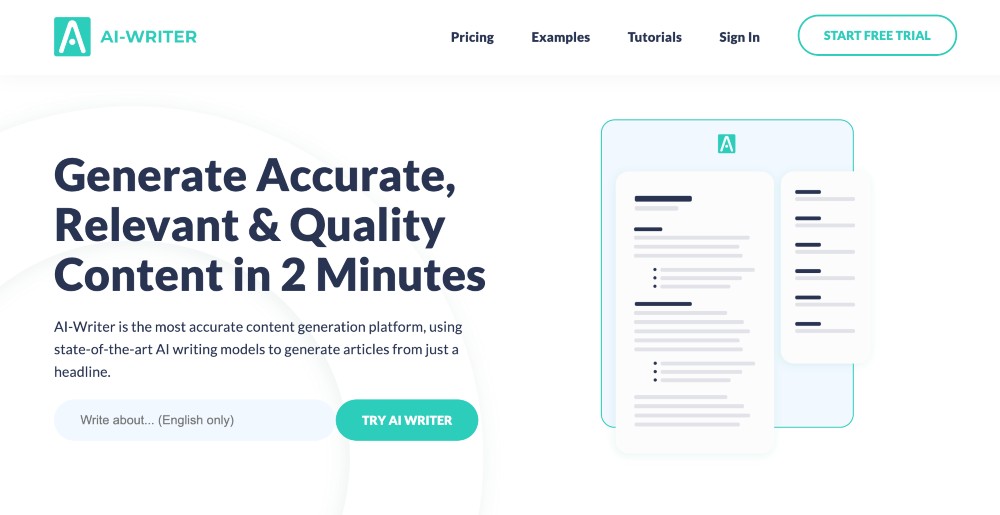 Using AI Writer, users can create content for websites, blogs, newsletters, or any other type of written material as well as optimize and improve existing content.
The platform also offers features such as automated grammar checking, keyword density control, and summarization tools that make it easier to create professional-looking content without spending too much time on the task.
They have a large library of pre-defined templates as well as an extensive database of relevant images and videos that you can use to generate content.
It's also often used as a research tool by students or professionals who need help understanding a certain topic.
It also supports multiple languages, allowing users can select which language they want their texts to be written in and the platform will automatically generate text tailored specifically for the chosen language to make sure the text is culturally relevant.
Key Features:
Personalize copy for target audiences
Tracks performance metrics to measure the success of campaigns
Integrates with popular CRMs and email marketing platforms
Library of over 25,000 templates and examples to get started quickly
Access existing corporate brand assets such as logos, fonts, colors, and more
Our Opinion:
One really cool feature of this AI writer tool is "verifiable citations," which essentially provides you with a list of sources for your content that you can verify and include in your content.
If you want to write quick SEO content that is heavy on sourcing and citations, this is going to be a great AI writer for you.
Pricing Information:
AI Writer's pricing plans differ from their competitors a bit in that they charge based on the volume of articles rather than on the volume of characters.
Basic plan: $29/month for 40 articles
Standard plan: $59/month for 150 articles
Power plan: $375 for 1,000 articles
They also offer a 1-week free trial.
Paragraph AI is one of the best AI writing tools to get personalized feedback on how to improve your writing, receive suggested edits, and provide advice based on best practices from experienced writers.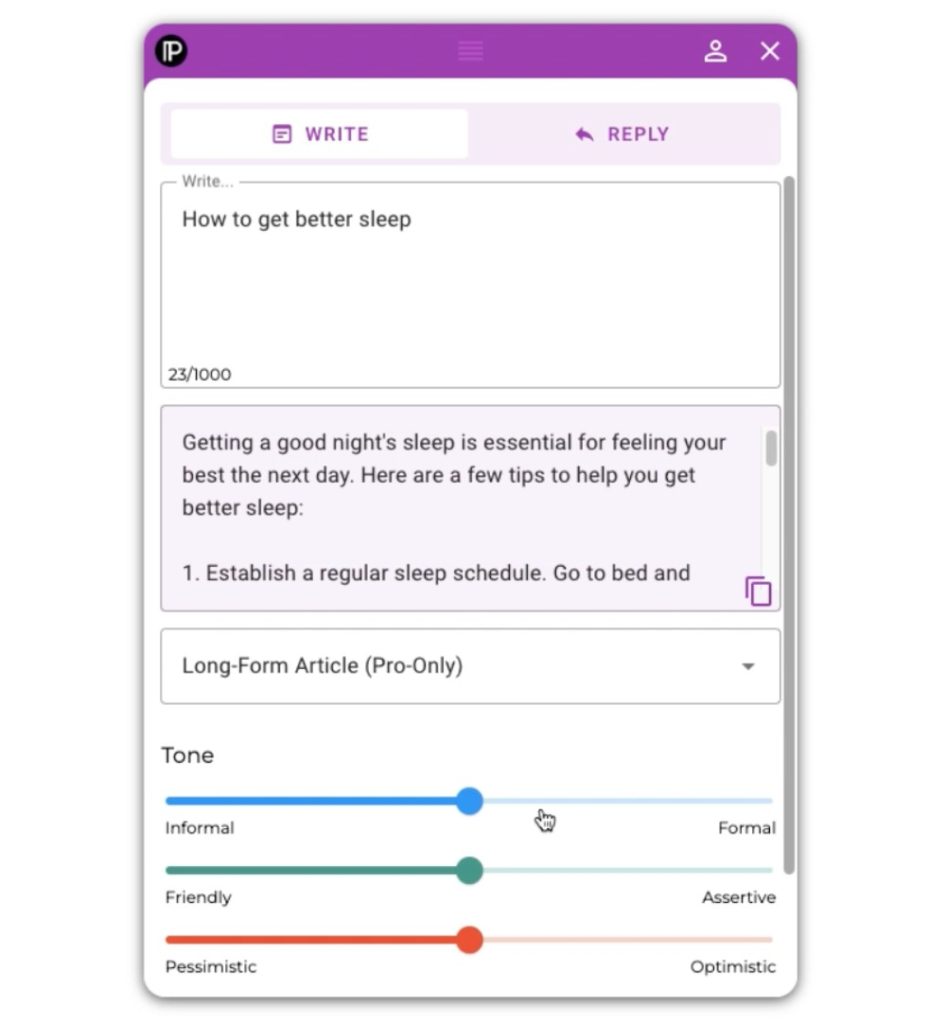 The platform provides a wide range of features designed to make the writing process easier, including a keyword optimizer, auto-complete functionality, grammar checker, and more.
For those who need help crafting better stories, Paragraph AI provides a story editor that offers point-and-click instructions for developing storylines.
Its visual storyboard feature allows for easy visualization of complex narrative structures and helps users build effective narratives quickly and easily.
Key Features:
Drag-and-drop interface
SEO optimization and readability
Ability to set rules and parameters so that you can control how it reads and writes your text
Comprehensive analytics dashboard
Integration with popular CMS platforms like WordPress and HubSpot
Access to a library of best practices and resources
Collaborate with other team members
Our Opinion:
If you're new to using an AI writer in your business and just want to explore the possibilities and use cases, Paragraph AI is the perfect AI tool to start out with because it's free.
Pricing Information:
Paragraph AI is completely free to use! No strings attached.
Copysmith.ai is an AI-powered writing platform that empowers creators to produce amazing content quickly, effectively, and cost-effectively.
This AI writer platform offers a comprehensive suite of editing tools as well as an interactive editor where you can also add additional elements like images or videos.
Copysmith.ai is specifically helpful for users writing copy related to sales with a content strategy that revolves around value proposition.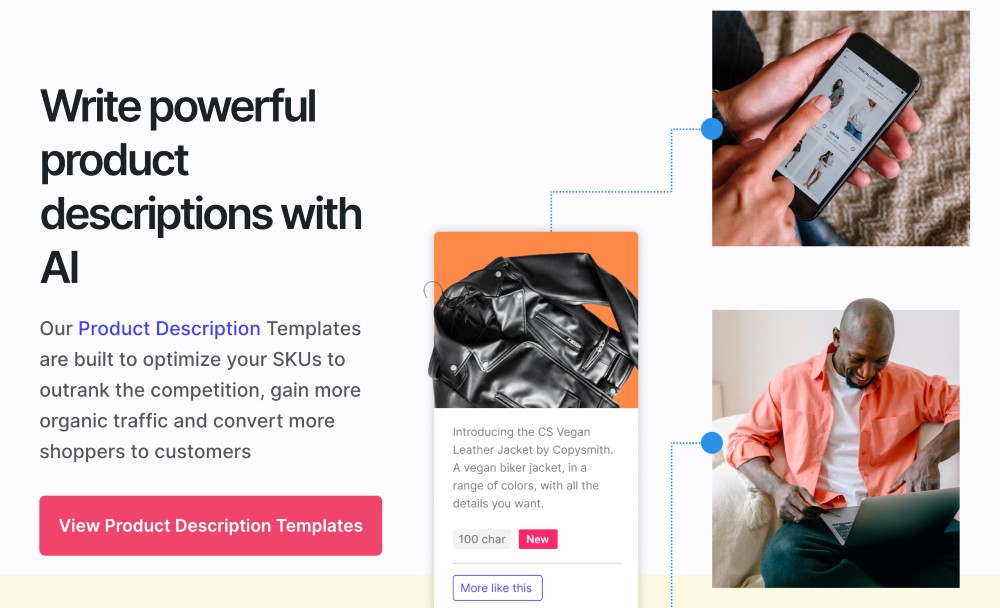 Key Features:
Personalize content to engage target audiences more effectively
Monitor audience response in real time to improve performance
Easily measure the impact of changes in copywriting styles and strategies
Our Opinion:
Copysmith AI is best suited for eCommerce and Enterprise businesses that need more generated content related to sales and value to target audiences.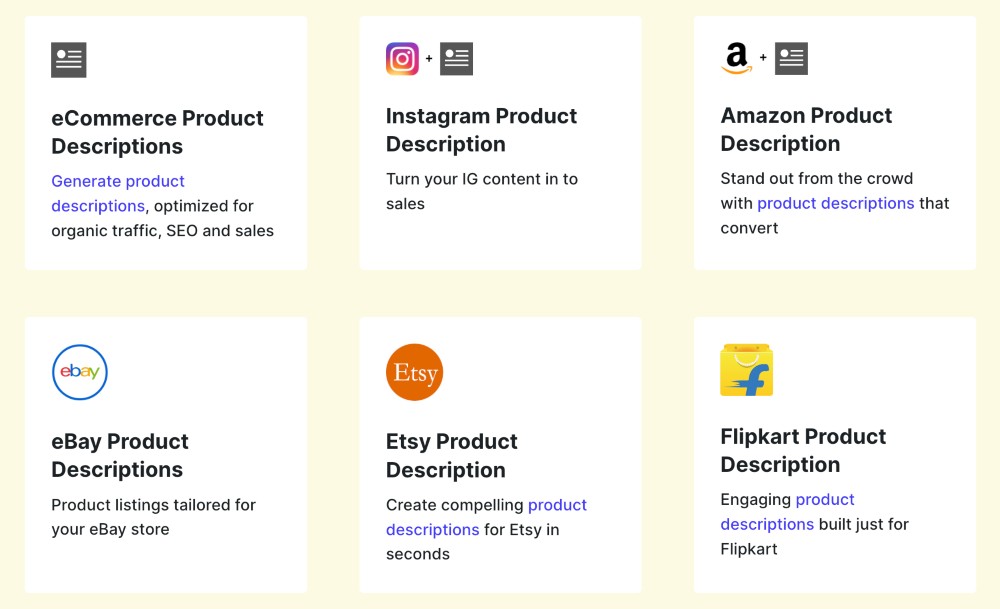 Pricing Information:
Starter plan: $19/month for 75 credits
Professional plan: $59/month for 400 credits
Custom pricing also available.
With Writer, you can quickly generate article outlines, complete drafts, and even get feedback on your work from the AI's insights.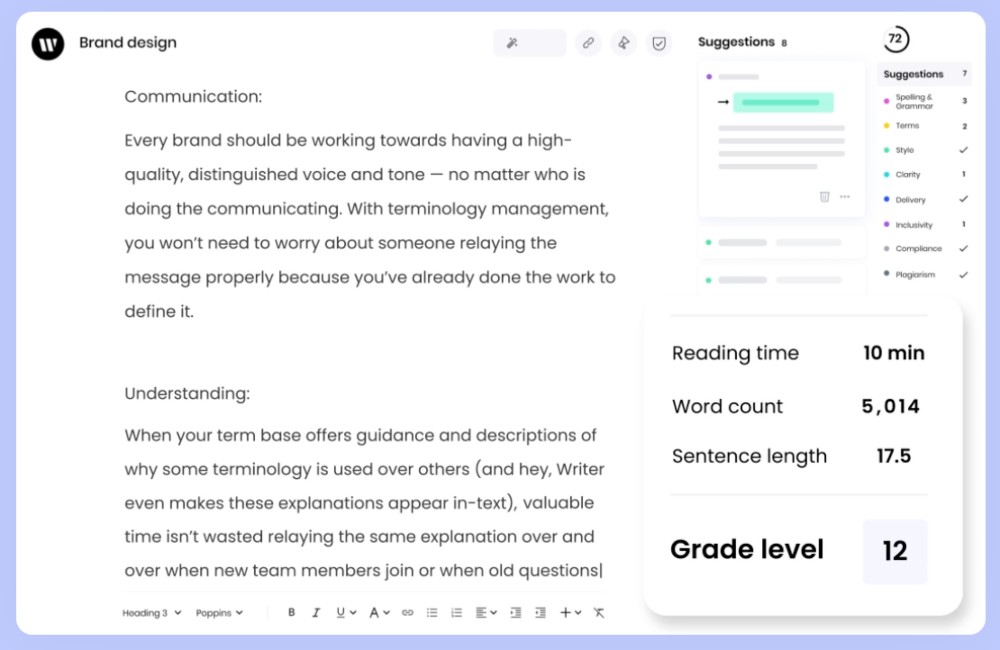 Writer is a helpful tool for both experienced and novice writers, as it can provide guidance on how to improve your writing.
For example, it can suggest better adjectives and adverbs to make a sentence more lively or point out when repetition of words is used too often.
Writer will also recommend topics related to the user's interests or current project so that they can easily find sources of inspiration or explore unknown paths in their research.
The platform allows users to organize multiple projects into folders for easier navigation.
Key Features:
Research topics with intuitive keyword-tracking tools
Streamline the collaboration process with real time feedback loops
Automatically A/B test different versions of your content to find what works best
Generate content recommendations tailored to your target audience
Monitor competitor activity and keep track of industry trends
Get insights into how your content is performing across multiple channels
Enhance customer experience with interactive storytelling and immersive designs.
Our Opinion:
Writer is best for larger teams that need an extensive set of features for collaboration and bulk content creation. Many large companies are featured on their website, including Intuit, emotive, and more.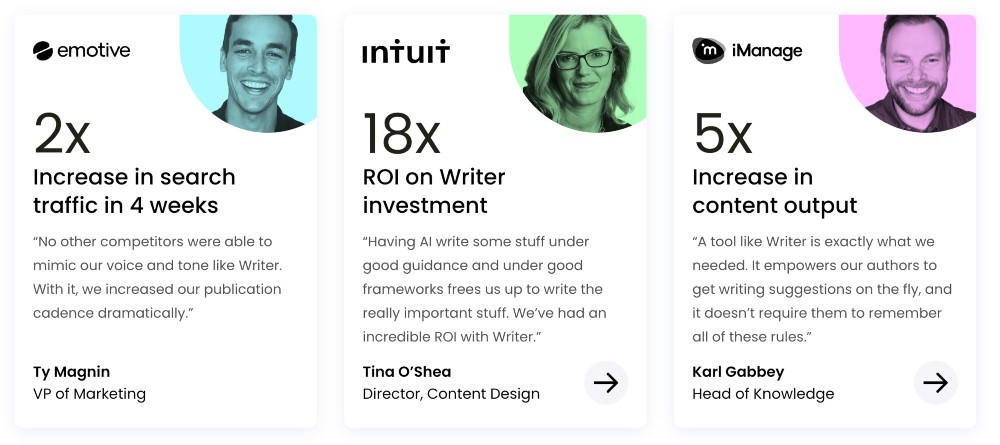 Pricing Information:
Writer has just one plan: Team (1-5 people) that cost $18 per user per month. This includes 15,000 words per user per month. Custom pricing also exists.
Article Forge is an AI writing platform that supports 7 different foreign languages: English, Spanish, French, German, Italian, Portuguese, and Dutch.
Writing content in foreign languages can be difficult due to different metrics for SEO and other, cultural differences in the content.
Article Forge helps you optimize your content specifically for the language you are writing in.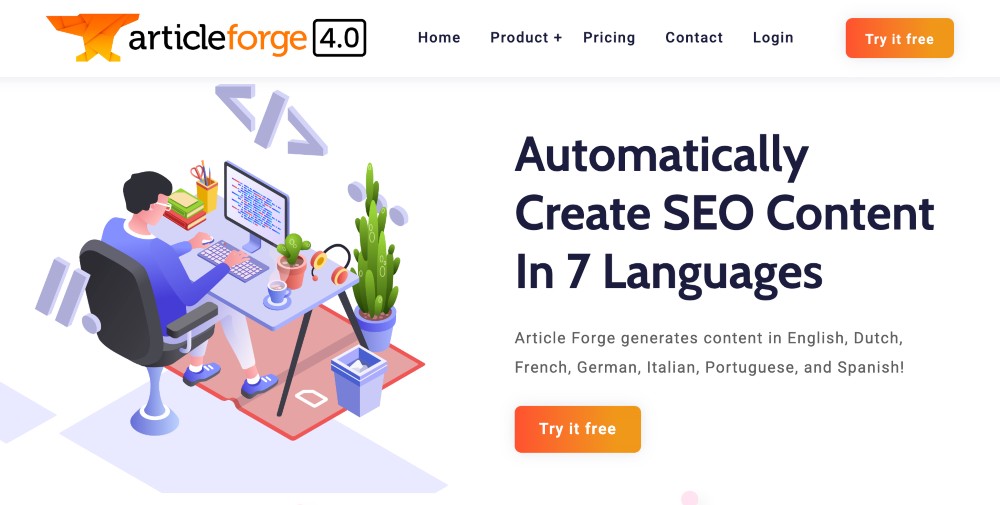 It also offers the standard features of as keyword optimization, SEO analysis, grammar checking, plagiarism detection, topic suggestions and more.
Key Features:
Integrates with WordPress, Tumblr, and Blogger to post content directly
Intelligent grammar and punctuation correction
Supports 7 languages for creating articles in different languages
Automatic keyword optimization for better SEO ranking
Integration with Google Docs, Dropbox, etc.
Ability to set up scheduled content creation for automated posting
Advanced analytics to monitor performance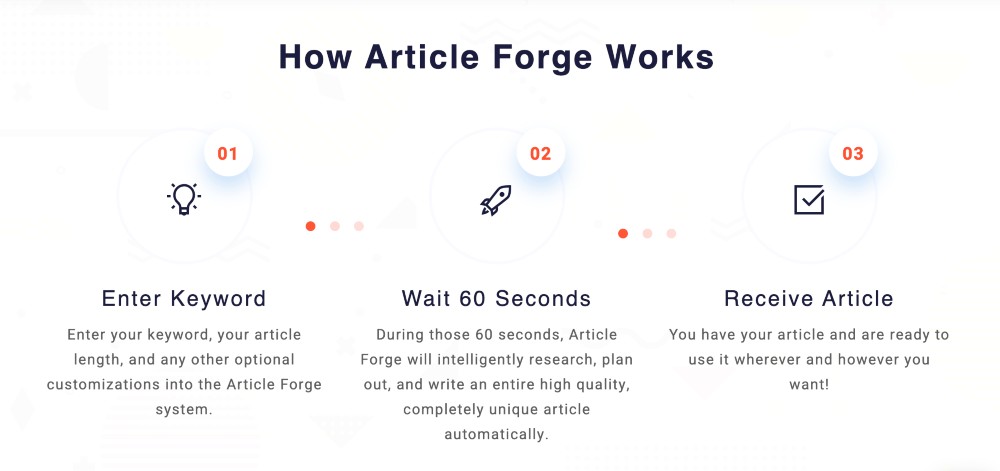 Our Opinion:
Article Forge is best suited for individuals or companies that need access to an AI writer that supports multiple languages for connection and/or SEO.
Pricing Information:
Article Forge only has one plan but it gives deep discounts if you sign up for annual billing. This plan starts out with 25,000 words for $27/month (or $13/month for annual billing).
You can also start out with a 5-day free trial.
AI Writing Assistants
The following tools are not necessarily known to be great AI copywriting tools specifically for content generation. Rather they are add-on tools to improve your SEO performance, grammar and readability, and more.
That being said, they are all still powered by artificial intelligence and machine learning technologies. Use these AI writing assistants in addition to the AI writer tools described above.
Grammarly is a powerful AI writing assistant that helps you make sure your content is accurate and error-free.
Grammarly's built-in spell checker can detect typos as well as homophones, helping users avoid embarrassing mistakes such as writing "form" instead of "from."

Grammarly's sophisticated grammar checker detects grammar and punctuation mistakes, subject-verb agreement errors, dangling modifiers, run-on sentences, and other commonly made mistakes.
Key Features:
Automatically detect spelling and grammar mistakes
Make corrections on the fly as you type
Contextual spell-checking for enhanced accuracy
Access your documents, track changes, and collaborate with others in real time
Personalized suggestions to make your writing more accurate and concise
Ability to check the style of writing including tone, clarity, etc.
Integration with popular apps like Google Docs, MS Word, and Outlook
Comprehensive dictionary and synonym database for editing
Our Opinion:
Grammarly has a really great free plan that is sufficient for the vast majority of users. I've upgraded once to see the additional benefits and ended up downgrading again to the free plan.
Install the free browser extension and use Grammarly alongside the AI writer tools in this article.
Pricing Information:
Free plan
Premium plan: $12/month and comes with more features for AI writing, such as full-sentence rewrites, tone suggestions, and more.
Business plan: $15/month and includes snippets, brand tones, an analytics dashboard, and more.
Surfer SEO is an AI writing assistant and SEO tool that helps content writers craft more effective, SEO-optimized, quality content.
It analyzes webpages, identifies the most important topics, and suggests additional sections and keywords that can help you optimize your website for search engines.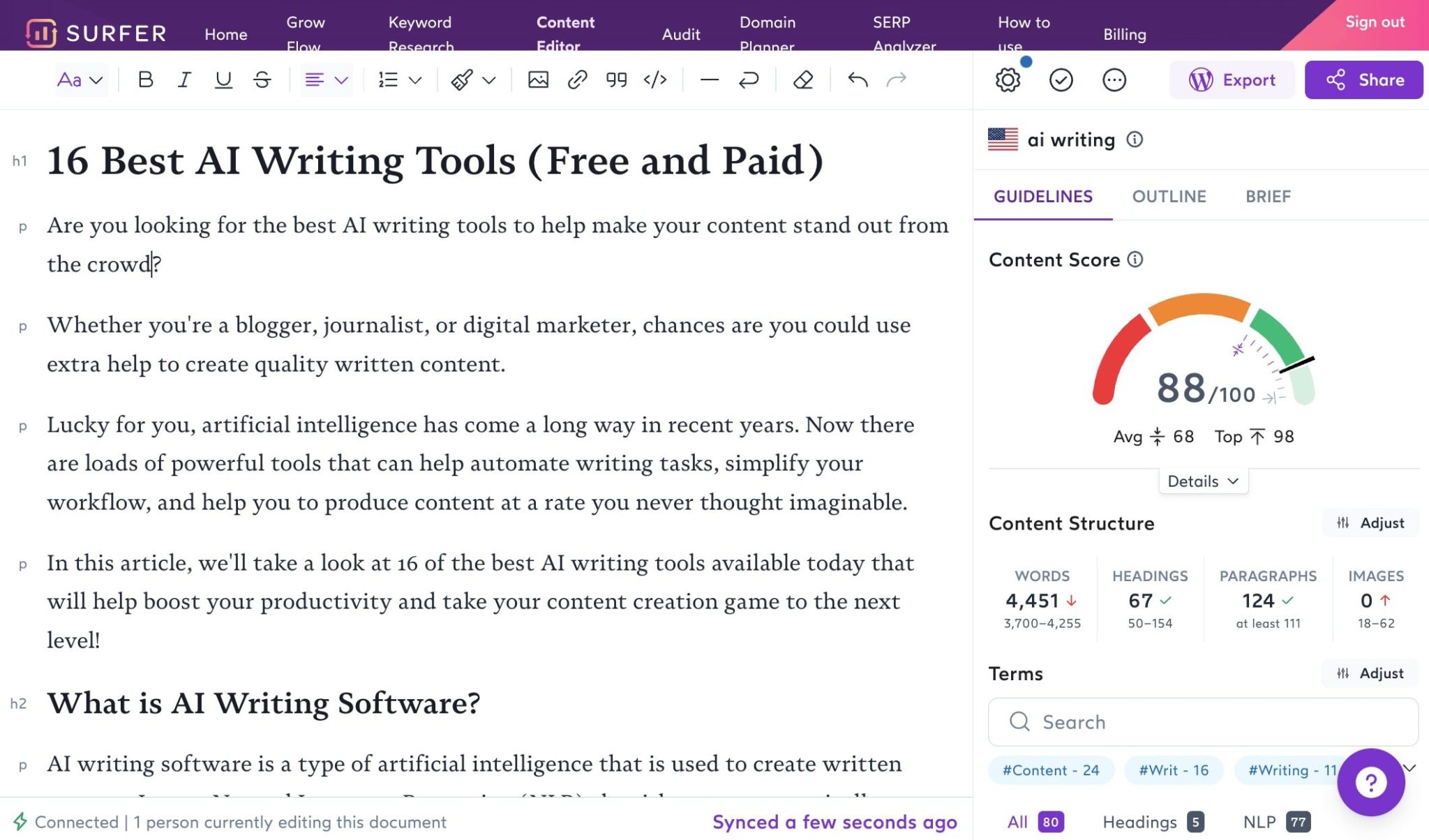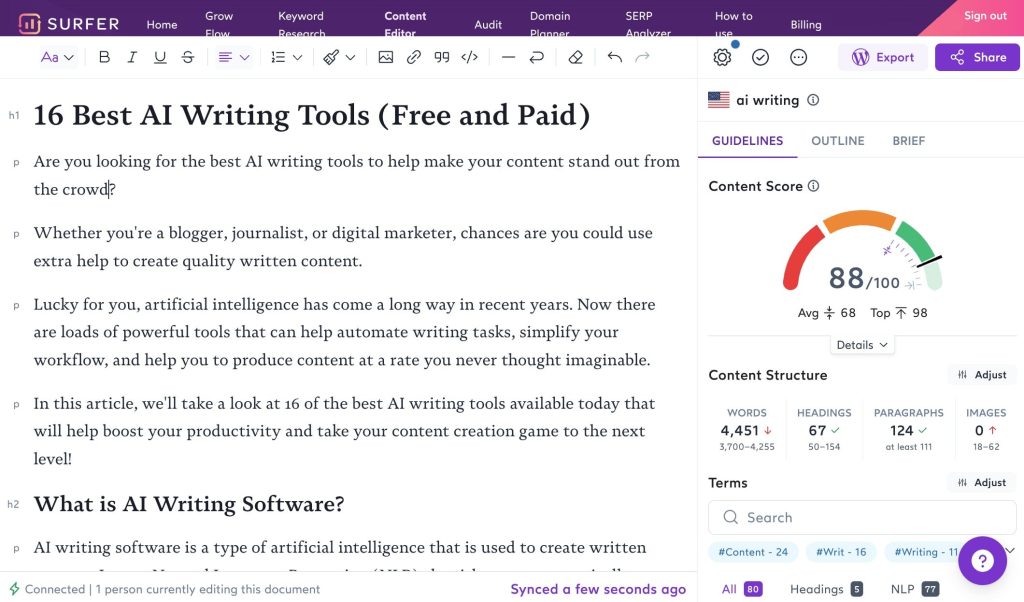 When you write a blog post, it can generate meta tags automatically based on analysis of the page being optimized, provide keyword suggestions based on advanced metrics such as IDF or TF-IDF scores, as well as produce reports with detailed insights into how content performs on search engines.
Surfer SEO also integrates with Google Analytics so you can track your progress over time.
Key Features:
Comprehensive keyword research including search volume, competition level, and keyword difficulty
Analyze competitor's websites to find new ranking opportunities
Track your website's performance with in-depth SEO metrics
Monitor backlinks to gain insights into your link-building strategy
Automate tedious SEO tasks such as broken link checking, meta tag creation, and more
Create powerful content marketing strategies by researching trending topics and content ideas
Discover profitable longtail keywords through smart suggestions
Optimize internal links on your website for improved ranks
Monitor your website's performance in SERPs to keep track of changes
Set up alerts for brand mentions and new links
Compare multiple webpages in order to identify common themes
Use the text editor for real-time feedback on writing quality
Our Opinion:
The list of key features is long because Surfer SEO is a very valuable SEO tool and one that we personally use in our SEO content strategy.
Use this SEO tool alongside one of the other AI writer tools in this article.
Pricing Information:
Basic plan: starts at $49/month and includes 120 articles and 240 audits per year + tracking for up to two websites
Pro plan: starts at $99/month and includes 360 articles and 720 audits per year + tracking for up to 5 websites
Business plan: starts at $199/month and includes 840 articles and 1680 audits per year + tracking for 10+ websites
16. WordTune
WordTune is a powerful writing assistant that helps you to create higher-quality, more engaging, and more persuasive content faster than ever before.
With WordTune, you can quickly analyze your content for structural weaknesses and identify areas to improve your writing.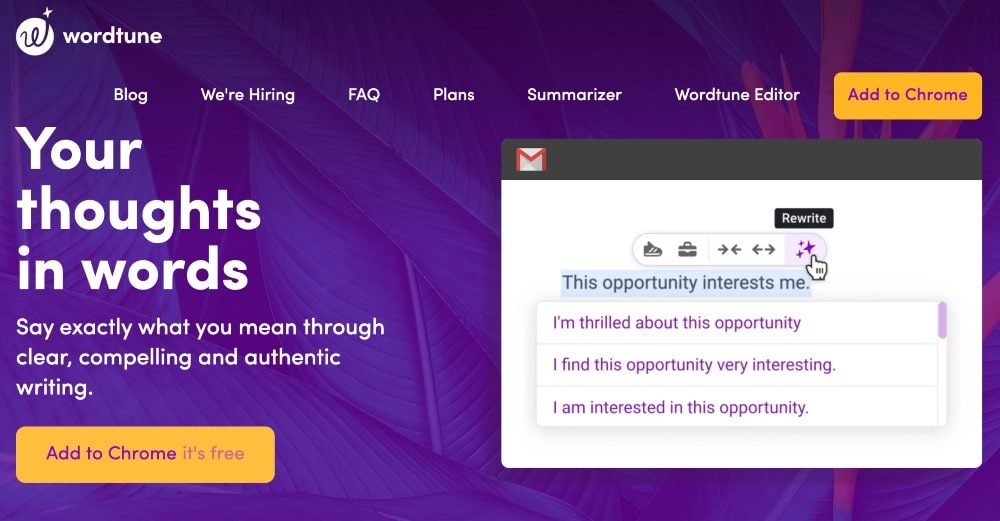 It provides comprehensive writing analysis tools to help you evaluate your text for readability, grammar, and punctuation accuracy.
The AI-assisted understanding modules offer advanced features such as sentiment analysis, keyword extraction, readability score, summarization tools, and more.
Key Features:
Automatically generate content ideas and topics
Get AI-powered writer recommendations to get the job done quickly
Easily find writers with specific skillsets, industries, and writing styles
Receive real-time feedback from expert editors on your writing quality
Use advanced search tools to quickly research copywriting topics
Analyze data insights about audience engagement levels for written content
Leverage built-in templates for creating high-performing marketing campaigns
Export content in multiple formats to ensure compatibility across channels
Our Opinion:
WordTune eliminates many of the tedious tasks that we all feel during the writing process and significantly enhances the quality of your final product.
It can help you improve your writing productivity and accuracy, which makes it an excellent pairing for the AI writer tools on this list.
Pricing Information:
Free plan with 10/day complete rewrites
Premium plan includes unlimited rewrites + paragraph-specific rewrites for just $9.99/month.
They also offer a teams plan if you need to add more users.
Summary
We hope this article on the best AI writing tools will help you start creating higher-quality content quickly and more efficiently.
The best AI writer tools go beyond basic grammar and readability to provide you with features like:
the ability to automatically generate content ideas and topics,
get AI-powered writer recommendations,
access real-time feedback from expert editors on written content quality,
analyze audience engagement data,
leverage built-in templates for creating marketing campaigns,
and export content in multiple formats.
There are a variety of different AI tools with different features and price points on this list, so there is something for everyone here!