We partner with bada$$ companies that offer products that help our readers achieve their goals! If you purchase through our partner links, we get paid for the referral at no additional cost to you! Read our disclosure for more info.
Choosing the best screenwriting software can be a daunting task. With so many options available, it's important to consider your needs and budget before making a decision.
Whether you're an experienced screenwriter or just starting out, there are several key factors to keep in mind when selecting the best screenwriting software tools for your project.
These include features such as:
script formatting,
collaboration tools,
storyboarding capabilities,
and cost.
Additionally, it is important to look at how user-friendly each program is and whether it offers tutorials or other resources that will help you get up to speed quickly with its features.
By taking all these things into account when choosing screenwriting software, you'll be sure to find the one that fits your individual needs perfectly.
What is the Best Screenwriting Software?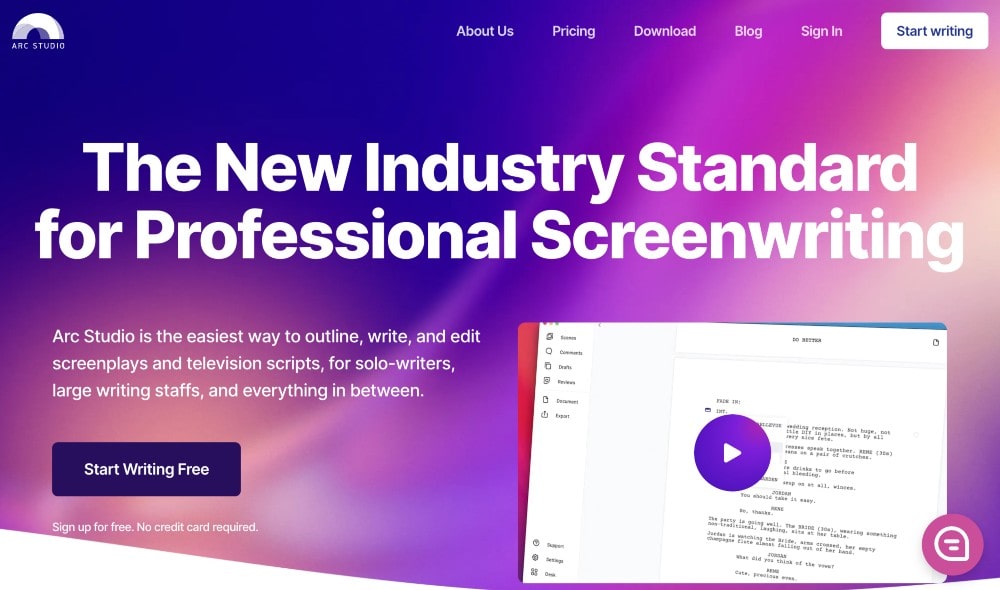 Arc Studio Pro is an industry-leading screenwriting software that offers a suite of powerful tools designed to make screenwriting easier and more efficient.
It allows screenwriters to quickly and easily create scripts, outlines, treatments, and notes while also enabling writers to tailor their projects at any stage of the process.
Arc Studio Pro comes with integrated revision tracking capabilities which allow writers to keep track of all changes made throughout the writing process.
It contains a library of templates for various screenplays from major film studios and television networks that provide writers with formatting guidelines for production-ready scripts.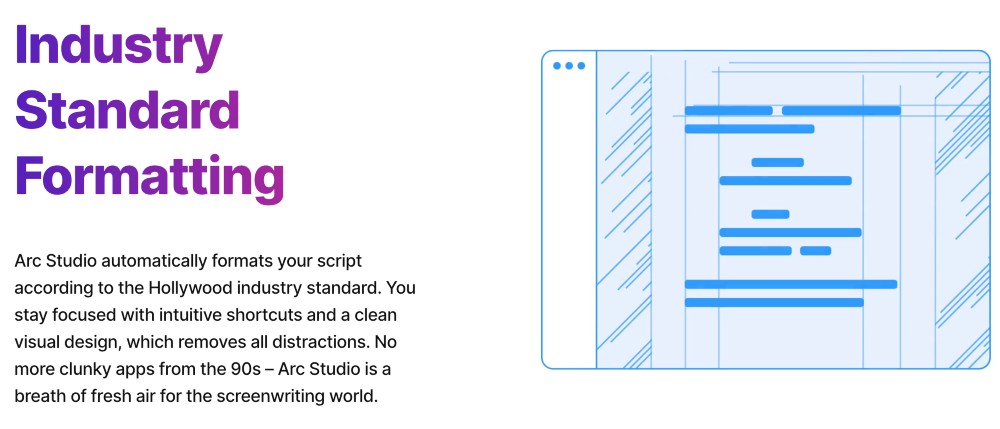 Arc Studio Pro also provides an array of features such as auto-formatting and spellchecker that streamline the script writing experience.
Along with its advanced collaborative capabilities which allow multiple users to work on scripts simultaneously from anywhere in the world, Arc Studio Pro is a must-have tool for screenwriters seeking an efficient way to develop their projects.
Arc Studio Pro is our top recommendation for the best screenwriting software on this list due to it's extensive features and affordable plans.
Key Features:
Intuitive screenwriting interface
Automatically format screenplays, outlines, and treatments
Create storyboards to visualize your shots in real-time
Story development tools like beat boards, outline view, and scene cards
Collaborate securely with other writers on projects
Generate PDFs of scripts for production teams
Publish directly to streaming services and social media platforms
Searchable library of royalty-free music tracks & sound effects
Pricing Information:
Arc Studio Pro has a free plan that includes watermarks and 2 scripts. If you want unlimited scripts plus access to the desktop and mobile app, you can upgrade to the Essentials plan for $69/year.
Additional upgrades like collaboration options, custom file formats, revision management, and more are available on the Pro plan for $99/year.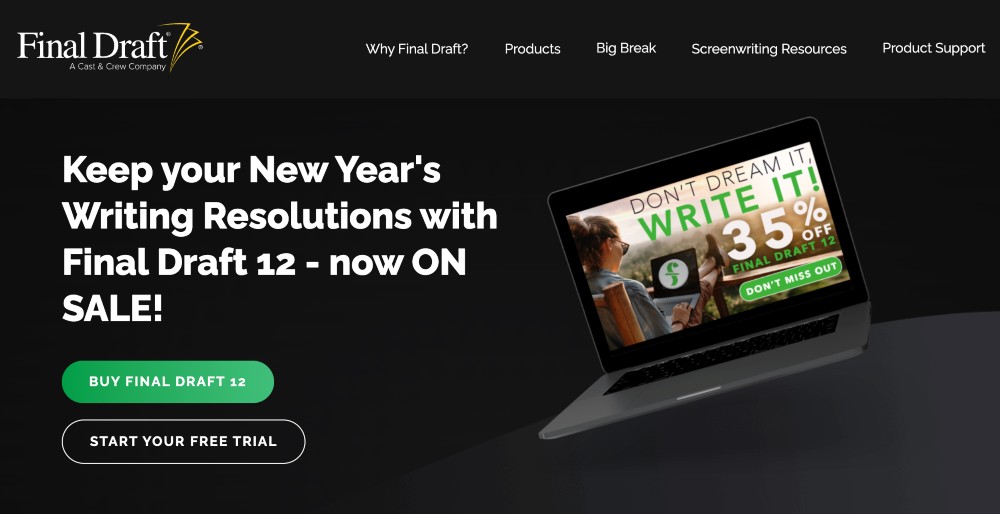 Final Draft is an industry-standard screenwriting software that many professional screenwriters use to create their scripts.
With its powerful screenplay formatting tools, writers can quickly and easily format their screenplays to industry standards.
It also features a comprehensive set of pre-designed templates, allowing writers to focus on the story rather than formatting.
Final Draft also includes a range of other useful features such as auto-complete, scene view, and character highlighting to further streamline screenwriting processes.
It also has built-in writing aids such as the Story Map™ guide and Beat Board™ which help screenwriters stay organized and focused on the task at hand.
The integrated collaboration tools enable screenwriters to work with other creatives in real time for better project management efficiency.
One thing I personally love about this software is the extensive knowledge base of tips and tutorials to help you use this software and write amazing screenplays.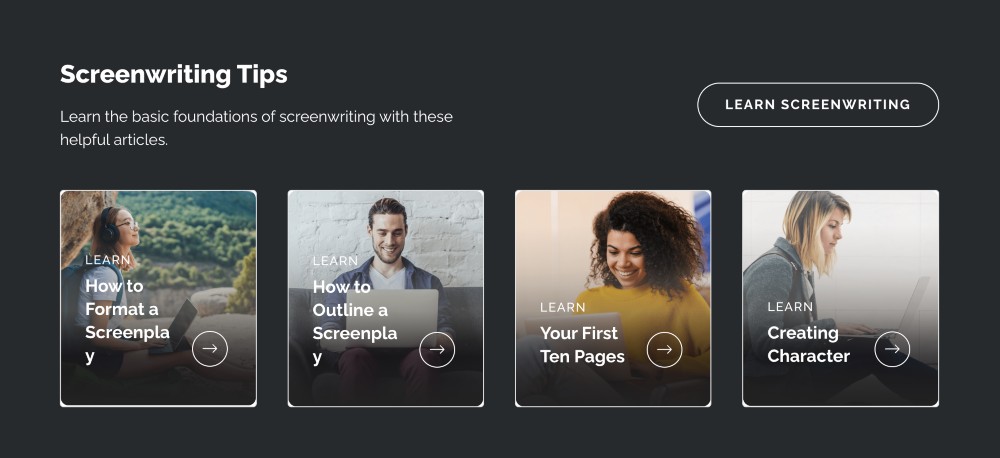 Key Features:
Automatically paginates and formats screenplays, teleplays, stage plays, and more
Over 100 templates for screenplays, A/V scripts, comic books, and more
Comprehensive suite of professional tools custom designed for screenwriters
Format text easily with intelligent auto-completion and spell checking
Integrated story map tool that helps organize ideas quickly
Build outlines automatically from story maps and compare versions side by side
Collaboration features like real-time remote editing and cloud file sharing
Supports multiple languages including English, French, German, and Spanish
Pricing Information:
Final Draft offers a variety of pricing plans to suit the needs of screenwriters from all levels.
The Standard plan allows screenwriters to create screenplays on one platform for $249.99, while the Pro plan offers screenwriters the ability to write screenplays on up to three platforms for $329.99.
For screenwriters who need more features and functionalities, they can upgrade to the Pro Plus plan which includes all the features of the Pro plan plus advanced collaboration tools and priority support for $399.99.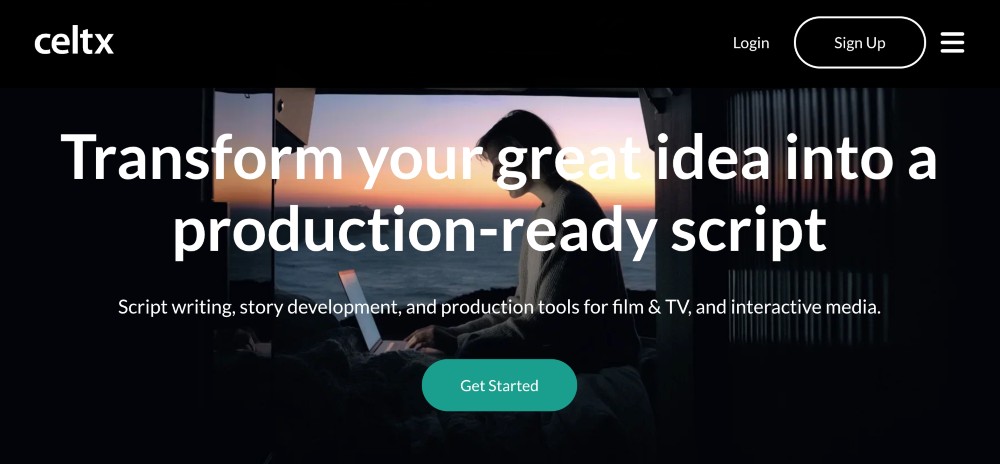 Celtx is a powerful scriptwriting software that provides screenwriters with an array of tools to help them create their screenplays.
It offers screenwriters the ability to easily craft outlines, format screenplays and screen stories, add notes and collaborate with other screenwriters.
Celtx also has a range of production tools that can be used to build storyboards, design shot lists, organize media assets and manage the workflow during pre-production.
The software also contains helpful resources such as tutorials, sample screenplays, and storytelling tips which screenwriters can refer to in order to refine their screenwriting skills.
Celtx also has an integrated review system for providing feedback on scripts, which makes it possible for multiple people to work together on the same project.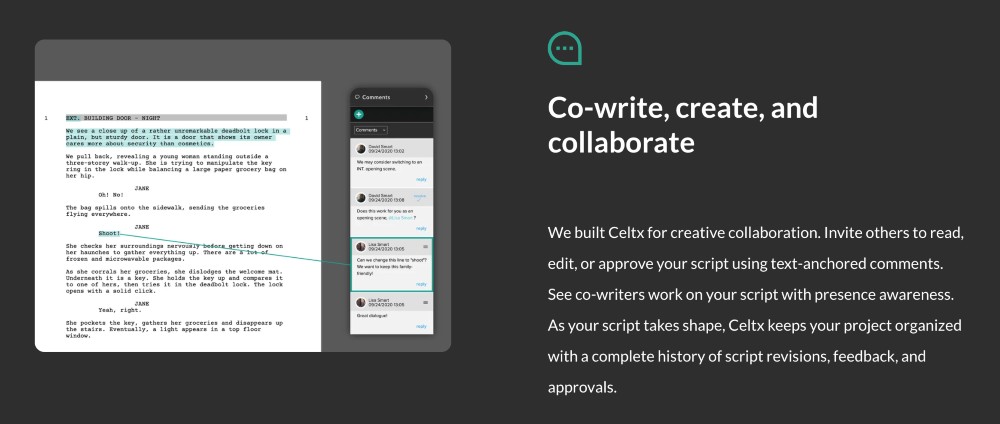 Celtx is available for MacOSX, Windows, and Linux systems and supports various languages including English, French, and German.
It is both user-friendly and comprehensive making it a great choice for beginners and experienced screenwriters alike.
Key Features:
Organize notes, actors, props, locations, and more
Digital storyboarding tool to visualize shots before filming
Cloud storage for simple access to scripts throughout the development process
Collaborative tools like sharing links and discussion threads to facilitate feedback on projects
Schedule production dates in one central location with Celtx Studio calendar integration
Add custom watermarks to protect script documents from theft or unauthorized use
Automatically format screenplays to industry standards with the click of a button
Create projects in multiple languages and export scripts as PDF
Pricing Information:
While Celtx doesn't have a free version, they do have a very affordable starter plan. Their Writer plan starts at just $13.49/month (billed yearly). This will get you up to 3 projects.
The Writer Pro plan comes with unlimited projects and story collaboration tools and starts as low as $22.49/month. If you want production planning tools on top of that, you can upgrade to the Team plan for $53.99/month.
All prices above are quoted from annual billing and all plans come with free trials!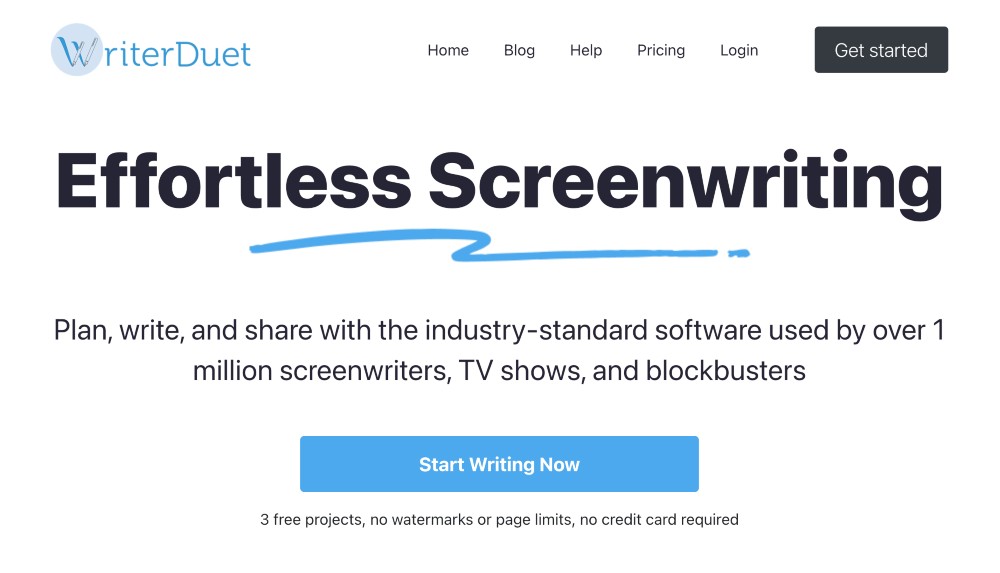 Writer Duet is one of the best professional screenwriting software on the market, offering an immersive and easy-to-use experience for screenwriters of all levels.
With comprehensive features and a one-of-a-kind collaborative workflow, Writer Duet allows screenwriters to work from anywhere and bring their stories to life.
It helps screenwriters save time by streamlining their workflow, breaking down tasks into manageable chunks, and automating manual processes.
It also provides an integrated story development toolset for creating compelling plots and interesting characters that come alive on the screen.
Writer Duet's unique collaboration tools let users engage in real-time conversations with other writers, allowing them to bounce ideas off each other and refine their scripts together.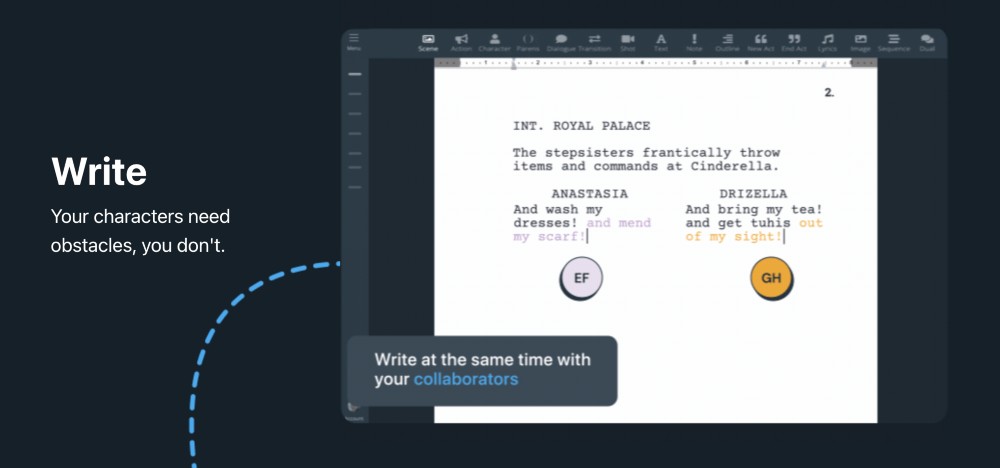 From its intuitive user interface to its advanced functionality, Writer Duet is a great screenwriting software tool for any screenwriter looking to create great stories.
Key Features:
Platform for screenwriters to collaborate in real-time
Professional screenwriting tools including auto-completion, custom formatting options and character story arcs
Inbuilt chat messaging system allows writers to communicate in a secure environment
Advanced outlining capabilities make organizing information easy
Compatible with Final Draft formats
Streamlined export process directly into PDFs and other documents
Tracking changes and reviewing past versions of scripts is simple
Ability to share scripts securely online with peers or clients
Pricing Information:
Writer Duet offers screenwriting software at a range of prices, so you can choose the plan that best fits your budget.
The Basic Plan is a free version and includes collaborative screenwriting tools, cloud storage for scripts, and access to their library of over 6,000 templates.
For those who need more advanced features such as auto-formatting or PDF conversion capabilities, Writer Duet also offers Pro plans starting from $7.99/month or $79.99/year with discounts for annual plans.
With the Pro plans you get all the benefits of the Basic Plan plus additional features like unlimited collaboration partners per script, online proofing tools and mobile screenwriting app access on iOS and Android devices.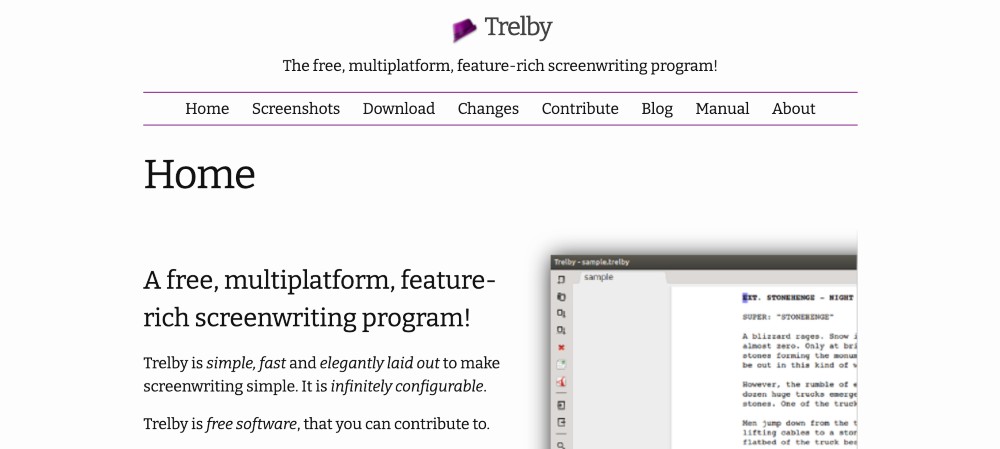 Trelby is a free screenwriting software that is renowned in the screenwriting industry for its user-friendly interface, powerful tools, and extensive features.
It has many customizable options allowing users to customize their screenplays with advanced formatting options, powerful revision tracking tools, auto-backup capabilities, and more.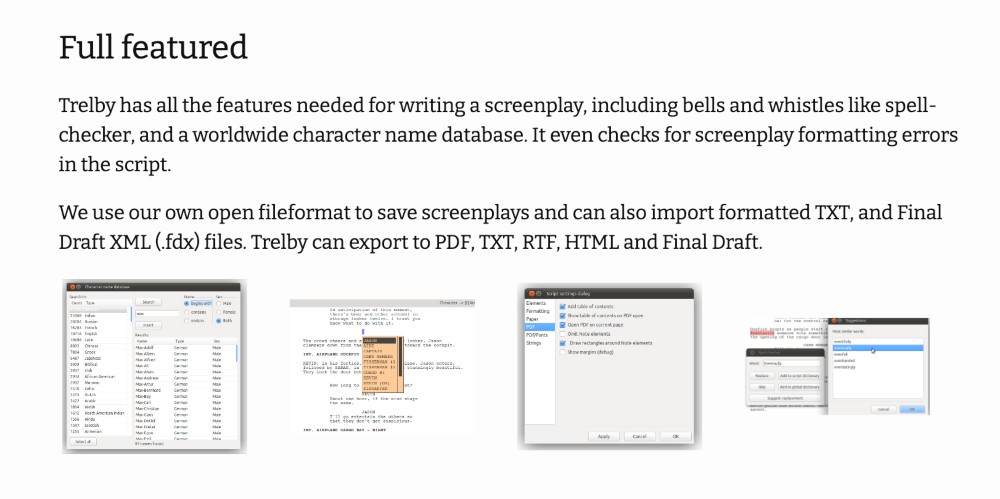 Additionally, it also provides an interactive storyboard feature that allows screenwriters to visualize their stories in real time. This feature makes writing screenplays easier and faster as it helps screenwriters easily see how their screenplays will translate into visuals on screen.
Trelby also features a script library where users can store their scripts so they are always available when needed.
Lastly, the program includes a script mentor that can provide help and advice when writing screenplays or troubleshooting issues.
Key Features:
Simple and intuitive screenwriting interface
Automatically formats your script to industry standards
Customizable page layout options for your script
Powerful search and replace tool that saves time when editing scripts
Variety of export formats, including PDF, Final Draft FDX, Celtx, Rich Text Format (RTF), HTML, Microsoft Word DOCX, and OpenDocument ODT
Ability to add custom elements such as images, tables, or charts into a screenplay
Scene numbering feature for keeping track of individual scenes in a larger project
Character highlighting for easily distinguishing between different characters' dialogue
Split screen view mode to compare two versions of the same script quickly
Pricing Information:
Trelby is completely free to use!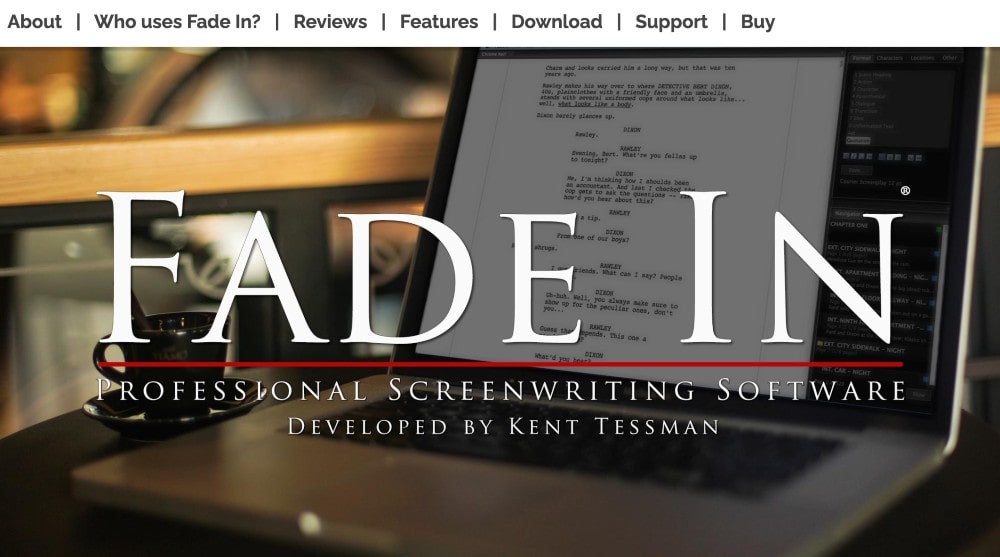 Fade In is a screenwriting software designed to provide screenwriters with an intuitive, streamlined way to write their scripts. It comes with an array of powerful features to help screenwriters craft polished and professional screenplays.
Fade In offers an easy-to-use outline feature that allows users to quickly plan out the structure of their story before writing it.
This helps screenwriters take control of their creative process and ensure that all the necessary plot points are covered in their screenplay.
Additionally, Fade In provides auto-formatting for screenwriting standards like Courier 12pt font, proper indentation, scene headings, and more. This eliminates wasted time on formatting and allows screenwriters to focus on creating content instead.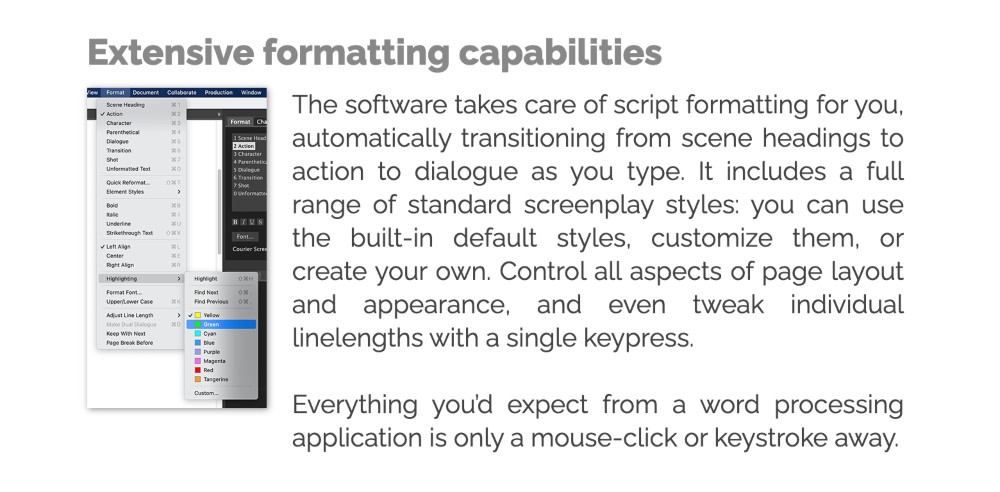 Fade In offers an industry-standard interface that is compatible with most screenwriting software tools like Final Draft, Celtx, and Movie Magic Screenwriter.
This means screenwriters don't have to worry about losing compatibility when working on different projects or platforms.
Finally, Fade In also includes a cloud-based collaboration system that allows screenwriters to share projects in real time with other writers, producers, or directors for feedback or editing purposes.
With its robust feature set and tools for both beginners and experienced professionals alike, Fade In is one of the best screenwriting software available today for crafting high-quality screenplays.
Key Features:
Autosave feature that protects against data loss
Ability to write stories with any character number and scene order
Professional templates included for screenplay, stage play, and comic book formats
Powerful revision tracking system that logs changes over time
Cut/Copy/Paste functions for fast editing of text
Includes comprehensive ScriptNotes features to add notes or comments in the script margin
Spellchecker tool and set of dictionaries for multiple languages
Export scripts as an Adobe PDF file
Pricing Information:
If you're not a fan of the subscription payment model, Fade In is one of the better options on this list of best screenwriting software. You can purchase it for a one-time fee of $99.95 (although there is often a sale price on their website).
You can also start with a free trial and then upgrade if you want to purchase.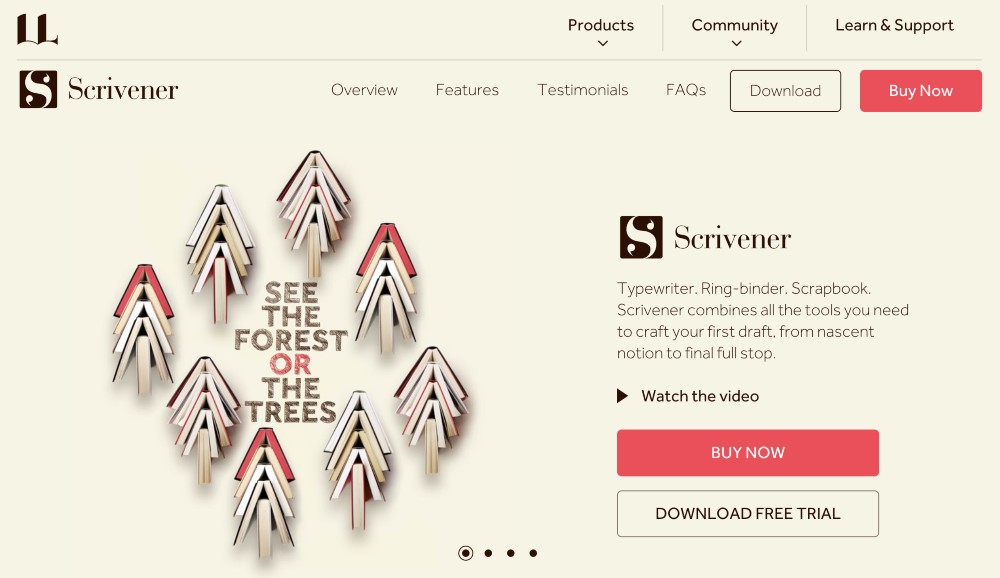 Scrivener is one of the most popular screenwriting software available, and for good reason. It has a comprehensive set of features that make it ideal for screenwriters working on any size project.
Its structure is extremely intuitive, allowing screenwriters to quickly organize their thoughts and ideas into a cohesive, organized script.
It also allows screenwriters to have access to multiple tools like character/scene development tracks and outlining capabilities, as well as integration with other programs such as Final Draft and Celtx.
Additionally, Scrivener also offers an array of templates from which screenwriters can choose when starting their projects–from film scripts to stage plays, radio dramas, and even novels.
For writers who want the ability to work on their screenplays anywhere they go, Scrivener has an Apple App Store version that works alongside its full-featured desktop version so screenwriters can use whichever platform best suits their needs.
Lastly, screenwriters using Scrivener will find its interface easy to use and incredibly user-friendly; features like drag-and-drop for scene reordering make the process much easier than with other screenwriting software.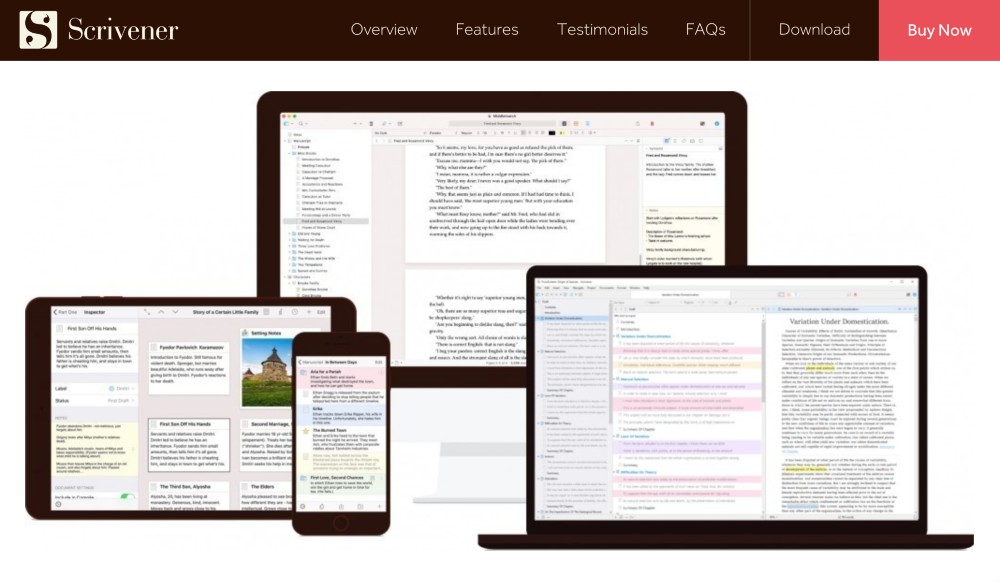 As a result of all these features and more, Scrivener has become popular among budding screenwriters looking for ways to increase productivity and efficiency in creating professional quality scripts.
Key Features:
An intuitive interface that allows you to quickly and easily organize your screenwriting projects
Script formatting options including standard screenplays, stage plays, novels, and more
Automated outlining makes it easy to keep track of story elements within your screenplay
Customizable templates built specifically for screenwriters
Back up documents automatically as you type so data is never lost in case of interruption or computer failure
Synchronizes with Dropbox, iCloud, or any other cloud storage service for ease of access anytime and anywhere
Full-text search capabilities make finding sections within the document quick and easy
Work offline on multiple devices simultaneously and save changes remotely
Export feature allows you to easily share documents with teams
Pricing Information:
A standard license for Scrivener costs just $59.99, making this one of the more budget-friendly options. This is a one-time fee, folks!
Scrivener also comes with a 30-day free trial.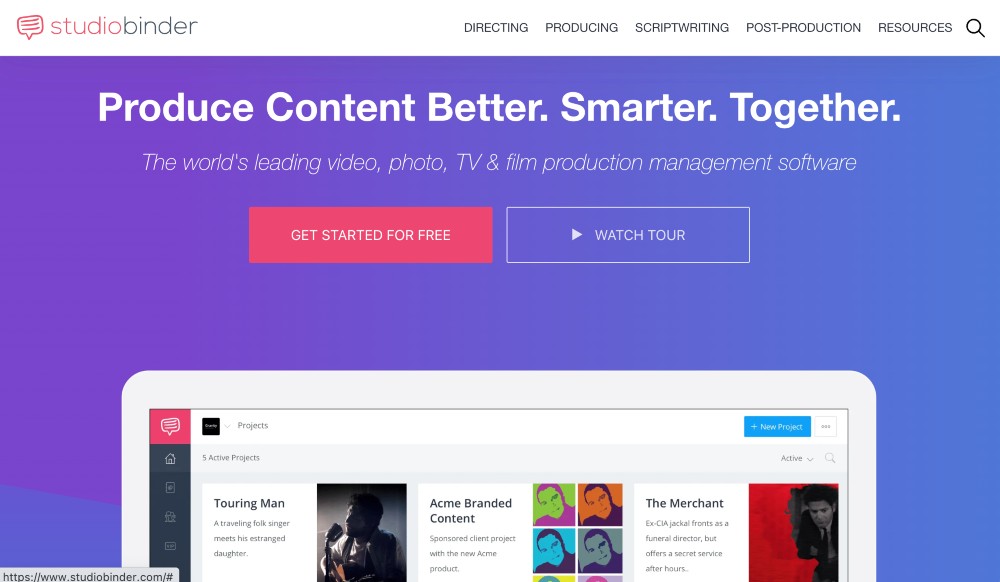 Studiobinder is an innovative screenwriting software that has revolutionized the way screenwriters produce high-quality scripts.
With its easy-to-use and intuitive design, users can quickly create compelling stories with a professional edge. The platform offers a variety of tools to help screenwriters develop a script from start to finish.
From outlining the story, creating characters and settings, structuring scenes, and formatting dialogue—all the way through to exporting the final draft—Studiobinder helps screenwriters navigate every step of screenwriting with confidence.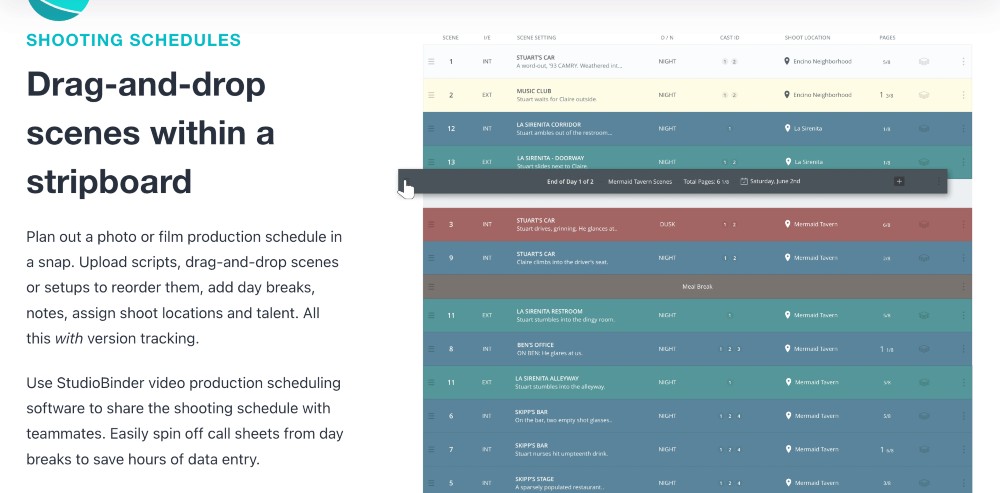 It also features helpful collaboration tools for writers who are working in teams or remote networks. With built-in version control and shared access across multiple devices, Studiobinder allows screenwriters to easily view changes made by other collaborators.
It also provides templates with industry-standard formatting for screenplays, TV pilots, and treatments for filmmakers looking for a head start on their projects.
Like a few others on this list, Studiobinder integrates seamlessly with popular industry programs like Final Draft, Celtx, and Adobe Story so screenwriters can pick up where they left off on any device using any software they choose.
With these powerful capabilities, Studiobinder has become one of the top screenwriting software available today and has been used by award-winning writers across film, television, and theatre industries around the world.
Key Features:
Intuitive screenwriting software with an intuitive interface
Automatically format screenplays to industry standards
Create, edit and collaborate on screenplays in real-time
Templates for feature films, TV shows, commercials, and more
Easily break down scenes into shot lists and storyboards
Export scripts in multiple formats (PDFs, FDX, Celtx)
Customizable character libraries
Robust scene navigation tools including beat boards & timelines
Access to a library of free screenwriting resources
In-app feedback and writing support
Pricing Information:
Studiobinder has a free version that lets you manage contacts, add tasks, and prep unlimited call sheets. It includes 1 project per day.
If you need more than that, their Indie plan starts at $29/month and comes with 10 projects and 50GB of file storage. If you want access to Script Breakdowns and Production Calendar, you can upgrade to the Professional plan for $49/month.
Finally, additional add-ons of using teams and custom branding come with the Studio plan for $99/month.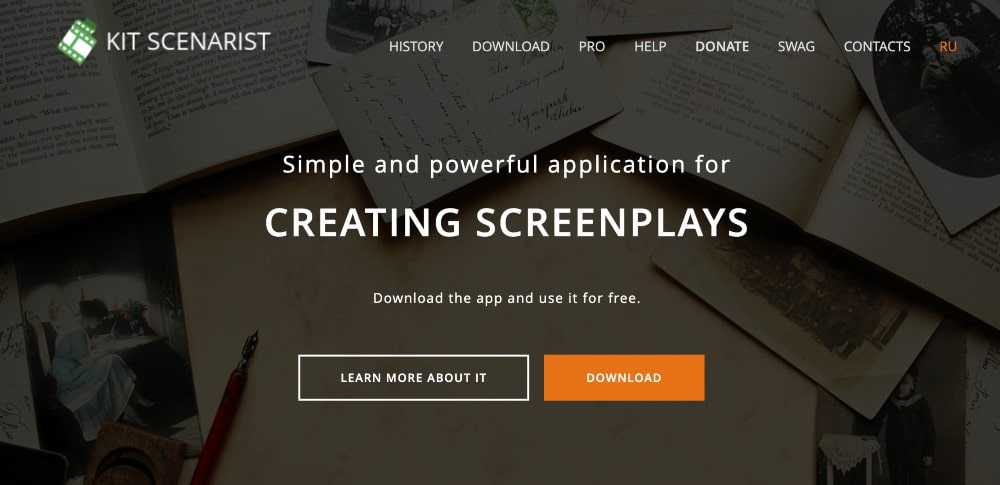 KIT Scenarist is one of the leading screenwriting software available today, offering a comprehensive set of features to help writers bring their stories to life.
It offers an intuitive, easy-to-use interface with options for formatting and organizing scripts, breaking them down into scenes, and tracking characters and settings. On top of that, KIT Scenarist also includes a variety of helpful features to keep your script in order.
KIT Scenarist offers extensive outlining tools to automatic proofreading functions, and a built-in "beat board" for brainstorming ideas for plot points and sequences of events to get your creative juices flowing.
Of course, you can always customize your screenwriting environment through the user preferences menu which is designed to make sure you have exactly what you need when it comes time to write.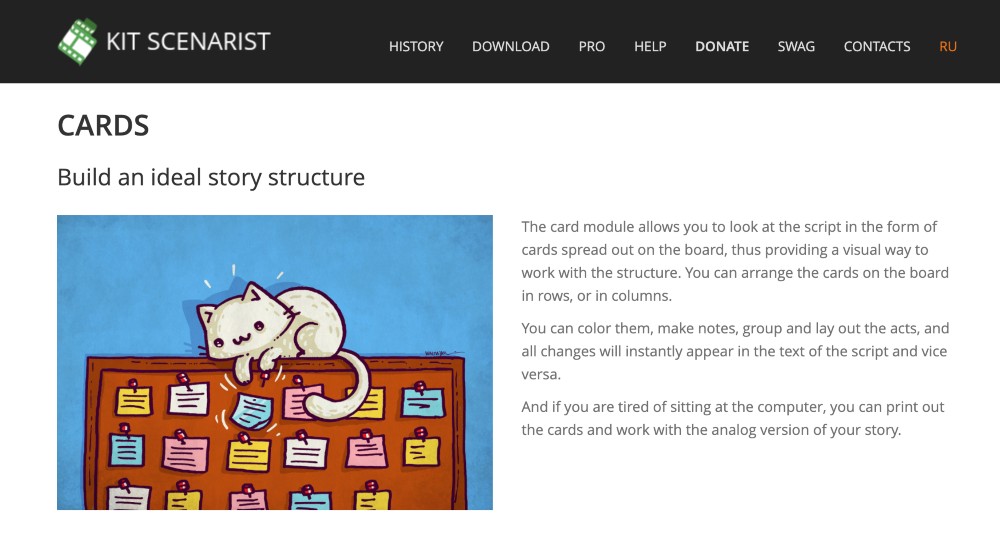 KIT Scenarist also has integration options with other screenwriting software such as Final Draft, Movie Magic Screenwriter, and Celtx.
This means that you can import files from nearly any screenwriting software with no hassle or loss in quality. All in all, KIT Scenarist is an incredibly powerful screenwriting tool that gives you everything you need in order to bring your story visions into reality.
Key Features:
Comprehensive screenwriting environment with powerful formatting and index card tools
Incorporate integrated story development features such as character bios, a real-time timeline view of your script, notes for each scene, video/audio attachments, and more
Unique collaboration tools that enable multiple users to work on one screenplay simultaneously
Extensive database of movie industry professionals (producers, directors, etc.) to facilitate networking
Converts screenplays into PDFs or other popular formats (Final Draft FDX etc.) for easy sharing
Support for screenplays in multiple languages
Built-in screenwriting software tutorials to help you get up and running quickly
Regular updates to ensure screenplays stay up to date with industry standards
Accessible via browser
Pricing Information:
Kit Scenarist is completely free to use!

Movie Magic Screenwriter is an ideal screenwriting software for those wishing to hone their screenwriting and storytelling skills.
Developed by Write Brothers Inc., it is the number one selling screenwriting software for over 25 years, making it virtually unmatched in both its recognition and its features.
This powerful screenwriting software comprises a comprehensive suite of tools that allow screenwriters to easily format screenplays, create storyboards, collaborate online with other writers, and even turn their screenplays into digital comic books.
It offers a wide array of templates for various screenplay formats, such as film, television, radio plays, and more.
The screenwriting program also includes an interactive tutorial guide that helps users craft memorable characters and dynamic scenes while staying within industry standards.
With its comprehensive set of features, Movie Magic Screenwriter allows screenwriters to explore different storytelling techniques and create high-quality screenplays quickly and efficiently.
This screenwriting software comes bundled with support from experienced screenwriters who can provide advice on how best to use the software when developing a script.
You can also access free tutorials at learnmoviemagic.com.

Key Features:
Story Map™ and Beat Board™ to help organize your screenwriting project
Scene navigation for quick jumps between sections of the script
Variety of helpful writing tools, including auto-formatting, character development, scene highlighting, and more
Industry-standard file format support (.fdrx) for easy sharing with other screenwriters
Professional screenplay templates available to suit different genres
Spellchecker powered by Grammarly to catch any spelling or grammatical errors in the text
Full-screen mode that hides all panels so you can focus on writing alone
Real-time collaboration with other screenwriters to work on projects together
Access to a library of screenwriting resources and tutorials to help you learn the craft
Automated backups of your screenwriting projects to keep them safe and secure
Cloud syncing so you can access your screenwriting projects from any device
Mobile app to easily access and work on screenplays while on the go
Pricing Information:
Movie Magic Screenwriter has a retail price of $249.95, but you'll often see it marked down significantly on their website. It's a one-time fee to purchase.
What is a Screen Writing Program?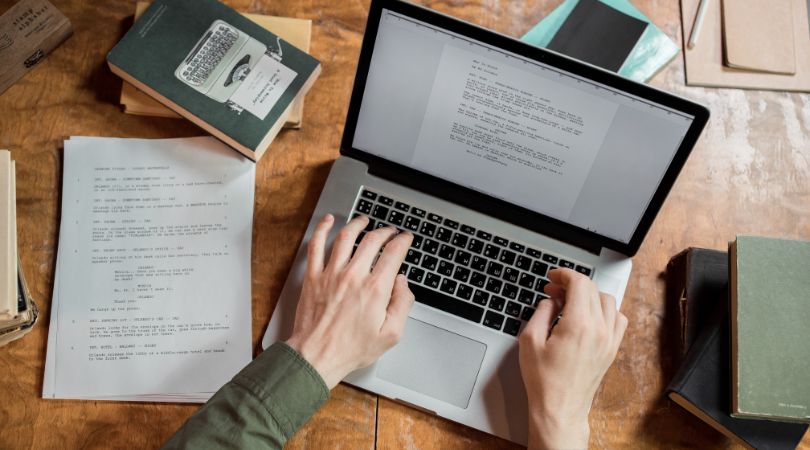 Screenwriting software is a computer-based application designed to help writers create well-structured scripts for motion pictures, television shows, plays, and other forms of media.
It typically includes features such as:
formatting tools,
templates to follow industry standards,
and the ability to import storyboards and other pre-production documents.
Additional features commonly offered include formatting automation, collaboration tools, and automatic backups.
Some screenwriting programs also have specialized features such as character profiles, beat boards, and outlining tools that can help the writer better develop their story arc and characters.
Lastly, many of these programs are compatible with popular editing software so users can easily transfer their work from one application to another.
Screenwriting software can provide an invaluable resource for novice and experienced writers alike by providing easy-to-follow templates that ensure that their scripts are properly laid out in the correct format.
FAQs About Screen Writing Software
Here are some frequently asked questions that should help you when searching for the best screenwriting software.
How Do I Use Screenwriting Software?
Writing a screenplay can be an exciting and rewarding experience, but it can also be daunting. Fortunately, the screenwriting software recommended in this article will make the process easier.
Here's how to use this type of software effectively.
1. Familiarize yourself with the software's features and capabilities.
Many screenwriting software offers a variety of tools, such as templates for different types of scripts, formatting options, and other features that can help you create your screenplay.
2. Set up your script in the program by creating a new project or loading an existing one.
Depending on the software, you may be able to choose from different templates or start a blank document.
3. Start writing!
Create your story by adding scene headings and dialogue in the appropriate places. Use the formatting tools to make sure everything is properly aligned and looks professional.
4. Keep track of revisions by using the revision tracking feature.
This will allow you to easily go back and make changes, edit dialogue, and more.
5. Review your formatting.
Make sure all of your formatting is correct before exporting the script or sending it off for review. A properly formatted screenplay is essential in getting your work noticed by professionals.
By following these steps, you'll be able to easily use screenwriting software to create a professional screenplay quickly and efficiently.
What Features Should I Look for in Screen Writing Software?
When looking for screenwriting software, it is important to consider the type of features offered. The right software should include tools that make it easy to write, edit and revise scripts.
It should also provide a way to collaborate with other writers, as well as any production personnel. In addition, the software should provide assistance in formatting a script according to industry standards.
These days, many screenwriting software offer features such as automatic outlining, character development and story structure tools, and even options for creating visual treatments and shot lists.
Some of the more advanced software packages even allow you to link up with other team members in real time while working on the same document!
Summary of the Best Screenwriting Software
There are a lot of options to choose from but thankfully many of them provide a few key differences, especially in their pricing plans.
Make sure to identify what the most important features are that YOU need for success and then evaluate your options against the different price points.
Our personal favorite and what seems to be best overall on the market is Arc Studio Pro. It also comes with a free plan.
If you need a free version or plan with more scripts, Trelby, in our opinion, is the best free-forever plan.