We partner with bada$$ companies that offer products that help our readers achieve their goals! If you purchase through our partner links, we get paid for the referral at no additional cost to you! Read our disclosure for more info.
Canva is one of the most user-friendly graphic design programs available, and the main platform we use for designing graphics here at Create and Go.
One of the best features they offer is the huge library of Canva templates available–including thousands of free Canva templates. These templates are a great way to get started on your design work, or even just get some ideas and inspiration.
If you haven't checked out the Canva template library yet, you're missing out! The variety of templates they offer is crazy and includes so many options you can use for your blog or online business.
From social media templates to invoices, infographics to mind maps, there's a Canva template for pretty much anything you need to design.
The best thing about using a Canva template is that they're fully customizable–so you can change the font and colors, add or remove elements, and make any other changes you need to match your brand.
Since there are so many Canva templates available (including many that you might not expect to find in a graphic design program), we're covering the best Canva templates for your blog or online business.
We're also going to go over premium versus free Canva templates, and whether or not you need to upgrade to Canva Pro for the additional design features.
But first, let's quickly go over how to find and use Canva templates.
Canva Templates 101: The Basics
Unlike the widely known (and notoriously difficult to learn) graphic design program Photoshop, the Canva platform is intuitive and very easy to use.
Elements are easy to add, remove, position, resize, copy, paste, etc., and you don't need special training or a degree in graphic design to use the program.
And if you're new to graphic design, using Canva templates is a great place to start, since you'll be able to get professional-quality graphic designs without the cost of hiring a graphic designer.
Choosing A Canva Template
Finding Canva templates is very easy, and there are a few ways to browse through them. Here are the best ways to find them:
1. In the Canva templates library

You can navigate to the Canva template library using the menu bar at the top of the home screen. Hover over "templates," and then select a category to browse through.
Once you find a Canva template you like, you can click it to preview the template, and then select "Customize this template" to use it.
2. Using the Canva search bar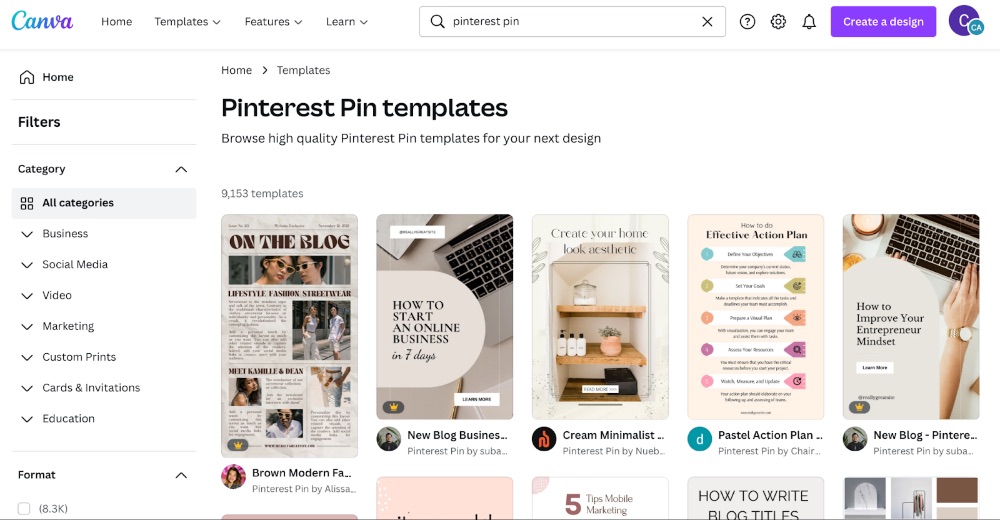 If you don't want to browse by category, you can use the search bar to find the kind of template you're looking for.
For example, you can type "Pinterest pins" into the search bar to find a template for your next pin design. Or if you're looking for something more specific, you can include more keywords in your search query, such as "Facebook Earth Day Posts" to see ready-made Canva templates just for that focus.
Many Canva template categories also have additional filter buttons that appear at the top of the search results.
So if you search for "Calendars," you'll see a list of popular subject filters you can click on, such as Daily, Weekly, Monthly, Photo, and Birthday.
3. In the Templates tab of the design menu

Alternatively, you can start with a custom design size, and then click on the Template tab in the design menu to find Canva templates that fit your design dimensions.
This is a great option if you know what size you need your design to be, but aren't sure what template category to search in.
It's also a good tool if you just want to browse through templates for ideas, or if you change your mind and want to switch to a different template.
Working With Your Canva Template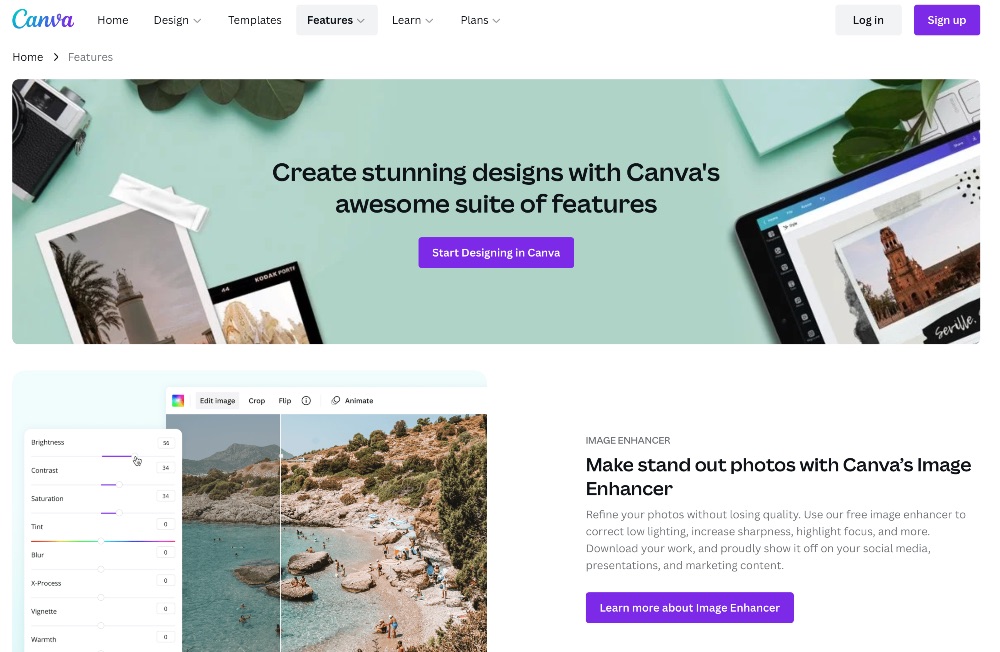 Once you've chosen your template, you can start replacing images, moving the different elements around, changing fonts and colors, and any other changes you want to make.
Check out Canva's learning resources if you want to learn more about how to use the different features of the Canva editor.
Note: Something to keep in mind is that many Canva templates have several different elements grouped together. If you want to move or change just one part of that group of elements, you'll need to ungroup them using the group/ungroup feature in the Canva editor menu bar.
Canva Templates vs. Your Own Designs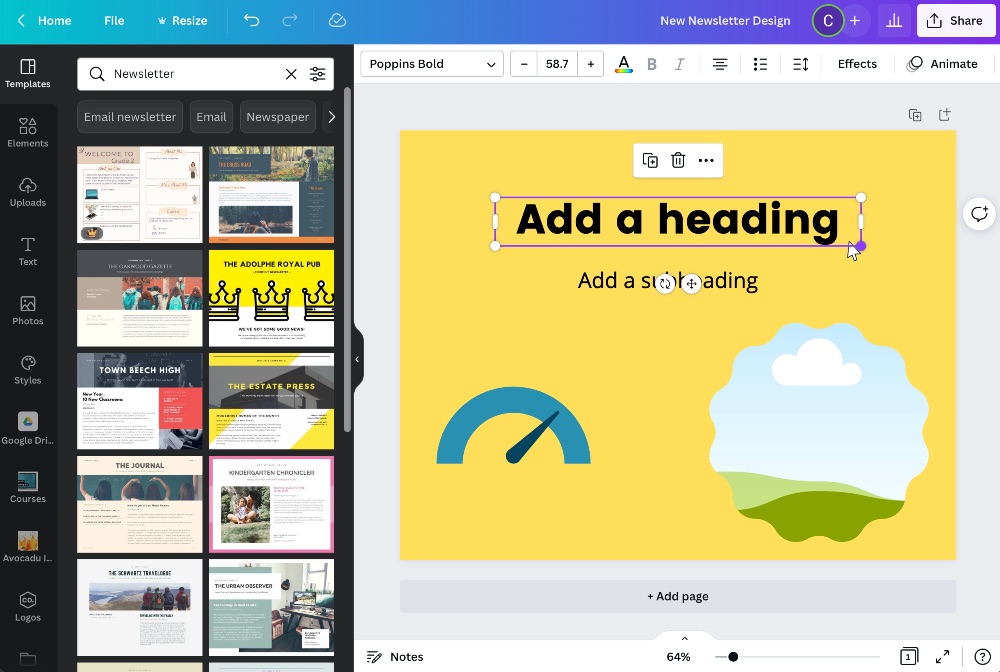 Of course, you can always create your own designs if you want. Once you get the hang of using Canva, it's not difficult to bring your own visions to life using the Canva editor and huge library of stock photos.
But even if you're creating your own designs, it can be very helpful to browse Canva templates for inspiration and ideas.
Canva also offers style presets, including color palettes, font sets, and combinations of both.
You can find these options in the Style tab of the design menu. If you don't see the Style tab in your design menu already, click on the More tab to find it.
Once you have created a design you really like, you can save it as a template to use again on your future designs, and even share the template link with others.
Free Canva Templates vs. Premium Canva Templates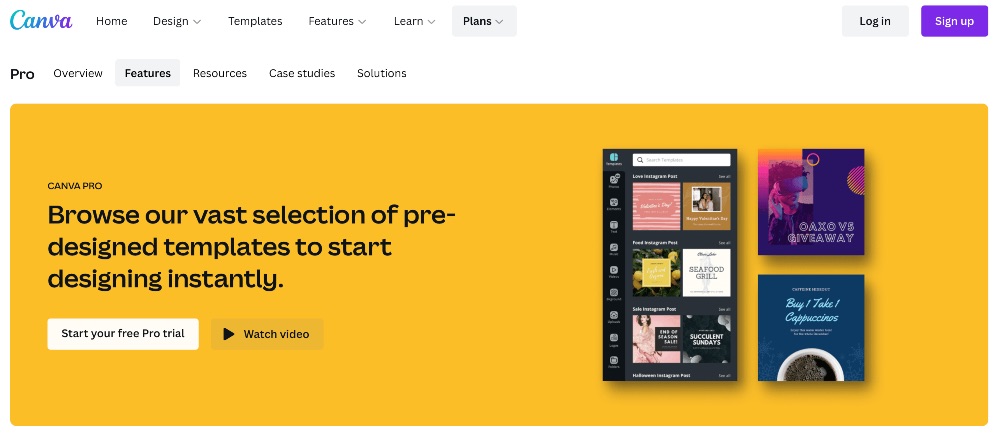 If you have the free version of Canva, you'll only be able to use the free Canva templates. Or, to be clear, you'll be able to use and work with the Canva Pro templates, but you won't be able to save your designs without a watermark until you upgrade your account to Pro or pay a one-time-use fee.
Using free Canva templates is a great way to find free elements that work well together since the search filters don't have a free vs. paid filter option.
But are the free Canva templates just as good as the premium Canva templates?

In many cases, yes. There really are a lot of high-quality free Canva templates available.
You're less likely to find free multi-page template designs, so if you're trying to create an ebook or other multi-page design using a Canva template, you might consider upgrading your account.
You can also use the free trial of Canva Pro to make a few designs, and see if you want to keep using the premium features.
But other than that, the biggest difference between the free and paid templates is that the premium templates use premium features and stock photos, while the free templates do not.
So while you have a more limited choice of graphics, editing features, animations, etc. than you would with a Canva Pro account, you can still make some really beautiful designs without upgrading.
If you can't find the right stock photo in Canva's library, check out these resources to find more beautiful stock photos online.
What are the Best Canva Templates?
Canva has a plethora of unique templates available, but not all of these are templates you'll need as a blogger or business owner.
To help you narrow down your search, are our top Canva templates to consider for your blog or online business:
1. Social Media Templates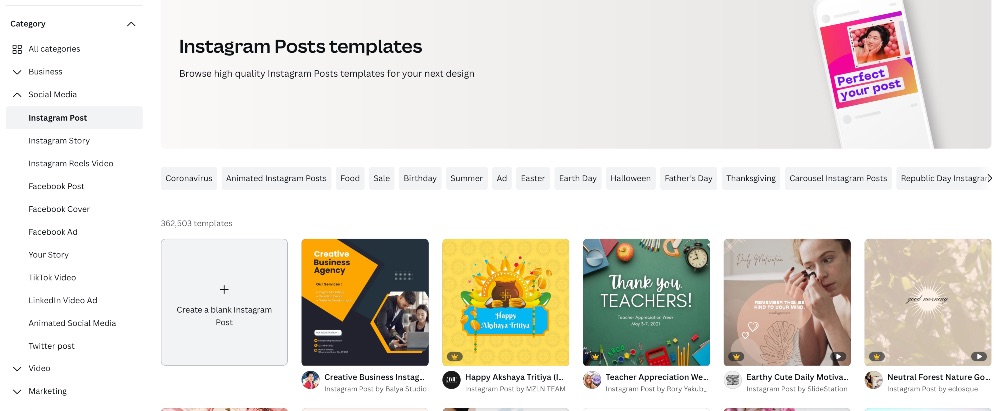 You simply can't have an online presence without social media anymore–and if you think people aren't judging a book by its cover, we have some news for you. The images you share on social media matter, whether they're ads, cover banners, or regular social media posts.
Canva has tons of social media templates, including posts, ads, videos, covers, profile pictures, backgrounds, and pretty much anything you could ever need to post online.
You can browse through static Canva templates, or consider a video template animated with stock video clips, animated stickers or graphics, or animated backgrounds.
Canva templates exist for the following social media platforms:
While Canva social media templates are typically optimized for a specific platform, it's always a good idea to check the platform you're posting to for the current guidelines.
That includes recommended dimensions, text-to-image ratio, and other design considerations.
2. Blog Templates

Canva is a great place to create beautiful graphics for your blog posts, as well as for your blog site design. While you don't really need a template for images to place within your blog, featured images and other detailed graphics are another story.
Using a Canva template could definitely make your posts and emails more appealing to readers, or deliver a clearer message about your content.
Here are the ones we recommend:
3. Business + Marketing Templates

If you're running a business–even one that's mostly online–you often need to create print or digital materials to communicate with your customers, clients, employees or coworkers, and other business professionals.
There are Canva templates for those needs, too! A Canva brochure template or flyer template can help you create compelling marketing materials. Or you could share regular updates with your clients or company using an expertly designed Canva newsletter template.
There are even Canva Powerpoint templates that you can edit in Canva and paste into Powerpoint, or skip the extra steps and present your work using Canva's presentation tool.
Pro Tip: Canva's presentation tool also has a feature that allows you to record your voice along with your presentation slideshow, and share it through a shareable link. This is a great tool for creating tutorials, sales presentations, and more.
Here are some of the best Canva templates for business purposes:
4. Printable + Digital Product Templates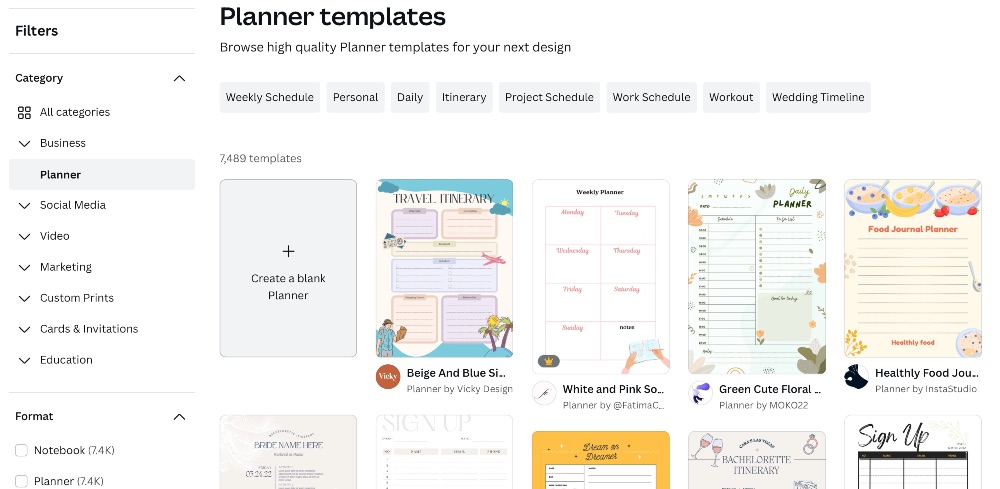 Did you know you can use Canva templates to create products for your blog or online business?
There are amazing Canva templates to create printable and/or digital products, which you can use as either lead generators (opt-in freebies), as products to sell, or as tools to include with your online course.
Here are some of our favorite ideas for turning Canva templates into products or opt-ins:
5. Informative Templates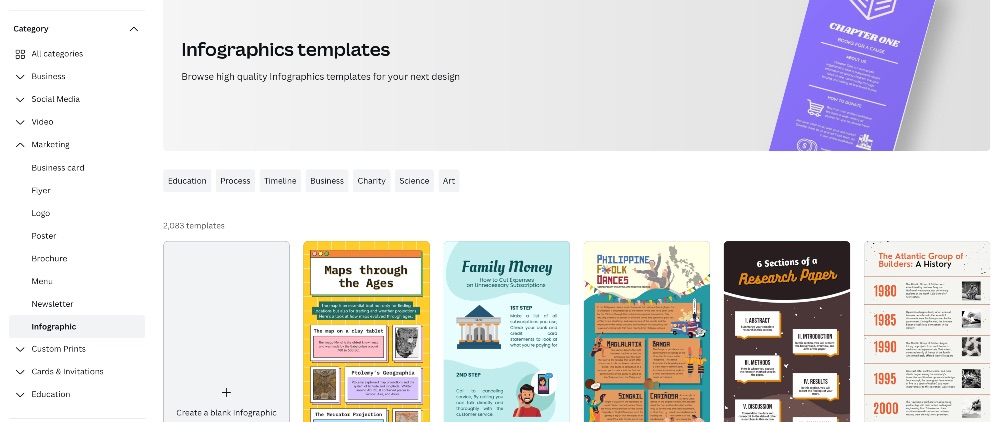 Canva has a huge selection of templates for showcasing your ideas with creative designs.
Whether you're using a Canva infographic template to help your reader visualize an idea, or displaying important metrics with a professional-level graph, having a creative and informative design on your blog or website will definitely take your content to the next level.
Here are some of our favorite Canva templates to show off your ideas:
The Next Steps
Once you've created your design or product using your chosen Canva template, it's time to use it. When you create graphics for your blog or website, make sure to compress your image file before uploading it to your website.
If you have Canva Pro, you can save yourself the extra step by using Canva's built-in image compression option.
Canva also has features that let you share your work directly to social media, send your print or merchandise design straight to a print company, present a slideshow on your device or through a shareable link, and many more sharing options.
Creating gorgeous graphics and business materials in Canva is just one piece of the puzzle–and while it's definitely an important piece, actually using these designs to get people to pay attention to your content or company is the end goal.
If you're ready to take the next steps toward growing your blog or online business, here are some of our best resources to help you get started:
And if you enjoyed this article on Canva templates, or think we left out anything important, please leave us a comment below! We'd love to hear from you!