We partner with bada$$ companies that offer products that help our readers achieve their goals! If you purchase through our partner links, we get paid for the referral at no additional cost to you! Read our disclosure for more info.
You're probably here because you're wondering if blogging can make you any real money. How much do bloggers make, anyway? The truth is, there is a lot of gray area here.
If I had a dollar for every time someone looked at me with a "get a real job" expression on their face, I'd be rich on that income alone.
I get it. The term "blogger" makes people think of hobby bloggers and people that write on the internet for fun. You know, something that they do in their spare time. They don't think of it as a job or that you can make real money blogging.
To strangers, blogging sounds like a hobby. To friends and family, it sounds like unemployment.
This is why people ask: How much do bloggers make – for real, though?
We're here to provide some clarification on blogging income and blogging salary and what bloggers are really earning. In this article, we'll answer some common questions we get on this topic, including:
How much do bloggers make? (on average)
How much do bloggers make per post?
Are some blogging niches more profitable than others?
And then we'll round it off by giving you 5 ways that you can make more money as a blogger.
How much do bloggers make?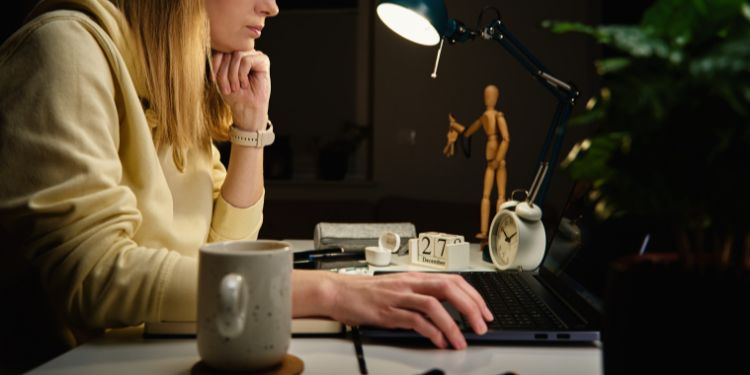 Well, blogging income can vary quite greatly.
Some bloggers make $0 per month.
Some bloggers make $1,000 or more per month.
Some bloggers make $10,000 or more per month.
And some bloggers even make over $100,000 per month.
Here at Create and Go, we've been able to reach the $100,000 per month level, which is pretty insane.
We've started a couple of successful blogs now and I can tell you that earning six figures is possible in many different niches.
We started with a health blog that was earning $20,000/month pretty consistently. We've now since sold it, but we were earning that in a very competitive blog niche.
Blogging income varies by season, projects, and many other factors that impact all kinds of online businesses.
You can also check out Create and Go's yearly income report that we publish to give our audience some insight into the income that is possible with this kind of online business.
Here are some other examples of successful blogs in other blogging niches that all have earned between $10,000 and $100,000/month:
How much do bloggers make on average?
Let's get a little more specific here on how much a professional blogger makes on average.
Most make nothing.
Some make a little.
Fewer make a lot.
Blogging covers a wide range of online businesses in all kinds of topics. So that's sort of like asking, "How much do online businesses make?"
How the average blogger can earn really depends on a few factors and ultimately boils down to time and dedication.
Just like with any business, a blog's success depends on how hard you work and what exactly you're putting into it (i.e. taking the right steps for growth).
In the blogging world, these 3 factors are super important and the key to growth and success:
How well you communicate with your audience: Building an email list is at the foundation of most successful bloggers, but it's not just about turning readers into subscribers. It's about turning those subscribers into loyal FANS.
The level of trust you build with your audience: This trust from your fans is what ultimately leads people to spend money on your products.
Execution: Perhaps the most important part is your ability to continue moving forward and taking action when it is necessary.
The insanely cool part about blogging is you can make great money in almost any blogging niche.
Hell, the guy from Learning Herbs teaches you how to use and consume the weeds in your yard and makes over $20k per month.
Circling back to our original question… It's not that hard to make $5,000 – $10,000/month with your blog if you take the right steps at the right time and you know how to grow your blog (more on this later).
Here is another question that we hear a lot:
How much do bloggers make per post?
We hear this question a lot, so we wanted to address it here. To be honest, this question is a bit of a misnomer because not all blog posts directly bring in revenue. They can have various purposes, including:
Signing up for an email list
Purely instructional
Building more trust with your audience
Every post that you should write should have a purpose and some of them are not written specifically to make money. They could be written to further your SEO strategy.
There IS such a thing as getting paid for a specific blog post though, and it's called a sponsored post.
Sponsored posts are posts in which someone pays you to write a specific piece of content and put it on your blog. Common examples are product reviews or recommendations.
How much you get paid per post depends largely on the size of your audience and the level of engagement the audience has with your content.
So, you can have 100,000 visitors to your blog but if you don't get people commenting on your content or interacting with it much, you probably won't get paid as much.
That said, bloggers can make from $100 to $25,000 per sponsored post. $25,000 is the highest amount of any blogger I have personally known.
For those of you who are Instagram influencers, you can make from $50 to $50,000 per post. Kim Kardashian has even made over $400,000 for a single Instagram post. I know. It hurts my soul to even type that out.
Are some blogging niches more profitable than others?
This is a great question to ask when you're wondering how much do bloggers make because the truth is, some niches have the potential to make a lot more money than others.
Niches about personal finance, investing, business, and money, in general, have a higher-earning potential because the average market price for products in these niches is higher.
This is because people are usually more likely to spend more money when they think they'll make it back.
Some of the most profitable blogging categories include:
Making money
Spending money
Saving money
Investing money
Now, this doesn't mean all of you should go out and start a finance or money blog. This is where a lot of people make mistakes when choosing a blog niche.
You should never start a business on a topic that you have no knowledge about or experience in.
I can't tell you how many "personal finance" blogs I have seen where people running the blog have no idea what they are talking about.
There are thousands of blogs in profitable blog niches that don't produce any real money because the owner isn't a professional, has no real passion for the blog niche, or isn't knowledgeable enough on the topic.
There are a lot of people blogging about blogging and teaching others how to make money before they've ever made any money themselves.
Pro Tip: People can tell when you're talking out of your a$$.
Your readers, believe it or not, are real people, and are going to see right through you. It will show in your writing and your audience won't be as engaged with your content.
It's much smarter to just start in something you really care about and make it successful along the way.You will also enjoy it SO much more!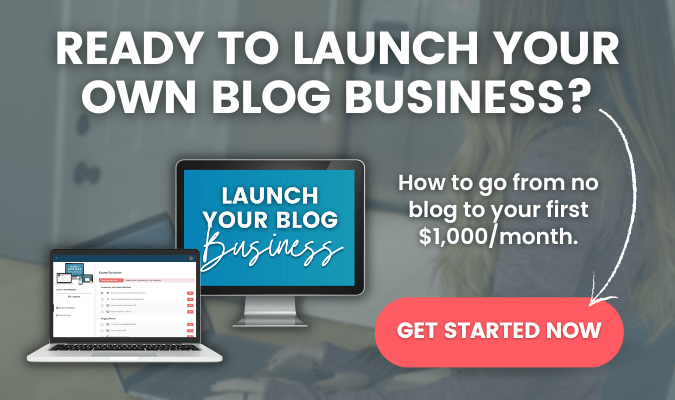 9 Most Common Ways That Bloggers Earn Money
There are many ways that bloggers make money. Each method of monetization has its own set of pros and cons.
Generally, the easier it is to earn blogging income, the lower the overall potential is.
For example, display ads are the easiest to set up and the most passive, but they also have the lowest-earning potential.
1. Display Ads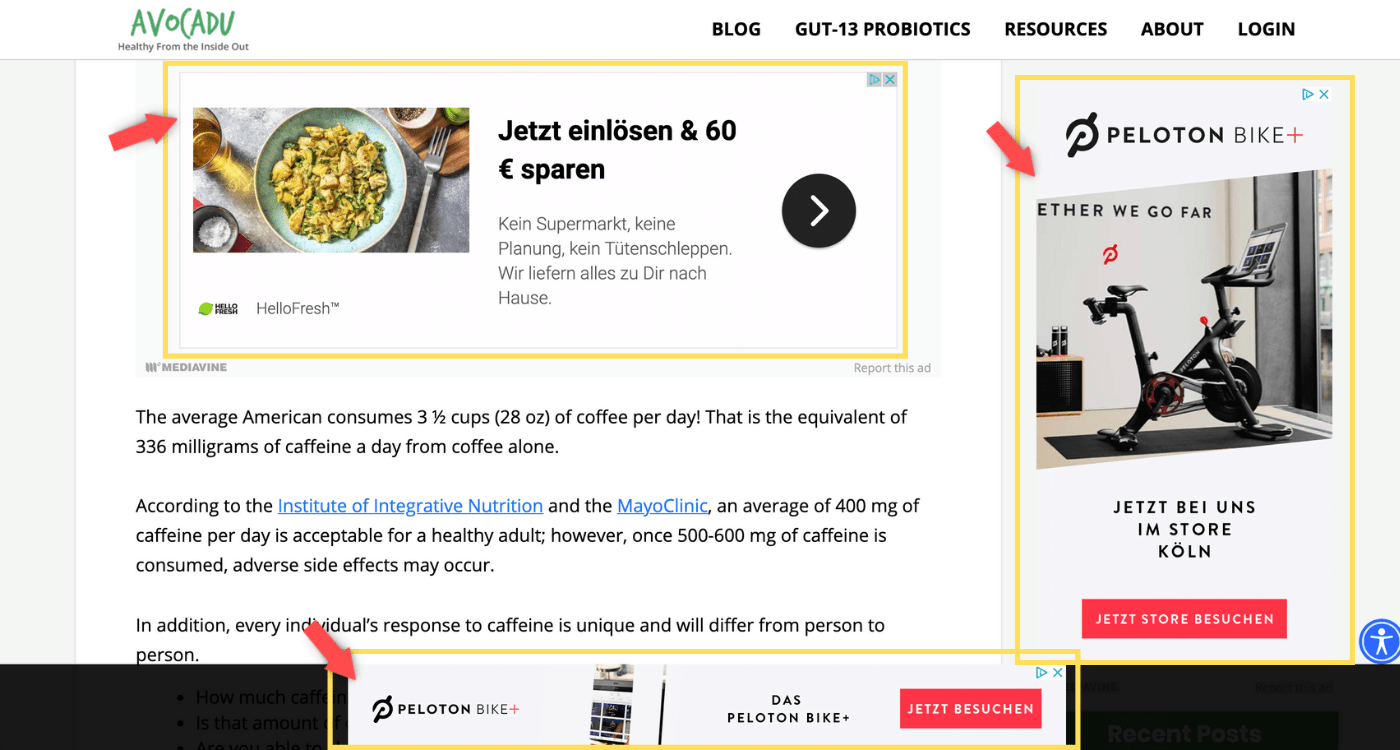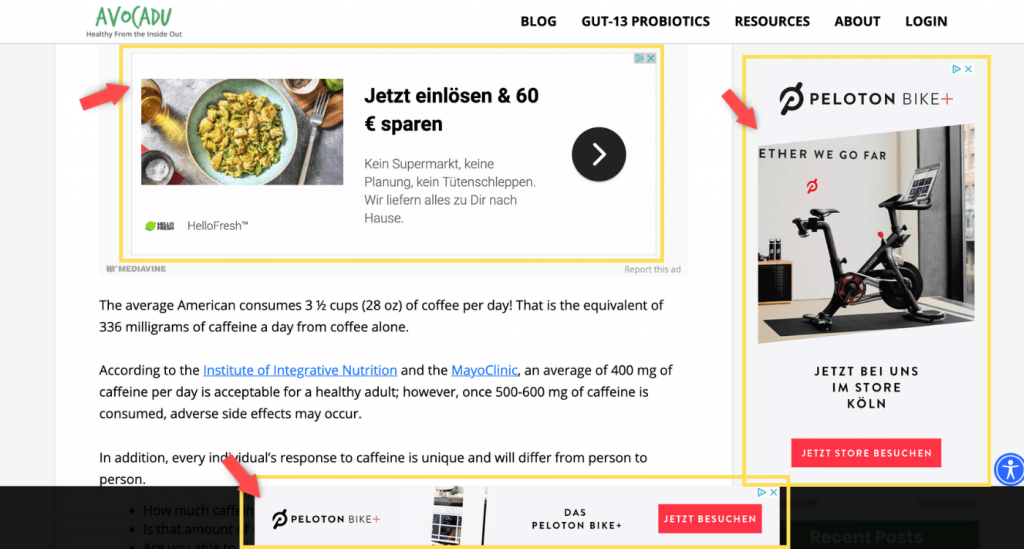 Advertising is one of the most common ways to monetize a blog and what many bloggers start with.
To make money with ads, you need to partner with an ad network like Google AdSense, Mediavine, or other ad networks.
Premium ad networks like Mediavine require a minimum amount of views on your blog to join, but they also pay more and help you with ad placement and optimization.
Google AdSense is the easiest to start with because they don't have any minimum traffic requirements, but they also pay the least.
Once your account is set up, you can earn money from impressions (how often an ad shows up on a page) and clicks (when someone clicks on an ad).
2. Sponsored Content
Sponsored posts involve working with brands to create posts that are useful or entertaining for your readers and also help promote the product or service of a brand.
In exchange, you earn an upfront fee as well as any bonus payments associated with the post.
In short, companies will pay you anywhere from $25 to thousands of dollars for you to write a post to share with your audience.
How much bloggers make with sponsored posts depends entirely on how large and engaged their audience is. The higher this number, the more lucrative your payment can be.
3. Affiliate Marketing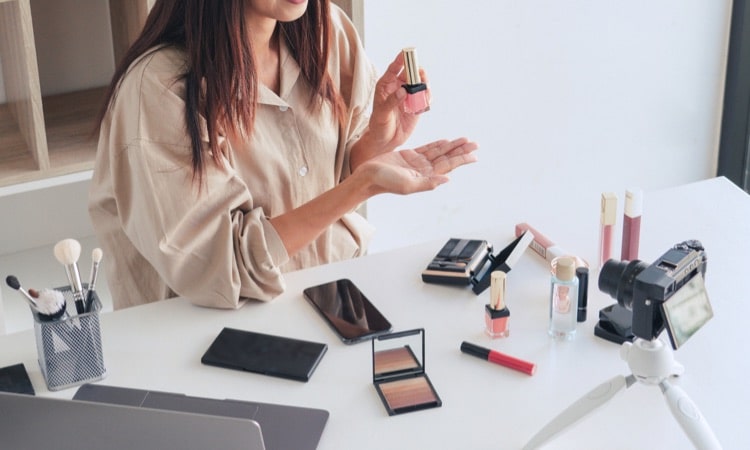 Affiliate marketing involves promoting a product or service and earning a commission when someone you refer to the site makes a purchase.
This is one of the most popular ways to make money blogging, as it can be done on any type of blog and doesn't require too much work on your part besides just including the affiliate links in your posts.
How much bloggers make in affiliate revenue depends on what affiliate programs they participate in. Higher-priced products usually have higher payouts but can be harder to sell.
4. Digital Products
Selling digital products like ebooks, online courses, printables, and other downloadable items is one of the most lucrative ways to make money blogging.
These products are generally easier to produce than physical products, and they can be sold over and over again without any additional overhead costs.
Many successful bloggers create sales funnels and sell higher-priced digital products like online courses with their email lists.
Information products make sense for bloggers because they already share a lot of free information on their blogs. It's simply a way to pay for more and better content.
This is a big part of how most bloggers make their money, along with affiliate marketing.
5. Physical Products and eCommerce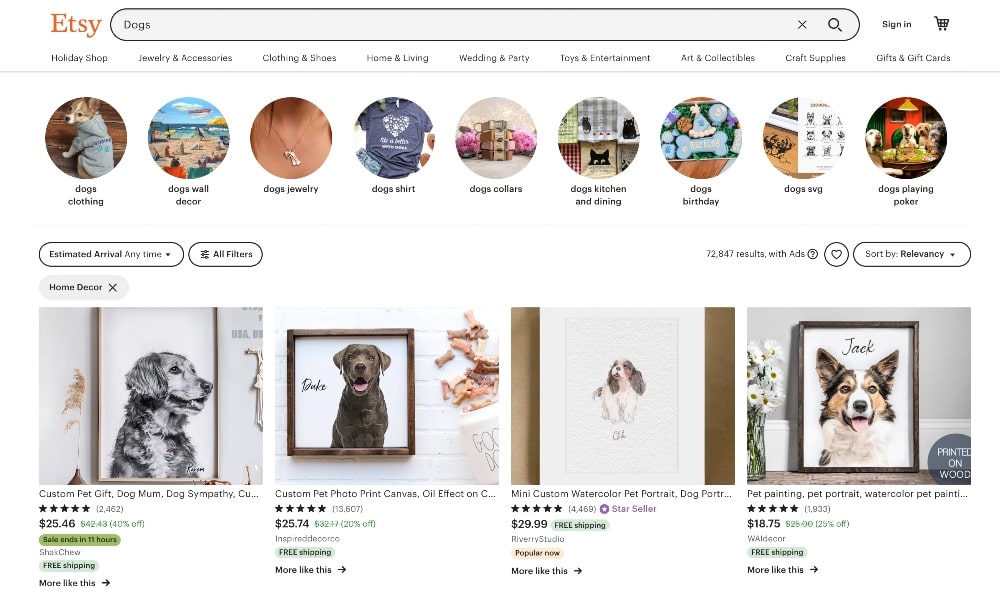 Physical products like t-shirts or mugs can be sold on blogs with an eCommerce store.
This is one of the most popular ways for fashion and lifestyle bloggers to make money blogging.
Having an online shop also requires some overhead costs, such as inventory, shipping materials, etc., so it might not be worth it if you don't have a very large and engaged audience.
Bloggers that have eCommerce stores also often run paid ads to their stores to increase their foot traffic and generate more sales.
6. Memberships
Many bloggers offer exclusive content or services to their readers through paid memberships. This might include access to a private forum, discounts on products, or other exclusive content.
Memberships are a great way to make recurring income from your blog because you get paid each month for the same amount of work.
This type of membership can also help build an engaged community around your blog since members have exclusive access to content that others don't.
Some memberships are as simple as creating a paid community group for your products where students and clients can get extra help from you or your team.
7. Consulting Services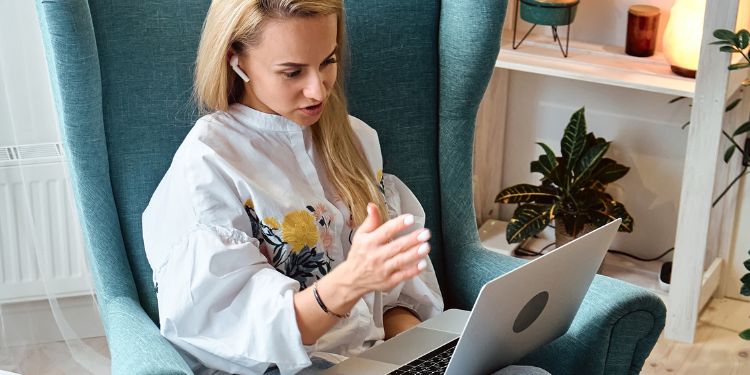 Many bloggers offer consulting services related to their niche.
If you're an expert in a specific field and have been blogging about it for a while, there's a good chance people will be interested in paying for your advice.
You might also offer one-on-one coaching sessions or group seminars, depending on what works best for you.
Consulting can be a very lucrative way for bloggers to make money because many bloggers charge over $100/hour for their time.
Consultations are often conducted via Zoom or other meeting software.
8. Writing and Other Services
Some bloggers also offer writing or other services as a way to make money with their blogs.
This might include freelance writing, copywriting, ghostwriting, editing, SEO services, web design, and more.
If you're skilled in any of these areas of expertise, you can offer your services directly on your blog or through freelance marketplaces like Upwork and Fiverr.
Freelance writing is an especially popular way for bloggers to earn money because most blogger already have extensive experience in writing from their own blogs.
This is a great way to make money from your blog while you are trying to grow your audience and main sources of income.
9. Side Hustles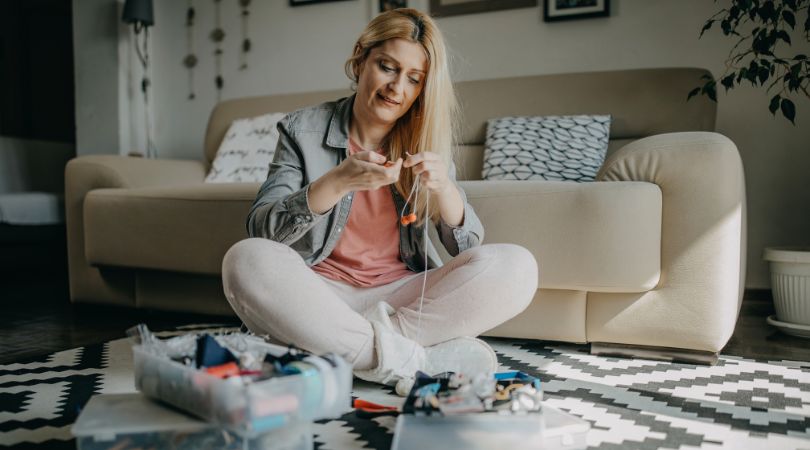 With so many platforms available, side gigs are becoming increasingly popular as a way for bloggers to make some side money while their blog grows.
There are a lot of websites and apps that you can use to create your own side hustles such as offering virtual assistant services, creating AI art, writing resumes for other people, selling stock photos, etc.
The possibilities are endless.
5 Ways to Earn More as a Blogger
I hope that I have been able to shed some more light into an average blogger's salary and how it can be achieved.
It's not easy. I won't lie to you. But it's absolutely worth it.
Here are some of my best tips and blogging tools to help you focus on taking the right steps at the right time.
1. Create Great, High-Quality Content
The heart of earning a solid blogging income and one that is consistent is putting great content out there. You don't have to be the best. But you do need to spend time and make sure you're putting out quality content.
Your audience will thank you for it and you won't rank in Google without it. The algorithms are only getting smarter.
Choose a great niche, build an authority site, and then create great content on your chosen topic.
Make sure you're using AI writing tools to help you write more content better and faster. Our favorite AI tool that we use to write blog content is Jasper.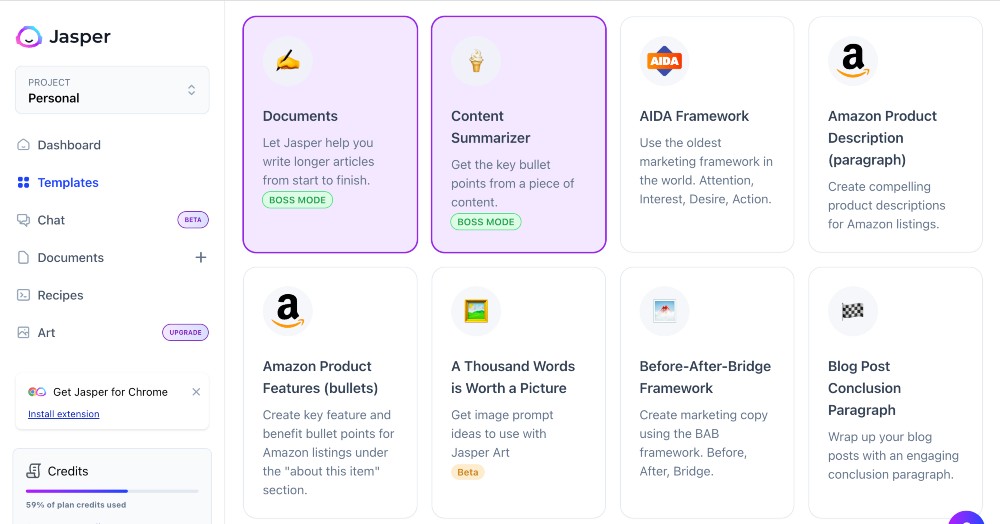 2. Build a Good SEO Strategy
Be careful chasing social media gains. Google SEO is king for bloggers and it's really the only way to ensure that you have lasting traffic and a sustainable growth strategy.
SEO stands for search engine optimization, and it simply means to create content that is optimized to be found in search engines.
This is something that we neglected in the beginning. We overly focused on Pinterest traffic, which I will say was highly rewarding for us at the time. But we should have paid more attention to SEO at the time as well.
Social media marketing can be rewarding but also very fickle. The most successful bloggers always have a diversified traffic strategy.
Make sure you're using some of these powerful SEO tools in your strategy.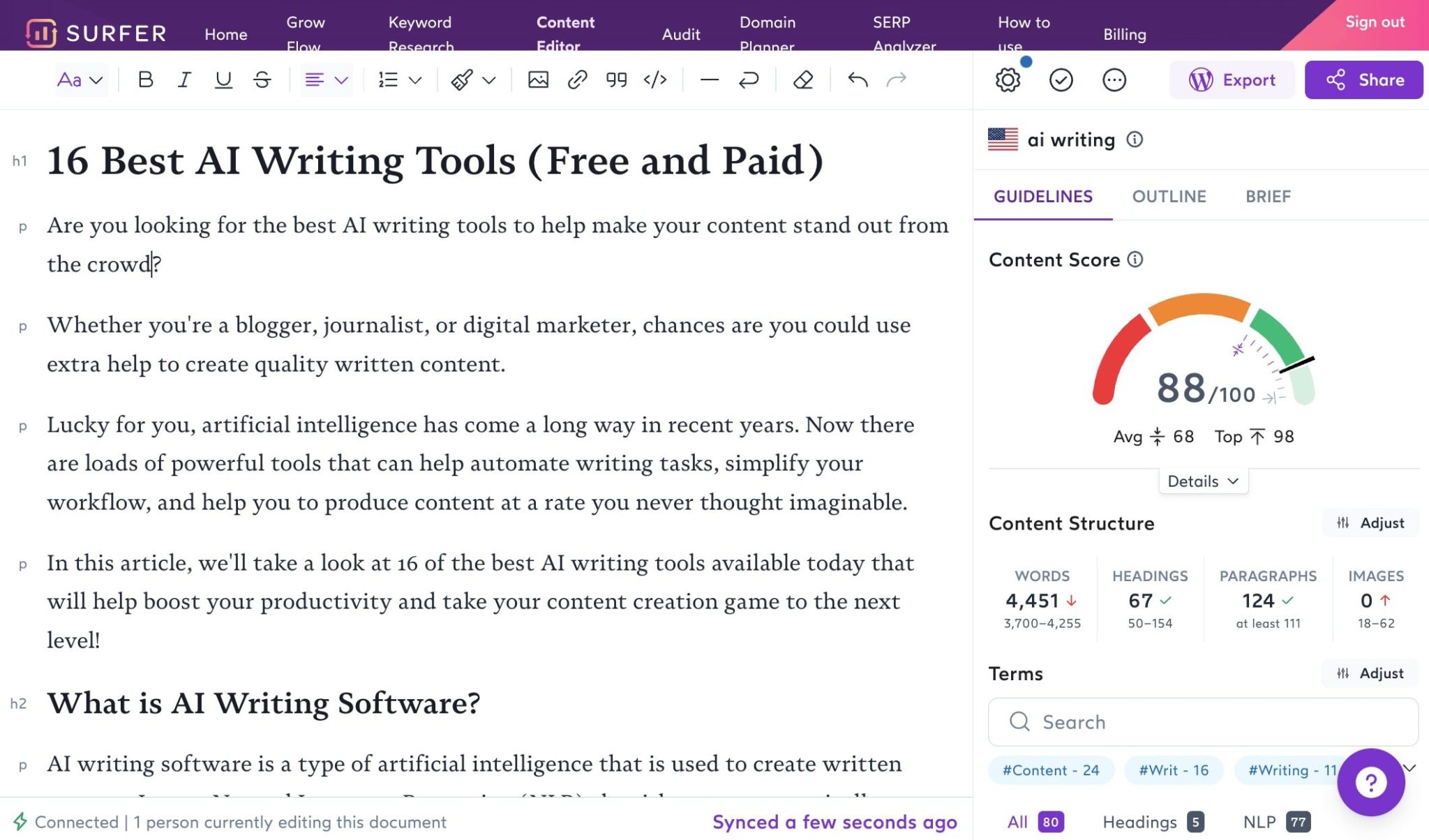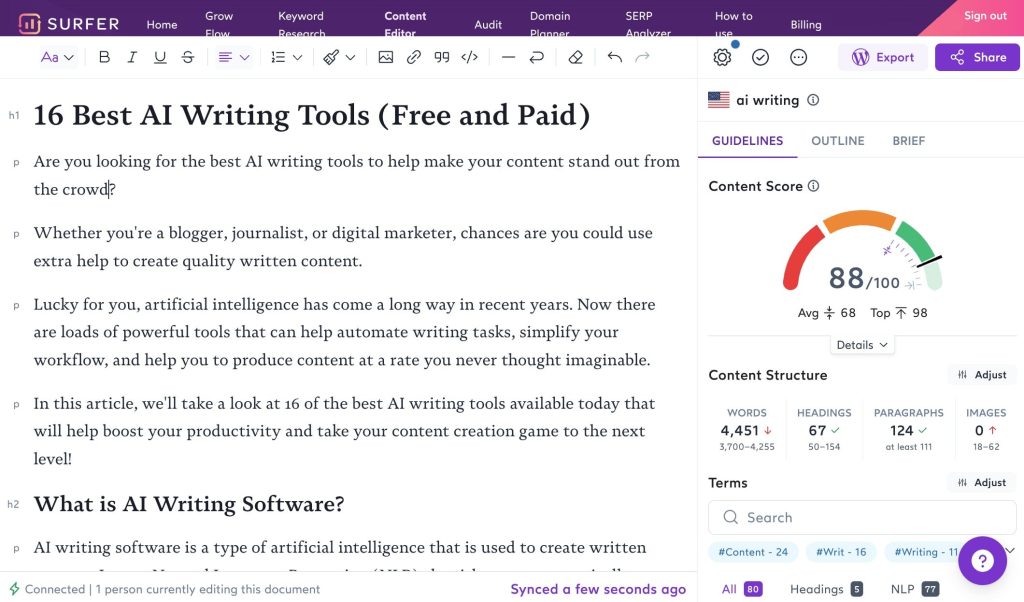 3. Build Relationships With your Audience
I mentioned it earlier, but it's worth saying again. The key to scaling your income when it comes to selling products, whether that is your own or affiliate products, is to build better relationships with your audience.
Learn who they are, what they are interested in, and what they need help with.
One of the best ways to do this is to simply communicate with them — on social media, through email marketing, or elsewhere.
Our favorite tool for email marketing is ConvertKit. They have a free plan with tons of free landing pages and forms, which is great for new bloggers.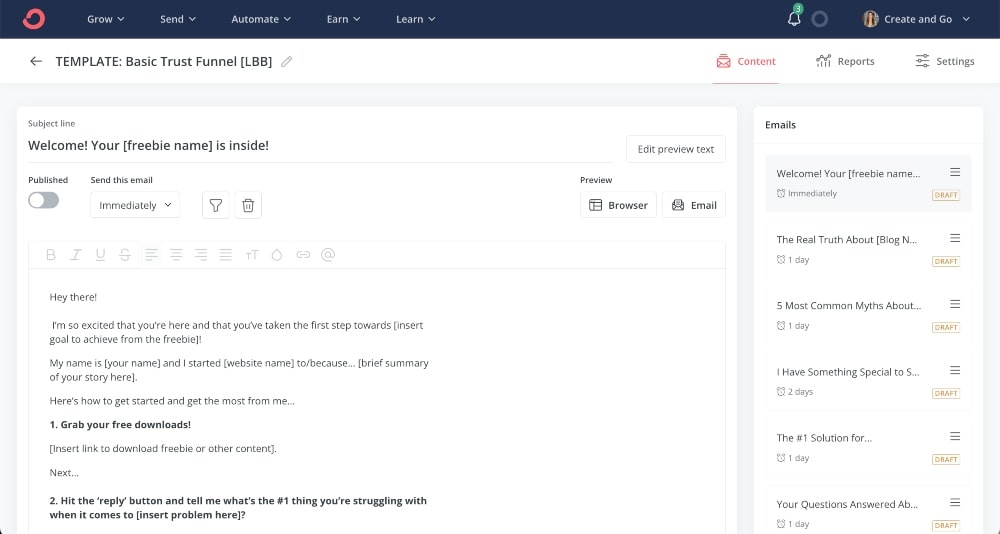 Pay attention to your people. Build trust with them.
4. Solve Your Audience's Problems (and Provide Solutions)
Once you've learned what your audience needs help the most with, you can provide that solution to them — in the form of your own products or affiliate products.
If you aren't ready to create your own product yet, you can look for high-paying affiliate marketing programs to get started with.
That trust you started building in step 3 will go a long way when you start selling to your audience. Be yourself and be honest. Put your audience first.
We use and recommend Teachable to sell all of our courses.
5. Learn From Your Mistakes and Continue Taking Action
The worse thing that you can do is be a waiting duck sitting still in the water. You know, just slowly waddling around and waiting for big waves. You create the big waves by taking action — often.
Failure isn't a bad thing when you learn fast and change course quickly. This is how we found success quickly (through lots and lots of failure).
You should create a focused strategy but make sure you're constantly checking the data and analytics and monitoring your progress. If it's not working, try something else. Make changes.
This is the ONLY way to keep correcting the course.
6. Create a Blog Business Plan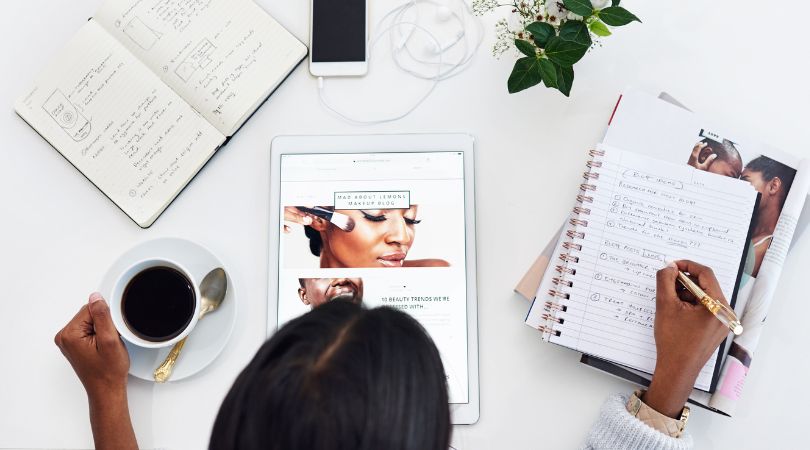 One of the best ways for blog owners to get started on the right foot is to create a blog business plan to help you create a vision and plan for your blog content.
This is a step that the average blogger tends to overlook. They dive in headfirst with no real plan or monetization strategy.
A blog business plan should include a few key elements:
Your Mission Statement
This is important because will be the main focus that guides all of your decisions and keeps you on track. It's important to ask yourself what your blog is trying to achieve and define that in a clear statement.
Define Your Audience
Knowing who you are creating content for is absolutely essential. Who do you want to read your blog? Identify the demographic of your ideal reader, so that you can craft content specifically targeted at them.
Set Goals
Having measurable goals will help to motivate you and give you something to work towards. Define both short-term and long-term objectives for your blog, including how often you want to post and any specific milestones that you want to reach over the course of a year or more.
Financial Plan
Figure out what type of budget you have available for blogging expenses such as hosting, marketing, and advertising. Knowing how much money is at your disposal will help you make more informed decisions about where to allocate resources for maximum return on investment.
This may seem daunting, but I promise it's worth it and it will actually make you feel better about your overall plan. Taking the time to do this upfront will save you from making costly mistakes down the line.
With a clear plan in place, you can position yourself to start making money in no time.
With a clear plan in place, you can position yourself to start making money in no time.
FAQs About How Much Money Bloggers Make
How much money can bloggers make?

The amount of money that a blogger can make depends on the size and success of their blog. Generally, bloggers should expect to make between $0 – $5,000 per month from advertising, affiliate deals, sponsored posts, and other income sources. A successful blog with high traffic could potentially earn upwards of $50,000 or more each month.
How do beginner bloggers make money?

New bloggers often make money from display advertising, affiliate programs, sponsored content, and selling products. Display ads are placed on a blogger's website and pay for impressions or clicks; while affiliate programs offer commissions when customers purchase certain products or services through an affiliate link. Sponsored posts involve writing about a product or service in exchange for payment. Many bloggers also sell digital or physical products such as ebooks, online courses, and merchandise to increase their income.
How can bloggers increase their earning potential?

Bloggers can increase their earning potential by growing their blog and increasing traffic. This involves creating high-quality content, running promotions, optimizing for search engines, building an email list, engaging with readers on social media platforms, and partnering with brands in affiliate programs or sponsored content. Monetizing the blog with additional income sources such as ebooks or online courses will help to further increase earning potential.
How much do beginner bloggers make a year?

How much money bloggers earn in a year depends on several factors, including the traffic to the blog, the number of income sources they are using to monetize the blog, and how much effort they are putting into growing their blog. Generally speaking, a successful blog with high traffic could potentially earn upwards of $50,000 or more each year.
Is it profitable to be a blogger?

Yes, it can be profitable to be a blogger. Although the amount of money that bloggers make depends on several factors such as blog traffic and monetization strategies, many successful bloggers earn enough to make blogging their full-time job. With hard work, dedication, and the right strategies in place, blogging can be a viable source of income for those looking to make money online.
Start, Grow, and Scale Your Blog Today
Let's wrap up this post on how much do bloggers make with a call to action to get something done today.
I think the focus on content consumption in our society has turned us into a bunch of over-thinkers who take little to no action. We think we know it all without ever actually trying anything.
This is my challenge to you: Think less and act more.
For some of you, this means starting right now. For others, it means boosting your SEO traffic. And for others, it means working on your affiliate sales or monetization strategy.
Here are a few posts to help you get pointed in the right direction:
If you need some additional help to start making money blogging, you can also check out our blogging courses on all of these topics.
If you enjoyed this article on the topic of how much do bloggers make, please leave us a comment below or feel free to ask us any questions!