We partner with bada$$ companies that offer products that help our readers achieve their goals! If you purchase through our partner links, we get paid for the referral at no additional cost to you! Read our disclosure for more info.
Affiliate marketing is one of the best ways for bloggers to start making money. If done right, it can be a really great source of passive income that pays off for months or years to come.
It's how I earned my very first bit of income on my first blog and how this website brings in at least $20,000 every month.
I've learned a lot about affiliate marketing for bloggers over the years and it's been a part of my job as a blogger that I really enjoy. I like to work with other brands and form partnerships with the companies that I believe in and really care about.
Consider this article the 30,000-foot overview of some of my best tips and strategies.
What is Affiliate Marketing?
Affiliate marketing is when you earn a commission for selling other people's products. This commission can be a set amount or a percentage of the sale or a set dollar amount and is determined by the company/owner of the affiliate product.
These commissions often range anywhere from 15-70% of the product sales price.
If 70% seems high to you, it's because it is. But the reason it's so high is that the affiliate is doing most of the grunt work to bring the customer to the sales page.
The product creator gets to sit back and earn passive revenues. Once you create a product that people want and a sales page that effectively sells your product — most of the work is done.
All that is left is to get more visitors to the page. That is often one of the hardest parts.
Affiliates are responsible for not only getting additional visitors to the page but also for convincing their readers WHY they believe the product is worth buying.
The more you can convince your reader why they need the product before they click the affiliate link and see the sales page, the more likely they are to purchase the product.
Many affiliate companies also have pretty high commissions to remain competitive. They want you to promote THEIR product or service rather than their competition's, so they keep their commissions competitively priced.
How Does Affiliate Marketing for Bloggers Work?
Before you are eligible for affiliate revenues, you must sign up and get approved by the affiliate company. I'll talk more about how to find and join affiliate companies and programs later on in this article.
After getting approved for an affiliate program, you will receive an affiliate link to the product's sales page. This special affiliate link is how your affiliate sales are tracked. You can add these links in articles, emails, social media posts, Facebook groups, etc.
Here is an example from a post that was on my health blog on Himalayan salt lamps: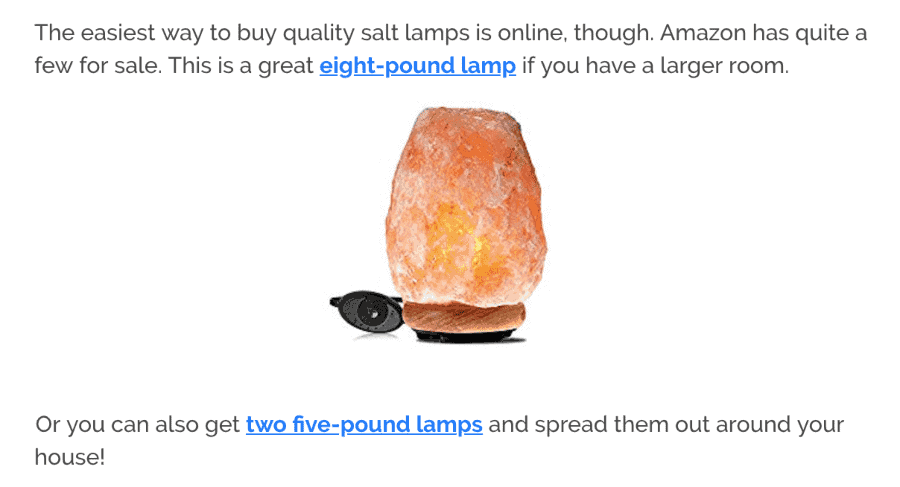 When someone clicks your affiliate link, a cookie is attached to their browser that tracks whether or not that person purchases the product from your link. These cookies generally last anywhere from 30-365 days, which means that if someone clicks your link and purchases anytime within that cookie's period, you will receive a commission from that sale.
Important Note: In order for this cookie to work, the person has to purchase from the same device and the same browser.
So, if they click your affiliate link on their computer and then go back to the site on their phone and make a purchase, you will

not

get credit for the sale.
But if they return to the same site a month later on their computer and use the same browser, you

will

get credit for the sale.
Another caveat is that if someone clicks on another affiliate link that isn't yours and then purchases the product, the affiliate whose link was last clicked will get the credit for the sale – not you. The affiliate company decides how long this cookie length is, and you can find out how long it is by reading over their affiliate terms and conditions.
The sales that you make from your affiliate link are tracked, and most companies will pay you for the sales between 30 and 90 days after the sale is made (to make sure that no returns or refunds are requested).
Affiliate Rules and Disclosures
A really key part of successful affiliate marketing for bloggers is following all affiliate rules and using the proper disclosures on your site. Not the most fun part, I know.
In addition to cookie lengths and commission amounts, affiliate companies also have specific rules for promoting products. You can generally find these rules at the bottom of the company's website. The links are often named the following:
Affiliates
Affiliate Program
Affiliate Terms and Conditions
These can be very basic (don't claim the affiliate product is your own) to pretty big (don't promote the product in your emails).
The rules will vary between affiliate companies, so it's always important to read over ALL rules before applying to their program.
For example, the Amazon Associates program is much stricter with their policy and does not all you to include affiliate links in emails or any other private resources.
In addition to affiliate rules, you also have to have the proper affiliate disclosures on your website and anywhere else you have affiliate links (videos, courses, emails, etc.).
For example, Create and Go is an affiliate for ConvertKit, an email marketing software that we use and recommend to our students.
[The link above is an affiliate link. If you click that link and decide to sign up for ConvertKit, we may receive a commission for it (after you complete your free trial and pay for your first month).]
The above statement is called a disclosure. It just means that we're giving you a heads-up that we are paid for our referrals.
Disclosure rules exist to protect the consumer from purchasing from biased opinions of people on the internet. Some people only promote certain products and services because they are paid for referrals, so disclosures exist to make this affiliate relationship more transparent.
Disclosure rules are generally set by both affiliate companies and the government. You have to abide by both.
In the United States, the Federal Trade Commission is the governing body over consumer purchase behavior online, and they set the rules on disclosures.
It's important to note that it's not enough to ONLY disclose an affiliate relationship somewhere in a Disclaimer or Disclosure page linked at the bottom of your website.
The affiliate relationship must be disclosed before or close to the affiliate link.
If you're including affiliate links in an article, it's a good idea to include a disclosure BEFORE your content. If you include affiliate links in a social media post, you must disclose that it is an affiliate link within the post itself: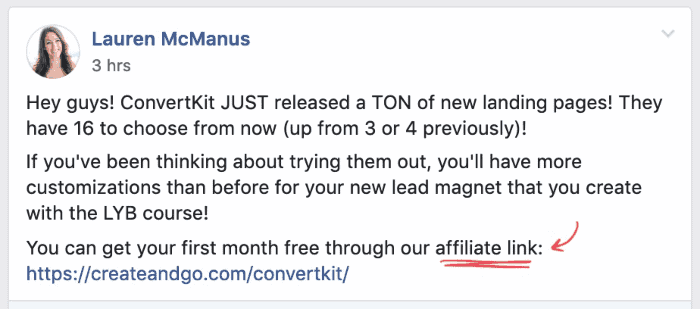 If you include affiliate links in emails, you must disclose that it is an affiliate link within the email itself: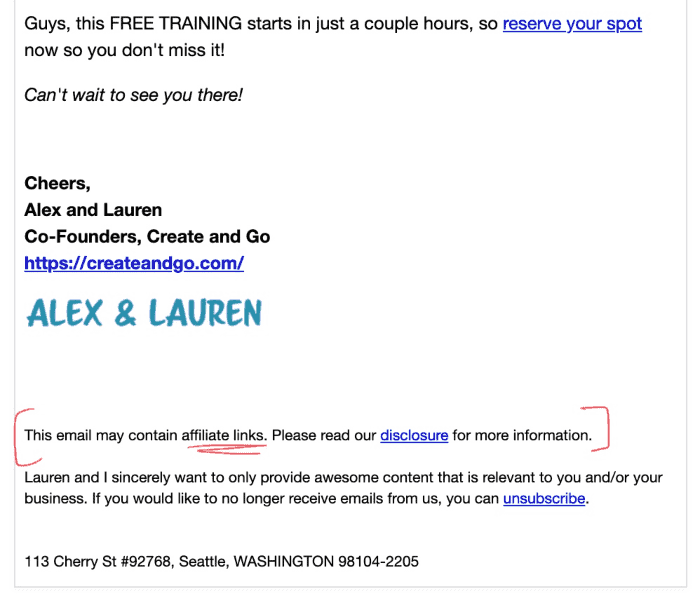 And so on… Your affiliate disclosures must be clear and visible — meaning that the reader should never have to hunt them down. You can read the FTC's Endorsement Guides for more information on what is required.
Why Affiliate Marketing is the Best Way to Start Monetizing a Blog
It honestly provides a really great balance of risk and reward. Perhaps the easiest way to make money is by putting ads on your blog. It's fairly easy to set up and 100% passive.
If you're going to go that route, our favorite ad company to start out with is Ezoic. Once you reach 50k pageviews, you can partner with a premium ad network.
But the problem with ads is that the low risk also comes with the lowest reward, and you're going to make pennies rather than dollars. On the other end of the spectrum, creating and selling your own products is probably the best way to make money with your website. But it also comes with the highest risk.
It takes time and money to create your own products and if you don't know how to sell them properly or your audience doesn't want them, you've wasted even more time and money.
I know because this happened to me. The very first product that I created was a diet and fitness plan that I thought was just AWESOME. But guess what… Our audience didn't agree.
We didn't know who our target customer was, what they wanted, or how to sell anything to them.
With affiliate marketing for bloggers, you can promote different products and services to your audience with generally no investment of money and far less investment of time. If you have trouble selling one product or your audience doesn't like it, you can try another one.
And the best part is… When it gets going… It can even be mostly passive income.
How to Get Started with Affiliate Marketing for Bloggers
The best way to get started with affiliate marketing for bloggers is to begin adding affiliate links to existing articles on your website that are already popular.
The Amazon Associates program is one of the best places to start because everyone already uses and trusts Amazon. The cookie length is only 24 hours and the commissions are quite low, but it can be a good, passive way to earn a couple of hundred dollars per month.
It was we earned our first $85.62 of income and we eventually earned over $1,000/month with Amazon when our website was at its peak traffic.
In addition to linking Amazon products, you can also do a simple Google search for affiliate programs in your niche. You'll come across various affiliate programs and networks through this method.
For example, if you were in the pet niche and ran a Google search for "pet products affiliate programs," you'd find a link on the first page for Petco's Affiliate Program.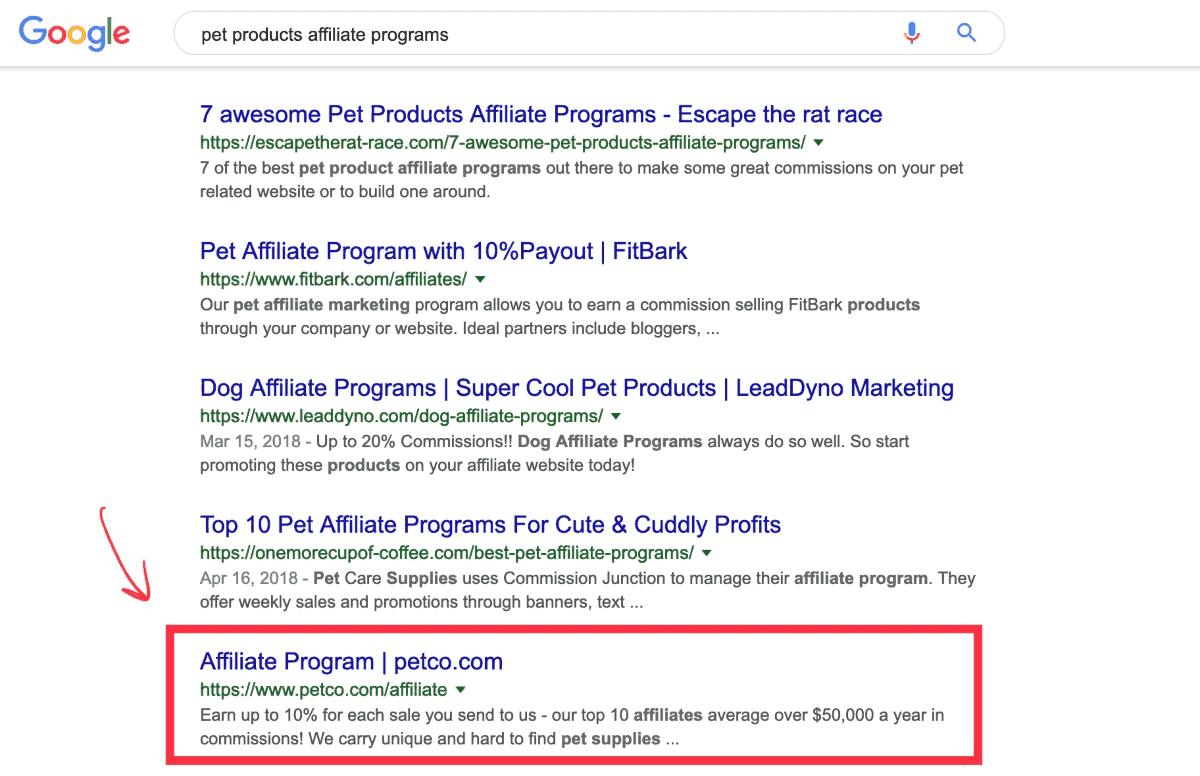 You could then check out their program and see how affiliate referrals work, how much they pay, when they pay, what rules they have for promoting, etc.
There are also a whole host of other articles that will come up that compare other affiliate programs for pet supplies that you can check out for ideas. You can join as many different affiliate programs as you want through this method. Just make sure that the company and the products are a good fit for you and your audience.
You can also check out our article on the best affiliate marketing programs with high payouts.
What are the Best Affiliate Marketing Programs and Networks for Bloggers?
In addition to signing up for Amazon Associates and looking at individual affiliate programs, we have also used affiliate networks in our affiliate marketing for blogs strategy.
These large networks exist to connect you with affiliate companies and products. You can use their platform to search for popular products in your blog niche.
Here is an example of some search results in the fitness niche on Shareasale:

As you can see above, different programs offer different commission percentages on sales. Some of them also offer straight dollar amounts — not percentages.
But you can't compare commission percentages alone because the sales price matters. This is why they also advertise the average EPC, or earnings per click, so you can better compare average earnings between companies.
The company above with the highest commission percentage (75%) also has the lowest earnings per click, which means that the sales price for that product(s) must be much lower than the other programs.
Some popular affiliate networks include:
These products can also be promoted in your articles, videos, emails, social media, etc.
Just make sure to read over the affiliate company's terms and conditions before promoting the product as rules will vary between companies.
How to Make Your First $200/Month with Affiliate Marketing
As I stated earlier, these are the affiliate marketing for bloggers strategies that we used to earn our first bit of income.
In the first month of using affiliate marketing, we made $173.
The next month, we made $924.
The following month, we made $2,353.
It was with a combination of the strategies below that we were able to more than double our affiliate marketing revenues within the first few months of earning anything with our blog.
Below are the best places to start adding your affiliate links to your blog.
1. In Articles
The first place that you should start adding affiliate links to is your posts.
You can add affiliate links wherever you discuss relevant products or services, but perhaps the best way to get clicks and generate affiliate sales is through review articles.
Our two favorite types of review pages are:
Product comparisons
Reviews of a specific product or service
Product Comparisons
I personally use these types of review articles mainly with Amazon products, because they are less expensive and usually an easier sell. Even if someone doesn't decide to purchase a product from your article, the articles are still very good at getting clicks to Amazon, which can result in future sales.
Here is an example of a past review article on plant-based protein powders from my health blog: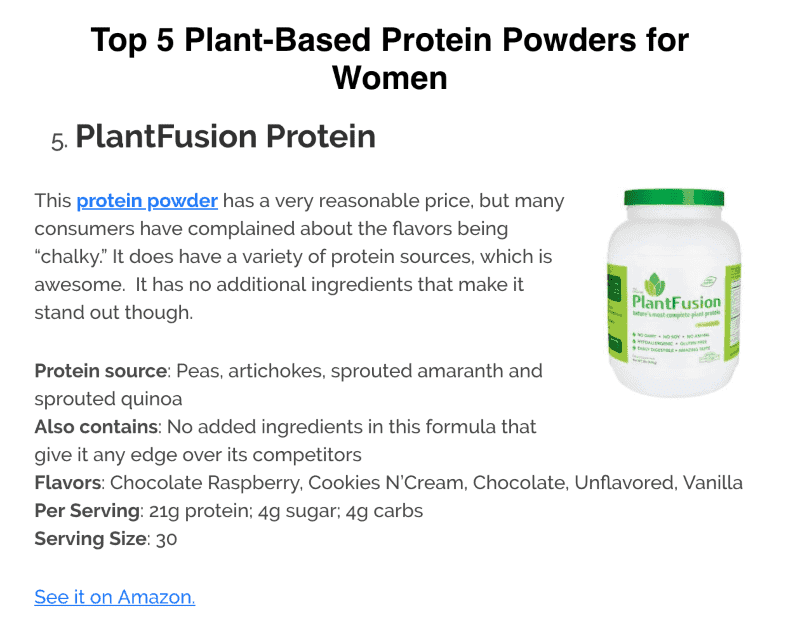 I compare and contrast 5 popular plant-based protein powders that are linked from Amazon.
Another example of a different kind of product comparison review article is our review of MailChimp and ConvertKit for email marketing.
Review of a Specific Product or Service
When you are reviewing a specific product or service, you generally want to include the following:
What the product or service is
Why it's useful
Advantages and disadvantages
Possible comparisons to other products
How to get started using the product (with affiliate links)
A good example of this type of review article is our review of ConvertKit for email marketing. In this article, I discuss why we love ConvertKit so much and why it's different from other email marketing services that we have used in the past.
You can also create a different type of post that educates the reader on a specific topic and offers a solution (in the form of an affiliate link) at the end.
An example of this is our article on how to build an email list.
2. In Social Media Posts
You can generally include affiliate links in Facebook posts, YouTube videos, Instagram posts, and Pinterest pins. Just make sure that you read over all rules and disclosures for each platform before you add your affiliate links.
On Facebook, I sometimes include affiliate links on our page when I link posts or videos: or when I refer students to our affiliate links when they ask about certain software: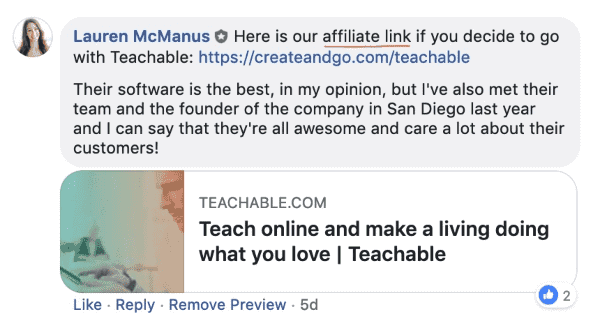 Just remember to always specify that you are using an affiliate link! And remember to refer back to the FTC guidelines regarding this because rules are subject to change and they have become more strict and regulated over the last few years.
3. In Emails
You can link affiliate products in your articles all day long, but selling affiliate products in your emails is a way to really step up your game.
Sending emails to your audience allows you a chance to build a better connection with your reader by…
telling them more about yourself,
explaining why you do what you do,
and providing them with valuable and useful content.
The people on your email list are going to be the people that know you best and trust you a bit more, which means they will be more likely to purchase from you.
You can use affiliate links in your emails in two different ways:
One-Time Broadcasts
Email Sequences (Sales Funnels)
We've done both with great success!
Advanced Affiliate Marketing: 6 Tips for Making Six Figures
For all of you preferred video learners out there, here is a video on Affiliate Marketing for Bloggers from our YouTube Channel below.
Affiliate marketing is a huge part of our monetization strategy for our business, and we've learned a lot along the journey to the $20k/month mark. These are our top tips below for earning six figures through affiliate marketing on your blog.
1. Pay Attention to Your Competitors
There are quite a few successful blogs out there making six figures solely from affiliate marketing, but here is the interesting thing about it. You also won't be able to find many that disclose specifics on affiliate earnings.
This is because affiliate marketing for bloggers is highly competitive and relatively easy to copy because the products exist out there for anyone to market.
It's a little different when it's your own product and only you can promote it.
It's for this reason that most people are pretty tight-lipped about their specific strategies for affiliate marketing for blogging. But even if you don't know how much they are making, pay attention to what your competitors are promoting and how they are promoting it.
For example, here is a screenshot from an old health article that was written to promote a few different meal delivery services with affiliate links: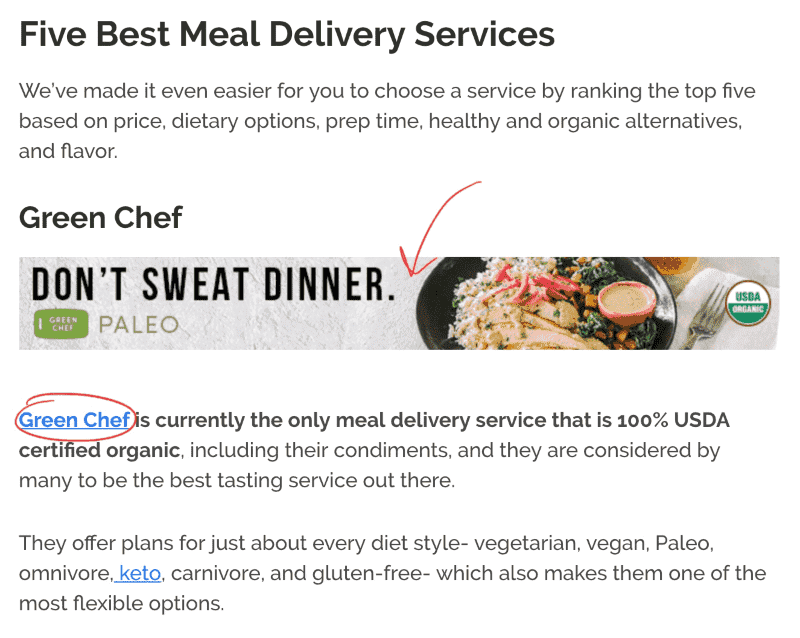 Take a look at some of the top blogs in your niche and look for:
What products and services they are recommending to their audience
Where they are promoting these products and services (articles, emails, etc.)
How they are promoting them (what they are saying, how the content is structured, etc.)
This can give you ideas of what might work for your audience — IF you blog on similar topics or have a similar audience.
2. Disguise Your Affiliate Links
This is a really important part of affiliate marketing for bloggers that is often overlooked at the beginning.
Most of your affiliate links will pretty ugly. The URL itself will be an ugly jumble of random characters.
When someone clicks on your link and is directed to a page with an 'ugly' URL like that, they may be a little turned off. OR when you post a visible link like that on social media (like FB), it just doesn't look as professional.
PrettyLinks is a free plugin that allows you to disguise your links and literally make them look 'prettier.'

It can turn an ugly link into something simpler: https://createandgo.com/tailwind
Not only do your affiliate links look a lot better and more professional, but they are also a lot easier to remember. You can easily include your links on your site or on social media without having to go look them up.
Also, if your affiliate link ever changes, you only have to update the link once in this plugin as opposed to having to update every instance of that link across your entire website, courses, emails, etc.
Before we started using this plugin, I used to store all of my affiliate links in a spreadsheet. I would have to look them up every time I mentioned one in an article or in my Facebook groups.
This was a major time sink. PrettyLinks is free and a great solution to use before you start putting random links all over your website.
3. Your Blog Niche Matters
There is an average market price for products in every blog niche. For example, the average weight loss course usually costs a lot less than the average finance or investing course.
I have learned from experience that sales in the health and wellness industry are pretty volume-focused. Weight loss is one of the most-searched topics in the world, so there is a ton of traffic to be had. But the average product price is pretty low.
People are used to paying low prices, so trying to get them to pay $500 for a weight loss course is pretty difficult. This is why we priced our weight loss program at $47 and focused more on higher volumes of traffic rather than higher sales prices.
Because of this, we found it a little harder to scale our affiliate marketing income with lower-priced products. Instead, we focused on creating our own, which provided us with a higher margin.
In the business niche (this website), products, services, and software are generally priced a lot higher and therefore have a higher commission. Here's a great example: Our post on webinar software.
I say all of this to just help you set the right expectations about how much you can earn from specific products or in a specific niche. Generally, you'll want to focus on higher-priced products to make a lot of money in affiliate marketing.
OR generate tons of traffic.
4. Affiliate Marketing Will Teach You How to Sell
Perhaps THE most important lesson learned in affiliate marketing for bloggers is that it will teach you how to sell better.
We made our first real bit of money with the health blog selling a yoga product through affiliate marketing. Selling those first few products marked the first time we started making actual income online. In fact, our first $20 day, $50 day, and $100 day were all a result of promoting that first product.
But more importantly than the initial bit of income, it taught us HOW to sell. So much so that when we decided to create our own product, we made sales right from day 1 of launching our own product.
But there are downsides to affiliate marketing for bloggers.
5.You Don't Own Affiliate Products
As I stated above, less risk means less reward. Because you don't own the product, you can't control the price of the product or your margins. If the sales page kind of sucks, you can't do anything to improve it.
You are also generally limited in how you can promote the product. I discussed this above relating to company affiliate rules as well as government rules and disclosures.
But perhaps where the BIGGEST risk lies is that you don't actually own the product or control your stream of income.
For example, let's say you make 85% of your income from the sales of ONE affiliate product.
If a company decides to lower its affiliate commissions or make changes to its affiliate program that are NOT in your favor, your income stream can be immediately cut off.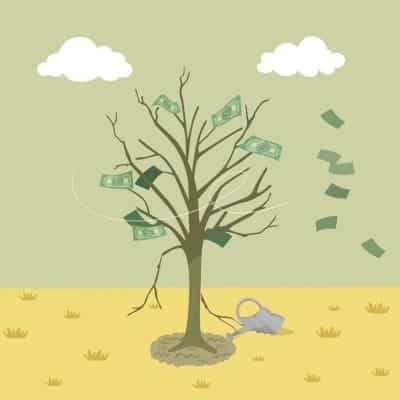 Poof.
Gone overnight.
Your money tree has been struck by lightning in the night.
It's just how it goes. You're always taking that risk when you don't own the product.
Now, it is incredibly rare for an affiliate program to do this. If you're both making money and the customers are happy, why stop?
It's just something that you must be aware of if you are putting all your eggs in that basket.
And finally, one of the best parts of affiliate marketing is…
6. The Process is Similar to Selling Other Products
If you can sell an affiliate product, you can sell your own product(s). Trust me.
That's because the sales process is always, always, always about the relationship you build with others. A proper relationship looks something like this:
Establish initial curiosity and intrigue.
Allow for a follow-up.
Increase the strength of the relationship.
Close.
This is the same no matter what you are selling. But, I will say that 95% of six-figure bloggers make their money from selling their own products and services.
Even affiliate marketers end up learning that it works better to own the product than to just promote it. But here is the most important lesson of all…
You should start out with affiliate marketing to teach you HOW to sell before investing the time and money in creating your own product(s).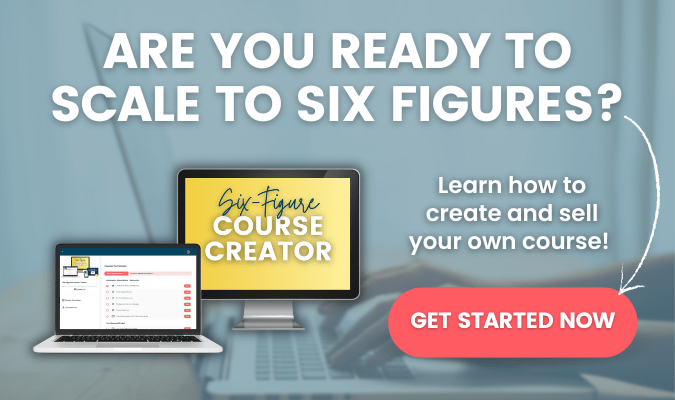 How to Scale Your Affiliate Marketing Income
Are you ready for the cold, hard truth?
99% of people will never make six figures just from Amazon links. Trust me. I've tried.
The people that are making that much money with Amazon have millions of website views every month, and with those kinds of views, you can still make a TON more money with your own products.
Most people making six figures with affiliate marketing are all selling higher-priced affiliate products.
Promoting expensive courses (think $200+ range)
Marketing expensive equipment (drones, cameras, etc.)
Reviewing expensive services (hosting, CPM software, etc.)
Lower-priced products are still a great place to start because they are easier to sell than expensive products. But as you get better at selling and learn more about your audience, try selling more expensive products.
Additional Resources for Affiliate Marketing for Blogs
A LOT more goes into successful affiliate marketing campaigns, including:
Learning who your target customer is and what they want
Choosing the right product to offer to your audience
Promoting those products in your articles
Incorporating email marketing to scale your affiliate marketing income
Getting good enough at the sales process to promote higher-priced products or services
Read Next: How to Make Money Blogging – 10-Step Guide for Beginners
What was your biggest takeaway? What are you going to implement TODAY after reading this article? We'd love to hear from you in the comment section below!