We partner with bada$$ companies that offer products that help our readers achieve their goals! If you purchase through our partner links, we get paid for the referral at no additional cost to you! Read our disclosure for more info.
There's nothing like starting a new blog or website, ready to dive in headfirst to design it — only to realize that you don't have one of the best WordPress themes and the learning curve is steeper than you thought.
Try as you might, you can't get your blog design to look the way you want it to.
Header images
Pretty headlines
Setting up columns
Adding a newsletter sign-up
Posts and pages
Menus, headers, footers… OH MY!
You're looking at someone else's blog for ideas and banging your head against the wall trying to get your blog to cooperate and look like theirs.
You're tired and frustrated and wondering if you have made a colossal mistake because you are in way over your head.
Other people (ahem, those Create and Go people) make it look SO easy! What's the deal???
WHAT AM I DOING WRONG!?
I totally get it. I remember spending literally HOURS trying to get my header image to display exactly how I wanted it to.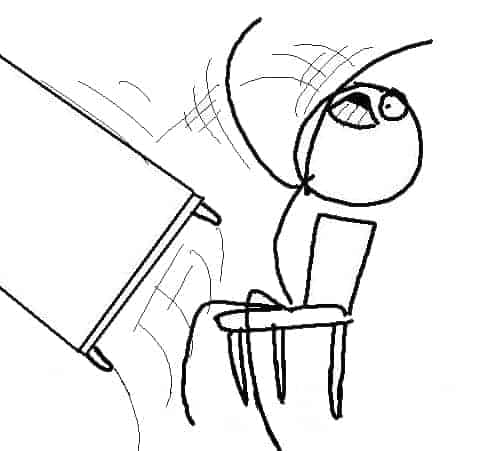 You could literally hear me huffing and puffing in frustration from the next room. I would read articles and watch tutorials and desperately try to learn a bit of coding to get the job done. And oftentimes, my efforts would be futile.
So, what's the deal? Why is this so hard? Why can't you get your blog to look the way you want it to?
What is a blog theme? And why does it matter so much?
A theme is what is installed on your WordPress blog to allow you to make design customizations. Think of it as what you see on the front of your blog — not the backend
These themes have pre-programmed coding that allows you to make these customizations to your blog. Customizations like…
Adding a header image to your homepage
Creating columns in your content
Changing your menu color and display
Adding your logo
How your author box, sidebar, and other elements display on your blog
The most important takeaway from all of that is this:
Every WordPress theme comes with different pre-coded customizations, learning curves, and limitations.
Limitations mean that you won't always be able to make your blog look exactly how you envisage it in your head. The best WordPress themes with the most customizations usually cost a little more because of this.
These limitations can only be overcome by:
Purchasing a new theme
Using CSS custom code to make changes
Installing the best blog plugins for customization
Hiring a web developer to add custom code to your website
We've done all of the above at some point or another at Create and Go. We have paid web designers thousands of dollars to redesign our websites.
Don't worry. You won't need to do this anytime soon. Or maybe never, if you don't want to. We didn't do this until we had a lot of revenue to cover the expenses.
We all start out the same way: No monies and no coding skills.
You generally have to do the best that you can for the first year or two with your very limited knowledge of WordPress, themes, website coding, etc.
That's totally okay — because we've found some of the best WordPress blog themes for you to start out with.
Choosing a WordPress theme for your blog is like choosing a car.
Like a great car, getting the right blog theme will take you exactly where you want to go in as little time as possible, and you may even enjoy the ride along the way!
Choose the wrong one and you'll end up in a ditch on the side of the road with a flat tire and a dead cell phone. This is part of setting up a great foundation for your blog, along with getting a solid blog hosting plan.
We've tried quite a few cars on our journey. Some of them were chic and classy and some of them put us in the ditch for a week with an expensive tow truck.
Free WordPress Themes for Blogs: Can I start here?
Absolutely! Many of the best WordPress themes on this list have a free version that you can try.
Just keep this in mind. Free themes, like most other business software, often come with:
Far fewer features and customizations
A clunkier or limited design
Less help and support from the provider
And a whole lot of free headaches
That being said, there are some pretty great free WordPress themes out there that you can make work for your blog if that's all that's in the budget.
You may just need to test-drive a few cars before you find the right one!
Also, don't forget what your time is worth here.
If you save $60 but it takes you 6 days to design your website when it should have taken you 1, that's a pretty poor use of your time and money.
If you're just getting your feet with writing your first blog post, you can throw up a free theme to start with.
But once you've written some more content and you're ready to start growing, it's probably time to upgrade to a better theme.
Choosing the Best WordPress Blog Theme
Step 1. Know that "best" is subject to opinion.
So let me define what "best" means to us. In this case, the best WordPress blog themes are:
Customizable
Easy to learn
Affordable
That's pretty much it. This is what you're looking for from whichever theme you choose today.
There is also no single best option because everyone has different needs and different budgets. But we did our best to round up the easiest WordPress themes to start off with that are also customizable and easy to learn.
The most important thing that you can do right now is to find a good theme to start with. Get a nice blog design up quickly, and then move on.
You can always upgrade your blog theme later as your business grows or your needs change!
What are the Best WordPress Themes for Beginners?
In this list, we have included some free and paid themes. Many of the best WordPress themes also have both free and paid versions.
We've included our opinions about many of these as well as some thoughts from a few of our other fellow bloggers who have had some experience with these best WordPress themes.
I'm not going to save the best for last here. The top WordPress themes we've listed below are mostly in order of our preference and the best recommendations for bloggers to get started with.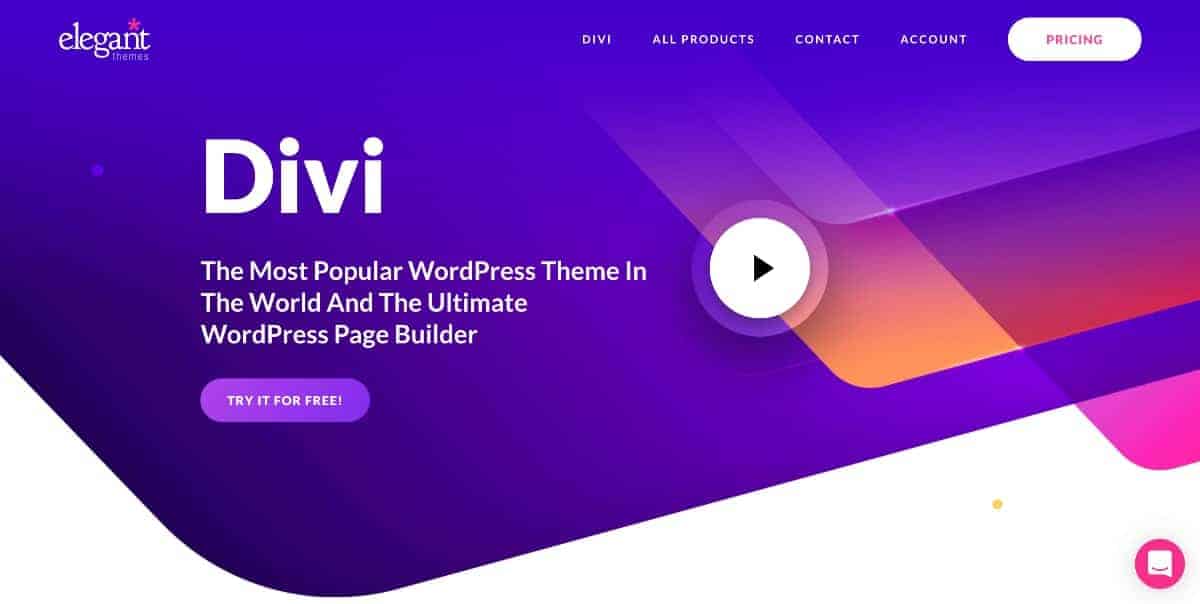 This is our personal recommendation for new bloggers and what we recommend in our blogging courses as well.
Divi is currently the most customizable and user-friendly theme for beginner bloggers on the market.
It has a drag-and-drop editor that lets you design your blog and see how it looks in real-time, as you go along.
You can make your home page look pretty much exactly how you want it to, and they have TONS of resources to help you do so.
They have an extensive library of written and video tutorials to show you how to use their theme and design your blog. More than any other theme I've seen.
With Divi, you can give it a trial run, and if you don't like it, you can either return it OR you can try out any of the other 70+ themes that come with Elegant Themes — at no additional cost.
The biggest and only real downside of Divi is that it has a higher price tag than some others. But we know many bloggers who have used this theme faithfully for years.
The good news is that they have a no-questions-asked, 30-day money-back guarantee, so you can give it a try and say "Nope, it's not for me!" if you don't like it.
This theme is great for anyone that is new or relatively new to WordPress and wants full customization of their blog.
It's not going to be for more advanced users needing fewer customizations, anyone with a pretty good knowledge base of CSS, or anyone willing to pay for help from a web developer.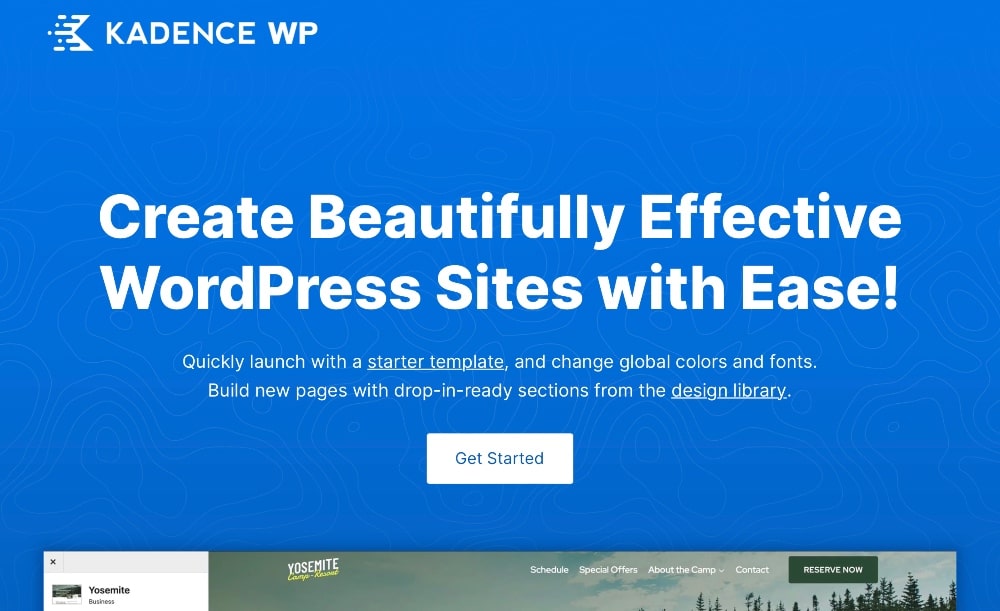 Kadence is a WordPress theme that offers both free and paid versions. One of the best parts of the paid version, however, is that, unlike some paid themes, you can use it on unlimited websites.
If you run multiple websites and are purchasing themes for each of them, needing multiple licenses for use can add up fast!
We first heard about Kadence from our customer service and affiliate manager, Cathy Dean. This is why she loves Kadence:
"They have their own Kadence Blocks which is compatible with the Gutenberg blocks (and they have even MORE block options in the paid version).
The ability to customize this theme is incredible. I was able to mimic the previously custom coded theme of a website I purchased with the Kadence theme and Kadence blocks.
And even though it's highly customizable, it's also lightweight and fast. I feel like it's super user-friendly, and there is no shortage of tutorials out there to show you how to fancy things up."
You can check out the product blocks she made on her own resource page here.
Kadence is also known to provide pretty fast site speed on both desktop and mobile, which can be difficult to achieve with more customizable themes.
According to the theme's website, more than 200,000 companies use its products.
Like many of the themes in this list, the company offers a 30-day satisfaction guarantee for all paid products so you can try it and get a full refund if you don't like it.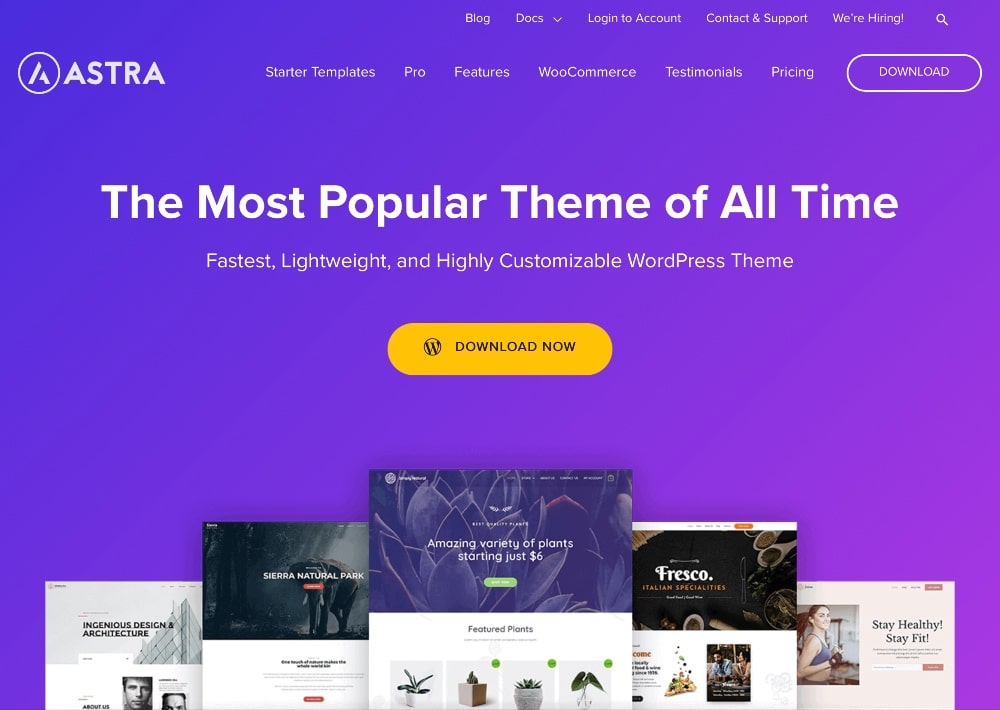 Astra theme is another very great customizable and affordable WordPress blog theme.
They have both a free and a paid (Pro) version. The Pro version, of course, has everything that you need.
But you can also install the Elementor plugin with the free version of Astra to get even more customizability!
Using Elementor with Astra will allow you to create very customizable pages with columns, banners, images, you name it.
But if you're wondering more about the Pro version, Russell Stanley of The Men's Attitude said:
"It's a great theme, and one I use myself because it's lightweight, fast loading, and highly customizable. Plus, it comes with several pre-built Gutenberg blog layouts that you can use right out of the box."
Other page builders like Elementor take longer to build and load Russell says. He went on to say "The pre-built Gutenberg block layouts in Astra are way faster to load. This is good not only for your visitors but also for your Google Core Web Vitals."
Astra has three pricing tiers, and each of them offers a lifetime plan for a one-time flat fee. If you're not ready to try one of the paid plans, however, you can test out the free version or try the Pro version risk-free for 14 days.
All paid plans come with a 14-day money-back guarantee.
Woohoo! Flash is one of the best free WordPress themes on the market that we have found.
It provides quite a bit of customization considering it's a free theme. It's still not going to be anywhere close to as customizable as themes like Divi or Kadence, but if free is your only option, this is a great option to start with.
They also offer a paid version of the theme if you want to upgrade for additional features.
If you want to see it in action, you can check out my personal website which is designed with Flash: laurenmcmanus.com
I chose it for my personal website because it's not monetized and it doesn't have much content on it. Basically, it doesn't need many bells and whistles.
I found this theme rather limiting for certain designs, but if you can make it work with the blog design that you envisage, it's a fantastic theme.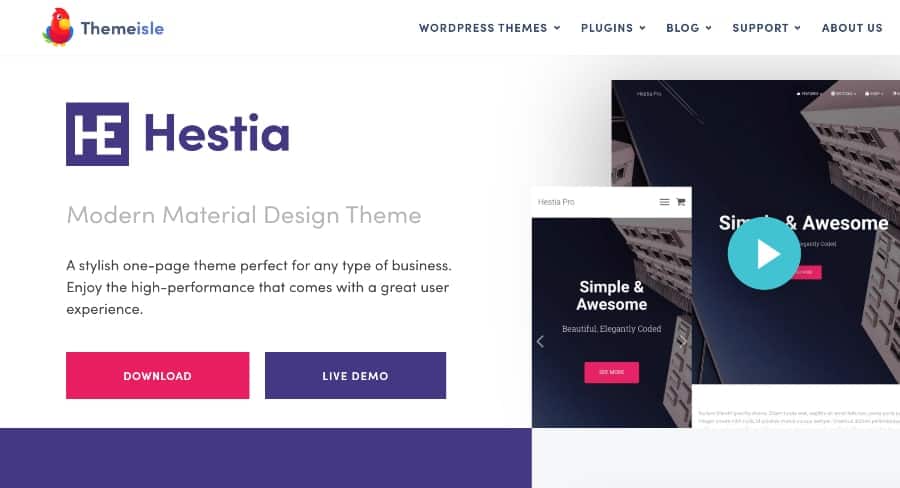 Hestia is another great WordPress theme that has both a free and a paid version.
Like Flash, you can make quite a few customizations on your homepage with the free version. You can change your menus, your header images, create columns, and all kinds of other good stuff.
We reached out to another blogger, Michael Dadashi of Infinite Recovery, to ask about his experience with Hestia's Pro Version.
Michael said, "One feature we particularly appreciated was the option to include parallax images or movies in the header, which makes for a more engaging user experience."
Another cool feature is that you can modify the section headings for each page individually, which is pretty cool.
Hestia Pro also offers a 30-day money-back guarantee.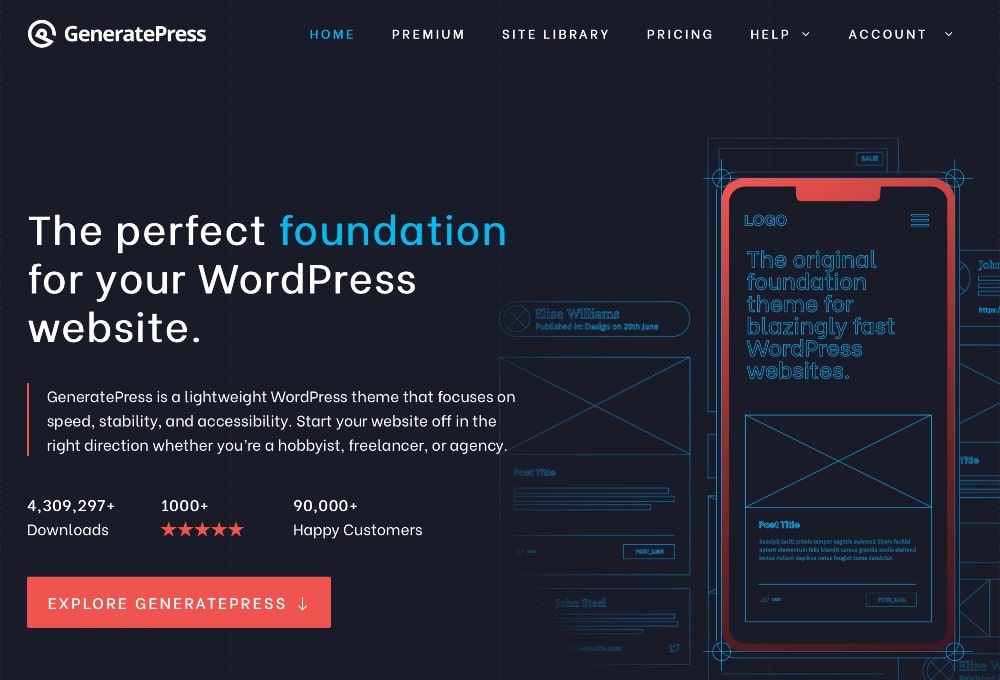 GeneratePress stands out because it's a "lightweight WordPress theme that focuses on speed, stability, and accessibility."
The problem with adding a lot of customizations to your blog is that it can often slow down your website. Page speed is often an afterthought and can hold you back from growth in your traffic.
Mark Webster from Authority Hacker said:
"With GeneratePress and GenerateBlocks, there's no need to use a page builder anymore, in my opinion. This combo allows you to create rich content pages that were only possible with the help of a developer or a sluggish page builder.
I've been able to recreate pages entirely with GeneratePress that have been fast enough to pass all Core Web Vitals metrics without sacrificing the design elements that slower page builders and themes need."
GeneratePress is a really popular theme amongst bloggers, with more than four million downloads.
Like most of the other best WordPress themes on this list, the pricing plans include an annual fee or a higher one-time fee.
GeneratePress also offers a 30-day money-back guarantee!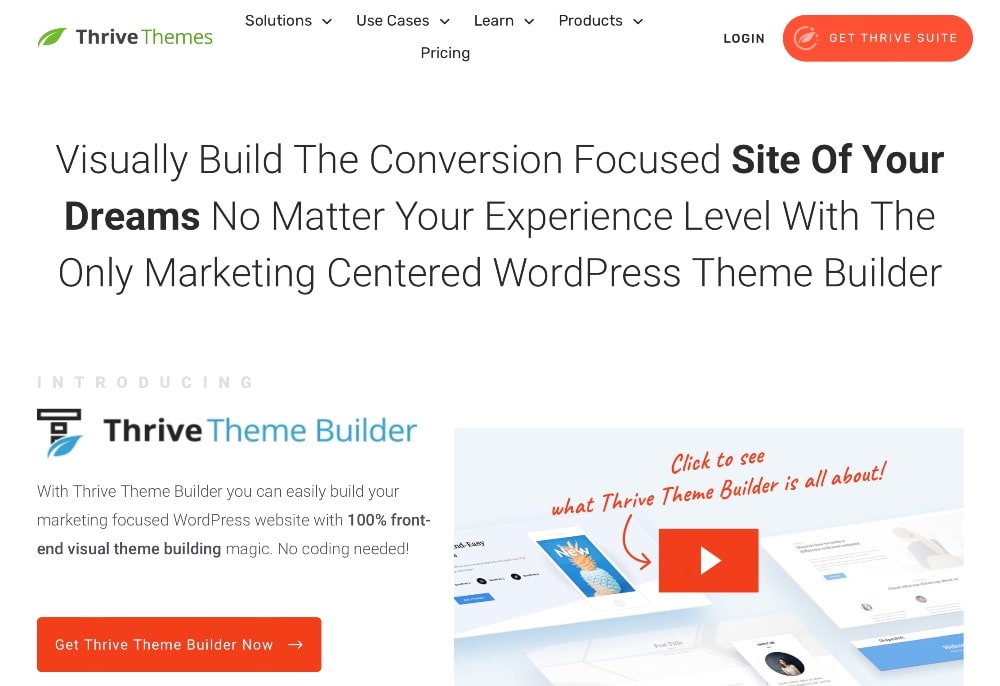 I'm a big fan of Thrive Themes. We've used various products of theirs over the years for everything from website themes to lead generation.
Builder by Thrive Themes provides a TON of customization for your website. As their homepage states, "100% front-end visual theme building magic."
Elley Shippey of EZContacts gives her opinion on this theme:
"Every part of your WordPress blog, from the post templates to the header and footer to the page layouts to the search and category pages, may be modified to your liking.
Even if you're just starting out with WordPress, you won't have any trouble working with or customizing this theme."
Elley also said, "The Thrive Theme Builder adapts to any device, is conversion-focused, and works with numerous other programs. In addition, the theme comes with a plethora of options for altering its visual aesthetic."
There is no free version available for Thrive Theme Builder, but it does come with a 30-day money-back guarantee.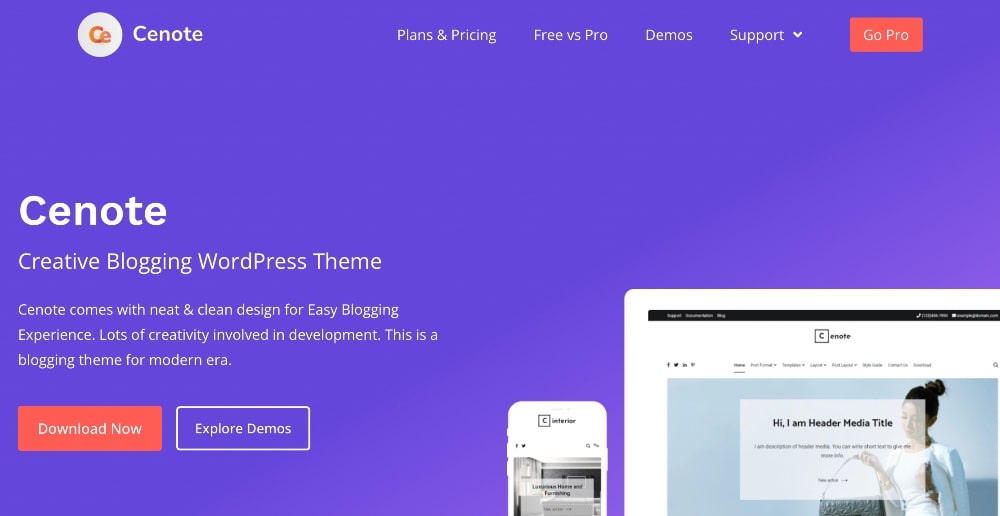 Cenote is another great theme that promises good page speed!
ThemeGrill focuses on site performance as their #1 priority, and the promised Pingdom scores are highlighted right on the homepage.
As their website states:
Pages load in under 1 second
Optimized for speed
Results are tested with different speed-testing tools
Cenote offers a lot of customizability and also offers both a free and paid version with a 14-day money-back guarantee.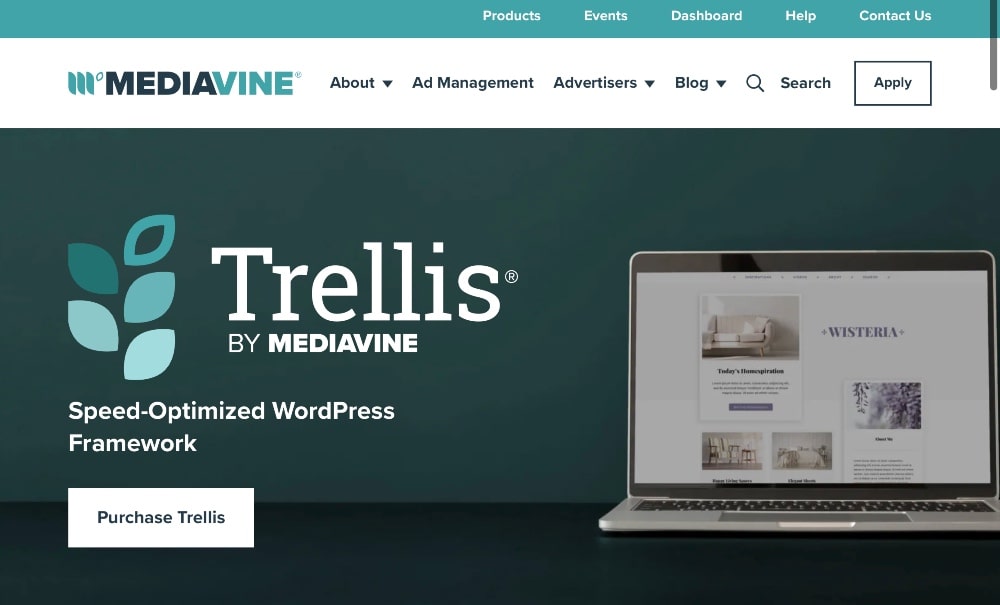 The Trellis theme was created by Mediavine, one of the most popular ad networks for bloggers, and therefore most users are also Mediavine publishers.
While that's how many people hear about it, you don't have to be a Mediavine publisher to use Trellis.
Some popular features of this WordPress theme include:
A user-friendly interface
It's optimized for ads – great if you meet Mediavine's requirements to join
Trellis images – helps your photos load faster for better page load time overall which can help with SEO ranking
If you already publish with Mediavine or plan to, this is one of the best WordPress themes on this list for you because this theme is optimized for monetization with ads.
There is no free version of this theme, but they have a variety of pricing plans and also a 30-day, money-back guarantee.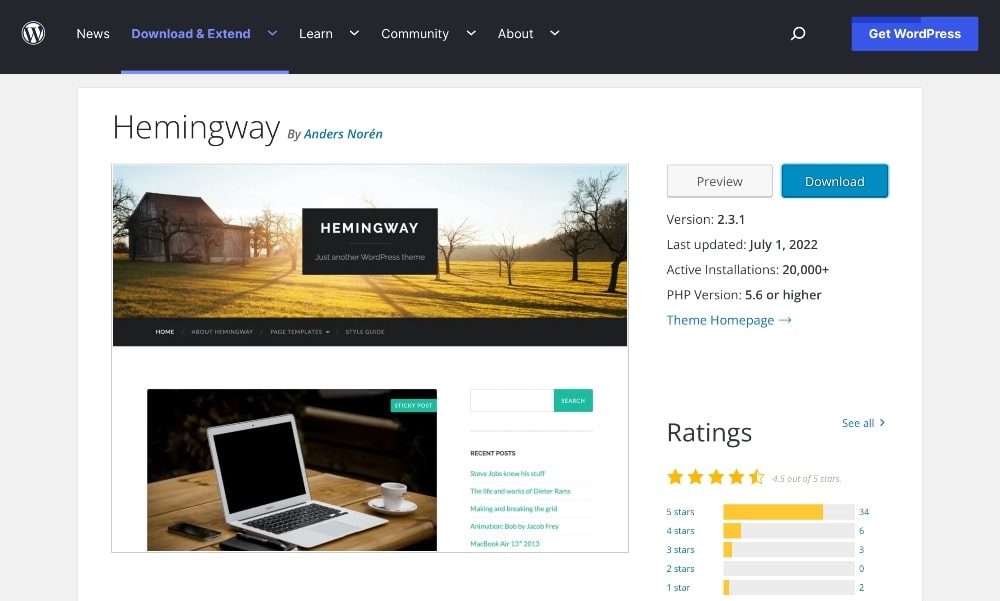 If you're looking for clean simplicity, Hemingway is going to be the best WordPress theme on this list for you.
Hemingway is a free theme with few customizations but a very clean design and easy setup that allow you to save a TON of time with a great design.
Sometimes, the amount of customization and flexibility can be super overwhelming. I like that this theme just is what it is and it looks really nice.
It really simplifies the design process and helps you move on to other areas of growing your business, like building an SEO strategy or monetizing your blog.
Hemingway is great for new bloggers who want to start off with a free WordPress theme and simplify the design and learning curve.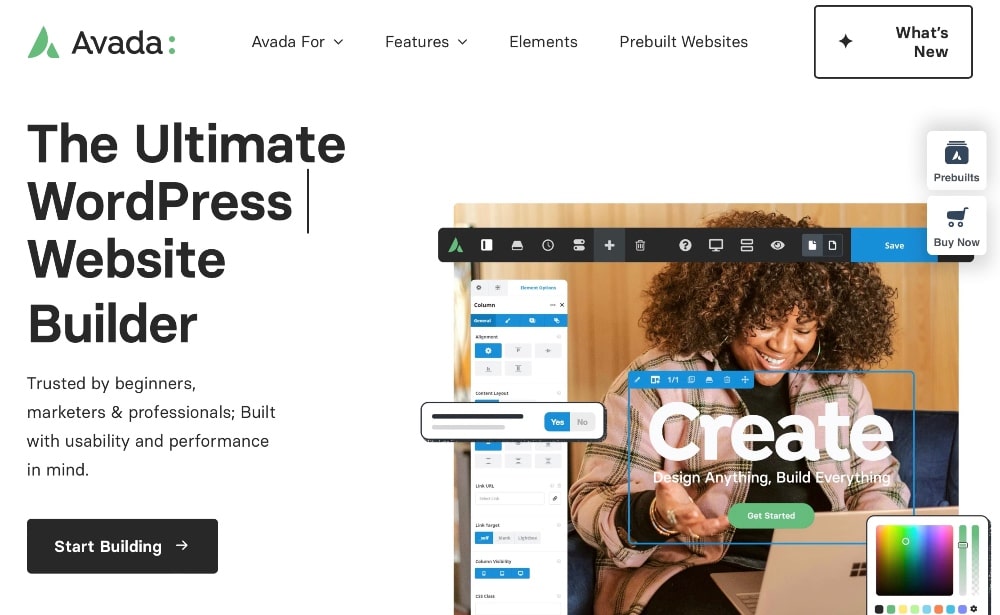 Avada is the WordPress theme I used for the first few months of my first health and wellness blog. At the time that I used it, it had fewer customizations than it does today, so I switched to another theme.
But they have made a LOT of upgrades to it, and I've used it a few other times on other websites since then.
Avada has tons of customizations and also has quite a few tutorials and documentation to help you learn how to use the theme. It's not quite as intuitive or user-friendly as Divi or Kadence, but it does come with a lower price tag.
My biggest issue with Avada is that they have a very poor refund policy, in my opinion. They specifically do not offer refunds if you decide you don't like it or it wasn't what you were expecting.
The policy is actually set by Envato Market, where the theme is offered, but it's not very flexible. So, if you buy this theme, you'll need to make it work for you.
Genesis Framework is generally considered to be the fastest theme on the market.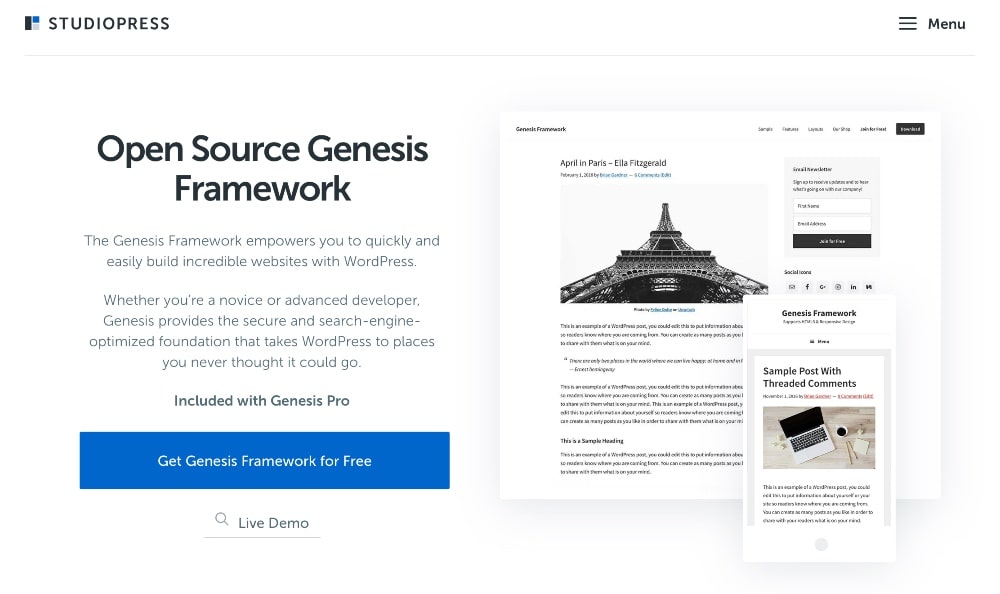 I originally purchased Genesis for my first health and wellness blog because I had heard so many good things about it — and it turned up in articles like these!
So I dove in excitedly, but unfortunately, I very quickly learned that Genesis is quite difficult to customize.
After purchasing Genesis Framework, I then had to purchase a Genesis child theme, and ON TOP OF THAT — I still had to purchase a customization plugin.
$150 later and I STILL couldn't customize much on my blog without custom coding. I had been blogging for over a year at this point too, so I technically wasn't even really a newbie anymore.
It's mentioned in blogs often because it has a good affiliate program, one that we are also a part of. But in our opinion, this is not the theme that you start with.
We only started using it on this website when we could afford to pay someone $1,000 to design it with some custom coding to make it look better.
Genesis is like the Lamborghini of cars… driven by a 5-year-old… on the wrong side of the road. You'll likely end up crashing and burning. Real fast.
Haha okay, maybe not that bad. But the point is that it has a pretty high learning curve.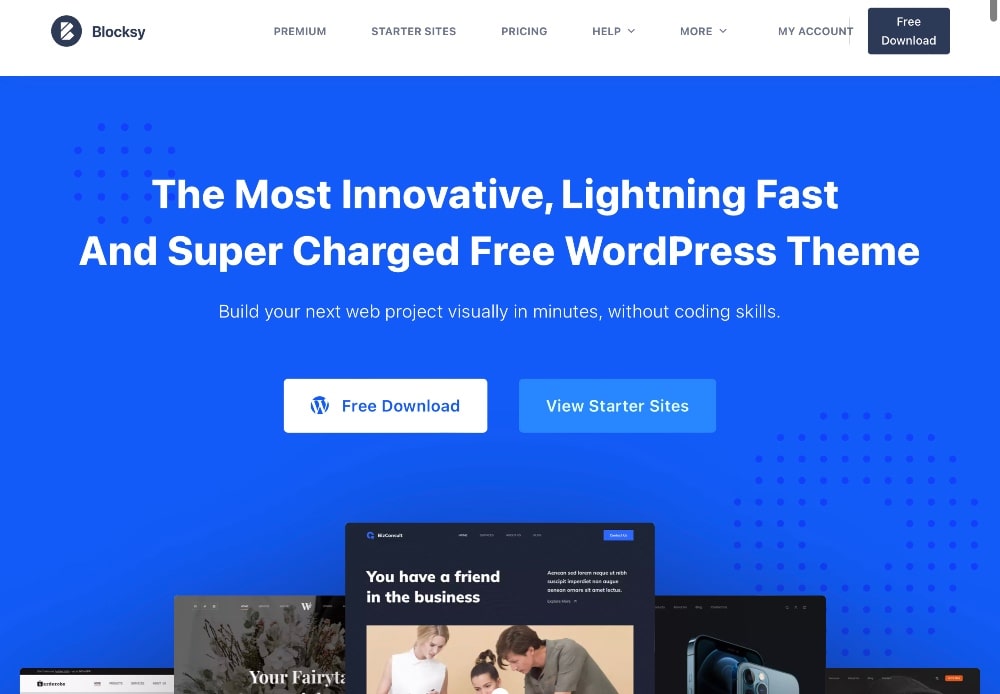 Blocksy provides is another great WordPress theme for bloggers that is pretty customizable while also maintaining good site speed and performance.
Some of the more popular features of this theme include:
Enhanced header and footer builders
Custom sidebars
Custom fonts
And a lot more, including good customer support
The good news is that there is also a free version of Blocksy, although it comes with a lot fewer customizations than the paid version.
Blocksy also offers a 14-day, money-back guarantee.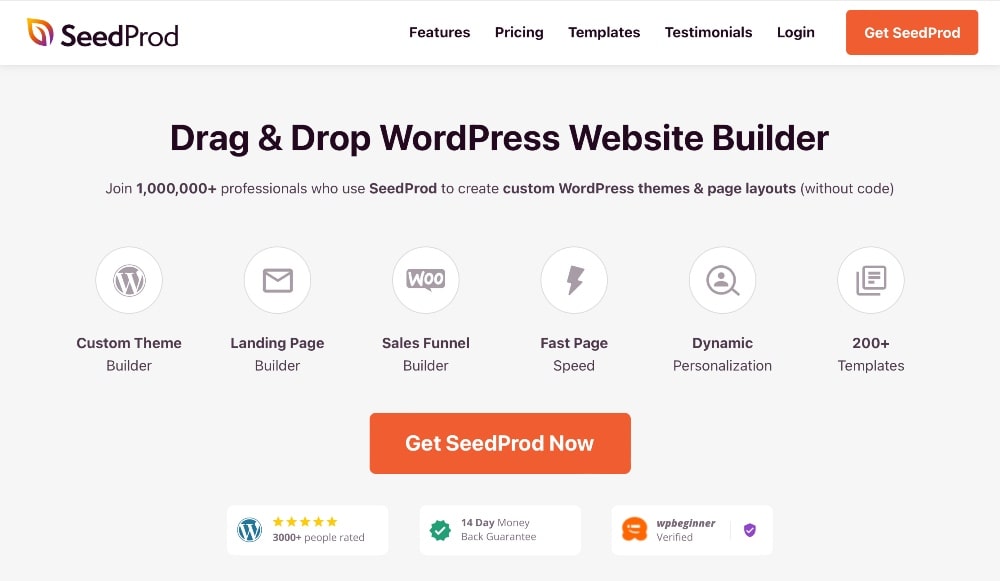 SeedProd is another one of the best WordPress themes that provide a lot of customizability due to its drag-and-drop landing page editor.
Some of the other features include:
Fast loading times
Sales funnel builder
More than 200 templates, and more
No free version, but SeedProd has a variety of plans depending on how many websites you own and they all come with a 14-day, money-back guarantee.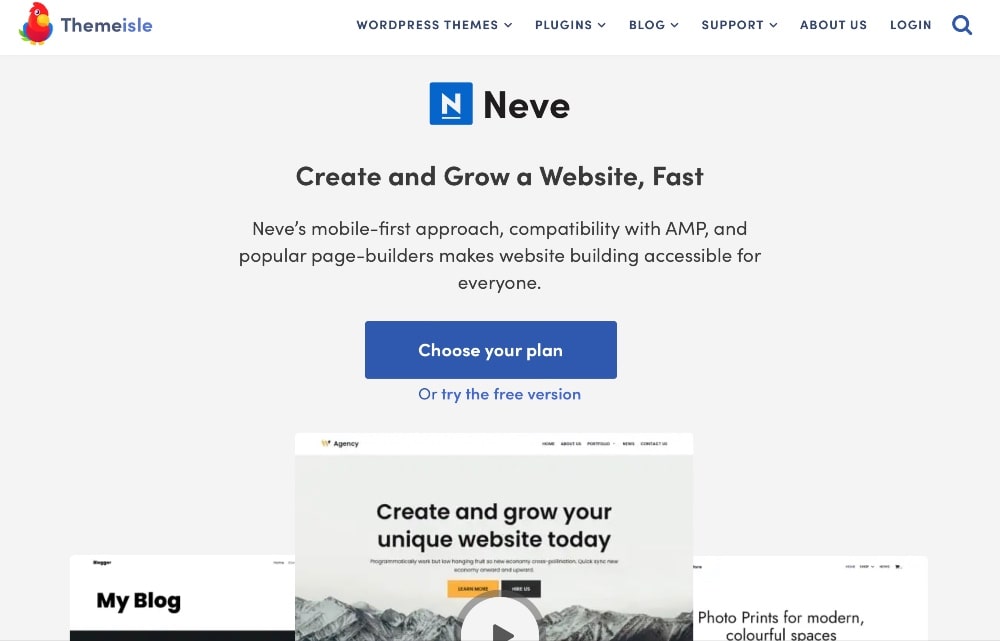 Neve is another great WordPress theme that provides good customizability and site performance. It's also known for its user-friendliness and has a free version you can try.
Sira Mas of Wealthendipity said she likes to use Neve on brand-new websites for this reason:
I" always recommend Neve to creators who are building their first blog because it's easy to set up and customize, and it's great for site speed – especially if you combine it with plugins like Shortpixels, to load images faster, and WP Rocket, to optimize the performance of a website and boost its loading time."
When you're ready to upgrade, they do offer a paid version of their theme as well that comes with more features, and all paid plans come with a 30-day money-back guarantee.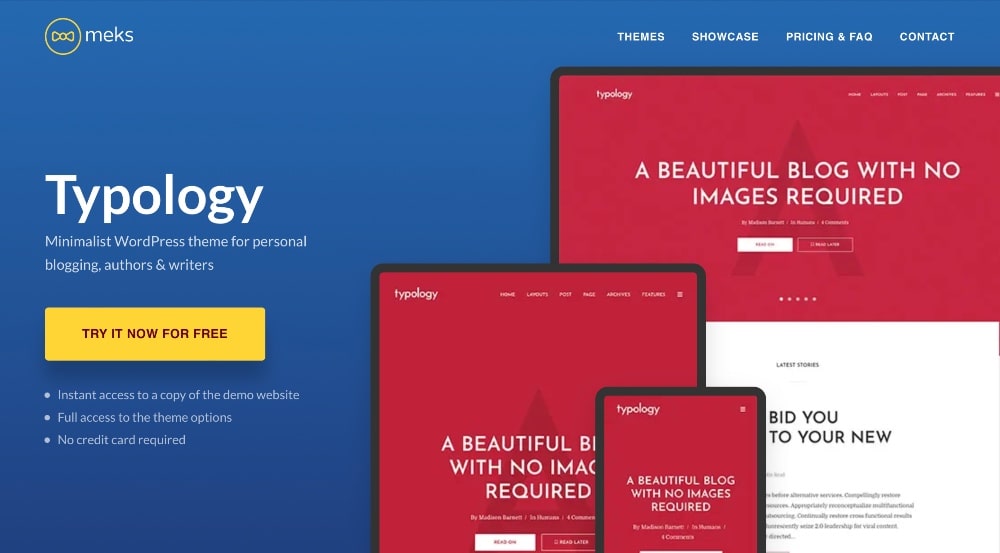 Got a text-heavy blog? Typology is another minimalist theme that is marketed as "no images required."
This WordPress theme is geared towards writers and focuses on the words and readability rather than the bells and whistles that many other themes provide.
Because of that, this theme won't give you as much customization as others mentioned on this list such as Divi, Kadence, or Astra.
William Drow of Starlinkhow says: "If you only want a place to write and don't care about things like photos or videos, Typology is the perfect minimalistic WordPress theme for your blog.
Its primary goal is, like Hemingway, to highlight your writing without distraction. Add photos and video if you like, but they won't detract from the page's readability or focus on the text."
Typology has a number of different pagination options, notably infinite scrolling, and a sidebar where you may put your own widgets.
One other cool feature is that Typology allows you to add multiple others to one post if that's something you're interested in.
Unfortunately, this is a paid theme with no free version and because it's for sale on Envato Market (like Avada) — it also has a pretty strict no-refund policy.
There is an option to demo the theme if you want to see what it looks like!
17. Ashe (Travel, Lifestyle, and Entertainment)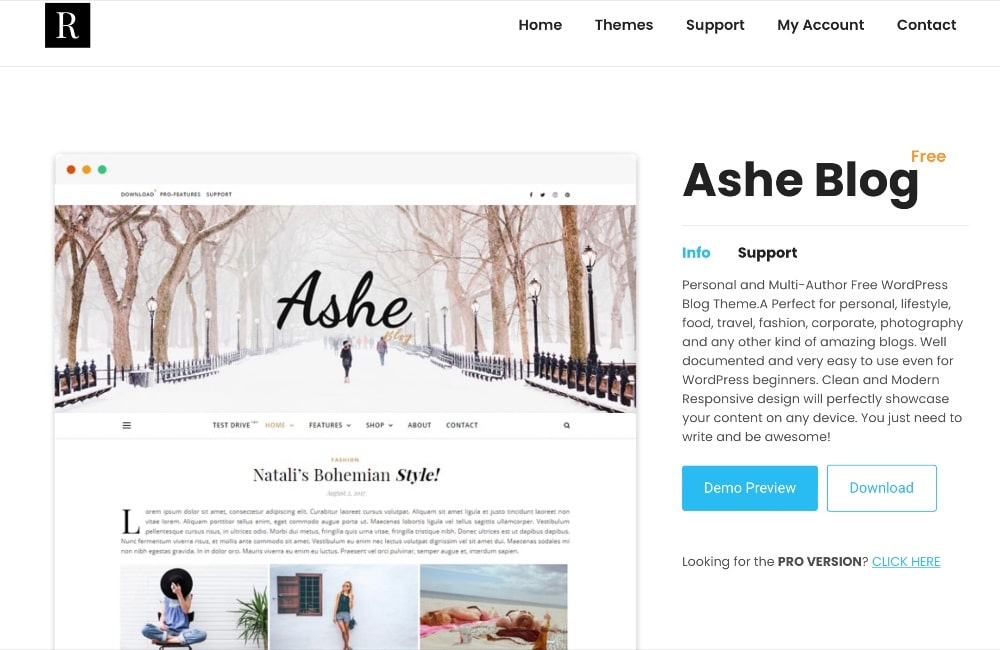 Cody Candee, founder and CEO of Bounce, has nothing but great things to say about Ashe:
"Any business that focuses on visuals in their blogs should consider the Ashe theme for WordPress.
Most free blog themes have standard setups in which there are designated places for their written content to take center stage and the visuals, while helpful, serve as simply a supporter of their written content.
However, if you need a theme in which the visual qualities are critical and get equal billing, then Ashe offers a complete set of:
stunning headers,
great image and graphic placements,
and a multi-blogger platform in which all imagery will draw as much attention as the written content.
For bloggers whose content centers around lifestyle, travel, or entertainment, and who require their visuals to drive home their points, then the Ashe theme is the ideal platform with its eye-catching qualities that will hold your audience's interest."
Ashe offers both a free and Pro version, although keep in mind that the 30-day refund policy only applies if you experience problems with the theme — which is as good as a no-refund policy.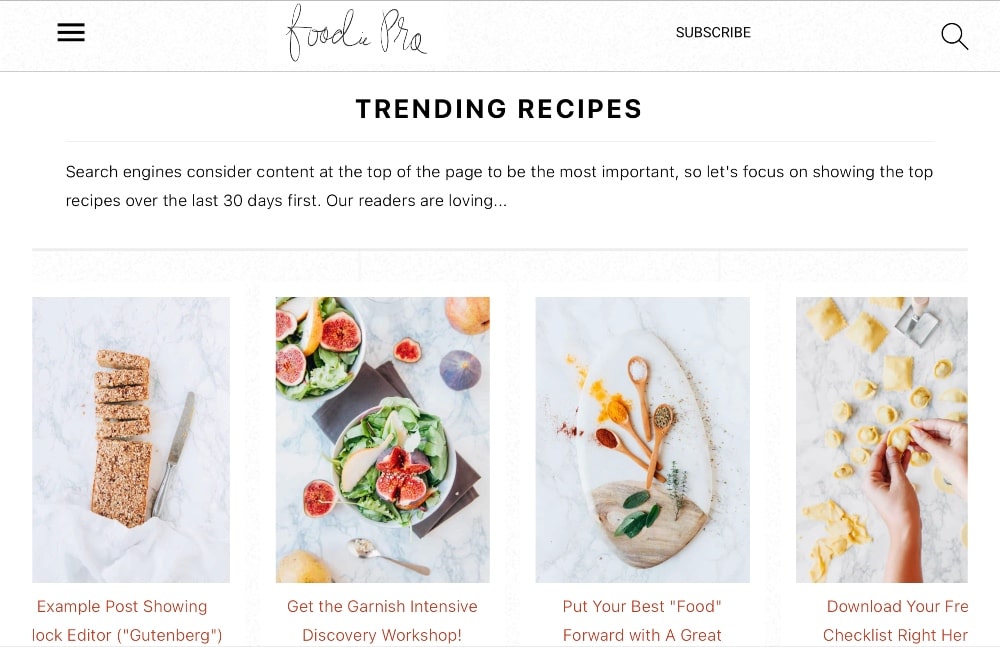 Foodie Pro is for all of my food bloggers in the house! If you have a food blog, you likely have different needs than the rest of us.
You generally want a basic design that showcases your recipes and images prominently. This WordPress theme does just that.
It's simple, which means that you can design your blog quickly. But it's also flexible, providing for basic customizations like typography and color schemes.
Monetizing with ads is also often a pretty important thing for food bloggers. FoodiePro is a very responsive theme and works well with ad placements.
The Foodie Pro classic theme, as stated on their website, is "only suitable only for bloggers in their first year whose sole focus should be writing 100 high-quality recipe posts."
And while there are tutorials for this theme online, there isn't any customer support if you run into any trouble. That's probably why this theme is one of the least expensive on this list of best WordPress themes.
If you like this theme but you want more customization and regular updates, you can also purchase the Feast Plugin instead because it includes the Foodie Pro theme as well as five additional themes.
Unfortunately, no refunds on this theme, so make sure you're set on it and maybe watch those tutorials first before deciding if it's right for you.
This a good reminder to read the terms and conditions before purchasing anything for your blog because while many software products are flexible these days, some are not.
19. Magnus (Photography Blogs)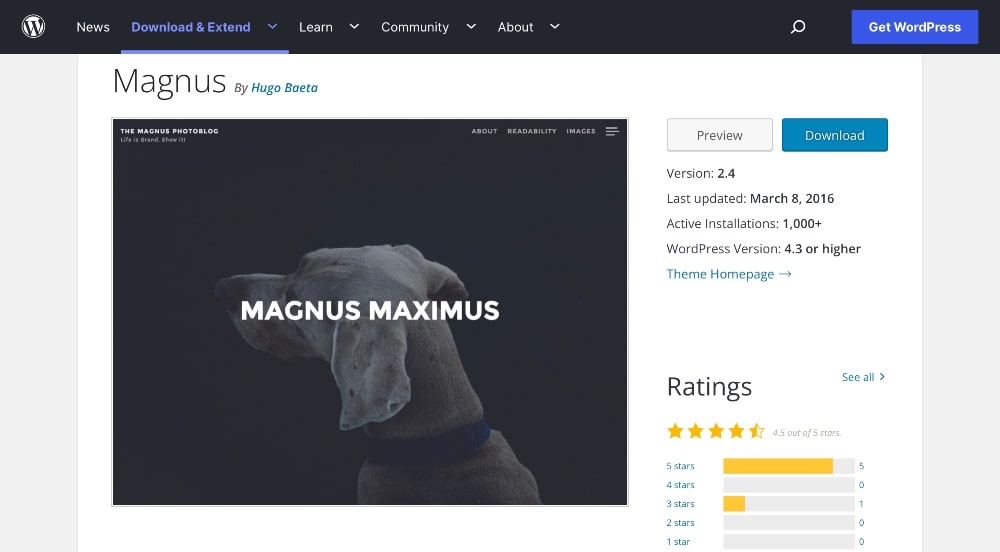 Jake Cowans of the Company Scouts blog said this is the go-to theme for photography blogs.
He said, "Magnus is the best theme for you if you're a photographer who uses your blog to convey a message. Given the emphasis on visuals, you'll want to have some stunning images to accompany your text.
The homepage showcases your work in terms of images and headlines. And it has a neat hover effect to make your website look modern. When someone clicks on one of your blog posts, the featured image will fill the screen in its entirety, and your writing will appear below it in a beautiful, easy-to-read font.
Magnus is a great option to try out if you want your blog's focus to be on both your images and your writing."
Magnus is a free theme and doesn't get updated often, but it still may be a great free theme for you to try if you have a photography or visually-similar blog.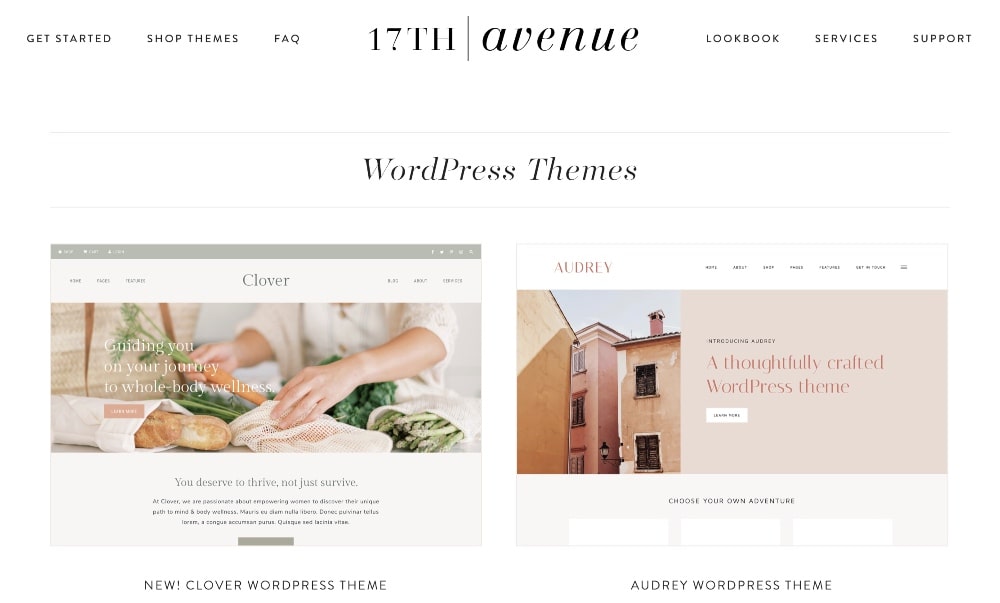 Are you a lifestyle blogger? If so, this might be your time to shine. 17th Ave Themes are very popular among lifestyle, beauty, and fashion bloggers.
Houneida Bechlem of With Houna said that her favorite is the Clover theme. She initially started off with the Amelia theme and was happy with it, but she prefers Clover.
"It's a drag-and-drop theme, with no coding or building pages. You'll feel like a web developer using it without worrying your website will load slowly with all the items you've added."
This is another WordPress theme with a no-refund policy, which seems to be pretty common amongst smaller businesses.
Which WordPress theme is right for me?
I think only you can decide that, but I will tell you what our top picks are:
Thankfully, many of these best WordPress themes have a free version and/or a money-back guarantee. I highly recommend starting with a theme that provides this flexibility when you're first starting so you can see if you like it.
There are a lot of costs to start a blog, so you need to find what works best for your blog and your budget.
Are there any other WordPress themes that you have tried and think should be on this list? Let us know in the comments!