We partner with bada$$ companies that offer products that help our readers achieve their goals! If you purchase through our partner links, we get paid for the referral at no additional cost to you! Read our disclosure for more info.
Grammar checker tools have exploded in popularity in the last decade with the ever-increasing amount of content on the internet.
Whether you're writing a blog post, a research paper, an essay, or any other piece of content, a grammar checker can save you a ton of time and even money.
Grammar checkers help to proofread your documents by scanning the text and identifying grammatical mistakes such as spelling, phrasing, and punctuation and even suggest quick fixes.
It greatly speeds up the review process and can help you save big before hiring a proofreader.
Now, these tools don't entirely erase human proofreading. They don't guarantee to catch every mistake, but they will catch the vast majority of them.
In this article, we're going to cover the best grammar checker tools for a variety of purposes.
Here is a quick overview of our top picks if you're short on time or want to skip ahead:
But it's not just about correcting simple grammar and punctuation.
Let's first talk about what to look for in a good grammar checker.
What to Look for in a Grammar Checker Tool
When it comes to choosing the best grammar checker tool, there are a few factors to consider.
The most important factor is the accuracy of the tool itself.
Accuracy and Type of Errors Detected
Your grammar checker should be able to detect and correct any errors in grammar, spelling, and punctuation, including typos, subject-verb agreement errors, incorrect use of homophones, misused words or phrases (like desert and dessert), confusing sentence structure, and more.
Make sure that the tool that you choose is regularly updated with new features and improvements.
Check for the accuracy of the error detection as well as the number and types of errors that the software detects.
Usability
Another factor to consider is usability. How easy is the program to use and detect errors?
Some grammar checkers are browser-based, some require a login, and some may require an app.
Tools like Grammarly have a browser extension that allows you to detect errors while you write in a browser (like in WordPress, Google Docs, Gmail, etc.).
That makes the usability of this tool much easier than other tools that you have to input your text after you're finished writing, although it could certainly prove to be more distracting for some.
Consider how easy the tool is to use and detect errors and how that fits in with your writing style and process.
Pricing
Of course, when deciding on any type of software, you probably want to consider the cost.
There are many free grammar checker tools on this list, so there is something out there for everyone.
But consider what types of mistakes are detected with the free versions, because premium grammar checkers may be worth the upgrade for some people, especially if you're writing for professional or academic purposes.
If you need access to more advanced options such as reverse spell checks or lexical analysis tools then it would be worth paying for a premium subscription if needed.
What is the Best Grammar Checker Tool?
Best for: Overall top pick for best grammar checker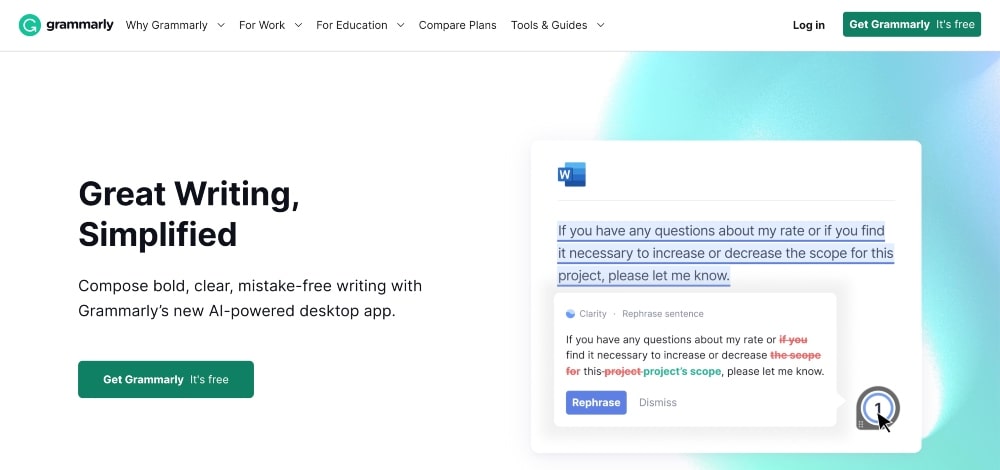 Grammarly is an AI-powered writing assistant and grammar checker designed to provide feedback on grammar, spelling, punctuation, and more.
Grammarly can not only detect common errors but also suggest ways to fix them with detailed explanations of why the correction is necessary and helpful tips on how to avoid similar mistakes in the future.
Perhaps the most notable feature of Grammarly is the browser extension to correct errors as you write, making it the easiest tool to use on our list.
The types of mistakes that Grammarly detects range from basic to more complex errors, including typos and incorrect words, sentence structure, and word choice.
Another great feature of Grammarly is its "Clarity Check" feature, which helps you rephrase complex sentences into simpler ones so that readers can understand them better.
Grammarly also offers useful editing tools like a plagiarism detector, which scans your documents against billions of web pages in order to detect potential cases of duplication or copyright infringement.
The "Style Check" feature uses AI algorithms to determine whether your writing follows the correct conventions associated with the genre you are working on.
Grammarly also offers a variety of other services such as vocabulary improvement suggestions based on popular books in various genres, personalized comments providing guidance on how to improve certain areas of your writing, and even dictionaries featuring synonyms for commonly used words so that you can vary your word choice.
Key Features
Grammar, punctuation, and spelling checks
Online writing assistance
Plagiarism detection tool
Advanced explanations of grammatical rules and errors
Voice-to-text dictation feature
AI-Based suggestions for style improvements
Integrations for MS Office Word and Outlook
Real-time synonyms and tone adjustment suggestions
Contextual spell checker on mobile devices
Customizable dictionary and thesaurus
Browser extension for quick corrections while you type
Pricing
Free: Basic writing suggestions and tone detection
Premium: $12/month for clarity, vocabulary, and tone improvements
Business: $15/user/month for teams and large organizations
Our Opinion
Grammarly is the best grammar checker software on this list, in our humble opinion. It's what we've been using for years.
It has a great free plan that will be sufficient for most people, but it also has an affordable paid plan for academics and professionals who need more advanced corrections.
Best for: Learning improvement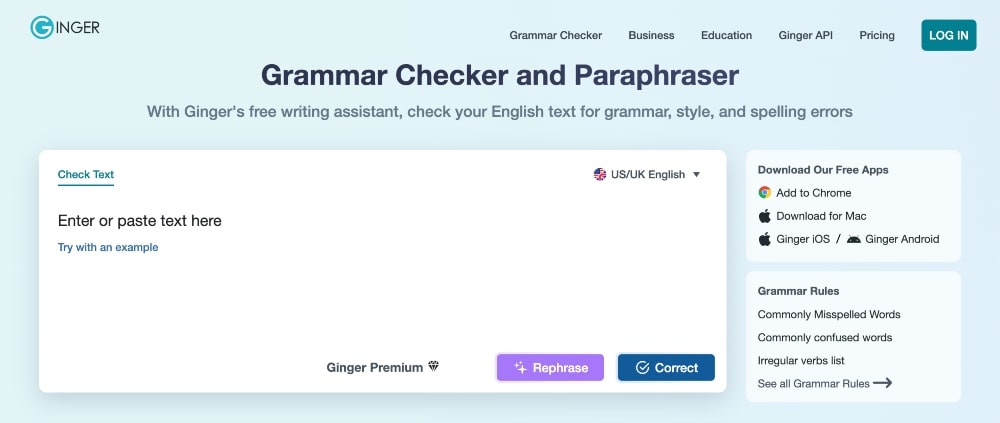 Ginger is an automated grammar checker designed to help you improve your writing skills.
It corrects spelling, grammar, and punctuation mistakes, as well as provides synonyms, word definitions, and sentence rephrasing options.
This makes it a great tool for those who struggle with English language fluency, allowing them to quickly find and fix errors in their writing.
One of the key features of Ginger is its ability to detect context-specific errors. For example, it can recognize incorrect verb tense usage or subject-verb agreement errors.
It also suggests corrections to misused words and provides explanations for why certain grammar choices are incorrect.
Ginger also offers a personalized learning experience that keeps track of which mistakes have been corrected and creates an individualized practice plan based on each user's needs.
This lets users target areas where they need additional help, such as with difficult verb conjugations or confusing phrasal verbs.
Ginger also has a browser extension so that you can use the app anywhere on the web, including browser, email, social media, and more.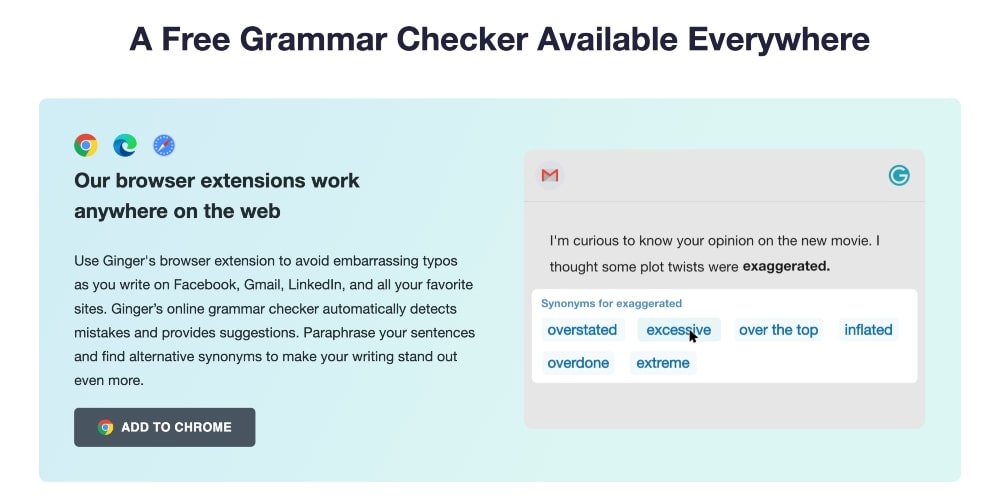 Key Features
Natural language processing capabilities
Advanced grammar and syntax analysis tools
Automated spellcheck for accurate writing results
Sentiment analysis to determine customer emotion
Automated content creation tools for copywriting, articles, blog posts, and more
Relevant topic suggestion engine to help write better content faster
Conversation intelligence features such as natural reply suggestions
Ability to detect tone in conversations
Generate quality leads with automated lead-generation tools
Pricing
Free: Basic corrections and mistakes detected
Premium: Unlimited rephrases, translations to 40+ languages, and more. Starting at $4.99/month.
Teams: $4.99/user/month
Prices for the premium plan increase depending on how long you sign up for. The most affordable monthly rate stated above requires a 2-year plan.
Our Opinion
Ginger is an intuitive and comprehensive grammar checker that can significantly enhance the accuracy of English language writing by providing detailed corrections and explanations for common mistakes.
The standout feature of this tool is the personalized learning experience offered to help you learn from your mistakes and avoid making them in the future.
Best for: Authors and writing professionals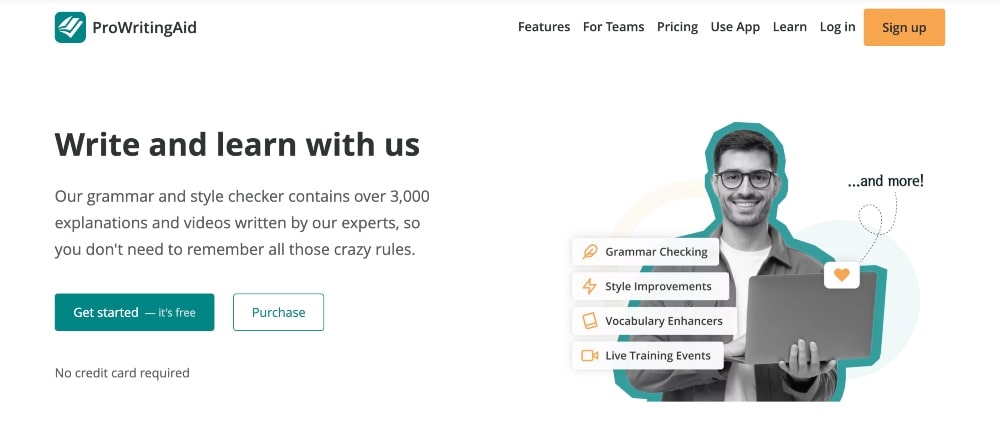 ProWritingAid is a powerful writing tool that helps authors of all levels craft compelling and engaging content.
Through a comprehensive suite of writing analytics, ProWritingAid helps authors make sure their text is accurate, clear, and consistent.
It helps to identify common errors in spelling, grammar, syntax, overused words, clichés, and redundancies, as well as more subtle issues like sentence variety and readability.
The program also offers suggestions for improving word choice and style consistency across the entire document.
In addition to its editing tools, ProWritingAid includes a range of other useful features, including an analysis of summary statistics such as sentence length and word frequency.
You can also view detailed summaries of the key themes you're exploring in your work with the keyword density report, which checks to see if you have explored all aspects of a topic or overlooked certain ideas or points.
It also has a built-in plagiarism checker to ensure that you haven't included any material copied from another source without proper attribution or acknowledgment.
Another standout feature is the Creative Writing Prompts, which you can use to get ideas for stories or creative pieces.

Key Features
Automated editing for spelling and grammar errors
Contextual thesaurus to enhance word choice
Comprehensive writing style checker with more than 20 points of analysis
Plagiarism checker with a library of over 8 billion web pages, books, and articles
Text comparison feature so you can easily spot duplicate text in your documents
Sentence structure analyzer to identify stylistic issues
Robust reports provide exact insights into areas of improvement
Focus Mode to eliminate distractions when writing or editing
Readability score indicator shows how easy your content is to read
Mobile app available both on iOS and Android devices
Pricing
Free: 500-word count limit
Expert: $10/month for unlimited word count, rephrases, and more.
Our Opinion
The free version of ProWritingAid is quite limited with the 500-word count, so you're better off with Grammarly or Ginger if you're looking for a free option.
Otherwise, ProWritingAid is a great premium grammar checker for authors and writing professionals who can take advantage of additional features such as keyword density and the Creative Writing Prompts.
Best for: Creative writing and customizable writing improvements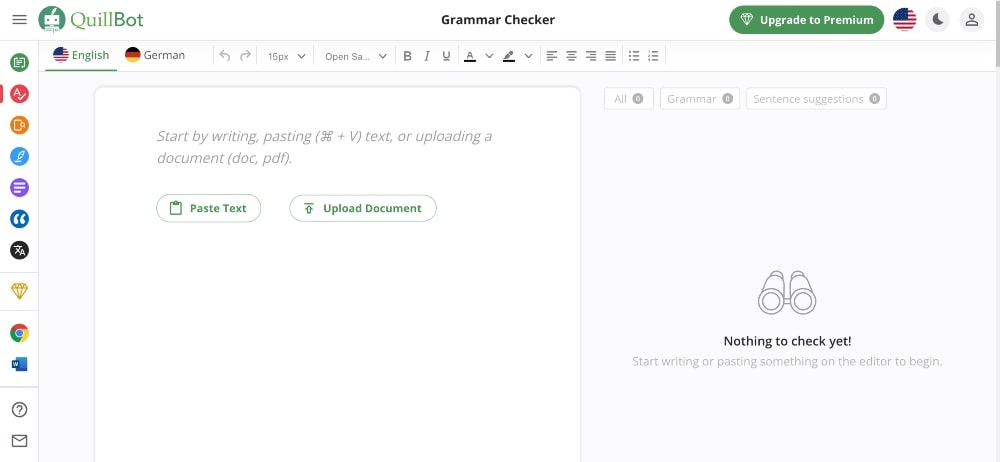 Quillbot is a grammar checker and writing assistant tool that uses algorithms to suggest edits and rewrite text with more natural language and higher semantic richness.
Quillbot's primary feature is its ability to detect errors in grammar, spelling, punctuation, and sentence structure as well as provide suggestions for improvement.
You'll get advice and recommendations such as inserting stronger verbs or breaking up long sentences into shorter ones, and you'll also get a detailed report on your writing proficiency level to track progress over time.
Quillbot has a range of features designed to make writing easier and more effective, such as a context-aware spellchecker technology that can detect errors even in uncommon words.
One cool feature of Quillbot is that you can customize your settings according to your desired writing style or tone of voice, giving you greater freedom to express yourself.
Quillbot also offers several other writing tools, including an advanced auto-suggestion feature to suggest phrases based on context, a paraphrase generator function to rephrase entire blocks of text, and a built-in summarizer tool that quickly analyzes long texts and compresses them into shorter summaries.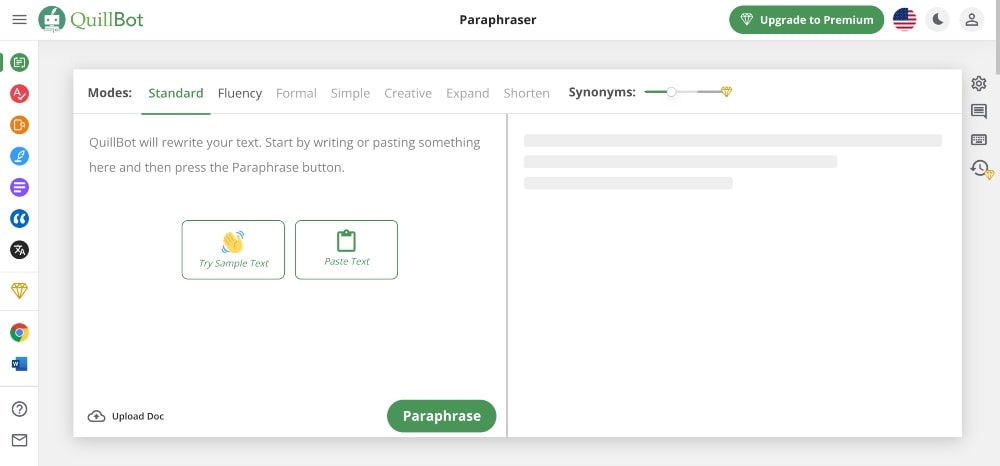 Key Features
Automated content generation
Access to millions of royalty-free images and media for your content
Ability to quickly generate high-quality articles, blog posts, and other digital content
Accurate grammar checks and document improvements from an AI proofreader
Generate fresh ideas for topics with the Topic Generator feature
Create engaging SEO-optimized titles that capture attention
Spin existing pieces of text into multiple unique versions.
Use Quillbot's AI writing assistant tool to speed up your creative process
Pricing
Free: Basic corrections + limited words for the Paraphraser and Summarizer
Premium: Unlimited words for the Paraphraser + 6,000 words for the Summarizer and other premium features. Starting at $8.33/month.
Our Opinion
The Quillbot grammar checker provides a lot of flexibility and customization options that some other tools don't offer.
A couple of our favorite standout features of this software are the Paraphraser and Summarizer tools.
Quillbot is an ideal choice for anyone who does a lot of creative writing or who wants customizable improvements in their writing style.
Best for: Budget-friendly grammar checker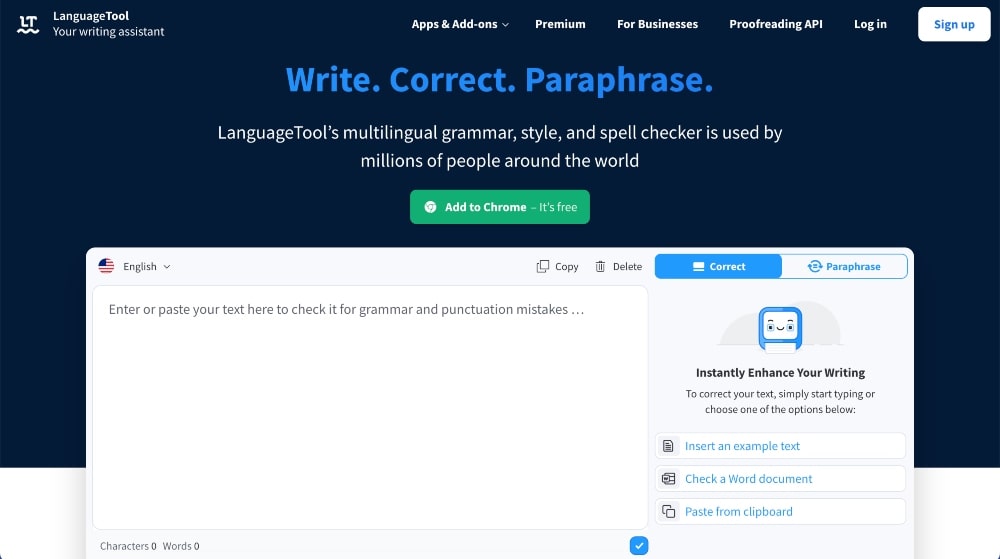 LanguageTool is an open-source, online grammar checker that can be used for both formal and informal writing, such as essays, emails, reports, memos, and more.
LanguageTool checks for basic spelling mistakes like incorrect words or misspellings as well as more complex issues such as grammar errors, punctuation errors, redundancy, confusion of words with similar sounds or spellings (homophones), consistency of verb tenses and conjugations across sentences, agreement between subject-verb pairs or noun-adjective pairs.
It can also provide suggestions for synonyms or phrases with the same meaning in order to enhance the semantic richness of your text.
LanguageTool also features a "style suggestion" feature that provides advice on stylistic choices that can result in an improved readability score by suggesting alternative wording or sentence structure so that readers will better understand your ideas.
This feature also has a built-in dictionary which allows you to easily compare your choice of words against industry standards or commonly accepted terms from a particular field of study.
LanguageTool includes rules for more than 20 languages, including English, French, Spanish, German, and Chinese.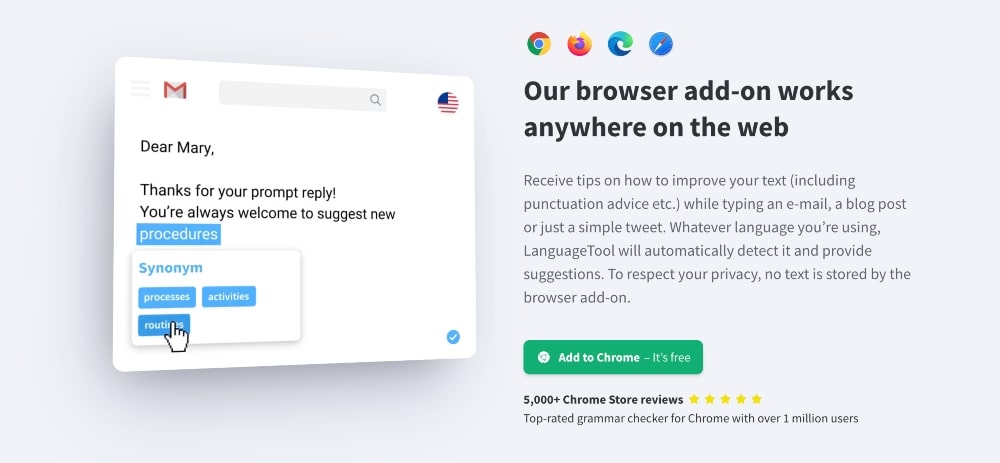 Key Features
Spelling and grammar checks
Sentence structure checker
Phrase repetition detector
Plagiarism detection
Automated readability assessment
Rich text support (including tables, lists, etc.)
Inline explanations of errors and suggestions
Multi-language support
API integration with third-party services
Pricing
Beginners: Free version with up to 10,000 characters per text
Individuals: Starting at $4.99/month for up to 150,000 characters per text field
Teams: Starting at $9.48/month for up to 2 users
Our Opinion
LanguageTool is another great grammar checker that is ideal for anyone who needs a paid plan but wants a budget option. With the Individual plan, you can get it for as low as $4.99/month, which is considerably lower than some of the other grammar checkers.
Best for: Offline writing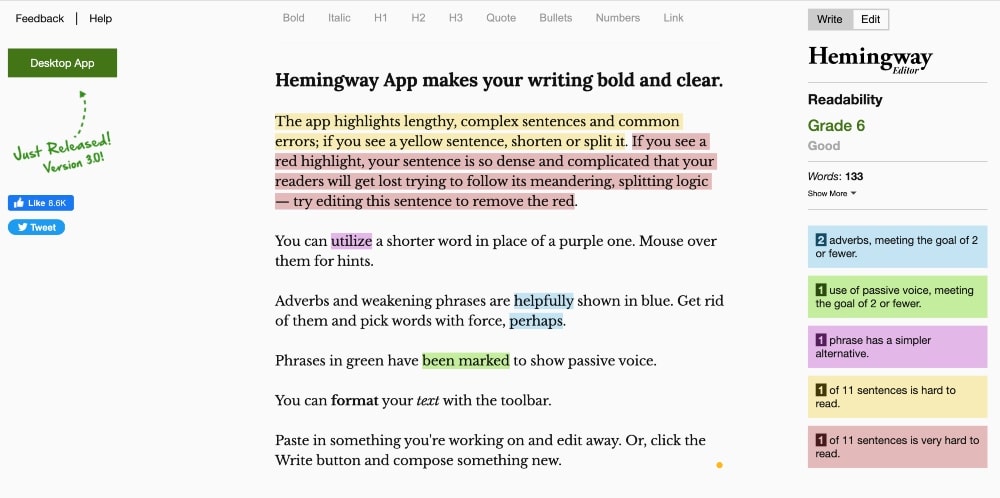 Hemingway Editor is a grammar checker used by bloggers, authors, and students to write clearer and more concisely.
The Hemingway Editor works by analyzing the text you type into it and then making color-coded suggestions on how to make your writing more precise, readable, and understandable.
It suggests changes such as splitting long sentences into shorter ones and avoiding the use of passive voice. It also highlights words that are used too often, phrases with common errors or overly complicated terms.
In addition to providing feedback on clarity, the Hemingway Editor also offers helpful features such as a word counter, spell checker, and an export feature for easy publishing in popular formats (PDF, Word doc).
You can even publish directly from within the program to WordPress blogs or Medium stories without having to leave it.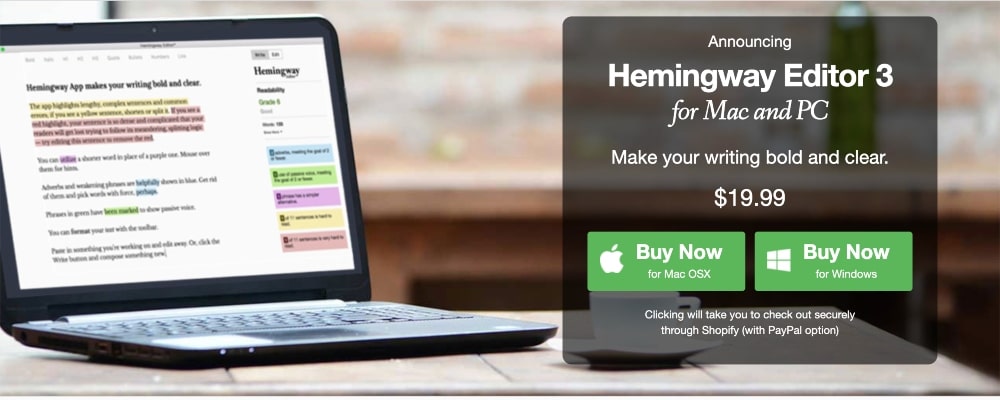 Key Features
Automatically detect common errors and complex grammar mistakes
Instantly edit for clarity, conciseness, and impact
Identify overused phrases and words with the help of advanced algorithms
Automatically highlight difficult sentences
Suggest alternative words to help improve tone and style
Track reading time, average sentence length, unique words used, etc.
Break down long sentences into shorter ones to make them easier to read
Utilize "readability mode" by adjusting font size or line spacing for improved focus
Store documents securely in cloud storage systems like Dropbox or Google Drive
Pricing
You can use the free version of Hemingway Editor right in your browser on their website or you can purchase the full desktop app for $19.99.
Our Opinion
The full version of Hemingway Editor is an ideal choice for writers and authors that do a lot of writing offline. You can purchase the full program and use it on your computer without an internet connection.
Best for: Best free grammar checker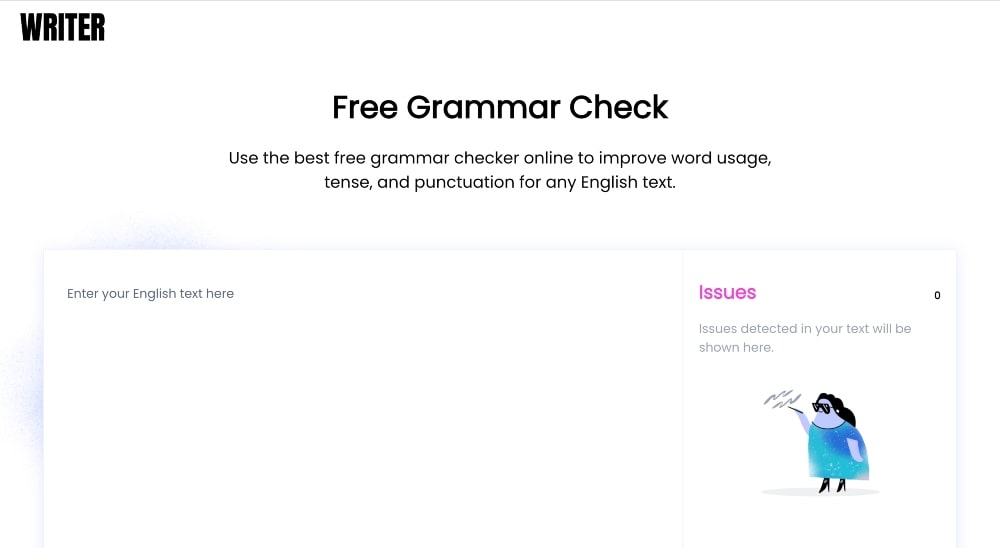 Writer.com has a great free grammar checker that allows you to quickly and easily check your writing for mistakes. You can use their browser and input text or download the browser extension for easier use anytime you're writing anything on the internet (emails, social media, and more).
One standout feature of Writer's free grammar tool is its ability to detect a wide range of different types of errors — from simple spelling mistakes to more complex punctuation and grammatical errors.
The grammar checker also includes many useful features such as sentence structure analysis, style suggestions, and advanced vocabulary replacement tools which can be used to enhance the readability and flow of text.
Another cool feature that sets Writer.com apart from other grammar-checking tools is its ability to adapt itself according to individual preferences.
It remembers your settings so that it can make recommendations based on your previous choices or you can manually configure settings such as language level, reading level, and specific topics you need help with if needed.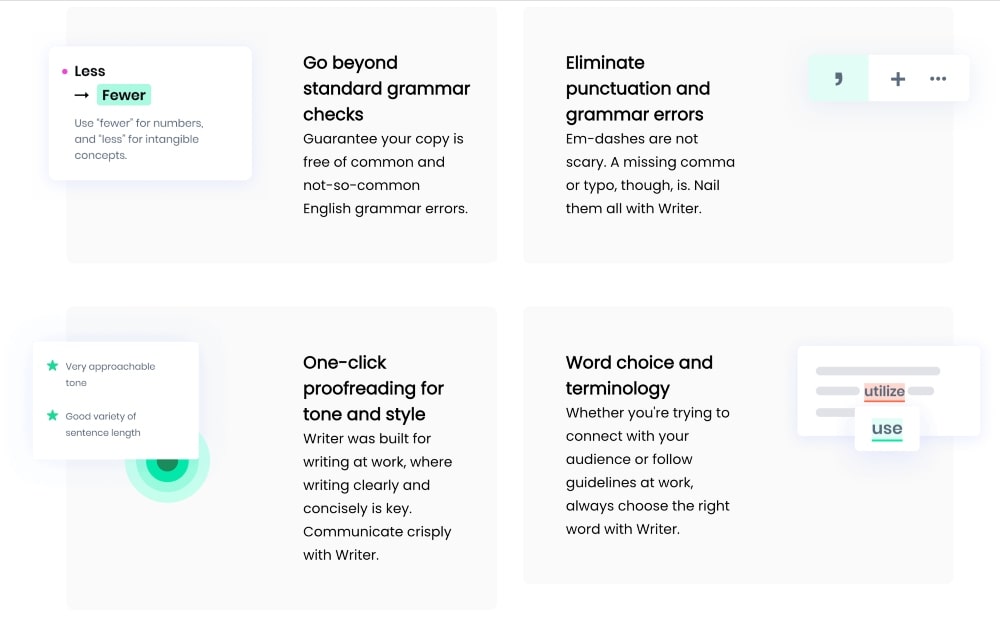 Key Features
Automated spelling and grammar checking
Contextual suggestions for better writing
Sentence rephrasing
Custom dictionaries to account for industry jargon and company terminology
Ability to save documents with tracked changes visible
Accessibility options for more efficient use of the tool
Grammar checker tailored specifically towards academic papers or business letters
An integrated plagiarism checker
Detailed explanation of flagged errors in a text
Pricing
This is a completely free grammar checker!
Our Opinion
Writer's grammar checker is the best free grammar checker on this list!
It has an intuitive and comprehensive set of tools to help you improve your writing skills and it comes with an easy-to-use browser extension.
Best for: Multilingual grammar checker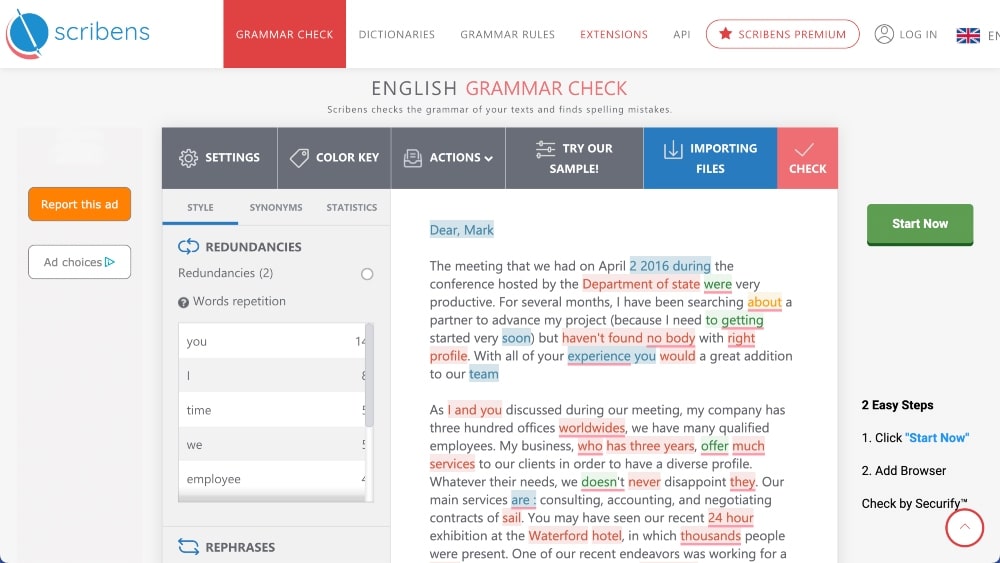 Scribens is an online grammar checker designed to help you improve the accuracy and clarity of your writing.
It provides everything users need to create error-free documents, from basic spelling and grammar checks to more advanced features like synonym suggestions and a dictionary for looking up words and definitions.
The spellchecker offers more than 120 dictionaries in multiple languages such as English, French, Spanish, German, and Italian.
You can also customize settings for specific document types using the punctuation checker so that special characters are used correctly according to the context of each sentence.
Scribens provides enhanced feedback through its suggestion feature by suggesting synonyms and alternative phrasings that will greatly improve the overall readability of your text.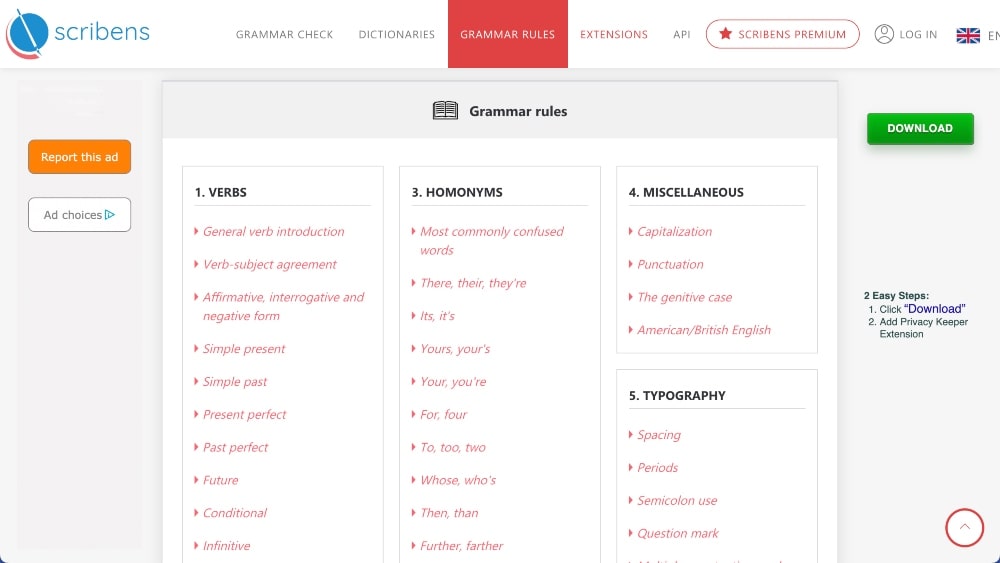 Key Features
Spellchecker and grammar checker
Online dictionary with more than 250,000 words and idioms
Automatically corrects spelling mistakes in emails, documents, etc.
Automatically detects and highlights errors in texts
Supports multiple languages (English, French, Spanish)
Detects plagiarism for academic purposes
Generates reports about writing quality metrics such as readability levels
Includes synonyms to provide better alternatives to words used
Pricing
The free version of Scribens has basic grammar and punctuation checks.
The premium version is $9.49 for 1 month, $18.99 for 3 months, or $47.99 for 1 year. The Premium version includes checks for up to 200,000 characters (50 pages).
There is also an app version for Apple and Android.
Our Opinion
With 120 dictionaries in various languages, Scribens is our top choice for multi-language support.
One thing to keep in mind with this tool is that even the premium version has a limit on the number of characters, so this might not be a great grammar tool for people with large texts.
Best for: Existing Zoho customers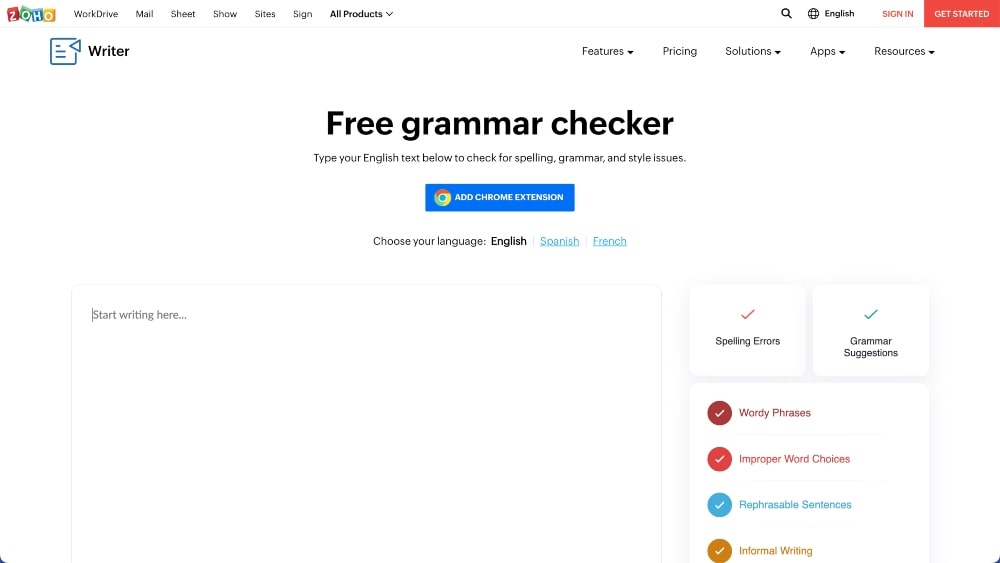 ZohoWriter is a powerful online grammar-checking tool that detects errors in spelling, punctuation, grammar, and other aspects of the English language.
Those looking for more detailed feedback can take advantage of ZohoWriter's advanced options, which include sentence structure analysis and a deep dive into the context of sentences detected as incorrect.
This feature helps to ensure that any corrections made are correct in terms of both grammar and meaning.
It also has a browser extension that works within any web-based text editor, allowing you to make changes as you go without needing to switch applications or interrupt your work.
ZohoWriter goes beyond simple grammar checking by offering additional features such as style guidelines, interactive tutorials for a better understanding of common writing mistakes, and even real-time guidance from experienced writers on correcting errors in a user's submission.
Like a few other grammar checkers on this list, it also has customization settings that you can edit for your own style.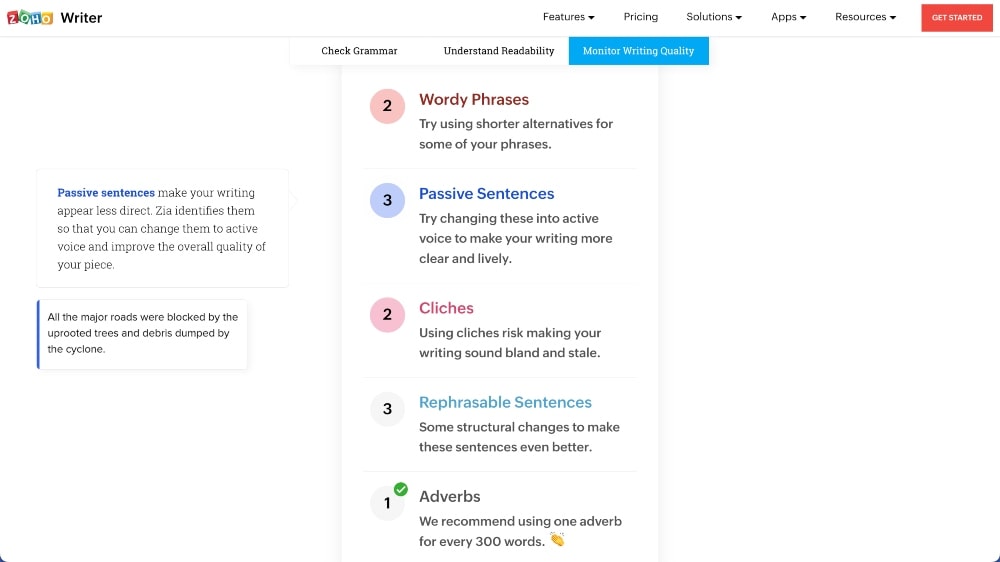 Key Features
Rich text editor with advanced formatting and styling options
Advanced collaboration features to work together on documents
Automatically saves documents while working
Ability to create tables, lists, equations, images, and more
Revision history tracking feature for easy document comparison
Comments system with @mentions to better collaborate on documents
Intuitive interface which is easy even for beginners
Ready templates for quick document creation
Filtering options to quickly find specific content or data in a long document
Supports multiple file formats like .docx, .pdf, etc.
Cloud storage integration so that files are always up to date
Pricing
The grammar checker for ZohoWriter is part of the paid plan for ZohoDrive. Plans start at $2.50/month.
Our Opinion
ZohoWriter is an ideal option for existing Zoho customers because it's part of the ZohoDrive plan.
We love Zoho products for a variety of purposes, including webinar software, meeting software, and survey software.
If you're already in that network, it's a great option!
What is a Grammar Checker Tool?
A grammar checker tool is a software or program designed to detect and correct errors in your writing.
It scans text to check for and identify spelling errors, incorrect punctuation, passive voice, poorly phrased sentences, and other common grammar mistakes.
Many grammar checkers will not only detect these errors but also provide you with suggested corrections as well as explanations so you can learn from your mistakes.
Some tools also have additional features such as dictionaries for alternative spellings, synonyms for words, and even a thesaurus to find suitable replacements for commonly used words.
Grammar checkers are an effective way of identifying and eliminating errors in academic, professional, and personal documents and other pieces of content.
They can help you improve the overall quality of your writing and communicate your ideas in a more efficient manner.
They also can help non-native speakers write better, more fluently, and with fewer errors.
Overall, grammar checker tools can help you save a ton of time in the proofreading process.
Summary of the Best Grammar Checkers
A grammar checker is an invaluable asset when it comes to ensuring accuracy in your written communication and documents.
Grammar and punctuation mistakes can be embarrassing, perceived as laziness, and potentially evoke feelings of distrust or disbelief in your work.
It's especially useful for students who are writing essays or reports as well as anyone who creates content professionally such as journalists or copywriters.
Remember to consider accuracy and error detection, usability, and cost when you are choosing the best grammar checker for your needs.
Here is a quick summary of our top picks:
While no software can [currently] replace actual human proofreading when it comes to language accuracy, these tools provide a great way for busy people who need help catching small mistakes that can easily be overlooked otherwise.