We partner with bada$$ companies that offer products that help our readers achieve their goals! If you purchase through our partner links, we get paid for the referral at no additional cost to you! Read our disclosure for more info.
Survey software is an invaluable tool for individuals, businesses, and organizations to quickly, easily, and accurately collect important feedback from customers, employees, and others.
Whether you need a survey to see how well a new product or service performed or you want to see how satisfied your employees currently are, there is a survey tool out there perfect for your needs.
Survey tools allow you to build surveys with many different types of questions, but they also offer a lot of other features to help you automate and streamline this process.
From survey design to improving response rates, scheduling tools, and analytics — these powerful tools can help you gain valuable insights and make more informed decisions.
In this article, we're covering the top picks for the best online survey tools.
Here is a quick summary if you're short on time:
What is the Best Survey Software?
Best for: Overall top pick for survey software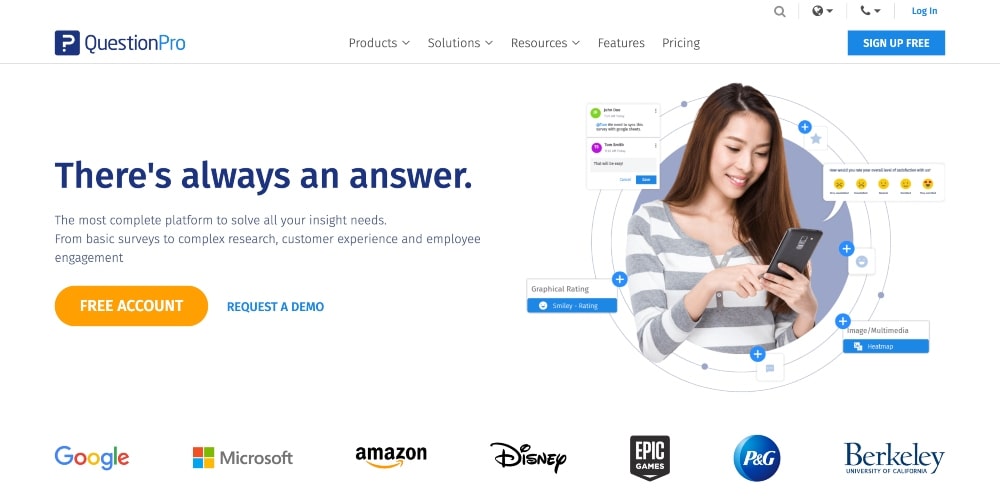 QuestionPro is an online survey tool that offers a wide range of features and tools to help businesses gather valuable insights from customers or employees.
The platform has a powerful survey builder with drag-and-drop functionality that allows you to easily build complex surveys quickly.
It also offers more than 20 question types including multiple-choice, Likert scale, matrix, and open-ended questions, plus custom rating scales, and images.
It also includes smart-validation rules to capture the right data from respondents.
QuestionPro's advanced analytics engine produces comprehensive reports by automatically analyzing responses and deriving key results.
Reports can be exported in multiple file formats such as PDFs or Excel spreadsheets for further analysis or sharing with stakeholders in other departments easily.
It also offers a range of visualizations such as bar graphs, pie charts, heat maps, etc., which can be used to effectively present the results visually.
QuestionPro also comes with social media integration to help increase response rates by sharing surveys on popular social networks like Facebook, Twitter, and more.
The platform also supports over 50 languages so companies can reach out to global audiences without any language barriers getting in the way of their research goals.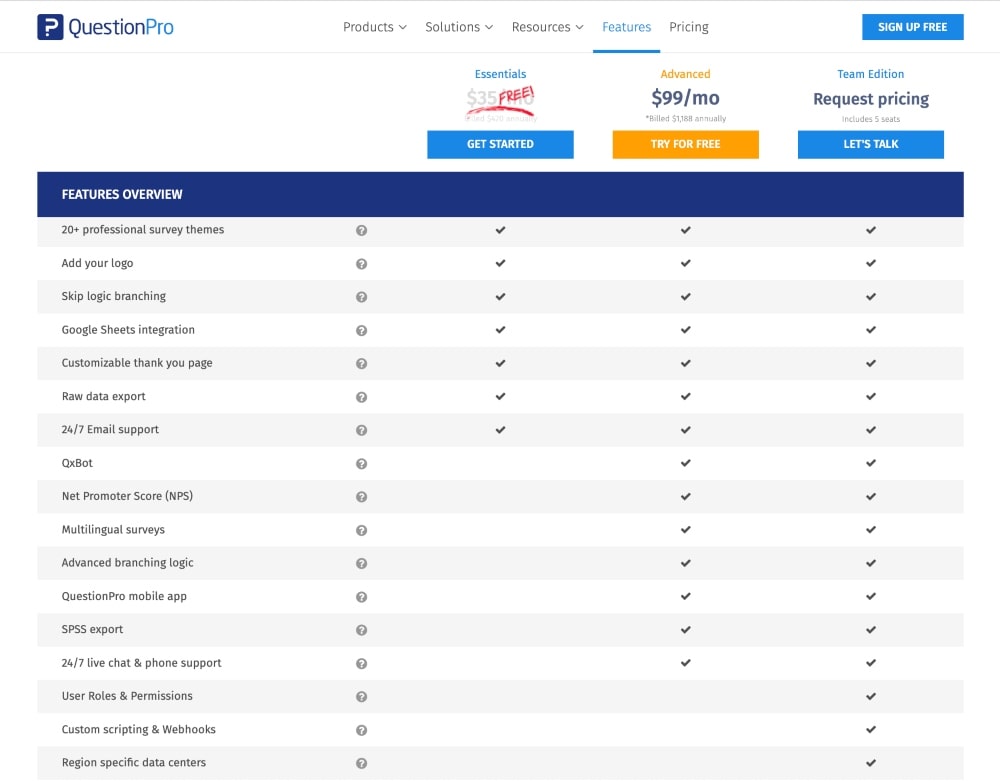 Key Features
User-friendly, drag-and-drop editor
Advanced data analytics with reporting and insights
Custom branding customization
Powerful API integration capabilities for seamless integrations
Mobile-optimized surveys for capturing responses on the go
Collect feedback from customers via SMS, WhatsApp, Voice, and Webhooks
Pricing
QuestionPro has a free plan with unlimited surveys and limits of 100 questions and 300 responses.
The advanced plan is $99/month and includes up to 25,000 responses per year. They also have a Team plan with custom pricing if you need more responses.
Our Opinion
QuestionPro is our top choice for the best survey software because it has a very flexible free plan and also a great paid plan for large businesses and organizations.
However, if you need a plan somewhere between those two, you may want to go with software like SurveySparrow (next on the list).
Best for: Flexible plans for small or large businesses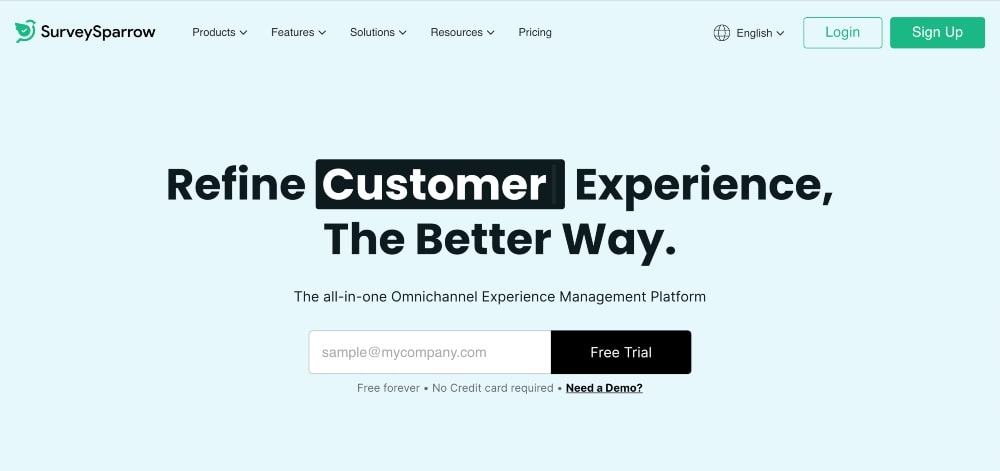 SurveySparrow is a web-based online survey tool that enables businesses to create and conduct surveys, feedback forms, polls, assessments, quizzes, and more.
SurveySparrow offers a comprehensive suite of features designed to make it easier for businesses to capture feedback from customers.
You can create custom surveys with flexible question types that can be tailored to meet your specific needs, including multiple-choice questions, dropdown menus, open-ended text fields, and more.
You can also embed images and videos into your surveys.
SurveySparrow automatically generates comprehensive reports detailing how individuals responded to each survey question as well as demographic breakdowns such as age and gender.
SurveySparrow also provides powerful filters so that you can segment respondents by location, industry, or any other criteria they choose.
It includes a range of additional features for enhanced user experiences such as personalization options, multilingual support, and integrations with popular software like Salesforce and Slack for easy data sharing between platforms.
SurveySparrow also offers highly secure data storage solutions that comply with global regulations including GDPR (General Data Protection Regulation) and HIPAA (Health Insurance Portability and Accountability Act).

Key Features
Create custom surveys with drag and drop survey builder
Automatically collect customer feedback using web, email, and SMS surveys
Use advanced logic to personalize the survey experience for each user
Use powerful analytics tools to gain insights from customer responses
Integrate survey responses directly into your CRM or other business systems
Instant notifications when a new response is collected
Control access to surveys with secure logins and passwords
Pricing
SurveySparrow has plans for both individuals and businesses. All plans also come with a free trial.
Individuals and Personal Use:
Free: Up to 100 responses and email shares per month
Basic: $19/month for up to 500 responses and 1500 email shares per month
Premium: $19/month for up to 2,000 responses and 6,000 email shares per month
For Businesses, contact for custom pricing.
Our Opinion
SurveySparrow is a great tool for small businesses seeking a powerful yet easy-to-use survey tool for capturing customer and/or employee feedback quickly and accurately.
SurveySparrow provides very flexible plans for both small and large businesses and has a good price point for everyone.
Best for: Paid plan with unlimited survey questions and responses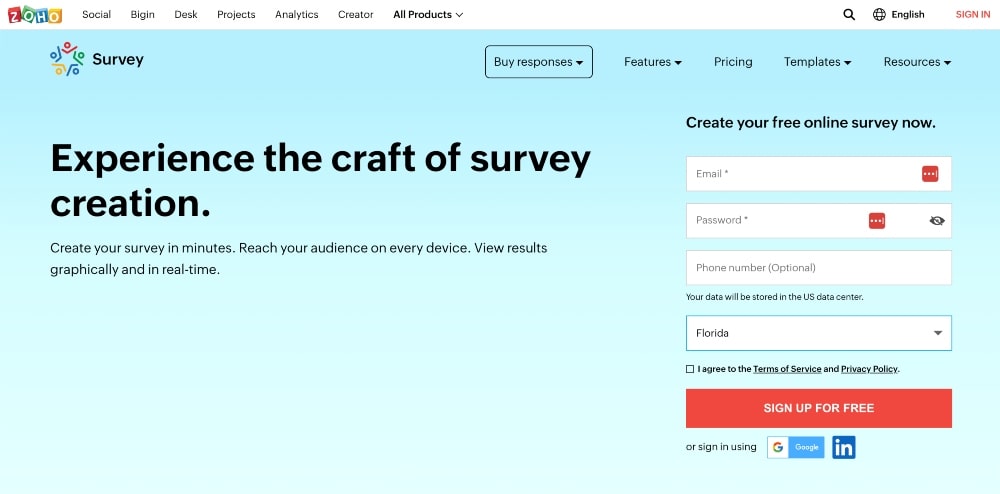 With Zoho Survey, organizations can create custom surveys to measure customer satisfaction, gather feedback on products or services, make critical business decisions, and more.
When creating a survey with Zoho Survey, you can choose from lots of customizable templates or create your own online surveys from scratch.
The platform offers a wide selection of question types such as multiple-choice questions (MCQs), ranking questions, open-ended questions, matrix questions, rating scales, and more.
You can also add images and skip logic and branching options that flexibly control how respondents answer certain questions based on the responses given to previous ones.
Zoho Survey also has a range of other features such as survey themes/branding, password protection for private surveys, multi-language support for global audiences, automated email invitations and reminders to respondents, response export options like CSV/XLS/PDF formats for easier analysis, and reporting capabilities.
Zoho Survey's analytics tools provide detailed insights into data collected with interactive charts and graphs and data visualizations that let you instantly see how different segments are responding to particular survey items or questions.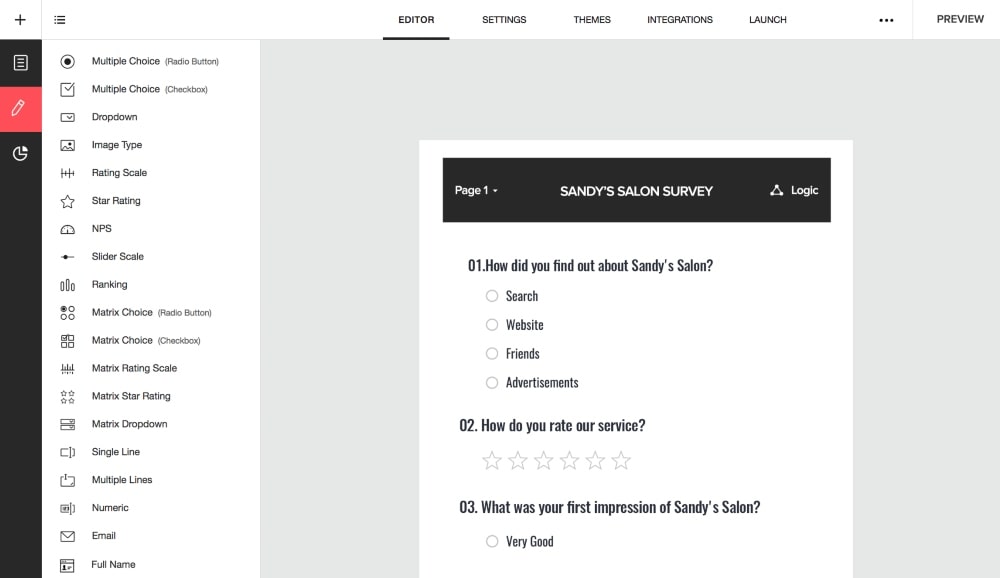 Key Features
Easily create surveys with a drag-and-drop builder
Send personalized emails to survey respondents
Add custom branding for a professional feel
Customize your survey design with themes and templates
Collect data securely using SSL encryption
Generate detailed reports to analyze responses visually
Filter results based on criteria or participant type
Embed surveys in websites or share them via social media and email links
Export gathered data from other applications like MailChimp, Salesforce, etc
Automatically trigger follow-up actions when certain conditions are met
Pricing
Free: Unlimited surveys with 10 questions per survey and up to 100 responses per survey
Plus: $25/month for unlimited questions and responses per survey
Pro: $35/month for piping logic, custom variables, email notifications, and other features
Enterprise: $75/month for multiple users and additional features
Our Opinion
What really stands out for Zoho Survey is their Plus plan for just $25/month offering unlimited questions and responses. This makes it an ideal choice for an individual or small business that expects a lot of responses to their surveys.
We also love Zoho because their software also makes our list of best webinar software and best Zoom alternatives.
Best for: Small businesses and teams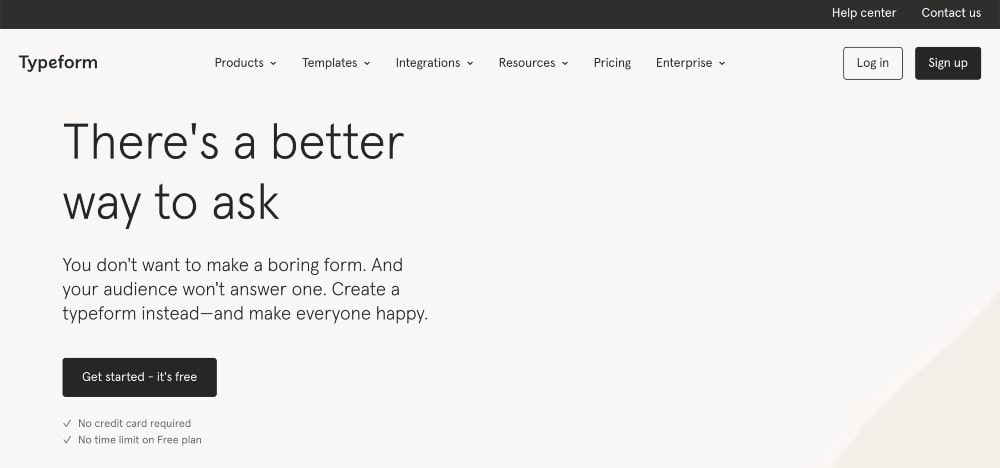 Typeform is an easy-to-use survey software that helps businesses gather feedback from customers, build relationships with their audience, or carry out market research.
With Typeform, you can easily add text, images, videos, and audio to your questions as well as create complex branching logic to adjust questions based on user answers.
It also offers a variety of features such as customizable notifications on form submissions, multiple choice questions with image options, calculating numerical equations, and even integrating payment systems like PayPal to accept payments.
Typeform also offers a wide range of integrations with third-party apps such as Zapier, Google Sheets, Slack, and Salesforce.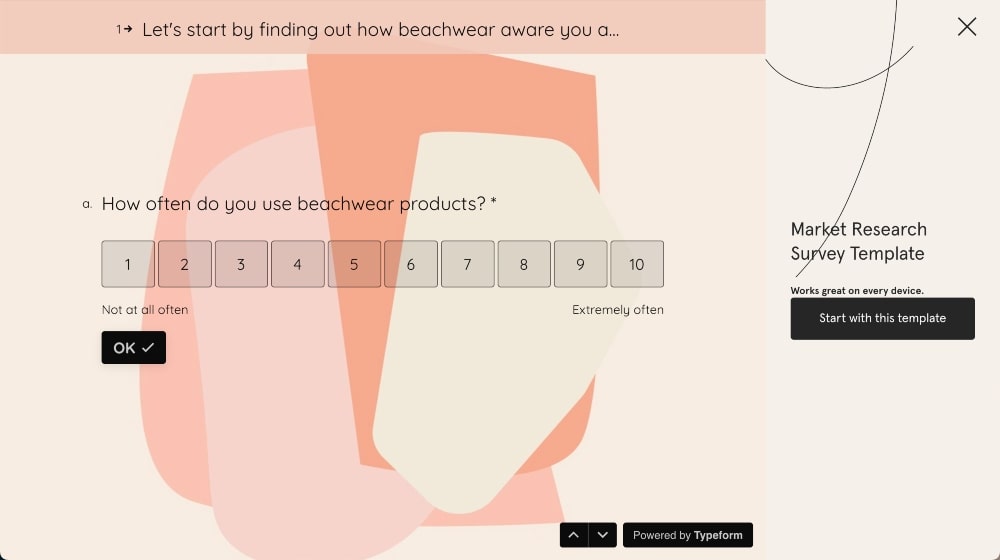 Key Features
Mobile-friendly forms
Create surveys and polls with interactive questions
Embed forms in websites and apps
Receive instant responses from customers
Customize design for a unique look and feel
Collect payments and donations
Choose from 100+ ready-to-use templates
Automatically trigger follow-up emails or actions based on user responses
Integrate with over 500 other business systems, including Slack, Salesforce, Airtable, and Google Sheets
Pricing
Basic: $25/month for unlimited typeforms and up to 100 responses per month
Plus: $50/month for 3 users and up to 1,000 responses per month
Business: $83/month for 5 users and up to 10,000 responses per month
Enterprise: Custom pricing
They also offer a free version with very limited features.
Our Opinion
Typeform is a great survey software for small teams and businesses who expect less than 10,000 responses per month. Even the basic plan doesn't include custom branding, so we think this choice is better if you're in the range of the Plus plan.
Best for: Signature fields and documents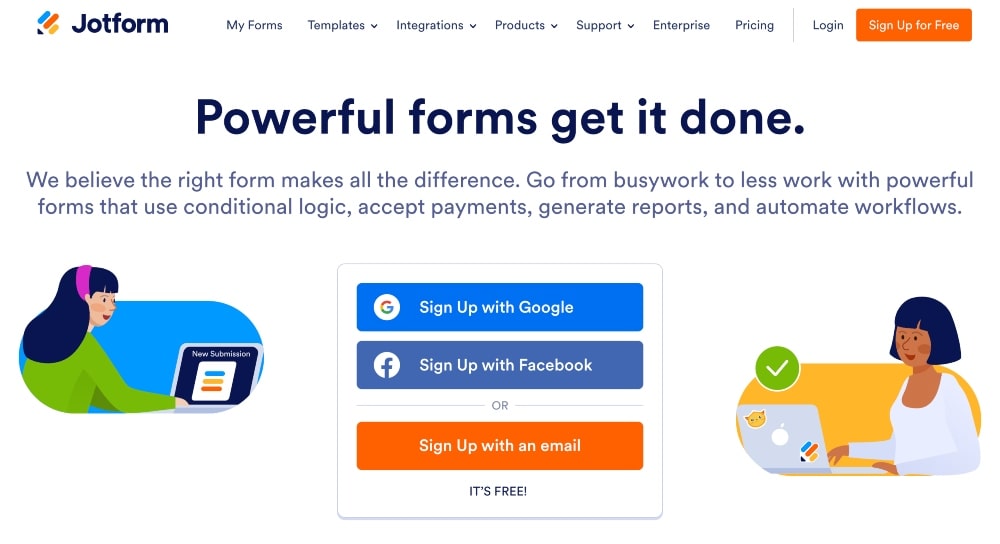 JotForm is a free survey tool that allows you to create, manage, and publish forms with payments, registrations, collaboration, and more.
JotForm has a wide selection of customizable templates for a variety of purposes.
You can choose from hundreds of form fields, including text boxes, checkboxes, radio buttons, dropdowns, images, videos, and more.
Forms can be customized with fonts, colors, backgrounds, and logos and embedded into your website or other web pages using iframes or HTML code snippets.
JotForm offers other features such as conditions logic, payment integrations, signature fields, price calculators, file upload, auto-fill capabilities, and more.
It also has some advanced tools for teams such as collaboration tools, notification functions, integrations with third-party services like Google Drive and Dropbox for easy file sharing, integrations with email marketing platforms for automating follow-up emails, and analytics and reporting.
The powerful tools available within JotForm are designed to help businesses save time by enabling them to streamline processes associated with collecting information from customers and clients.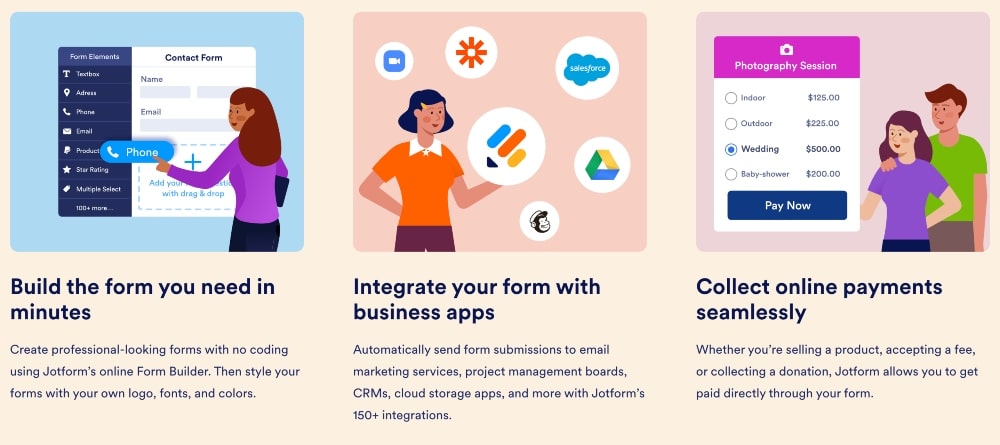 Key Features
Drag-and-drop form builder
Prebuilt templates to get you started quickly
Instant mobile forms and online surveys
Online payment integration with Stripe, PayPal, and more
Multipliers for easy cloning of fields
Conditional logic for dynamic forms
Advanced calculations for automated results
Realtime collaboration on your projects
File uploads with secure storage options
Pricing
Starter: Free for 5 forms and up to 100 responses per month
Bronze: $34/month for 25 forms and up to 1,000 responses per month
Silver: $39/month for 50 forms and up to 2,500 responses per month
Gold: $99/month for 100 forms and up to 10,000 responses per month
Enterprise: Custom pricing
Our Opinion
Jotform has very comparable plans to many of the other options on this list, but it's the best online survey software for signed documents. Even the free version offers up to 10 signed documents and 10 payment submissions per month.
Best for: Marketing professionals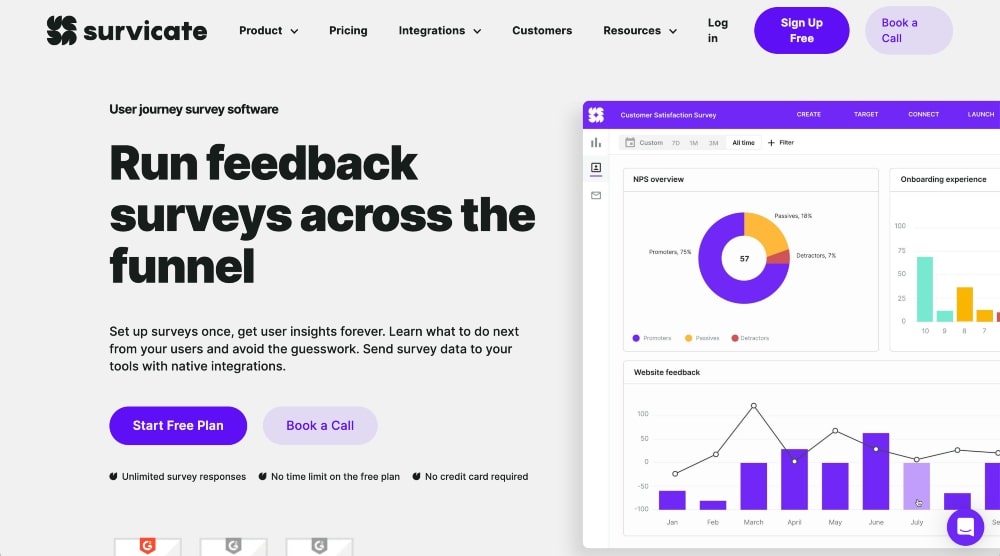 Survicate is a powerful customer feedback software that helps organizations gather customer opinions and preferences, understand customer experiences, and uncover customer needs.
The software features survey-building tools that enable users to quickly create surveys with customizable questions and answer options.
It also has reporting and analysis solutions that present aggregated data in various formats such as tables, charts, and maps.
The software also provides notifications whenever new responses are received and offers A/B testing capabilities for optimizing surveys.
Survicate's dashboard displays key metrics such as response rate, average rating, most popular answers, and more to help users gain better insights into their surveys
It also provides a library of ready-made templates for creating surveys in different industries such as education, healthcare, and more.
Additionally, the software offers integrations with popular marketing automation tools like Salesforce, HubSpot, and more to analyze customer data within existing business systems.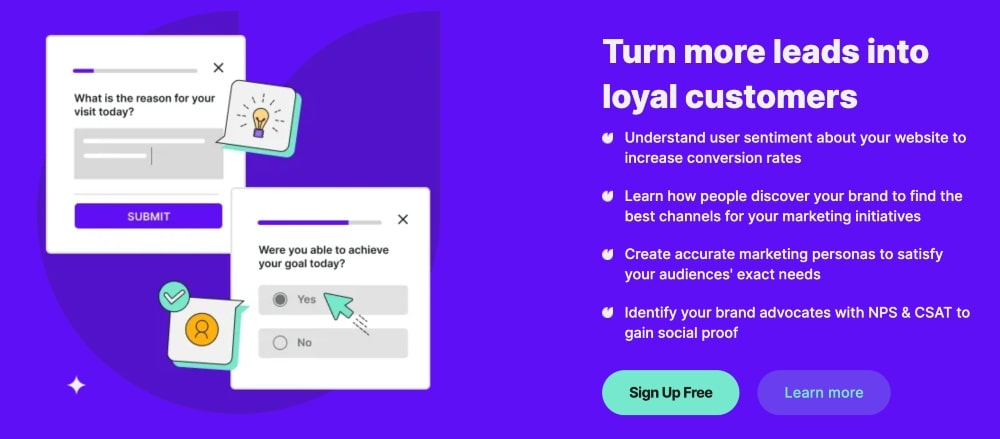 Key Features
Survey-building tools
custom branding options for personalization
Multilingual support for creating surveys in multiple languages
Automated triggers for sending out personalized follow-up messages
Segmentation capabilities for targeting respondents better
Team collaboration tools for streamlining the entire survey creation process
Data export capabilities for downloading raw survey responses in an Excel or CSV file format
Advanced analytics for understanding customer behavior patterns across different parameters
NPS scoring system for measuring customer satisfaction levels over time
Pricing
Feedback Starter: $89/month for 3 surveys and up to 3,000 customers per year
Advanced Researcher: $129/month for 5 surveys and up to 6,000 customers per year
Feedback Automation: $179/month for 7 surveys and up to 12,000 customers per year
Team Insights: $269/month for 10 surveys and up to 30,000 customers per year
You can also try out the software with unlimited responses with a 7-day free trial.
Our Opinion
Survicate offers a lot of additional features related to marketing, including A/B testing, scheduling tools, and tons of integrations.
This survey software is best for marketing professionals with a budget and desire for these extra tools.

SurveyMonkey is an online survey platform that provides a comprehensive suite of tools to easily create, manage and analyze surveys.
With SurveyMonkey, you can create your own custom surveys in minutes or utilize hundreds of pre-developed survey templates available in the SurveyMonkey library.
It's super easy to use and to customize your survey with different question types such as multiple choice, matrix/rating scale questions, and open-ended text boxes for collecting qualitative feedback.
Additionally, SurveyMonkey offers features to help target specific audiences and export responses in various formats for further analysis.
SurveyMonkey also offers advanced customer feedback analytics tools that let you track trends over time and generate performance metrics from data collected.
It also offers a wide range of customization options that allow you to personalize surveys according to your specific needs, including changing background colors and fonts or adding logos and images.
It also includes logic branching rules that allow you to route respondents based on answers given for certain questions.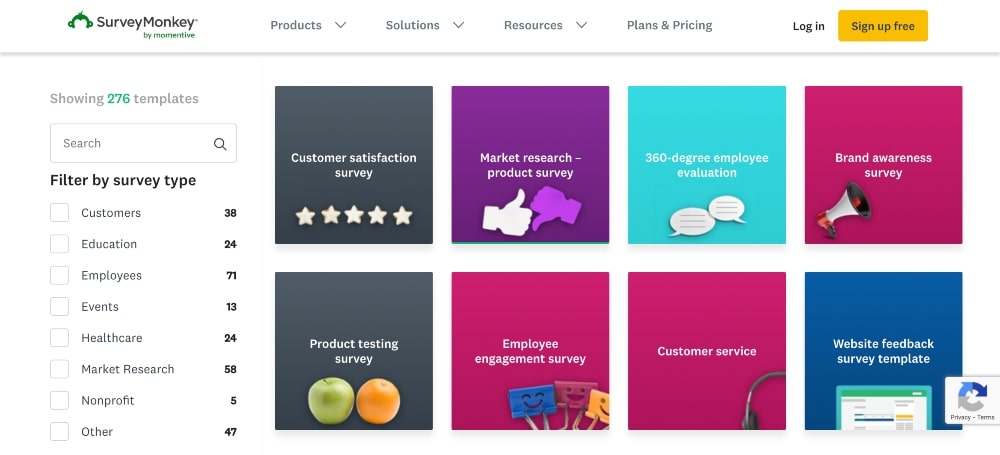 Key Features
Automated surveys and data collection
Powerful reporting with customizable dashboards
Data export for deeper analysis and integration into other systems
Advanced survey branching and logic capabilities
Instant response notifications
Prepopulated answer options
NPS (Net Promoter Score) question types
Randomization of answer options
Logic jump tools to tailor questions based on responses
Survey scheduling, reminders, and expiration dates
Customizable survey themes/branding
Pricing
For individuals, all plans include unlimited questions and surveys and are quoted for annual pricing:
Starter Annual: $25/month for up to 2,500 responses per year
Advantage Annual: $39/month for up to 15,000 responses per year
Premier Annual: $119/month for up to 40,000 responses per year
For team plans, all plans start out at 3 users and are quoted for annual pricing:
Team Advantage: $25/user/month for up to 50,000 responses per year
Team Premier: $75/user/month for up to 100,000 responses per year
They also offer a free version with very limited features.
Our Opinion
SurveyMonkey is probably the most popular survey software on the market today among smaller businesses, although they have plans for larger businesses as well.
It's an ideal choice for anyone who wants to create a simple survey quickly and easily, but we prefer the free plan for QuestionPro or the paid plans from SurveySparrow.
Best for: Google Suite users
With Google Forms, you can collect feedback from customers, gather data for research projects,
create quizzes for educational purposes, and so much more.
Forms created with Google Forms can include various types of questions and data fields like text boxes, multiple-choice options, checkboxes, dropdown menus, rating scales, and more.
You can also add images or videos to your forms and surveys.
Google Forms comes with themes that you can customize to match your branding or add additional features like payment options using third-party tools such as Stripe or PayPal integrations.
You can also set rules for responses so that only certain answers will be accepted as well as create logic paths that jump respondents to different sections based on their answers.
Finally, you can embed forms directly into web pages so they're always readily available when visitors arrive at your site or blog post.
Multiple users can also collaborate on the same form in real-time using the built-in sharing capabilities.
All in all, Google Forms provides a variety of features designed to make creating online surveys and forms quicker and easier than ever before.

Key Features
Create custom forms with drag-and-drop tools
Merge form fields into personalized emails
Automatically organize data into spreadsheets and charts
Securely collaborate on forms with teammates, clients, or partners
Embed forms directly onto your website or blog
Monitor team progress by creating notifications for yourself and others
Add multiple choice, checkbox, and short answer questions to collect qualitative feedback
Schedule surveys ahead of time to reach more people quickly
Pricing
Google Forms is free for personal accounts and includes up to 15GB of storage. The Business Standard plan is $12 per user per month and also includes access to the entire Google suite of products (Docs, Sheets, Slides, Google Drive, Gmail, Calendar, and more).
Our Opinion
Google Forms is pretty simple survey software that will work just fine for the average individual or small business owner. It's an ideal choice for anyone who uses Google drive and the other Google suite of products.
If you need a more powerful survey software, you're better off with one of the other options we've already covered like QuestionPro or SurveySparrow.
Best for: Large businesses that need unlimited responses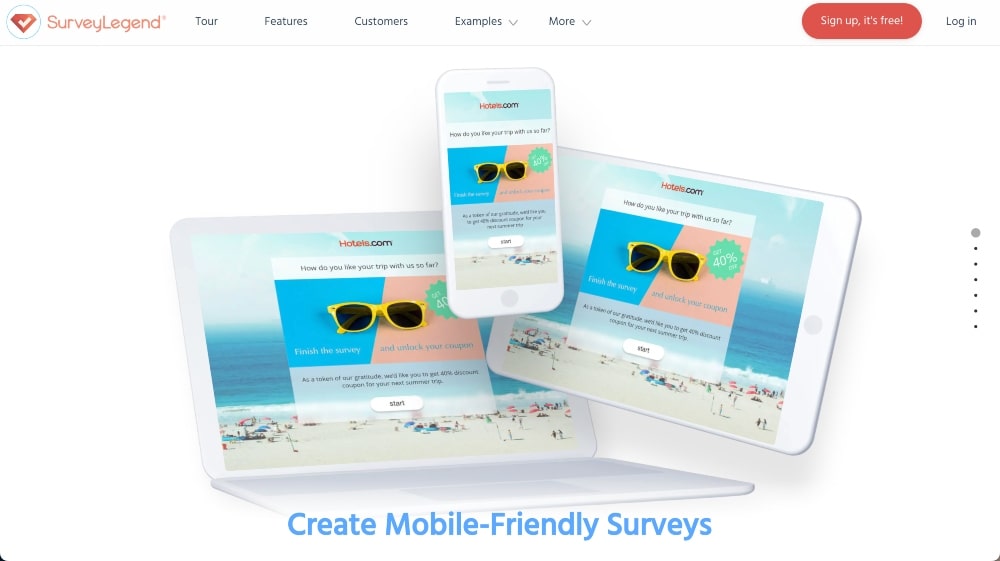 SurveyLegend is a survey software platform that provides a comprehensive solution for businesses to collect customer feedback, gather leads, and increase engagement.
It provides a wide range of features designed to help businesses make the most of their surveys.
To improve response rates and accuracy, SurveyLegend offers customizable templates so that you can quickly design different versions of your survey questions.
SurveyLegend also provides powerful lead generation capabilities so businesses can capture customer contact information while they're taking the survey.
This allows you to easily build your email list and contact individuals directly with follow-up messages after they've taken the survey.
SurveyLegend also offers local language support for over 30 languages so that your surveys are more accessible to respondents from all around the world.
It also has a mobile app available on both iOS and Android devices, so you can access the software and data from multiple devices.
Like many of the other best online survey tools on this list, SurveyLegend also has customizable colors and backgrounds, advanced logic like skip logic and randomization, and reporting and analytics.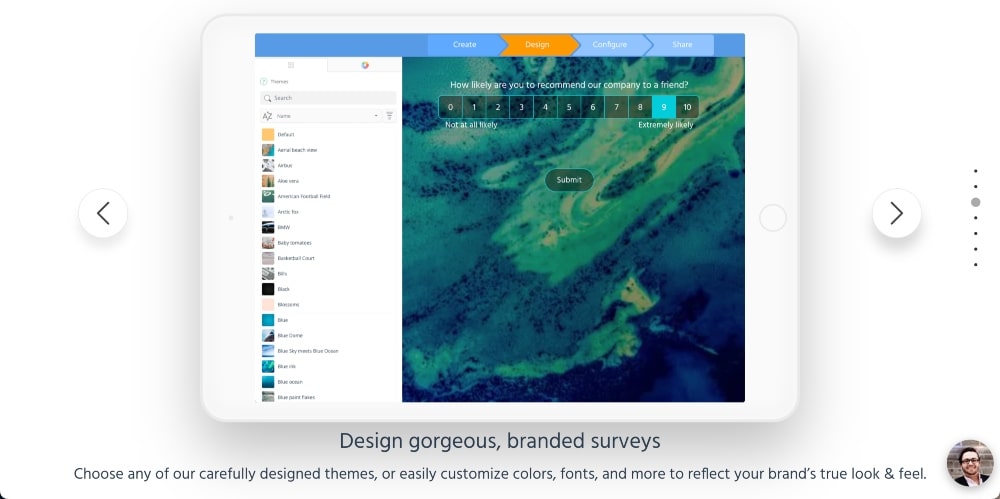 Key Features
Create surveys with customizable and interactive questions
Multiple data collection methods including email, web links, QR codes, and more
Access to a library of survey templates
Ability to embed surveys into websites, emails, or social media posts
Advanced analytics for analyzing results
Automated survey reminders and follow-up notifications
Integrations with popular CRMs and marketing software tools
Security measures to protect the privacy of respondents
Pricing
Starter: Free for up to 3 surveys and 1 conditional logic (+ ads and watermarks)
Pro: $15/month for 20 surveys, 10 conditional logic, and export of up to 1,000 responses
Business: $25/month for unlimited surveys and conditional logic and export of up to 10,000 responses
Legendary: $75/month for unlimited surveys, conditional logic, and export
Our Opinion
SurveyLegend has very affordable plans but one thing we don't like about this online survey software is that all plans except for the Legendary plan include watermarks on your surveys.
Many of the other best survey tools on this list don't include watermarks on any paid plans, so we think this is a bit of a rip-off for this particular software.
That being said, $75 is still affordable for larger businesses that need access to unlimited surveys and responses.
Best for: Enterprise solution with powerful analytics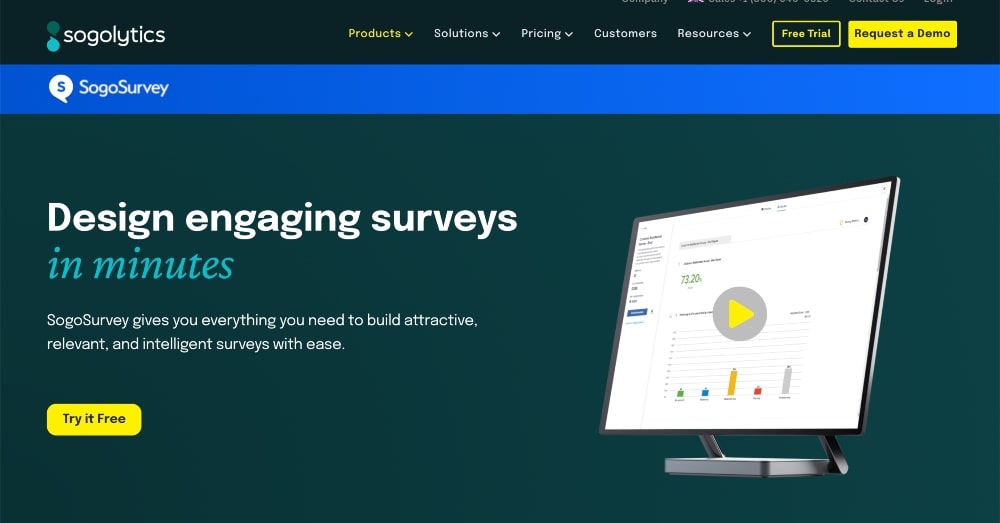 Sogolytics is a powerful analytics platform designed to help businesses gain greater insights into their data.
It utilizes advanced machine learning algorithms and natural language processing strategies to provide users with valuable insights that help them make informed decisions.
With Sogolytics, businesses can quickly identify trends in their data, visualize relationships between variables, and detect outliers in their datasets.
One of the main features of Sogolytics SogoSurvey is its ability to capture multi-dimensional data from customers through surveys.
The platform provides a range of survey templates designed to capture different types of feedback, including open-ended questions, Likert scale questions, multiple-choice questions, matrixes, and more.
Sogolytics SogoSurvey also has powerful AI-based analytics tools to help users get better insights about their customer base (or employees) and make better decisions.
Sogolytics Sogosurvey also offers several options for distributing surveys to customers such as email invitations, web links, and even kiosks at physical locations.

Key Features
Automated surveys that can be deployed to large groups of respondents
Comprehensive report generation capabilities
Intuitive survey design tools and customizable templates
Advanced data collection and analytics
Ability to embed surveys into websites or social media platforms such as Facebook or Twitter
Flexible distribution options for maximum reach (email, web links, etc.)
Expert 24/7 customer service and technical support
Security features like encryption protocols and two-factor authentication
Pricing
Plus: $25/month for simple skip logic
Pro: $66/month for additional questions and features
Premium: $99/month for advanced reporting, skip logic, and more
Enterprise: Custom pricing for branded URL, multiple users, and more
They also offer a free 10-day trial on all plans.
Our Opinion
Sogolytics SogoSurvey provides businesses with a comprehensive suite of features that enable them to easily gather customer feedback and use it for strategic decision-making.
While they have some lower-cost plans, they are pretty limited in features.
Sogolytics is the best online survey tool for large enterprises that can pay to take advantage of the extensive reporting and analytics that this platform provides.
Best for: Long surveys with a lot of questions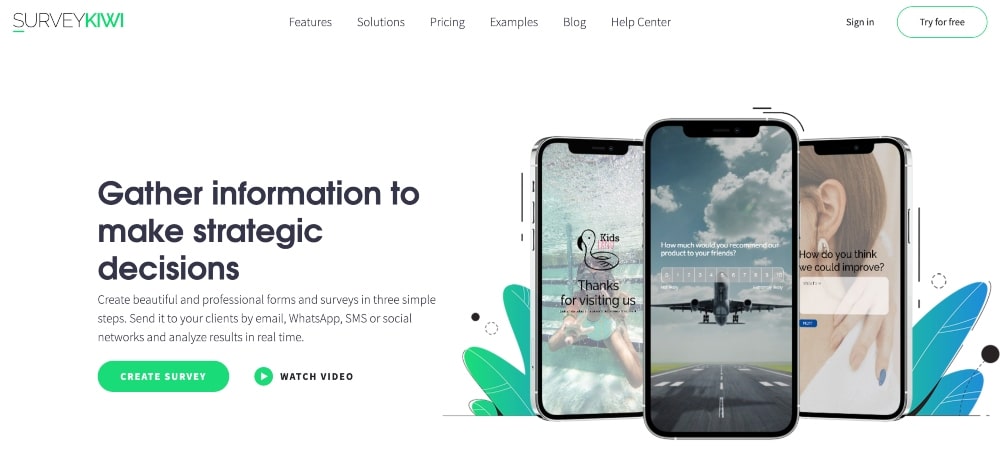 SurveyKiwi is a survey tool that helps companies, organizations, and individual users create customizable and professional surveys.
You can use the drag-and-drop editor to customize the look and feel of their surveys without any coding knowledge.
It offers a wide range of question types and formatting options that can be used to create highly engaging survey designs tailored to specific target audiences.
SurveyKiwi also provides powerful analytics tools with sophisticated algorithms to analyze responses and present the data in easy-to-understand graphics and reports.
With these insights, you can identify trends, compare results over time, monitor progress or performance, get feedback on product launches or campaigns, detect customer satisfaction levels, or use the information gathered for research purposes.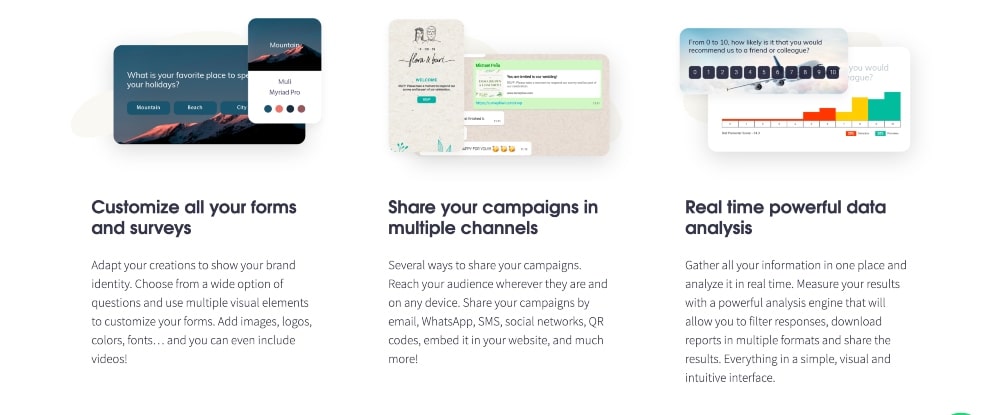 Key Features
Branching logic to customize questions based on previous answers or conditions
Multilingual support
Privacy and security measures
Integration with popular third-party applications like MailChimp and Salesforce
Support for automatic reminders
Export responses and survey templates
Real-time notifications
Auto email triggers when responses reach thresholds
Auto encoding system for data storage
Instant reporting feature which automatically generates reports within minutes after collecting responses etc.
Pricing
SurveyKiwi has 3 pricing plans:
Bronze: $9/month for up to 100 responses
Silver: $39/month for up to 1,000 responses
Gold: $69/month for up to 10,000 responses
Our Opinion
SurveyKiwi is probably best suited for individuals or businesses that have a lot of questions but not too many responses.
You get unlimited questions on all plans, which is pretty awesome, but you also have to pay for the Gold plan to remove the watermark (SurveyKiwi's logo).
Best for: Free or budget-friendly survey software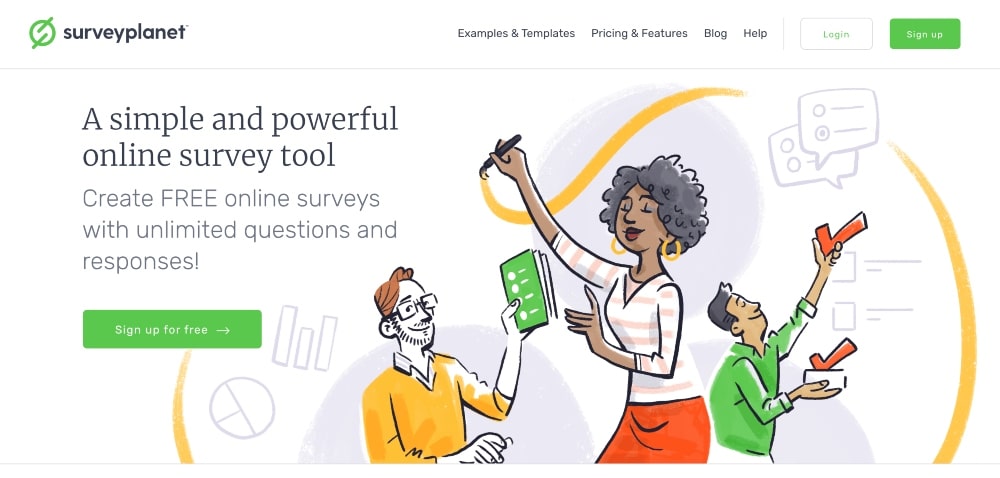 SurveyPlanet is a powerful and easy-to-use survey software platform designed to help individuals, teams, and organizations offer surveys and analyze results.
You can create custom questions or choose from the variety of template questions available to use from their library.
You can also add multimedia elements such as pictures, audio files, and videos.
Like many of the other options, they also provide a variety of customization options for branding purposes.
The platform includes data analysis tools with detailed charts and graphs to help you get better insights into how people are responding to different types of questions on your survey.
The data is fully exportable in CSV format so it can be used in other platforms for further analysis if needed.
With SurveyPlanet, you can also share surveys through social media channels, email campaigns, embedding HTML codes onto websites or blogs, or distributing them via QR codes.
They have comprehensive security features that protect users from spamming and malicious attempts from outsiders.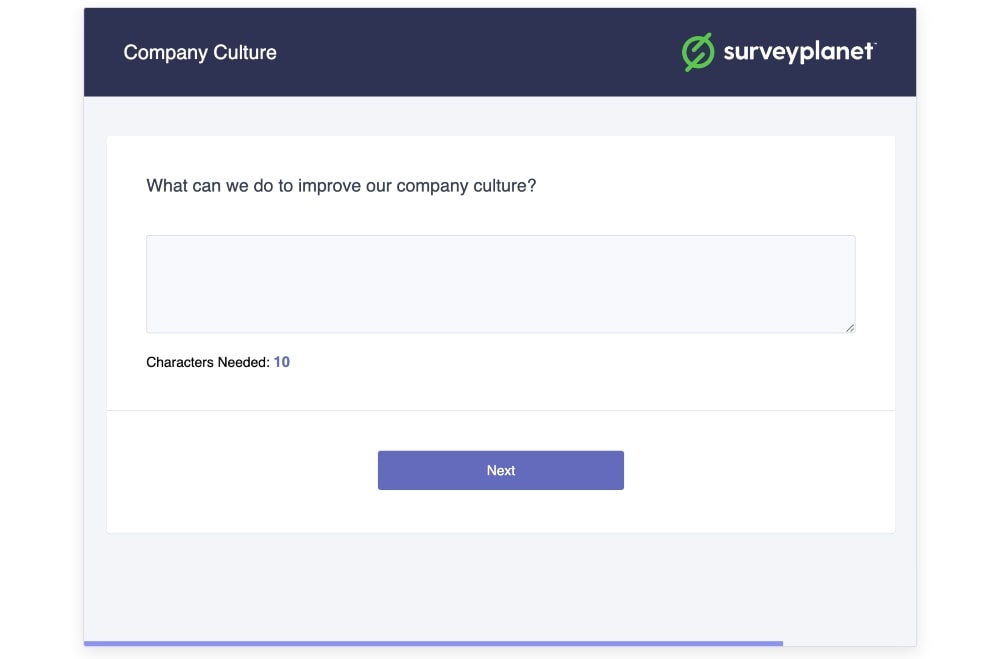 Key Features
Create unlimited surveys with a wide range of question types
Easily customize survey branding and design to match your company's look & feel
Generate reports for analysis, including data visualization
Set up user authentication and permission levels
Automatically send out reminder emails to participants who have yet to complete the survey
Segment respondents by age, gender, location, etc.
Create custom logic rules in surveys
Measure customer satisfaction through Net Promoter Score (NPS) questions
Pricing
Free plan: Unlimited surveys, questions, and responses
Pro: $20/month for custom themes, question branching, and more
Enterprise: $350/year for teams, custom URLs, and more
Our Opinion
SurveyPlanet is the only free survey software plan to offer unlimited surveys, questions, AND responses! But while that is great, the downside is that you won't get any branching logic.
The free plan is great for simple surveys but if you need advanced logic, you'll have to upgrade. But even the Pro plan is one of the most affordable plans on this list!
Best for: CRM integration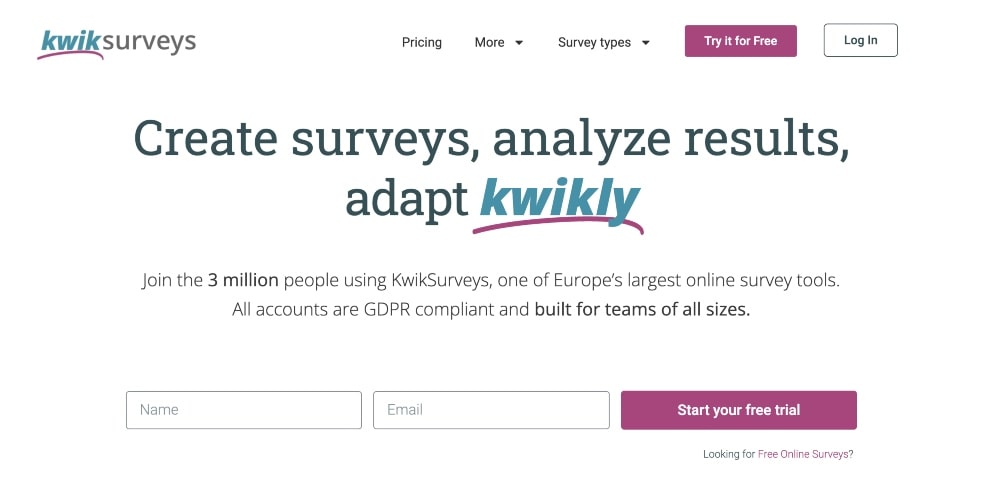 KwikSurveys is an online survey tool that provides a comprehensive set of features for creating and distributing surveys.
With KwikSurveys, you can collect data from respondents in several different ways, including online forms, emails, and text messages.
With KwikSurveys' smart logic feature, the survey will automatically skip certain sections or questions based on the responses provided.
This makes it easy to personalize the respondent experience and make sure they are only asked relevant questions.
KwikSurveys also provides advanced analytics tools with an easy-to-use dashboard that allows you to quickly generate reports to visualize your data trends and individual responses with greater detail.
Beyond its powerful survey builder and analytics tools, KwikSurveys also offers other useful features such as integrating with third-party applications like CRM systems through its API functionality.

Key Features
Create and send unlimited surveys
Access to powerful survey analytics
Customizable survey templates
Robust data security protocol
Responsive design for all devices
Integration with multiple CRM platforms
Multiple response options, such as file uploads, rating scales, and sliders
Ability to target specific customer segments with segmentation filters
Automated reminder emails/SMS notifications for responders
Embed surveys into websites or social media posts
Pricing
Essentials: $12.99/month for unlimited responses and page logic
Pro: $25/month for up to 3 users and additional features like A/B split testing
Business: $59/month for up to 5 users and additional features like custom URL
They also have a student and non-profit plan for just $2.99/month.
They also offer a free trial on all of their plans.
Our Opinion
KwikSurveys is our top pick for anyone looking for a CRM integration with their online survey software.
With KwikSurveys, you can import your contacts, create email campaigns, and create contact profiles for your audience.
Best for: Existing HubSpot users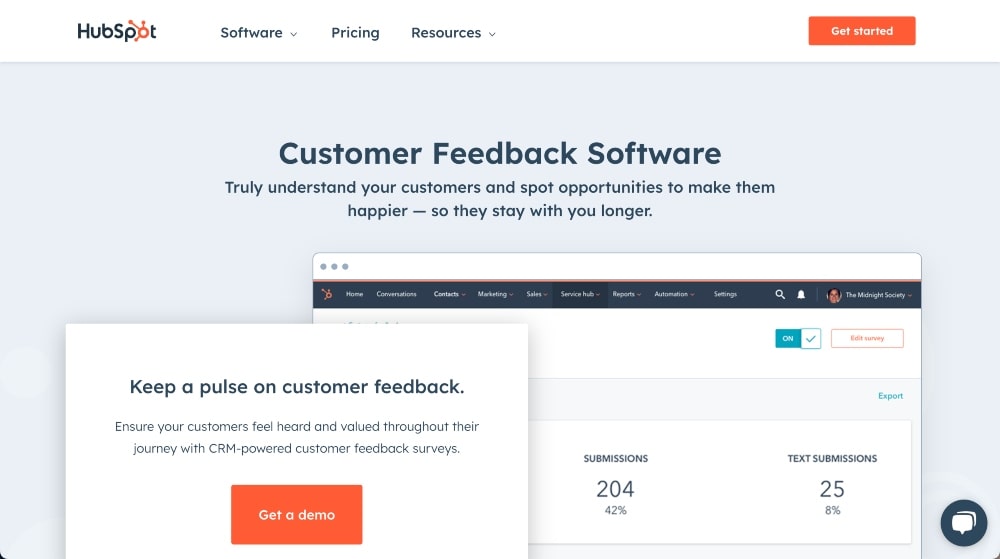 HubSpot is a powerful customer relationship management (CRM) platform that helps businesses capture and understand customer feedback, enabling them to build better relationships with their customers.
The software features a wide range of tools including survey creation, questionnaires, survey management, reporting, team collaboration, and analytics.
With their surveys and questionnaires, you can gather detailed customer data such as demographics, purchase history, product preferences, and more.
You can also customize questionnaires based on target audiences and get results organized in tables that can be quickly exported into spreadsheets.
With HubSpot surveys, you can also collaborate with your team and view each other's work, share important documents, and more.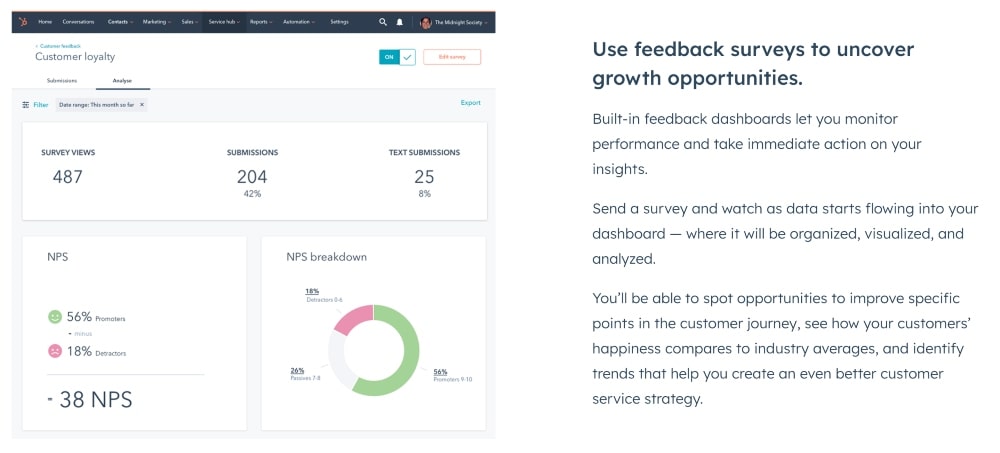 Key Features
Integrate with HubSpot for automatic data synchronization
Create customer surveys with custom questions and answer types
Track customer sentiment over time
Analyze results with configurable reporting features
Automatically send follow-up emails to customers
Set triggers to alert staff of negative feedback
Customize survey theme and design
Gather insights from open-ended text responses
Advanced segmentation capabilities
Pricing
HubSpot plans start out at $800/month.
Our Opinion
HubSpot is comprehensive marketing and customer relationship management software.
Using HubSpot as a survey tool only really makes sense if you're already a HubSpot user (or plan to be) because the software is otherwise very expensive.
What is Survey Software and How Is It Used?
Survey software is used to create, distribute, and analyze surveys.
It's commonly used in a variety of businesses and industries to obtain feedback from customer and employee groups, as well as research studies.
Overall, it helps organizations to collect data on their customer and employee experiences more efficiently and extract insights from the gathered data to make better business decisions.
Survey software typically provides a variety of features such as multiple-choice questions, rating scales, open-ended questions, logic jumps (based on responses), and text fields.
Surveys can then be distributed via email or made available online through social media platforms or websites.
Many survey software providers also offer mobile compatibility so that users may access surveys from any device.
What Features Should You Look for in Survey Software?
When you think of survey software, you probably tend to first think about the types of questions offered by the platform.
But you can get so much more out of your software survey if you know what you're looking for and how to use it.
Here are a few other features to consider when choosing an online survey software to meet your personal or business needs.
Data Analysis
Survey software also typically offers powerful tools for analyzing the collected data.
Many survey solutions include built-in analytics capabilities which provide detailed reports about survey responses.
These reports include visualizations such as charts and graphs that allow users to gain insights into trends over time or compare various data points across different categories.
Other reporting options are often available, such as cross-tabulations which display correlations between different answers provided by respondents
Advanced analytics in some survey systems may even use artificial intelligence (AI) algorithms to identify patterns in the collected data and generate more meaningful results that go beyond simple statistical analysis.
Reminder and Scheduling Tools
Many survey tools also offer additional features such as automated emails for reminder messages sent to those who have not yet completed the survey or survey scheduling options.
Automated reminders will help you get the most out of your surveys and get responses from as many individuals as possible.
Scheduling options allow you to further automate this process and make sure the timing of your surveys is always ideal for optimal response rates.
Ideally, you should be able to launch a scheduled survey campaign or send out reminders automatically at certain intervals of your choosing.
ERP, CRM, and More
Finally, some survey solutions provide integrations with other business tools such as enterprise resource planning (ERP) systems or customer relationship management (CRM) platforms so that companies can take advantage of their existing technologies while benefiting from the features offered by their chosen survey solution provider.
Summary of the Best Online Survey Tools
Survey software provides businesses with a powerful tool for collecting customer feedback and gaining valuable insights about product performance or user experience within their organization.
This helps businesses and companies make informed decisions about their operations or strategies based on real data rather than assumptions.
When choosing an online survey tool, make sure to consider a variety of factors, including the types of questions offered, data analytics reported, and other features such as reminders and scheduling.
Here is a summary of our top picks for the best online survey tool:
If you liked this article on the best survey software or have any questions, feel free to leave a comment below!