We partner with bada$$ companies that offer products that help our readers achieve their goals! If you purchase through our partner links, we get paid for the referral at no additional cost to you! Read our disclosure for more info.
Audio editing software is a powerful tool that you users to manipulate and produce high-quality audio recordings, sound effects, and more.
It's used for a variety of purposes, including music production, podcasting, sound design, video production, and other audio projects.
It allows you to add layers of sound elements to your recordings such as effects, filters, reverb, delay, echo, and more.
With the right software, you can take advantage of a variety of powerful tools that will help you create and enhance your audio recordings with precision.
With the rise of audio platforms like podcasting and video platforms like YouTube, Instagram, and TikTok, it's no wonder that audio editors have become increasingly popular over the last decade.
Audio editing software allows even beginners and amateurs to sound as professional as possible without studio-level equipment or resources.
Whether you're a beginner or an experienced professional, there is a great audio editor out there for you.
In this article, we're going to dive into each one to help you decide which one is best for you.
If you want to skip ahead, here are our top picks for the best audio editing software:
What is the Best Audio Editing Software?
Best for: Best overall pick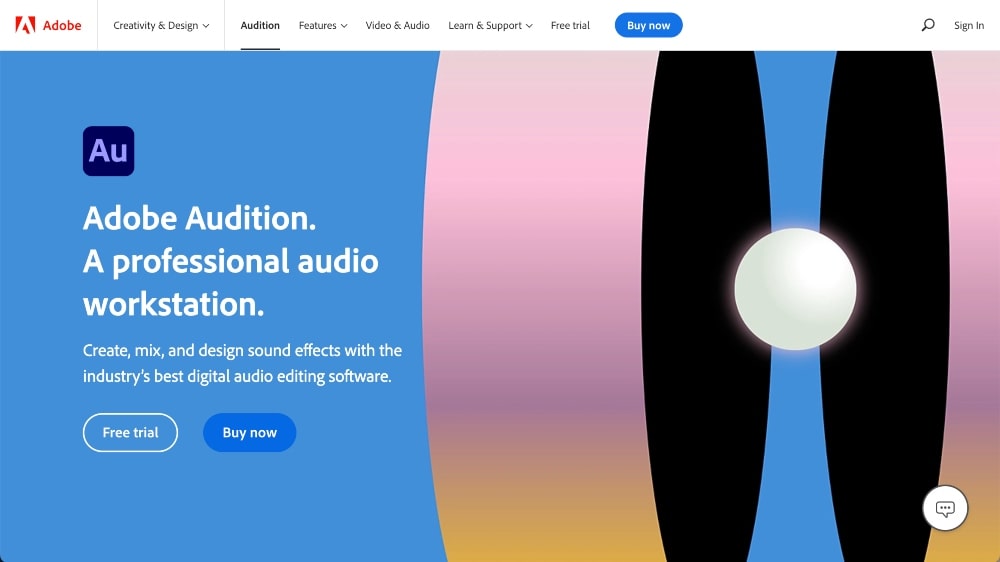 Adobe Audition is a powerful digital audio editing software program from Adobe Systems that you can use to record, edit, mix, and master audio.
With Adobe Audition, you can edit audio files quickly and efficiently with tools such as spectral frequency displays, multi-track mixing, and a variety of creative effects.
The program also includes sophisticated audio restoration features like noise reduction, which can be used to reduce background noise from recordings.
Adobe Audition is the go-to choice for many professional sound designers, music producers, and audio engineers.
Key Features
Multi-track editing and mixing
Advanced audio effects processing
Automatic speech alignment tools
Realistic reverberations and echo effects
Pitch correction and time stretching functions
Automation of parameters for multiple tracks simultaneously
Automated Loudness Correction Tool
VST3 plugin integration for advanced processing options
Video synchronization feature to sync the audio track to a video clip
Direct export to popular podcasting platforms like Apple Podcasts, Spotify, etc.
Master Reel feature for saving frequently used settings as presets
Support for various file formats including MP3, WAV, AAC, AIFF, FLAC & more
Pricing
You can get Adobe Audition for $20.99/month or upgrade to access all Adobe Creative Cloud apps (including photo editing and video editing tools) for $54.99.
New users can also start with a 7-day free trial.
Best for: Open-source audio editor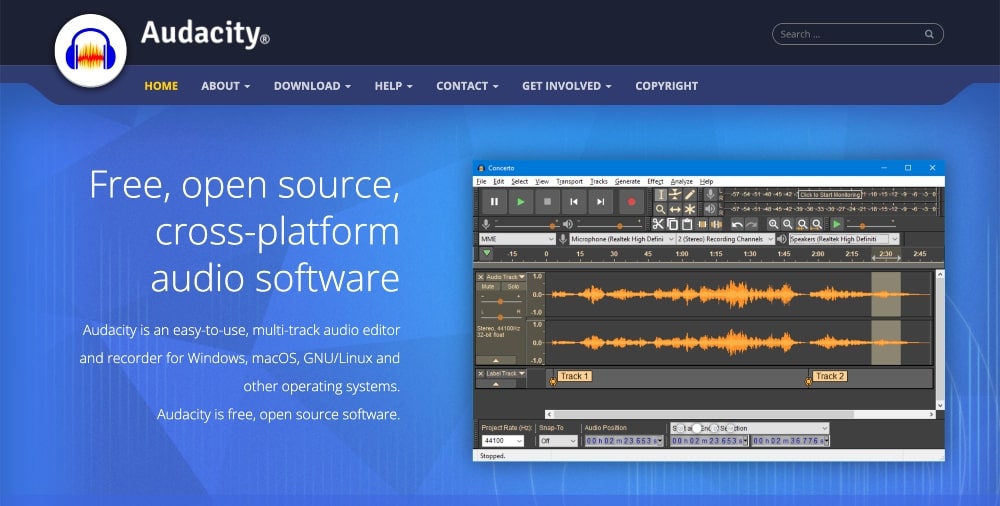 Audacity is a powerful, open-source, and cross-platform audio editing software that has become the go-to tool for many music producers, audio engineers, and sound designers.
It has an intuitive design with a wide range of features and plugins that allow you to create professional-quality audio tracks quickly and easily.
It's available for both Mac and Windows platforms and has become a popular choice for many amateur and professional music producers.
Key Features
Record and edit audio from multiple inputs
Create podcasts with a variety of effects, including noise reduction
Manipulate pitch, tempo, and time-stretching options
Add VST plugins to enhance sound quality
Built-in mixer for mixing various tracks together
Preset filters for easy mastering capabilities
8. Support for multi-track recording and editing on Windows & Mac OS X
Automatically detect clips in recordings and delete them with one click
Control playback speed without changing the pitch
Export projects in multiple audio formats (WAV, MP3, OGG)
Pricing
Audacity is a free audio editor that is open-source.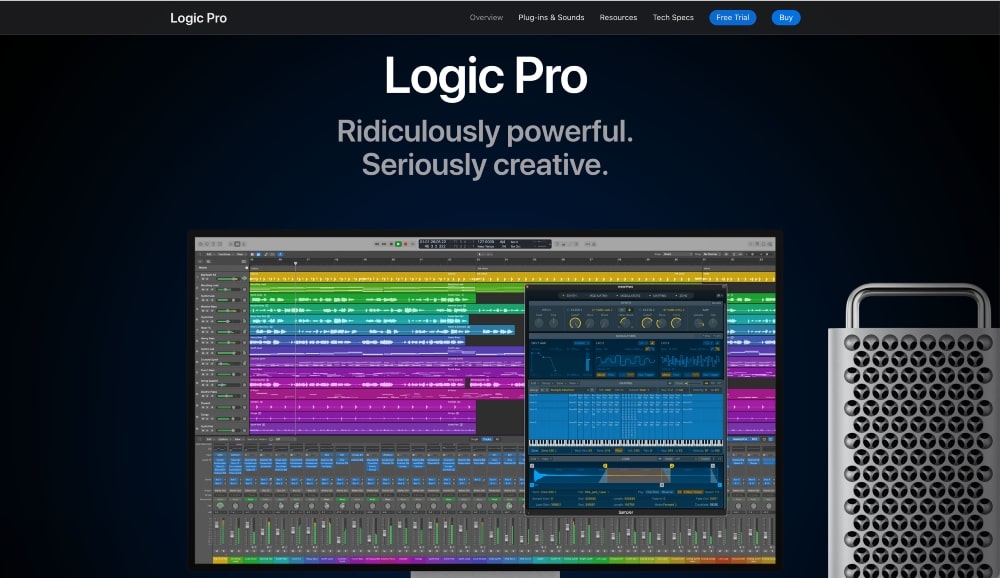 Logic Pro is a professional audio editing software from Apple that is widely used by industry professionals and music producers.
It has been specifically designed with powerful tools for creating, editing, and manipulating sound, making it one of the most comprehensive digital audio workstations (DAWs) available.
Logic Pro has an intuitive interface and a vast library of virtual instruments and effects that can be used in your production.
Logic Pro is only available for Macs.
Key Features:
Powerful MIDI editing and sequencing
Multi-track recording with audio stretching
Flex Time for manipulating the timing of recordings
Professional mixing tools including EQ, compression, and reverb
Advanced score editor with notation capabilities
Cut Music Mode for automatically arranging pieces to fit preferred length
Variety of sound effects, synthesizers, and plug-ins available
Compatible with a wide range of external instruments such as guitars, keyboards, and drum machines.
Pricing
You can purchase Logic Pro for $199.99. They also offer a 90-day free trial to let you test drive, which is pretty awesome.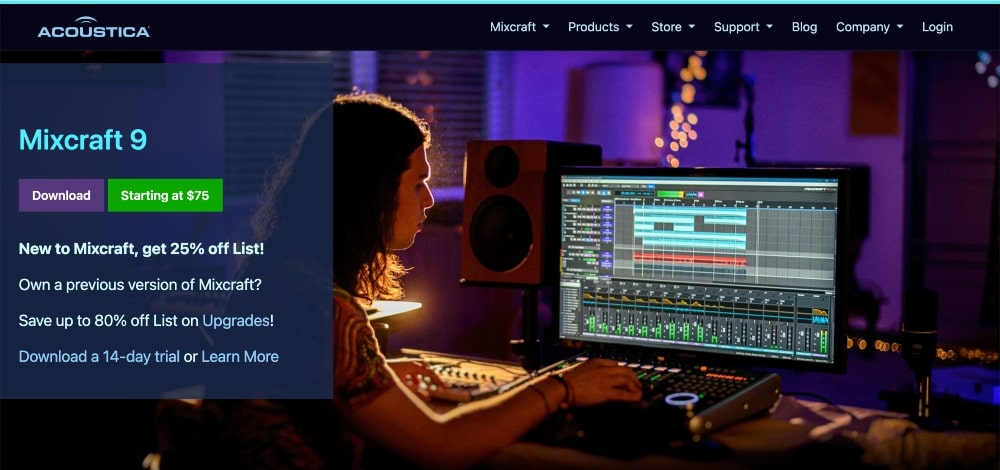 Acoustica is a powerful and intuitive digital audio editing software application that provides professional quality tools for audio recording, mixing, mastering, and restoration.
With Mixcraft 9 by Acoustica, you can create studio-quality recordings from scratch without any prior knowledge of sound engineering.
This program is great for songwriters, musicians, professionals, and hobbyists alike.
Acoustica is only available for Windows users at this time.
Key Features
Professional audio editing capabilities
Supports high-resolution multi-channel recording
24 different plugins for enhanced sound design
High-quality instruments and effects
Includes beat-making tools, music production software, vocal processing, and more
Powerful automation of audio processes with powerful scripting language support
Mixing console with an unlimited number of tracks and buses
Advanced spectral editing capability for precise frequency control to shape your sound accurately at all levels of detail
Real-time preview available for quick feedback on adjustments during mixdown or mastering sessions
Pricing
Mixcraft 9 Recording Studio: $75
Mixcraft 9 Pro Studio: $149
They also offer a 14-day free trial.
Best for: Music production
Magix Samplitude Pro X is a powerful, professional-grade digital audio workstation created by Magix.
The software offers an extensive range of features and functions for professional music production, sound design, mastering, and mixing.
Whether you are an aspiring producer, a professional artist, or just want to jam out with friends, Magix Samplitude Pro X is the perfect choice for musicians of all levels.
It also features a comprehensive library of samples and loops and is an excellent choice for anyone wanting to take their music production to the next level.
Key Features
Multi-channel audio engine
Support for up to 192 kHz, 24-bit and 32-bit recording
Direct sound card support with zero latency monitoring
Mastering plug-ins (EQs, compressors, limiters)
Automation of all mixer and effect parameters
High-quality time stretching algorithms
Advanced MIDI editing functions including a step sequencer
Dedicated performance view with piano roll editor
Audio quantization feature for creating perfect loops
VST Amp simulation technology for guitar and bass recordings
Pricing
Samplitude Pro X is available for a one-time fee of $179 or a subscription of $14.99/month.
They also have a Pro X Suite for $299 or a subscription of $17.99/month.
Best for: Developers who can take advantage of custom plugins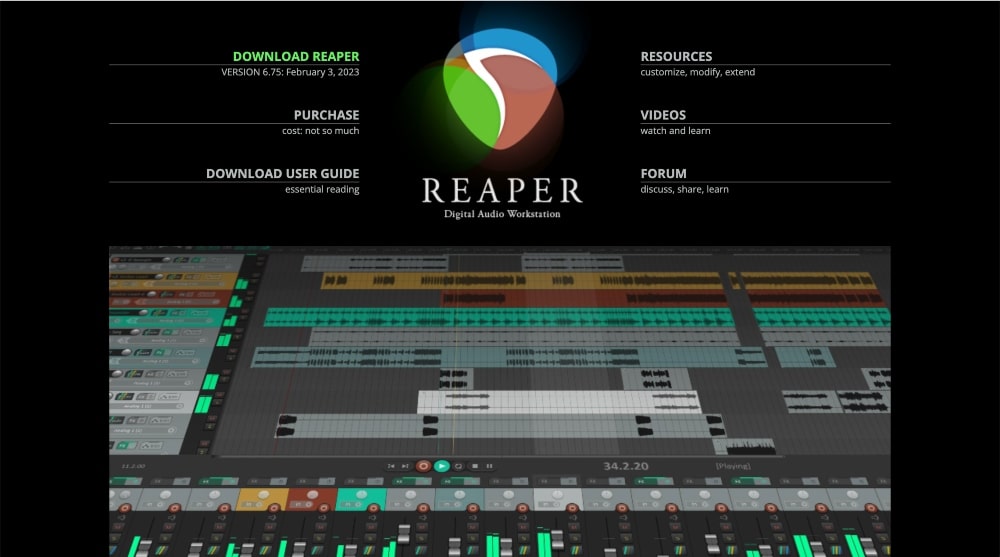 Reaper is a powerful audio editor that has a wide range of features and capabilities suited to both professional and amateur audio production.
It has an innovative dashboard with a high level of customizability that gives you freedom and flexibility in your creation process.
Reaper also has an easily extendable architecture that enables developers to create custom plugins and extensions to enhance the interface.
Additionally, Reaper offers extensive support for different audio formats, making it a great choice for those who need to work with multiple audio sources in their projects.
Key Features
Multitrack audio recording with unlimited tracks
Support for virtual instruments and plugins
Automation to easily control track parameters such as volume or tone
Mixing console to customize the sound of your project
Color-coded markers for easy navigation in long projects
Flexible editing tools for precise timing adjustments
Advanced routing system for creative signal processing effects
Comprehensive support for VST/VSTi plugins and AAX plug‑ins
Support for a wide range of audio formats including WAV, AIFF, OGG, MP3, and MIDI files
Pricing
Discounted license: $60 – for nonprofits, educational institutions, and individuals businesses with revenues under $20,000
Commercial license: $220 – for individuals and businesses with revenues exceeding $20,000/year
Best for: Large projects and professional use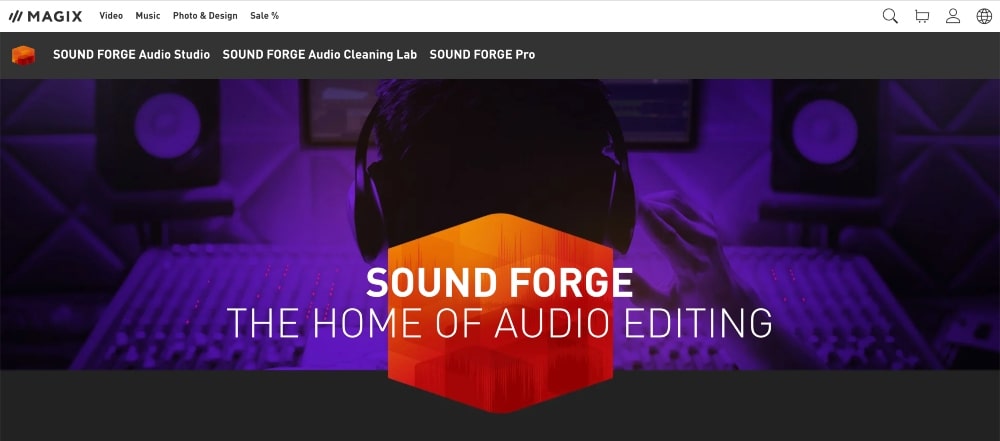 SoundForge by Magix is one of the best audio editors on the market today, with powerful tools for recording, editing, and processing audio files quickly and easily.
SoundForge features an intuitive interface, professional mastering tools, batch-processing functionality, and a comprehensive library of effects and filters
It has both 32-bit and 64-bit processing capabilities, as well as support for 5.1 surround sound mixing.
The software is used by professionals in the music, television, and film industries to create the highest-quality soundtracks and effects.
Key Features
Real-time editing and processing of audio files
Directx, VST, AU compatibility for plug-in support
Support for 32 bits per sample resolution in both recording and playback
High-performance DSP algorithm with unprecedented frequency response accuracy
Multitrack editing capabilities with unlimited track count
EQ curves with up to 64 bands of parametric equalization
Comprehensive suite of effects including Reverb, Delay, Dynamics Processing, and more
Supports multiple file formats such as WAV, MPD, AIFF, and many other popular formats
Automation options to control effect parameters over time
Internal auto gain normalization and multi-format export capability
Pricing
SoundForge Pro is available for a one-time fee of $149 or a subscription of $14.99/month.
They also have a Pro Suite for $199 or a subscription of $19.99/month.
Best for: Free audio editor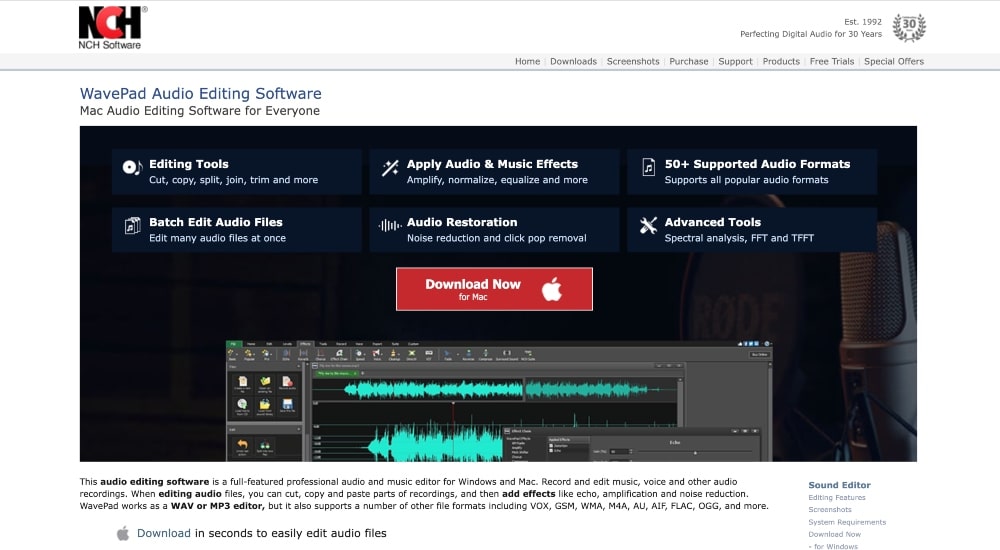 WavePad is an audio editor developed by NCH Software for recording, editing, and manipulating audio on Windows, macOS, Android, and iOS devices.
Whether you're looking to record voice-overs for videos, podcasts, or just your own personal audio recordings, WavePad can help you take your sound editing skills to the next level.
It has a wide range of features that make it possible to create professional-quality recordings., including multitrack editing and noise-cancellation tools.
Key Features
Record and edit music, voice, and other audio recordings
Cut, copy, paste, and delete sections of recording
15+ effects including amplify, normalize, and equalizer
Ability to apply special effects such as reverb or echo
Change the tempo without distorting sound quality
Batch processing to apply effects and/or convert files in one action
Support for virtually all popular audio formats
Spectral analysis (FFT) for editing frequency-specific content
Create bookmarks & regions to easily find and recall sections within an audio file
Pricing
WavePad is free to use!
Best for: Simple free software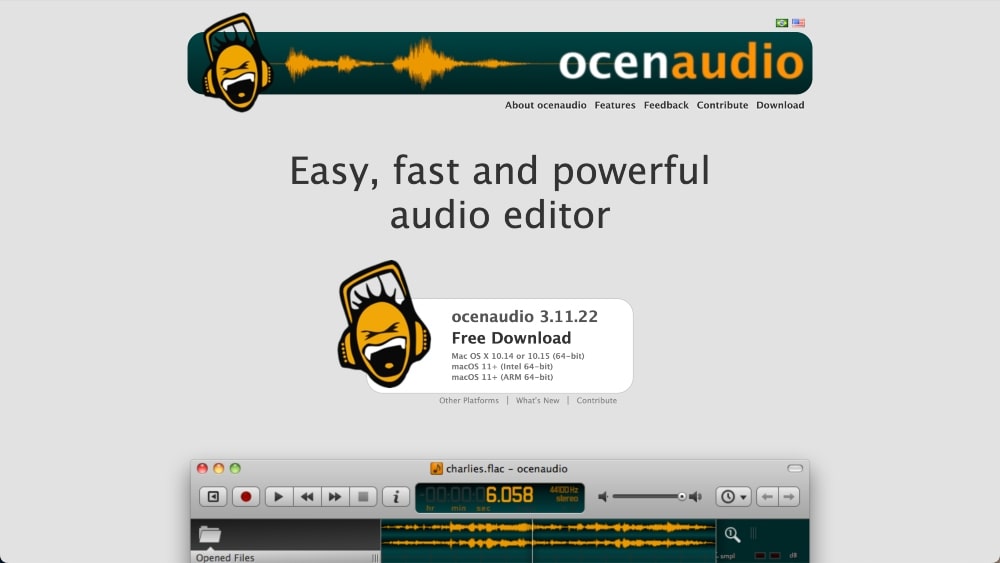 Ocenaudio is an intuitive and user-friendly audio editor for Windows, MacOS, and Linux users.
Some of its key features include multi-track support, real-time previewing of effects, waveform and spectrogram visualization, audio analysis tools, and VST plugin support.
Ocenaudio is a great choice for musicians, editors, podcast producers, or anyone interested in working with audio files.
Key Features
Multi-platform support for Windows, Mac, and Linux
High-quality sound processing algorithms
Supports VST plugins for more advanced audio processing
Dynamic Interface with customizable panels
Easy-to-use interface optimized for quick understanding of the tools available
Real-time nondestructive editing of audio files
A variety of audio file formats supported (WAV, OGG, MP3, etc.)
Spectrogram view and selections
Pricing
Ocenaudio is a completely free audio editor!
Best for: Budget option for Mac users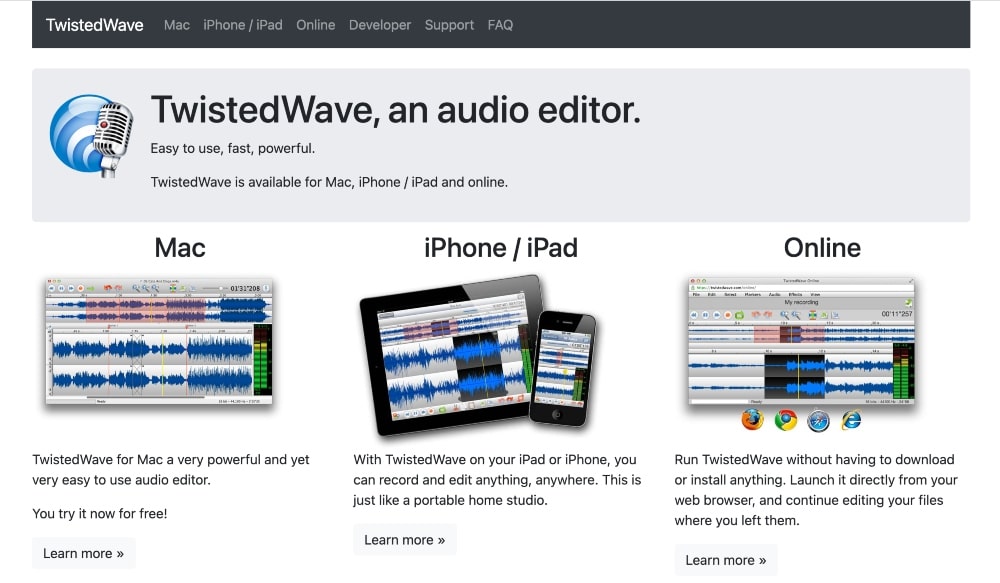 TwistedWave is an audio editor designed to help users improve their sound quality and create custom audio effects.
It has a straightforward interface that makes it easy to use, even for those without much experience in the world of audio editing.
With TwistedWave, you can quickly manipulate the speed, pitch, and frequency of any recorded sound or musical track and add special effects such as reverb, echo, and chorus.
It's an excellent option for both beginner and advanced users who want to enhance their audio recordings and also has a mobile app.
It's ideal for Mac users because the Windows version is still in beta and missing some key features such as speech recognition and voice synchronization.
Key Features
Record and edit audio clips with basic audio editing tools
Export or share recordings in multiple formats (MP3, WAV, M4A)
Create unlimited tracks and playlists with individual volume control
Support for a wide range of sound devices including microphones, line inputs, and more
Adjust the pitch and tempo to make your sound perfect
Insert markers at any point during recording sessions
Add effects like echo and reverb to enhance your sound
Voice activation mode automatically starts recording when you start speaking
Audio file support for WAVE, AIFF & MP3 up to 192kHz/24bits
Pricing
You can purchase a license for TwistedWave for $99. You can try it out for free for 30 days.
Best for: Quick and simple edits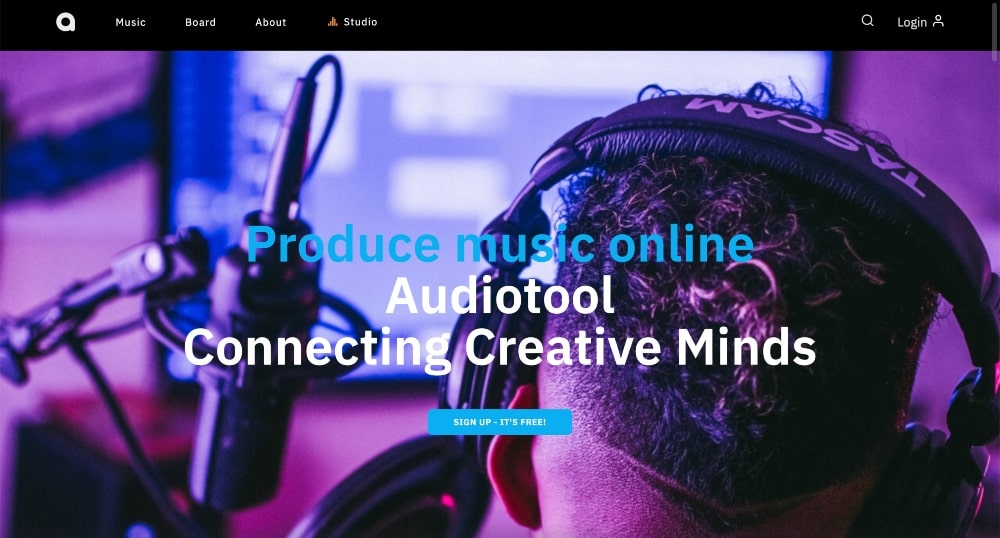 Audiotool is an online music production platform designed to help aspiring producers create and share their own beats, samples, and compositions.
The platform features an extensive range of tools for creating music including a synthesizer, sampler, drum machine, loop recorder, and audio effects.
With Audiotool, you also can collaborate with other producers in and share your creations on social media.
Key Features
Advanced sound editing capabilities with real-time effects, automation, and mixdown features
Access to millions of high-quality samples
Ability to collaborate on projects with friends remotely
Virtual instruments including synths, drums, and more
Cloud storage for easy access across devices
Recording options for vocals or live instruments
Powerful plugins such as VSTs and AU instrument/effects support
Pricing
Audiotool is completely free to use!
Best for: Professional music production
Ableton Live is a comprehensive digital audio workstation and music editing software that enables users to create, record, mix, and master musical compositions.
It has been revolutionizing the music production industry since its launch in 2001, becoming one of the leading software tools for producers and DJs.
It features a visually oriented workflow, allowing users to easily create complex arrangements with extensive sound design capabilities.
It also includes powerful synthesizers and effects, as well as comprehensive support for sample-based production.
Key Features
Multi-track recording
Real-time stretching and warping of audio
Support for VSTs and other instruments and effects
Unique session view for nonlinear composition, performance, and improvisation
Powerful MIDI sequencing of software or hardware instruments
Onscreen parameter control with real-time feedback from the controller
Automatic plug-in delay compensation (A.D.C.)functionality
Sample library developed in conjunction with Loopmasters
Groove engine to apply swing to any MIDI or audio material
Grouping tracks for better organization during a project
Pricing
Ableton Live has 3 pricing plans:
Live 11 Intro: $99 (essentials)
Live 11 Standard: $449 (full features)
Live 11 Suite: $749 (completely integrated studio)
You can also start with a 90-day free trial.
Best for: Budget-friendly audio editing tool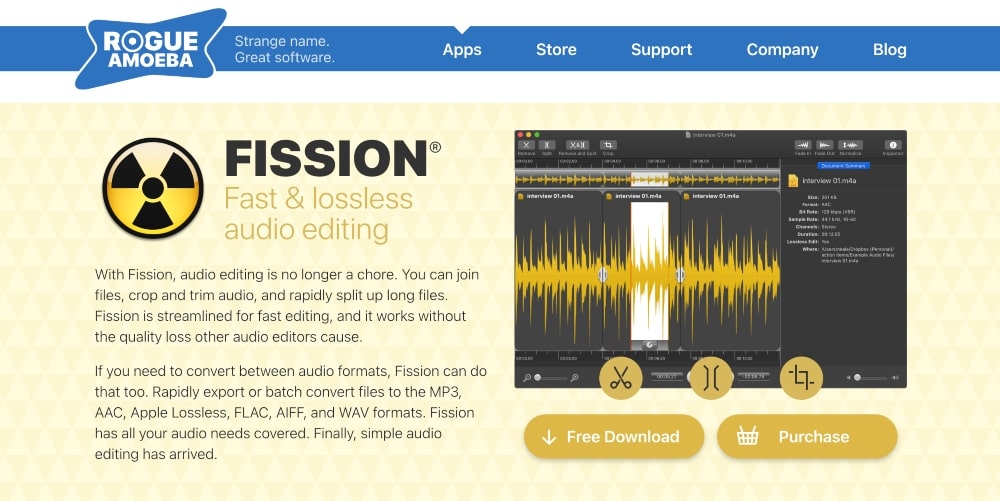 Fission is an audio editing tool designed to provide users with a powerful and intuitive way of working with their audio files.
One of the most notable features of Fission is its ability to cut, paste, and manipulate audio without having to convert the audio into a different format.
Fission also comes with a library of loops and samples that can be used to quickly create background music and soundtracks.
It includes a variety of effects and filters for customization, including fade-ins, adding reverb, and much more.
Key Features
Easy-to-use interface
High-quality audio output
Ability to record and edit multiple tracks simultaneously
Comprehensive library of sound effects and filters
Flexible timeline editing tools
Audio analysis capabilities for identifying frequency, intensity, and other characteristics of a track
Support for a wide variety of file formats including WAV, MP3, AIFF, FLAC, etc
Intuitive workflow tools such as virtual patchbay and clip grouping system
Multi-band equalization controls provide precise frequency adjustments
Cloud storage support allows collaboration with team members in remote locations
Pricing
You can purchase Fission for just $35.
Best for: Beginners to audio editing and Mac users
GarageBand is an incredibly powerful and intuitive multi-track audio editor available for Mac and iOS.
It's a popular choice for both professionals and aspiring musicians alike, as it offers a wide range of features that enable users to create amazing music with minimal effort.
GarageBand comes with over 2000 sounds, ranging from instruments and loops to drums, percussion, and more.
It also includes many music production tools such as audio effects, virtual instruments, professional mixing techniques, and even a built-in tuner.
Key Features
Multi-track recording
Audio and MIDI editing
Beat creation tools
Audio filters and effects
Sharing options for exporting music to Apple Music Connect or other media platforms
Onscreen musical notation editor
Works with iPad, iPhone, Mac, and Apple Watch
Preloaded loops library allowing you to customize your soundscapes quickly
Pricing
GarageBand is free audio editing software.
What is Audio Editing Software?
Audio editing software is used to edit, and manipulate the sound of audio recordings, including changing the pitch, adding effects, and generally improving the quality of audio recordings.
It can also be used to create new music or soundscapes from existing recordings by combining audio clips and samples from multiple sources.
The software typically consists of audio editing tools that allow you to customize your audio recording with a range of edits, effects, and filters, including noise reduction, equalization, compression, mixing and mastering capabilities, and more.
Many advanced tools even allow users to use automation to control how certain elements interact with one another within their project.
For example, many producers use automation on their mixers when creating a track in order to get parameters like volume and panning exactly how they want them while they record live instruments or vocals into their composition.
Automation also makes it easy for engineers to adjust levels throughout a recording quickly without having to manually alter each parameter one by one which saves time during the production process.
This software is used for a variety of purposes in many different industries spanning from podcasting to music to news to video production.
It's important to think about what tools you might need for your project(s) and choose the best audio editing software for your needs.
How to Choose the Best Audio Editor
There are many different audio editing software options available for a variety of devices. Some of these are very comparable and some of them have some more unique features and benefits.
Here are some tips on how to choose the best audio editor for you.
1. Consider Your Needs
Of course, you'll always want to consider your personal or professional needs first and foremost. A tool that is ideal for a beginner will likely be different than the ideal tool for an experienced professional.
What type of projects do you plan on working on?
Are you looking for an all-in-one program that can handle both editing and mastering tasks?
Or do you need a program that will focus solely on sound design or post-production?
Consider what audio editing tools each software includes and how important these are to your projects.
Knowing what type of audio editing you'll be doing will help narrow down the choices and make it easier to find the ideal software for your needs.
2. User Interface and Learning Curve
Some programs have very intuitive interfaces, while others may be more complicated or difficult to use.
Look at a few video tutorials to get a better understanding of how easy (or difficult) each program is to use or start with beginner-focused software.
You also want to look at how compatible certain programs are with different operating systems or hardware devices.
3. Consider Your Budget and Pricing Options
Some audio editing software, especially ones designed for professionals, are quite expensive.
Others offer subscription plans or free trials that allow you to test out different functions before committing to a purchase.
Depending on your budget, this could affect which audio editor you end up choosing in the end.
Summary of Best Audio Editing Software
As a whole, audio editing software is an incredibly versatile tool that provides users with precise control over their soundscapes and recordings.
From recording sessions to post-production mixing and mastering sessions – there's no limit to what you can achieve with this powerful piece of technology!
There are many factors that should be taken into account when choosing an audio editor — from design and compatibility needs all the way down to budgeting concerns and customer service availability — but it's possible to find one that meets your needs without breaking the bank!
Here is a summary of our top picks for best audio editors:
If you liked this article on the best audio editors or want to let us know what your favorite is, leave us a comment below!