We partner with bada$$ companies that offer products that help our readers achieve their goals! If you purchase through our partner links, we get paid for the referral at no additional cost to you! Read our disclosure for more info.
Streaming software has become incredibly popular in recent years, as you are surely aware unless you've been living under a rock.
You can use streaming software to watch anything from movies to TV shows to concerts and live events, and so much more.
But it goes so far beyond that. We won't be talking about major streaming platforms like Netflix, Hulu, Disney+, etc. in this article.
Instead, we're talking about the streaming software that you can use to stream your own content — video games, meetings and conferences, and anything else from content creators and influencers.
In the world today, anyone can turn on their camera and start streaming and use their content to connect with their audiences, earn money, and so much more.
But as easy as it is, it's still important to keep a few factors in mind when choosing the best streaming software for your needs.
In this article, we're covering all of that and more.
If you want to jump ahead to our top picks for best streaming software, here they are:
What is a Streaming Software?
As I mentioned, streaming software is used to stream audio and video content for a variety of purposes, including movies, TV shows, sports, games, and other programs.
Streaming services also allow businesses to hold meetings online where they can share presentations while engaging with remote participants during the streaming session.
Or the average content creator, YouTuber, or influencer to live stream a cooking class, fashion show, or pretty much anything you can think of.
The technology behind streaming software involves capturing media files on the server side, encoding them with a specific format (such as MPEG-4 or HLS), and broadcasting it over the internet.
The quality of the content can be controlled by changing various parameters like resolution or frame rate.
It's important to have a good internet connection and good live streaming software to make sure your video quality is clear and well-received by your audience.
How to Choose the Best Streaming Software
When it comes to the best streaming software, there are many choices available. Here are a few key features to consider when deciding.
Reliability and Video Quality
Of course, the number one factor to consider is the quality if your live stream.
Streaming live broadcasts requires smooth connections and reliable transmissions so that viewers don't experience any interruptions or lags while watching and potentially bounce.
You should select streaming software that offers high-speed connections and reliability so that viewers have an enjoyable viewing experience every time they access your stream.
Additionally, you want your viewers to enjoy high-definition image quality no matter what device they are using or what type of internet connection they have.
Look for options that support various video codecs such as H264/AVC and H265/HEVC so that you can provide HD images with minimal buffering time on all devices and networks.
Scalability
Another factor worth considering is scalability. Even if you start out small, you want your streaming program to be able to meet potentially growing business demands.
Your live streaming software should be able to scale up during peak demands while still maintaining reliable performance levels at all times so that you don't miss out on any potential customers due to service disruptions or unavailability during peak hours.
Cost
This one may or may not be of relevance to you, but it generally is for most people.
If you're just starting out, you probably want to consider free streaming software or one that is fairly affordable.
Look for options that offer some flexibility so that you only pay for the services that best suit your business or personal needs.
What is the Best Streaming Software?
Best for: Best choice overall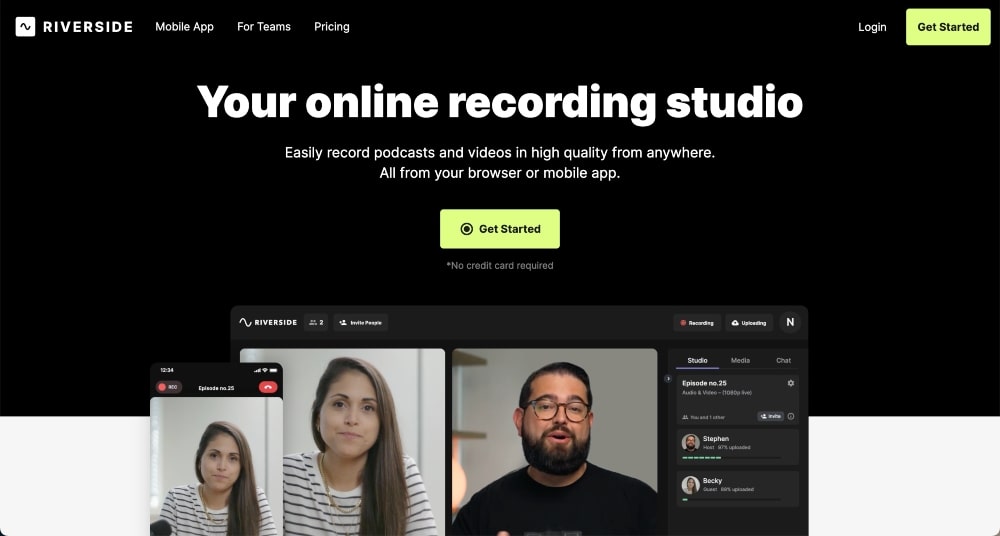 Riverside FM is probably the most popular live-streaming software on the market and is used by huge media companies like Netflix, Marvel, Spotify, Microsoft, and more.
Riverside FM provides tools such as automated content scheduling, playlisting, data analysis, multi-user support, and monetization options.
Riverside FM provides extensive customization options, including custom channels that are tailored to specific interests and target audiences and embedded HTML widgets and social media feeds from popular sites like Twitter, Facebook, and Instagram.
Some of the various audio effects include reverb, a noise gate filter, and graphic equalizer settings.
With Riverside FM, you can record, edit, and host live content such as podcasts, talk shows, music, and more. You can also create transcriptions and social media clips for your content.
Detailed data analytics will help you gain deeper insights into your viewers' behavior so you can better understand what drives engagement on your channels.
This helps you track viewership trends over time, allowing you to adjust strategies accordingly in order to maximize reach and profitability.
The software also includes built-in monetization tools such as ad campaigns in order to generate revenue streams from if desired.
Riverside FM is compatible with both Windows and MacOS as well as a variety of devices including smartphones and gaming consoles.
It supports a wide selection of audio formats, including MP3, WAV, AAC+, OGG, and FLAC for greater flexibility when creating your broadcasts.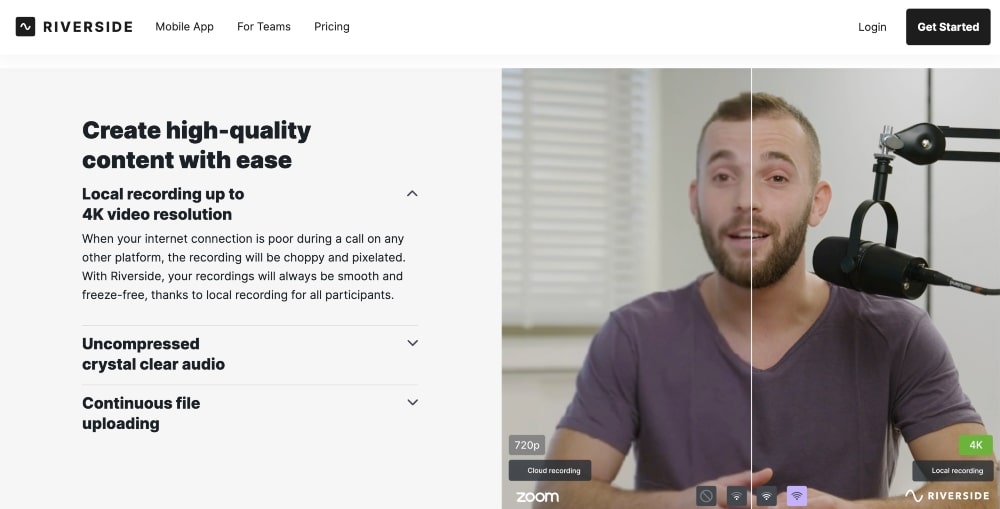 Key Features:
Live streaming of music, podcasts, talk shows, and more
Stream to Facebook, Youtube, Twitch, LinkedIn, and more
Interactive chatroom for listeners
Playlist rotation with unique selections from local artists
Podcast recording, editing, and hosting capabilities
Screen sharing and event scheduling
Create transcripts of your content
Local news, events, and current affairs updates
Search through a library of music, podcast, and other content
Variety of user-friendly radio applications
Personalized recommendations based on individual music tastes
Pricing:
Free: $0 with up to 2 hours of content, watermarks, and up to 720p video quality
Standard: $15/month with up to 5 hours of content, screen sharing, live streaming to social media, and up to 4k video quality
Pro: $24/month with up to 15 hours of content and unlimited transcripts
Teams: Contact to book a demo and get pricing.
Our Opinion:
Riverside FM is our top choice for the best live-streaming software. With local recording in up to 4k and integrations to stream to Facebook, YouTube, Twitch, and others, Riverside is a great choice for podcasts, webinars, interviews, meetings, and more.
The plans are very flexible and you can get started with the free plan to test out the software.
Best for: Open-source streaming software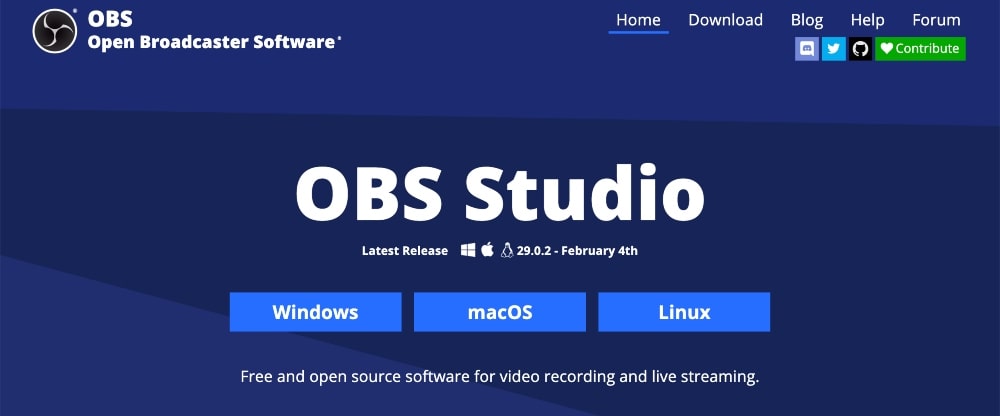 OBS Studio is an open-source streaming software that provides a comprehensive suite of tools for creating high-quality streaming audio and video content.
OBS Studio supports multiple capture sources such as webcam, microphone, and game capture from various platforms.
It also offers advanced features such as scene transitions, chroma keying, and recording capabilities.
It also comes with customizable themes, support for multiple languages, built-in chat functionality, and a built-in collage mode that lets you add images or videos to your broadcast.
The streaming capabilities of OBS Studio are pretty impressive, including bitrate settings based on upload bandwidth so you can get the best possible quality for your streams regardless of your connection.
It also includes a variety of advanced encoding options that can help optimize performance even further for larger broadcasts or those with slower connection speeds.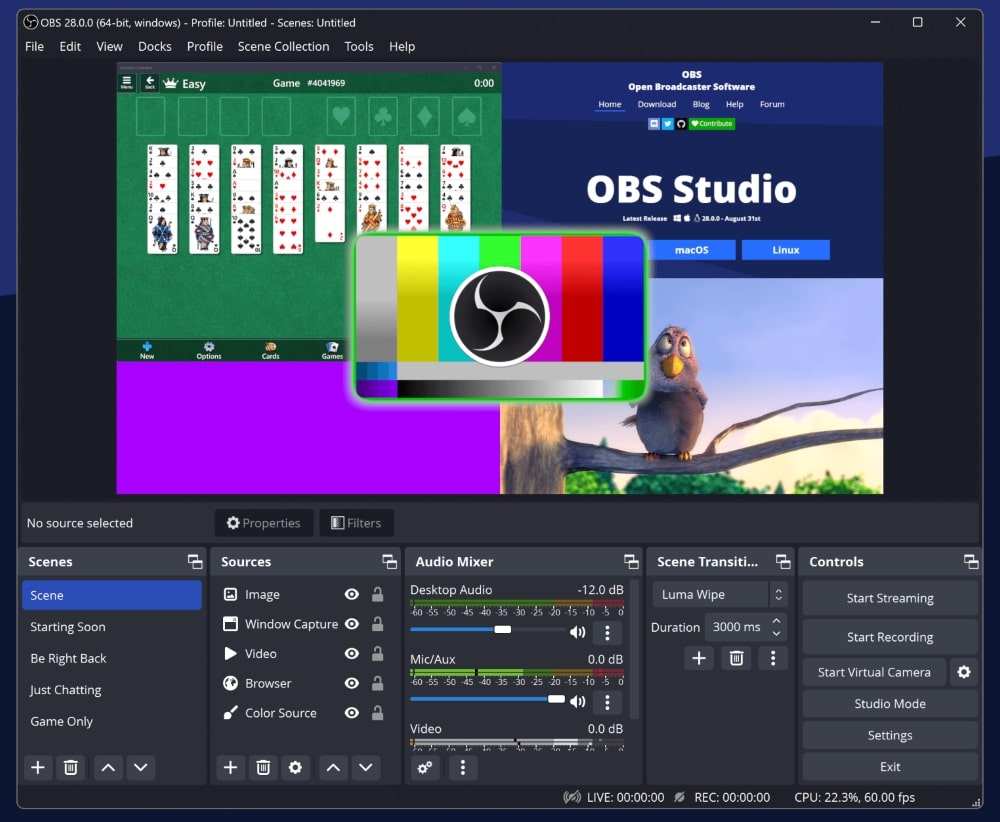 Key Features:
Stream directly to Twitch and YouTube as well as other streaming services
Record video and audio simultaneously
Real-time source and device capture
Support for an unlimited number of scenes and sources
Intuitive audio mixer with per-source filters such as noise gate, noise suppression, and gain
Powerful transition system for animated transitions between scene changes
Chroma key filter for green screen videos
Video compositing across multiple scenes
Live RTMP streaming output to CDNs or broadcasting applications like OBS Live
Pricing:
OBS Studio is free, open-source streaming software.
Our Opinion:
OBS Studio is our top choice for best free streaming software or anyone wanting open-source. It has a variety of features and is perfect for anyone just starting out who wants free software.
Best for: Twitch users and streamers in the gaming and sports industry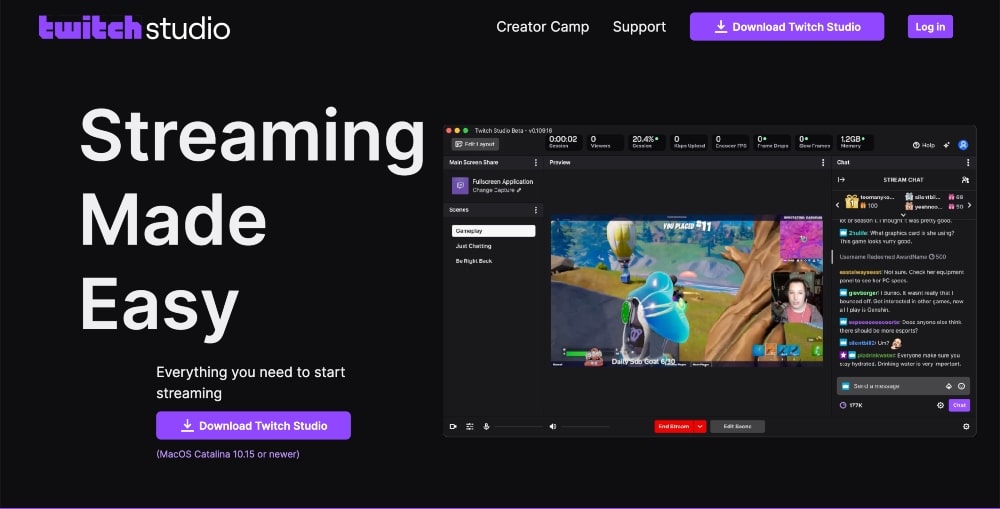 Twitch Studio is a live streaming platform specifically designed mostly for gaming and eSports streamers, but a variety of other niches and Twitch streamers use it as well.
It's part of Twitch.tv, which hosts the world's largest online video game community.
With Twitch Studio, you can easily broadcast live gameplay, music, and other content in with minimal setup required.
The software offers an intuitive interface with easy access to key features such as custom overlays, audio control settings, and more.
In addition to providing an easy way to get started streaming content on Twitch, Twitch Studio has several advanced features that can help experienced streamers take their broadcasts to the next level.
It includes built-in tools to customize the appearance of your live stream with overlays and alert notifications for when viewers interact with it.
There are also options for managing audio from multiple inputs with its Audio Mixer feature, allowing you to adjust levels between mic inputs or system sound separately.
Twitch Studio also integrates directly with popular platforms like OBS and XSplit Broadcaster so you can quickly transition between streaming services within the application.
This helps streamers improve their production value by adding additional effects or plugins like visuals or sound bites in just a few clicks of a button.
It even supports HLS (HTTP Live Streaming), which allows broadcasters to easily capture gameplay from mobile devices or consoles without extra hardware or software setups needed.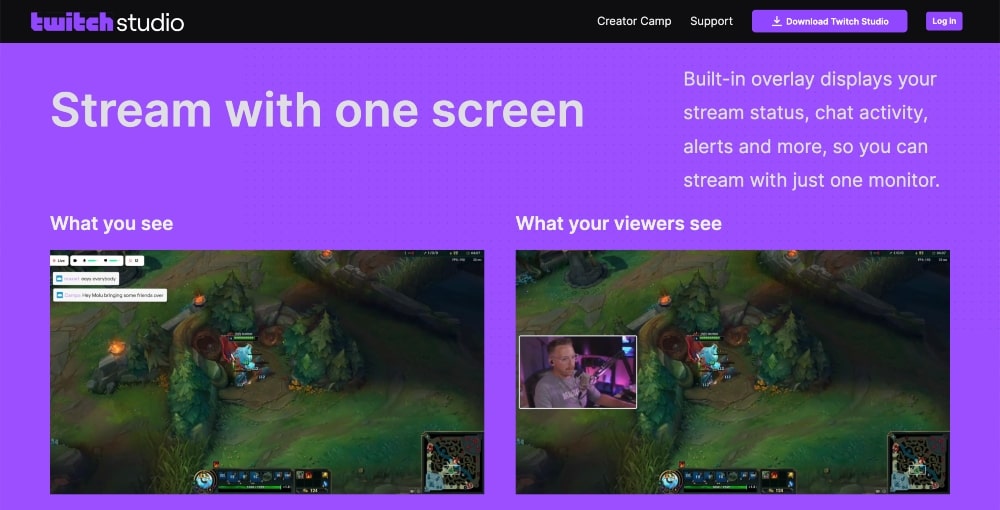 Key Features:
Live streaming and video recording
Audio Mixer for voice input, music, and sound effects
Scene transitions to switch between scenes
Custom alert notifications with custom visuals & audio cues
Game-specific settings for optimal performance
Ability to add text overlays with customizable fonts
Preloaded library of GIFs and images
Support chat system allowing viewers to join the conversation
Interactivity tools such as polls and quizzes
Chatbot integration
Pricing:
Twitch Studio is free to use.
Our Opinion:
Overall, Twitch Studio makes it easy for both beginner and intermediate-level streamers to create high-quality broadcasts quickly and efficiently without any prior knowledge or experience.
Its ease of use and features make it the ideal choice for gamers or musicians looking to stream their content on the popular streaming platform, Twitch.
Best for: Professional production for corporations and larger organizations
Wirecast is a live streaming software that allows you to quickly and easily create professional-grade broadcasts.
Wirecast is equipped with essential tools that enable streamers to monitor video sources, switch between them in real time, and introduce transitions, titles, and graphics into the broadcast.
Additionally, Wirecast offers a multitude of options for audio configuration including sound effects as well as background music.
With its flexible recording settings, Wirecast enables streamers to capture multiple recordings of one event at different quality levels simultaneously, making it ideal for large-scale productions or conferences where capturing multiple angles may be necessary for post-production purposes.
Wirecast allows you to live stream directly to popular streaming services such as YouTube Live, Facebook Live, and Twitch, making it easy for streamers to reach their audience wherever they are watching from.
Through its built-in chat feature, Wirecast also enables viewers to interact with the streamer during the broadcast.
Wirecast comes with support for full HD streaming capabilities as well as NDI support which allows users to bring in external sources from other computers onto the same broadcast.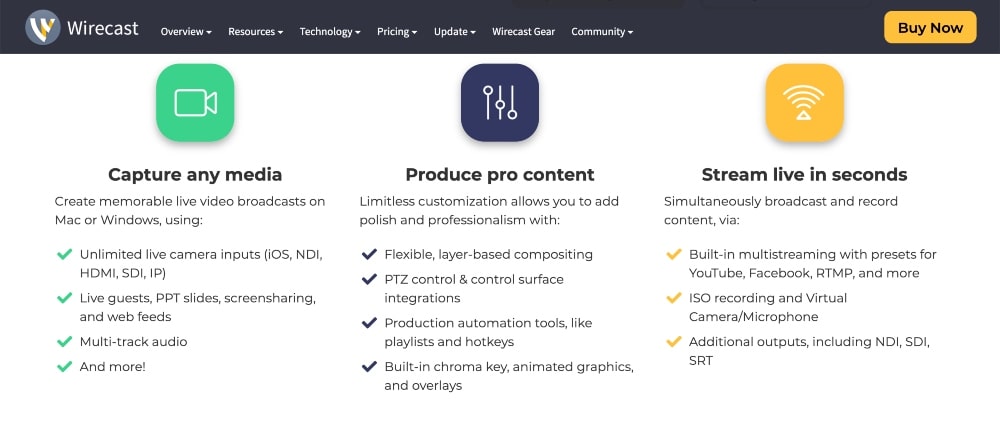 Key Features:
Live stream video to multiple destinations simultaneously
Live Production with up to 8 sources
Support for 4K, HD, and SD captures
High-quality audio capture and mixing
Prebuilt transitions, sound effects, and titles
Built-in chroma key compositing
Multi-view output options
Powerful social media integration
Cloud streaming support
Record locally in full resolution
Pricing:
Wirecast Studio: $599 with up to 2 remote guests
Wirecast Pro: $799 with up to 7 remote guests + other features
Our Opinion:
Wirecast is ideal for companies and organizations with large-scale productions. Their live-streaming software caters to professionals with higher-budget productions – hence the higher price tag.
Best for: Gamers and cloud-based streaming software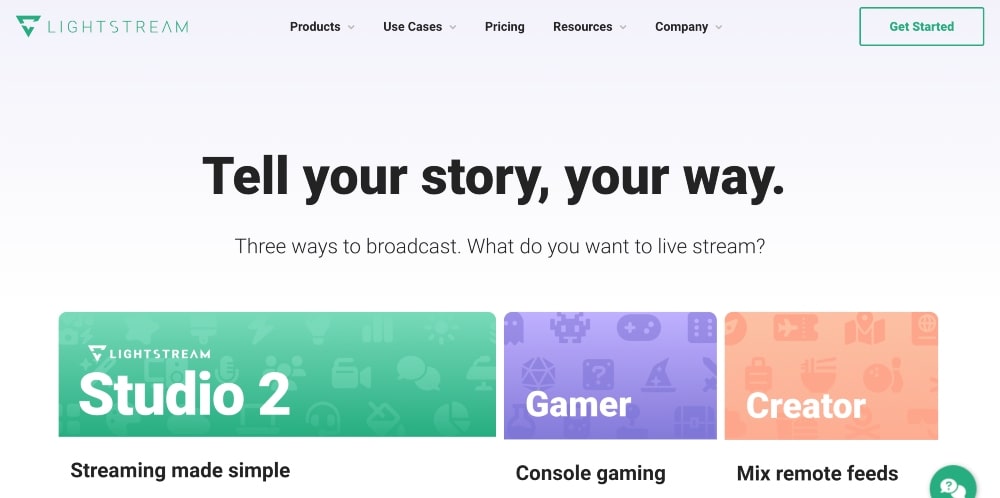 Lightstream is a live streaming software with a simple but powerful dashboard that enables gamers and creators to create stunning and engaging streams with minimal effort.
With its intuitive interface, you can quickly customize your live stream with overlays and widgets, share them via social networks or broadcast them live on platforms like Twitch, Mixer, YouTube, and Facebook.
Lightstream Studio also integrates with popular streaming services such as XSplit Broadcaster, OBS, and Elgato Game Capture to ensure maximum compatibility in streaming production.
An animation editor allows users to easily add animations like fades, zooms, slides, and wipes to enhance the visuals of their streams.
In addition, Lightstream Studio provides a suite of video effects such as chroma keying for green screen backgrounds and transitions for switching between scenes or segments in a stream.
The software also simplifies the process of streaming by providing native integration with Discord servers so that viewers can interact with each other during live broadcasts.
Additionally, it supports remote control features so viewers can participate in polls or vote on song requests directly from their mobile devices or laptops
Lightstream Studio also offers automated moderation that uses artificial intelligence (AI) technology to help streamers manage chatrooms while they are busy focusing on other aspects of their streams.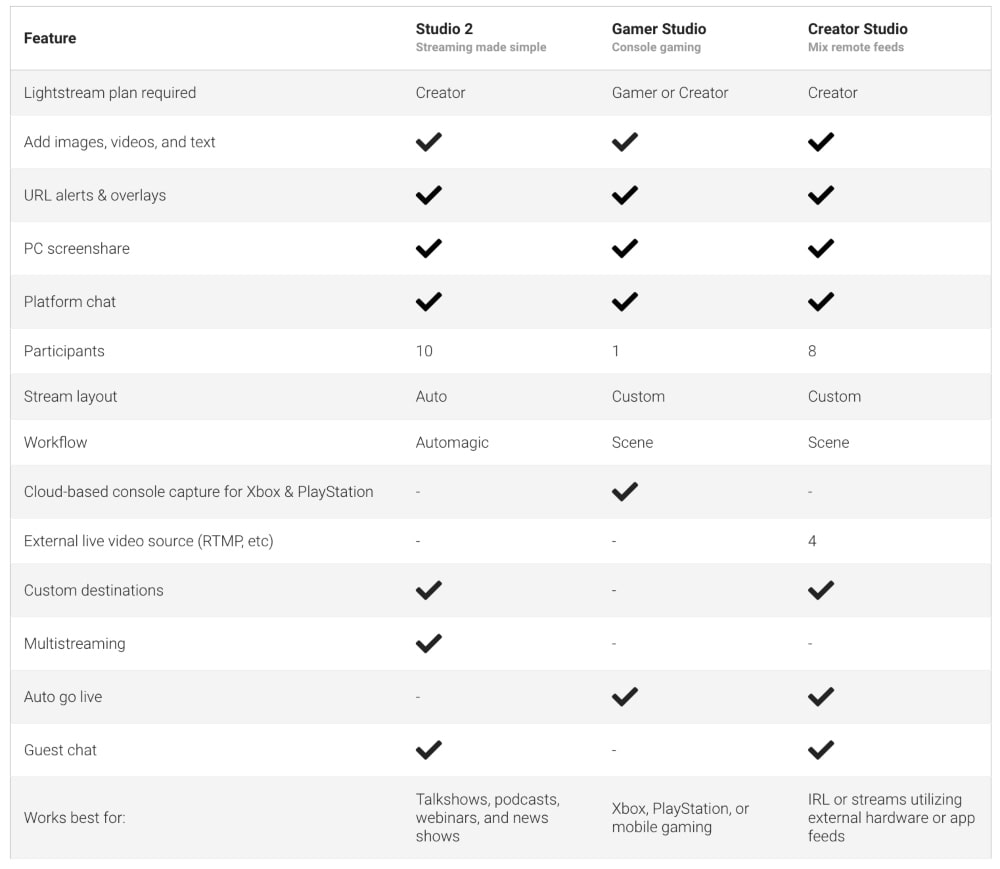 Key Features:
Live video streaming and recording to multiple destinations
Multi-camera switching with unlimited sources
Professional transitions, effects, and titles
Customizable audio mixing
Automated social media posting capabilities
Instant replay system for live-stream editing
Cloud virtual sets and green screen background removal
Chroma key compositing
Monetization through the integration of donation platforms
Pricing:
Gamer: Starting at $7/month for 720p 30FPS max resolution and up to $14/month for 1080p 30FPS max resolution
Creator: Starting at $20/month for 720p 30FPS max resolution and up to $40/month for 1080p 30FPS max resolution
They also offer a 7-day free trial on their plans.
Our Opinion:
Lightstream is a great live streaming software for gamers and even has a specific plan just for gamers. Their creator plan was designed for podcasts, talk shows, and other live streaming.
Best for: Windows operating systems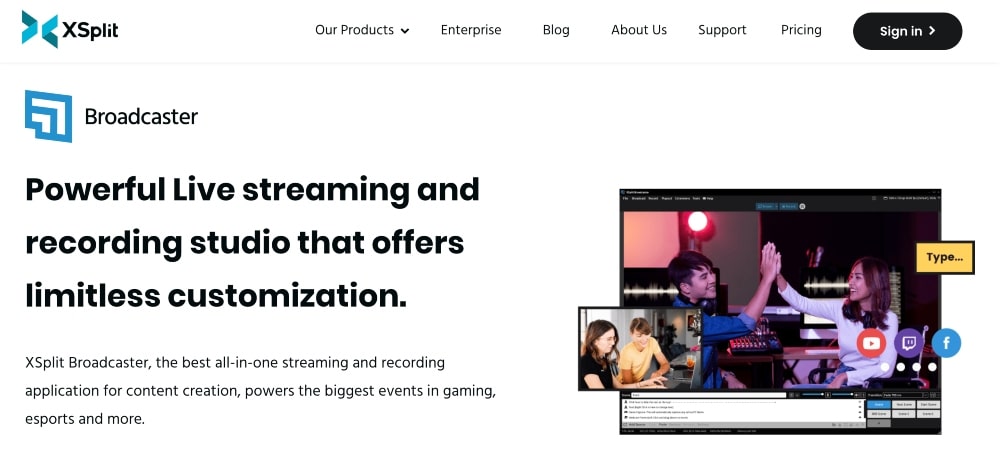 XSplit Broadcaster is a live streaming software used by millions of broadcasters, streamers, and gamers from around the world to create stunningly professional online broadcasts.
XSplit Broadcaster enables you to add webcam overlays, chroma key, text overlays, and various other graphical elements to your live streams.
Additionally, you can use the program's built-in audio mixer to control sound levels across channels or mute tracks when needed.
XSplit Broadcaster also supports multiple platforms such as Twitch, YouTube, and Mixer, so you can easily broadcast to your desired platform.
For advanced streamers who want more control, you can adjust the resolution and bitrate of your stream in order to ensure that viewers always have the best possible viewing experience without buffering or lag issues.
XSplit supports multiple scenes that allow you to switch between preconfigured layouts quickly and easily during a broadcast.
The software also includes a virtual green screen, which can be used for advanced video editing techniques such as chroma keying and layering videos together in one scene.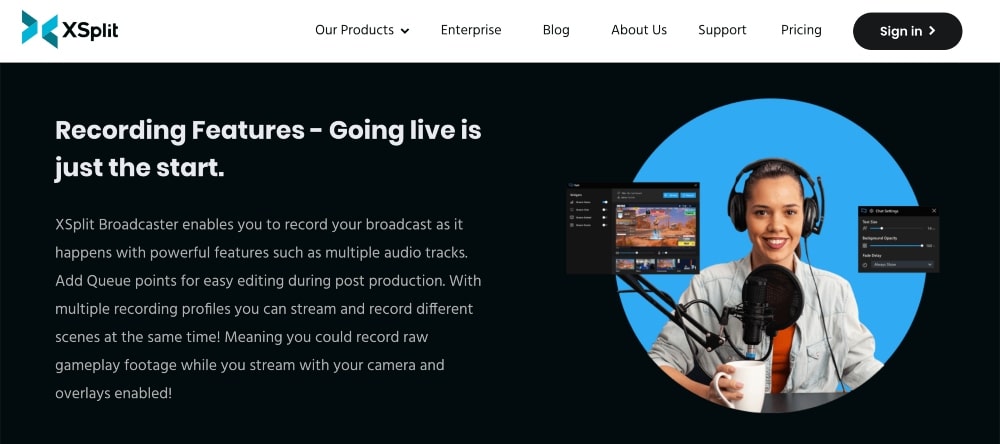 Pricing:
VCam Premium: Starting at $4/month (mostly for background removal for webcams)
Broadcaster Premium: Starting at $7.50/month (for live streaming and other video editing tools)
Premium Bundle: Starting at $10/month and includes access to all apps
You can also get cheaper prices by upgrading to an annual plan or buying a lifetime license.
They also have a free version, but it includes watermarks and doesn't allow you to upload your own logo.
Our Opinion:
XSplit Broadcaster is our best streaming software for both beginners and Windows users.
The VCam plan is also available for Mac users, but it doesn't include any streaming features. The Broadcaster plan offers streaming, but it's currently only available for Windows.
Best for: Creators and influencers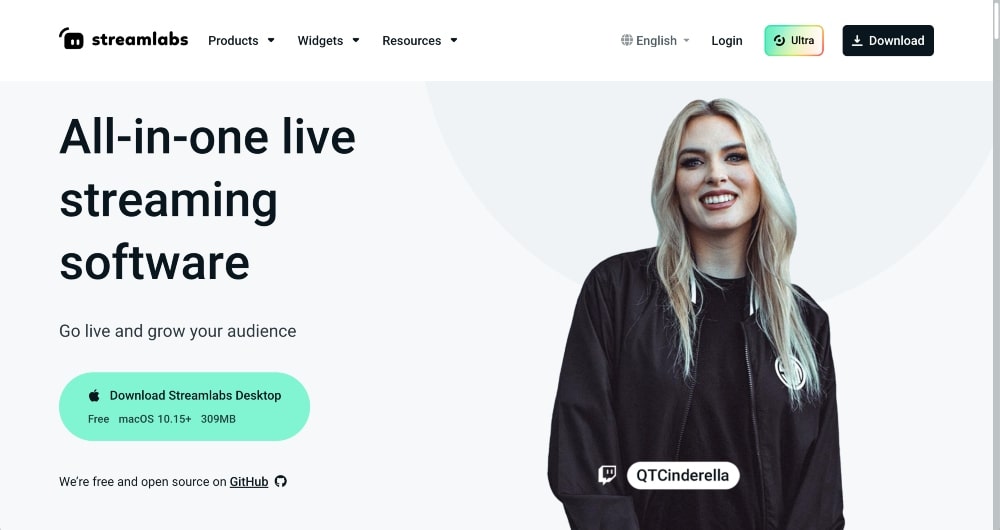 Streamlabs is a powerful and user-friendly live-streaming platform that offers a host of features to help streamers create engaging and interactive streams.
Built with both Windows and Mac users in mind, Streamlabs streamlines all aspects of the streaming process from start to finish.
Its intuitive UI makes it easy for novice streamers to quickly become pros, while its advanced tools allow experienced streamers to truly customize their streams.
For starters, Streamlabs offers an array of widgets and alerts that can be used to easily customize your stream's look and feel with overlays, transitions, and animation effects.
You can monitor chat activity during your live stream as well as track viewer analytics in order to optimize content accordingly.
Streamlabs also has several integrations with popular third-party services such as YouTube Gaming and Twitch which offer exclusive tools such as donations and subscriptions.
In addition to customization features, Streamlabs also provides powerful streaming software for anyone looking for professional-grade broadcasts.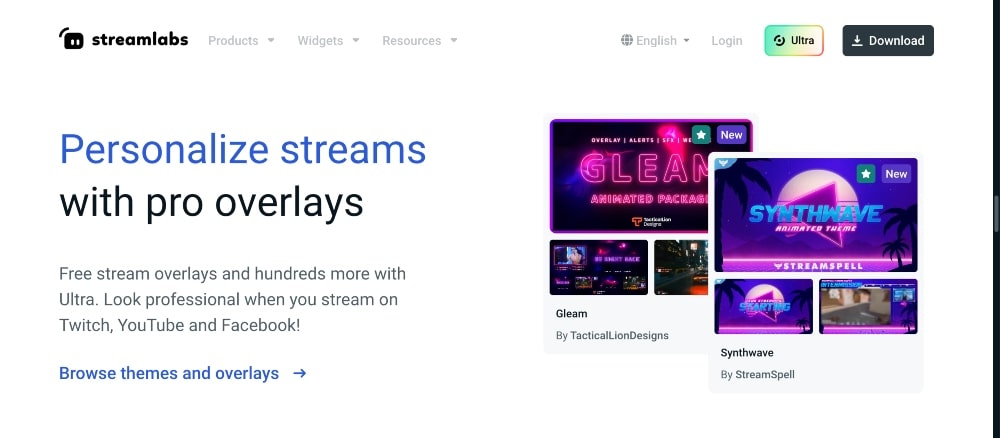 Key Features:
Live streaming and video recording
Real-time chat moderation
Customizable stream overlay
Automated donations with notifications
Stream alerts including followers, subscribers, donations, hosts, raids, and much more
Ability to monitor viewer count & engagement rate in real time
Support for Twitch emotes and extensions
Integration with Twitch Bits and Cheers
Cloud hosting of videos/streams
Pricing:
StreamLabs has a free version and a paid plan with additional features called StreamLabs Ultra, which includes add-ons like customizable overlays and themes as well as multistreaming to other platforms.
StreamLabs Ultra starts at $19/month (or $149/year).
Our Opinion:
The free version of StreamLabs is really great place for beginners to get started.
But if you want a lot of customization in your live streams, including themes, overlays, and the ability to stream to platforms like YouTube and Twitch, you'll have to upgrade to the StreamLabs Ultra.
Best for: Multistreaming on multiple platforms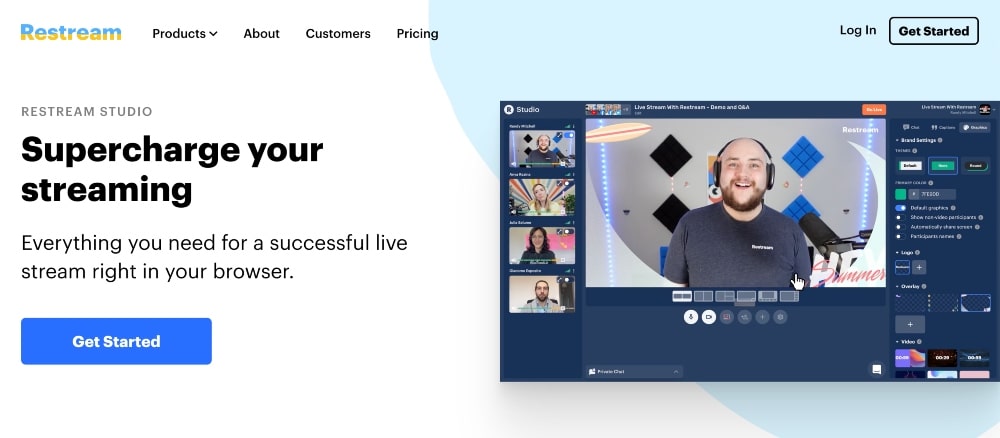 Restream is a powerful live streaming software that allows users to broadcast their video or audio streams to multiple platforms simultaneously.
Restream is compatible with all major streaming services including YouTube, Twitch, Vimeo, Facebook Live, and more.
It also supports RTMP (Real Time Messaging Protocol) so you can stream directly from external sources such as cameras or media encoders.
It uses adaptive bitrate technology which adjusts the quality of the stream according to the connection speed of the viewer ensuring smooth transmission even in low-bandwidth areas.
Restream offers analytics and engagement tools so you can track viewership stats, optimize streaming performance, and maximize engagement with your audiences.
It also provides useful features like chatbot integration for responding to comments quickly and creating automated responses based on certain keywords or phrases used in chats
Restream also has a built-in monetization tool so users can monetize their streams through donations and subscriptions.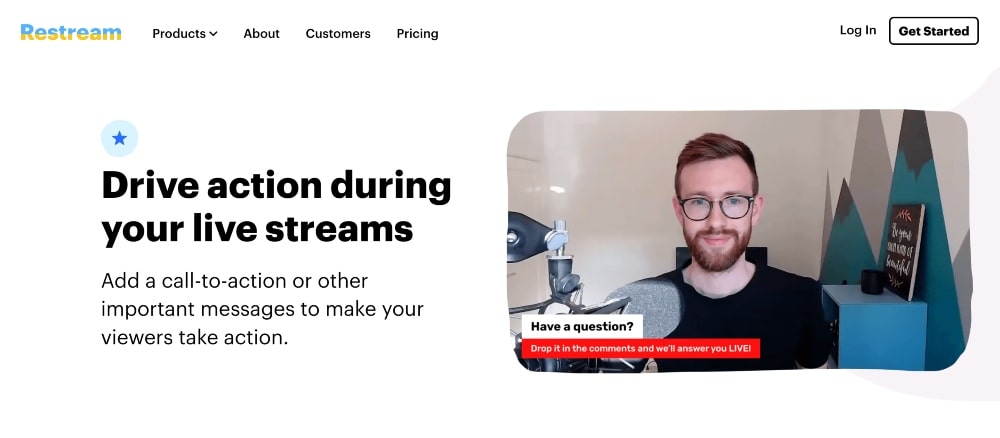 Key Features:
Stream to 30+ platforms simultaneously
Manage multiple accounts with ease
Automatically restream scheduled events
Customizable stream page for viewers that includes comments and chat features
Realtime analytics of your streams performance
Low latency streaming from anywhere in the world with reliable quality
Ability to Live Preview, moderate, manage, and monetize streams on all connected channels
Receive donations and tips directly through Restream's integrated tools
Pricing:
Basic: Free plan for live streaming on up to 2 channels
Standard: $16/month for live streaming on up to 5 channels
Professional: $41/month for live streaming on up to 8 channels
Our Opinion:
Restream provides an easy-to-use yet powerful streaming software for content creators of all levels who want to extend their reach across multiple platforms while boosting engagement with their audiences.
The call-to-action features allow you to highlight the actions you want your audience to take, which can help increase your sales, email sign-ups, and more.
We think it's the best streaming software for anyone that wants to take advantage of multistreaming and live stream on multiple platforms at once.
With Restream, you can choose from 30 platforms to stream on.
Best for: Large-scale productions, especially games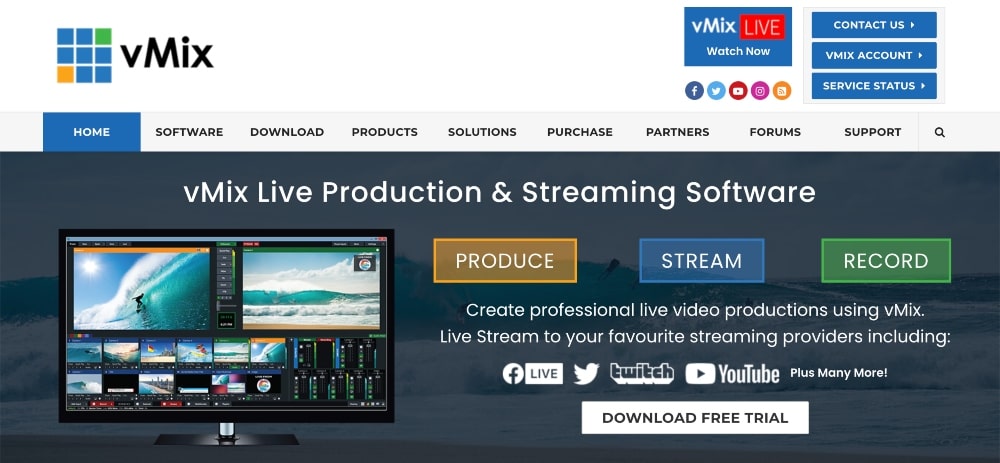 vMix is a streaming software that has become increasingly popular for live events and multimedia presentations.
At its core, vMix is a live production switcher with several virtual inputs, outputs, and overlays, as well as chroma key, picture-in-picture, split screen, and other advanced effects.
Apart from live streaming capabilities, vMix also offers a cloud platform for multi-site streaming so that users can stream their content online over different locations simultaneously.
This feature makes it ideal for large conferences or webinars being hosted by enterprises all over the world where presenters are located in different parts of the globe.
Furthermore, it includes access to real-time chat with viewers as well as social media integration so you can interact directly with your audience during the event.

Key Features:
Live streaming in HD, 4K, and 8K
Dedicated hardware controllers for professional live production
Overlays, titles, and virtual Sets
Record videos to a computer or stream straight to Twitch and YouTube
Stream across multiple platforms including Facebook Live and RTMP / RTSP protocols
Support for up to 6 external inputs of cameras, microphones, and more
Video clip playback with transitions and keyframed motion effects
Picture in Picture (PiP) support with customizable settings
Chroma Key capabilities with virtual green screen backgrounds
Multi-view feature to view all sources on one display
Audio mixer controls with compression/limiting options
Pricing:
You can purchase a license for vMix and receive 12 months of free updates or you can purchase a monthly plan for $50/month with free updates.
The licenses start out at $60 for basic HD and go up to $1200 for Pro Res.
vMix also offers a 60-day free trial.
Our Opinion:
With multicamera support, replays, and scoreboard features, vMix is best suited for larger-scale productions like games and other live events.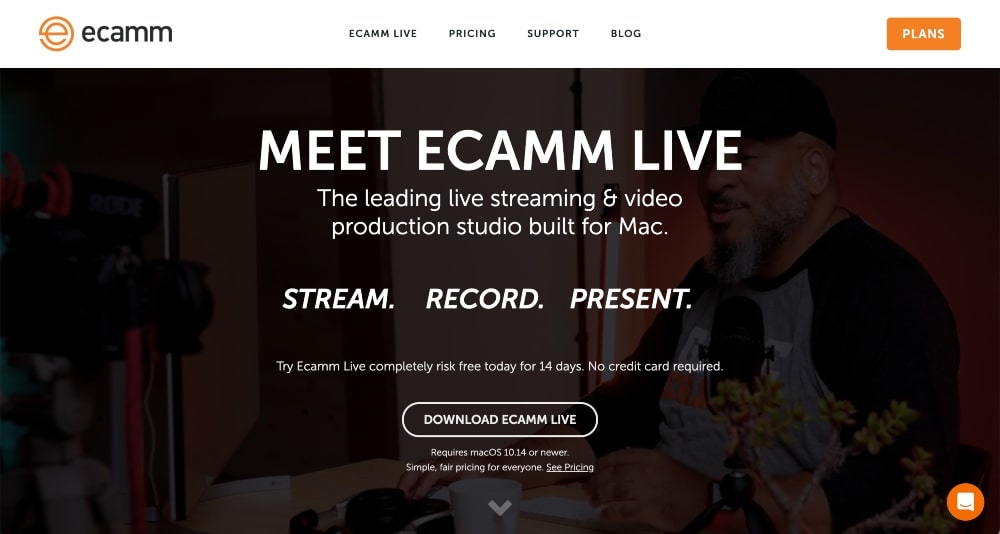 Ecamm Live is a live streaming software packed with features that make it easy for streamers of all levels—from beginners to professionals—to create high-quality and engaging broadcasts.
A streamlined Scene Manager makes it simple to configure multiple scenes so you can switch between them during your broadcast and also add images, videos, audio, titles, and graphics.
To make sure your live stream looks great and maintains a consistent look, Ecamm Live offers a range of professional tools such as chroma key (green screen) support, built-in transitions, scores of pre-made templates for titles and lower thirds (the text that appears at the bottom of the screen), virtual camera support for broadcasting from other apps like Skype or Zoom, picture-in-picture effects, video scene switching via customizable hotkeys or your mouse/trackpad, and more.
To ensure uninterrupted live streaming even with slower internet connections or power outages, you can also enable Ecamm Live's auto-reconnect feature so if something goes wrong it will automatically try to reconnect you back in seconds.
In addition to its powerful live streaming capabilities, Ecamm Live also provides integrated analytics so you can track your performance over time.
This includes statistics such as viewer count and average watch time as well as trends graphs showing data like peak viewership over days or weeks—all available directly within the app.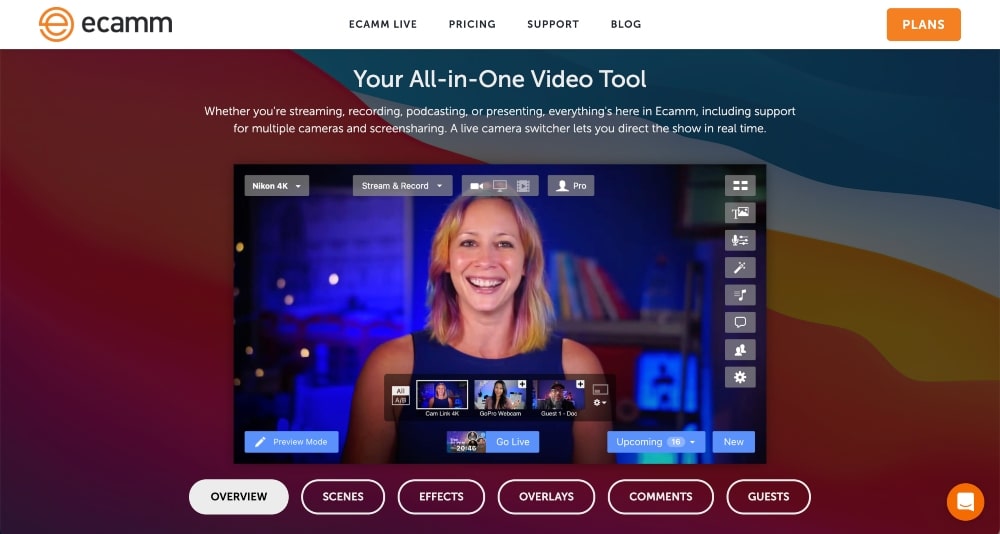 Key Features:
Live streaming to Facebook, YouTube, and more
Direct integration with Skype and FaceTime for one-click video calls
Simulcasting to multiple destinations simultaneously
Automatically stream pre-recorded videos live
Screen-sharing mode with no delay or artifacts
Chroma key (green screen) support
Dynamic Layers allow you to switch between camera sources on the fly
Scheduling of upcoming broadcasts in advance
Integration of external databases into broadcast scenes
Pricing:
Standard: $16/month
Pro: $32/month with 4k streaming
Our Opinion:
Ecamm Live has a lot of customization options, including social media integration, custom branding options, private live events, automated alerts, and more.
Ecamm Live is only available for Mac and is more suited for beginners.
Summary of the Best Streaming Software
As long as you have an internet connection, streaming software provides easy access to any kind media content you could ever want — old and new.
But when it comes to streaming the content yourself, there is a lot more to consider.
The most important factors to think about when choosing the best streaming software are reliability and the quality of your live stream.
Streaming programs should be able to handle the demand and size of your audience without any interruptions or technical difficulties.
Here is a summary of our top picks for best streaming software:
If you're just getting started, consider a free plan or a flexible and affordable one.
If you have any questions or want to share your favorite streaming software with us, leave us a comment below!