We partner with bada$$ companies that offer products that help our readers achieve their goals! If you purchase through our partner links, we get paid for the referral at no additional cost to you! Read our disclosure for more info.
3D printing software has become a popular and powerful tool for prototyping, producing custom parts, or producing finished products.
With increased accessibility, manufacturers now have access to faster prototyping methods.
This means rapid iteration of product designs, saving money on labor costs, reducing product waste caused by trial-and-error runs with traditional manufacturing methods, and ultimately bringing products to market faster than their competition.
But no matter what type of 3D printing project you're working on – whether it's creating an educational object for students in class or designing custom parts for an industrial assembly line – there is a 3D printing solution available that will help make your job easier and get results faster.
How to Choose the Best 3D Printing Software
When selecting 3D printing software, it is important to consider whether the software is compatible with the printer you are using. You may want to consider features such as support for slicing, a modeling environment, or surface optimization tools.
For those looking to design models from scratch, CAD software (Computer-Aided Design) offers comprehensive design tools such as parametric editing and solid modeling capabilities.
For those who already have a digital model ready for printing, there are slicers available that can convert this file into the language that most 3D printers understand so it can be printed quickly and accurately.
Surface finishing tools can also be found in some 3D printing software packages. These tools make it possible for the user to optimize part surfaces after slicing by adding or removing material from specific areas of a model in order to improve its overall quality and performance during use.
Other features such as support structures and automated infill patterns can be beneficial when attempting to produce complex designs without sacrificing strength or accuracy.
Many 3D printing software tools come equipped with remote control interfaces that allow users to monitor prints in progress through a web browser or mobile device while away from the printer itself. This can be really helpful in the case of needing to intervene at any time during the process.
What is the Best 3D Printing Software?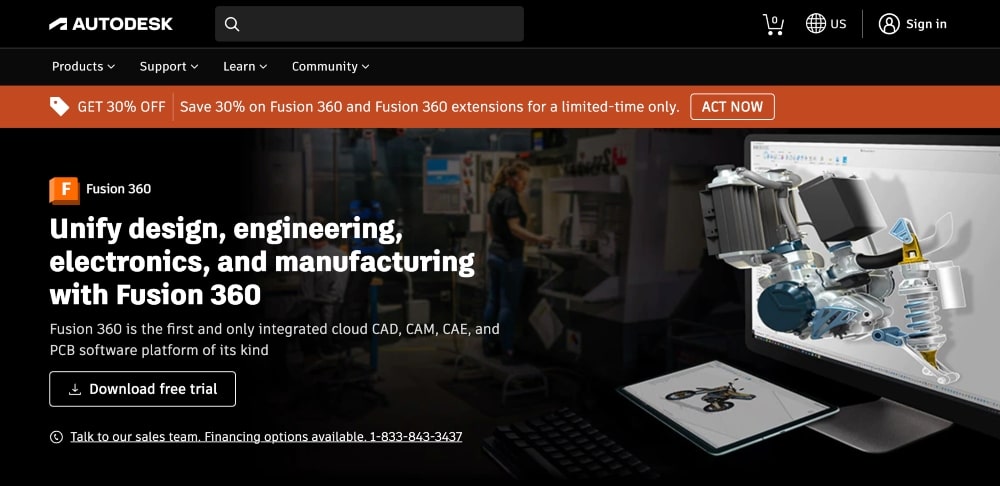 Best for: Most user-friendly 3D printing software with a wide range of features
Pricing: $49/month or $382/year
AutoDesk Fusion 360 is an advanced 3D printing program that provides a comprehensive set of tools for 3D design, 3D simulation, 3D printing, and 3D collaboration.
With AutoDesk Fusion 360, you can easily create precise 3D prints with powerful features such as automated slicing and preview capabilities.
The software is also compatible with a range of CAD formats, which gives you the ability to quickly import models and print them directly from the software.
With its sculpting tools, you can also easily add organic shapes and details to your 3d models.
AutoDesk Fusion 360 also offers a number of automated simulation tools that aid in the analysis of designs such as stress testing, motion simulations, and toolpath simulations which are useful for optimizing the design process for better performance results.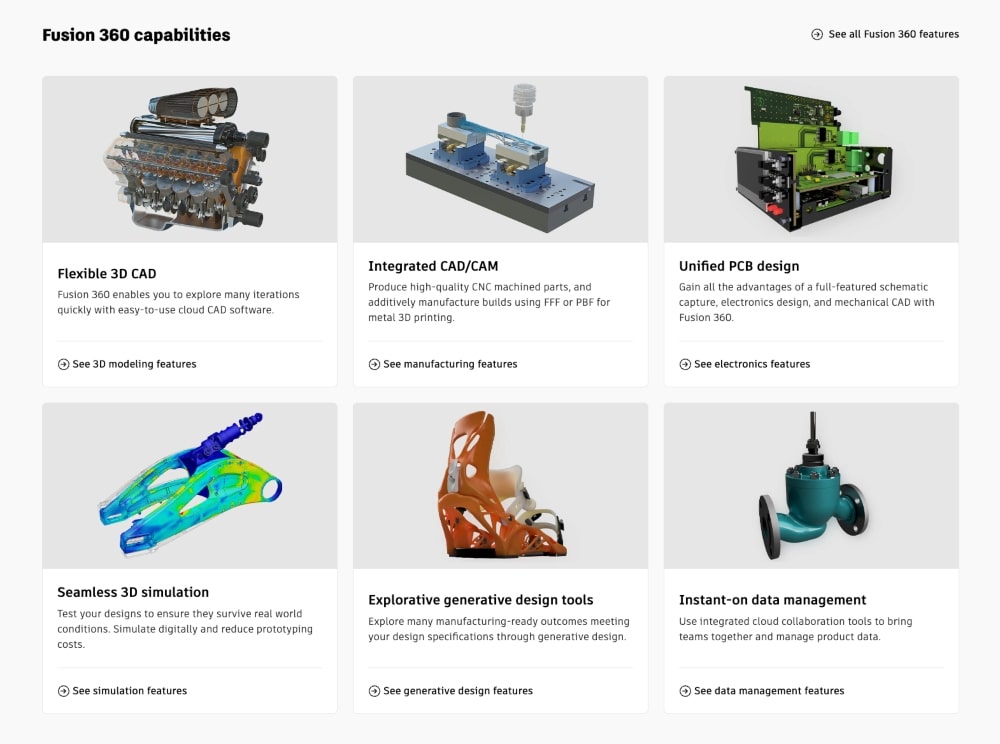 Key Features:
CAD/CAM (Computer-Aided Manufacturing) Software Integration: Easily design, edit, and create CNC machining projects
Animation Tools: Visualize designs with advanced animation capabilities
Design Simulation: Test product performance with real-world conditions.
Built-in Data Management System: Automatically store, organize, access, and share data quickly and securely.
Collaborative Cloud Platforms: Connect teams for easy collaboration across any device or platform.
Customizable Interface Options: Tailor the Interface to individual user needs.
Rendering and Visualization Tools: Create realistic visualizations of 3D objects quickly and easily
Our Opinion:
AutoDesk Fusion 360 is the best overall option on the market. It's incredibly user-friendly and has a very large range of features.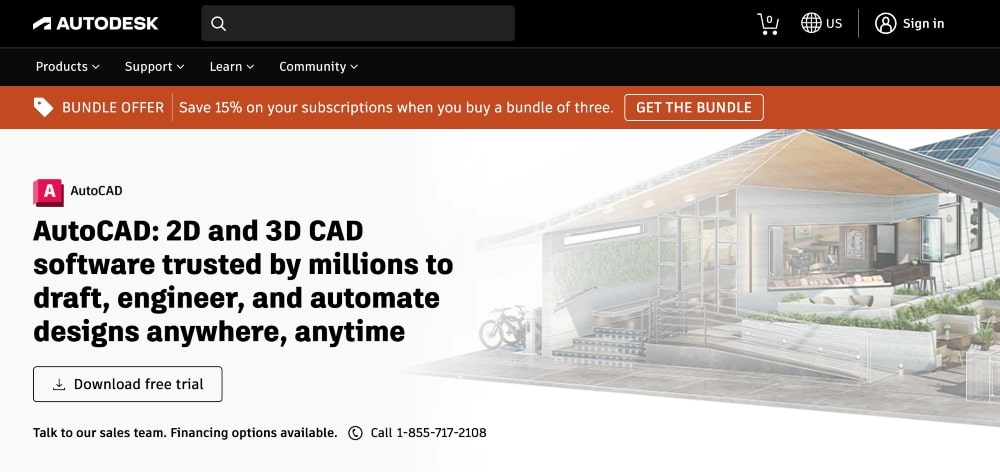 Best for: Professional and advanced users needing more editing tools and complex features
Price: $235/month or $1,865/year; Flex option starts at $300 for 100 tokens
AutoDesk AutoCAD is another CAD software available from AutoDesk (another of many on this list).
It has a range of powerful tools and features that make it easy to customize designs, including a sculpting tool, auto-correct feature, mesh optimization tools, and more.
AutoDesk AutoCAD also includes support for multi-layered surfaces, making it possible to create complex structures quickly and easily.
The software also supports a wide range of 3D printer formats, including PLA, ABS, nylon, TPU, and others. It can also be used with both desktop and industrial 3D printers.
With its intuitive user interface and comprehensive 3D designing capabilities, AutoDesk AutoCAD is an ideal choice for 3d printing projects of any size or complexity level.

Key Features:
3D surface modeling and solid modeling
Parametric constraint solver and 3D direct manipulation tools
Mesh modelling, object conversion, and viewport management
Visualization functions and multiplatform compatibility
Annotative scaling, layer isolation mode, and BOM bill of materials
Dynamic blocks editing, reference manager, and sheet set manager
Comprehensive drawing documentation capabilities
AutoCAD web app for remote collaboration
Our Opinion:
AutoCAD is more ideal for those needing more powerful editing tools as this software is a bit more complex and difficult to use than Fusion 360. It's suited more for professionals with extensive experience. Some beginners may find that it has a rather steep learning curve.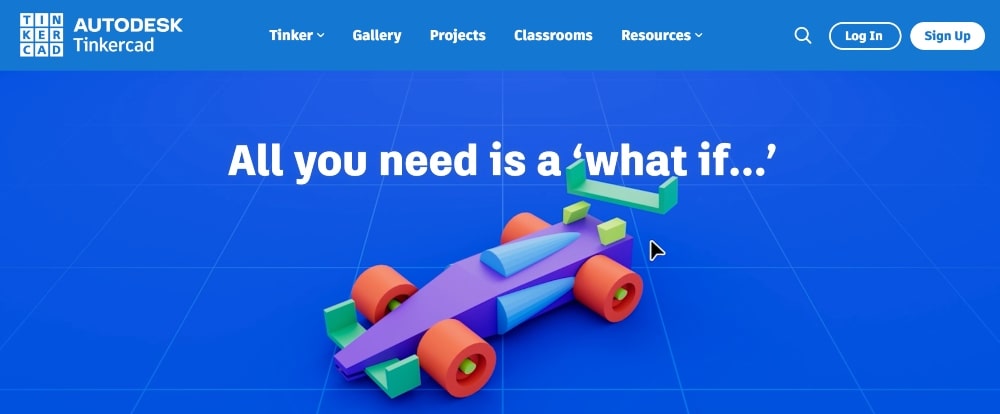 Best for: Beginners and anyone new to 3D printing and modeling
Pricing: Free
TinkerCAD is a free CAD software with features like advanced mirroring, boolean operations, 3d extrusions, as well as multiple file formats for export/import.
It has an incredibly easy-to-use interface that makes 3D printing accessible to everyone, including those with no prior 3D printing experience!
Because it is web-based (rather than downloadable software), you can access your work anywhere – making it an ideal choice for frequent travelers or those who often switch between different computers or devices.
TinkerCad also offers tutorials and helpful resources so that users can quickly get up and running on their 3D projects in no time at all.
Also, with the ability to easily convert 2d shapes into 3d models, even those who have never attempted 3D modeling before can jump right in!
TinkerCAD also has a gallery full of designs created by the community that you can use to satisfy curiosity or inspiration.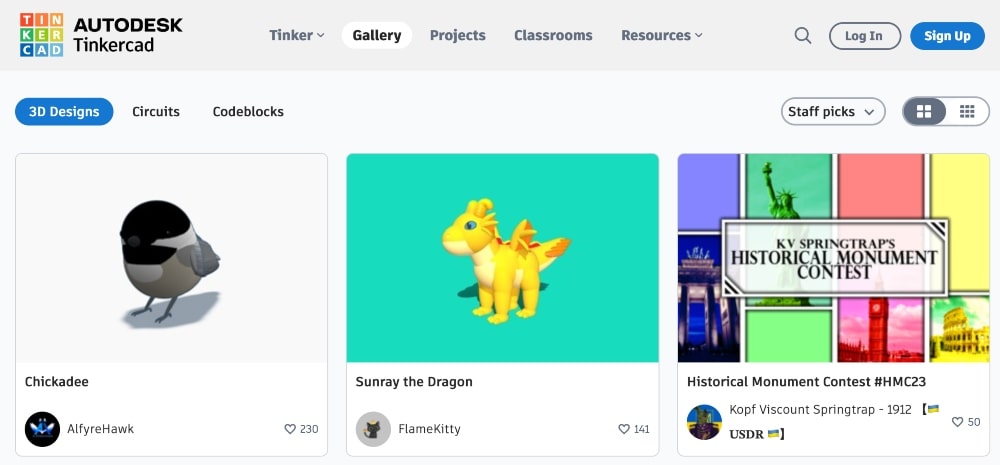 Key Features:
Easy-to-use interface with drag-and-drop shapes
Intuitive 3D sculpting tools
File import/export features
Realistic rendering capabilities
Tutorials for beginners
Cloud synchronization feature
Access to a library of pre-built objects
Automated heating calculations
Ability to share designs with others
Our Opinion:
TinkerCAD is the best 3D printing software for beginners. It's completely free and is a great choice for anyone who wants to dive into 3D printing without any prior knowledge or experience.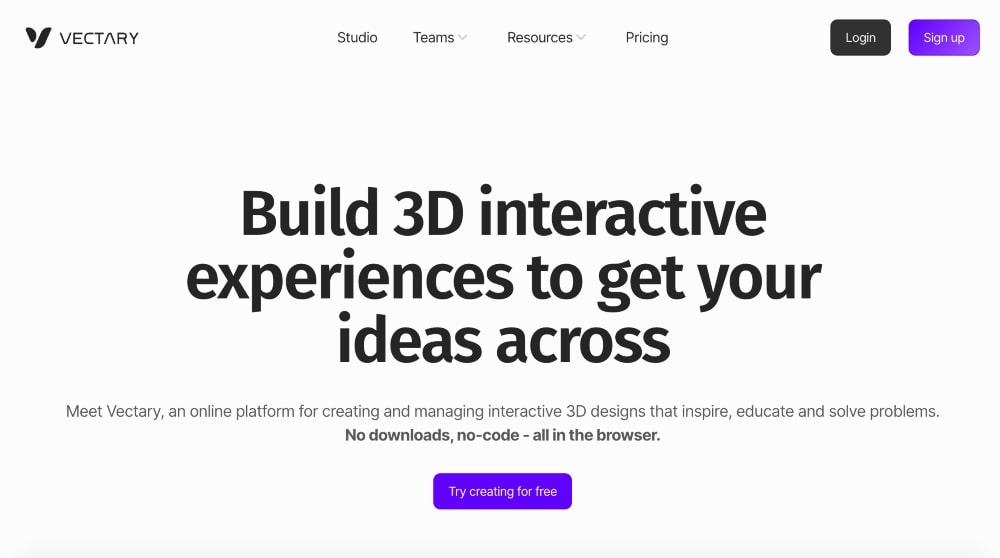 Best for: Users on a budget
Pricing: Free version – starting at $15/month
Vectary provides a variety of tools that allow you to adjust the size, shape, and texture of your model as needed.
It also includes features like object symmetry, which allows you to make symmetrical objects and advanced sculpting tools for experienced designers.
You can also use the program's pre-made templates to quickly design your own unique models without any prior knowledge of 3D modeling software.
Vectary also offers output capabilities for 3D printing in both PLA and ABS plastic materials as well as high-definition slicer software for precision.
It also has an Interactive Simulation Engine (ISE), which helps you test out different scenarios on virtual replicas of your designs before sending them off for printing in real-life materials.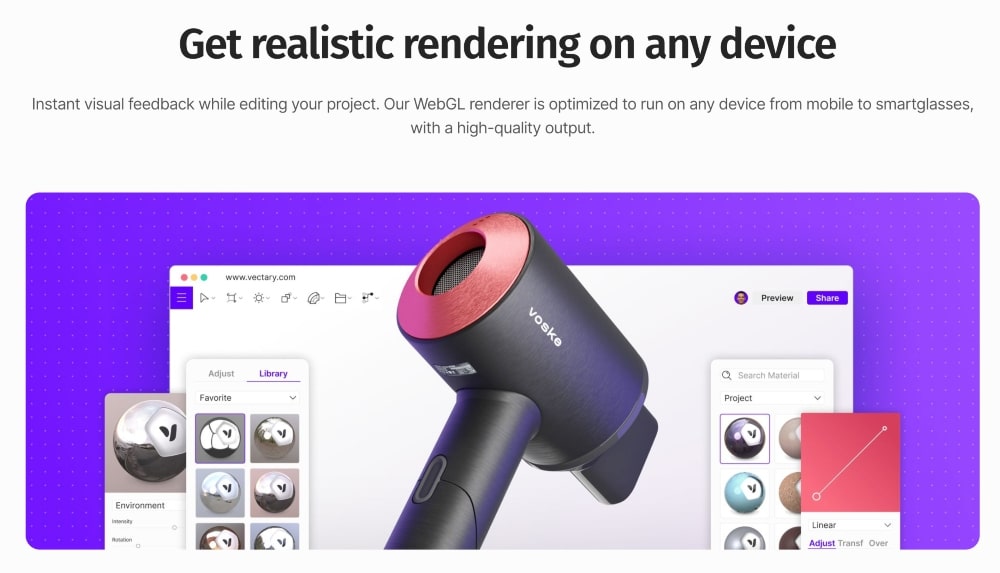 Key Features:
Drag and drop user interface
Pre-built assets library with customizable objects and materials
Free online 3D model rendering
Fast export to popular 3D formats, such as OBJ, STL and FBX
Interactive presentation mode for showcasing projects in VR/AR
Easy integration with other apps through the Vectary API
Comprehensive tutorials and support
Our Opinion:
Vectary is ideal for budget-conscious consumers. With a solid free version that lets you work on up to 10 projects as well as a low-cost pro plan, this 3D printing software is one of the more budget-friendly options.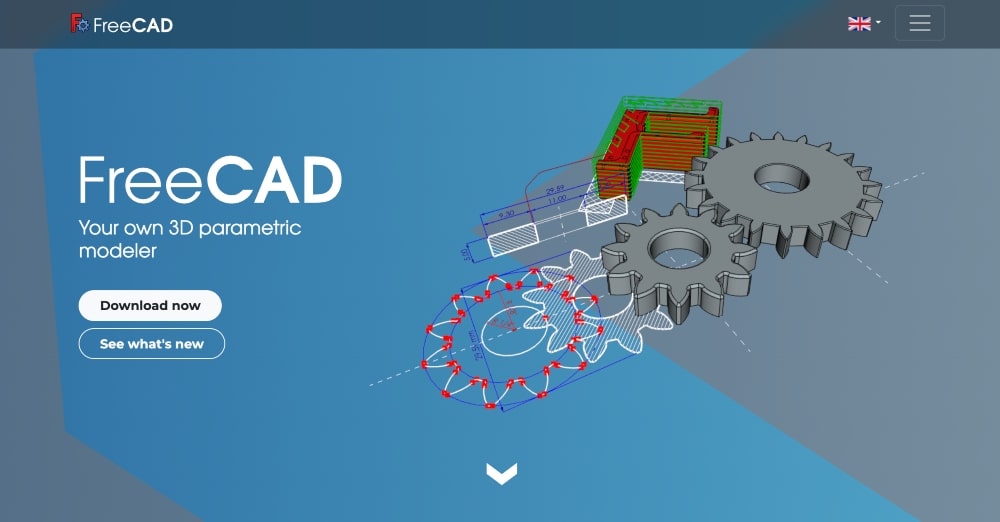 Best for: Anyone looking for a free 3D printing software
Pricing: Free
FreeCAD is an open-source, free CAD software that provides you with tools to design and create complex 3D models.
It has an easy-to-use user interface and also supports multiple languages, including English, Spanish, French, German and Chinese.
From creating detailed industrial models to making intricate sculptures or jewelry pieces, FreeCAD offers a lot of possibilities for 3D printing.
It comes with advanced editing tools to tweak creations in terms of shape, size dimensions, textures, and texture mapping capabilities so you can apply realistic material-based properties to your designs before sending them off for printing.
The app also includes an integrated slicing feature that cuts objects into separate layers automatically so they can be printed more efficiently on 3D printers.
In addition, it supports several common slicing engines such as CuraEngine and Slic3r so users don't have to switch between different apps when preparing objects for printing.

Key Features:
Parametric modeling
Solid, surface, and mesh modeling tools
Visual component editor
2D drawing workbench
3D animation tools
Photorealistic rendering engine
Design validation with shape properties
Automation of tasks with macros and addons
Graphical user interface (GUI) customization capabilities
CAD library with over 40000 parts
Our Opinion:
FreeCAD is the best free CAD software on this list. If you're a beginner and want to dabble in 3D printing or need cost-effective software to get your feet wet with, this is your best option.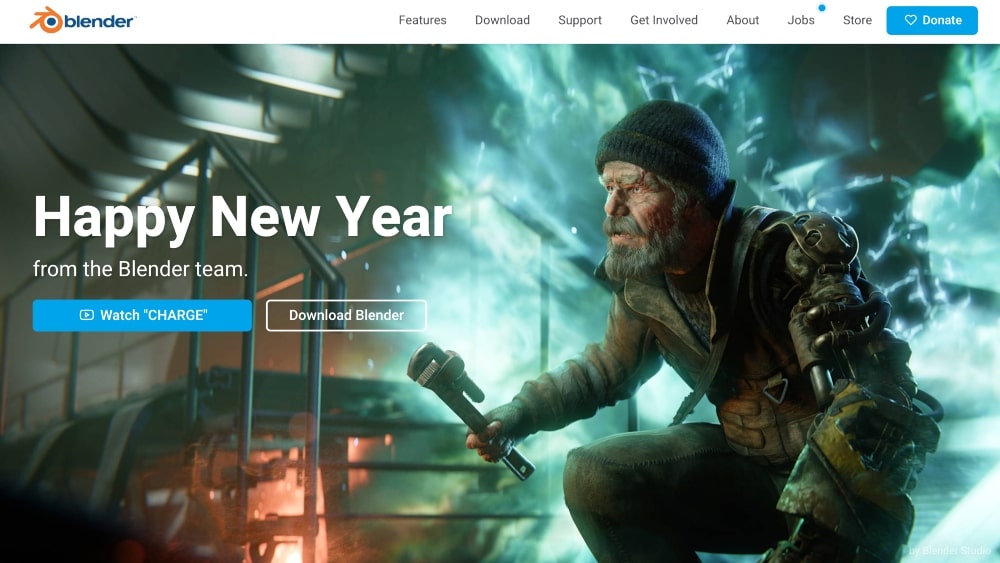 Best for: Anyone looking for the best software for designing 3D prints that is open source
Pricing: Free
Blender is a versatile 3D printing program that offers a wide range of features, from modeling to sculpting, texturing, and rendering.
Like FreeCAD, Blender is also open-source 3D printing software, which means that it's free to use, share, or modify.
You can also use Blender's advanced lighting system to craft realistic renders of your design in order to visualize what it might look like when printed out.
If you're looking for more automation when designing their 3D prints, Blender also has an array of automated tools, including powerful modifiers like Array Mesh to generate multiple copies of the same object.
It also has advanced sculpting tools such as Smooth & Flatten which let users quickly smooth out complex surface details in their models with just one click.
Blender is also a good choice for beginners because they have extensive tutorials for how to use the program on their website.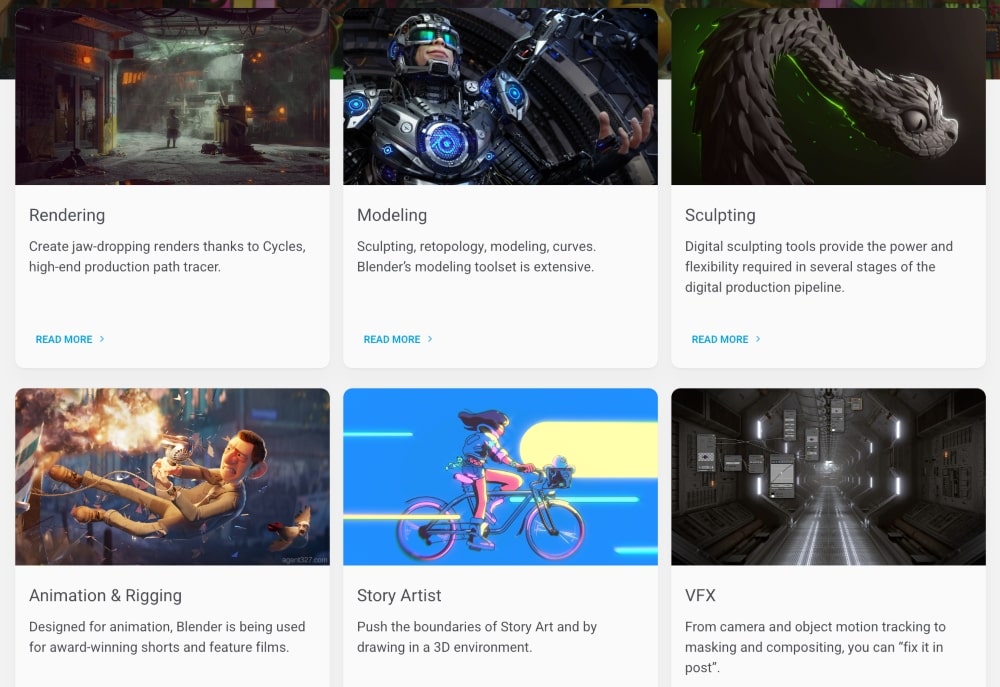 Key Features:
Supports 3D printing via .STL and .OBJ file formats
Advanced 3D modeling tools for organic shapes, meshes, surfaces, and more
Robust sculpting engine to create complex designs quickly
Rendering capabilities for simulating materials and lighting effects for realistic 3d prints
Automated retopology tools that make it easy to optimize models for printability
Integrated Boolean system for fast boolean operations on 3d objects
Ability to add realistic textures and material properties to get the most out of your 3d prints
Extensive library of preset objects from basic shapes to intricate models so you can get started right away
Accurate simulations with real-time dynamics and physics engines
Our Opinion:
Blender is a good option if you're wanting free and/or open-source software for 3D design and printing.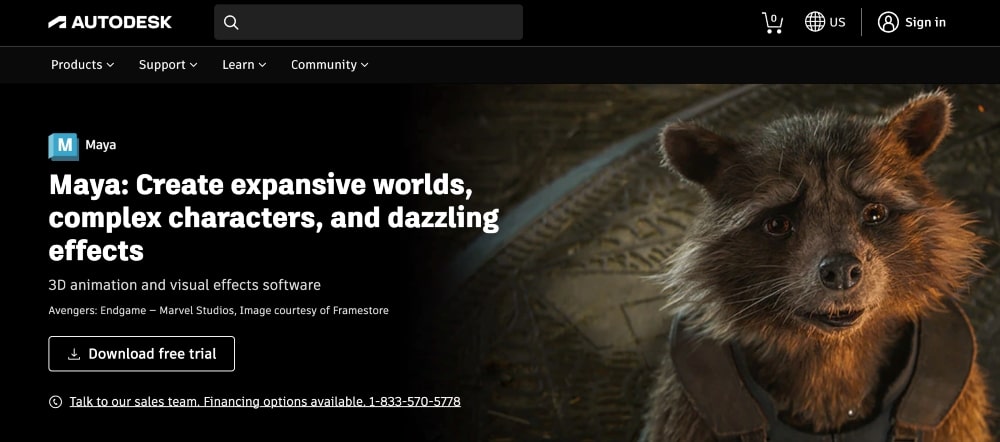 Best for: Professionals looking for added features like animation
Pricing: Starting at $225/month; AutoDesk Maya also comes with a free trial.
Here comes another best design software for 3D printing from AutoDesk. AutoDesk Maya is a popular 3D design and animation software package that is popular among artists and professionals in the 3D printing industry.
It offers a wide range of tools to create stunning 3D prints, ranging from wireframe modeling to advanced polygonal sculpting.
With the ability to render scenes at resolutions up to 8K, Maya offers superior results for those who want to bring their designs into production-ready form.
Maya also includes helpful features such as motion capture tracking, which can be used to animate objects or characters within the print.
This allows designers to create dynamic models or add life-like movements for detailed animations.
Its simulation capabilities also give users the ability to simulate physical properties such as gravity, mass, friction, and more so they can accurately test how objects will interact in real-world scenarios before committing them to production.

Key Features:
Polygonal Modeling Tools
Subdivision Surface Modeling
NURBS Curve and Surface Modeling
Sculpt Geometry Toolset
Comprehensive UV Editing Tools
Bifrost Liquid Simulation System
Node Graph Architecture
Maya Fluids Effects System
Scene Assembly Toolsets for Layout, Rigging, Animation, FX
Network Rendering Support with Mental Ray® & VRay® Integration
Scriptable High Precision Numerical Solvers for Procedural Animation
Automated Character Setup and Facial Rigging Features
Our Opinion:
Like the other AutoDesk options on this list, AutoDesk Maya is better suited for professionals with more experience in 3D printing that are looking for highly capable software with extensive features.
Additionally, AutoDesk Maya is best suited for those interested in animation because they have additional features (like realistic effects from explosions to cloth simulation).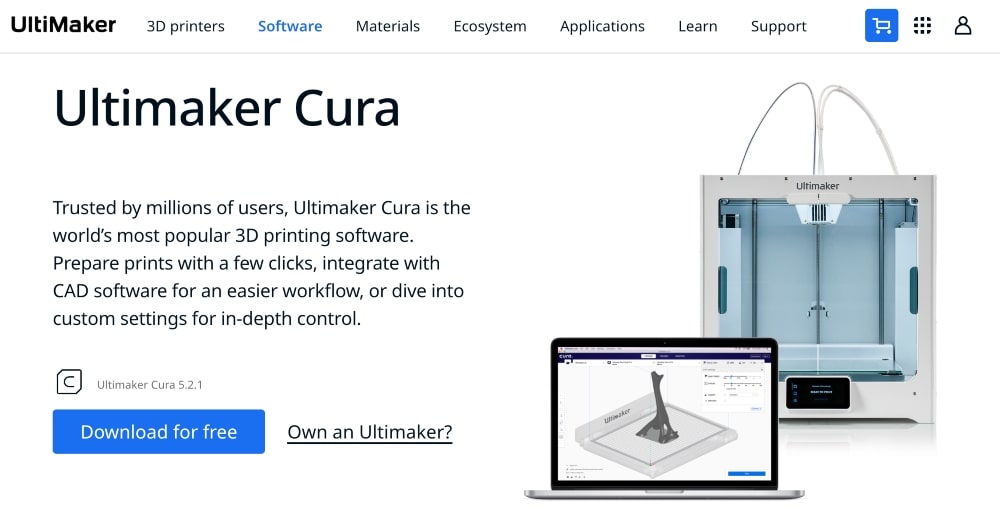 Best for: Beginners and users looking for a free, easy-to-use option
Pricing: Free
Ultimaker CURA is another great free 3D printing software with a user-friendly interface that makes it easy for designers of all skill levels to quickly create stunning 3D designs.
From the beginner-friendly drag-and-drop settings to the advanced customizations that experienced users can take advantage of, Ultimaker CURA has everything you need to get started.
It also comes with a selection of pre-made models that are ready for printing, making it easy for those who don't want to design their own creations or just want to get started right away.
Whether you're looking for something simple like a chess set or something more complex like a scale model of your favorite vehicle, Ultimaker CURA has the tools you need to make it happen.
It also offers supports that allow you to easily build shapes that would otherwise be impossible due to gravity or other factors. The supports can be configured on an individual basis so the user has complete control over each feature for maximum flexibility.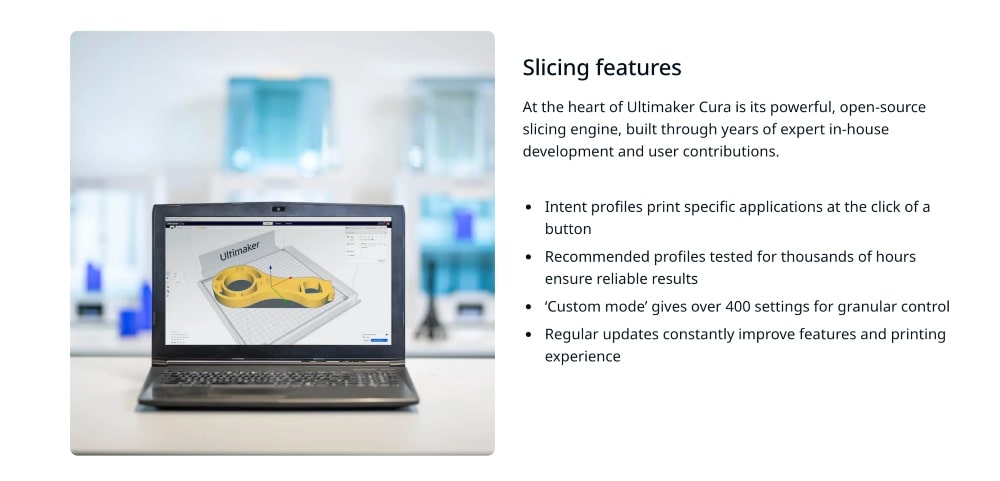 Key Features:
Support for a wide variety of 3D printers and materials
Easy-to-use interface with an intuitive workflow
Ability to create multiple custom profiles
Automated slicing, estimation, and optimization tools
Multi-view preview mode for better visualization and control over the model
Advanced support structures creation, including adaptive L1 & Cubic options
Model repair toolkit – heal models and create watertight meshes
Full integration with online cloud libraries
Quickly visualize mesh information like volume, weight, or printing time estimates
Smart fill option to reduce material usage while maintaining strength
Hotend temperature switching between different colors
Our Opinion:
This software is ideal for beginners or anyone just getting started.
Since its release in 2019, Ultimaker CURA has become one of the most popular and widely used software packages for 3D printing due to its comprehensive range of features and ease of use. With regular updates and tutorials available online, anyone can quickly become proficient with this program.

Best for: Those interested in AutoDesk Fusion 360 but need a free option
Pricing: Free
With MeshMixer, you can manipulate, edit, combine, and create models quickly and easily. It's actually owned by AutoDesk.
With this advanced 3D modeling software, you can add intricate details and textures, as well as adjust shapes and forms.
MeshMixer also comes with an array of pre-made models and shapes that can be used for rapid prototyping or as starting points for new designs.
Additionally, its automatic repair feature fixes any errors or issues present in the model before printing it out, ensuring a smooth and successful print job.
MeshMixer also allows for multiple print settings such as size, resolution, thickness, and more to be modified easily with the built-in editor.
It also supports several popular 3D printer formats such as STL, OBJ, AMF, and SLCA among others so you don't have to worry about compatibility issues when preparing your print files.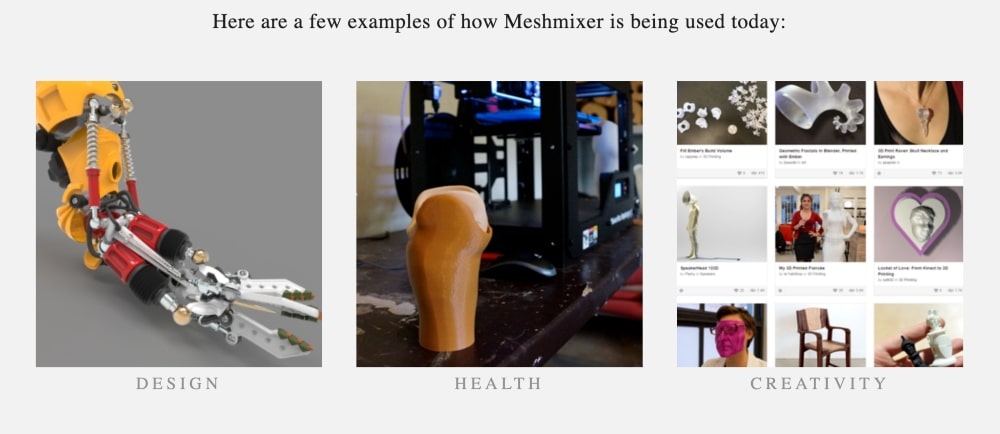 Key Features:
Parametric modeling capabilities
3D sculpting and painting tools
Automatic mesh healing/reconstruction
Analysis tools for checking prints for errors
Mesh optimization capabilities for preparing complex models for printing
Support for multiple CAD file formats (STL, OBJ, DXF)
Multiplatform support (Windows, macOS, and Linux)
Integration with 3D printers via USB connection
Real-time visualization of the 3D print during slicing
Photogrammetry reconstruction toolset
Our Opinion:
MeshMixer has a lot of tools that AutoDesk Fusion 360 has, but it's not currently being developed anymore as AutoDesk's focus has moved to Fusion 360.
That being said, if you need a free option, this is still a really great one.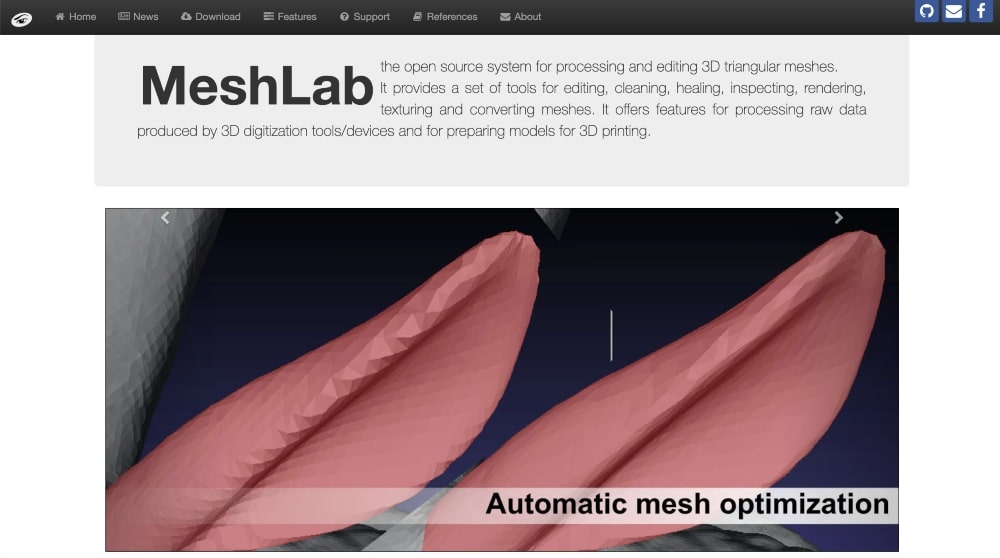 Best for: Users looking for comprehensive tools for meshwork
Pricing: Free
MeshLab is an open-source 3D printing software developed and maintained by the Visual Computing Lab of the Italian Institute of Technology.
It has become one of the best 3D model software for 3D printing.
The MeshLab interface provides users with several features that make it simple to use and understand, including a selection panel that can be used to select specific parts of a model, as well as various tools such as mesh smoothing, mesh cutting, mesh healing, and texture mapping.
It also offers a range of advanced settings such as material settings and print resolution control.
In addition to its basic modeling capabilities, MeshLab also provides a range of plugins for improved functionality.
These include support for watertight meshes (which is necessary for printing large objects), support for object orientation and positioning, animation support, and an array of other plugins for more specific tasks such as web publishing or STL export/import.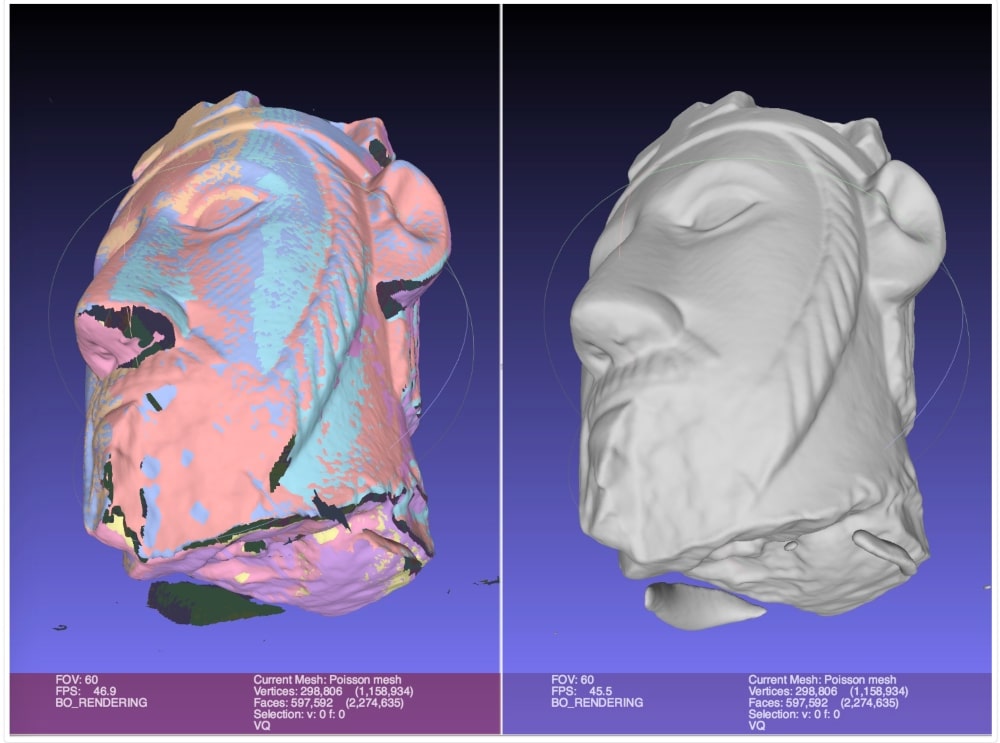 Key Features:
Supports a wide range of 3D file formats
Automatic mesh alignment capabilities
Variety of powerful filters for geometry optimization, cleaning, simulation, simplification, and visualization.
Polygonal face selection feature to identify specific areas of an object
Compatible with scanners and digital cameras for direct scan/photo manipulation
Mesh repair features to fix holes or modify parts in existing meshes like smoothing out jagged edges or removing noise artifacts
Offers support for mesh transformations including scale, rotation, and translation options as well as vertex deformation functions
Includes a variety of print preparation tools such as hollowing objects, adding support structures & rafts that help prevent layer shifting while printing complex geometries on Fused Filament Fabrication (FFF) printers
Our Opinion:
MeshLab is a powerful open-source 3D mesh processing system for editing, cleaning, healing, inspecting, rendering, texturing, and converting triangular meshes. It is an ideal choice for anyone who needs more comprehensive and advanced tools for meshwork.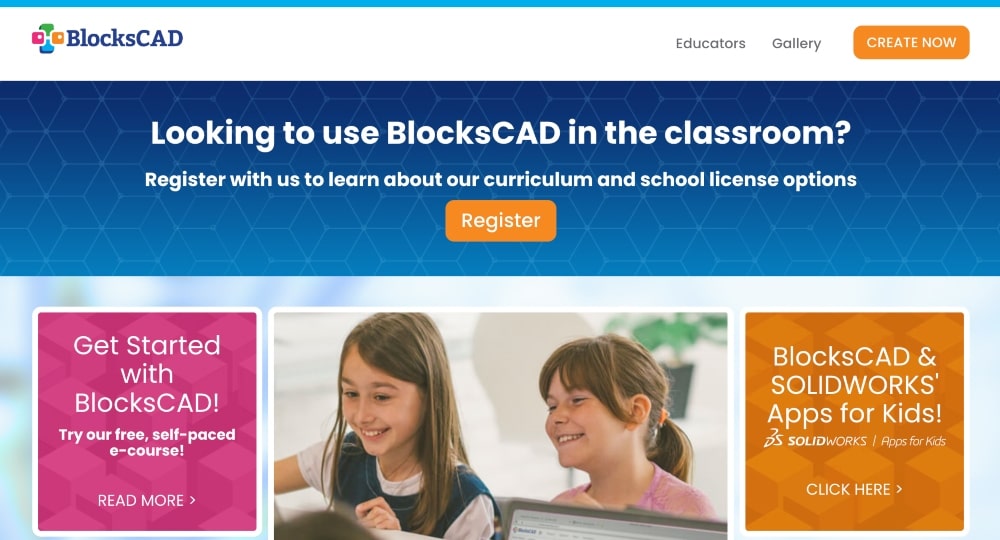 Best for: Education and school-use
Pricing: Not available on the website; varies by use
With BlocksCAD, you can choose from a wide range of quality 3D models, or start from scratch using a variety of geometric objects including triangles, cubes, cylinders, cones, spheres, and more.
It also comes with advanced modeling tools such as Boolean operations or extrusion tools to combine and modify those objects. The software also has a powerful library feature that allows users to easily reuse existing shapes and designs.
With BlocksCAD, you can create your desired shapes by adjusting parameters such as sizes and angles. You can add textures and patterns to your creations or duplicate them across multiple copies with the help of clone tools.
You can also simulate any type of motion with the animation tool which adds dynamism to your models.
BlocksCAD also provides access to an extensive library of tutorials and tips to guide you through all stages of 3D printing projects: from idea conception to the final product delivery.
You can also view community projects in a gallery on their website: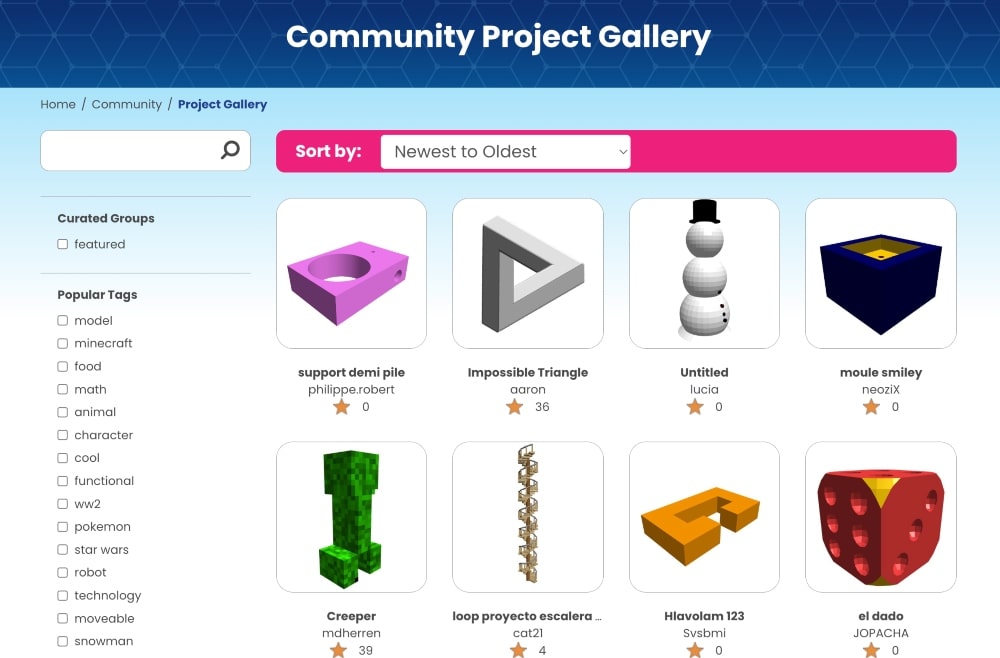 Key Features:
Easy-to-use interface with drag-and-drop blocks
3D visualization of your models as you build them
Ability to customize colors, textures, and sizes of parts
Variety of premade shapes so you don't have to start from scratch
Accessible tutorials for guidance on getting started or advanced features
Integrated export option for STL files for 3D printing or other projects
Option to join the BlocksCAD community and share designs
Our Opinion:
BlocksCAD is ideal for educational use (in classrooms or other educational purposes). It has courses, apps, and dashboards best suited for kids, teachers, and anyone else in the educational field.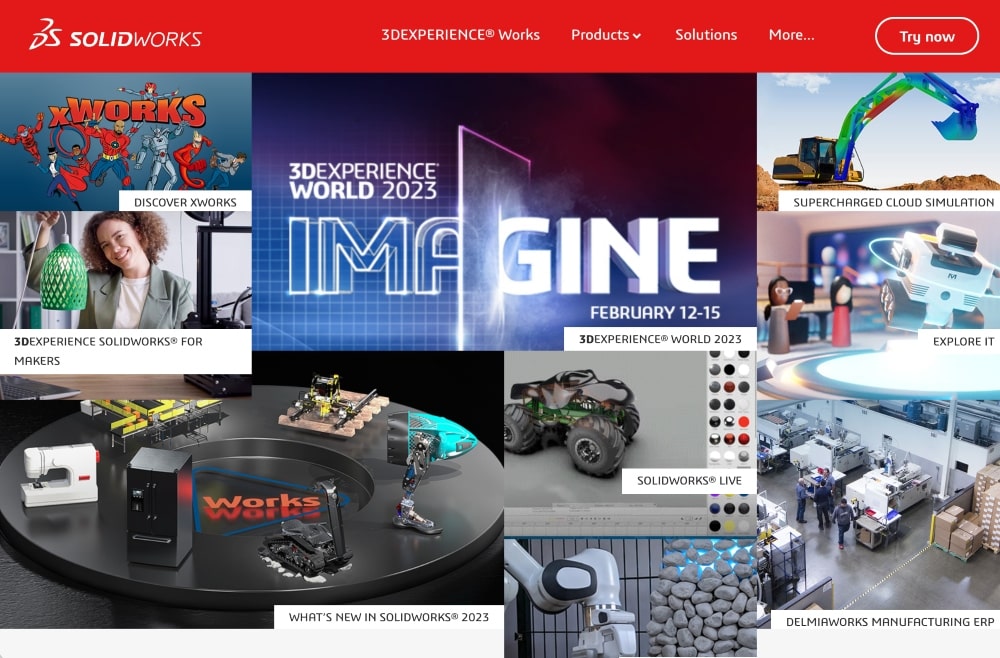 Best for: Those with a need for experimentation: simulation, testing, and analysis
Pricing: Not available on their website; varies by product
Solidworks is a powerful 3D printing software that provides users with a wide range of capabilities for digital prototyping, designing, and fabricating physical objects.
It offers an intuitive interface that allows you to quickly create complex designs with features such as realistic rendering, articulating parts, and simulations.
With Solidworks, you can easily design 3D models, analyze them with integrated simulation tools, and then rapidly manufacture tangible parts with the help of rapid prototyping equipment.
It includes hundreds of customizable components, assemblies, and structures that can be used in various contexts to create intricate geometric shapes.
This 3D printing program also has a built-in CAD library that contains thousands of pre-designed parts like nuts and bolts, frames, and other mechanical components that can be inserted into a design easily.
The simulation features provided by Solidworks allow designers to test the durability of their components under a variety of conditions even before they have been manufactured – helping them identify potential problems early on in the process.
With the help of its advanced analysis tools, users can determine factors such as stress distribution, temperature fluctuations, and natural frequencies at different points within their design.
This helps them make necessary modifications before starting fabrication, resulting in fewer errors during production and improved overall outcomes.
Key Features:
3D Modeling, CAD Design, and parametric solid modeling
Assembly design and joint mates
Sheet metal design and flat patterns
Drawings, detailing, and documentation
Plastic part design – mold analysis and draft angles
Weldments – structural steel Frames and connections
Surface modeling solutions for complex shapes
Simulation of stress, motion, heat transfer, and fluid flow
Photorealistic rendering with PhotoView 360
Automated bill of materials (BOM) management
Collaboration with eDrawings Professional
Our Opinion:
Solidworks is ideal for those wanting to experiment with concepts or create custom parts or products in short periods of time without sacrificing quality standards or accuracy.
Its simulation, testing, and analysis tools make it an obvious choice if this is an important part of your 3D project.
What is 3D Printing Software?
3D printing software is a specialized program used for creating highly detailed physical models of objects, shapes, and designs that can be printed out in 3D form with a 3D printer.
This kind of software allows people to create more complex designs than what could potentially be possible by hand or with traditional methods.
The tools available within the software are quite varied and can be used to make 3D models from scratch or edit existing ones.
Depending on the type of software you use, you may be able to:
build shapes using predefined commands like push/pull, slices, and lofting,
modify an object's surface texture; generate mesh surfaces,
display photos onto a surface,
view parts in isolation or as part of an assembly,
scale, rotate, and duplicate components,
add lighting effects,
simulate materials used in production processes like plastic injection molding and extrusion molding and more.
Once your design is complete it can then be sent directly to a 3D printer where it is printed out layer by layer until the object is completed.
This process makes it possible to quickly prototype ideas or even produce final products without the need for additional production steps like casting or milling.
It also eliminates the need for tooling and often cuts down on costs associated with development time or lead times for pre-production parts if needed.
Software developers are consistently working towards improving the capabilities of 3D printing software so that these tools can enable users to create better-looking objects faster than ever before.
Types of 3D Printing Software
3D printing software takes a 3D model and translates it into instructions that a 3D printer can understand and use to build a physical object.
There are a variety of different types of 3D printing software, each designed for a specific purpose and with its own capabilities.
CAD Software (Computer-Aided Design)
CAD software can be used to create complicated shapes and complex objects from scratch and modify existing designs, including resizing, reshaping, combining layers, adding text or logos, adjusting colors, and more.
CAD tools are typically used by artists, architects, engineers, and product designers who need precise control over their designs before they can be printed in 3D.
Slicing Software
Slicer software is used to prepare the digital file for printing by slicing it into thin horizontal layers that the printer can interpret and print one layer at a time.
Slicing programs allow you to configure parameters such as layer thickness, fill density/patterns, support structures needed for difficult overhangs or bridges in the model, infill settings (for objects with hollow cavities), temperature settings for certain materials (such as PLA plastic), and more.
Material Preparation Software
This software prepares the filament material for feeding into the printer's extruder head. It does this by heating up the material and then breaking it down into pellets so that it is easier for the printer's feeder mechanism to handle when loading new filament onto the spool inside the machine's build chamber.
Material preparation software is especially important if you are using exotic materials like wood or metal filaments – these require different temperatures than traditional plastics or resins in order to properly melt them down into pellets before being fed into the extruder head.
Post-Processing Software
Finally, there are post-processing software packages that help with optimizing your prints after they have been printed out in physical form.
These packages look at things such as surface finish quality and toolpath optimization in order to give you better results when you print out another set of parts with your 3D printer.
Post-processing tools also allow you to adjust things like infill percentage (to reduce overall weight) or add supports where needed (for overhangs or bridges).
Summary of Best 3D Printing Software
Selecting the right 3D printing software often comes down to personal preference depending on what type of projects you are working on and how much time you are willing (or able) to invest in learning new design techniques and understanding all of the settings available in each package individually before proceeding with a print job.
Investing in the right package early on can save lots of time when compared to learning multiple different programs for various tasks throughout all phases of designing, optimizing, and ultimately producing parts using additive manufacturing technology.