We partner with bada$$ companies that offer products that help our readers achieve their goals! If you purchase through our partner links, we get paid for the referral at no additional cost to you! Read our disclosure for more info.
Are you looking for the best online community platform to create a secure environment for your audience to connect and interact daily?
Look no further!
In this article, we've compiled a comprehensive list of the 8 best platforms for hosting your online community that are available.
We'll go over the features and pricing of each option so you can decide which one is right for you.
If you want to jump ahead, ere are our top picks for the best online community platforms:
What is a Community Platform?
A community platform is an online space designed for people to connect, interact, and engage with each other. It can be used for professional networking, socializing, knowledge sharing, or simply as a place to hang out.
The best community platforms provide features such as user-friendly forums and discussion boards, private messaging options, video conferencing tools, live chat capabilities, and more.
Platforms like these can be incredible tools for growing your connection to your audience and creating a sense of community within your business or organization.
Many online creators, bloggers, and entrepreneurs offer both free and paid communities for their audiences. For example, we have a community support group that comes with access to our blogging courses.
What to Look For in the Best Online Community Platform
When choosing the best online community platform for your needs, there are several key features to consider.
The very first one is to consider the purpose of your community. Are you creating a support group for an online course? A community group for your business?
We've outlined who each of these best online community platforms is best suited for to help you evaluate it for your personal or professional needs.
You'll want to look for a platform that offers easy setup and customization options, as well as the ability to create a secure and engaging environment for members.
You'll also want to find a platform that provides tools for managing user profiles, moderating content, and tracking analytics can be a bonus too.
It's also a good idea to make sure the platform you choose is mobile-friendly and has features like video streaming capabilities and integration with other applications you may use.
With these features in mind, you can be sure to find the best online community platform for your needs.
What are the Best Community Platforms?
Best for: Free option and beginners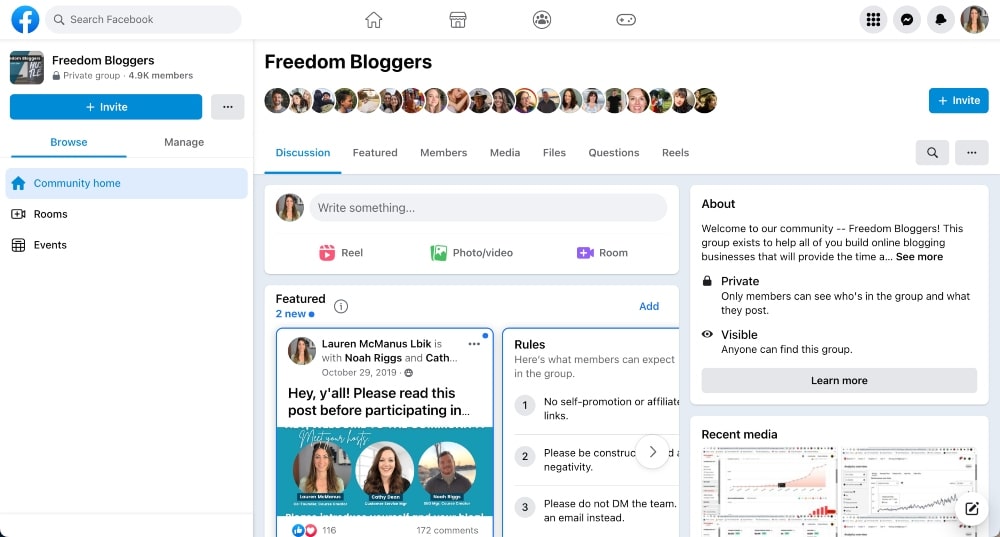 Facebook Groups have become an extremely popular way to create an online community space. Chances are, you've probably joined one at some point.
Whether it's for a short-term challenge, online courses, support groups, etc., Facebook groups have been a popular space for online communities for years.
Facebook provides a simple and easy way to set up and manage group pages, giving you access to a large user base of potential followers.
I'm sure you know that you can send private messages with the platform, but over the years, they have also expanded their offering to include video conferencing tools, event planning tools, polls, live chat capabilities, and more.
The biggest upside to using Facebook as your online community platform is that many people are already on Facebook on a daily or weekly basis.
Getting enough community engagement initially and on an ongoing basis can be difficult and having easy access to a platform people are using anyway provides a huge advantage.
That being said, there are some drawbacks that should be considered.
Facebook is a very open and public platform. You can make your groups private, but you're still going to have to deal with sponsored posts and ads that are outside of your control.
Additionally, people on Facebook can be easily distracted by this paid content or simply the fact that Facebook is also a large, social network.
Some people also don't trust Facebook for this reason and may be more reluctant to be open on the platform.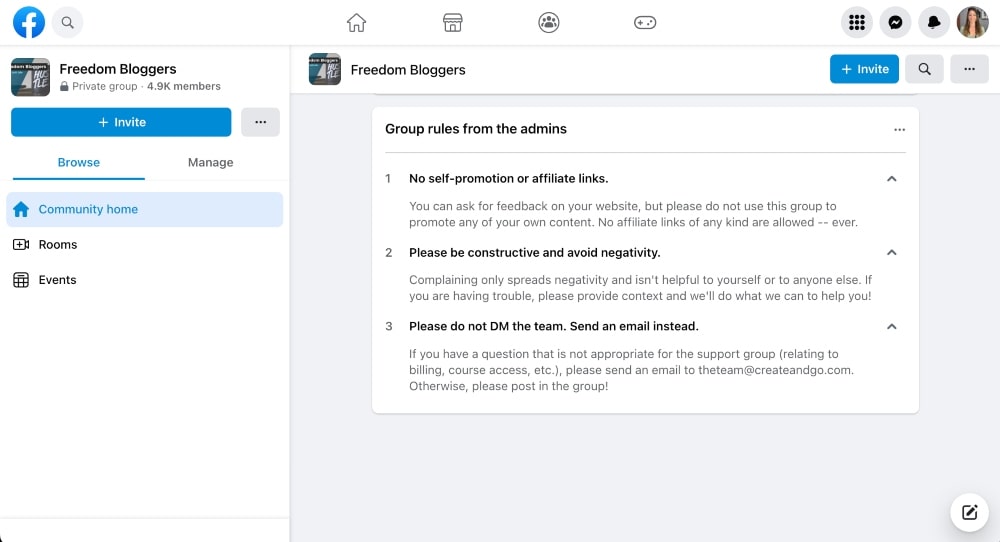 Key Features:
Create or join public and private groups
Customize the look of your Facebook group with a cover photo, description, and tags
Invite people to join your group by email or link
Post messages, photos, videos, and polls
Have conversations in real-time with voice and video calling
Share documents, links, and events
Integrated tools for managing memberships
Integrate Groups into Facebook Pages
Ability to create subgroups within a main group
Moderate posts using pre-defined rules
Mobile app
Pricing:
Facebook groups are free to create and maintain!
Our Opinion:
Facebook Groups are a great place to start if you're new to community groups and want to use a platform that many people are already comfortable with and using anyway. If you're running a more advanced community, charging higher prices, or wanting a more closed platform, this probably isn't going to be the best option for you.
This is what we use as the support community for our online courses.
Best for: Businesses and organizations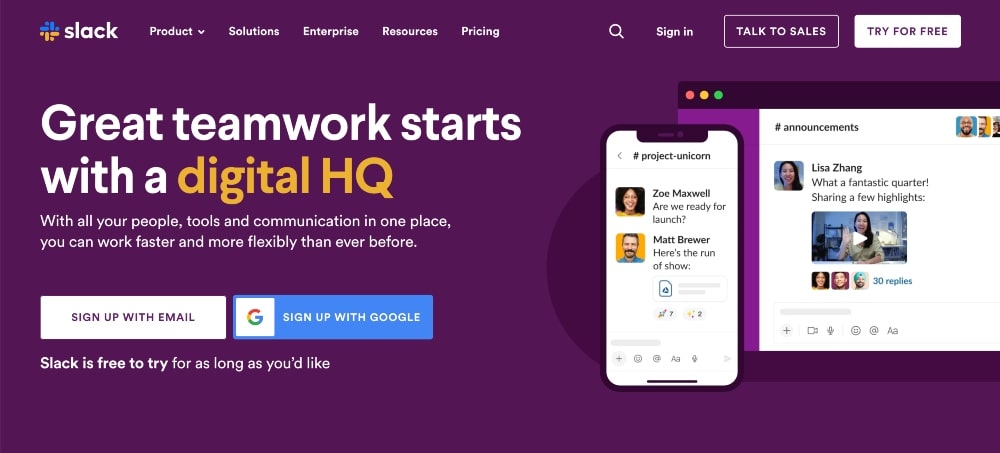 Slack has exploded in popularity in the past few years and is now one of the most popular community platforms for businesses and organizations to facilitate team communication.
But it's not just for businesses. You can use Slack for online courses, group support, or just about any other community purpose.
The of the best community features of using Slack is that it allows you to create multiple channels so that community members can easily join the conversations they are most interested in.
For example, Wifi Tribe, an online community of digital nomads, uses Slack for their community management and they create separate channels for specific trips and interests.
This helps create an effective way to organize different types of discussions so that members don't have to wade through irrelevant topics to find what they're looking for.
The Create and Go team has been using Slack for our work and team communications for years and we are very happy with it.
Slack is also widely used enough in businesses that running your own community on the platform could be an advantage if some users are logged into Slack every day for work.
The main drawback of Slack is that it can be a little overwhelming for some people to learn the wide variety of features and understand how to search for the information that they need.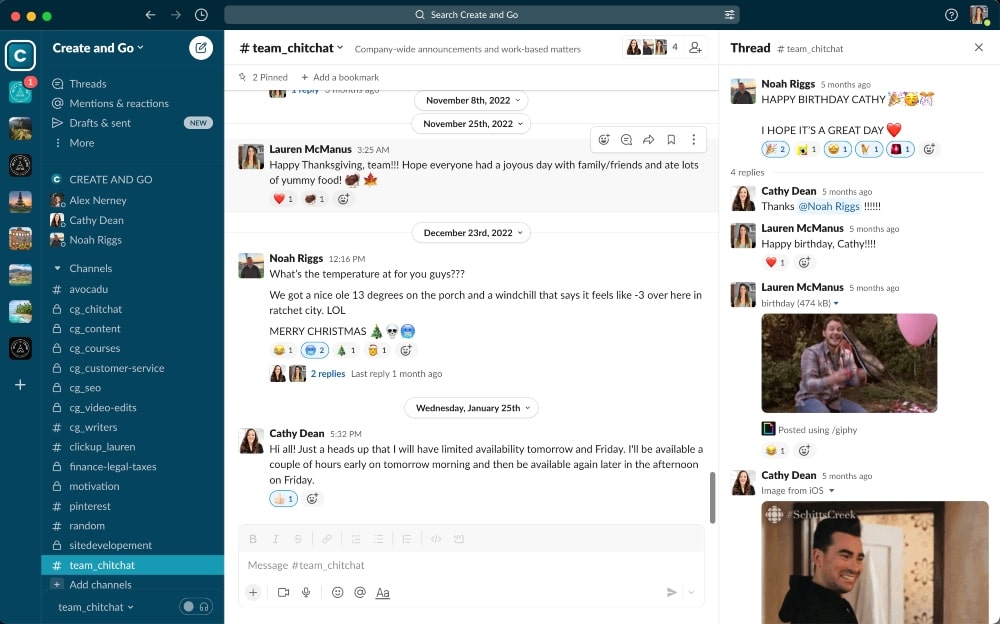 Key Features:
Message threading
File sharing and storage
Direct messaging
Video calls and conferences
Integration with external services
Customizable notifications & mentions
User roles and permissions
Create and join workspaces/teams
Searchable message history
Automated reminders and alerts
Voice messages
Pricing:
Slack has a great free plan, but messages and threads expire (disappear) after 90 days. In order to keep all messages visible and accessible, you'll have to upgrade to a paid plan.
Pro plan: $7.25 per user per month (suitable for most smaller businesses or groups)
Business plan: $12.50 per user per month for added integrity management and compliance requirements
Enterprise plan: Contact for pricing.
Our Opinion:
Slack is one of the best online community platforms for businesses and organizations of all sizes. It's also very suitable for small teams and community groups, but it can be an expensive option.
Most businesses will need to pay for the pro plan because they'll need to retain access to company information and communications. For bloggers and online creators, the free plan may not be suitable if you don't want your messages to expire after 90 days.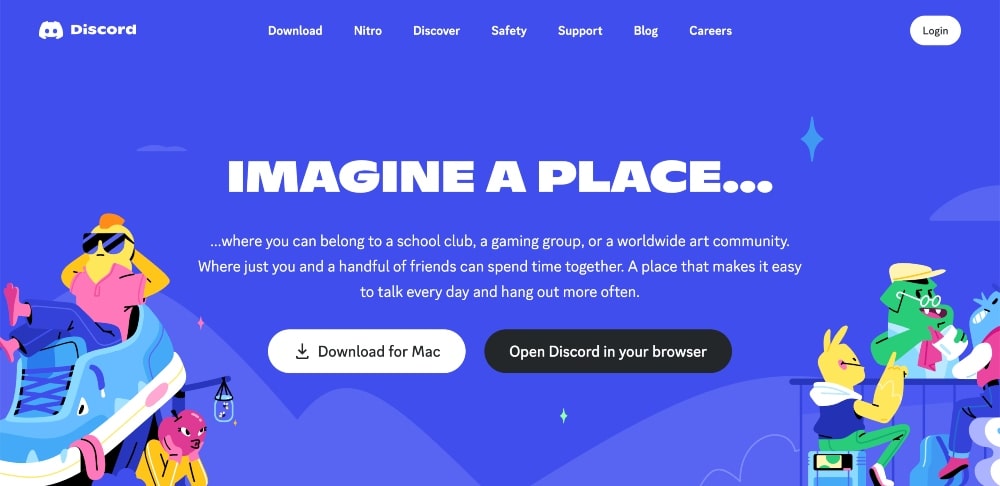 Best for: Bloggers, online creators, and anyone in the gaming industry
Discord is a popular communication platform that has become increasingly popular due to the rise of online gaming and streaming.
Like many others on this list of best online community platforms, it has a very intuitive and easy-to-use interface, as well as popular community features, like private messaging, video conferencing tools, the ability to appear on and offline, and more.
Discord also has a pretty high level of customization on the platform so that you can tailor your experience for your needs and preferences.
Like Slack, it allows you to create multiple channels so that members of your audience can easily join the conversations they are most interested in and not get bogged down by the channels they don't care about.
Discord is another great platform for community engagement because users tend to stay logged on longer than other platforms such as Facebook Groups or Twitter, which can mean higher levels of engagement.
Discord has a lot of positives and not too many negatives.
It has a lot of features and can therefore be overwhelming for some, especially brand-new users.
It's still most often used by people in the gaming industry, so others may find that it has a little bit more of a learning curve.

Key Features:
Voice and video calling
Chat rooms and communities
File sharing
Direct messaging and group messaging
Customizable notification settings
High-quality audio/video streams
Cross-platform support (Windows, iOS, Android)
Inbuilt text and code editors
Integrations with third-party apps and services
Pricing:
Discord is free to use but they do have additional "Nitro" upgrades for additional storage and customizations. Pricing for Nitro upgrades ranges from $4.99-$9.99 per month.
Our Opinion:
Discord is a great option for anyone looking for a free online community platform, especially if you like the "channel" features that Slack offers.
Even if you pay for the upgrades for more storage and customizations, it's still a cheaper option than Slack.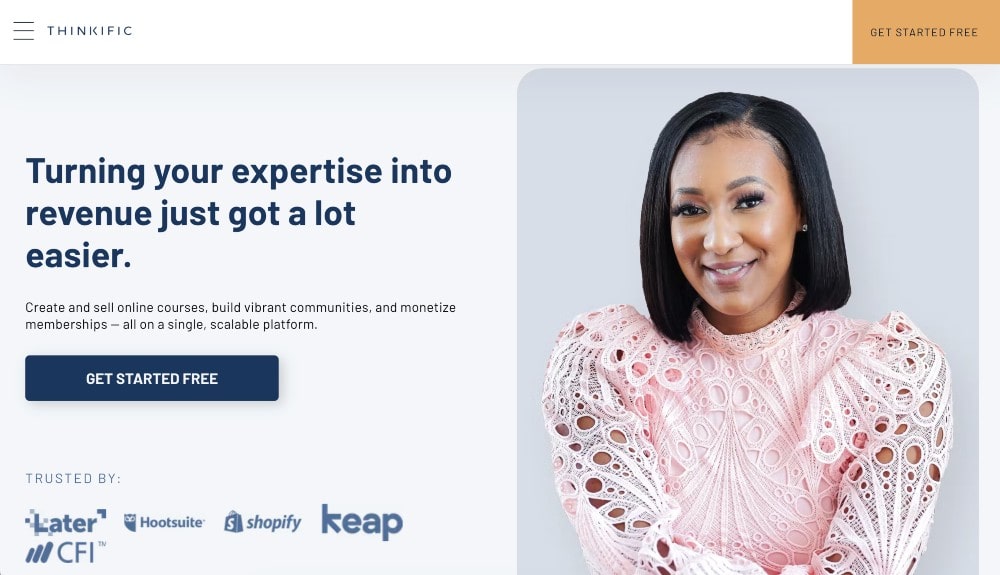 Thinkific is an online learning platform that also has new community features built in.
It's an ideal option for course creators and bloggers to monetize their products and create an engaging and interactive community for their audience.
Thinkific offers a wide range of features that make it easy to set up, manage, and grow your own virtual learning environment
They make it incredibly simple to create a unique course with custom content, modules, quizzes, communities, and even live classes.
Additionally, Thinkific has built-in marketing tools such as automated email sequences and coupons to help you quickly reach out to customers.
They also have new community feature that let you create an online community for your students and even create separate "spaces" for specific discussions (like a channel for Slack or Discord).
Because Thinkific is primarily an online course platform, the community features for this platform are quite limited compared to the other best online community platforms on this list.
But if you're selling online courses anyway, Thinkific is a great option!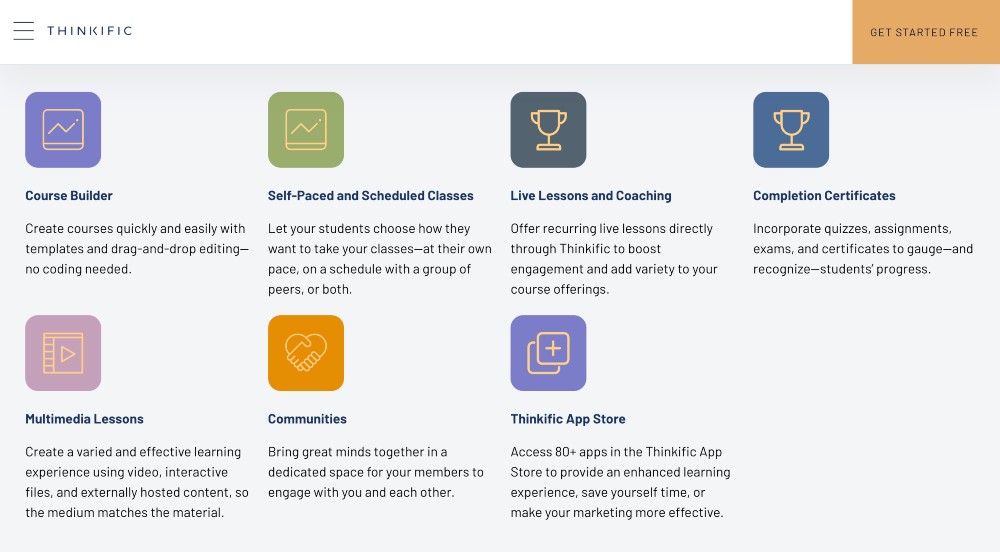 Key Features:
Create and Sell Online Courses: Create, host, and sell educational content or courses
Customize Course Pages and Themes
Email Automation and Scheduling: Set up automated email sequences for onboarding students, launching courses, sending marketing messages, and building relationships with prospects.
Integrations and Add-ons: Zapier, WordPress plugins, and more
Student Progress Tracking and Management: Track student progress through lessons by tracking completion rates, test scores, etc.
Payment Processing and Coupon Codes: Embed checkout forms for easy payment processing and use coupon codes for promotional discounts
Customer Support System (Live Chat): Live chat support allows you to answer questions quickly from website visitors before they make a purchase
Community Features: Create an online community for your audience
Custom domain: Set up a custom domain for your own website/courses
Pricing:
Free: 1 course, 1 community, 2 spaces per community
Basic: $36/month for unlimited courses, 1 community, 5 spaces per community
Start: $74/month for unlimited courses, 1 community, 10 spaces per community
Grow: $149/month for unlimited courses, 3 communities, 20 spaces per community
Our Opinion:
Thinkific is best suited for creators and bloggers that are selling online courses. Otherwise, this platform is a bit expensive and limited in features if you're online looking for a community platform.
The upside is that if people are logging in to access your courses, they are more likely to communicate with other community members if they don't have to log in anywhere else.
Best for: Open-source community platform; Small and large organizations as well as creators looking to create smaller, more engaged communities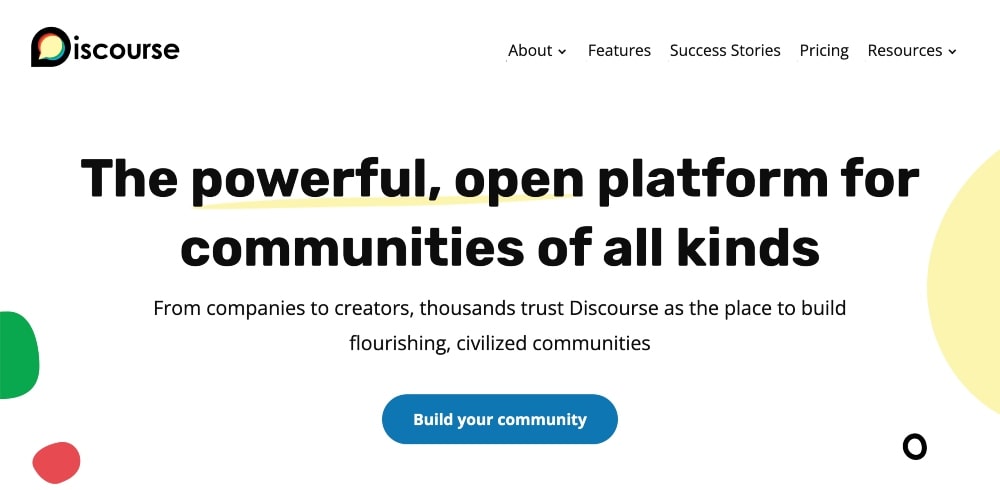 Discourse is a customizable community platform that lets you create an online community space with pages, conversations, forums, and more.
What makes Discourse stand out against other online community platforms is the ability to custom-design pages within your community — because it's open-source.
The pages and conversations within Discourse are a bit more fluid and dynamic, with multiple media types and various integrations.
Additionally, the platform allows for easy moderation and monitoring of conversations, allowing moderators to quickly respond to issues or inappropriate content.
Discourse also has a robust API that can be used to integrate with other platforms or existing systems, creating an even more seamless user experience.
With these incredible features, Discourse can be a bit intimidating for new users who are not familiar with the platform.
It also requires considerable server resources in order to function properly, which could become costly for large communities or audiences.
But, if you're willing to learn and familiarize yourself with the platform, you can get so much out of it because it's an open-source platform.
Discourse is also one of the more expensive plans on this list, which is to be expected considering its massive amount of features.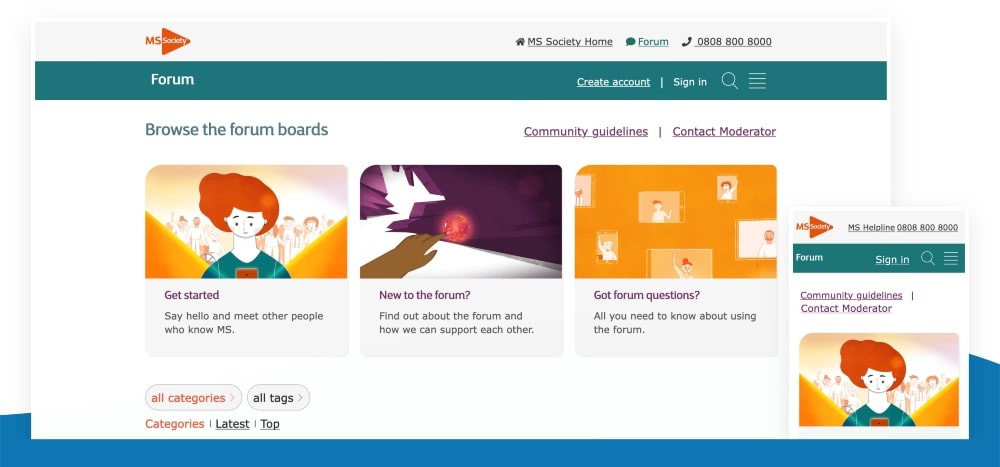 Key Features:
Easy setup and customization
Seamless moderation tools
Advanced analytics and tracking capabilities
Robust user profiles with avatars, reputation scores, likes, mentions & more
User-friendly design for mobile devices
Built-in search engine optimization (SEO)
Powerful post-creation and editing tools
Embeddable content from social media sites such as YouTube, Twitter, Instagram, and more
Activity feeds to track conversations
Multi-lingual support
Pricing:
Private: $25/month for 100 members, 50k page views, and 10GB storage
Standard: $100/month for unlimited members, 100k page views, and 20GB storage
Business: $300/month for unlimited members, 500k page views, and 100GB storage
Enterprise: Contact for pricing.
They also have a 14-day free trial.
Our Opinion:
Discourse is the most customizable community platform on this list. If you're looking for a space that you can design more on your own and you're willing to take on a higher learning curve for it, this community platform is for you.
We think Discourse is better suited for larger organizations that can afford the higher price tag on this platform or for creators and bloggers looking to build smaller, more engaged communities that they can maintain on the private or standard plans.
Best for: Course creators on a budget and looking for a higher emphasis on building an online community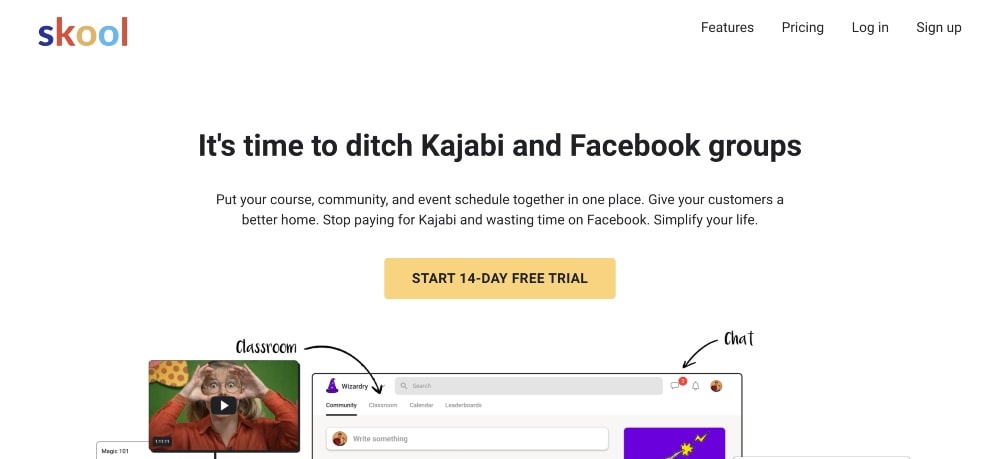 Skool is an online community platform that helps you make learning more engaging, efficient, and effective.
Like Thinkific, Skool provides you with a place to create a much more interactive learning environment.
Your course and community are housed in the same place, which means your students can be more interactive while they're going through your courses.
Students can interact with material directly in the platform, providing them with a more engaging way to learn.
They can also use interactive features such as liking and commenting, much like a social media platform, to gain insight into their peers' understanding of the course material.
Skool also boasts a higher completion rate for their courses due to all of the features keeping students contained on the site.
They also offer a calendar for group events, email broadcasts, auto affiliate features for your courses, and even metrics to allow you to see how your business and community are doing.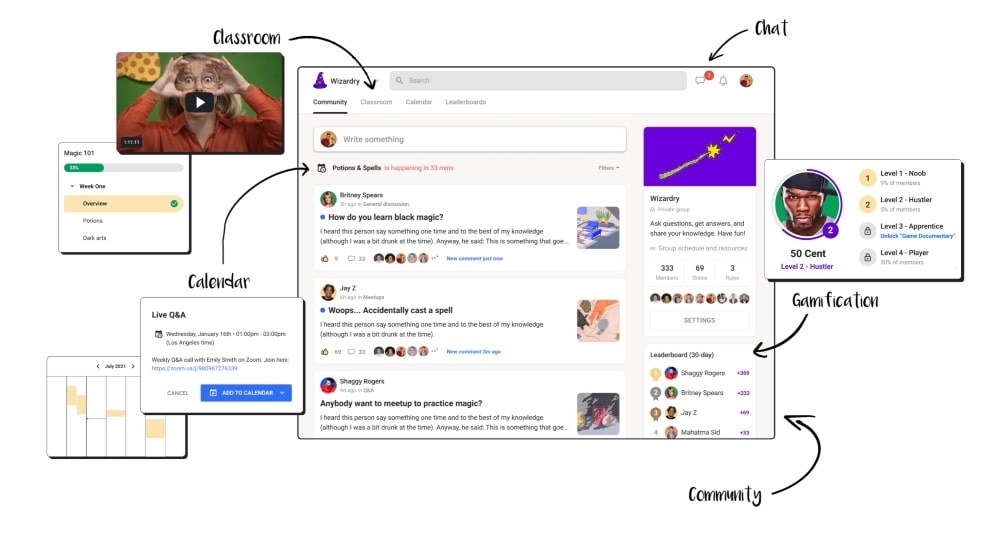 Key Features:
Comprehensive course creation capability
Engaging interactive quizzes and assessments
Automated student assessment and feedback
Robust eLearning content authoring tools
Ability to create online communities for learning
Support various media types (text, audio, video) in courses
Drag-and-drop design for easy course customization
Robust analytics tools to track student progress
Customizable notifications system for learners and instructors
Cloud hosting services with secure data storage options
Pricing:
$99/month for 1 community group and unlimited courses and 1 community group. They also offer a 14-day free trial.
Our Opinion:
Overall, Skool is a great community platform for course creators who are looking for a more budget-friendly option with a high emphasis on communities.
Thinkific is a more powerful course platform but its community platforms aren't as developed. So, if course creation and marketing are more important to you, Thinkific is a better option.
But if it's creating a thriving community and fostering a better learning environment, Skool is a better option.
Best for: Large organizations looking for community management for customers
Tribe is a professional relationship platform that enables users to network, collaborate, and create new opportunities.
Tribe differs from the other best online community platforms in that it focuses more on community and relationship management for very large communities and organizations.
With its wide range of features, Tribe offers an ideal resource for entrepreneurs and business professionals looking to expand their relationships and grow their businesses.
Tribe has a lot of interesting community features, including creating job boards, your own themes, countless apps, analytics, reliable search, and more.
The messaging feature allows community members to communicate easily in private chat rooms or make announcements on public channels about projects they are working on.
It also comes with document-sharing capabilities, which allow users to securely exchange files via the cloud or upload large data sets directly into a shared workspace.
Key Features:
Private, virtual communities for members to gather and engage
Support for large-scale events such as conferences, workshops, and summits
Marketplace functionality that allows users to find, connect with, purchase, and manage products or services from other community members
Robust privacy settings for user accounts including the ability to control who can access content within your community
Automated tools to facilitate discussion forums, surveys, and polls
Video chat capabilities including live streaming
Customizable profile pages featuring bios and photos of each member
Advanced search capabilities by keyword or category
Built-in analytics dashboard providing insights into engagement and reach metrics
Pricing:
Tribe has an advanced plan for $499.99/month and an Enterprise plan (contact for pricing).
Our Opinion:
Tribe has a hefty price tag and is therefore best suited for very large organizations looking to create an engaged community for customers.
Best for: Professional course creators and coaches with live chat and meetings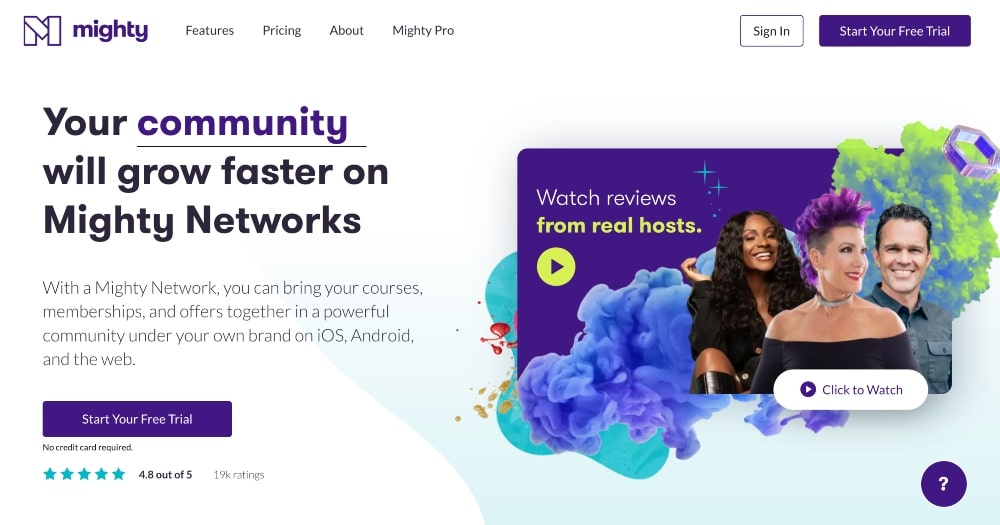 Mighty Networks is a powerful online community platform that has been gaining popularity among businesses, organizations, and online entrepreneurs looking to increase engagement with their members.
It provides an easy-to-use interface that allows users to quickly create custom groups, post and share content, message each other, and more.
It provides native live streaming, paid membership options, online courses, analytics, and more!
One of the biggest pros of using Mighty Networks as a community platform is its ability to easily connect with Zoom and create and host events.
This makes Mighty Networks an ideal option for online coaches and course creators that schedule meetings or webinars with clients.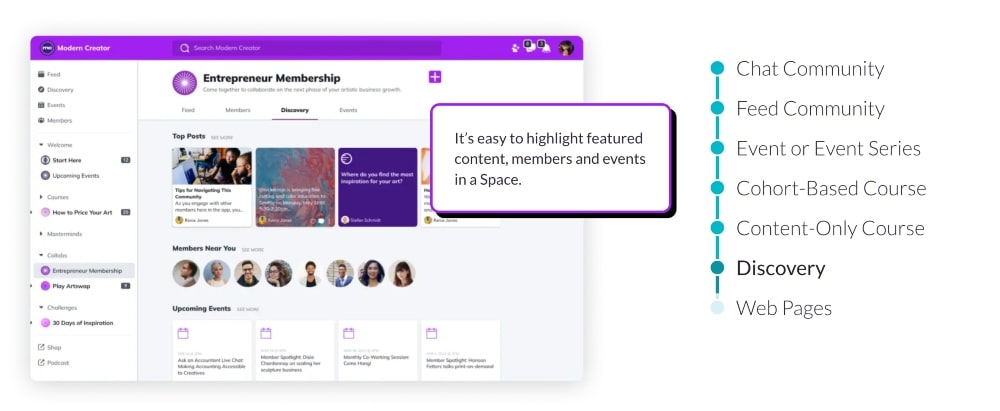 Key Features:
Create your own customizable community and social network
Customize the look and feel of your network with branding, colors, fonts, and logos
Integrate photos and videos for engaging content
Post polls to get feedback from members
Add in relevant content from external sources such as YouTube or RSS feeds
Monitor activity by tracking members' posts, comments, likes, shares, and more
Host live events with video streaming capabilities
Organize discussions into topics including private groups and forums
Enable commerce transactions within your community through paid membership plans or digital goods store
Pricing:
Community (beginners): $33/month to build communities
Business (course creators and coaches): $99/month + create courses
Path-to-Pro (growth): $249/month + custom designs
Mighty Pro: Contact for pricing + iOS and Android apps
Our Opinion:
Mighty Networks is the best online community platform for coaches and course creators that have the need for live meetings, events, calls, and webinars with their customers and audience.
The built-in communication tools for Zoom and other platforms help to facilitate this communication.
Why are Online Communities Important?
Online communities are important because they help people stay connected. They allow people to easily share ideas, ask questions and learn from each other.
It is a great way for businesses and organizations to connect with their customers and build relationships.
Online communities also give people the opportunity to make new friends, find support and learn more about different topics they are interested in.
With so many advantages, it's no wonder why online communities have become so popular!
Summary of the Best Online Community Platforms
The advantages of online communities are undeniable, and with the help of platforms such as the ones we listed in this article, creating an engaging and interactive network is easier than ever.
Creating an online community can help foster meaningful engagement with customers and potential members, allowing organizations to build relationships with those who have a vested interest in their success.
Additionally, it provides a great way for experienced professionals to reach out and network with like-minded individuals, as well as providing a platform for newcomers to learn more about their chosen industry.
Here are our top picks for the best online community platforms:
An online community can be a great way to build relationships, promote engagement, and increase sales – no matter what your goals are!