We partner with bada$$ companies that offer products that help our readers achieve their goals! If you purchase through our partner links, we get paid for the referral at no additional cost to you! Read our disclosure for more info.
In the ever-evolving world of both blogging and social media, it's important to be aware of the latest trends and tools. One such tool bloggers and social media influencers alike depend on is Linktree.
But what exactly is LinkTree, and why should you care about it?
The most basic description of Linktree is that it's a simple tool for providing streamlined access to all your social media accounts, website, and even podcasts, from a single link.
Some people refer to Linktree as a bio link tool, or a link-in-bio tool, and for the purposes of this article, we'll use these terms interchangeably. Of all these types of tools on the market, Linktree has long been considered the most popular bio link option.
But is it the best? In this post, we'll explore Linktree alternatives including one that is completely free and easy to create.
Want to skip straight to our LinkTree Alternatives? Click Here!
Why Do You Need a "Link in Bio" Tool?
Let's back up for just a moment and break down the link-in-bio idea a little further.
No matter what industry you are in – whether you are a small business owner, blogger come online influencer, or just someone getting your feet wet in online business, one thing is constant. Your online real estate is of utmost importance.
Think of your social media profiles and your website as an extension of your personal brand.
This personal brand and online presence you're developing are just a few of the elements that can help lead you to financial success.
Facebook, Twitter, Instagram, and other social media channels are essential to that online presence. Unfortunately, these social media channels have their limits, especially when you want to ensure that people viewing your content can easily access the most accurate and up-to-date information about you and your brand.
As the term suggests, a link-in-bio tool is a clickable URL that you can add to the "bio" section of your social media profiles to allow you to send followers to a place of your choosing.

The link can send your audience to your personal or business website, product page or online store, blog content, or another critical page.
The problem is that most of us don't have just one place we want our users to go.
Business owners, bloggers, influencers, etc…have a lot of places they would likely want to send someone to, so choosing a single location for that particular bio link to point to can feel like an impossible task.
That's where a bio link tool/ software solution comes in handy! These tools allow content creators to develop landing pages or mini websites that become a jumping point for visitors to access all of the content you want them to see.
While Linktree is one of the most popular and oldest bio-link tools on the market, it's far from the only one available.
Linktree 101
It is incredibly easy, and free, to sign up for an account with Linktree. Perhaps that is the reason it's so popular. On the homepage, you click "Sign up free," and you can almost instantly use an email address or phone number to create your account.
And, the company allows you to create a customized URL. For example, https://linktr.ee/createandgo

The free account allows you to add links to unlimited destinations online (i.e. your latest blog posts and podcast episodes).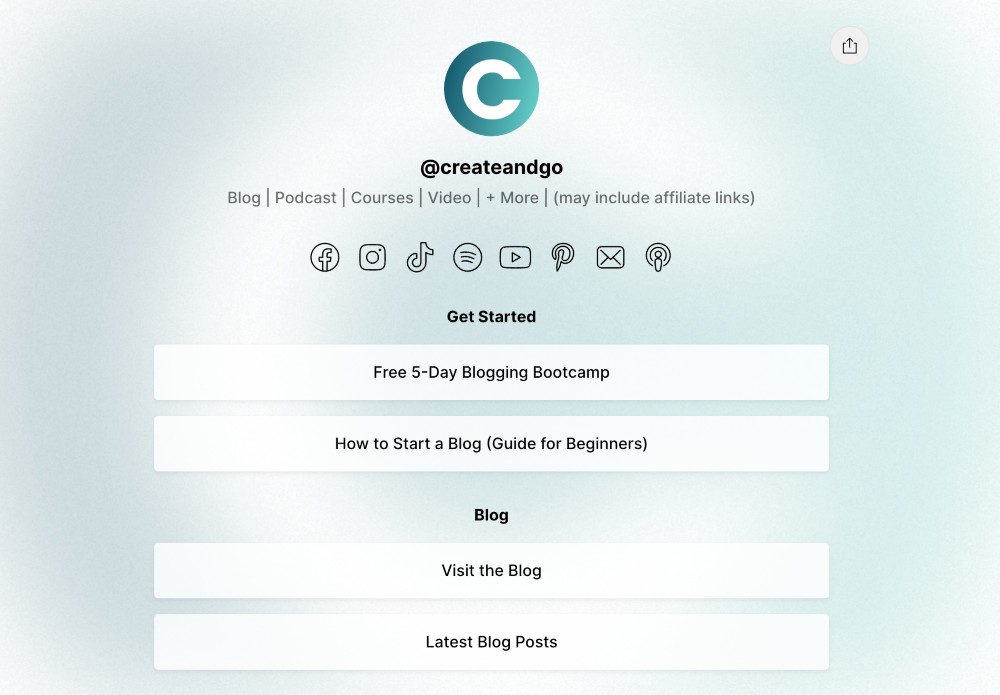 It also allows you to collect payments such as tips, donations, or even payments for services.
LinkTree indicates these collections come with 0% transaction fees for a limited time. However, they don't spell out what "a limited time" means.
Finally, the free account gives you analytics access for the past 28 days to clicks and views.
Pricing Plans
At the time of this writing, there are three paid plans – Starter, Pro, and Premium.
The Starter Plan is $5/month when billed monthly ($4/month with annual billing), and it gives you more customization abilities and access to 90 days worth of analytics for clicks and views.
The Pro Plan is $9/month ($7.50/month with annual billing), and the Premium Plan is $24/month ($19.50/month with annual billing). The Pro and Premium plans include app integrations, the ability to collect email and phone numbers, better analytics, and access to better customer support.
Since Alex and Anthony Zaccaria, along with Nick Humphreys, introduced Linktree in 2016, the software solution has grown by leaps and bounds. According to the company's own About page, they have more than 30 million users worldwide to date.
You might be wondering why we're writing about LinkTree competitors if we're using it ourselves, and it offers so many amazing features.
The reason is two-fold:
First, we know that not everyone is going to like LinkTree, its offerings, and its user interface.
Second, when you're looking for the best LinkTree alternatives, it helps to have a resource that breaks down costs and features for you!
Researching and finding all the pertinent information people just like you need to be successful is what drives us. You could call it a passion project, but really it's built into the core of our company's mission.
That said, below with each of the LinkTree alternatives, we will share:
the name of the product,
a quick summary of its main features and pricing plans,
and the pros and cons you will experience if you choose it as your link-in-bio tool.
What are the Best LinkTree Alternatives?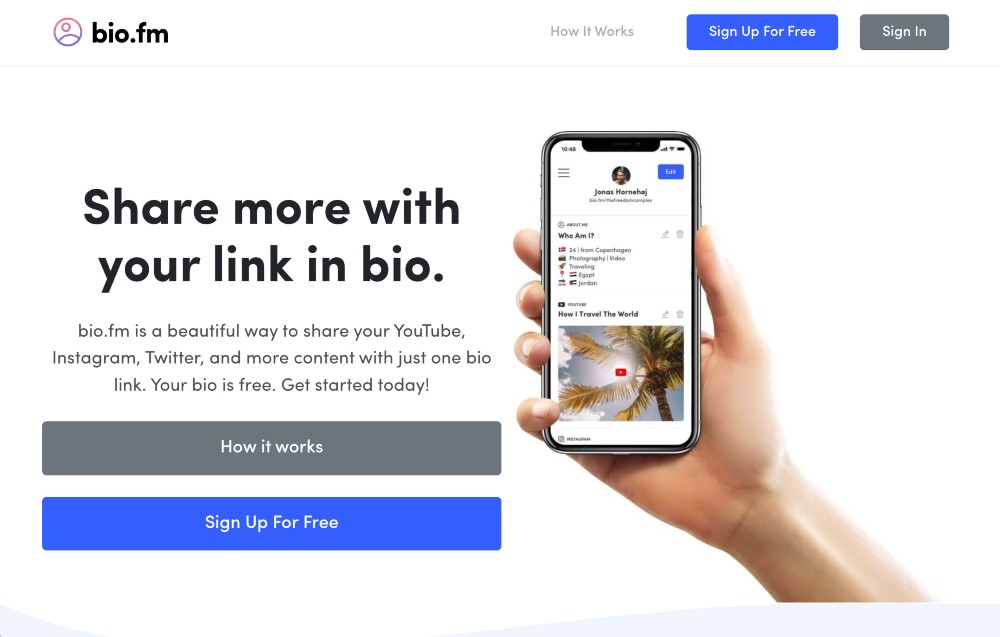 Best for: Visual brands/products
Price range: $0-$10 per month
Free plan: Yes
Free trial: Yes
About Bio.fm
Bio. FM is a platform that allows users to share almost any type of content, including videos, images, links, and email collection forms.
It allows users to import content from their favorite platforms, including Instagram, and present it in various ways.
To use Bio.fm, you can choose the content you want to share, select your desired template design, and then import or add your content.
You can then customize and reorder your blocks using your mouse and share your customized Bio on your favorite platforms. With Bio.fm, users can easily share Instagram photos, social profiles, and multiple website links.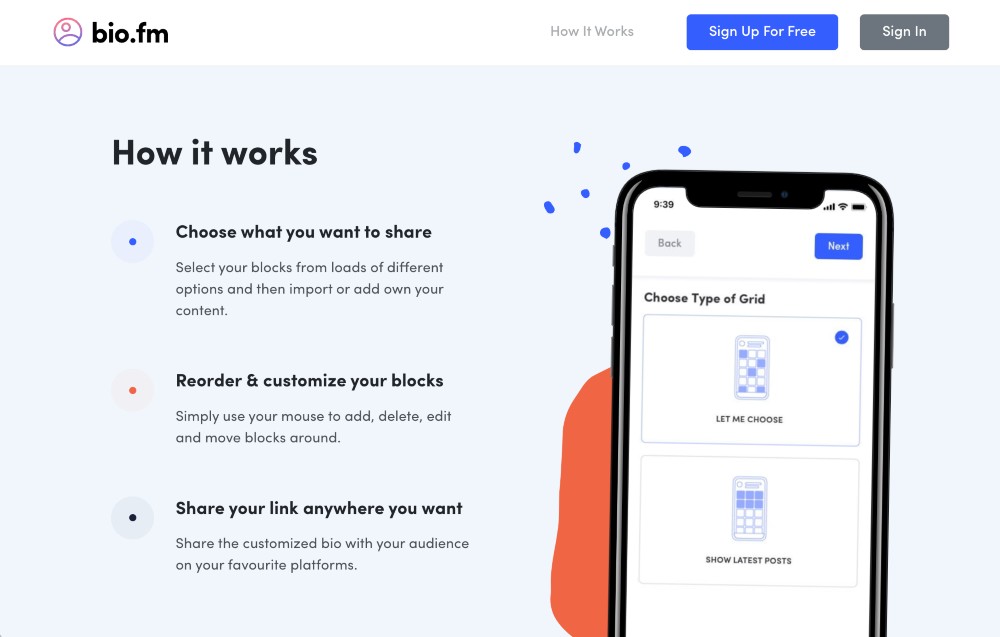 Some benefits of using Bio.fm include:
the ability to create a professional-looking and engaging landing page for followers to visit,
the convenience of importing and sharing content from multiple platforms in one place,
and the ability to track analytics and collect email addresses from visitors.
The platform's customizable blocks allow for the creation of a unique and personalized page that fits a personal brand and/or style.
Bio.fm also offers a user-friendly interface, making it easy for users to create and manage their landing page, even if they wouldn't consider themselves to be tech-savvy.
Bio.fm is especially useful for creators and professionals in the music industry.
A seamless integration with Spotify makes it convenient for musicians to share their latest work with their followers. After sharing a promotional post, viewers can access, share, and download their new content on Spotify with the click of a button.
Key Features
The ability to import content from other platforms
Customizable blocks and pre-existing theme templates that make customization a breezeros
Users can choose one of four different themes, or you can create a unique one using various color and font options
Easy to set up in minutes
A free trial option is available
Cons
To gain access to all of the features, you will need to pay for the $10/month pro plan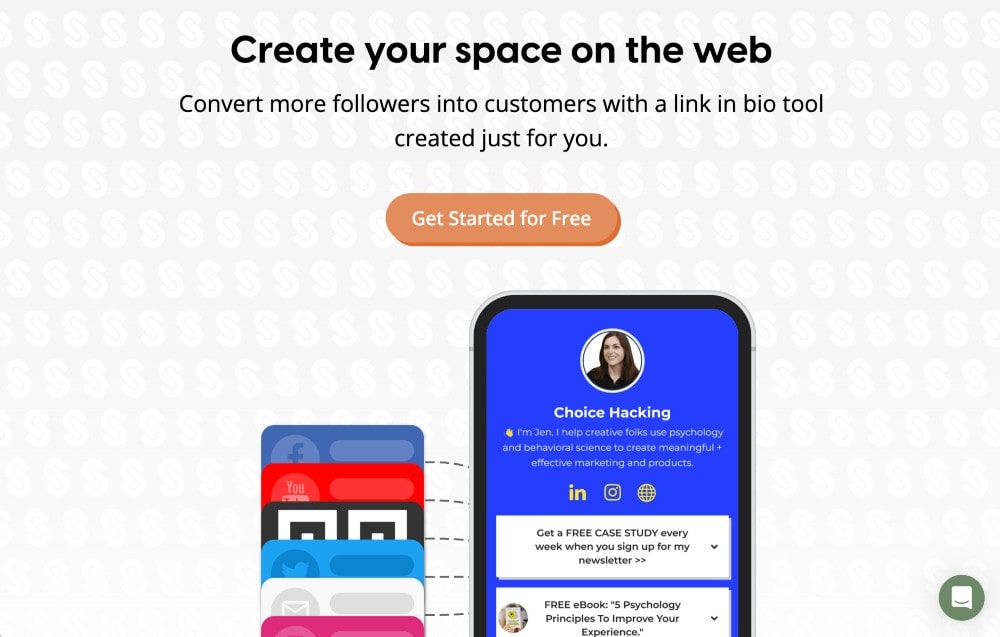 Best for: Beginners
Price range: $0-$24 per month
Free plan: Yes
Free trial: Yes
About Campsite.bio
Campsite.bio enables creators to convert more followers into customers by creating a mobile-optimized landing page in minutes.
With a Campsite.bio Pro subscription, users have access to advanced features like opt-in forms, analytics, collaborators, and more.
This tool is ideal for agencies, creators, influencers, non-profits, small businesses, and social media managers.
Some key features of Campsite.bio include:
the ability to create a high-conversion bio link,
use advanced analytics, automate IG grids,
and create carousels and feeds.
Users can also schedule links, hide the Campsite branding, and use a custom domain and subdomain. Campsite.bio also offers weekly insights emails and priority support.
With Campsite, users can customize their landing page with their own branding. This includes adding their logo, changing the color scheme to match their brand, and using custom fonts. Users can also automatically schedule their links to add or remove at a specific date and time.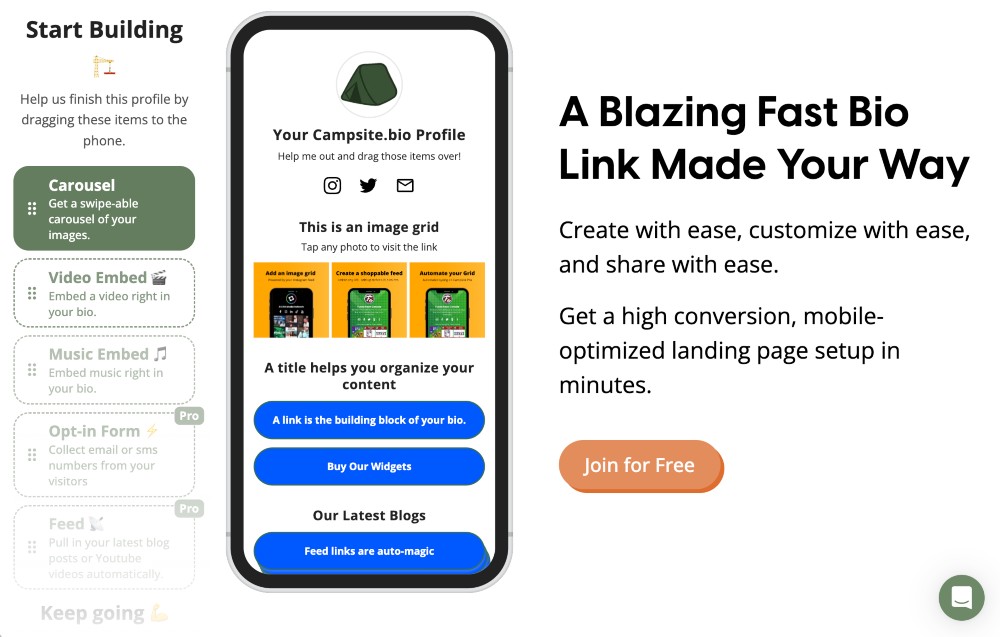 This is useful for promoting time-sensitive offers or events. Campsite.bio also offers a variety of pre-designed templates to choose from, making it easy for users to create a professional-looking landing page quickly and easily. Users can create a landing page tailored to their brand and designed to convert followers into customers.
It is one of the most user-friendly platforms for beginners and those unfamiliar with social media and web design concepts.
Key features
Detailed analytics tracking
Link scheduling tool
Opt-in forms to collect data
Pros
Robust collaborative features and advanced analytics
Like many other linktree competitors, Campsite.bio does not require technical or coding knowledge
Cons
A Pro plan is required to access most features.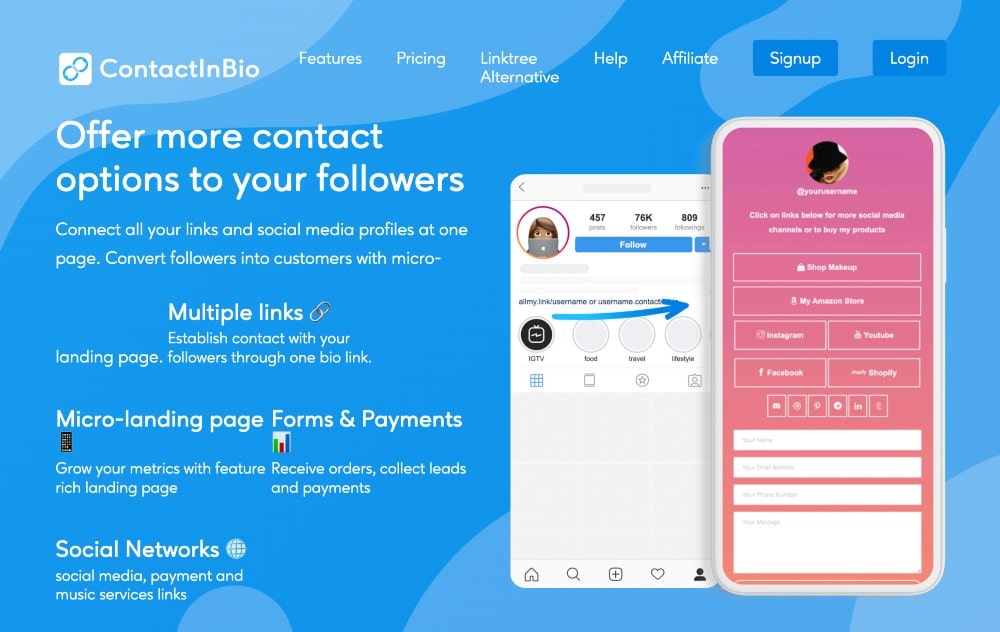 Best for: Promoting services and products
Price range: $7-28 per month
Free plan: Yes
Free trial: Yes
About ContactInBio
ContactInBio gives you all the tools you need to create content-rich micro landing pages. The landing page allows users to add text, image carousels, videos, sign-up and contact forms, products with cart and checkout, and URLs.
On the backend, ContactInBio's dashboard provides in-depth analytics and demographics for each site visitor, including information on their country, date, and language.
Users can also integrate their landing pages with Google Analytics and Facebook Pixel to collect visitor data and enable retargeting. Adding contact and subscription forms to gather more information from visitors is also easy to do with ContactInBio.
ContactInBio provides users with a powerful and effective way to engage with their followers on Instagram. With the platform's customizable micro landing pages, users can create a visually appealing and interactive experience for their followers.
The in-depth analytics and integrations allow users to track the performance of their landing pages, gain valuable insights into their audience, and optimize their marketing efforts with collected data.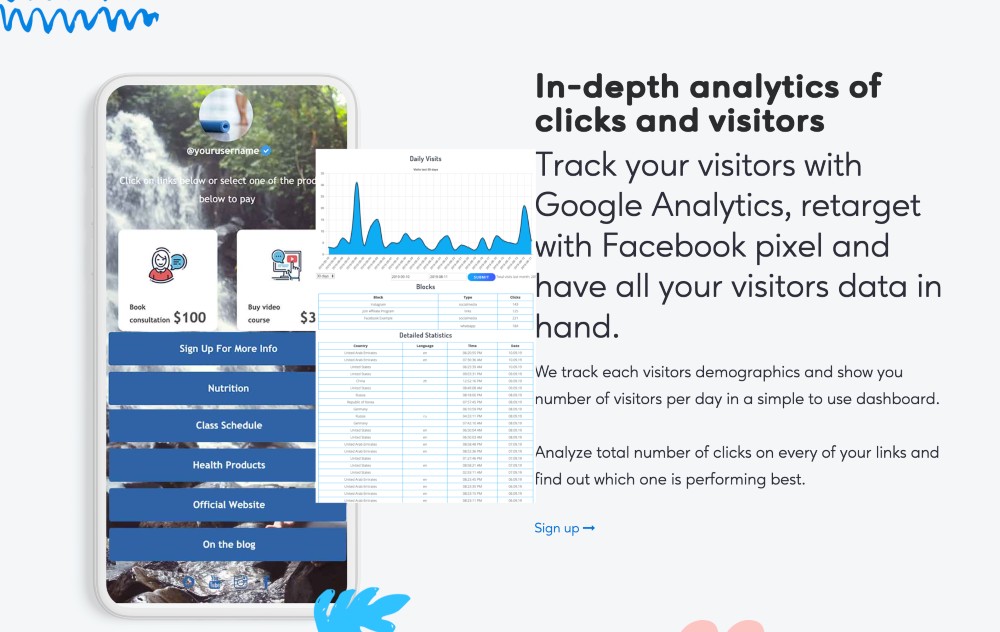 Overall, ContactInBio is a versatile and user-friendly platform that can help users maximize their reach on Instagram. Out of this entire list, it's the most similar alternative to Linktree in terms of features. Brands and businesses promoting products or services will benefit the most from this tool.
Key features
Add text, images, videos, forms, and URLs
Contact and subscribe forms to collect data
Advanced integrations and analytics
Pros
Customized branding
Pages optimized for search engines (SEO)
Cons
The interface could be more user-friendly than most alternatives.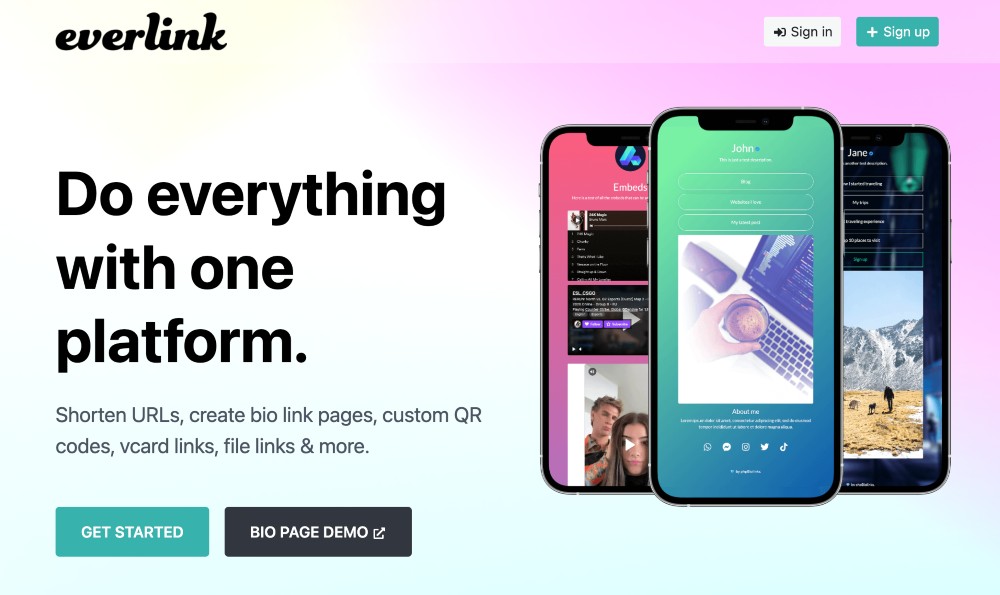 Best for: Multiple social networks
Price range: $0-$7 per month
Free plan: Yes
Free trial: No
About Everlink
Everlink enables users to create shortened URLs without using a third party such as bit.ly and unique biolink pages, as well as track the analytics of their visitors. Analytics data you can access includes things like day-by-day insights and information on referring pages, countries, operating systems, and languages.
The platform includes unlimited projects, allowing users to manage their links easily using various settings and implementations. The platform also allows users to use it as a shortener for their links.

The platform's customizable biolink pages also provide a professional and attractive way to present this information, making it easier for users to engage their audience. Additionally, Everlink's analytics features enable users to track the success of their efforts and make data-driven decisions to improve their performance.
Creators and influencers with multiple social media platforms will get the most out of Everlink's service. Users can redirect their viewers to several external websites in one place, making lead generation a breeze.
Key features
Create shortened URLs and biolink pages
Variety of customization features
Pros
Easy to manage multiple links
Measurable success with built-in analytics
Cons
The free plan includes limited features.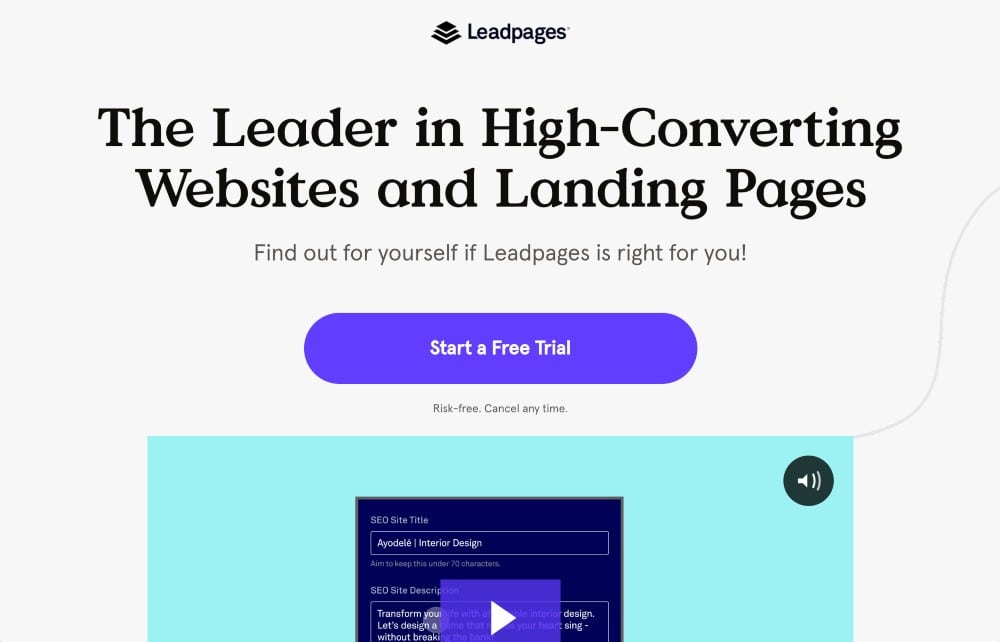 Best for: Collecting quality leads
Price range: $49-$99 per month
Free plan: No
Free trial: Yes
About Leadpages
Leadpages is a platform that simplifies lead generation for businesses. Users can quickly build websites and landing pages, connect their favorite marketing tools, and track their results. With Leadpages, users can create a professional-looking online presence in minutes using the drag-and-drop builder, even if they need to be tech-savvy.
The platform allows users to collect qualified leads with conversion-optimized pages, pop-ups, alert bars, and A/B tests.
Users can also grow their businesses with online payments and integrated tools. Leadpages offers over 200 high-converting templates and unlimited page publishing, leads, and traffic.
Key features
CRM and email marketing integrations
Build-in lead notification system
Performance tracking (pages and campaigns)
Pros
Requires no coding knowledge
Customer support and online resources
Cons
No free plan is available
Costly subscription compared to most alternatives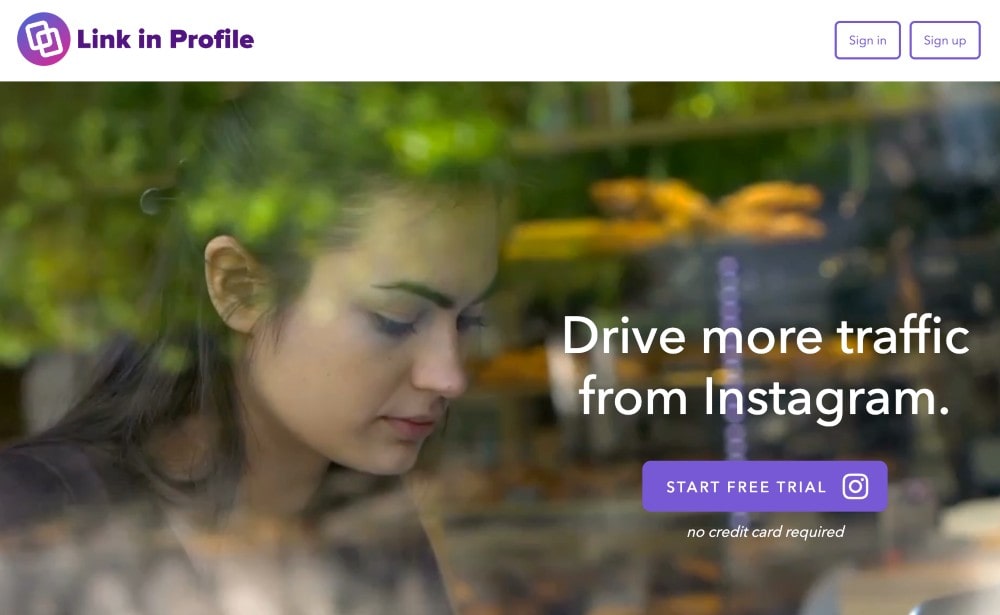 Best for: Instagram-based creators
Price range: $9.99 per month
Free plan: No
Free trial: Yes
About Link in Profile
Link in Profile is a tool that allows users to add links to their Instagram images and send their followers where they want them to go.
Setting up Link in Profile takes just a few seconds and can be done by authorizing the platform to access the user's Instagram account and adding a dedicated landing page to their profile.
To add a post to the Link in Profile landing page, users can paste a URL into their Instagram post's caption, which will automatically appear.
The platform also offers a measurable return on investment, allowing users to track the effectiveness of their Link in Profile landing page from a quantitative perspective.
Link in Profile works with all websites and shopping platforms.
One of the key advantages of using Link in Profile is its ease of use. The platform is designed to be quick and straightforward to set up, allowing users to create a professional-looking landing page in just a few seconds.
This means that users can get up and running quickly and start driving traffic from their Instagram images to their chosen destination.
Another advantage of Link in Profile is its ability to provide measurable results.
The platform offers detailed analytics that allows users to track the effectiveness of their landing page and make data-driven decisions to optimize their strategy. This can help users better understand their audience and make the most of their Instagram presence.
Key features
Compatibility with external websites and shopping platforms
Easy setup (in seconds)
Pros
Measurable return on investment
Integration with existing workflow
Cons
No free plan is available.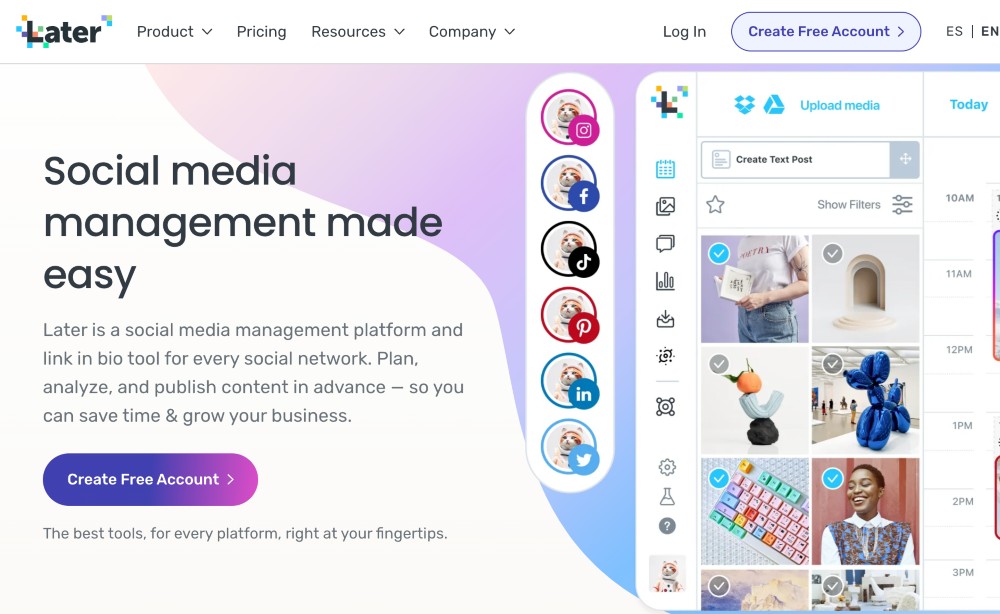 Best for: Creating shoppable links
Price range: $18-$80 per month
Free plan: No
Free trial: Yes
About Linkin. Bio
Using Linkin.bio from Later, creators can create a fully-customizable link in bio web page on Instagram and TikTok. The platform enables users to drive traffic from these platforms to wherever they want, such as their website or e-commerce shop.
It also connects directly to Shopify and comes with analytics, allowing users to sell products and track sales.
The platform allows users to customize their link in bio page with a light or dark theme and curate their content.
They can then drop their new link into their Instagram and TikTok bios and track their posts easily by tagging them with any URL. Linkin.bio also provides analytics to help users measure and optimize their posts.
The primary advantage of Linkin.bio is the ability to drive traffic from social media to Shopify. The platform's customizable link in bio page allows users to tailor their content to fit their brand and engage their audience.
At the same time, the ability to tag posts with URLs and track them easily helps users determine the success of their campaigns and adjust their content for better results.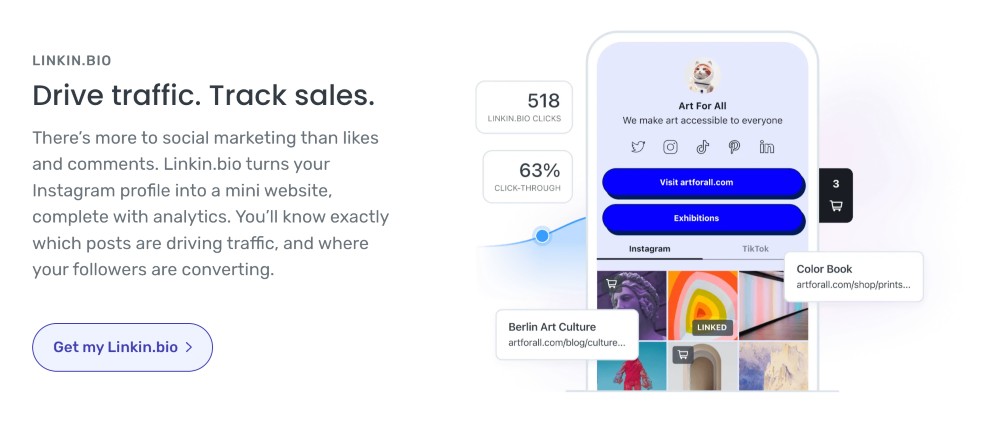 One of Instagram's most significant shortcomings is its inability to share clickable links on posts. This limits brands that want to drive traffic to external sources from their visual content.
Fortunately, Linkin.bio solves this problem with flexible pricing plans for individuals and businesses of all sizes.
Key features
Customization (light and dark theme)
Shopify integration with advanced analytics
Pros
Compatible with Instagram and Tiktok
Offers one place to manage all links and analytics
Cons
No free plan is available, so users must purchase a paid subscription.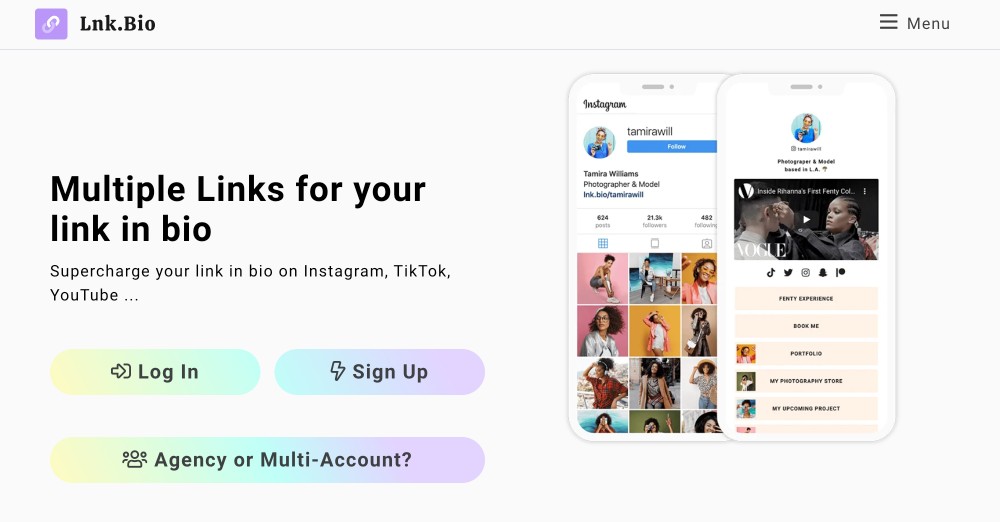 Best for: Marketing visual content
Price range: $0-$24.99 per month
Free plan: Yes
Free trial: No
About Lnk.Bio
Lnk.bio is a tool that allows users to offer multiple choices to their followers when they click on their bio link on Instagram.
Users can share their social media profiles and important connections with just one URL. Lnk. Bio is quick and easy to use, requiring users to log in via Instagram, add links, and retrieve unique URLs.
The platform also offers a range of features, including creating a personal URL and adding unlimited links.
It has a state-of-the-art interface that provides an elegant and perfect visual experience for followers clicking on the user's URL. Lnk.bio is web-based and uses the official Instagram API, so users never have to provide their password. It is also designed to optimize engagement across different social media channels.
The platform's user-friendly interface and official Instagram API integration make it easy for users to set up and manage their links.
With the ability to create a personal URL with no limit on the number of links that can be shared, users can have complete control over the information they push out to their followers.
Its focus on multiple social media channels can help users grow their online presence and reach more potential customers outside of Instagram.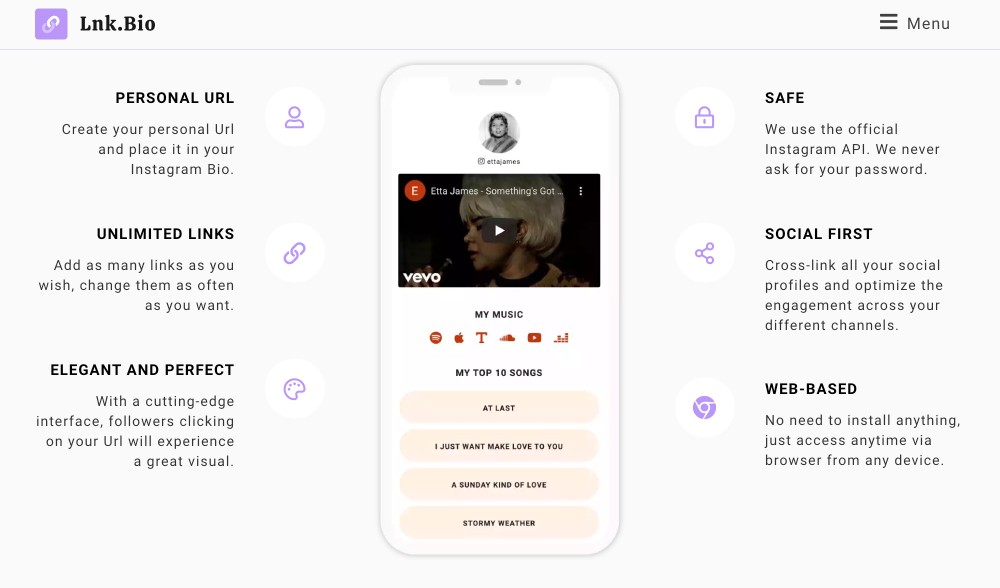 Key features
Heightened visual experience with a customized interface
Web-based with Instagram API
Pros
Increased engagement and traffic on Instagram
A professional appearance with a customizable bio link
Easy sharing of social media profiles and links
No Instagram password is required
Customizable URL link
Cons
Limited features included in the free plan
Highest pricing tier necessary for most advanced features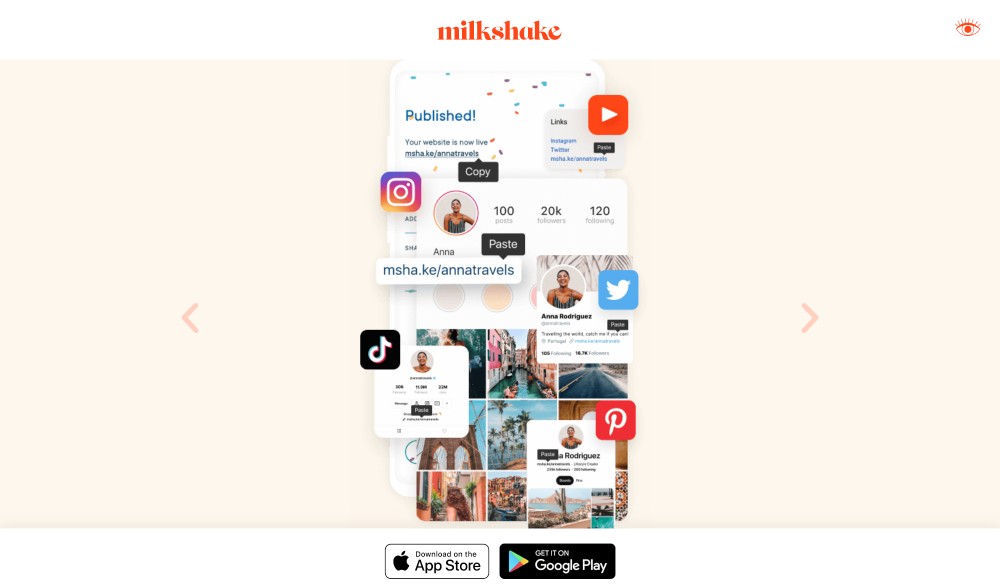 Best for: Individuals and beginners
Price range: Free
Free plan: Yes
Free trial: Yes
About Milkshake
Milkshake is a cutting-edge platform that gives users the opportunity to build free websites on their phones in minutes.
The platform is designed to help users start, launch, or grow business ideas, passion projects, and promotions.
Milkshake is fun, easy, beautiful, and instant, allowing users to make and update a website in minutes without any web or design skills. The process involves:
Picking a card.
Adding content.
Customizing the look, publishing.
Adding it to the user's Bio.
Users can also switch between Milkshake websites and track insights and analytics.
Unlike most other linktree alternatives, Milkshake is always free. Despite its cost-free access, the platform offers a range of features to help users promote their content and connect with their audience.
It is ideal for individuals or creators just starting on Instagram or those with a limited budget.
Key features
Built-in analytics tracking (day-by-day, country, operating systems, languages)
Biolink pages and link shorteners
Pros
Unlimited projects allowed per user
Free for lifetime
Cons
Missing some advanced features from alternative paid services
You can only utilize this app on your phone – doesn't appear to have a desktop option
Best for: Collaboration with teams
Price range: $12-$82 per month
Free plan: No
Free trial: No
About Shorby
Shorby generates optimized micro-landing pages for creators with the added ability to open live chats or phone calls via a short link and access analytics features.
Users can customize the Shorby landing page to include their latest content, pulled from any RSS feed and any content they want to feature.
It also allows creators to include messenger links to any supported messenger service, price or service lists, and links to all of their social media accounts.
Shorby provides a seamless way for users to connect with their audience and share important information. It offers an easy-to-use platform for creating landing pages and tracking the success of their efforts.
The advantages of Shorby include the ability to create a professional-looking landing page quickly and easily, even without technical skill.
The platform's built-in analytics allow users to track the success of their campaigns and make data-driven decisions for future growth.
Shorby also makes it convenient for users to connect with their audience through integrations with other platforms.
It should be noted, however, that Shorby does not offer any free plan options or a free trial before purchase. Those managing large teams will likely get the most out of Shorby's paid subscription plans. All three of their pricing tiers are best suited for agencies rather than individual creators.
Key features
Customizable landing pages, forms, and quizzes
Collect user-generated content (photos, videos, voting)
Pros
Optimized for mobile screens
No coding is required
Cons
Not much information on the website about the features
Requires a paid plan (no free trial)
Best suited for large teams and/or agencies
Best for: Brands and agencies
Price range: $99-$499 per month
Free plan: No
Free trial: Yes
About ShortStack
Users can create customizable contests, sweepstakes, quizzes, hashtag giveaways, comment-to-enter contests, landing pages, pop-ups, and more with Shortstack. The platform offers a range of content types, including custom contests, sweepstakes, and giveaways, to help users expand their reach, capture leads, and engage their audience.
Shortstack's drag-and-drop builder allows users to tailor their contests' layout, images, text, functionality, and other content to fit their brand guidelines. Users can customize a campaign to fit their unique branding within ShortStack's "Style Panel."
It's also a great tool if you want to host giveaways and contests thanks to its sweepstakes tools.
The Entries Manager helps creators collect and filter contest entries and generate winners with the click of a button.
Shortstack is a versatile tool ideal for businesses and individuals looking to get personal with their audience and increase conversions. Its customizable contest and sweepstakes features allow users to create engaging campaigns that fit their brand and audience.
The ability to publish campaigns almost anywhere makes Shortstack a flexible solution for brands and agencies focused on growth.
It's worth noting that Shortstack's pricing plans start at $99 per month, making this option best suited for larger organizations. As a result, this may not be a suitable option for individual creators and influencers.
Instead, businesses, agencies, brands, and large enterprises will get the most out of these features at the current price point.
Key features
Drag and drop builder
Customizable contests, sweepstakes, and quizzes
Collect and filter contest entries
Pros
Engage the audience for more leads and sales
Customized interface to fit the brand
Cons
Subscription cost is very high compared to other linktree alternatives
Not suitable for individual creators or personal use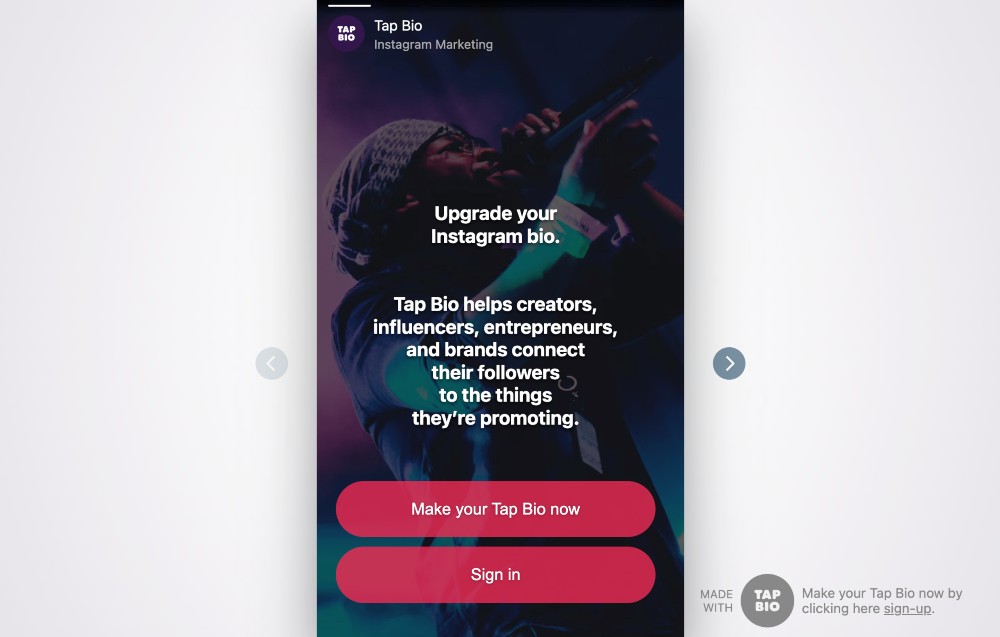 Best for: Small creators
Price range: $0-$12 per month
Free plan: Yes
Free trial: No
About Tap Bio
Tap Bio is a tool that helps creators, influencers, entrepreneurs, and brands connect their followers to the things they are promoting. Users can set Tap Bio as their Instagram profile link and then create different cards to show on their mini-site.
These cards can show two columns of the user's recent Instagram posts that open a selected link, a more visual full-screen profile with links to other social media presences, or a focused, single-link call to action page.
Tap Bio continually adds more card styles to offer users more options for promoting their content. The platform allows users to easily share important information with their followers and drive traffic to their chosen links.
This platform is specifically designed for small businesses and individual creators who want to share their content and grow their audience on Instagram.
Although there is no free trial available before purchase, a free plan is available with limited features. Paid plans cost up to $12 per month, making Tap Bio an affordable option for beginners and small-scale creators.
Key features
Create customizable cards for mini-site
Add links to other social media profiles
Pros
Many options for promoting content
User-friendly, easy to set up
Cons
Additional features may distract followers from links
No free trial option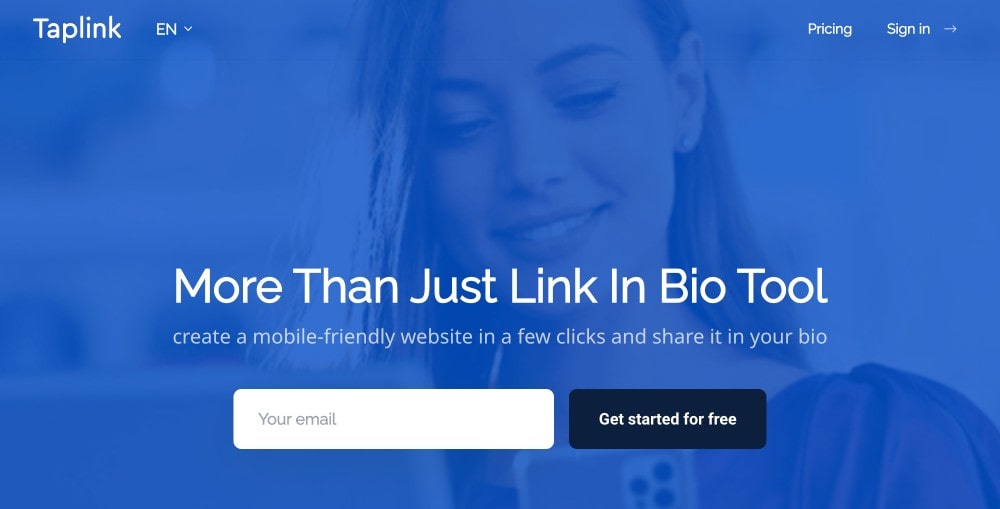 Best for: Contest and offer promotions
Price range: $3-$12 per month
Free plan: Yes
Free trial: Yes
About Taplink
Taplink's platform allows creators and influencers to create a mobile-friendly website in a few clicks and share it in their Instagram bio. This helps drive more leads and sales on the platform.
Taplink lets users let their clients choose a convenient way to contact them and pay directly for goods and services on Instagram.
Taplink also enables users to create special offers and add enticing texts, pictures, and videos to engage their clients. A FAQ section and a countdown timer for time-limited promotions are also available.
It can be set up in a few minutes without the need for design or programming skills and can be accessed from a smartphone.
Key features
Helps users drive more leads and sales on Instagram.
The platform allows users to create a mobile-friendly website
Creators can set up tap link in a few minutes
Pros
No design programming skills
Cons
Appearance is limited, with few design options.
The Best Alternative: Your Own Website
Sometimes, when it comes to finding the right link in bio tool to meet your specific online needs, the solution is the simplest, and the answer is none of the above!
For many bloggers and website owners, the best course of action when it comes to looking for websites like Linktree, and alternatives to Linktree is to look at your own website and how you can utilize it better.
The truth is you might not need Linktree or any of its competitors.
Websites thrive on traffic, and when you use Linktree or one of Linktree's competitors to bring traffic from your social media bio, you divert those precious initial clicks away from your website.
Even your SEO efforts will benefit from more direct traffic being driven to a page on your website.
How do you do this though? You create a page that acts as your link in bio tool. And, it doesn't have to be crazy complicated.
First, create a page like mywebsite.com/start-here
Then, you can add your favorite content, links, and promotions. A customizable page builder could be helpful in this case.
The bottom line is that the fewer links you place between audiences and your website, the better off you will be.
As you read through the list we shared in this post of Linktree alternatives, consider the valuable features that many of them offer. Now think about how easy it would be to replicate these features within the framework of your existing website.
You might surprise yourself with what you can come up with. But, if you're nervous about building your own page, there's nothing wrong with using a link in bio tool.