We partner with bada$$ companies that offer products that help our readers achieve their goals! If you purchase through our partner links, we get paid for the referral at no additional cost to you! Read our disclosure for more info.
Choosing the best database software for your needs is an essential part of any successful business.
Having the best database program will not only make your data easier to store and manage, but it can also help you save time, increase productivity and make better decisions.
When selecting database software, there are a few key factors to consider. We'll dive into these in more detail later on in the article, but here
Do you need an open-source database platform, or would a commercial database program work better for you?
Is the scalability of the database and whether it can accommodate changes in storage needs as your business grows important to you?
Is data security a top priority? Do you need to be able to access your database remotely? Are there any reporting or analytics features that you would like the database to provide?
Finally, consider the cost. Database programs can range from free open-source software to expensive proprietary packages. Make sure you shop around and find the database software that best meets your needs.
What is Database Software?
Database software is a type of computer program that allows users to store, organize, and manipulate data. It can be used for a variety of purposes, from simple database applications to complex web-based database systems.
Database software typically provides features such as the ability to create tables, index data, set permissions, and control access. It also allows users to modify data by adding or deleting records and modifying existing ones.
For example, a database might be used to store customer information such as contact details and purchase history; medical records; sales data such as invoices or orders; inventory tracking; or even personnel information like resumes or employee attendance records.
Database software can also be used for more complex tasks such as generating reports from large datasets or developing custom applications.
Database management systems (DBMS), like the database programs outlined in this article, are the most common type of database software used today and these systems provide an interface for managing databases easily and efficiently.
These can range from desktop programs with basic features all the way up to large enterprise systems which are capable of handling huge amounts of data.
Key Benefits of Database Software
There are MANY different reasons why you might use database software programs. Here are a few key benefits to consider when choosing the best database software for your needs:
improved accuracy in data collection and processing activities
faster retrieval and modification processes
better security measures due to its authentication protocols
protection against accidental deletion or modification of data
ability to allow multiple users access simultaneously without any conflicts
scalability so that new users can be added whenever needed without compromising on performance
reduction in storage costs due to efficient organization practices
reduction in errors caused by manual interventions in data entry activities
improvements in decision-making thanks to detailed analysis capabilities which are made possible through powerful query languages like SQL (structured query language).
What is the Best Database Software?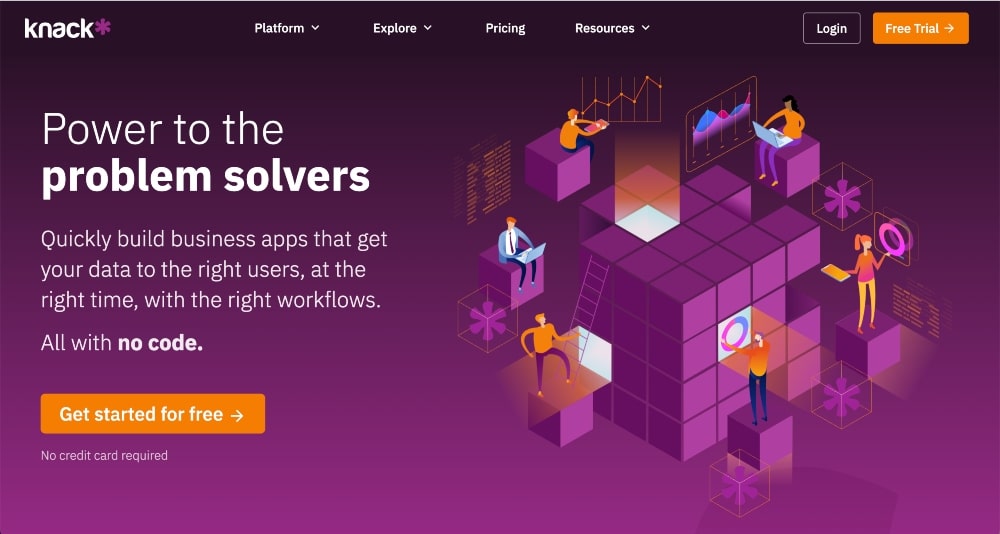 Knack is a database software program that provides users with the ability to quickly and easily create custom database applications.
Its easy-to-use drag-and-drop interface makes it simple to create your database, while its powerful customization capabilities ensure that you can tailor your database to fit the specific needs of your business.
The platform is highly scalable, offering the ability to create and manage large databases with ease.
Knack's secure cloud infrastructure ensures data safety and reliability, giving you peace of mind when managing sensitive information.
Beyond database creation, Knack also features an array of additional features like advanced search tools, user management tools, analytics integration, API tools, and more.
This comprehensive platform gives users the full power of database technology without having to be a database expert.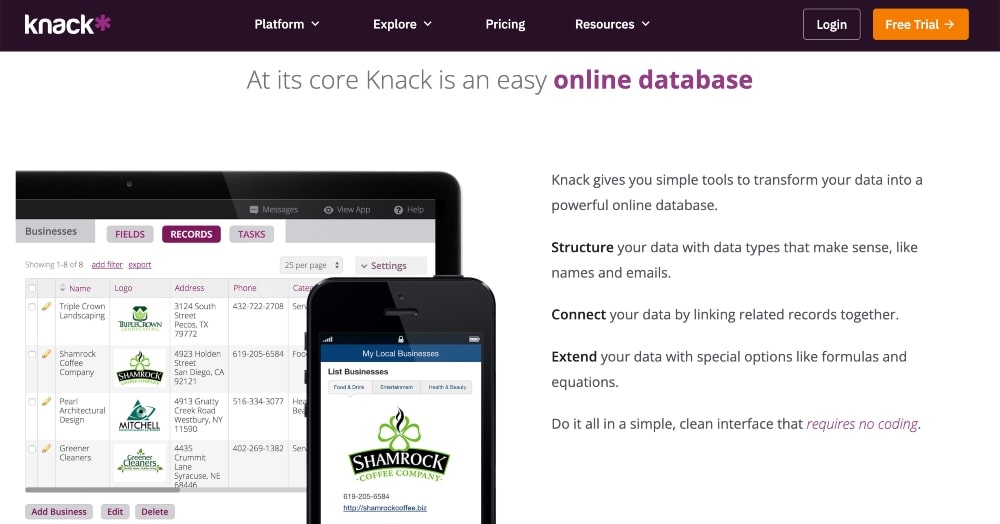 Key Features:
Connect multiple data sources for comprehensive data integration
Quickly build database-powered web apps with a drag-and-drop interface
Easily customize forms, grids, and searchable databases without code
Automatically generate powerful reports from database information
Create automated workflows for database processes like email notifications & reminders
Integrate user authentication systems into your database application
Add payment processing features to existing database programs
Pricing:
Starter: $39/month for 20,000 records, 2GB of storage, and 3 apps
Pro: $79/month for 50,000 records, 10GB of storage, and 8 apps
Corporate: $179/month for 125,000 records, 50GB of storage, and 25 apps
Why We Picked It:
From small businesses to large enterprises, Knack is a great option for anyone who wants an intuitive platform for creating and managing database applications.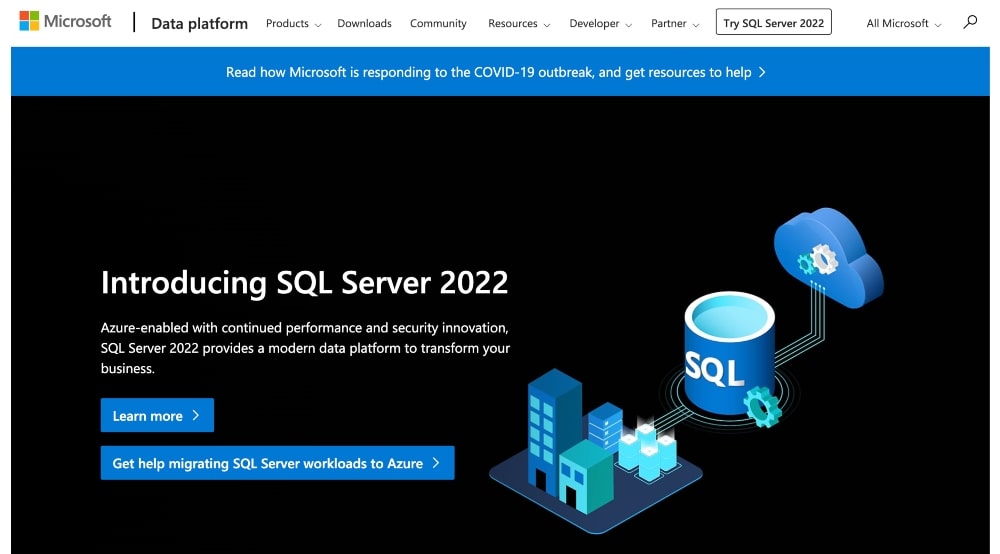 Microsoft SQL Server has been around since the late 1980s (with many updates) and provides a secure platform for businesses to store their data and generate reports from it.
It includes features such as full-text search capabilities, data encryption, clustering support, replication, enhanced scalability, security auditing, and more.
The database engine supports both Windows authentication as well as user authentication for secure access to the server.
It also supports multiple language-integrated query languages such as T-SQL, PL/SQL, and C#.
The database engine also includes several other features like backup and restore options, deadlock detection, Query optimizer, and more.
Microsoft SQL Server also provides support for Business Intelligence tools such as Analysis Services OLAP cubes, Data Mining models, and Reporting Services report creation capabilities.
It also supports advanced data warehousing capabilities like partitioning tables across multiple servers or clusters of servers.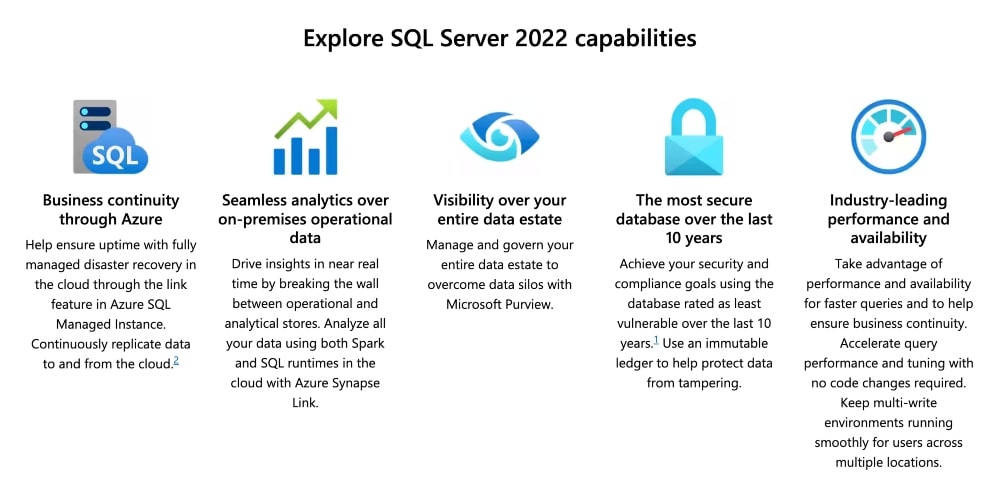 Key Features:
Highly compatible with other Microsoft products
Seamless integration with the cloud
Support for a variety of programming languages for creating applications in SQL Server
Advanced Transactional Replication feature for synchronizing databases across different locations
High availability options like failover clustering, mirroring, and Always On Availability Groups
Comprehensive security features such as data encryption, auditing, compliance, etc.
Compatible with industry standards like ODBC/OLEDB/ADO.NET API support
Backup compression to reduce the size of backup files
Inbuilt analytics capabilities using SQL Server Analysis Services
Pricing:
There are various versions available such as Enterprise Edition, Standard Edition, Web Edition, Developer Edition, and Express Edition.
Each version offers different features to suit different needs. The pricing table is featured below.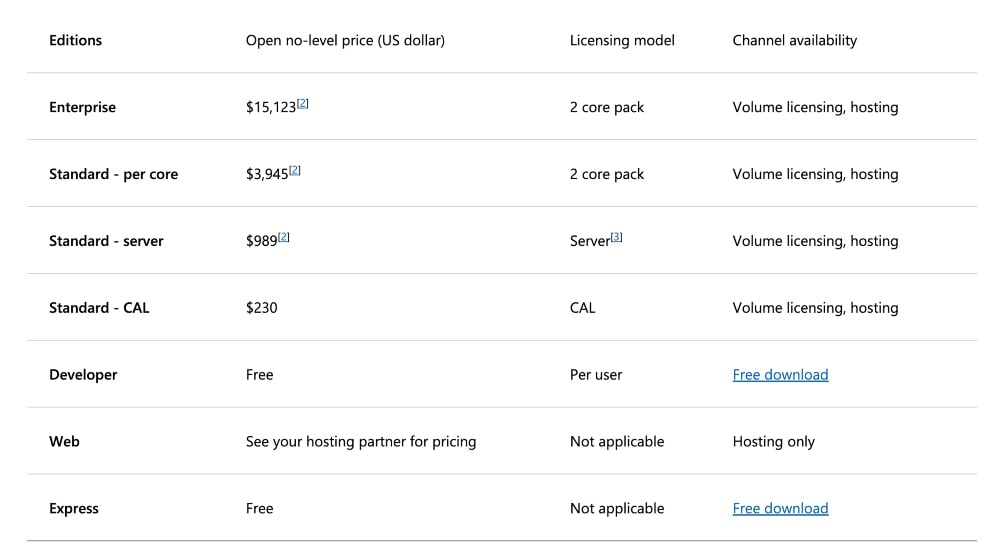 You can also start with a free trial.
Why We Picked It:
Overall Microsoft SQL Server is a powerful database management system that can be used for storing large amounts of data securely in an effective manner with additional performance benefits when compared with traditional relational database systems like MySQL or PostgreSQL.
With its advanced set of features, it's suitable for use in organizations of any size ranging from small business organizations up to enterprise-level companies needing highly scalable solutions for their data storage needs.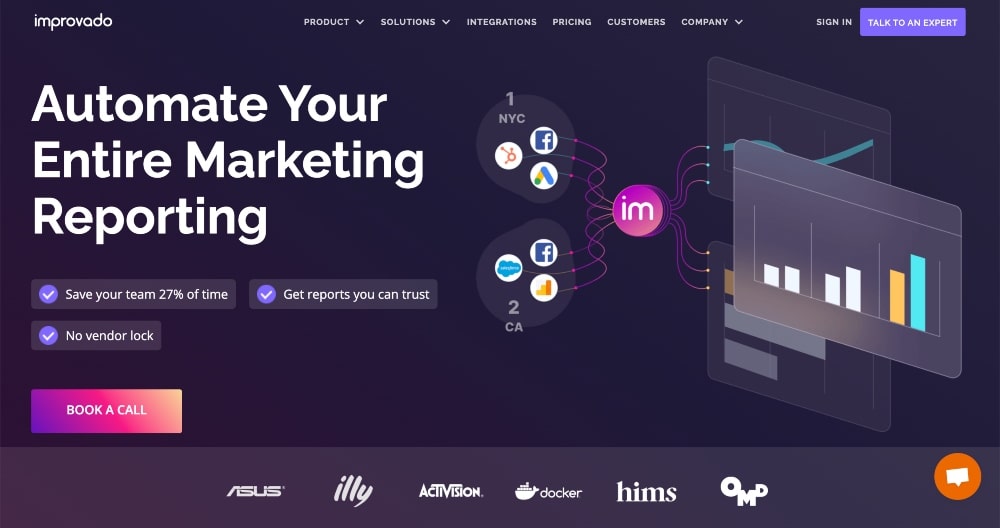 Improvado is a powerful and feature-rich database software solution that helps businesses across diverse industries to collect, store, and analyze data for their decision-making needs.
The core of Improvado lies in its highly efficient data warehousing capabilities, allowing organizations to collect and store vast amounts of structured and unstructured data from disparate sources.
Its advanced analytics allow users to easily visualize complex data sets using various tools such as heat maps, line graphs, bar graphs, etc., ensuring they have the insights they need to make informed decisions.
In addition, its reporting capabilities let users spot trends and changes in their datasets quickly and accurately.
Improvado also offers a powerful API integration feature so that companies can connect their databases with over 30 different systems like Salesforce, Marketo, and many more.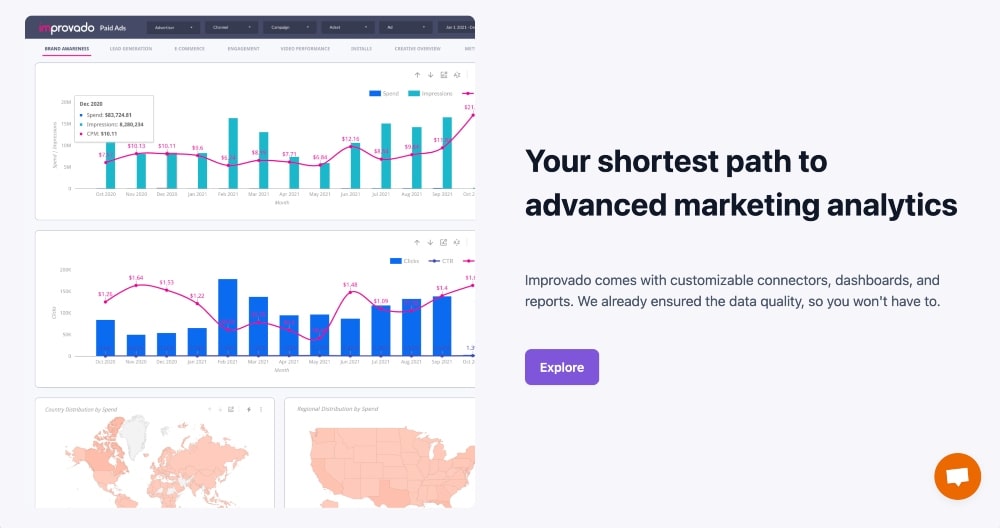 Key Features:
Automated Data Aggregation: Quickly compile data from multiple sources and create accurate, consistent reports in minutes.
Advanced Dashboard and Visualizations: Create stunning visuals with drag & drop functionality and interactive charts to stay on top of performance.
Powerful Reporting Suite: Generate customizable insights for granular analysis with advanced segmentation capabilities.
Cross-Platform Tracking: Track user journeys across any platform or device – web, mobile, app, email, etc.
Optimization Tools: Utilize a suite of optimization tools to identify key improvements in targeting and conversion rate optimization.
A/B Testing & Experimentation: Test different campaigns to measure engagement and optimize ad spend for improved results over time
Pricing:
A free trial exists, but you have to contact Improvado with your business needs and requirements to get a quote for pricing.
Why We Picked It:
Improvado can help you keep your databases up-to-date in one central place so that business teams are always on the same page when it comes to customer relations or any other process related to customer interactions.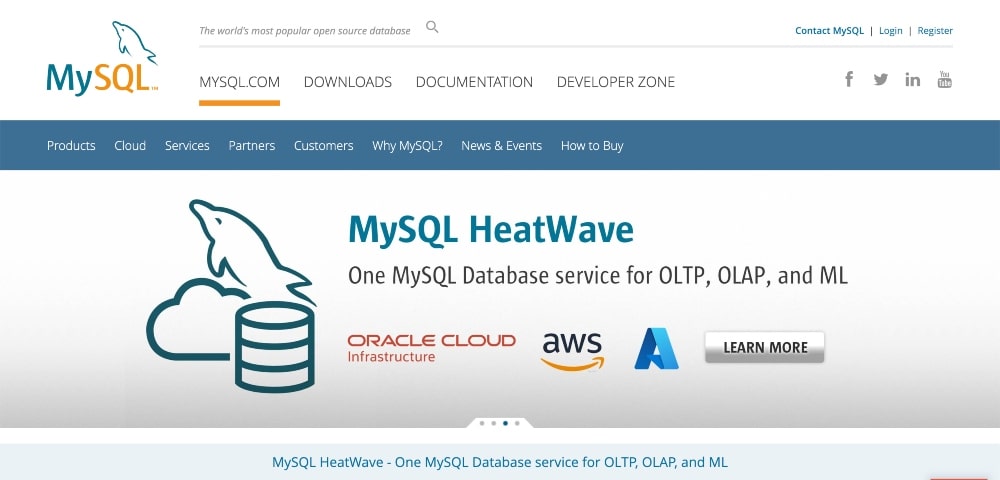 MySQL is a powerful open-source relational database management system, developed and supported by Oracle Corporation.
It provides robust data storage and retrieval capabilities, as well as high availability, scalability, and security features.
MySQL is widely used in web development, enterprise applications, data warehousing and analytics, online transaction processing (OLTP), and many other IT operations.
One of the most attractive aspects of MySQL is its flexibility. It supports a wide range of programming languages such as SQL, PHP, C/C++, Java, and Python.
In addition to being an easy-to-use database system for developers, MySQL also offers advanced features like stored procedures, triggers, and views which can greatly improve the performance of applications that require complex queries or transactions.
MySQL has built-in security features that allow administrators to control access to specific databases or tables within them.
This includes creating user accounts with different privilege levels and restricting user access based on IP address or time of day.
The built-in encryption features make sure the data stored in the database remains secure from unauthorized access.

Key Features:
Cross-platform: MySQL runs on multiple platforms, including Windows and Linux
Robust security: Provides strong data protection and access control to ensure secure storage of sensitive information
Versatility: Supports a wide range of applications, such as web applications and embedded databases
Scalability: Can easily scale up or down in response to changing application needs
High-Availability (HA) Solutions: Includes tools that provide continuous uptime for mission-critical systems
Easy replication and backups: Makes it simple to keep multiple redundant copies of data in sync across different server nodes
Multi-Source Replication: Allows replicating from various sources like Oracle, MariaDB, PostgreSQL, etc.
Flexible Storage Engines: Enables users to choose the right storage engine for each job based on their specific characteristics
Data Warehousing Capabilities: Provides advanced analytics capabilities for high-performance reporting tasks
Pricing:
Standard Edition: Starting at $2,140 – $6,420
Enterprise Edition: Starting at 5,350 – $16,050
Cluster Carrier Edition: 10,700 – 32,100
Why We Picked It:
MySQL allows users to store and retrieve massive amounts of data with ease while providing many advanced options for managing performance, security, and reliability requirements specific to their application needs.
It's used by many large organizations and websites, including Facebook, Twitter, MySQL, and YouTube.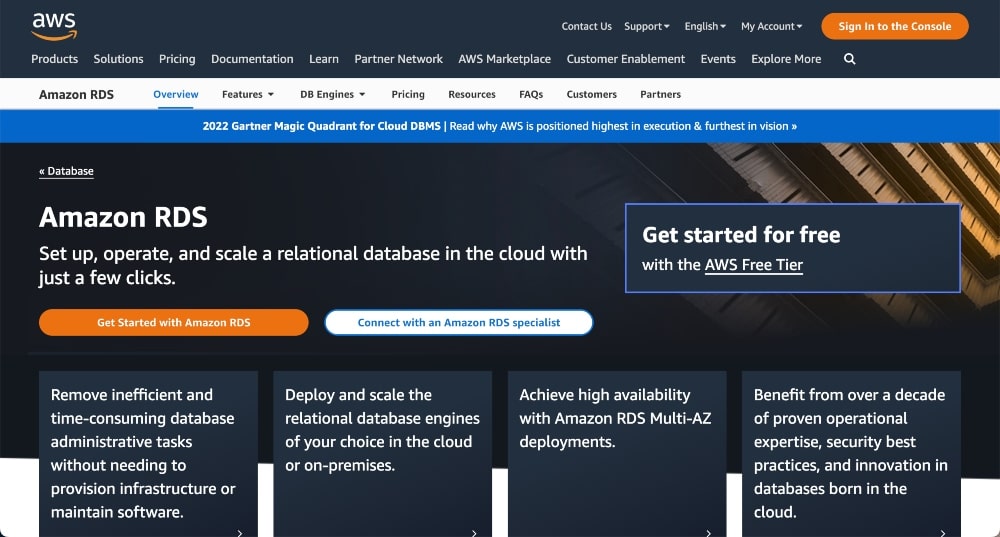 Amazon Relational Database Service (RDS) is a cloud-based database service offered by Amazon Web Services that provides users with the flexibility and scalability of a managed database solution.
With Amazon RDS, customers can quickly create read replicas, backup data to a separate storage system, or even switch between major database engine versions with minimal effort.
One of the main benefits of using Amazon RDS is its high availability and durability.
The service automatically takes daily backups so that customers can recover from any accidental data loss.
Additionally, customers can use Multi-AZ deployments for additional redundancy by having two copies of their database running in different Availability Zones within an AWS Region.
This ensures that if one Availability Zone suffers an outage or other issues, their databases will still be available in the other zone.
In terms of scalability, Amazon RDS allows customers to easily scale up or down as needed using simple API calls or by using the AWS Management Console.
Customers can also create read replicas to offload read operations from their production databases or use reserved capacity pricing to save money on lower workloads when they don't need an entire instance running around the clock.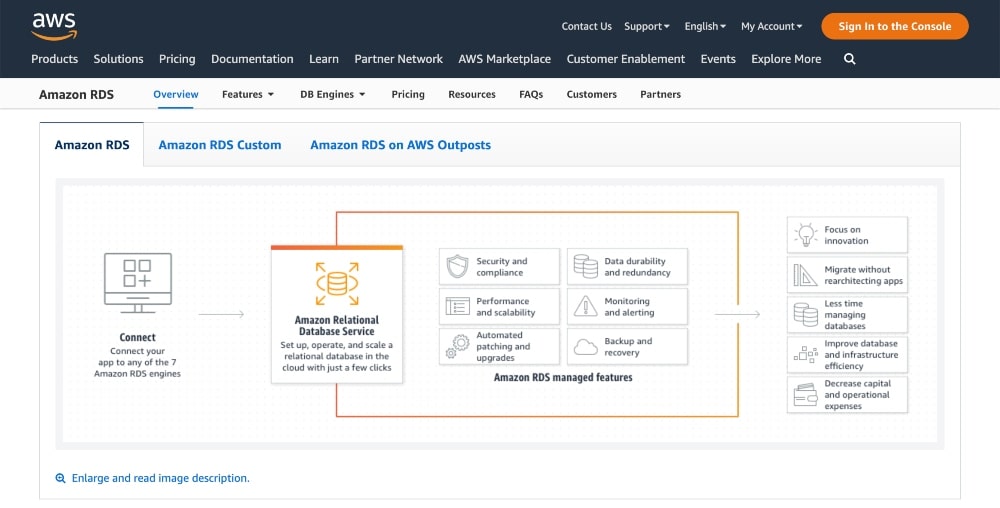 Key Features:
Easy to set up, operate, and scale
High-performance storage engine
Automated backups with point-in-time recovery
Multi-Availability Zones for high availability
Flexible pricing plans that fit your budget
Security features such as encryption and monitoring tools
Database management tools like the AWS Database Migration Service (DMS)
Monitoring capabilities with Amazon CloudWatch
Automated patching and version upgrades
Access to a broad range of database engines
Pricing:
With Amazon RDS, You only pay for what you use and don't have to worry about costly hardware upgrades or maintenance fees associated with self-managed solutions. You can check their pricing calculator to get a cost estimate.
Why We Picked It:
While not all databases are available through Amazon RDS (such as MongoDB), it does offer popular engines like MySQL, PostgreSQL, and Microsoft SQL Server.
This allows you to quickly get started with a managed solution without having to worry about setting up hardware and installing software – saving you time and money in the process.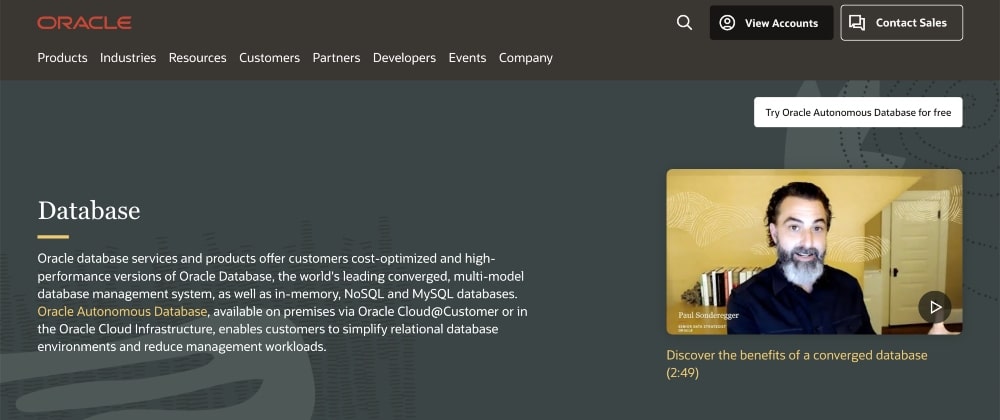 Oracle RDBMS is a powerful and sophisticated database management system created by Oracle Corporation.
It is used to store and manage large amounts of data in an organized and optimized manner.
Oracle RDBMS is one of the most popular enterprise-level database software solutions, used by organizations of all sizes around the world.
The Oracle RDBMS supports a wide range of programming languages including Java, SQL, PL/SQL, etc., making it more versatile than other competing databases.
Oracle also provides several high-availability options such as Real Application Clusters (RAC), Data Guard, Streams Replication, and Transparent Data Encryption (TDE). These technologies enable customers to maintain high availability of their business applications and protect against data loss due to hardware or software failure or malicious attacks.
Oracle's Scalable One Node technology enables customers to add resources like memory and CPU dynamically without restarting the system, further improving overall performance.
Oracle also provides support for Big Data Analytics technology such as Hadoop Integration which helps customers analyze massive amounts of data from different sources quickly and efficiently.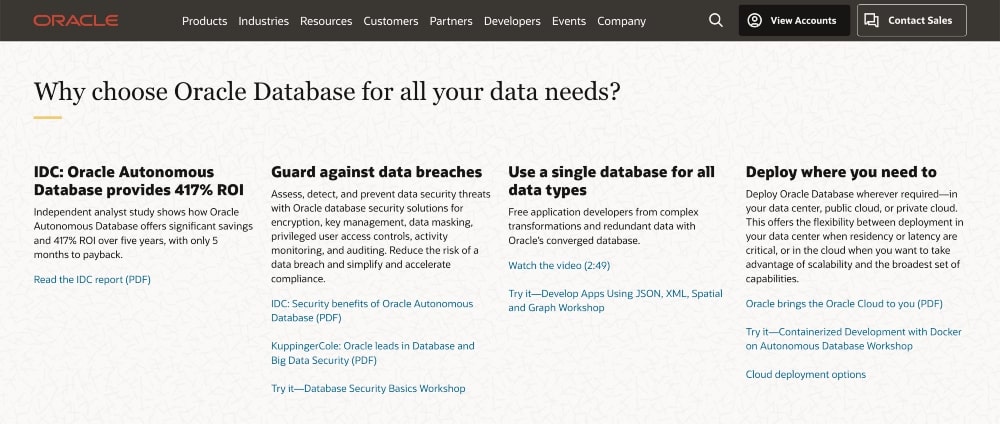 Key Features:
High Availability: Oracle provides a high availability solution with its Data Guard feature.
Scalability: Scale the system as needed while maintaining reliability and performance.
Security: Advanced security capabilities to protect data from unauthorized access, malicious attacks, and more.
Elasticity: Automatically increase or decrease compute capacity based on workload demands.
Fault Tolerance: Automatically recover from hardware and software faults without any manual intervention.
Advanced Analytics Tools: Includes Oracle OLAP cubes for advanced analytics and reporting.
Cloud Integration: Seamless integration with cloud platforms such as Amazon Web Services (AWS) for cost optimization and scalability benefits.
Database Management Tools: User-friendly GUI tools like SQL Developer allow users to manage their databases easily.
Pricing:
Oracle's pay-as-you-go subscription model provides an affordable system with flexible capacity and scalability. They also offer a "bring your own license" (BYOL) program for customers who wish to use their existing Oracle Database licenses.
Contact Oracle RDBMS for pricing.
Why We Picked It:
In conclusion, Oracle RDBMS is one of the most widely used enterprise-level database software solutions today due to its robust features that ensure high performance, scalability, security, and data integrity across multiple platforms.
Its advanced security mechanisms help protect users' data while its Hadoop Integration allows customers to quickly analyze large amounts of data enabling them to make informed decisions quickly and easily.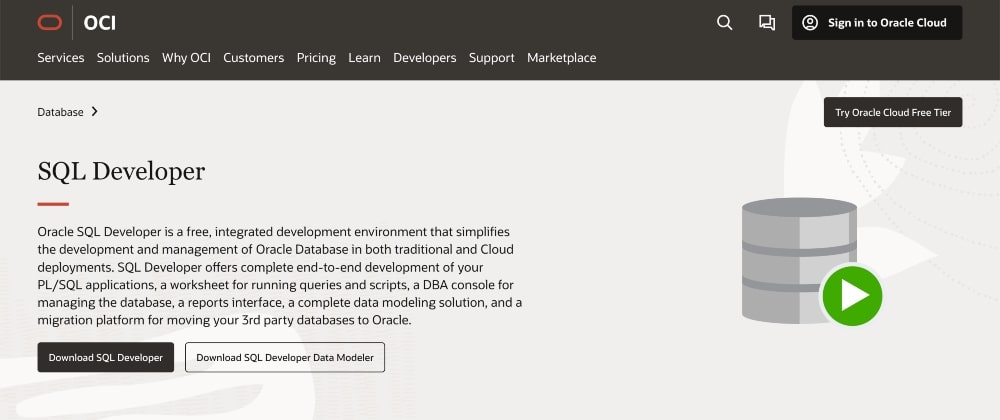 SQL Developer is a powerful database software from Oracle used to manage and administer relational databases.
It's available for Windows, macOS, Linux, and Solaris systems and provides users with a graphical user interface (GUI) that enables them to interact with the database easily and quickly.
SQL Developer allows users to create and modify database objects such as tables, views, indexes, stored procedures, functions, and triggers.
Moreover, it provides an object browser to view all the existing objects in the database.
It also supports SQL query analysis and development including editor support for parameterized queries, explain plans, as well as syntax highlighting of SQL code.
There are several other features such as PL/SQL debugger, SQL* Plus command line support, integration with Oracle Application Express (APEX), Oracle Data Modeler for modeling data, options for scheduling scripts for execution, ability to export results into different formats like HTML or Excel, command-line support for Windows Scripting Host (WSH) scripts, as well as an integrated help system.
Another advantage of using SQL Developer is that it supports multiple versions of Oracle databases ranging from version 8i onwards.
This makes it an ideal choice for many organizations that have mixed environments or need to maintain a variety of databases.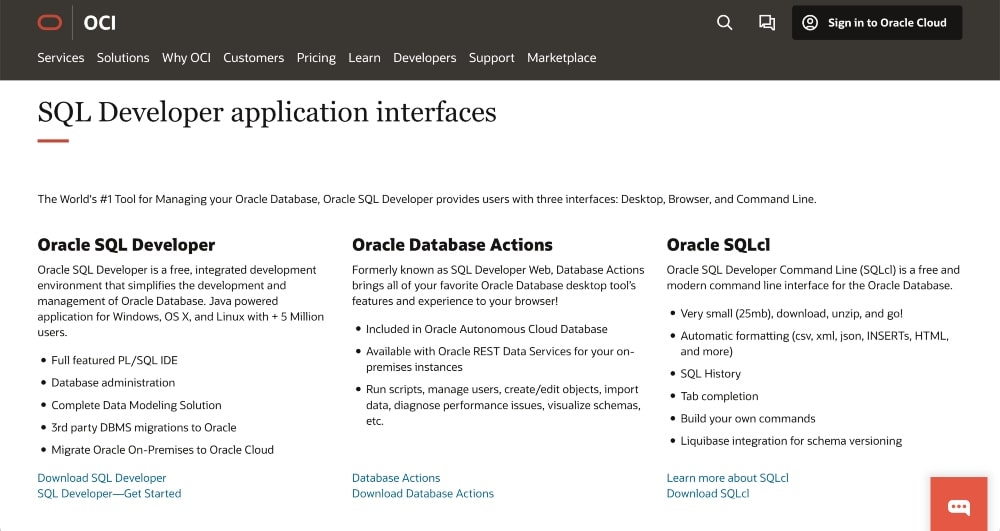 Key Features:
Intuitive user interface
Automation of common tasks with scripting and macros
Database query, design, and optimization tools
Reporting capabilities for easier data analysis
Advanced SQL syntax support & error checking
Table data editing, import/export & search features
Ability to export results in several formats (CSV, HTML)
Version control integration & database object comparison
Create custom views for a better understanding of data structure
Pricing:
Oracle provides a wide range pricing plans to meet different user needs. You can calculate your expected costs using their cost calculator.
Why We Picked It:
SQL Developer is an excellent tool that provides users with an array of features designed specifically for administering relational databases in an effective manner.
From creating new objects using wizards to debugging errors using the built-in debugging tools – this software has everything needed for managing databases in a streamlined fashion.
With its intuitive GUI and compatibility with multiple versions of Oracle databases – there's no doubt why SQL Developer is one of the most popular database management tools available today.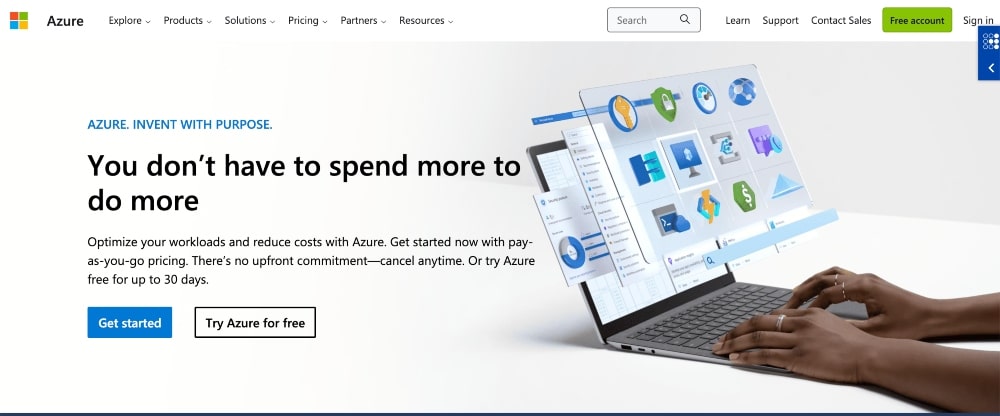 Microsoft Azure is a cloud computing platform and database software developed by Microsoft, allowing organizations to build and manage applications through a global network of Microsoft-managed data centers.
Azure offers services for everything from storage to analytics and integrated management tools for monitoring and managing performance as well as administrative tasks.
Azure's core database offering is SQL Database, which provides secure storage for mission-critical data
It supports Transact-SQL, Python, Java, .NET framework, and more for developing high-performance applications.
SQL Database has advanced features like built-in encryption at rest or in transit which ensures that data is securely stored and transmitted over networks. It is also compatible with existing tools like Visual Studio Code and SQL Server Management Studio.
In addition to SQL Database, Azure also provides NoSQL database solutions like DocumentDB which allows developers to store semi-structured data in JSON format using JavaScript API query language.
Azure Search allows users to integrate search into their apps using REST API and has features such as auto-complete suggestions and result-scoring capabilities.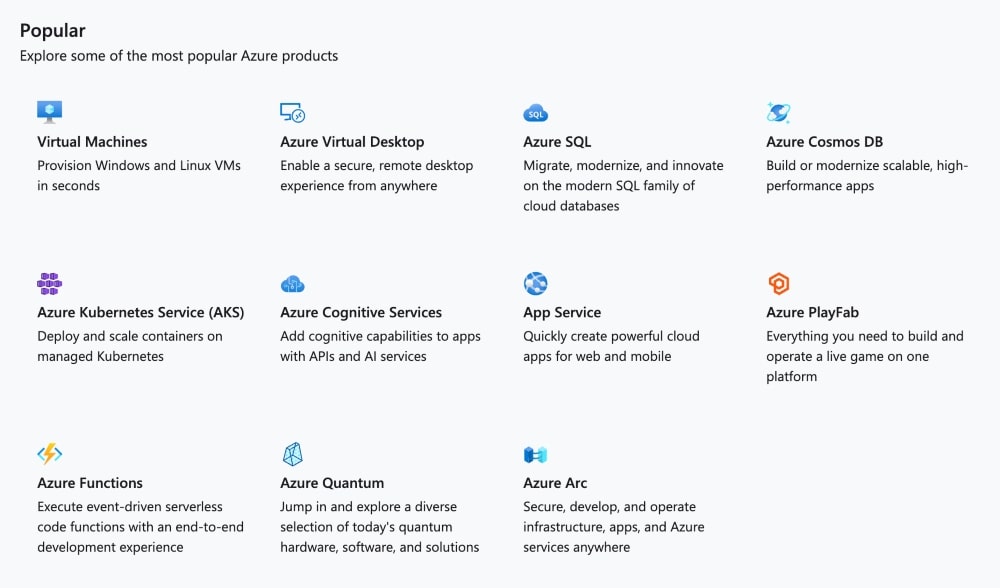 Key Features:
Scalable Infrastructure and Storage Capacity: Quickly expand storage capacity or switch resources as needed
Security, Compliance, and Data Protection: Built-in security features such as encryption and authentication
AI Capabilities and Internet of Things Support: Tools for building intelligent applications with AI capabilities, along with IoT device support
Hybrid Cloud Hosting Model: Use both private and public clouds within their environments to ensure high availability while maintaining cost efficiency
Versatile Application Development Tools: Suite of development tools to help developers create dynamic web applications with minimal effort
Global Network and Connectivity Options: Access over 160 data centers worldwide for networks that are reliable, secure, and always available
Pricing:
Microsoft Azure pricing plans vary based on business needs. You can use their pricing calculator to determine your expected costs.
Why We Picked It:
Overall, Microsoft Azure offers an end-to-end cloud experience that provides businesses the flexibility they need in order to develop powerful applications quickly and efficiently.
The platform provides advanced security measures along with optimized performance so that organizations have peace of mind when it comes to storing sensitive information online. The numerous features available make it easy for developers to create dynamic applications that meet their needs while remaining cost-effective.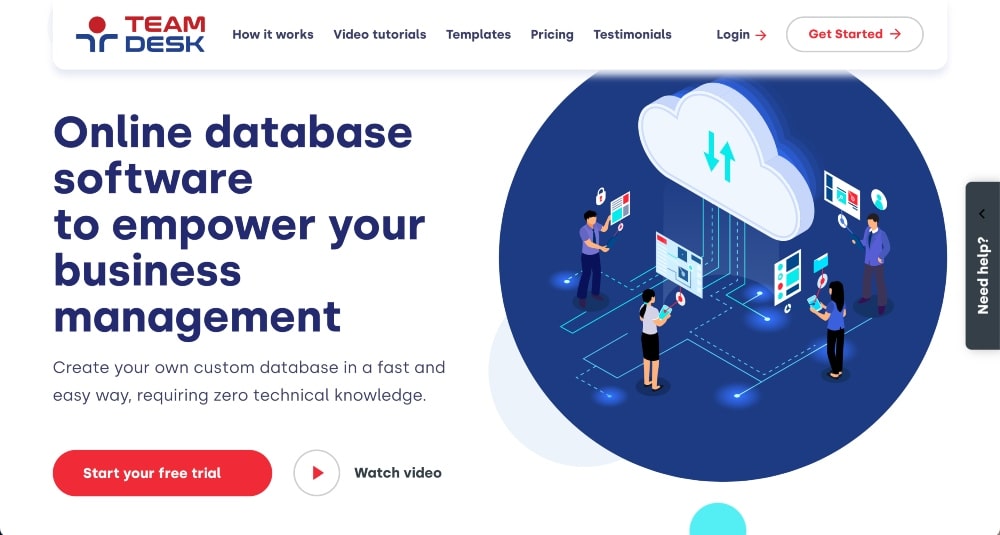 TeamDesk is an online database software that enables users to create custom databases, store and organize information, and share it with colleagues.
Through its user-friendly interface, TeamDesk lets users easily configure tables and relationships between them, as well as quickly add new fields or modify existing ones.
In addition to providing a modern user experience, TeamDesk features advanced security features, including multi-level role-based access control and encrypted data transfer.
For data protection, it allows users to back up their entire database in the cloud or export selected parts of the data to a regular file.
What makes TeamDesk stand out from other database solutions is its focus on automating mundane tasks, such as auto-fill forms, email notifications, post-action scripts, and more.
For creating complex reports or integrating external applications like spreadsheet programs into the workflow, TeamDesk offers comprehensive APIs for custom development.
It also includes a rich set of functions for calculating values from multiple tables into one single result set — helping businesses take full advantage of their data for informed decision-making.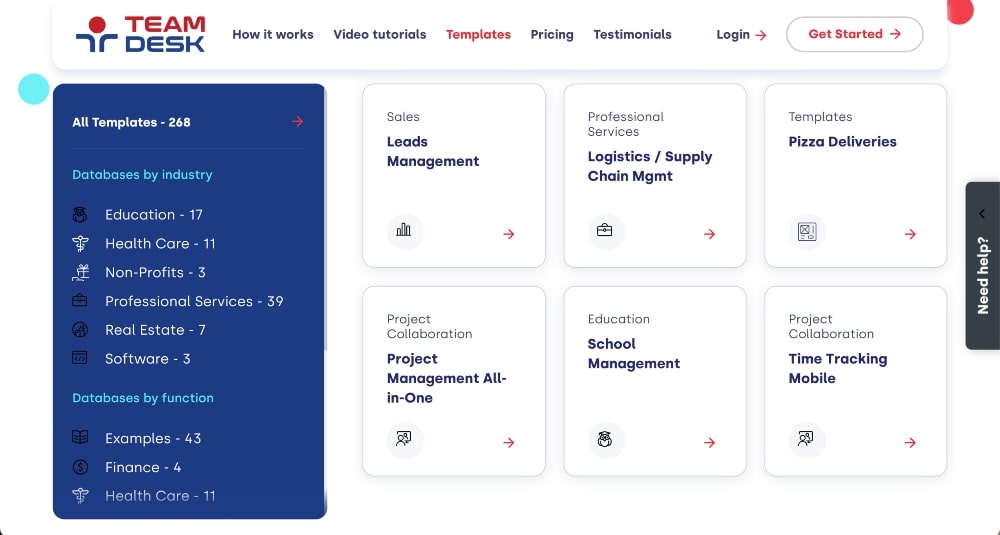 Key Features:
Easy setup: No complex coding or technical expertise to get started
Customizable workflow management: Automate your business processes and manage them in one place
Real-time collaboration: Share data and documents with colleagues, customers, and vendors securely in real-time
Flexible user roles and permissions: Set up individual access levels for each team member so they can only view the information that's relevant to them
Data synchronization across multiple platforms: Quickly sync data between services like Salesforce, Google Sheets, and Microsoft Dynamics 365
Advanced reporting and analytics: Generate reports on key insights into customer behavior quickly and easily
Secure data storage: All of your data is securely stored behind AES 256-bit encryption technology
Pricing:
Starter: $49/month for up to 5 users
Team: $99/month for up to 10 users
Enterprise: $249/month for up to 10 users and unlimited databases
You can also pay for additional users on the Team and Enterprise plans.
Why We Picked It:
TeamDesk can be used for virtually any application requiring scalable storage and retrieval of structured information — from inventory tracking to customer relationship management (CRM).
Its non-restrictive licensing options make it suitable for both small teams as well as large corporations looking for long-term investment in web-based enterprise software solutions.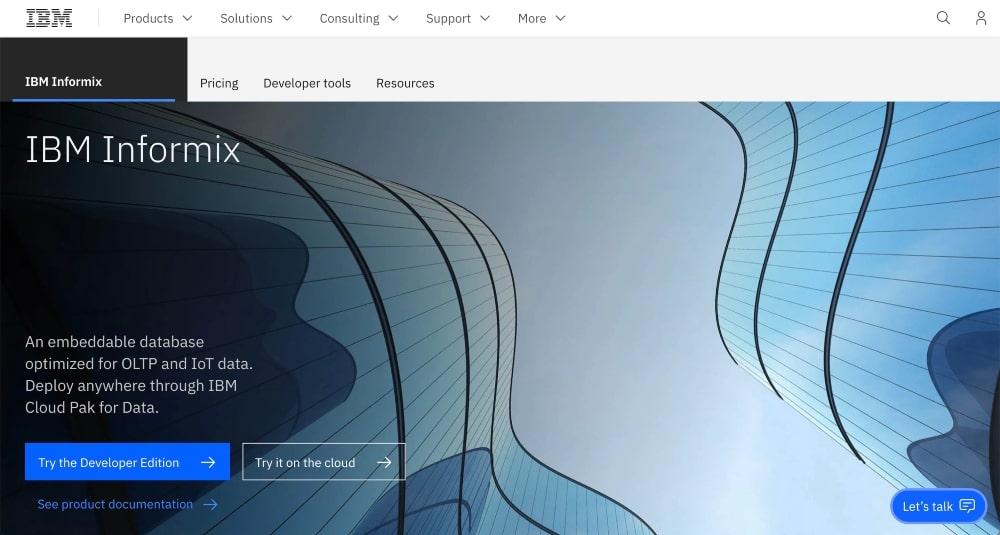 IBM Informix is a powerful and flexible database software that provides enterprise-level data protection, management, and scalability.
It's a cross-platform, relational database management system that runs on UNIX and Linux platforms and enables organizations to store, integrate, manage, and protect their data in the cloud or on-premise.
Features include high availability, scalability, security, performance optimization, built-in analytics capabilities, and native replication capabilities for data exchange between databases or applications using different engines.
It also supports advanced query optimization techniques such as indexing and partitioning for optimal performance.
One of the major advantages of IBM Informix is its ability to provide near real-time data retrieval speeds even when running large queries with multiple joins across multiple tables.
This makes it an ideal choice for applications requiring rapid response times with minimal latency between application requests and responses.
Additionally, it includes Dynamic Server Optimization which automatically reconfigures the database server so it can effectively handle workloads as they grow or change over time.
This helps keep downtime to a minimum by allowing organizations to easily scale their systems without manual intervention from DBAs or IT staff.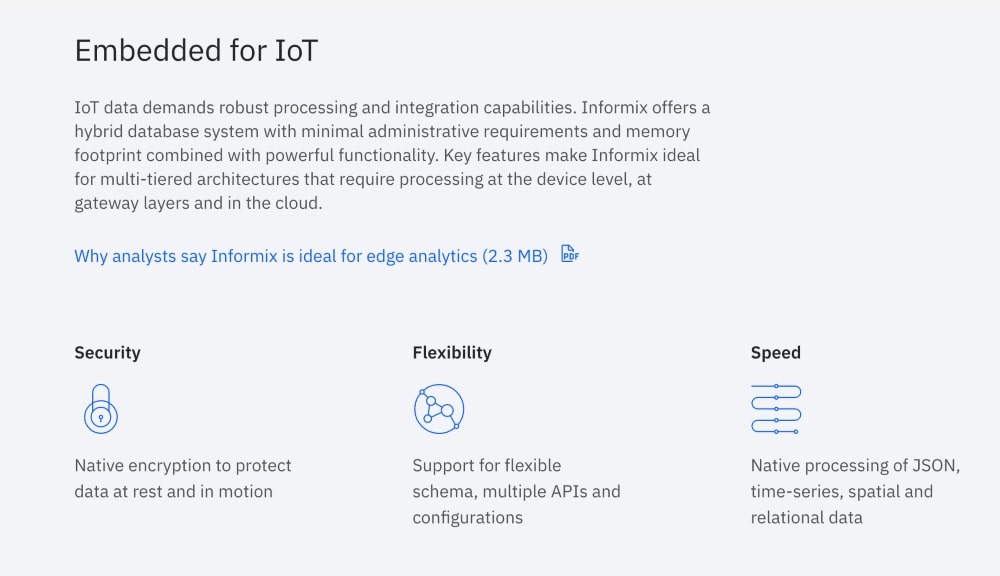 Key Features:
High availability and scalability
Easy administration and deployment
Multiplatform support across operating systems
Fast parallel query processing power
Security and data integrity tools to protect sensitive information
Advanced replication capabilities for distributed application environments
Powerful SQL language for complex queries, transactions, stored procedures, triggers, etc.
Comprehensive suite of development and integration interfaces including JDBC/ODBC drivers, .NET provider libraries, and Web services APIs
Pricing:
Contact IBM Informix for a pricing quote.
Why We Picked It:
IBM Informix is an excellent choice for organizations looking for an efficient relational database system that offers great scalability, reliability, and performance while providing comprehensive security features and comprehensive development tools that make building powerful applications easy even when dealing with large datasets.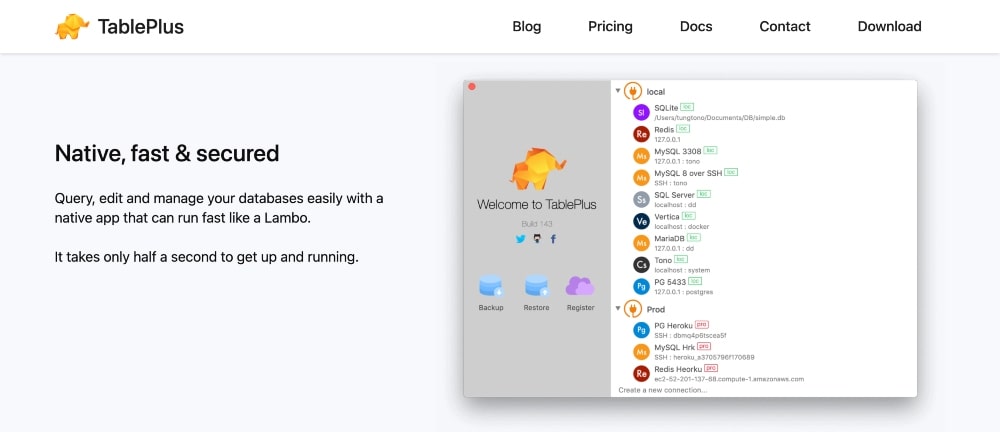 TablePlus is a powerful and versatile database software designed to simplify the way users interact with their data.
As an all-in-one application, it offers advanced features such as a customizable user interface, secure connections to multiple databases, real-time query execution and editing capabilities, and easy collaboration with other users.
It also provides access to various data sources such as Oracle, MySQL, Postgresql, SQL Server, and more.
With its intuitive drag-and-drop interface and intuitive UI design, users can quickly create tables from existing data or import new data from other sources.
TablePlus also supports creating relationships between data points using foreign key constraints for better organization of the information.
TablePlus also integrates well with existing applications such as Excel and PowerBI which allow users to easily analyze their data in more sophisticated ways while still making use of its powerful relational functionality.
This makes it quick and simple for users to develop reports from their databases which can be used for deeper insights into their business operations or customer trends.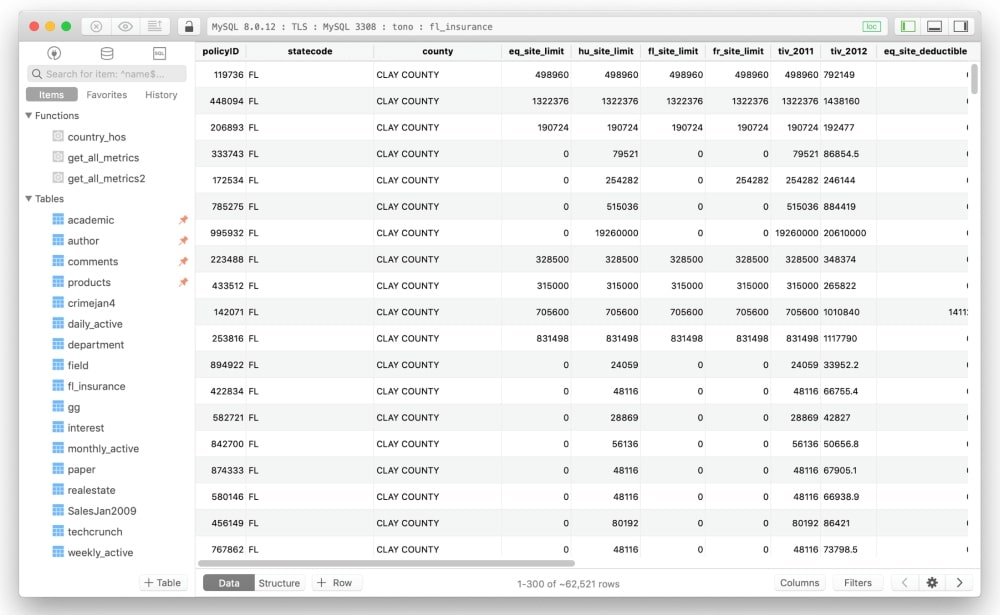 Key Features:
Modern, native client with an intuitive interface for managing relational databases
IntelliSense and autocomplete for writing queries faster
A powerful SQL editor with syntax highlighting, smart auto-formatting, snippets, and more
Multiple tabs to run multiple queries simultaneously
SSH Tunnel to securely access your remote database over a secure connection
Live previews of data changes before applying them
Create & manage all popular databases such as MySQL, PostgreSQL & Redis
Advanced data filters let you quickly locate the records you need without writing lengthy queries
Easily import/export data in various formats like CSV or JSON
Pricing:
Basic: $79/license for 1 Mac/Windows device + 2 iOS devices
Standard: $99/license for 2 Mac/Windows devices + 4 iOS devices
Custom: $49/seat for 1 Mac/Windows device per seat + 2 iOS devices per seat
Why We Picked It:
TablePlus also has comprehensive support for collaborators who may need access to different parts of a database at different times.
With its user permissions feature, administrators can assign different levels of access so that only certain people have access to certain parts of the database while others have limited privileges over restricted areas such as sensitive customer information or financial records.
This means that any unauthorized access is prevented while still allowing multiple people to work together on shared projects simultaneously.
Different Types of Database Software
There are several different types of database software available on the market today, each offering varying levels of functionality. Keep these in mind when you are evaluating your own needs.
Relational Database Management System
Relational database management systems (RDBMS) are one of the most common database software packages.
This type of database utilizes structured query language (SQL) for efficient data storage, manipulation, and retrieval.
The RDBMS also allows users to create sophisticated queries and reports from the data by using complex SQL statements. Some popular relational databases include Oracle, Microsoft SQL Server, IBM DB2, and MySQL.
Object-Oriented Database Systems (OODBMS)
Object-oriented database systems (OODBMS) use object-oriented programming (OOP) to store information in objects instead of tables like a traditional database.
OODBMSs are more flexible than RDBMSs when it comes to managing large amounts of data as they can handle objects in any way that best suits the user's needs.
Popular examples include ObjectStore and Versant Object Database Manager (VODM).
Cloud-Based Database
Cloud databases are hosted on remote servers, allowing organizations to access their data anywhere at any time without having to maintain dedicated hardware or IT personnel onsite. Some well-known cloud databases include Amazon Aurora, Google BigQuery, Microsoft Azure and MongoDB Atlas.
NoSQL
NoSQL ("not only SQL") databases represent a new breed of databases designed for applications that need flexible schemas with high scalability and availability requirements such as social networks or eCommerce sites.
Unlike RDBMSs which require strict rules when it comes to structuring data, NoSQL allows for more flexibility with unstructured or semi-structured data formats like documents or key-value pairs being used for storage purposes.
Examples include Cassandra, MongoDB, and Couchbase Server.
Open-Source Software
In addition to these more established types of database software programs, there are also open-source alternatives for those looking for an uncomplicated setup process at no cost.
Open source options provide a less expensive option while often featuring powerful features comparable to their commercial counterparts such as scalability, reliability, and security.
They also often come with higher degrees of customization through plugins or third-party modules written by developers who can share them with others around the world.
Examples include PostgreSQL, MariaDB, and Apache Cassandra.
Summary of Best Database Software
When it comes to choosing the best database software, there are a number of important factors to consider.
You'll need to evaluate the features offered by each software and determine which ones best meet your specific needs.
Consider things such as scalability, availability, ease of use, and cost.
You'll also want to think about how well the database software will integrate with your existing systems.
Consider customer support provided as well as security measures taken by the software.
Do they offer data encryption, authentication, authorization, and other security measures
Data protection is key to ensuring the safety of your information so make sure you are comfortable with the level of security provided!
Take the time to evaluate each of these factors when deciding on the best database software, so you can ensure that you make an informed decision about which one best meets your needs.