We partner with bada$$ companies that offer products that help our readers achieve their goals! If you purchase through our partner links, we get paid for the referral at no additional cost to you! Read our disclosure for more info.
Online learning platforms are becoming more popular every day, and with many people wanting to learn new skills and abilities to augment their income, they are constantly growing.
You can also leverage these online education platforms to teach courses on subjects that you have knowledge and experience in and can end up making some considerable extra income while doing it.
We're going to take a look at the leading e-learning platforms and their associated details and specifics. We'll look at who is best suited to using the software, as well as if there is a free trial period and what the pricing looks like. We'll dig into each program, as well as its pros and cons.
Before we get into that, however, we'll talk a little bit about why these platforms are important to bloggers in the first place and the biggest reasons that they should be on those platforms creating courses.
Before you choose one, we'll also cover some of the biggest considerations and factors that might influence your decision.
The 13 Best Education Platforms Online
As promised, now we'll take a good look at the most popular educational platforms online. Here are our top 13 picks.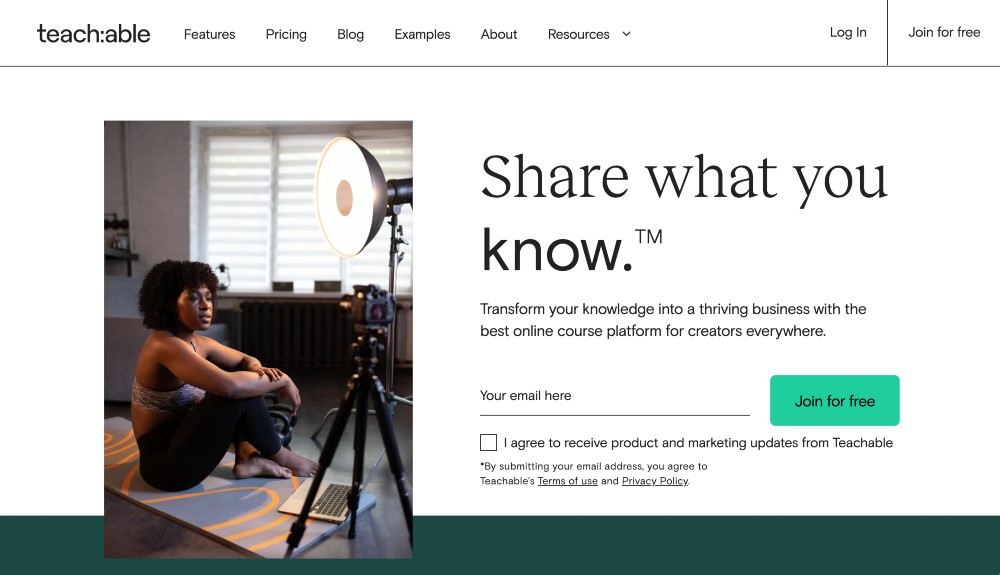 Best for: New course creators
Price range: $29-$170+ per month
Free plan: Yes
Free trial: Yes
About the Software
Teachable is an easy-to-use platform for individuals as well as businesses. It is geared toward first-time course creators who plan to create an online virtual school with multiple course offerings.
It's also one of the single largest online learning platforms out there, so creators have access to the largest potential pool of existing students.
Teachable makes creating a course a simple 3-step process if you already have the materials, and they include a course creator if you don't.
Teachable is what we've been using for years to sell our blogging courses. They have great customer service and a free plan you can start with.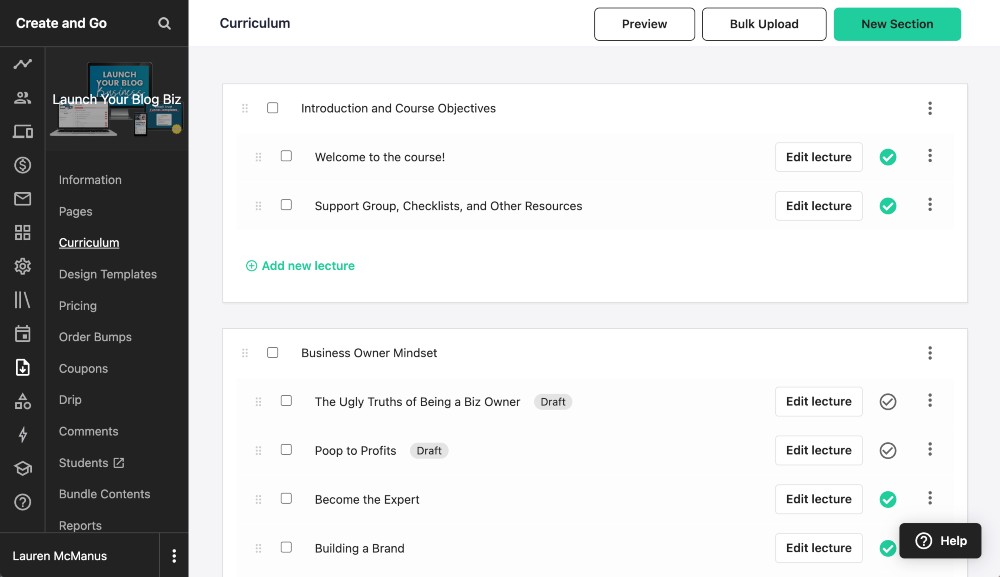 Key Features
Highly video-driven online learning platform, which keeps engagement levels high
Users can add a custom domain, which is crucial to organic SEO growth and long-term success
Many default features and links come pre-loaded, making initial setup easy and fast while remaining customizable
Teachable supports custom code, such as CSS, Javascript, and HTML
Affiliate program if you want to offer your courses to affiliates
Pros
Well-established online educational platform
Tools to help first-time creators
Easily customizable
The interface is clean and simple, highly intuitive
Cons
The sales page editor is quite limited in terms of design elements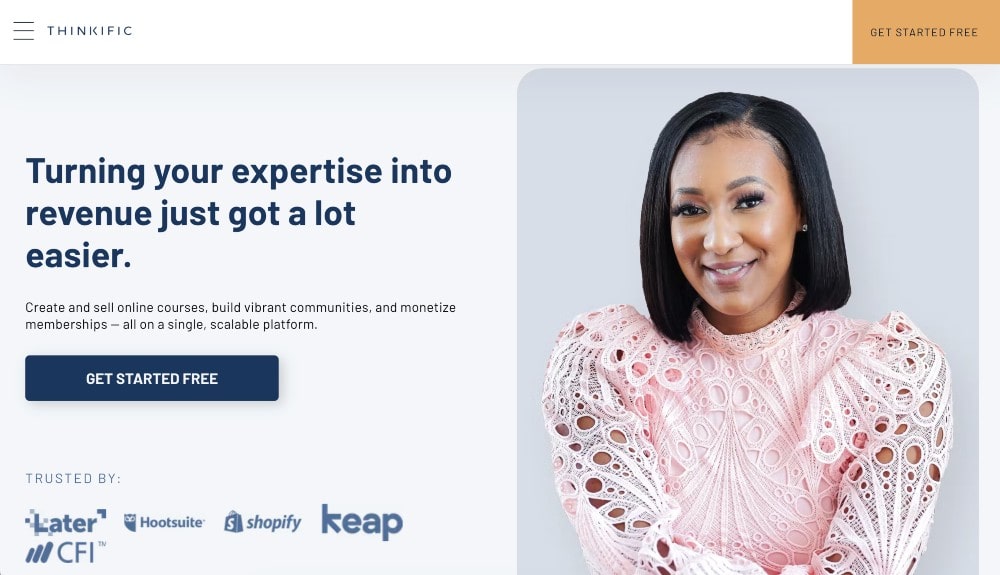 Best for: Educators that want to create courses themselves
Price range: Monthly plans range from $0 to $99+
Free plan: Free options for creating courses
Free trial: No
About the Software
For those that aren't interested in a gallery of courses, but rather the ability to create customized courses to share with their students, Thinkific may be just what you're looking for.
With Thinkific, you can learn how to create courses at no charge. Once you are ready to jump in and give course building a shot yourself, there are monthly plan options that start at $0 and can go beyond $99 per month.
Thinkific is one of the best online learning platforms because it allows educators to give their students a custom learning experience.
Key Features
Allows you to make your courses to share with those that are interested
Thinkific Academy teaches everything you need to know, from course creation to advertising and selling the course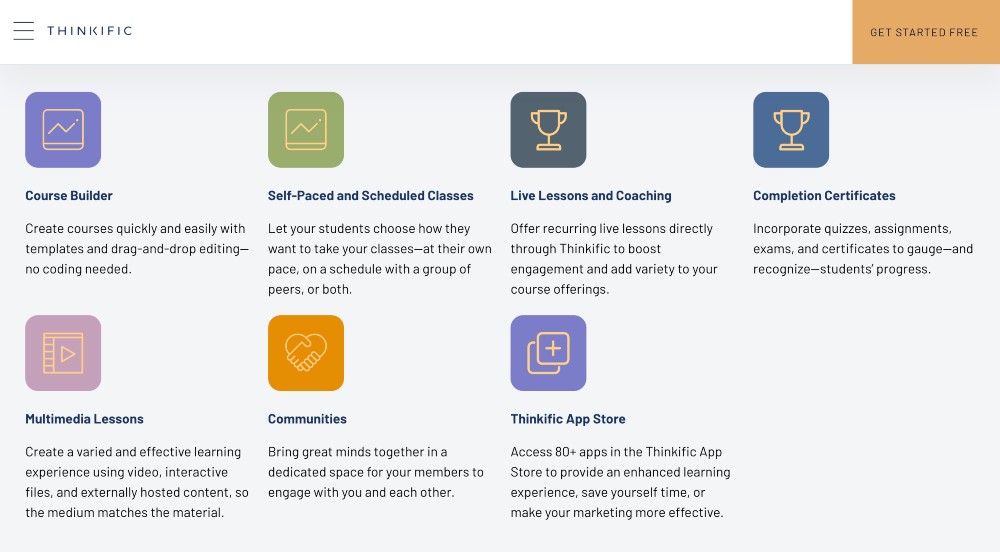 Pros
No cost to learning how to create courses
Flexibility to take courses that are completely your own
Cons
No pre-established library of courses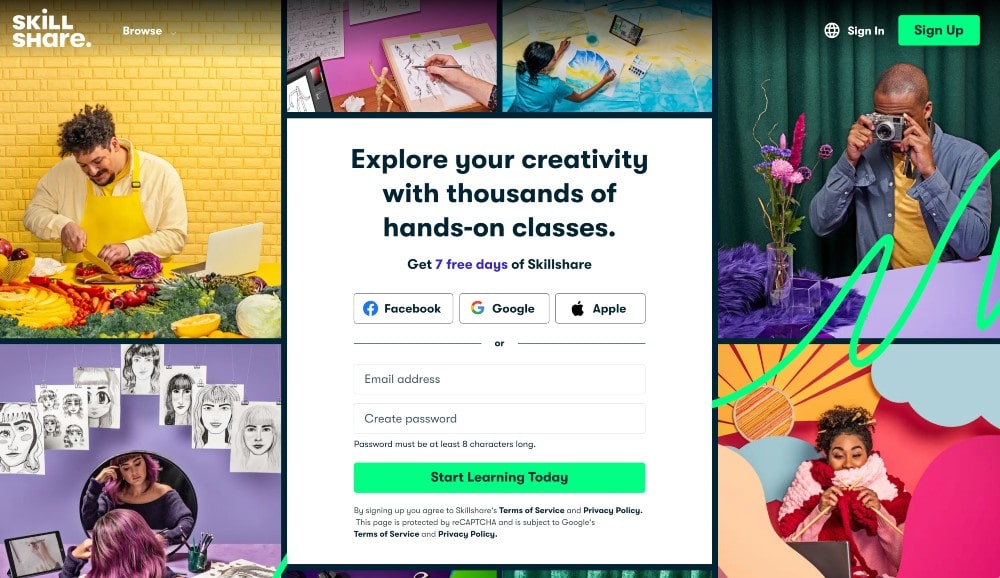 Best for: Those that are looking to learn practical skills
Price range: Ranges from free, to $168 per year
Free plan: Some free courses are available
Free trial: No
About the Software
When you're looking to learn a creative or practical skill, there are several websites to choose from online, but Skillshare is one of the best.
Skillshare is not an educational platform that focuses on certificates or degrees, but rather on skills that can be useful in different ways. With the mobile app, it's easy for those with little free time to learn when they can.
With Skillshare, the focus is on skills rather than academics. Some of the most popular topics on Skillshare include art and drawing, photography and video, animation, illustration, and more.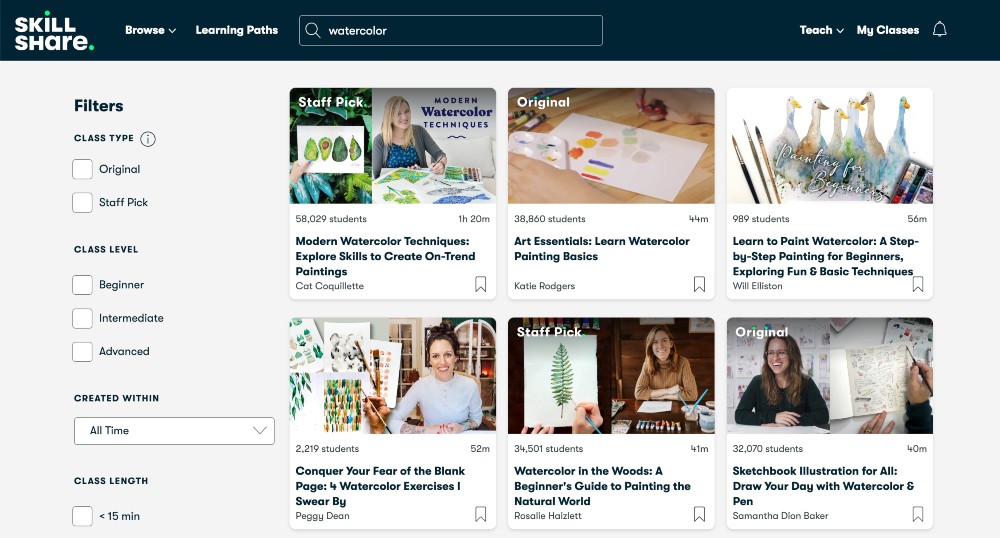 The courses are generally pretty short, with most not exceeding 2 hours in length. These courses are broken down further into videos that are about 3-5 minutes each. While there are some introductory classes that are free, the full catalog is only available to those with a subscription.
Key Features
Course length is reasonable, which is great for anyone with minimal free time
Focuses on creative or practical skills
Pros
The mobile app makes it easy to learn on the go
Only costs about $14 a month
35,000+ courses available
Cons
Short courses don't too in-depth
Some popular niches are restricted, such as fitness, beauty, and passive income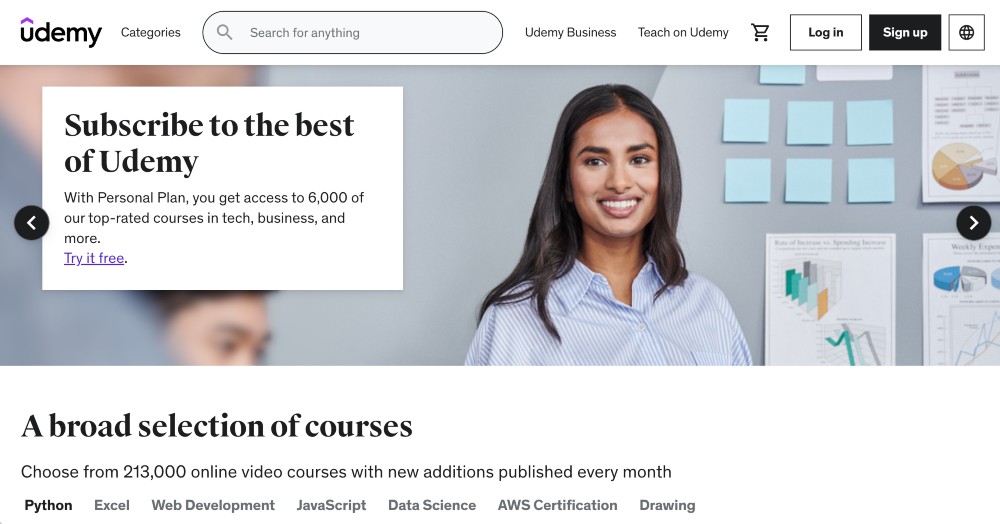 Best for: Deep-niche content
Price range: Free to sell courses (but, Udemy does take a cut of the course cost)
Free plan: N/A
Free trial: N/A
About the Software
Udemy is the largest online learning platform and boasts more than 60,000 creators and instructors, and nearly 200,000 individual courses across every imaginable content niche.
This makes it a great online learning platform for those who are just starting out with online course creation, as well as those who will be creating courses in highly specialized or rare niches, and anyone can be a Udemy instructor.
How much you are charged by Udemy for selling your course varies based on the way it was sold.

Key features
Many courses have more balanced multimedia content, contrasting other highly video-dependent online learning platforms
The ability to find courses in nearly anything gives Udemy an advantage over many, though not all, other platforms
Pros
Massive selection of potential niches to sell courses
No ongoing subscription fees
You can earn as much as 97% of what you charge for your course
Cons
Udemy takes a large cut of sales from their internal promotions

Very competitive and relatively low sales if you don't have your own audience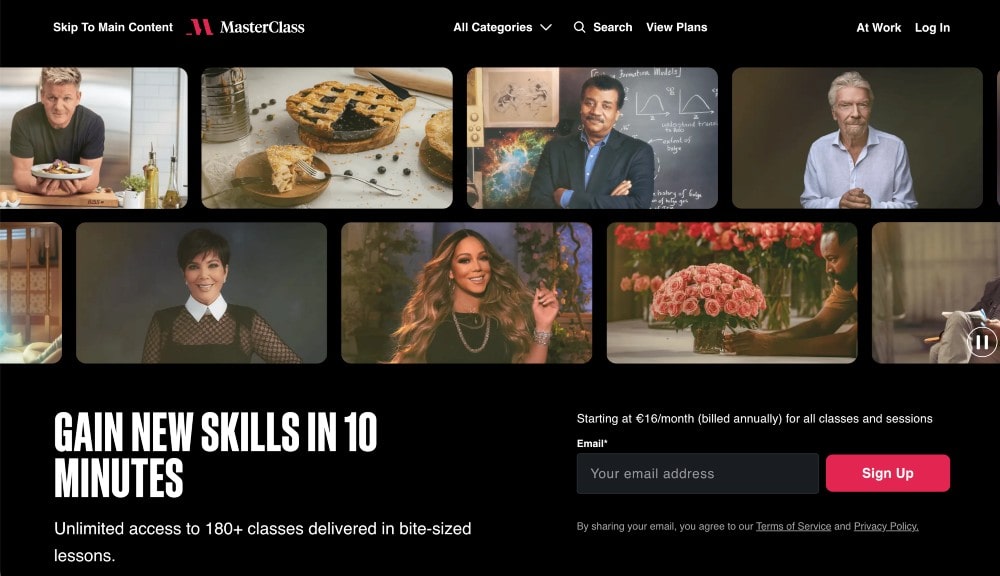 Best for: Niche bloggers that want to learn new skills from industry leaders
Price range: Starts at $15 per month to take courses (No details on costs to sell a course)
Free plan: No, but they do offer a 30-day money-back guarantee
Free trial: No
About the Software
Whether you're looking to learn about cooking or directing, MasterClass offers more than 100 courses on practical skills. The best part is that you'll be learning from an expert in the field.
MasterClass is one of the best education platforms online for learning — not teaching. It's also great for teaching, but you have to be accredited or be a celebrity to qualify.
MasterClass is an education platform that offers courses that are hosted by celebrities and other big names in various industries. Each class is completely go-at-your-own-pace and consists of video lessons, plus a workbook to go along with the course.
Before you sign up, keep in mind that these courses aren't designed to be an in-depth dive into the subject, and you won't be an expert when you walk away, but you will learn some valuable information that you can't get elsewhere.
Note: You can become an affiliate for MasterClass through Affilimate and earn 25% per subscription.
Key Features
Classes are hosted by famous people, such as Salman Rushdie, Natalie Portman, and Gordon Ramsay
Wide variety of subjects to learn about, including business, wellness, and lifestyle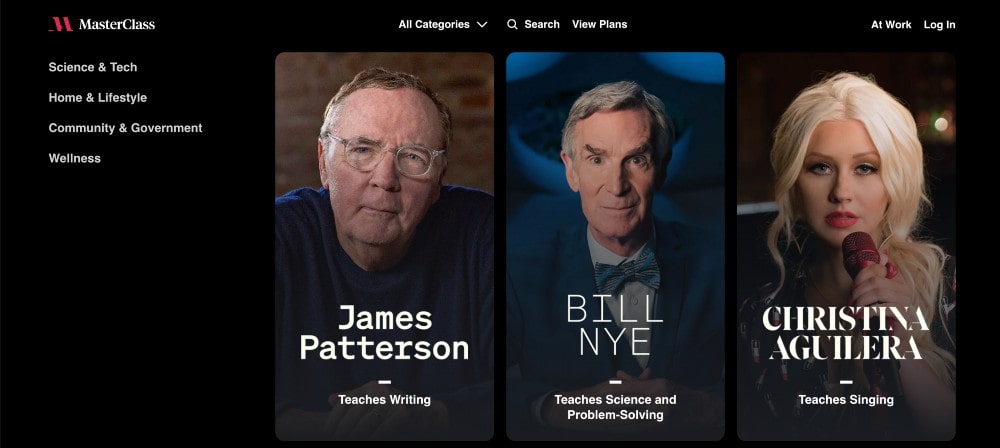 Pros
You can promote a class hosted by your favorite celebrity
Cooking and writing classes are generally really good quality
Cons
You have to be well-known in your niche to be chosen as an instructor
Significant vetting process and approval required for anything you will sell on MasterClass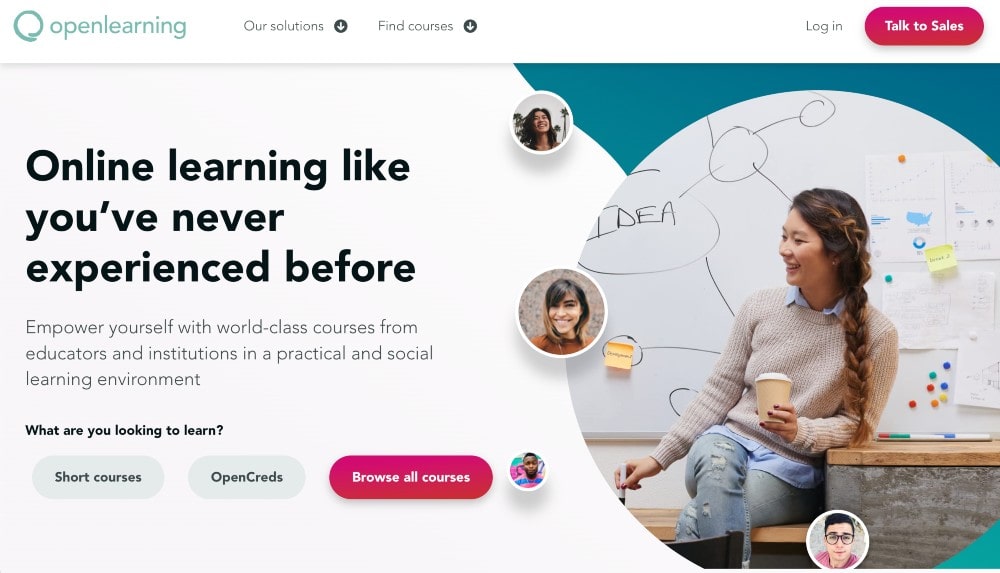 Best for: Course creators that want to build a learning community
Price range: Starts at $900/year
Free plan: No
Free trial: Yes
About the Software
OpenLearning is an educational platform that has partnered with many leading learning institutions and offers thousands of courses on a wide range of subjects. They have an incredibly large community of more than three million students.
This online learning platform does not allow most individuals to create courses, however, since they offer credit to partnering schools.
Still, if you're in the education niche already, and have connections to learning institutions, this could be a great means of revenue for you.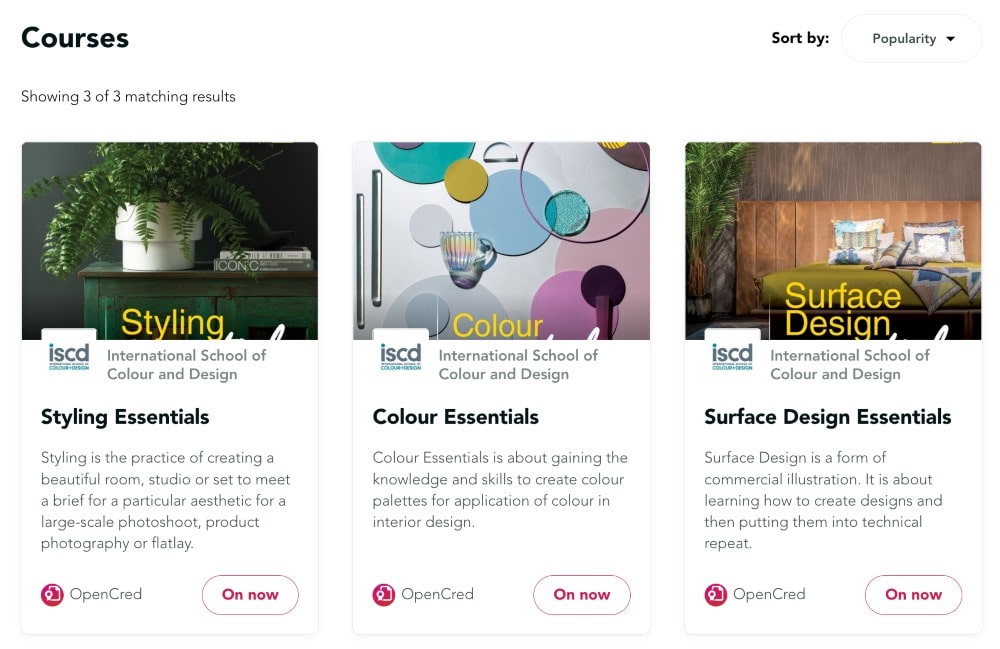 Key Features
Integration with universities via OpenCred allows students to get transferrable credits for higher education
Courses of all lengths and intensities are available, allowing students to customize their learning experience
Pros
Supportive learning environment
Can potentially use credits toward degrees
Cons
Creating courses on the platform can be quite costly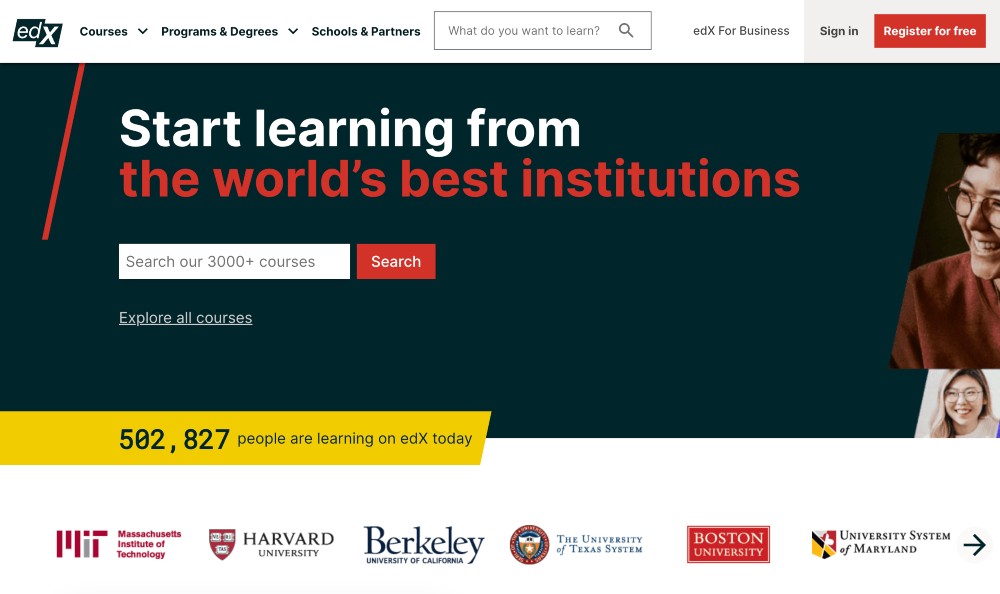 Best for: Bloggers that want to earn from courses already developed
Price range: Free courses and certificates cost approximately $49 each
Free plan: No
Free trial: No
About the Software
edX is a more formal learning environment and has some of the leading educational facilities in the country, like Harvard and MIT providing course material. They are a much more STEM-focused platform, with more than 3,000 courses to choose from.
There is no option to become a creator on this online learning platform, however, since it is limited to institutions of higher learning.
But, you can earn money as an affiliate for the platform through Awin. Starting commissions begin at 5% of course fees, and there is no limit to how much you can earn with edX.
If you want to sell courses, but don't want to create them, this is a great space to dip your toes in the water.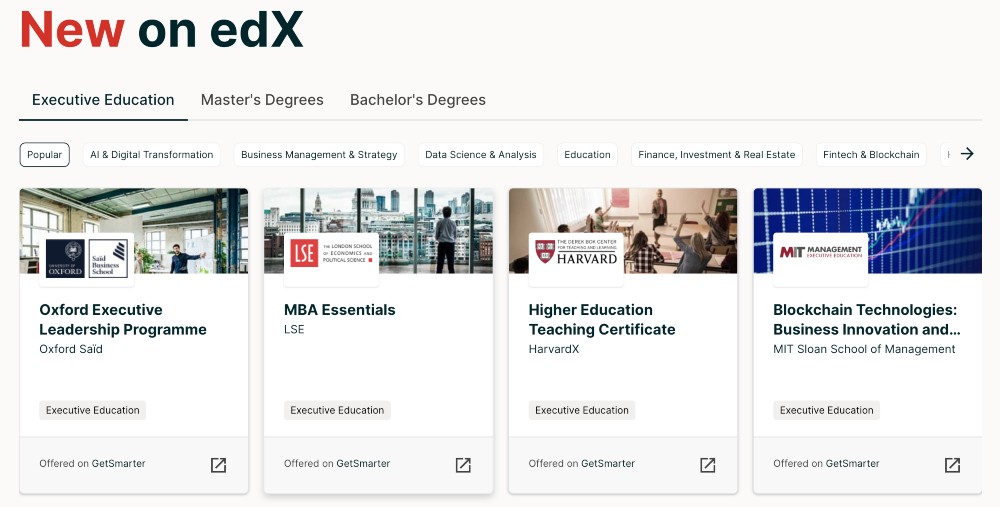 Key features
The certificates are accredited and hold value outside of the platform
Courses can be completed at the student's preferred pace
Pros
Very large selection of high-quality courses
Can be applied to a bachelor's or master's degree
Financial aid is available for those who qualify
Cons
Creative courses are somewhat limited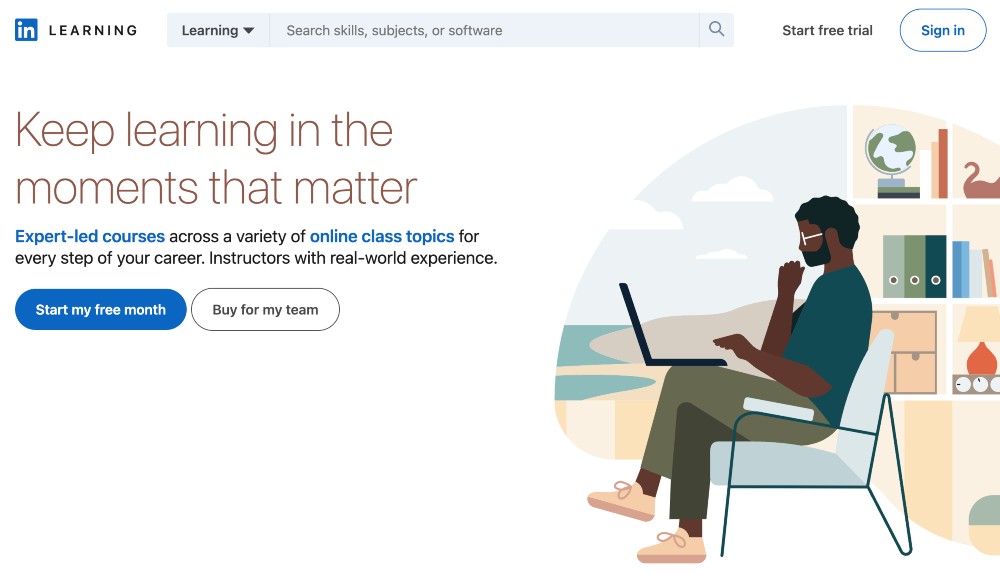 Best for: Teaching or learning complex systems
Price range: Not publicly available
Free plan: N/A
Free trial: N/A
About the Software
LinkedIn Learning hosts more than 17,000 courses across countless topics of business, creativity, and technology. For those looking to teach or learn about complex software systems, this is the ideal platform.
The courses not only teach basic computer literacy and usage, but also more complicated usage like the Adobe Suite, or other complex software applications.
Courses can be bought individually, or through a recurring subscription.
Key Features
Courses are often broken down into the simplest possible tasks, making courses simple and fast
Courses incorporate a high degree of interactivity
Students can display completed courses right on their LinkedIn profile
Pros
Instructors are vetted to ensure they are subject matter experts
Appeals to a variety of learning styles
Cons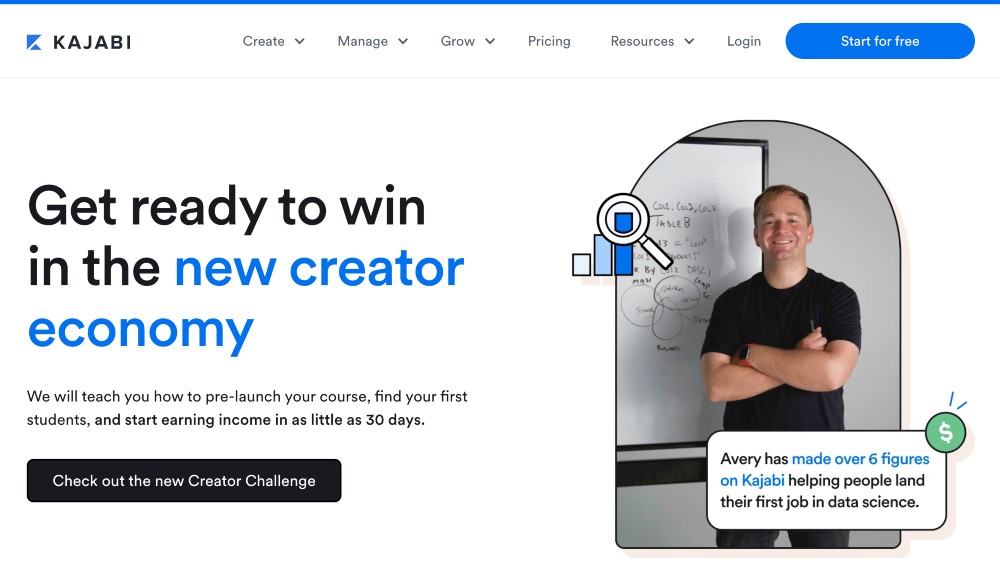 Best for: Selling courses, not creating them
Price range: 3-tiered pricing model; $149/$199/$399 per month
Free plan: No
Free trial: No
About the Software
Kajabi is a platform that is less focused on creating courses, and instead places a heavy emphasis on selling them.
They are still considered an online learning platform, but the topics are largely aimed at those who hope to leverage the Kajabi site sales funnel benefits with marketing and sales-based courses.
The platform also allows users to create their own pipelines to maximize potential sales.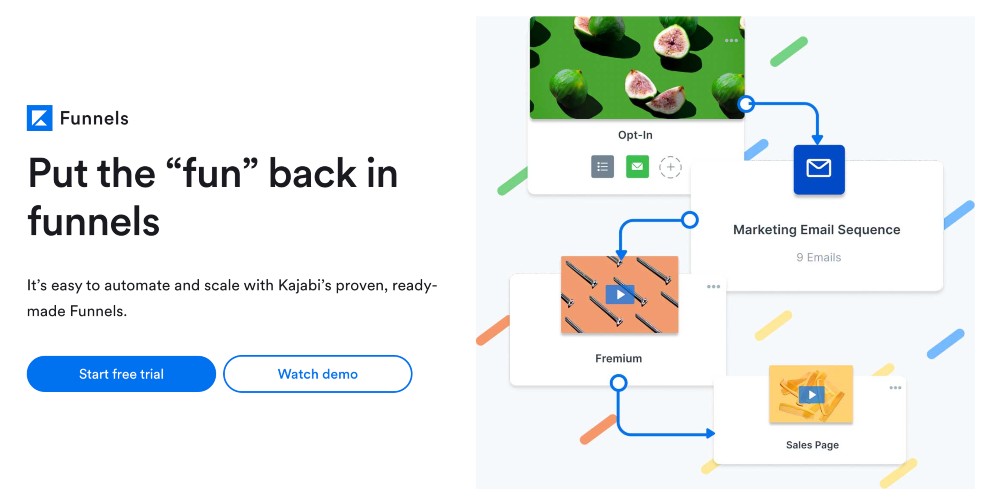 Key Features
Sales pipelines, also called funnels, help hold the customer's hand while they make their purchase
Offers a high degree of automation regarding learning paths
Pros
Intuitive interface and overall user experience for students
Substantial video streaming capabilities
Attractive landing pages
Highly customizable for your brand, from a marketing standpoint
Cons
Course development functionality is limited to uploading existing materials
Extremely limited customer or student engagement
No certificate upon course completion
Steep learning curve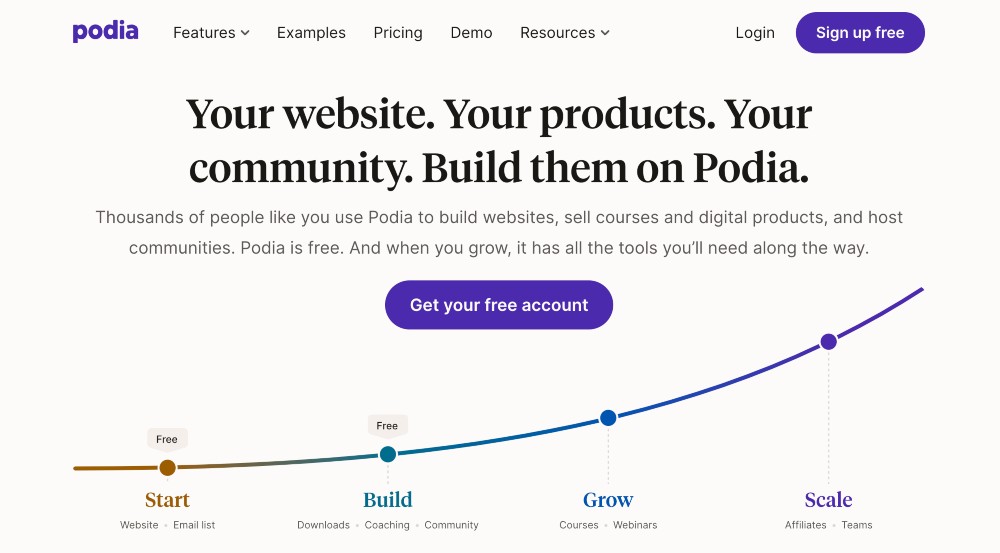 Best for: Creators with simple courses
Price range: $39/$89/$199 per month
Free plan: No
Free trial: No
About the Software
Podia is another option that can be considered a one-stop shop for those who need course creation, marketing, and selling all in one location. It takes a creator-first approach, which lets you get paid instantly and has no transaction fees.
You can host your courses and digital memberships under a single digital storefront, making it easier to keep customers focused.
There are no course development tools, so you'll need to upload all of your own content, which you can categorize as you see fit. Podia can get your course and storefront running quickly and easily.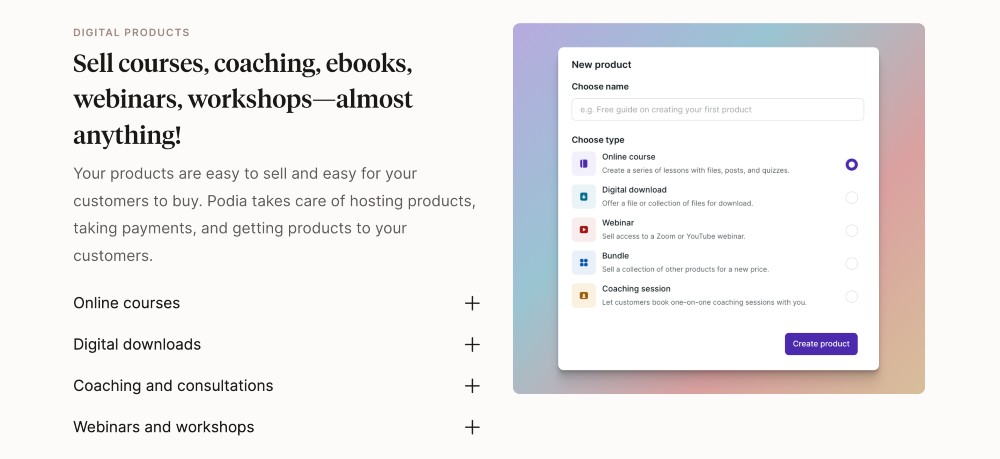 Key Features
Simple integration of memberships and digital products
More heavily focused on marketing and selling, ideal for creators
Storefronts can be used as conventional landing pages to gather customer information and have them subscribe for updates
Pros
Instant payments
No transaction fees
Easy tracking of student progress
Cons
Limited ability to customize
Reporting and analytics are very basic
Course builder is rigid and cookie-cutter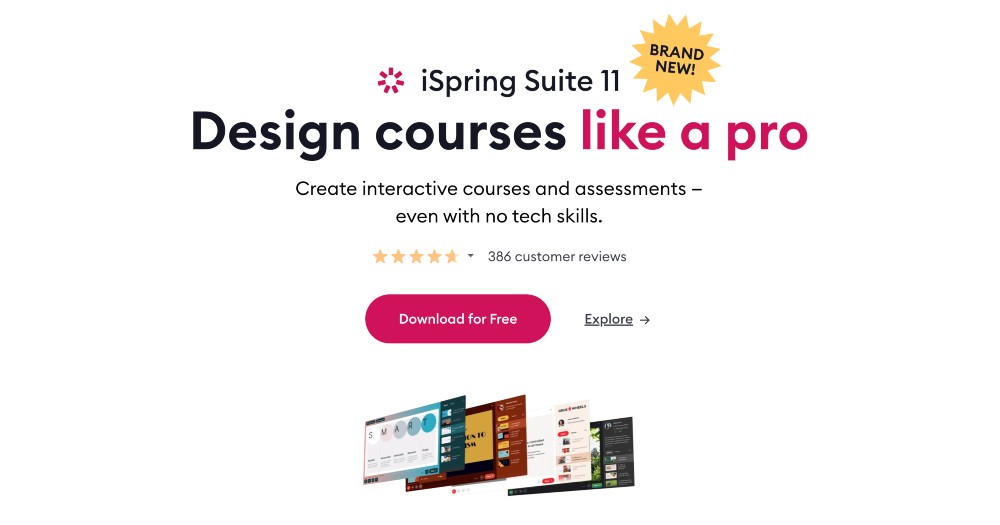 Best for: Creators looking for all-in-one online learning platforms
Price range: Pricing is based on bandwidth used each month, $77/25GB | $147/50GB | $277/100GB
Free plan: No
Free trial: No
About the Software
iSpring is a major online learning platform that is made for course creators that want to develop a variety of courses, without having to dedicate themselves to one particular content niche.
It is very simple to use, while still maintaining a long list of features, which makes it great for creators that need to get up and running quickly.
You can create, market, sell, and host your courses here for a flat monthly fee.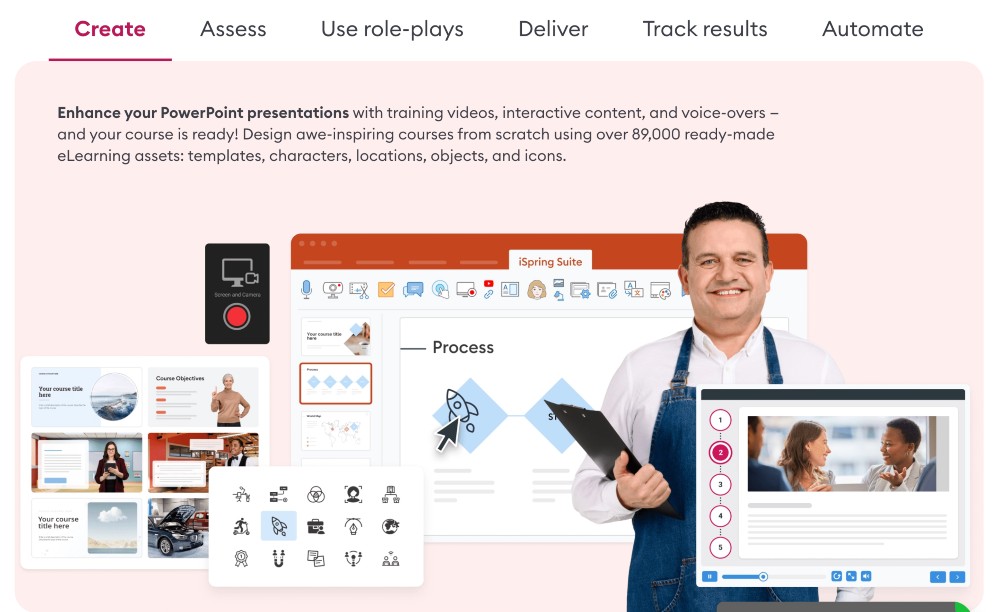 Key Features
Creates visually rich courses with high interactivity
Accepts nearly any media or file format you want to upload, making course creation simple yet powerful
Interactive, automatically-graded quizzes
Drag-and-drop interactions and branched scenarios
Highly detailed data analytics
Pros
Gamified experience for students with points, leaderboards, and achievement badges
Completion certificates available
Flexible payments/currencies
Highly detailed data analytics
Cons
Marketing options are basic
Basic administration functions
Certificates of completion have little value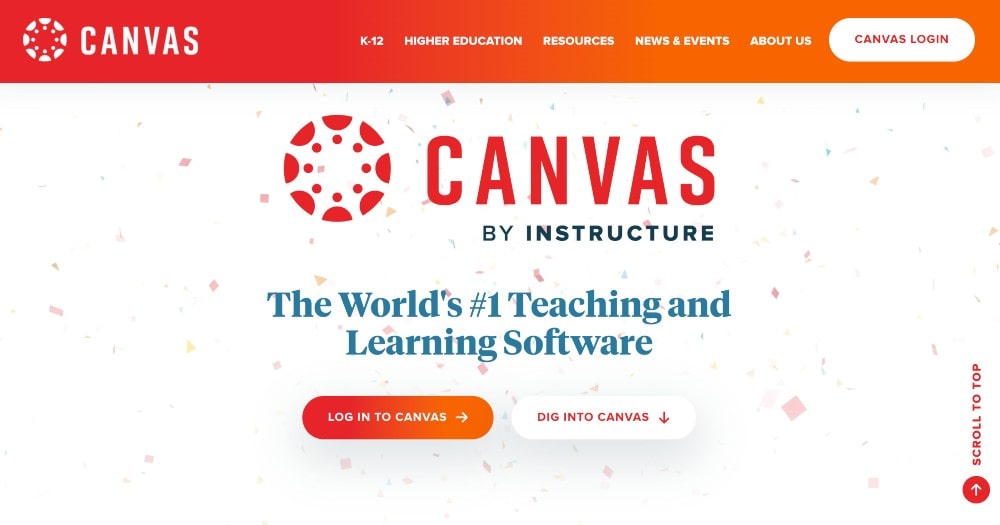 Best for: Educators come bloggers that want to build their own courses
Price range: Customers contact Canvas directly for pricing information
Free plan: No
Free trial: No
About the Software
With a focus on academics, Canvas is a great resource for online educators looking to create their own independent courses.
Most online academic platforms are affiliated with a business or school, but Canvas is not, making it extremely flexible.
Canvas provides educators with the tools to create and host their own courses. There are many integrations, including Adobe Creative Cloud, Microsoft Teams, and Google Workspace that make it possible to create an interactive course.
Educators and their students can connect through messages, video, and audio, and students have many collaboration tools.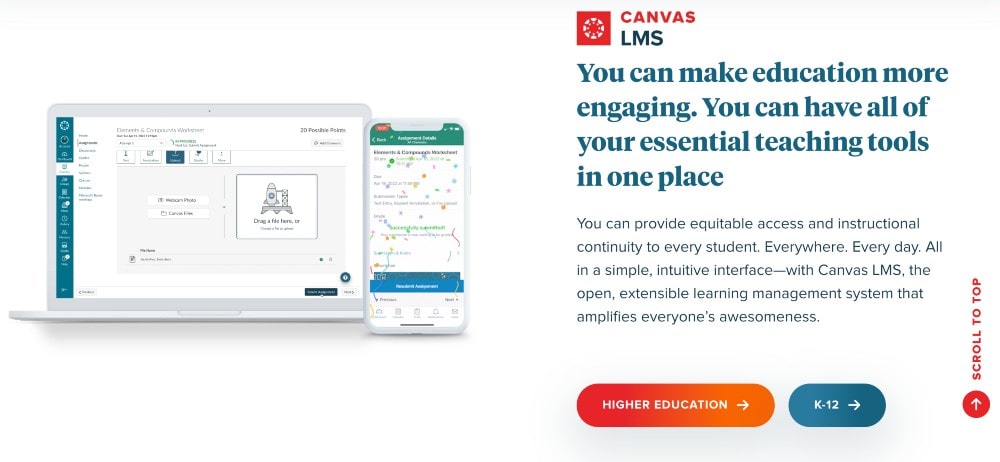 Key Features
Educators are able to create their own fully independent courses
Designed so students are able to easily collaborate, whether to share notes or work on a group project
Canvas provides all necessary tools, including grade books, reporting tools, quizzes, and integrations
Pros
Not affiliated with a school or business, so the educator has complete control of their courses
Several ways for students and educators to stay in communication with each other
Educators and students can communicate via message, audio, and video
Cons
Minimal gamification features
Learning curve to get the most out of the platform

Best for: Bloggers that want to give back and teach for free
Price range: Free
Free plan: Yes
Free trial: N/A
About the Software
Khan Academy is one of the leading names in childhood learning, and it is also one of the premiere online learning platforms for the K-12 audience, which can be a benefit or a drawback depending on what you need.
Creators can sign up as teachers, and students and parents can both monitor progress and scores, to help motivate children even more.
Why would you want to sign up for this if you're not getting paid? To hone in on your teaching skills, give back to the online community, and to get a feather in your cap.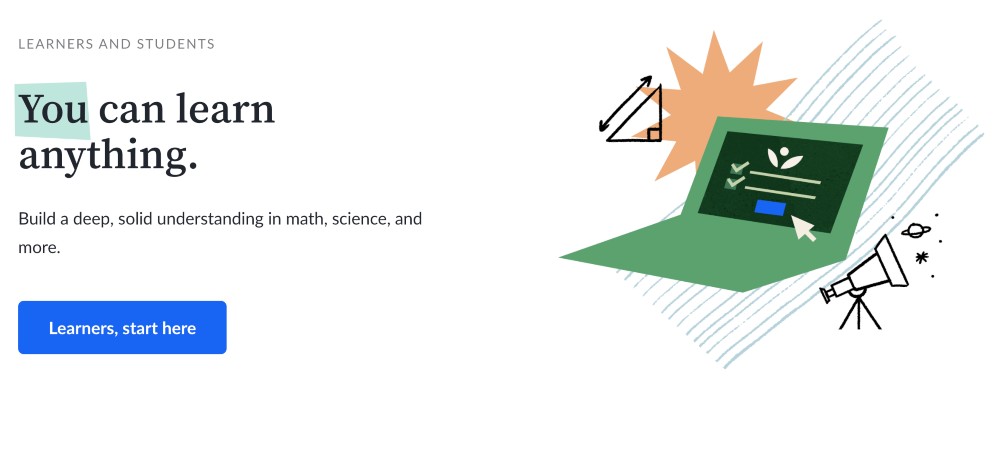 Key features
Absolutely free and donation-based
More than 8,000 lessons on countless topics
Used by more than 70 million people, from kinder-level up to SAT-prep
Gamification drives more engagement and enthusiasm from learners, keeping them interested
Clear academic progression tracks that can guide learners for years
Pros
The warm fuzzy feeling of volunteering
Great resume builder
Wide range of topics to help with
Cons
Focused primarily on K-12 students
Less ideal for bloggers that are looking to create a course that makes them money
Why Create Courses to Sell on Education Platforms?
There are dozens of relatable reasons why bloggers and content creators are a great fit for creating online courses, but here are just a few.
Repurpose Content
It's relatively simple to repurpose and repackage content that you've already developed into a course-friendly format and it offers you a new revenue stream.
It's just a matter of organizing and building on the material you've already developed and packaging it up nicely for and of these e-learning platforms to earn more revenue.
The best part is… you can use your existing, related content to promote your new course. What we call sales-centered content. Just add a call-to-action at the end for your courses and you're done!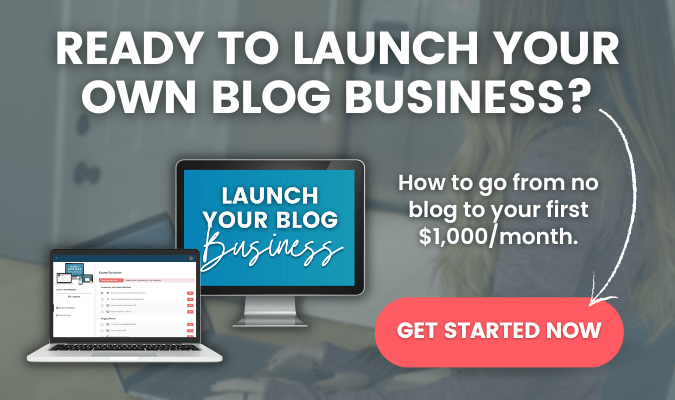 You Likely Already Have An Audience
One of the best things about creating a course for an online education platform is that you have most likely already done the legwork of finding your ideal readers and building an audience for them.
If you're already established in your niche, you can publish a course with an inherent level of authority.
If you have already built an email list, you can also send out a survey to ask your audience what kind of courses they would be interested in.
Launching a course in an existing email subscription list can lead to 1%-2% conversions or more.
That might seem like a small number, but it can yield huge levels of income over time.
Alternatively, you can also check your most popular posts and brainstorm about whether you can make one or more of those into a course.
Online Learning Is Pretty Evergreen
Maintaining a blog takes a lot of work and dedication, on a relatively consistent basis, all for the content to soon be buried under other content or to quickly become outdated.
Online learning courses, on the other hand – when done correctly, can be filled with highly evergreen content. Once your course has been created, you can sell it countless times.
When and if you update it is up to you. You could add more value by updating it, or simply phase out that program for a new one.
What to Look For in an Online Education Platform
Before you choose your educational platform online, there are some important things to consider. Aside from price and basic functions, here's what to look for in your online learning platform of choice:
1. Student Experience
One of the biggest single factors in determining the overall success of your course launch will be the student experience.
Look for software that is developed for learning environments, which hopefully applies gamification to the learning process for rewards. It should also have built-in student analytics, so their progress and results can be monitored.
2. Intuitive Interface
If it isn't easy to use, you won't be able to focus on creating effective and engaging content. And, your end-user won't be able to focus on learning.
You should be able to load the software and immediately understand how your course is going to appear and operate from the point of view of the students.
3. Student Engagement
A platform that focuses on building a learning community and boosting student engagement is going to be a good one. Often, engagement can be improved with gamification aspects like points for lesson completion, but it can be as simple as badges that show how many courses have been completed.
For creators looking to build extensive and comprehensive courses, building an enthusiastic community is an important part of keeping students involved, and engaged, and consistently incorporating open discussion between students.
4. Simple Pricing
You should make sure that you are joining a platform that has clearly defined pricing models – i.e. transparent and easy to understand.
The best platforms will often have a flat monthly or annual fee and don't charge overly inflated transaction or commission fees.
5. Solid Support Team
There will be at least one situation where you will need to speak to someone on the support team about an issue you're having. While the support team isn't generally high on many people's criteria for platform choice, neglecting it can come back to bite you.
Be sure to check the reviews of other content creators to see if there are any clues about dealing with the support team. Take note of how many ways you can reach them as well, if you only see an email address, find another platform.
6. Branding Customization
Creators and bloggers know how hard it can be to build a brand from the ground up, which is why it's so important to be able to have your course content aligned with your branding.
This boosts your authority and increases credibility with readers and students.
Your education platform should let you easily customize the branding on your course, including individual courses, logos, etc.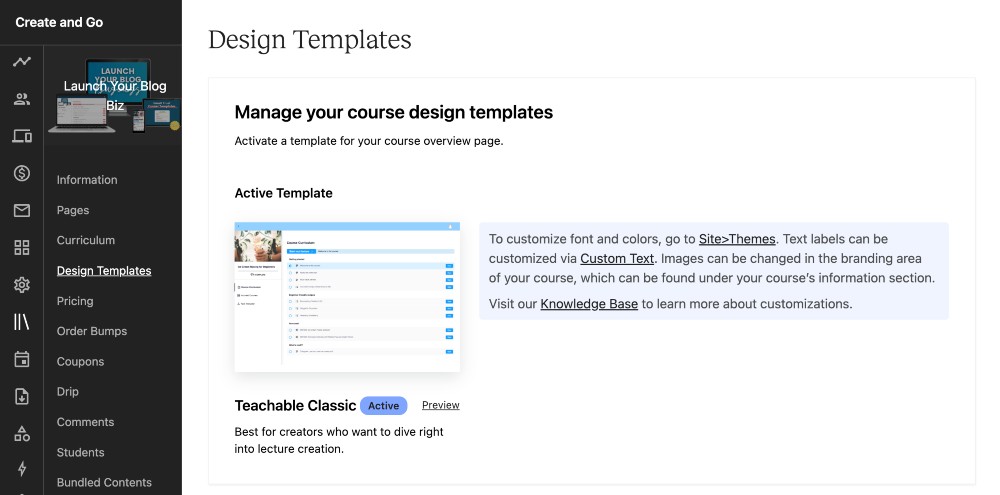 7. Analytics and/or Reports
Depending on the complexity and comprehensiveness of the courses you create, you may want to use a platform that allows you to access data and analytics related to students' progress within various lessons and across various courses.
This is most helpful for those who are interested in providing feedback to their students or helping them to grow through a learning curve. It can even help predict which students may have a problem with which lessons.
8. Basic Marketing Tools
Just like you promote and market your blog and the content you create, your course won't be any different. You'll want to have access to ways in which you can increase traffic to your course, and as a result, conversions or sales.
You will need some basic marketing tools to do this, and some online educational platforms will have basic marketing tools built in.
These can allow you to connect domains, create landing pages, integrate apps, access cookies and other tracking tools, and more.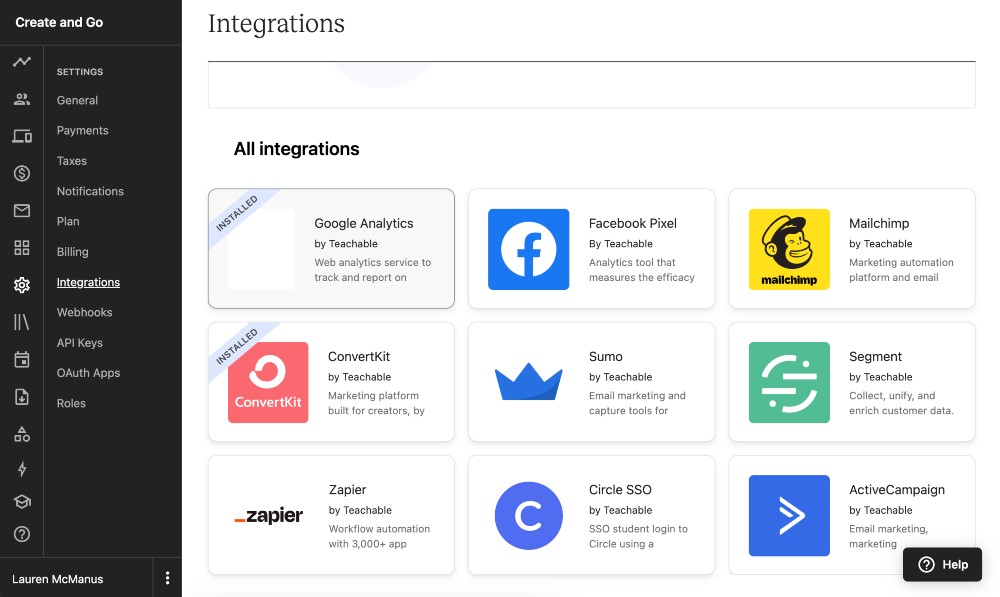 Online Learning Platforms: Summary
So, now that you've done a deep dive into why online learning platforms are even relevant for you as a blogger and looked at the best platforms, what's next?
Well, if you're ready to get started, the first thing you'll need to do is create an account on your chosen platform and figure out a topic for your course.
Then you'll need to put in the work of actually assembling the course, often by simply converting one or more relevant blog posts into course content.
Create a plan for your launch, and put it up for sale. Finally, market like crazy and (hopefully!) make loads of sales.