We partner with bada$$ companies that offer products that help our readers achieve their goals! If you purchase through our partner links, we get paid for the referral at no additional cost to you! Read our disclosure for more info.
What is a crowdsourcing platform and why would you consider using one?
In this post, we're covering everything you need to know.
Here's a quick overview of what you'll learn:
What Are the Best Crowdsourcing Platforms?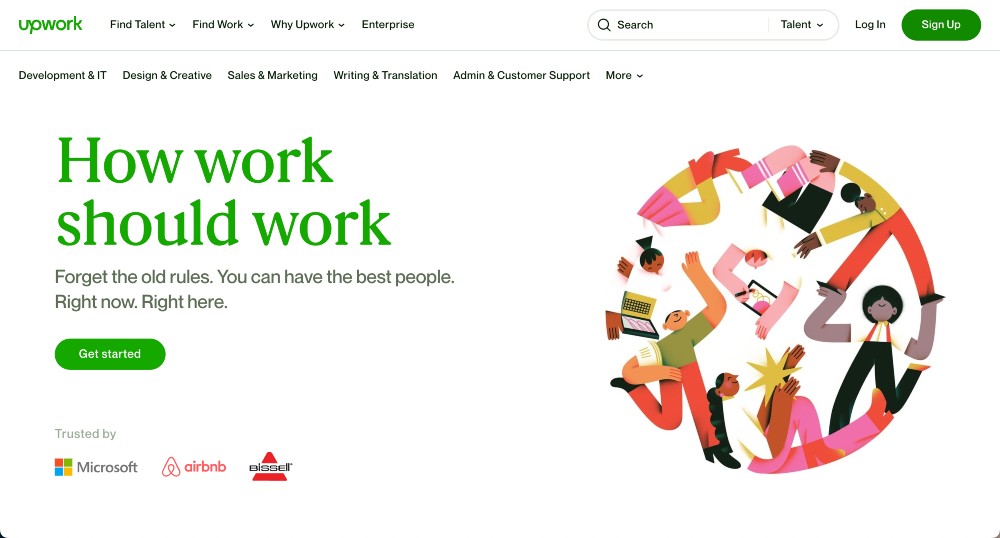 Best for: Finding freelancers across a wide range of fields
Price range: 3% of all payments, as well as 10%-20% of pay and bonuses to freelancers
Free plan: Yes
Free trial: Yes
About the Platform
Upwork is a crowdsourcing platform that lets you find a freelancer for just about any project that you can imagine — everything from graphic design, to accounting, content production, and much more.
It has a clean interface that lets job posters and job seekers navigate easily, making it ideal for those with limited knowledge or experience with crowdsourcing sites.
Even those with no experience can find work or fill roles with speed and efficiency. They even have pre-made job templates to make it easier.
You can post your project either via the website or the mobile app. All you need to do is fill out the type of work it is, and the site will create a list of potential freelancers that will work.
From there you can choose some to invite for interviews, and post it to bring in more bids.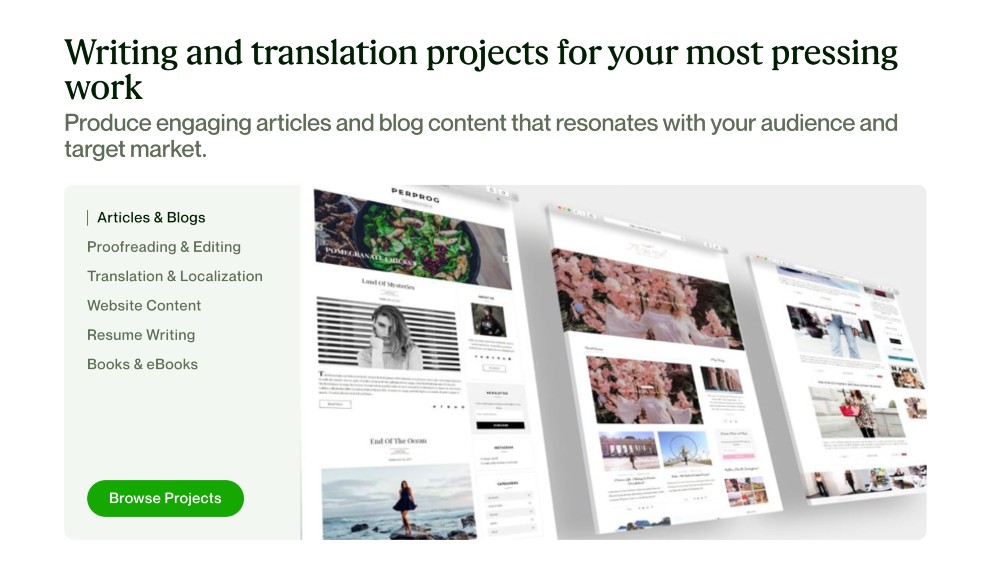 Key Features
Access to expert freelancers and clients ready to pay
Upwork ensures that users are fully vetted
Pros
Popular, which means lots of opportunities
You decide what you want to pay for your work, or what you want to be paid
Cons
Fees can be considerable for new contracts

Best for: Locating skilled people to complete tasks
Price range: Commission based, you assign the reward, and MTurk takes one-fifth of all rewards and bonuses
Free plan: No
Free trial: No
About the Platform
For those looking to crowdsource microtasks, the Mechanical Turk service run by e-commerce giant Amazon might be the perfect tool.
This crowdsourcing platform started in relative obscurity, but it has grown considerably over the past few years, and it has expanded to include work that ranges from traditional microtasks to things like categorizing data.
Mechanical Turk is a massive platform that operates with a familiar marketplace feel.
Companies, developers, or other crowdsourcing users post small projects or tasks, called Human Intelligence Tasks or HITs.
Workers will comb through all of the HITs they have access to and will complete them and get paid.
One of the benefits of the Amazon Mechanical Turk platform is that it can be used as a first step or jumping-off point, before moving on to crowdsourcing and outsourcing tasks that need more attention, detail, and quality.
The system is largely self-maintaining, with many of the available HITs being tasks to validate other tasks have been done properly.
Key Features
Work is validated as part of an internal quality control process
The platform is great for tasks that need to be done but can be done by many different workers
Pros
Massive worker pool to process HITs
Helps increase the collection of personal data that powers much of Amazon's algorithms
Cons
Not ideal for large or complex tasks
Can be challenging to get quality results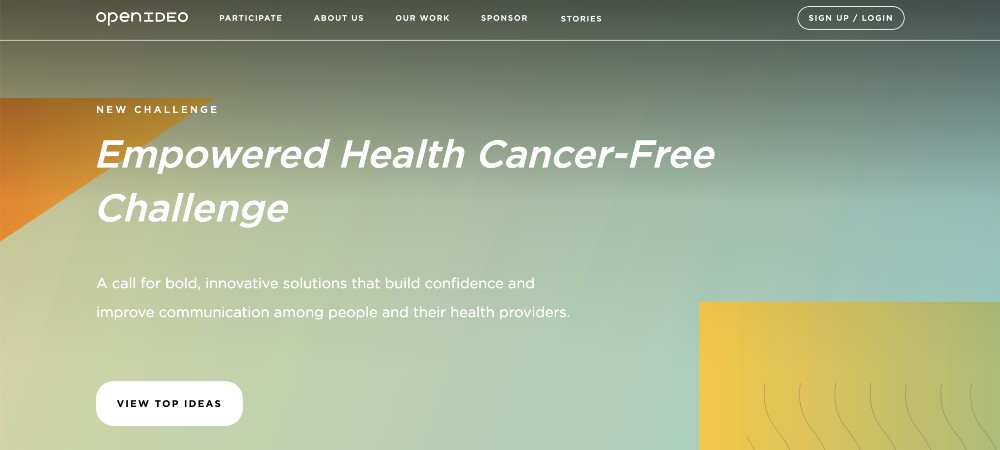 Best for: Finding outside-the-box solutions to big, complex challenges
Price range: OpenIDEO is sponsored by the companies that use it to create change
Free plan: No
Free trial: No
About the Platform
OpenIDEO is a crowdsourcing site that simplifies the task of people around the globe collaborating and sharing ideas about solving complex problems in their communities.
The platform is accessible to anyone with an internet connection. The OpenIDEO toolkit allows people to work together virtually, on challenges that are created around the world.
The platform is largely based on design thinking, and while design thinking can be used to solve a wide range of problems in countless areas of expertise and specialty, it is not easy to learn or practice.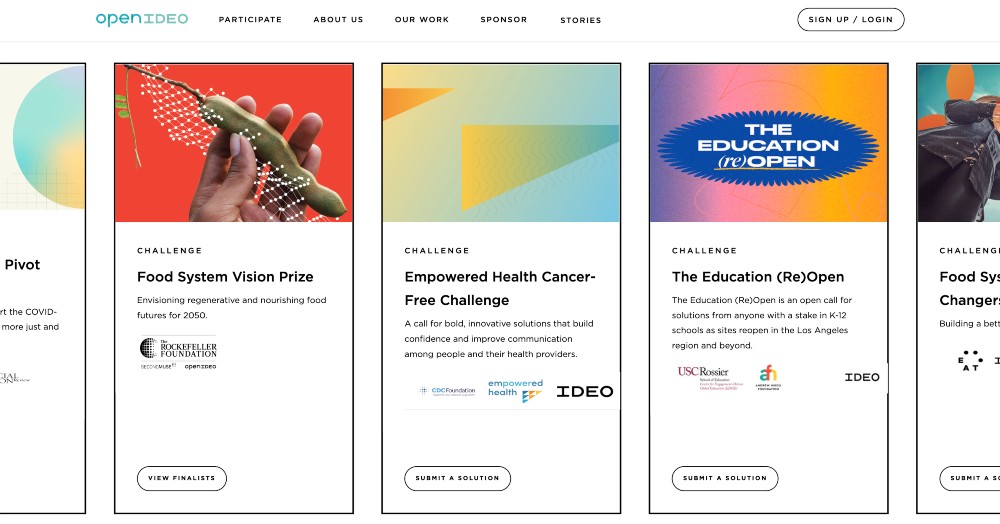 It requires a lot of steps, and each step holds the potential for something to go wrong, particularly when applied to new problems you're unfamiliar with. OpenIDEO simplifies the entire process, though.
Key Features
Allows individuals and organizations to participate in something larger than themselves while bringing attention to their own business
It is fueled by the power of community collaboration and helps businesses build momentum toward success
It helps people connect who have the same passions, values, and more, to participate in a highly collaborative environment that focuses on growth and innovation
Pros
It helps businesses become more effective at targeting their audience
Cons
The platform is so large that it can be intimidating to get started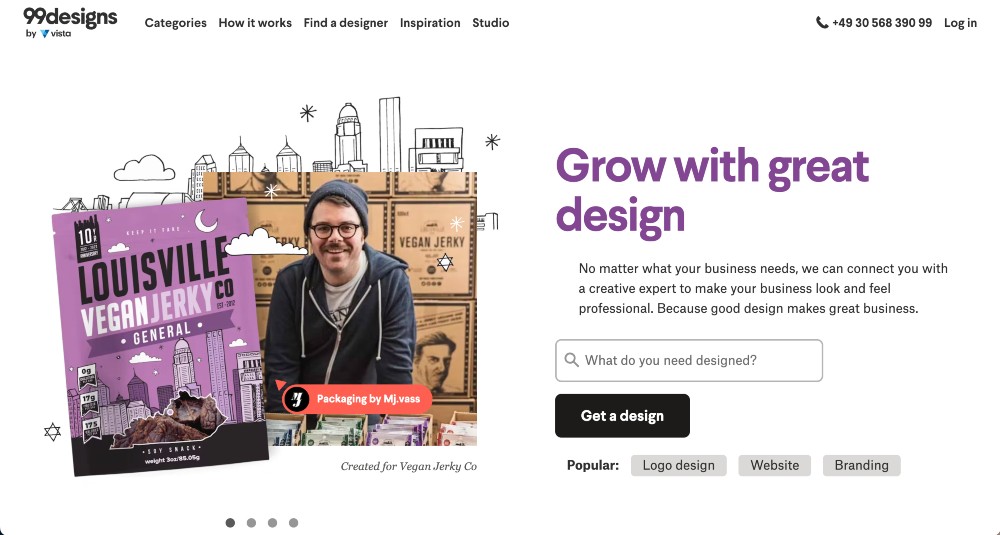 Best for: Finding a freelance graphic designer
Price range: Packages based on the number of designs you get, $299/30 | $499/60 | $899/90 | $1200/60 top-tier
Free plan: No
Free trial: No
About the Platform
Next up on our list of best crowdsourcing platforms is 99Designs — a popular crowdsourcing site to have graphic designers compete to get you the graphics that you want.
You create a design contest for whatever you want, brand logo, packaging, or website. Then you start to get designs from all over the globe, by designers that want you to choose their design.
You just sit back and watch the graphic bids roll in. You can choose the one that you like the best, and you'll have the chance to purchase the rights to the design.
For businesses that need expert branding and logo design, this can be one of the most effective ways to get that done without hiring a big marketing or design firm.
The contest relies on those who can create their designs and submit them to the contest the quickest.
This means you not only have artists competing for your choice, but their motivation is time-based, which means you save more time overall, and get your graphics faster than any other way.
For those who need professional imaging or logo creation, but don't have the skill set or the time to invest in designing something, working with crowdsourcing platforms like 99Designs can simplify a major branding task, and cut a lot of stress out of your life.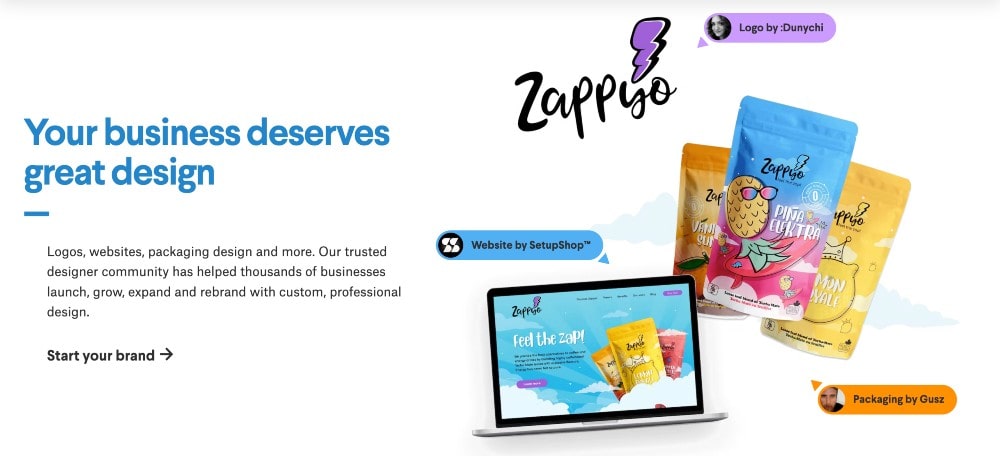 The contest model and the overall operation of 99Designs make it one of the leading ways to reach graphic design production goals.
The top pricing tier even gives you access to submissions from the top 60 artists on the entire platform
Key Features
The contest format drives fast turnaround with high quality
The quality is hard to beat, even with formal agencies
Pros
A massive variety of artists means countless styles to choose from
Super-convenient logo or imaging option
Cons
Relatively costly, even for the value
Additional Crowdsourcing Websites
Those were the best crowdsourcing platforms, but we also wanted to give you some additional crowdsourcing companies you might want to consider: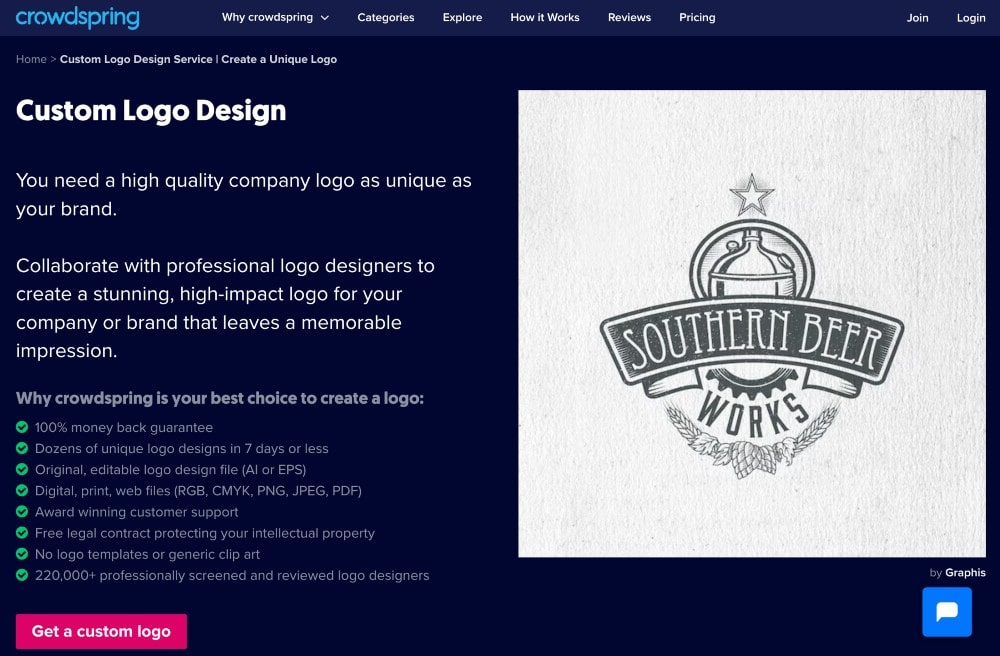 What Is a Crowdsourcing Platform?
One of the things that are most difficult when getting projects and ideas that are still in the early stages, off the ground, is getting the resources you need to accomplish complex tasks.
If you want to leverage the power of a large crowd – such as your audience – to help with the money or labor for your next project or idea, finding a solid crowdsourcing platform is essential.
People that are registered on crowdsourcing platforms are either looking to help with projects, or looking to harness the crowd's massive potential to achieve the outcome you want.
Crowdsourcing is seen by many in the content creation space to be a valuable way to compound resources. Multiple people working to contribute to a project could make it better or at least higher quality than it was before.
There are dozens of crowdsourcing platforms for a variety of projects such as design, writing, photography, music, and even app building.
While they are all similar in many ways, they all offer something unique as well.
Many have benefits that others don't have, some have significant fees while others don't, and some are far easier to use than others.
This means that there is a significant chance that the perfect solution for your needs already exists, you just need to find it, and we hope to help by considerably narrowing down the search.
How Does Crowdsourcing Work?
Crowdsourcing can work differently depending on what type of crowdsourcing you're seeking. You can crowdsource things like:
Creative work
Bookkeeping and accounting
Funding
Even manufacturing
Let's take a look at how someone might crowdsource some of these.
Blog and Other Written Content
One of the most popular ways for bloggers in particular to begin engaging in crowdsourcing work is to crowdsource some of their creative work.
A common way this is done is to use crowdsourcing platforms to find ghostwriters.
Once the writers have shown they can mimic the style of the blog, they can begin producing content in bulk for the blogger, who then edits, formats, and finalizes each post.
This allows so much more content to be produced – sometimes for as little as a penny per word.
Business Administrative Functions
Crowdsource platforms also have freelance/independent bookkeepers and accountants that can help maintain the books for your various blog projects.
For example, you can use crowdsourcing to find an independent CPA or similar agent to help them file their taxes with all appropriate deductions and credits.
Crowdfunding
One of the most well-known applications of crowdsourcing is crowdfunding, which makes up a massive portion of all crowdsourcing.
This is where people of all sorts, individuals, bloggers, entrepreneurs, artists, and more, post requests to fund a particular project or idea.
There are various platforms such as Kickstarter, GoFundMe, and Indiegogo that allow funds to be obtained in multiple ways, even if goals or milestones aren't reached.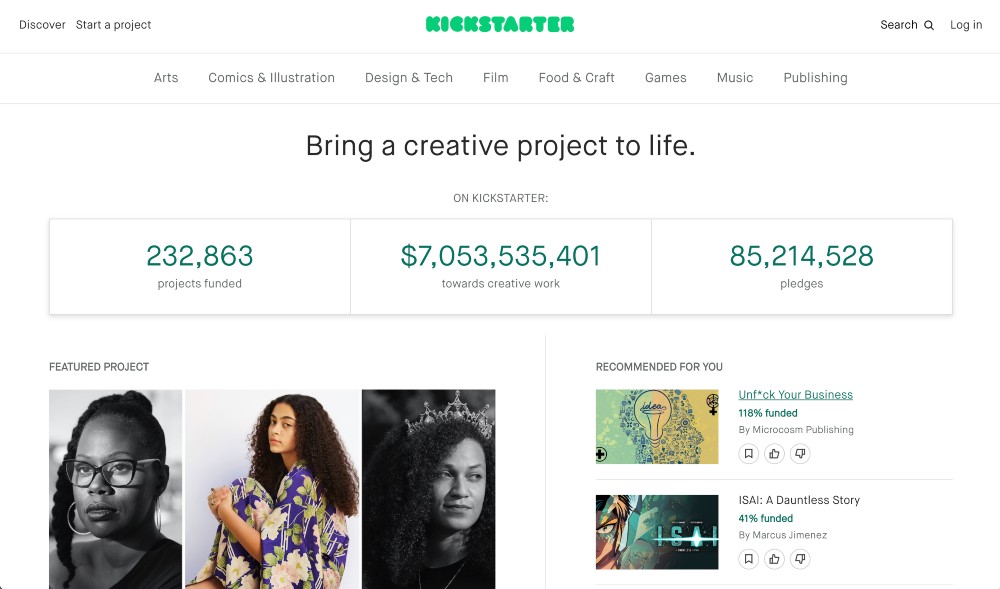 The Subscription Perks Model
An incredibly popular method for building a variety of loyal followers is to use one of the subscription crowdsourcing platforms, like Patreon, Podia, or Ko-Fi.
These platforms allow creators to create additional levels of content and benefits that can only be accessed by subscribing.
Once subscribed, however, they receive all of the special perks for their membership fee. The subscriptions are monthly, and there can be multiple levels of contribution.
Why Should You Use A Crowdsourcing Platform?
There are many reasons that you should consider having a crowdsourcing platform you can count on. This goes not only for crowdsourcing work and similar tasks but also for crowdfunding specifically.
Below are some of the big reasons.
It Can Be a Creative Force Multiplier
Crowdsourcing can be an essential tool for many blogs and websites that are in their early stages.
One of the biggest challenges for smaller businesses that run them is getting enough content to begin driving organic traffic.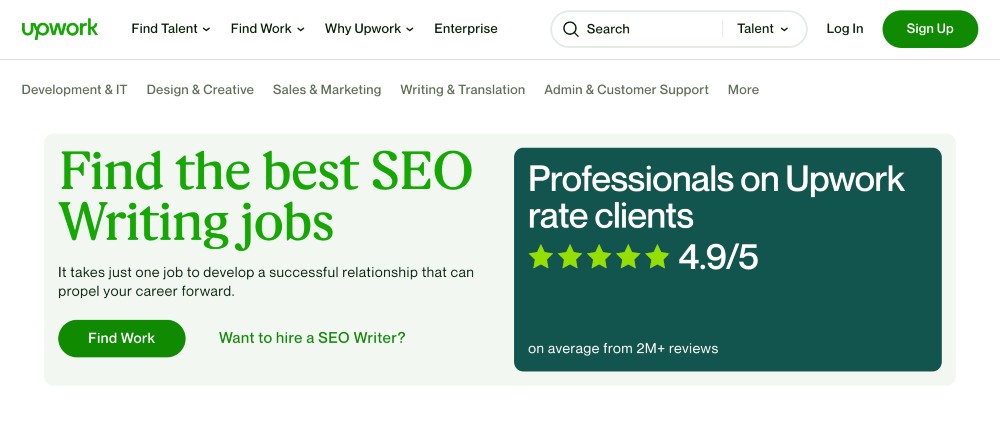 This comes naturally for many blogs over time, as they create more and more posts, and those posts generate more and more interactions and clicks.
It can be hastened, however, by working with a crowdsourcing site to find content writers that can create bulk content that is already largely SEO optimized.
With a few basic ideas and some research, you can use crowdsourcing platforms or crowdsourcing companies to crowdsource and outsource, a large number of their digital content needs.
More posts mean more keywords and chances to rank for them, and more opportunities for readers to click through to other links in the posts that can generate revenue.
Crowdsourcing Saves Time and Effort
A major reason that many people are crowdsourcing much of their tasks is that it provides incredible time and energy savings.
The time savings alone is often enough for many people to begin working with crowdsourcing platforms. This savings is often due to a significant skill or talent differential.
For example, if you needed to balance the books for your business, it can result in a loss of a lot of effort and time, and there's potential for mistakes.
On the other hand, if you use crowdsourcing platforms to find a qualified freelancer willing to balance the books a couple of times a month for a reasonable fee, this could free up your time to create more content in the time that you save.
For some, this can mean incredible savings of dozens of hours each month, making time for:
Downtime
Hunting for sponsors
Brainstorming content ideas, and
Content creation time
It Can Help You Get Your Brand Off the Ground
A big challenge for many creators and bloggers is solidifying their branding, and getting that brand out in front of people.
For some, managing the massive increase in digital workload by managing branded social media channels, Pinterest pages, YouTube, etc… can be easily crowdsourced to a social media manager.
Crowdsourcing can also help you amass loads of digital assets for your brands — graphic design, packaging design, and more are some of the most popular entries on crowdsourcing platforms.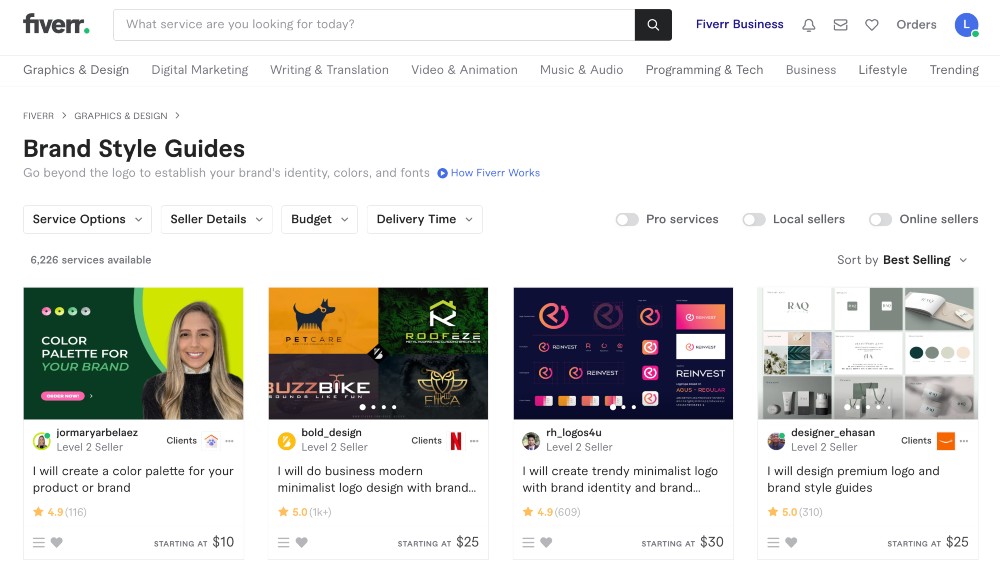 Crowdsourcing Can Spark Bigger Ideas and Projects
When looking at the potential of subscription-based content and straightforward crowdfunding, crowdsourcing has the potential to help bloggers get some of the most ambitious projects and ideas in motion.
Imagine if you could leave your primary job to produce content full-time or to take on an extremely large/complex project. If you could, you probably would!
Crowdsourcing the funds to support yourself during periods of transition or while building a brand is one of the most common uses of many crowdsourcing platforms.
For some of you, making a year's pay in donations, then seeing them keep rolling in can be the impetus to bring your blog to the next level. More funding means it's easier to devote yourself to your content.
Sometimes, crowdsourcing the funds for a specific project, such as visiting a remote location to help with environmental cleanup, can mean you get to experience something you never would have had the chance to, otherwise.
Any way you look at it, leveraging a crowdsourcing site can move mountains, and the results can be life-changing.
Where to Go From Here | Next Steps
Now that you've seen a solid overview of the leading crowdsourcing platforms, and you know how they can benefit you, you might be wondering where you're supposed to go from here.
The first thing you want to do is think about your overall business goals, and what it's going to take to accomplish them.
Reverse engineer your plans, and then use crowdsourcing to make it happen.
If all you need is someone to take the actual task of writing content off of your plate so you can focus on other things, you can utilize crowdsourcing for that.
Or, if you need someone to manage your growing brand's social media so you can focus on other things, there's crowdsourcing for that, too.
Regardless of what you need, you can likely either get it done for you or at least get help with it through crowdsourcing.
So once you have your list of goals, pick one or two crowdsourcing platforms and create accounts on them. Then, put your new crowd to work for you. Happy hunting!