We partner with bada$$ companies that offer products that help our readers achieve their goals! If you purchase through our partner links, we get paid for the referral at no additional cost to you! Read our disclosure for more info.
Upwork is a wildly popular platform for both freelancers looking for work and businesses looking to hire quality professionals.
But is Upwork worth it? Before committing to this platform, many freelancers ask the same question: What do Upwork reviews say about the platform?
These are the question on many people's minds. With its extensive network of businesses, wide range of services offered, and user-friendly platform, Upwork seems pretty hard to beat.
But there are some things you should know before you get too drawn into the promises of fast and well-paid work as a freelancer.
In this article, we'll take a look at what the Upwork platform is all about, some of the biggest pros and cons to be aware of, as well as some tips for how to get started on the platform.
Ultimately, Upwork can be an extremely valuable resource for some but not worth it at all for others. So let's dive in and help you decide.
What is Upwork?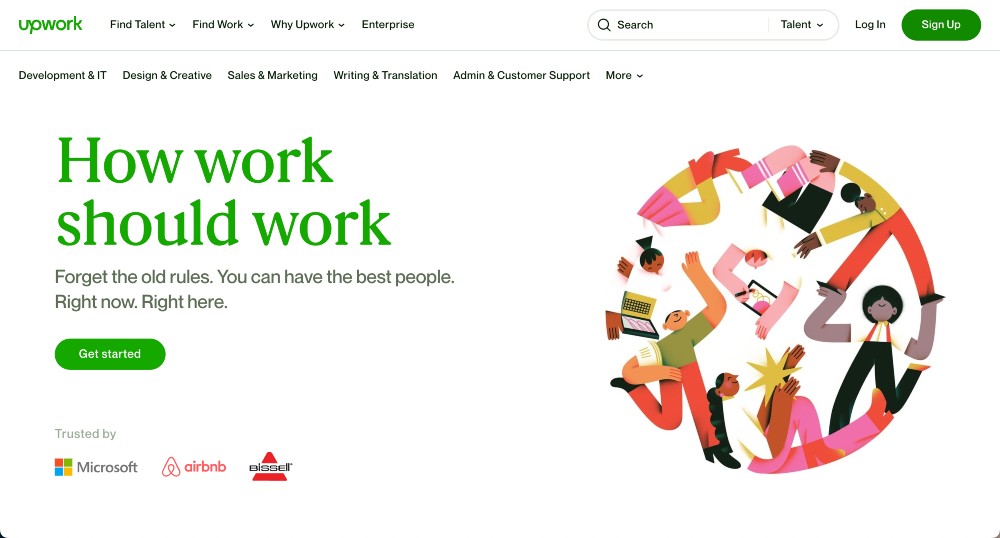 Upwork was born out of a merger between two popular freelance platforms, Elance and oDesk, back in 2015. The fusion aimed to bring the best of both worlds, creating a larger pool of economic opportunities for freelancers and a broader range of talents for clients.
Upwork is a platform that connects businesses with potential freelancers to help them with their projects.
The platform offers a variety of services, from software development to content writing, web design, marketing, customer service, data entry, and more.
Businesses can browse through different profiles and hire the perfect freelance professional for their team.
Freelancers can create a profile that advertises their skills and upload a portfolio of successful work.
In 2023, Upwork reported having 18 million registered freelancers and 5 million registered businesses from over 180 countries.
The platform itself is incredibly easy to navigate. It's engineered to allow both parties to come together quickly and start working on projects as soon as possible.
How Does Upwork Work?
The platform works by allowing freelancers to submit proposals for projects posted by businesses. These can come in the form of fixed-price projects or hourly jobs.
Once a proposal is accepted, the freelancer and client agree on terms and payment details. The freelancer begins working on the project as soon as possible.
The platform also includes tools to help both parties communicate and track progress in real-time, such as shared calendars, task lists, messaging boards, video conferencing capabilities, file storage systems, and more.
For hourly contracts, work is billed weekly. The weekly billing period begins Monday at midnight UTC and the billing period ends Sunday at 23:59 UTC. You can read more about weekly billing here.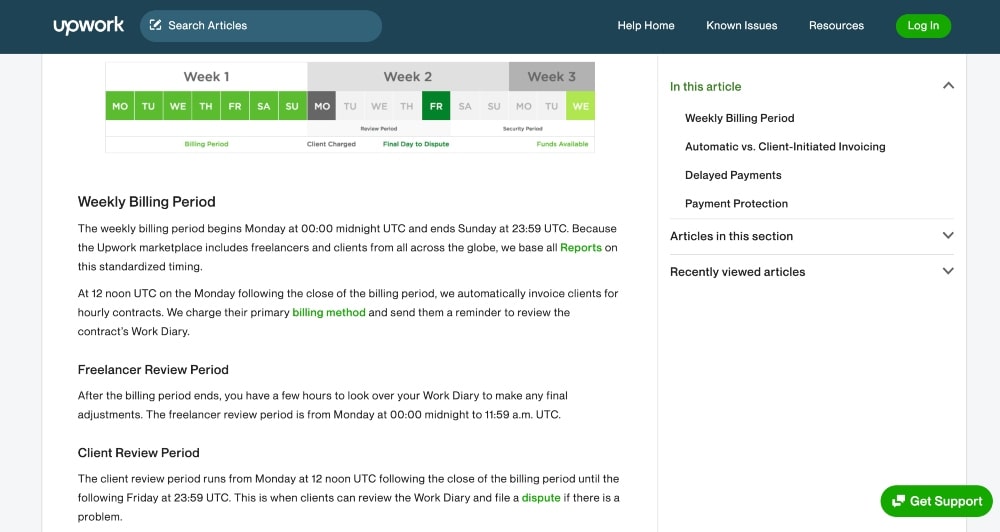 It's also possible to set work up on a monthly fee basis or even a one-off payment for a single job. It depends on what is listed in your job posting or what you agreed upon in your proposal.
Before payment is made, the funds for the project go into an escrow account before they are paid out. Once the project is completed, it goes to client review to make sure the freelancer has hit agreed-upon milestones, and then the funds are released minus service fees (more on Upwork's fees later).
As a freelancer, you can choose to work with the same companies on a continuous basis or look for new projects.
What Services Does Upwork Offer?
There are a wide variety of services and jobs offered on Upwork. You can view the project catalog to get a full list of jobs offered, but some of the most popular services include:
Design

Logos and Brands
Drawing and Illustration
Packaging and Merchandise
Digital Design
Photography and Image Editing
Building and Home Design
Infographics and Presentation Design
Print Design
Product and Game Design

Video and Audio

Animation and Motion Graphics
Video Production and Editing
Audio Production and Editing
Music Production and Editing

Development and IT

Development
AI and Machine Learning
Data Analysis and Testing
IT Support and Security

Marketing

Digital Marketing and PR
Social Media Marketing
Search Marketing
Analytics and Strategy

Writing and Translation

Content Writing
Translation and Localization
Professional and Business Writing
Editing and Beta Reading
Copywriting

More

Admin and Customer Support
Consulting and HR
Lifestyle
Just because you're skillset or service isn't listed, doesn't mean it's not available. You can search the platform for your particular type of service to see what jobs or freelancers are currently available.
An Overview: What Do Upwork Reviews Say?
Most reviews of Upwork from freelancers tend to be positive. It is a great platform for connecting freelancers and small business owners, finding opportunities quickly, and getting paid fast.
Freelancers are mostly satisfied with the level of customer support and find it easy to use. They also appreciate that they can set their own rates and keep track of payments on the platform.
On the other hand, some reviews point out a few drawbacks. Many freelancers find it difficult to get approved for high-paying projects, as competition is very strong on Upwork.
Those who do manage to land interviews often have to invest a lot of time and effort in bidding and impressing clients.
Also, the platform's fee structure can be overwhelming and not profitable for some. Upwork takes a pretty hefty commission for completed projects, which we'll explore in greater detail in a few moments.
Overall, most reviews for Upwork are mostly positive but there still may be a few drawbacks you should consider before signing up.
The Pros and Cons of Using Upwork
Let's dive into the details of this Upwork review to explore some advantages and disadvantages of the platform.
Pros of Using Upwork
1. Access to a Larger Network of Projects
One of the most significant advantages of using Upwork is the access it provides to a vast network of amazing clients and work opportunities.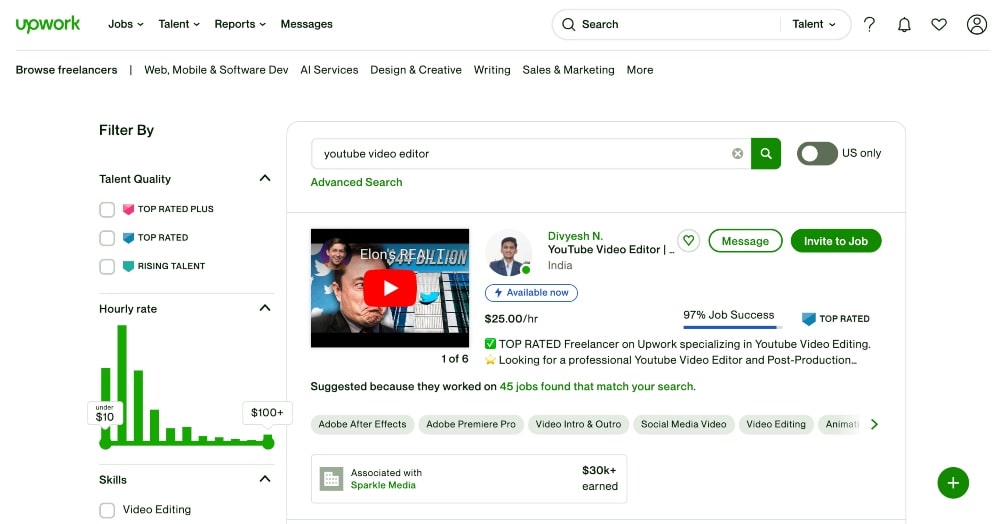 As a freelancer, having a wider pool of opportunities, especially when you're just getting started, can translate into higher earnings.
Upwork houses millions of registered businesses, which means there are numerous job postings every day across various fields.
Whether you're a new freelancer or an experienced professional, there's a high probability of finding a client that matches your skills and rate.
This vast network can be particularly beneficial for freelancers who are just starting and do not yet have established networks.
2. Wide Range of Services
With Upwork, you will find a wide range of services to offer.
From web design, copywriting, and software development to virtual assistant work and customer service, the platform has it all.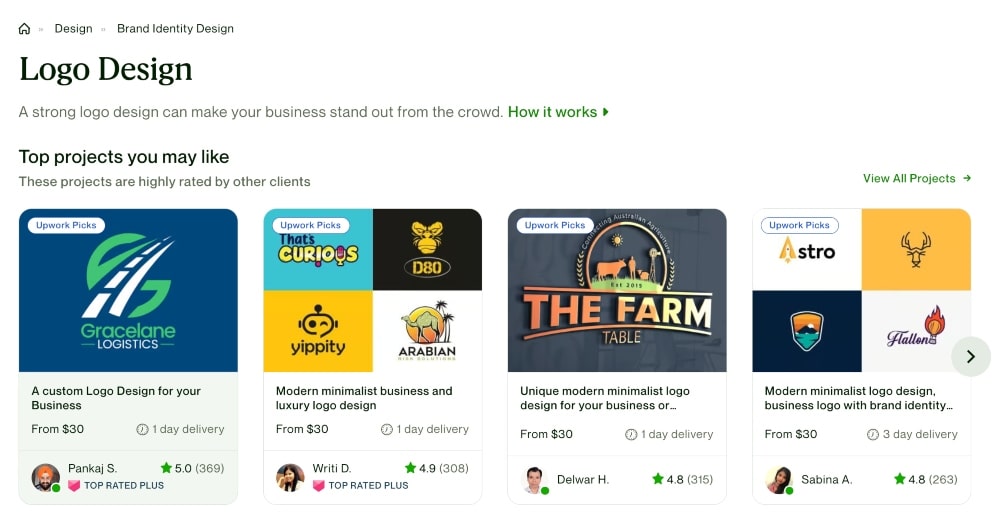 This can be very helpful as it allows you to diversify your skillset and have more opportunities for steady income.
This also means that a lot of businesses are using this platform to find work because they can hire multiple freelancers for different projects with a unified payment system.
3. Upwork Handles the Contracts and Billing
Upwork also takes care of all the paperwork when it comes to freelance contracts, billing, and payments.
For freelancers, this means that once a job agreement is set, you can rest assured that your payments will arrive on time without any hiccups.
The platform allows both businesses and freelancers to keep track of payments, invoices, and taxes in real-time.
This makes it easier for freelancers to accurately calculate their earnings after Upwork fees have been taken into account.
4. Work Tracking Tools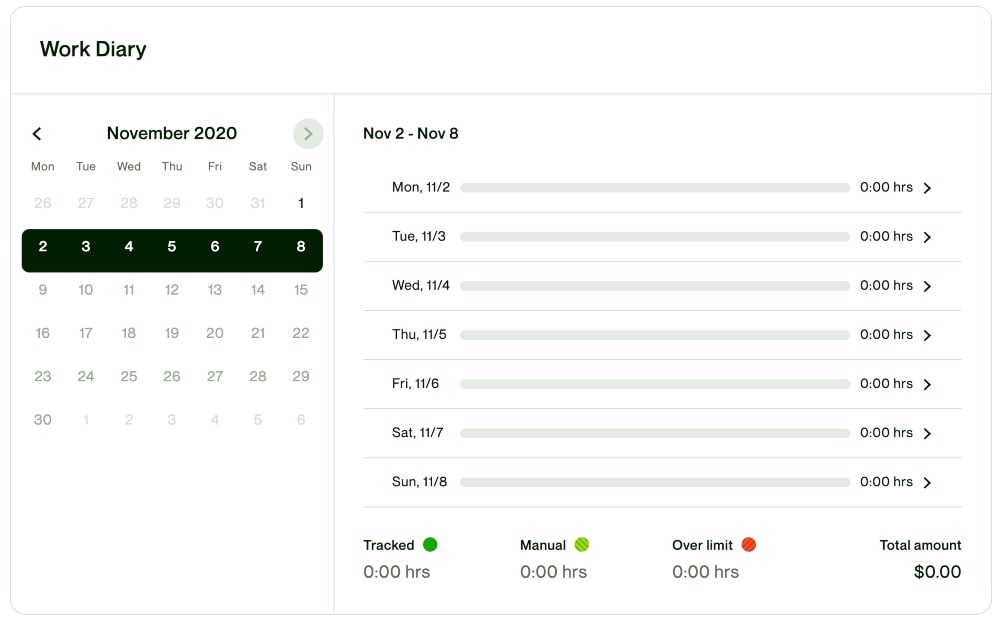 Another great feature of Upwork is its tracking tools, which allow both parties to track the progress of work completed.
Clients can keep track of the tasks they have assigned to each freelancer while also following up with them on any issues that may arise.

Freelancers, on the other hand, can use work tracking tools to keep an eye on deadlines and budgets, as well as to monitor the progress of their projects.
5. Rating System for Work Quality
Upwork can also be beneficial for freelancers because it offers a rating system, called a Job Success Score, to help them gauge how well they are doing.
Clients can leave constructive feedback on the quality of work and rate freelancers after they finish projects.
This is a great way for freelancers to display a proven track record of quality work on their profile.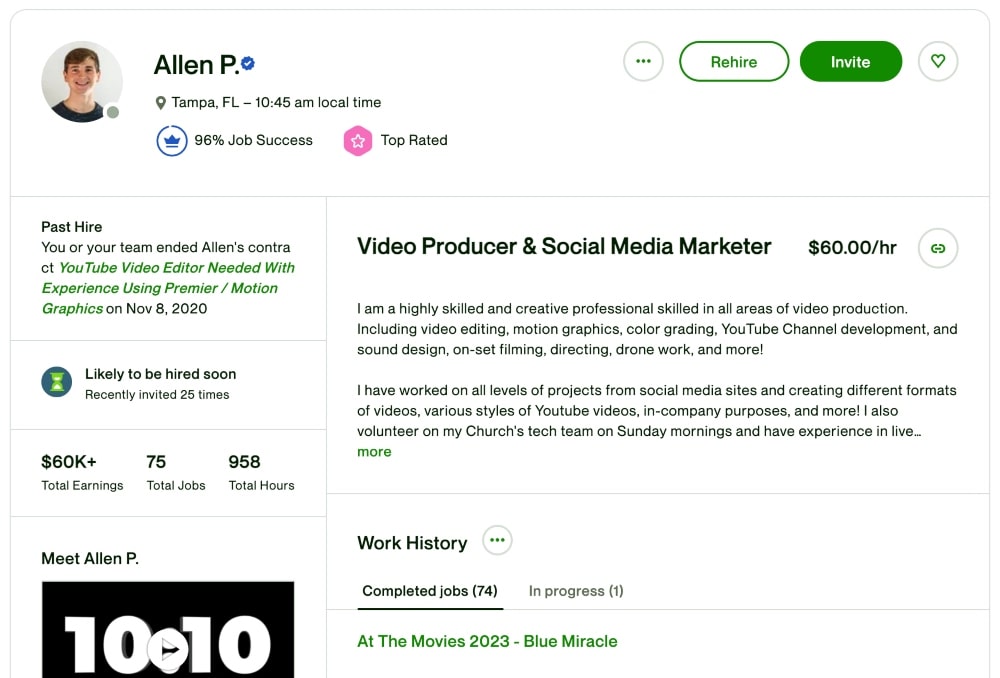 Of course, the Job Success Score can also work against you if a client leaves a negative review. This means that it's of the utmost importance to deliver quality work on time as well as practice good communication skills with your clients whenever necessary.
6. Secured Payments System
Whether you're working on hourly projects or fixed-price projects, Upwork offers a secured payments system that ensures freelancers get paid on time and in full.
Businesses can choose which billing method they want to use to issue payments, including credit card, wire transfer, or PayPal and freelancers can choose which payment method they want to receive.
Freelancers can get paid through direct deposit with a bank account number or through the Upwork Payroll system, which allows them to get paid faster than normal.
All payments made through Upwork are tracked and stored securely, meaning you don't have to worry about chasing down payments from clients.
7. Easy to Use and Get Started
One of the best things about Upwork, especially for new freelancers, is that it's super user-friendly and easy to get started.
The user interface is designed to make it easy for freelancers to find jobs, negotiate rates, and start working quickly.
It also makes it easy for clients to search for potential freelancers and communicate with them in a timely fashion.
To get started as a freelancer, all you have to do is sign up for a free account, create a profile, and start browsing listings!
8. Earn as Much as You Want
The best thing about Upwork is that it allows you to set your own rates, work how many hours you want, and earn as much as you can.
There's no limit on how much money you can make, so it will depend entirely on how hard you work and how well you market yourself.
You'll be able to find potential clients who are willing to pay more depending on the skills you have and the quality of work you can provide.
There is also no limit to how many jobs you can take on at once, so it all boils down to your schedule and time management. That makes Upwork a very flexible option for making money online.
9. Great Customer Service
The Upwork team is very responsive and knowledgeable when it comes to helping freelancers or businesses with whatever they need.
Whether you need help setting up your profile or making sure that your payment has gone through properly, they are always there to lend a hand.
If you ever have an issue that can't be resolved with your client, you can follow the dispute process to get it resolved. Make sure to read over their help information on filing a dispute first.
This can be very reassuring for freelancers who are just starting out and need a bit of guidance or who want to feel good about getting compensated fairly.
You can also find the answers to a lot of your questions within the Upwork community.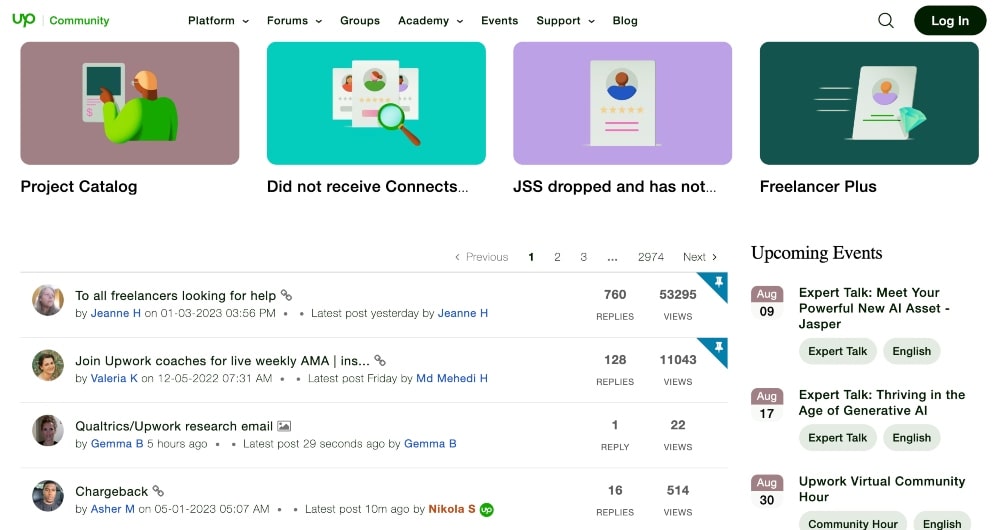 The Upwork community is a great resource full of existing Upwork users.
Cons of Using Upwork
As rosy as Upwork is looking so far, it certainly isn't without its disadvantages.
Because it's a marketplace platform, it's subject to a lot of the disadvantages that other marketplace platforms have: high competition, high service charges, and lower payments.
1. Competition is High
High competition on the platform is definitely one of the biggest drawbacks.
As there are millions of freelance professionals and clients registered, getting noticed and competing for high-paying opportunities can be a challenge.
It's important to make sure your profile stands out and is up-to-date with the latest skills you have acquired.
2. Low-Paying Jobs
Because competition is high, the prices for freelance jobs are often lower than you can expect on other platforms or if you work directly with Upwork clients.
This means that you may end up taking gigs that pay lower than your expected rate.
This is more likely to happen when you are just starting out and have not yet established a reputation on the platform.
The more positive reviews you receive and the more experience you have, the higher you can charge for your services.
3. High Commission Fees
For each project, Upwork takes a commission of 10% of your earnings as a freelancer. For businesses, Upwork charges a 5% fee on all payments issued.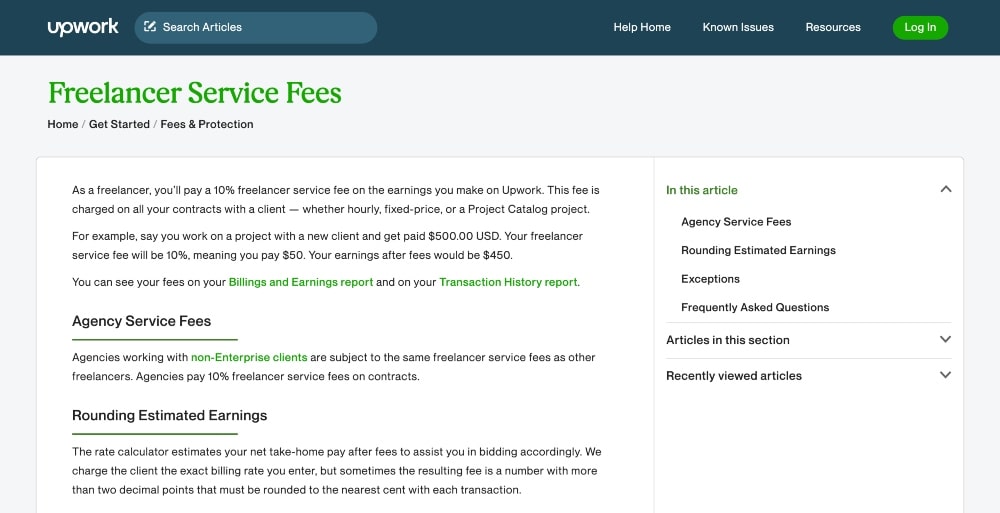 This means that, depending on your rate and the client's budget, you will end up earning less than what you would have if you had worked directly with the client.
These costs can add up greatly over time and are one big reason that freelancers and businesses prefer to work with each other off the platform.
This is why it pays to work with the same clients for a continuous period. After working with a client for two years, you have the option to work with the client off of the platform and no longer pay any fees, which can significantly increase your income.
It's important to factor this in when deciding whether or not to use Upwork as a freelancer.
4. Not All Projects Are Screened
It's important to keep in mind that projects posted on Upwork are not always properly screened before they are uploaded. The Upwork team is pretty good about taking down scam posts, but you should still be aware of the potential for scams.
This can lead to clients asking for work that is outside of your scope or trying to get you to do tasks that don't require a freelancer.
It's important to be aware of this and take extra time when evaluating listings before applying. It's also a good idea to discuss the expectations and scope of a project with the client before committing.
Who Can Use Upwork?
To be eligible to create an Upwork account, you must be at least 18 years old and have access to a computer.
Upwork is currently available to freelancers in 180 countries around the world. There are also some countries in which Upwork is specifically restricted.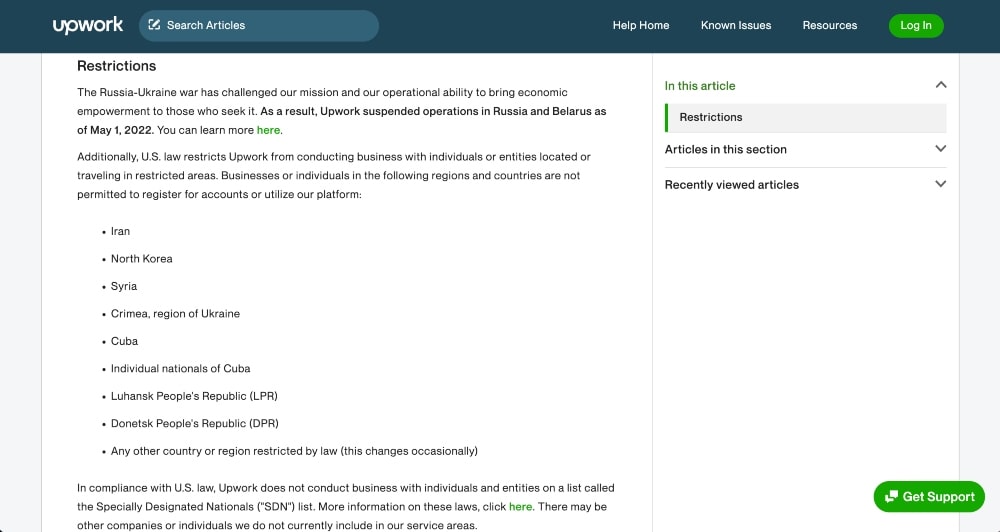 No matter your experience level, anyone can join Upwork and start working as a freelancer. All you need is an internet connection, some basic skills related to the service you want to offer, and the ability to communicate effectively with potential clients.
Before you get started, make sure to read over all Upwork terms and policies before getting started. You can find a list of their legal policies here.
Should You Use Upwork?
At the end of the day, Upwork can be an extremely valuable resource for some but not worth it at all for others. It is important to weigh the pros and cons and decide if the platform is right for you.
While Upwork may not be perfect, it's still one of the most popular and trusted freelance platforms out there.
It's certainly worth giving a try if you're new to freelancing or established but looking for additional work. But be sure to do your research first – and make sure you know exactly what you're getting into before jumping in.
The fees are high, so if you have a way to find freelance work outside of the platform, that may be a more advantageous route with better long-term benefits.
When making the decision, it is important to understand your own needs and preferences so that you can choose the right platform for yourself.
Tips to Make the Most Out of Upwork
If you've read enough Upwork reviews and are ready to get started, these tips will help you can get the most out of your Upwork experience.
Make sure that you have a good profile with a professional photo, portfolio, detailed summary, and relevant certifications or experience.
Invest some time in researching job postings so that you can find the ones that are most suited to your skills.
Don't be afraid to negotiate rates and ask for more money on fixed-price projects or on your hourly rate.
Provide a sample of your work and make sure to follow up after submitting your proposal.
Make sure to read through job descriptions carefully so you know exactly what is expected of you.
Stay professional and polite in all interactions on the platform.
Don't be afraid to ask questions if you need clarification on something.
Give your best effort on every job, even if it's a low paying one, as this will help you build up a good reputation.
Alternatives to Upwork
Upwork is not the only platform out there for freelancers. There are many other options available that you can try, depending on what type of work you are looking for, including:
You can also search for specific types of platforms, such as freelance writing websites, online editing jobs, or blogging jobs.
It is important to evaluate each of these platforms before signing up and decide which one would be the best fit for you.
FAQs About Upwork
How trustworthy is Upwork?

Upwork is generally considered a reliable and trustworthy platform for freelancers and businesses alike. It offers payment protection and flexible work arrangements for both parties. However, as with any online platform, it's important for users to do their own due diligence – checking project details, client or freelancer history, and reviews from other users. Its worthiness largely depends on individual experiences and how well one leverages the platform's features.
Can you actually make money on Upwork?

Yes, many freelancers have made a living on Upwork. It's important to do your research and find the right clients that will make for a successful working partnership. If you focus on getting quality reviews, showcasing your best skills, and ensuring deadlines are met, then you can certainly maximize your earning potential.
What are the disadvantages of Upwork?

Some freelancers find that Upwork charges a high fee for each job. This can be especially problematic if you are working on hourly projects with low payments. Competition among freelancers is also quite fierce and it can be difficult to maintain a steady workload if your profile isn't at the top of search results. Another disadvantage of Upwork is that client selection can sometimes be challenging since there is not necessarily a vetting process for employers, and it's up to you to find the most reliable ones.
Is Upwork worth it for beginners?

Yes, Upwork can be a great starting point for new freelancers. It is easy to use and understand, and you have access to a wide variety of jobs that may suit your skill set. However, it's important to remember that the fees are high and competition is stiff so it may be worth exploring other platforms as well in order to maximize your earning potential.
Upwork Review Summary
Upwork is a great platform for connecting with businesses, finding job opportunities quickly, landing consistent work, and getting paid fast. However, it may not be the best platform for experienced freelancers due to its fee structure and stiff competition.
Before deciding whether Upwork is worth it or not, you should weigh the pros and cons and decide if the platform is right for you.
By setting up a good profile, negotiating rates, staying professional, and giving your best effort on every job, you can make sure that you get the most out of your freelance experience.
At the end of the day, whether Upwork is right for you will depend on how much time and energy you're willing to put into it, and if the potential benefits outweigh the costs.
With the right approach, Upwork can be an invaluable asset for any freelancer looking to make a living online.