We partner with bada$$ companies that offer products that help our readers achieve their goals! If you purchase through our partner links, we get paid for the referral at no additional cost to you! Read our disclosure for more info.
Are you looking to grow your freelance writing gigs? If so, you need to know where to find the best freelance writing websites to maximize your opportunities and income.
Fortunately, there is no shortage of websites offering great writing gigs in the freelance writing industry.
We will explore the top freelance writing sites that can help you make more money with your skills.
These freelance sites include job boards, resources to help you boost your freelance writing career, and more.
We'll discuss how to use these sites effectively and what types of writing gigs they typically include.
Whether you are a new freelance writer or have been working on your freelance writing career for years, there is something for everyone here.
By the end of this article, you should have a better understanding of which platforms are most suited for your needs as a freelance writer.
18 Best Freelance Writing Sites
1. Freelancer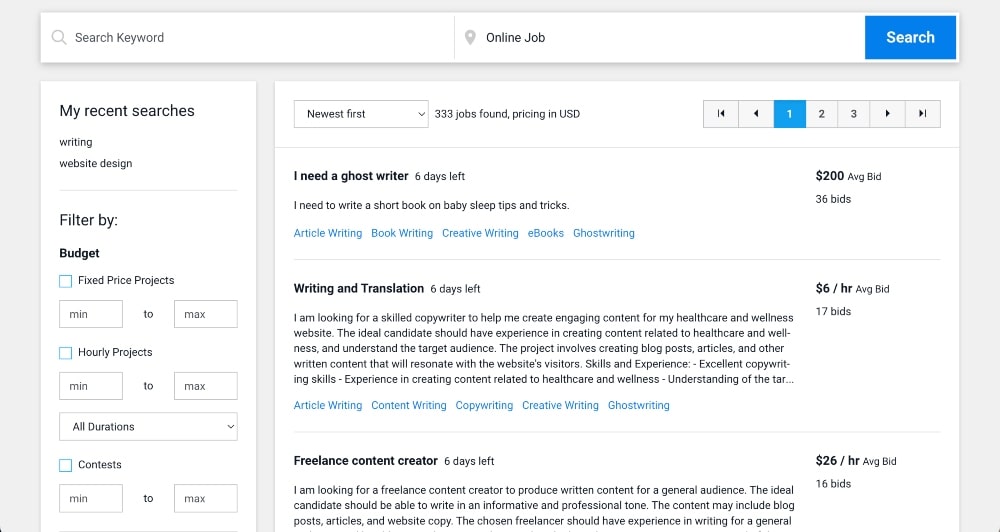 Freelancer is one of the largest and most popular freelance writing sites with over 3,100 writing jobs at the time of this writing.
It offers a wide variety of freelance work available, especially freelance writing projects, including content writing, copywriting, SEO writing, blog post writing, and more.
The site also features a range of tools to help freelance writers find and manage their projects as well as connect with potential clients quickly and easily.
It also has an extensive community that can provide you with support and advice on how to succeed as a freelancer.
2. Fiverr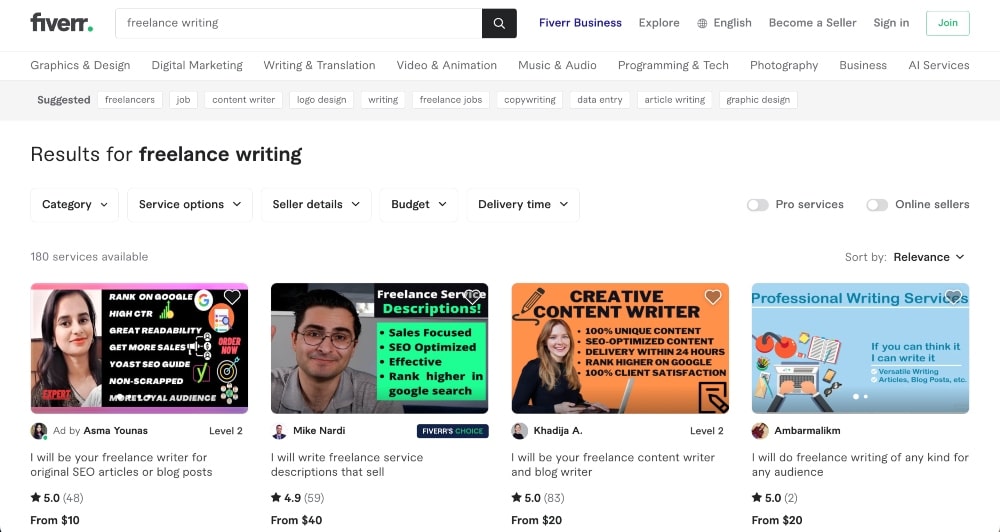 Fiverr is one of the most well-known freelance platforms for posting your writing portfolio to make it available for people hiring writers.
It provides an easy-to-use interface that lets clients browse through dozens of different categories to find relevant content writers and freelancers.
What makes Fiverr different is that you can't use it to find a specific freelance writing gig, but clients looking to hire freelancers can find your profile and hire you directly.
It's a good idea to create a profile on Fiverr with detailed information about the writing services that you provide so that you can be discoverable by people looking to hire writers.
Plus, its rating system makes it easy to identify quality candidates from legitimate clients.
3. Upwork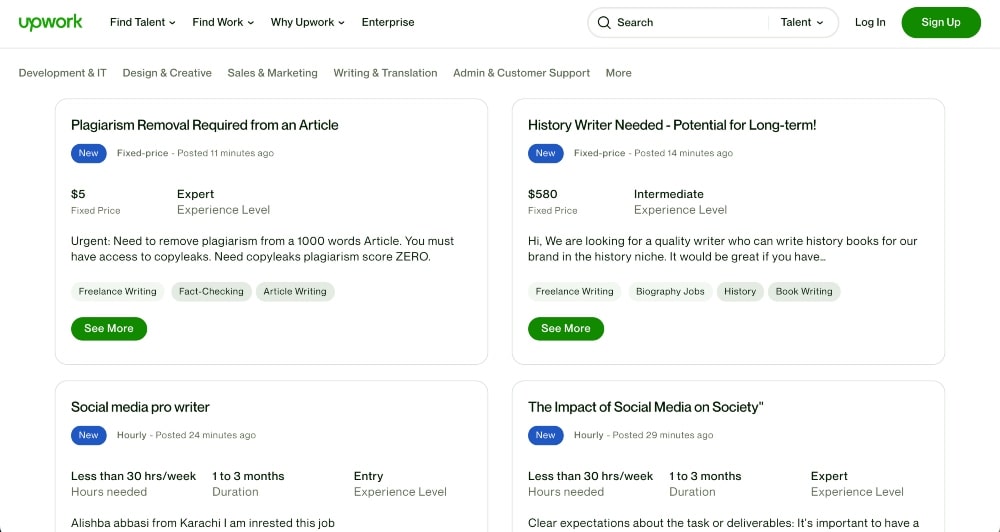 Upwork is a popular freelancing marketplace with millions of jobs available from all over the world.
It's easy to find writing jobs with its expansive list of categories, including blog writing, copywriting, research, and other types of writing jobs.
Plus, you can use its search tools to quickly narrow down the list to your desired type of freelance writing job or client.
The biggest downside of Upwork is that its fees are relatively high. Clients pay a 5% charge on all services and freelancers must also pay a 10% service charge on all payments received.
Other freelance writing sites often charge clients for job listings, so it doesn't affect you as a writer.
This can sometimes lower the potential amount freelance writers might get paid because it's an expense that clients factor in and that writers must factor in as well.
The website also has features to help you manage payments and invoices easily.
4. FlexJobs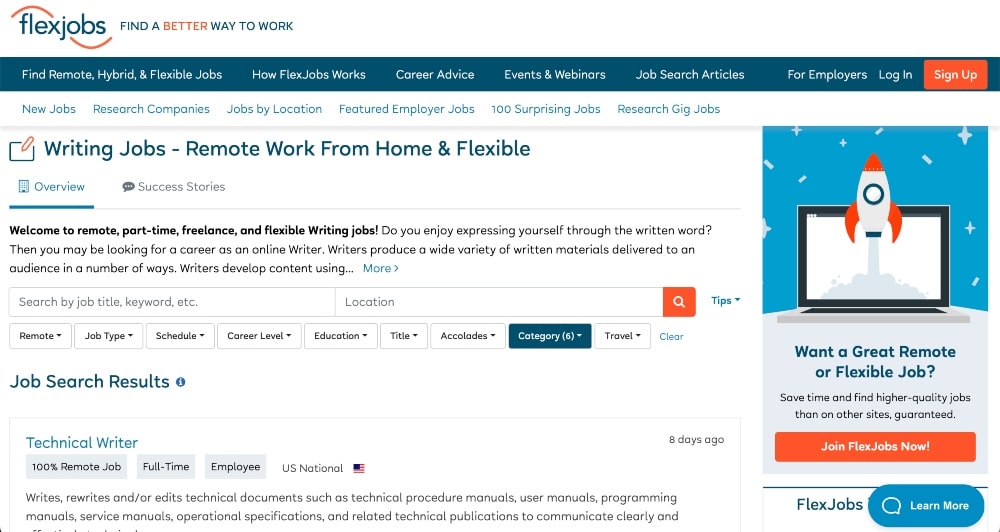 FlexJobs is a great place to find freelance writing jobs, especially for those who are looking for more flexibility and their own preferred work schedule.
The FlexJobs job board provides access to thousands of job postings from reputable companies that offer competitive pay and great benefits.
You can browse through its categories or use the advanced search feature to narrow down the list according to your preferences and the type of freelance writing job you're looking for.
FlexJobs also offers resources to help you stay productive in a home office setting, so you can find success even if you're working remotely.
5. PeoplePerHour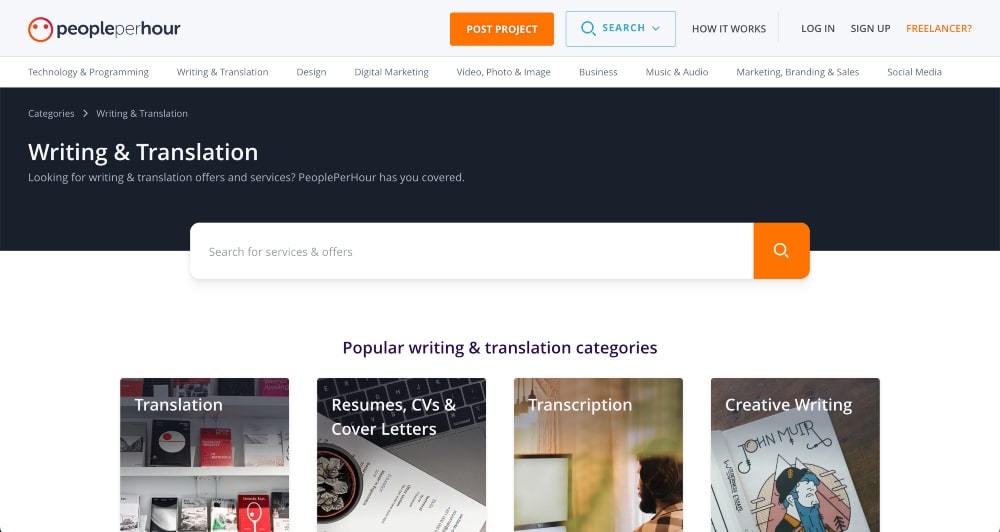 PeoplePerHour is a UK-based freelancing platform that offers a wide range of gigs, including writing jobs.
Popular freelance writing categories include transcription, creative writing, ghostwriting, content writing, resume writing, technical writing, business writing, and more.
Since starting in 2007, the company has had more than 1 million transactions and paid out over £1 million to clients.
6. WriterAccess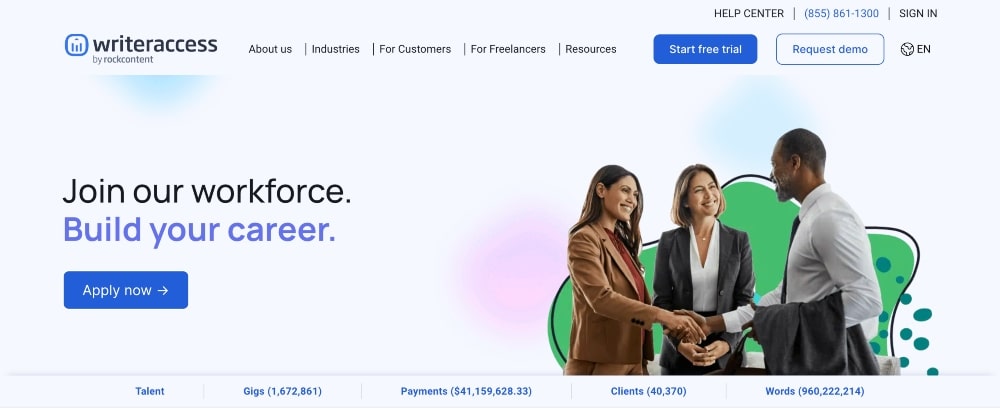 WriterAccess is a leading content-writing service for connecting freelancers with potential employers around the world.
With WriterAccess, you'll need to first join their workforce in order to access job boards.
To date, they have posted over 1 million freelance writing gigs and paid out over $41 million to freelancers.
You can browse through their extensive library of writing projects to find the one that suits your skills and requirements.
Plus, you can use their search tools to narrow down the list and quickly apply for jobs.
7. ProBlogger Job Board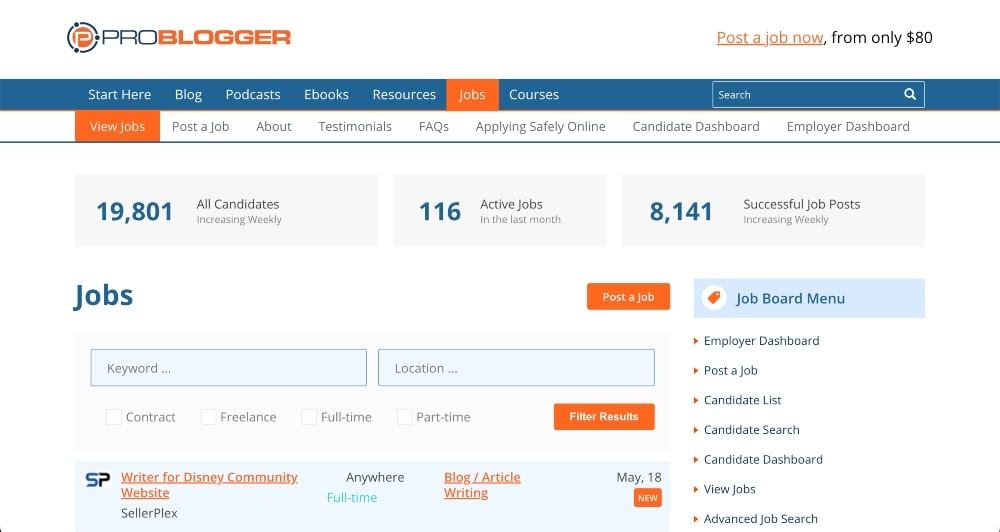 ProBlogger has a great job board for finding freelance writing work related to blogging.
They have a wide range of freelance writing topics available, from tech and finance to lifestyle and travel.
Plus, they offer plenty of resources for bloggers who are just getting started with freelancing.
8. Constant Content
Constant Content is a freelance writing site that allows you to write specific content and submit it to their marketplace to be purchased by websites that need it.
You can write blog posts, marketing copy, product descriptions, eBooks, and more.
They have a wide selection of quality writing gigs available from all over the world, and their search tools make it easy to narrow down your choices.
Plus, they provide helpful resources to help you stay up-to-date with the latest industry trends.
9. MediaBistro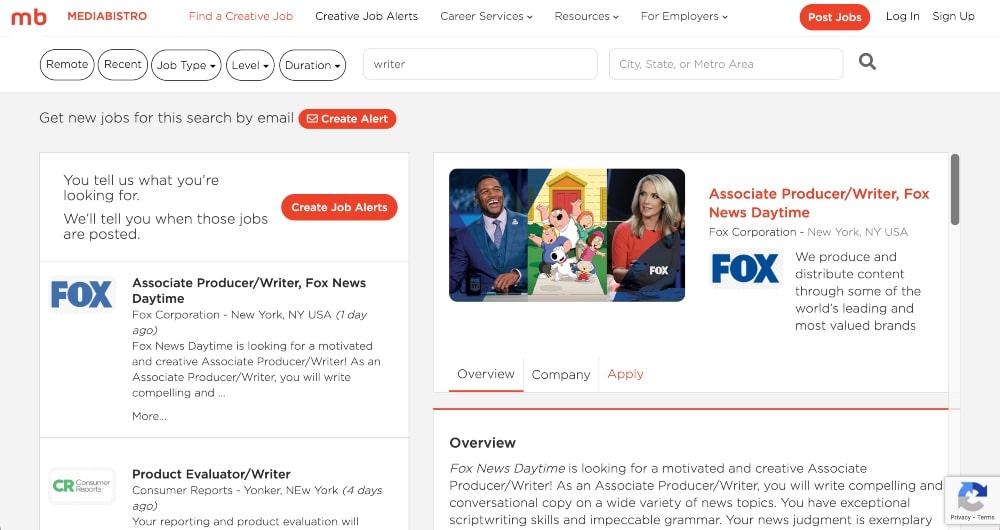 MediaBistro is one of the most popular freelance writing sites for those in the media and journalism industry.
Their vast selection of online writing jobs includes copywriting, editing, blogging, social media management, and more.
They also offer a variety of resources to help freelance writers stay current with the latest news and trends in the industry.
10. Scripted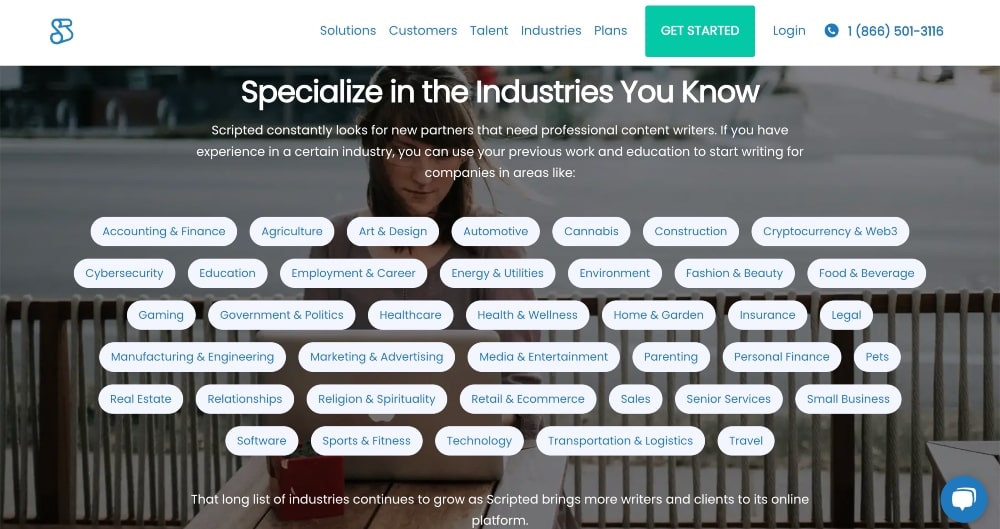 Scripted is a platform for those looking for freelance writing jobs related to web content creation and copywriting.
The site has thousands of freelance writing gigs available from reputable companies, so there's something for everyone regardless of their experience level or niche preferences.
They actually have over job listings in 39 niches listed on their website.
It's as easy as applying to join the network, creating a profile to include your services and samples of writing work, and connecting with clients to discuss potential projects.
11. BloggingPro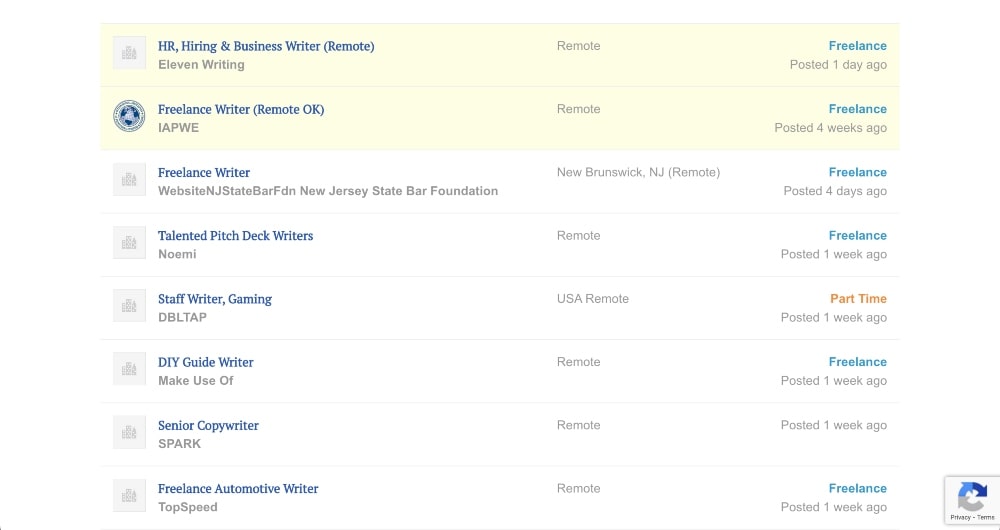 BloggingPro is a great freelance writing website and job board for anyone looking for online writing jobs.
With thousands of job postings available, you can easily find writing gigs that match your skills and interests. From blog posts to articles to product reviews, this freelance writing site has it all.
It also offers an array of resources such as resume templates, interview tips, and even a training program that will help you become better at what you do.
Plus, there are plenty of tools and features like content tracking software and client management tools that make the process easier and quicker.
BloggingPro also has an active community forum where experienced writers can connect with each other and share advice and experiences.
12. Solid Gigs
SolidGigs is one of the best freelance sites for writers that actually helps freelance writers connect with specific businesses and jobs.
It offers high-quality, vetted writing gigs from around the world, ensuring that writers are paid competitive rates for their work.
The site also provides resources such as target practice sessions and job templates so that freelancers can hone their skills.
SolidGigs is a little different than the other freelance writing websites because it costs a monthly fee ($21/month), but this is because their headhunters will help you generate leads and match you with the right freelance writing gigs.
This could be a great starting point for new freelance writers who have trouble getting their first jobs.
13. Indeed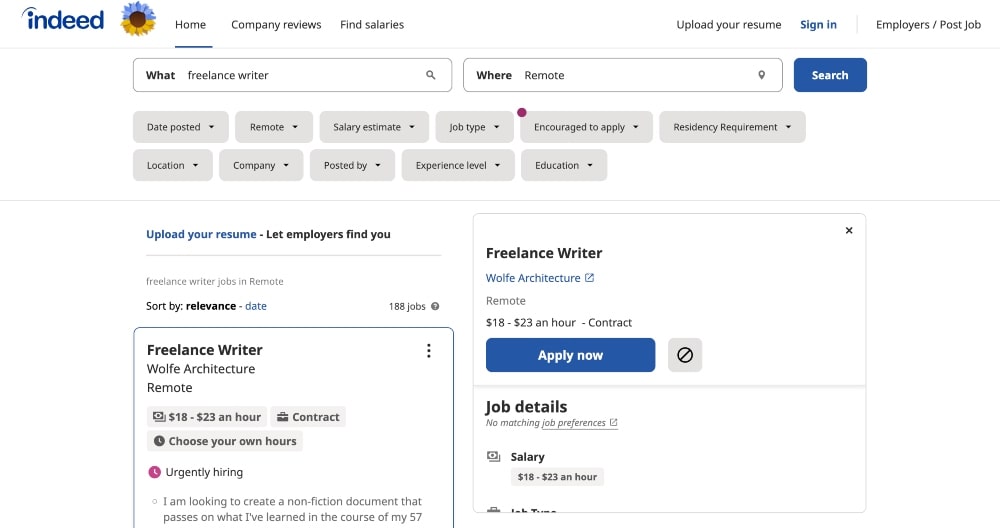 Indeed is one of the most well-known job search sites, and it's also a great resource for freelance writing jobs.
They have a wide range of jobs available from all over the world, and their search tools make it easy to find relevant writing gigs quickly.
Plus, they offer helpful resources such as salary guides and career advice so that you can stay up-to-date on industry trends.
With Indeed, you can easily narrow down your options based on experience level or other requirements, as well as apply for jobs directly.
14. LinkedIn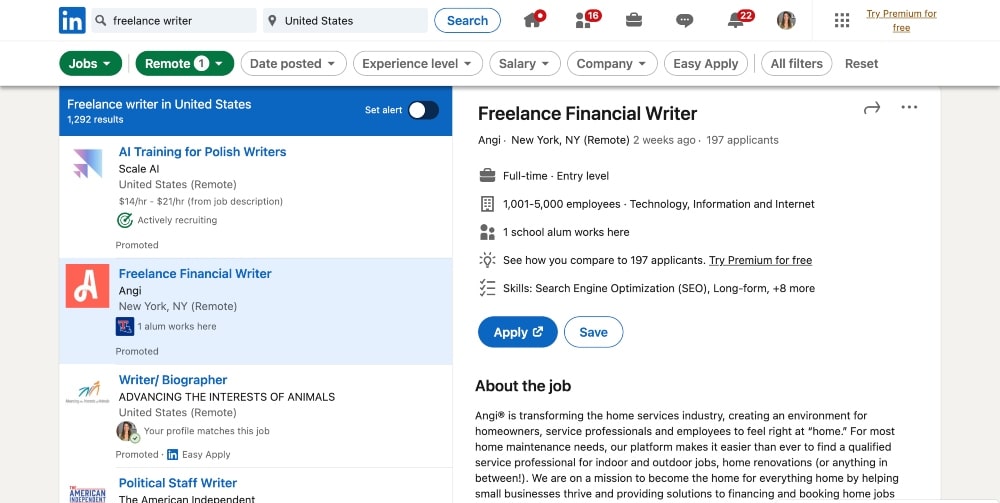 LinkedIn is a great place to find any type of job, including freelance writing jobs.
It's a professional social media platform, which means that companies are always searching for writers with the right skills and experience.
You can easily create a profile and connect with potential clients who are looking for content creators.
Additionally, LinkedIn has many groups dedicated to freelancers where you can network with peers and stay up-to-date on industry trends. Plus, these groups often post job opportunities so it's easy to find work quickly.
15. Glassdoor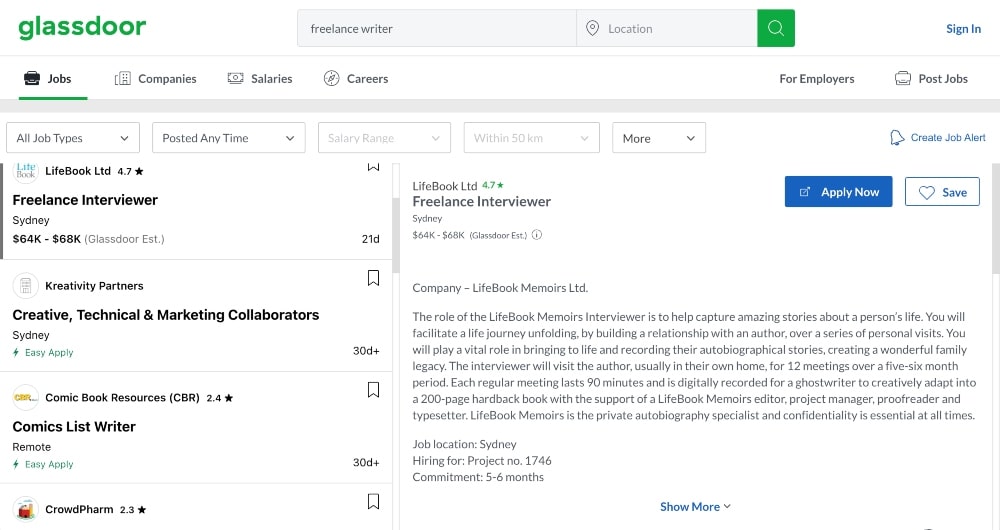 Glassdoor is a popular job site that offers thousands of postings from companies all over the world.
What sets Glassdoor apart from other job sites is that they give you an inside look into each company's culture, salaries, and reviews from current and former employees.
This can be helpful in researching potential employers before applying for a job. With their search filters, you can easily find positions that match your skills and interests.
You can also set up job alerts to get notified when a new freelance writing job becomes available.
Whether you're just getting started as a freelance writer or have years of experience, Glassdoor is a great place to find freelance writing jobs.
16. Guru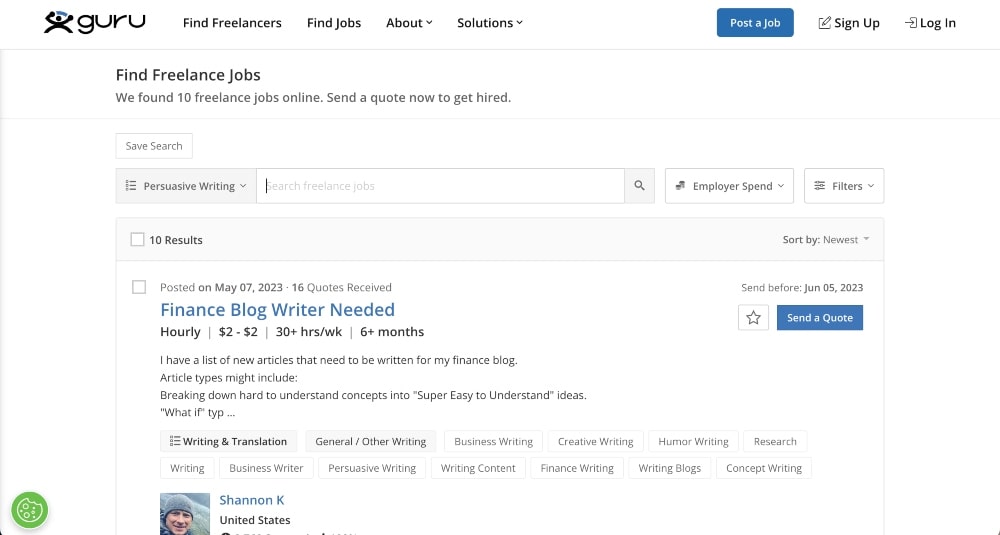 Guru is an excellent platform for finding freelance writing jobs, as it has an extensive database of highly qualified writers and projects from all around the globe.
You can easily find a freelance job related to your niche by browsing through their job listings or searching with keywords.
Plus, you can communicate directly with potential clients so that you can negotiate terms and get started on jobs quickly and efficiently.
17. TextBroker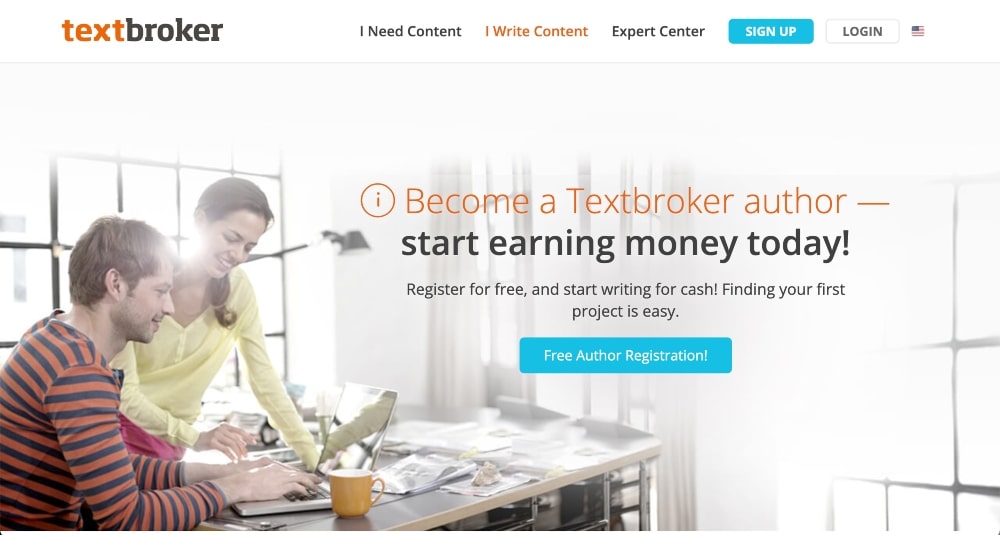 TextBroker is another great platform for freelance writing opportunities to make money from home. They specialize in content writing, so if that's your niche then this is definitely a good option for you.
With TextBroker, you have to apply to join the network. You can create a free account but only open to US citizens at this time.
After you submit writing samples, they will give your sample a rating and you can start earning after you complete the rest of your profile.
Their comprehensive rating system also allows you to see which clients are the most reliable and offer the best pay.
18. Contena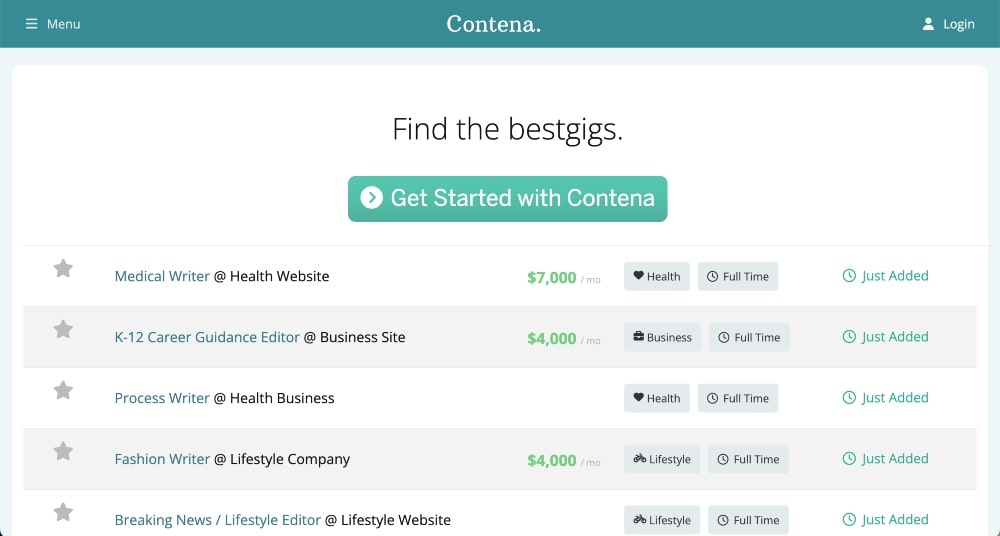 Contena is a website that helps freelance writers find work. With Contena, you can easily search and apply for gigs from thousands of companies including magazines, local newspapers, corporate websites, and more.
You can also narrow your search to specific categories or skill sets such as copywriting, SEO content writing, blogging, and more
The catch with Contena is that you have to pay a yearly subscription to join and access new jobs available. That subscription costs $497/year, which is fairly competitive but they don't allow a monthly payment plan.
With a membership to Contena, you can access their full course on how to jumpstart your freelance writing business and also access their tools for finding the right freelance writing gigs.
FAQs About Freelance Writing Websites
Can I make $1000 a month freelance writing?

It's possible to make $1,000 a month freelance writing but your success will depend on the amount of time and energy you are willing to invest in your work as well as the services you offer. Experienced freelance writers with specialties can often command higher rates than those who are just starting out. For example, content marketing and technical writing usually pay more than blogging and article writing.
Which website is best for freelancing?

The best freelancing writing sites depend on what type of work you are looking to do. Freelance marketplaces like Upwork, Fiverr, and Guru allow employers to post jobs quickly and easily, while other job boards specialize in certain niches such as content writing or programming. It's important to research each platform to determine which one is best suited to your skills and goals.
How do I get hired as a freelance writer?

Getting hired as a freelance writer involves creating an effective profile, showcasing your writing skills, and connecting with potential employers. Having a writing portfolio of samples that demonstrate expertise in certain niches can help you stand out from the competition. Additionally, networking with other freelance writers and staying up-to-date on industry trends are important steps for getting hired as a freelance writer.
What is the best freelance platform for writers?

The best freelance platform for writers depends on the types of writing assignments you are looking for. For example, Upwork and Fiverr focus on short-term contracts, while Contently and ProBlogger specialize in longer-term content-writing projects. You may also want to consider platforms such as Reedsy or CloudPeeps, which connect writers with publishers, freelancers, and companies.
Summary: Best Freelance Writing Sites
The world of freelance writing is an exciting opportunity for writers who are looking to make money while managing their own hours.
With so many freelance writing sites available, it's important to carefully research each one to decide which is right for you.
From marketplaces like Upwork and Fiverr to niche websites such as MediaBisro or ProBlogger, there are numerous sources available for those interested in finding freelance writing jobs.
Make sure to also create an effective profile, showcase your writing skills, and network with other writers.
Freelance writing gigs offer flexibility, freedom, and the potential for lucrative opportunities if you put in the effort.
With hard work and dedication, anyone can find success as a freelance writer!
If you have any questions about the best freelancing websites, leave a comment for us below!