We partner with bada$$ companies that offer products that help our readers achieve their goals! If you purchase through our partner links, we get paid for the referral at no additional cost to you! Read our disclosure for more info.
Are you looking to make a bit of extra money by selling off your used books? Or do you just want to get rid of some clutter in your house? Either way, let's talk about where to sell used books online and offline.
Whether you're looking to sell some old favorites or clear out your shelves of lesser-known titles, there are plenty of options available for getting cash or trade-in credit for your books.
We'll look at various websites where to sell used books as well as some in-person options like local bookstores that may be interested in what you have.
When you sell books, make sure to have your ISBN number handy. You can usually find this number near the barcode on the back of your book or inside the cover.
Make sure that your books are in good condition with no missing pages, ink marks, folded pages, or other obvious damage. Most companies want used books in good condition.
You can normally won't get more than a few bucks per book, you can often get more money for selling textbooks online.
At the end of this article, we will also give you some tips on how to donate books in case there are some that you can't sell.
Online Options for Selling Used Books
1. SellBackYourBook.com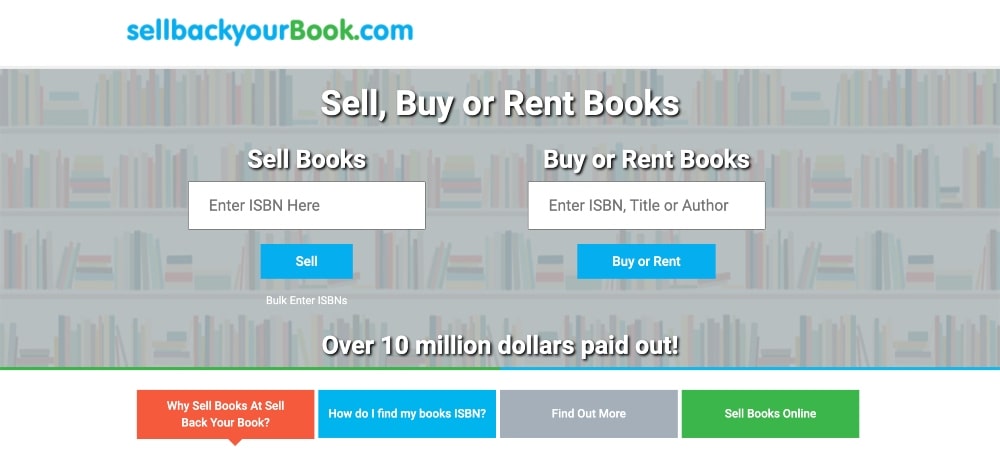 SellBackYourBook.com is probably the easiest way to sell used books online.
It offers competitive buyback prices for selling textbooks and other books, including new and old editions.
Just enter the ISBN or title of your book on the website to get an instant quote for how much SellBackYourBook.com will pay you for it.
Once you accept their offer, just mail in your book(s) using their provided shipping label and they'll send payment within a few days after they receive it, usually via PayPal.
Before sending in your books, be sure to check them over for damage, like highlighting or torn pages, as this can reduce the offered price from SellBackYourBook.com significantly.
2. BookScouter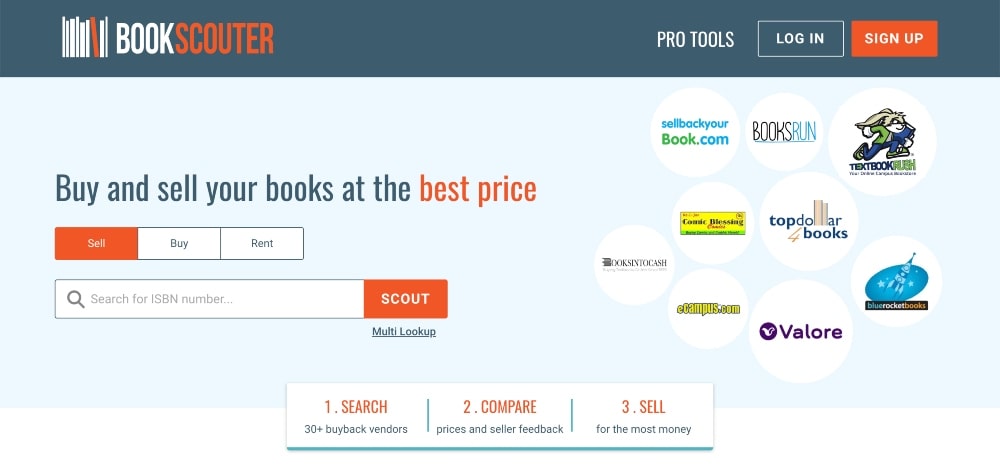 If you're looking for the best price for your books, then you should check out BookScouter.
Bookscouter is an online search engine that combs through dozens of different buyback sites and compares their prices so you can find the highest offer for each book you're looking to sell.
Just search by ISBN or title and BookScouter will show you all the offers available from online book buyers.
Once you accept an offer, simply print out their free shipping label and send in your item(s). Payment is usually issued within a few days after they've received your package.
3. Decluttr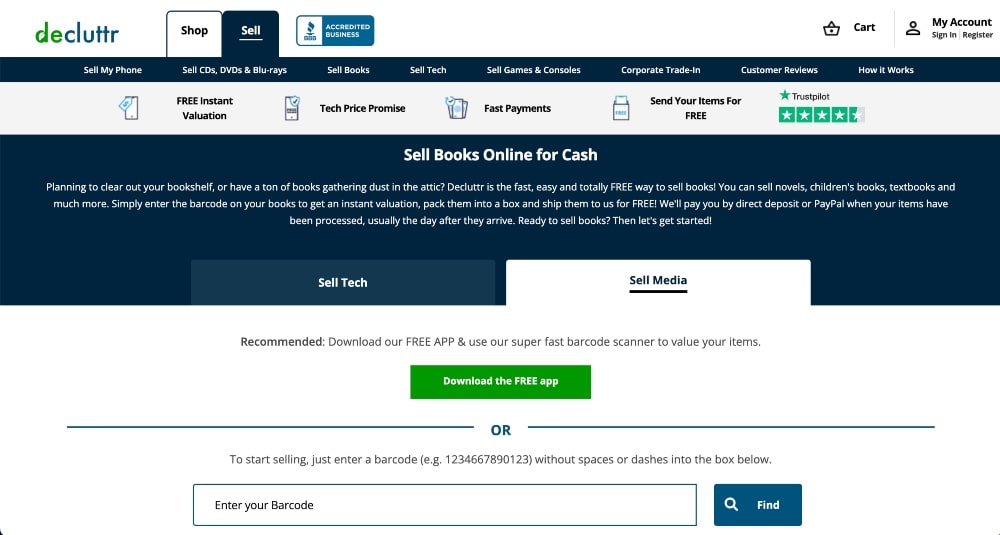 Decluttr is a great online service to sell your books for cash.
It offers competitive prices for all types of books, including trade paperbacks and textbook buyback. All you have to do is enter the barcode or ISBN on your book(s) into their search box to get an immediate price quote.
You can also use Decluttr's app to scan items right from your phone before making an offer, allowing you to quickly check if they are interested in purchasing it.
Once you accept the offer, print out Decluttr's downloadable shipping label and mail in your book(s). Payment is issued within 1-2 days after they receive your item.
4. BooksRun

BooksRun is one of the best online bookstores to buy and sell textbooks.
Just enter your book's ISBN or title into their search bar to see if they have an offer for it. If they do, simply create an account on BooksRun to list your item(s).
Once someone purchases the book from you, just ship it out with their provided shipping label and get paid via check or PayPal within a few days.
If you're looking for a straightforward textbook buyback, then BooksRun is worth checking out!
5. Amazon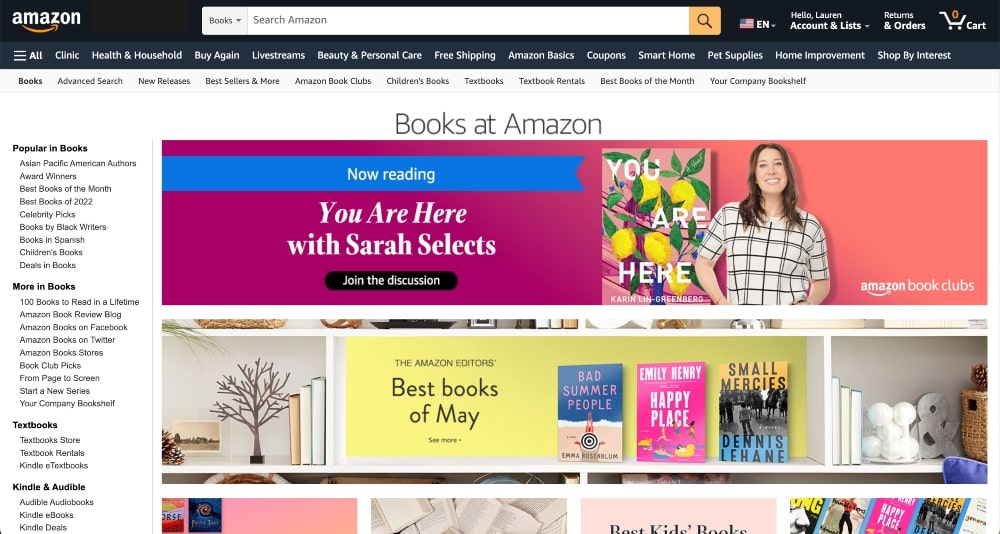 Amazon, unsurprisingly, can be a great option to sell your books.
The company offers a simple process for setting up and managing your own storefront where you can list any books you have to sell.
You need to first create a seller account with Amazon, set up a payment method, and then upload photos and descriptions of the books you want to list.
Keep in mind that Amazon typically charges 15% commission for selling items through their marketplace plus any additional shipping costs.
The transaction fees for Amazon sellers may make this a less appealing option for some, but you may still end up earning more depending on how much you're selling your books for.
You can use their trade-in program to get cash through direct deposit or Amazon credit for your books.
6. Powell's Books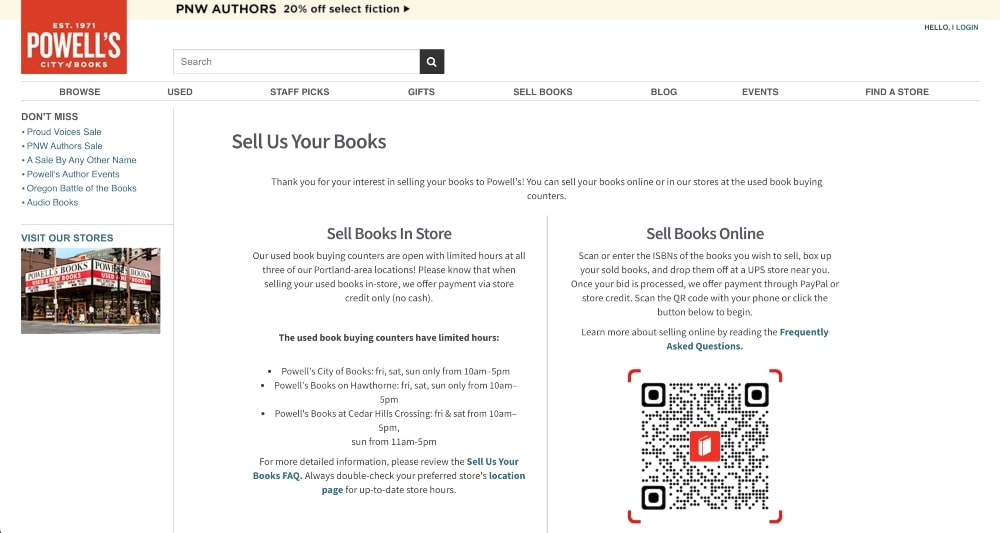 With Powell's Books, you can sell books back in-store or online.
You can visit your local store location and take advantage of Powell's Trade-In Program, where you can receive store credit for all qualifying titles accepted.
After submitting an itemized list of your books online, customers will receive a quote for the total trade value.
If the customer accepts this offer, Powell's will mail them a prepaid shipping label to send in their items at no charge.
Upon receipt of the shipment, Powell's will issue payment via check or store credit based on the terms previously agreed upon with the customer.
7. Abe's Books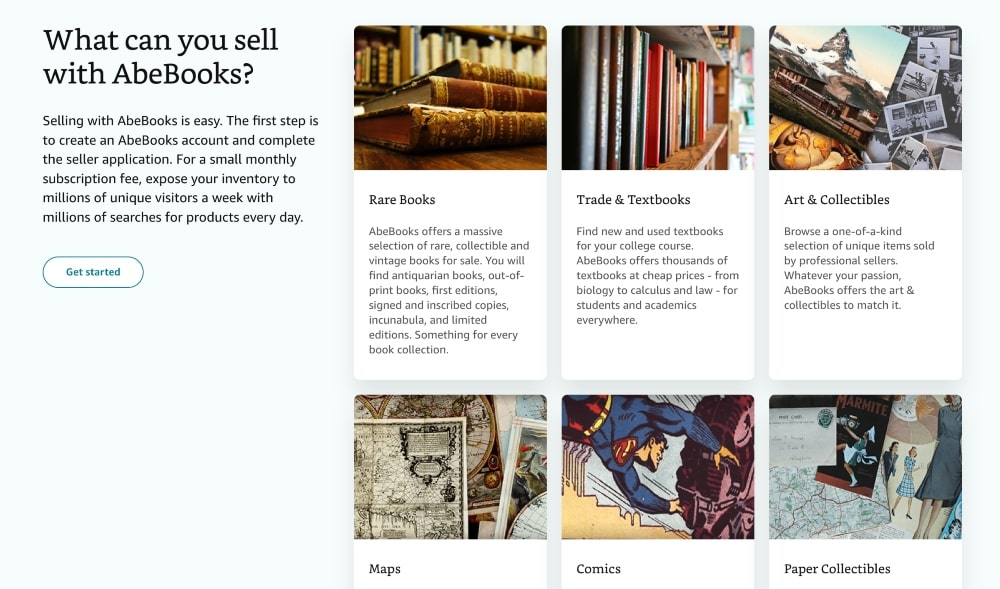 If you have some interesting or more unique books to sell, Abe's Books is the place to go.
You can actually sell almost any type of book on their website, but they do charge a monthly fee for their membership program to sell books online.
This may only be a great option if you have more fine items or collectible books to sell.
It provides an online marketplace where you can list and sell your pre-owned books directly to other buyers, or take advantage of their "sell by mail" option which allows you to send in your book(s) for them to inspect and then post on their site.
Abe's Books also offers competitive buyback rates as well as free shipping when sending in your items.
8. Bookstores.com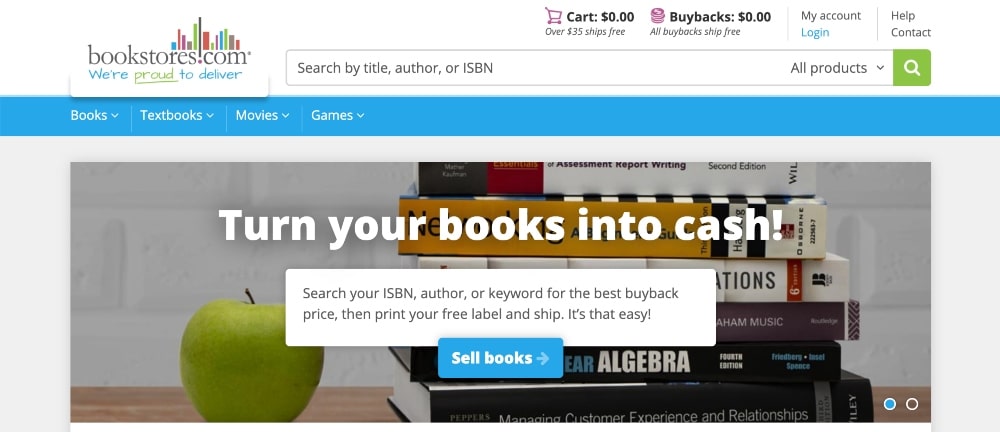 Bookstores.com is a great option for selling books online quickly and easily. Whether you are looking to sell textbooks or trade in some novels, they have a very streamlined process.
All you need is the ISBN number associated with the book you want to sell.
Once the ISBN is entered into their system, it will give you a quote for your book and provide you with a free shipping label to send it in.
Note that your total value must be over $15 to qualify for free shipping, so it makes sense to sell a few books at once to ensure that you reach that value.
When Bookstores.com receives your books, they will inspect the condition and make sure all the correct information was provided. Once approved, you will receive payment via PayPal or check within two weeks.
9. TextbookRush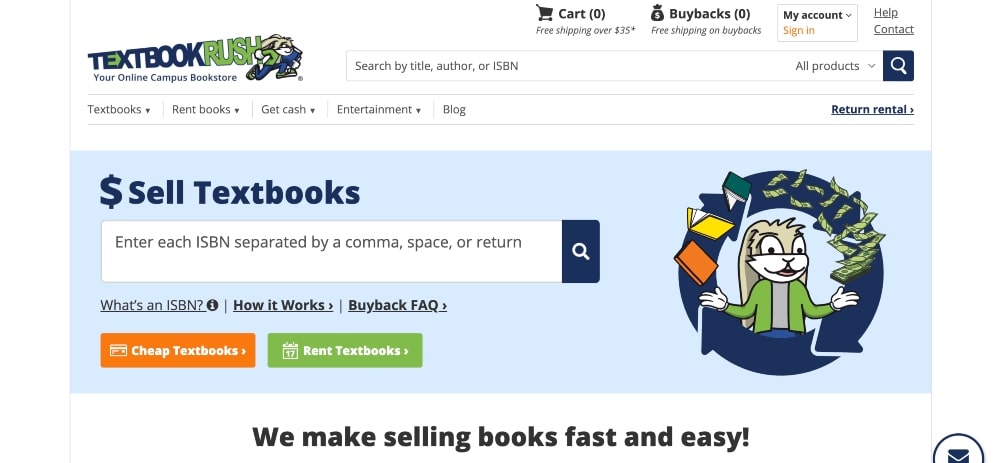 Like the other websites for selling books online, TextbookRush also has a very simple process to sell textbooks.
All you have to do is enter the ISBN of each textbook into their online calculator and they'll instantly tell you how much they're willing to pay for it.
Shipping is free, so all you need to do is send in your textbooks and you'll get paid quickly – usually within a few days.
10. Textbooks.com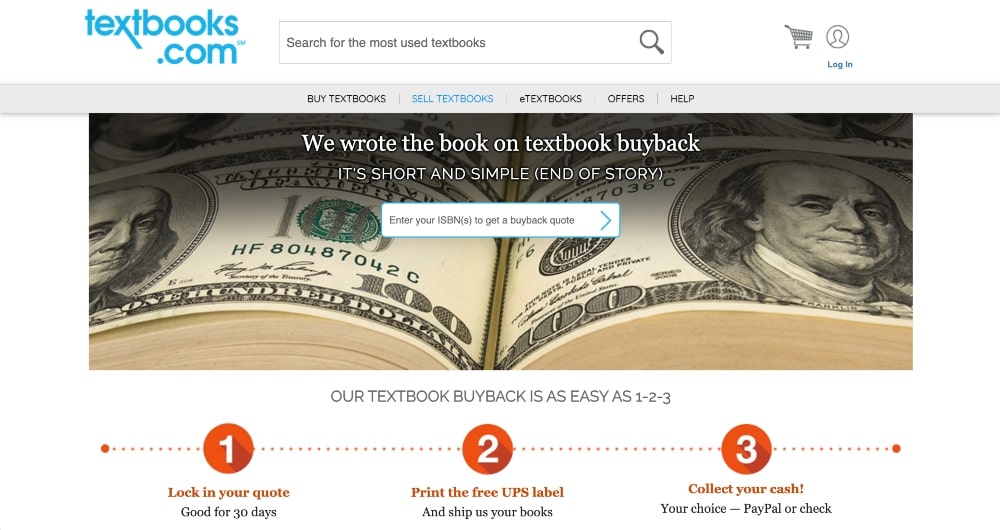 Textbooks.com is another website that will buy back your old textbooks.
All you have to do is visit the website, sign up for a free account, and follow the simple instructions.
After entering your textbook information, you'll get an instant quote for a buyback. You'll get a free shipping label once you accept the offer and you can receive the funds through either PayPal or check.
11. Chegg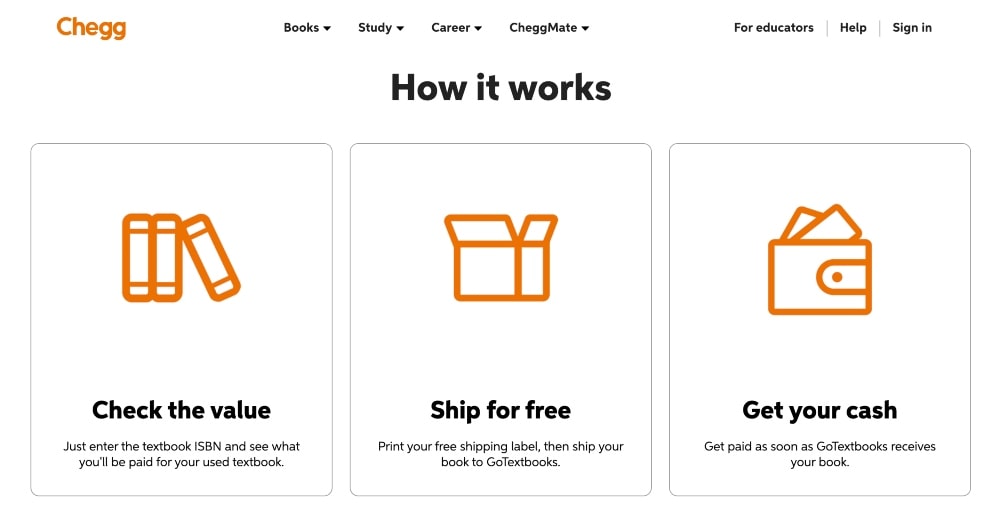 Chegg is one of the most popular online bookstores to buy and sell books.
Selling textbooks on Chegg is as simple as entering in the ISBN number, or book title if you don't know it, and they will provide an instant quote based on a variety of factors such as condition and availability.
When you accept their offer, they will provide you with a free shipping label that you can use to send the books in.
Once your shipment is received and the condition is verified, they will issue payment to you via PayPal or check.
12. eBay
If you don't mind having auctions or dealing with people from all over the world, eBay is another great place to sell books.
You can set a starting price and let buyers bid up the price of your book over time, creating a potential for more money than listing it at its fixed price elsewhere.
Just like with Amazon, be sure to include detailed descriptions and pictures of your items so that buyers know exactly what they're getting.
Offline Options for Selling Books
If you're looking for where to sell your books locally, these next options are for you.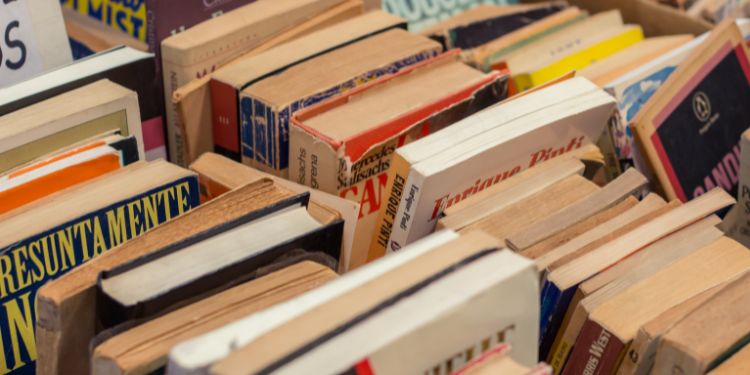 1. Local Bookstores
If you have local independent bookstores near you, it never hurts to call or walk in and let them know what you're looking to sell. It could be worth some extra money depending on their inventory needs.
Many local bookstores can't afford to buy back too many books or books with the same title, but they often give you store credit. Remember that buying local also helps to keep small bookstores alive!
2. Half Price Books
Half Price Books is a huge, nationwide store that you can use to buy or sell books. While they don't offer the option of selling online, you can bring them into your local store. They also buy movies, games, music, comics, and other items.
They have more than 120 stores in over 20 states in the US.
3. Online Classifieds and Marketplace Apps
You can make money selling stuff with apps like Craigslist and apps like LetGo or OfferUp can be great places to list books for sale or trade if you don't want to go the conventional online route.
This route may take a little while longer but you may be able to get more for your books if you can find the right buyer.
4. Garage Sales and Flea Markets
If you have an upcoming garage sale or any flea markets in your area, consider setting up a table with your books and see what kind of interest you generate.
You can also consider estate sales or hosting your own yard sale.
You never know who might show up looking for a good deal on reading material and you can feel good that you didn't have to emit any more carbon emissions into the environment by shipping your books!
Where to Donate Your Books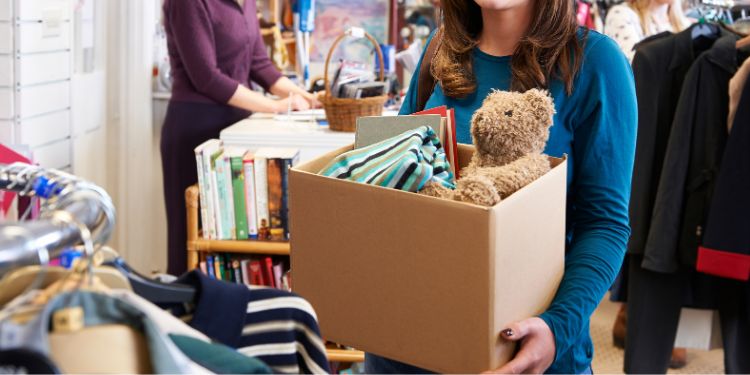 If you can't sell books and don't want them taking up space in your house, consider donating them.
There are always others in need and these options should be exhausted before you ever think about dumping them in the trash!
1. Local Libraries, Schools, and Hospitals
Your local library or school is always a great place for donating books, and any books that are accepted will be put to good use by the students who need them. Try calling your local library to see if they accept book donations.
You can also try calling local children's hospitals because they may be willing to accept children's books for their patients. Local correctional facilities are also sometimes in need of donated books.
2. Goodwill or Salvation Army Thrift Stores
Donating books to Goodwill or Salvation Army stores can also be a great option, as the proceeds can help fund their charitable mission and give others access to books that they would otherwise not have.
You can also look for other local charities and thrift shops in your area and call them to see if they accept book donations.
3. Books for Africa
Books for Africa is an international non-profit organization dedicated to sending books to less fortunate countries in Africa. You can donate books by mailing them or contact them directly if you have larger quantities.
They typically accept children's books, primary and secondary textbooks, college textbooks, science and medical books published within the last 10 years, and other non-fiction books published within the last 15 years that may be relevant to an African reader.
While they don't offer free shipping, you might be able to claim shipping fees as part of the donation value.
4. Homeless Shelters
Donating books to homeless shelters is a great way to provide valuable resources to people who need them the most. Look for local shelters near you that accept book donations and make sure they have adequate storage space for them before shipping or donating your books.
5. The Little Free Library Initiative
Little Free Libraries are small, self-sustaining libraries where people can come and take a book in exchange for donating a book of their own. It's a great way to give books to the community while getting new ones in return.
Find out if there are any Little Free Libraries near you or consider starting one yourself!
6. Recycle Books
If you can't find any other use for your old college textbooks or other books, make sure to recycle them before dumping them in the trash. You can normally recycle them with regular paper, although sometimes the covers must be removed first.
Make sure to check your local recycling laws to see how to properly recycle your books.
FAQs About Where to Sell Used Books
What is best way to sell used books?

The best way to sell books is to find a local or online marketplace that specializes in buying and selling used books. Sites such as AbeBooks, Powerll's Books, and Bookscouter can be great options for finding buyers of your books. Additionally, some local bookstores may also purchase old books from you. You can also try selling your books directly to other readers online through sites such as eBay or Craigslist.
Is there any site to sell used books?

Yes, there are a number of sites that allow you to sell used books. Popular platforms such as Sellyourbookback.com, BookScouter, Decluttr, and BookRun specialize in purchasing books directly from sellers. Many of these buyback vendors also offer instant price check and free shipping labels. You can also sell books on marketplaces like Amazon, eBay, and Craigslist.
Can I sell books to Barnes and Noble?

You can sell textbooks to Barnes & Noble, but they won't buy back books other than textbooks. All you need is your ISBN number to see what your textbook is worth. You also need to have at least $10 in value to participate in the buyback program, so you may want to sell multiple books at once.
Does Amazon buy books back?

Yes, Amazon does buy back books. Through the Amazon Trade-In program, customers can trade in their gently used books for an Amazon gift card that can be used towards future Amazon purchases. You can also sell books through Amazon's marketplace. All you need to do is create an Amazon seller account, upload photos and a description of your book, and select your payment method. Once a buyer purchases your book, Amazon will take a 15% commission and pay you the remaining balance due.
Key Takeaways for How to Sell Used Books
Selling old books is an easy way to make some extra cash or just clear out some clutter in your home.
Remember that college textbooks can often bring in the most money!
If you you aren't able to sell your books, consider donating them. There are always others in need and this ensures that you're giving your books a longer life full of love and appreciation.
Local libraries and schools are often open to donations of gently-used books and can put them to good use in their collections.
You could also donate your books to a charity or thrift store; many organizations will accept donated books and some even offer tax deductions for the items you give away.
Keep in mind that many of these options also offer store credit, so it may make sense to buy and sell from the same locations to maximize your return.