We partner with bada$$ companies that offer products that help our readers achieve their goals! If you purchase through our partner links, we get paid for the referral at no additional cost to you! Read our disclosure for more info.
Are you a blogger or an aspiring blogger looking for opportunities and blogging jobs to make money online?
Would you like to put your relevant skills to the test and perhaps turn your writing passion into a successful career?
A blogging job is a great way to exercise your blog writing and content marketing skills while also getting to work remotely.
If so, this article is for you! In this post, we're exploring more than 30 places in the blogging world where you can find blogging jobs.
Whether you're looking for freelance blogging jobs or full-time gigs, this guide can point you in the right direction.
We'll look at several different websites and resources that are designed to help you land the best blogging jobs in your desired field.
Top 10 Places Offering Paid Blogging Jobs
Here are 10 of the best websites to look for blogging jobs.
ProBlogger is one of the most popular websites for freelance writers and bloggers. It features job listings for bloggers, writers, and content creators.
Founded by Darren Rowse, Problogger offers a variety of resources for bloggers, including articles, tutorials, podcasts, courses, and a freelance writing job board.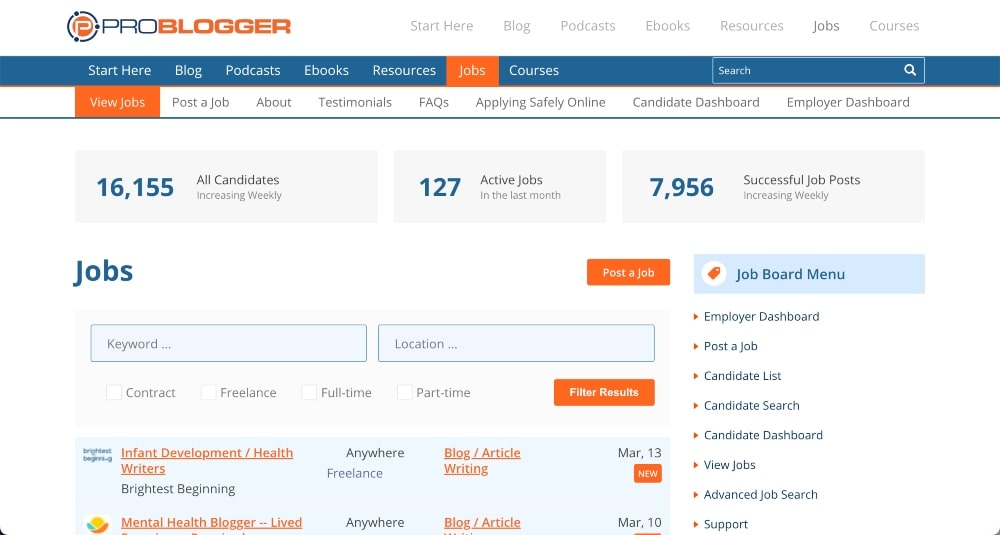 The ProBlogger job board has over 7,000 jobs posted in various industries and is growing.
The website covers a wide range of topics related to blogging, including writing, editing, SEO, social media, email marketing, affiliate marketing, and monetization strategies.
The main feature of Freelancewritinggigs.com is its job board, which lists writing opportunities from a variety of sources, including job sites, company websites, and freelance marketplaces.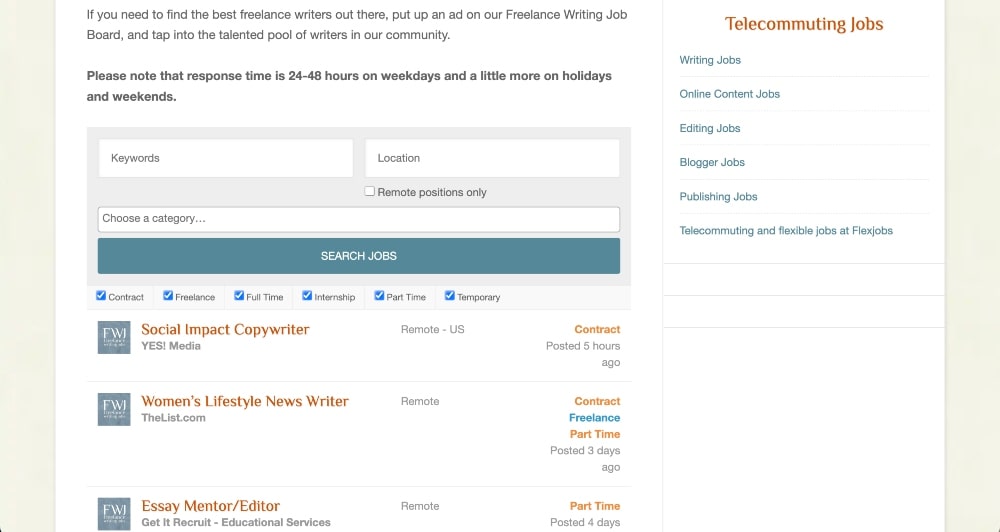 The job board is updated daily with new listings, and writers can search for jobs by category, location, and keyword.
In addition to the job board, Freelancewritinggigs.com also provides a variety of resources to help freelance writers improve their skills and find success in their careers.
These resources include articles and tutorials on writing, pitching, and marketing oneself as a freelance writer.
Fiver is a freelance platform that hosts a ton of jobs in various industries and is also a great place to list your own skills so that others can hire you for paid blogging work.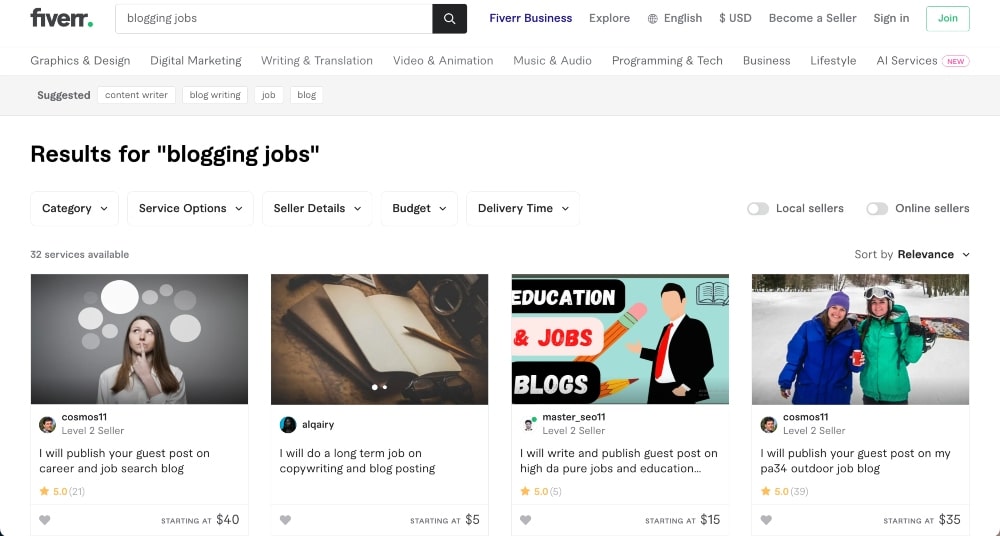 While some blogging gigs and writing jobs are listed for pretty low prices (even as low as $5), there are still thousands of people that earn great from side hustles or even from full-time careers.
Case in point: Fiverr millionaire Alex Fasulo, who made $150,000 on Fiverr in just six months.
The secret? Upsells! Once you have a few blogging gigs under your belt, you can start adding on upsells to increase your bottom line.
Here are a few examples:
Rush fees like "delivered same day" for an extra $5, $10, or even $50
Thorough spelling and grammar checks
An additional $5 per 100 words
Extra fees to add images
Additional fees for formatting
The list goes on and on and on.
One fee I saw from a blogger on Fiverr was $50 to re-write it in Spanish and another charged a large fee if you wanted them to read it for an audio podcast and make a YouTube video out of it.
The possibilities to get more than just $5 from Fiverr are endless.
Oh! And they don't just have to be writing. I've seen people charge $5 to deliver a list of blogging ideas.
Yep! It was literally a PDF filled with 365 blog titles that they sold to several people – they didn't even have to write any of the posts.
BloggingPro is a job board that specializes in blogging jobs. It features a variety of blogging job opportunities, including full-time, part-time, and freelance positions.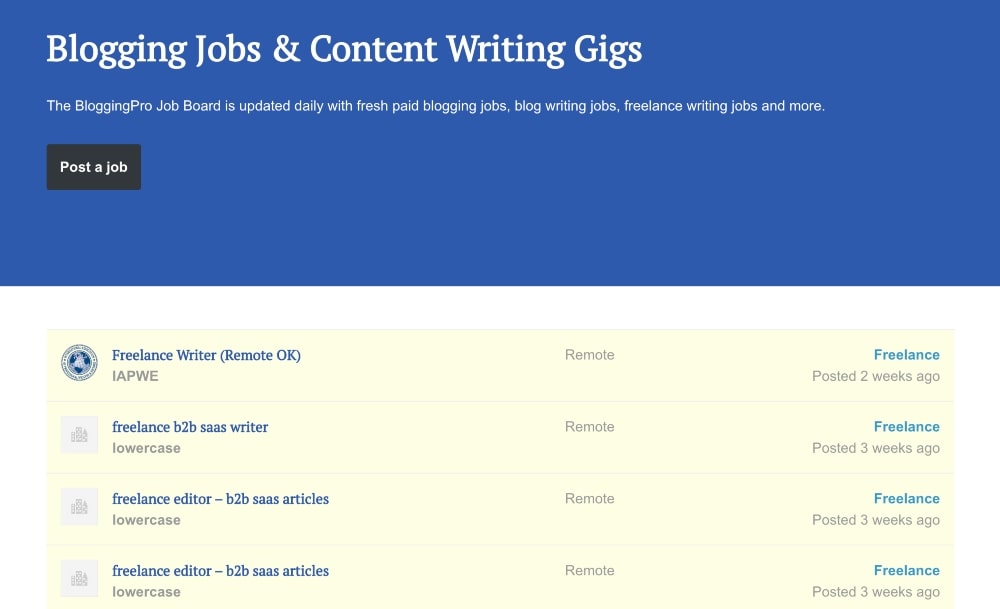 Since 2006, the website's goal was to help bloggers and freelance writers at every level to learn how to be as successful bloggers as possible.
One of the biggest reasons the website is so successful is they believe the work is never done. They are constantly evolving and growing their website to include additional resources to help bloggers.
They allow bloggers of any size to post blogging jobs on their board for less than $200 at the time of this writing, making it an attractive job board for bloggers that need writers.
Upwork is a freelance platform that features a wide range of freelancing and full-time positions in various industries, including web development, graphic design, and more.
They also have a huge offering for writing opportunities and blogging jobs. You can create a profile and bid on job listings that match your skills.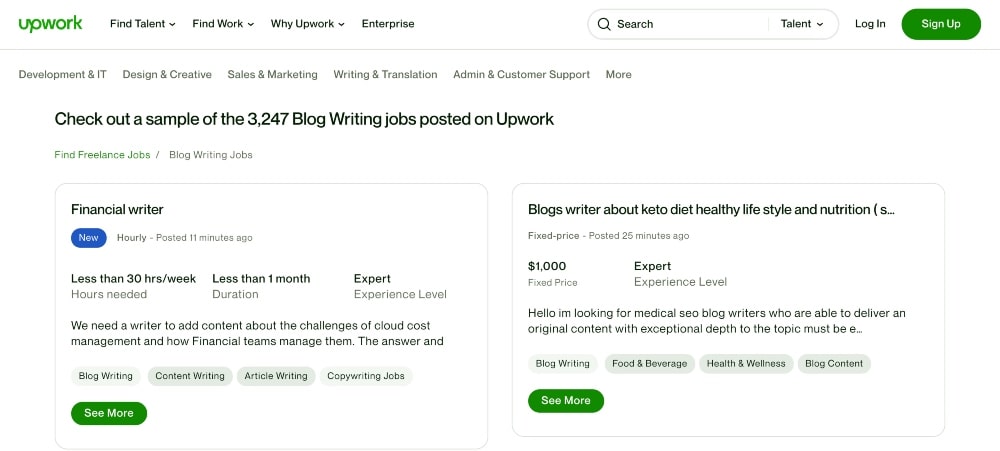 If you're looking for a freelance blogging job, just keep in mind that Upwork is pretty competitive and also takes a sizable cut from the transaction (from the hiring party).
To create a professional profile (and free account) on websites like Upwork and Fiverr, follow these steps:
Choose a professional username: Your username should be easy to remember and professional. Avoid using nicknames or anything that might sound unprofessional.
Write a catchy headline: Your headline should be short and highlight your skills and expertise. This is the first thing potential clients will see, so make it count.
Write a clear and concise profile description: Your profile description should be a summary of your skills, experience, and expertise. Use specific keywords relevant to your niche to make it easier for clients to find you.
Add a professional profile picture: Choose a professional-looking photo that represents you and your brand.
Showcase your portfolio: Include samples of your previous work to showcase your skills and experience.
Set your hourly rate or package prices: Be competitive with your rates, but don't undervalue your skills and time.
Get your account verified: Follow the platform's verification process to ensure that your account is authentic and trustworthy.
Remember to keep your profile updated and respond promptly to messages and job invites.
It's also important to have excellent communication skills and be transparent with clients to build a good reputation and get repeat business.
LinkedIn is a great resource for finding blogging jobs. You can search for jobs using keywords and filters, and connect with potential employers.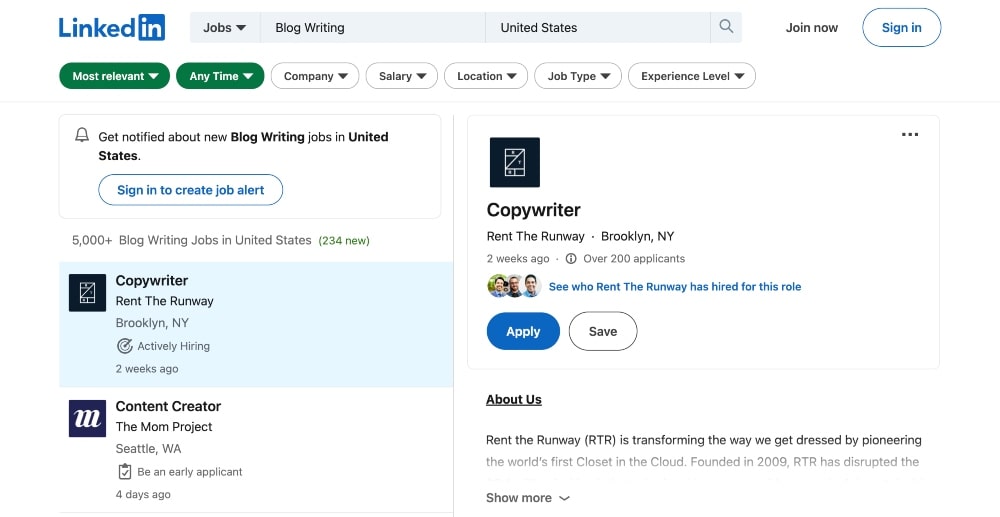 It's important to network, optimize your profile, and use the platform's features to search for relevant opportunities.
Here are some tips on how to use LinkedIn to find opportunities:
Optimize Your Profile: Make sure your LinkedIn profile is complete and highlights your writing skills and experience. Use keywords related to blogging in your headline, summary, and experience sections.
Connect with Relevant People: Connect with bloggers, content marketers, and social media managers who may be looking for freelance bloggers. You can also connect with other writers and editors who may be able to refer you to job opportunities.
Join Relevant LinkedIn Groups: There are many groups on LinkedIn dedicated to blogging, content marketing, and freelance writing. Joining these groups can help you network with other professionals in the industry and learn about writing opportunities.
Use LinkedIn Job Search: LinkedIn has a job search feature where you can search for blogging jobs. Use keywords like "blogger," "content writer," and "content creator" to find relevant opportunities.
Follow Company Pages: Follow the LinkedIn pages of companies that you're interested in writing for. Some companies post job openings on their LinkedIn pages before they're posted on other job boards.
Overall, LinkedIn can be a valuable resource for finding blogging jobs.
FlexJobs is a job search website that features remote and flexible writing opportunities, including blogging jobs.
At the time that we're writing this blog post, there are 79 blogging jobs available and waiting for you on their job board!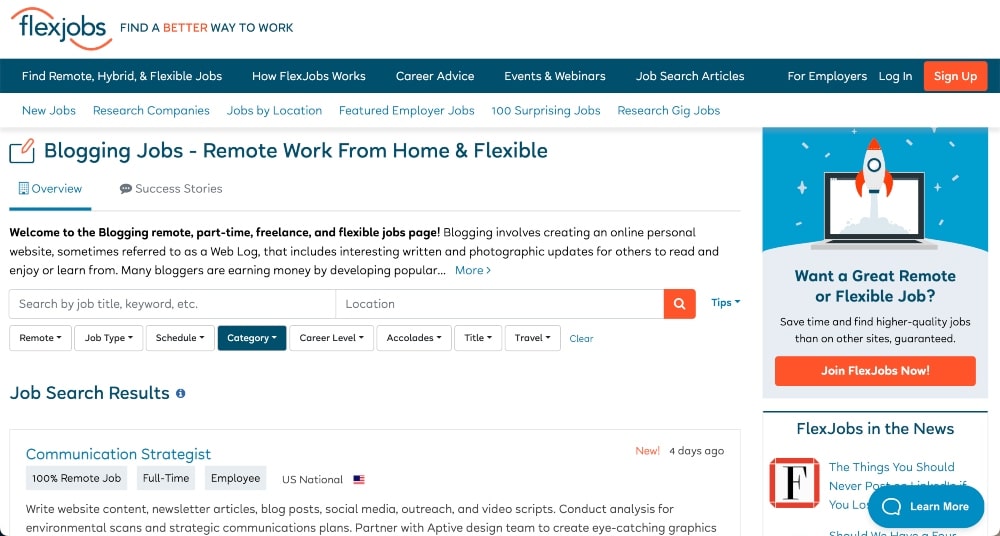 Here's how you can use the website to find blogging jobs online:
Sign up for an Account: You'll need to create an account on FlexJobs to access its job listings. There is a fee to use the service, but it can be a worthwhile investment if you're serious about finding blogging jobs.
Search for Blogging Jobs: Use the search feature on FlexJobs to find blogging jobs. You can search by keyword, location, and job type. There are many categories related to writing, including "content writing," "blogging," and "copywriting."
Apply for Jobs: When you find a blogging job that interests you, click on the job listing to learn more about the position and how to apply. Some jobs may require you to submit a writing sample or provide a link to your blog or portfolio.
Set Up Job Alerts: You can set up job alerts on FlexJobs to receive notifications when new blogging jobs are posted. This can save you time and help you stay on top of new opportunities.
Freelancer is another freelance platform that features a variety of blogging jobs and other freelance writing opportunities.
Freelancer calls itself the world's largest freelance marketplace, and it is in fact a global platform to find freelance blogging jobs.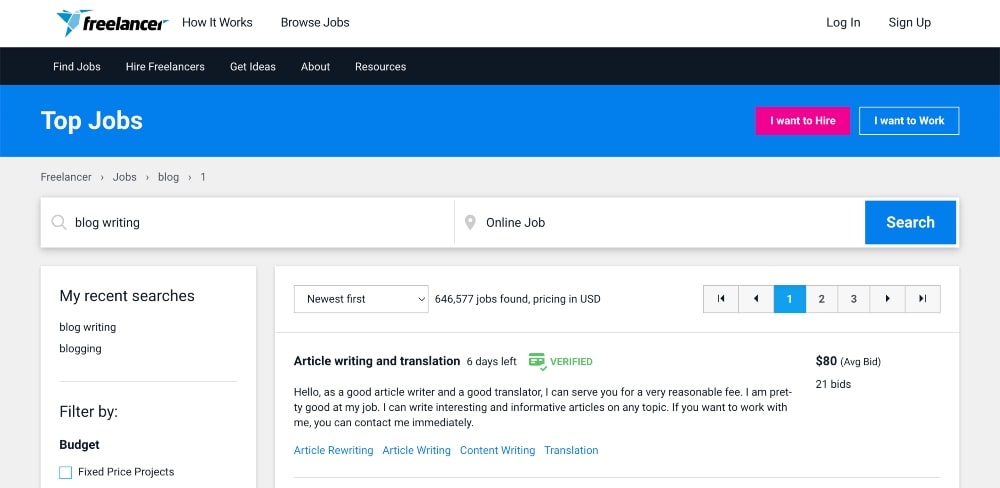 Similar to Upwork and Fiverr and many other freelance blogger platforms, you can find a paid blogging job of any shape and size to fit your needs.
Like other platforms on this list, you can create a profile and bid on job listings that match your skills.
One problem with a website like this, however, is it encourages freelancers to lower their prices to get their proposals chosen.
This is because Freelancer.com provides a range of additional services, such as contests, where employers can receive multiple design options and choose the best one from them.
In the race to be the minimum bid, freelancers might get less than they want because they feel that only offering a lower rate will get them hired.
Still, it's a great place to learn skills and flex your creative muscles.
Unlike Fiverr, Upwork, and Freelancer, not everyone is accepted to write for Contena. You have to fill out a survey and be accepted.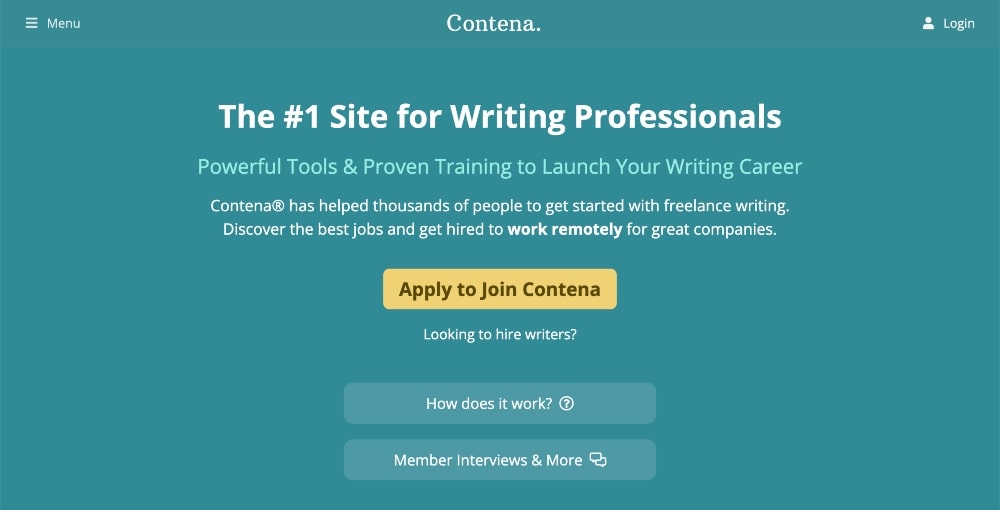 You also can't just get a free account. You will be charged to use the platform.
The fee comes in at about $40 a month, and while this might not seem like a big deal, paying to play can be too costly for some looking to land blogging jobs early in their career.
That said, the reason bloggers opt to join the platform is that it does offer some benefits like:
Access to high-paying blogger jobs: Contena offers a curated job board list of high-paying writing jobs from reputable companies and organizations.
Time-saving tools: It provides a suite of tools, including job alerts and a personalized job search dashboard, that can help you save time in finding relevant freelance writing jobs.
Professional development resources: Contena offers resources such as webinars, courses, and a supportive community of writers to help you improve your writing skills and advance your career.
Potential to earn more: By finding high-paying writing jobs for bloggers on Contena, you can potentially earn more than you would by finding jobs on your own.
You can also pay a premium to be coached on how to be a better writer and get more gigs. Think of it more as hiring a headhunter to help you get hired.
Is it worth it?
That's not for me to say. Some people swear by it.
But, if you're not happy with the fee, there is a money-back guarantee – just be prepared for a lot of jumping through hoops to get the fees returned to you.
Believe it or not, Facebook can be a great resource for finding writing and blogger jobs.
Here are a few tips to help you get started:
Join Writing, Blogging, and Freelance Writing Groups: There are many Facebook groups dedicated to writing, blogging, and freelancing. These groups can be a great place to find job postings, connect with other writers, and get advice on building your career.
Some popular groups include Binders Full of WRITING JOBS, The Freelance Content Marketing Writer, and Freelancing Community with Alexandra Fasulo.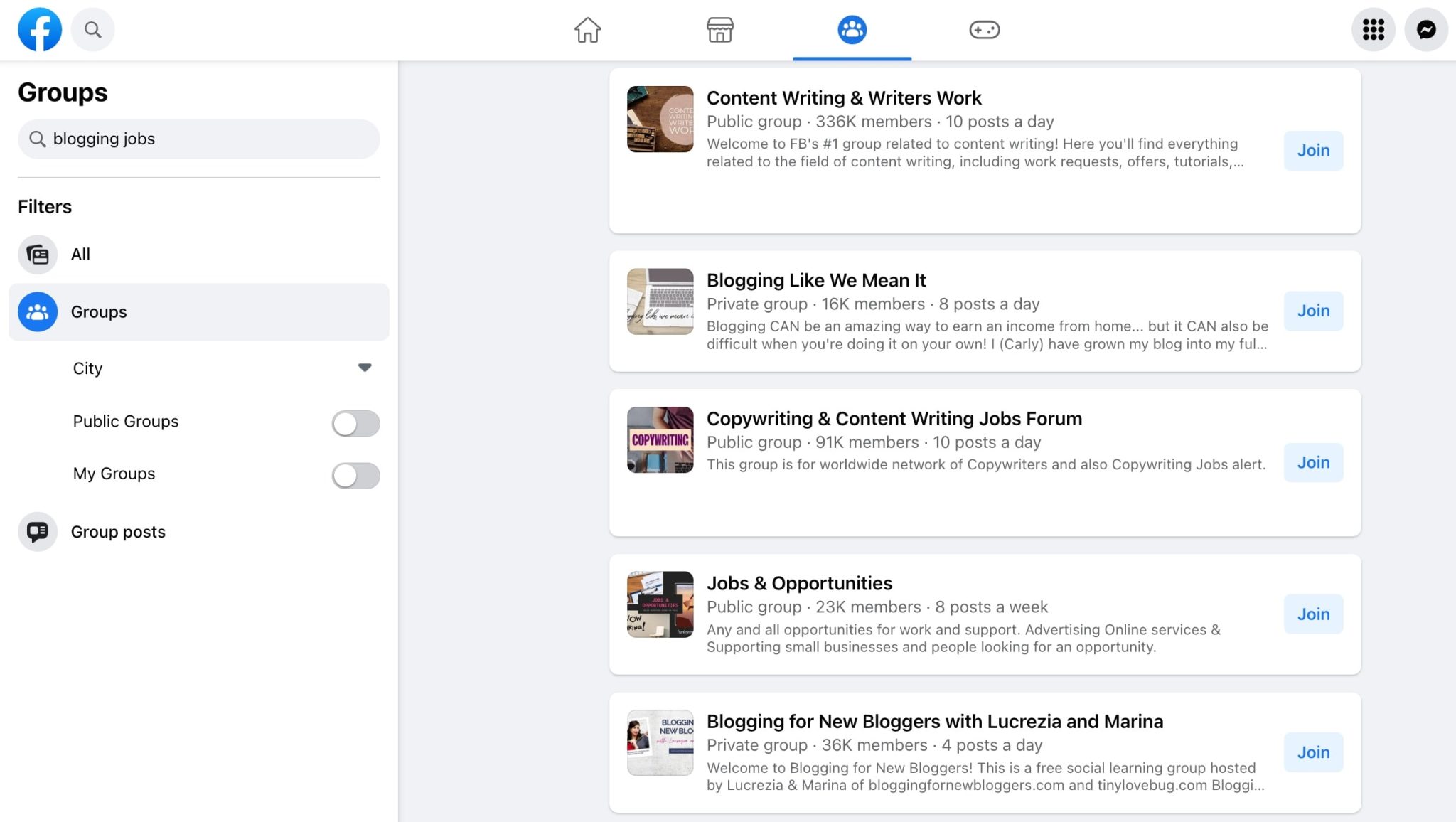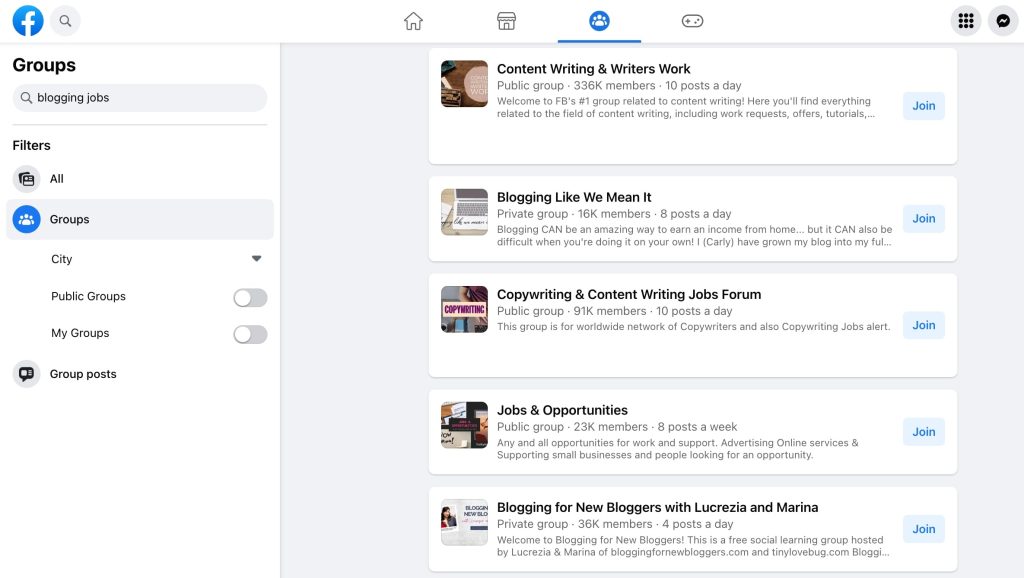 Search for Job Posts: Some bloggers and website owners post job openings on their Facebook pages or in relevant groups. You can also search for these posts using Google by typing in "writing jobs Facebook" or "freelance writing jobs Facebook" and scrolling through the results.
Network with Other Writers: Building relationships with other writers can lead to blogger job opportunities.
Joining writing groups and engaging with other writers can help you build your network and learn about potential job openings.
Create a Professional Profile: It's important to have a professional presence on Facebook if you're looking for writing jobs.
Make sure your profile is complete and includes information about your writing experience and skills.
Overall, Facebook can be a valuable resource for finding writing jobs, but it's important to approach it with a strategic mindset and be selective about the groups you join and the jobs you apply for.
Related: Check out our post on how to become a copywriter.
Additional Places to Look for Blogging Jobs
There are dozens of places to find blogging jobs and freelance writing gigs online.We went through a bunch of blogs and curated the list below for you.
While we have not vetted every site as thoroughly as the top 10 list of sites above that feature freelance blogging jobs, you may find some amazing opportunities in one of them.
FAQs for Blogging Jobs
To close out this post, we're answering some of the most frequently asked questions about writing jobs for bloggers.
What Are Blogging Jobs?
If you want a blogging job, first you need to understand precisely what they are.
You probably already know that a blog is a digital space online where articles, stories, opinions, and more are published.
What you may not realize though is there's a whole world of blogs out there that need people just like you to write them, but a blogger also does a lot more than write blog posts.
A blogging job can mean a variety of things — everything from blog writing to updating and managing blog content to content marketing.
Here's the thing. Blogging takes a lot of work.
And, to keep a blog growing and making money, the original blog posts and content need to constantly be updated.
That means someone has to write content and update it for the millions of blogs in existence. That's where blogging jobs come in.
A blogging job usually means that you are blogging for other people, usually as a freelance blogger or an employee working part-time or full-time.
In some cases, writing gigs for bloggers will involve ghostwriting content – meaning you won't get the byline.
But in others, it can mean getting your name out there and sharing your blog post with other websites.
Should I Sign Up on Multiple Job Platforms or Freelance Sites?
YES! Create a profile on every platform that allows you to create one for free.
More often than not, these websites allow you to post your website (great for backlinks!), your social media profiles, and a portfolio piece or two.
Creating lots of profiles on websites that don't charge you a membership fee is a great free way to get your name out there. You never know who might find you!
Do I Need My Own Blog to Get Blogging Jobs?
Nope, but it sure can help! It can be difficult to break into the industry without any prior experience.
Creating and maintaining your own blog is a great way to learn the basics of writing, editing, and publishing content online.
Additionally, creating your own blog allows potential employers to evaluate your work and see if you have what it takes to make it as a professional blogger.
You should take the time necessary to craft interesting posts that showcase your knowledge and skills in order for employers to take notice of your work.
Furthermore, don't forget about promoting yourself on social media platforms like Twitter or Instagram – these channels can help spread the word about your blog and increase readership.
Read our post to learn exactly how to start a blog of your own.
How Can I Scale My Blogging Jobs to Earn More Money?
Some blogging jobs pay well and some pay not so well.
If you want to take your blogging jobs to the next level and increase your earnings, it's important to understand how to scale up.
The first step is to start getting blogging jobs. From there:
Earn a reputation as a solid blogger for hire.
Nail down your process for getting blogging jobs completed.
Hire an assistant to help with the various tasks associated with writing for blog jobs.
Eventually, outsource the writing.
Take the time to edit the final pieces before turning them in to ensure they are at the quality you would deliver.
Then, just keep securing more work, outsourcing as much as you can, and delivering everything on time.
Who knows? You might be able to scale up to the point that you can start hiring for blogging jobs for your own agency!
How Can I Find Writing Work on Twitter and Other Social Media Websites?
There are a few ways to utilize social media to find writing work.
Create Professional Profiles
First, if you don't already have one, create a professional profile on every platform – Twitter, Facebook, LinkedIn, Instagram, etc.
It's free to do and it can become an easy place to showcase all of the amazing work you're doing.
Pro Tip: Only use the professional profiles you're creating on these platforms for finding work.
You need a public-facing profile that you're comfortable sharing with potential employers, so don't crud it up with your political views or other random details about your cat.
Use these to post your latest articles, information about how you work, details about hiring you, and more.
Use Hashtags to Find Gigs
Utilizing hashtags can be an effective way to jumpstart your search.
Hashtags allow job seekers to quickly find relevant opportunities online and also make it easier for employers to discover you.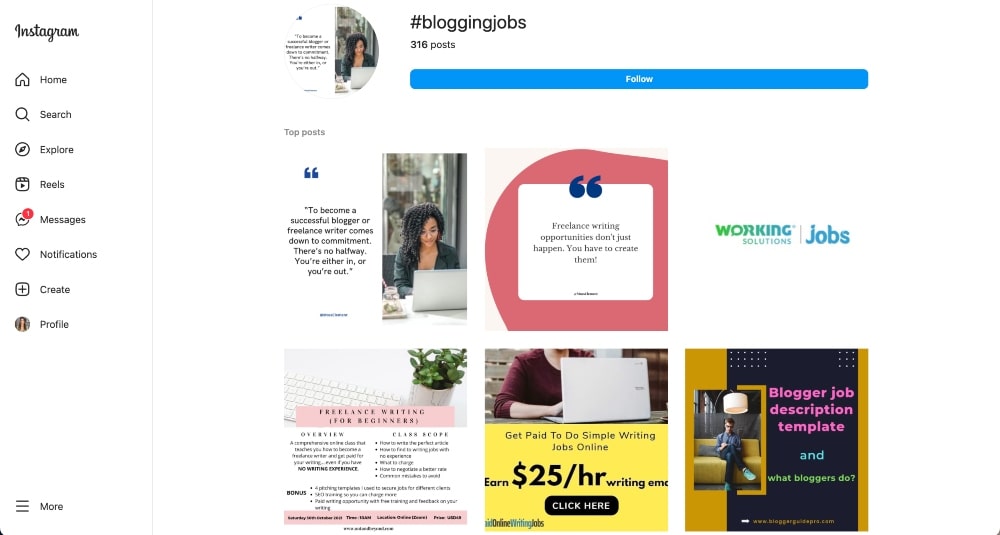 Here are some tips for using hashtags in your job search:
First, identify the most popular hashtags related to the type of blogging gig you're interested in. For instance, if you're searching for blogging jobs, use hashtags like #bloggerjobs or #freelancewriter.
This will help expand your reach and bring more results into view.
Additionally, consider creating a custom hashtag that reflects what kind of work you do and include this on your profile page or résumé so potential employers can easily locate it.
Add Other Freelance Writers to Your Network
You never know who you will connect with! Networking with other bloggers can be beneficial if you're looking for blogging jobs for several reasons:
They may be aware of job opportunities that you may not have heard of, and if their plate is full, they might be willing to share leads with you.
Collaborating with bloggers and other content writers can help you expand your audience and gain exposure to new readers. Cross-promotion can also help you build relationships with bloggers and potentially lead to job opportunities.
Networking with bloggers can help you build relationships in the industry, which can lead to referrals, recommendations, and potential job offers in the future.
Other bloggers may have valuable insights and information about the industry that can help you improve your skills and knowledge.
Blogging can be a challenging and isolating profession, and networking with bloggers can provide you with support and encouragement when you need it.
Summary of the Search for Blogging Jobs
Finding blogging jobs can seem daunting, but it doesn't have to be.
By taking the time to build a reputation as a reliable blogger for hire, setting up a process for completing tasks, and eventually outsourcing some of the work, you can scale your business and potentially start hiring for your own agency.
OR you can just use the job boards and listings on these websites and look for some freelance blogger jobs that interest you.
Consider creating professional profiles on social media platforms like Twitter, Facebook, LinkedIn, and Instagram to showcase your work and use relevant hashtags to make yourself more visible to potential employers.
Additionally, networking with other bloggers can provide insight into the industry and lead to job offers in the future.
With these strategies in mind, anyone can find success in their search for blogging jobs and establish themselves as reliable professionals in the blogging world.