We partner with bada$$ companies that offer products that help our readers achieve their goals! If you purchase through our partner links, we get paid for the referral at no additional cost to you! Read our disclosure for more info.
Deciding which podcast hosting company you want to use is a pretty important decision. It determines how you will upload and store your files, which podcast players you have access to, podcast directories and RSS feeds, data and analytics, and even monetization.
Best Choice Overall

BuzzSprout
BuzzSprout is the most affordable and easiest-to-use podcast hosting company that I've found and I've had nothing short of a great experience with them.
Most Flexible Plan

PodBean
Podbean has a few different low-cost plans that you can choose from and is a very powerful platform with a great, built-in podcast player!
Best Free Plan

Spreaker
With Spreaker, you get 10 episodes but unlike most other free podcast hosting plans, there is no time limit. It's a great place to start.
Let's talk podcast hosting and why you should launch a show of your own. There has never been a better time to start a podcast to drive traffic to your website.
According to Podnews, the world of podcasting is still exploding. Even though there are more than 4 million podcasts in the Podcast Index database, there's still no better time to start one of your own than now.
I know what you're thinking though… "There are too many podcasts already. I'll never get any listeners." But that's simply not true.
The podcast industry is booming, and there is always room for more creators.
Consider for a moment that there are 455 MILLION WordPress websites and more than a billion websites in total.
Here's the reality not enough bloggers are talking about… getting your name out there and building an actual brand is getting harder and harder.
So what does podcasting have to do with this?
Having a podcast is an element of your blogging brand. It's another way to take all the awesome content you're creating and get it in front of even more people – in a whole new way.
By providing your audience with audio content, you're giving them a way to take you with them to the gym, the laundromat, on their commute to work, and more.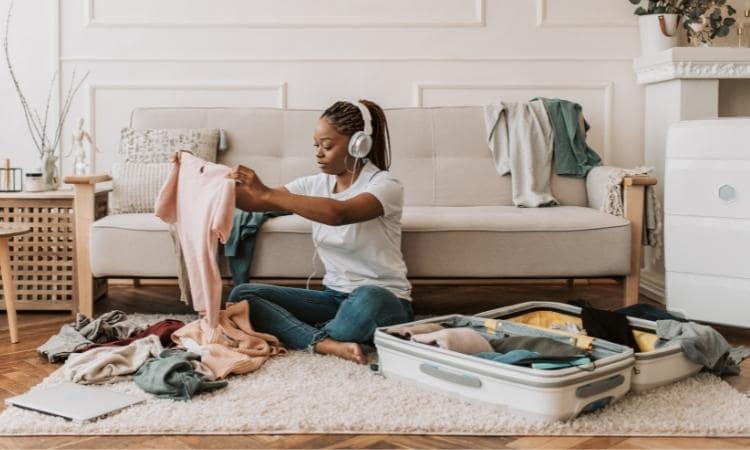 You're also establishing yourself as an expert in multiple mediums. Start a YouTube channel as well, and you've created a digital trifecta of ways for your ideal audience to find you online.
Don't spread yourself too thin, but do expand into new areas as you grow your business.
From the podcast directories, you can share your blog link and with the networking opportunities a podcast will provide, you'll quickly see how having a podcast can benefit you.
But, before we get into all of that, and before simply sending you off to launch a podcast, let's take an important look at everything you need to know about podcast hosting.
What are the Best Podcast Hosting Sites?
First, we'll list the best podcast hosting sites that are paid. Then, we'll jump into our top 5 free recommendations.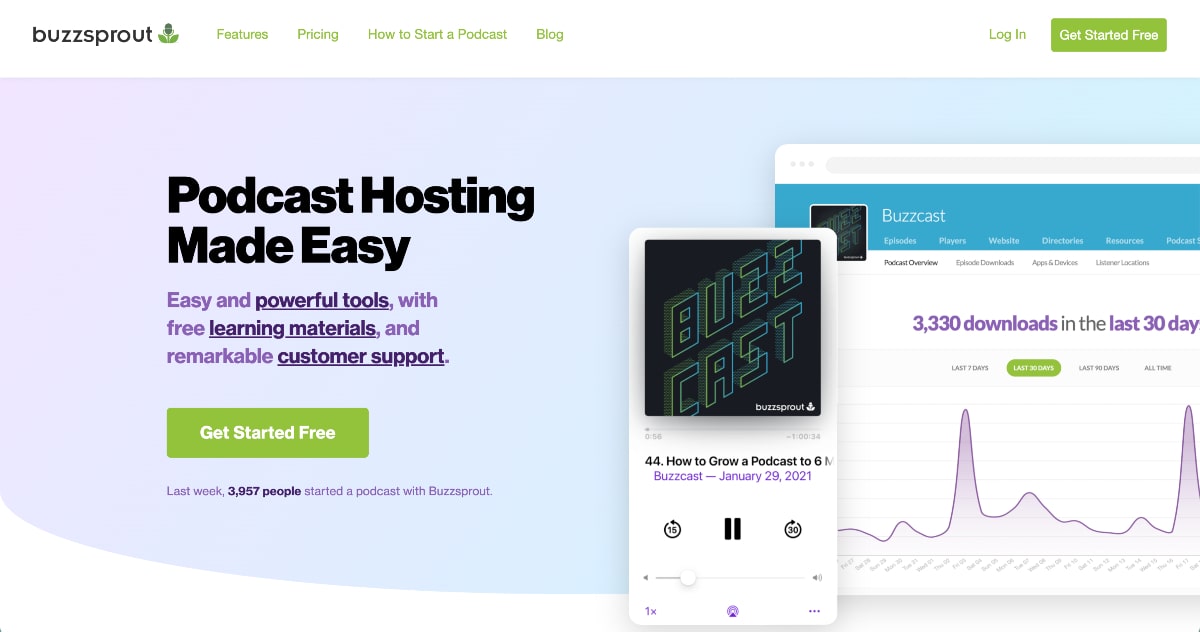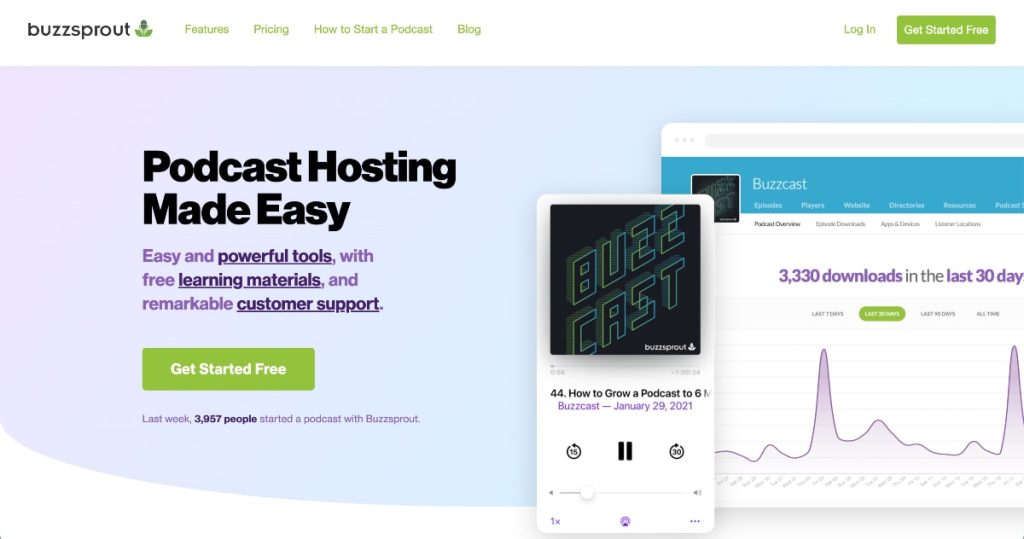 I'm starting with BuzzSprout, as I just mentioned because it's our favorite. When I was researching podcast hosts before I started a podcast, I landed on BuzzSprout for a variety of reasons:
Advanced analytics
Unlimited storage
Unlimited team members – huge for when you're ready to start outsourcing and asking for help
A free podcast website
Embedded player – great for sharing your episodes on your own website
An RSS feed to get into podcast directories
Buzzsprout is the most affordable and easiest-to-use podcast hosting company that I've found and I've had nothing short of a great experience with them.
They don't have a free trial, but they do have a free plan that you can start with to give it a trial run. You'll just want to upgrade when you're ready to launch your podcast because the free plan gives you a 90-day expiration limit on your content.
Their lowest-cost plan has plenty of storage for what you need on a monthly basis, even if you're uploading episodes every week (depending on how long they are).
I've also reached out to a few other bloggers to get their opinions on the various podcast hosting companies mentioned in this article.
Blogger Rax Suen of Nomads Unveiled also chose Buzzsprout for his podcast Chat with Nomads.
He said what led him to Buzzsprout was its affordability and ease of use and that it has greatly benefited his blogging journey.
"The podcast is also a different audience source for the blog. In addition, since the podcast runs on a guest feature format, it helps to build connections within the industry.

Sometimes it also receives backlinks from the guests' websites."
I can confirm that this is also a huge benefit to having a podcast and being guests on podcasts. It allows you to build a network and often receive backlinks from other blogs.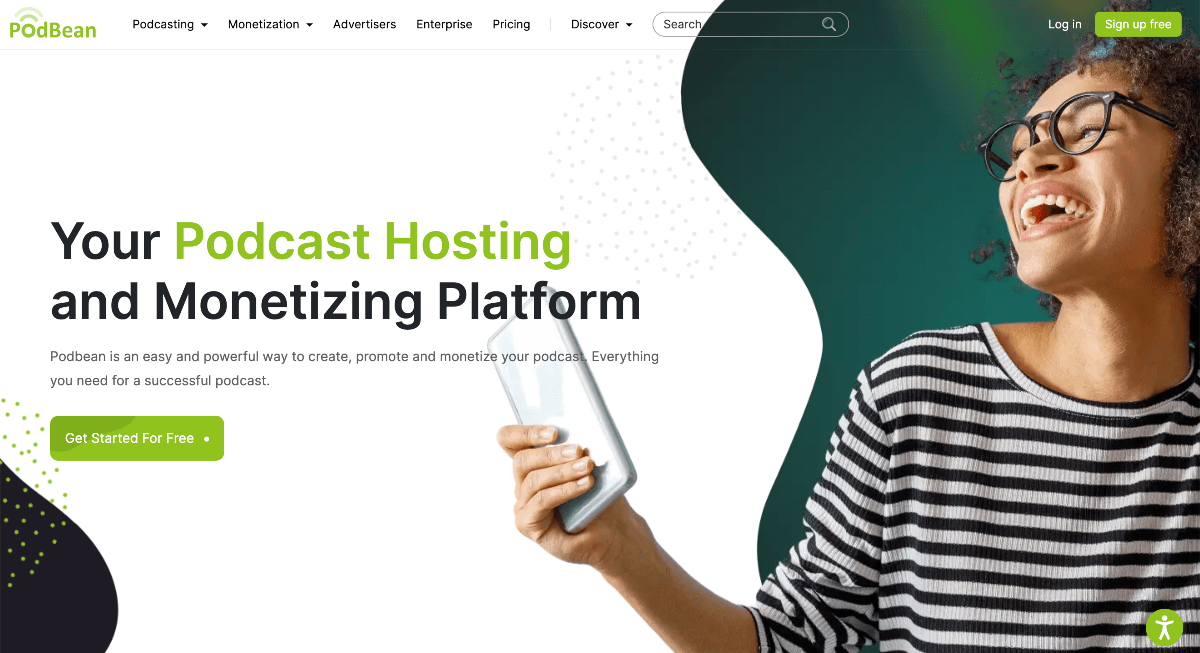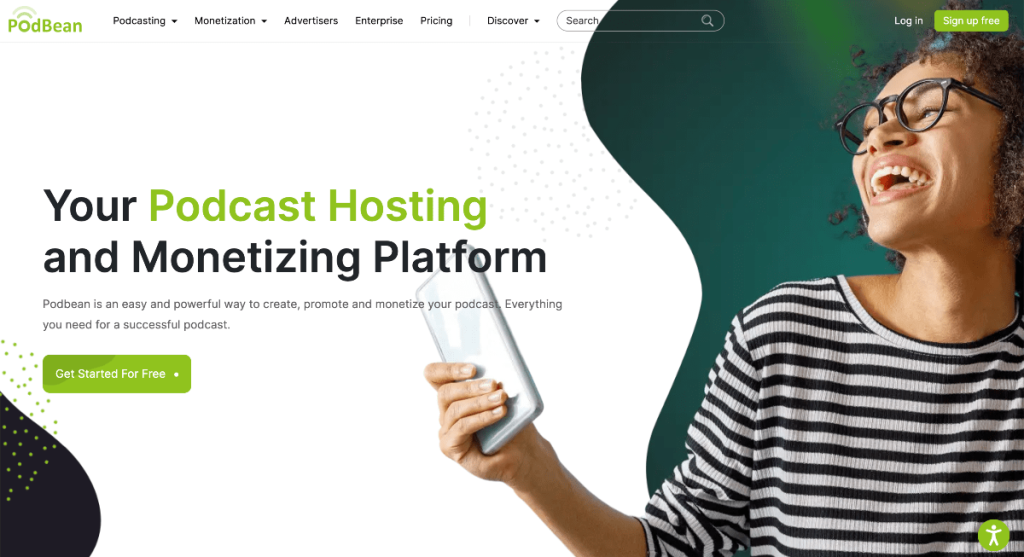 PodBean is another popular podcast hosting company that also has both free and many paid plans.
The free plan limits you to 100GB bandwidth and basic analytics though. You also can't monetize with PodBean on their free plan.
Their paid plan features include:
Unmetered storage and bandwidth
A free podcast website with the ability to map your own domain
Embedded player
An RSS feed
Monetization options with Ads and their in-house Patron Program (similar to Patreon)
Popular podcasts on PodBean include:
Dateline NBC
My Favorite Murder
Crime Junkie, and
The Daily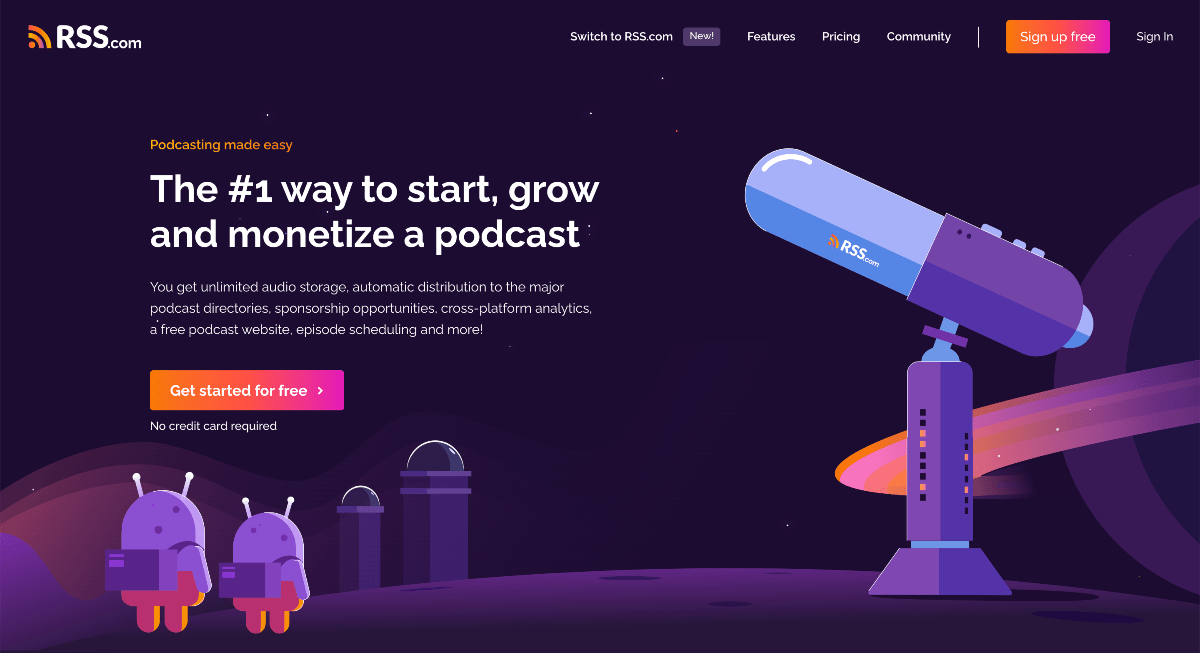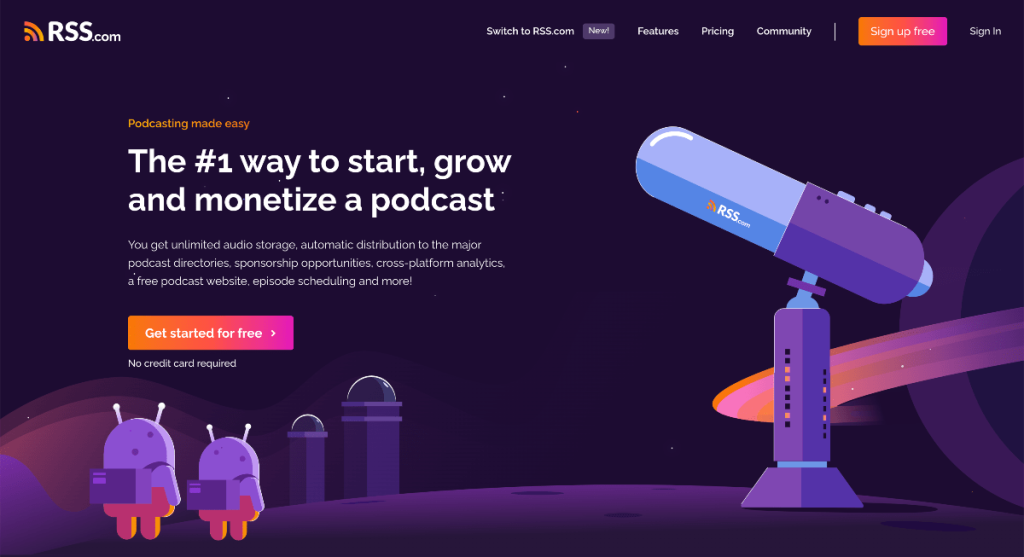 When most people think of RSS.com they think RSS Feed or Feed Readers, but RSS.com is actually becoming a very popular choice for podcast hosting.
What a lot of people love about them aside from their user-friendly platform is that for students, teachers, and nonprofit organizations they give more than 60% off their podcast hosting fees.
Their features include:
Cross-platform analytics
Unlimited storage and bandwidth
Unlimited episode duration
A free podcast website
Embedded player
An RSS feed
And they offer podcasting 2.0 tags
What is Podcasting 2.0? They are tags that improve your podcast's SEO and discoverability.
For example, with these tags, you can add chapters telling people what is happening at different points in your show, and transcripts to improve your ADA compliance.
Blogger Ashley Grant chose RSS.com for her podcast, the Bloggy Friends Show, which showcases her friends in the blogging industry.
She has even featured our Customer Service and Affiliate Manager, Cathy Dean, of thecathydean.com on the show.
Ashley said,
"The number one reason I chose RSS.com over other hosts is because of how fast it was to set up a podcast. In less than five minutes I had my first episode online with their platform."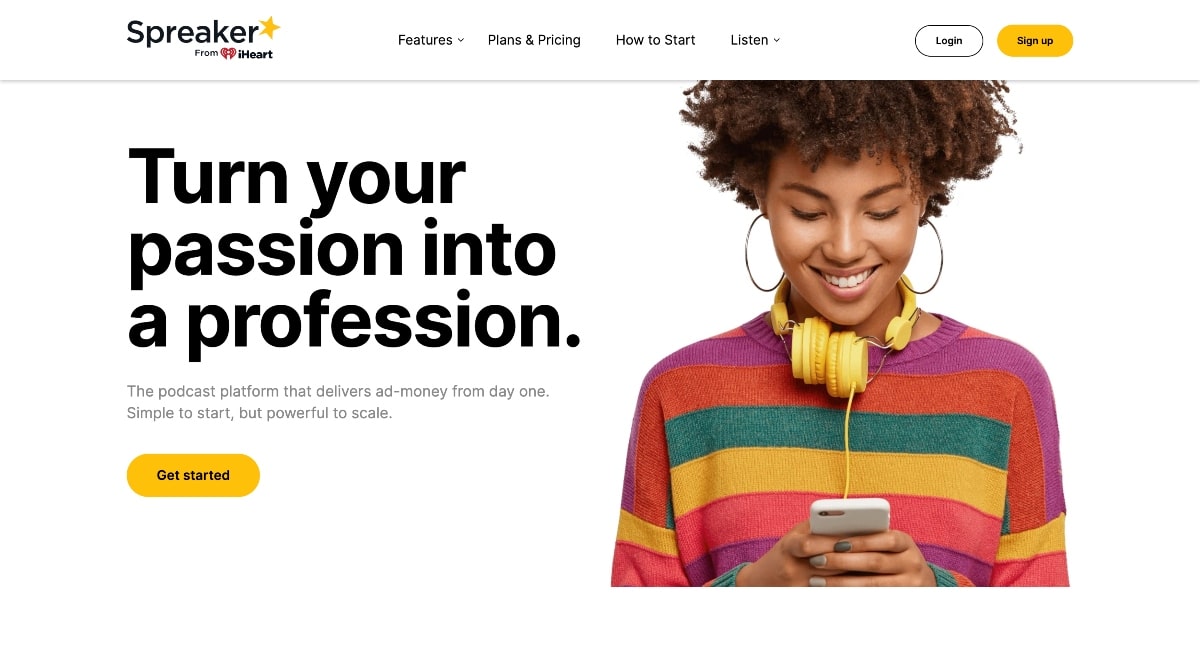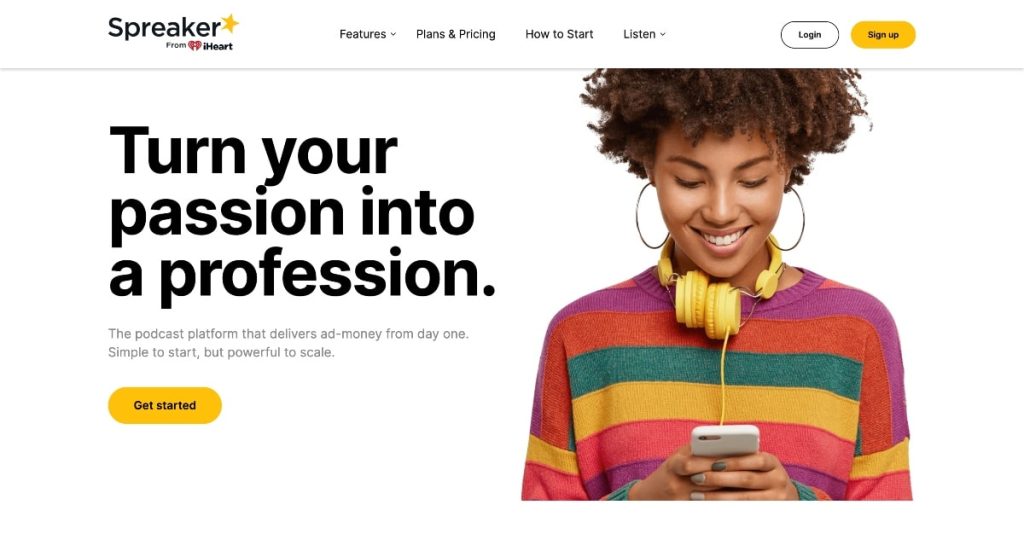 Spreaker is another podcast host that allows you to get started for free, but always a catch – remember?
Their catch is that the free plan only allows you to upload 10 episodes in total.
While you could technically delete old episodes and load new ones, if you're trying to grow a listener base, you need to keep all your episodes online. Avid fans will start from the beginning!
Their paid plan includes:
Basic statistics (You'll need to upgrade to get advanced analytics)
One-click distribution to the top podcast directories
Monetization options
Customizable RSS Feeds and 100 hours of storage
One of the biggest reasons bloggers are choosing Spreaker is because it is owned by iHeart, which is a huge media company and podcast directory.
BUT anyone can get their podcast on the iHeart radio directory, regardless of which host you choose.
Popular podcasts on Spreaker include:
Criminal Prints
Popcorn Psychology
Pillows and Beer, and
All That Glitters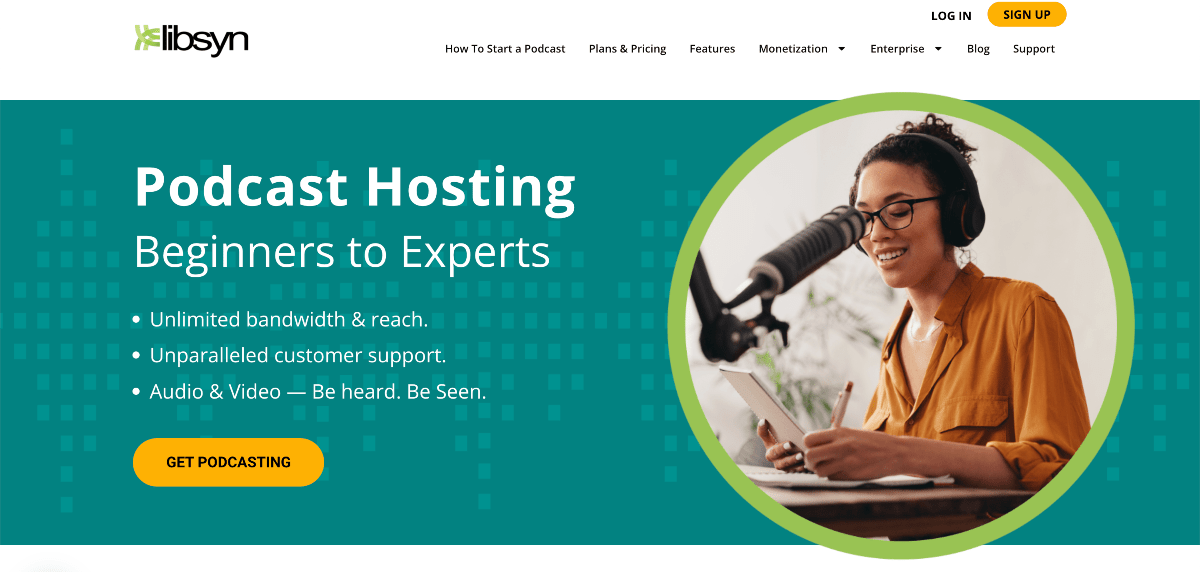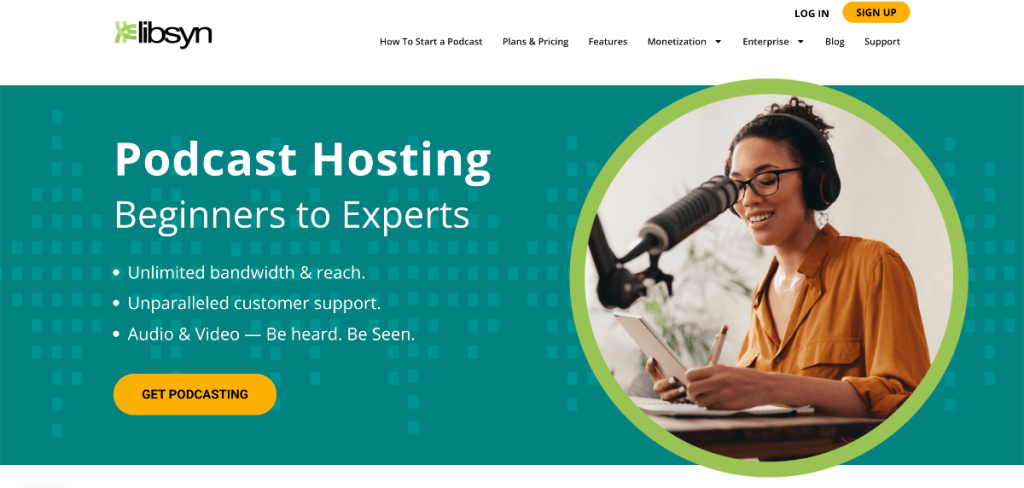 What draws a lot of people to Libsyn is that they were really the first massive podcast host.
Launched in 2004, they quickly gained traction in the industry, and today they host more than 75,000 podcasts.
I looked into Libsyn when I started my podcast, but one thing I didn't like was the look of their podcast player. It seemed a bit dated to me and I liked the look of BuzzSprout's native, more modern player much better.
Their features include:
Unlimited Bandwidth
Free public website for your podcast
Custom Embeddable Podcast Player
Monetization options, and
Social promotion tools
While Libsyn doesn't have any free plans, they are certainly one of the least expensive paid options with their cheapest plan coming in at just $5 per month.
The problem with Libsyn though is how limited you are in terms of monthly storage and duration for your episodes.
Even their most expensive plan is pretty limited in terms of storage.
Still, they do have a lot of loyal supporters on their platform including one of the most well-known podcasters in the industry and the creator of Podcasters' Paradise and Entrepreneurs on Fire, John Lee Dumas.
It was his notoriety that led Caroline Bjorkquist, co-founder of the running blog RunRX to podcast with Libsyn. She said,
"I've worked with digital marketers who recommended John Lee Dumas, and I took his podcasting course. He shows how to use Libsyn, so that's what I use."
Still, she has had no complaints about the platform and loves how inexpensive and easy to use it is.
In terms of how it's helped her in blogging, she said,
"I use the website to drive to the podcast and the podcast to drive to my website. I also use my website to house the podcast library and show notes.

It's been a great way to help the running community and introduce RunRX to a whole new audience."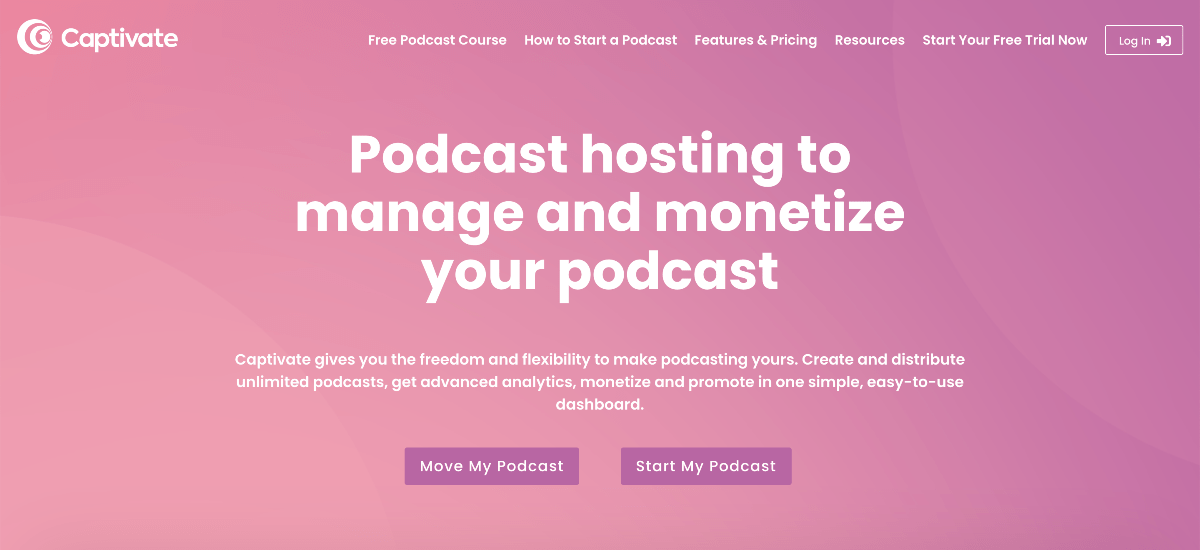 What draws a lot of people to Captivate is that you can host unlimited podcasts with them on their plans.
If you want to host more than one podcast, you'll usually have to pay for a separate hosting account for each of them – or get a very costly enterprise plan.
Captivate's plans are pretty affordable, but they do limit the number of downloads per month, so you'll want to pay attention to that and reassess your needs as your podcast grows.
You'll have to upgrade if you need more downloads and their professional plans can get expensive, although it may be worth it if you have multiple podcasts.
Their features include:
Unlimited podcasts
Unlimited uploads and/or storage
Podcasting 2.0 tags (like RSS.com)
Advanced analytics, and
Embeddable Podcast Players
Another feature that people like about Captivate is their private podcasting option.
Why would anyone want a private podcast?
For paid memberships of course!
If you're a blogger selling a membership, having a private podcast that won't show up in search could be a great option for your students to download your lessons on the go.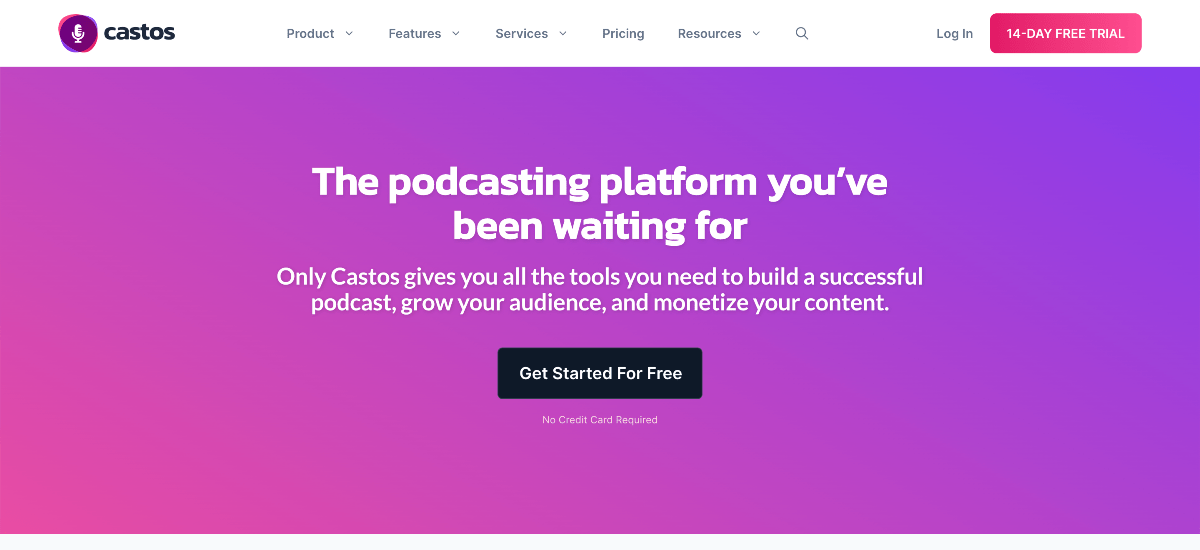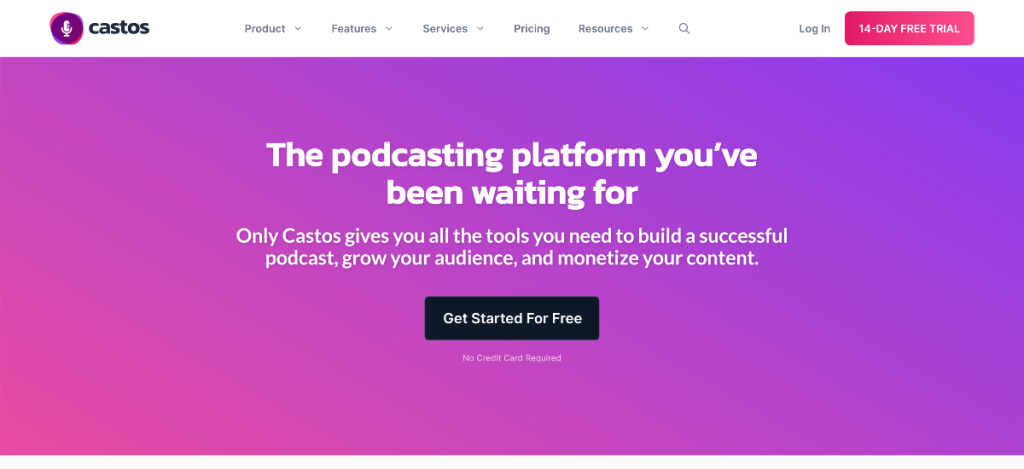 Castos is another podcast hosting company that offers private podcasting.
With all of their paid plans, you can create a podcast that is password protected. Doing this allows you to limit who can tune in.
Their features include:
Unlimited podcasts
Unlimited episodes (up to 4 hours in length per episode)
Private Podcasting
WordPress Plugin Access to Seriously Simple Podcasting
Public Podcast Webpage
Listening app for your show on iOS and Android
Castos is another podcast hosting company that limits your growth in a way though.
While their user interface is easy to use, and their features get the job done, their plans inhibit you in the sense that if you get more downloads than your plan allows, you could have to upgrade to the next pricing tier.
What are the Top 5 Free Podcast Hosting Companies?
There are a lot of podcast hosting sites that offer paid plans, but when you're just starting out, you might not want to spend any money on hosting.
I completely understand! Many bootstrapping bloggers want to get everything for free before they commit to paying.
But keep in mind that no good podcasting (or any other software) company is free forever. You will always have to upgrade when you grow – more episodes, subscribers, downloads, etc.
They choose free email plans like ConvertKit, free promotional tools like Facebook and Twitter, and free image websites like Pexels and Unsplash.
If you would prefer podcast platforms that don't charge anything, we have you covered.
Just keep the following in mind…
Why Would Anyone PAY For Podcast Hosting?
First, with free podcast hosting, you don't have any skin in the game.
With online courses or anything really, you tend to put more effort into something when you've paid for it. It's much easier to call it quits when you have nothing invested.
Second, you won't get as much money as you would through other platforms.
Podcast hosting for free means YOU are the product. You can make money, sure. But, the companies that offer free hosting take a larger cut of any ad revenue you make.
Third, it's not always easy to leave the free platforms.
The way to mitigate this is to back up your episodes and switch to paid podcast hosting sites while you still have your account online with the free podcast hosting platform.
Okay, now that all the disclaimers are out of the way, let's explore podcast hosting for free! Here are the type five FREE podcast hosting sites: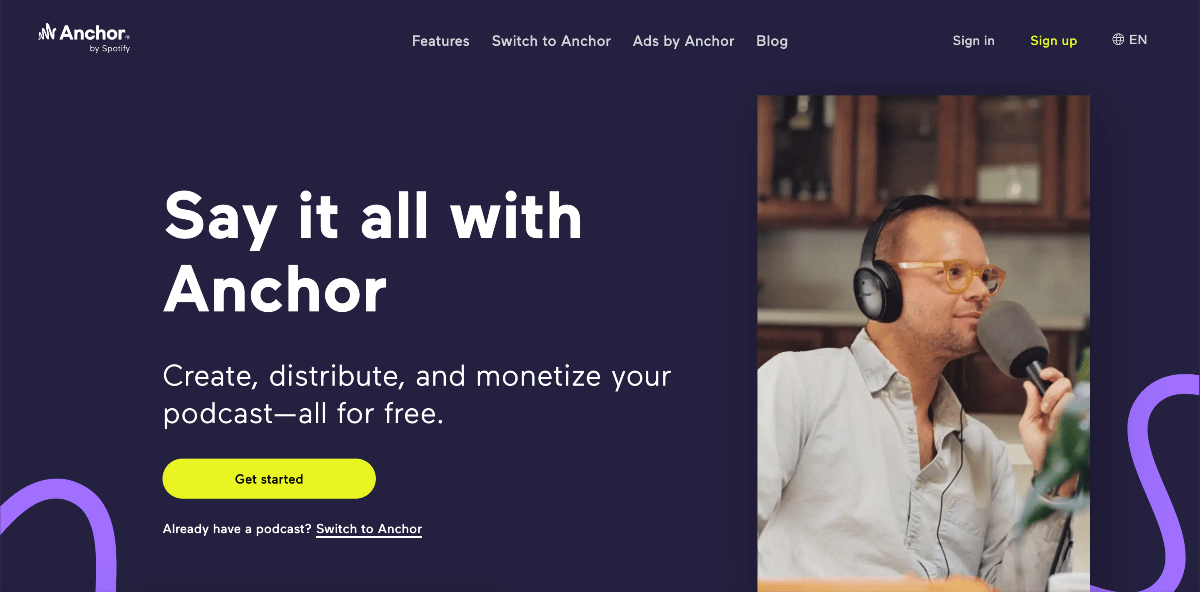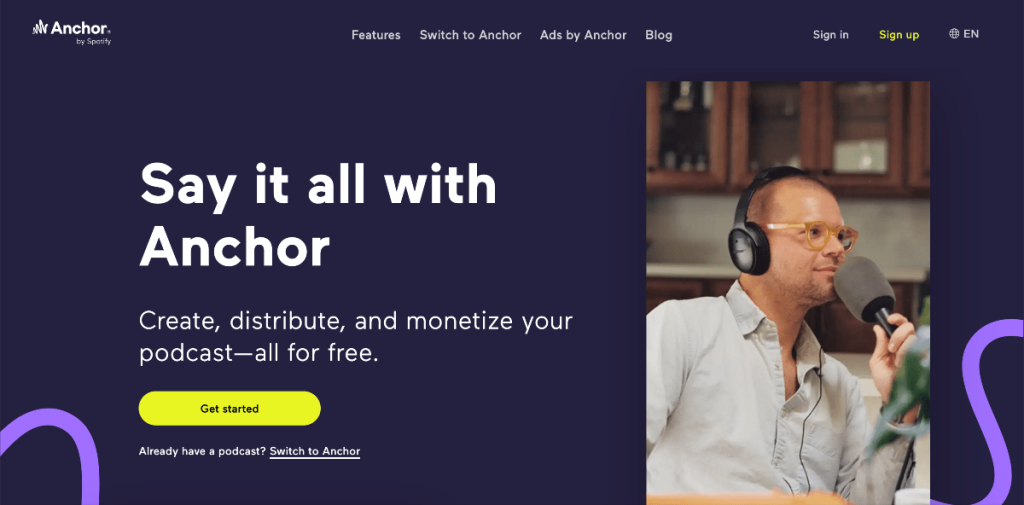 Anchor seems like everyone's go-to for free podcast hosting. It's definitely the most popular as far as the free options go.
Anchor is a great choice for podcasters that want all the features most of the paid hosts offer, but without paying a premium for it.
Their features include:
Unlimited storage
Analytics from Spotify
Video podcasts on Spotify
A free podcast website
Embedded player
An RSS feed
Cover art creator
Anchor is user-friendly and it does give you a quick way to get your podcast out to the masses.
Blogger Sanjay Gill of Gaming Brick said he chose Anchor because it was free and simple to get started with. He said,
"I'll say my blog has benefited from my podcasting journey because it has made it easy for my audience to connect with me on a more deep and personal level.

Since I was new to the whole idea of podcasting, I spoke with a friend who was already thriving at it and she recommended Anchor."
Lily Allen-Duenas of the Wild Yoga Tribe blog said something similar. Many of the podcasters and bloggers in her network were all using Anchor and it was quick and easy to get started with no fees.
Important Note on Monetizing with Anchor
I'd be remiss if we didn't bring up something important about Anchor's monetization program.
Where other paid platforms only take a 10% fee for putting you in touch with sponsors, Anchor takes 30%.
That might not seem like a big deal when you are just getting started. However, if you start gaining traction, a $1,000 sponsorship will actually only yield you $700 when you could have kept $900 with other hosts.
I'm not saying avoid Anchor – just be aware of what you're working with.
Yes, I'm mentioning it again because it's my favorite podcast hosting company. Like I said earlier, you can start a podcast completely for free on Buzzsprout.
You only have 90 days before your content expires, but you can always start on the free plan for 90 days before upgrading. That's a hell of a long free trial, in my opinion.
After those 90 days are up, you can upgrade to their lowest-cost plan and keep all of your content up.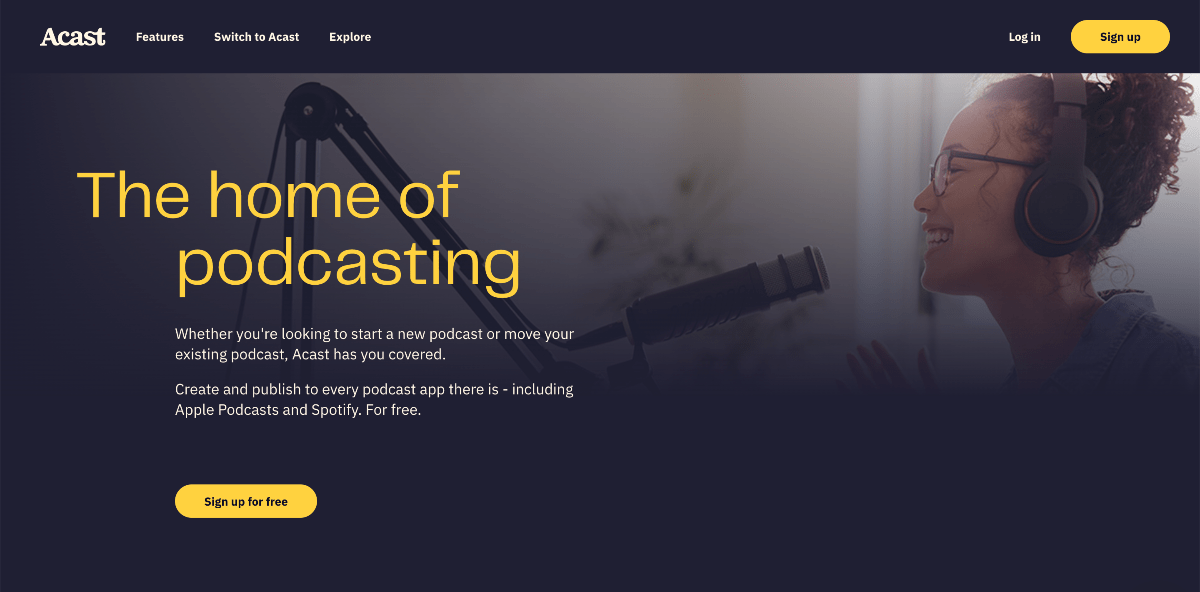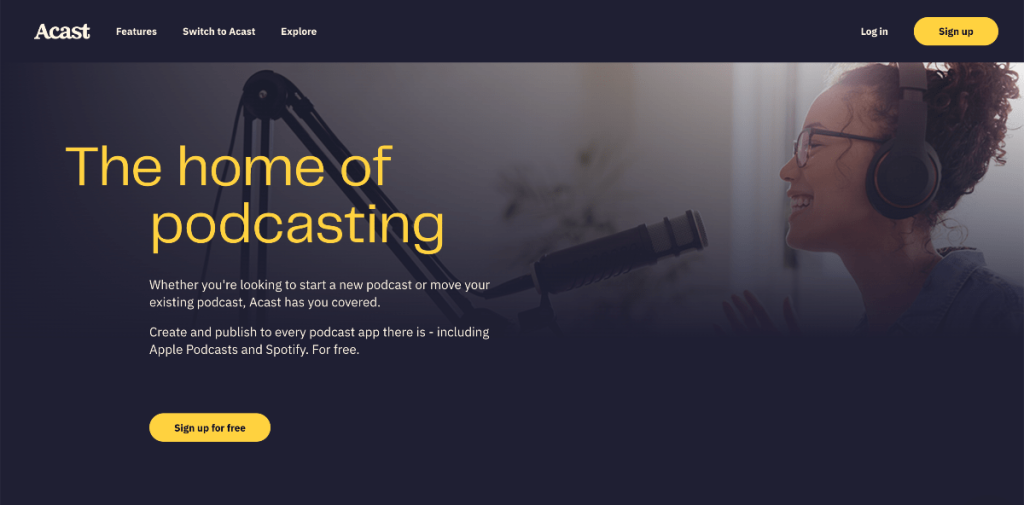 Though Acast is newer to the podcasting game, they are certainly getting the attention of the people.
It was founded in 2014 in Sweden, and one of the reasons podcasters are choosing it is its dynamic ad insertion technology. They were one of the first podcast hosting sites in the industry to offer this.
What is dynamic ad insertion in podcasting?
Dynamic ad insertion is a technology that allows podcast publishers to insert targeted ads into their podcasts.
The ads are selected and served by a third party ad network in real-time, based on the listener's location, demographics, and interests.
This allows podcast publishers to generate revenue from their podcasts without having to pre-screen or approve the ads themselves.
It also allows them to target specific listeners with relevant ads. It's similar to ads being inserted into your videos on YouTube, but with podcast episodes.
One of the largest companies to opt for Acast because of DAI was Buzzfeed back in 2015.
Buzzfeed and Acast have since formed quite a partnership with Buzzfeed launching six weekly podcasts on their platform.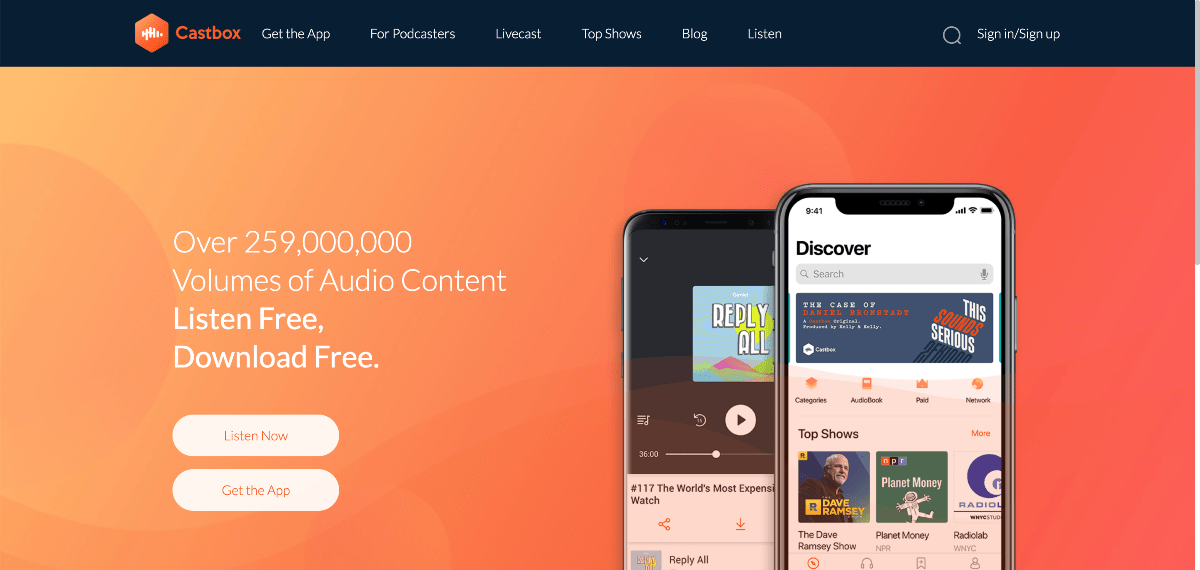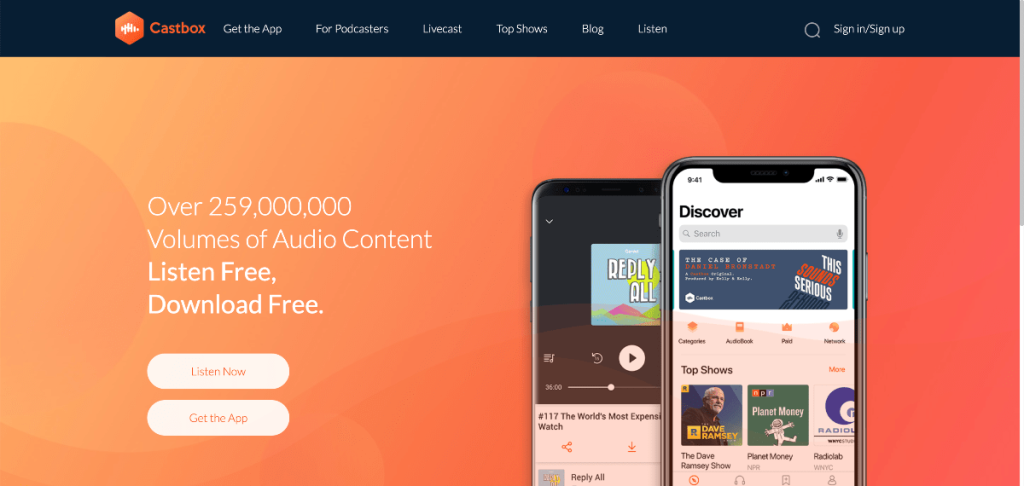 Though a lot of people know Castbox as a podcatcher (an app to play podcasts on), they are also a free podcast host.
They claim they are "the simplest way to get started with podcasting."
Their features include:
Unlimited storage
Livecast – allows live audio streaming for free
Virtual gifting (similar to YouTube's super chat feature
Analytics
Castbox also allows its users to "Apply to be Featured." If selected, your show will "be featured on Castbox in the banner or Editors' Picks on the homepage."
This could be a huge leg up if you're really good!
Wait… what?
YouTube announced in March 2022 that they have a significant plan for getting involved in the podcasting game.
Of course, YouTube is getting into the podcasting game. No one stays in their own lanes these days…
You can technically get your feet wet with YouTube first rather than getting a podcast host at all.
While YouTube might not be your first thought for podcasting, a lot of podcasters are sharing their shows on YouTube to provide both an audio and visual means for their listeners to engage with their content.
Also, if you decide to get started podcasting for free on YouTube first and later decide you want to put your show on any other podcast platform, that's easy to do.
You simply need to strip your audio using a program like Online Audio Converter (which is free).
Then, load the audio as you normally would to the podcast hosting sites of your choice. The only downside is that you may lose some quality depending on how good the quality was on your videos.
Other Podcast Hosting Companies to Consider
The point of this article was to give you our recommendations for the best podcast hosting companies. I hope that we did that.
But if you still aren't satisfied with the most popular and best options and are feeling particularly bored today, you can check out all of these other options that also exist:
Remember to consider all of the above factors that we mentioned about choosing your podcast hosting provider.
Next, we'll move on to some advice that will help you get started on this podcasting journey – before we talk about how to market your podcast.
How to Start a Podcast: An Overview
If you're like most people thinking about starting a podcast, you have a million questions swimming in your head like:
What equipment will you need to start?
How much does it cost to start a podcast?
Do I REALLY need a podcasting microphone?
If you've been thinking about those questions, we have your answers.
1. Decide what you want your podcast to be about.
As a general rule, you should have a good idea of what you want to talk about before starting your podcast, but there is no one-size-fits-all answer to this question.
The content of your podcast will depend on who you are as a host, what kind of content you want to share, HOW you want to share it, and what your audience wants and needs.
Consider whether you want to be an expert in the subject and share most of the content yourself or if you just want to be a host interviewing experts on the subject – or a combination of both.
I personally like the approach of using the combination of both to give the audience a well-rounded balance of information, and because they often WANT to hear from you specifically!
For example, let's say you're incredibly passionate about the F.I.R.E. movement: Financial Independence, Retire Early.
You can share 'how to' episodes as well as your journey along the way as you work towards retiring early (or what you did to retire early).
Or/and you could interview F.I.R.E. experts that have gone on before you, and let them have the spotlight.
2. Decide which guests you want on the show (if anyone).
Finding the right guests is one of the most important parts of starting your podcast if you envision having guests on your show at all.
Some people choose not to or not to start with them and if that's you, you can bypass this step.
I personally started without guests while I got comfortable with the platform and speaking to my audience in this medium and I only invited guests later on when I was ready.
3. Pick a name for your podcast.
This could be as easy as using your blog name or it could be a little more difficult if you want to choose something different but also related.
If your podcast name isn't your blog name, make sure it's descriptive of what your podcast is about so that even people who don't know you but are interested in the subject can check it out easily.
Here are some tips for naming your show:
Keep it simple and memorable. The name of your podcast should be easy to say and spell.
Make it unique. There are already thousands of podcasts out there, so make sure your show stands out from the rest.
Make sure the name somehow relates to the content of the show. Keywords are still important here.
Be sure to check the trademark database as well as podcast directories to see if the name you want is taken.
Read the names of the top shows in your industry for inspiration. Just make sure to differentiate your show enough from others.
Next, you want to come up with a tagline that captures the essence of your podcast.
4. Get the necessary equipment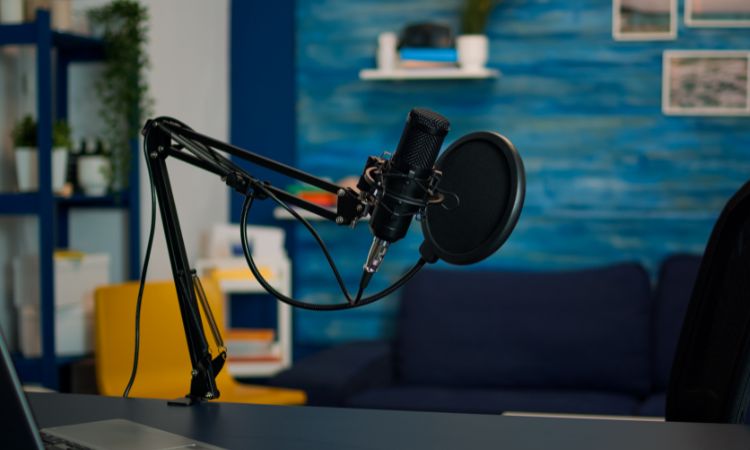 We'll cover this at greater length in a moment.
Just know that you may need to purchase a few things to get your podcast off the ground.
5. Watch some tutorials for recording and editing.
This part can be a little daunting at first but if I can do it, you can do it. Trust me.
We'll talk about some more specific tools for recording and editing later on in this guide, but know that there are some awesome tutorials out there on how to record and edit a podcast.
Head to YouTube and you'll find a lot of good ones. Here are just a few channels that are quite helpful:
Podcast hosting companies Buzzsprout and RSS.com both have really great tutorials on podcasting as well
6. Create your podcast artwork.
Now that you've chosen a name, here comes the fun part! You get one image to capture people's attention in the podcast directories.
Let's be honest. People judge books (and podcasts) by their covers.
Podcast artwork catches the eyes of potential listeners and it's another way for you to express your brand and what your show is about.
If you already know how to design digital artwork, this will be easy for you. If not, no worries. It's super easy thanks to this awesome tool called Canva.
There are also TONS of templates on Canva, including some for podcast covers.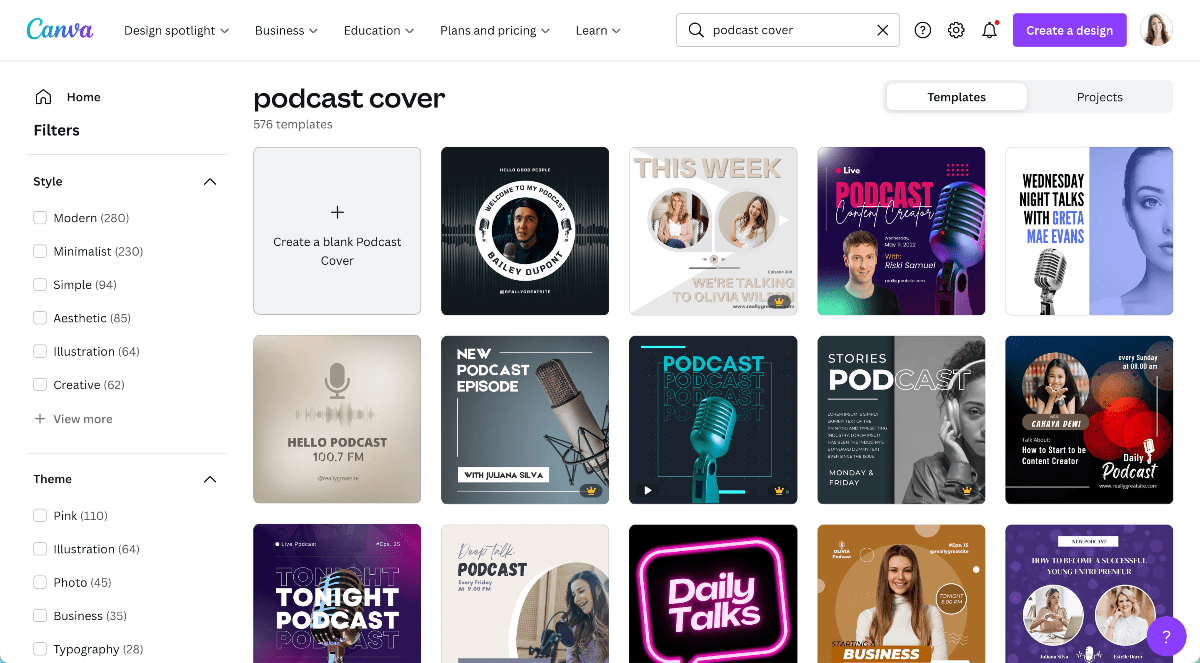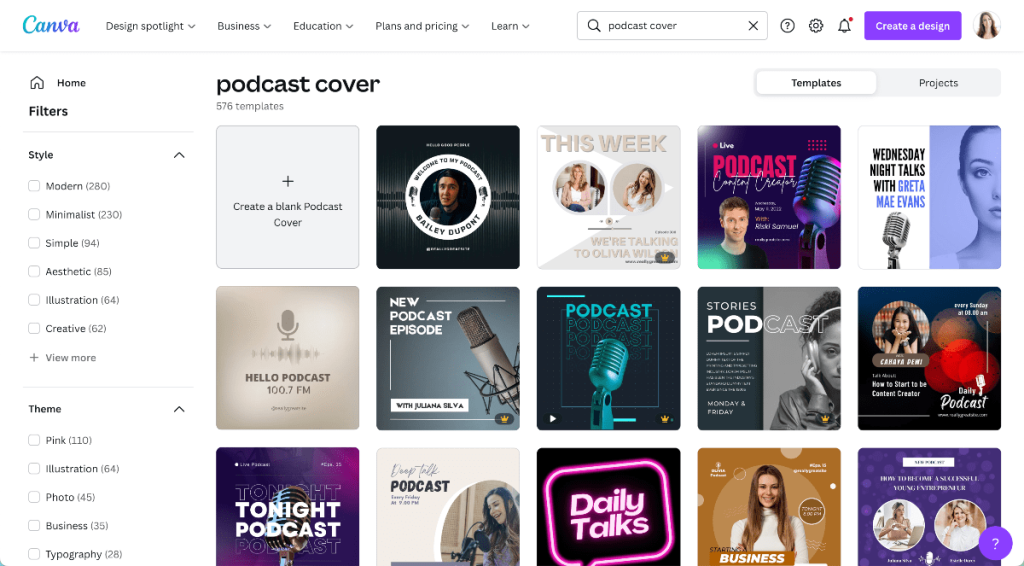 This is a great place to start for inspiration and help designing your podcast cover.
If you're not into this part of it, you can hire someone on a platform like Fiverr to create your artwork for you.
7. Record your intro and outro and add music.
You should create a solid intro and outro for your show, including some music in the background. There are free options or you can check out the low-cost options at Audio Jungle.
Here's a guide to where to find completely free music for your show.
Your intro should include a couple of sentences about what your show is about. Consider introducing yourself as the host.
Your outro should usually include a thanks for listening, a request for a subscribe or review, and maybe another call-to-action to visit your website to learn more.
Listeners prefer podcasts that have a strong intro and outro, so you'll want to ensure yours is up to par.
8. Record some episodes.
Planning ahead of time is crucial for this step. It really helped me get organized and also cut down some of the fear and anxiousness I had about putting myself out there in those first few episodes.
While you don't need to script every single word, you should at least have a concrete idea of what you want to discuss in each episode.
It's okay to script out every episode if you want to. It helped me compile my thoughts and make sure I didn't leave anything important out.
But be mindful that when you read from a script, it often shows in your episode. I found that reading from a script but also going into more detail on occasion off-script was a good balance.
But some people prefer to just talk without a script and if that's your jam, you rock it. Just consider writing a brief outline of the main talking points you want to discuss.
I also found it helpful to create a spreadsheet with my first 25 episodes already planned out.
To record your episode with good results, you want to eliminate background noises and prevent interruptions as much as you can. This will save you significant time in editing.
9. Edit your episodes.
We'll explore recording and editing software in the equipment needed section of this post.
Recording and editing may involve a steep learning curve, but taking the time to master it or hire it out will make a world of difference in the final product.
10. Upload your episodes to a podcast host and start promoting.
Don't worry, we'll talk in-depth about podcast hosting and which companies we recommend in a moment.
This was just a quick, bird's eye view of the simplified steps for starting a podcast. If you want some more details, you can read our complete guide to How to Start a Podcast.
Next, let's go over the equipment you need to start podcasting.
Equipment Needed for Podcast Hosting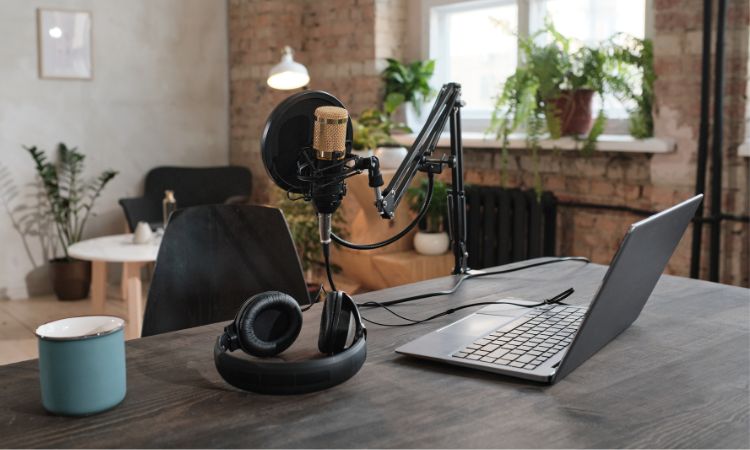 Lucky for you, in our modern technological world, starting a podcast is easier than ever, and you don't actually need to spend a bajillion dollars on equipment.
In fact, as a blogger, you probably already have some of the equipment that you need.
In this next section, we'll discuss what equipment you need to start a podcast and how much it actually costs to get started.
Equipment and Expenses Needed to Start a Podcast
While you can buy the most expensive equipment for your podcast, you certainly don't have to and we wouldn't necessarily advise it unless you have a ballin' budget.
Starting with the basics will save you some money and familiarize you with the process without being out a lot of money in the beginning.
Here is a list of all the basic equipment you'll need to start your podcast:
Computer
Microphone
Headphones
Editing Software
Podcast Hosting Account
Computer
I shouldn't have to mention this, I think, but I guess I will. If you're reading this article, I suspect you have a decent laptop or desktop already.
You can technically start a podcast on your phone or a tablet, but I wouldn't recommend it. You really need a proper computer to do the editing part.
I don't think I need to say much else on this topic. I'm an avid MacBook Pro user and have been for years because I think they're the best for recording and editing videos, podcasts, etc. but other computer brands like Windows also compare.
Microphone
Most computers come with a built-in microphone and many headphones these days work pretty well for recording podcast episodes. In fact, many guests on shows record with headphones or Airpods.
So, technically, you could skip out on this purchase. But, I HIGHLY recommend purchasing a microphone for your podcast.
Good audio quality is crucial for your podcast and listeners expect a clear, concise sound – and people expect that from podcasts now.
Good podcasting microphones eliminate a lot of background noise and make your voice sound much clearer and more professional. The good news is that there are plenty of affordable options.
My personal favorite microphone that I used for recording podcast episodes and videos for my blogging courses is the RODE NT-USB, but it's on the pricier side.
It was an investment I felt right about making because of the various uses in my business. RODE also has a Mini Microphone with great reviews and a better price point that I've been wanting to try.
But another great starter microphone to purchase is Samsung's Q2 USB, which is more budget-friendly.
Just make sure to choose a decent-quality microphone that is good for podcasting and that has good reviews.
Headphones
Why do you need headphones if you have a good microphone?
Having a good pair of headphones allows you to hear what's being recorded so you can catch any background noise and adjust your position if needed.
While you may think noise-canceling headphones are the way to go, we actually recommend sound-isolation headphones. They block out external noise, which means your podcast will sound clearer.
The Audio Technica's ATH-m20x is a good budget-friendly option.
But this piece of podcasting equipment is certainly optional. Investing in a good microphone is far more important. I mostly just used my Apple headphones plugged right into my RODE mic and they worked just fine, although I did have to make sure I was in a very quiet place to record.
Editing Software
Don't worry — I have some free options for you now! Woohoo!
There are two amazing and FREE options for the beginning podcaster: GarageBand and Audacity.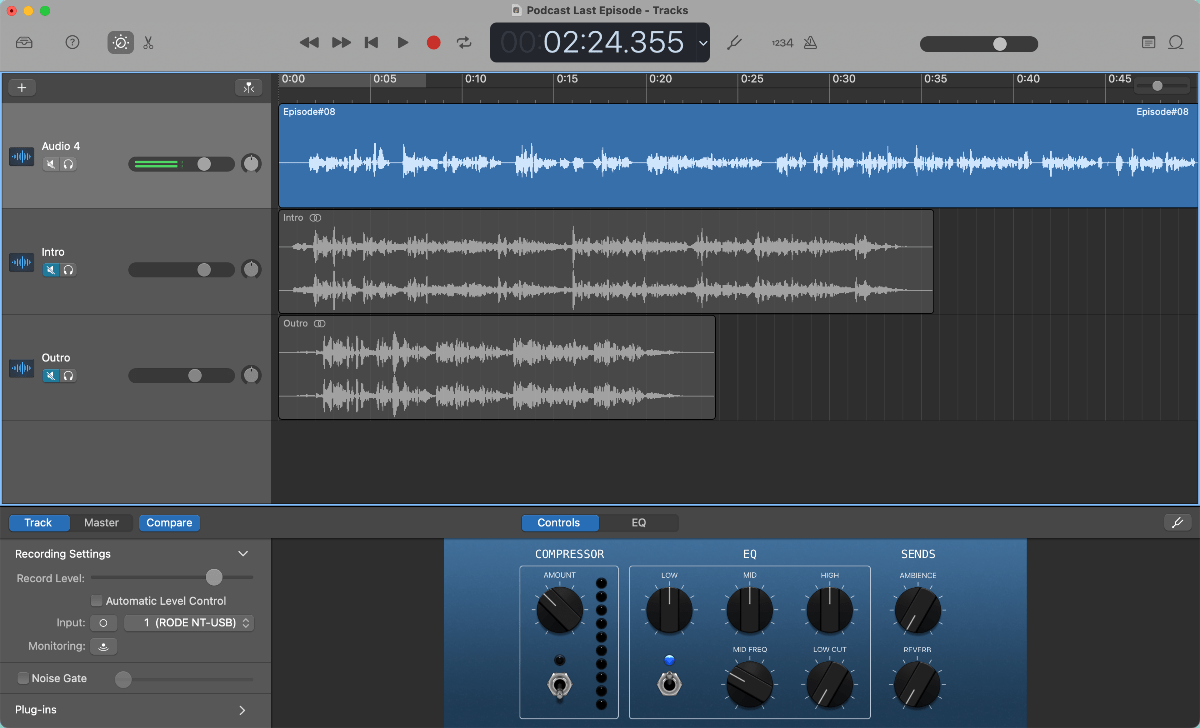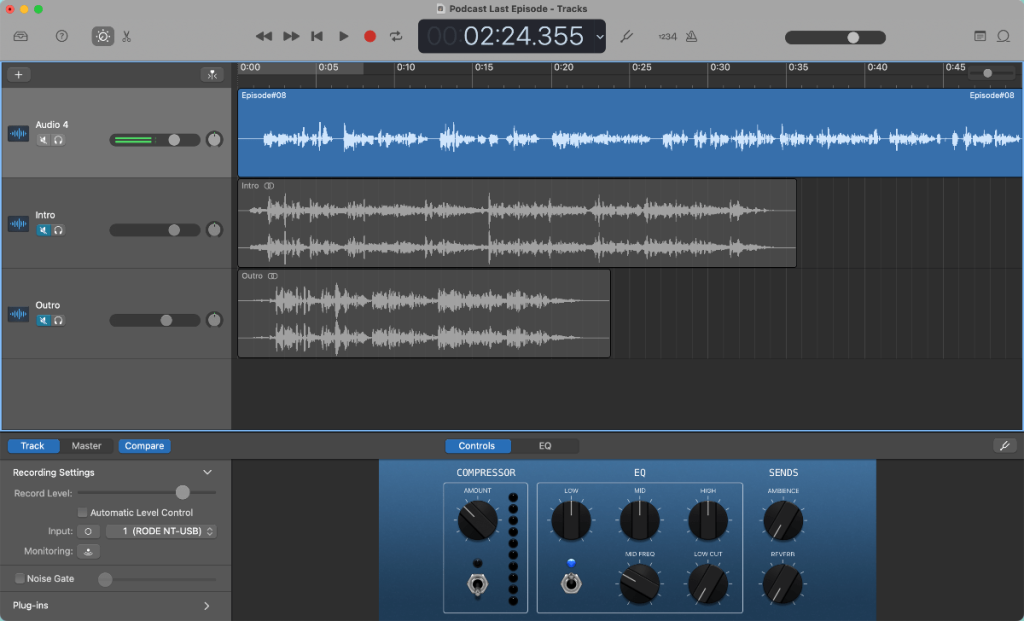 I personally used GarageBand because it came with my Mac, but Audacity is also a great option.
You need podcast editing software to reduce background noise, make any adjustments to your voice, add your intro and outro, and edit out any mistakes you made while recording.
Of course, there are many paid options for editing software as well such as Adobe Audition, Alitu, and Hindenburg Journalist.
There are also some amazing AI editors coming online in recent years as well. Descript is one that has a "Studio Sound" enhancement feature that removes echo and spits out a crisper-sounding piece of audio and also offers transcription and overdub.
Overdub is a cool feature that allows you to change the words in your podcast with the click of a button.
Let's say you dropped an F-bomb by accident, with overdub, you can remove the explicit word and dub in a more PG-friendly word.
Prices for paid software range from less than 10 dollars up to the hundreds. But honestly, if you're just starting out, the free options I mentioned above work just fine!
Once you've acquired the necessary equipment and software, you're ready to start recording your podcast! Be sure to plan ahead and put in that extra work in editing to produce a smooth, enjoyable experience for your audience.
Podcast Hosting Account
It's time to make the big decision about where you will host your podcast.
Your podcast hosting company is the permanent residence for your show.
A host will store your podcast and distribute it with your RSS feed to the various podcast directories such as Apple Podcasts and Spotify so people can both find and listen to it.
There are countless options available for podcast hosting. Some of the most popular podcast hosting sites include BuzzSprout, RSS.com, Libsyn, and PodBean.
There are paid and free options available for podcast hosting, but most free options will only host your episodes for a couple of months before they expire.
Thankfully, there are some really budget-friendly options available, and some podcast hosting sites will even offer a free trial, so you can determine which one is the best option for you.
Paid hosting sites also come with great features to help you boost and promote your show. More on that in a moment though.
Okay. That's a wrap on our equipment list! Now that you know what equipment you'll need to start a podcast, let's dive a little deeper into podcast hosting!
How to Choose a Podcast Host
You need a podcast host to essentially "take your podcast online" and make it available to others and to major directories like Apple, Spotify, Google, Stitcher, etc.
This is where your podcast episodes will be uploaded and from where they will be distributed and downloaded.
Deciding where you will host your podcast is a pretty big decision to make because you don't want to have to switch later on down the road.
So, how do you choose a podcast host?
First and foremost, you need to figure out what you're looking for in a host.
We will help you figure this out first and then we will dive into our actual recommendations for podcast hosting companies!
Whether it's money-related, feature-related, storage-related, etc., you need to decide what is most important for you and your podcast.
If you're unsure about these things, let us fill you in on the features you should be using in your consideration.
Storage and Bandwidth
This one is big! Pun intended.
The amount of storage and bandwidth you're given will determine how many episodes you can release a week as well as the listener's ability to access older content.
Your podcast will likely need a lot of storage and you want to ensure you'll have the space needed to produce as much content as you wish.
Ownership
We're big believers that you deserve to own your work.
Stay clear of any hosting sites that claim any type of ownership over your work.
Read all terms, conditions, and contracts carefully to ensure they aren't trying to sneak their way into owning your work. This also includes being careful about making sure they can't use your show for clout or advertising. Yes, some podcast hosts do this!
Case in point: Anchor. While they are a free podcast hosting company, they have a notice in their terms and conditions that states that users must grant them the ability to use your work for advertising purposes.
While this isn't horrible per se, it effectively grants them permission to use your show to convince other people to join their podcasting platform.
You will not see a dime for any money they make from users signing up because of you, however.
Your podcast should be your own, you should always hold all of the rights to it, and YOU should also be compensated if your show is used for advertising purposes.
Your Host Needs to be Apple and Podcast Directory Friendly
Apple iTunes continues to dominate the podcast world, so make sure that the hosting site you choose will provide you with an RSS feed that you can use to distribute your podcast on iTunes.
This will make your show more discoverable.
Analytics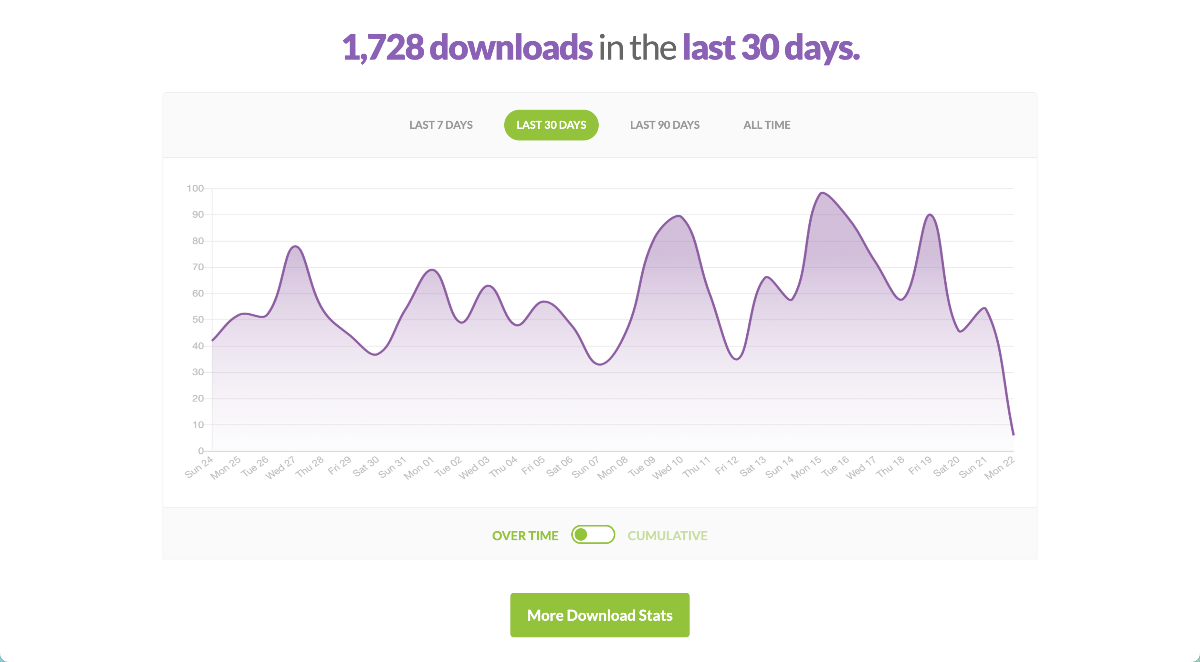 Analytics are crucial when it comes to running a podcast. They help you better understand your audience and what they enjoy the most about your podcast.
You can track your numbers to help you determine what's working and what episodes are received better than others or where people are dropping off.
Most good podcast hosting companies and podcast directories come with some form of basic analytics.
Price
Your podcast hosting is going to be a recurring cost on a monthly basis (like all software these days), so it's important to find one that feels good in your budget.
As I mentioned, there are free options, but you'll find that none of them will serve your needs. They are either limited in time hosted or in space granted.
Plus, paid hosting comes with a lot of other great features that will help you boost and promote your podcast.
Many of the best podcast hosts are less than $15 per month and also offer annual plans for extra savings.
User-Friendliness
Starting and growing a podcast can seem a little overwhelming when you have absolutely no experience in it – or at least that's how I felt when I first started.
What I love about my favorite podcast hosting company, BuzzSprout, is just its user-friendliness.
They made it stupid simple to set up your podcast and upload new episodes each week or month or whatever you choose.
Trying to navigate the RSS feeds and applying to each of the different directories can seem like a lot, but with the right podcast hosting company, it's actually really easy.
No one wants to deal with a complicated or complex system when it comes to running their podcast. Great features are only great when you know how to use them, right?
The Public Website for Your Show
Some of your listeners may dislike iTunes, Spotify, and other big-name podcast hosts. Because of this, your hosting site should include a public website for your show specifically.
This allows listeners the ability to download your show straight from your website.
Having a website dedicated to your podcast also allows you to promote your show easier.
Now that you know what features to look out for, let's get into the best podcast hosting sites on the market, and which one you should choose to launch and grow your podcast.
Regrets in Podcasting: Advice from Podcasters
We can share our advice and ideas, but we are limited to only our experiences.
That's why we went out and asked other bloggers-turned-podcasters for their take on regrets in podcasting. As we share their stories, we hope that you will learn from their mistakes so that you might not make them too.
I Regret Not Starting Sooner
Kelsey Sorenson of Wife Teacher Mommy said, "Honestly, I wish I knew just how fun it would be to have a podcast!
It is now one of my favorite parts of my business. I've been blogging since around 2016, but just started the podcast this year in 2022.
My main regret is that I didn't start it much sooner, so if you're on the fence about starting a podcast, I would recommend trying it out.
You can always stop if you find it's not worth it for you!"
She also said she regrets not doing more research before picking a host.
Kelsey uses Hello Audio because of its private podcasting but said "I've realized I should have done more research because I need more stats for my public one and I'm looking to move the podcast to a different host.
There are positives and negatives to every host so it's really finding what suits the needs of your show."
Avoid Guests Focused Too Much on Self Promotion
Luke Tew of Maverrik said his only real regret is allowing guests that focus too much on self-promotion.
He said, "We have a few episodes that may not truly fit our ideals. That doesn't make them bad episodes, but there needs to be more for the listener."
It's a good idea to consider that when your audience is tuning in, the largest question they are asking themselves is "What's in it for me?"
They want value and entertainment, not a sales pitch. They get enough of that with ads and sponsor shoutouts.
Still, regrets aside, Luke says that his web traffic has increased significantly. To help bring in more visitors, they are now translating their episodes into more blog posts.
Have More Episodes Ready at the Time of Launch
Lily Allen-Duenas of the Wild Yoga Tribe blog said, "I wish I had known to have a back catalog of at least a few podcasts ready to go prior to launch!
I release one episode weekly on Fridays and I always record, edit, and do everything myself each week.
I wish I would have had more episodes ready to launch to give myself more of a buffer."
This is something that I did for my podcast launch and was super glad I did.
Aim to have 5 episodes recorded when you launch and publish 3 of them when you're ready to launch so that your audience has enough to get hooked from the start!
Don't Let Fear Hold You Back
Ashley Grant said that her biggest regret was letting fear prevent her from starting a podcast in the first place.
She said, "I was so scared of what people would think and so afraid of haters and trolls that I didn't launch my podcast for several years."
The truth is, you can (and most likely will) get haters in anything – podcasts, blogs, YouTube videos.
Navigating the hate isn't always easy, but you shouldn't let it keep you from launching your podcast, or from chasing your dreams for that matter!
Let Listeners Know if You're Switching Hosts
Jack Chambers-Ward of With Candour told us one of his biggest regrets was not telling his listeners they were switching from Soundcloud to Anchor.
He said, "We'd been with Soundcloud for five years and realized how limited it was as a podcast hosting platform.
The actual move to Anchor was incredibly quick and smooth, taking only a few clicks and a minute or two."
The trouble was they lost subscribers because they announced the move on social media, but not on their podcast itself.
Why does this matter?
When you switch hosts and don't redirect it properly, it can look as though your podcast went offline. The RSS feed changes, and you may need to go back and update it with podcast directories like Apple and Spotify.
Otherwise, you too could lose subscribers.
Riley Bryne of Podigy Podcasting Services says that when you set up a proper 301 redirect, you shouldn't have a meaningful loss of subscribers.
She said, " There may be an initial dip the first week as the download numbers are split between two hosting services, but podcasters should not be afraid of losing subscribers if they decide to switch hosting providers.
We frequently transfer shows over to our Captivate or Megaphone corporate accounts, and never have we seen numbers drop due to the transition."
Learn How to Market a Podcast
Caroline Bjorkquist with the RunRX podcast and website said her biggest regret was not learning how to market a podcast sooner.
She said, "I know it's through guest podcasting, but sometimes it's hard to juggle everything so that's a regret."
She also said, "I wish I had a [better] plan to handle replays."
When the larger podcasters take time off, they share replays of their past episodes, and Caroline wishes she had a better plan for managing those.
If you're like Caroline and want to learn how to market a podcast, we'll cover that in our next section!
How to Market a Podcast Effectively
So, you've decided to start a podcast, gathered your equipment, and chosen your podcast hosting company!
Congrats -you've already taken some pretty massive steps, and that's great. But you know what I'm going to say… the real work has only just begun!
Podcasts continue to grow in popularity, and we don't expect to see that slow down soon. The kicker is…
If you want to actually grow in the world of podcasting and drive some real traffic, you need to learn how to market a podcast effectively.
And it's not always very easy, especially if you have your eyes on the top spots (or even the top 200).
Insert the old marathon-not-a-sprint metaphor.
But it can be done. Much like marketing a blog, if you have a strategy in place, you'll be able to market your podcast and grow your listening base steadily over time.
1. Good Marketing Begins with Your Podcast Hosting Platform
Regardless of the podcast hosting company you choose, when you sign up, you must be very intentional with things like:
Your show description – i.e. make sure to include keywords your ideal listeners will be looking for
The artwork you choose – we said it earlier, but people DO judge a podcast by its art
The categories you select – Check out the list of categories Apple uses to catalog your podcast, and choose three that best represent your show in order of priority
Note – even if your podcast hosting company only lets you use one or two categories, most podcast directories will ask you for three.
It may seem like overkill, but the more you can set yourself up for success when signing up with paid or free podcast hosting, the better.
In other words, don't simply throw your name and audio online and expect to be successful.
Like a good blog post, you are crafting a narrative. Take the time to shine!
2. Focus on Delivering

Quality

Content
Above all else, make sure your podcast is providing quality content that people actually want to listen to.
If you're putting out great, value-filled episodes on a regular basis, people will be more likely to stick around and share a recommendation for your show.
This means being consistent with your release schedule, bringing in amazing guests (or consistently telling compelling stories), and editing your episodes in a way that provides listeners with a high-quality auditory experience.
3. Use Social Media – the Right Way
The best podcast hosting companies will have "share tools" to help you promote your podcast to your social media followers.
Just like you shouldn't post links to new blog posts and hope for page views, it's not enough to simply post links to your latest episodes.
Create video clips and audiograms of your episodes to increase interest in your show. BuzzSprout, our recommended podcast hosting company, allows you to create audio clips from your uploaded content.
On every platform you share your podcast, tag your guests, sponsors, and co-hosts. Let your guests know when their episode is airing and provide them with an easy link to share.
And remember not to share the entire episode. Instead, post just enough to intrigue your audience and convince them to come back to your website to listen to the rest of the episode.
4. Submit Your Podcast to Podcast Directories
There are numerous online directories where you can submit your podcast for free.
Most good podcast hosting companies (like BuzzSprout) will have easy links for you to directly apply within your hosting company after your first episode is published.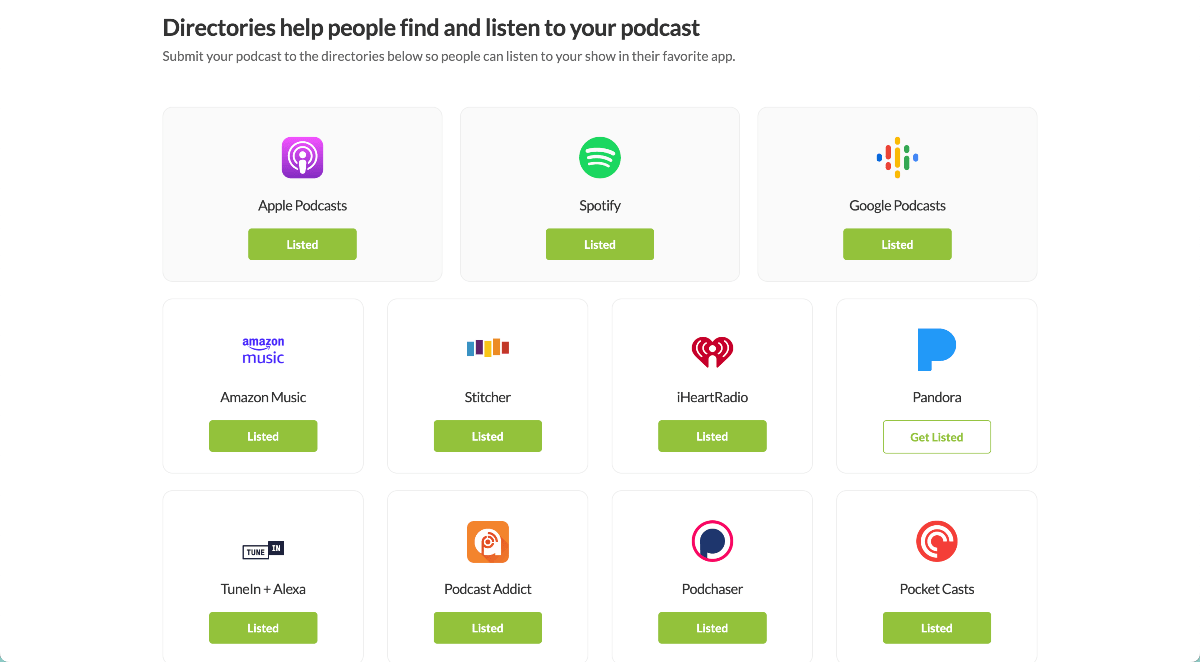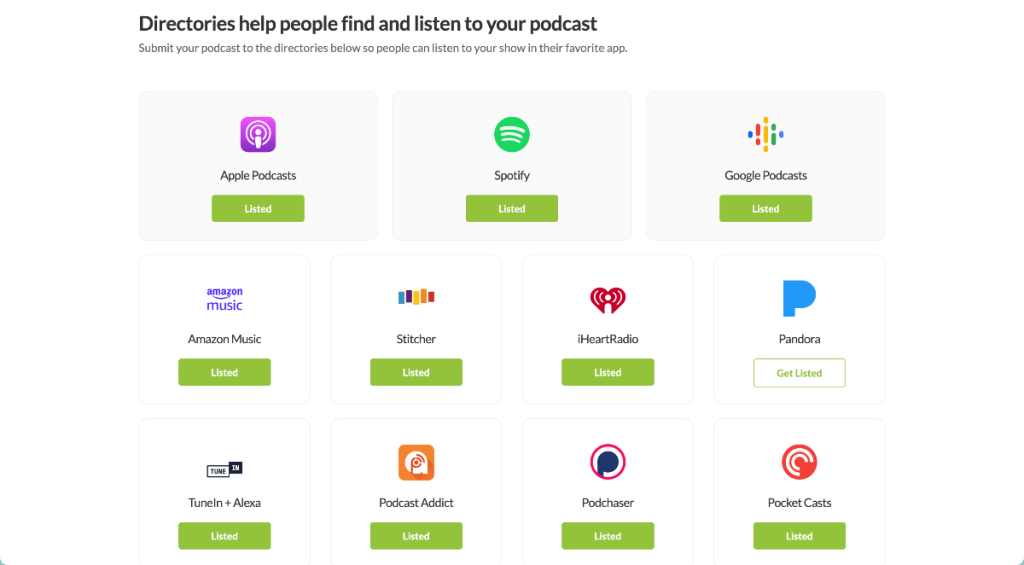 At a minimum, your show should be on
These directories make it easy for people to find and subscribe to your show and expose you to millions of potential listeners.
RSS.com created a full directory list with submission instructions that you can read here.
5. Use Your Website to Promote the Show
Just as your podcast is intended to drive traffic to your blog, you can use your blog to drive traffic to your podcast as well.
Every single episode should have its own blog post or page on your website for four reasons:
You can embed the episodes to keep people on the blog longer to improve your bounce rate.
You can share the transcript on the blog post/page to make your blog and podcast more ADA compliant (and to take advantage of some sweet SEO opportunities!).
You can include any links from your call to action in each episode right there on the page so listeners don't have to hunt around for where to go/what to do.
You'll have a space to engage directly with your audience in the comment section.
Having designated space on your blog to promote the podcast will help you promote brand awareness and give people yet another reason to go to your website.
And, it's much easier to tell people they can find your podcast at yourawesomeblog.com/podcast than it is to send them on a wild goose chase on your host or a podcast directory!
Make sure to choose a podcast hosting site that comes with a good, native podcast player that you can embed into your website.
If you aren't satisfied with your podcast player, you can a player software like Fusebox FM, which is one that was created by Pat Flynn. I used it for a long time and loved it.
6. Guest on Other Podcasts
This is not only a great way to promote your podcast, but it's also a great way to promote your blog.
Create and Go has been featured on many prominent podcast shows, including the Teachable podcast and Ry Rob's The Side Hustle Project.
This not only helps you reach a new audience but also builds credibility and authority for your own show.
Oh, and backlinks, remember? It helps with those precious backlinks you should be working on building for your SEO strategy.
Speaking of which, though they are likely "no-follow links," in every podcast directory you get to share your podcast on, you should add a link to your website!
7. Leverage PR Opportunities
You don't need a high-priced public relations team to get on the news.
If something you are doing in your podcast (or your blog!) is newsworthy, pitch your podcast to local and national news outlets as a source of expert information on your topic.
This can help generate interest and traffic to your show.
For example, if you're hosting an episode that is a charity fundraiser for a cause, reach out to your local media to shout it out.
Or, if you can, team up with the cause you're raising money for and ask them to share your show with their audience.
Any opportunity you can find to get the word out about your podcast – take it!
Also, once you're a podcaster, you have yet another reason to be answering queries on HARO aka Help a Reporter Out.
Many queries are seeking podcasters to answer questions, and they usually come with a link to your podcast and sometimes your blog as well.
8. Partner with Anyone and Everyone
Reach out to influencers: Identify influential people in your niche who might be interested in promoting your podcast to their audience.
Send them an email or connect with them on social media and let them know about your show. If they like it, they may be willing to share it with their followers.
Of course, this will be a much easier sell if you invite them as a guest on your show.
Partner with other businesses: Look for opportunities to partner with other businesses, like co-hosting an event or running a joint promotion.
This not only helps you tap into new audiences and get your podcast in front of potential listeners who might not have otherwise found you, but it can also lead to affiliate opportunities.
Having multiple assets to use for promotion also makes a business much more likely to work with you (i.e. a podcast, blog, AND YouTube channel).
Host a contest or giveaway: Everyone loves a good contest or giveaway, so consider hosting one related to your podcast.
This is a great way to generate interest and excitement while also getting people to subscribe and share your show with their friends.
9. Use Paid Advertising – Strategically
While there are plenty of ways to market your podcast for free, sometimes it's worth investing in paid advertising to reach a wider audience.
Platforms like Facebook and Google offer affordable ad options that can be targeted specifically to people who are likely to be interested in your podcast.
However, another option is paying for a sponsored shoutout on other podcasts, in podcast directories, in Podcast Magazine, on your fellow bloggers' sites, etc…
The possibilities are endless.
Pro Tip: Never Stop Delivering Maximum Value
Always remember your audience with every marketing pitch or tactic you utilize.
We've always found that when you deliver quality work first and foremost, the traffic and the sales follow.
Trying to take shortcuts or being overly focused on traffic and sales above all else will only slow you down. People see through it and it doesn't last.
The goal is to keep them there. And for that, you have to give them a reason to stay.
Where to Go From Here? Conclusion and Next Steps
Now is as good a time as ever to get into the podcast world.
According to Edison Research, 73% of Americans 12 years old or over have listened to audio online in the last month, and 26 million (80 million) Americans listen to podcasts each week.
It's high time your show gets thrown into the mix!
When you're just getting started with your podcast, things can feel overwhelming. We get it.
There are so many bases you have to cover – such as choosing your topic or niche, naming your podcast, and actually recording it.
We hope that this post has given you a lot of solid advice for not just how to launch a podcast, but how to choose an awesome podcast hosting company, and market your show effectively.
You don't have to spend a lot of money to get started as a podcaster, and we've shared free podcast hosting options to cut costs.
The important thing is that if you are thinking about starting a podcast, you should just do it.
You might not enjoy it and give up quickly and that's okay too. As long as you put some real effort into giving it a try.
Because podcasting could also be the best thing to ever happen to your blog. And that's worth investigating too!