We partner with bada$$ companies that offer products that help our readers achieve their goals! If you purchase through our partner links, we get paid for the referral at no additional cost to you! Read our disclosure for more info.
Podcasts are a great way to create and share content with your audience that takes less time and also builds better connections. Let's talk about how to start a podcast, why you would want to start a podcast, and when to know it's the right time to start a podcast.
First of all, congrats on being here in the first place! You're at least a little interested in learning more about how to start a podcast! That's exciting in itself!
It means that you've already moved past the "thinking" stage into the "doing" stage. Research is the first step.
I personally dragged out this entire process for far too long, so I'm going to do my best to make sure that you don't make the same mistakes that I did.
The funny thing is… I'm not even a listener of podcasts. I've listened to a couple over the years, but podcasts and audiobooks just aren't my thing. I prefer to read.
Knowing that, I wasn't really sure that I was cut out to "be a podcaster." Especially because I didn't feel like I had the right voice for it. I talk too fast and often don't articulate well enough. I was afraid, to say the least.
But you can start a successful podcast even if you aren't an avid listener in the first place, and you don't have to have an expert radio voice to be successful. You just have to be you and deliver information that your listeners want to hear.
First, let's talk about why you should start a podcast because I also want to help you make sure it's the right time for you (and your audience).
Why Should You Start a Podcast?
There are a lot of reasons why to start a podcast, including:
Making money
Sharing your opinions
Diversifying your traffic by adding another platform and traffic source
Building better relationships with your audience
I'm sure there are a few more, but I think I hit most of the bigger areas.
My reasons for starting a podcast were twofold: A) to have new content to regularly share with my audience and B) to give my audience a deeper insight into what I teach.
Oh, and reason C) my audience was asking me for it!
Podcasts are great because they allow you to get deeper and more personal with your audience.
You can talk to your people, allow them to get to know you better, and hopefully build better relationships with them that might turn into sales at some point.
I didn't realize how much my audience needed this form of communication until I actually got to talking about some of the different kinds of more personal topics that I just didn't feel were right for any other platform.
As your business grows, your audience will seek that deeper connection from you. They want to know what's going on in your business (and often personal) life on a regular basis.
That kind of content just doesn't hit the same in articles or even YouTube videos. Instagram and TikTok are better for getting personal, but the content is too short to get too deep.
But I'm also glad that I waited a little while (although perhaps too long) before I started my podcast.
When Should You Start a Podcast?
You can start a podcast at any time – even without a website or an existing audience, but having both of those first can work in your favor to successfully launch your podcast and give it some momentum.
Because we already had traffic and subscribers from YouTube, Google, and Pinterest, we already had an audience of people to launch our podcast too.
This means that we had listeners from day 1, which only helps your podcast to grow.
If you don't have an audience yet, you might want to consider starting with some form of search traffic first (like Pinterest or Google SEO).
You can also use your podcast for new content to add to your website and add more details and links to each episode. Each time you publish a new episode, you can publish a new article on your website with the podcast episode embedded.
For more information on starting a blog along with your podcast, check out our step-by-step tutorial.
How Much Does It Cost to Start a Podcast?
Perhaps one of the best parts about learning how to start a podcast is finding out how inexpensive it is to do so!
Sure, there are a lot of add-on software services that you can use here for hosting, analytics, and more, but you really don't NEED much to get started.
All you really need to start a podcast is a good podcast hosting plan, and those are very affordable. You're generally looking at around $12/month. You can find cheaper and even free, but most of these options have very low limits on how much content you can upload and how long they will host your content.
My favorite podcast hosting company is BuzzSprout, because they just make it stupid easy and they're also one of the lowest-cost podcast hosting companies.
In addition to hosting, you may want to budget for a new microphone ($50-150), but we'll talk more about that in a few minutes.
How Do Podcasts Make Money?
Podcasts make money in a variety of ways, including:
Ads
Sponsored products and services
Donations
Affiliate marketing
Selling your own products and services
We don't monetize our podcast specifically – we just use it to build better relationships with our existing audience and drive those people to purchase courses from our website.
In other words, our podcast is monetized in the same way that our website is monetized. We discuss our affiliate partnerships and our courses, and we have links to these products and our email list in our show notes and podcast pages on our website.
Some people choose to focus on monetizing their podcast through donation-based platforms like Patreon. In this case, you can ask your subscribers directly for donations through the platform. You can also do this using PayPal.
Many other popular podcasters make money with their podcast using sponsorships. Sponsors pay them for ad space and the podcaster usually talks about the sponsored product or service at the beginning (or even middle) of the show.
How to Start a Podcast and Make Money
Okay, now that we've set the stage, it's time to dive into the steps to actually learn how to start your own podcast!
I'm going to try to find a balance between thoroughness and detail but also light enough to keep you propelled forward and spending time focused on the most important aspects of getting your podcast started.
It can easily become an overwhelming process with a lot of options. I know because I've been there. I'll help you navigate through this as quickly as easily as possible!
Now, before we get started, I want you to do something for yourself. Open the free template below to use to make notes about what you need to do before you start recording and launch your podcast. It will be difficult to keep track of everything otherwise, I promise you!
I find that a spreadsheet is a little easier to work with because of the content-planning aspect of this. I've actually created a free template for you to use right here.
Download the template and let's get started!
1. Choose your podcast name and description.
If you're thinking about starting a podcast and have made it this far, you probably already have an idea of what you want your podcast to be about. If you need some help deciding, you can check out our article on finding your niche.
Keep the name of your podcast relatively simple and also descriptive of what your podcast is about. Ideally, people know what your podcast is about just from the name.
Here are a couple of examples
Keep it simple and descriptive and know that you can change this over time.
Next, write down your podcast description. The maximum character limit here is very large (upwards of 4,000), but most descriptions are between 400-600 characters.
Write 3-4 sentences about what your podcast is about and what people can expect to accomplish from your podcast. Try to include any relevant keywords about what your podcast is about if you can.
Action Items to Record in Your Spreadsheet: Podcast name and Description
2. Create Your Podcast Artwork
This is a fun part! Consider these overall design strategies:
Use an image of yourself if you have it (more personal)
Make sure the text is visible on the image
Use brand colors to match your website or other content
I created our podcast artwork in Canva. At the time of writing this article, the recommended podcast artwork size is at least 1,400 x 1,400 pixels. Just make sure it's in a square ratio.
3. Choose your podcast host.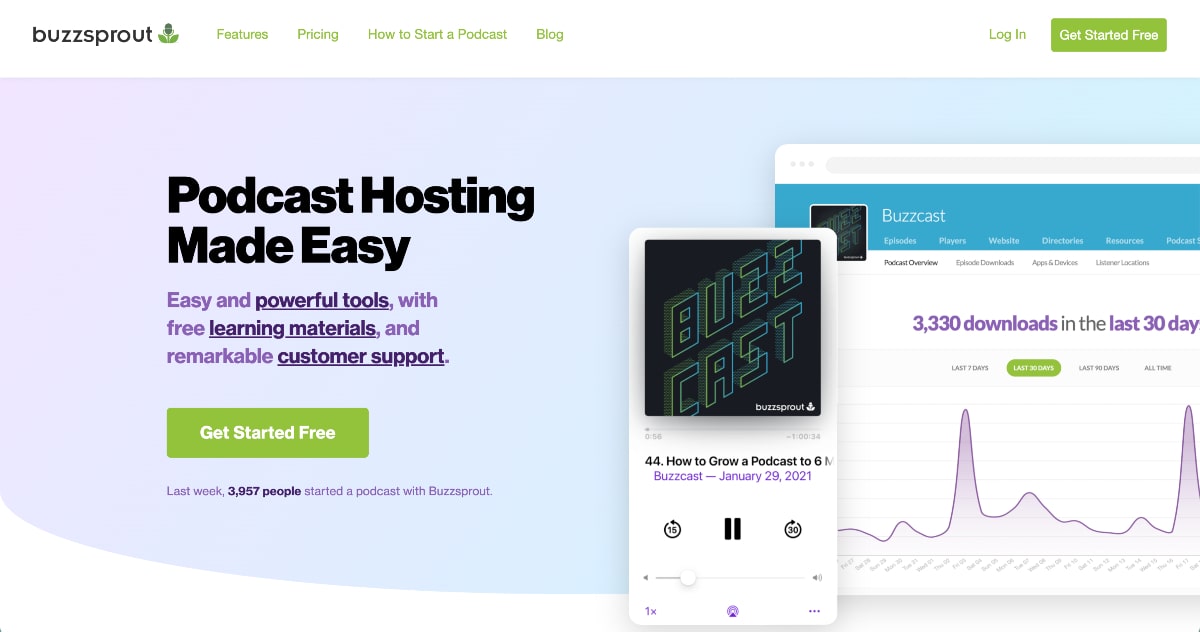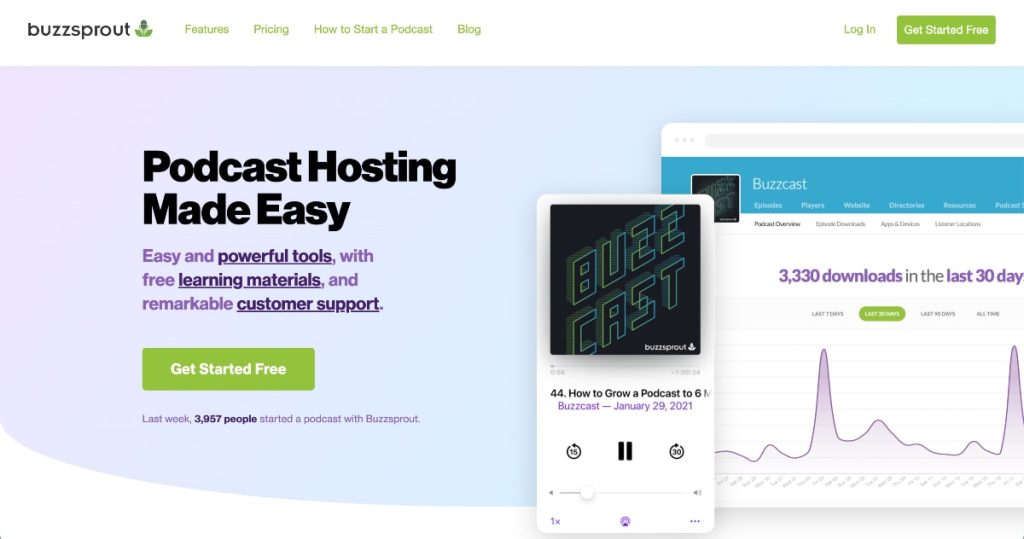 Not the host of your show (that's you), but WHERE you will host your podcast. Just like with a website, you need a hosting plan that airs each of your shows and distributes it to other platforms like Apple, Spotify, Google, etc.
We have an entire article on our best choices for podcast hosting sites here.
As I mentioned earlier, we host our podcast with BuzzSprout. Their platform is really easy to use and very affordable.
A couple of other popular platforms are Libsyn and PodBean. They're all pretty comparable. I personally really like BuzzSprout and find that the setup and upload process is super easy to navigate.
Decide on a platform so we can get started with the rest of our setup!
Action Items to Record in Your Spreadsheet: Your Podcast Hosting Company
4. What equipment do you need to start a podcast?
A better microphone is a really great investment for your business. For us, it helps us out not only in our podcast, but also in our YouTube videos, and in our online courses.
You can find pretty great microphones for anywhere from $50-150 on Amazon. Here are two great options for different budgets:
Now, you can definitely get started with just a pair of regular headphones. I don't want any of these costs to discourage you at all.
We used basic apple headphones in our YouTube videos and online courses for years before we upgraded to a better microphone. That's an expense that should come when the time is right for you, so don't sweat it or let it stop you from getting started!
Action Items to Record in Your Spreadsheet: a link to a desired microphone if you plan to purchase it
5. Plan Out Your Podcast Content
First of all, when it comes to thinking about what kind of content you want to produce… Just know that it can be whatever you want it to be. 15 minutes or 50 minutes. Professional interviews or personal chitchat. Funny or serious.
This is where you can be your authentic self and do it in the way that works for you (that also aligns with what resonates with your audience).
One thing that I found incredibly helpful to starting my own podcast was planning out what topics I wanted to cover in my first 25 episodes. Now, this might sound like a lot at first and you certainly don't have to plan out that many.
But planning out my content helped me overcome my fear of getting started and give me the confidence that I needed to put myself out there in a totally new way.
I was afraid of my voice not being good enough for a podcast and running out of things to say. I was afraid of having guests on my show and not being good at interviewing them. I was afraid of a lot of things.
Creating a plan for what kind of content I wanted to share and how often I wanted to share it really helped keep me calm and keep moving forward during this process.
If you already have an existing website and/or business, try starting out with the topics you already have content on. Repurpose existing articles, YouTube videos, or whatever other kind of content you have. This is an easy way to pump out a lot of relevant episodes in the beginning.
Open up the spreadsheet template that I provided at the beginning of this article and write down some topic ideas for your first 25 episodes. These don't have to be fully finalized episode titles or include any guests. Just start with some general topics and ideas.
If you want to or plan to include any guests on your podcast, include some ideas for those as well. I personally wanted to get the hang of recording some episodes first, before I invited guests on my show, but you can do this however you want.
This is also a good time to decide how often you want to release podcast episodes. Many people release podcast episodes every week. I personally chose to release one every 2 weeks because that was all that I felt that I had the capacity for.
It would be better to commit to twice a month and then switch to weekly rather than deliver that content weekly and have to later reduce it once your audience is hooked on and expecting weekly episodes.
Action Items to Record in Your Spreadsheet: Write down topic ideas for your first 25 episodes.
6. Record Your First 3 Episodes
Well, once we've gotten out episodes planned out, there's really nothing left to do but START recording! It's a good idea to record at least your first 3 episodes before you launch your podcast so that your listeners have enough to get hooked!
I actually recorded my first 5 episodes so that I could release the first 3 at launch and have some time before I needed to start recording again.
For the first episode, I think it's always great to talk about why you started your podcast. Provide your listeners with the space to get to know you better and let them know what kind of content they can expect from you in the future.
This is definitely the scariest part, or at least it was for me. Try recording an intro and outro for your episodes before you actually record the content itself. This will help you get warmed up to the mic and give you some practice.
Your intro and outro are the content that will play at the beginning and end of each episode. The intro is a great place to provide a couple of quick sentences about what your podcast is about, and the outro is a good place to mention your website or wherever you want your listeners to check out more information about you.
Some people hire voiceover actors for this, but I personally preferred to just do it myself. It was more personal and free.
You also might want to consider some music to add to your outro. I found mine in Audio Jungle by Envato but you can also try Pixabay for some free options.
I record and edit my episodes on my computer using GarageBand, which is free software that comes with my MacBook. Some other free options include Audacity, Zoom, Skype, and Discord.
You can also hire out the editing, but I chose to do this myself (at least for now) to get a better idea of how I sound so that I can work on improving my speech and also just to save costs. Here are a couple of great tutorials to learn how to quickly record and edit a podcast episode in GarageBand and Audacity.
Action Items to Record in Your Spreadsheet: Decide on your first 3 episodes and their expected release dates.
7. Create Your Podcast Show Notes
Your podcast show notes are what is displayed on the various podcast platforms that people listen from. They usually include:
Short description of the episode
Timestamps for popular talking points
Any relevant links to resources mentioned in the video
I also upload a longer version of my show notes to WordPress along with a full transcript. Creating a full transcript is optional, but I find that a lot of people who don't like to listen can use them to scroll through and find the information they are looking for relatively quickly.
You can use a service like Rev or try a free option like Descript to generate transcripts for your episodes.
8. Upload Your Finished Episodes
Now, it's time to upload your episodes and get ready to publish! The first thing you need to do is go to your hosting platform and upload your first episode(s). You'll want to do a few things here:
Title and episode description (also called show notes)
Chapter markers (so people can skip through easily)
Once you record and publish your first episode, you'll need to link up your hosting plan to platforms like Apple, Google, Spotify, Stitch, and more. There will be a place to do this within your hosting dashboard. You'll want all of these to be approved before you launch so that you can share your official links with your audience.
9. Launch Your Podcast to Your Audience
This is when it's helpful to have an existing audience to share your new podcast with. If you do, you can send out an email announcing that your podcast has launched!
In this email, include the following:
Why you started your podcast
What your podcast is about
Links to your podcast on the major platforms (Apple, Spotify, and Google)
Subscribe and leave a review
You can also follow up with another email or two with some more specific content that you are sharing in your first episodes.
Ask your audience to listen, subscribe, and leave you a review to help support you. Some people run contests or offer other promotions to get reviews on their podcast, but I personally just ask for them in emails and in the podcast itself.
If your audience likes your podcast, you should naturally get more reviews over time. Don't be shy about asking!
How to Get the Most From Your Podcast
Make sure you continue to publish content regularly! I try to make a habit out of recording a lot of content up front and then taking a couple of months off of recording completely. It allows me to shift my mental focus over to other projects in the meantime.
Make sure that you are also including a call-to-action in your podcast episodes. Here are a few options:
Asking listeners to subscribe or leave a review
Offering a freebie for an email list sign-up
Including affiliate links for any products mentioned
Talking about any paid products, services, or programs that you offer.
When it comes to trying to monetize this type of content, remember that people aren't often listening on their computers. Try to prioritize relationships over sales pitches.
I try to let my content speak for itself rather than pushing people toward my courses.
There are also a number of software services that provide analytics for podcasts to see how well you're doing, but many of them only provide a small amount of information. I don't personally use any. I just take a look at some of the data that is provided on the biggest platforms like Apple, Google, and Spotify.
One tool that I do use is called Fusebox, and it just gives you a better-designed podcast player. But if you're using BuzzSprout, the podcast player that comes with your plan is also plenty sufficient enough!