Despite the fact that there are so many ways to make money blogging and so many people doing it, it can be a lot harder than it looks. It takes most people months (at the very least) of trial and error to start figuring it out.
Some bloggers never make more than a few hundred dollars a month because they never fully crack the code to higher earnings.
But the good news is that there isn't any secret code to make money online.
Anyone can do it and once you start to figure things out, it's a lot easier to get that ball rolling and gain some speed.
When we first started trying to make money blogging, we earned approximately $0 for the first few months – less if you count the expenses we had.
We didn't really know what we were doing when we tried to start a blog and used an approach that I don't recommend: throw everything up at the wall and see what sticks.
Instead, try a planned approach that works for both you and your audience. Once we got on the right path, we doubled our revenues for the first few months and made just over $100,000 in that first year of blogging.
There were a lot of mistakes and trial and error along the way to monetizing that new blog, but it was just the beginning of a great path to success — one of which we're going to share with you today.
There are a lot of different paths that you can take to make money blogging, and we will go over all of the most important strategies in this article.
At this point, we've helped over 16,000 students in our blogging courses start a blog and grow it into a full business.
You can read our blog income report for the latest on our earnings.
Here is an overview of what we will cover:
9 Ways to Make Money Blogging
When it comes to starting a profitable blog, it's important to understand that every method that you can use to make money blogging has its advantages and disadvantages.
For example, ads are the easiest to set up but will usually earn you the least amount of money.
Online courses are the hardest to set up but can usually bring in the most revenue.
You should consider the method that you choose and set realistic expectations for how much money you can make from it.
The key to scaling your blogging income is also to diversify your monetization strategy and set up multiple streams of revenue to create a buffer against any potential downturn.
The blogging world often changes and algorithms and audiences change along with it. Don't put all of your eggs in one basket here.
We'll start with the 9 most popular ways to make money blogging and then move on to the specific strategies that you can use to set up these methods and maximize your success.
1. Display Ads
When people first start a blog, display ads are usually their first stop to try to make some easy money online with Google Adsense.
They are the easiest to set up, but they also have the least earnings potential.
Display ads involve placing advertisements on your blog or website, usually in the form of banners or videos, which then generate revenue when visitors click on them.
In order to earn money with ads, you first need to partner with an ad network.
On average, you can expect to make anywhere from a few cents per click to more than $2 per click depending on the type of advertiser and the amount of competition for those ads.
Ads are a great way to monetize your blog because they don't require any additional work from you beyond setting them up and letting them run.
However, it's essential to set realistic expectations when making money with display ads.
You won't get rich overnight and it usually takes a significant amount of traffic for any significant income to start rolling in, especially as your blog grows and gains more traffic.
Just to put it into perspective, we earned as much as $4,000 a month with ad revenue with our health blog but it was getting 500,000 views a month – which is a LOT.
When we first started blogging with Google AdSense, we earned a whopping $2/day with ads.
It can also be somewhat unpredictable because many advertising networks use an auction system where advertisers bid against each other for space on your blog.
So you never know how much money you'll make until after the auctions are completed and your page views start rolling in.
How to Make Money Blogging With Ads
Here are some of our best tips to earn more with ads.
Partner with a Premium Ad Network
Most bloggers start out by putting Google Adsense ads on their blogs because they have no traffic requirements to sign up, but they also have the lowest payouts.
When it comes to ads, the best strategy is to wait until you reach 10,000 sessions in 30 days and partner with a premium ad network like Ezoic. They have no cost to get started and have a super easy setup.
Once you reach 50,000 sessions in 30 days, you can partner with an even better network like Mediavine.
Premium ad networks pay more and will also set up the ads on your website for you and help you optimize them to maximize your earnings.
Partnering with a good network can be the difference between earning $1/day and $5/day on the same amount of traffic. It's worth it to wait.
When you have very high levels of traffic, you can also sell ad space directly to publishers. It takes more time to sell ad space but it can bring in a lot more money.
Exclude Ads From Important Pages
It may sound painful to consider keeping ads off of some of your pages but it may be a good idea depending on the other ways that you are making money blogging.
If you have pages on your website that have the potential to earn more money, it's probably best to leave them clean and ad-free.
You may have pages that bring in more affiliate sales or course sales, for example, and it's best to reserve those precious clicks on the higher-earning potential.
Ads can look tacky and distract the reader from the bigger purpose of the blog post.
You'd hate to miss out on a click to your product because someone got distracted by the retargeting ad for those purses they were looking at on Amazon earlier that day.
Find a Balance Between Revenue and User Experience
Speaking of ads looking tacky… It's important to find a balance between how much money you can make and how much your ads are impacting user experience.
While people are used to seeing ads everyone, no one likes ads, and that's the simple truth.
They look unprofessional and can be annoying and sometimes even cause some people to leave your page.
Your ad networks will remind you that you can earn more with the most obnoxious and intrusive ads, but that doesn't mean that they are a good idea for your website or your customers.
2. Sponsored Posts
Sponsored content is a great way to make money blogging because you can earn money while also providing valuable content to your readers. Double win for you!
A sponsored post is a post in which you can get paid to write and publish an article for someone – featuring their company, brand, or product in the blog post.
You will generally make more with sponsored content when you have a larger audience and/or a more engaged audience.
Companies and brands will pay more for greater and better exposure to new audiences.
As the one writing the blog post and sharing it with your own audience, you should make sure that the sponsored content is relevant and useful for your readers.
You don't want your audience to feel like you're just trying to squeeze out an extra buck from them and you certainly don't want to partner with any companies or brands with poor products.
When you write a sponsored post, you will generally (and contractually) be expected to share it with your audience through email or other various social media channels.
A sponsored blog post is not necessarily passive because you are writing for a one-time payment, but it can be lucrative. Some bloggers charge into the thousands for each blog post.
How to Make Money Blogging With Sponsored Posts
Here are a few steps to take if you want to use sponsored posts as part of your monetization strategy.
Create a Sponsor Page and Media Kit
A sponsor page is a dedicated page on your website that features all of the companies or brands that you have previously partnered with and allows potential sponsors to learn more about what it is that you offer.
On your sponsor page, you should include a media kit with high-level information about your blog, including stats like page views, audience demographics, social media reach, etc.
It's important to have a well-crafted media kit so brands can easily evaluate if their products will be a good fit for your audience.
Research Potential Sponsors and Reach Out
Once you have created a sponsor page and media kit, start researching potential sponsors by searching on Google or checking out platforms that help match influencers and partners like Acorn Influence, IZEA, and Real Clever.
You can also look for companies that have products or services that would be an ideal fit for your readers.
After you have identified a few potential sponsors, reach out to them to introduce yourself.
In your outreach email, you can provide a brief summary of what your blog is all about and include a link to your sponsor page and media kit so they can learn more about opportunities for sponsored posts.
Another way to find sponsored post opportunities is to check out your competition and see if they have any sponsors that they work with.
Negotiate Terms and Finalize Deals
Once the company has expressed interest in working with you, it's time to negotiate the terms of the sponsored post.
You should have clear expectations of written conditions for compensation, the timeline for publishing the blog post, promotions, and more.
Having these clear guidelines in place will help protect both parties involved and prevent any unexpected surprises down the line.
Once both parties have agreed on all the details, finalize the deal and start writing your amazing sponsored post!
3. Affiliate Marketing
Let's talk about how you can make some serious and sometimes very passive money blogging.
Affiliate marketing is the practice of promoting products or services for a merchant and earning a commission when a purchase is made.
You can find affiliate partnerships by searching for affiliate programs for popular companies or brands or through affiliate networks, such as CJ Affiliate, ShareASale, or Amazon Associates.
Once you are approved, you will receive a unique URL (affiliate link) that you can use to promote the product or service on their website.
When visitors click on this affiliate link and make a purchase, you will usually receive a percentage of the sale (or another specified amount) as commission.
Depending on the affiliate agreement, you may also receive additional incentives such as discounts or special promotions for referring customers.
Brands and companies pay for this because bloggers are generating free leads for them. It's a win-win for both bloggers and merchants.
With the right affiliate marketing strategy, you can make tens of thousands of dollars every month.
We have earned as much as $50,000 a month partnering with top blogging brands such as Bluehost, Teachable, ConvertKit, and more.
Every successful blogger uses affiliate marketing as a big part of their strategy. I would go as far as to say that it's probably the #1 most popular and successful way that bloggers are making money.
How to Make Money Blogging With Affiliate Marketing
Below are a few steps that you can take to get started with affiliate marketing and create a strategy that will earn you more.
Create Affiliate-Focused Content
You can and should include affiliate links all over your blog to increase your chances of getting clicks and commissions, but this isn't where you will make the most of your money.
The most money to be made in affiliate marketing comes from strategic content and partnerships and focusing on quality over quantity.
Seek out solid partnerships for the products that will earn you more and then create content around those products.
For example, we have an entire post where we review ConvertKit as an email marketing service because it's the software that we use and because we are an affiliate for that product.
Review articles and videos are also great for promoting affiliate links as well as round-up content like the best AI writing tools or the best survey software.
With these types of content, people are already looking for a recommendation and a reason to buy. Give them one and you've just made a sale!
Download a custom link plugin.
Using a custom link WordPress plugin like Pretty Links is an essential tool for affiliate marketers because it allows you to create shorter, easier-to-remember links that also just look better.
Pretty Links also helps you keep track of your affiliate links, allowing you to easily monitor the performance of your campaigns and optimize them for maximum efficiency.
If your affiliate link ever changes, you also only have one place to update the link (rather than updating it on every blog post or instance the link was mentioned).
Build Relationships With Partners
Expanding upon what I mentioned earlier about focusing on quality over quantity, you can earn a lot more if you build relationships with your affiliate partners.
The more you sell, the more these brands and companies will pay attention to you, and the more they will want to help you incentivize sales.
Affiliate partnerships can lead to exclusive discounts, promotions, opportunities for guest posts and joint webinars, custom landing pages, and more.
It can take some time and proof of sales to get to this point, but you can be featured in podcasts and on major websites from the relationships that you build.
Focus on a strategy of heavily promoting fewer, better products than promoting anything and everything.
Be Honest and Transparent
Aside from the mandatory disclosures that you have to provide when you promote affiliate products, you should also be honest and transparent in what you promote and how you promote it.
People know when you're trying to sell something, so just be honest about why you believe in the products you are recommending.
It also helps tremendously when you are actually using the products that you recommend so that your audience can see that it works.
This will help you to build trust with your audience, which will likely turn into higher conversions over time.
Sell Higher-Priced Products
Last but not least, you can earn a lot more with affiliate marketing when you sell higher-priced products.
If you sell 100 products with a $5 commission, that's $500 in your pocket. If you sell half that amount of products but earn a $50 commission, that's $2,500 in your pocket.
Selling higher-priced products can be harder and a bit more lucrative, but the numbers add up and it's generally where you should focus most of your time if you're trying to scale your affiliate income.
The best part about affiliate marketing, besides how passive it can be, is that this process will teach you how to sell to your audience. It's an invaluable experience when it comes to trying to create and sell your own products.
4. Online Courses
As a blogger, you are already writing blog posts and essentially "teaching" on your blog online every day. Why not expand that offering and sell online courses to your audience?
Courses provide bloggers with the opportunity to dive deeper into their knowledge and expertise and sell their experiences, strategies, and recommendations.
You may be thinking, but why would anyone pay for a course when they can access so much information on the internet for free?
The answer is simple: People pay for results. Condensed information that this organized into a strategic plan will get people results faster than sifting through the entirety of the internet.
Your audience will pay for your course because they want to learn from you. They trust you and your experiences.
Bloggers charge anywhere from $10 to $1,000 for their courses.
Selling our own products, specifically courses, is how we have made the most money blogging.
How to Make Money Blogging With Online Courses
Here are a few strategies to earn more by selling online courses.
Decide Where and How You Will Sell Your Courses
There are a lot of different platforms you can use to sell online courses and choosing the right one boils down to how you want to market and sell your courses.
There are two options:
Sell your courses on your own: Our favorite platform for this is Teachable.
Sell your courses on a marketplace platform like Skillshare or Udemy.
When you sell your courses on your own blog, you have full flexibility and control over your product, how you market and sell it, your affiliate program, pricing, and more.
The downside is that you have to market your courses on your own and use your own audience to sell the course.
Marketplace platforms offer tens of thousands of courses and they have existing user bases in the millions. Udemy has 49 million users.
When you sell your courses on these platforms, you get access to these audiences but you also can't set the final price of your courses because the platforms usually run internal sales and reduce your course price to $10-$12.99 as they wish.
Additionally, when a sale is generated from traffic within the platform (and not by you), you will generally only earn between 10-30% of the course price. The platform keeps the rest.
We know of bloggers making over $10,000/month with both methods.
Using a marketplace platform can create a great stream of very passive income, but it's also very competitive.
Record High-Quality Course Videos
This might be an obvious recommendation, but it's important to mention that by "high quality," I don't mean aiming for perfection with really expensive equipment and software.
I shoot course videos with my iPhone and also use it as a teleprompter with a free app.
Your videos don't need to be perfect, but they should be:
Always start out with an outline of your course content to make sure that you cover everything you want to.
Add Affiliate Links to Boost Sales
One great way to make more money blogging with online courses is to add affiliate links to your courses!
This is a really effective strategy to increase your affiliate sales because there is a lot of trust already built with your students. If you recommend additional products to help them on their journey, they're more likely to purchase them if they're already purchased your course.
As I mentioned earlier, focus more on quality than quantity. If you push too many additional products on your audience, they'll feel like they need to purchase a lot more in order to get the promised results.
This is a quick way to break trust or even get refund requests. Keep your affiliate promotions honest and helpful rather than pushy.
Update Your Courses Regularly
Make sure that your course information remains updated at all times. There's nothing worse than getting refunds because students feel like your courses need an update.
This is definitely more important in some niches than others, but technology improvements mean that things in any blog niche could change at any time.
For example, if you sell a course on online business, you will likely have to update it more often than a course on learning a language, which is often very conceptual.
Factor this in when you create your course and try to keep the content as evergreen as possible (i.e. avoid mentioning specific dates or other obvious points that could prematurely "date" your course).
Offer Discounts and Bundles
Once you've created your course and published it, you'll need to get visitors to your sales pages and hopefully convert those visits to sales.
One way to incentivize customers to purchase is to offer discounts on your courses. You can offer a grand opening discount and launch it to your email list or offer a regular discount in an email funnel.
The key to making discounts work is to make sure that the offer expires to create scarcity.
Another way to increase the total amount of the sale is to bundle multiple courses into one, discounted offer.
We do this with our Pro Blogger Bundle, which is a discounted bundle of all 4 of our courses (total savings of $191).
Utilize discounts, bundles, and special offers whenever you can to incentive customers to purchase.
Create a Funnel to Sell Your Course
Speaking of discounts and special offers, one of the best ways to run these promotions is with an email sales funnel.
We'll talk more about email marketing later on in this blog post, but building a sales sequence is a great way to automate your sales and make more passive income from your courses.
An email sales funnel is an automated series of usually 5-10 pre-written emails that you send out to your audience.
These emails usually contain a lot of great value for your audience before then pitching a limited-time sale in the last few days.
We first saw a lot of success with this strategy on our health blog and then again with our free blogging BootCamp.
5. Freelancing
Freelancing is a relatively new (updated) edition to this list and one that we have historically never considered as a way to make money blogging.
But we have met so many bloggers, including some on our own team, that have used freelancing as a way to supplement their blogging income.
The truth is, it can take a lot of time to start making money with a blog, and you might need to find other sources of revenue in the meantime while you're growing your blog.
Freelancing offers a great opportunity to make money while working in the comfort of your own home and still having control over your work schedule.
As a freelancer, you may offer a variety of services such as writing, web design, graphic design, video editing, and other creative services.
Doing work as a freelance writer also makes sense for bloggers because it's just more writing and it could lead to opportunities for guest posts or backlinks to your blog.
The cool thing is, these are all services that other bloggers need, so you could make some great relationships while freelancing and even learn from other successful bloggers.
Offering freelance services provides a way to generate multiple streams of income without having to commit yourself to any one job or employer for an extended period of time.
This is especially attractive for bloggers who want to maximize their productivity and pursue both blogging and freelance work at the same time.
How to Make Money Blogging By Freelancing
Here are a few tips to start making money as a freelancer.
Find Freelancing Jobs
When it comes to marketing yourself as a freelancer, it all comes down to building relationships with potential clients and delivering a high amount of value.
Many freelancers prefer to work more hours with fewer clients that are more reliable and consistent.
One of the best ways to find freelancing jobs is to use a major platform like Fiverr or Upwork. These platforms are competitive and also take a cut from the final payment, but they're still a great place to start.
You can also consider more specific platforms for the skills that you offer (i.e. programming).
You can also look on job boards or network with other bloggers in online community groups.
Always Use a Freelance Contract
As a freelancer, having standout communication skills is key in making sure that your clients trust you with their projects and meet deadlines.
But even the best communication can't save you in some cases, which is why it's always recommended to use contracts when you set up freelancing gigs.
This protects both you and the client and helps to make sure everyone is on the same page regarding expectations, deadlines, and deliverables.
There are tons of free contracts online that you can start out with as a baseline. Alternatively, your clients may also have a contract template that they prefer to use.
Diversify Freelancing Services and Jobs
One key tip to make sure that you make the most of your freelancing efforts is to diversify with other blogging jobs.
If you're having trouble getting consistent clients and earning enough money, you may need to pick up other odd-end jobs (i.e. becoming a virtual assistant).
It might take a few tries to get the hang of what's working for you and what you feel is the best use of your time for what you're getting paid.
6. eBooks
Courses and video content are so popular these days that people sometimes forget how successful they can be with creating an eBook.
eBooks are a great way for bloggers to start making money and you don't have to be an experienced author to publish an eBook.
Creating an eBook is a great way to expand upon what you teach and share on your blog and establish yourself as a credible expert in your blogging niche.
An eBook was the very first product that we created for our first health blog and it was very successful.
We went from earning $5 on each sale from an affiliate product to selling our own eBook for $27 each. Our income quickly went up 5x as a result.
We also sold most of our eBooks through an email funnel, as I described above with online courses.
How to Make Money Blogging With eBooks
Below are a few pointers on how to make money selling an eBook.
Research and Plan Your eBook
Creating an eBook requires planning, research, and a lot of writing!
When you are brainstorming topics for your eBook, make sure to do some keyword research for popular topics.
Depending on how you sell your eBook, this will be very important to make sure that it can be found in search.
Create a thorough outline before you start writing and check out the competition to see what other successful bloggers are including in their eBook content.
Make sure your eBook is well formatted, easy to read, and has a nice cover design.
Decide How and Where to Sell Your eBooks
Once you've completed your eBook, there are numerous ways to market and sell it. As with online courses, there are two main ways to sell an eBook:
You can sell it on your own blog and have a lot of control and flexibility on how you sell as well as your pricing.
You can use marketplace platforms such as Amazon, Nook by Barnes & Noble, and Apple Books to have access to a much larger market.
You can also do a combination of these two strategies.
Marketplace platforms are very competitive but their audiences are in the millions. Driving your own traffic to get some initial sales and reviews can also help your sales perform better.
Add Affiliate Links to Boost Sales
Are you seeing a pattern here yet? There are so many ways to make money blogging with affiliate marketing and adding affiliate links to your eBook is one of them.
Some affiliate programs, like Amazon Associates, don't allow you to include affiliate links in private or downloadable resources like eBooks.
Many eBook authors instead create a Resources page on their website where they list their recommendations with affiliate links and then link that resource page in the eBook.
Design a Stellar Cover
Of course, your eBook cover is what really sells the eBook.
When you design an eBook cover, make sure to choose a design that fits your niche. Typical cover designs for books about self-care look a lot different than tech-related books.
Take a look at other top-selling eBooks to get ideas for your cover.
Your eBook cover should also be eye-catching with bright colors, bold fonts, and interesting graphics or photos to make it stand out.
Keep it simple and free of clutter and don't forget to add your logo on there somewhere.
Canva has an entire library of templates that you can use for eBook covers and everything else you can imagine. You can also design an eBook cover with a free Canva plan.
7. Printables and Other Digital Downloads
Another popular way professional bloggers make money is by selling printables and other digital downloads.
This is an easy way to monetize a blog because once the digital products are created, there is very little upkeep or maintenance required.
Printables are downloadable digital files that come in the form of PDFs, worksheets, planners, and other resources.
You'll see this kind of stuff all over Etsy, another popular marketplace for selling both physical and digital goods online:
Printables and other downloads can be for educational purposes, organization, travel planning, or even just for fun!
For example, a blogger could create a printable weekly meal planner to help their readers plan out meals for the week ahead.
Other digital downloads could be eBooks, which we already talked about, as well as photographic filters, music files, videos, software programs, audio recordings, and more.
You can sell these products directly on your own blog or through marketplaces such as Amazon or Etsy.
How to Make Money Blogging With Digital Downloads
Here are a few strategies to make more money selling printables and other downloadable products.
Product Research
Before beginning any digital download project, it's important to research what types of products are popular right now and what other blogs are selling successfully.
This is especially important on marketplace platforms like Etsy and Amazon because you will rely heavily on search volume for your topic.
For example, you may be the very first person to sell a printable guide on how to do basket weaving, but if no one is searching for basket weaving, you won't make any sales.
Finding niche topics is a great strategy because it means that competition will be lower, but make sure to find a balance between competition and traffic potential.
Make Several Products
The first way to make a lot more money with downloadables is to create a lot of them. Many bloggers selling printables have them for every occasion you can think of.
Most downloadable resources like these sell for lower prices, so it's important to focus on the quantity of sales. Having more products to offer can help, especially if you're selling on a marketplace like Etsy.
Make sure to consider the necessary formats that you need to have for different device types. Depending on the product, you could also offer different colors to add variety to what you're selling.
Utilize Your Own Audience
Try utilizing your own audience, if you can. Launching your products to your audience first can help you get those first few sales and a better chance of getting positive reviews on your products (make sure to ask).
This initial exposure and boost in sales could help your placement in the algorithm on marketplaces.
Pay for Ads to Increase Exposure
As with any popular marketplace platform, you may want to consider running some ads when you get started.
It can be hard to get seen above the competition.
Using ads and temporarily lower prices can help entice buyers to take a chance on your product over the highly-rated, more expensive competition.
This can get very expensive over time, so you want to make sure that you are earning a positive return on your investment (ROI) if you continue running ads as part of your strategy.
8. Coaching and Consulting
Another common way to make money blogging is by offering coaching or consulting services.
You can offer this as an add-on service or upsell for courses or offer it as a stand-alone service.
Offering coaching services can be a great value-add for your courses because it provides you with a way to make extra money and your students with a path to faster results.
Some bloggers charge upwards of $200/hour for their services, so this can be a pretty lucrative way to make money if you are willing to trade your time for it.
The cool thing about coaching and consulting is that you can decide where the starting point will be.
If you monetizing a new blog and still working on getting clients and customers, you can attract them at a low price.
Offering these kinds of services can be a great way to make some extra money while you're working on other parts of your business.
It's flexible and will help you learn a lot about what your audience needs the most help with. You can use this information to build better products.
Anyone can offer consulting services or coaching, but you may want to consider taking professional steps to become a certified coach if this is a route you want to go down.
By getting certified and having more experience under your belt, you can charge more for your services.
How to Make Money Blogging With Coaching
There are a lot of ways that you can offer coaching services on your blog.
Create a Coaching or Consulting Package
When you're ready to offer your services, you first need to create a package of services to offer.
Many online coaches offer different levels of service at different price points to give customers flexibility when choosing the level of services that they need.
For example:
Setup Package: $250
Growth Package: $500
Pro Package: $750
Each of these packages can provide different levels of services and other bonuses offered. Those bonuses could be directly linked to your time spent 1:1 with the client or simply other services (reviews, plans, etc.).
A package should include all of the elements needed to provide a successful coaching experience, such as an initial consultation, goal setting, guided implementation plans, ongoing feedback and support, and more.
You can also consider ways to add additional value to your coaching package such as downloadable resources, checklists, and templates.
These can help you save time while working with your clients and make them more likely to recommend your services to their friends and colleagues.
Advertise Your Services
Once you have created a compelling coaching package, it's time to start getting the word out about your services.
Make sure to create a dedicated page on your blog for your coaching services or consider selling them on a platform like Teachable that handles transactions for you.
You can also post about your coaching services on social media, write blog posts or articles to promote them, and sell them in an email funnel.
You could also consider running webinars and even ads to help promote your services.
Streamline the Process
If you're serious about coaching and plan to take on a lot of clients, you should do what you can to streamline this process.
Consider creating onboarding documents and processes to minimize the setup and admin work for each client.
Create documents and resources that can be filled out by the client ahead of time to give you the information that you need to create the right plan for each client.
The last thing you want to do is spend too much of your own time on 1:1 calls.
Ideally, you spend as little of your time as possible to get your clients the best results possible.
9. Sell Physical Products With eCommerce
Using an eCommerce platform to sell physical products is another revenue stream that makes a lot of bloggers a lot of money.
You'll need an eCommerce platform or plugin on your blog to do this, but you can create an online store in just a few clicks.
Platforms like Shopify offer easy-to-use templates and tools to help you set up an online store and connect it to your blog in just a few minutes.
You can also set up a Facebook shop and sell directly on Facebook or Instagram!
One great thing about using blogs to sell physical products is that you don't necessarily have to worry about inventory or fulfillment costs if you don't want to.
When you're running an eCommerce store from a blog, all you have to do is list the items for sale and let customers purchase them directly from your page.
The customer pays for the item through a secure checkout system like PayPal or Stripe, then the item is shipped directly from the manufacturer or warehouse—you never even touch it!
For those who are unsure how to get started with an eCommerce website on their blog, there are plenty of resources available online that provide step-by-step instructions on setting up shop as well as useful tips for optimizing sales performance and increasing customer satisfaction levels.
How to Make Money Blogging With eCommerce
Here are a few ways that you can get the most out of your eCommerce strategy.
Decide How and Where to Set Up Shop
Like many of the other ways to make money blogging that we just described, you also have the same two options for eCommerce when it comes to how and where you sell:
Sell on your own. You can create a shop page and link it directly to your site.
Sell on a marketplace. You can sell goods on Etsy, Amazon, or other marketplaces.
The same pros and cons exist as with selling any other goods.
If you sell eCommerce products on your own blog, you have complete control over the look, feel, and functionality of the site and your products.
This means you can create a unique shopping experience tailored to your specific target audience, but you will also be on your own for marketing your products to new customers.
If you sell on a marketplace, there is potential for a lot more traffic, but competition is high and you will have to sell your goods at current market prices to stay competitive.
Expand Your Offering and Bundle Products
One way you can increase sales is by creating several products so that customers have more to look through and purchase.
You can incentivize additional sales by offering bundle discounts or other special offers.
Consider abandoned checkout discounts, loyalty programs, and other promotions.
There are all bonuses and effective promotion strategies that are often only for store owners selling on their own, rather than on marketplace platforms.
Pay for Ads to Increase Exposure
As with selling products on any other platform, you may want to consider ads to put your content in front of more eyeballs.
The higher the competition, the more likely you will need to invest in some ads, at least in the beginning, to get yourself on the map.
This can get expensive, so make sure you plan it into your budget to get started and set realistic expectations of how you will get sales.
We'll talk more about how to build an audience and drive traffic to increase sales in the next section of this step-by-step guide on how to make money blogging.
How to Make Money Blogging: Step-by-Step Guide
One interesting fact about making money blogging is that without the right setup in place, especially when it comes to your audience, you will never make any money.
This is a lesson that we learned the hard way with our first health blog.
We spent weeks creating a really great diet program only to have it sit there looking pretty without any sales.
Despite the fact that we created a great product, we didn't know who our audience was or what they were interested in.
We didn't know how to sell and that made all the difference.
In the next section, we will go over the really important process and steps to take when you make money blogging.
1. Build the Right Foundation
The first step to making money blogging is to start a blog with the right foundation. If you haven't done that yet, you can use our free tutorial to start a blog.
Here are the basics to start blogging the right way.
Choose a Profitable Blog Niche
There are a few different factors to consider when choosing a blog niche, and one of the most important is the potential for making money blogging.
I'm sure there is a niche group of people interested in the fine art of tossing potato sacks; however, it's probably not going to be a shortcut to starting a profitable blog.
The key is to align your passion (or interests) with what other people want and need. How can you use your knowledge to help others solve their problems?
Because I had a background in personal training for years, I started my first blog on health, wellness, and fitness. It was something I was passionate about and I also had certifications in this area.
The best place to start is to think about where you have professional or personal experience.
What do friends and family go to you for advice for?
Then consider if it's a profitable niche. Doing some research and checking out other successful blogs can help you get an idea.
Don't overthink this too much. Your topic will likely change over time as your blog changes. Also, feel free to pick two topics and combine them.
Decide on a Blog Name (Domain Name)
Once you've decided what blog topic you want, it's time to think about the blog name and domain name of your new blog.
This shouldn't take you too much time. Your name doesn't matter as much as you think it does.
Just make sure that it's easy to spell, pronounce, and remember.
You can also include your personal name somewhere in the mix if you want. This is a good idea if you want to run a more personal blog with yourself as the center.
Finally, consider keeping your domain name relatively flexible in case your blog and topics change over time.
For example, Create and Go is a blog about online business, but it could also be turned into a blog on travel or a variety of other topics if we wanted.
Try out our blog name generator if you need some additional inspiration coming up with a blog name.
Start a Blog on the Right Platform
When you start a new blog, you have to choose a blogging platform as well as a good web hosting company.
WordPress is the best blogging platform for professional bloggers. It has access to the widest range of plugins and additional customizations.
Other blogging platforms like Wix and Squarespace are better suited for traditional businesses with stores (think dentist offices, hair salons, etc.).
You can use our free step-by-step guide to start a blog for as low as $2.75/month with Bluehost (exclusive discount for our readers) or watch this video tutorial:
That tutorial will show you how to get your blog set up with a web hosting company, install WordPress themes, WordPress plugins, write your first blog post, and more.
2. Create a Content Strategy
Creating a content strategy for your blog is important because it allows you to plan, create, and organize content that is optimized for search engines and targeted at the right audience.
It helps you figure out which topics may be in high demand and focus on the key elements that need to be included to increase engagement and promote conversions.
A content strategy provides an overarching vision for the types of content you want to produce, how often it should be posted, and how it should be distributed across different channels.
This is a topic that really bleeds into the next topic, which is how to promote your content.
A good content and digital marketing strategy will provide metrics and analytics to track performance so you can adjust and optimize your strategies over time.
We'll cover tracking analytics and performance in the last step.
Keyword Research
Finding the right keywords is generally the first and most important step in creating content for your blog.
Keyword research tools help you determine which keywords users are searching for and how difficult they are to rank for in search results.
Keyword research is important for SEO (search engine optimization) and getting your blog posts to rank in search results on Google, Bing, and other search engines.
Once you have identified the keywords that you want to use, you can create content that incorporates these terms into its titles, headings, and body copy in order to optimize it for search engine rankings.
You should always do some basic keyword research before you write blog posts to make sure you're giving your blog posts their best chance at higher organic reach.
Ubersuggest is our favorite free tool for keyword research.
Create Content With a Purpose
There are a lot of different types of content that you can create for a blog and each type typically has a slightly different message, delivery, and ultimately a different impact on your audience.
Blog posts are great for sharing longer, more detailed information about particular topics and educating your audience.
They're also great for bringing organic traffic to your website and products.
Longer videos, like YouTube videos, are great for the same reason except they add another layer of personality and depth to the information that you're sharing.
They allow you to get deeper with your audience and build more trust and a relationship with them, which is great for generating sales.
Short-form video content like you see on Instagram and TikTok are great for staying relevant and on people's minds on a near-constant basis as well as creating engagement.
It's important to create blog content with purpose and make sure you're sharing the right message on the right platform and driving visitors to the right places.
We once wrote a really cool but very useless article on "Purple Powerhouse Foods."
It received a lot of traffic on Pinterest but it didn't sell anything or generate any email subscribers.
Sometimes the purpose of a post can simply be to drive traffic and nothing else, but make sure you're intentional about it.
We'll talk about this in greater detail in the next step on how to make money blogging.
3. Create a Promotion Strategy
Once you have thought about what type of blog content to share, it's time to come up with a blog promotion strategy.
In addition to being able to reach your audience in different ways on each platform, it's important to remember that you have the potential to reach different audiences on every platform.
You may already have an idea of who your target audience is and who you want them to be and which platform you might be able to reach them on.
If not, you can check Google Analytics to see the demographics of your website visitors. YouTube offers similar analytics for viewers.
You need to have Google Analytics installed on your website and already have views to see this information.
Sharing content on Pinterest will attract a very different audience than sharing the same content on YouTube or TikTok, for example.
Think about who your desired audience is and what platform would be ideal to reach them on before you start blogging.
SEO (Search Engine Optimization)
SEO traffic is generally considered the highest quality of blog traffic because it has the largest volume of users, especially Google search.
If you rank on the first page of Google for certain topics, your views could be in the millions, and that traffic is very targeted for certain keywords.
Google traffic is very competitive, and you need to write blog articles regularly and consistently in order to get your content to rank.
In addition to writing consistently, you should also be updating your blog content consistently.
The very first step you can take when you start blogging is to download a WordPress plugin for SEO like Rank Math or Yoast SEO to optimize titles, meta descriptions, headings, page URLs, images, and body copy for search engines.
If SEO is a major part of your strategy, you will also need to invest in more powerful SEO tools and analytics to make sure that your content is optimized with the right keywords.
Our favorites are Ahrefs and Surfer SEO.
YouTube
YouTube, which is owned by Google, is the second-largest search engine in the world with over 2 billion users.
This makes YouTube an excellent source of traffic for any blogging business, but it also provides a really great way to make money blogging.
Sharing video content allows you to get more personal with your audience and just like with blog posts, you can share YouTube videos about affiliate products or your own products.
It can be a really great supplemental tool to help you bring in more traffic and more sales.
If you are planning to start a YouTube channel for your blog, you can create videos on topics related to your blog content and then embed the videos in your blog posts.
This increases the reach and visibility of your YouTube channel as well as increases the amount of time people spend on your blog posts, which is great for Google search and SEO.
Pinterest
Pinterest is a great source of blog traffic because it provides you with another form of search traffic straight to your blog content.
While Pinterest only has 450 million users, compared to the billions of users on YouTube or Google, it's also a lot less competitive.
Additionally, Pinterest is a visual discovery platform as well as a search engine, which allows you to promote your content in different ways.
On Pinterest, you can share static pins or images that people can click on to get to your blog posts:
Or you can share idea pins, which function similarly to Instagram stories, that can drive more brand awareness and engagement.
Pinterest is a very popular platform to start blogging on and get some initial visits to your blog.
Instagram and Tiktok
Instagram and TikTok also have active users in the millions, which makes each or both of them great platforms for bloggers as part of their digital marketing strategy.
These platforms typically provide a great space for bloggers to get more personal and engage with their audience by sharing more experiences from their everyday lives.
There are a lot of way to make money on Instagram, from sharing affiliate links to promotions and sponsorships to giveaways and collaborations with other influencers.
TikTok provides similar ways to monetize, but the content on TikTok typically consists more of funny or engaging video "shorts" (10-15 second pieces of content).
Instagram is known more for "stories," which are longer and a bit more engaging.
The audiences on these two platforms also differ, with TikTok skewing a bit more to the younger side and Instagram having a bit more of a diverse audience.
Podcasts
Podcasts are another great way that bloggers reach new users and deepen their relationships with their audience.
The cool thing about podcasting is that it's pretty easy to set up and requires very little equipment or upfront investment.
All you really need is a decent microphone, which can cost you less than $40 from Amazon, and a good podcast hosting site.
We love BuzzSprout because it's one of the most affordable hosting sites at just $12/month.
It's also quite easy to create podcast content because you can just talk about your existing blog topics or invite guests on to chat about relevant topics to your audience.
It's an easy way to create content that allows you to get more real with your audience and reach them on a platform outside of their computer.
Online Communities and Networking
Finally, networking and participating in online communities can be very underrated and powerful tools for helping bloggers grow their blogs.
One of our students launched her blog, created her own products, and made $1,000 all in the first month after she started blogging.
She did this by networking with other successful bloggers in online communities like Facebook groups and offering her course as an affiliate product for other blogs.
This allowed her to not only get her first customers and initial feedback on her product but also to grow her audience quickly in a very organic way.
By joining online communities, such as forums and Facebook groups, you can connect with other bloggers in your niche, exchange ideas and advice, collaborate on projects, and promote each other's work.
You can also use these platforms to get feedback from readers, network with potential partners, and build relationships that can lead to opportunities for increased exposure.
Never underestimate the power of networking!
4. Set Up Email Marketing
Email marketing has been the #1 most important tool in our journey to make money blogging – hands down.
It can be easy to push off building an email list when you first start blogging, but it should be one of your top priorities as soon as you start writing blog posts and sharing the content.
The truth is, the vast majority of people won't buy products without knowing a little bit about you first.
When we first started selling our own products, we ran tests to track our links using ClickMeter to determine where the majority of our purchases were coming from.
As you can see below, most of them were coming from our email lists:
Emails provide a way for you to passively reach someone's personal inbox on a daily, weekly, or monthly basis as you so choose.
It's another way to connect with your reader and get a lot more personal with someone, which makes it great for building relationships.
People that randomly land on your website are generally referred to as "cold traffic." This means that the person doesn't know you yet and it's going to be much harder to make a sale from them.
On the other hand, "hot or warm traffic" refers to people who know and trust you on a level that makes them much more likely to buy your products.
So how do you turn a "cold" buyer into a "hot" buyer?
Let's talk about it.
How to Get Email Subscribers on Your Blog
Other than writing awesome blog content, you'll need to take a few additional measures to turn your readers into subscribers.
Create a Lead Magnet or "Freebie"
A lead magnet is just a fancy term for a "freebie" or other incentives that you offer your subscribers in exchange for their email list.
This can be a free guide, video, tips, or any other type of free content that you think your audience would be interested in.
You can also take it to the next level and turn it into a free eBook or mini course.
Canva is the best resource for creating downloadable as well as images or covers for them.
Add Opt-ins to Your Blog and Content
After you create your lead magnet, you will need to sign up for an email marketing service that offers forms and landing pages to advertise your free offer.
We love ConvertKit's free plan to start out with.
An email marketing service provides you with a way for people to sign up for your email list, a place to store and manage those contacts, and a way to send emails to them.
ConvertKit has an entire library of forms and landing page templates that you can use to create your first opt-in:
Once you've created a form and a landing page, you should link these resources on your blog – in your menu, footer, and blog posts.
You can also share links to landing pages on social media channels.
Make sure to create a good welcome email to send to your subscribers after they opt-in that introduces yourself and your blog and also delivers that freebie that they signed up for.
Create a Sales Funnel
Once you start getting email subscribers, you can create an email sequence to start providing value and building relationships with your subscribers.
An email sequence is a series of emails that are set up to automatically send to your new subscribers. They are also often called "funnels" or "sales funnels."
Most email sequences are typically 5-10 days long and often have a pitch to buy a product towards the end, usually with a limited-time offer.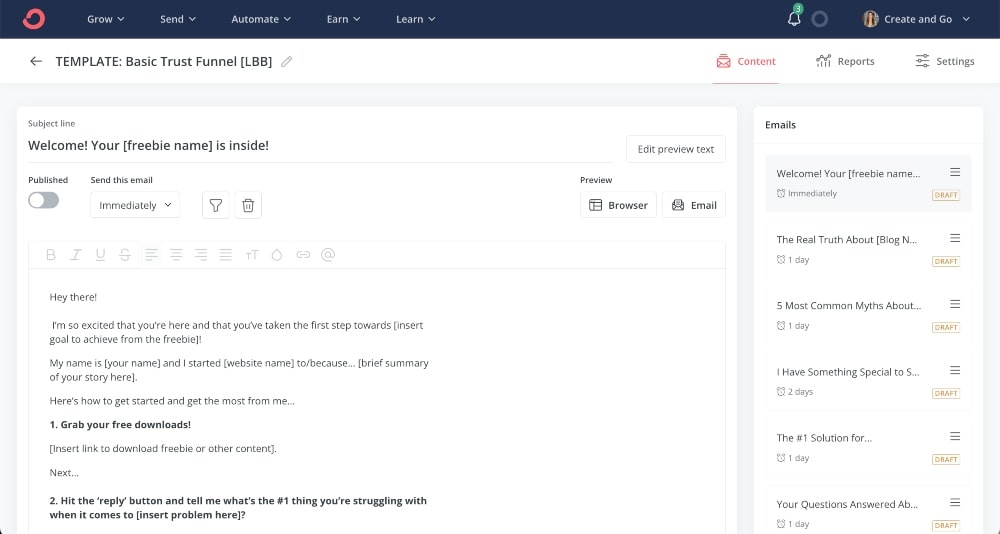 But before you start trying to sell anything, make sure to deliver a few days of content first.
5. Create a Monetization Strategy
Now that we have covered all of the ways to monetize a blog as well as the different strategies that you can use to get the most out of your efforts, it's time to put all of this together in an organized plan.
I, unfortunately, can't do that for you. As you can see, there are so many different ways to make money blogging and it will boil down to what really works for you and your blog.
But I will tell you our preferred path that we used to become professional bloggers and what we currently teach to our students in our own blogging courses.
Here's a quick rundown:
Start a blog with the right blogging platform and web hosting account. We like Bluehost because it's affordable and comes with a free domain name.
Focus heavily on growing two major sources of traffic. Our top choices are Google SEO and YouTube.
Choose at least two ways to make money blogging discussed above. Our top choices are affiliate marketing and online courses.
Consider freelancing or doing other blogging work in the meantime if you need to make ends meet before your blog is profitable.
Additionally, here are a couple of tips to help you make the most of these monetization strategies for blogs.
Test Out Different Monetization Strategies
If at first you don't succeed (and you most likely won't), try again – and again.
Our first product flopped big time. We didn't have any idea what we were doing, but we knew we were going to make this work no matter what.
At one point, we were running 5 different email opt-ins to 5 different email campaigns trying to figure out who our people were and what they wanted.
Perhaps that was a bit overboard, but the point is that we never stopped and waited to see what worked. We were always moving forward, testing, and improving our strategies.
Some monetization methods may make you an extra $100/month and some may make you an extra $1,000/month.
Sometimes you don't know until you start trying and you have to pivot when something doesn't turn out like you expected it to.
When we first started putting Amazon affiliate products on our blog, we thought we could make $10,000 a month with it.
Turns out we could only make closer to $400/month with it.
Keep trying, keep testing, and find out what works for you. You will learn a TON about your audience and how to sell in the process.
That brings me to my next point.
Diversify Your Revenue Streams
The best way to continue building your blogging income is to diversify your strategies. With every course that we created, our monthly income went up.
When we started partnering with a few select brands in our blogging niche and promoted affiliate links in our blog and in our courses, our income went up again.
Once you build up a steady stream of traffic, you can place ads on your blog and make another few hundred or few thousand dollars every month.
You can consider selling physical products or digital products on online marketplaces to try to tap into new markets.
Algorithms change and depending too heavily on one traffic or monetization source is never a good idea if you want to secure your blog's financial future.
Your blogging income will ebb and flow. Ours certainly has over the years. We have seen huge spikes in Pinterest traffic, Google traffic, YouTube traffic, and paid ads traffic – but never at the same time.
Expanding your content and blog onto new platforms will:
Create a buffer against algorithm changes
Allow you to tap into new audiences and markets
Build new relationships with other successful bloggers
Learn new skills to help you grow your blogging business
And open new paths to making money blogging
Just like with any other online business, your blog should be an ever-growing and evolving process.
6. Track Results and Optimize
If there is one single piece of advice that I can give you on how to create a profitable blog, it's that you should continue to test and optimize at every step of the funnel.
Throwing everything up at the wall to see what sticks can work when you have very large amounts of traffic because it's almost hard not to make money blogging with tens of thousands of website views.
But paying attention to the data and analytics can help you maximize your conversions on each and every website visitor.
If you have 10,000 people visiting your blog every month and ultimately convert 1% of those to buy a product, that's 100 sales every month.
If you test out your email opt-ins, open rates, click-through-rates, and sales page conversions and improve that rate to 2%, you've just doubled your sales to 200 every month.
Optimizing the plan that you put in place can lead to huge increases in sales without having to do any more efforts to bring in new clients.
Sometimes it's as simple as tweaking a headline, changing some email content, or adding some testimonials to your sales page.
Track your visits, subscribers, clicks, sales, rankings, engagement levels, and anything else that you can.
Every social media or traffic platform generally has a way to track analytics and often provides this data for free. There are also often other software tools available that give you even more detailed reports.
You don't have to do this every day, but you should do it as often as necessary in the beginning until you get the hang of it and understand the data and customer behavior better.
7. Use Paid Ads to Scale Earnings
Paid advertising can be an effective way to quickly and dramatically increase your blog earnings.
By targeting the right audiences with relevant ads, you can drive more traffic to your site, get more email subscribers, and make more sales.
Paying for ads is the most successful when you have a system in place to make money blogging and you simply want to turn the dial up on your traffic.
I included this step last and specifically after the section on tracking your results because it's really important that you have a good understanding of your entire funnel before you start paying for ads.
When you pay for ads on marketplace platforms, they can be a lot easier to test and figure out.
But when you create your own funnels and drive traffic from multiple sources and channels into email lists and then to product pages, it's important to keep track of where your sales are coming from.
The key is to make sure that you have a positive ROI (return on investment).
Would you pay $100 to make an additional $200?
What about paying $10,000 to make an additional $20,000?
When your organic traffic stalls and you're only earning $500 a month, this can be really powerful.
There are two main types of ads.
Search Advertising
Search advertising involves creating and displaying ads on search engines such as Google, Yahoo, and Bing in order to reach potential customers searching for related terms or topics.
Search ads are typically triggered when a user types a query into the search engine, and are displayed alongside organic search results.
Start by creating well-crafted ads that target specific keywords relevant to your industry or niche.
You can use Google AdWords to help you create a campaign for Google search or other targeted ad networks to reach potential customers who are searching for related topics.
Social Media Advertising
You can also use paid ads on social media platforms like Facebook and Instagram to target potential customers based on interests, behaviors, demographics, locations, etc.
I'm sure you're already familiar with what the consumer side of social media ads are considering they are all over popular platforms like YouTube, Instagram, and Facebook.
The Instagram ads in particular are really effective at helping you discover all of the things you never knew that you wanted but didn't actually need.
Even with years of experience in digital marketing, I've succumbed to them many times and Insta-bought stuff based on a really good, quick ad.
Creating engaging and effective visuals for social media ads is key.
Set Budgets and Test
Creating profitable ad campaigns often requires a lot of trial and error, even for experienced marketers.
You'll want ot find a budget that fits within your overall blog income goals. It's wise to start out with smaller budgets until you have a better understanding of how effective your campaigns are at driving conversions.
This will help you avoid overspending on ineffective ads while you fine-tune them for maximum returns on investment (ROI).
Create multiple versions of your ads to test out which ones drive more clicks and conversions.
Track Ad Performance
Tracking your performance is key when it comes to scaling blog earnings with paid ads.
Use tools such as Google Analytics or UTM codes in URLs to measure results, including:
website visits,
clicks,
leads generated,
and sales conversions.
You should do this for each campaign or ad type so that you know which ones are performing the best and where adjustments should be made.
This will enable you to continually tweak and optimize your campaigns to improve conversions.
FAQs About How to Make Money Blogging
Summary of How to Make Money Blogging
We've made it to the end of our step-by-step guide on how to make money blogging. As you can see, creating a comprehensive content, traffic, and blog monetization strategy is key for any successful blog.
This will help you plan ahead and make sure that your content is as relevant as possible to your audience and optimized for the platforms you're sharing it on.
Remember to always think of your audience first when it comes to creating content, communicating with your audience, and making money blogging.
Always provide as much value upfront as you can so that you aren't just another blogger, influencer, or guru on the internet trying to sell people something.
Setting the right goals and expectations with your strategies will help you have a benchmark to use when you track your results and performance.
Summary of the 9 ways to make money blogging:
Display Ads – A good way to earn passive income on website visits from people who aren't going to buy anything anyway.
Sponsored Content – Win-win for you and your audience because you get paid to write content your audience is interested in.
Affiliate Marketing – One of the best ways to earn a lot of money with a blog.
Sell Online Courses – Ideal way for bloggers to make money because they can expand upon the content they share for free on their blog and charge for it.
Write an eBook – A good way to start monetizing if you aren't comfortable with getting on camera.
Printables and Other Digital Downloads – Easy to create and can be sold on marketplace platforms with large audiences.
Sell Physical Products with eCommerce – This can take a little more time to set up but can be scaled with ads on social media.
Freelancing – A great way to supplement your blogging income while you are trying to monetize in other ways.
Coaching and Consulting – Easy upsell for courses or to make extra money while growing your blog and learning more about your clients.
Summary of the step-by-step guide on how to make money blogging:
Start a Blog with the Right Foundation – Choose a profitable niche, a good hosting company, and blogging platform.
Create a Content Strategy – Decide what kind of content you want to create for your blog.
Create a Promotion Strategy – Consider your target audience and how you want to promote your content.
Set Up Email Marketing – Start building an email list as soon as you create content to get subscribers and increase the reach of your content.
Monetization Strategy – Decide how you want to start making money with your blog and implement at least two ways described in this blog post.
Track Results and Optimize – Check analytics on various platforms to better understand audience nad customer behavior and how you can improve your strategies.
Use Paid Ads to Scale Earnings – Consider using paid ads to scale your income once you have a profitable system in place.
Additional Tips on How to Make Money Blogging
Lastly, here are some final tips from us that we have learned since we started blogging. These tips are a little more personal in nature but come straight from our own blogging journey.
Find Your Unique Selling Point (USP)
I'm bringing it back to business management 101 here. Finding your unique selling point, or USP, is essential for any business that wants to be successful.
A USP is what sets you apart from the competition and what draws customers in and keeps them coming back.
You don't have to reinvent the wheel, but you should try to find your "thing" that helps you stand out from everyone else.
For us, it was sharing our story of working 9-5 jobs before starting a new blog and being very honest and transparent about what the journey has looked like.
This could also be how you position yourself within your blog niche to target a very select group of individuals (just make sure your market size isn't too small).
Connect With Your Audience
The blogging world is competitive and everyone and their grandmother is now an online creator and influencer. People have options when they choose who they want to pay attention to.
Remember this and do your best to really connect with your audience and engage with them.
People want to buy products from people, businesses, and brands that they believe in.
Show people who you are and what you care about. It makes you relatable and that sells.
People are drawn to personal stories, emotions, and connections. This is why Instagram can be a powerful way to stay connected to your audience, even if it doesn't always directly sell products.
Invest In Your Blog
One of the biggest factors in the continued success of multiple blogs that we own has been knowing when to invest in the first steps and the next steps.
Starting a blog is no different than starting any other business. It can be way more affordable, but it will still require investments from time to time in order to reach the next steps.
You can't afford to wait to spend money until you make money. Sometimes, you just have to make an investment and trust that it will pay off.
I've seen some people not want to invest $100/month for software to sell their products and instead try to hack together a free sales page on their website.
What they don't always understand is that investing $100/month in better software could bring in $300 worth of sales. It's a no-brainer then, right?
You don't always know this upfront and it doesn't always work out that clearly or at all, but when it does – you move quickly, grow faster, and earn more.
This applies to blogging software tools as well as courses to learn new skills to grow your blog.
Put in the Work
Finally, making money blogging often boils down to the amount of time you are willing to spend on making your strategies work.
Some people say they want to make money but they spend their time doing a lot of other things.
Stay focused on your goals and do your best to eliminate distractions as much as possible. Create a plan and then see that plan through.
This is where it can really help taking courses because they will show you what to focus on. If you try to stay focused on growing all areas of your business at once, you'll probably move a lot slower.
This is especially important when you have a new blog you are trying to monetize.
Sometimes it's better to put a lot of effort into one area (like traffic) to really get great at it before focusing on other areas (like money).
We hope you enjoyed this blog article on how to make money blogging. If you have any questions or comments, please leave them below. We'd love to hear from you!