We partner with bada$$ companies that offer products that help our readers achieve their goals! If you purchase through our partner links, we get paid for the referral at no additional cost to you! Read our disclosure for more info.
Despite the fact that SO many people out there are making money blogging, it can be a lot harder than it looks. It takes most people months (at the very least) of trial and error to start figuring it out.
But the good news is that once you start to figure things out, it's MUCH easier to get that ball rolling and gaining speed.
We had a few months of zeros initially but despite that, we still earned over $100,000 in the first year with a health and wellness blog. There were a lot of mistakes and trial and error along the way but it was just the beginning of a great path to success — one of which we're going to share the 30,000-foot overview with you today.
There are a lot of different paths you can take and a lot of options when it comes to monetizing your blog or website. We'll go over the major ones in more detail in this article.
You can read our blog income report for the latest on our earnings.
At this point, we've helped over 16,000 students in our blogging courses start, grow, and scale their own blogging businesses. People like Faith Hawks.
Faith Went From $0 to $2,700 Blogging in Three Months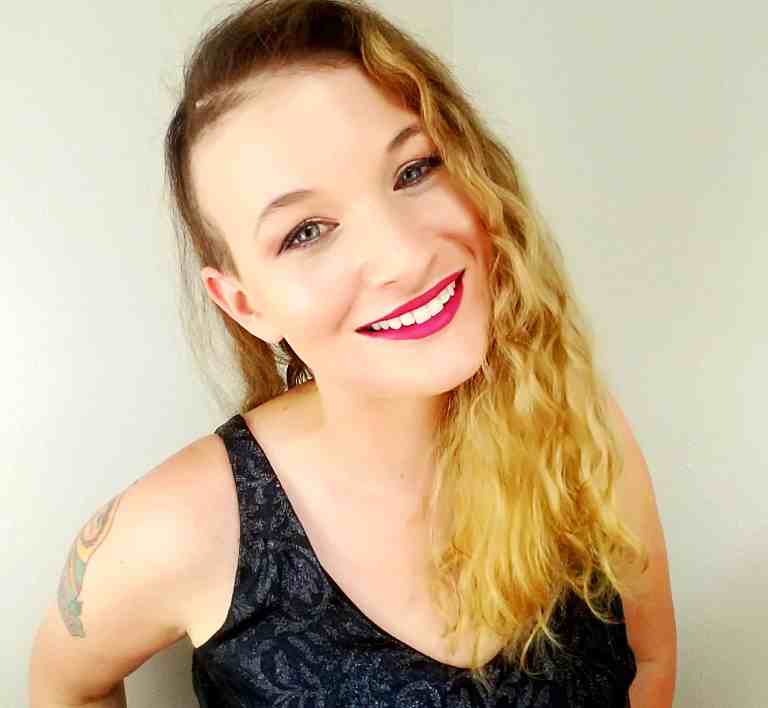 Faith blogs about mental health, specifically anxiety and depression, at Radical Transformation Project.
With the strategies outlined in this article, Faith was able to go from no blog to making over $32,400 per year blogging! How cool is that?
And we've helped students reach some crazy high levels as well (levels that might blow your brain a bit)…
Natalie Now Makes $35,000/Month Blogging!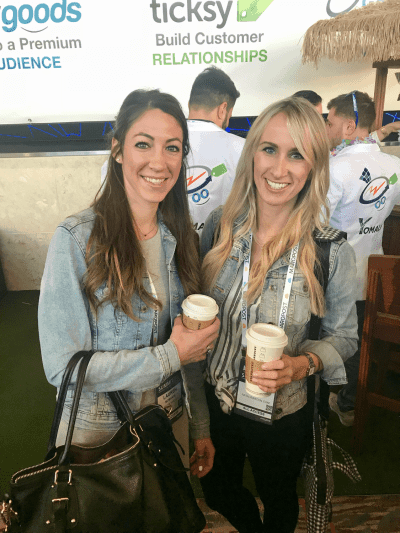 When we first met Natalie, she was tired of feeling overworked and tired of not making enough money with her blog.
Since implementing our blog monetization strategies, Natalie has been able to…
Quit her full-time job to blog full time
Earn an average of $35,000/month with her blog
Start a quickly growing YouTube Channel
And she has even started her own podcast!
In this article, I'm going to show you the exact steps that Natalie, Faith, and so many others have taken to get paid for blogging!
This post is a beast, so let's start with 5 FAQs about making those sweet dollar bills as a blogger…
For all of you preferred video learners out there, here is a video on how to make money blogging (including specific examples and the latest trends and tips) from our YouTube Channel below.
5 Common Questions About How to Make Money Blogging
1. How much do bloggers make?
Some make a lot, some make very little, and some make none at all. It depends on a variety of factors, your work ethic, whose plan you are following, your blog topic, and so much more.
We also have another article on how much do bloggers make that goes into more specifics.
2. What does a blogger do?
It depends on what stage you're at in your blogging career, but the main job a blogger has relates to content creation. Most days though are pretty casual and involve a lot of working at home on my computer in my comfy clothes and simply tackling my to-do list.
You can learn more in our article on what does a blogger do for more details.
3. How much money can you make blogging?
The sky is the limit and it depends on a few different factors, but you can make well over $100,000 per month if you play your cards right. We've earned this just per month in the past (for many months) but it fluctuates with the seasons, different projects, etc.
4. How do bloggers make money?
99% of bloggers make money through 5 main sources:
Ads – Display ads on your website can earn you in the thousands if you have significant traffic
Affiliate Marketing – Earning a commission for selling someone else's goods or services
Selling Your Own Products – EBooks, online courses, coaching, e-commerce, etc.
Sponsored Posts – When you get paid to write a piece of content promoting a brand or service and publish it on your website
Services – This could be from speaking engagements, coaching calls, freelancing, and more.
5. How long does it take to make money blogging?
This often boils down to your dedication and worth ethic. Some of our students make money from their blogs within the first month or two and some take 6 months or more. Here's the good news. Anyone can make serious money blogging with the right tools and plan of action in place.
Let me show you how!
Chapter 1. The Blogging Fundamentals
It's imperative that you have the right building blocks in place when starting out.
Choosing your blog topic (also called a niche)
Select a name for your blog
Build the blog on a great platform (like WordPress)
There are a few initial steps to get started, so make sure you've done all of these before moving on to the next section.
Choose a Blog Topic
There are a few different factors to consider when choosing a blog niche, and one of the most important is the potential for making money blogging. I'm sure there is a niche group of people interested in the fine art of tossing potato sacks; however, it's probably not a very profitable topic.
The key is to align your passion (or interests) with what other people want and need. How can you use your knowledge to help others solve their problems?
Because I had a background in personal training for years, I started my first blog on health, wellness, and fitness. It was something I was passionate about and I also had certifications in this area.
Some great blog topics that are known to be profitable are:
Health and Fitness
Recipes
Travel
Parenting
Specific Diets (Keto, Vegan, Etc)
Lifestyle
Finance
Home Decor
Beauty and Fashion
Making Money Online
Education
Relationship Advice
Tech
Don't overthink this too much. Your topic will likely change over time as your blog changes. Also, feel free to pick two topics and combine them.
Decide on a Blog Name / Domain Name
Once you've decided what topic you want to blog about, it's time to settle on a great name for your blog. Then you'll pick a domain name (the URL for your website: createandgo.com is the domain name for this website).
Most good blog names fall into one of two categories:
Your blog name contains your name.
Alex's Vegan Recipes (vegan recipe blog)
Alex Wanders (travel blog)
Alex Nerney (lifestyle blog)
Your blog name is more descriptive in nature.
Create and Go,
I Will Teach You To Be Rich
Twins Mommy
Pro Tip: Your domain name shouldn't be too long, hard to spell, or hard to pronounce.
I failed on all counts with my first health blog. It was called AVOCADU — which is hard to spell, hard to pronounce, and bonus points: it autocorrected to avocado every time you typed it into your phone browser.
But despite these drawbacks, I was still able to learn how to make money blogging and earn over $20,000/month with that blog very consistently.
The point here is your blog name does matter, but it's not something to seriously stress over either. We also outline some additional steps here: selecting a great blog name.
Build Your Blog
Now that you've got your blog niche and domain name picked out, it's time to actually BUILD your blog! For a step-by-step guide on how to do this, visit: how to start a blog.
Or check out this simple video guide on how to start 10 minutes you can check out if you have not built your blog yet:
In order to get started building your blog, you'll need two things.
Blogging platform – This is the place you will make edits and write your posts.
Blogging host – Just like buying a lot for a new home, you need to buy a space on the internet for your new blog to be set up. A blogging host helps you buy and secure this lot!
By far, the best option for newer bloggers is WordPress (best blogging platform) paired with Bluehost (best blogging host).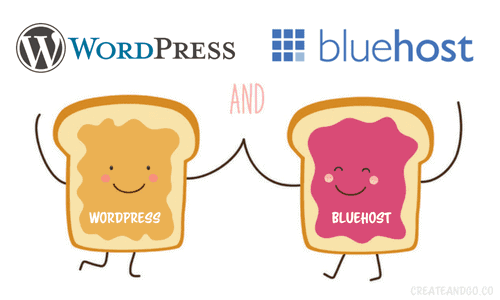 Disclosure: We are an affiliate of Bluehost, which means that we may receive a commission if you sign up through our affiliate link. This is at no additional cost to you and helps us continue to offer free content on our site. P.S. We only recommend products and services that we have personally used and continue to stand by!
WordPress and Bluehost are like peanut butter and jelly for blogging because:
WordPress is the main platform used by 95% of our successful blog friends
Bluehost is perfect for newbies and has 24/7 customer service
They are fully integrated with one another and Bluehost makes the setup process easy
You can start a blog with Bluehost in less than 30 minutes, and you'll need to complete this step before moving on to step two (blog themes).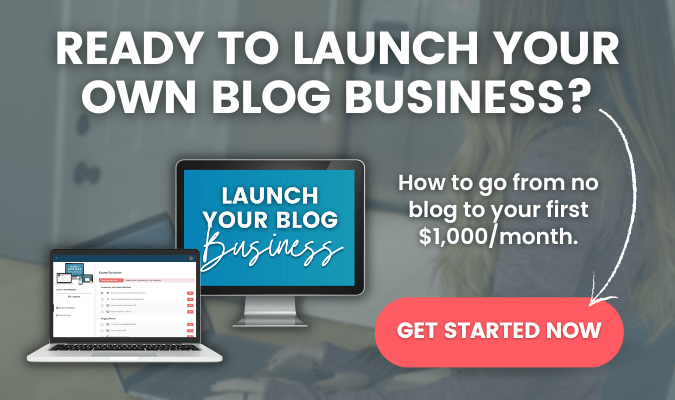 Chapter 2. Design Your Blog to Look Great AND Make Money
Honestly, I think the BIGGEST mistake most new bloggers make in the first few months is spending an obscene amount of time designing their blog.
Here's how to get this right the first time.
1. Choose a Great Blog Theme
One of the best things that you can do from the start to make your blog look good is to choose a great theme for your blog. A blog theme is a pre-made template you can upload and customize to your liking.
Some are paid and some are free. The free themes are good to start with, but the paid themes are much better and more customizable. Our favorite free blog themes are:
Our favorite paid blog themes are as follows:
Divi theme, by Elegant Themes, is a great theme for beginners because it's super user-friendly and very customizable. It will help you design a beautiful blog, with tons of personality and customizations, in no time.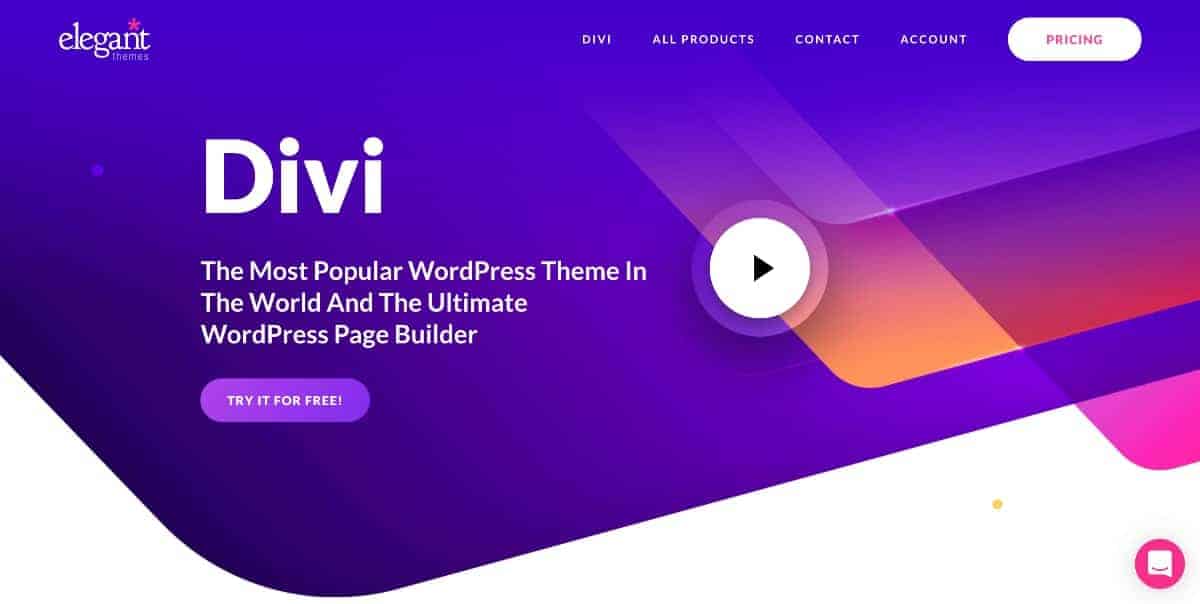 A beginner-friendly and customizable theme like Divi is the best route to go for beginners who want to learn how to make money blogging.
2. Make Sure Your Website Loads Quickly
Waiting for slow pages to load isn't fun! We all know that. If your page takes more than 4 seconds to load, you lose 17.1% of potential readers (source).
There are a lot of factors that go into page and site speed, including your blog theme, plugins, page builder, images, etc. There are also various blogging tools to help with site speed.
Some of our favorites include:
3. Make Sure Your Site Looks Good on Mobile
Because most of us spend our time blogging from a laptop, we tend to forget about how our sites look on mobile.
In general, 60-70% of users visiting your blog are viewing it on a mobile device. This means that the way your site displays on mobile is FAR more important than how it looks on desktop.
Here are some tips for optimizing your content for mobile:
Avoid pesky pop-ups as they can lead to higher bounce rates.
Use a mobile-responsive theme (like the ones I suggested above)
Make your content clear and easy to read from a phone
Here is a screenshot of what our content looks like on mobile: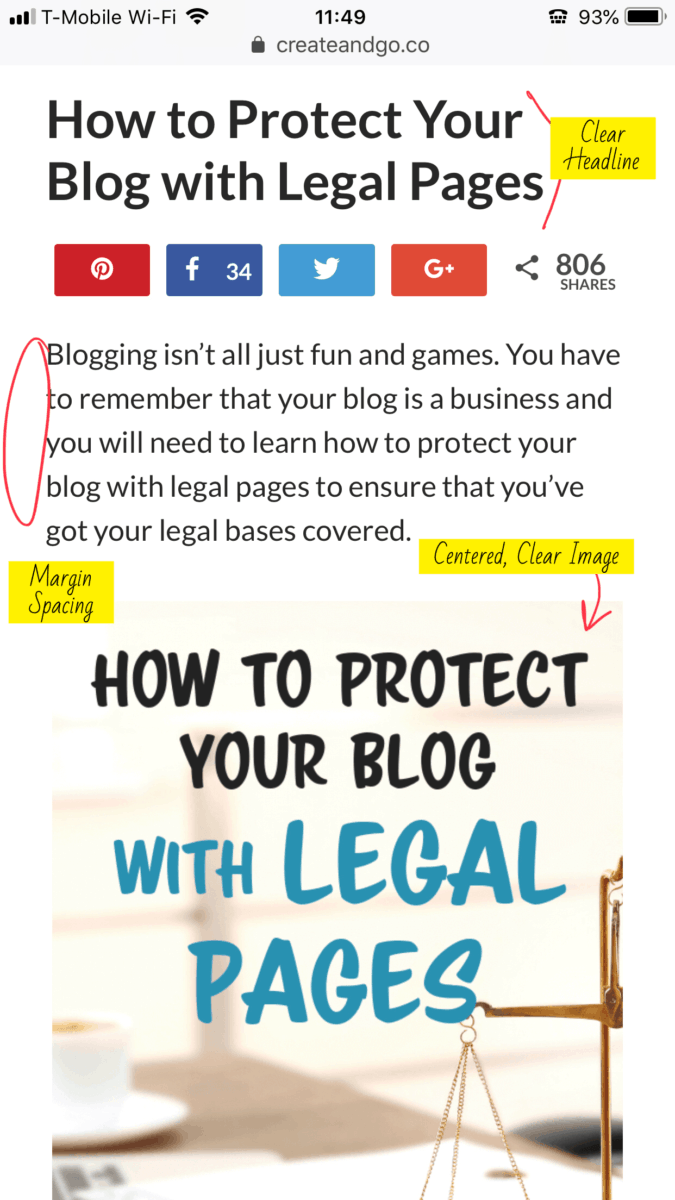 ALWAYS CHECK YOUR SITE ON MOBILE after you write new articles and make any and all other changes to your blog.
4. Other Blog Design Tips
Always strive for "simple and professional" over "fancy and beautiful."
Remember that you are running a blogging business to make money and the focus should be on the CONTENT – not your design.
As such, the design of your blog should always be simple, professional, and designed for efficiency.
Some other tips to accomplish this include…
Use a clear, readable font like Open Sans, Lato, or Roboto. Check

Google Fonts

for some ideas.
Stick to shorter paragraphs with 1-2 sentences. It will make your content easier to scan and read.
Use large, easily identifiable headlines and sub-headlines to break up your content.
Messy, complex designs will cause your readers headaches and confusion.
Chapter 3. Create Content People Need
It's time to answer the million-dollar question: "What should I write about? "
It's rather simple, really. If you want to earn money blogging there is only one type of content you need to focus on. I've written a LOT of different types of content in my years of blogging and unfortunately, much of that content has served absolutely no purpose whatsoever.
I once wrote an article for my health blog on PURPLE POWERHOUSE FOODS. Yes, seriously.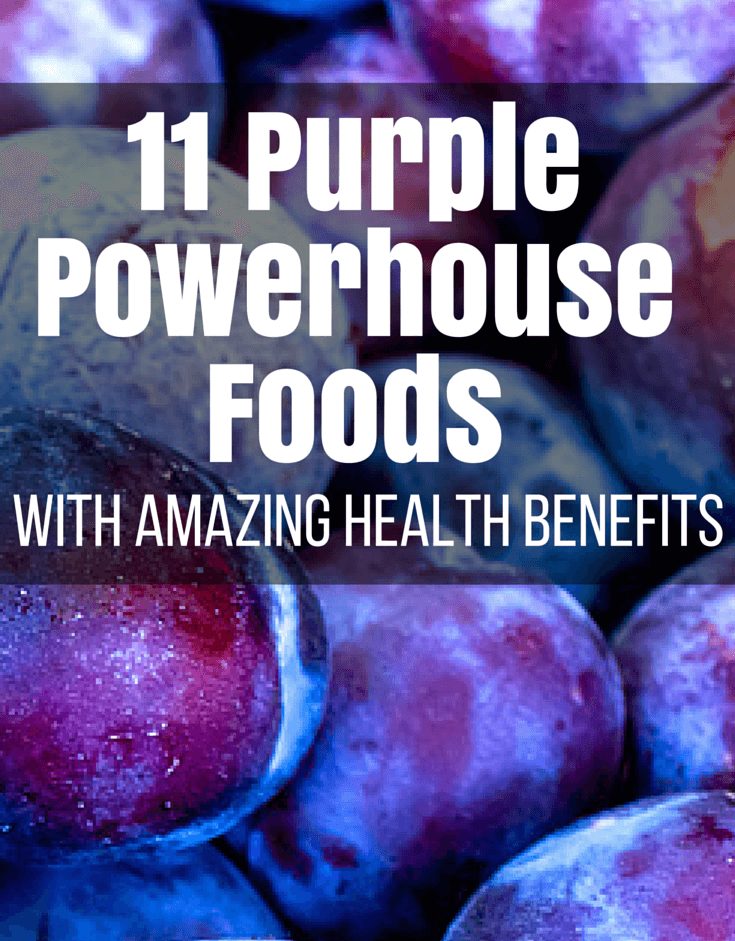 If you're going to be blogging for money, most of the content that you should create should be based on what people are already looking for.
This content people are already typing into the internet trying to find. In a nutshell, you are creating content that people are looking for and trying to help them with their problems.
How do you know what type of content people are looking for?
1. Using Keyword Research
Keyword research is just looking for "keywords" people are typing in on the internet. There are some great keyword research tools out there that will help you find what keywords and terms people are searching for related to a particular topic.
Google AutoFill
When you type in "dog" into google you can see Google auto-fills "dog breeds" and "dog names" in search: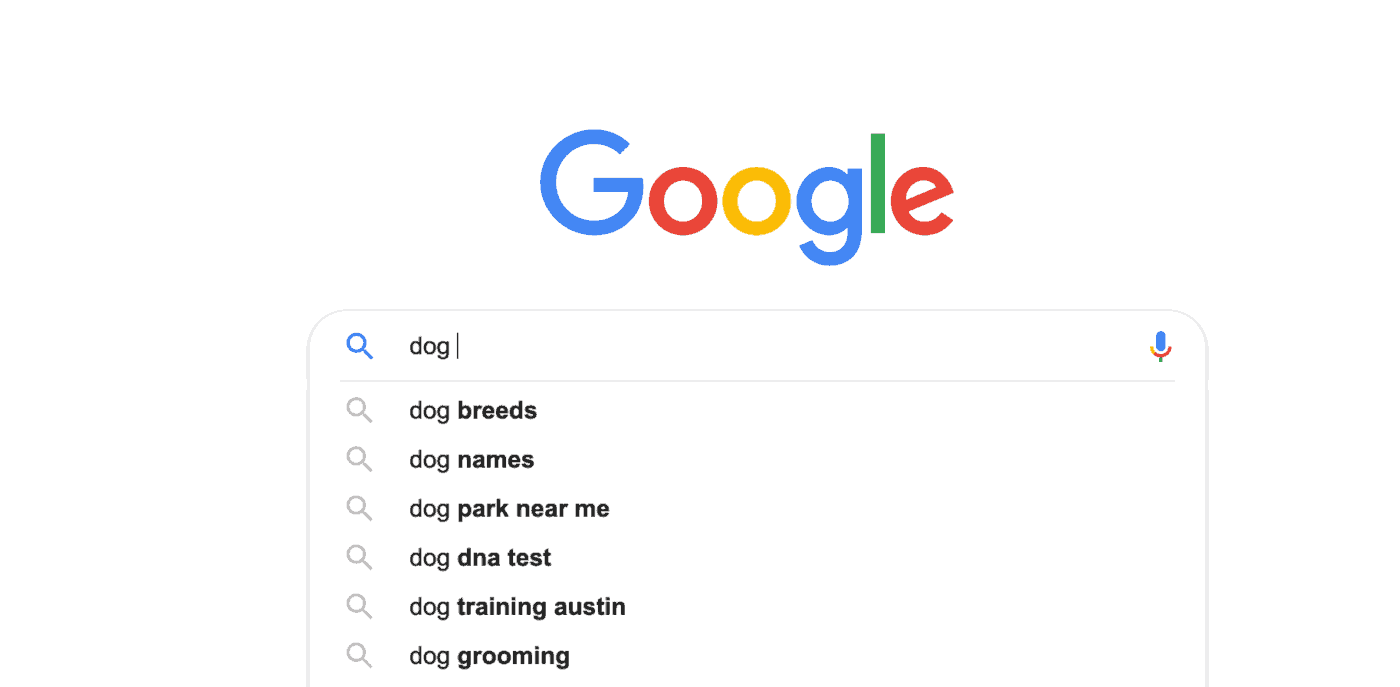 This means these are popular keywords people are typing in. So, if you have a dog blog, then creating an article on the most popular dog breeds is a great idea!
Pinterest Search
Let's look at an example.
When you type in a keyword like "Yoga Poses" into Pinterest, you'll see some of the most popular pins at the top as well as other top searches related to your keyword: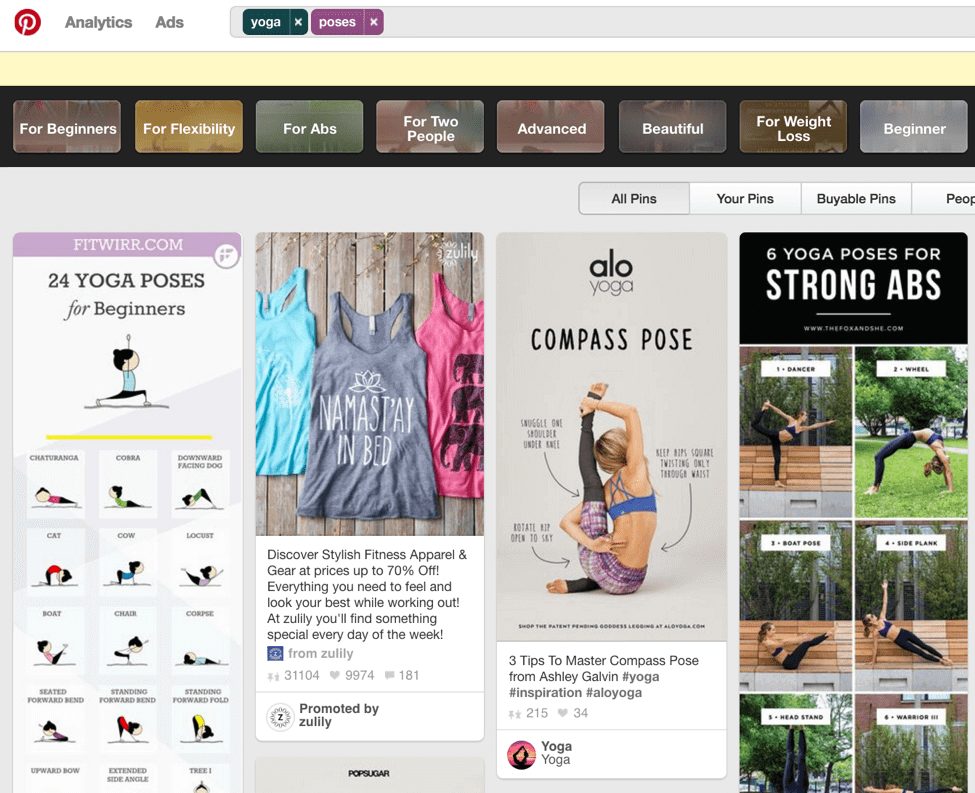 This tells us that when people search for "Yoga Poses," they are also very often searching for "Yoga Poses for Beginners" and "Yoga Poses for Flexibility."
This is how we first began deciding on what type of content to create because we were driving most of our traffic through Pinterest.
Other Keyword Research Options
Additionally, some free keyword research options are
More options in this article: 11 Keyword Research Tools
Using keywords in your content isn't just about helping you decide what kind of content to create. It also helps with search engine optimization and helps your content rank in search results. You can read more about the SEO basics here.
2. Create Content with Purpose
Remember that every piece of content that you write should have a purpose. This could be:
Make a sale.
Get an email address.
Get new people to a community group
Provide TONS of value for your readers
Sometimes all of the above.
Don't just post about randomness or what you ate for breakfast that day because you're a "blogger." That's not how to make money blogging. That's how you waste your time.
If you shift your focus on creating incredibly valuable content that people are searching for, and helping them solve their problems, you will find it hard NOT to make money off a blog.
Related: How to Write a Blog Post (One Your Readers Will LOVE)
Chapter 4. Get Blog Visitors and Fans!
There are a lot of different ways to get visitors to a blog and start building a fan base…
Pinterest
Facebook
Google SEO
YouTube
Instagram
TikTok
Guest Blogging
Email Drops
Forums
Most bloggers immediately run to Facebook and Instagram because those are the two most popular platforms on the Internet. Or nowadays… TikTok is the hottest platform on the market. While these platforms are very big, it doesn't necessarily mean that they are going to provide you with the best sources of traffic for your blog.
To make money blogging for beginners, here is our first piece of advice on this topic.
Start with

ONE

Source of Traffic First
If you try to be great at every platform, you'll end up mediocre at all of them.
One of the single most important reasons why we were able to achieve success so quickly is through our efforts on Pinterest. It's a lot less competitive than other platforms and it provides a way for you to get visitors to your new website quickly — something other platforms don't usually do.
It's really just about dedicating as much time and energy as possible to really focus on the platform, to understand how the traffic works and why people click, and then to create a strategy that allows you to create the best content to maximize your clicks.
We mastered this platform and only moved on to Google SEO and YouTube later on when we had more resources to dedicate to learning the ins and outs of those platforms.
How Do I Choose a Traffic Source?
There are tons of different factors to consider here, including:
Competition (how difficult it is)
Demographics of most users (is the average user going to be interested in your blog)
And so much more!
I think it's a good idea to consider starting with Pinterest and/or Google SEO. These are the best platforms out there for generating search traffic. From here, you can focus on platforms that are better for building relationships with your audience, like YouTube or podcasting.
It also depends on what you jive well with. If you love Instagram or TikTok, that might be your jam. Just consider your audience and how you can best reach them.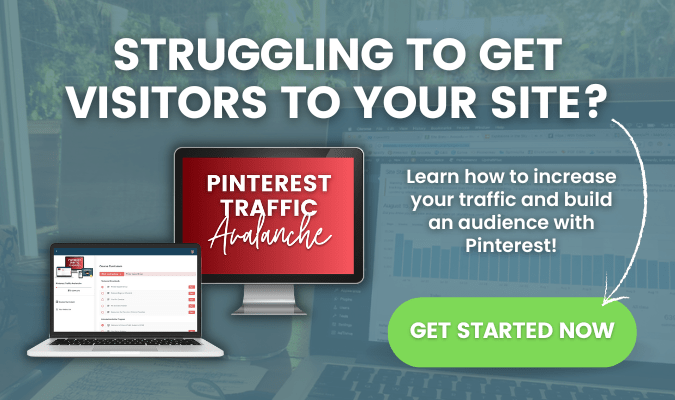 Chapter 5. Build an Email List
Most new bloggers and business owners have a pretty big aversion to writing and sending emails to their audience. We weren't any different, but if that's what you think… It's time to shift your mindset.
Building an email list should be one of your TOP priorities as a blogger, regardless of whether you're a new blogger or you've been at it for years.
The truth is, the vast majority of people won't buy products without knowing a little bit about you first.
We even ran tests to track our links using ClickMeter to determine where the majority of our purchases were coming from. As you can see below, most of them were coming from our email lists:

An email list is one of the most valuable assets you have as a blogger. Here's why.
Emails Help Build Trust with Your Audience
Emails provide a way for you to reach someone's personal inbox on a daily, weekly, or monthly basis as you so choose. It's another way to connect with your reader, and you can generally get a lot more personal with someone through an email vs. a post.
People that randomly land on your website are generally referred to as "cold traffic." This means that the person doesn't know you yet and it's going to be much harder to make a sale from them.
On the other hand, "hot traffic" refers to people who know and trust you on a level that makes them much more likely to buy your products.
So how do you turn a "cold" buyer into a "hot" buyer?
Well, you need a way to connect with your audience on a more personal level. One of the best and easiest ways is through a sequence of emails. Good sequences are designed to provide a bunch of free value (content) upfront to help build trust with your audience before asking for the sale.
How to Get Subscribers on Your Blog
Other than writing awesome blog content, you'll need to take a few additional measures to turn your readers into subscribers.
Step 1. Create a stellar lead magnet.
A lead magnet is just a fancy term for a "freebie" or other incentives that you offer your subscribers in exchange for their email list. This can be a free guide, video, tips, or any other type of free content that you think your audience would be interested in.
You can also take it to the next level and turn it into a free eBook or mini course.
Step 2. Add opt-ins to your blog.
Next, you'll want to add opt-ins to your blog so that people can sign up for your email list to get your freebie. You can do this through forms or landing pages, which are external pages that you can link throughout your blog.
You'll need additional software to create customizable opt-ins. Here are our favorite options for various types of opt-ins:
These are the two companies that we personally use.
Step 3. Create an email sequence.
Lastly, you'll need to create your first email sequence to send to your subscribers. An email sequence is a series of emails that are set up to automatically send to your new subscribers.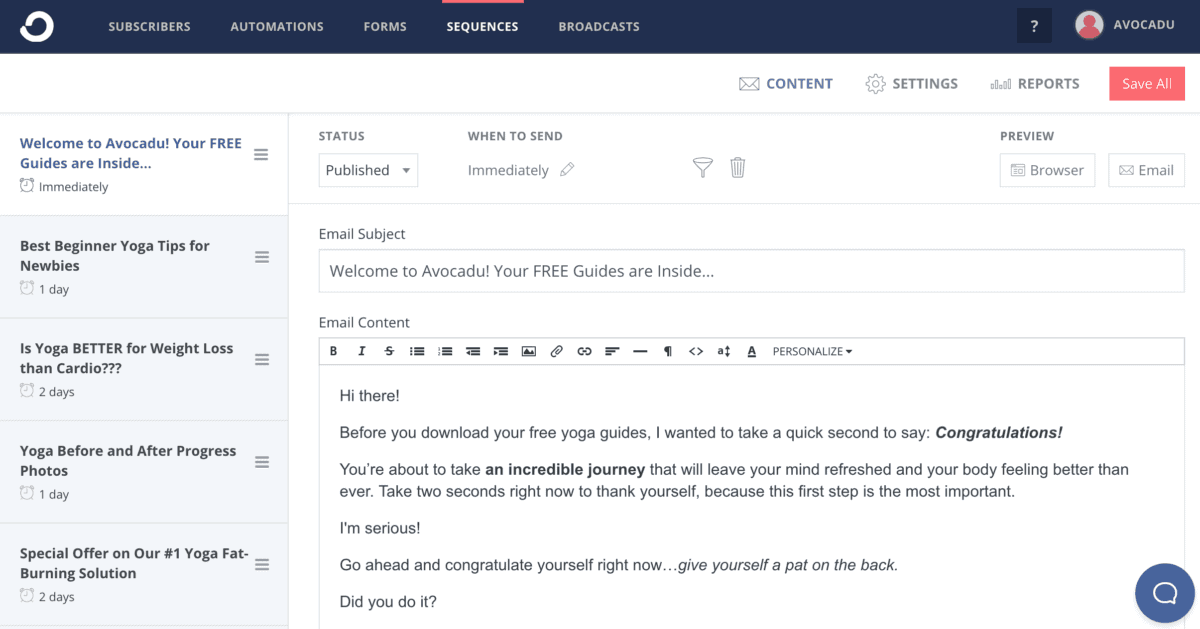 This sequence can be however long you want and as many emails as you want. We recommend starting with a 4 to 7-day sequence in the beginning.
You should start out by introducing yourself to your audience and explaining what your blog is about.
Your additional emails should provide some free and valuable content to your audience that helps educate them on topics that you think they are most interested in.
One of the best investments you can make for your blog is to invest in a good email marketing service to store your emails and send emails to your subscribers.
Our favorite email service, ConvertKit, is the same one that we personally use and they also have a free plan you can start with.
Chapter 6. Ask Your Readers What They Want and Need
The first step to actually making any actual money with your blog is to recommend relevant products to your audience. By relevant, we mean products and services that your readers actually want and need.
But before you can do this, you have to figure out what the heck your audience is looking for!
With my first blog, I searched high and low for great products to recommend to our audience. I even had diet programs that I thought were so badass. I knew they worked because they were the same strategies that I used for my in-person training clients.
Unfortunately, no one bought them.
The problem was that we assumed what our readers wanted and needed and we were flat-out wrong. We also assumed WHO our target audience was and we were wrong on that count as well.
If we had just straight up ASKED our audience what they wanted, we would have saved weeks of wasted time and money.
The problem with making assumptions is that they are always biased because you can't be objective. Your big fat opinion is always going to get in the way.
Despite being a great product, it never saw the light of day because the marketing message was entirely wrong. We didn't know what the biggest problems our audience wanted to be solved (or who they even were) until we ASKED them.
Upon asking, we learned that the most active readers in our audience were middle-aged women struggling to lose weight. Not only that, but we learned specific details about HOW they were trying to lose weight and how they were currently failing (i.e. what we could HELP them with).
Once we figured that out, we repackaged our product, changed our message, and watched the sales start rolling in!
How can I find out what my audience is interested in?
There are a variety of ways you can do this depending on how established your blog is.
1. Email Them
The best place that you can ask for feedback from your readers is through the emails that you send. You can get this kind of feedback by directly asking a question at the end of your email(s).
It can be something as simple as "P.S. What's the biggest problem you are currently facing with [insert blog topic here]?"
I asked this very question in my first welcome email and was SHOCKED at how many responses we received. From the hundreds of email responses, we were able to learn exactly what the biggest issues our readers were facing when trying to lose weight.
2. Ask for Comments
If you don't have an email list of subscribers yet, the next best place to get feedback is through comments on your posts. This follows the same principle as above. At the end of your article, ask your readers a question and then tell them to leave their answers in the comments below the article.
Make sure to also emphasize that you'd LOVE to hear from them!
3. Build a Community Group or Ask in Other Groups
You can also ask for feedback on ideas in Facebook community groups. The best-case scenario would be to post questions in your own community group.
Here is an example of a question I posted in one of our support groups asking for feedback to improve our paid courses: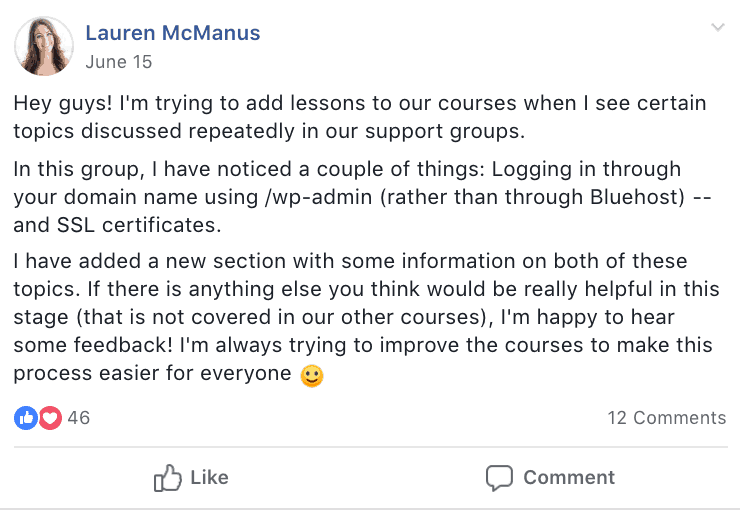 It does take a lot of time and effort to create an established community group, so another option is to search Facebook for community groups in your niche.
Chapter 7. Start With Ads and Sponsored Posts
The first thing that I see most new bloggers do is rush into throwing up ads on their blog to try and make money blogging quickly, and this isn't always the best strategy.
We started with Google Adsense, as many other bloggers do because we didn't have much traffic yet. Then our first week of earnings came in…
We made a whopping $2.93.
I couldn't believe it. At that rate, I could buy one-half of a chipotle burrito per month with our blogging income.
Ads aren't really worth bothering with in the beginning and they just make your website look tacky. But fast forward a few months when our traffic started growing and we were pulling in $4,000/month with ads.
Our best advice is to wait until you reach 10,000 sessions in 30 days and partner with a premium ad network like Ezoic. They have no cost to get started and have a super easy setup.
Once you reach 50,000 sessions in 30 days and meet the Mediavine requirements, you can upgrade to an even better ad network.
A premium ad network will require certain minimum traffic levels for your blog, but they also serve up better ads on your site and generate more ad revenue.
Premium ad networks will also set up the ads on your website for you. You can read more about our recommendations on ad networks here.
Sponsored Posts
Sponsored posts are posts in which you can get paid to write and publish an article for someone (featuring their company in the article) on your blog.
An example is this post by my friend Alexis on 7 Ways Your Credit Score Affects Your Future. You can see it was sponsored by Lexington Law and she probably got paid pretty well for the post.
Sponsored posts haven't been a big part of our blog monetization strategy because we just haven't dedicated the resources to explore it much and prefer to focus on other ways to make money (more on that in a minute). I just wanted to make sure to include it because it's still a popular way that people make money blogging.
Sponsored posts might be right for you if you…
love to write
can find good opportunities that fit with your niche and your audience
want to build relationships with other companies and brands in your niche
want another way to diversify your blogging income
Sponsored posts might NOT be right for you if you…
face a lot of time constraints — it can be very time consuming to find good opportunities and complete the required work
have your heart set on passive income — you're technically still trading your hours for dollars here
want more control over your blog content
Some bloggers, like Michelle from Making Sense of Cents, make upwards of $10,000+/month from sponsored post opportunities.
It will take a LOT of time and effort to get to this level, but it's something to consider if you need to make some side income to cover some of your blogging expenses. A good way to get started learning more about sponsored posts and the opportunities available is through Michelle's course, Making Sense of Sponsored Posts.
How Liesel Made $2,879 in Her First 6 Months of Blogging
While ads and sponsored posts weren't a part of our early blog monetization strategies, I wanted to show you an example of well they can work for some new bloggers.
One of our students and new mothers, Liesel, started her website on pregnancy and motherhood at Mommy Labor Nurse.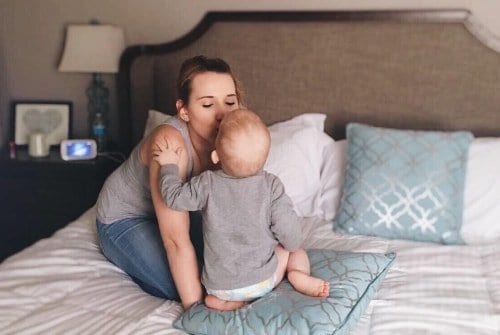 Liesel didn't start with high expectations and dreams of thousands of dollars per month.
She began blogging because she wanted to earn an extra $200/month to hire a maid!
Liesel told me, "If I could write an article that could provide some benefit to someone out there and make their experience less scary, more informed, and less like a rollercoaster ride…I would be happy."
Lastly, she was also driven by the desire to spend more time at home with her newborn. These driving forces led Liesel to find us and through our Pinterest strategies, she was able to generate 28,893 page views in her first month of blogging.
With this traffic and through our course strategies for ads and sponsored posts, Liesel was able to earn $2,879 in her first 6 months of blogging!

More details on these topics are in the next sections!
Chapter 8. Master Affiliate Marketing
Affiliate marketing is when you sell someone else's products or services and receive a commission for any sales that you refer.
Why Start with Affiliate Marketing?
There are benefits and risks to every method of monetization, and affiliate marketing is the best place to start monetizing a blog for a variety of reasons.
1. Less Risk Involved
Affiliate marketing comes with a lot less risk because you're testing out established products with proven sales pages rather than creating your own from scratch (and guesswork).
After that first product failure I mentioned above, we went back to the drawing board and decided to try selling an affiliate product first before creating another one. We had a lot of popular yoga articles on Pinterest at the time, so we found a yoga product that we thought would be a great fit for our audience.
After creating a yoga email opt-in (like the one we talked about) and a sequence of yoga emails, we made some sales!
SUCCESS!!! We weren't total failures!
2. It Will Teach You How to Sell
Once we started making those initial sales, we were able to continue improving our emails and our selling process to boost our sales. This was a massive trial and error period of testing out different opt-ins, different emails, etc. to improve our conversion rates.
Here is a fun little walkthrough of some of our past failed opt-ins, most of which just never converted enough subscribers into our sales funnels…

Perhaps the best part about starting with affiliate marketing is that it will teach you HOW to sell so that you're not left clueless when you do decide to create your own products.
Now, there are some downsides to affiliate marketing as well.
You have no control over some aspects of the selling process, including the sales price, how you're allowed to promote the product, and other factors.
That being said, it's still a fantastic way to determine how your audience likes certain products and services, and it prepares you for the time that you feel ready to sell your own products and services.
How to Get Started with Affiliate Marketing
It's important to set the right expectations when you're beginning to get your feet wet with affiliate marketing.
Lower-priced products will be much easier to sell but will also bring in the lowest earnings. On the other hand, selling high-priced affiliate products can help you earn over $10,000/month, but they are MUCH harder to sell.
It's best to diversify your offering of affiliate products to test out different products and ways of selling those products.
One of the easiest ways to get started is through the Amazon Associates program. You can receive a small commission by recommending Amazon products in throughout your articles where relevant. This is a relatively easy way to earn anywhere from $50-$500+/month because Amazon is already a very trusted platform.
To sell higher-priced affiliate products, you'll need to create a related opt-in and email sales funnel.
You can start looking for some affiliate products to promote on these popular affiliate networks:
Just make sure to read over all rules, terms, and conditions before promoting products as these differ by company, and also to look over the FTC rules on affiliate marketing if you live in the U.S.
Chapter 9. Consider Creating Your Own Products
This is the final frontier and it's important that you take this step at the RIGHT time — after you have learned deeply about your audience and successfully sold one or more affiliate products.
The yoga product that we were promoting through affiliate marketing earned us about $5 per sale. Even if we could sell 10 products per day, that only amounts to $1,500/month. Which is great, but it's certainly not enough for us to live off.
The thing is… We just needed to confirm that we could actually sell a yoga product to our audience.
At this point knew the following…
Our audience loves yoga.
More specifically, they are highly interested in using yoga to lose weight.
We have a working opt-in and sales funnel successfully selling a yoga for weight loss product.
The next step was simple: create our own product on this topic or something similar and sell that in our funnel. And thus, our first successful product was born. Just like that, our $5/sale turned into $37/sale overnight.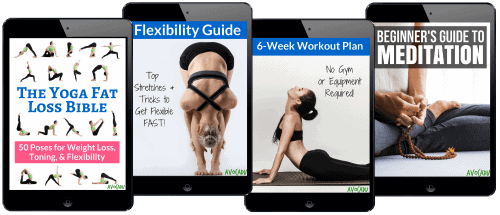 When you create your own product, you control the product price, sales page, marketing, and more, which allows you to master how to make money blogging and take your business to levels you never dreamed of!
After finding success with this, we simply replicated the process with a weight loss product.
This process is discussed in more detail in Six-Figure Course Creator, which is our course on creating and selling your own digital products and services.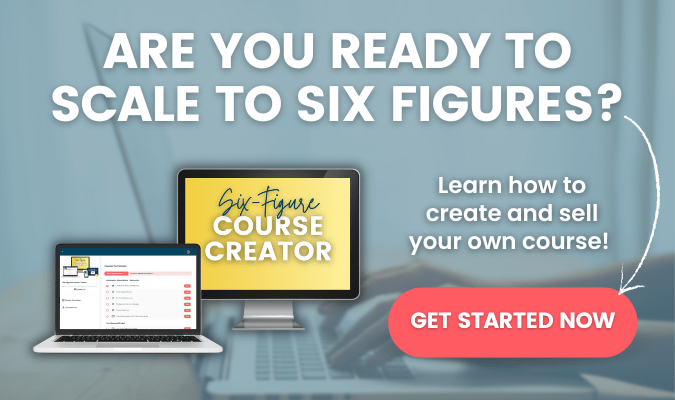 Chapter 10. Grow And Optimize
Here comes the really FUN part! You've got a system that works, and you've made some sales. Now, it's time to optimize your sales funnel to maximize your conversions $$$!
​This is a two-part process that includes learning how to drive more traffic to your sales pages and learning how to sell better to those visitors.
More specifically, you need to find new and creative ways to drive more traffic and generate more revenue. Some examples of ways to do this include:
Outreach to other bloggers
Start an additional traffic source
Add additional products
Optimize your opt-ins and landing pages to increase your conversions
This is the really fun part of blogging!
Learning How to Make Money Blogging Can Change Everything
This is the time when you're making money fairly consistently and you want to work on growing and scaling your income. It can take a while to get to this point, but once you are there, it's so incredible to watch your revenue keep growing!
From here, you can work on optimizing your processes to get more traffic, subscribers, clicks, and sales. Optimization is fun because the sales process can really be broken down into a simple equation.
Sales = Traffic x Conversion Rate
Let's illustrate this with an example.
Your conversion rate on your sales page is 1%, so for every 1,000 visitors on your sales page, you make 10 sales.
Now let's say that you add a few testimonials to your sales page and include a couple more in your email sales funnel.
That bumps your conversion rate to 2%, which means that you have just doubled your sales (1,000 visitors x 2% = 20 sales).
Not let's say that you start working on Google SEO as an additional traffic source and are able to get an extra 1,000 customers to your sales page.
That doubles your sales again (2,000 visitors x 2% = 40 sales).
You can see how adjusting your traffic or factors that influence your conversion rate can translate into an immediate increase in sales.
Some factors that impact conversion rates include:
Adding testimonials
Improving page speed
Making changes to your sales page
Making changes to your sales funnel
Other marketing changes
This part of monetizing your blog is REALLY fun because you can often see immediate improvements in your sales when you make positive changes.
But the reverse is also true. We've made some changes that we believed were positive ones only to have really negative impacts on our conversion rates. Quick back peddle!
When this happens, you have to reverse the changes and go back to the drawing board. It's a trial-and-error process, but you will learn a LOT about sales and marketing in the process!
If you have reached the end of this article, bravo! Hopefully, I've been able to shed some light on how to make money blogging.
We would love to hear about how you're trying to monetize your blog and what problems you might be facing. Please feel free to leave us a comment below this article and let us know if you have any questions that we can answer!