We partner with bada$$ companies that offer products that help our readers achieve their goals! If you purchase through our partner links, we get paid for the referral at no additional cost to you! Read our disclosure for more info.
For many bloggers and online entrepreneurs in general, freelancing is how they first get a taste of what it feels like to make some of that coveted "internet money" we all hear about.
It's a great way to take your work online and so many people seek it out to create more freedom in their life. There are so many different types of freelance work — everything from graphic design to finance and accounting.
But the vast majority of freelancers, especially in the blogging field, tend to lean towards freelance writing when they first start out.
Freelance writing is a great place to start earning money online because so many businesses are in constant need of fresh content.
And it's one of the easiest areas to outsource!
We have certainly outsourced a lot of writing in the past across multiple online businesses.
Needless to say — there is no shortage of jobs in this field. You can find freelance writing jobs ranging from entry-level to advanced with any number of niches to write about.
In this post, we are going to cover what the job of freelance writing is actually like and provide you with some tips on how you can land your first freelance writing gig!
What is Freelance Writing?
Freelance writing can be defined as a profession in which a writer works as a contractor — as opposed to a full-time staff writer at a company.
This typically means that you aren't a normal, salaried employee. You get paid per job (or in some cases, per word in each job). Freelance writers usually work on a per-assignment basis and jobs can range from one-off to consistent scheduled work.
The main difference though between being a freelancer and being a full-time staff writer is the amount of freedom and autonomy you have. As a freelancer, you can often dictate the terms of your work including things like your rate and even which clients you want to work with.
This type of freedom is great for people who want to make their own schedules, or for those who simply don't want to be tied down to one company.
As a freelance writer, you could offer writing services that include anything from website content, to blog posts, guides or ebooks, and even social media posts!
In the blogging world though, most freelance writers start out by writing blog posts for other bloggers.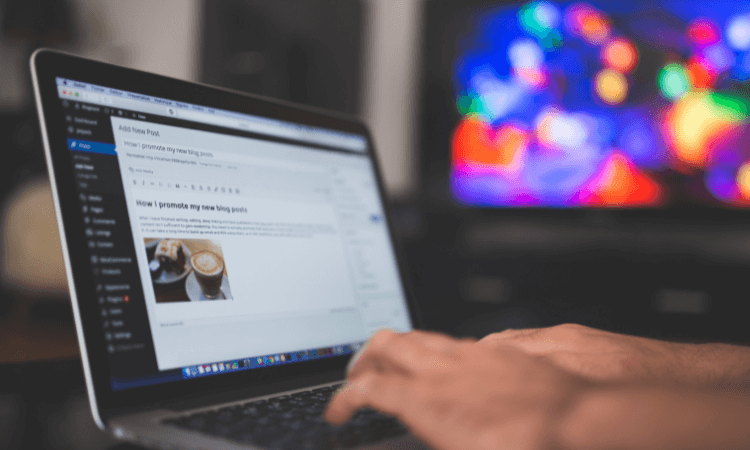 It's an easy way to get your foot in the door to making some money online, but it also helps you to hone your own writing skills for your own blog.
It's also usually a great first place to start because if you've already written blog posts for your own blog, then you already have proof of your work to show potential clients!
What Does a Freelance Writer Do?
To be honest, your day-to-day tasks will vary greatly depending on the projects you're working on and the clients you have.
For example, one day you might spend a couple of hours writing a blog post for a client, and the next day you might spend an hour or two working on writing a social media campaign for another.
Or, if you're working on a longer project like an ebook or a guide, you might spend several days or even weeks writing and editing the content.
The point is, as a freelance writer, no two days are going to be the exact same which is part of what makes the job so interesting!
If you are someone that prefers consistency, you can always narrow your services to a specific niche or type of writing, and work with clients that need similar content on a regular basis.
For example, you could become a go-to freelance writer for businesses in the travel industry and write blog posts, social media content, and even ebooks or guides ONLY related to travel.
If you wanted even more consistency in your work days then you could also limit your services to one style of writing.
Say you don't like doing social media copy, (just a fancy word for social media writing) you could strictly offer JUST blog post writing services.
The point is, as a freelance writer, you have the freedom to work with whomever you want on whatever types of projects you want!
Another great thing about freelance writing is that you can more often than not work from anywhere in the world, as long as you have a laptop and an internet connection.
So, if you're someone who loves to travel or just prefers to work from home, then freelance writing might be a really good fit for you!
Popular Freelance Writing Services to Offer
The great thing about freelance writing is that there are endless possibilities in terms of the types of content you can create and the businesses you can work with.
To give you a better idea of what's out there and what you could consider getting into, we've put together a short list of some of the most popular freelance writing services and what they can entail:
Blog Post Writer
As a blog post writer, you would be contracted to write blog posts for other bloggers or businesses. This could be anything from 1-5 blog posts per month (or as many as you can realistically handle), and topics will vary depending on the client's needs.
As I mentioned before, you can choose to stick to a specific niche or industry, but being able to write about multiple topics is definitely a plus.
SEO Writer
As an SEO writer, you would be contracted to help businesses rank higher in search engines by optimizing their website content. This includes making sure that their web pages are using the right keywords, as well as adding in relevant links and other media.
A writing gig like this can include writing content from scratch or even updating and auditing what's already been written by someone else.
Product Reviewer
This job is exactly what it sounds like. As a product reviewer, you are contracted by businesses to try out and give your honest opinion on their products or services. Product review writers get paid similarly to blog post writers since they often are writing blog posts reviewing products on affiliate-centered blogs.
An added bonus of these gigs is that often times you may be able to keep whatever product you review. You can also sometimes charge more for content in this area because it can be much more tedious than traditional blog post writing.
Web Content Creator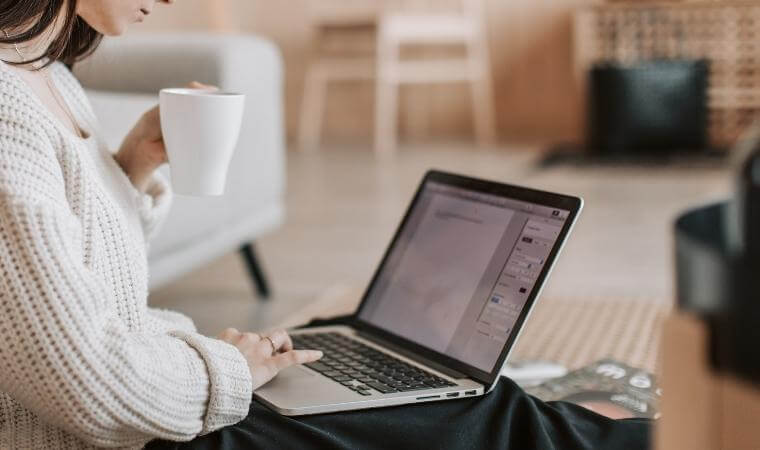 As a web content creator, you would be responsible for creating all sorts of written content that will be used on business websites. This includes everything from writing website descriptions and meta tags to creating whole website pages like an about us or team page.
This can also even include landing pages for marketing campaigns.
Ad Copy Writer
Ad copywriters are responsible for creating the text that goes into advertisements. This could be anything from short Facebook ads to longer Google AdWords campaigns.
You don't necessarily need any special skills for this job, but being able to write catchy and persuasive copy is definitely a plus. You will also want to have experience working with ads and understanding how to get good conversion rates, as that is often the goal for businesses when they create ad campaigns.
Email Marketing Writer
As an email marketing writer, you would be responsible for creating the email content that businesses send out to their subscribers. This includes everything from promotional emails to educational emails and even automated email sequences.
Social Media Content Writer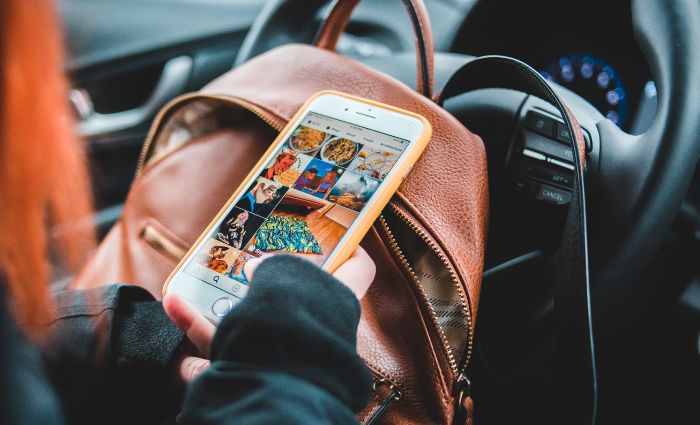 As a social media content writer, you would be responsible for creating content that businesses post on their social media accounts. This includes everything from Tweets, Facebook posts, TikTok captions, and YouTube descriptions to longer Instagram captions and even LinkedIn articles.
Digital Product Writer and Strategist
As a digital product writer and strategist, you would be responsible for creating and marketing digital products like eBooks, online courses, and printables. This job often includes a lot of research and planning in addition to the actual writing, so it's perfect for people who are organized and detail-oriented.
Freelance writing in this area can often be some of the highest paying since businesses really tend to pour their budgets into making the best products possible.
YouTube Script Writer
This can definitely be a harder gig to find since a lot of YouTubers prefer to write their own scripts. But, if you were to score a gig in this field, you would be responsible for writing engaging and interesting scripts for YouTubers to use in their videos. This could be anything from a quick 30-second intro for a vlogger, to a longer script for a more produced video.
There is a gig for just about any type of writer out there. So if you're feeling stuck in your current writing job, or if you're just looking to branch out and try something new, definitely consider any of these other types of freelance writing gigs!
Now, let's talk about what's really on your mind — the money.
How Much Can I Make as a Freelance Writer?
It is important to note that freelance writing is a set-your-price industry.
No two writers will make the EXACT same amount every month, because everyone will have different clients with different budgets while offering different services.
But, typical freelance writers charge a per-word rate that's anywhere from 6 cents a word on the low end to as much as $3 on the REALLY high end.
If you want to get an idea of what kind of per-word rate you could charge, I recommend joining freelance writing groups on Facebook and networking with other writers to make sure you are charging what you're worth.
You can also look for people with similar writing skills and experience on gig sites like UpWork to see what they're charging to make sure your rate is competitive.
Keep in mind that as you gain more experience, your per-word rate will likely increase.
So, if you're just starting out, don't be discouraged if you can only find low-paying gigs at first. Just keep writing and building your portfolio, and eventually, you'll be able to charge the rates you'd like to.
This is actually why it's often a good idea for freelance writers to have multiple streams of income, such as freelancing, blogging, and even some product sales to help make ends meet during the slower months or when you aren't making as much as you'd like.
You can strictly be a freelance writer and make incredible money, but we always push our readers to diversify and focus on growing their own blogging business while pursuing other online ventures!
Pros and Cons of Being a Freelance Writer
Like every other job in the world, being a freelance writer isn't all rainbows and butterflies. There are definitely some pros and cons that come with the territory.
Let's start with the cons so that we can end on a positive note!
Cons
You're responsible for your own taxes.
This can be a pain in the butt, but it's just something you have to deal with as a freelance writer. Make sure you set aside some money each month so you're not scrambling come tax time.
As a self-employed individual, you'll likely be responsible for paying estimated taxes and self-employment taxes.
You're responsible for your own health insurance.
This is another one of those adulting things that can be a pain, but it's a hurdle all freelancers and contractors in every industry deal with. If you're lucky enough to have a spouse or partner with health insurance, you may be able to ride their coattails.
But, if not, you'll need to find your own health insurance plan (and they can be more expensive this way).
You have to hustle for work.
When you're a freelance writer, it's not like you have a boss who is just going to hand you work. You have to actively go out and look for gigs, whether that's through job boards, networking, or cold pitching.
And, even when you do land a gig, you're not guaranteed consistent work from that client. So, you always have to be on the lookout for new clients and new projects.
Now, let's move on to the good stuff!
Pros
You're your own boss.
One of the best things about being a freelance writer is that you get to be your own boss.
You set your own hours, you decide which projects you want to work on, and you don't have to answer to anyone but yourself.
You can work from anywhere.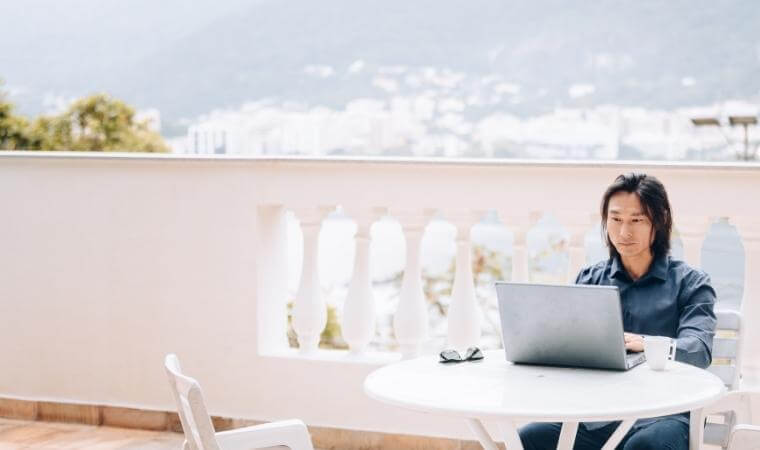 Another great thing about being a freelance writer is that you can work from anywhere in the world, as long as you have a reliable internet connection.
So, if you're someone who likes to travel or just doesn't like working in an office, freelance writing is a great option for you.
You can make your own schedule.
This ties in with being your own boss, but it's worth mentioning separately. When you're a freelance writer, you get to decide when you want to work and how much you want to work. So if you're a night owl and like to work when your kids are asleep or when creativity strikes you, you can.
You don't have to clock in for a 9-5, you just have to turn your project in on time, which in turn gives you a much more flexible lifestyle.
You get to set your own rate.
With freelance writing, you get to set your own per-word rate or hourly rate. And, as you gain more experience and become a more in-demand writer, your rates will go up. Just start with building up your portfolio and then gradually increase your rates as you gain more experience.
Remember, there are six-figure freelance writers out there and if they can do it, so can you!
What Type of Writing Clients Should I Look For?
The good news is that there are all sorts of businesses that need freelance writers.
This includes:
Magazines
Newspapers
Blogs
Corporate websites
Small businesses
Ecommerce stores
Marketing agencies
PR firms
and more
The key is to figure out what type of writing you enjoy the most and then focus on finding clients that need that type of writing.
You want to find clients that can afford to pay you what you think you're worth, and that also fit the environment style you want to work in.
And yes, your work environment still matters in online work!
Some clients will be more demanding than others and will require more of your time. Some may constantly message you with changes and updates, while others may not be as demanding but also not communicate as clearly.
It's important to find a balance that works for you and find out what clients you're willing to work with and which ones you aren't.
Do I Need Any Special Credentials to Be a Freelance Writer?
Great news — you don't need any formal education or credentials to be a freelance writer!
However, some clients may prefer to work with writers who have experience in a certain industry or have a degree in English, journalism, communications, or marketing.
If you're just starting out as a freelance writer, don't worry about getting formal credentials. Instead, focus on building up your portfolio and your network. This will help you land more gigs and make connections with other writers and editors who can help you improve your skills.
It goes back to that old cliche, "It's not what you know. It's who you know."
More times than not, having a network of writers you're close with that can connect you to clients or put a good word in for you will be infinitely more important than where you got a degree from.
Now that we've actually covered what it takes to be a freelance writer, let's move on to how you can actually get started and land your first freelance writing gig!
6 Tips to Land Your First Freelance Writing Gig
1. Start a Blog
This IS optional, but If you want to be a freelance writer, one of the best things you can do is start your own blog.
When you have a blog, you can showcase your work, highlight your skills, and attract an audience of people who may be interested in what you have to say.
And, when you're ready to start looking for clients, you can use your blog as a portfolio to show off your work and attract high-paying clients.
Not only that, BUT a blog can actually serve as a revenue source all on its own as it continues to grow, so it can even help you supplement your income over time.
If you're not sure how to start a blog, don't worry, we've got you covered. Check out our step-by-step guide on how to start a blog.
2. Decide on Your Services
As I mentioned earlier, as a freelance writer, you can offer a variety of services to your clients.
The key is to experiment a bit and find out what freelance services you enjoy offering the most and then focus on finding clients that need those types of services.
Remember, You want to choose an area that pays what you think you're worth, and that also fits the environment style you want to work in.
In the beginning, you don't have to limit yourself to just one type of writing, in fact, it's important especially in the beginning to focus on a few different areas so you can build up your expertise and attract higher-paying clients down the road.
A great way to test the waters is by offering different freelance writing services on sites like Fiverr and Upwork.
These sites don't usually pay as well as clients you have connected with in another way because they tend to keep a portion of your earnings. But, on the bright side, people can find you instead of you having to look for work.
3. Create a Portfolio
If you don't have any writing samples to show potential clients, it's going to be really hard to land that first gig.
One way to do this is by starting a blog like we mentioned before and writing articles on topics you're passionate about.
Another way is to submit articles to sites that allow guest posts like medium.com. This can be a great way to get your work out there and build up your portfolio while displaying your writing skills to the world.
The more clients you get and the more work you do, the more your portfolio will grow.
It's important to continue to update your portfolio just like you would a resume to make sure that it's current with all your favorite pieces you've done and that it showcases your best work.
4. Build Your Network
As we talked about before, it's not what you know, it's who you know. So get out there and start connecting with people on Facebook and Discord.
Another way you can network is just to connect with other bloggers in your niche and see if they're looking for guest posts. This can be a great way to get your work out there, make some connections, and potentially land some paying gigs.
The key is to just get your name and your work out there as much as possible. The more people that see it, the more likely you are to find someone who needs what you're offering.
Always remember the golden rule of networking though: Give more than you take.
You can't expect to build up an incredible network without offering something of value to the people you want to connect with. So focus on giving first and you'll be amazed at what comes back to you.
5. Pitch, Pitch, and Pitch Some More
If you want to be a freelance writer, you're going to have to get used to the idea of pitching. A lot.
The best way to find clients is not by waiting for them to come to you but by actively reaching out and pitching your services. And, when we say pitch, we don't mean sending out a generic email to a list of potential clients and hoping that someone responds.
We mean taking the time to craft a personalized message to each client that outlines why you would be the perfect person for the job and why they should hire you.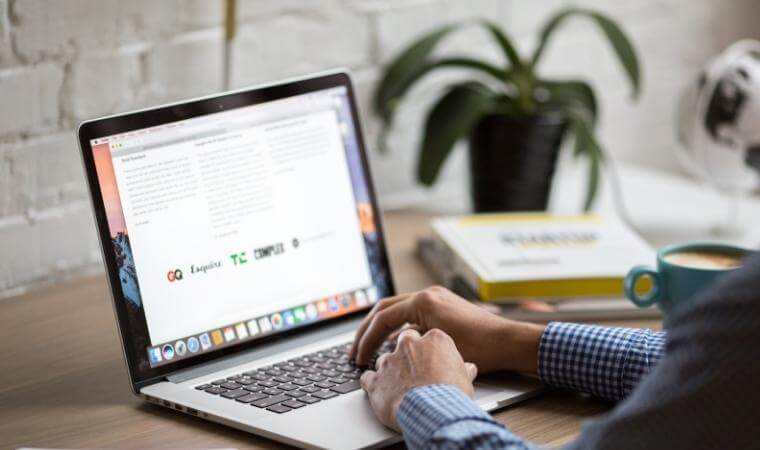 The more you pitch, the better you'll get at it and the more likely you are to land that gig.
So, don't be afraid to put yourself out there and start pitching your services. It might feel daunting at first, but the more you do it, the easier it will become.
Eventually, once you build up a big enough network and word starts to spread about your skills, you will start to find work coming to you! But especially at the start don't be afraid to pitch yourself.
6. Aim to Overdeliver and Be Open to Feedback
If you want to be successful at freelance writing, it's important that you always aim to overdeliver on your promises. This means going above and beyond what your clients are expecting.
It also means being open to feedback and criticism so that you can learn and grow as a writer.
If you did something different and they really liked it, try and do that thing more. If they commented on some things they didn't like about your work, shape up and try and fix it so they'll be happier with your next piece.
Not every client will be the right fit for your style, but the more open you are to feedback, the better your work will become.
Aiming to overdeliver and being open to feedback will help you stand out from the rest of the freelancers out there and will ultimately lead to more clients and more work.
So, there you have it!
These are our tips for how to land your first freelance writing gig and how to get well on the path to becoming a successful freelance writer bringing in some serious revenue with some online writing jobs.
Just remember, it takes time, effort, and perseverance to make it as a freelancer. But if you're willing to put in the work, you can have an incredibly rewarding freelance writing career.
So, what are you waiting for? Start pitching those clients and landing those gigs!
And if you're interested in adding a blog to help launch your freelance writing career, here are a couple of our best resources:
And if you liked this post on freelance writing or have any questions, leave us a comment below!