We partner with bada$$ companies that offer products that help our readers achieve their goals! If you purchase through our partner links, we get paid for the referral at no additional cost to you! Read our disclosure for more info.
It's no secret that blogging can be a great way to make money and create an online community. But many people don't realize that you can also skip a few steps and buy a blog to kickstart your way into success.
Buying an established blog means purchasing an existing website or domain name from another person or business.
You'll have access to the content already published on the site, as well as any associated social media channels and sources of revenue.
So if you're looking for an easy way to dive in as a business owner and earn a (sometimes) passive income while saving months of setup time, buying a blog might just be the perfect option for you.
But before you start browsing blogs for sale, there are a few important steps that should be taken to make sure that you're making a sound investment.
Why Buy a Blog?
There are many reasons why you might want to buy a blog or online business rather than starting a blog from scratch. Here are some of the most common reasons:
Access an Instant Audience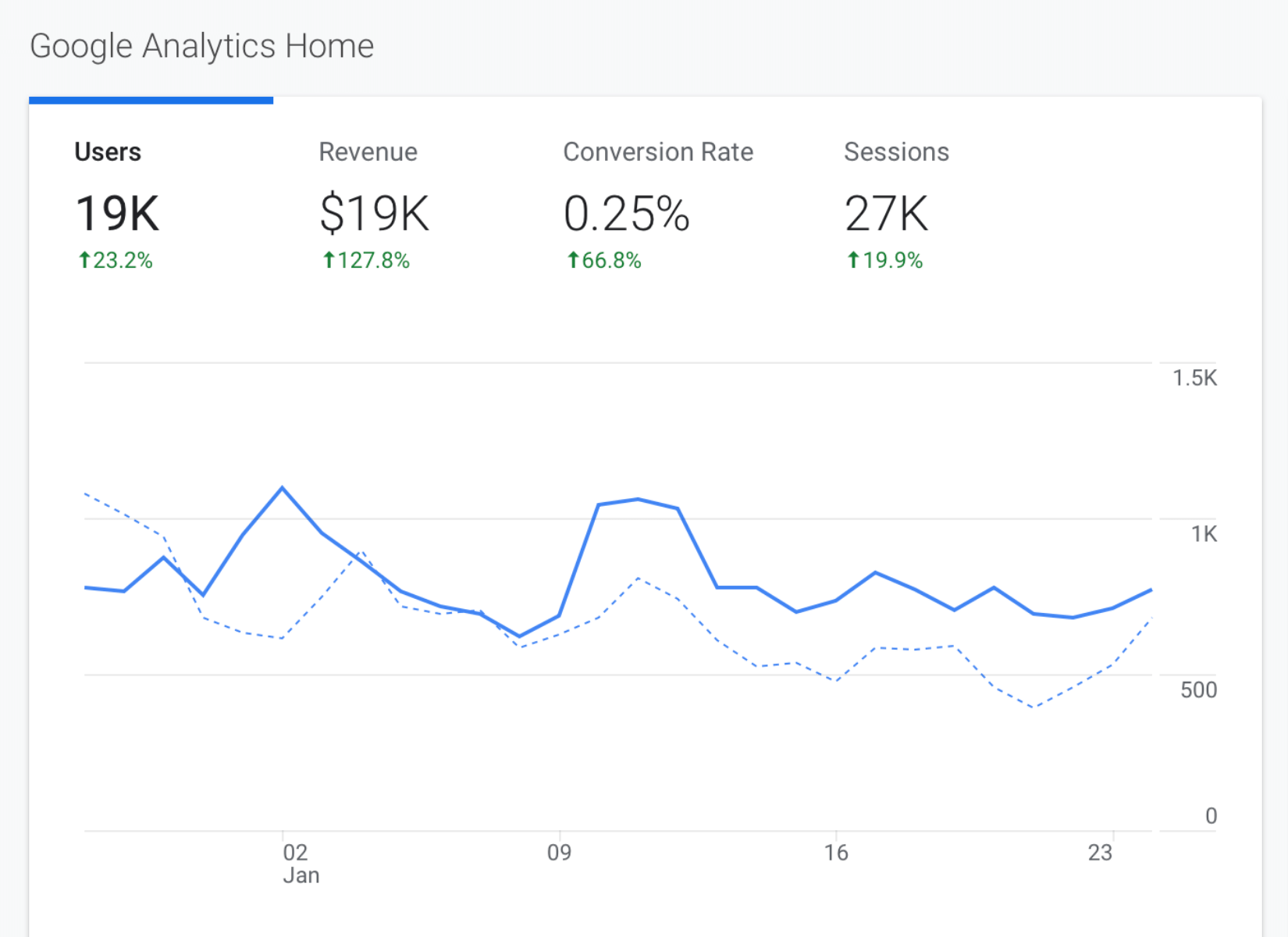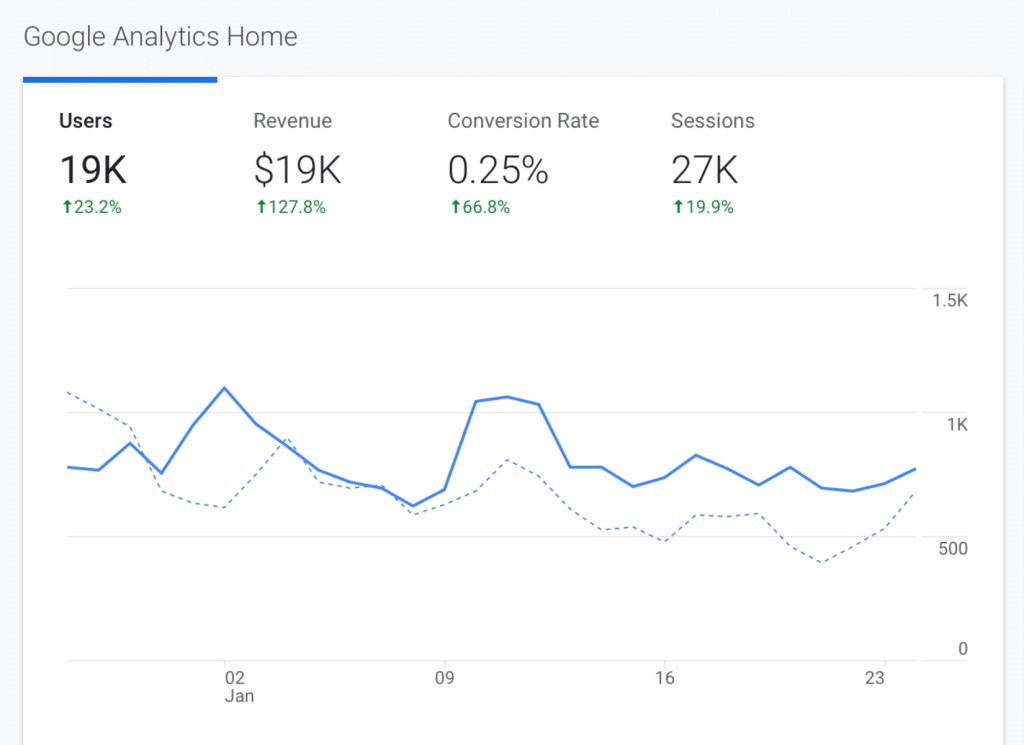 Many bloggers toil away for months or more on a new blog before they start to see any real traction in terms of Google traffic or an audience.
If you buy a blog, you can buy your way through the process of driving traffic and already have a built-in audience waiting for you.
Generate Income Right Away
Established blogs often come with a steady cash flow already in place, meaning that you can start making money right away.
Blogs with passive income and multiple monetization methods are often valued even higher.
Save Time and Money
As mentioned above, buying a blog saves you the hassle of starting a new blog from scratch and building your website from the ground up.
Instead, you can spend more time scaling and growing your online business.
Access Influential Networks and Partners
Buying an established blog can also give you access to powerful networks, partners, influencers, and other relationships made with the previous blog owner.
You can take these relationships to new heights and directions if you're inclined.
Proof of Concept
Many new bloggers worry about whether they can turn their ideas into a profitable blog. If the blog that you buy is already making money, you've already got proof that it works.
While buying a blog can be expensive and there is definitely some risk involved, it can be a great way to take shortcuts to make money blogging.
Website Flip
Some people buy blogs and "flip" them for a living. Some blog owners sell their websites don't know how to monetize their blog content, so they simply give up when the blog isn't making much money.
I get it. Scaling a blog's income can be tough.
But this creates a prime opportunity for business owners who do know how to scale blog income.
They buy content sites, invest some money to make them more profitable, and then sell them for a lot more money.
Website flipping is a very lucrative business!
7 Steps to Buy a Blog
These are the most important steps that you should take when evaluating online businesses and blog websites for sale.
1. Choose Your Desired Niche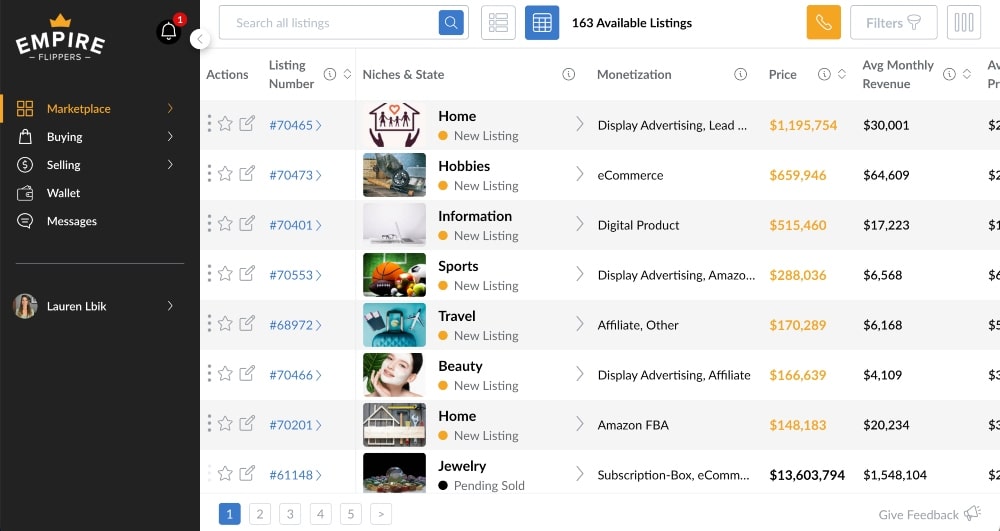 The first step to buying a blog is to decide which blog niche you'd like to focus on.
Do some research into what content and topics are most popular in your chosen industry, and find blogs for sale that cover those subjects.
There are tons of successful bloggers in a variety of niches, but you should choose a topic that interests you personally and where you think some growth potential lies.
While niche blogs usually focus on specific topics (like health or finance), you can also buy a blog that focuses on many topics (like a media website or publisher).
Just make sure you can keep up with a consistent posting schedule for new content, especially with a content site that already has that consistency established. It's important for Google SEO.
2. Analyze the Website's Content and Quality
Once you've settled on a particular website, do some proper due diligence and take some time to assess the quality of the content.
If the writing is sloppy or outdated, it may take you a lot of time to update this content once you take over the site.
Also, look at the website's design and make sure it is attractive to visitors. Poorly designed blogs with outdated themes can be a real turnoff, although this can be an easy thing to update if you're familiar with WordPress themes or have a web developer to help you.
Established blogs still need content and design updates fairly often, so you should factor this into your decision.
3. Check Out Any Associated Social Accounts
If the blog you're evaluating has active social media accounts associated with it, take some time to assess their performance as well.
What kind of followers does the blog have?
How often do they post?
Are they engaging with their audience in meaningful ways?
If the social media accounts have a good following and an active presence, it could be a great bonus when you purchase the blog.
On the other hand, if the accounts are stagnant or inactive, then this is something to consider before making your final decision.
Consider who is running the accounts, whether it's outsourced, and how much time you might need to spend to keep these accounts current.
4. Analyze the Website Traffic and Performance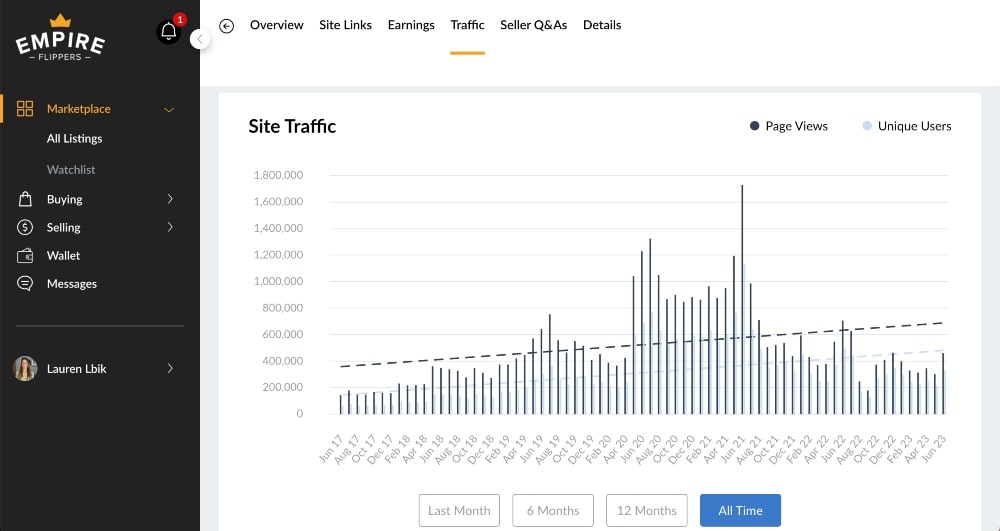 Take some time to analyze the website traffic and performance metrics for any blogs you're interested in.
What kind of traffic is the blog getting?
Do the current traffic trends seem stable?
Are they likely to decline in the future?
Look at the past year to see how much organic traffic, social media engagement, and other metrics have grown.
You should also look into the blog's search engine optimization (SEO) performance to make sure there are no issues that need fixing before you take over.
Remember that not all traffic sources are created equal.
When buying a blog, search traffic is generally more valuable than social media traffic.
Social media platforms can be fickle and sometimes reliant on a particular person or style to be successful.
SEO services are easier to outsource (and take over) and can have the potential for more traffic.
Consider the current SEO health of the site and use SEO tools like Ahrefs to look up important metrics like keywords ranking and the website's backlink profile to ensure it has a healthy link structure.
5. Analyze the Current Revenue Streams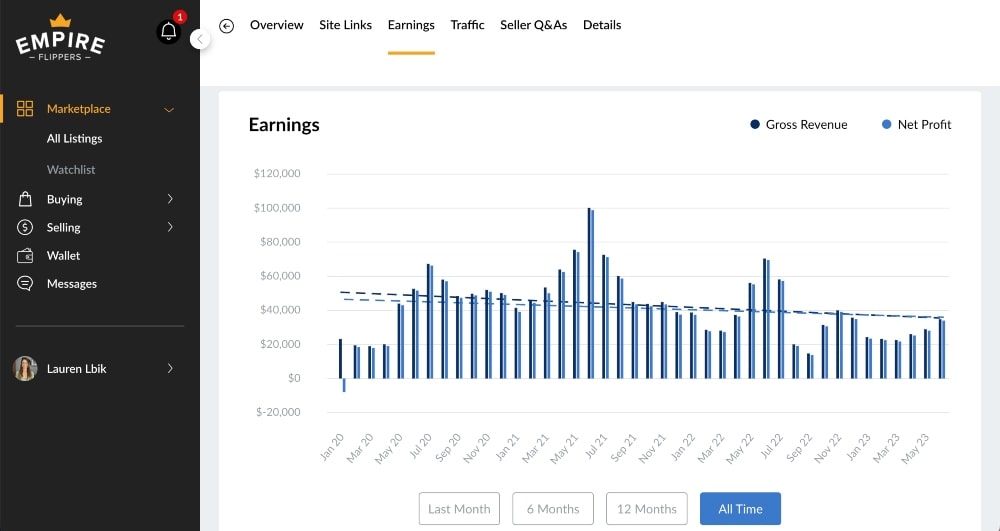 When buying a blog, it's important to understand the current sources of revenue and how stable they are.
What kind of income is the blog generating?
Is it growing or declining?
If it has been consistently bringing in money for the current owner, then this could be a great opportunity for you to start making passive income right away once you purchase the website.
Look into any advertising networks or affiliate programs that are being used on the blog and analyze how much money they are generating.
You should also consider whether additional revenue sources can be added to the existing setup after you purchase the website.
Display advertising is usually a pretty stable source of income but blogs that generate revenue by selling products may present more complex issues.
Make sure that you feel good about taking over any kind of digital products, online communities (like Facebook groups), or other digital asset that may be tied to the original blog owner in face or personality.
6. Consider the Blog's Potential for Growth
After reviewing the traffic and revenue numbers for the blog, you should also consider the growth potential in various areas.
Is it possible to add additional traffic sources?
Can you add additional products or services to boost revenue?
Can you cut costs?
How else can you increase the average monthly earnings?
Consider any ideas that you might have for the blog and compare them to the current setup.
Maybe there's an opportunity to create more content, add a subscription service, or monetize in other ways.
This is where your creative thinking can make all the difference when buying a blog.
You can get the most out of buying a blog when you can grow it beyond its current level of success.
7. Examine the Blog's Financials
It's important to do your due diligence when it comes to buying a blog, so be sure to consult reliable financial records and business operations before finalizing any purchase.
This should include reviewing the blog's monthly profit and loss statements, balance sheets, and tax returns.
Consider the monthly income as well as all revenues and expenses incurred by the business.
Can you cut any of the current costs to make the website more profitable?
Do you anticipate adding any costs to the current financial plan?
If the blog is registered with any payment services like Paypal or Stripe, take a look at those records too.
You should also ask for information about any debts that might be associated with the blog before you commit to buying it.
7. Consider Future Maintenance and Costs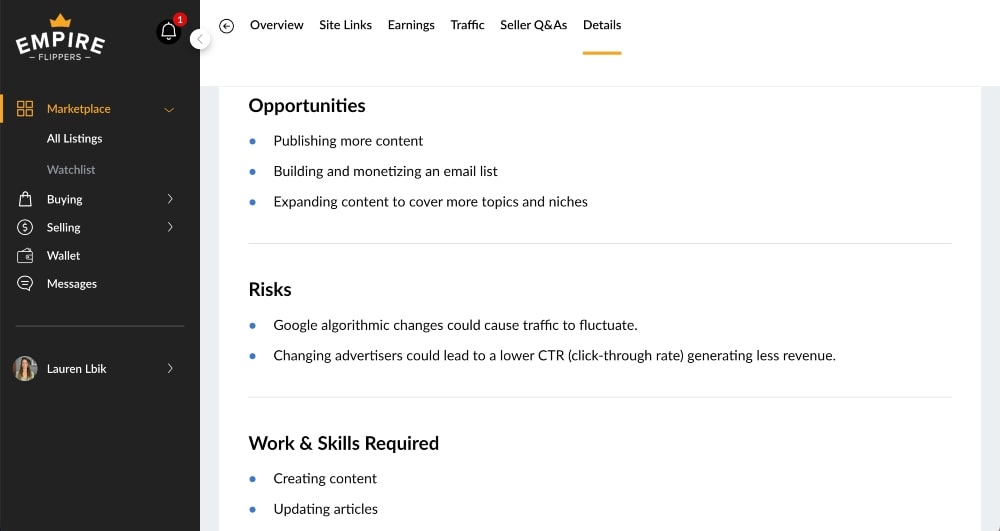 Finally, you should consider the amount of time and money that will be required to maintain the blog once it is purchased.
Who will handle any updates or bug fixes?
Are there any costs associated with hosting or domain registration?
What kind of software or plugins will need to be purchased for ongoing maintenance?
You should also consider any licensing fees or content subscriptions that may be required in order to keep the blog running smoothly.
All of these costs should be factored into your decision when buying a blog.
8. Check for Legal Issues
Before you purchase a blog, you should also look into any potential legal issues associated with the website.
Make sure that all content complies with copyright law and that there are no unresolved disputes between the current owner and others.
You should also check to see if the blog was registered correctly and if it is in compliance with any local or federal laws.
If the blog contains any sensitive data, make sure that it is secure and protected from potential breaches.
Finally, if there are any trademark or patent issues associated with the blog, you should research them to make sure that you won't be liable for any legal issues after purchasing the website.
9. Negotiate the Price and Terms with a Contract
Once you've done your research and are confident that the blog is a good fit, it's time to negotiate the purchase price.
Be sure to take into account all of the costs associated with running and maintaining the blog when negotiating the purchase price.
Typically, blogs sell for anywhere from 10-20x their average monthly net profit, depending on the blog's traffic and financials.
You should also discuss any payment terms that are agreeable to both the buyer and seller.
Once you have agreed upon a price, it is important to draw up a contract that outlines the terms of the sale.
This should include information about who is responsible for taxes, hosting fees, and any other ongoing costs associated with the blog.
Be sure to also agree on a timeline for transferring ownership, what the transfer process will look like, and any additional terms that must be met before the sale is finalized.
10. Transfer Ownership
With the sale of digital businesses, funds are typically put into an escrow during the acquisition process so that the blog buy can review everything before the blog seller receives the money.
After you officially buy a blog, the first thing you need to do is initiate the transfer of all accounts and assets.
This includes transferring the domain registration, hosting account, and any third-party accounts associated with the blog.
Keep in mind that some accounts, like Google Adsense and Amazon Associates, do not transfer over. You will to create your own accounts to replace the existing ones.
You should also make sure that all of the content on the website is moved over to your account and that any passwords are updated with new login information.
It's important to review all transfer paperwork to make sure that everything is correct before you take over ownership of the blog.
Once all of the accounts and digital assets are transferred to your name, you can begin managing and monetizing the website as its new owner.
Buy a Blog Safely With an Online Marketplace
The safest and most secure way to buy a blog is to use an online marketplace where you can browse blogs for sale and request financial information on the blogs before purchasing.
Website brokers working for these companies will usually verify income and websites on all blogs for sale to ensure quality and accuracy.
Online marketplaces also typically offer escrow services that protect both buyers and sellers by holding funds until the sale is completed successfully.
This ensures that the seller receives payment and the buyer receives all of the accounts and digital assets associated with the blog.
These online marketplaces also have an internal review process and typically reject blogs with unstable revenues or any other red flags.
5 Great Websites to Buy and Sell Blogs
The following websites list blogs for sale and, in many cases, provide broker services to help you with the buying process.
Empire Flippers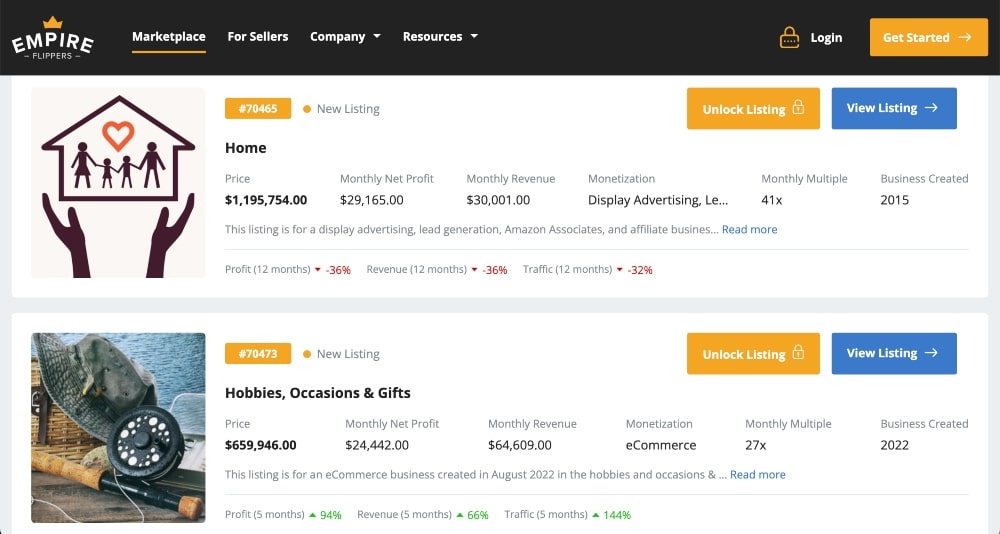 Empire Flippers is one of the largest and most trusted websites for buying and selling online businesses.
The team at Empire Flippers conducts due diligence to ensure that the businesses they list are legitimate and free from any red flags.
They also offer a variety of escrow services to protect both buyers and sellers during the transaction.
Niche Investor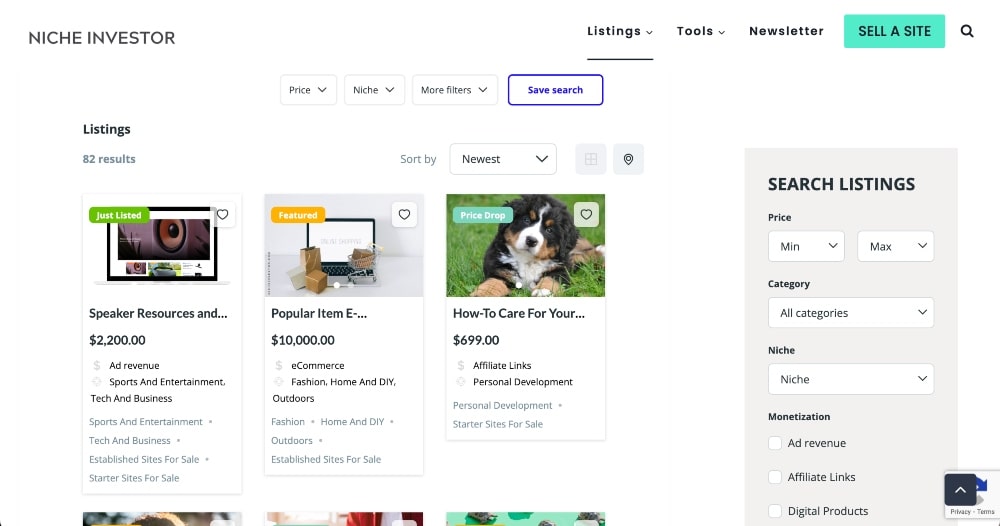 Niche Investor is a great option for those looking to purchase blogs.
Their team reviews all blogs before listing them on the platform and also offers escrow to protect both buyers and sellers during the transaction.
What sets Niche Investor apart from other similar websites is their focus on niche-specific blog properties.
This means that they specialize in helping buyers find niche-specific blogs that offer high potential for growth.
They also have a team of experienced professionals who can provide guidance and support throughout the entire buying process, from identifying potential opportunities to negotiating terms and transferring ownership.
Flippa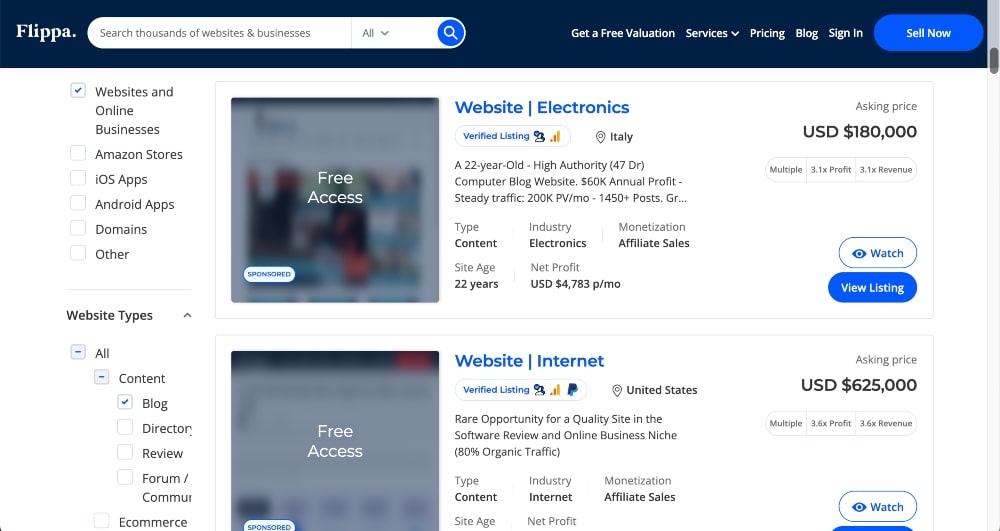 Flippa is another great website for buying blogs, websites, and online businesses.
The platform offers a wide range of listings, from established businesses to new startups.
Flippa also provides buyers with detailed financial information on individual websites, including monthly profit and loss statements.
Plus, they have an automated escrow system that holds funds securely until the transaction is completed satisfactorily.
FE International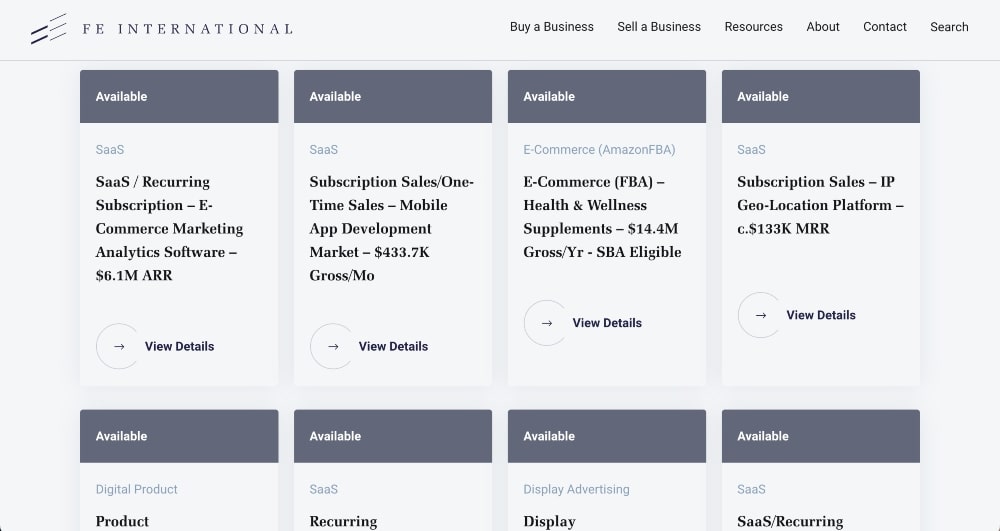 FE International specializes in offering vetted and quality websites for sale, including blogs.
With years of experience in the industry, they provide a safe and secure platform for buyers and sellers.
FE International carefully reviews all blogs for sale on their platform to ensure they meet their high standards and also provide support and guidance throughout the entire buying process.
Quiet Light Brokerage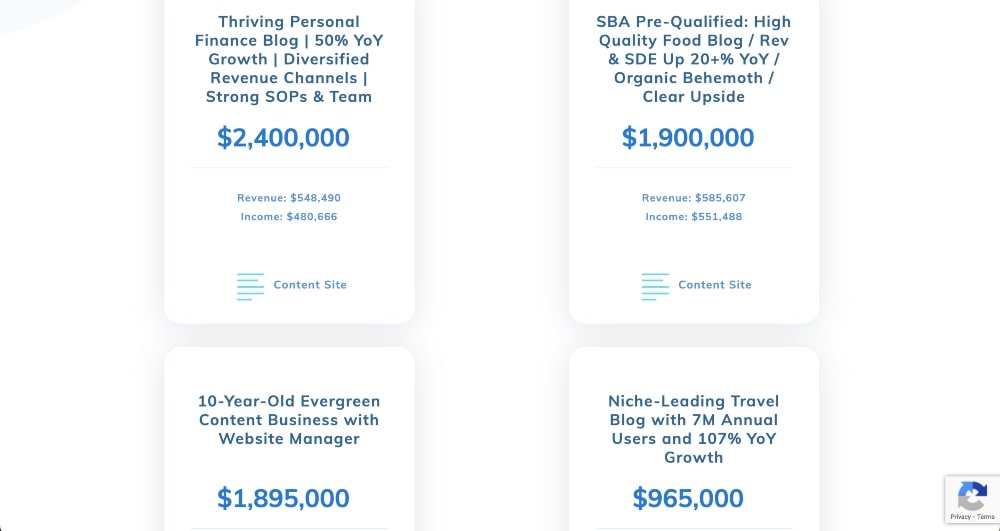 Quiet Light Brokerage is an experienced online brokerage that specializes in helping buyers purchase high-quality eCommerce and blog businesses.
All blogs for sale have detailed financial information and have been thoroughly vetted by their team of experienced professionals.
They also provide buyers with access to exclusive resources, such as proprietary market reports, buyer financing options, and personalized deal guidance from experienced brokers.
With over 17 years of experience in the industry, this is a great option.
FAQs About Buying Blogs
How much does it cost to buy a blog?

It depends on the type of blog you are looking to buy. Typically, a professionally maintained blog can cost anywhere from $200-$20,000 or more depending on many factors such as content quality and website design. It's important to do your research before making any purchases so you get the best value for your money.
Is it worth it to buy a blog?

Yes, there can be many advantages to buying a blog for both businesses and individuals. An existing blog may already have an engaged audience, a product that sells well, and other established traffic and monetization channels.

It can also save you time and money in the long run since you won't have to build a website from scratch. If you're looking to get started quickly in the blogging world, buying an existing blog is a great option.
How do I purchase a blog website?

If you decide to buy a blog, it's important to understand the process. You should first decide which type of blog you want to purchase. After that, research potential sellers and make sure they have an established track record of providing quality content.

Once you've found a good blog seller, negotiate the price and draft a formal agreement outlining payment details and other terms. Finally, transfer ownership of the blog through the proper channels and you're ready to go!
How can I make $100 on my blog?

There are many ways to make money off of a blog, from affiliate marketing and sponsored posts to display advertising, eCommerce stores, and selling digital products and services. If you are looking to make $100 in a short amount of time, launching your own product or an affiliate product can be one of the quickest ways.

You can also consider displaying ads on your website or applying for ad networks that will pay you per click. Ultimately, it will depend on the type of blog you have and the traffic you can generate.
Key Takeaways for Buying a Blog
Buying a blog can be a really attractive investment and a great way to save time compared to starting your own blog.
It has the potential to save money and a lot of time, but it's also not without its own risks. There would be nothing worse than spending money on a blog that isn't profitable enough to give you a positive return on your investment.
When you buy blogs, it's important to understand the entire process to make sure you're making a sound investment.
Here are the key steps in the blog-buying process:
Choose Your Niche
Analyze the Content and Quality
Check Out Social Accounts
Analyze Traffic and Performance
Evaluate Current Revenue and Monetization
Consider the Growth Potential
Examine Financial Statements
Consider Future Maintenance Costs
Check for Legal Issues
Negotiate the Price and Terms With a Contract
Transfer Ownership
With the right research and due diligence, you can find a profitable blog that has the potential to generate significant returns!