We partner with bada$$ companies that offer products that help our readers achieve their goals! If you purchase through our partner links, we get paid for the referral at no additional cost to you! Read our disclosure for more info.
Video editing software can be used for a variety of purposes — everything from creating music videos to documentaries to news stories to goofy YouTube videos.
Because of the wide range of uses, there are tons of video editing tools on the market today that you can choose from.
But if you're just getting started on YouTube, your needs are going to be a lot different than if you're a professional video editor (or want to be).
Aside from the special effects and features of each software, budget is also a big consideration for many.
In this article, we're going to dive into the best video editing software for a variety of different needs.
If you want to skip ahead, here are our top picks:
What is the Best Video Editing Software?
Best for: Overall best video editing software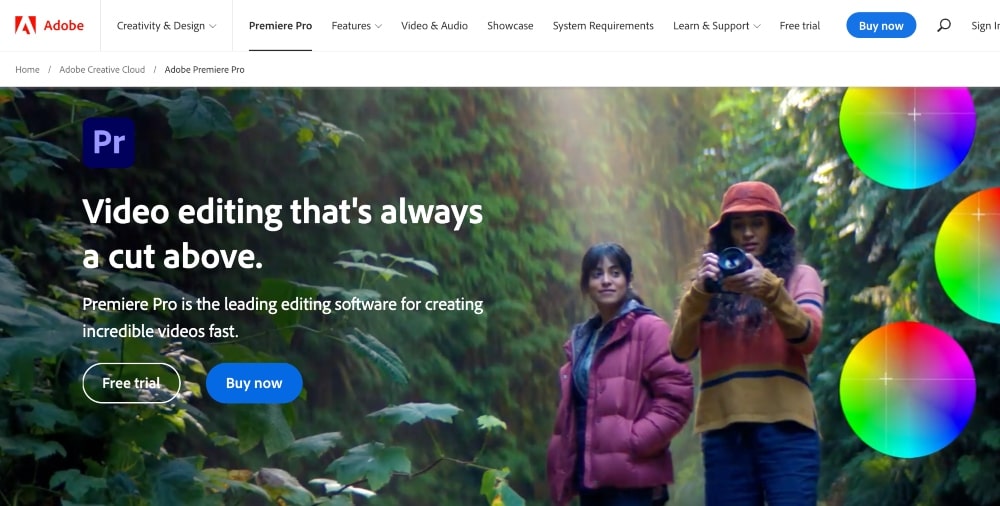 Adobe Premiere Pro is a powerful video editing software from Adobe Systems.
It offers an extensive array of tools, effects, and features that can be used to create professional-looking videos quickly and easily.
Some of the features include color correction, motion tracking, image stabilization, and masking.
Additionally, it supports a wide range of file formats including AVCHD and QuickTime, so you don't have to worry about compatibility issues when importing your footage.
One of the most useful features provided by Premiere Pro is its support for plugins, which enable you to extend the program's capabilities with additional effects and edits.
Premiere Pro also provides audio editing capabilities with its in-built mixer, allowing you to easily remove background noise or add music or sound effects to your project.
You can even control the volume of specific video clips or apply audio effects across multiple tracks at once.
Additionally, if you want to make quick adjustments on some clips while keeping the rest intact then Adobe's Dynamic Link feature lets you seamlessly switch between Premiere Pro and After Effects without having to rerender anything.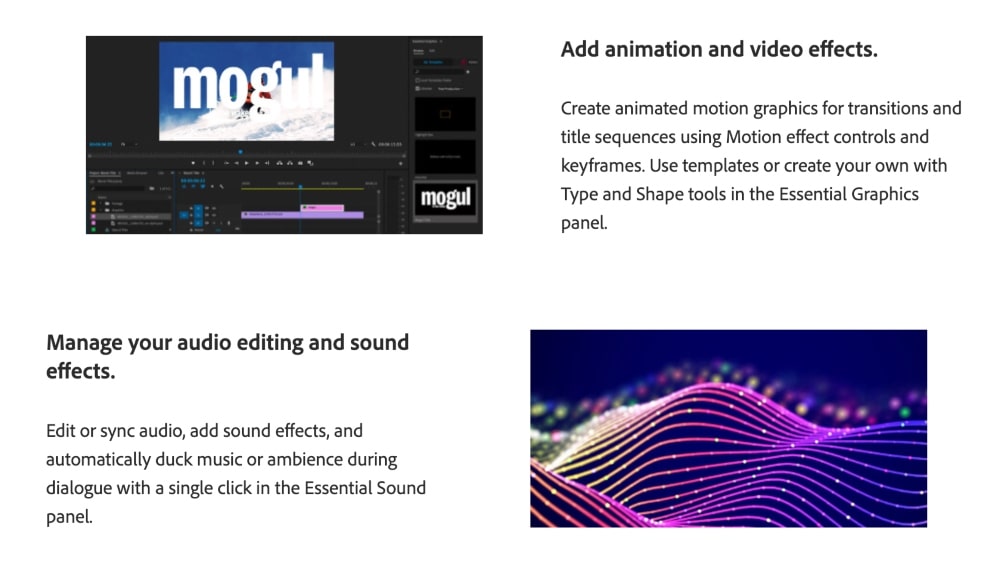 Key Features:
Non-Linear Editing: Edit footage without restrictions on the timeline and create smooth transitions between shots.
Video Effects and Color Grading Tools: Adjust color, brightness, contrast, saturation, and more with as few clicks as possible.
Motion Graphics Templates: Quickly add animated text or graphics to any video project with preset templates for various looks and effects.
Audio Processing and Mixing: Easily manipulate audio levels within an entire clip or import separate audio files for greater control over sound design projects.
MultiCam Editing Workflow: Synchronize clips from multiple cameras so you can easily switch between different camera angles during editing sessions
Time Remapping and Frame Rate Conversion: Control speed changes in your videos using time remapping tools while also maintaining image quality throughout the conversion process
Native Format Support for Popular Formats: Import media files quickly without having to transcode them first due to its support of popular file formats such as AVI, MOV, MP4, and more!
Pricing:
You can get Adobe Premiere Pro for $20.99/month or access all Adobe Creative Cloud apps for $54.99/month.
Our Opinion:
Adobe Premiere Pro is widely considered the best video editing software on the market. It has advanced video editing features but with a reasonable price tag.
Many Premiere users also use other related Adobe products like After Effects, Photoshop, Lightroom, and other image, video, and design software from Adobe and you can get all of these products for one price with the Creative Cloud plan.
Best for: Professionals and experienced video editors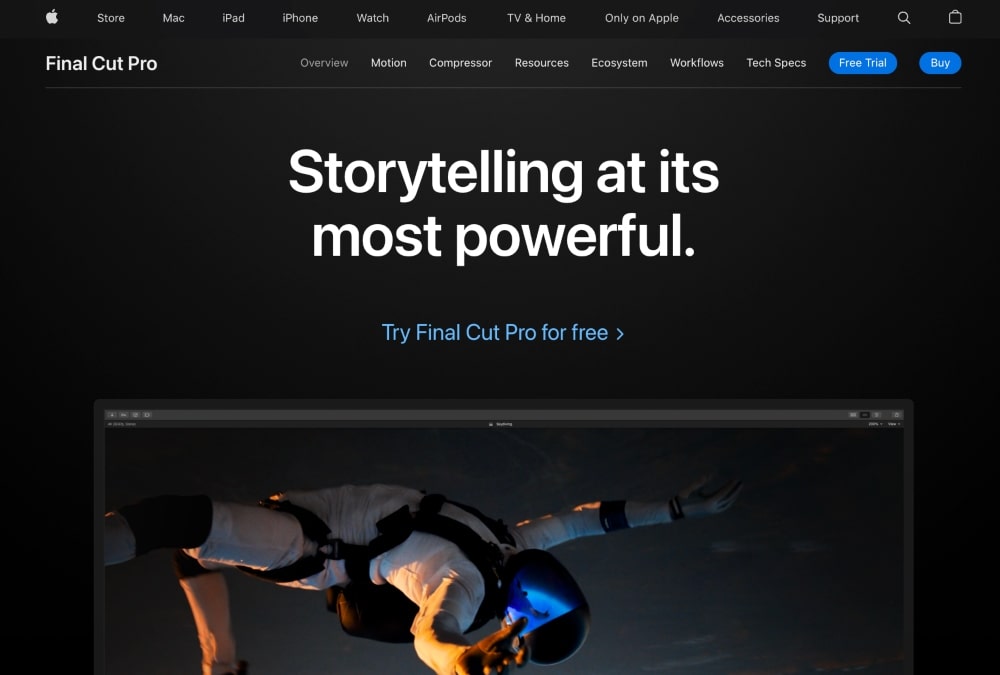 With Final Cut Pro X, you can quickly and easily import footage, edit videos with precision, add effects and transitions, color grade clips, and audio mix your projects.
Final Cut Pro X also includes a range of creative filters, motion templates, 3D titles, and more.
The library makes it simple to organize your media with keywords, metadata tags, custom collections, smart folders, and more.
Final Cut Pro X comes with advanced features such as multichannel audio editing and keyframing, multicam editing, 360-degree VR video support, intelligent color grading, HDR support, complex compositing options, automatic image stabilization, masking tools, adaptive template effects, speed ramping/time remapping, object removal/replacement via Motion integration, powerful noise reduction tools, and more.
Final Cut Pro X is backed by an extensive library of tutorials from well-known industry professionals that can help guide anyone from beginners to experts on how to use the software properly to get the most out of all its features.
So whether you're creating a short film or a music video or anything else in between – Final Cut Pro X has you covered!
Key Features:
MultiCam Editing: Sync video from up to 64 angles and select the best shots.
Advanced Color Grading: Get realistic, cinematic looks with powerful color tools.
Magnetic Timeline 2: Easily create intricate soundtracks and complex effects with ease.
Compound Clips: Create flexible compounds out of multiple clips for efficient editing.
HDR Support: Edit videos in HDR on monitors with wide color gamut support.
Noise Reduction and Audio Repair Tools: Remove unwanted background noise or fix dialogue levels quickly and easily.
Motion Graphics Templates and Titles Library: Use curated graphics templates or personalize your own titles instantly using built‑in title styles.
VR Video Tools: Stabilize 360° footage, add text overlays, keyframing, match colors, adjust audio levels, and more.
Customizable Speed Effects: Manipulate clip speed via keyboard shortcuts that can be customized within the program settings menu
Pricing:
Even though Final Cut Pro X is an Apple product, it's not just for Mac users. It's also available for Windows!
The Final Cut Pro X license is $299.
Our Opinion:
Final Cut Pro X is best for professionals and experienced video editors. It has a fairly high learning curve but also some seriously advanced tools.
If you're a professional or are looking to use the best software on the market to become a professional, this is the best overall video editor for you.
Camtasia is an innovative and super beginner-friendly video editing software developed by TechSmith Corporation.
With the editing tools included in Camtasia, you can easily trim, cut, split, and edit your videos as well as add effects like transitions, titles, annotations, and logo watermarks.
Camtasia also has an easy-to-use screen capture feature with documentation and tutorials.
The animation tools included in Camtasia allow you to create animated images and text using keyframes, layers, or rotation paths.
It also includes audio recording capabilities that make it easy to record voiceover narration for your videos or podcasts quickly and easily without any additional hardware or software required.
Additionally, you can also use the software to mix multiple audio tracks together for synchronization purposes.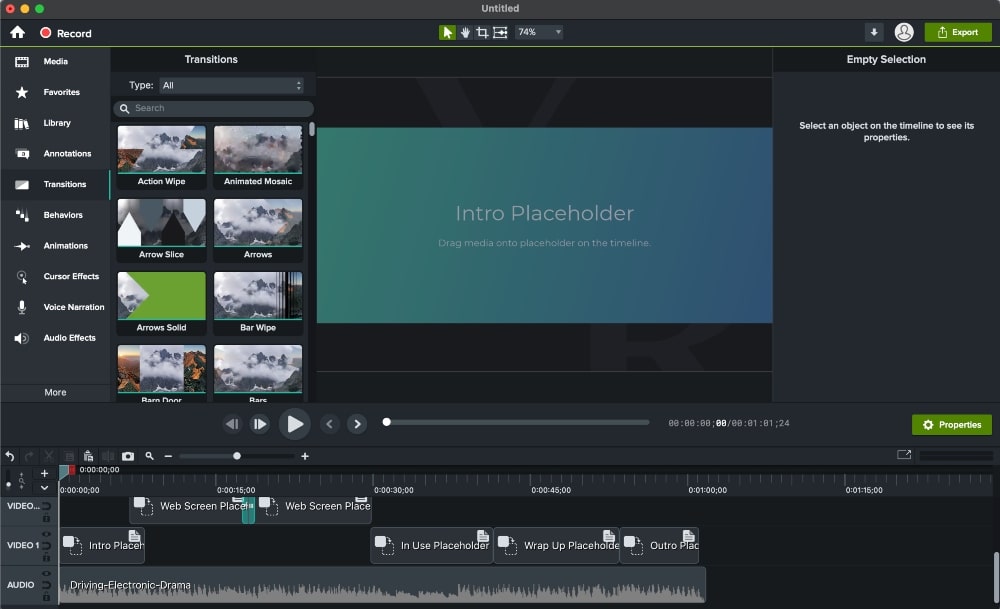 Key Features:
Professional Recording Studio: Record system audio and microphone input simultaneously.
Intuitive Video Editor: Trim, split, cut, or crop videos for producing professional results quickly and easily.
Ready-to-use Content Library: Access a rich library of pre-built assets such as animated backgrounds and lower thirds to make your videos look amazing with minimal effort.
Powerful Audio Tools: Create engaging soundtracks using the built-in music library and mixer controls to adjust levels, transitions, effects, and more.
Animated Titles and Text Effects: Professionally designed titles provide an extra layer of polish to grab viewers' attention while giving context to your video content
Flexible Output Formats: Export projects in multiple formats including MP4, MOV, or GIF for whatever platform you're using: YouTube, Vimeo, etc.
Pricing:
A Camtasia license costs $299, but you also have the option to upgrade to the $50/year maintenance plan that allows you to download the latest software version each year.
Our Opinion:
Camtasia is the best video editing software for beginners who want a wide range of features and customizability with their videos but don't want the higher learning curve and higher price tag of more advanced software like Premiere Pro and Final Cut Pro.
Because the price tag for Camtasia is a little high for beginners, it's best suited for people who need to use video editing software for regular and ongoing projects and will get the most out of their money spent.
Best for: Video editors on a budget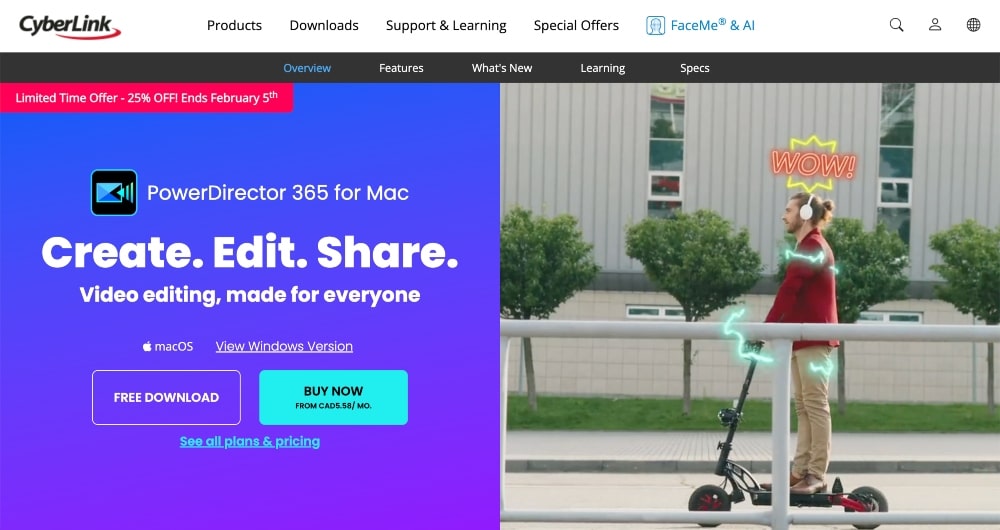 CyberLink PowerDirector 365 comes with an intuitive interface, professional tools, and creative effects that provide an easy way to create professional-looking results.
PowerDirector 365 provides a wide range of video editing tools and capabilities, including editing with timelines, trimming clips and transitions, adding captions and text, applying dynamic speed effects (slow motion or fast forward), adding effects such as lighting and color adjustments, creating titles and credits sequences, stabilizing shaky videos, using green screen effects, special motion tracking tools for following objects in your footage, and more.
Additionally, you can use the built-in audio tools for creating custom soundtracks for your projects.
For advanced users looking for even more functionality than what's already provided within the program itself, there are additional plugins available from CyberLink's partner companies.
These plugins extend PowerDirector's capabilities allowing users to add features such as support for HDR or 360-degree video editing.
CyberLink also offers additional content downloads from the DirectorZone store which includes free sound effects libraries and royalty-free music collections.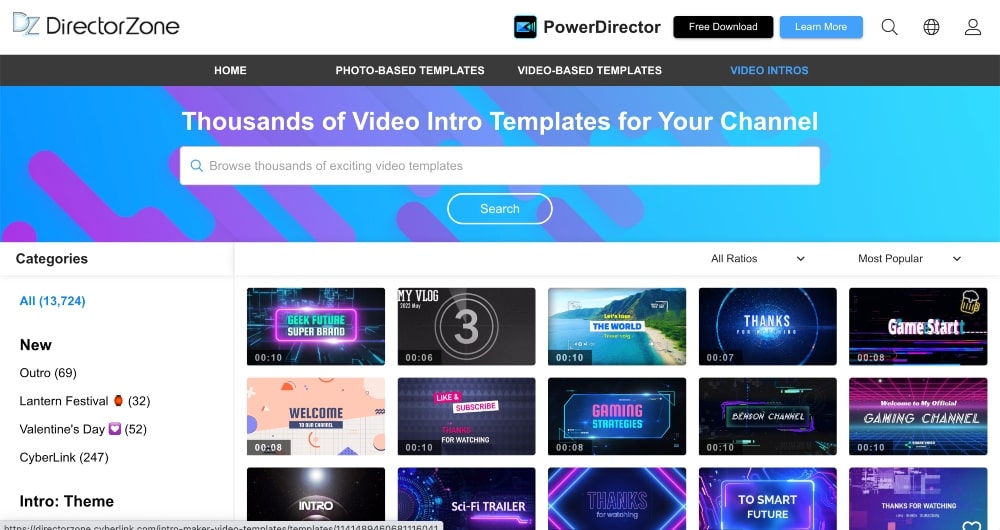 Key Features:
AI Style Packs: Allows users to instantly apply custom animations and effects while editing videos.
Action Camera Center: Enables users to clean up, stabilize, and crop footage from action cameras like GoPro.
360° Video Editing Toolkit: Lets users edit and create immersive VR projects with just a few clicks.
MultiCam Designer: Offers an intuitive interface for creating multicam montage sequences with enhanced audio synchronization technology.
Motion Tracking and Mask Designer Features: Helps users add motion tracking elements such as text and objects to their video clips in one click, along with mask designer tools for precise selection control over the area of the clip being edited.
Color Matching Technology: Automatically adjusts colors between different clips so that all sequences look cohesive throughout the entire project.
Audio Editing: Easily reduce background noise, mix soundtracks, or adjust volume levels across multiple tracks all within PowerDirector 365's user-friendly interface.
Pricing:
You can buy a lifetime license for $99-139 or choose an annual plan starting at $51.99/year to access upgraded versions, premium plugins, stock photos and videos, and more.
Our Opinion:
CyberLink PowerDirector 365 is our top choice for a budget-friendly video editing software.
Best for: Budget-friendly option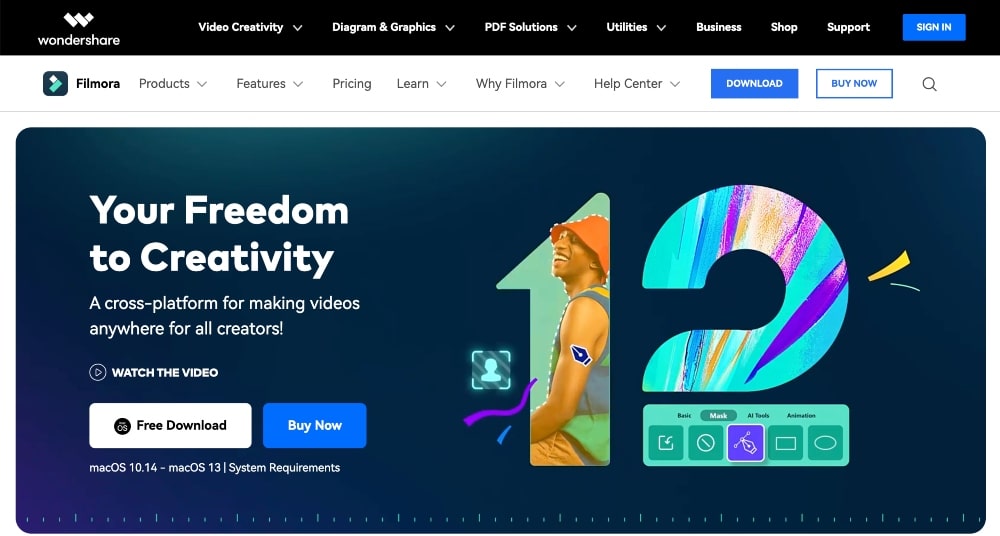 From easy-to-use tools such as cropping, trimming, merging and splitting videos, to advanced features including picture in picture, stabilization, color grading, chroma key and more – Wondershare Filmora offers all the essential tools needed for creating stunning videos.
When it comes time to export your completed project there are several options available depending on where you plan on sharing it.
It supports a variety of video formats for saving your finished work at various resolutions including 4K Ultra HD resolution and the ability to share directly online through social media and sites like YouTube and Vimeo.
Additionally, Wondershare Filmora provides access to hundreds of royalty-free music tracks and sound effects so that you have everything you need in one place.
As well as giving basic editing capabilities such as adding titles or captions and adjusting the speed of clips, it offers a wide range of audio adjustments so you can fine-tune sound levels according to your preference.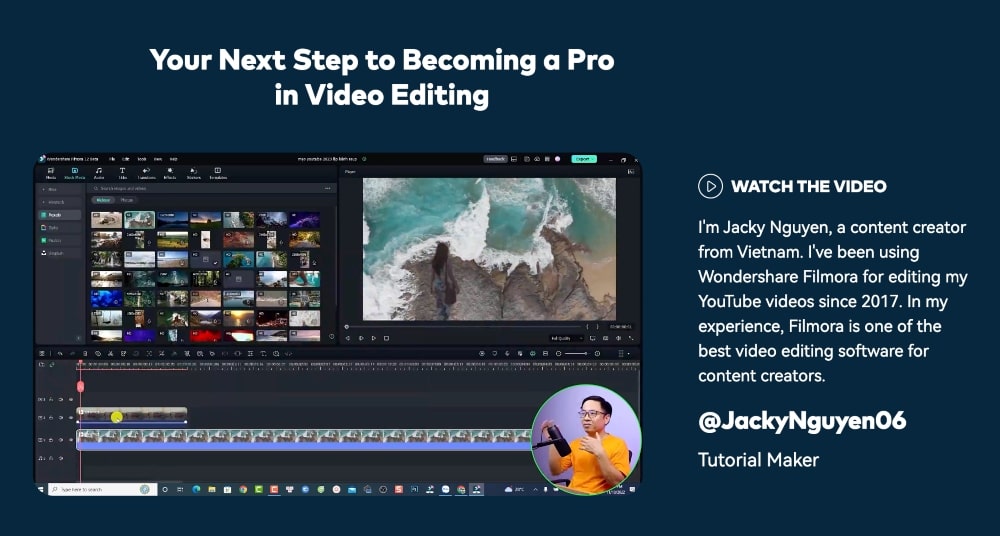 Key Features:
Add music, titles, and effects to your videos easily
Transform your images into a moving story with animated graphics and text
Optimize the audio by using noise removal, compression, etc.
Edit clips quickly with 'Scene Detection' feature
Capture footage from webcams, tablets, or other devices
Easily share your creations on social media platforms
Enhance video quality by adjusting brightness &color levels
Easily reverse a clip for interesting effects
Transition Effects like Zoom/Crossfade between scenes
Pricing:
Perpetual Plan: $79.99 (one-time license, no upgraded versions)
Annual Plan: $49.99/year (annual fee for upgraded versions)
Our Opinion:
Overall, Wondershare Filmora is an excellent choice for anyone who wants a robust yet easy-to-use video editor that's packed with features and capable of producing visually stunning results.
At just $79.99 for a license, it's one of the more affordable and budget-friendly plans on this list.
Best for: Beginners or personal/casual use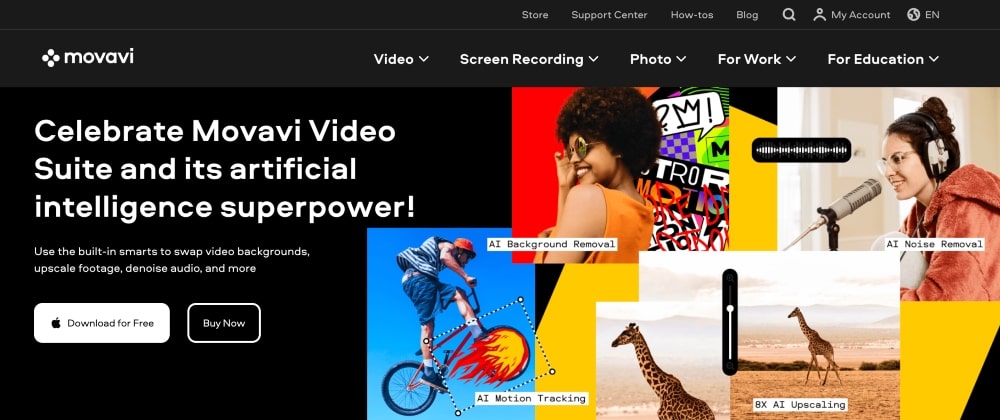 Movavi is designed to be user-friendly with a range of features that make it great for beginners as well as professionals who need more advanced options.
Movavi has an intuitive drag-and-drop interface that makes it simple to add titles, texts, animations, transitions, and other effects to your videos.
There are also tools for trimming and merging clips, adjusting colors and brightness levels, adding voiceover narration or music tracks, and more.
In addition to its basic editing capabilities, Movavi has a wide array of filters and special effects that can help you create amazing visuals for your projects.
For those looking for even more control over their video output, Movavi offers advanced options such as multicam support for up to four cameras at once, chroma key compositing, time remapping, masking, custom audio effects, 3D LUTs (Look Up Tables) support, motion tracking, color correction, stop motion animation, speed adjustment, green screen removal, and much more.
One impressive feature of Movavi is its automatic video stabilization tool which can help you stabilize shaky footage in no time at all.
Additionally, Movavi supports 4K Ultra HD resolution as well as other formats such as AVI, MP4, WMV, MOV etc., so you can rest assured that all your videos will look great no matter what device they're being viewed on.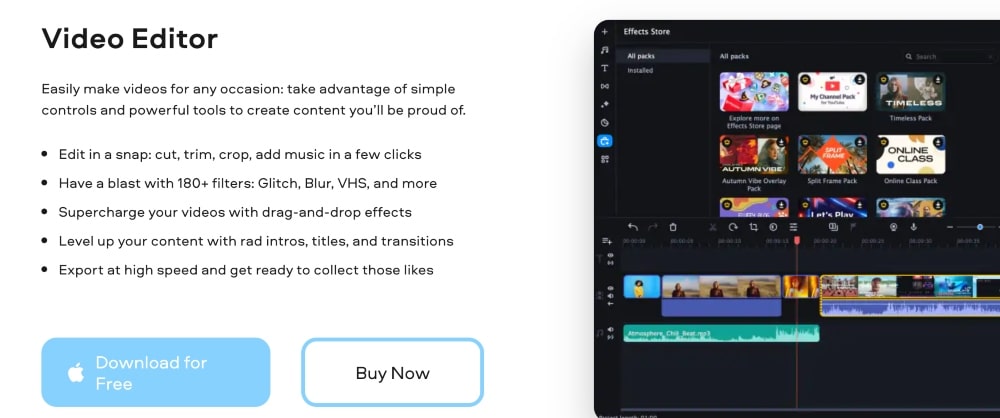 Key Features:
Easy drag-and-drop interface
Professional transitions and effects
Fast export to popular video formats
Trim, crop, split, rotate, and merge videos
Built-in music library with royalty-free audio
Create stylish titles for your videos
Add voiceover commentary or external audio tracks
Enhance the color balance of your clips
Insert captions on any part of the timeline
Make slow motion or speed up footage
Pricing:
Lifetime license: $74.95 (no new version upgrades)
Annual license: $54.95/year
Video Editor + Effect Packs: $74.95/year
Video Suite + Effect Packs: $99.95/year (with screen recording and media file conversion)
Our Opinion:
Movavi is a great video editor for anyone looking for an easy-to-use video editor for personal or casual use. It's great for your average YouTube videos, online course editing, etc.
Best for: Free video editing software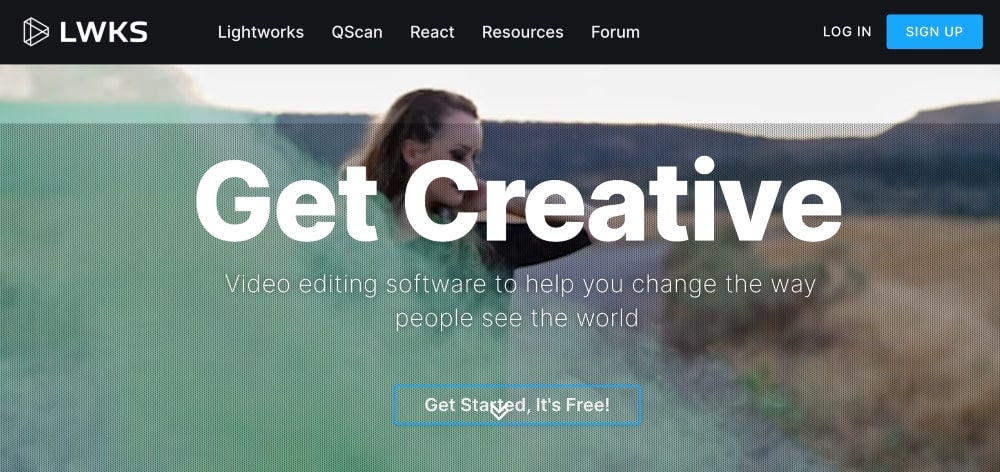 Lightworks is an award-winning professional video editing software that has been around for over 25 years.
It offers advanced trimming controls to cut footage and comprehensive media management capabilities that allow users to manage large libraries of clips within the same project.
The application also provides support for an array of formats including QuickTime and AVI formats as well as industry-standard codecs like H.264/AVC for HDTV production and delivery. Additionally, Lightworks offers an extensive array of creative options to help bring videos to life through color correction tools and effects like keying, chroma key, luma key, and more.
Lightworks boasts a range of advanced sound mixing capabilities allowing users to combine dialogue tracks from multiple languages without even having to render the clips separately first.
Plus there are audio effects such as compression and reverb available along with support for 5.1 surround sound mixes which makes it ideal for creating high-quality audio content too.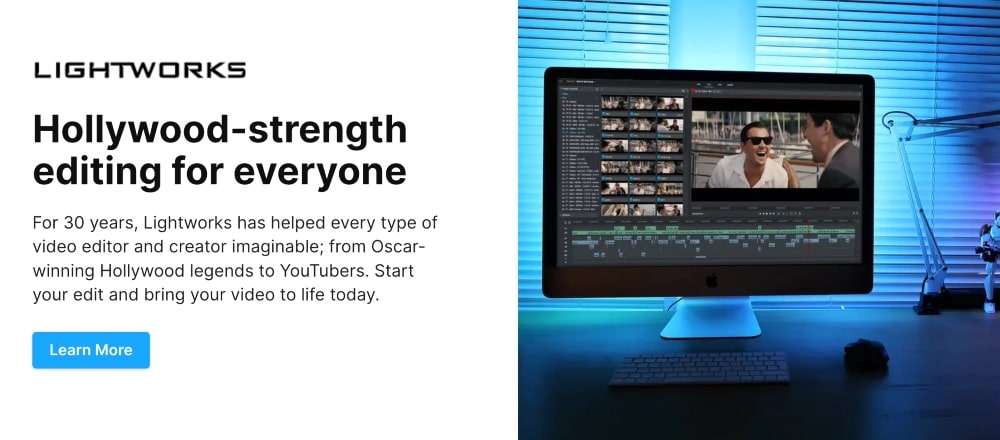 Key Features:
Professional-level video editing capabilities
Supports a variety of formats, including 4K production and HDR
Multi-format timeline with support for Unlimited tracks
Realtime effects & color correction tools
GPU-accelerated playback engine with real-time rendering
Automated audio level control features
Compatible with all popular media formats, from HDV to RED/RAW R3D files
Comprehensive Title Toolset for creating high-end titles and 3D motion graphics
Export directly to YouTube or Facebook in up to 4K resolution
Powerful sound-mixing tools
Pricing:
Lightworks is free to use!
Our Opinion:
Lightworks has been used by prominent filmmakers such as Martin Scorsese throughout its long history, making it one of the most established players in the market place today when it comes to professional video editing software solutions.
This is our top choice for the best free video editing tool.
Best for: Free video editor for Mac users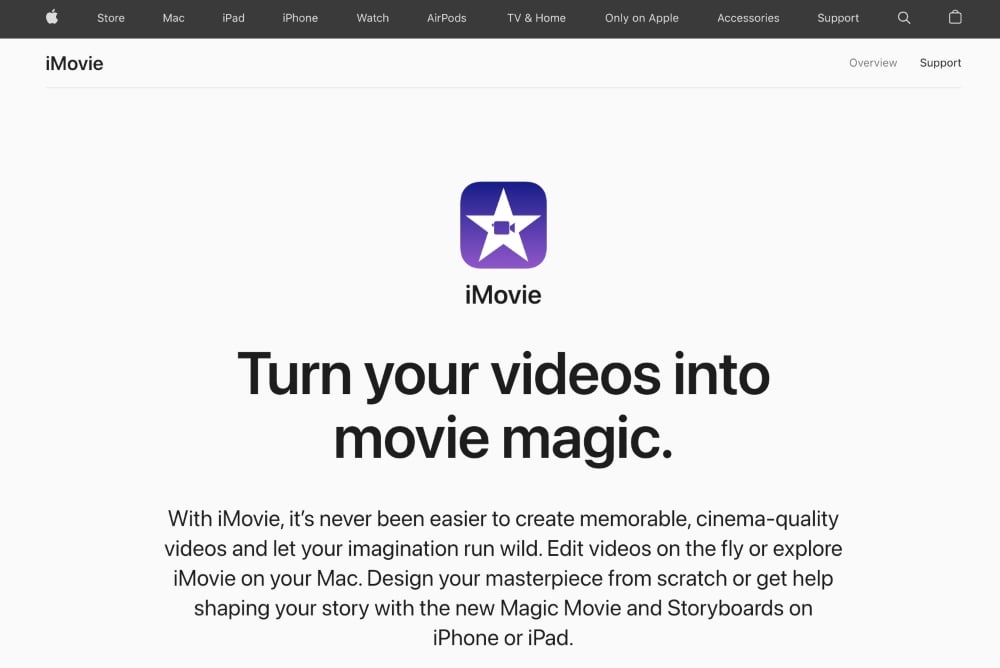 Apple iMovie is a great free video editor for anyone with a Mac. It usually comes standard on all Mac computers and laptops.
With Apple iMovie, users can easily transform videos into captivating stories by adding titles, transitions, music and sound effects, as well as effects such as slow motion and background blurring.
iMovie provides a huge library of royalty-free music and sound effects that can be added to enhance the cinematic feel of your videos.
Other features include the ability to crop, trim and adjust audio levels in clips, apply filters, combine photos with videos, create picture-in-picture, add green screen effects, stabilize shaky footage, add 3D titles, capture live-action footage directly from an iPhone or iPad camera, share finished projects online, and more.
The app also supports 4K resolution output for stunningly sharp results.
In addition to its user-friendly interface, iMovie also includes multi-track editing capabilities so that users can produce complex video sequences with ease.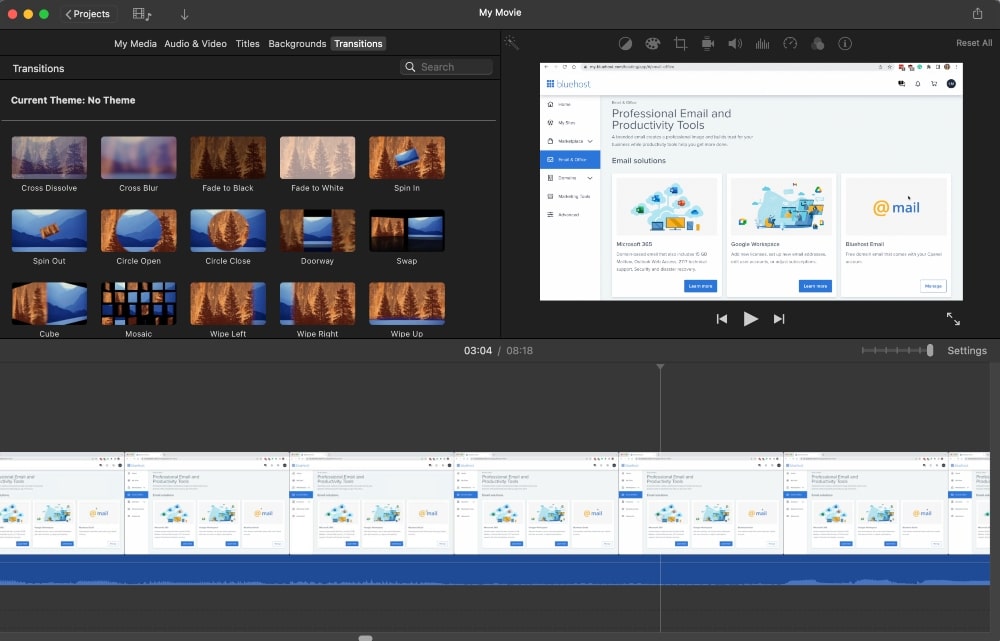 Key Features:
HD video support up to 4K resolution
Dozens of customizable title templates
Variety of color filters, keying, and green screen effects
Ability to add your own music or use the built-in iTunes library
Built-in transitions and sound effects
Variety of themes for titles, credits, etc.
Storyboard mode for quick rough cuts and easy collaboration with colleagues
Share edited videos directly from iMovie to YouTube & Vimeo
Pricing:
iMovie is free and comes with Mac computers.
Our Opinion:
iMovie is a great free video editing software if you own a Mac. It's got all of the basic tools you need to edit videos for YouTube, online courses, etc.
It's more suited for beginners, hence the free price tag. If you want a more advanced tool for Mac users, you're better off with Final Cut Pro X.
Best for: Motion Tracking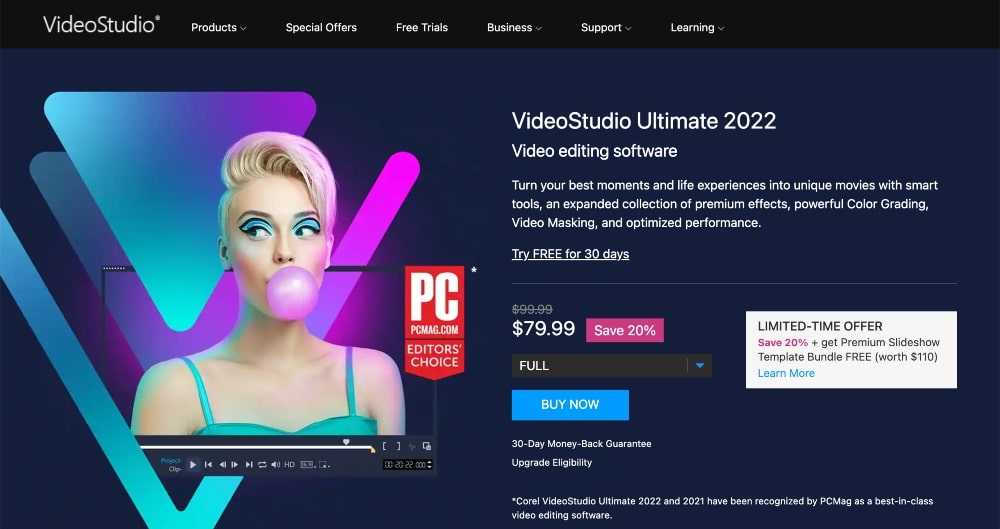 Corel VideoStudio Ultimate is an all-in-one video editor that allows users to quickly and easily produce impressive movies, slideshows, and more.
Corel VideoStudio Ultimate features an array of tools including color correction and chroma key for green screen effects, special effect filters, customizable templates, and more.
It also includes hundreds of royalty-free music tracks for making soundtracks for your projects. With the new multi-track timeline view, you can easily combine multiple clips from multiple sources into one timeline for quick edits with drag-and-drop ease.
The software also supports a variety of file formats including HDV/AVCHD/M2TS from camcorders as well as 4K Ultra HD video files which make it easy to work with large files like those captured on action cameras or DSLR cameras.
It also has support for 3D titles so you can add text effects in 3D along with transitions like push or slide to give your videos a dynamic look.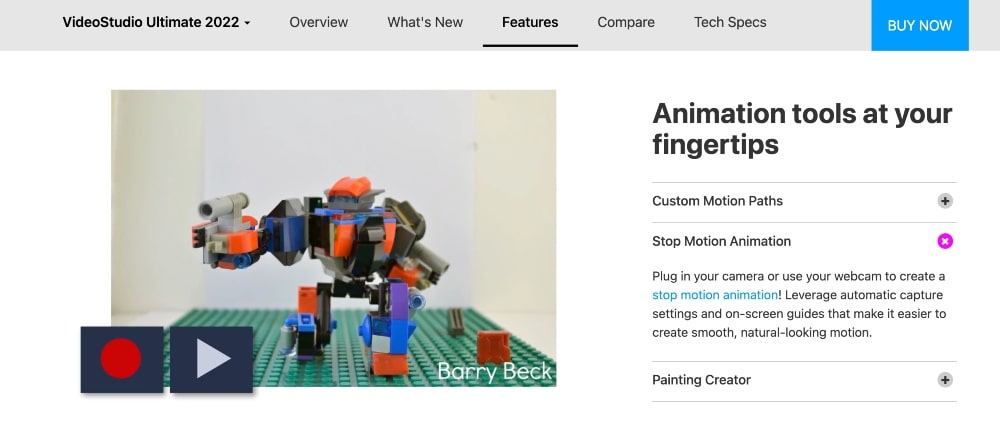 Key Features:
High-definition (HD) video editing and DVD/Blu-ray authoring
MultiCam Capture for creating multi-camera videos
Comprehensive motion tracking with mosaic blur
ProDAD VitaScene filters and transitions
2,000+ customizable effects, titles, and templates
NewBlue Paint Effects for artistic tweaks in your videos
360° video support with comprehensive tools
Split Screen Video – show multiple clips at once
Easy media sharing to YouTube, Vimeo & more
Pricing:
Corel VideoStudio Ultimate costs $99.99 but discounts are often available on their website. You can also start with a free 30-day trial.
Our Opinion:
Corel VideoStudio Ultimate has an intuitive user interface and an expansive range of features that make it easy to create amazing movies without having any prior experience or knowledge in video editing.
With its support for 4K ultra HD videos as well as hardware acceleration, this software is perfect for both hobbyists who are just getting started as well as professionals who want high-quality results with minimal effort.
Best for: Free video editing for professionals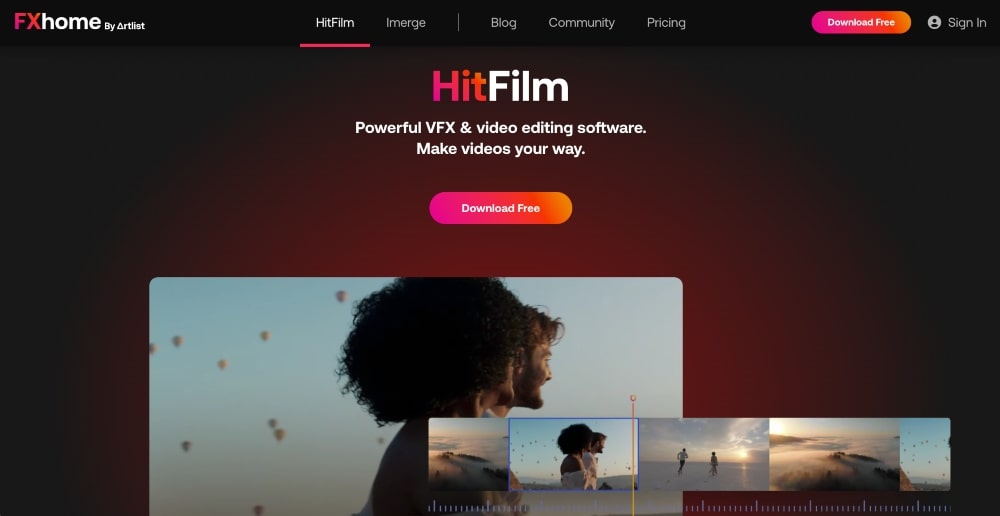 HitFilm is an all-in-one video editor that has quickly become the go-to choice for filmmakers, videographers, and content creators around the world.
Combining advanced editing tools with powerful visual effects and animation, HitFilm offers a comprehensive solution for everything from short films to feature-length projects.
The timeline-based interface allows you to easily move clips around or combine them together without any fuss. You can also add text and titles, adjust color settings, adjust audio levels, and more.
What's more, the software supports multiple formats, including 4K resolutions. This makes it ideal for those who need to deliver high-quality visuals on any budget.
In addition to its editing capabilities, HitFilm also comes loaded with hundreds of professional visual effects that you can use to give your projects a unique look and feel.
These include 3D particle systems, lens flares, smoke effects, fire effects, and much more.
Of course, if you prefer creating your own VFX from scratch, then the built-in compositing workspace is just what you need.
You can experiment with blending layers together into realistic scenes or adding complex animation sequences over time.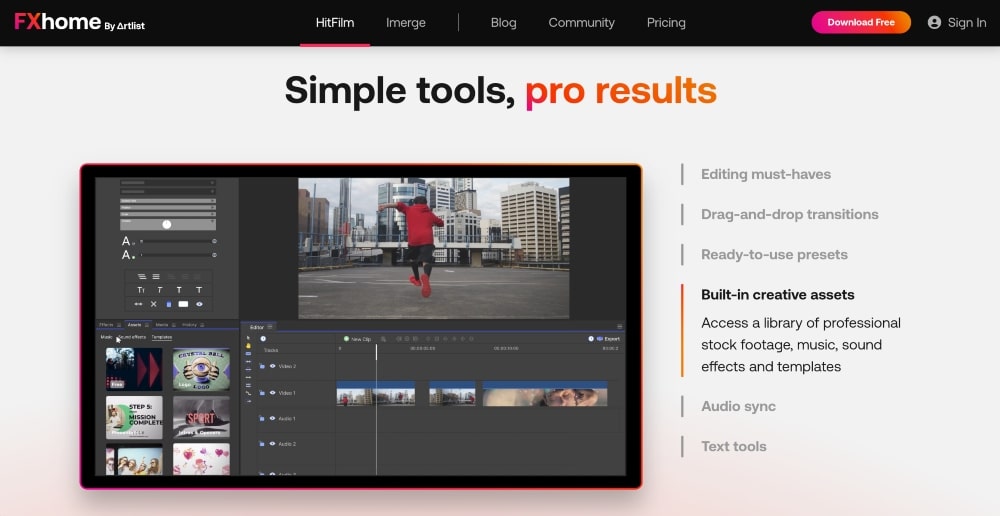 Key Features:
Video editing with a range of effects and transitions
Professional compositing tools for creating visual effects
3D modeling, animation, and rendering capabilities
Customizable workspaces to match your workflow
Advanced color grading technology for perfect hues and tones
GPU acceleration for speedier workflows
Motion tracking capabilities to easily insert objects or text into video footage
Pricing:
Free: $0 free version; includes exports in HD
Creator: $7.99/month; includes exports in 4k
Pro: $12.99/month; includes exports in 8k
Enterprise: Custom pricing; Contact the website for more information.
Our Opinion:
In short, HitFilm does everything an aspiring filmmaker could want from a video editing software – from basic trimming and cutting of footage to complex VFX compositing.
There is a great free version to start off with and if you need to upgrade for more features, there are a variety of options.
Best for: Filmmakers and professionals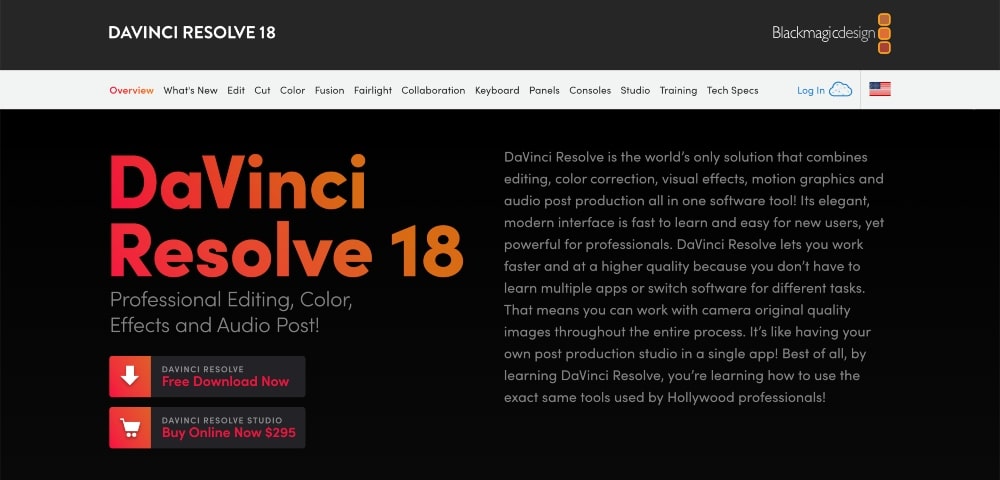 DaVinci Resolve 18 is a powerful video editing software from Blackmagic Design that offers cloud-based workflows for easy collaboration with multiple users.
It has a Blackmagic Proxy generator to create proxies linked to camera originals, as well as support for Apple M1 Ultra and GPU-accelerated image processing.
One of the most exciting features of DaVinci Resolve 18 is its comprehensive editing features.
The software includes a timeline editor, keyframe editing capabilities, clip trimmer, and multi-track audio mixer.
Keyframing enables users to make subtle or drastic changes to different elements of their videos over time.
Another great feature of DaVinci Resolve 18 is its robust color correction capabilities. You can make precise color adjustments with intuitive controls that allow you to adjust brightness, contrast, saturation, sharpness, hue, gamma curves, and more.
They also have access to a range of powerful visual effects such as keying, blurring, lens flares, mirroring, and more which can help bring out the best in each shot without having to spend hours manually adjusting every single frame individually.
In addition to its editing and color correction features, DaVinci Resolve 18 also offers several options for delivering polished projects.
You can export video footage directly from the timeline into popular formats like MP4 or ProRes 422HQ as well as upload directly to popular streaming platforms like YouTube or Vimeo.
DaVinci Resolve 18 even supports direct outputting via SDI or AJA Video Systems interface devices so you can output your work at resolutions up to 4K directly onto broadcast monitors for use on set or in post-production houses worldwide.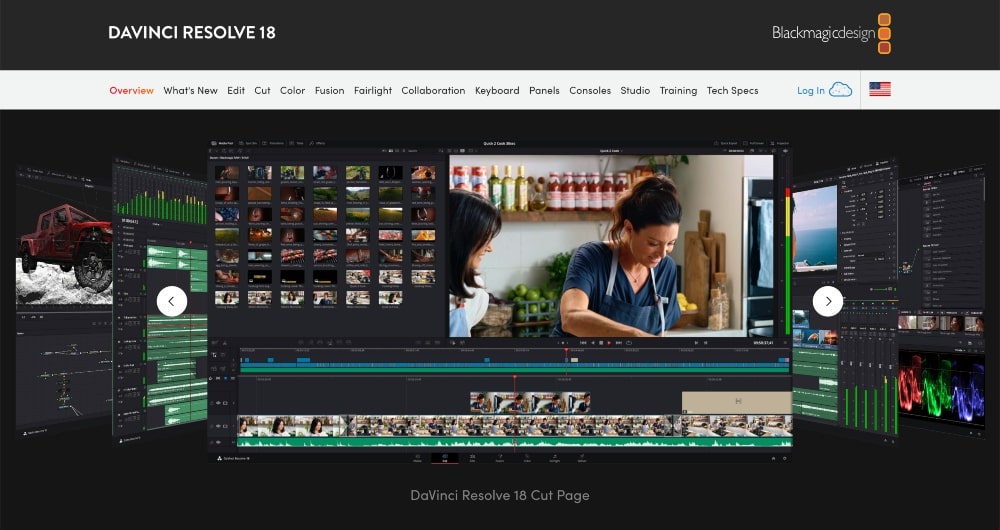 Key Features:
New Cut page for lightning-fast editing
AI-enhanced color and facial recognition technology
MultiCam Editing with up to 16 cameras
Improved Fusion VFX tools, motion graphics, and Fairlight audio post-production tools
Advanced 3D object tracking feature
HDR support for Professional Color Grading workflow
Ability to edit 8K files with powerful image-processing engine
Support for over 300 file formats including 10bit HEVC H.265 files
Unified Timeline across all pages – Edit, Color Grade & Mix in one timeline
Professional audio mixing console with new Dynamics Processing, Equalizer, and Compressor options
Pricing:
DaVince Resolve Studio costs $295.
Our Opinion:
Overall, DaVinci Resolve 18 is a powerful video editing software for professionals and aspiring filmmakers and professionals.
Popular Features to Look for in Video Editing Software
When choosing video editing software, there are many features that you should take into consideration.
Complexity
One of the first features to consider is the level of complexity that the software offers.
For beginners, it's best to look for an intuitive program with a user-friendly interface, while more experienced users may prefer a program with advanced options and greater control.
Export Formats
Another important feature to consider when selecting a video editing solution is its ability to easily export files in various formats.
Look for programs that support popular file types such as MP4, AVI, MKV, MOV, and WMV, so you can easily share your edited videos online or on social media platforms
Additionally, some software also offers built-in sharing capabilities so you can directly upload edited videos to YouTube or Vimeo from within the application.
Advanced Tools
Additionally, professional video editors require tools such as advanced color correction tools and support for third-party plug-ins like Final Cut Pro X and Adobe Premiere Pro CC plugins.
These features allow users to create stunning visuals with precise color adjustments and effects. Look for programs that offer quality effects library full of transitions, masks, titles, green screen tools, and other elements that help in creating professional-looking videos quickly and easily.
Tutorials and Support
There is a learning curve for just about every video editing software on the market, although some are easier to use than others.
Pay attention to the availability of tutorials and customer support offered by the developers of the software. Many options include extensive tutorials, including Camtasia, CyberLink PowerDirector, and Final Cut Pro X.
Price and Budget
This is an obvious one but worth mentioning — video editing software can be pretty expensive. Consider your needs and compare them to the options on this list to see how much, if any, you need to pay for what you're looking for.
Consider starting with free video editing software or a free trial when possible.
Summary of the Best Video Editing Software
Whether you're looking to create special effects for films or TV shows or just add sound or visuals to your YouTube videos, there is a video editing software out there for you.
Consider the needs of your project(s) and weigh them against the features and costs of each of these options.
Here is a summary of our top picks for the best video editing software:
If you have used another video editing software that you think is great that we've left out, leave us a comment below!