We partner with bada$$ companies that offer products that help our readers achieve their goals! If you purchase through our partner links, we get paid for the referral at no additional cost to you! Read our disclosure for more info.
Are you looking for a way to make some extra money or even replace a full-time job? Facebook is one of the best eCommerce platforms for entrepreneurs and business owners who want to reach a new audience
With its powerful tools, businesses can now easily create their own online stores, list items on Facebook Marketplace, and start selling on Facebook through shops.
In this article, we will discuss how you can use these features in 2023 to make money by selling on Facebook.
But before we jump right into that, it's important to note the difference between selling on Facebook Marketplace and with Facebook shops.
Facebook Marketplace is more targeted towards locals and non-online products, but it can be added as an extension to the use of Facebook shops.
It then becomes a powerful platform for both individuals and businesses to explore, purchase, and list various products.
If you already have an active Facebook business page or own a Facebook shop with a checkout option enabled, then using this feature will be especially beneficial as it allows US merchants to conduct transactions directly via Marketplace.
Facebook Shops is currently the best way for businesses to create an online store on the platform and showcase their products to new customers.
It provides merchants with a single solution to share product collections, customize their shop layout, and start selling.
With this new feature, you can also sell products through the chat features of WhatsApp, Messenger, and Instagram and tag products during Facebook and Instagram live streams, which will take customers to a product ordering page.
Now, let's talk about how you can actually get your Facebook shop up and running.
How to Sell on Facebook Shops
Let's go over the steps you need to take to get set up and selling on Facebook.
1. Create a Facebook Business Page and Business Account
Before you can set up shop on Facebook Shops or Marketplace, you need to create a Facebook business page and business account, if you haven't already.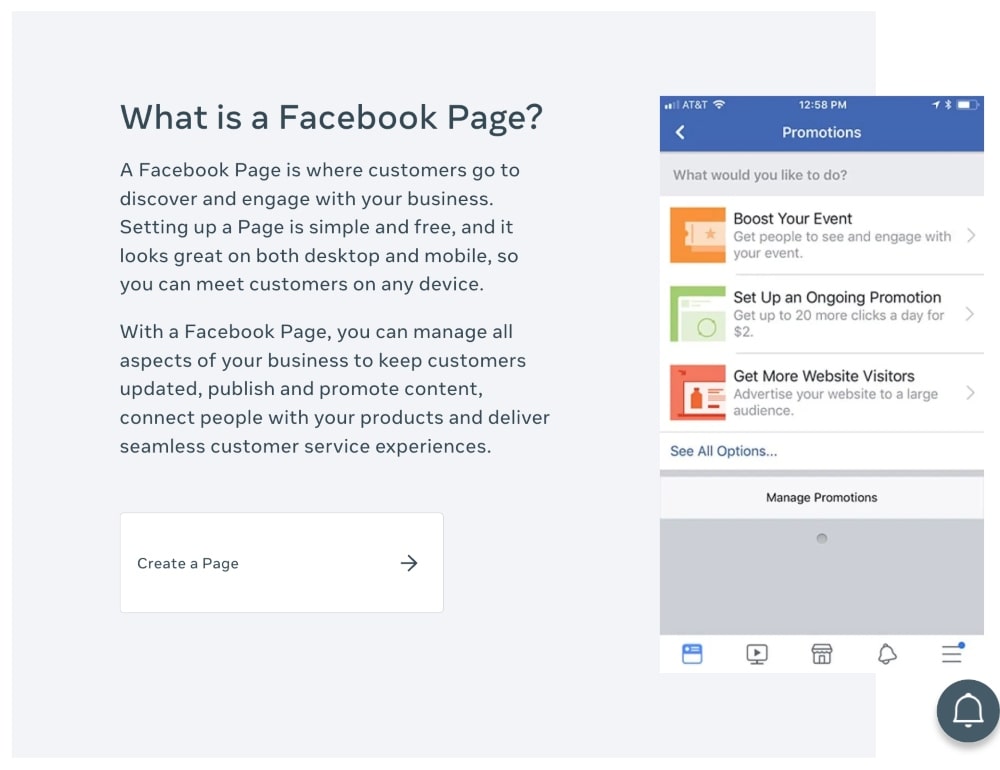 This will be the hub for all of your product listings and store information.
Make sure that you fill out your profile completely, add photos, and showcase some of your products or services in the About section.
If customers have questions, they're more likely to reach out if they can easily find all the information they need.
To create a business page you need to go to the Create a Page section of Facebook, then choose "Local Business" or "Brand or Product."
What You Can and Cannot Sell
When it comes to setting up to sell on either platform, there are certain rules and regulations that you must adhere to and certain products and services that are prohibited.
On Facebook Marketplace, you are allowed to list items for sale such as second-hand furniture, electronics, home decor, and more.
However, you cannot sell any digital products or services like website design or software development.
You also cannot list weapons of any kind or drugs or medicines of any kind.
For shops on Facebook, the rules are a bit different, but be sure to read through their guidelines before posting anything.
2. Set Up Your Accounts and Check Your Compliance
Now that you have your business page set up, it's time to start setting up accounts on both Facebook Marketplace and Shops.
Be sure to read through all the terms and conditions of each platform before creating an account so that you are compliant with their rules.
For example, if you're selling digital products through Facebook Shops, make sure that they follow the guidelines set out by Apple and Google for in-app purchases.
You don't want to jeopardize your account by breaking any of the rules outlined by Facebook.
3. Set Up Commerce Manager
Commerce Manager is a powerful tool that allows you to manage your Facebook shop on both platforms. It's where you will list your products, track sales, and process orders.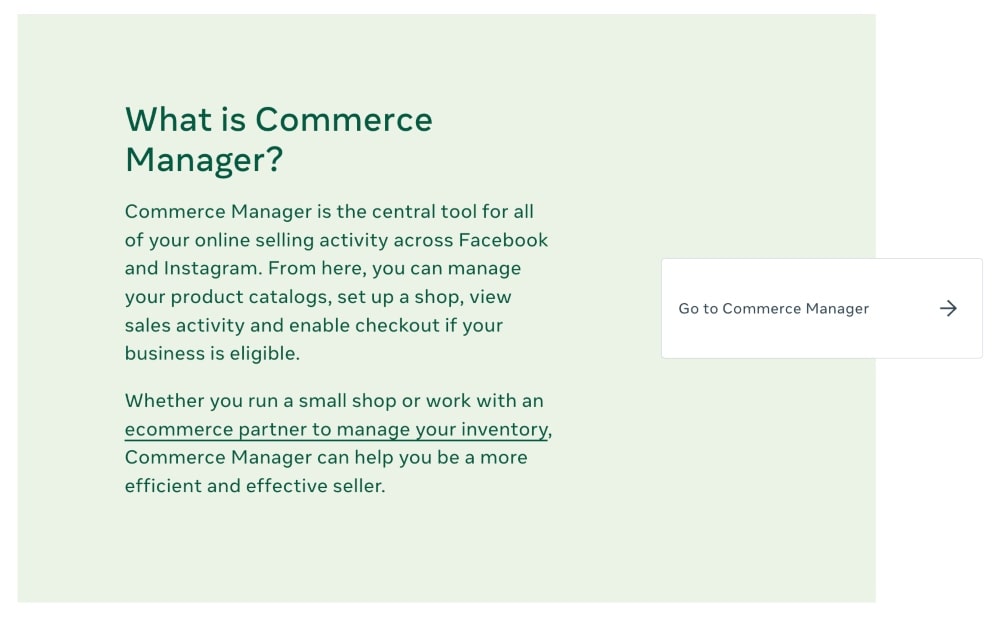 It also provides you with enhanced analytics to help you better understand your customers, optimize your pricing strategy, and generate more sales.
It's is incredibly user-friendly, but if you're having trouble setting it up just reach out to their support team for assistance.
4. Connect Your Account to Your Own Website
If you have an eCommerce website with products, you can easily connect it to your Facebook account so that customers can buy directly from the page.
All you have to do is add the 'Shop Now' button and link it to your website.
This will allow customers to purchase products without ever leaving Facebook.
They can just click on the button, and they'll be taken directly to your website where they can complete their purchase.
Keep in mind that if customers purchase through your website, you will be responsible for processing the payment as well as shipping and handling.
To set this up, you will need to link your website's store manager to the Commerce Manager and then link it to your Facebook Page.
5. Create Your Shop to Sell Physical Items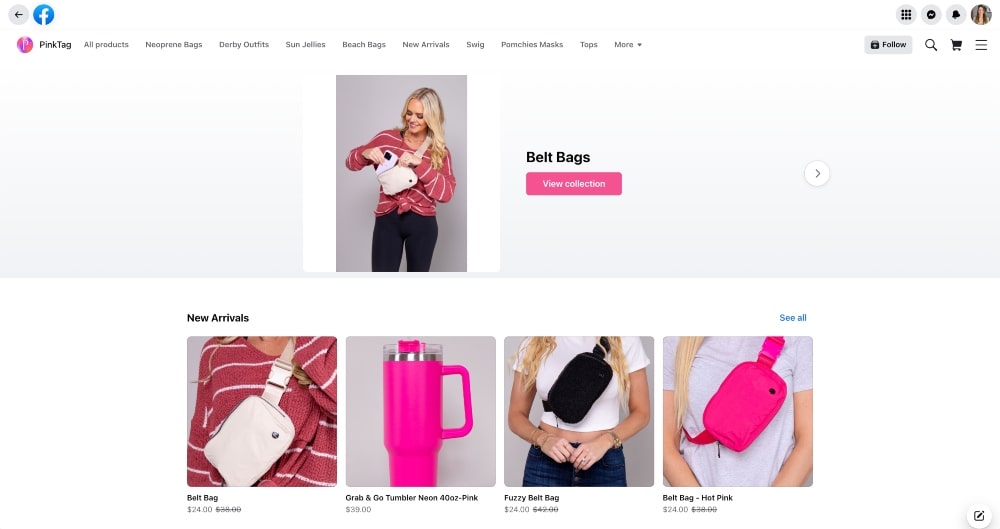 If you have physical items to sell, then creating a shop on Facebook is the perfect way to list them.
You can easily add photos of the products and provide detailed information about each item such as size, color, material, etc.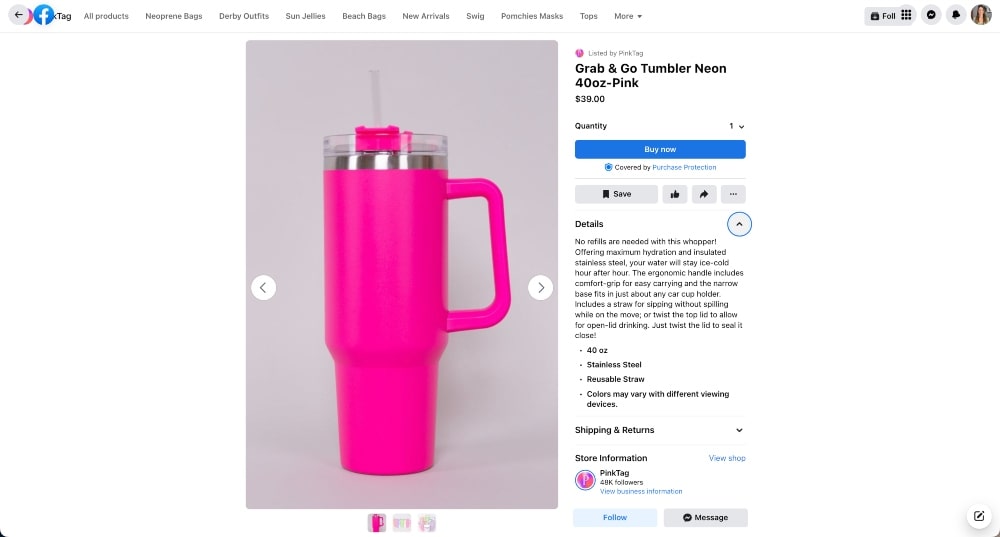 You can also set up discounts and promotions for your store to entice people to buy (and buy from you more often).
Once you've listed your products, it's important to keep track of all your orders and process them in a timely manner to ensure that your customers are satisfied and remain loyal to your business.
6. Create a Catalog to Sell Other Items
If you have digital products or services to sell, then creating a Facebook catalog is the way to go.
You can easily add photos and descriptions of your products, set prices for each item, and even offer bundles for customers who purchase multiple items at once.
The best part is that you can manage all these listings from the same Commerce Manager so there's no need to create separate accounts on different platforms.
7. Choose Your Checkout Methods
Once you've set up the Commerce Manager, it's time to decide which payment methods to accept in your Facebook shop.
You can allow customers to check out with credit cards or PayPal, as well as using other payment gateways such as Stripe or Apple Pay.
You can also offer customers the ability to buy now and pay later with Afterpay, Klarna, and other services that allow people to split their purchases into installments.
If you want to make it even easier for customers, you can also accept payments via messaging platforms like Facebook Messenger or Whatsapp.
This way customers don't have to leave their conversation in order to complete a purchase.
No matter how you choose your checkout method, make sure that you provide a secure and seamless experience for customers so that they feel comfortable making purchases from your store.
8. Market Your Products
Once you've created your shop, it's time to start marketing your products. Facebook offers a variety of ways to do this.
You create Facebook posts about your items on your business page or in Facebook groups or even create ads that will be shown to people who are interested in what you have to offer.
You can also use influencer marketing and reach out to popular bloggers and social media personalities in your niche and offer them free samples of your products in exchange for them promoting them on their channels.
Finally, be sure you are taking advantage of the 'Shop Now' button.
Put it everywhere so that customers can quickly buy from you without having to leave Facebook.
Promote Your Shop
Now that you have your shop set up and are ready to start selling on Facebook, it's time to start promoting your business.
You can promote your Facebook store by running ads on Facebook or Instagram, running competitions, and engaging with customers in the comments section of your posts.
You can also use email marketing to reach out to your audience and promote your products. Offer discounts or free shipping for customers who sign up for your newsletter.
Finally, be sure you're taking advantage of all the tools Facebook has to offer to help you get more visibility for your shop.
Utilize hashtags, create polls and surveys, and post regularly to keep people engaged and interested in what you have to sell.
Be sure to also take advantage of tools such as Lookalike Audiences which will help you reach more people who may be interested in what you have to offer.
Take advantage of the platform's features, market your products creatively, and provide excellent customer service.
Soon enough you'll be on your way to crushing it.
How to Sell on Facebook Marketplace
The process is slightly different to sell on Facebook Marketplace.
Listed products cannot usually be purchased directly because it is more of a listing platform for the local or semi-local trading and selling of products.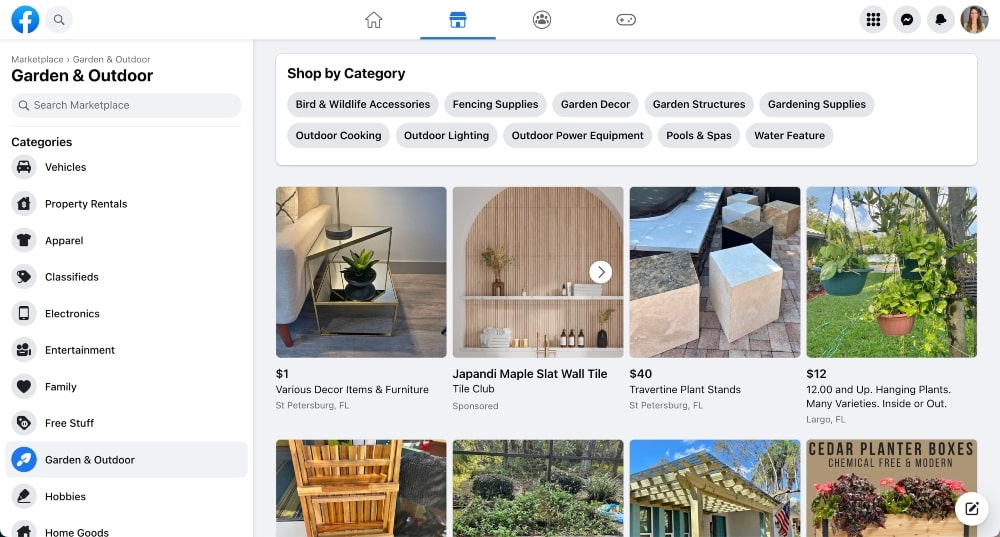 But, to maximize your store's visibility, you can consider adding Facebook Marketplace as an additional sales channel after establishing a Facebook Shop.
Facebook Marketplace used to be a peer-to-peer shopping marketplace but has now expanded to include merchant selling.
The most compelling element of Marketplace is that it allows you to expand the reach of your store and make yourself known within your local community.
You can also get buyers on Facebook where they're already browsing products, and use Facebook's real-time messaging to answer inquiries and give useful information such as price and product description.
Lastly, you can target more people with mobile-friendly marketplace listings which will always be a win for any online business.
So if you want to use Marketplace with your business as well, follow the guide below.
Initial Steps to Sell on Facebook Marketplace
You must have a Facebook account in order to sell via Facebook Marketplace.
For sales through Shops, you must have a Facebook Page and a customer care phone number.
In order to utilize Marketplace, you simply need to:
Navigate to your Commerce Manager
Click Settings
Business Assets
Then Select Enable Marketplace
Follow these easy instructions and you're done! After approval, your listings should be visible on Marketplace within 24 hours.
Keep in mind that in order to list products on Facebook Shop, you must adhere to both Facebook's Commerce and Community Standards policies.
5 Tips to Get the Most Out of Your Facebook Shop
Here are a few final tips on how to get the most out of your efforts to sell on Facebook.
1. Leverage the Power of Paid Advertising
Use creative and engaging ads that focus on the value your products offer and target the right audience.
Utilize Facebook's powerful targeting capabilities to tailor your ads and get the most out of your budget.
As we mentioned before, take advantage of features such as Lookalike Audiences, which will help you reach more people who may be interested in what you have to offer.
2. Put Effort Into Your Presentation and Listings
Facebook Shops allow you to showcase your products in a visually appealing way.
Make sure to add high-quality images and videos of your product to give people an accurate picture of what they can expect when they purchase from you.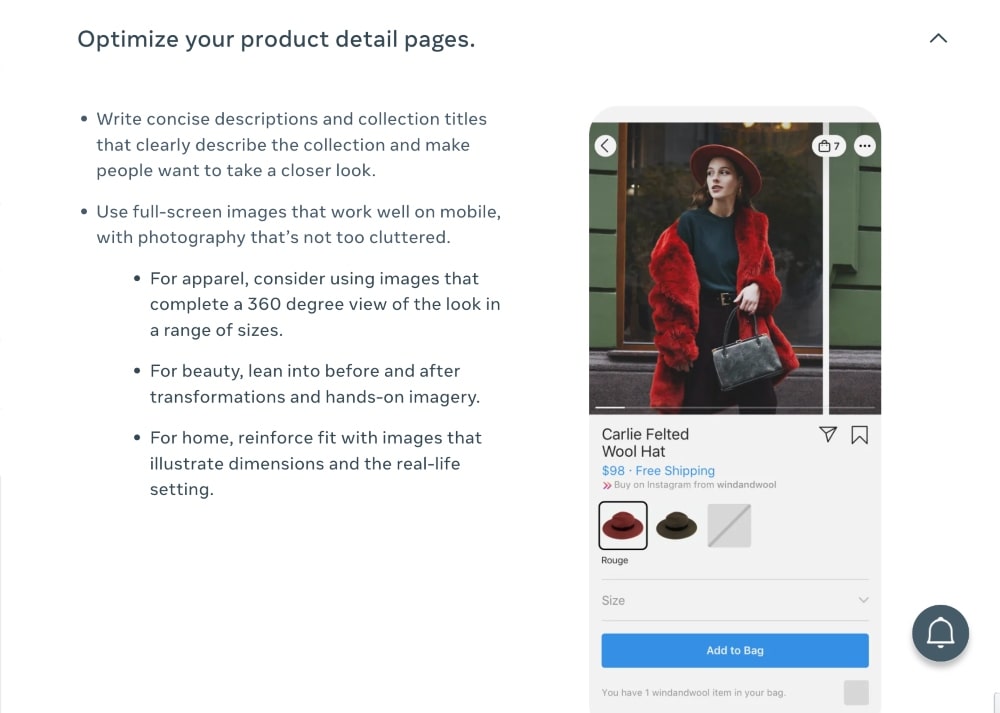 Make sure to include product descriptions, pricing information, shipping details, return policies, and any other relevant information.
3. Engage with Your Customers
Don't forget to engage with your your audience on social media by responding to comments, answering questions, and providing helpful advice when needed.
This will not only help build trust with potential customers but also position you as an expert in your field which can lead to increased sales down the line.
Polls and surveys are an effective way to increase engagement with customers, whether existing or new.
Surveys help businesses gather valuable data about customer preferences, interests, and experiences that can be used to improve products and services.
Moreover, polls and surveys can also be used as a marketing strategy to draw in new customers.
When creating a poll or survey, make sure to keep it simple and concise so as not to overwhelm customers.
Sharing your shop on other social media channels can be an incredibly effective way to reach more potential customers and increase exposure.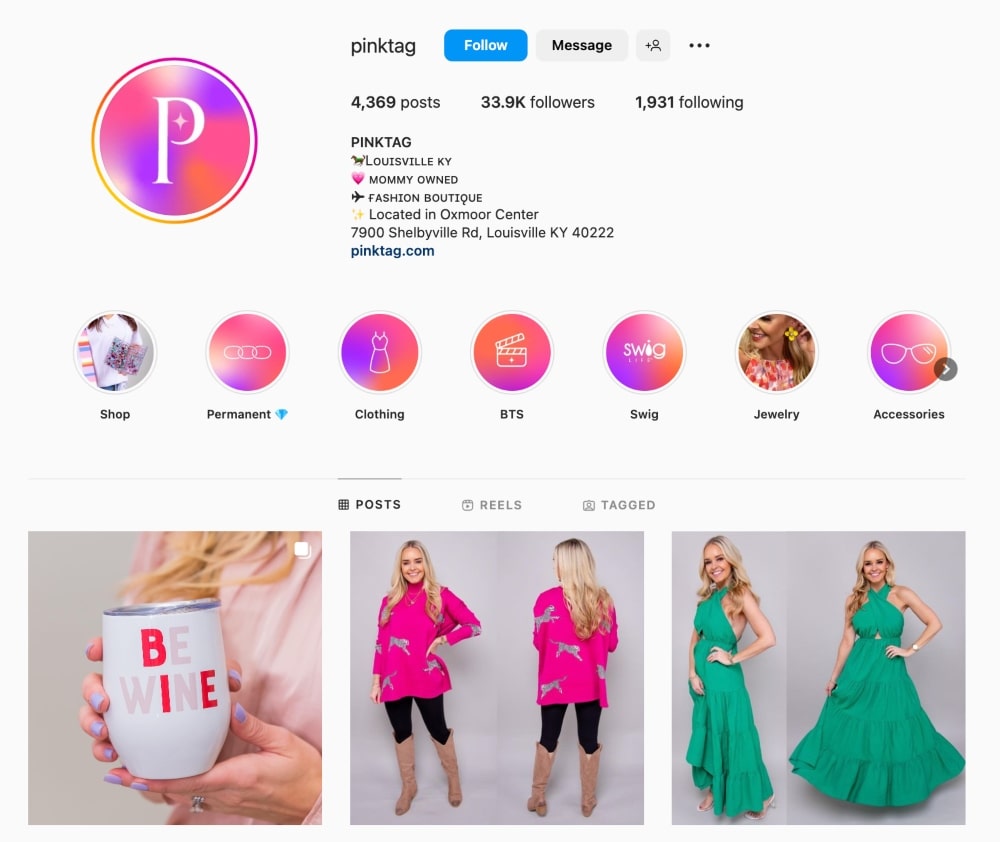 Not only will it help spread awareness of your business, but you will also be able to target a wider audience.
With more people seeing your content, you have a greater chance of making sales and growing your customer base.
5. Selling with Buy and Sell Groups
Buy and Sell Groups can be a great way to promote your products on Facebook.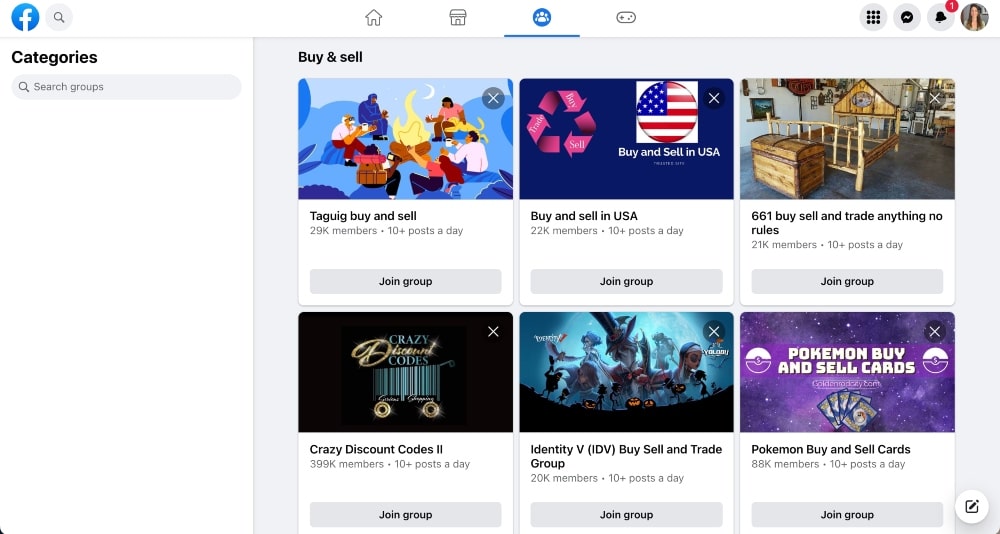 They are kind of like virtual flea markets, where sellers can list their items in a group setting and buyers can browse through the listings and make purchases.
Buy and Sell Groups provide an ideal platform for sellers to attract potential customers who may not have been exposed to their products otherwise.
By leveraging the power of how niche it typically is within these Facebook groups, sellers can reach more ideal customers with their product offerings.
Summary of How to Sell on Facebook
Facebook is a powerful eCommerce platform, and businesses of all sizes can utilize Facebook Marketplace and Shops to reach new audiences.
With the right strategy, you can make extra money or even a full-time income by selling on Facebook and leveraging the platform's reach and user base.
However, it's important to remember that in order for any of these efforts to be successful, you need to continuously monitor and analyze your performance.
This will help you make adjustments as needed to optimize your results.
But if you have started out by following our tips above, you'll be well on your way to making the most out of Facebook's selling tools and growing your business.