Are you looking for the perfect blog name to capture your blog's unique voice and style? A good blog name generator can help you come up with creative and memorable domain names.
Coming up with your own creative blog names can be tough, but a blog name generator can help you quickly generate hundreds of ideas that meet your criteria.
Plus, it will also instantly check whether or not the blog names are available so you don't waste time considering an unavailable option!
You can use the generator to get blog name ideas for a personal blog, fashion blog, travel blog, eCommerce store, or any other type of successful blog.
In this post, we'll walk through how to use a blog name generator to find the perfect blog name for your blog.
We'll also go over some tips on selecting the right one and discuss why it's important to pick one that is both memorable and relevant.
We'll go over the steps on how to use the blog name generator first so that you can dive right in if you're ready, but make sure to keep scrolling if you want to know why it's important to purchase a blog name and some tips on how to come up with a blog name.
How to Come Up With a Catchy Blog Name
An eye-catching, clever name can help to distinguish your own blog from the competition and attract more visitors to your website.
Having a unique name that also resonates with your target audience can help build an emotional connection with your audience and build loyalty from the get-go.
Consider a brandable blog that has a blog name that you can work it into a logo and consider for potential marketing when promoting your blog.
Should I Use My Personal Name for My Blog Name?
You can absolutely use your personal name in your blog name, especially if you have a more personal blog that features your name or face often.
Many influencers have a personal blog that uses their name because their business is very much focused on their personality.
Using your own name in your blog name can help to establish credibility and set yourself up as the authority figure of your blog.
It can also help your blog remain flexible as far as the type of content that you share.
For example, Natalie Bacon started her blog, Nataliebacon.com, by sharing content on personal finance.
Over the years, as she became a mother and her priorities in life changed, she began to shift the content of her website to mindfulness for mothers.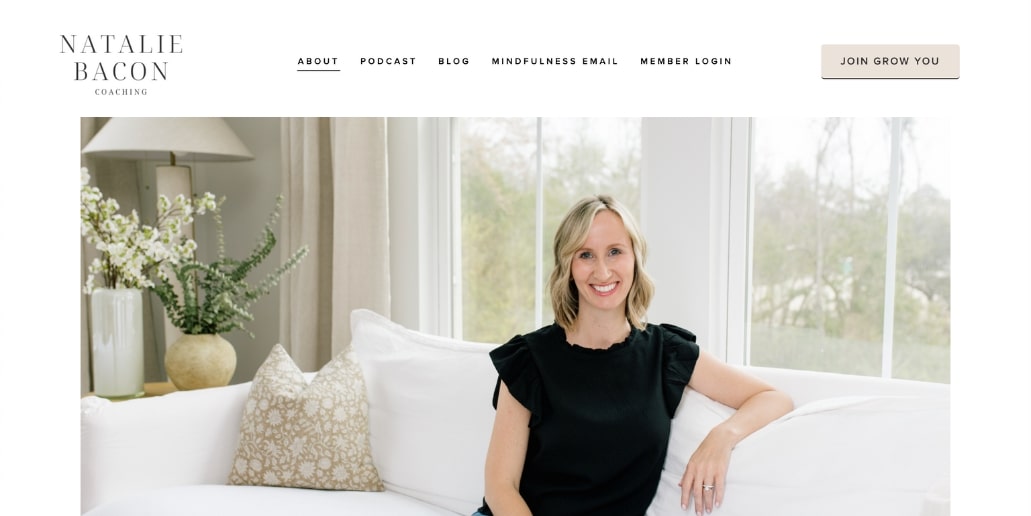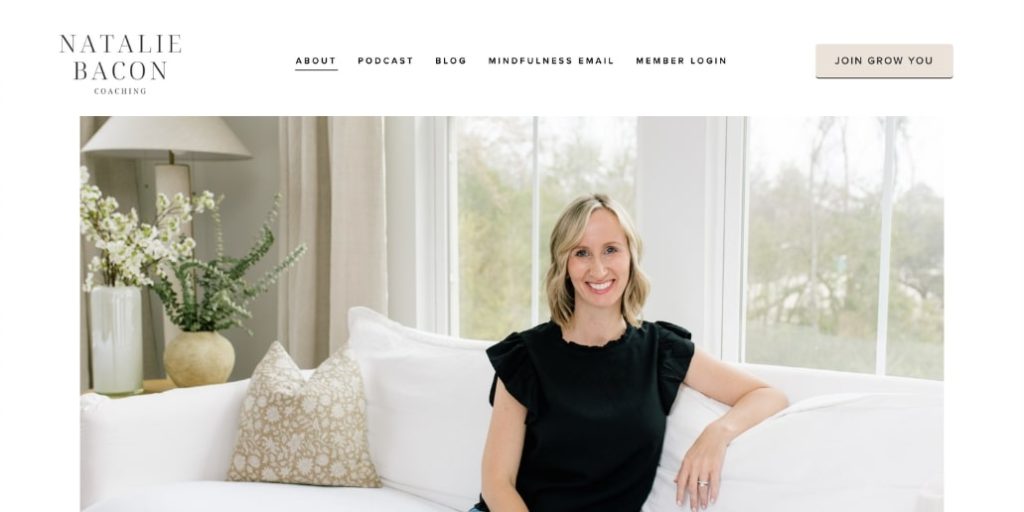 This was a fairly easy shift that did not impact her blog name.
In contrast, a finance blog like clevergirlfinance.com, while great for SEO purposes, cannot pivot topics as easily if desired.
Lastly, using your own name or a combination of other words with your name can make it easier to find an available domain because it's more specific.
4 Additional Tips for Catchy Blog Name Ideas
Below are a few tips for coming up with a catchy blog name that is also memorable and flexible, which is important for growth and success.
1. Try to Keep It Short and Sweet
Having a shorter blog name can make it easier for readers to remember and also easier for them to type into their browsers.
Additionally, shorter blog names are often more valuable from a marketing perspective because they are easier to fit into social media platforms and headlines.
Here are some blog name ideas to illustrate this point.
2. Consider Your Audience
Think about who your blog is targeting and come up with a name that accurately reflects the topics you'll be covering.
This will help establish your blog's credibility and make it easier for potential readers to understand what your blog is about.
Additionally, if you're looking for the best blog name ideas with SEO potential, consider including keywords in your domain that could help boost your search engine ranking.
3. Use a .com
It might be tempting to use a .net or .co or any other variation of .com if your perfect domain name is taken, but you should really stick with a .com, if possible.
A .com URL is by far the most widely used in blog domain names and also the most memorable.
When people hear about your website or try to remember it, they are more likely to attach a .com at the end of it when typing it into their browser.
It also comes with more credibility and professionalism.
4. Consider Keeping it Flexible
This is a really important tip for choosing a name for your blog.
As your blog grows, your desires may change, your audience may change, and your blog content may need to change with it.
If your blog name is too specific, you may box yourself in and make it harder to pivot your content and your strategy in the future.
For example:
By having a more general blog name, we can continue to expand and change our content as we stay fit.
Why Purchase a Domain Name?
You might have heard the term "free blog" thrown around and wondered, "Can I use a free domain for my website?"
That's a very valid question. This is a free blog name generator, but it's important to own your domain name and have a good, paid hosting plan for several reasons.
Ownership
Purchasing a domain name is an essential part of building an online business.
With your own domain name, you are able to control the identity of your website and create a memorable, recognizable brand.
Having your own domain provides more credibility and professionalism than free domains do not.
This is evidenced by the presence of the domain name in the URL of your website:
Domain that you own: sarahsgreenscene.com
Free domain: sarahsgreenscene.blogspot.com or sarahsgreenscene.wordpress.com
Most importantly, if you don't purchase your blog name from the free domain name generator, the domain is free for anyone else to purchase.

Someone could take sarahsgreenspace.com from under your feet and establish a more professional (and successful) website.
Control
Speaking of control, purchasing a catchy domain name and professional hosting account will give you more control and flexibility over:
how you run your website,
what kind of content you share,
You'll get access to better email hosting, website themes, plugins, and more.
Overall, owning your domain gives you more control over the look and feel of your site, allowing you to customize it to suit your needs.
SEO (Search Engine Optimization)
Finally, owning your blog name can be beneficial for search engine optimization (SEO) efforts.
Having a unique blog name helps search engines like Google identify and index your website more effectively, allowing potential customers to find it in search.
This is especially important for businesses that wish to get organic search traffic for visibility, revenue generation, and growth.
How to Use the Blog Name Generator Tool
Step 1. Enter a Key Phrase and Topic
Enter a keyword related to your blog topic, business, product, or service into the blog name generator tool to generate some blog name ideas.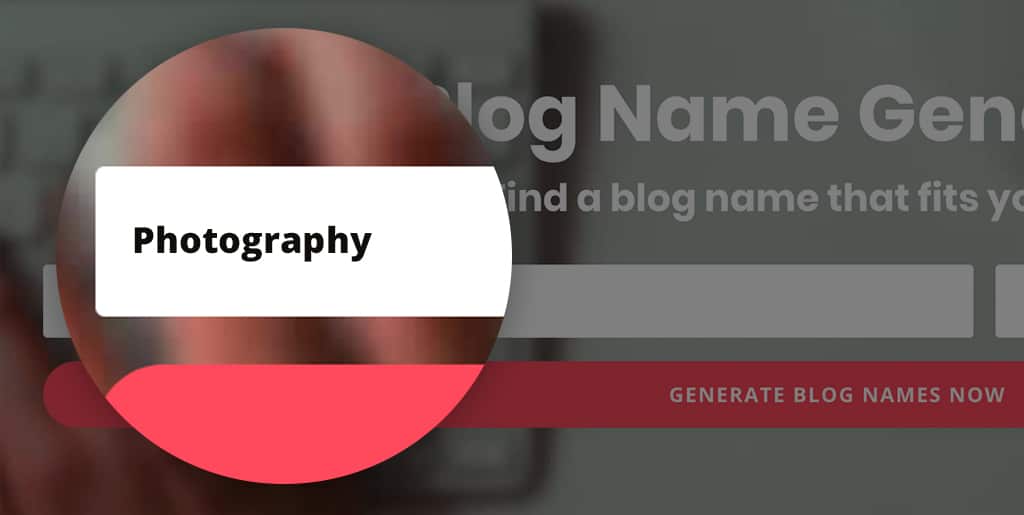 Think about one or two keywords that are most important for your specific niche and then consider others:
Descriptive of your niche: Travel, Motherhood, Photography, Green Living
Relevant keywords: digital nomad, parenting hacks, selfies, sustainability
Emotional in nature: Caring, Stressful, Affection, Happy, Joyful
Any other descriptive words: Busy, Strategic, Power
Your name: First name or your entire name
Think about your blog niche and your desired keywords and try mixing and matching a few to find your style; the blog name generator will instantly generate dozens of options for you!
The blog name generator will give you some blog name suggestions based on the words that you enter.
Step 2. Narrow Down Your Favorites
If you find a blog name that you like and it's available, go ahead and purchase it! Just click through to make sure it's available.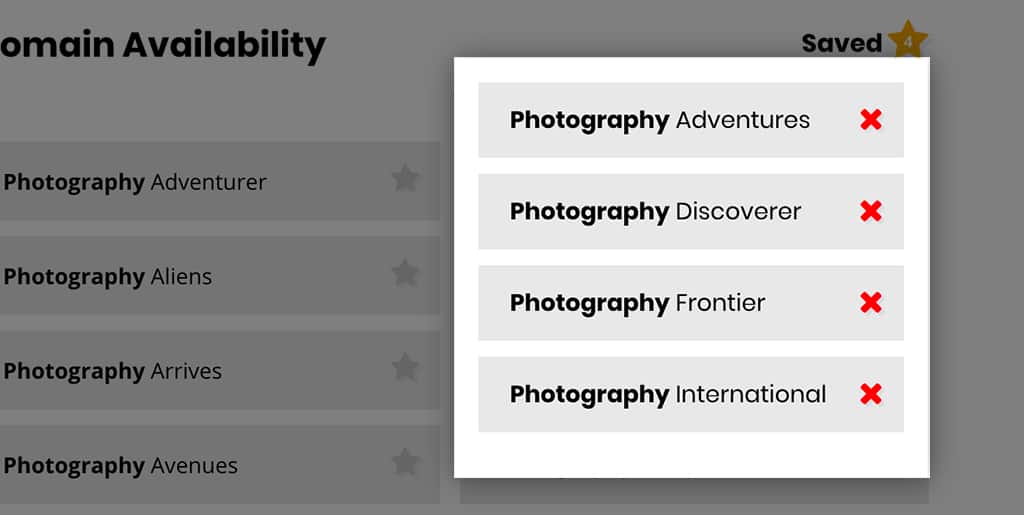 If you still aren't sure, write down any blog domain name suggestions that you like so far so that you can continue to brainstorm.
You can always run the generator again a few times to narrow down your options or get additional ideas.
Pro Tip: Consider adding a little alliteration to your blog title to make it sound cool and easier to remember!
Step 3. Check for Domain Name Availability
Once you've found the perfect blog name, simply click the name in the results to check for your domain availability.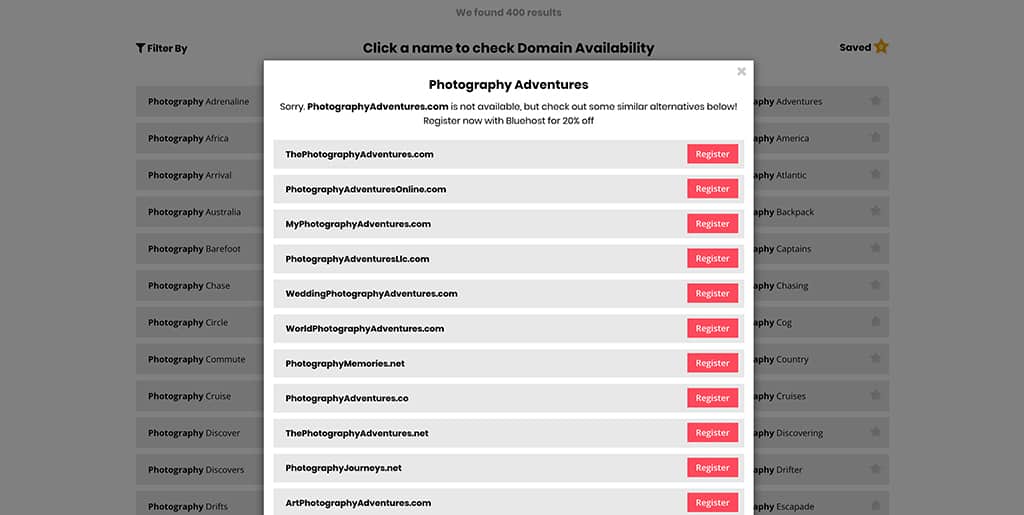 Chances are there will be at least one or two domain variations available for you to register.
Sometimes, the blog name that we want simply won't be available but don't fret.
That one wasn't meant to be but it just means you need to get a little more creative with the name of your blog.
If your blog name is taken, consider adding your name or part of your name, a different adjective, or something else to make it more unique.
Don't get too hung up on this step. Remember that domain names aren't the absolute most important thing in blogging – the content is.
When you click to register, it will take you to the Bluehost website, where you can click "Get Started" to get your domain name setup with a hosting plan.
Read on to the next step for more information!
Step 4. Decide on a Blog Name and Get Started
At this point, hopefully, you have found some blog name ideas that fit your personality and style. It's time to decide on one!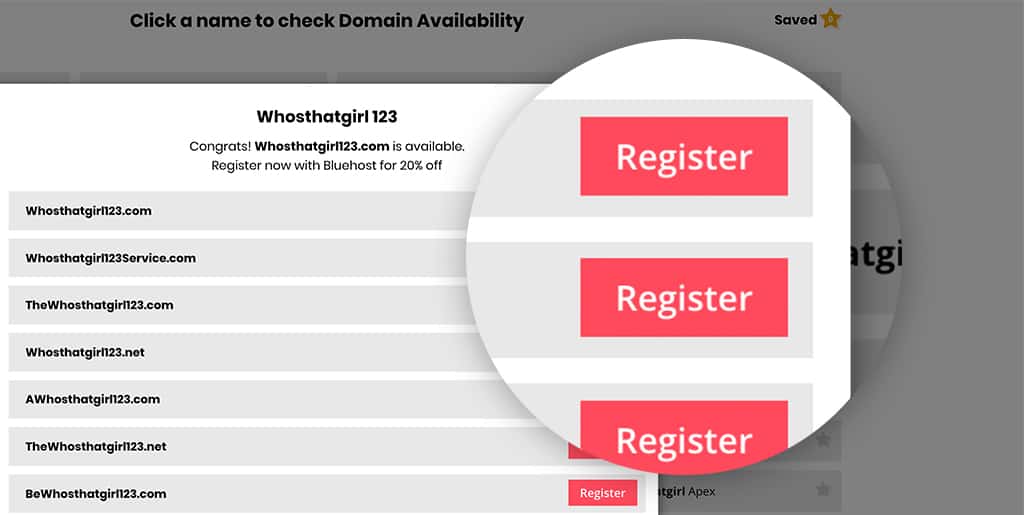 Make sure to purchase your blog name so that no one else can buy it and park a website on it or even just hoard it (domain squatters).
The good news is, you can get a free domain name when you set up hosting with your domain.
This blog name generator uses Bluehost to secure your domain name and hosting plan.
Once you've decided on your blog name, you can use our guide on how to start a blog to follow along with the rest of the steps to set up the hosting plan for your blog!
Step 5. Start Your Blog and Set Up Your Website
Deciding on your blog name is just the first step. If you want to be able to use your blog name ideas and create a website, you will need a hosting plan for your domain.
Using this blog name generator, you can get your domain name for free when you set up your hosting plan!
Hosting Plan
A good hosting plan is essential because it provides the necessary infrastructure for your website to be accessible online and ensures that your website runs smoothly, efficiently, and securely.
A good hosting plan offers stability and reliability, as well as features like daily backups, malware scans, and protection against cyber attacks.
With a great hosting plan, you can expect high levels of uptime and performance with faster page load speeds and minimal downtime.
You will have access to resources like unlimited storage space, bandwidth, email accounts, and databases that you need to make your blog successful.
A good hosting provider also offers 24/7 tech support or customer service whenever you have questions or problems with your site.
Bluehost is our favorite hosting partner for affordable, beginner-friendly plans. You can get your hosting plan set up with our guide on how to start a blog.
Themes and Plugins
Once you've set up your hosting plan, you will need to consider themes and plugins for your blog, which provide more customizability and functionality for your website.
A website theme allows you to create a unique look for your blog without having to write any code. It should be responsive, meaning it looks good on any device – desktop, laptop, tablet, or mobile – and easy to customize with custom backgrounds, color schemes, fonts, etc.
Plugins are additional software with coding to help you add extra features and functionality to your blog, including things like contact forms, social media sharing buttons, SEO optimization tools, image galleries, etc.
In addition to basic functionality, the right themes and plugins can also help boost your SEO rankings by improving page speed and securing your website against malicious attacks.
Additional Blog Name Ideas
Below are some good blog name ideas for various niches to get your creative juices flowing.
Food Blog Names
Visit our list of popular food blogs for some additional inspiration.
The Hungry Gourmet
The Tasting Table
Savoring the Good Life
Cooking with Darlene
Paula's Palette
Travel Blog Names
Visit our list of popular travel blogs for some additional inspiration.
The Adventuring Cyclist
The Vacation Diaries
My Inner Nomad
Journey on a Budget
My Backpack to the World
Lifestyle Blog Names
Visit our list of popular lifestyle blogs for some additional inspiration.
Life Out Loud
Sea to the Soul
Watermelon Diva
Coffee with Kate
Vibing with Vicki
Fashion Blog Names
Visit this list of popular fashion blogs for additional inspiration.
Chic Street Style
Catwalk Couture
Style Stash
Samantha's Closet
Fashion by Faye
Mom Blog Names
Visit our list of popular mom blogs for some additional inspiration.
Mommy Mantras
Mommy Milestones
Parenting for Peanuts
Tales of Two Twins
Maternal Masterminds
FAQs About Finding a Name for Your Blog
How do you make a catchy name for a blog?
A catchy blog name should be creative and ideally resonate with your audience to make it more memorable. It should be short and descriptive while remaining flexible enough that you can change or pivot your content over time if necessary. Consider branding and how you might work your blog name into a logo and potential marketing.
What is a good name for a blog?
A good name for a blog should reflect the content and purpose of the blog as well as your own personality. It should be unique and memorable, utilizing keywords or phrases that will help your blog stand out from the competition.
What are examples of blog names?
Most good blog names reflect the topic that the website is about or your personal brand. Popular examples of blog names include healthline.com, parenting.com, nerdfitness.com, socialmediaexaminer.com, and more. You can also use your personal name in your blog.
Can my blog just be my name?
Using your name for your blog title works great for personal blogs or lifestyle blogs and allows you to have more flexibility in the content that you create. It can also establish authority and a personal connection with your readers.
Blog Name Generator Summary
Finding the perfect blog name can be a challenge, but the best blog name generator can help make it simpler.
A blog name generator takes keywords related to your business or blogging content and combines them into a potential list of titles that can help you find the perfect match.
In order to have a successful blog, you must be able to control the identity of your website and create a memorable, recognizable brand that provides credibility and looks professional.
Owning your own domain also gives you more control over how you run your website, what kind of content you share, and how you monetize it.
A unique blog name also adds search engine optimization benefits as it helps search engines like Google identify and index your website more accurately for better visibility within search results.
When coming up with catchy blog names, consider branding and how it could work into a logo or marketing efforts.
The best blog name ideas should reflect the blog topic and content of your blog as well as some aspect of your personality too, if applicable.
All in all, using a blog name generator can help narrow down options to find something truly unique that will help drive recognition and success for your business or blog!