We partner with bada$$ companies that offer products that help our readers achieve their goals! If you purchase through our partner links, we get paid for the referral at no additional cost to you! Read our disclosure for more info.
If you landed on this page, you're looking for how to start an online business for one of many reasons:
You want an escape from your nine to five.
You just want some extra cash to pay off debt.
You crave more security, or
You'd like to live a more cushy lifestyle.
We get it! If there's one thing we've learned, it's that starting an online business means one thing: more freedom.
It's our jam in case you hadn't heard.
Starting an online business can be a challenging task, but with the right resources and planning, it can be a great way not only to make money but to buy yourself more freedom.
With that in mind, in this post, we're going to break down everything you need to know about how to start an online business.
Buckle up because there's going to be a lot of meat on this bone, y'all.
Iron Out Your Why
We're starting with this because we don't believe in fluff or wasting time. You need to know upfront that starting any business is hard.
There are going to be days you will wake up and question your sanity and try to understand what the heck you were thinking to start an endeavor like this. That's where your why will be your saving grace.
It's critical that you have a clear vision and purpose for why you're starting an online business.
By the way, your why is completely valid – whatever it is. It's 100% okay if your main goal is to get famous online!
If you're not sure what your reasons are, here are a few questions to help you figure out why you want to learn how to start an online business:
What are your goals for the business? (i.e. money, fame, serve your community?)
Why do you think an online business is the best way to achieve those goals?
What advantages does an online business have over other types of businesses?
What are your personal strengths and weaknesses?
What do you know about running a business, and what do you need to learn?
What are you good at? What problems can you help people solve?
Once you start thinking about these kinds of questions, you can uncover the true reason you want to start an online business.
Starting your own business can be an extremely rewarding experience, but it's important to take the time to figure out your why before you get started.
It's what will keep you coming back for more, even when you're down and what will keep you going. Trust me!
On that note, it's also important to make sure you're not starting a business because of someone else's goals. If you are doing it because your spouse or partner or mother told you to, and not because you want to, you're not going to make it very far.
For the purposes of this post, we'll assume you are interested in how to start a business online for yourself for all the right reasons. So, let's get into the rest of the steps!
Nail Down Your Online Business Idea
Coming up with a business idea can seem daunting, but it doesn't have to be. There are a few simple steps you can take to help you come up with an idea that's perfect for you.
First, think about what you're good at. What do you enjoy doing? What are your talents and skills?
You started thinking about these things when thinking about your why, but now it's time to refine your thoughts and ideas into an actual bonafide online business idea.
How can you decide what business idea is right for you?
The truth is, it's best to choose an industry that at least interests you. It's easier to keep going when you have at least some passion for what you're selling.
But passion also isn't everything. You do need to make money, and passion won't always get you there on its own.
Choose a business model that fits your strengths.
If you need to build an app for your business but suck at coding, maybe this isn't the best place to start for you. You can always hire out some of the tasks of your business, but this requires the funds and it's not always in everyone's budget to do so.
Instead, play to the strengths that you do have or try to learn some of the other necessary skills.
Do your research.
You don't want to choose a business that no one has any interest in. Make sure there is a market for your product or service and that customers are willing to pay for it.
Learn How to Blog
If you want an online business these days, you need to have a basic understanding of blogging and how to start your own blog.
A blog-based business is the perfect way to get started because it's low-cost, easy to set up, and can help you develop a built-in audience ready and willing to buy when you're ready to sell something.
Put another way, blogging-based online businesses do three very important things:
1. Blogs set you up as an expert in your field.
Your website is the home for your business. It's where your content lives and that content is your foundation.
Ever piece of content is a chance to share information with your audience.
2. They help you find an audience and provide them with a ton of helpful information.
They give you a place to help educate your audience about related topics and tell people about your products and services
Blogging is also a great way to improve your website's SEO, connect with customers and promote your business. By creating fresh, informative content, you can attract new visitors to your website while retaining the attention of those who have already found you.
It also gives you the opportunity to share news and updates about your company, products, and services.
3. Blogs help you build a community of loyal fans and customer advocates.
Customers appreciate this type of personal interaction, and it can help build trust between you and your audience.
Additionally, blogging provides a forum for customer feedback and encourages engagement with your brand.
Can't I Just Use Facebook and Instagram to Start My Business?
There is a lot of misinformation out there about what it takes to start a successful online business. A lot of people seem to think that they can just use Facebook and Instagram to get started, and that's all they need.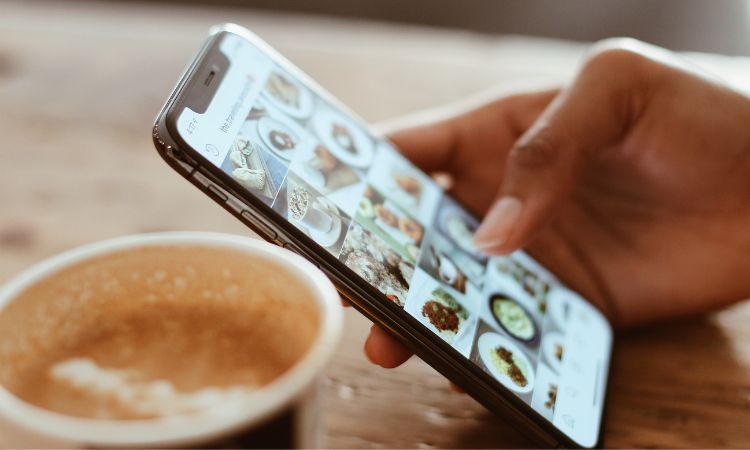 Nope. It takes a lot more than just a couple of social media platforms to create a successful online business.
You need to have a website, you need to know how to market your business, and you need to be able to create quality content.
Sure, you can start a TikTok profile and post all your amazing goods and services on your Instagram page with a bunch of captions that say things like:
"Comment sold if you want *insert product name*"
"DM me for pricing"
Or even "Venmo me at *MyCoolHandle*"
But here's the harsh reality you need to understand: you don't own your social media profiles.
We've seen social media go down many times in the last several years, and the more times Zuckerberg gets called into the principal's office (Congress/government groups) and Musk threatens to buy Twitter, the more likely it is that social media will be harder and harder to use as a business asset.
You can use social media to promote yourself, sure. And you should be on social media.
Facebook and Instagram are great tools for marketing your business, but they are not the only tools. If you want to create a successful online business, you need to use ALL of the tools at your disposal, including and most importantly your blog and website.
You need a website because you own it. Unlike social media, where you're at the mercy of the platform's rules and algorithms, you're in control of the content and distribution of it.
You decide what to say, how to say it, and when to say it.
As an online business owner, you need a website with a blog that is regularly updated. Period!
Can a blog really be the basis of an online business?
Absolutely! In fact, that's how this business began – as a blog. When we first set out to start an online business, We created a blog-based health and wellness business and made six figures in our first full year. This article that you are reading right now is also part of our blog!
Blogging is a great way to share your thoughts and ideas with the world and make money online.
How can you make money blogging though?
There are lots of ways! We even have an entire guide written on how you can make money with your blog. But just a few of the ways include:
1. Paid Ads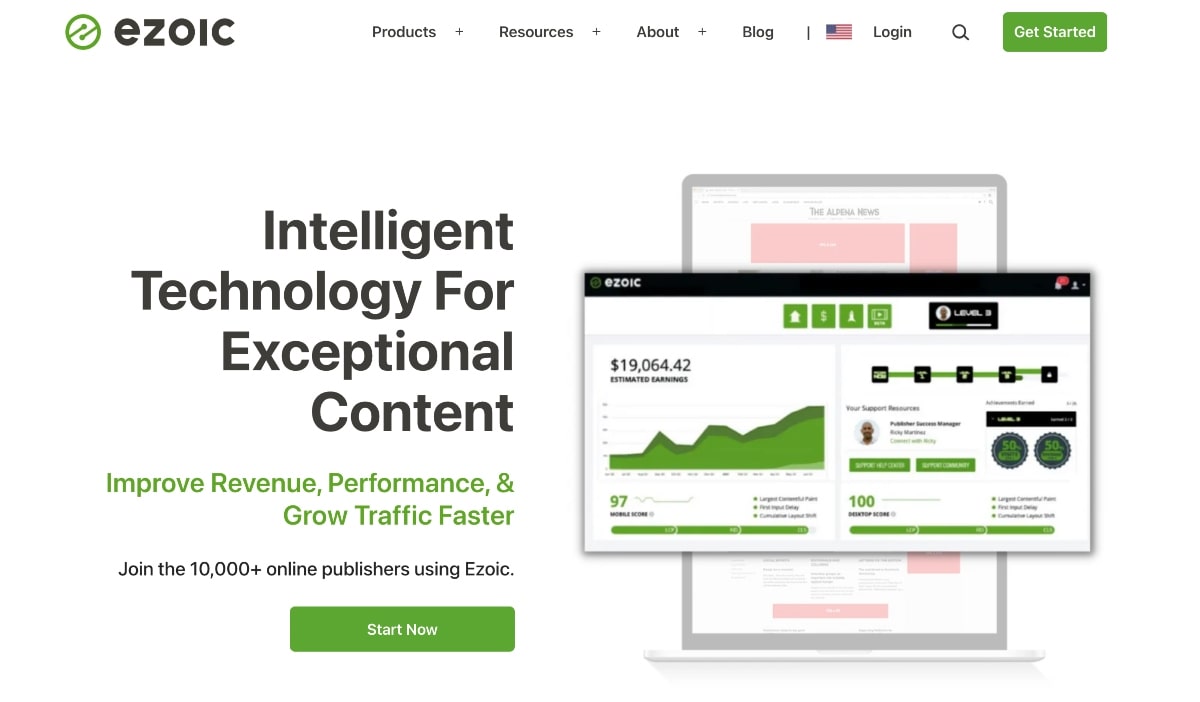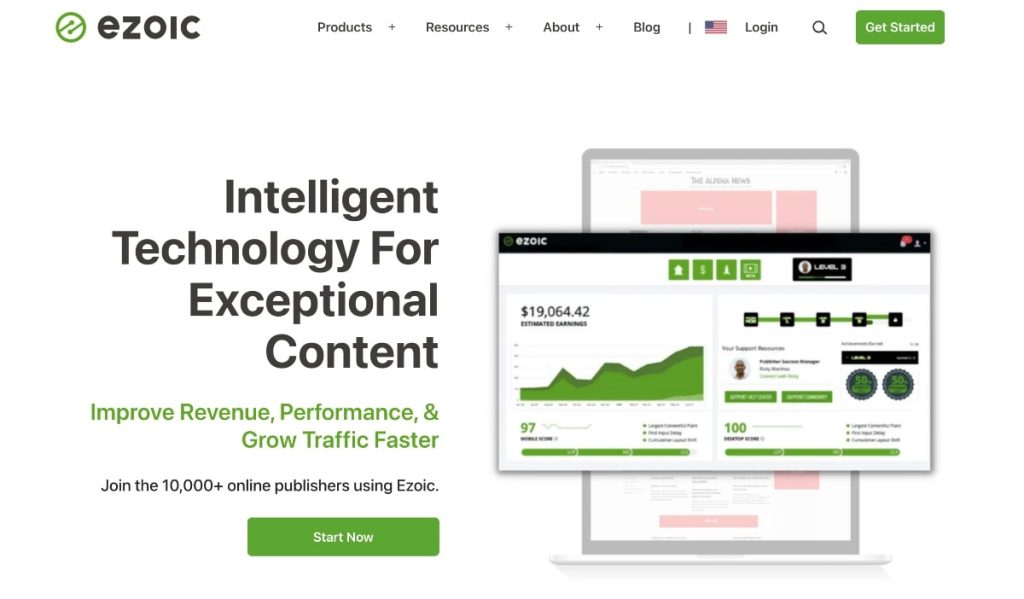 Ezoic is the best ad network for bloggers to get started with because they have a lower traffic requirement of 10,000 sessions and have a super easy setup.
Mediavine is our top choice of premium ad networks, but Mediavine has hefty requirements of 50,000 sessions.
You can also get started with Google Adsense if you haven't even reached 10,000 sessions yet.
2. Affiliate Marketing
Affiliate marketing is actually how we first got started – selling other people's (or company's) products and services in exchange for a commission of the sale price.
3. Creating and Selling Your Own Product
Creating an eBook or selling your own courses is where the money really can come in because you're in charge of the price, and you own the list of buyers.
You have control over every aspect of creation, selling, and distribution.
5. Sponsored Posts
This is when you get paid a set fee for writing and sharing a post with your audience. You can get paid more when you have a very large audience.
6. Services, Coaching, and Consulting
This is pretty self-explanatory. You can charge fees for your time or your any type of packages or programs that you create to teach or provide services to others.
We'll get into the specifics of many of these ideas in a moment, but first, let's talk about the importance of being legit.
Starting an Online Business… Legally
It's important to learn how to start an online business in a way that is both legal and protects your interests. There are a few key steps to take when starting a business, and each one is important in ensuring your success.
Here are a few tips on how to run your business legally:
1. Choose the right business structure.
There are several different types of business structures, and each one has its own benefits and drawbacks. It's important to choose the right one for your specific business.
For example, if you're planning on running a small business from home, you may want to choose a sole proprietorship or a partnership.
If you're planning on expanding your business in the future, you may want to consider choosing a corporation or an LLC.
Do you need to be incorporated?
Maybe, but maybe not. If you choose to go the incorporated route.
There are three types of corporate business structures for small businesses: LLC, S-Corp, and C-Corp. Each type of structure has its own benefits and drawbacks, so it's important to understand the differences before making a decision.
An LLC is the simplest business structure. It offers limited liability protection to the owner and is easy to set up. However, an LLC is not a tax-exempt entity, so the business profits are taxed at the individual owner's tax rate.
An C-Corp is a more complex business structure, but it offers many benefits.
A C-Corp is a tax-exempt entity, so the business profits are taxed at the corporate level. This can be advantageous because the individual owner's tax rate may be lower than the corporate tax rate.
Legal Zoom is a great resource for learning more about the various business structures.
2. Register your business with the state (if necessary).
If it's required where you live, you can do this at a local office or through the state's website. Do your research to ensure you're following the local ordinances.
3. Plan for tax season early.
It's important to be aware of the tax laws related to your business in order to stay compliant and avoid any penalties.
For example, if you're starting an online business, you may need to collect sales tax from your customers in states where you have a physical presence. You also need to file specific paperwork with the IRS depending on the type of business you're starting.
Ignorance of the law is not an excuse, so it's best to do your research ahead of time and consult with an accountant and/or lawyer if needed. By being familiar with the tax laws related to your business, you can avoid any headaches down the road and stay compliant with the government.
4. Ensure GDPR and CCPA compliance.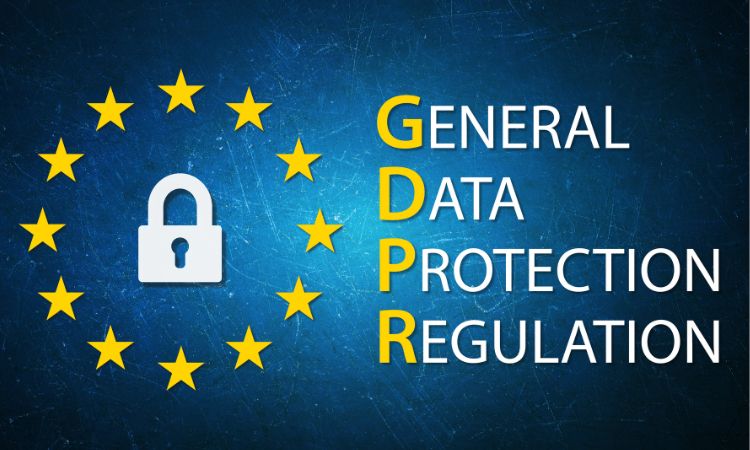 While we're getting all the disclosures out of the way, your business needs to be compliant with The General Data Protection Regulation (GDPR) and The California Consumer Privacy Act of 2018 (CCPA).
Our student, Amira Irfan, has a fabulous set of legal templates related to privacy policies, operating agreements, disclaimers, and more. Check them out here.
Note: We're not experts on any of the legalities related to taxes, privacy laws, etc… So please do your homework and make sure you're taking the necessary steps to be legal.
How to Decide on a Business Name
When starting an online business, there are a few key things you need to decide on:
what type of business you want to start,
what products or services you'll offer,
and what your business name will be.
In fact, so many of our students get caught up in this part of the process that we created an entire blog name generator dedicated to helping you choose a name for your business, brand, or blog.
The process of choosing a business name can be tricky, but it's important to put some thought into it so that you come up with something that represents your company well.
Here are a few tips for choosing a business name:
1. Keep it simple.
Try to choose a name that is easy to remember, easy to spell, and easy to pronounce.
2. Make it unique.
You want your business name to be unique so that it stands out from the competition.
Be careful with using something too creative or too trendy. Some phrases sounded great years ago, but fall flat today.
3. Think about your target audience.
What type of words would appeal to your target customers? Who are they?
4. Do your research before you commit to a name.
You should do a quick search to see if your domain names are available and what social media accounts are available (or possibly using your desired name already).
It's worth it to do a little investigating to see if any similar names already exist that could cause legal issues for you (i.e. Entrepreneur Magazine has a habit of suing companies with the word entrepreneur in their business name).
Use a trademark search tool, Google search, a domain registrar, and even your keyword planner of choice to find out what names already are taken.
Why You Need a Business Plan
When you're starting a business, it's important to have a plan. A business plan is a roadmap for your business – it outlines your goals, strategies, and how you plan on achieving them.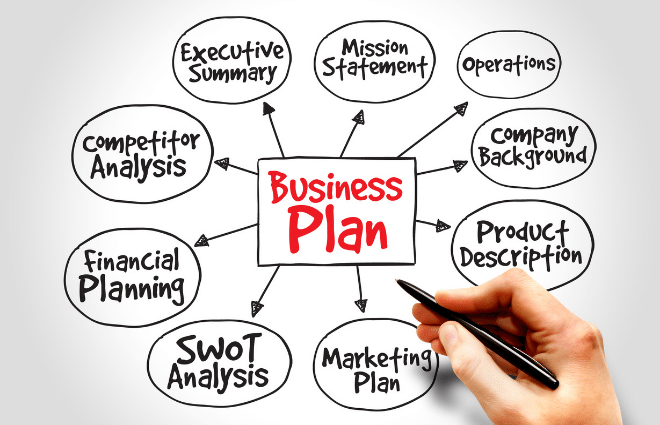 Without a business plan, it's difficult to make informed decisions about your business and stay on track. It can help you secure funding from investors or banks, if necessary, and also help you track progress and measure results.
This is something that you generally want to create first – before you create your website. It's the roadmap you will use for building the website and business overall.
The website is then used to promote and sell your products or services, which is why it's so important to have a well-designed site that converts visitors into customers.
If you're thinking about starting a business, or if your business is already up and running, don't neglect the importance of having a good business plan. It may seem like extra work upfront, but it will pay off in the long run.
Tips for Writing a Business Plan
Many people think that writing a business plan is a complicated and daunting (or boring) task, but it doesn't have to be! There are many online tools and templates available that can make the process much easier, including templates and tutorials.
Your business plan can even be as short as one page.
Once you've selected a business type, the next step is to create a basic outline of your plan. This doesn't need to be too detailed, but it should include some basic information about your company, such as its name, mission statement, and target market.
The next step is to develop a marketing strategy. This includes figuring out how you will reach your target market and convince them to buy your product or service.
When writing your business plan, be sure to include:
a description of your business
your target market
your marketing and sales plans
your management team
your financial projections
and your risk assessment
Be sure to make your business plan as concise and easy-to-read as possible. Use clear and concise language, and avoid technical jargon.
Finally, It's essential to revisit your business plan regularly and make changes as needed. It should be flexible enough to adapt to changes in the market or your own circumstances.
Now that we've covered the beginning aspects of how to start your own online business, let's go even deeper into each segment of how to make money online.
How to Figure Out What to Sell
Now that you're ready to make money and be your own boss, what should you sell? That can be a pretty scary question that makes some want to abandon all hope at once.
But it's important to figure out what will be the most successful for you. You can create a blog-based business to sell products, services, or a combination of both.
Selling services is certainly the fastest way to start making money because you likely already have everything you need to do it.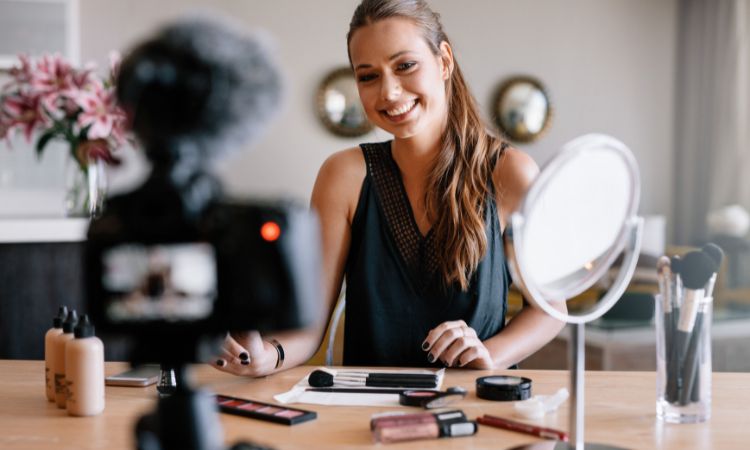 On the other hand, if you're selling drop-shipped goods, that can also be a quick way to bring products to market. Consider what resources are available to you, your skill set, your learning curve, etc.
It's also a good idea to think about how much money you want to make. If you're running a service-based business, there's only so much time in a day and trading dollars for hours will have you hitting a ceiling real fast.
Should I Sell Digital or Physical Products?
When considering whether you will sell products or services, you may also want to consider the possibilities of selling digital products.
Digital products can usually be created entirely be you and can be delivered via websites like Gumroad, WarriorPlus, Teachable (our personal fave), Clickfunnels, aMember, and many others.
Many people start by selling digital products, such as e-books, courses, or software. Here are a few factors to consider when deciding whether to sell digital or physical products:
1. Your Audience
If your target market is mainly made up of people who prefer physical products, then selling physical products may be a better option for you. Consider your audience demographics here.
2. Your Shipping and Handling Costs
If your products are heavy or require special packaging, shipping and handling costs can quickly add up. There is also more risk involving ordering and storing inventory.
Selling digital products is often a more cost-effective option in this case.
3. Your Customer Service Needs.
Aside from all of the customer service requirements that come along with shipping and handling… You also have communications with customers after the sale.
Do they need help using the products? How hands off or on do you want to be after the sale?
How to Create Digital Products in Your Business
To create digital products you can develop eBooks, online courses, templates, software, etc… Here's the quickest way to create them:
Choose the topic
Create a rough outline of what will go into the product. (i.e. chapters for eBooks or lesson plans for courses)
Start filling out your outline with more information.
Research and fill out the gaps to ensure you know everything there is to know about the topic.
Keep writing and creating to flesh it all out!
Edit and revise as needed.
Design your artwork using a program like Canva.
Look into your options for sale and delivery (like a few of the options we mentioned earlier).
Then, it's just a matter of promotion. Sell. Serve. Wow them. Repeat.
How to Sell Physical Products Online
Similar to selling digital products, you need a platform to sell from – be it an eCommerce platform such as Shopify, or just your own website using a WordPress plugin like WooCommerce.
You also need the product itself. If it's something you will be making such as jewelry or homemade crafts, you'll need to get to work making the inventory.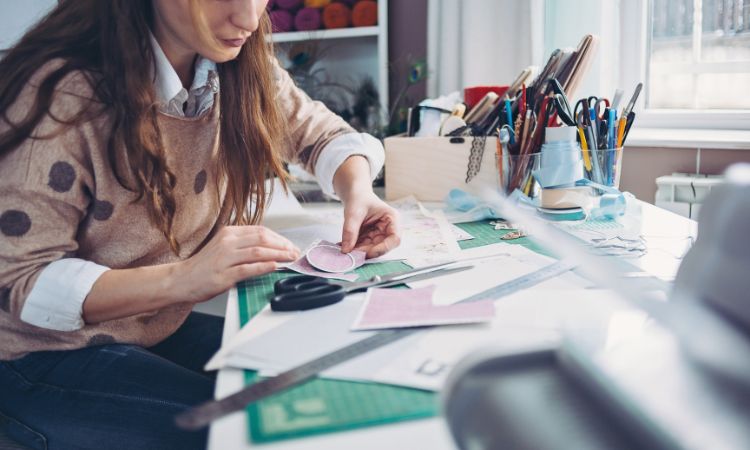 Here is a summary of the steps:
Decide what product you are going to sell.
Create the product or find your supplier (Google is your friend here).
Decide where you will store the products (home, office, warehouse, fulfillment center, etc.).
Work through any other logistical problems or issues that arise.
Create your images (or take photos).
Build your website and design your storefront.
Just like digital products and services, you will then need to promote yourself and keep putting yourself out there asking for sales.
The Quickest Entry Into Online Business: Affiliate Marketing
If you're thinking about getting into affiliate marketing, there are a few things you need to know:
First, affiliate marketing is an extremely popular way to make money online.
Second, it's not as difficult as you might think to get started.
And third, there are a lot of resources available to help you succeed.
Here are six quick and dirty steps for getting started in affiliate marketing:
1. Start by finding affiliate programs that fit your niche.
You may find that some programs match your niche better than others.
2. Read the affiliate agreements and policies.
Read them for a few you're considering, and research everything you can find out including:
commissions offered
how they handle sales
if the commissions will be recurring or one-time payouts
barriers to entry
thresholds to get paid (i.e. you can't get a check unless you earn X number of dollars)
3. Try the product!
You only want to promote products you would actually use, and there are a few reasons why:
The first reason is that you'll have a lot more credibility with your audience.
They'll know that you're not just promoting a product for the sake of making money – you're actually using and recommending it because you believe in it.
Another reason to promote products you use is that it's a great way to build trust with your audience.
When they see that you're not just promoting any old product, but instead are promoting products that you've actually tried and would use yourself, they'll be more likely to trust your recommendations.
The final reason to promote products you use is that it's the best way to learn about them.
When you actually use a product, you'll get to know it inside and out, which means you'll be able to write about it better and recommend it with less effort to others.
4. Sign up with a few affiliate programs.
Be prepared to explain how you will promote the product, where you will promote it, and who your ideal audience is.
Also – be prepared for rejections in the beginning. New websites are often turned down until after they can establish an audience.
You can find great products to sell on affiliate marketplaces like Shareasale and CJAffiliate.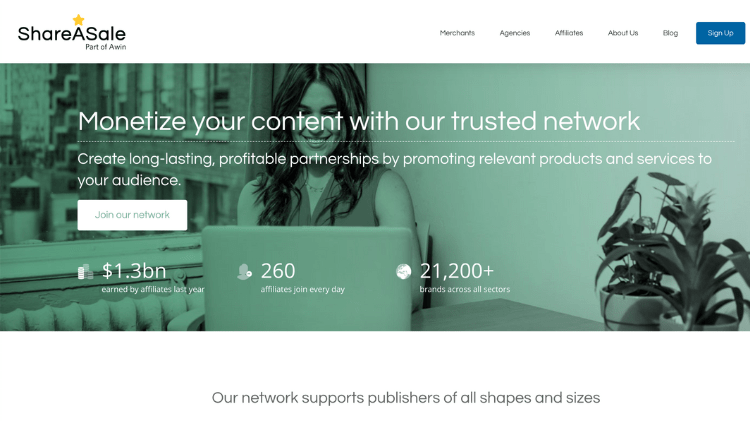 Another great place to start is with Amazon's affiliate program, Amazon Associates. The commissions are low but the trust in the brand is already there and it's an easy place to start.
5. Start creating content (a lot of it).
Whatever you're trying to sell, you need to tell the world about it. Write blog posts, make review videos, take pictures, etc.
Treat the product as if it were your own, and you will generate more sales as a result. Add affiliate links where relevant, and make it incredibly clear for visitors to buy.
6. Promote, promote, and promote some more.
The more eyeballs you get onto your website, the better your chances of converting people into buying customers. This is true regardless of what you're selling!
Conclusion and Next Steps
We told you this post was going to cover a lot, and we meant it. And we've barely scratched the surface of what you need to know!
There's so much more to starting an online business than just declaring you want to make money and slapping a link on a social media page.
Hopefully, this post has got your wheels turning though. Keep doing your research, and keep considering what will be best for you.
But, at some point, just try something. Your first business might fail horribly like ours did.
But if at first you don't succeed, get yourself up and try again! We can't wait to see what kind of business you create!
Helpful Resources:
Leave us a comment below if you loved this article or have any questions!