We partner with bada$$ companies that offer products that help our readers achieve their goals! If you purchase through our partner links, we get paid for the referral at no additional cost to you! Read our disclosure for more info.
The best eCommerce platforms help you make the buying process easy and secure for your customers while providing powerful tools to help you increase conversions and manage the entire sales process.
One of the biggest draws of using an eCommerce platform to set up your own online store is that it doesn't require any coding knowledge or programming skills.
Most platforms have drag-and-drop interfaces that make customizing your site and store easier than ever before.
Most eCommerce platforms come with built-in SEO optimization tools that help businesses get found online by potential customers more easily.
When choosing the best eCommerce platform, it is important to consider the features and functionality that best match the needs of your business.
If you want to jump ahead, here are our top picks for the best eCommerce platforms:
In the rest of this article, we'll dive deeper into the benefits of eCommerce platforms and how to choose which one is right for you.
What is an eCommerce Platform?
An eCommerce platform is software that you can use to create an online store, manage the selling process, and facilitate transactions between buyers and sellers.
The software typically includes features like:
shopping carts and payment processing systems,
product catalogs,
inventory management systems,
order tracking systems,
customer relationship management (CRM) capabilities,
and reporting and analytics.
One of the biggest advantages of using an eCommerce platform is that it takes care of all the technical details associated with transactions so businesses can focus on managing their inventory, marketing efforts, customer service requests, and other operations.
Additionally, these platforms provide a variety of features that allow merchants to customize their sites with promotions and discounts, product reviews, upsells or cross-sells, integrate with social media accounts, or send automated emails when orders are placed or shipped out.
What to Look for in eCommerce Software?
The best eCommerce platforms are those that provide the greatest amount of flexibility and scalability for your business.
Here are some key factors to look for when choosing an eCommerce platform:
User Experience
User Experience (UX) refers to how easy and intuitive it is for customers to navigate your store and complete their purchases.
An effective UX design should feature an intuitive navigation system, clear product descriptions, and simple checkout processes.
Integrations, Customizations, and Plugins
Additional integrations or plugins can enable you to extend the functionality of your website beyond what's included within the core platform itself.
Some examples of useful third-party add-ons include:
Analytics: Google Analytics
Marketing Automation Systems: HubSpot, ConvertKit, etc.
Customer Relationship Management Tools (CRM): Salesforce, Zoho CRM, etc.
Social Media Sharing: Facebook, Instagram, Twitter, etc.
Design: Other widgets, plugins, etc.
Evaluate each software and check its list of integration tools to make sure it offers a wide variety of integrations or includes specifically what you need.
Pricing and Fees
As with any type of software purchase, you will want to review different pricing plans available before making a decision on an eCommerce platform.
Different pricing plans typically offer different levels of features or services at various price points – so you'll need to decide which plan fits your budget as well as your business needs best.
You'll also want to factor in transaction fees to the overall costs. These are usually a percentage of the sale, but some platforms or even payment methods may have higher fees than others.
Support and Maintenance
Technical support in case something goes wrong with your site or there's an issue with a customer order can come in handy.
You should also consider maintenance services offered by the company – such as regular backups or updates – to ensure that your store remains optimized for peak performance at all times.
SEO Optimization Tools
SEO optimization is essential for getting more visibility for your online store in search engine results pages (SERPs).
It's important to choose an eCommerce site that includes powerful search engine optimization (SEO) tools like keyword-rich page titles/headings, meta descriptions/tags optimization capabilities, image alt tag implementation support, and more.
Security and Reliability
Data security is essential in any eCommerce business—it helps protect customer information and ensure transactions are secure and reliable.
When choosing an eCommerce platform, make sure it provides comprehensive security measures such as encryption technology, two-factor authentication, fraud detection tools, payment gateway integration, and more.
Comparison of 13 Best eCommerce Platforms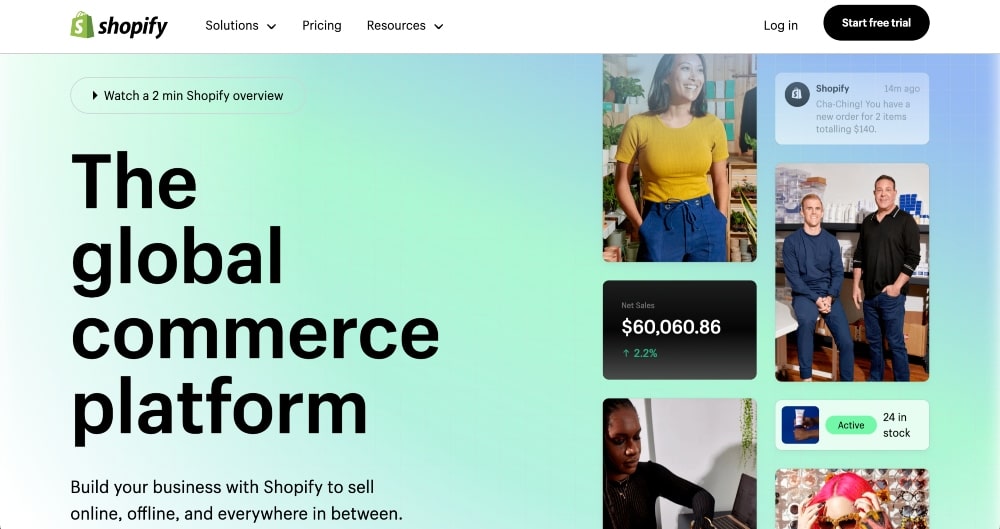 Shopify is arguably the most popular and widely used eCommerce platform on the market today. It offers a range of features and capabilities to help you build, scale, and manage your online business.
With Shopify's easy-to-use templates, you can quickly set up your online shop in minutes, allowing you to focus your time on customizing the look and feel of your storefronts.
It has a drag-and-drop page builder that helps you create and customize your website and pages quickly and easily.
Shopify also includes a wide range of built-in marketing tools such as SEO optimization, email marketing campaigns, banner advertising, affiliate programs, social media integration, customer reviews and ratings, gift cards and discounts, and more.
It also has a pretty extensive reporting and analytics dashboard to help you keep track of your sales and performance over time.
Shopify integrates with a wide range of third-party apps like Google Analytics, ConvertKit, MailChimp, and more for additional marketing functions.
Lastly, Shopify also has a customer support team available 24/7 via phone or chat – to help you when you need it.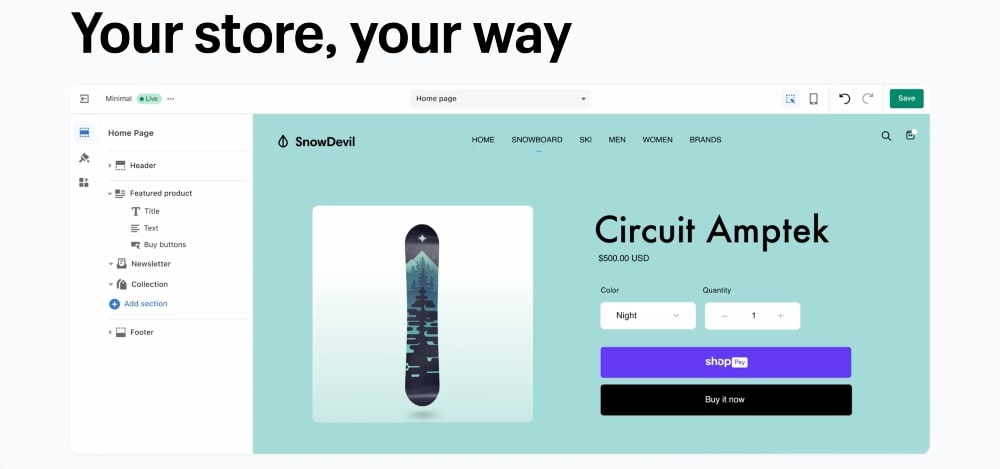 Key Features:
Customizable Themes and Website Design: Choose from over 100 themes or build a custom website design with the help of Shopify's powerful drag-and-drop tools.
Mobile Optimization: Make sure your shop is optimized for any device by creating mobile versions that are tailored for touchscreens, smartphones, and tablets.
Storefront Administration Tools: Manage your products, customers, orders, and discounts easily through a simple interface on the backend of your site.
Integrated Payment Processing and Security Options: Accept payments securely using one of Shopify's integrated payment gateways including Stripe, PayPal, Apple Pay, and more.
Marketing and SEO Features: Use built-in tools to promote your business across multiple channels including email, search engine optimization (SEO), social media marketing, and advertising campaigns.
Analytics and Reporting: Easily track sales performance data, customer trends, and more with real-time insights into how well your shop is doing at any given moment.
Pricing:
All prices are stated for annual pricing:
Basic: $29/month + 2.9% + 30¢ USD transaction fees
Shopify: $70/month + 2.6% + 30¢ USD transaction fees + professional reporting
Advanced: $299/month + 2.4% + 30¢ USD online + custom reports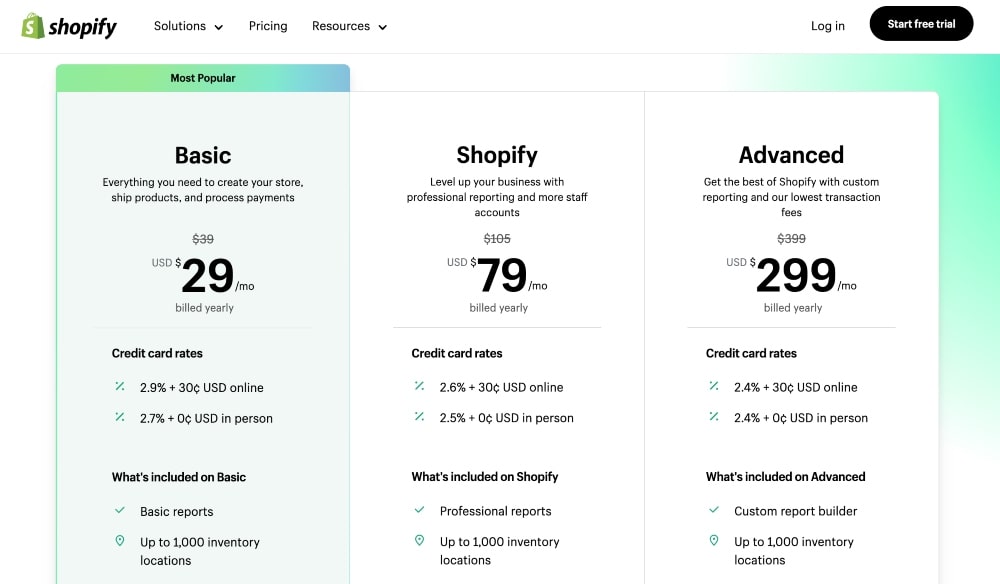 Our Opinion:
Shopify is our top choice for best eCommerce platforms. They're the best in the business at what they do, are suitable for beginners and more experienced eCommerce store owners, have a wide variety of integrations and plugins, and also offer flexible pricing plans.
Best for: WordPress websites
WooCommerce is an open-source eCommerce platform that has been downloaded millions of times and powers more than 30% of all eCommerce websites in the world.
With WooCommerce, you can turn any existing WordPress site into an eCommerce store.
What makes WooCommerce stand out from other eCommerce platforms is its flexibility, scalability, and customization options.
There are thousands of plugins available to enhance your store's functionality, like product filters to help customers find products and integrations with many third-party services like Amazon or eBay to expand your reach.
WooCommerce also has extensive reporting capabilities, so you can track important metrics such as sales volumes and customer trends over time. You can also export data in various formats.

Key Features:
Fully customizable storefronts
Mobile-optimized shopping experience
Comprehensive tax and shipping options
Advanced SEO for products and collections
Built-in reporting and analytics tools
Hundreds of integrated payment gateways
Sell physical, digital, and affiliate products
Automated inventory management system
Easy-to-use interface with drag-and-drop features
Ability to create discounted coupons and promotions
Pricing:
WooCommerce is free, but you may still run into some costs for advanced plugins and transaction fees from payment providers.
Our Opinion:
WooCommerce is the perfect pairing for people with WordPress websites or blogs that want to add an eCommerce store to their existing website.
With its customizable features and wide range of plugins available, this open-source eCommerce platform will take your business to new heights.
Best for: Multi-channel use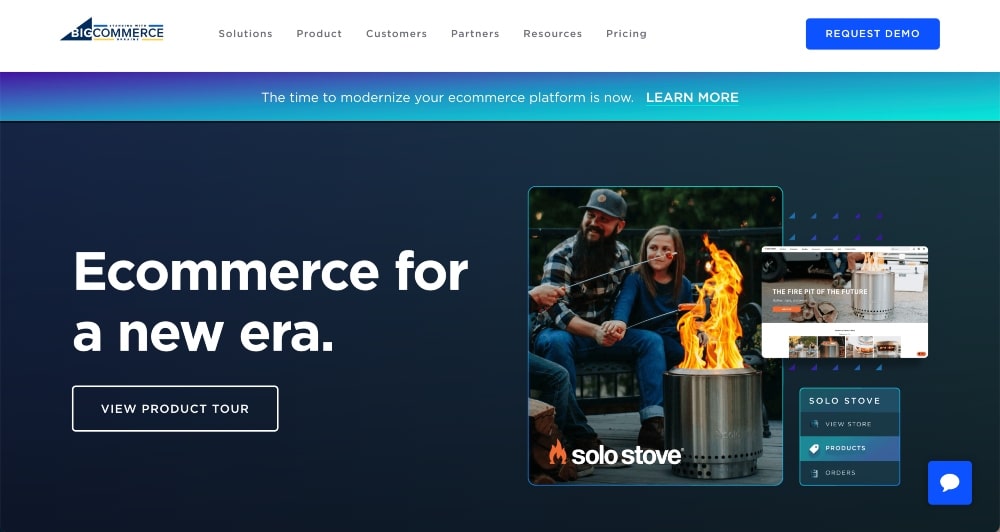 BigCommerce is one of the leading eCommerce platforms that offers a wide range of features for creating an aesthetically pleasing and highly functional online store.
With BigCommerce, you can add up to 600 variations per product and save on transaction fees (they don't take any on the platform), which makes this a great option for larger businesses.
BigCommerce has a robust catalog management system that allows you to organize products into categories and subcategories, and enable sorting by various criteria like price, availability, or other custom fields.
It offers integration with major payment processors as well as open-source shopping cart solutions such as Magento or WooCommerce.
The platform also includes built-in SEO features so merchants can easily set up SEO campaigns to drive more organic traffic to your store.
The platform also provides various marketing features such as discounts, coupons, loyalty programs, and email campaigns which help merchants build customer relationships with their target audience.
Additionally, BigCommerce is integrated with popular shipping carriers such as FedEx, UPS, USPS, and DHL Express so that you can easily manage your shipping operations in a single place
BigCommerce also provides comprehensive analytics that allow you to track performance metrics related to orders, sales, and customers and make more informed decisions.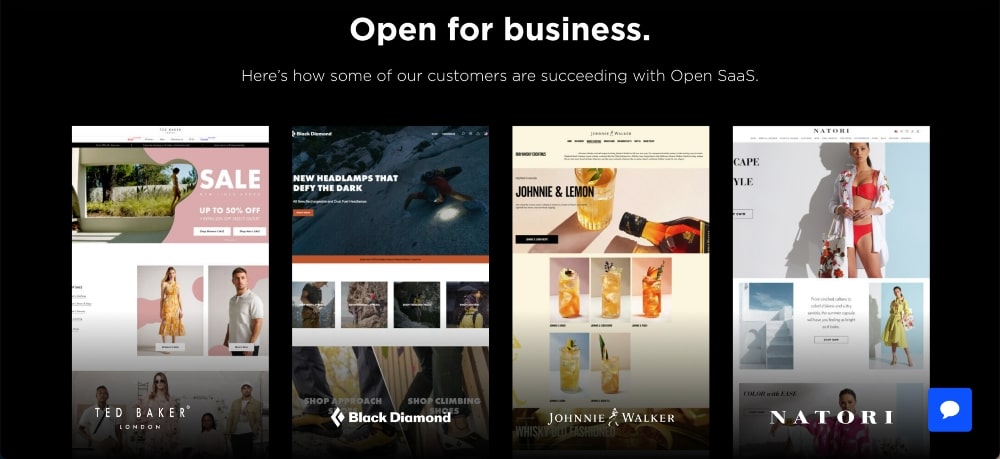 Key Features:
Customizable themes and templates
Responsive design to ensure compatibility with mobile devices
Drag-and-drop page builder for customizing storefronts
Ability to create unlimited products, categories, pages, and more
Comprehensive eCommerce tools such as product reviews, discounts, and promotions
Support for third-party payment gateways including PayPal Express Checkout and Stripe
A powerful API allowing developers to customize the store's look and feel
Automatically optimized checkout process reduces customer abandonment rate
Integration with Amazon Marketplace, Walmart Marketplace, Rakuten, and others
Access to BigCommerce's marketing suite of solutions
Pricing:
Standard: $29.95/month for up to $50k sales
Plus: $79.95/month for up to $180k sales + additional marketing tools
Pro: $299.95/month for up to $400k sales
Enterprise: Custom pricing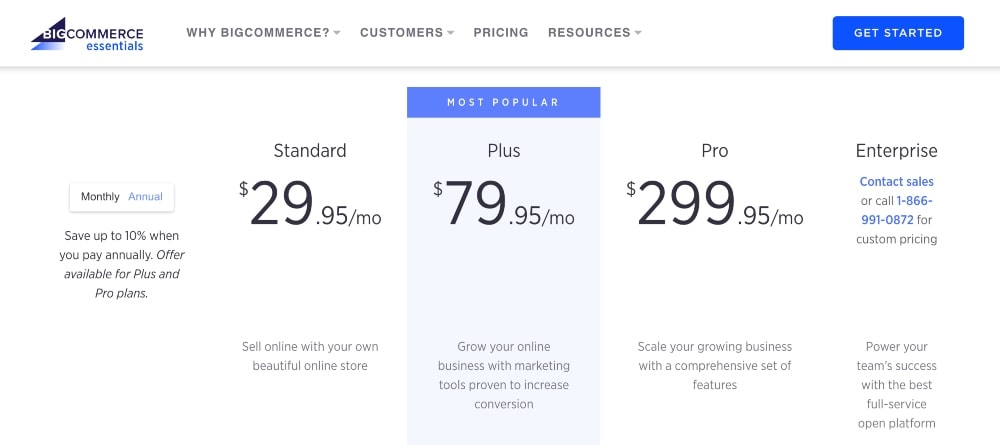 Our Opinion:
From setting up payment methods to running promotional campaigns, BigCommerce gives you complete control over how you want your store to look and function as well as powerful tools for managing products and marketing strategies.
BigCommerce is better suited for experienced eCommerce store owners who want to set up multi-channel storefronts.
Best for: Small business owners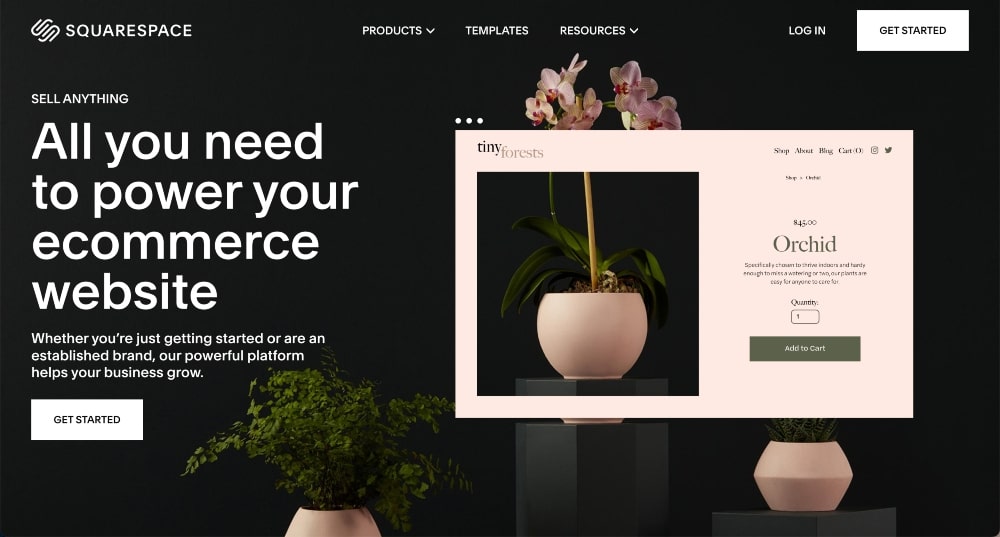 Squarespace is an all-in-one eCommerce platform that allows you to easily create a website, open up a shopfront, and sell products and services online.
Squarespace also provides tools to help businesses engage customers with email marketing, SEO optimization, digital advertising, integrations with social media platforms, and more
Like many of the other best eCommerce platforms on this list, it comes with a drag-and-drop and many customizable website and store templates.
There are hundreds of themes available to choose from or you can build custom designs from scratch without any coding.
Squarespace also offers a variety of eCommerce features like product variations, payment options, discounts & promotions, tax and shipping settings, and order management tools.
Some of Squarespace's SEO features include automated image optimization as well as Google Analytics integration.
You can also add blog posts or set up additional pages on your website as desired.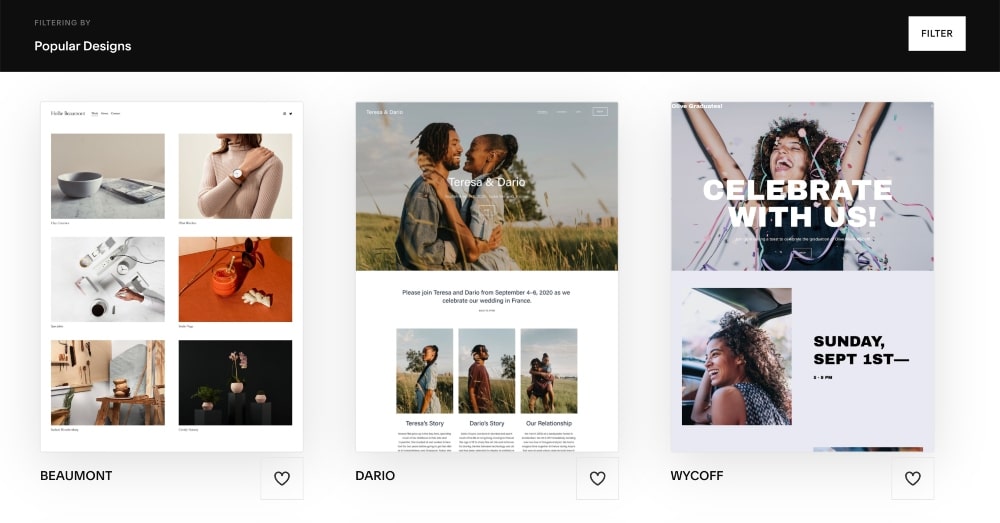 Key Features:
Beautiful customizable templates for creating an online store
Drag-and-drop page-building tool with built-in analytics
Seamless integration of eCommerce, blogging, and CMS platforms
All content accessible from a single dashboard
Secure payment processing through Stripe, PayPal, Apple Pay, etc.
SEO optimization tools to improve visibility on search engines
Free SSL certificate to ensure secure transactions
Shipping integrations with major carriers such as USPS and FedEx
Accessible customer service support 24/7
Pricing:
You can start a website on Squarespace for as low as $16/month, but if you want to create an online store and have access to their selling tools, you'll need the Commerce plan:
Commerce Basic: $27/month
Commerce Advanced: $49/month
You can also start with a free trial on any plan.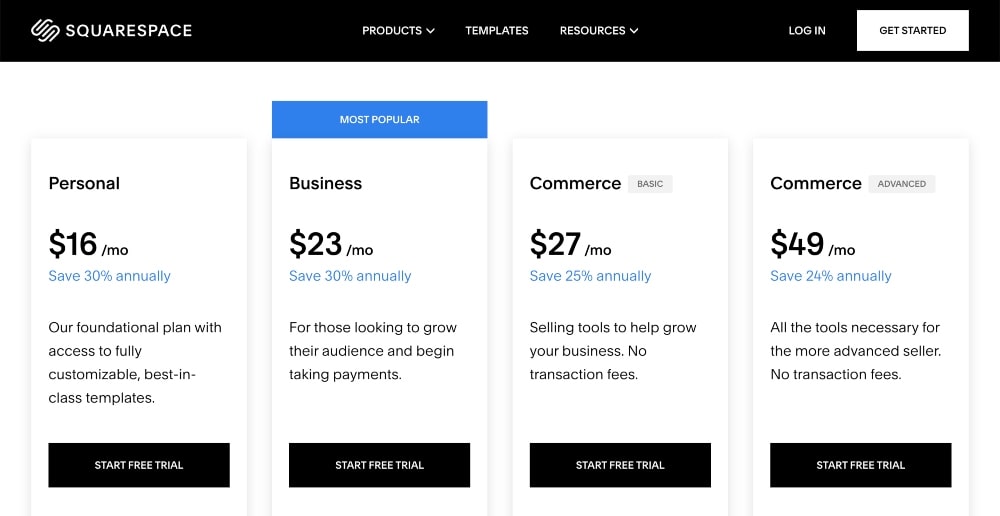 Our Opinion:
Squarespace provides a great eCommerce platform for small business owners who want to quickly launch an online store without having to worry about complex technical setup processes or coding requirements.
The eCommerce features aren't quite as extensive as some others like Shopify or WooCommerce, so Squarespace is better suited for small business owners who need access to fewer marketing tools.
Best for: Small businesses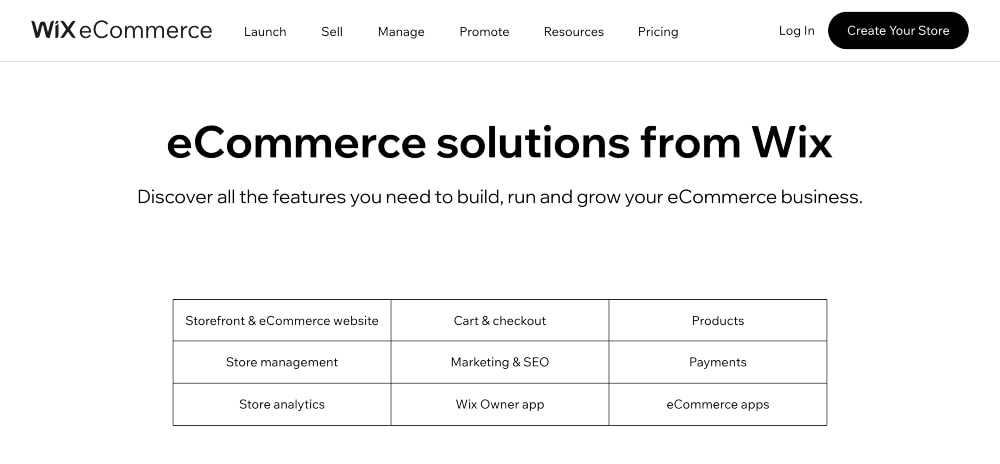 Wix is an all-in-one eCommerce platform that you can use to create your own website and online store.
Designed to be easy even for non-tech-savvy entrepreneurs, Wix makes creating a professional online store simple and straightforward with no installation fees or transaction fees.
You can customize any eCommerce template with pictures, logos, videos, scrolling effects, and more to make your store and product pages unique.
The Wix app marketplace also has hundreds of different applications that you can use to further customize your store and user experience and streamline other operations.
Wix also integrates with popular email marketing tools like Mailchimp and Constant Contact, so you can easily send promotional campaigns directly from your dashboard.
The built-in CRM system helps you easily track customers' purchases as well as provide personalized follow-up emails after they make a purchase.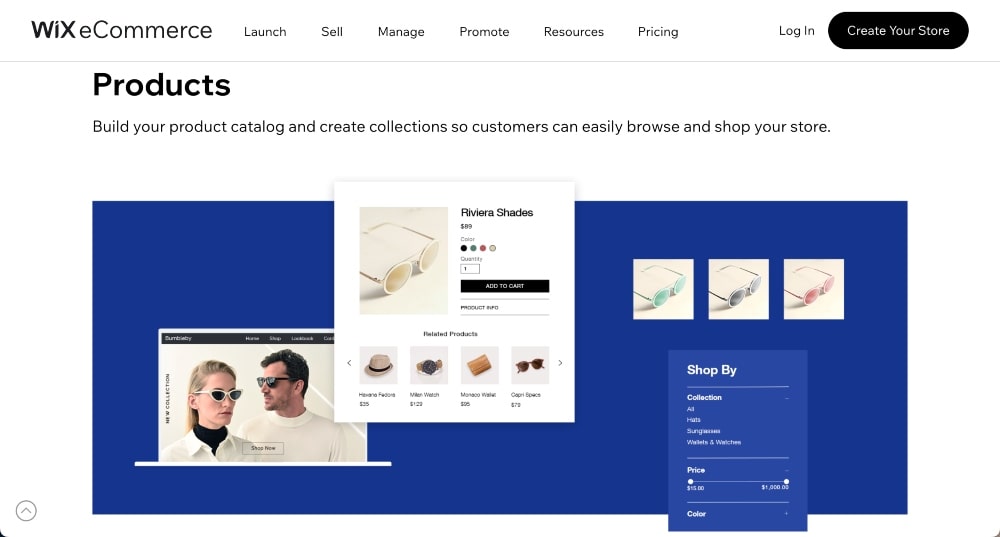 Key Features:
Responsive design for any device
Easy customization of product pages
Secure payment and checkout system
Integrated shipping options with real-time rates calculation
Inventory tracking and management
Abandoned cart recovery emails
Ability to create coupons, discounts, or special offers
SEO tools to optimize your store visibility online
Comprehensive customer service features such as order history, returns, refunds, etc.
Automated tax calculations and invoicing capabilities
Pricing:
Business Basic: $27/month
Business Unlimited: $32/month
Business VIP: $59/month
The features included are as follows: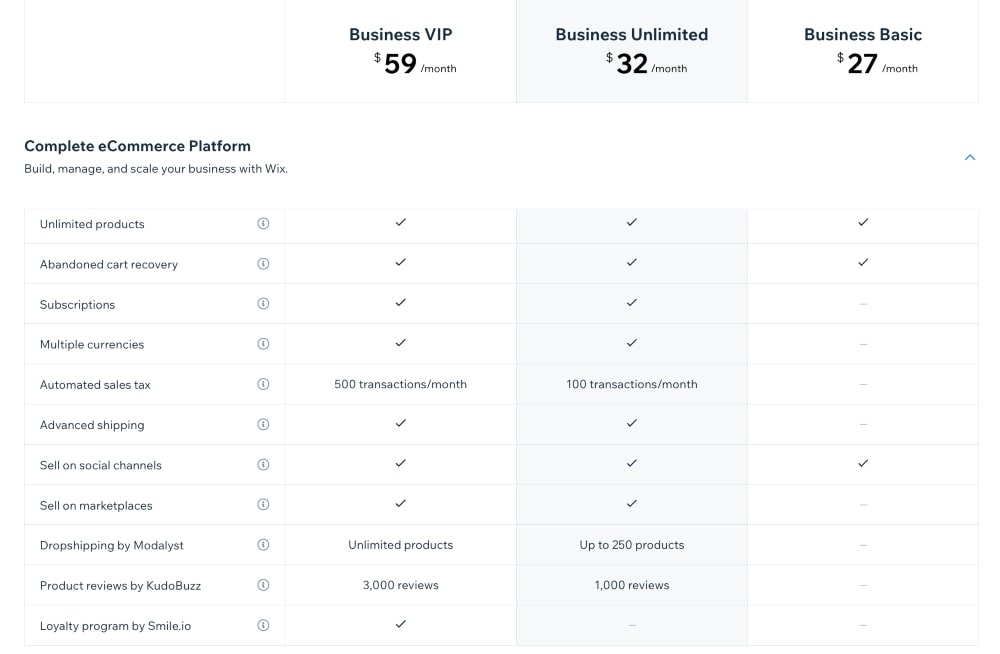 Our Opinion:
Wix and Squarespace are honestly VERY comparable, even when it comes to their pricing plans. Like Squarespace, Wix is better suited for smaller businesses.
The basic plan doesn't come with any automated sales tax and even the unlimited plan only includes 100 transactions for automated sales tax (and 500 on the VIP plan).
Because of this, it's not really suitable for high-volume sales.
Best for: Beginners looking to start free and grow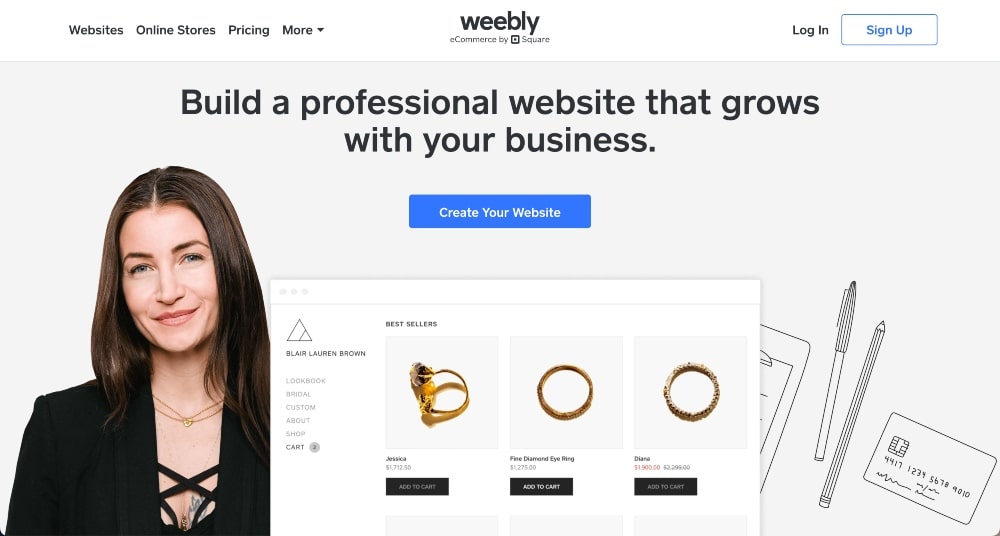 Weebly is a popular eCommerce platform that makes it easy to create beautiful, professional-looking websites and stores.
With Weebly, you can easily choose a template, customize it, add products, and access features such as analytics, marketing tools, product management, inventory tracking, and more.
From Weebly's centralized dashboard, you can track sales and manage orders, how many visitors are viewing the site pages, and what products they're most interested in purchasing.
Like many of the other best eCommerce platforms on this list, Weebly also provides marketing tools that allow you to expand your reach through SEO, social media integrations, and email campaigns.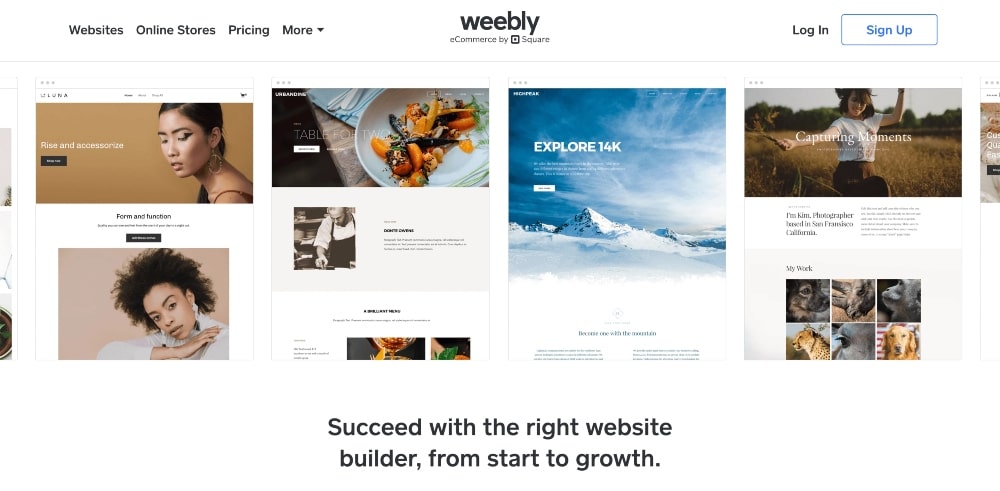 Key Features:
Drag-and-drop website builder
Secure hosting with automatic backups
Including inventory and shipping management
Responsive mobile design for your online store
Easy customization with themes and custom CSS
Hundreds of apps to add functionality
Accept payments from major credit cards, PayPal, Apple Pay, Stripe, and more
SEO tools to increase organic visibility
Professional email addresses using your domain name (e.g. [name]@[domain].com)
Pricing:
Free: $0 /month
Personal: $10 /month + Connect your own domain
Professional: $12 /month + Additional customizations
Performance: $26 /month + Additional features for growth and operations management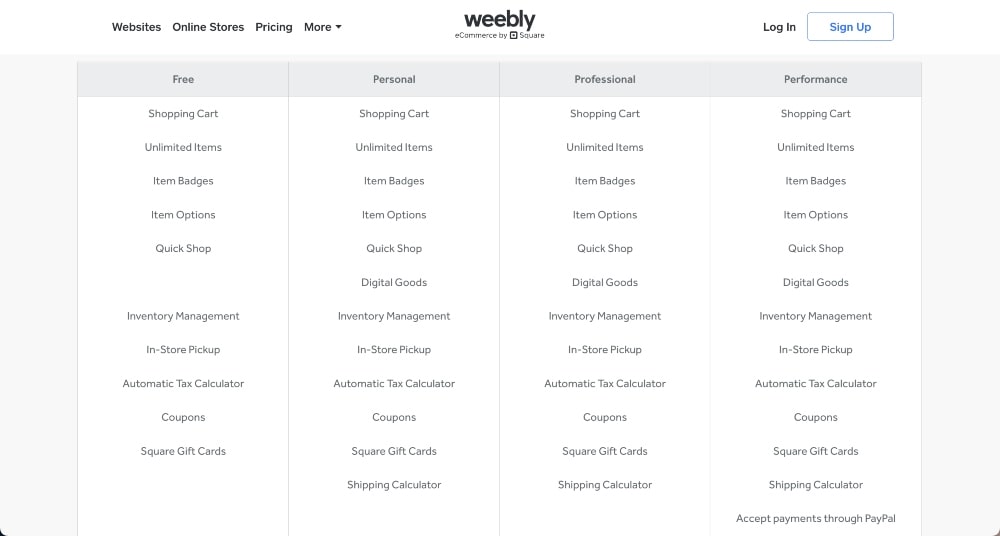 Our Opinion:
Weebly is very user-friendly and also has great marketing tools and extensive inventory tracking capabilities. We love it because they have a free plan that you can start with and it comes with a wide range of eCommerce features, including inventory management, automatic tax calculations, coupons, and more.
Best for: Larger businesses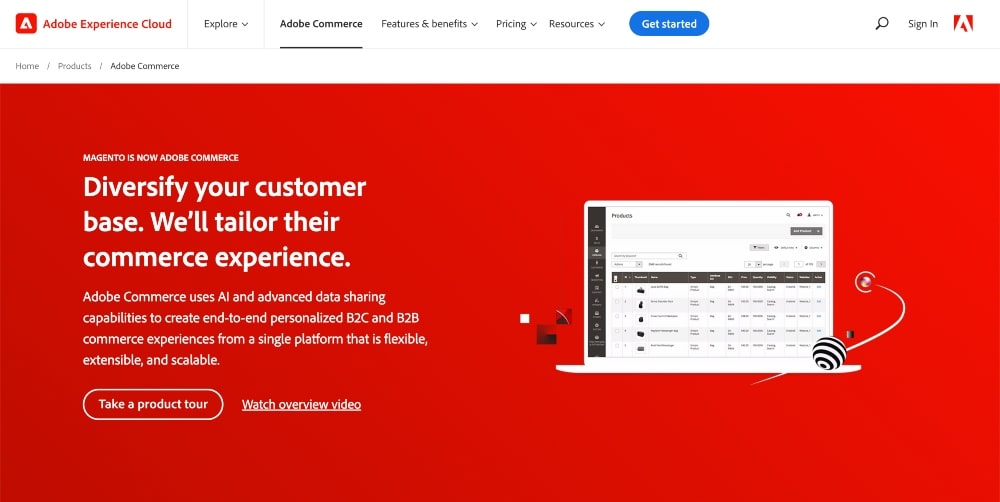 With Adobe Commerce (formerly Magneto), you can build custom websites with integrated payment solutions, intuitive shopping cart capabilities, and a variety of customizable features.
Adobe Commerce also supports tons of marketing tools, including targeted advertising, analytics integration, email campaigns, affiliate programs, and more.
With the platform's extensive library of integrations and APIs for third-party applications, you can customize your online store and integrate it with other software for additional features.
Adobe Commerce caters to businesses of all sizes with product offerings that are designed to meet the specific needs of different business types.
Small businesses can take advantage of its hosted solution for low-cost entry into eCommerce, while larger organizations can select its enterprise solutions for scalability and robust features.
Adobe Commerce also supports multiple languages, currencies, and payment processors so you can offer your products to a global audience.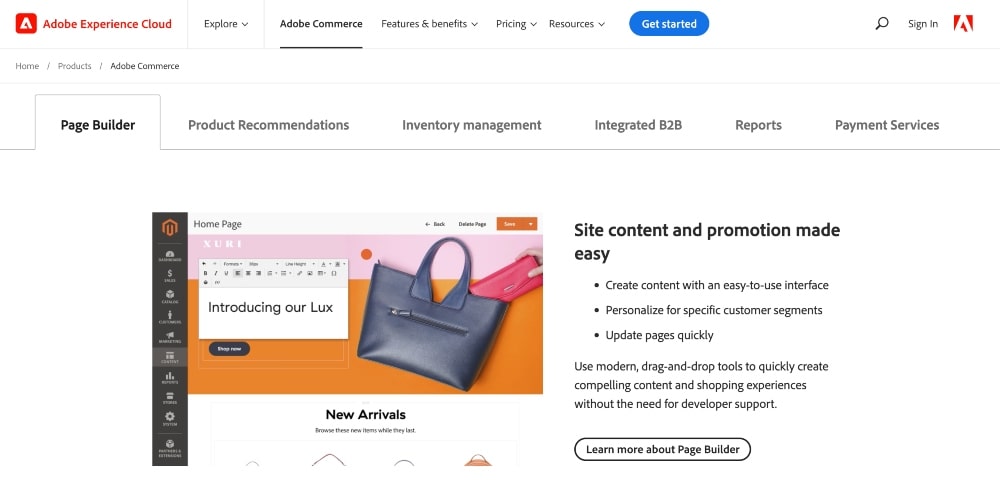 Key Features:
Product Management: Easily manage and customize product data, images, SKUs, and more
Advanced Order Processing: Automate order fulfillment to reduce manual tasks
Scalable Payment Solutions: Integrate multiple payment gateways for secure transactions
Inventory and Fulfillment Tracking System: Track inventory across multiple channels
Multi-Store Capabilities: Create separate stores with different branding and languages
Shipping Options and Rates Integration: Seamlessly integrate with popular carriers like USPS and FedEx
Mobile Optimization and Responsive Design Tools: Build HTML5 websites that are optimized for all devices
Personalized Customer Experience Platforms (CXP): Deliver tailored experiences using advanced AI technologies
Detailed Reports and Analytics Dashboard: Monitor sales performance easily from the dashboard
Pricing:
Not listed on the website. You have to contact them for pricing.
Our Opinion:
While Adobe Commerce can work for small businesses and individuals, we think it's better suited for larger businesses with greater needs. There is a bit of a higher learning curve to get started with most Adobe products, this one included, and it's not quite as easy to jump in and go as some other options like Shopify or Squarespace.
Best for: Open-source eCommerce software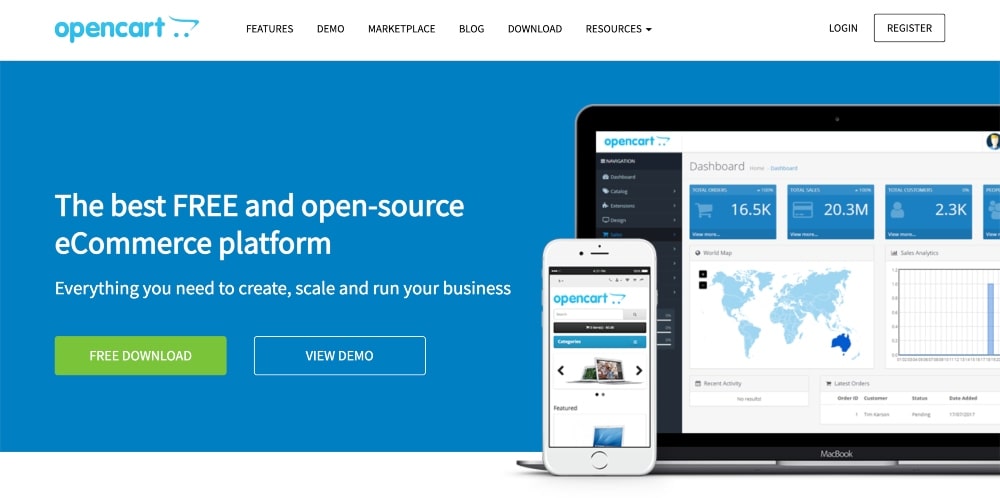 OpenCart is an open-source eCommerce platform built on PHP and MySQL.
It has a responsive design and includes support for multiple currencies, languages, shipping options, taxes, payment gateways, and other features.
OpenCart also offers various customization options such as creating custom themes or layouts with HTML/CSS coding knowledge.
They also have an extensive library of plugins and extensions that can be used to add more functionality to the platform.
OpenCart has a user-friendly dashboard that allows you to easily manage orders and products, access customer data and other analytics, create coupons or discounts, and set up newsletters and other marketing campaigns.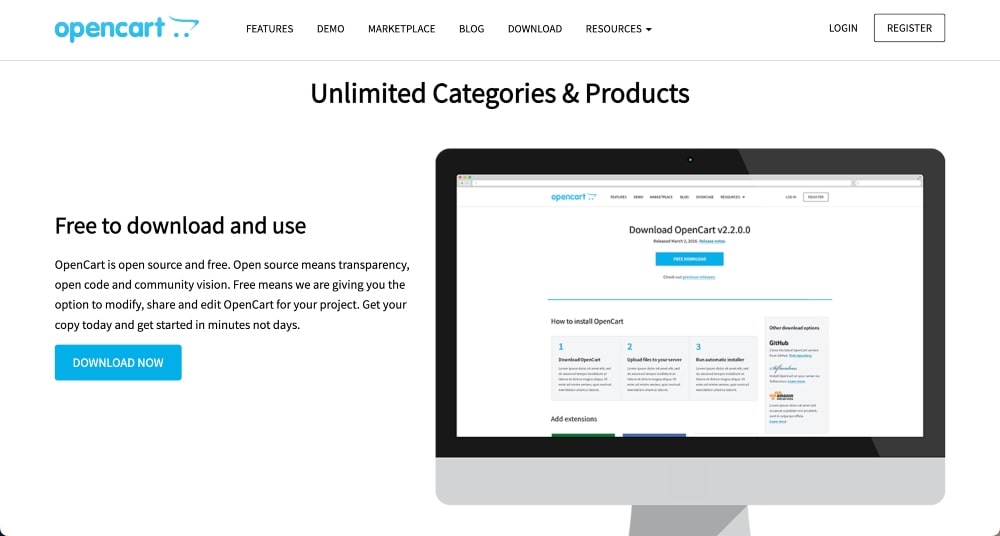 Key Features:
Easy to install, setup, and use
Fully customizable design
Flexible products and categories management
Multi-language support
Multiple currencies supported
Automated taxes calculation for different locations
Multiple payment gateway integration
Support for discounts, coupons, and gift cards
Integrated marketing tools such as newsletters, affiliate programs etc
SEO features
Pricing:
OpenCart is a free eCommerce platform that is open-source.
Our Opinion:
With its comprehensive feature set and flexibility when it comes to customization options OpenCart, is a great choice for anyone looking for an open-source eCommerce platform. It's especially suitable for working with coders or developers to customize the software to your own needs.
Best for: Artists and self-designed eCommerce products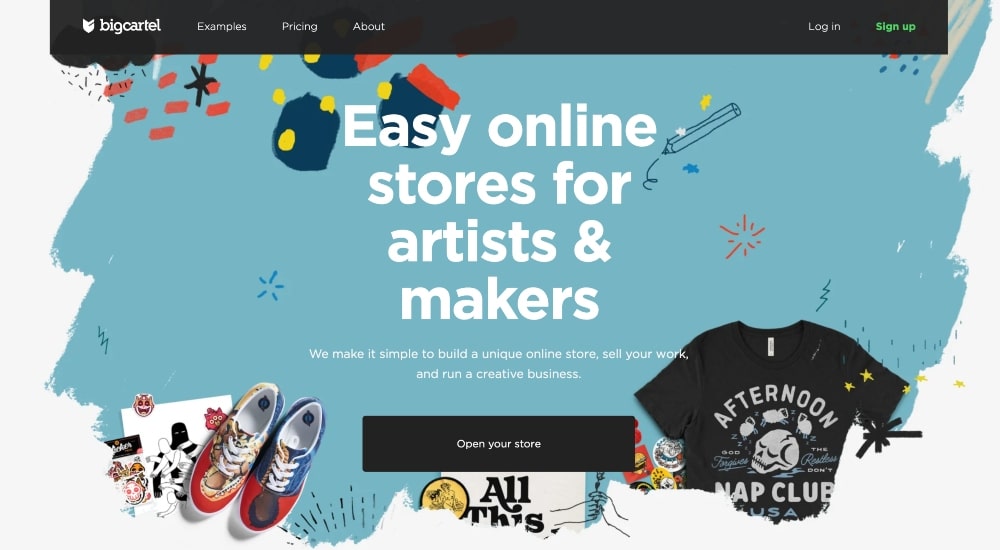 Big Cartel is an eCommerce platform that was "designed for artists by artists"
It's an independently owned platform with a team of creators and Big Cartel store owners that are here to help artists sell their creations and designs.
Big Cartel features an easy drag-and-drop website builder so you can easily customize the look and feel of your eCommerce store with just a few clicks.
It has flexible payment options and integrations with popular shipping providers like USPS, FedEx, UPS, and DHL.
It offers a range of additional features including product customization options, sales and traffic analytics, marketing tools, and more.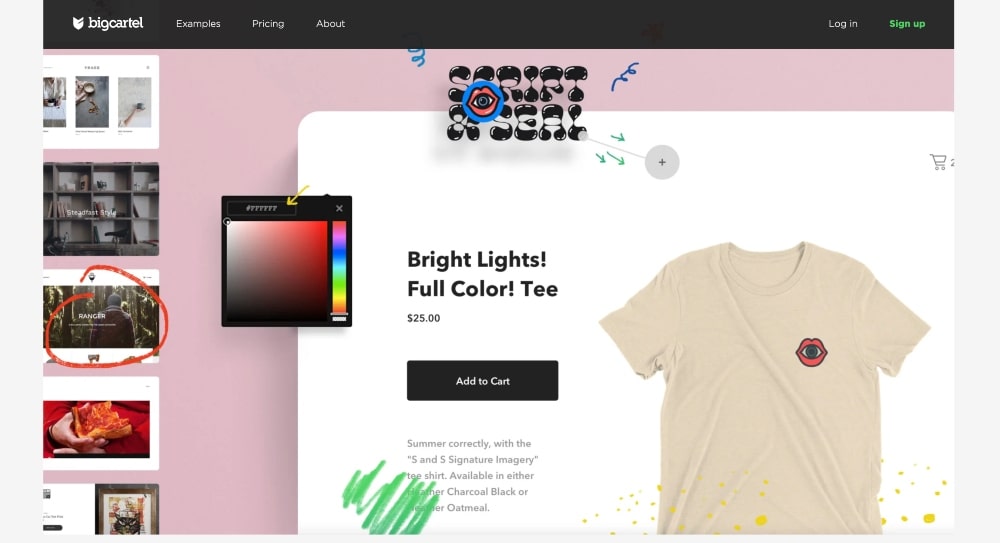 Key Features:
Choose from multiple themes for your storefront design
Add products with descriptions, images, pricing, and more
Support unlimited products; no product limits or caps
Automatically calculate sales tax and shipping rates
Accept payments with Stripe, Apple Pay, and PayPal
Offer coupon codes to reward customers
Access real-time analytics and reports on store performance
Manage orders directly within the dashboard
Provide customer support via email or live chat
Pricing:
5 Products: Free
50 Products: $9.99/month
500 Products: $19.99/month
With the plans for 50-500 products, you'll also get some additional features like being able to add more images to a product.
Our Opinion:
Big Cartel is one of the more affordable eCommerce platforms on this list and is ideal for artists and creators who want their unique designs to stand out and sell more.
Best for: Larger eCommerce stores with high volume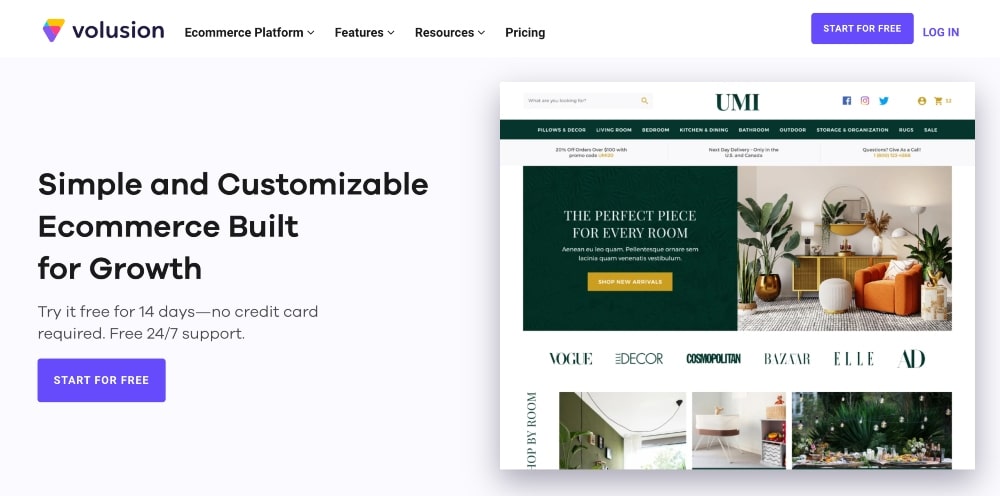 Volusion is a comprehensive eCommerce platform that has a simple drag-and-drop website builder to make it easy for anyone to create beautiful online stores without having any coding or design skills.
It also has professionally designed themes that can be customized to fit your brand's identity.
Like many other platforms on this list, it also comes with SEO tools and features such as point-and-click product management, unlimited product listings, real-time shipping calculation capabilities, and integration with many popular third-party apps and payment processors.
Volusion also includes advanced reporting tools that provide insights into how shoppers are interacting with your store and automated email marketing campaigns for increasing sales.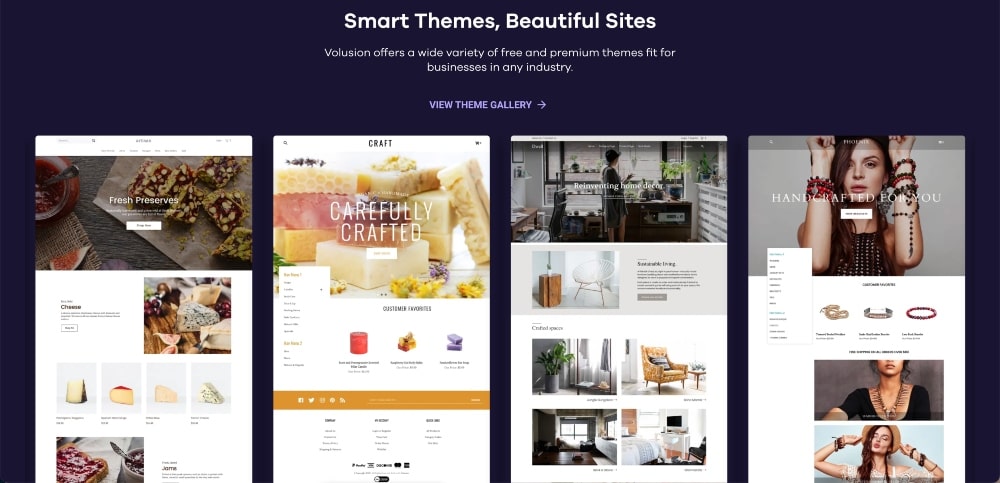 Key Features:
Drag-and-drop builder
Comprehensive e-commerce solutions
Responsive design customization
Built-in SEO tools to increase visibility and traffic
Automated marketing features like email campaigns, discounts, coupons, and loyalty programs
Secure payment gateway integration with over 100 payment processing options
Ability to upload new products quickly in bulk or individually
Inventory tracking tools to keep track of sales & stock levels
In-depth analytics and reporting capabilities
Dedicated customer service team available 24/7
Pricing:
Personal: $35/month with 100 max products and up to $50k sales volume
Professional: $79/month with 5,000 max products and up to $100k sales volume
Business: $299/month with unlimited products and up to $400k sales volume
Prime: Custom pricing based on gross merchandise volume; with unlimited products and unlimited sales volume
You can also start with a 14-day free trial.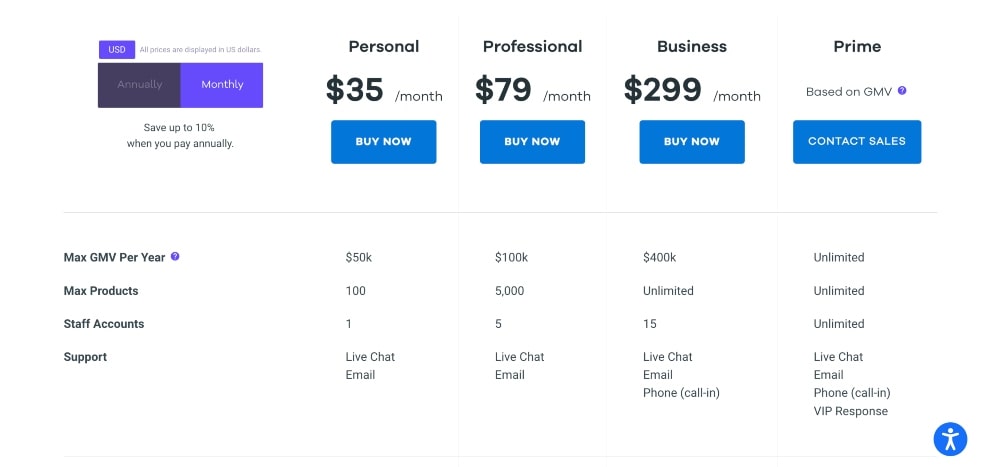 Our Opinion:
Volusion is a great choice for larger businesses with higher sales volume.
Best for: Free eCommerce platform for beginners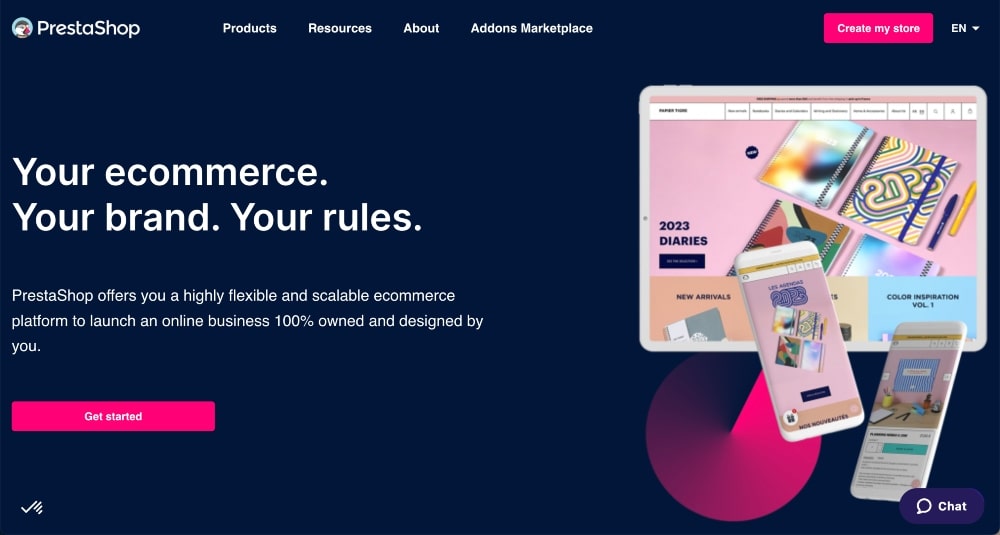 PrestaShop is a powerful and highly customizable eCommerce platform designed with a wide range of themes, modules, and extensions to customize the store's design and functionality.
The software offers a range of features such as multi-store management, product management, payment gateway integration, automated shipping calculations, and more.
PrestaShop has been around since 2007 and is used by over 270,000 stores in 190 countries.
It is easy to set up and use with an intuitive back office interface and mobile responsive front-end design.
The PrestaShop Marketplace offers thousands of free modules that can be used to add extra features or customize the store's design.
It also supports multiple languages, currencies, and payment gateways including Paypal, Stripe, Amazon Payments, and Authorize.net.
PrestaShop also offers excellent customer support with an active community forum where users can discuss topics related to the platform.
They also hold regular webinars where users can learn more about the platform from experts in eCommerce development.
Finally, the platform includes an extensive documentation library that includes step-by-step guides for setting up the store, managing products, tracking orders, and more.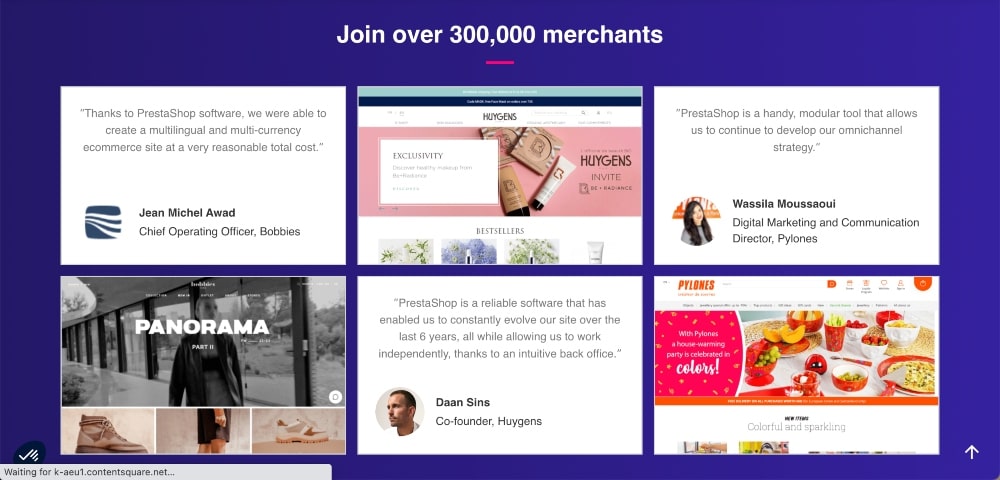 Key Features:
Easy-to-use interface
Multi-language support
Fully customizable design themes
Responsive web design
Over 2,500 modules and add-ons available
Search engine-friendly URLs
Automated backup system
Mobile commerce features
Comprehensive analytics suite
Secure payment gateways supported
Completely free – no transaction fees
Pricing:
PrestaShop is free to use! They don't charge transaction fees but keep in mind that individual payment processors do charge fees.
Our Opinion:
PrestaShop is the best free eCommerce platform on this list, in our opinion. Most free plans have a lot of limitations, but if you need simple software and a free forever plan, PrestaShop is a great option!
Best for: Multi-channel storefronts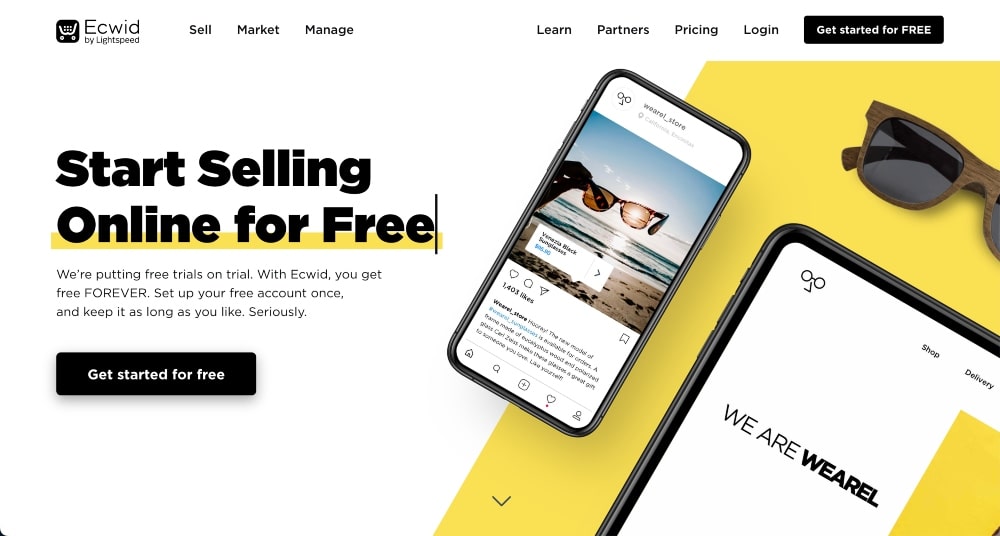 With Ecwid, you can quickly set up a beautiful storefront with its drag-and-drop user interface, offering customers a hassle-free shopping experience — without coding experience.
When it comes to product management, Ecwid offers features such as inventory tracking, order fulfillment automation, and batch product uploads.
You can also customize the shopping cart experience by choosing from several themes and color schemes available in the theme gallery. If you need additional customization options, there are also a range of premium themes to choose from.
Ecwid is constantly adding new features and updating existing ones, including new marketing tools and integrations like Google Analytics and MailChimp.
They also have integrations to sell your products on Facebook, Etsy, Amazon, and more.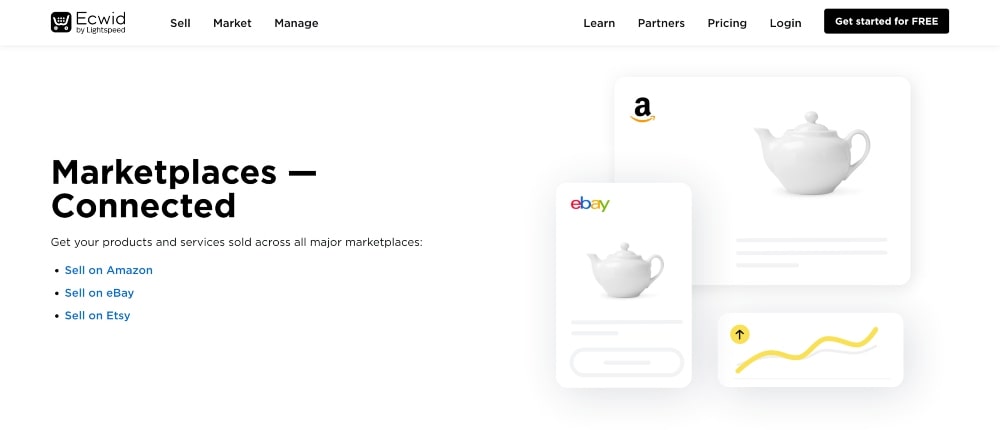 Key Features:
Customizable storefronts
Payment processing and fraud protection
Inventory management tools
Mobile commerce capabilities
Multi-channel support (including Facebook, Instagram, etc.)
Integrated shipping options with supported carriers
Automated taxes calculation
Secure checkout process with HTTPS encryption
Comprehensive analytics tracking and reporting
SEO tools to maximize visibility
Pricing:
Free: $0
Venture: $14.08/month for up to 100 products
Business: $29.08/month for up to 2500 products
Unlimited: $49.50/month for unlimited products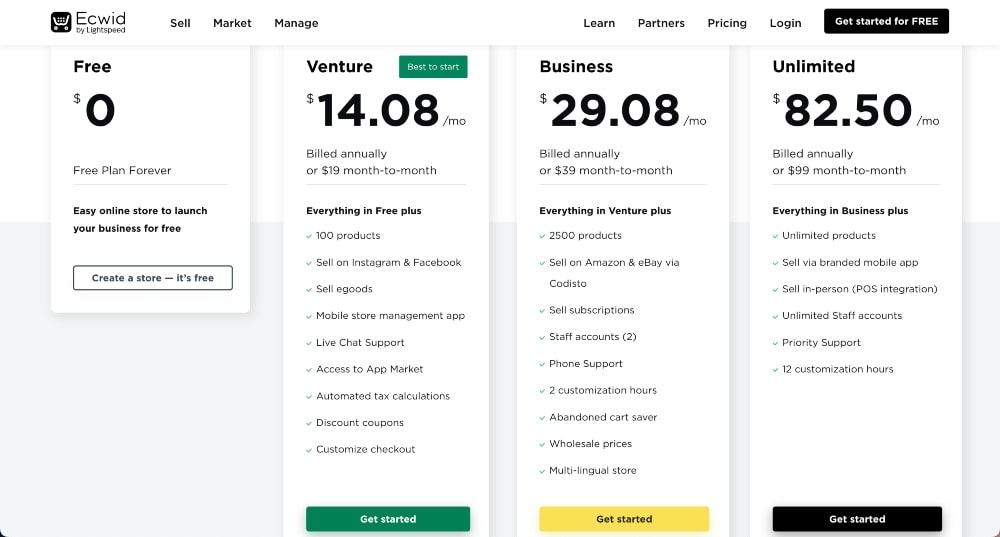 Our Opinion:
Ecwid makes it super easy to integrate your shop with other marketplaces like Facebook, Amazon, eBay, and Etsy. If you're interested in maximizing your reach and easily setting up your products to sell on additional marketplaces, Ecwid is a great option.
Best for: Free eCommerce solution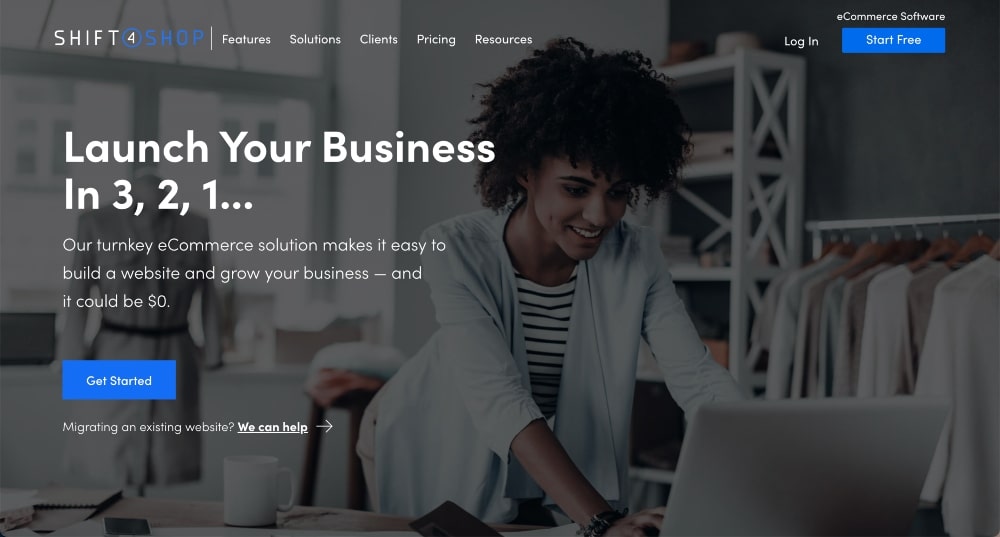 Shift4Shop is a platform designed to simplify the process of setting up an eCommerce store, offering features such as easy-to-use design tools, intuitive product management, digital marketing tools, and automated customer support.
You can get your storefront set up quickly with their pre-built templates, Layout Editor, with drag-and-drop functionality, and HTML editor.
When it comes to product management, Shift4Shop makes it easy to list and organize products in a variety of ways.
You can add multiple images per product, specify detailed descriptions and variations (such as size or color), offer discounts and coupons for promotions, and set up shipping rates for different countries
Of course, you'll also get inventory tracking so you can monitor stock levels at all times.
Like many other eCommerce platforms, Shift4Shop also offers several marketing tools and integrations such as creating email campaigns with MailChimp, advertising with Google shopping, SEO optimization, and creating sophisticated target audience segments with its analytics tools.
They also have great customer service, including email and live chat.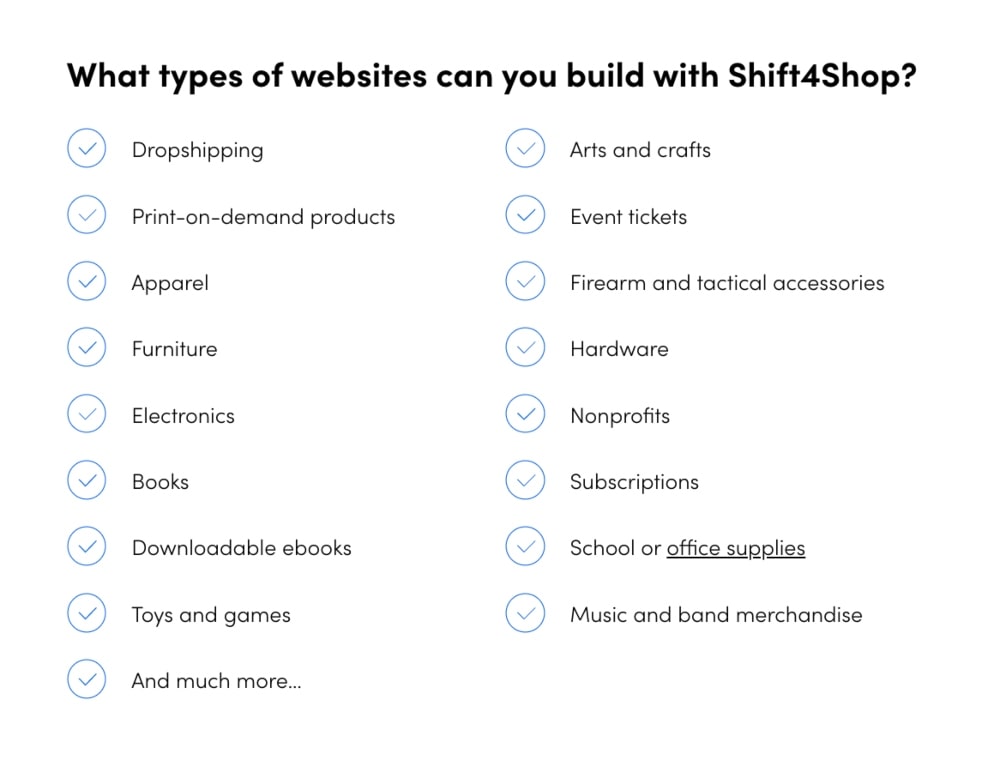 Key Features:
Easy-to-use, drag-and-drop page builder
Comprehensive store management tools
Secure payment system integration
Multiple store design themes available
Fully customizable checkout experience
Supports multiple languages and currencies
Powerful SEO capabilities for optimizing online visibility
Support for advanced marketing tools and analytics tracking
Newsletter signup form creation tool
Social media integrations for easy sharing
Pricing:
Shift4Shop is free to use!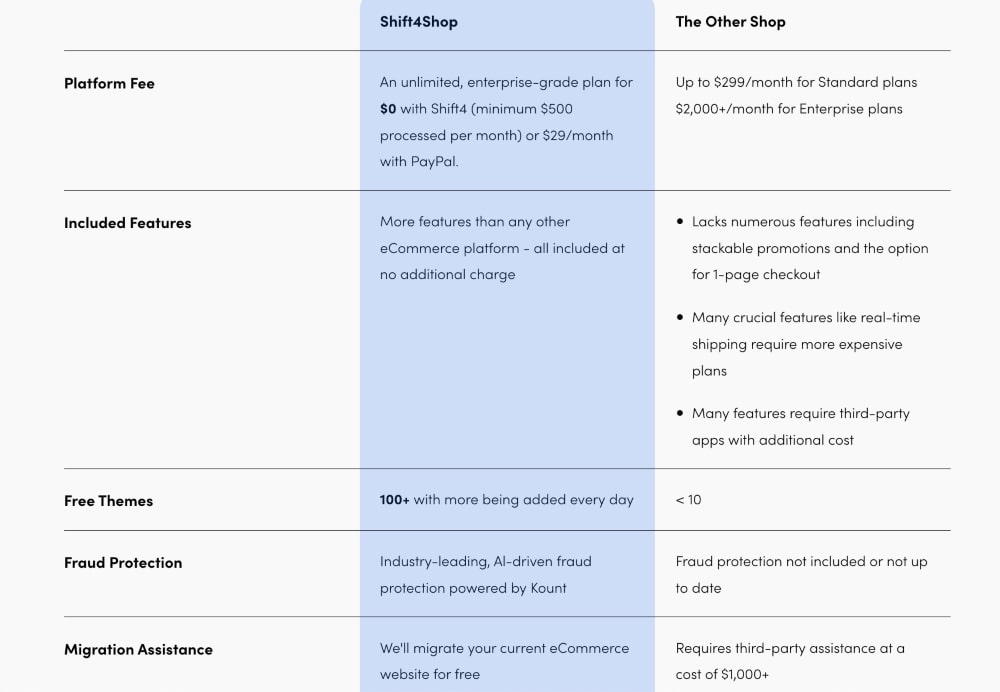 Our Opinion:
Overall, Shift4Shop provides businesses with a comprehensive eCommerce platform that simplifies the process of setting up an online store while ensuring high performance across multiple devices and platforms – for free!
What Can You Sell on an eCommerce Platform?
One of the great things about having an eCommerce store is the sheer variety and range of products that you can offer to your customers.
From clothing and accessories to electronics, beauty products, home decor, and beyond, there are limitless possibilities when it comes to what you can sell.
Here are some of the most popular types of products you can sell with an eCommerce store:
Clothing and Accessories: You can sell trendy items such as clothing, shoes, bags, jewelry, hats, scarves, sunglasses, belts, and more.
Electronics: Whether it's phones, tablets, computers, or other devices – there are plenty of options out there when it comes to selling electronics online.
Beauty Products: Beauty products like makeup and skincare also make excellent choices for an eCommerce store as they tend to have a large customer base with repeat purchases over time.
Home Decor: You could focus on selling items like furniture sets, wall art prints, area rugs, or even smaller household items like throw pillows or lamps.
Toys and Games: There is no shortage of options here either – from classic board games and stuffed animals to electronic toys such as robots or drones.
Books and Media: Books and media remain another top-selling category in eCommerce stores.
Grocery Items: Non-perishable items certainly make inventory easier, but perishable grocery items also provide a lot of opportunities now that people do so much of their shopping online.
Sporting Goods: You could offer anything from regular gym equipment to camping gear to bikes – whatever your target market may be!
You can also sell digital goods and services with eCommerce stores, although they are usually set up more for physical goods.
How to Market Your eCommerce Store
There are many ways to grow your audience and bring more customers into your eCommerce store. Here are a few of the most effective strategies right now.
Content Marketing
Content marketing is a great way to market an eCommerce store by providing valuable information about the products or services being offered.
You can start a blog or website that links to your eCommerce store and write a few blog posts related to topics associated with the industry you operate in.
You could start a YouTube channel and create instructional videos showing how customers can use certain products or provide tutorials demonstrating helpful tips when it comes to using a particular product.
All of this content should be shared regularly across various channels such as social media sites and email campaigns in order to drive engagement and conversions from potential buyers.
Social Media
You're probably thinking "duh," but it's effective.
Investing time into building relationships with customers through platforms like Instagram, TikTok, and YouTube will help spread awareness of your brand while also generating leads and sales.
You can post promotions or discounts on specific products or services, create engaging visuals such as videos or infographics to illustrate the value proposition of your store, start conversations around topics related to the industry you work in, and engage customers with polls or questions about their preferences and experiences with your business.
All of these will help build a positive brand image for potential customers.
Email Marketing
When you're driving traffic anywhere these days, it can be really helpful to build an email list from that traffic as well.
When people purchase products from your store, you can offer them the option to sign up for your email list.
You can continue to offer additional discounts and coupons to your email list or send them an email when you're running limited-time sales.
Search Engine Optimization (SEO)
One of the most effective strategies for marketing an eCommerce store is to invest in SEO.
By optimizing key pages on your site with relevant keywords, link building, and creating quality content consistently, you can improve your ranking in search results.
Additionally, you can use paid advertising such as pay-per-click and retargeting to further boost traffic and maximize ROI.
Leveraging Influencers
Finally, leveraging influencers is a great and highly effective way to get more exposure for your eCommerce store.
Working with influential people who are well-known within their niche can help generate awareness among their followers which may result in increased sales for your business.
Working with popular bloggers, Instagrammers, or TikTokers in your industry can be a great way to get your products in front of new audiences.
You can also consider creating an affiliate program for your products so that collaborators can benefit from their referrals.
Summary of the Best eCommerce Platforms
Ultimately, having a powerful and capable platform in place is essential for any eCommerce business looking to sell products or services online successfully.
With the ability to streamline sales processes and simplify customer interactions while simultaneously expanding reach beyond geographic boundaries, it's no wonder why so many creators and entrepreneurs are turning towards this type of technology as a way to maximize their profits.
There are many factors that go into selecting the right eCommerce platform — from security measures and pricing plans to integrations and plugins — but ultimately making sure it meets all of your business requirements should be the top priority when making this decision!
Here is a summary of our top picks for eCommerce platforms:
Take advantage of free trials when you can and remember that you can always change your mind and switch to a new eCommerce platform if the first one doesn't feel right.