We partner with bada$$ companies that offer products that help our readers achieve their goals! If you purchase through our partner links, we get paid for the referral at no additional cost to you! Read our disclosure for more info.
As a content creator or marketer, you know how important it is to track your performance metrics and keyword rankings. These metrics not only show you what's working and what isn't, but they also give you an overall sense of the direction in which your blog or website is headed.
Fortunately, there's an easy way to keep tabs on your keyword positions, potential search volume, and overall progress without having to do all the work yourself: rank check software (plus other SEO tools).
Whether you're a blogger looking to optimize SEO efforts or a marketer trying to gain insights into competitor behavior, leveraging rank tracker tools can be invaluable in helping businesses achieve their goals quickly and efficiently.
Let's take a look at some of the reasons why you should be using a rank check software along with a list of the 12 best options.
We'll share an overview of each rank tracker tool, the pros and cons of each, as well as some info on pricing plans for each of them.
Why Use Rank Tracking Software?
There are a number of reasons why you might want to use a rank-tracking tool or keyword research tool in your SEO strategy. Thankfully, most of the software on this list include both and some offer a whole sweep of SEO tools.
Here are the main reasons why you should track your keyword rankings.
Keep Track of Your Keyword Rankings Easily
Rank check software can help you easily find target keywords and relate search volume, keep track of your keyword positions, and other performance metrics with minimal effort from your end.
From keyword rankings to organic search traffic and even competitor performance, rank check software will provide valuable insight into how well your site is doing and where it could use some improvement.
It can also help you determine which topics are resonating with readers and which need more work. This data can be extremely helpful when making decisions about what kind of content to create next as well as when deciding which keywords to target for SEO purposes.
Analyze Your Competitors in Real Time
Another benefit of using keyword rankings software is that it gives you the ability to analyze competitors in real time.
This will provide you with valuable information about their strategies so that you can develop more effective plans for improving your own keyword rankings on Google and other major search engines.
With a comprehensive analysis of both your website and competing websites, you can adjust campaigns accordingly and understand why certain pages are performing better than others. This can ultimately help increase the ROI on any given campaign by optimizing strategies based on competitor performance data.
Save Time and Resources
Lastly, rank-tracking tools allow you to save time and resources by automating many tedious tasks that would otherwise need manual intervention.
By automating these processes, businesses are able to focus their attention on more important tasks such as developing new strategies for increasing website visibility or creating better content for readership growth.
The software will also alert you when changes occur in relevant areas such as keyword rankings or organic search results, allowing you to adjust their approach accordingly with minimal effort.
What is the Best Rank Check Software?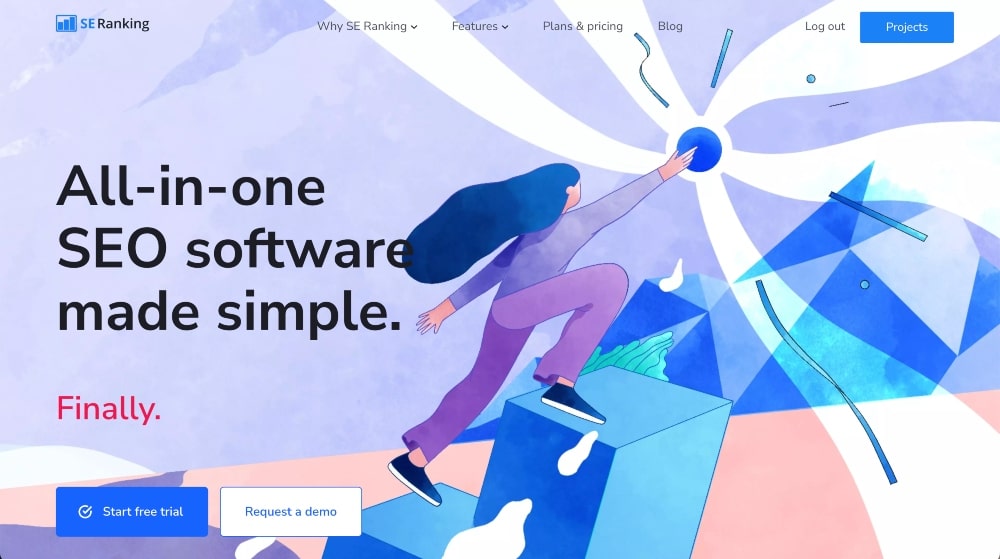 SE Ranking is an all-in-one SEO platform that provides comprehensive solutions for managing and tracking website rankings.
By leveraging SE Ranking's powerful insights one can easily monitor and manage keyword rankings, track progress, optimize campaigns, and increase the overall visibility of their website.
With its detailed analytics features, users can quickly identify areas for improvement and take action for greater success. SE Ranking even offers a white-label solution that enables marketing agencies to offer SEO services to clients without requiring any technical knowledge or effort on their part.
Key Features:
Keyword Rank Tracker
Keyword Research
Competitor Analysis
Website Audit
Backlink Monitoring
Link Building
SERP Features and Checker
On-page SEO Checker
Content and Marketing Plan
Reporting and Analytics
Pricing:
Annual prices for SE Ranking start at $39.20/month for the Essential plan and go up to $191.20/month for the Business plan. Bigger discounts exist depending on how often you use the rank checker (daily, every 3 days, monthly, etc.).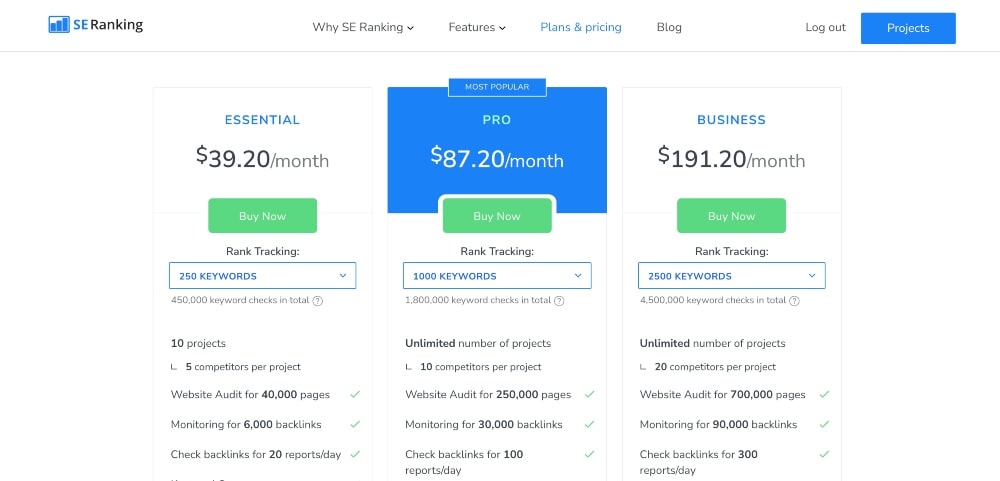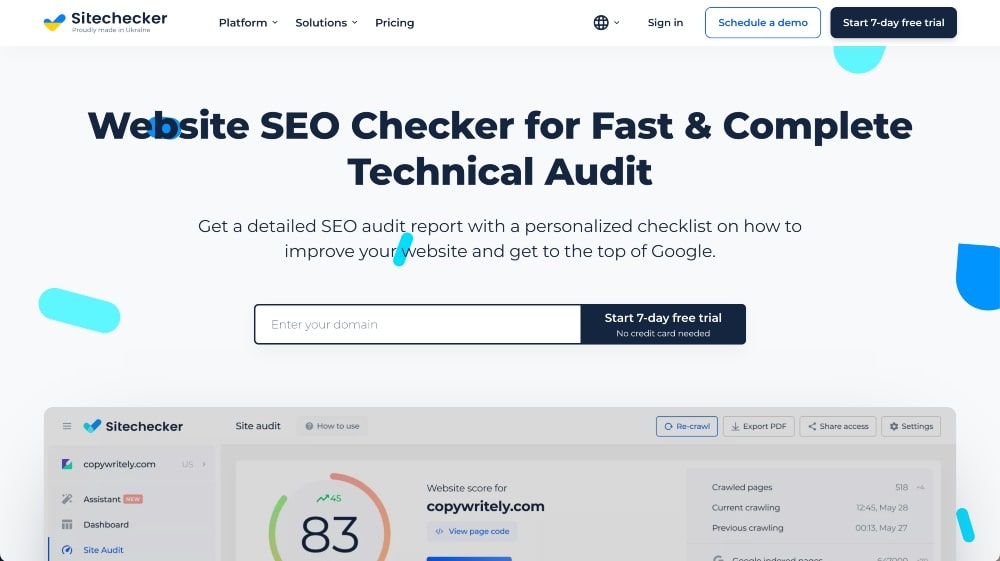 Since its founding in 2016, Sitechecker has been a reliable and trusted website monitoring service for the online community.
This Ukraine-based tech company quickly became popular among SEO professionals due to its comprehensive services that help identify potential errors and opportunities on websites.
Every month, over 100,000 websites are checked with Sitechecker – finding up to 7M errors.
Sitechecker's intuitive technology helps users find website issues quickly and easily, allowing them to address them and get back online in no time.
Whether you're a beginner or an experienced SEO specialist, Sitechecker is the all-in-one solution for any website issue.
Key Features:
Website Crawler
Site Monitoring
Rank Tracker
Backlink Tracker
SEO Chrome Extension
On-Page SEO Checker
Pricing:
Sitechecker is the most affordable rank-tracking software tool on this list, which makes it that much more awesome because it even includes additional, more comprehensive SEO tools aside from the rank checker.
The pricing plans start out at just $23/month (for an annual plan) and that will be plenty sufficient enough for most small bloggers and content creators.
They also have a 7-day free trial.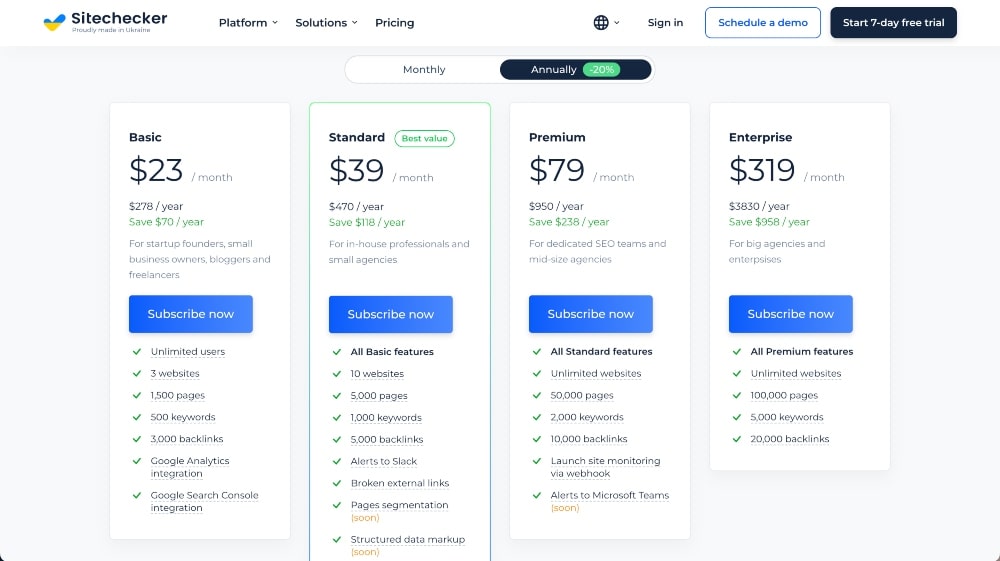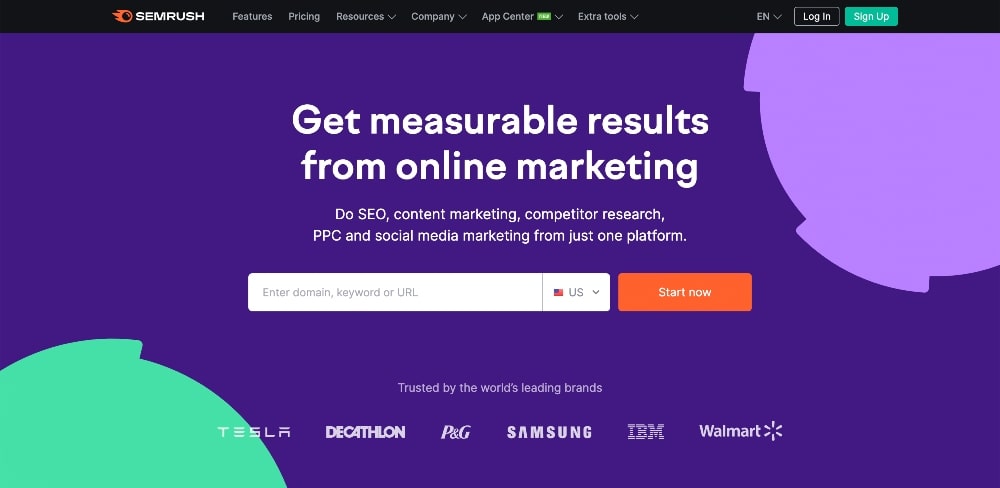 SEMrush is a versatile and powerful tool that is great for rank tracking. With its wide range of features and benefits, it's easy to see why SEMrush is so popular.
It can be used to track website rankings in search engines, track keyword performance for competitors, and optimize your website for better search engine optimization. All of these features make SEMrush one of the best rank-tracking tools available today.
It can be used by both professionals and beginners alike to increase their visibility in search results.
One way that SEMrush stands out from some of its competitors is in the area of social media posting, analytics, and monitoring. It provides tools to help you keep track of your own social media posts and analytics as well as that of your competitors.
Key Features:
Rank Tracking
Keyword Research Tools
Competitor Analysis: Traffic Analytics and Social Media Tracker
Content Marketing: Content Audit, Post Tracking, SEO Content Templates
Link Building and Backlink Analysis Tools
Content Optimization: On-Page SEO Checker and SEO Writing Assitant
While some users find the learning curve a bit steeper with this rank-tracking tool, you can see that they offer a TON of features. It's worth it to put in a little extra time to learn the ropes.
You can also check out their YouTube channel for some tutorials.
Pricing:
SEMrush pricing plans start at $119.95/month for the Pro plan and go up to $449.95/month for the Business plan. Bigger discounts are available if you switch to annual payments.
While this rank tracker tool is one of the more expensive options on this list, it's because you will get access to the full panel of comprehensive SEO tools (not just rank tracking).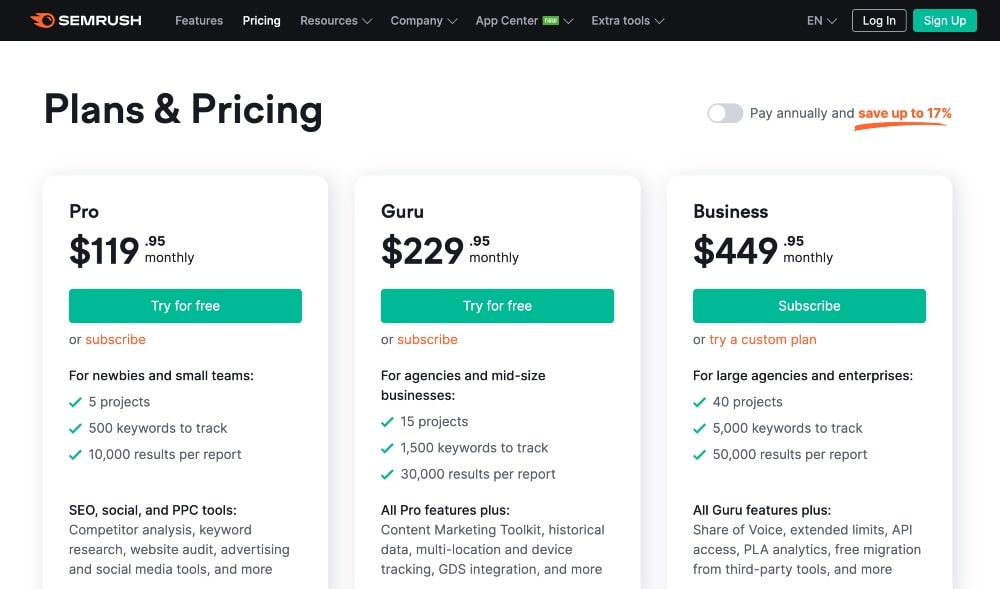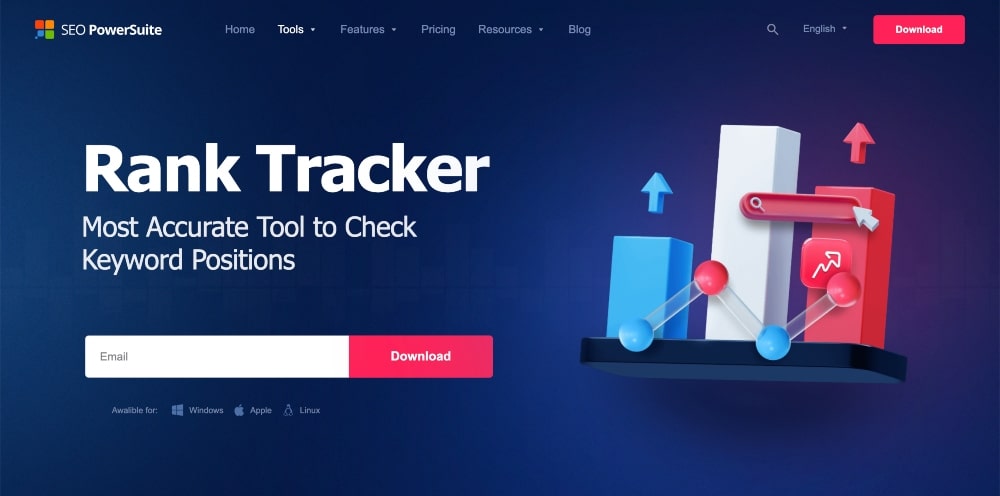 SEO Powersuite is a powerful, comprehensive SEO software. It offers a wide range of features and tools to help you get the most out of your SEO efforts.
It's known as a very user-friendly tool that even novice users can quickly pick up and start seeing results.
SEO Powersuite launched in 2006 and has over 20,000 users. The company has received numerous awards from leading industry publications, including PC Magazine and CNET.
This rank tracker software differs from the others in that it's actually a downloadable tool, rather than a browser-based SEO tool like the other rank check software on this list.
Key Features:
Rank Tracker: Unlimited Position Tracking
Competition Rank Tracking and SERP History
Local Rankings in Over 597 Search Engines
Website and On-Page SEO Auditing
Robots.txt and Sitemap Generator
Detailed Backlink Analysis, Tracking, and Building
Pricing:
SEO PowerSuite has two main plans: Professional (for most website owners) and Enterprise (for agencies).
Pricing starts out around $150/year but varies depending on what sales they are currently running. You can also get deeper discounts by signing up for a 2 or 3-year plan.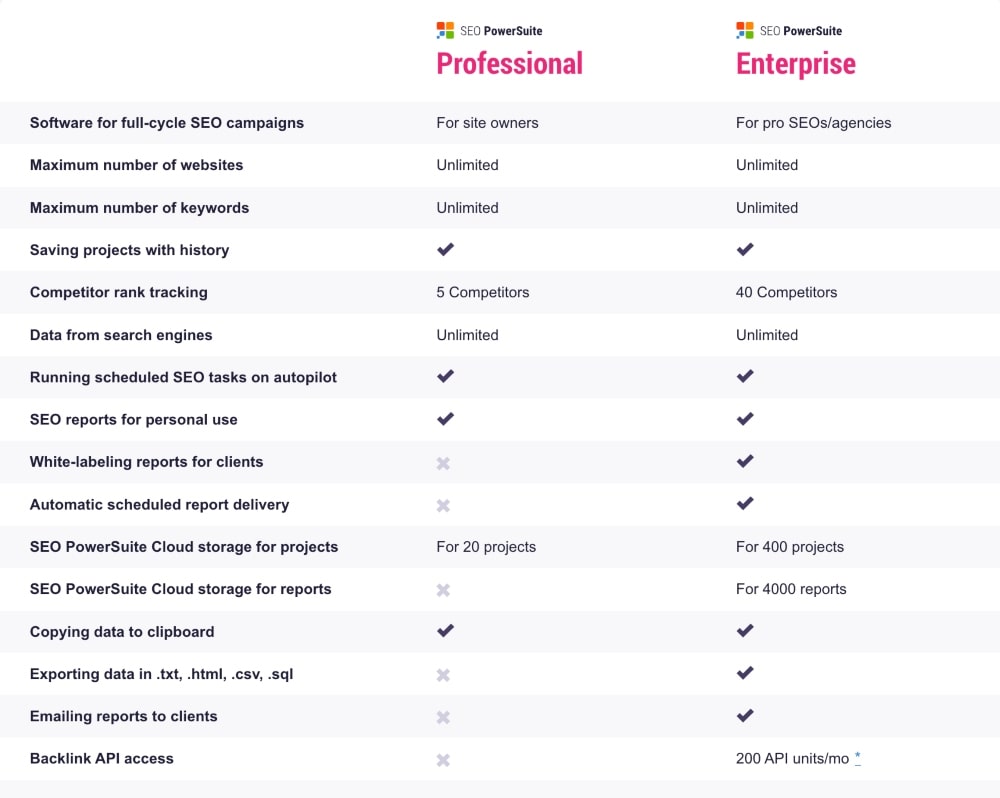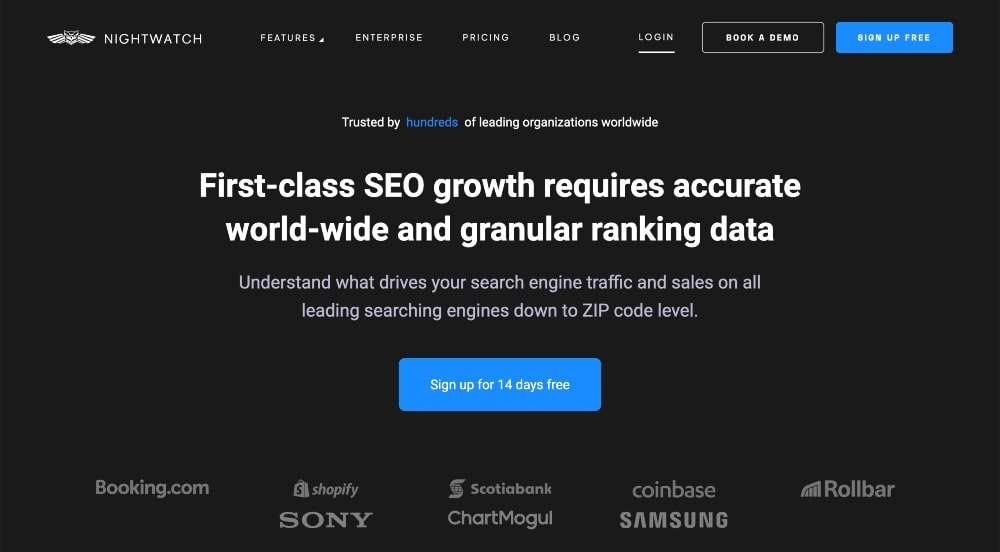 Nightwatch is a powerful rank tracking tool developed to provide in-depth insights into website ranking and SEO performance.
It stands out from its competitors by offering real-time analysis to help marketers and SEOs quickly identify changes in SERP rankings.
With its easy-to-use dashboard and intuitive navigation, users can easily monitor their website rankings across multiple search engines, including Google, Bing, and Yahoo.
Nightwatch also provides detailed analytics on organic and paid traffic sources, enabling users to make informed decisions about their SEO campaigns.
Additionally, Nightwatch can track competitor rankings so you can quickly assess opportunities for improving your own website's position in the SERP. With its automated alerts system, you can stay up-to-date with any significant changes in your keyword positions and take immediate action.
Key Features:
Comprehensive Rank Tracking with Custom Segmenting
Full Site Audit (including broken pages and links, missing metadata, and more)
Comprehensive Reporting and Analytics
Pricing:
Nightwatch pricing plans are quite flexible and vary by the number of desired keywords to track with discounts offered for annual plans.
Unlike most of the other rank-tracking tools on this list, Nightwatch offers a 14-day trial to test out the software.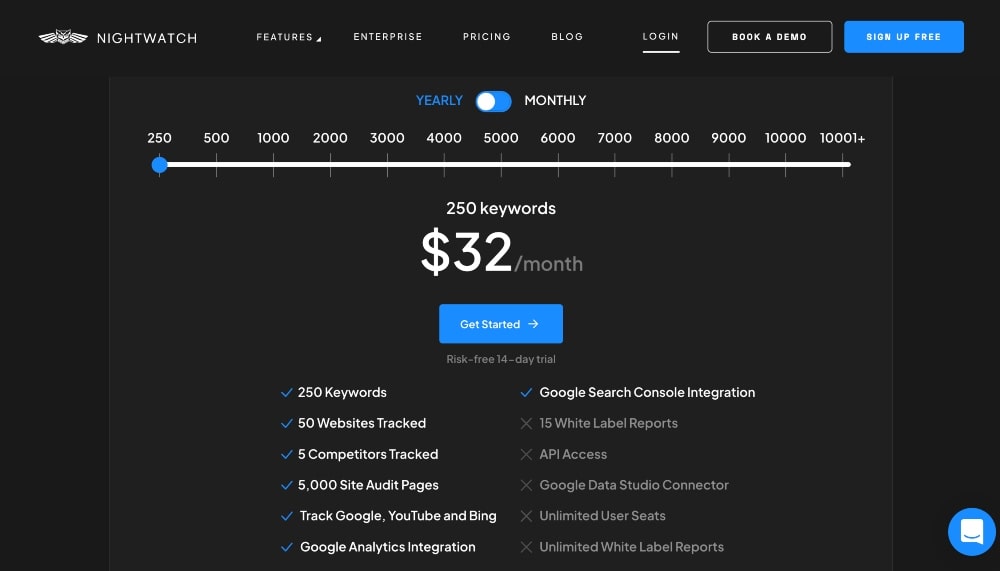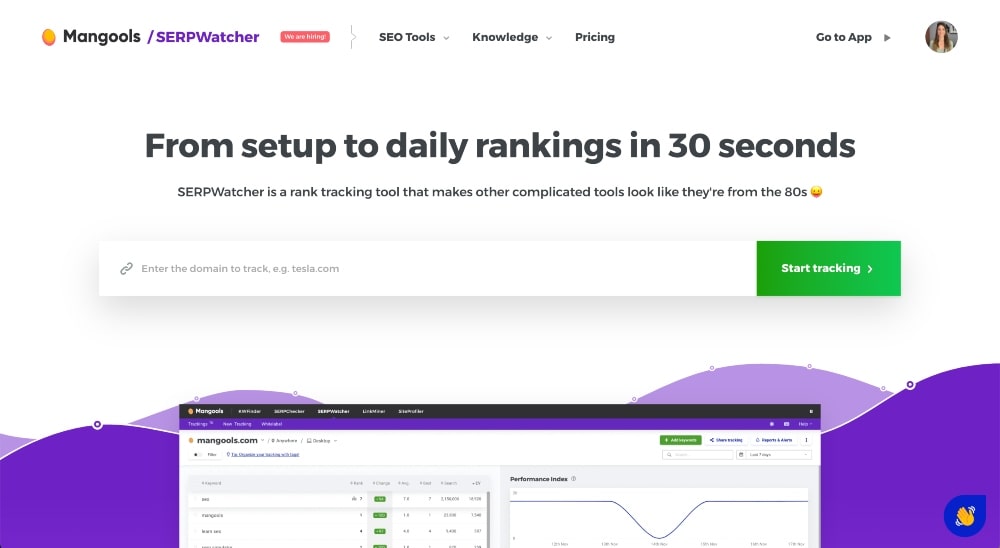 is an amazing rank-tracking tool that offers a comprehensive suite of SEO tools to help its users monitor the performance of their website in search engine results pages (SERPs).
It stands out from competitors because it provides advanced SERP features and tracking capabilities, allowing users to set up custom tracking campaigns with detailed parameters, such as search engine, location, and more.
It's also known for having a very user-friendly interface. As stated on their website, they've been "making SEO simple since 2014."
They also have some really helpful articles on learning SEO and how to use their rank checker software to improve your SEO on their blog.
Key Features:
Keyword Finder and Analysis Tool
SERP Checker for more than 50k locations
SERP Rank Tracking with daily updates
LinkMiner: Backlink Analysis
Site Profiler: SEO Authority and Content Metrics and Insights
Pricing:
SERPWatcher has 3 different pricing tiers, with the Basic plan starting at $29.90 per month (paid annually). They also have Premium and Agency plans.
All plans default to annual pricing with around a 35% discount. Monthly plans cost more.
They also have a 10-day free trial that you can get started with!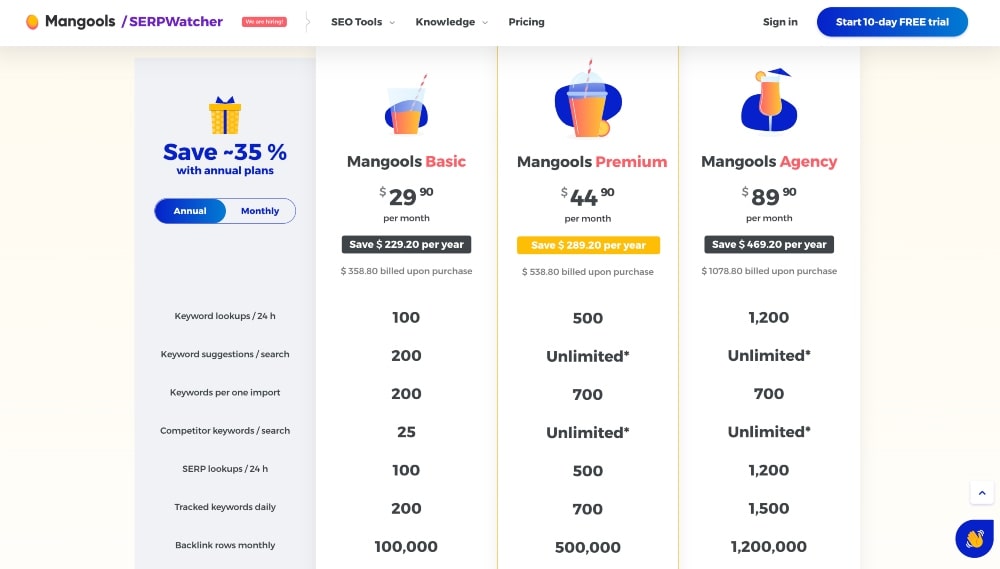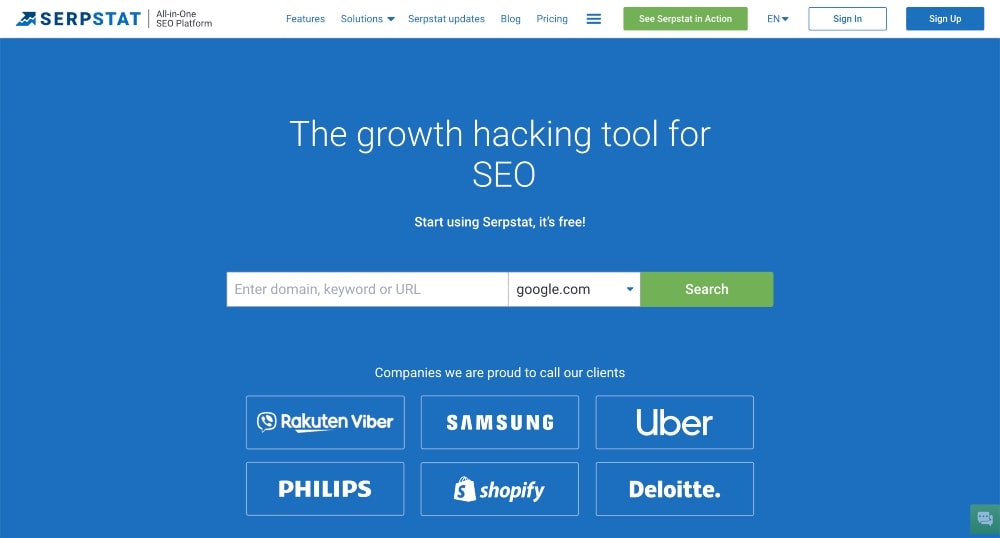 Serpstat is a rank tracking tool that has been growing and improving since it was founded in 2013. It offers 5 essential tools used by professional digital marketers worldwide, making it a global leader in its field.
The platform is continually expanding, with new innovative features being added regularly.
From keyword research to content optimization and more, Serpstat has the tools you need to reach the top of the search engine rankings.
It also offers an impressive selection of data visualizations for analysis, allowing users to gain valuable insights into their SEO performance.
They also have a section on their website dedicated to updates in their software, which is pretty cool.
Key Features:
Keyword Research and Trends
Detailed Rank Tracking with Competitor Analysis
Content Tools and Analysis: including plagiarism checker, paragraphing, grammar checker, and more
Backlink Analysis and Link Building
Pricing:
Serpstat has several different pricing plans, which makes it easier to find the plan that best fits your business's needs. The pricing plans start out at $69/month for annual plans but can be even cheaper when you catch them during a sale.
They also have a 7-day free trial that you can use to test out the software.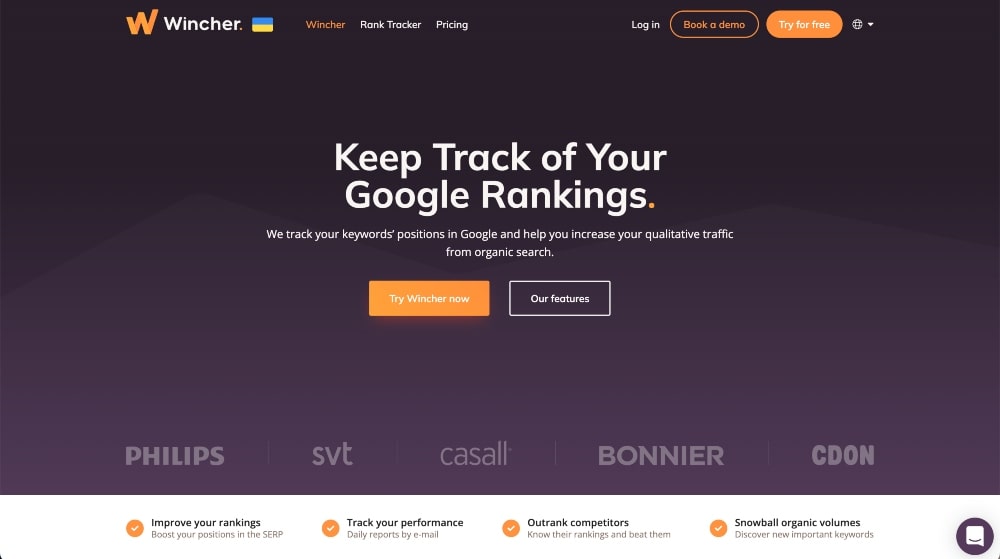 Wincher is an innovative rank-tracking software designed to help you track your keyword positions in search engines and stay ahead of the competition.
It gives you real-time insights into the performance of your website, so you can quickly identify and react to any drops in keyword rankings, or any other changes in the SERPs.
Wincher also offers comprehensive reporting tools, so you can easily keep track of your progress and have an overview of where your business stands when it comes to SEO. This will help you quickly identify which strategies are working for your business, and which ones need to be modified or improved.
Key Features:
Discover and track keywords
Daily ranking (plus on-demand) updates
Competitor tracking (and alerts)
Automated e-mail reports
Team access
One great thing about Wincher is that it's more affordable than some others. Because it's not a comprehensive SEO tool, it's priced to just be a great rank-tracking software.
Pricing:
Wincher is a Swedish company and therefore the pricing plans are all listed in Euros.
The plans start out at €39/month for the Starter plan and go up to €289/month for the Enterprise plan. You can try the Starter plan for free and get two free months with any plan by switching to annual payments.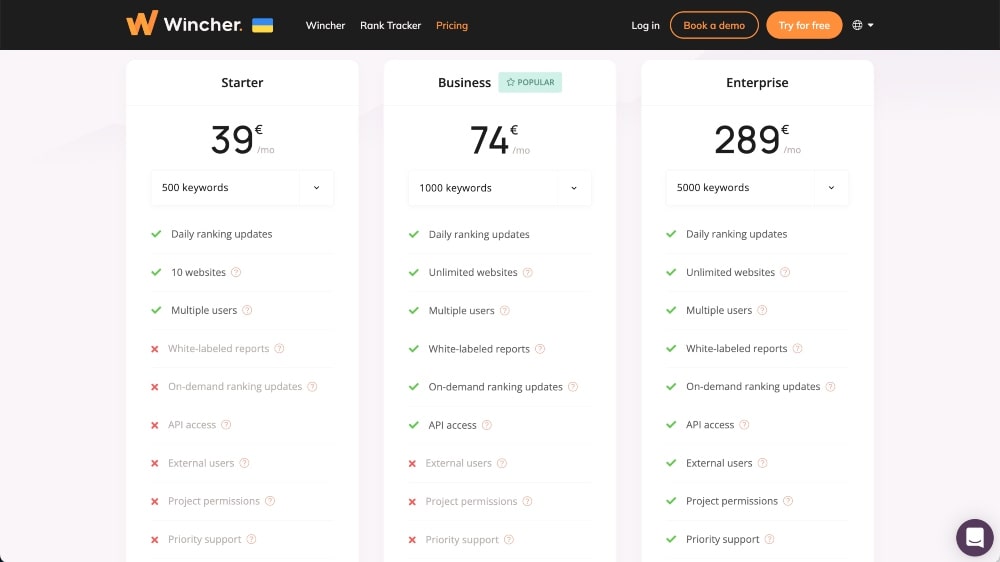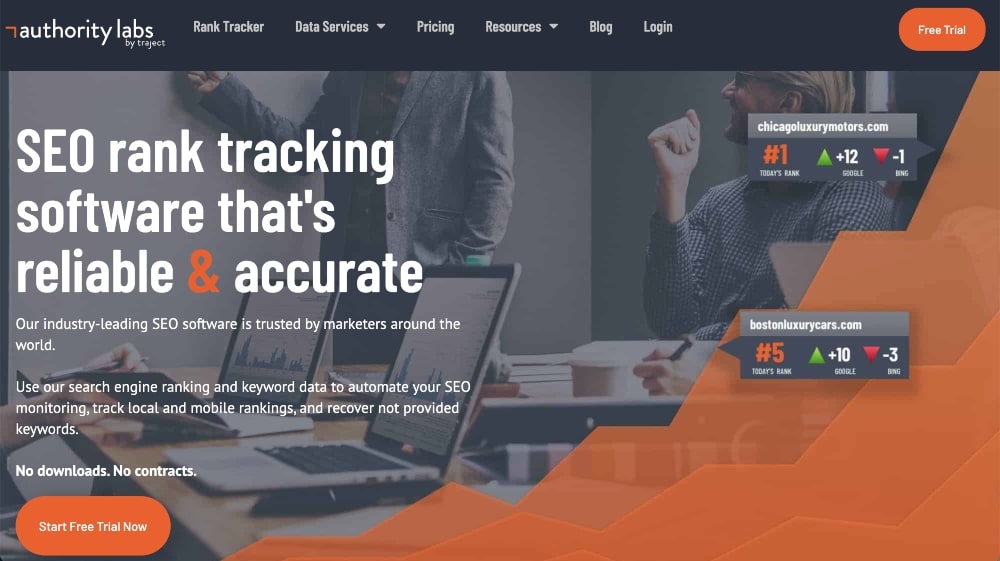 AuthorityLabs is a rank checker tool with a focus on agencies that has been on the market and providing in-depth SERP data since 2008.
In 2017, it joined forces with SERPS.com and ZoomRank to form Traject – a suite of marketing technology tools. As part of this suite, AuthorityLabs remains true to its roots, committed to delivering the most accurate SERP data in the market and continuing to innovate as the SERP evolves and the search landscape advances.
To date, AuthorityLabs by Traject has tracked billions of keywords across thousands of companies.
Key Features:
Detailed Rank Tracking
Daily Data and Reporting
Local and mobile-specific
Unlimited Users at No Additional Cost
Pricing:
AuthorityLabs has several pricing tiers, starting out at $49/month. They also offer a free trial on all plans.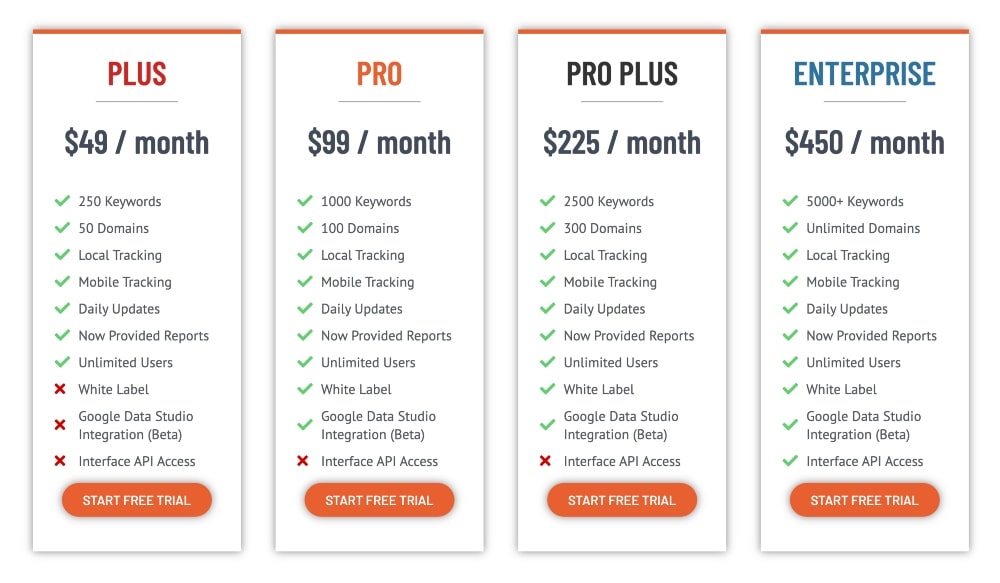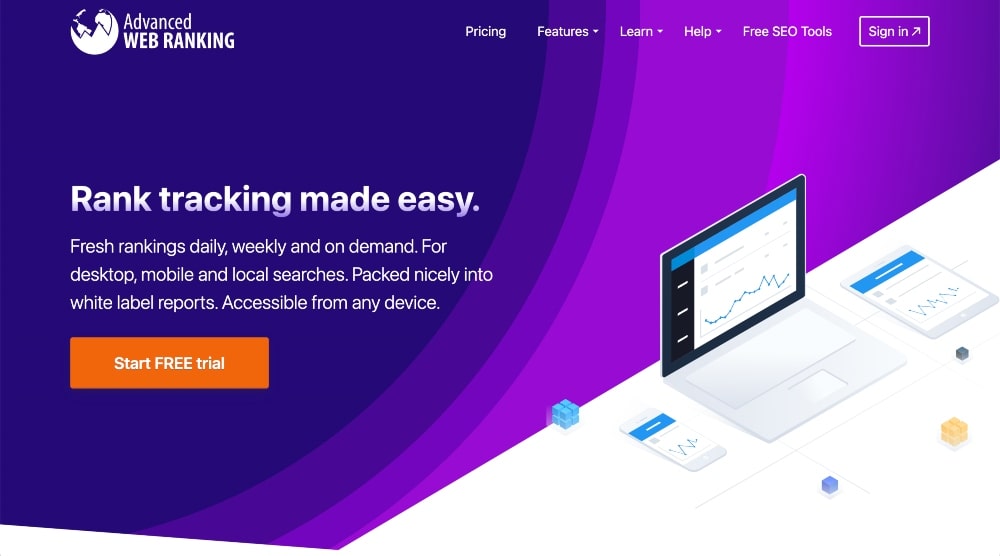 Advanced Web Ranking (AWR) was one of the first rank-tracking tools available for Mac, and it continues to be one of the most popular solutions on the market.
AWR is used by tens of thousands of people in over 170 countries, and it become the go-to solution for many businesses and individuals who needed to track their website rankings.
AWR is known for its accuracy, its features, and its customer service. So if you're looking for dependable rank check software, AWR is definitely worth considering.
Since 2002, Caphyon has grown from two guys working in a 200-square-foot room to an international business with 350+ online marketing partners and 24,000 active users around the world.
Key Features:
Track Keyword Rankings
Localized Rankings and Mobile Rank Tracking
All SERP Features Tracked
Customizable Tracking and Reporting
Special Character Support in Multiple Languages
Extensive Reporting
Pricing:
Advanced Web Ranking has 4 different pricing plans to choose from, with the lowest starting at $49/month. Discounts exist for switching to annual plans.
You can also start with a free trial.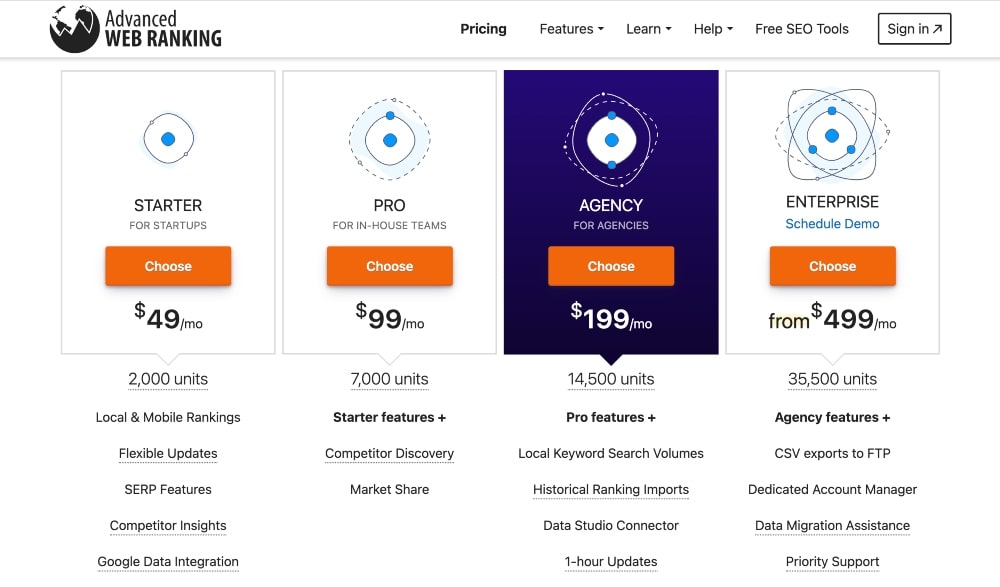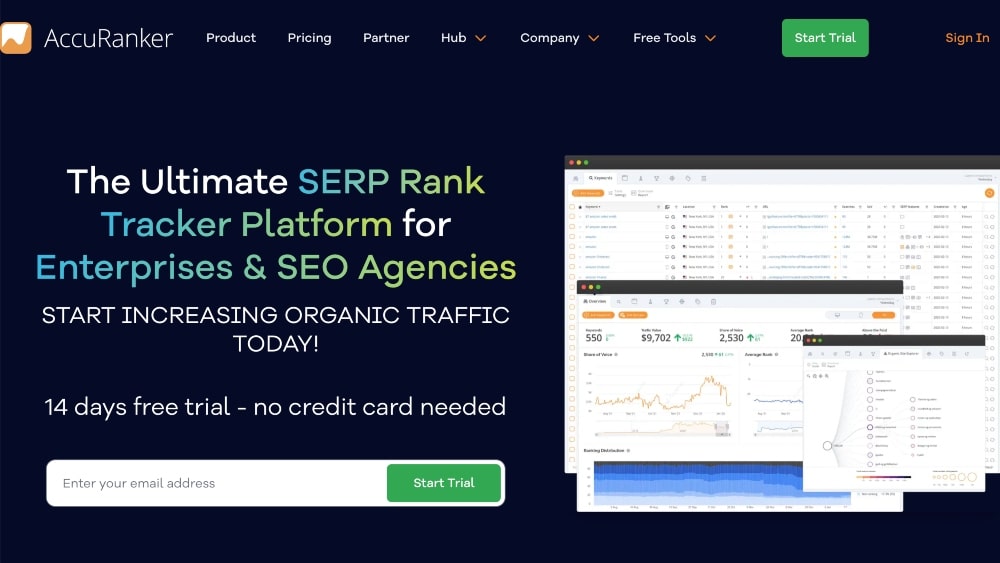 is a rank tracker software that was founded in 2013 by two computer science students. It has over 32,000 customers and provides features they "can't live without."
The cloud-based platform makes it possible to get insights on keyword tracking for both desktop and mobile, no matter where you are located.
With AccuRanker, the guesswork is taken out of the equation. Its in-depth analytics and powerful infrastructure provide you with accurate, fast, and up-to-date data so that you can make informed decisions with confidence.
If you care more about rank tracking and less about having a more expensive, comprehensive SEO tool, this is one that you should definitely check out.
Key Features:
Instant, On-Demand Updates
SERP History
In-Depth Analysis with Segmenting and Filtering
Pricing:
AccuRanker has a ton of different price points – all based on how many keywords you need. This makes it one of the most flexible pricing plans on this list of rank-checker software.
They also offer a 14-day free trial.

Moz Pro is a suite of tools designed for in-depth SEO analysis. It offers keyword rank tracking, site audits, and competitor analysis features, as well as backlink data and other helpful insights.
Founded in 2004, Moz started as an online community where some of the world's first SEO experts shared their research and ideas.
They quickly grew from a small blog to a well-respected leader in the industry after launching their Beginner's Guide to SEO as well as their first Search Ranking Factors study.
Since then, they have continued to expand our offerings, including acquiring STAT Search Analytics in 2018. This allowed them to combine Moz's keyword research tools and link data with STAT's daily rankings and deep SERP analytics — giving marketers more actionable insights than ever before.
Moz also has some great free SEO tools on their website. I personally like (and use) their title tag preview tool all the time before finalizing blog post titles.
Key Features:
Keyword Explorer
Rank Tracking
Site Crawler and Auditor
SEO Page Optimization
Link Explorer (backlink analysis)
Pricing:
Like SEMrush, Moz Pro is another all-in-one comprehensive SEO tool and is therefore a bit more expensive than some of the other rank tracking software options on this list.
The good news is that they do offer a 30-day free trial. The standard plan starts at $99/month and there are 3 higher tiers with additional features. You can get a cheaper monthly rate when you sign up for an annual plan.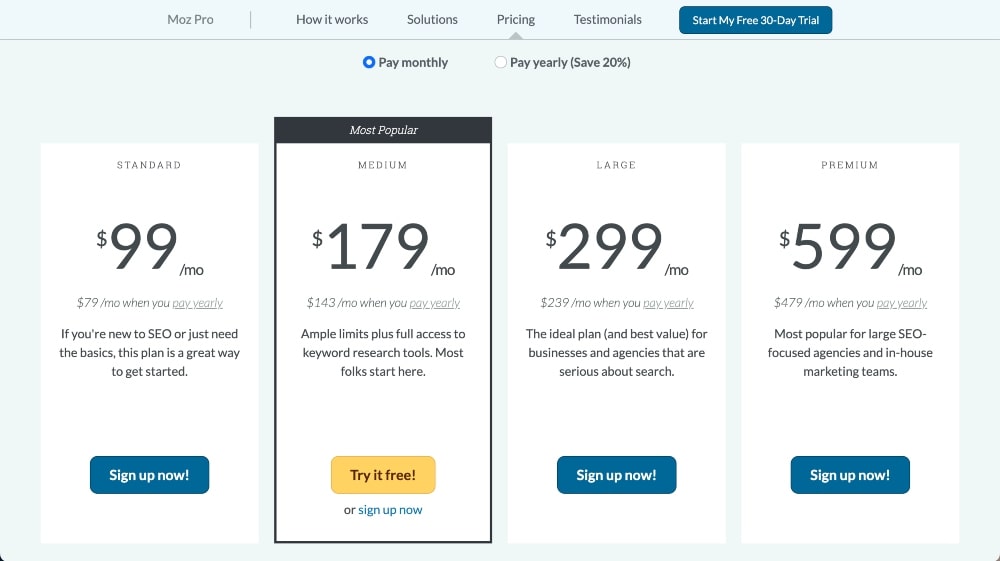 Start Using a Rank Check Software Tool Today
It used to be (back in the good ole' days) that you could write great content, add the right keywords, and have a chance at ranking in search results without doing much else.
Those days are sadly over and if you want to compete for organic traffic, you have to stay on top of:
Keyword research and identifying the right target keywords with the right amount of search volume
Monitoring your keyword positions and overall search engine rankings
Rank tracker software is one of the best ways to accomplish this and is therefore an essential tool for SEO growth.
It's the only way to help you identify areas that need improvement and opportunities for increased growth.
Accurate and up-to-date rank tracking data allows you to make informed decisions about your SEO strategy so that you can continue to improve your website's visibility and performance.
It's important to find the right rank-tracking software that both fits in your budget and covers your needs. Consider a comprehensive tool if you aren't using one already.