We partner with bada$$ companies that offer products that help our readers achieve their goals! If you purchase through our partner links, we get paid for the referral at no additional cost to you! Read our disclosure for more info.
When you buy a house or rent an apartment, what's the first thing you do?
You spruce that baby up!
You need a place to sit, so you get a couch. For entertainment, you bring in the television and hook up Netflix.
And when its time to rest, how is the bed is situated?
Just the way you like it.
All your plates and cups, and pots and pans have their own spot in the kitchen. Who knows? You might even splurge for the nice curtains, the fancy towels, and the extra special smell-good candles.
Feelin cute. IDK. ????????‍ Might paint the walls later.
Why do you do all this?
Because you want it to be comfortable. You want to feel like the lord of your domain, master of your own little castle.
And when friends and family come to visit, you want them to like it too. Have them pay homage to your great new place and all the wine you'll be drinking with them.
Blog design is similar to home design. You want everything to have the right place for functionality and for aesthetics, and you need to feel good about it.
In order to get people to want to stick around, you need a blog design that keeps guests wanting to hang around.
Your blog is your digital home on the internet. You don't want to design your online home in a way that drives visitors to the nearest exit (i.e. obnoxious pop-ups, anyone?).
In this post, we're covering the best tips for a badass blog design that will turn your visitors into raving fans and coming back for more.
We'll also share 17 beautiful and inspirational examples to help get your creative juices flowing for your own blog.
Why Does Blog Design Matter So Much?
Humans want aesthetically pleasing surroundings, or they want to bail.
Too much clutter and we feel overwhelmed and bounce. Too minimalist and we feel bored and bounce.
And blog design is everything from the headlines to the colors to the images to the style of your blog writing.
If you're blog causes mental strain for your reader before they've even read a single word, they will want to bail. Good blog design is what keeps your visitors on the page, so you can convert them into loyal fans, and eventually transitions them into customers.
If you have any desire to monetize your blog, at some point you're going to be selling stuff on your blog – be it your products or someone else's.
Your blog is the FIRST point of contact between you and a potential customer.
That first impression better be a good one, or it will be that much harder to sell to them in the future.
And, let's be honest, even if you're not selling products yet, you're still selling yourself and your blog. It's why your first goal must be to keep your visitors coming back, even if you're just starting out and don't have a product to sell yet.
You still have articles to be read, email addresses to collect, and growth to strive for!
What Are the Makings of Good Blog Design?
The first step is building the right foundation.
Use WordPress
WordPress is the most widely used blogging platform and it has the most customizability, which helps because you're probably building your own blog if you're just starting out.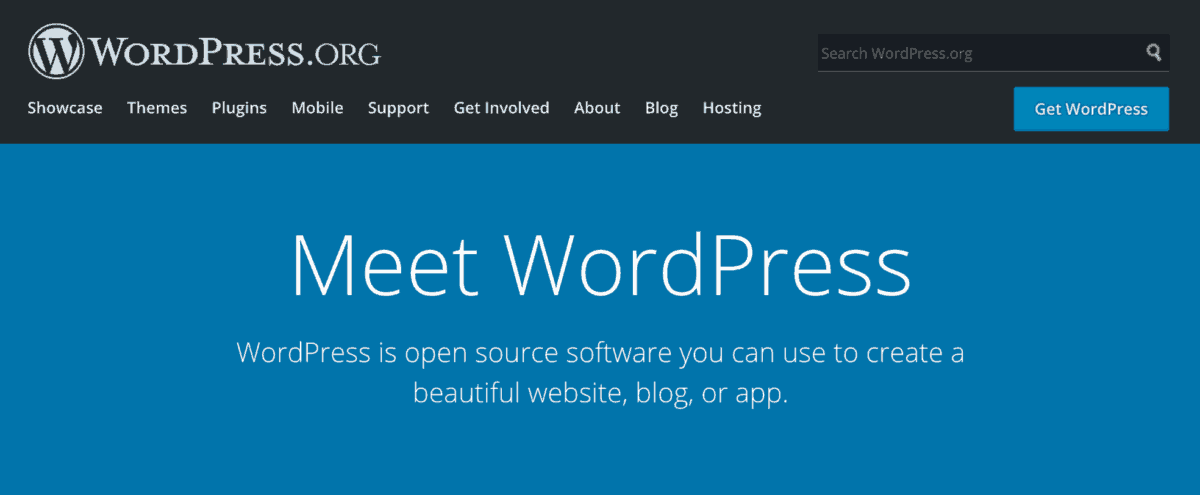 There are also TONS of free resources on WordPress online.
Choose the Right Blog Theme
When you are building a blog on WordPress, you have to choose a theme to install on your blog to make changes to the design. There are a TON of free and paid WordPress themes to choose from, all with varying levels of customization.
Just be aware that if you opt for a free theme to save a few bucks, you're going to end up with a LOT more limitations (and headaches) at the end of the day./p>
Do yourself a favor and invest in a good, quality, theme as the base for your blog design as soon as you can. Our best recommendation for beginners is Divi.
It's the most customizable and beginner-friendly theme on the market. It also comes with access to the entire Elegant Themes market, which means that you have over 70 other themes to choose from even if you don't like Divi.
Don't Clutter It Up With Too Many Plugins
Here's a big secret to good blog design many bloggers get wrong: they don't use enough white space.
White space is the empty space on your blog. It's the space between your graphics and text. Effectively, it's the visual breathing room the eyes need to avoid overwhelm…
This goes back to the claustrophobic feelings of wanting to leave in a cluttered space.
A simple blog design is better in most cases, and too many widgets and plugins can slow your site down and cause readers to bounce.
Stick to only the essential blogging plugins.
Mind Your Gaps, Headings, and Fonts
If your words are too close together, the wall of text on your blog can feel too intense for the average reader. Most people are skimmers, so they want plenty of space to quickly glance at what's important.
It's one of the reasons why you need to use headings, subheadings, bullet points, and more to break up your article text.
Make sure to also use simple and professional fonts. Fancy fonts can be difficult to read, especially on mobile devices.
Use Caution With Color Choices
Using the wrong colors can make your blog look tacky, unprofessional, hard to read, or downright sloppy.
Too bright is going to be too much for your readers. Dark colors can make things harder to read.
You also don't want to have too many colors. This makes your blog design look cluttered and can be overwhelming for the reader.
You should select just a few colors in your overall blog design color scheme. Decide on 2-3 that fit your personal brand and style.
The images and graphics within your posts can be multiple colors, but there should be a general color scheme with headings, banners, clickable links, etc…
You want it to feel uniform, not thrown together.
Use Quality Images
We all like picture books. Have you ever bought a recipe book without any photos? They're the WORST!
Great blog design includes having beautiful images and graphics. They make your blog more interesting, and less like a textbook that you never want to open.
A word of caution on choosing stock photos for your blog — be selective.
Try to be creative (you don't want the use the same photos everyone else is using).
Avoid photos with faces (it makes your photos less relatable).
Avoid the first-page search results (these are the most popular and most widely used).
For example, a person's hands typing on a laptop is pretty generic. But, a girl in a cool graphic t-shirt, with a mug of coffee, smiling while typing on her laptop is better.
Finally, avoid stock photos that look… well… super "stock-y" (like this one ????????‍ wtf)
Make Navigation Bars and Menus User-Friendly
"Design is not just what it looks like and feels like. Design is how it works." — Steve Jobs
People need to be able to easily move from page to page on your blog. They also need to be able to quickly navigate to categories and the home page.
It's a good idea to prompt them with reasons to stick around too. Think related posts and links within your blog posts to other pages on your website.
Finally, don't forget to give them a call to action, and prompt them to sign up for your newsletter!
17 Examples of Great Blog Design
Okay, now that we've touched on the basics, let's look at how these blog design guidelines can be implemented with some real-life examples!
The homepage of this blog also has one large image and blog post link to get your attention, and the color scheme is also easy on the eyes.
You can't help but want to stick around on this page and read all the mantelligent things they have to say.
The best part of this blog design is the consistency of the color scheme (mostly pink with a few accent colors).
The cotton candy pink works beautifully on the banner, the footer, and everywhere in between. The photos are also big and attractive, and as you hover over them they expand just slightly to keep your focus on them.
Where this blog design shines is simplicity. There isn't much color — it's mostly white — but the focus is on the beautiful and visually stimulating images.
The navigation bar is so easy to read on this blog. Big, bold letters that leave little doubts as to where to click for what you want to read.
The color scheme is fun and there are no extra "frills" — the focus is on the BLOG.
This is another great example of a good color scheme because you can see that she is even WEARING her color in her photo:
This page is the essence of chill. It's simple, and the color scheme is calming.
We also love the fact that her page has a killer call to action that draws you right into her sales funnel with a freebie that many people would be willing to pay for.
This blog may be called A Beautiful Mess, but it's anything but a mess!
There's plenty of white space, a rainbow color scheme that isn't too overpowering, and plenty of big and gorgeous images to pique your interest.
The page screams Christmas — in a good way! — and leaves little doubt as to what it's all about.
Great branding here.
Again – white space, big pictures, and easy-to-navigate menus for the win.
Are you seeing a trend yet?
The colors of this page just feel calming.
And, the navigation menu certainly has a fun take using images in lieu of words. That is until you hover over them and the words are revealed.
What's great about this blog design is that the homepage features one large image, with one post link.
It captures your attention and makes you want to click to read more.
Their tagline is "make life a party," and that's exactly what their blog delivers.
A party! Fun photos, fun headlines, fun colors.
I swear travel blogs have it easiest because they can use real-life, amazing photos and skip the whole search for stock photos.
This blog is no exception and at the time of writing this post, they have an awesome photo of their family on the front page, which creates an instant, personal connection with their readers.
Not only does this website teach you how to be a gentleman, but they are also using some amazing images to do it!
They also have fabulous use of whitespace, and an AWESOME logo to go along with it!
This blog is one exception that does seem to be able to "vomit up all kinds of colors" and get away with it!
Their graphics are awesome and definitely make the blog stand out against the rest.
Bola, of Clever Girl Finance, is actually one of our Six-Figure Course Creator students!
She uses a main color of green with a secondary accent color that is… um… bluish purple? TBD, but she still only uses two main colors throughout her blog.
Yeah, it's more than just a site to book accommodations. They have a blog too, and it looks great!
Part scrapbook, part travel magazine – it's a great supplement to their software and its purpose.
The photos on this blog will have you wanting to get outside more.
The images they use scream an outdoor lifestyle blog, and that's exactly what it is.
Okay, that wraps this one up!
Over to You… Tell Us About Your Blog Design!
What elements do you think you should tweak for your blog to be more aesthetically pleasing?
Let us know in the comment section below!
We hope this post has inspired you to make your blog even better.
Read Next: Free Blog Images – 9 Best Sites to Get Images for Your Blog